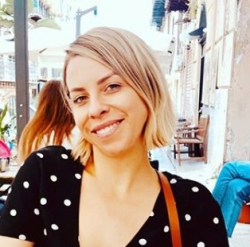 Latest posts by Jodie Chiffey
(see all)
If you're trying to find the best refrigerator for your home, you might be wondering if you should go for a Samsung model. Our Samsung RF260BEAESR refrigerator review is a good place to start if you want to know more. Is the Samsung RF260BEAESR worth the money? What features does it offer? Does it look attractive? Is it easy to use?
We'll answer all those questions, but the bottom line is this: we think the Samsung RF260BEAESR is perfect for those looking for a big refrigerator, especially if you're not bothered about app compatibility. We'll look at the key specs of this model, as well as our honest thoughts on the key features. We'll look at the pros and cons, some alternatives to try, and some frequently asked questions. Then we'll give you our final verdict.
First, let's start with the key specs!
Samsung RF260BEAESR – Key Specs
Here are the key things you need to know about the Samsung RF260BEAESR:
Product Height: 68 ⅝ inches
Product Width: 35 ¾ inches
Height to Top of Door Hinge: 70 inches
Depth Without Handle: 33 ½ inches
Depth With Handle: 35 ¾ inches
Total Capacity: 25.5 cubic feet
Lighting Type: High-efficiency LED
Ice Maker: Yes
App Compatible: No
Color Options: Stainless Steel, Black, White
Latest Price: Check the latest price here
Samsung RF260BEAESR – The Main Features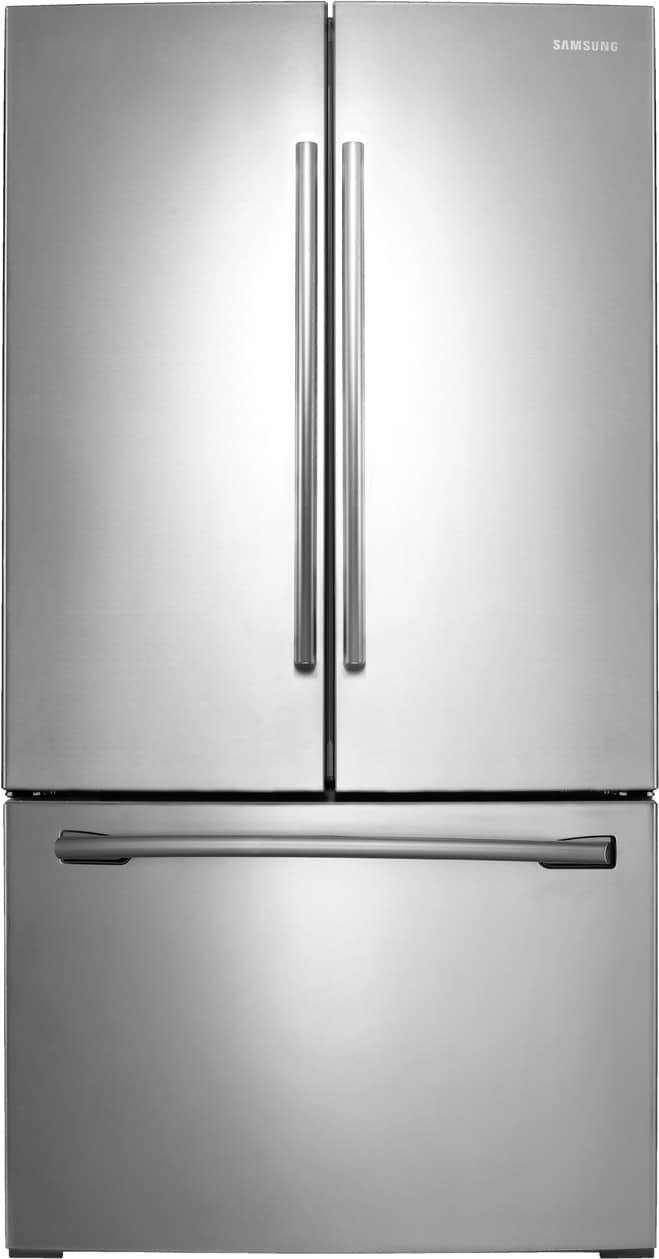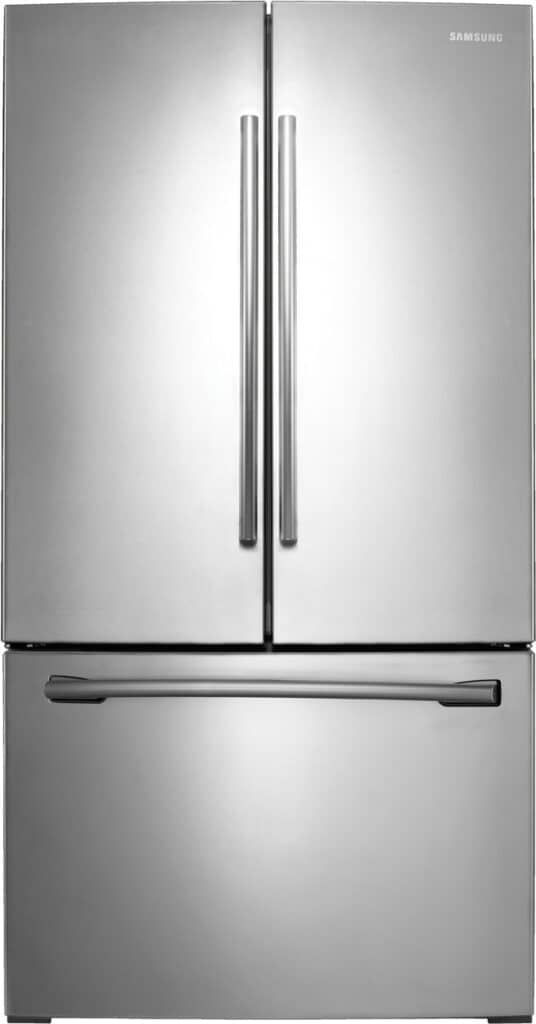 Now let's look at the Samsung RF260BEAESR in more detail.
Cooling Power
The RF260BEAESR has Samsung's Twin Cooling Plus system. This essentially means the refrigerator and the freezer are cooled separately, with independent controls for both – allowing you to set the temperature to your own specifications. In addition, it has two separate evaporators, making it more efficient in terms of keeping each area cool.
It also has 'power freeze' and 'power cool' options, which means you can quickly and easily drop the temperature with just a press of a button. So if you want to get the ice maker going quickly, this is really helpful.
Extra Features
This model comes with Samsung's CoolSelect Pantry, a small drawer that slides all the way out. This drawer can be controlled separately in terms of temperature, meaning you can keep certain items, like party platters, deli meats, and drinks, at a certain temperature.
Many higher-priced refrigerators have something similar, and it's a handy feature if you're a foodie. It works really well at isolating those items, keeping them at just the right temperature. It has two humidity-controlled crispers. These work really well at keeping vegetables nice and crisp, without worrying about them getting soggy or going bad too quickly before you can use them.
The automatic ice-maker is pretty good, although sometimes ice cubes can build up and spill out of the ice storage area, which is something to keep an eye on. The ice maker can take a couple of days to get going, but it works really well.
It also has a water dispenser, so if you like cool filtered water in an instant, you'll enjoy using this refrigerator.
Ice may start to jam up around the coil area, and it doesn't have an automatic defrosting system, so you'll have to be prepared to defrost it from time to time.
It's also straightforward to open. It has an EZ-Open handle, so you won't have to worry about pulling it hard to open it if this is something you normally find annoying or difficult. Plus, the freezer drawer easily slides right open, making it much easier to get to the contents inside.
Unlike some other Samsung refrigerators, there are no smart features involved here, so you won't be able to control your refrigerator via your phone, pick up on any problems or receive alerts automatically.
Storage and Organization
The great thing about the RF260BEAESR is the amount of storage space – it has a pretty generous capacity at 25.5 cubic feet, and the space is used efficiently with containers and shelves. You can move these shelves around to suit the contents. It has three deep bins in each door, which are generously sized, so you can easily fit large cartons of milk or juice inside.
It has two deep drawers in the freezer, which can be pulled all the way out, so you can fit a lot of items way in the back and still get to them easily. If you need a refrigerator with excellent capacity, this is one to go for – it would work for a larger family or anyone wanting to store a lot of food.
Appearance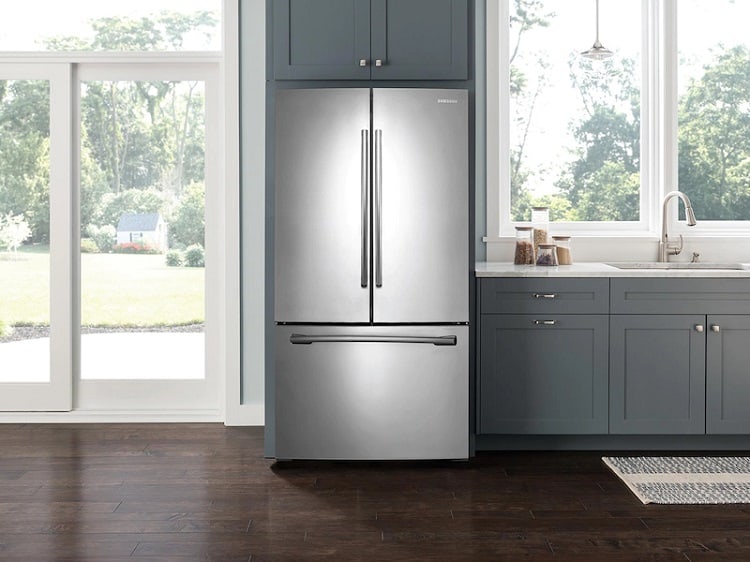 There are three color options for this model – black, stainless steel, and white. Only the black model comes with fingerprint-resistant stainless steel, so if you want something really easy to clean, it's worth going for that model.
It's not a counter-depth refrigerator. This means it won't sit flush with your countertops, which many people like, as it means your refrigerator will be less intrusive and bulky-looking. However, it's actually pretty close to counter-depth anyway, so it won't stick out a lot in your kitchen – it just won't sit exactly alongside them.
Warranty and Pricing
In terms of warranty, parts and labor are included for 1 year. You can get an extended warranty for an extra price, which will bump it up to 3 or 5 years. This is about standard for refrigerators.
Price-wise, it's about standard for a Samsung French door refrigerator without any smart features. You're paying for the cooling power and the features like the humidity-controlled crispers and the Cool Select Pantry drawer, and it comes in at around $1600-$2000.
We think that the pricing is about right for a Samsung refrigerator. There are cheaper options out there, but it's not the most expensive either. We'll give you different options from other brands a little later in this review.
Samsung RF260BEAESR Refrigerator – Pros and Cons
Let's have a rundown of the key positives of this refrigerator, as well as some of the features that could be improved:
Pros
Generous capacity
Easy to open the doors and drawers
Twin cooling power means both refrigerator and freezer can be controlled separately
Includes CoolPantry Select drawer for deli items
Ice maker and filtered water dispenser included
Includes vegetable crisper
Has 'power freeze' and 'power cool' options for quick cooling at the touch of a button
Black stainless steel finish includes fingerprint resistance for easy cleaning.
Cons
Ice can build up and spill over into the freezer area
Ice maker takes a little while to get going
Frost can build up around freezer coil
It doesn't have any smart features
Samsung RF260BEAESR – Alternatives to Try
If you want to weigh up all your options, here are some other refrigerators you could look at. We'll let you know how they compare to the Samsung RF260BEAESR.
Samsung RF28MEDBSR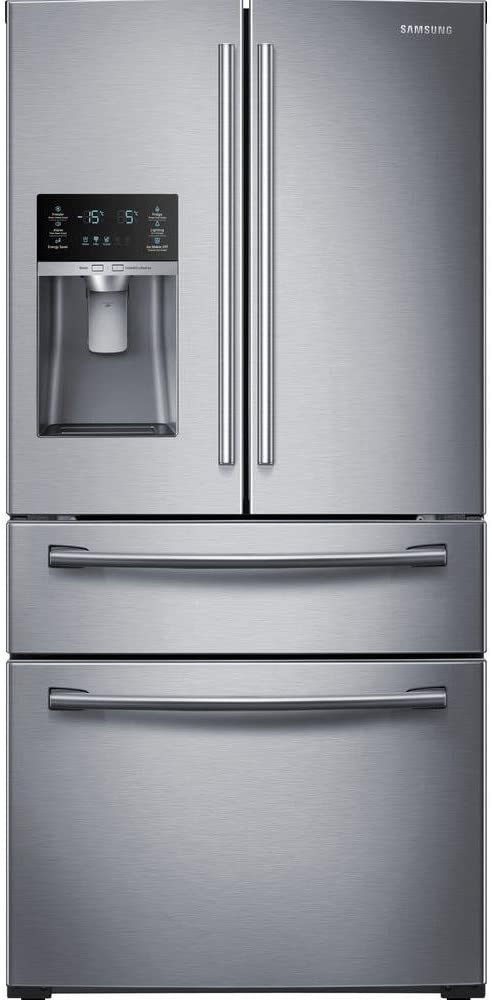 If you like the sound of a Samsung refrigerator, you could check out the Samsung RF28MEDBSR. It has many features as the RF260BEAESR, but with some extras, including a control panel with a digital display and a counter-height 'Flex-Zone' drawer similar to the CoolPantry Select drawer.
You can read our Samsung RF28MEDBSR review to find out more.
Whirlpool WRB322DMB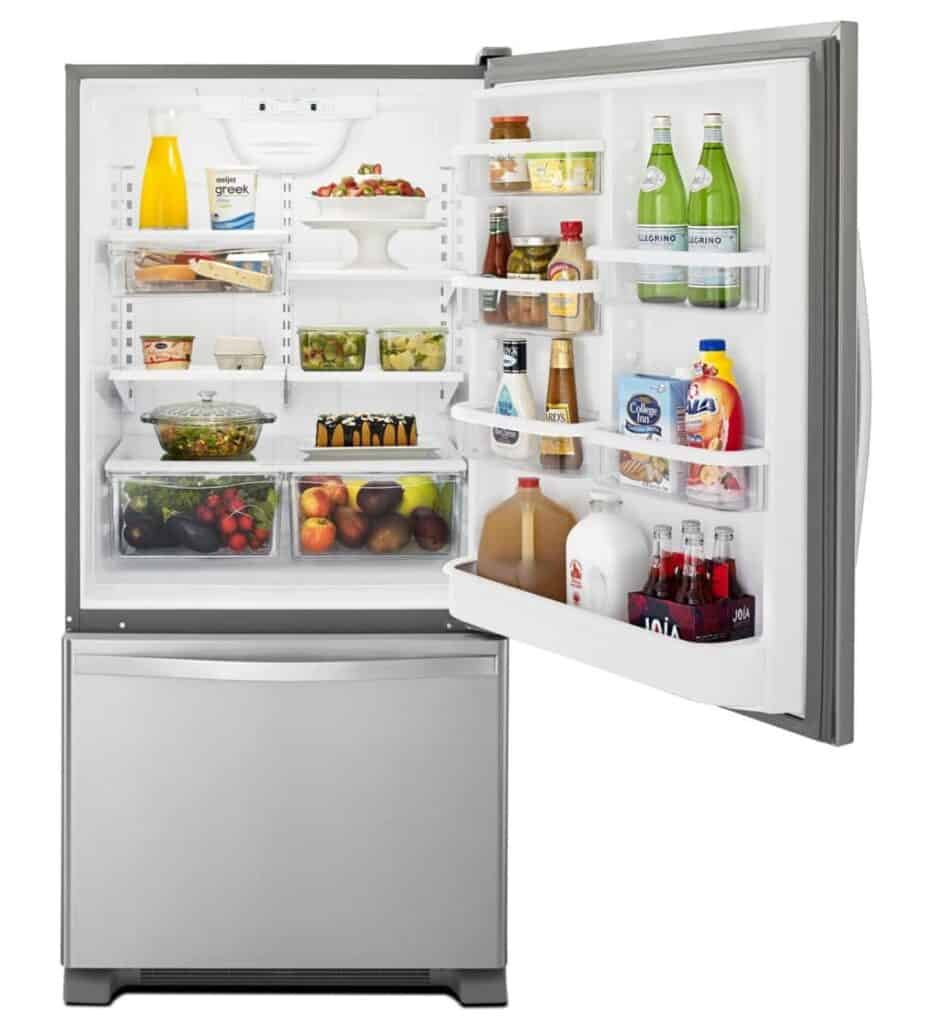 The Whirlpool WRB322DMB is a good mid-range refrigerator with interesting features, including a deli drawer, humidity-controlled crispers, and an ice maker. Whirlpool is a good brand, and it's worth checking this one out if you want to save a few hundred dollars compared to the Samsung RF260BEAESR.
You can read our Whirlpool WRB322DMB review for more details.
LG LFXC22526S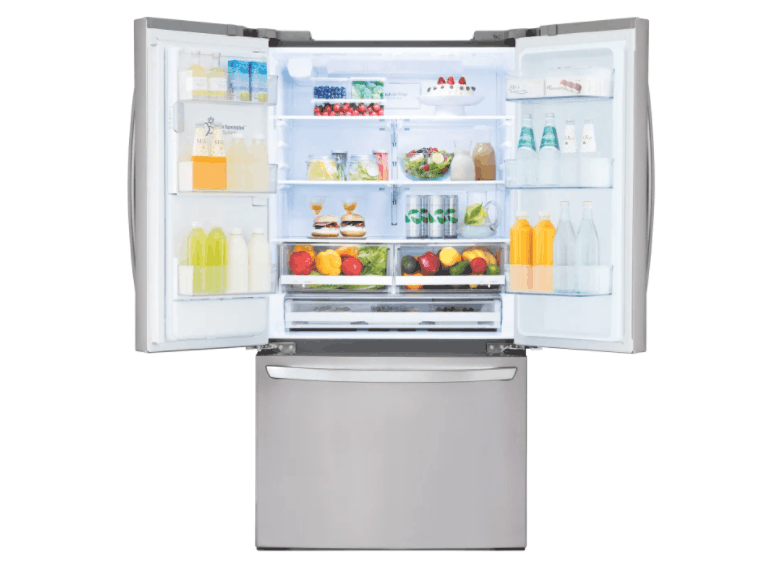 The LG LFXC22526S is a sleek-looking refrigerator with useful features, including an extra-large ice compartment and a smudge-resistant finish. It's also smartphone compatible, making it a good choice for tech lovers. It is, however, a good few hundred dollars more expensive than the Samsung RF260BEAESR – but if you've got a bigger budget, it's worth a look.
You can find out more about it in our LG LFXC22526S review.
Samsung RF23R6201SR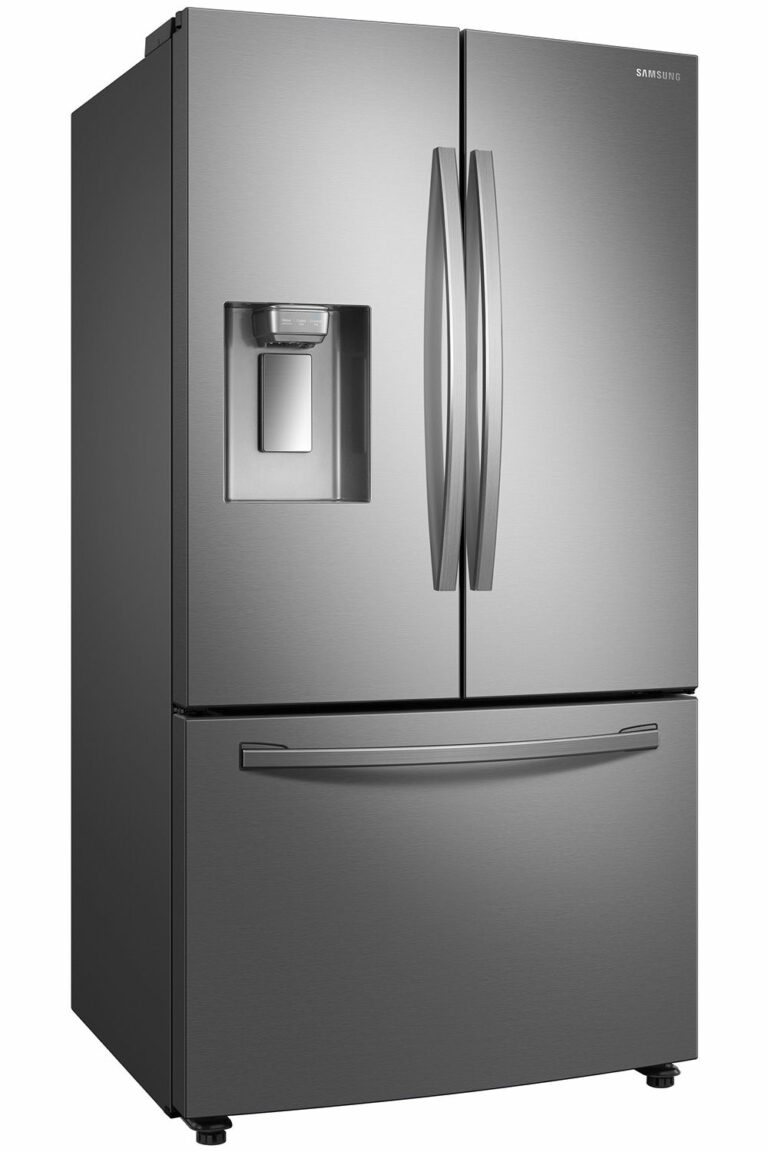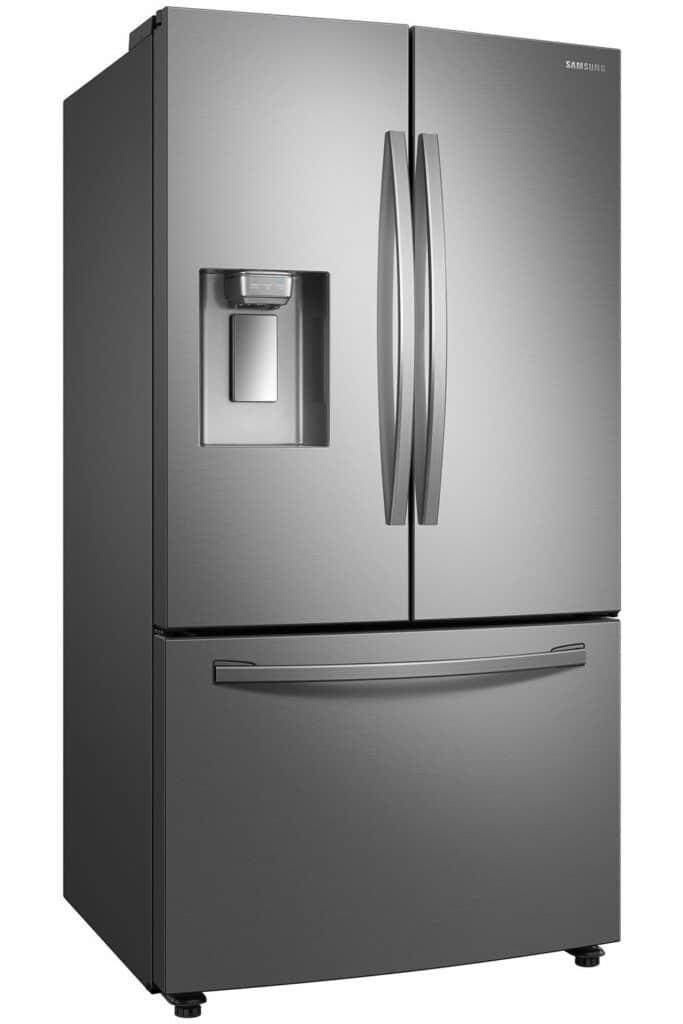 The Samsung RF23R6201SR is another solid choice from Samsung. It has many similar features to the RF260BEAESR, but with smart compatibility, for around the same price. It does have a smaller capacity, though.
You can find out more about it in our Samsung RF23R6201SR review.
FAQs
Question: Is the RF260BEAESR a Noisy Refrigerator?
Answer: No, it shouldn't be particularly noisy compared to other refrigerators if it is installed with enough space around it for ventilation.
Question: How Much Space do I Need to Leave Around the Samsung RF260BEAESR?
Answer: Samsung recommends that you leave at least ⅜" above the refrigerator, 1″ behind it, and ⅜" on either side – this is to help with ventilation and air circulation, which will keep it cooler.
Question: How Does the Ice Maker Work?
Answer: The ice maker creates about 3lbs of ice a day. You need to make sure the 'ice off' button has not been pressed to get started. You have to make sure the freezer temperature is set to at -2°F or colder. (You can press the Power Freeze button to speed this along a little).
The ice maker takes 1-2 days to get going, and it's a good idea to throw out the first couple of buckets of ice that it produces to make sure impurities have been removed from the waterline.
Question: Is This Refrigerator Magnetic?
Answer: The front is not magnetic, but the sides are – so you'll have to attach your fridge magnets to the sides!
Question: What do I Need to do to Maintain the Samsung RF260BEAESR?
Answer: You'll have to defrost it once the ice starts to build up. Typically, this is done once a year with most freezers, but you may have to do it more often with this one if the ice begins to build up around the coil – it's worth keeping an eye on it to make sure the ice doesn't build up too much.
It's fairly easy to clean. Remove old produce often and wipe any spills as soon as they happen, and make sure to dump old ice from time to time if you haven't used it in a while (it can take on a 'freezer burn' taste as it clumps together).
You can also remove the shelves to give them a good wash in warm soapy water from time to time. If you find that your refrigerator is beginning to smell bad, place a dish of baking soda inside – this will absorb some of the smells. You may need to use a special stainless steel cleaner to keep the outside looking shiny. However, the fingerprint-resistant model is easier to clean on the outside – just wipe it down with a soft cloth.
Samsung RF260BEAESR Refrigerator Review: To Sum Up 
Do we think the Samsung RF260BEAESR is worth buying?
Overall … yes!
This particular model has tons of great benefits – the deli drawer, the crisper drawers, the ice maker, and the water dispenser are all very useful, especially if you're a 'foodie' and want to be able to cut down on food waste.
However, the main bonus of this particular model is the capacity. The capacity is the key here – it's a good size, and it's really easy to access the contents, making it ideal for larger families.
That's the trade-off: you're paying for space rather than app compatibility. Some refrigerators focus on smart features and compensate for this by cutting down on the capacity.
So if you're not too worried about controlling your appliances with your smartphone or tablet, but you do need the space, this is the one to go for.
Of course, there are downsides. It's not a counter-depth refrigerator (although it's pretty close), and the fingerprint resistance is only available in the black stainless steel model. Also, the ice maker can spill over, and it takes a little while to get going.
Overall though? This is a solid, reliable refrigerator for a pretty reasonable price, and we'd recommend checking it out.