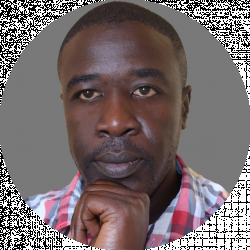 Latest posts by Barry Juma
(see all)
If you're thinking about getting an Electrolux refrigerator, then you're probably drawn to this brand's reputation for quality and elegance. In my research on Electrolux refrigerator models, I noticed that all expert reviews laud Electrolux for making durable appliances that are generally targeted at professionals.
Whether it's their stoves, ovens, or refrigerators, Electrolux's appliances have an unmistakable look and build that confirms their pro pedigree. However, they're also quite expensive, making them hard to recommend for general home use.
In this Electrolux refrigerator model guide, you'll find out all you need to know about this brand's features. You'll then learn about the main things you need to consider before buying an Electrolux refrigerator.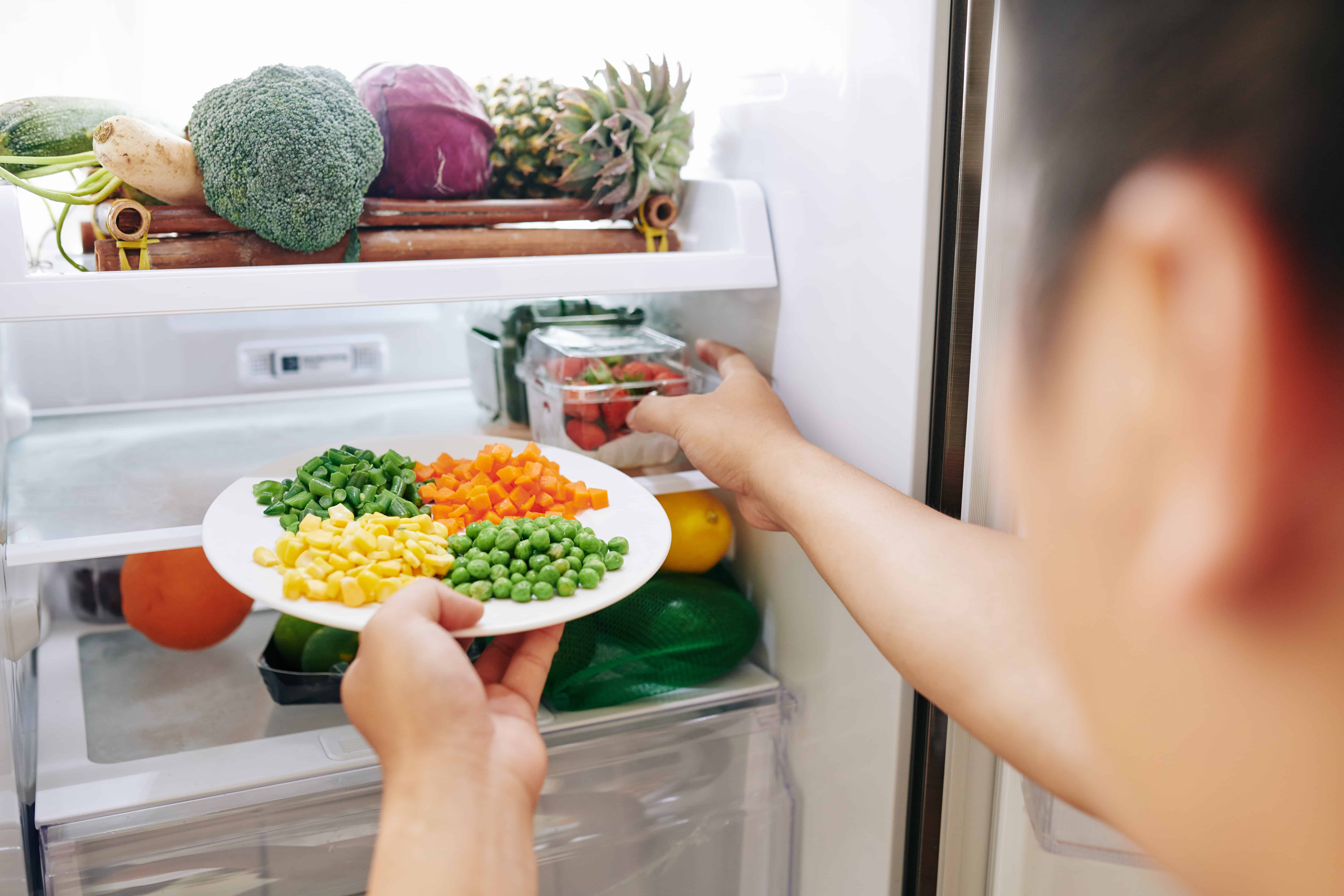 Types of Electrolux Refrigerators
Electrolux's appliances are designed for heavy use, and their refrigerators are no different. This is probably why their refrigerator options are limited to just three types: French-door, single-door, and wine/beverage coolers. Perhaps by the time you're reading this, they'll have updated their lineup to include other types. 
Here's a deeper look at Electrolux's refrigerator types.
French-Door Refrigerators
These refrigerators are marked by two doors at the top for the large refrigerator section and one or two drawers at the bottom for the freezer section. One clear advantage of a French-door refrigerator is the design, which is modern and sleek, giving your kitchen a fancy look.
Aside from looks, these types of refrigerators have a large continuous fridge section with wide shelves that make it easy to store large food containers and platters. However, you'll have to part with a pretty penny to own these models (more on prices later). 
Pros
They're stylish.

French-door refrigerators have a spacious fridge section.

The wide shelves make it easy to organize food.

The fridge is at eye level, so you don't have to bend to get your everyday food.

It's easy to access food in the freezer, thanks to the drawer design.
Cons
They're expensive.

Their size makes them inappropriate for compact kitchens.

The freezer capacity is limited.
Electrolux only has three French-door refrigerators for sale at the time of writing. Check them out here.
Single-Door Refrigerators
These are, as their name implies, refrigerator models with one door. There are only two single-door models in the company's lineup; one is a freezer, and the other one is a fridge. If you're looking for a freezer or fridge to complement the one you already have, you may consider these models.
However, as is characteristic of Electrolux's appliances, they are quite expensive, costing over $3000 each. These models are actually designed for a busy kitchen as it might be difficult to justify spending that amount of money on a single-purpose refrigerator unit.
Pros
They don't take up much space.

They're designed to do one job well: freeze or refrigerate.

They have a large capacity.
Cons
These Electrolux refrigerator types are very expensive.
Check out Electrolux's single-door refrigerator models here.
Wine/Beverage Coolers
These models are designed for special purposes; to cool your wine or other beverages. Those who buy these types of refrigerators love to entertain guests and will have lots of drinks in their homes. If this is you, then Electrolux's models are well built and highly rated.
However, most of you reading this article may not be interested in a specialty refrigerator, so I won't dwell on these models. Check out Electrolux's wine/beverage cooler models here if you're interested in them.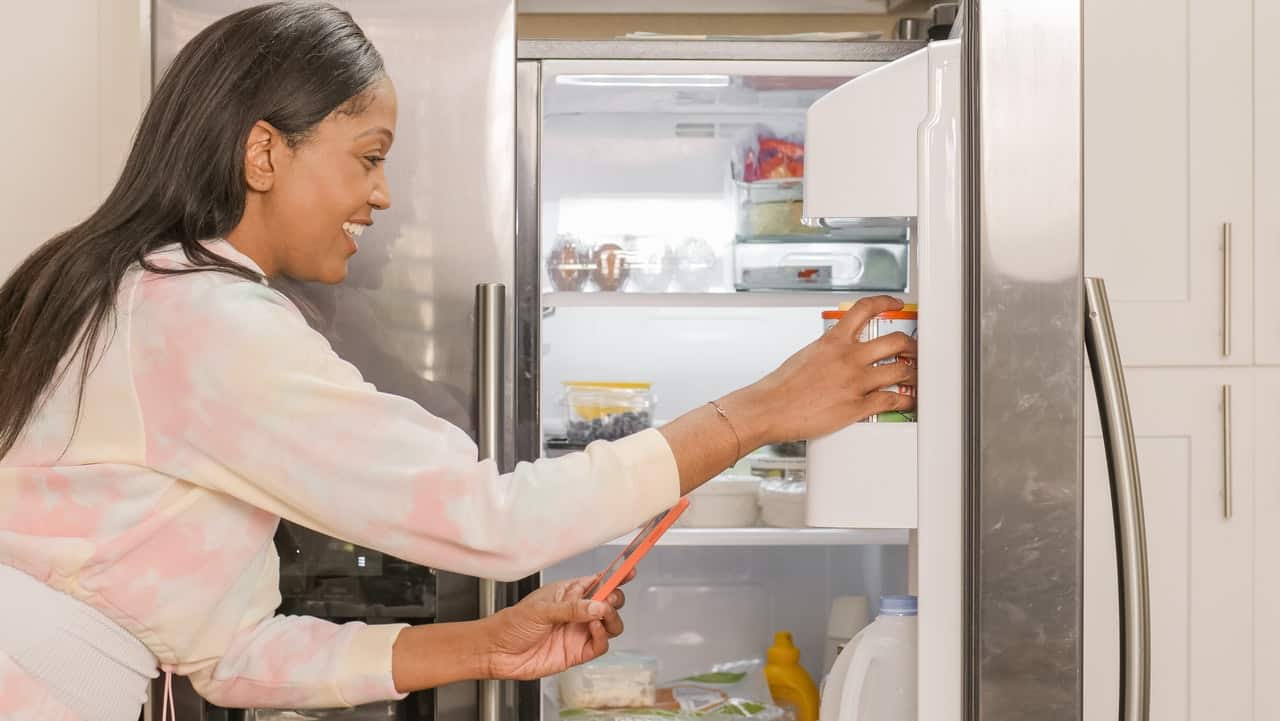 What to Consider Before Buying an Electrolux Refrigerator
Price of Electrolux Refrigerators (And Your Budget)
Electrolux's appliances are targeted at professionals, and they're meant for heavy users. Therefore, they come with a premium price tag, making them out of reach for those on a tight budget. For instance, there's no model that costs less than $1000. 
The cheapest Electrolux French-door refrigerator costs $2800. In comparison, Samsung – which is considered to have the most reliable French-door refrigerators – has a $1300 model with almost similar specs as Electrolux's model. Check out our Samsung refrigerator model guide here if you're interested in this alternative brand.
If your purse strings aren't too tight, you could opt for Electrolux's highest-priced refrigerator, which costs $3700, or their mid-range one, priced at $3000. The company's single-door models are equally as pricey, with both models in their lineup costing $3500. 
If you're a professional and you want a refrigerator for your business, Electrolux's models would be a good choice for you. However, regular folks who want a refrigerator for their homes might find these high prices difficult to justify. 
On the flip side, although these refrigerators will cost you a premium, their quality build assures you of years of use. 
Refrigerator Size and Capacity
When thinking about the right capacity for your needs, a general rule of thumb is to calculate about five cubic feet per adult in your household plus a little extra. Therefore, a household with two adults should buy at least a 10-cubic-foot refrigerator. However, if you love to entertain guests, then you'll need a larger refrigerator.
Electrolux's refrigerators are meant for those who need a large capacity. The company's largest French-door refrigerator has a total capacity of 22 cubic feet, while the smallest one has 21 cubic feet. You could buy one of their single-door refrigerators if you want extra freezer or fridge space. Both models have a capacity of 19 cubic feet.
All the Electrolux French-door refrigerators have a width of 36 inches and a counter-depth design. Consider these dimensions when thinking about the space where the refrigerator will be installed. 
Your Needs
You might have the budget for a high-end Electrolux refrigerator, but do you really need it? Consider what your needs really are and ask yourself whether it's worth spending money on an expensive large-capacity refrigerator. Ask yourself the following questions;
How Many People Do You Have In Your Household?
If you have a small household, then Electrolux's models might be overkill for you. Consider another brand with less expensive refrigerators.
Do You Often Entertain Guests?
If you love to entertain, then you probably need a larger refrigerator like the ones in Electrolux's lineup.
How Much Food Do You Need to Store?
If you go grocery shopping once a month, then you'll need a spacious refrigerator to store them in. If you regularly go grocery shopping, then you might not need a lot of refrigerator real estate.
What Types of Food Do You Often Buy?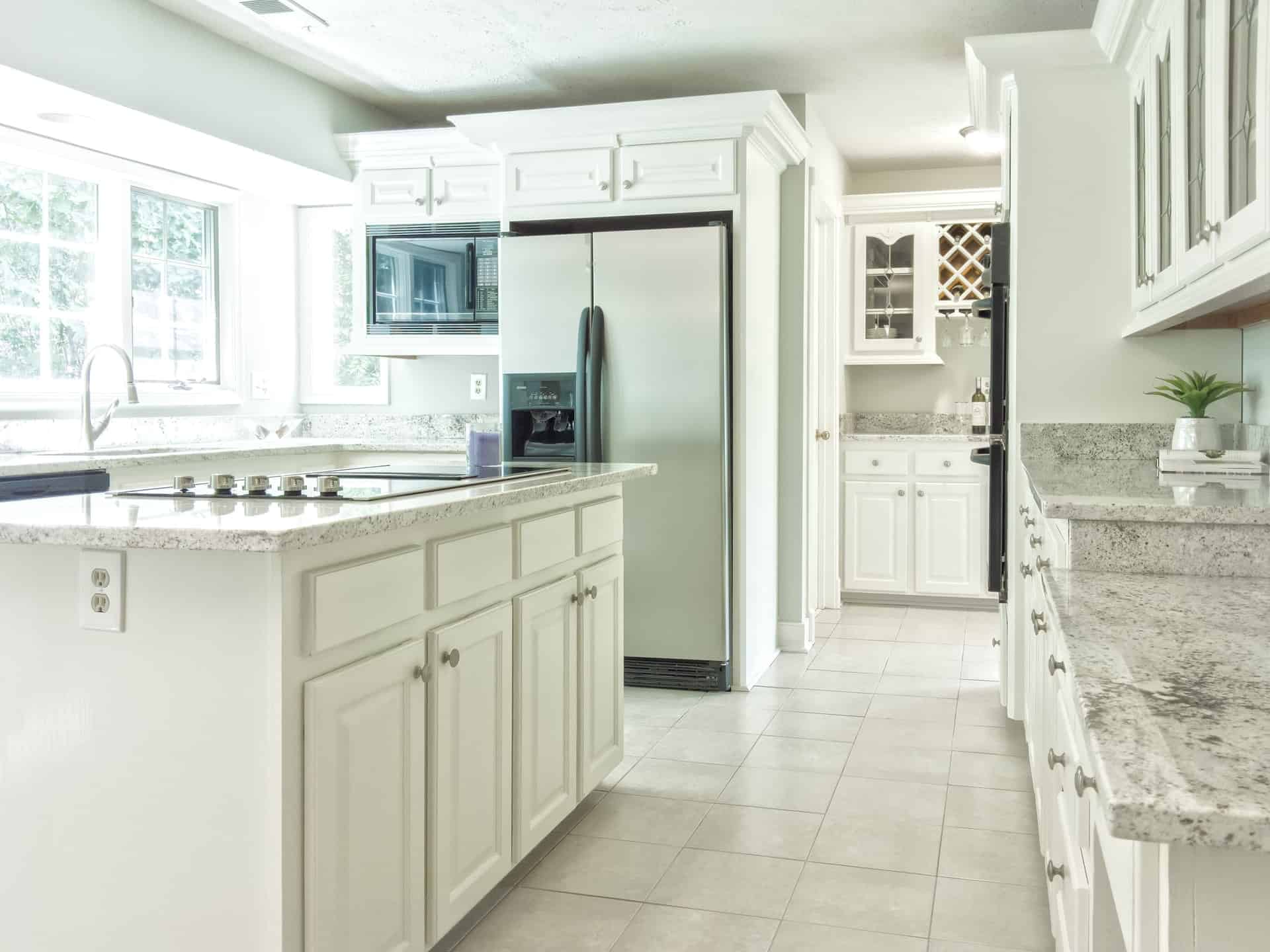 Meats and dairies require different refrigeration conditions from fruits and veggies. Make sure the refrigerator you're considering has the right storage options for the foods you often buy. Thankfully, Electrolux's refrigerators have drawers meant specifically for fresh produce as well as dairies and deli meats.
Main Features of Electrolux Refrigerators
TempAdapt Drawer
Electrolux's most expensive French-door model has two drawers below the refrigerator section. The middle drawer is branded TempAdapt because it can be set to different temperatures depending on what you're storing in it. It has a wide temperature range, from -6 to 45 degrees Fahrenheit. This means that you can choose to use it as a freezer or a refrigerator.
Perfect Temp Drawer
The mid-priced model has a drawer compartment within the refrigerator section known as the Perfect Temp Drawer. You can set a specific temperature for this compartment to keep certain snacks like cheeses at the ideal temperature. This drawer has a range of 28 to 38 degrees Fahrenheit.
TasteLock Crisper Drawers
What's special about Electrolux's TasteLock crisper drawers is that they automatically control the humidity inside them. The technology automatically detects a rise in moisture within the drawer and expels the excess, maintaining optimum humidity levels. Therefore, fresh produce remains fresh for longer when stored here. 
ExtraAccess Door
Most French-door refrigerator models have two refrigerator doors of the same size. However, Electrolux's most expensive model has what the company calls an ExtraAccess door. This is simply a right-side refrigerator door that is larger than the left one, allowing you to access more food by opening just this door. Electrolux tells us that, with an ExtraAccess door, you can reach up to 75% of what's in the fridge section. 
Self-Closing Doors
If you or a loved one constantly forgets to properly close the refrigerator door, this feature in Electrolux's refrigerators should appeal to you. It's exactly as it sounds; the doors will automatically close if they're left even slightly ajar. This will save energy that would otherwise be lost if the door remained open.
Wave-Touch Controls
These controls are designed to remain inactive unless you touch them. So, if they're not in use, only the selected program will show on the display.
IQ-Touch Controls
IQ-Touch controls are the opposite of Wave-Touch; the control options are always visible. The benefit of this is that you don't need to activate the controls to select a program; they're always ready for you to select. 
Luxury-Glide Freezer Drawers
The freezer drawers in Electrolux's refrigerators are designed to smoothly slide in and out whether the freezer is full or not. They also slide out fully so that even the food at the back of the freezer is visible. 
Available Electrolux Refrigerator Models
Selection Criteria
Electrolux only has three French-door refrigerator models and two single-door models. Because of the limited lineup, I decided to feature all their French-door models and one single-door model.
In this article, I've opted to focus on the full refrigerators, so the list below only has Electrolux's French-door models. I've also shared some alternatives that you can consider since Electrolux's options are limited. The alternatives list has some of the best-rated models by the most reliable brands; Samsung, LG, and Whirlpool.
Electrolux Model EI23BC82SS Counter-Depth French Door Refrigerator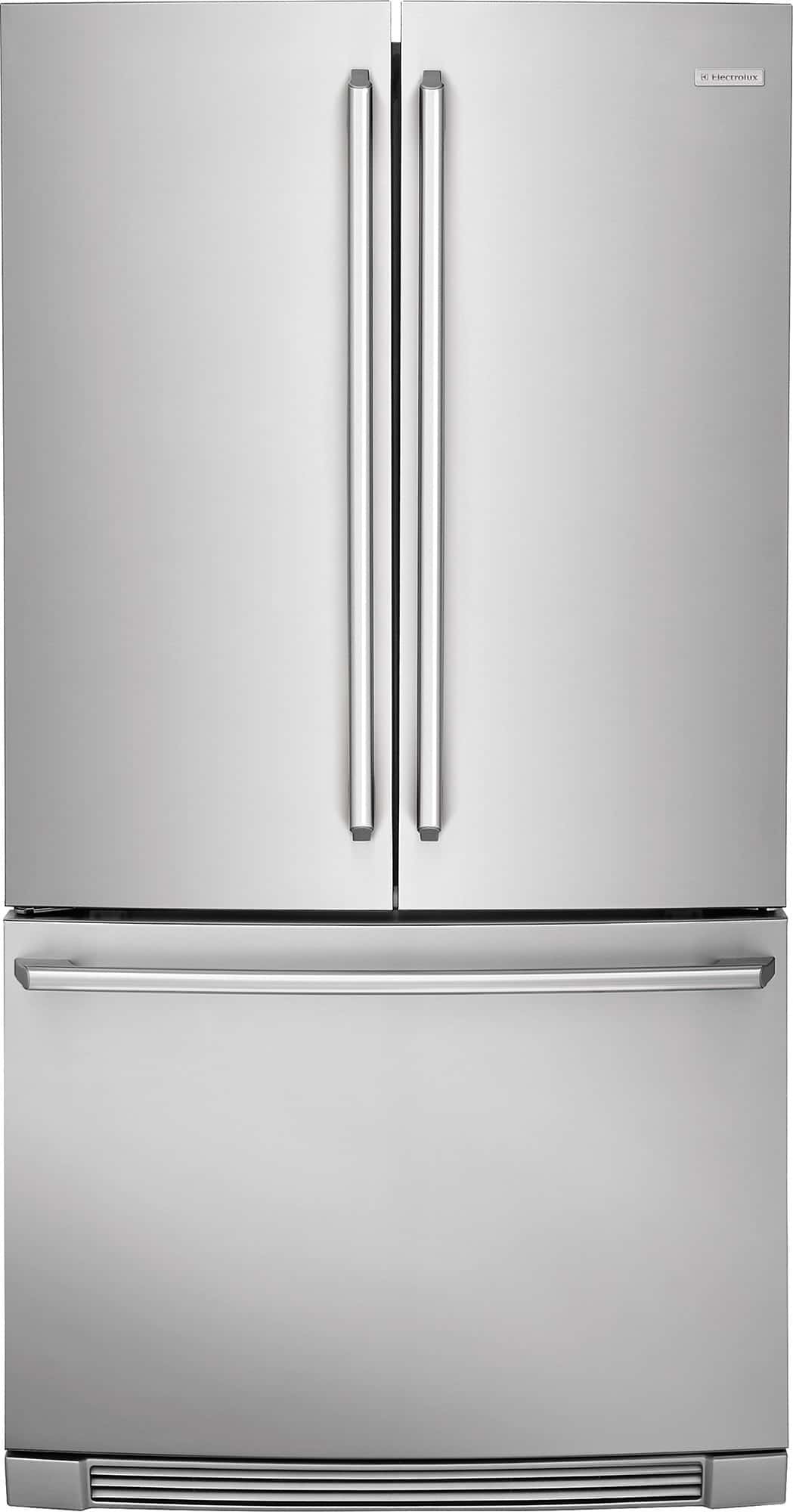 Say what you will about Electrolux's refrigerators, but you must admit that this company builds sleek appliances. This French-door refrigerator is a stylish piece of engineering, with Electrolux's standard stainless steel finish. This model has a clean front face, with the controls hidden on the left door's inner edge.
Inside, there's ample refrigerator space that's divided by wide shelves, two crisper drawers, and Electrolux's Perfect Temp drawer. The freezer drawer is easy to open and shut, another sign of the company's engineering expertise.
You get freezer baskets to help you organize this space, which, sadly, is rather limited, according to reviews from past customers. However, you won't mind if you need more refrigerator space as this section is ample, with a capacity of 15.4 cubic feet.
Main Features
This Electrolux refrigerator model has a total capacity of 22.2 cubic feet.

Its freezer has 6.8 cubic feet, and the fridge has 15.4 cubic feet.

The fridge section has Electrolux's Luxury-Design Glass Shelves.

There are two crisper drawers.

It also has a Perfect Temp Drawer.

This model has a counter-depth design.

It has self-closing refrigerator doors.

The refrigerator has IQ touch controls.

The freezer drawers have the Luxury-Glide feature.

It has an ice maker in the freezer.
Pros
This is a nice-looking refrigerator.

There's ample space in the fridge section, making it easy to organize all your food items.

It has a bright LED light.

Its counter-depth design saves usable kitchen space.

It's quiet.
Cons
The icemaker keeps spilling ice cubes at the bottom of the freezer.

Items at the back of the fridge tend to freeze even after adjusting the temperature.

The freezer is a bit small.

Its stainless steel body is a fingerprint magnet.
Electrolux Model EW23BC87SS Counter-Depth French Door Refrigerator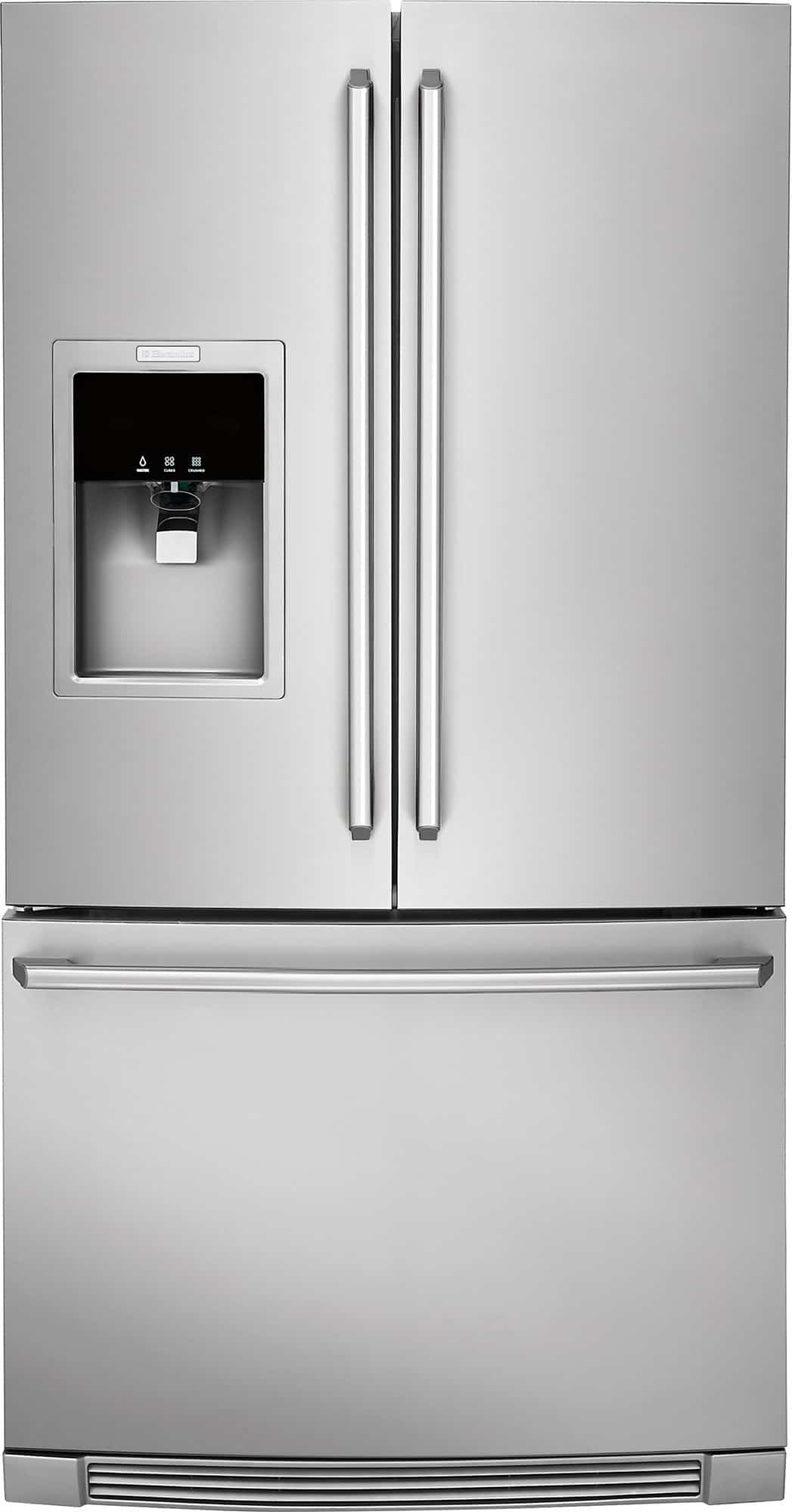 This Electrolux refrigerator carries on the company's reputation of elegance, with a stunning stainless steel build and a French-door design. Unlike the model above, this one has a water and ice dispenser on the left door. Its controls are above the dispenser – this model has the company's Wave-Touch Controls. Inside, as you'd expect, the refrigerator has loads of room for all your food items.
You can organize these on the wide shelves, in the crisper drawer, the Perfect Temp drawer, or in the large door bins. Sadly, the ice maker takes up some fridge real estate, but I think it's a worthy tradeoff for the convenience of ice on demand. 
This model's freezer is a similar size to the model we've featured above. However, since its icemaker is shifted to the fridge, there's slightly more room to work with here. And it goes without saying that the Luxury-Glide feature is always a pleasure to use, allowing the freezer to smoothly slide in and out.
Main Features
This refrigerator has a total capacity of 21.5 cubic feet. 

Its fridge section has 14.72 cubic feet, and the freezer has 6.82 cubic feet.

It has two crisper drawers and a Perfect Temp drawer.

The refrigerator has a counter-depth design.

It has self-closing doors.

It has PureAdvantage air and water filtration systems.

There's an interior LED light.
Pros
This refrigerator has ample fridge space.

The crisper drawers work perfectly.

It looks beautiful.

It dispenses both ice cubes and crushed ice.
Cons
Its ice maker is slow.

The ice maker takes up some fridge space.
Electrolux Model ERMC2295AS Counter-Depth French Door Refrigerator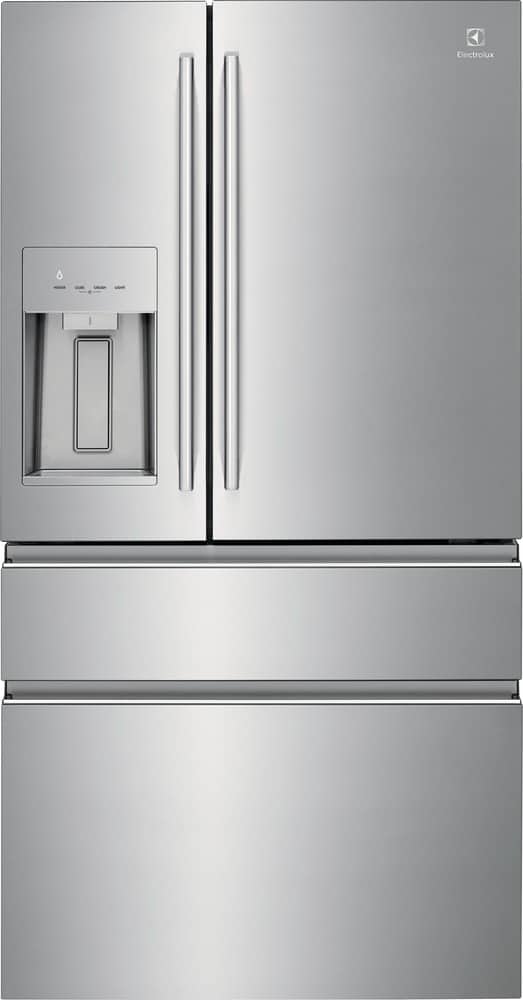 This is Electrolux's most expensive refrigerator model, costing about $3700. It is also the company's best Its design is slightly different from its cheaper siblings; this one has two drawers below the refrigerator section.
Its middle drawer is the TempAdapt Drawer, which can be used as either a refrigerator or freezer, thanks to its wide temperature range. Another difference is that this refrigerator's doors aren't equally sized – the door to the right is slightly wider, which Electrolux calls an ExtraAccess door.
This wider door means that you'll have access to most items in the refrigerator without opening both doors. On the left, there's a water and ice dispenser. The controls are hidden on the inner edge of this door.
Main Features
This Electrolux refrigerator has a total capacity of 21.4 cubic feet.

Its freezer has 5.8 cubic feet, the TempAdapt drawer has 2.56 cubic feet, and the fridge has 13 cubic feet.

There are two crisper drawers with automatic humidity control.

It has auto-close doors.

The refrigerator has a Quick Freeze feature.

It has an icemaker and a water/ice dispenser.
Pros
It dispenses both crushed and cubed ice.

The middle drawer can act as another freezer compartment.

It has a bright interior light.

The refrigerator is quiet.
Cons
The icemaker can be a bit noisy.
Alternative Refrigerator Options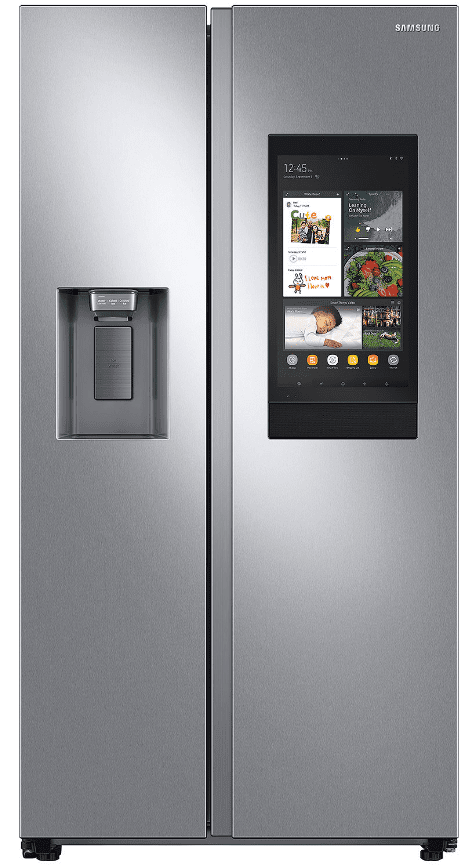 This Samsung side-by-side model is a good option for you if you prefer this type of refrigerator. It boasts some of Samsung's latest and greatest tech, like a Family Hub screen, which makes this an entertainment center as well as a refrigerator.
This model also offers smart functionality, allowing you to control it remotely via your smartphone. The refrigerator also boasts a large capacity of 26.7 cubic feet, with the refrigerator taking up 17.2 cubic feet and the freezer 9.5 cubic feet. Finally, its price of about $1900 makes it significantly more affordable than all of Electrolux's options. 
Find out more about this and other Samsung refrigerator models in this article.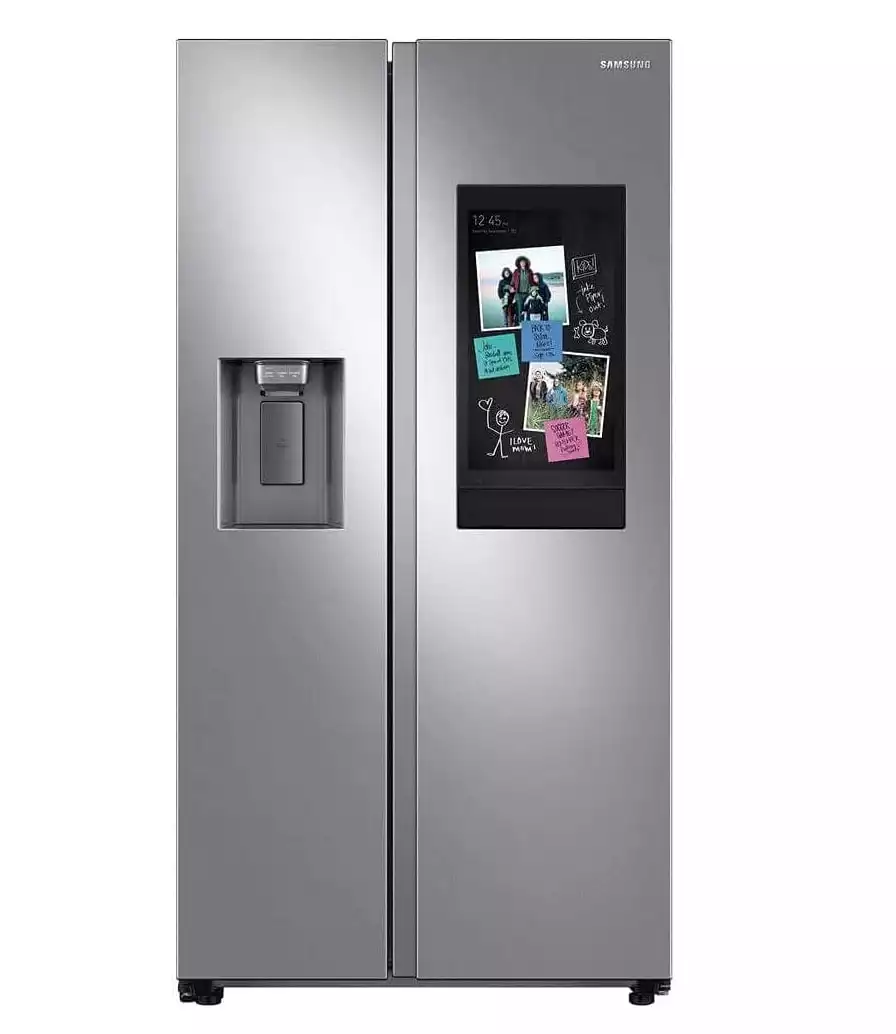 LG Model LBNC15231V 15 cu. ft. Bottom Freezer Refrigerator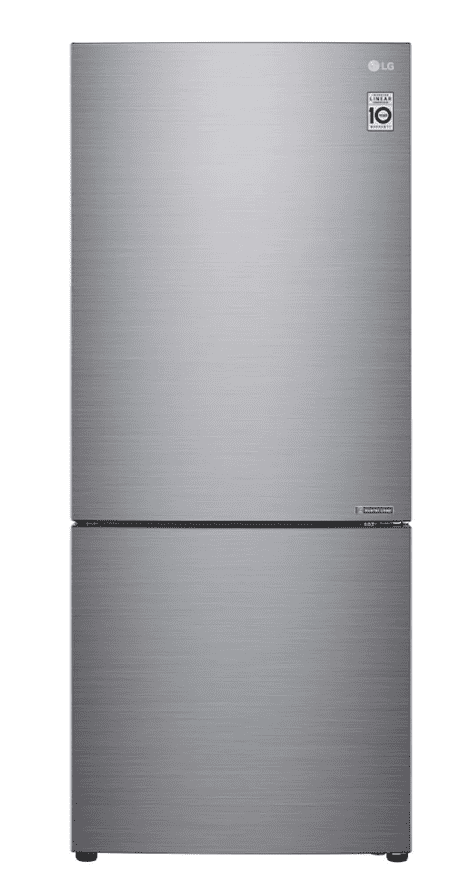 For those looking for a bottom-freezer unit, this LG refrigerator is one of the best you can find. First, it rides on LG's reputation of reliability, which is enough to sway even the most skeptical buyer. Second, it isn't too costly compared to what you'd spend on an Electrolux model.
But this isn't a cheaply built appliance; its stainless steel finish makes sure of it. Inside, you'll find ample storage, with glass shelves and large door bins offering food organization options in the 15-cubic-foot capacity. LG didn't skimp on tech in this model, giving it digital sensors, door cooling, and the company's Multi-Air Flow System for improved humidity control.
If you're looking for a bottom freezer model, this is one to add to your shortlist. Learn about LG's refrigerator models in this article.
Whirlpool Model: WRT518SZFM 28-inch Wide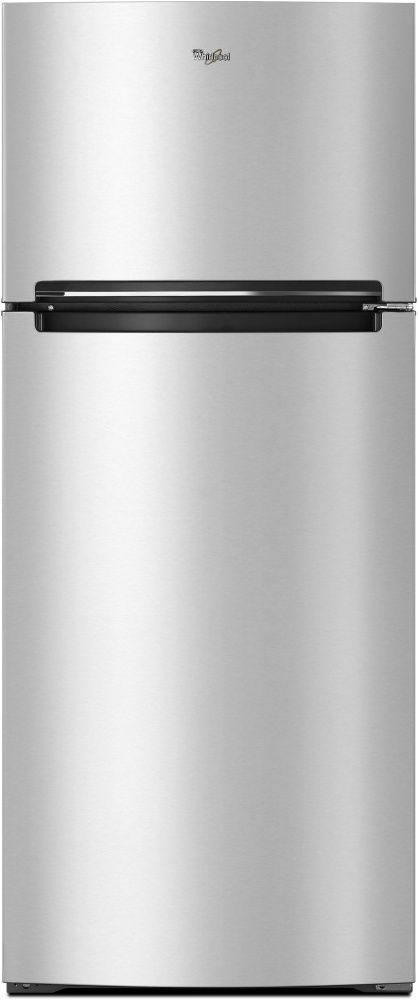 Electrolux doesn't offer any top-freezer refrigerator models, so this is a good option for those interested in a smaller and more affordable refrigerator. Whirlpool builds some of the most reliable appliances, so you can be sure that this model will offer you years of service.
This is an 18-cubic-foot refrigerator with a stainless steel exterior. Inside, there are multiple shelves in both the fridge and freezer, plus crisper drawers and door bins. You'll get manual humidity control in the crisper drawer, but this is common in inexpensive refrigerators such as this one. This model doesn't come with an icemaker, but you can connect an icemaker kit that's sold separately. 
Find out more about Whirlpool's refrigerator models in this in-depth guide.
FAQs
Question: Are Electrolux refrigerators good?
Answer: Electrolux refrigerators are high-quality, luxury appliances that are built for heavy use and are targeted at professionals.
Question: Is Electrolux a high-end brand?
Answer: Yes, Electrolux is a high-end brand with premium appliances and a price tag to match.
Question: Where are Electrolux fridges made?
Answer: Electrolux fridges are manufactured in Mexico.
The Verdict
Electrolux's refrigerators are premium products with excellent features. They're built to handle heavy use, so they last for years. However, you'll pay a premium to own one. If you're a professional or you love to entertain, these are models worth considering. However, if you want a refrigerator for basic use, then it would be hard for me to justify spending over $2500 for one. 
If your budget allows, then go ahead and get yourself an Electrolux refrigerator. However, if you're looking for cheaper options, consider the alternatives we've shared above.