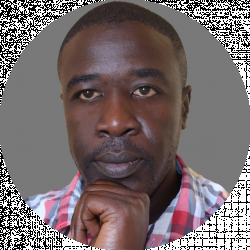 Latest posts by Barry Juma
(see all)
GE is a well-known US brand, popular for making some of the most reliable ovens in the market. Having been in the business for over a century, they've certainly honed their expertise in building reliable home appliances.
On average, GE ovens cost about $3000. Depending on the features you're looking for (more on these later) you might spend more or less than this. However, the company is finicky about style, so no matter your budget, you'll get a sleek and modern-looking oven for your home. 
If you're in need of a new oven, GE is definitely a great brand to go for. But with their vast catalog of ovens, I'm sure narrowing down your options might be overwhelming. So, to help you get started, we've put together this handy GE oven model guide. 
Things to Consider When Choosing a GE Oven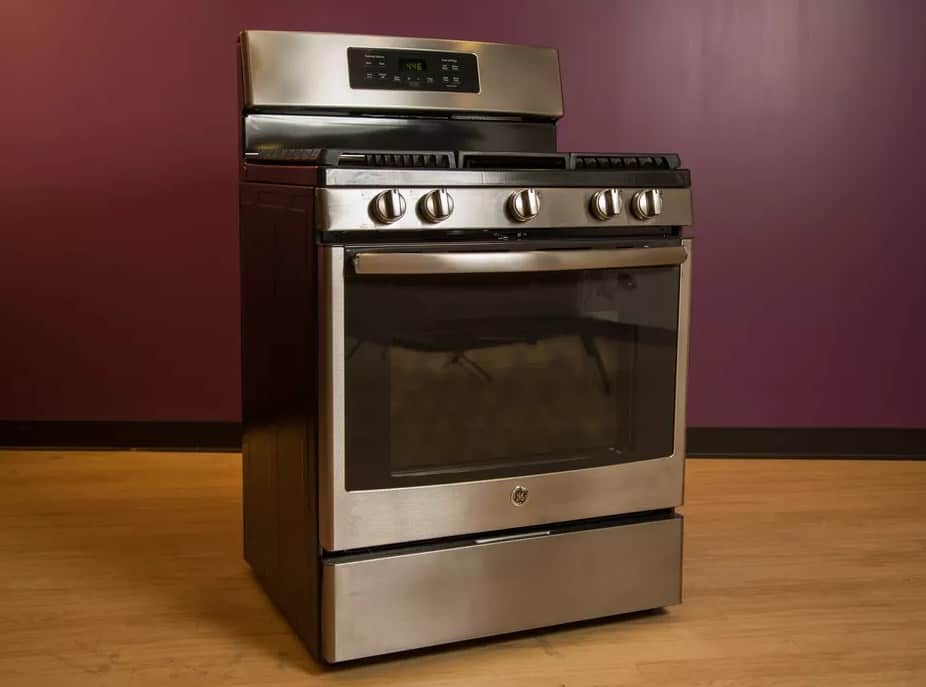 1. Size
Size can be thought of in two ways: the dimensions of the oven and the capacity of the oven.
GE Oven Dimensions
GE's smallest wall oven has dimensions of about 28 inches in height, a width of 23 inches and a depth of 23 inches. Their gas ovens, on the flip side, are the tallest with a height of about 38 inches. 
GE categorizes their ovens according to the width: 24, 27, and 30 inches. Consider these size differences to make sure the available slot in your kitchen will be sufficient for your desired GE oven.
Oven Capacity
The oven capacity is measured in cubic feet. GE's compact models are 2.7 cubic feet while the largest ones are 5 cubic feet. The 27-inch models have oven capacities of about 4.3 cubic feet.
Before you settle on a size, ask yourself the following questions;
How much do you use the oven?
Do you prepare a lot of dishes in the oven, like pizzas and pastries? If so then perhaps a slightly larger oven would be best for you.
How many people do you cook for?
If it's just you then a 24-inch GE oven might be a good choice. If you have a large household then probably a larger oven would do. Still, if you have a large household but you don't use the oven that often, then a larger one might be overkill.
Are you replacing an existing oven or remodeling your kitchen?
If you're replacing an existing oven then you probably should buy a similarly sized oven like the one you currently have. Going for a different size will mean modifying the available slot for the oven, resulting in extra costs.

However, if you're planning to remodel your kitchen then a different size wouldn't be a bad idea.
Do you often entertain guests?
If yes, then a larger oven is a good choice, since you'll be able to cook multiple dishes at the same time. You may also want to consider a double oven.
2. Your Budget
This should, perhaps, be the first thing you consider when choosing an oven. How much you have to spend will determine whether you opt for state-of-the-art features or a bare-bones oven. 
Thankfully, GE has a variety of ovens from about $1500 all the way to $4500. 
The cheapest 24-inch oven costs $1443 while the most expensive one in this category costs $2332. If you want a bigger option, GE's most affordable 27-inch oven costs $1666 while their lowest-priced 30-inch oven costs $1665.  On the higher end, with $4443, you'll get a 30-inch combination oven with advanced features. 
3. Fuel Type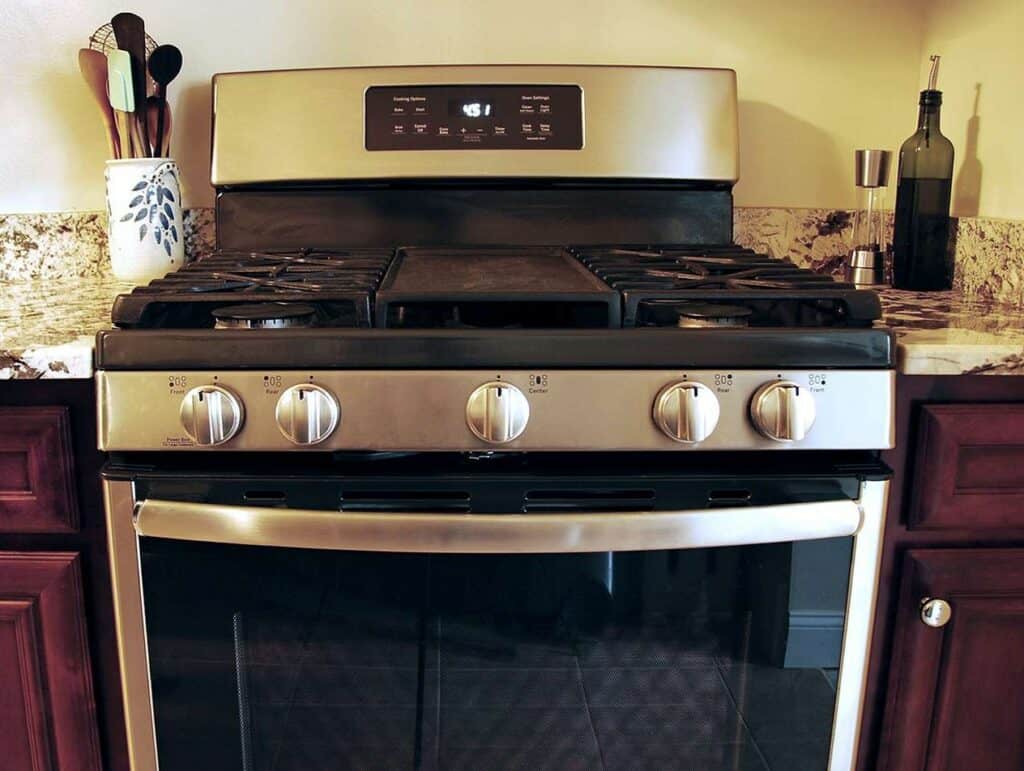 Consider whether you want an electric or a gas oven. Your choice depends on your cooking needs. 
Gas
Gas ovens are known to be cheaper to run since the monthly cost of natural gas is lower than that of electricity. Another major advantage of gas ovens is that they heat up faster than electricity.  Due to the burning of gas, there tends to be more moisture in gas ovens as a result. This might work well when cooking meat dishes or pies but may be a setback when baking cakes. 
Pros and cons of gas ovens
| | |
| --- | --- |
| Pros | Cons |
| 1. Gas ovens heat up faster than electric ovens. | 1. There's uneven heating within gas ovens. |
| 2. They offer instant temperature change. | 2. To maintain a temperature, the flame in gas ovens constantly turns on and off, leading to inconsistent temperature. |
| 3. Because gas ovens are more humid, meat dishes and pies don't come out dry. | 3. Gas ovens are more humid and are, therefore, ineffective in browning and crisping.  |
| 4. The cost of running a gas oven is lower than that of an electric oven. | 4. You need to regularly turn food in gas ovens to ensure even cooking. |
Electric oven
The biggest drawback of electric ovens is the cost of running them; electricity prices are higher than gas prices. These ovens also take a while to preheat, compared to gas, but there's less temperature fluctuation. So, electric ovens maintain consistent heat throughout, something that gas ovens find hard to do.
Pros and cons of electric ovens
| | |
| --- | --- |
| Pros | Cons |
| 1. An electric oven maintains a more consistent temperature throughout cooking. | 1. The monthly cost of electricity is higher than that of gas. |
| 2. The heat within the oven is evenly distributed resulting in fewer hot and cool spots. | 2. Electric ovens take longer than gas to preheat. |
| 3. Electric ovens are great at browning and crisping food. |   |
| 4. There's less humidity inside electric ovens. |   |
Which fuel type should you choose?
If you don't do a lot of baking then a gas oven would be just fine. However, if you prepare dishes that need crisping and browning then consider an electric oven.
4. Oven Type
There are three types of GE ovens to choose from: single ovens, double ovens, combination ovens.
Single oven
As implied by the name, a single oven is one oven. These are ideal for light users and small households. GE offers both gas and electric single ovens.
Double oven
If you're a heavy oven user or you often have guests over, then a double oven would be a great addition to your home.

These are two ovens, one on top of another. With a double oven, you get the flexibility of preparing multiple dishes that require different temperatures, at the same time. For instance, you can bake a dessert in one while grilling the main dish in another.
However, if you're replacing a single oven then you'll need to modify your cabinets to make more space for the larger double oven.
Combination oven
These are a combination of an oven and a microwave in a configuration that's similar to the double oven. The microwave oven will be at the top and a convection oven below. Combination ovens, therefore, offer the speed of a microwave and the functionality of a traditional oven.

If you need to quickly cook certain dishes like pizzas then the microwave oven at the top works best. And when you need to bake or grill more complicated dishes then the oven below is for you. So, these ovens offer versatility and efficiency. 
A common question people ask is: Is it better to get a double oven or two single ovens?
It's cheaper to get a double oven as opposed to two single ovens. The cheapest GE 30-inch double oven costs $2443 while the cheapest 30-inch GE single oven costs $1665. If you buy two single ovens you'll spend $3330, a difference of $887. 
These two models have the same features: self-cleaning, WiFi connectivity, and 5.0 cu.ft capacity. So, despite spending more on two single ovens, you'll be getting the same features. Also, you'll need slightly more space for two single ovens, as well as two different outlets. 
Main Features of GE Ovens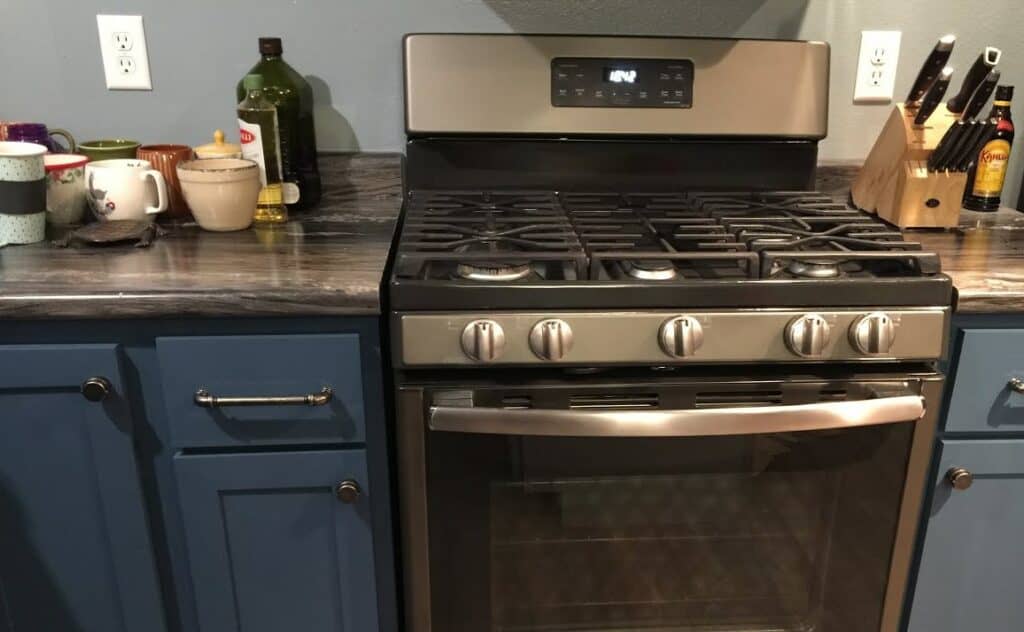 Advantium Technology
Advantium technology involves the use of heat from light to cook food. These ovens are fitted with top and bottom halogen bulbs that produce heat that browns food on the outside, just the way a regular oven would. However, these bulbs work in tandem with microwave energy to result in a very fast and effective cooking process.

GE is one of the few manufacturers that sell ovens, like this model, with Advantium technology.
Convection Oven Technology
These types of ovens are growing more and more in popularity and GE offers a wide range of models with convection technology. Convection ovens have a fan within, which circulates the hot air and ensures even heating within the oven cavity. As a result, your food will always come out evenly cooked.

Here's GE's most affordable 30-inch convection oven.
Fingerprint Resistant Material
If you detest the constant smudges that show on appliances then you'll be glad to know that GE has a line of ovens with a fingerprint-resistant material. These models – like this double oven – boast a protective coating that gives it this property.

Consequently, you'll spend less time wiping off fingerprints. However, when you do need to wipe them, use a soft cloth and avoid cleaners with chlorine. These are likely to erode the fingerprint-resistant coating. 
Self Cleaning 
GE has a line of ovens with either self-cleaning or self-cleaning with steam function. This feature works by using extremely high heat to burn food particles to ash. Some GE oven models also have a steam-cleaning function that will work in collaboration with the heat for a much better clean.

This feature eliminates the need to scrub, rather, all you'll need to do is wipe off the ash residue, which should only take a few minutes. 
Thankfully, you don't need to pay top dollar to get a GE oven model with self-cleaning. For as low as $1665, you can get this 30-inch single wall oven with self-clean and steam-clean functionality. 
Capacity
A standard-sized GE oven has a capacity of 5 cubic feet. However, there are smaller ovens with 4.3 cubic feet in the 27-inch models and 2.7 cubic feet in the compact 24-inch models. If you need more oven capacity, you can opt for the double oven models.

For instance, this GE 24-inch double wall oven has a capacity of 2.7 cubic feet in both ovens. So, you get a total of 5.4 cubic feet. Still, this 30-inch smart double oven offers two 5.0-cubic-foot ovens; a total of 10 cubic feet. 
You can also get models like this combination double oven with a smaller upper oven. In this case, the upper one has a capacity of 1.7 cubic feet while the smaller one has 5.0 cubic feet. 
Smart Features
Most GE oven models have in-built WiFi that allows you to connect your appliance to your smartphone via GE's SmartHQ App. This gives you the ability to remotely monitor and operate your oven via your phone; you can pre-heat or set timers, among other functions.

The app also sends you notifications, for instance when a timer runs out. Higher-end models, like this GE Profile double wall oven, allow you to download new features to your oven via the app. 
5 Best GE Oven Models
1. GE JTS3000SNSS 30" Smart Single Wall Oven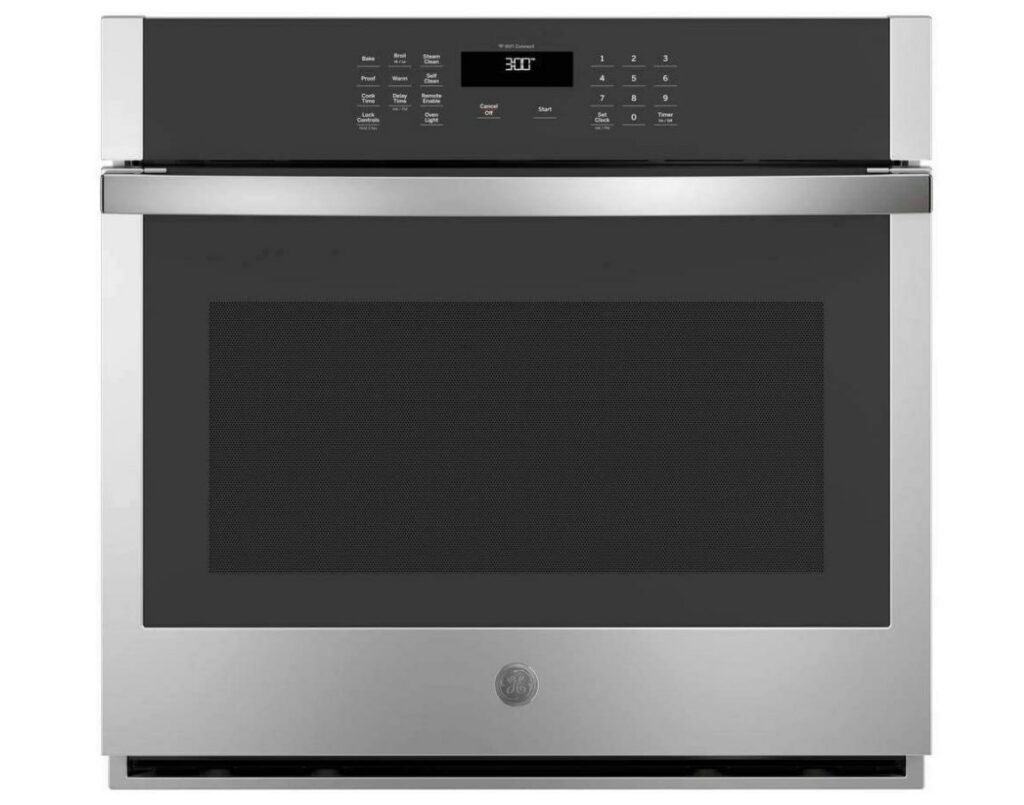 This GE single oven is one of the most affordable models in the company's catalog. Despite its reasonable price, the oven boasts a raft of features that are found in GE's high-end models. But one thing missing is the convection feature, which has grown in popularity. 
In terms of looks, GE scores points in designing sleek appliances, and this stainless steel oven is no different. The front face is marked by a digital-touch control panel and an LED display, complementing its state-of-the-art appeal. 
Main Features
Self-cleaning with steam
This is one of GE's most affordable ovens that has a self-cleaning function. And unlike most oven brands, GE's ovens are among the few that offer an additional steam-cleaning function as well, which is also available in this one. 
Heavy-duty racks
The oven racks are made to resist the extremely high temperatures of self-cleaning cycles. Therefore, you don't need to remove them during this process. Just leave them in and allow the oven to clean them as well. This GE oven, therefore, reduces the amount of manual cleaning you'll need to do.
WiFi connectivity
With inbuilt WiFi connectivity, you can remotely monitor and operate the oven via GE's Smart HQ app. Using your smartphone, you can preheat the oven, set the oven timer, and get alerts. The app is also compatible with Amazon Alexa or Google Assistant, allowing you to operate the oven using voice commands.
| | |
| --- | --- |
| Pros | Cons |
| WiFi connectivity allows you to remotely operate this GE oven. | There's no convection feature. |
| The oven has self-cleaning with steam for a thorough clean. |   |
| It has heavy-duty racks that can withstand the high heat of self-cleaning cycles. So, you need not remove them during the cycle. |   |
| It's affordable. |   |
2. GE 30″ Stainless Steel Built-In Convection Single Wall Oven – JTS5000SNSS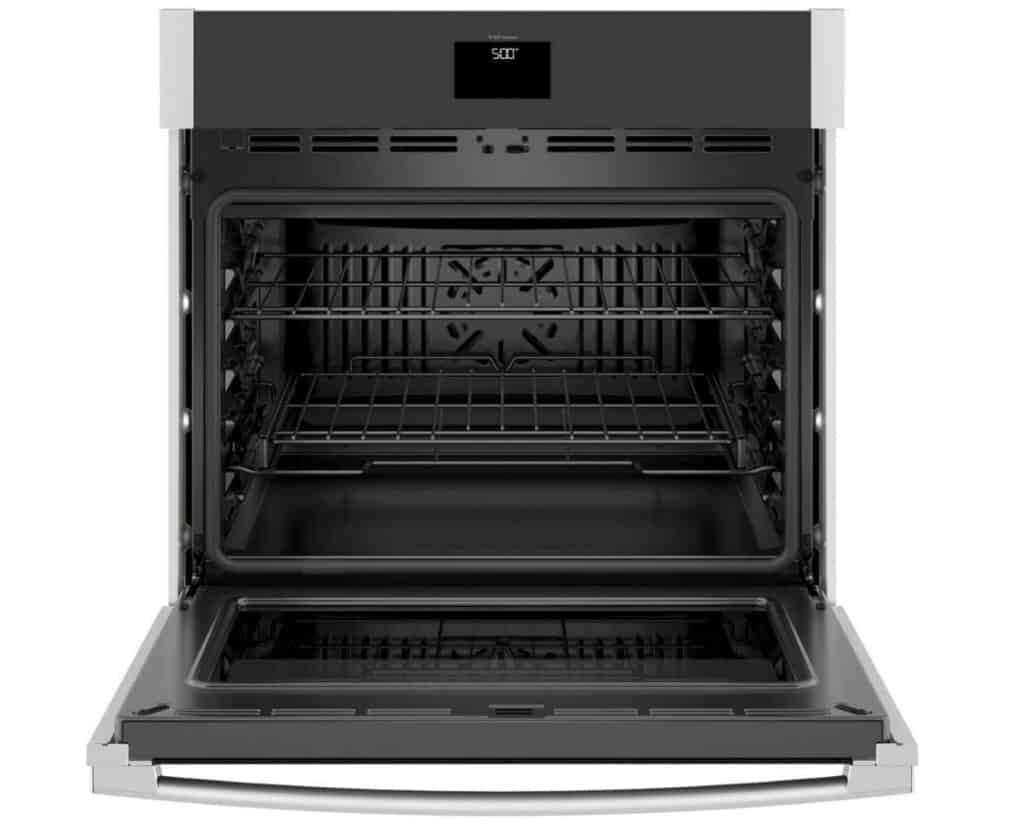 Depending on where you buy this GE oven model, you can get it for less than $2000. With its premium features and sleek looks, there's no wonder why it's another popular single oven by GE. 
The front face is unmistakably GE-like. Its controls are backlit and remain hidden when not in use. On pressing, the control panel becomes brightly illuminated, revealing all the cooking modes available to you. Only the clock display remains visible when the control's backlight is off, giving the oven an elegant, modern look. 
Main Features   
Convection oven
Enjoy the benefits of a convection oven in this GE model. The back of the oven cavity has a convection fan that blows to evenly distribute heat, ensuring uniformly browned food. Working together with the fan is a third heating element that allows food to cook faster and better. 
Roller racks
The racks are designed to smoothly roll out of the oven, even with heavy dishes on them. So, you need not struggle to remove the racks when you need to. Moreover, this design also ensures that the rack stays in place when inside the oven. 
Heavy-duty racks
There's no need to remove the racks during the self-cleaning cycle. Made of heavy-duty material, they can handle the very high heat of self-cleaning. So, they will also get cleaned in the process, that's why they're called 'never scrub' racks. 
Built-in WiFi
Use GE's Smart HQ app to remotely monitor the oven and perform functions like setting the timer and preheating, just like in the previous model on this list.
You can also monitor the food's temperature using their remote probe feature. Simply insert the temperature probe into the food and let the oven send you updates via the app. Because of this feature, your food should always be perfectly cooked.
| | |
| --- | --- |
| Pros | Cons |
| This GE oven's hidden back-lit controls give it a modern look. | It takes a long time to pre-heat. |
| With WiFi connectivity, you don't need to walk to your oven to monitor the food's progress. |   |
| Its smooth-glide racks easily slide in and out of the oven. |   |
| This oven is reasonably priced. |   |
3. GE 30″ JTD5000SNSS Smart Built-In Self-Clean Convection Double Wall Oven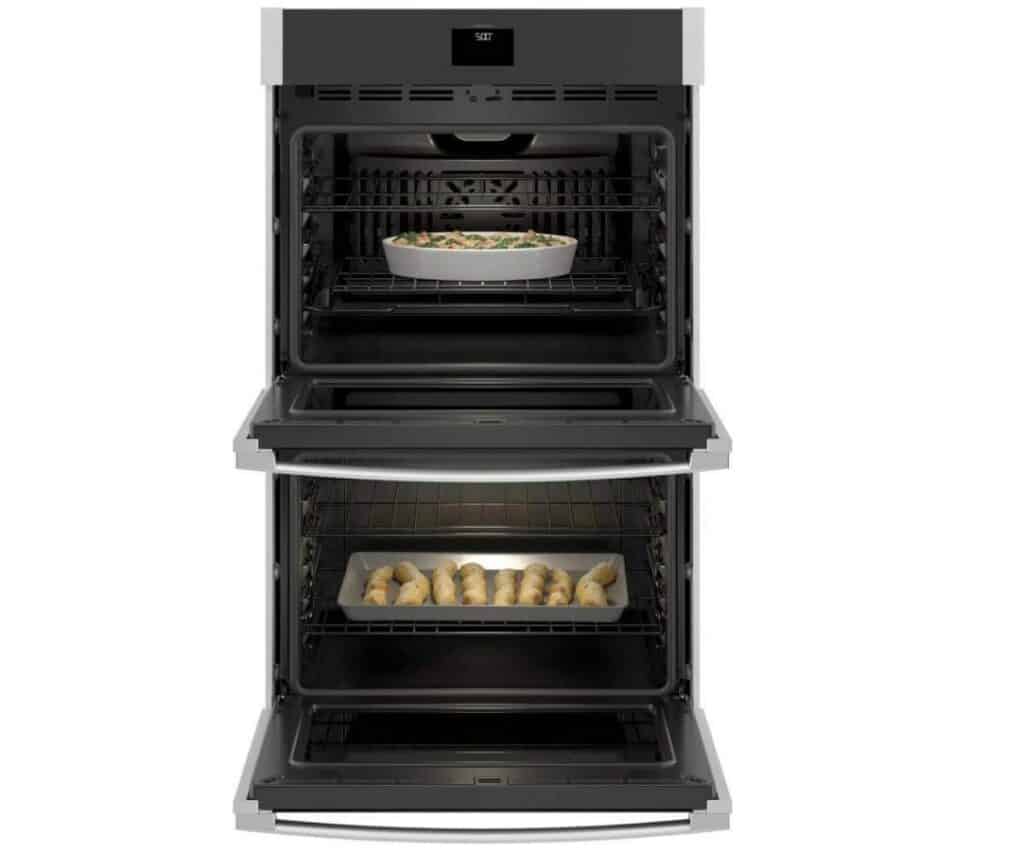 Double ovens are excellent options for those who do a lot of oven cooking. With two 5.0-cubic-foot ovens, this GE model gives you ample oven space for all your culinary endeavors. Its upper oven has the popular convection feature, which does well in evenly browning food. However, if you prefer a traditional oven, you can always use the lower one.
The oven bears GE's signature look, and it's certainly a fancy appliance. Its front face seems to only have a clock, but there's a hidden control panel that lights up when you need it to and remains invisible when not in use.
Main Features
Heavy-duty racks
GE calls the racks in this oven the never-scrub racks. This is because you'll never need to wash them as the heavy-duty material they're made of can withstand the harsh heat of self-cleaning cycles. 
Self-clean with steam option
Don't worry about manually keeping the oven cavity sanitary. This model has GE's popular self-clean feature that effectively removes baked-on residue. And with the option of using steam, you'll have a clean oven without making much of an effort.
WiFi connectivity and remote temperature probe
Enjoy the convenience of remotely operating your oven via the SmartHQ app. This GE oven comes with the benefits of WiFi connectivity that not only allows you to monitor your appliance remotely but also the progress of your food. With a remote temperature probe, you'll know the exact inner temperature of your food right from your smartphone.
| | |
| --- | --- |
| Pros | Cons |
| This double oven offers a total capacity of 10 cubic feet combined. | It takes a long time to pre-heat |
| Its heavy-duty racks are able to handle the harsh temperatures of self-cleaning cycles. | There's no independent light for each oven. |
| Its hidden control gives the oven a stylish, modern look. |   |
| The oven has WiFi connectivity that allows for remote operation. |   |
4. GE Profile™ PT9800SHSS 30-in. Combination Double Wall Oven with Convection and Advantium® Technology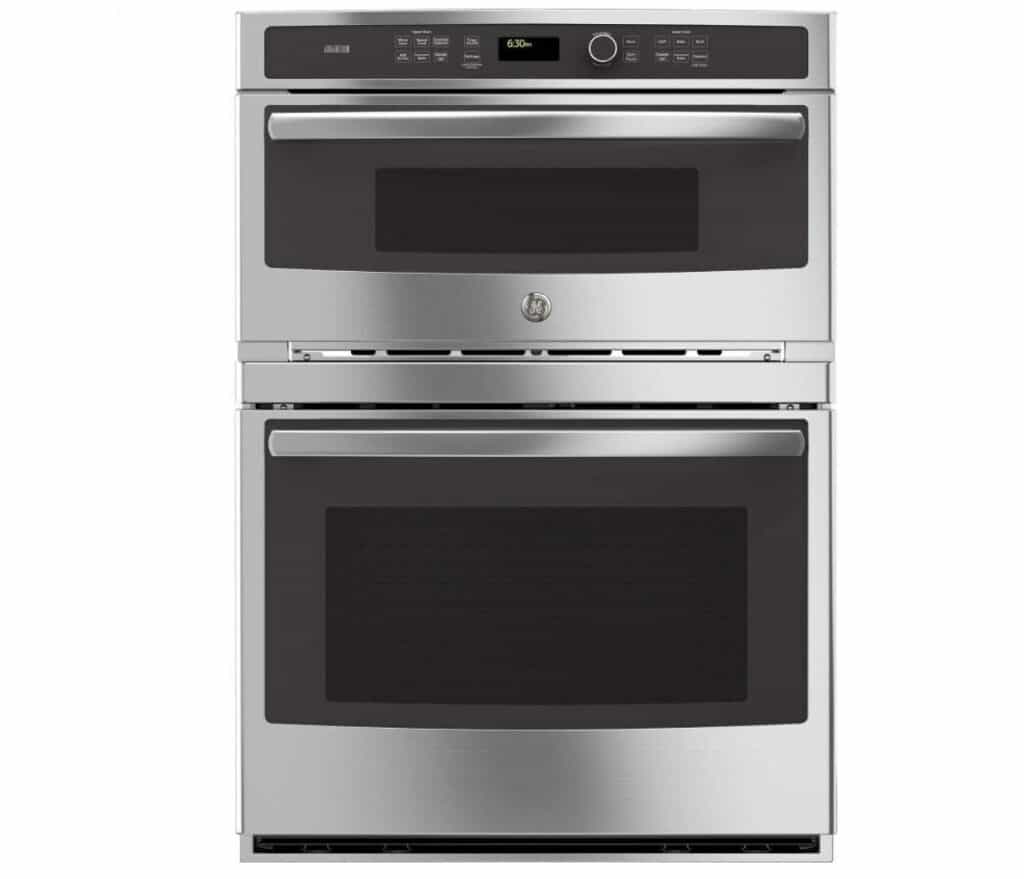 If you're looking for versatility then this oven will offer you just that. Its killer feature is the Advantium technology, which is included in the upper 1.7-cubic-foot oven. The lower oven, on the other hand, is a 5.0-cubic-foot convection oven that's equally as impressive. 
It's no surprise that this GE Profile double oven is one of the company's high-end models. And its performance matches the hype around it. 
Main Features
Advantium technology
The upper oven boasts the impressive Advantium oven technology. This involves the use of heat from halogen bulbs in conjunction with microwaves to quickly and evenly cook your food. In fact, the Speedcook mode can perform up to four times faster than traditional ovens, thanks to the magic of Advantium. 
Convection lower oven
A 5.0-cubic-foot convection oven makes up the lower part of this GE appliance. It has the standard two heating elements as is the case in other ovens, but GE has also included a third element for improved results. Coupled with the convection fan, the oven cavity will always have a consistent temperature when in use. 
Self-cleaning function
Enjoy GE's popular self-cleaning functionality in the lower oven, which also has the option of using steam. 
| | |
| --- | --- |
| Pros | Cons |
| With Advantium technology in the upper oven, this model can cook food quickly and effectively. | The microwave beeper sound is low, even on its highest volume. |
| This GE Profile oven also has a convection lower oven for regular baking and broiling. |   |
| There are over 100 preset menu selections to choose from. |   |
| The upper oven can also work as a microwave. |   |
5. GE Profile™ PT7800SHSS 30″ Built-In Combination Convection Microwave/Convection Wall Oven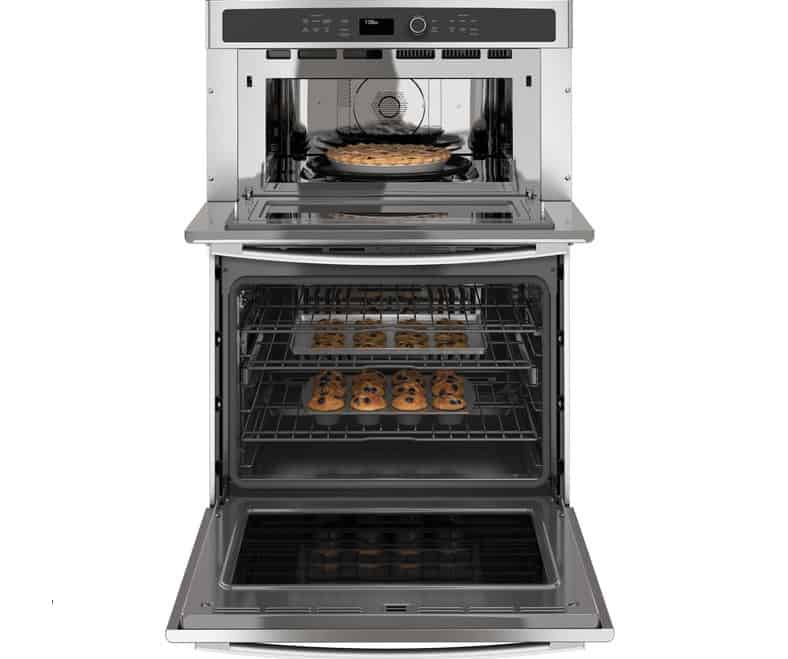 A slightly cheaper version of the model PT9800SHSS featured above, this one lacks Advantium technology. But that's about all that's different between the two models; everything else from the look to the features is similar. 
The upper oven – which is a convection microwave – has a capacity of 1.7 cubic feet while the lower one is standard-sized at 5.0 cubic feet. As is common with GE ovens, this model is quite easy to use, with user-friendly glass-touch controls as well as a dial. 
Main Features
Convection oven and microwave
Get the benefits of convection in both the upper and lower ovens. You'll not only enjoy fast cooking but also get evenly cooked food each time. 
Large microwave capacity
Like a microwave, the upper oven is large enough. In fact, it has a 16-inch turntable that's a lot bigger than standard-sized microwave turntables. So, you'll not only be able to easily reheat food but also get to quickly cook or defrost meals.
European convection
The lower oven has three heating elements and a fan for what GE calls true European convection. This basically means that you'll always get excellent results, whether you're baking, roasting, or broiling.
Self-clean with steam option
Just like the previous models on this list, this GE oven also has the popular self-clean function as well as steam cleaning. Coupled with the heavy-duty racks, you won't need to worry about taking time to clean the oven yourself.
| | |
| --- | --- |
| Pros | Cons |
| The upper convection microwave and lower convection oven cook food fast and evenly. | The timer's beep is too low even on its highest volume. |
| It has a self-clean function with a steam option. |   |
| The oven looks elegant. |   |
| There are heavy-duty racks in the lower oven, which can also be cleaned in the self-clean cycle. |   |
| It's available in four colors: stainless steel, black, slate, and white. |   |
FAQs
Question: Does GE make good ovens?
Answer: Yes, GE makes good ovens. This company is known for making some of the most reliable ovens in the market, according to Consumer Reports. And as seen in this Puls National Appliance Repair Report, GE ovens are the most recommended in the US.
Question: Is GE Profile better than GE?
Answer: GE Profile is a sub-brand of GE that's sold at a slightly higher price point. They're known for spotting a fancier look than standard GE appliances and they boast extra technologies that enhance connectivity with other GE smart appliances. This justifies their premium cost.
Question: Does an electric wall oven need to be vented?
Answer: No, electric wall ovens don't need to be vented because they have internal vents. 
Question: What is better, convection or conventional oven?
Answer: A convection oven is better than a conventional oven because heat is more evenly distributed within the cavity than in a conventional oven. This is because convection ovens have a fan that circulates hot air when in operation. As a result, food cooked in convection ovens comes out more evenly browned.
Question: How much space do you need behind a wall oven?
Answer: You need to leave a space of 3 inches (7.6 cm) all around a wall oven, including behind it. 
Finally
GE has a variety of ovens ranging in size and price. This article hopefully helps you to narrow down your choices in order to select the perfect GE oven model for your needs. Whichever one you choose, you'll enjoy the brand's track record of reliability, and their standard one-year warranty on parts and labor, in case your appliance fails.