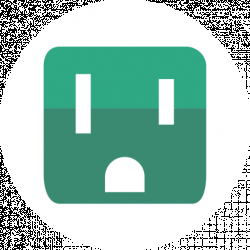 Latest posts by Appliance FAQs Team
(see all)
Whirlpool is one of the largest and popular manufacturers of kitchen and laundry appliances globally. One of their popular products is the Whirlpool dryer. Apart from Whirlpool laundry appliances, Whirlpool is also the mother company to brands like KitchenAid, JennAir, Amana, and Maytag.
Do you need to replace your broken dryer? Are you looking to buy your first dryer? The reason for getting a new dryer doesn't matter. All that matters is getting the right appliance to suit your needs. Finding the right dryer is not an easy task. There are many factors you need to consider of which you may not be aware. That said, we have compiled a list of some of the best for different scenarios.
Check out the products and how to choose them. If you don't find a Whirlpool option you like, you can check out the alternatives provided. Here we go!
Our Top Picks for Each Category
Check out the information below to know about the different categories and features of a Whirlpool dryer. It's very informative and designed to give you an insight into Whirlpool dryers.
Whirlpool WED5000W – 7 Cu. Ft: Top Load Electric/ Wrinkle Shield Plus Dryer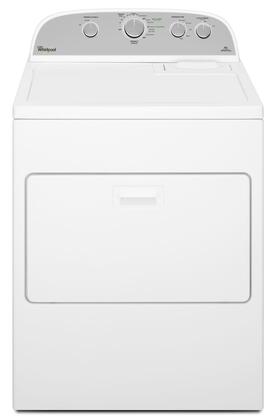 The Whirlpool WED5000W resembles Whirlpool WGD5000DW. The only difference is that the Whirlpool WED5000W has an electric rather than a gas heating element. This drier is available only in a white exterior finish.
This Whirlpool model has 7.0 cubic feet load capacity. It's a bit different from the other Whirlpool models. Others have a load capacity of 7.3 to 7.5 cubic feet. This dryer features the AccuDry system with two sensors to measure the laundry's temperature and moisture levels. When your clothes dry, the dryer automatically stops.
The Wrinkle Shield option can be set to run for a certain amount of time after the load is complete. It prevents wrinkles by tumbling the load every 5 minutes after the end of the drying cycle. This model is built and assembled in the United States.
Pros
Best for buyers looking for a smaller dryer
Budget-friendly
Great for people who like simple features
The AccuDry option makes it the best sale out
Wrinkle Shield plus
Cons
It may be too fancy for some buyers
Too many connections
WGD5000DW – 7 Cu. ft: Top Load Gas Wrinkle Shield Plus Dryer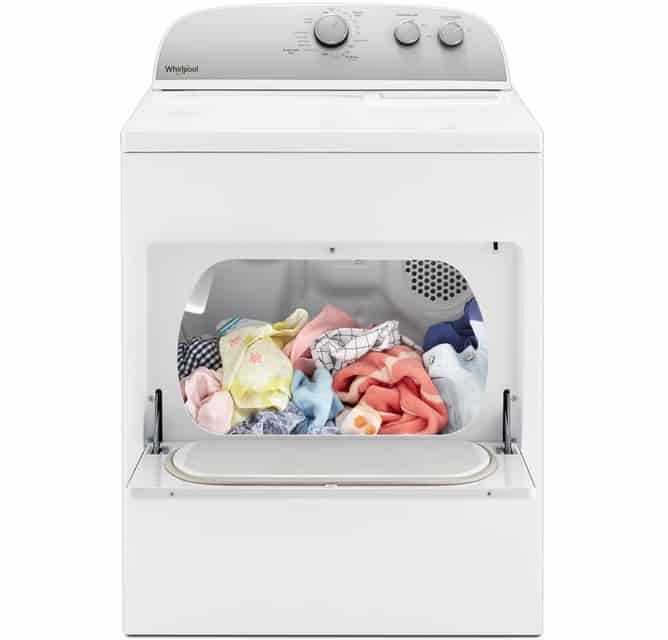 Do you like the features of the WED5000DW appliance? Do you want a gas option? If so, then the Whirlpool WGD5000DW is the appliance you need. It goes at almost the same price as the electric Whirlpool with the same features.
Both Whirlpool dryers (electric and gas) had an average of a 4 star out of 5-star rating system. The rating is according to various online reviews from several stores and forums. This gas model is, however, more energy-efficient compared to its electric counterpart.
This model is not Energy Star certified. However, it's a top load and is only available in a white exterior finish. It has a load capacity of 7.0 cubic feet, just like the Whirlpool mentioned above the electric dryer.
The WGD5000DW gas dryer has numerous features similar to the features of other dryers at the same price point. The AccuDry feature uses sensors to monitor the laundry's temperature and moisture levels. When your clothes dry, the dryer automatically stops.
Other features include the Wrinkle Shield feature. It helps prevent wrinkles by tumbling the load every 5 minutes after the drying cycle is done. This model is built and assembled in the United States.
Pros
Suitable for families with a gas hookup
Preferable for customers with a mid-range budget
Ideal for buyers looking for a smaller dryer
It's energy-efficient
AccuDry option
Cons
Not for clients looking for a high-end finish
Not for the tech-savvy buyers
Whirlpool WED8120HW 8.8 Cu. Ft: Top High-Capacity 240-Volt Smart Electric Dryer with Steam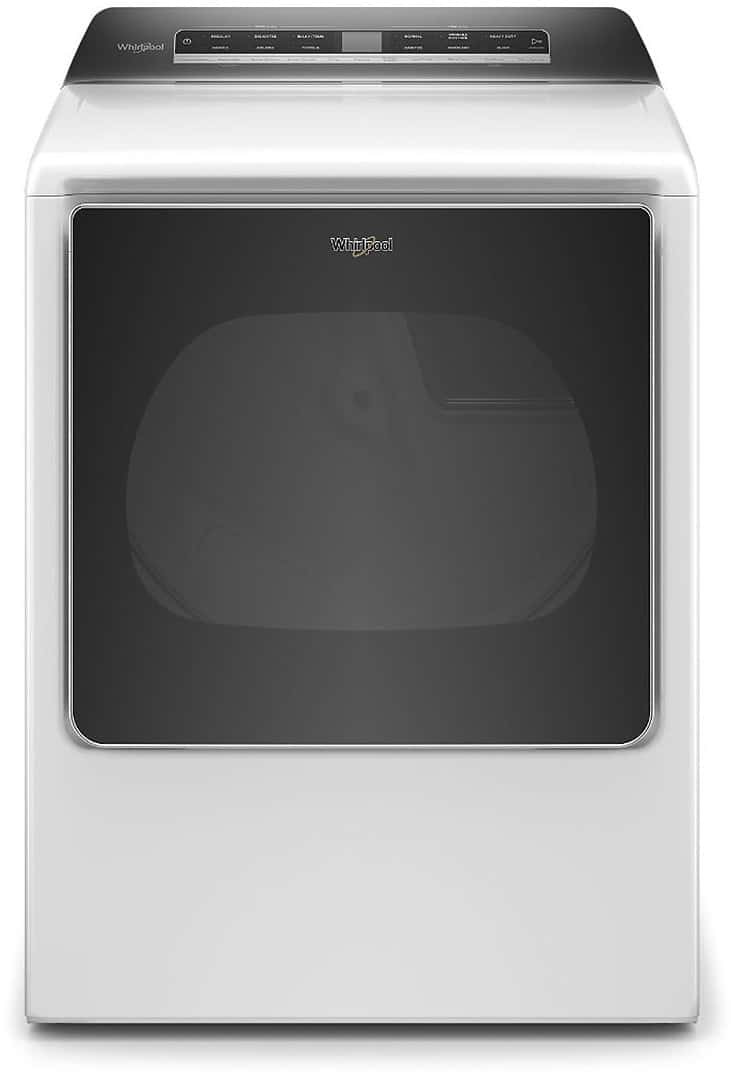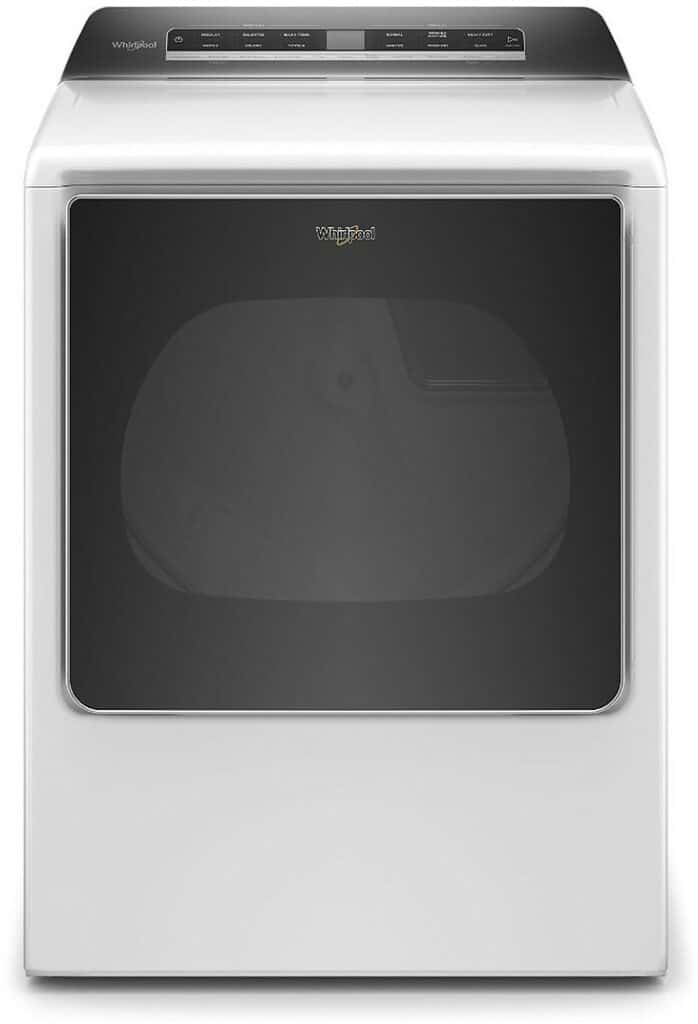 If you constantly fill your washers to the fill line, you need to look for a spacious dryer. The Whirlpool WED8120HW comes with smart technology and an 8.8 cubic-foot drum. This model is nearly 1.5 cubic feet over the average.
You can confidently fill this dryer with sweatshirts, socks, comforters, and towels. It has 3 sensors for measuring the moisture content in your load. They adjust how long the cycle will last accordingly. You only need to subscribe and sign up for the Whirlpool app to upgrade the appliance to a smart one. Once done, you can check in on your laundry remotely.
This model features a steam function that helps tackle stains, wrinkles, and any bacteria that may have set on your clothes. To eliminate most of the bacteria, you can also run a sanitize cycle.
WED8120HW has a reversible door and an interior light that enables you to remove your clothes with total ease. In addition, this dryer is also Energy Star certified. The certification means that it's highly efficient when it comes to energy consumption per cycle.
Being an electric dryer, you can plug it in a 240V outlet when you want to dry your clothes. However, you should occasionally check the dryer's lint trap. The reason is that it can collect lint often.
When the trap is clogged, your dryer may not function. Usually, there are error beeps or an error code displayed. However, you should also note that this is a good practice because it also increases your product's overall performance and lifespan.
Pros
Energy Star certified
Steam function
The door is reversible
Interior light
Features a sanitize cycle
Cons
May collect a lot of lint
App subscription is required to activate smart features
Whirlpool LDR3822PQ 3.4 Cu. Ft: Best Compact 120-Volt Electric Vented Dryer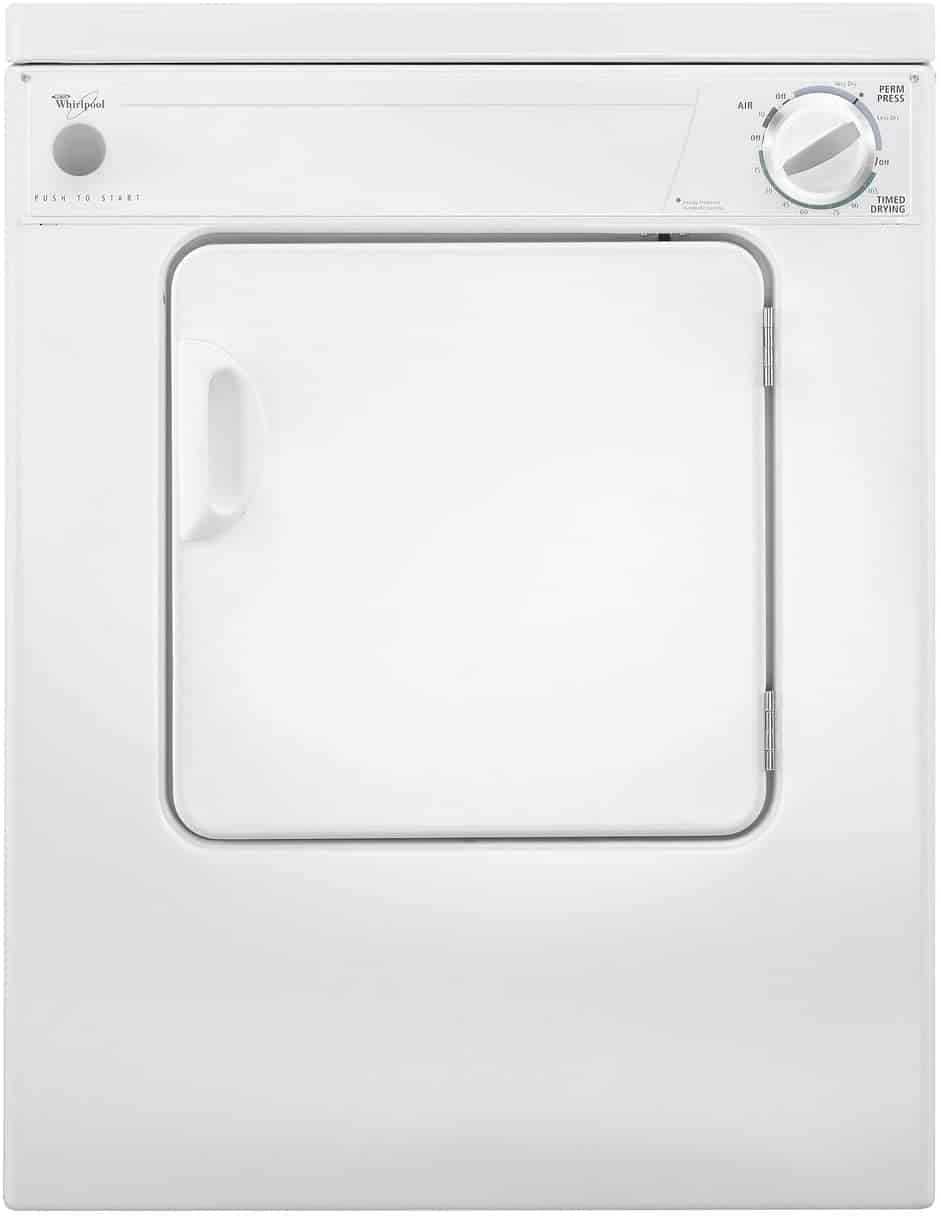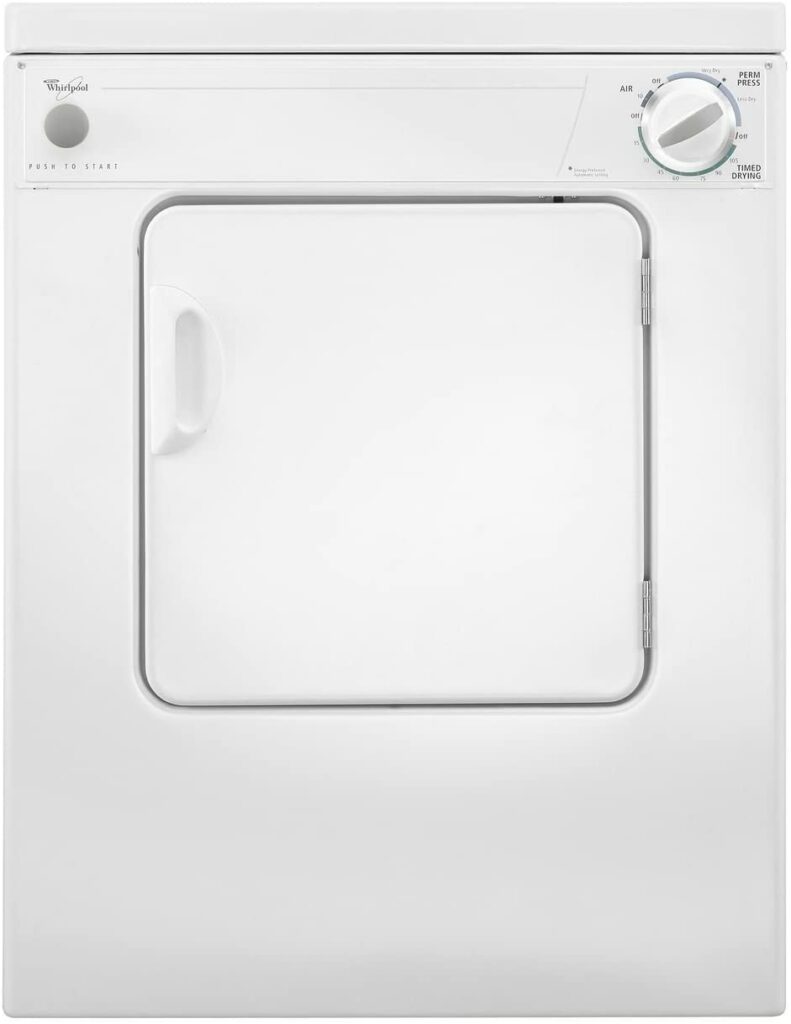 If you live in a condo, RV, or small apartment, you may require a compact dryer that can pair with a compact washing machine. The LDR3822PQ Whirlpool dryer is the ideal option for you!
This model has 3.4 cubic feet of space. It's stackable, meaning that you can install it in the corner of your bedroom. You don't require a special outlet to use the gadget in the United States. Just plug into your 110/120v mains outlet.
Once you plug this appliance in the socket, ensure that the adjustable legs are all leveled to your satisfaction. The compact Whirlpool dryer has fewer whistles and bells when the legs are adjusted. If you don't use a flat surface or adjust the legs improperly, be ready for loud sounds!
This dryer lacks smart features, steam function, and also features likes sanitize. However, it has sensor technology with all the features for reading the moisture levels in your clothes and adjusting them accordingly. LDR3822PQ has caster wheels that enable you to roll it over to another room after you are done. The power cord is included in your purchase, which is not a guarantee with other full-sized models.
This dryer has a drawback in that it can't handle a lot of laundry at a go. It also doesn't produce as much heat as the larger models. The lint trap could be difficult to clean at times. Take note the cycles may take a longer time to complete compared to a full-sized model. On the upside, you will have dryer clothes than you had before.
Pros
3 dry cycles
Stackable
Needs only a 120V outlet
Air fluff setting
Timed dry setting
Has a power cord
Cons
Not easy to clean the lint trap
Produces less heat
Whirlpool Alternatives
Now that you know some Whirlpool dryers and how to maintain them, it's time to look at their alternatives. The following is a list of the three best alternatives to whirlpool dryers.
GE – 7.4 Cu. Ft: Aluminized Alloy Drum Electric Dryer w/ Sanitize Cycle and Sensor Dry – GTD72EBPNDG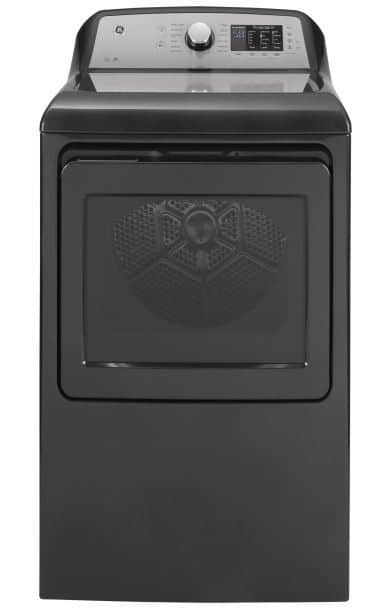 The GE – GTD72EBPNDG is a top load electric dryer. It's available in white and diamond grey exterior with a 7.4 cubic foot capacity. This is average compared to the above Whirlpool dryers. It has an aluminized alloy drum. It has a reversible door that is flexible to enable you to configure your laundry room. This model has four cycle settings. They include:
A moisture sensor that will automatically end your drying cycle when selected
Settings for customized cycles
12 cycle options that include – EcoDry and Quick Dry
A setting to reduce the energy consumption for a specific type of load
GE – GTD72EBPNDG has Wi-Fi capability when equipped with an optional accessory from Amazon Alexa. The accessories can either be Google Assistant connectivity or IFTTT. These are the features that make this electric appliance comparable to other dryers with the same price range.
For energy efficiency, this dryer is Energy Star certified. This makes it stand out amongst the other 2 dryers below. Only a few dryers have this rating. This model has a vent capability of up to 120 feet, more than others in the same category. It has four exhaust location options. These make it the best option for users who cannot install their machine next to a vent.
Pros
Wi-Fi connectivity
For rooms with a dryer hookup far from the vent
Has EcoDry and Quick Dry
Four different temperature settings
Customized cycle settings
Cons
Pricey
Not for the average consumer
LG – 9 Cu. Ft: Smart Electric Dryer w/ TurboStream – DLEX9000V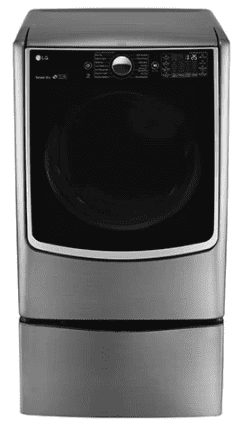 This smart LG DLEX9000V electric dryer is one of the best smart dryers in the world. It pairs well with the WM900HVA LG washer. The WM900HVA is a front-loading washer with tons of features.
This dryer is more expensive than most of the other models here. It's an ideal option for buyers who prefer a dryer with many features. It's a front load dryer with a capacity of nine cubic feet. LG claims that this model is big enough to dry king-size bedding in a single load setup.
Other features include a graphite steel exterior finish, stainless steel drum, 14 total cycles, a reversible door and a TurboSteam wrinkle releasing feature. It also has a Sensor Dry that automatically adjusts your drying time to prevent over-drying.
DLEX9000V has Wi-Fi capabilities meaning that you can control it remotely using the LG ThinQ smartphone app.
Pros
ThinQ smartphone app
Wi-Fi connectivity
Ideal for the Tech-savvy buyers
Best for buyers with a passion for numerous features
Suitable for large loads
TurboSteam wrinkle releasing the feature
Cons
Not budget-friendly
Only white and graphite steel finish options
Samsung – 7.5 cu. Ft: FlexDry Electric Dryer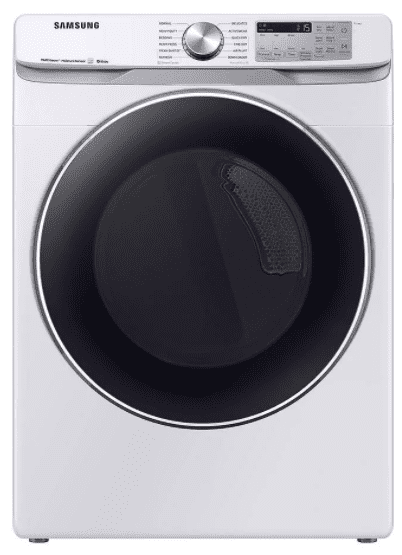 This Samsung electric dryer is only available in black stainless steel. DVE60M9900V is a premium model that contains numerous advanced features. It's one of the unique dryers on our list. One unique feature is a second smaller dryer located at the top of the appliance. Samsung refers to it as the FlexDry system. It's designed and built for delicate clothing.
It's a front load dryer with a 7.5 cubic feet capacity and stainless-steel drum. It's fitted with a reversible door that enables you to set up your laundry room according to your preferences. The appliance comes with multiple temperature settings, 12 dry cycles, and a multi-stream feature for reducing odors and wrinkles.
Wi-Fi capabilities enable smart features such as monitoring the current load cycle via a smartphone app. It also enables troubleshooting dryer operation problems. The product has a vent sensor that monitors the blockage of vents. This increases the safety and efficiency of the dryer.
For those customers looking for a more energy-efficient dryer, Samsung offers you two important features. The Sensor Dry determines when your laundry is dry and then automatically turns off the cycle. The other is Eco Dry. It helps dry your laundry using minimal electricity. DVE60M9900V model is Energy Star certified.
Pros
Comes with a FlexDry system
Energy Star certified
Vent sensor
Sensor Dry
Wi-Fi connectivity
Eco Dry
Cons
Pricey
Not ideal if you want a basic dryer
How to Maintain a Whirlpool Dryer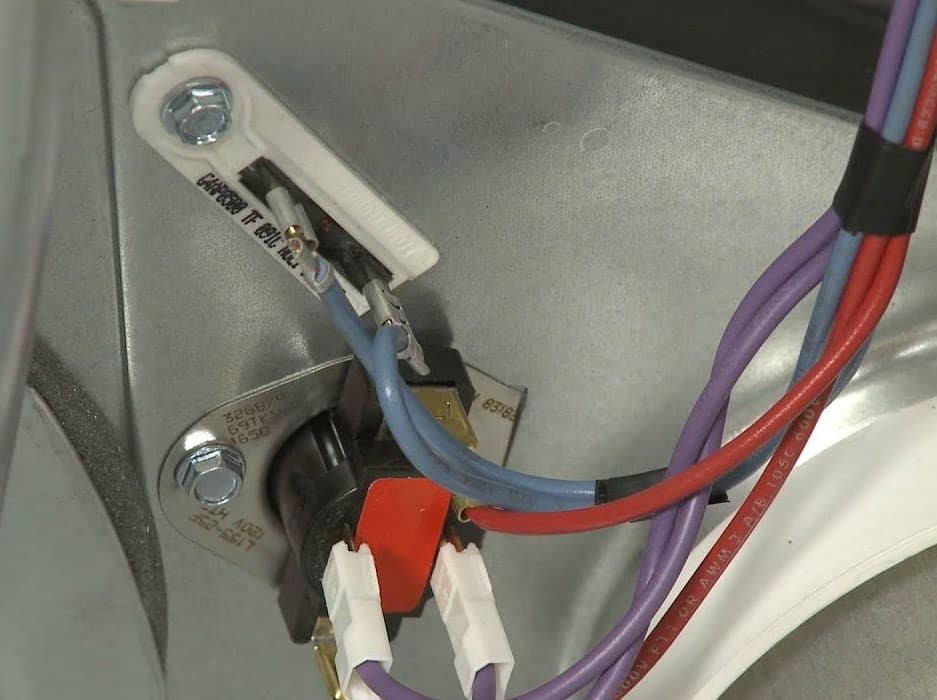 It's easy to maintain a Whirlpool dryer because you only need just a few basic steps. Proper maintenance ensures that your dryer runs efficiently. It means that your drying time will be shorter, causing less wear to your clothes. When you clean your dryer often, the risks of fire hazards are reduced. Always remove the lint screen from its slot after every load of laundry and clean it by hand. You don't need water or a cleanser to clean.
Always unplug your dryer before doing any cleaning. Use a vacuum cleaner crevice nozzle or a brush to clean out the lint trap. Use it also to clean the moisture sensor strips located near the lint trap. Clean the dryer exterior with a mild cleanser and microfiber cloth.
Scrub the lint screen using a liquid detergent and a cleaning brush after every six months. Note that after scrubbing the lint screen, you should rinse it clean with hot water. Dry the screen before replacing it.
Whirlpool recommends that when your dryer sensors indicate that it's time to clean the vents and the drum, you do a deeper cleaning. For an electric dryer, you can clean the drum by hand using a soft cloth dipped in liquid detergent. For a gas dryer, you may use a nonflammable household cleaner.
You should rinse the drum using a wet towel then tumble a load of clean cloths or towels to dry the drum. Whirlpool also recommends scheduling a service appointment to clean the duct system and exhaust vent.
If you prefer doing this on your own, use a specific dryer vent cleaning kit. Ensure that you unplug your machine and disconnect the gas connector on the gas dryer. Disconnect all vents and use the brush in the kit to thoroughly clean the whole appliance.
How is Warranty on Whirlpool Dryers?
A Whirlpool dryer warranty cover is active for a year from the date of purchase. It covers the replacement parts and labor offered by a service provider designated by Whirlpool. To qualify for warranty coverage, your dryer must be maintained and operated according to the appliance's instructions. However, Whirlpool does not cover services that involve:
Helping you to operate the dryer
Replacing the dryer's light bulb
Carrying out your home's wiring or the electrical connection
Improper venting or installation of the appliance, including the materials involved
Dryers that are used anywhere apart from in a single-family home setup
Damage from improper installation, misuse, accidents, abuse, fire or repairs that involve the appliance being moved outside the home
Whirlpool suggests you keep your purchase slip together with the documentation on your warranty coverage. This proof of purchase and the date of your Whirlpool dryer installation is necessary for you to qualify for a warranty.
Whirlpool Customer Support
Whirlpool offers several customer-care services to its customers. It recommends its customers to first look at their user's manual in case they encounter any problem with the appliance.
Whirlpool has a Product Help section on its website. It advises Whirlpool users on the troubleshooting steps they need to follow in case of a major problem. You need product information that includes the model and the serial number of your dryer to search and look at the documentation online.
If you need more help, you can call Whirlpool customer care on Mondays and Tuesdays between 8 am to 8 pm Eastern time. On Wednesdays, you can call them from 9 am to 7 pm Eastern time.
Their website provides a live chat feature that you can also access during the same hours. You can also contact the Whirlpool customer-care team through email – get it at their 'Contact Us page. For all these steps, you will require the product information and serial number with you.
Air Flow is Important
A vent to the outside is important if you want to dry your clothing on time. When you tumble a wet load of laundry in a dryer, the wet items and the hot air in the dryer produce moisture. For your clothes to dry, this moisture must get out of the dryer for the drying process to finish.
You should ensure that the venting runs from the dryer to the exterior, free from any blockages and obstructions.
How Can You Know When a Vent is Blocked?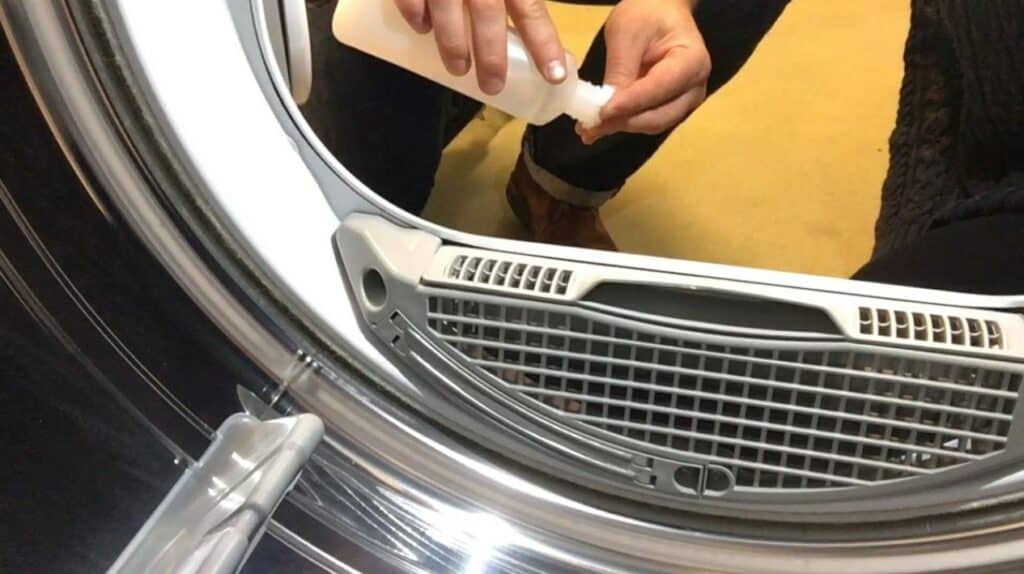 Various signs may indicate when there is a blockage in your vent. Some of these signs include:
Moisture in your dryer – Heat and moisture produce steam, just like in a sauna. If your vent is blocked, the steam remains in the dryer. If you have a glass door, you may notice steam on the door when you open it. If your dryer is more advanced and has an electronic display, you may see the display steaming over.
Delayed dry time – This is the common sign of a blocked house venting. This is because it's not easy for the hot wet air to leave the dryer. As a result, you may find the clothes still damp after the end of the drying circle.
When your dryer becomes very warm to the touch – Poor venting may make your dryer hot inside. This may make the outside of your appliance warm to the touch (especially near the sides and the bottom).
Water droplets dripping on your floor – This happens when the moisture in the dryer is not let out. It ends up accumulating in the venting area or inside the dryer. As a result, this may create water puddles on your floor, especially behind the dryer.
Lack of Lint on your lint screen – Lint from the clothes and inside the lint screen may not be removed because of limited air movement in the dryer. Instead, you may note that lint builds up around your clothing or the dryer door.
Zero air movement in the dryer – You can check this by pulling out the lint screen and then setting your controls to 'Air Fluff' or 'Air Dry'. Put your dryer on. Place your hand in the trap zone. If you don't feel air movement inside means there is a blockage in your venting.
FAQs
Question: What is the Lifespan of a Whirlpool Dryer?
Answer: A Whirlpool dryer has a lifespan of between 10 to 13 years. For you to increase your dryer's life, ensure that you clean the lint trap after every use. You should also make sure that the vents are never blocked.
Question: What can Make a Whirlpool Dryer not to Dry in One Cycle?
Answer: When your dryer fails to dry in a single cycle, start by cleaning your lint trap. Pull out the trap and wipe out all the lint before you run a dry cycle.
Question: How Can I Reset My Whirlpool Dryer?
Answer: A 'PF' error code indicates that there was a recent power failure in your dryer. You will need to reset and restart your dryer. You can do this by pressing the start button for some seconds to reset the device. If it doesn't automatically restart, choose a new cycle, then press 'start' to begin.
Question: Why do Clothes Still Remain Damp after Drying?
Answer: This usually occurs when your dryer is over-capacity. On the same note, when your washing machine does not fully spin your clothes to remove the excess water, your dryer overworks to dry the load.
Bottom Line
Use the list of Whirlpool Dryers to help you make an informed decision. The alternatives are provided to help you know the features of other dryers in the market. If you decide to buy any Whirlpool Dryer, use the maintenance guide above to maintain it. Overall, Whirlpool dryers are one of the best in the market today.
Read More: