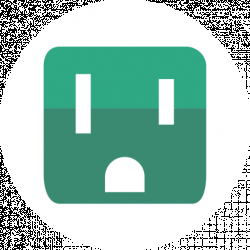 Latest posts by Appliance FAQs Team
(see all)
You are probably thinking of getting a new dryer for your renovated or new home. If that's the case, you are in the right place then. Here, we will tell you all about Frigidaire Dryer Models, which you are so eager to learn about.

But why Frigidaire? We know this brand for its high quality and reliability when it comes to home appliances. Not just for their top-notch refrigerators, but also dryers too. As a result, their users voted this brand into the top 5 appliance brands out there, with easy-to-use and affordable models

Likewise, the same goes for all Frigidaire tech, dryers included. With so much to choose from, we understand that it might be a problem to find the best choice for you. Therefore, we are here to help you reach a final verdict and choose the right dryer model for you

So, with this article, we want to pinpoint the best Frigidaire dryer models, recommend how to use them, and most importantly, give you a comprehensive buying guide to help make a choice. 
Choosing Your Dryer
After reviewing so many different appliances and hours of work and research, we have come to the best-of conclusion. We prepared three of our favorite Frigidaire dryer models, so you could find the one that fits your needs and budget.

Reward yourself with the best dryer out there that doesn't just dry your clothes, but is loaded with other programs and tools you might need in your day-to-day life. In our next paragraph we will look at the specs every one of these home appliances has to offer: 
Style of device

Style of drying

Sensors

Programs

Size

Additions
Dryer Buying Guide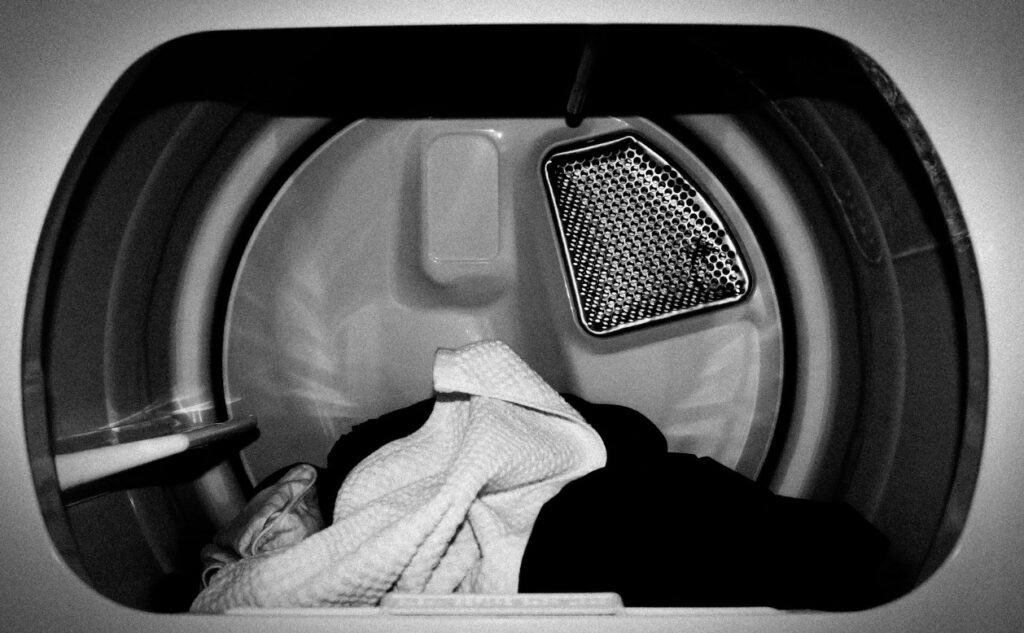 We have finally come to the most important section of our article, we are here to help you with choosing the right model of machine for you. But also, to help you learn about the different gimmicks you might need, depending on your lifestyle. 
Style of Appliance
We aren't just talking about the color of your tumble dryer, but about the style, and its programs. Depending on your kitchen, or other room you plan to keep your appliance, choose the fitting type. Here is what we mean by this:

Freestanding
As the cheapest option, most free dryers offer enough space to fit as many clothes as you'd like into them. They match the height of your cupboards and offer you the possibility to move them around if this need occurs. As a result, they are flexible and big but also hold the most popular place among dryers out there.

Integrated
If you're looking for a dryer that matches your kitchen, you can get an integrated machine. These come in at a more expensive price and are designed to fit in a kitchen unit. Like this, your dyer will be hidden from plain sight, but a downside is that these designs are a lot smaller than the freestanding ones.

Semi-integrated
A mix of both freestanding and integrated dryers is the semi-integrated tumble dryer. When talking about price, these cost more than the freestanding option, but less than the integrated type. On the other hand, they still offer more space for drying than other integrated models, and all in all, semi-integrated are the mediums in all categories, compared to freestanding and integrated types. 
Style of Drying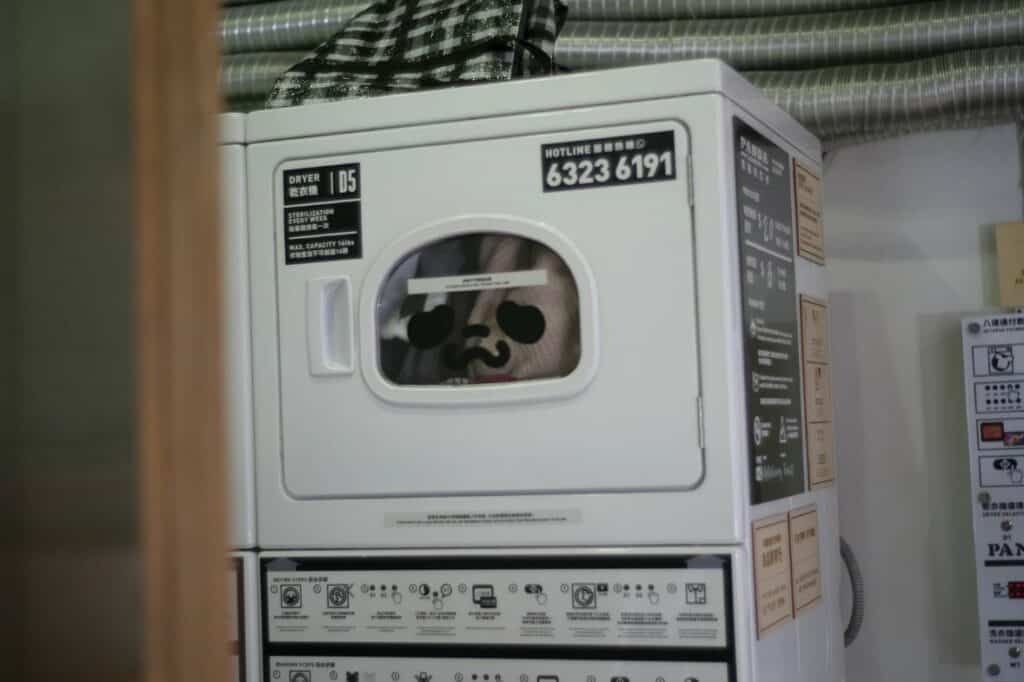 So far, there are three types of drying techniques in tumble dryers and these include:

Venting
This type of dryer requires an exhaust that will connect it with the outside. This means positioning your dryer next to a wall and installing the hose is a must. The fact that preparation is needed for this type of drying makes it unpopular in most cases. But, most models come with a venting kit, with which you can hook your machine up to the nearest window. Thus, not having to drill a hole in the wall.

Condensing
The most popular type of dryer is the condensing dryer, with easy use and approachable price. Condensing dryers condense the water from your clothes and store it in a reservoir, turning vapor into water. They're simple and effective.

Heat pump 
A new way of drying your clothes in a tumble dryer is the heat pump. These dryers operate in a way that uses hot air, relatively close to something a condenser dryer would do. After that, the air traps water in a storage unit and evaporates it. The state-of-the-art technique of heat pumps makes this type of dryer expensive and not fully out on the market yet. 
Sensors
We look at dryers as energy-inefficient machines that mostly cost a lot of electricity to use. This is sometimes true, especially when we are talking about timed dryers or manual ones. These dryers run their tumble drying for a certain amount of time or until you turn them off. This can dry out your clothes too much, and damage them, besides damaging your wallet too.

On the contrary, now you can find dryers with sensors that are supposed to save the wasted electricity and finish the cycle as soon as the clothes inside are dry. Of course, these types cost more, needless to say. 
Programs
Most of your kitchen appliances are quite simple to operate, from your oven to your washing machine. Similarly, dryers offer different programs to choose from, according to your needs. Most of them offer these options: 
Extra dry – For thick items

Closet dry – Dry enough to put it in the drawer or closet

Iron dry – Perfect for ironing once out of the dryer.



Some also offer:
Wool program – No damage

Ironing – Your clothes look ironed

Extra 20 minutes – If your clothes still aren't dry, add another 20-minute hot cycle

Shoes and mix – Perfect for dying different materials and even footwear
Size
We are not only talking about the sizes of your dryer. No, we are talking about its capacity, height, width, and depth. Logically, you will want to look for the type and size of the appliance that fits the space you have. So, if you're leaving your drying for the laundry room, look for freestanding models.
These are the biggest and offer the most space when it comes to drying. On the other hand, if you're looking for a dryer to put in your kitchen opt for a semi – or fully integrated one.

These sizes will reach the countertop at 85 cm or 33 in height, and 60 cm or 23 in width. But, not all of them can reach the depth of 60 cm or 23 in. Drum sizes depend on the capacity of your tumble drier, and the most popular ones range from 5 to 10 kg or 11 to 22 lbs. Depending on your family's size and habits, choose your dryer size accordingly.
Additions
Last but not least, come the small things we enjoy the most. Here is what you can look for when searching for new ways of making your home life easier. 
Reversible doors – Some models offer the possibility to reverse the direction the door of the dryer closes, for maximum space usage

Display – We want to know how long the drying cycle is going to take, and a countdown display can help. 

Error lights – You don't know what's wrong with your dryer? These lights will tell you that your water container is full



With these gadgets and additions, life would be easier and run smoother. So, choose the right additions you need on your dryer and prepare for the smoothest chores ever. 
Frigidaire Dryer Model Guide: Our Favorite Picks
After reviewing what you need to know about dryers, their specifications, and additional tools, it's time to move over to the next segment of our theme: The best Frigidaire Dryer Models out there.

We need to point out that we didn't have that many choices when it comes to these models. Once popular and available, Frigidaire had focused their work mostly on refrigerators in the last years. This means they almost forgot about their tumble dryer options. Sometimes, the manufacturing of these appliances stopped because of the high customer dissatisfaction rate, but also because the firm wanted to focus on their other kitchen appliances more

Thus, our favorites in the Frigidaire dryer section came to a manufacturing halt, and they have sold out some of the best models so far, or they are only available in stores. This is how we got to the best 2021 models, with only three options to choose from. 
Frigidaire FFRE4120SW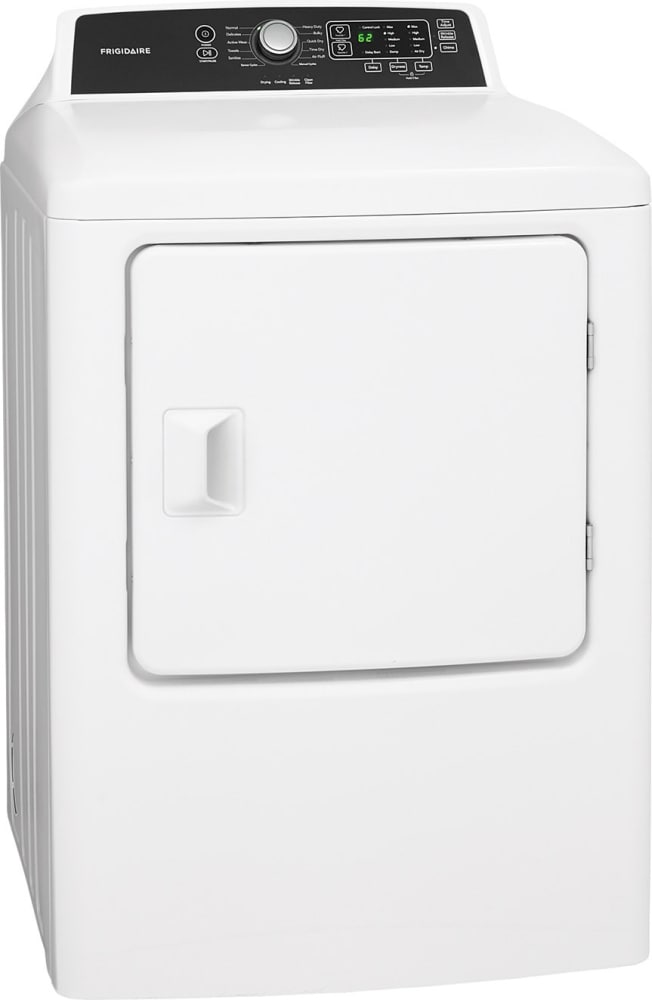 This model of dryer hit the sweet spot when talking about budget and ease of use. While not being fully in the contemporary design, it still pleases the eye with a simple but effective dashboard and all-while body.

The material of the appliance's drum is stainless steel, so you don't have to worry about corrosion throughout years of use. On top of that, the controls feature a LED indicator display and the loading type is front. This is an electric dryer, so they needed no exhaust when using it.

When talking about cycles, the number and customization possibilities amazed us, with 10 cycles, 5 temperature settings, and 2 customizable programs. It even has a cycle for activewear and towels, so you can basically throw in anything. Likewise, with this machine, you can sit back and relax, or time it when to start while you're at work. The Frigidaire FFRE4120SW comes with a delay start option too.

In addition to this, the dryer offers a way to save 2 customized programs as your favorites, so you can use them time and time again. All that, for a medium price that falls below $700!
With that being said, it's not the most innovative technology out there, but for most households, this Frigidaire dryer model will do the trick. This is why we recommend it if you're looking for a classic tumble dryer for your home. 
On the other hand, some users out there tend to say that this, and a number of other appliances from Frigidaire dry slowly. They point this out as one of the cons of these devices. On the contrary, most users overfill their machines and cause them to dry inefficiently. So, next time before you want to set the timer to dry your clothes a second time, make sure that you simply didn't put too many clothes in a load. 
Pros: 
Minimal look 

An array of cycles and settings

Simple to use 

Affordable, medium price and great value for your money

Moisture sensor

LED display for time indication
Cons: 
One year warranty

No Energy star
Frigidaire FFLE3900UW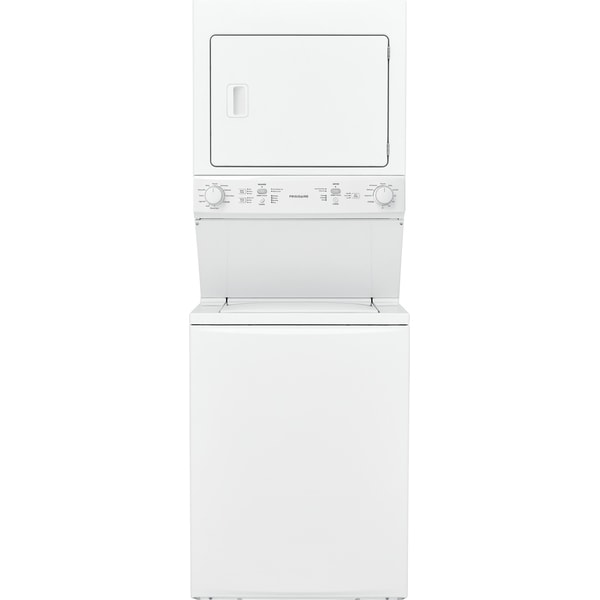 Something new on our list is a washer/dryer combination or better known as a laundry center. To make this a comprehensive list, we had to list and review the Frigidaire FFLE3900UW model too. Not just because it's (partially) a dryer too, but because it's one of the most popular Frigidaire models out there. 
Why we believe you should consider this combo as your next purchase, is that it's simple. Likewise, it offers one item that will both wash and dry your clothes, making the process much easier and most importantly, saving space. This model is quite portable, since it's electric, and you can place it virtually anywhere in your home. 
Now, let's get to the specifications. It offers a 5.5 cu. ft stainless-steel dryer, 10 wash cycles, and 3 heat settings. That doesn't sound so impressive, but knowing that you can customize all of these cycles is wow-inducing. What does this mean? If you choose the Fast dry option, you can then decide if you want it to be at a High, Normal, or Low drying intensity. Now, that sounds impressive!
A pro of this model is that your laundry stains do get removed since this is a high-intensity washer/dryer, but on the other hand, it still offers slow drying. 
We have come to the cons of our model, and we have to be honest, the slow drying is really a downfall. Compared to other models, it takes 20 minutes longer to dry a unit of laundry, compared to other types of dryers and manufacturers. 
In addition, this model comes with no power cord, so make sure you purchase the needed length of cord with it, once you decide on this item. 
Pros: 
2 in 1 appliance

Saves space

Big capacity

10 dryer cycles 
Cons: 
1-year warranty

Comes with no power cord

Slower washing and drying
Frigidaire FFRG4120SW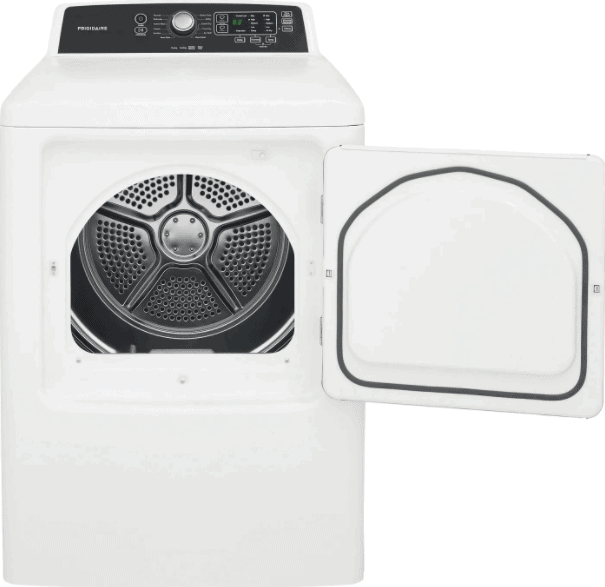 Another top model between the Frigidaire dryer models that are still available, is the Frigidaire FFRG4120SW, almost the same as our first reviewed model.

With a simple dashboard and side loading, it might seem that this is an identical model to the Frigidaire FFRE4120SW, but there is one difference – This is a gas-operated dryer. Meaning, it runs on gas, unlike other models that run on electricity. 
Likewise, another difference is the price, which is a bit higher than an electric version. The gas operating model comes in at just above $700. So, if you're looking for a model that will fit perfectly with your gas-operated kitchen, this might be the best choice for you. 
Just make sure you have a gas line near you, before buying a gas-powered dryer, or even stove for that matter. Or else, it might end up as a wanted purchase. 
Now, let's get to the stats: LED display, simple controls, delay start, and reversible door. What we love about this dryer is that it uses less energy, while being powered on gas and that it offers so many different choices for drying. 10 of these are timed cycles, 5 different temperature settings, and 2 customizable options make this appliance unique. 
In the end, nothing too surprising in terms of technology and price, this machine falls into the middle ground of tumble dryers. What we don't like is the fact that it doesn't have an inside light, which can pose a problem with loading out your clothes. But also, only a one-year warranty, as most Frigidaire dryer models have, smells fishy. 
Pros: 
Uses less energy

Child lock

6.7 cu ft drum for big loads

Minimal design 

Simple dashboard
Cons:
Needs a gas line

No interior light

1-year warranty
FAQs
Question: Is the Frigidaire brand good?
Answer: Yes, absolutely, as stated above, it's considered one of the best brands for home appliances out there. 
Question: Are Frigidaire dryers good?
Answer: Yes, at a cheap price you get the highest quality and most reliable appliances for your home if you choose Frigidaire.
Question: How long do Frigidaire dryers last?
Answer: Most appliances and dryers included too, last between 10 and 15 years, depending on the condition they are bought in and how they were maintained. For the extended life of your dryer, clean it regularly and maintain it when needed. 
Question: Why are my clothes still damp after drying?
Answer: You either didn't set it to the right cycle of drying, or you overloaded it. Check the maximum capacity of your drier and try to add a smaller portion of it, next time. 
Question: Why is my Frigidaire dryer not drying?
Answer: Check your water storage, air ventilation, energy, or any clogs in the air or lint traps. If nothing works, call a professional to run a diagnostic on your Frigidaire dryer model.
Conclusion
Buying a dryer is an important step in putting together your home and day-to-day life. One size does not fit all when talking about tumble dryers. So, one family can use a huge 10 kg dryer, while the other one uses a minimal one. 
That's why we believe that making the right choices in this category is a must. Or else, you will have to use an appliance you don't like for quite a long time. 
That's why the Frigidaire FFRE4120SW is our best choice in the Frigidaire dryer models category, our best pick for 2021. Just look at the price to performance ratio, and you will understand why this model was awarded 1st place in this category. 
We hope our short but comprehensive guide helped you in deciding which Frigidaire dryer model is the best one for you!