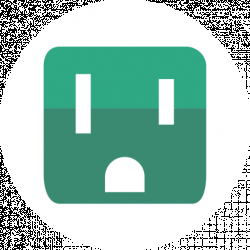 Latest posts by Appliance FAQs Team
(see all)
How would life be without a range hood? Lack of a range hood in your kitchen leads to the emission of odor, smoke, and grease on your kitchen's ceiling/roof. They linger in your kitchen as you cook. This finally results in an unpleasant smell. The installation of an exhaust hood in your kitchen will help solve this nightmare.
A kitchen hood draws in moisture, heat, and cooking grease from your kitchen. It then filters the moisture and directs it outdoors or recirculates it from within. Get yourself the best range hood in the market. It will improve the ventilation in your house and keep your air clean.
Check out the different models of range hoods and how they perform to help you choose the ideal one for your kitchen!
Our Top 7 Range Hood Picks
Getting the right range hood for your kitchen may be a daunting task. We have researched the many available brands and models to come up with a list of the best products available. Check out our top 7 choices for the Best Range hoods!
Chef PS18 Under Cabinet Range hood – Best Choice for 2021
Chef PS18 is an under-cabinet that is ducted. It offers a premium build with a polished look, super venting power, and touch controls. 
Modern Profile
Chef PS18 comes in 30 and 36 inches. The main material is stainless steel which is corrosion resistant. When running at maximum capacity, the blowers can attain a CFM of 860. This CFM is enough to take care of 86,000 BTUs. If you compare this with four 20,000 BTU burners running simultaneously, you find that 860 CFM is stronger.
This model uses stainless steel baffle filters. They are highly effective at trapping grease. They are also very durable and resistant to physical and chemical damage. Finally, they can be cleaned in two ways. You can either clean them by using your hands or putting them in a dishwasher.
Under-Cabinet (Vented)
For you to install a ducted model, you have to set up vents in your kitchen. This is not only costly but also wastes time. However, it is easy to mount your under-cabinet design if your kitchen has existing vents. 
It takes less than an hour for you to get the hood up and running. The Chef PS18 discharge configuration harbors both rear and upward outlets. The upward outlet fits a 3.25 by 10 inches square adapter or a 6-inch wide round adapter. The rear adapter is only compatible with a square adapter.
This under-cabinet hood features a touch screen instead of physical buttons. It has a clock that controls timing for overhead lights, a delay timer, and a fan speed. The touch screen in this model gives the hood an aesthetic value. According to testimonials and reviews, the Chef PS18 is a well-rounded premium ducted range hood. It meets most aspects from appearance to performance. It comes with a 2-year limited warranty cover.
Pros
A Dual outlet

A high CFM at 860

A modern outlook

Touch control

Great Best ventilation (ducted)
Cons
FOTILE JQG7501 30-Inch Range hood – Best High-End Hood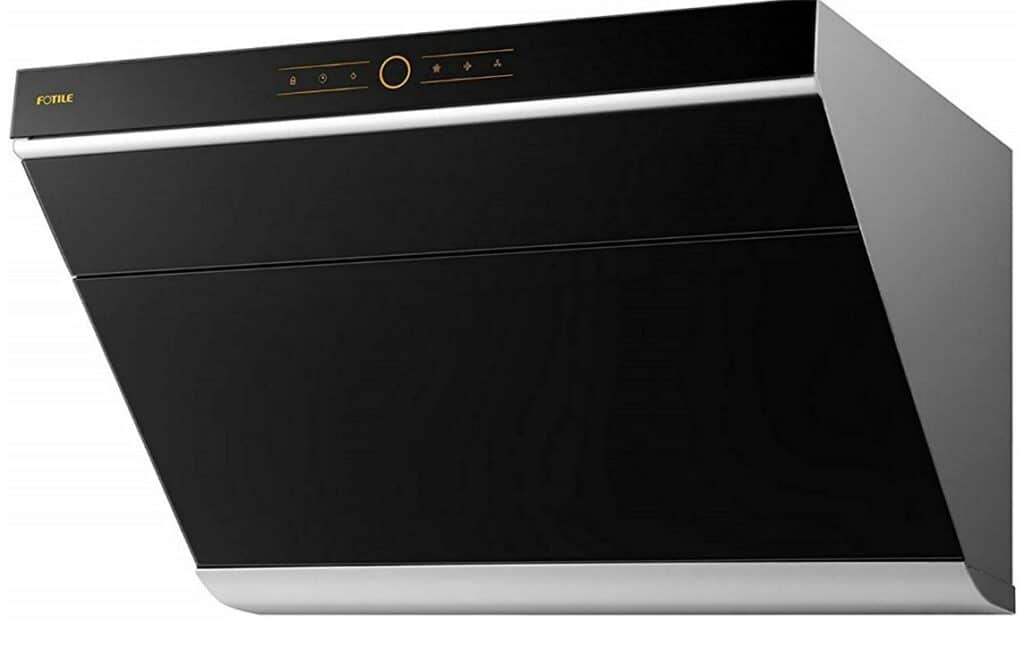 JQG7501 is a premium appliance when it comes to kitchen exhausts. It features a high-tech and quality build with a unique design. 
Innovative Approach
JQG7501 is a 30-inch under-cabinet oven hood. It's ducted to offer a futuristic aesthetic feel to your kitchen. You can also get it in 36 inches. Its 45-degree slanted surface gives it a peculiar design that directs steam and smoke to the inlet opening. Its surface has tempered glass that is easy to clean. However, it is not resistant to scratches and impact from other objects.
FOTILE JQG7501 works at three different speeds. They are 220, 400, and 510 CFM. If your burner has less than 18,000 BTUs, then this hood is capable of handling two or three burners simultaneously.
High-Tech Additions
JQG7501 has a touch screen that controls the light. It also features a screen-lock and a delayed shut-off function. The screen lock cleans the glass surface and the control panel screen without accidentally activating it.
It has hidden baffle filters behind the cover. They prevent insects from entering the system. Finally, the fully automated cover unfolds on its own, revealing the opening once you turn on the hood exhaust. 
FOTILE JQG7501 lies in the most expensive residential vent hoods category. Although it's not fit for everyone, this model may be a good fit for those seeking a high-end kitchen exhaust in their home. It comes with a 5-year limited warranty cover.
Pros
A touch control system

High-tech built features

Great ducted ventilation

A unique set of mechanics

Futuristic design
Cons
Ducting is necessary

It's expensive 
Z LINE KB Wall Mount Range Hood – Best Wall Mount Hoods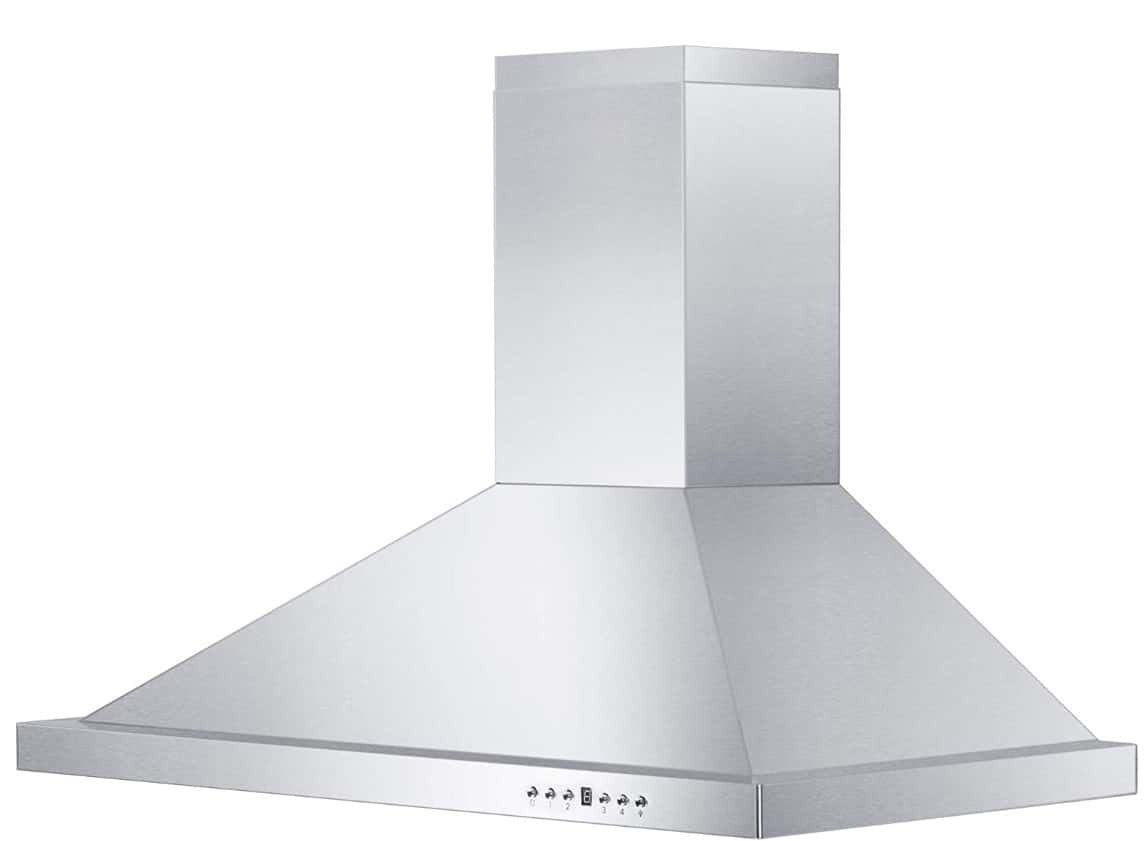 The Z line is one of the most popular wall mount kitchen hood brands. It's the most ideal for a wall mount vent hood.
Professional Fit
This hood ranges between 30 to 48 inches in width. It's a perfect commercial and residential kitchen fit. From the hood to the chimney extension, it's made of stainless steel. It comes with adjustable blower suction with speeds of 280, 400, 580, and 760 CFM.
Z LINE can handle up to 75,000 BTUs comfortably at a maximum setting of 760 CFM. It can handle up to 5 burners, each with 15,000BTU. This model has four speeds. 
Boiling and light frying tasks are controlled using speeds 1 and 2. Speed 3 controls heavy boiling and frying, while Speed 4 is used for intense frying and grilling. Nearly all KB series models have aluminum baffle filters. They are dishwasher-safe, but it's not recommended to always wash them with a dishwasher. This increases the wear and tear on the filters.
Full-Metal Chimney
You have no option but to vent your kitchen. This is because Z LINE is a ducted series. Ducts run up through the ceiling since there are no rear outlets. The chimney is made of stainless steel. This model has a digital display with LED lights and press buttons. 
There is a 3-minute delay power-off function that is activated by pressing the power button and holding it till the display flashes three times. The Z LINE KB solid build and reliable performance will keep any owner happy for the longest time. It's an appealing find! It has a lifetime warranty cover on the motor and a 3-year warranty cover on parts.
Pros
Baffle filters

Great for ducted ventilation

An extensible kitchen exhaust

Multiple options in terms of size
Cons
BROAN Non-Ducted Hood 41000 Series – Leading Ductless Range Hood
BROAN is an under-cabinet range hood. It's an economical ductless series that delivers consistent performance at a low price. 
Compact and Effective
The sizes start from 24 to 42 inches in width. These units have a suction peak between 160 and 190 CFM. It's generally low but sufficient for recirculation purposes. As a result, they produce utmost performance when their installation is not lower than 18 inches and higher than 20 inches from the top of your range or oven.
The aluminum mesh filters in these ductless hoods help trap grease. The charcoal filters remove odor and other pollutants from the air before getting back to the room. In short, it's not ideal compared to a ducted extractor hood. However, it beats having fumes up in your face! 
Your doors and windows should stay wide open. You should replace the charcoal filters annually. 
No Duct Needed
The installation process is simple. This is because this series is an all-under-cabinet mount. You can mount it in less than 1 hour because you don't need ducting. The BROAN Non-Ducted Hood 41000 Series is an excellent bargain when you consider its cost. It's best for small non-ducted kitchens. It has a 1-year limited warranty cover.
Pros
The installation process is easy

It is less costly

Ducting is not necessary

It has multiple size options
Cons
It is not recommended for heavy cooking
Z LINE GL1i 36-Inch Series – Best Island Hood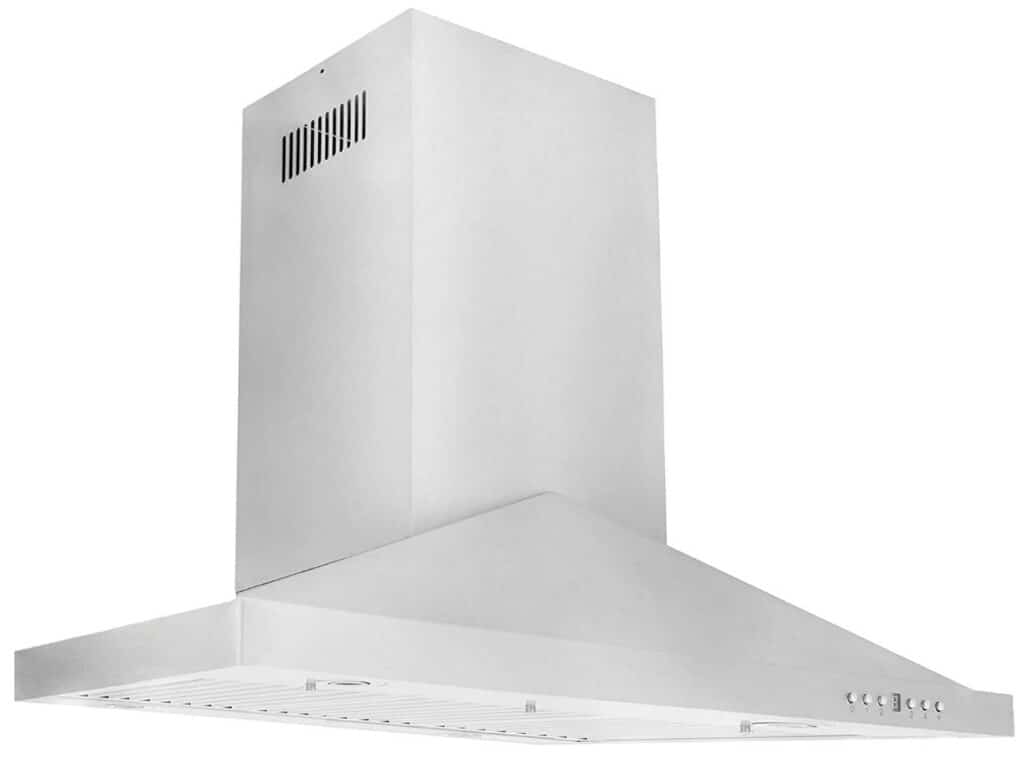 Z LINE GL1i is the best model of the island range hood. It has a perfect combination of craftsmanship, value, and utility. 
Over Islands
This 36-inch ducted stainless steel hood is suitable for 30-inch stovetops. The extra hood coverage helps to capture everything making a back wall unnecessary. Z LINE also has GL 2i. It comes in two sizes—42-inch and 48-inch for large cooking ranges. 
At maximum suction, this hood can deliver a CFM of 760. This is enough to handle 76,000 BTUs. Generally, that's roughly about five gas burners, each having a capacity of 15,000 BTUs. 
This model features four different speeds with a CFM suction ranging from 280, 400, 580, and 760. GL1i has a digital display, a chimney cover, and a backdraft damper. It also features aluminum baffle filters with physical press buttons to control both speed and light.
You can flash the display by holding the power button for a few seconds while using the 3-minute delay auto shut-off feature. Reconfiguration enables this hood to work in a ductless kitchen by inserting a compatible charcoal filter from the Z LINE. 
The Z LINE GL1i has functional features with an impressive build to your kitchen at a very competitive price range. In addition, the motor has a lifetime warranty cover and a 3-year warranty cover on the parts.
Pros
It has battle filters

Great for ducted ventilation

Can handle up to 76,000 BTUs

Compatible with a charcoal filter 

An extensible chimney
Cons
BROAN Range Hood F40000 Series – Best Under-Cabinet Hood

BROAN F40000 is a classic convertible series. It offers relevant values in the modern world market. 
Simple in Specs
The F40000 model comes in different sizes. They range from 24 to 42 inches. The model has two speeds, with the maximum speed running at 160 CFM. When you base it on the cooking capacity and capability, F40000 is about two 8,000 BTU simmering burners or one 15,000 BTU burner. Therefore, they are ideal for occasional light cooking only.
This series only has mesh filters. If you want to go for ductless, you will have to buy the charcoal filters separately. The hood can be vented from the top. This will take both round (7-inch) ducts and square (3.25 by 10 inches) ducts. The rear will only take a square duct.
If you want a basic and affordable appliance, your take-home option should be the BROAN F40000 series. This model comes with a 1-year limited warranty cover.
Pros
Easy to mount

Ducting is not necessary

Highly affordable

Convertible
Cons
It has low exhausting power
ZUHNE iChorus 36-Inch Range Hood – Top Mid-Range Island Model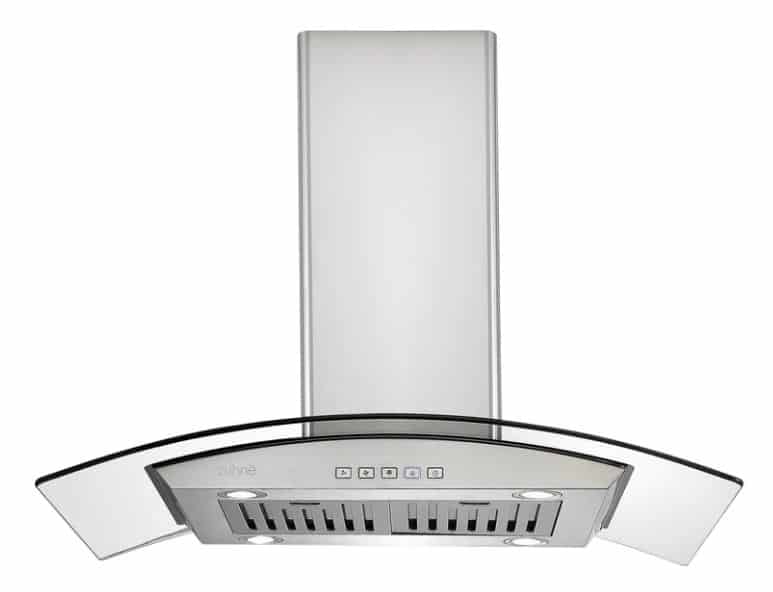 It isn't easy to get a mid-priced island-mount hood. The only promising choice we discovered is the Zuhne iChorus 36-inch series.
Decent Updraft
Zuhne iChorus has a size of 36-inch made of stainless steel. It comes with three different operating speeds that yield a maximum capacity of 600 CFM. This means that it can handle four-15000 BTU burners at ago.
This model has an auto-shutoff function. It programs the hood to switch off after five minutes. However, it doesn't have a power button meaning you only use the speed buttons. 
iChorus comes with a chimney duct cover and a back-draft damper. The charcoal filters are included in this series, which means that you can go ductless if you want. The Zuhne iChorus 36 is a perfect hood designed to last. Although it's not strong for its size, this model comes with a limited lifetime warranty.
Pros
Presence of baffle filters

Convertible

High CFM (peak at 600)

Auto shut-off function 

Charcoal filters included 
Cons
Types of Range Hoods
You can get various styles of kitchen hoods in the market. The best model depends on your kitchen layout. However, the most critical factor is how it meets your preferences and needs. 
Wall Mount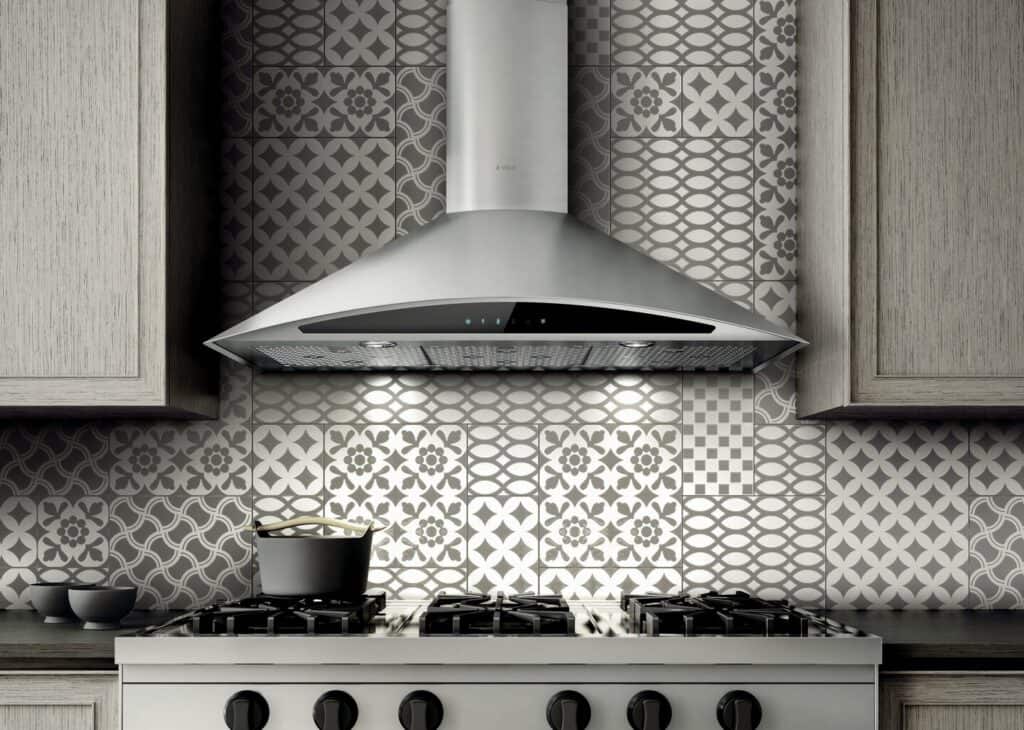 This type of product is installed above your stove where you usually install cabinets. You can get ductless and convertible models in the market. This model has a chimney-like shape. It has exposed vent stacks that give a super industrial look to your kitchen.
Island 
Do you have a cooktop in your kitchen? If you do, you need an island range hood. It's installed above your kitchen's peninsulas or island. It's then vented through into your kitchen ceiling. "Islands" don't have cabinets on either of their sides. This helps to direct air towards the hood. It's recommended that it should be at least 6 inches wider than your stovetop.
Inserts 
This model is also referred to as a power pack. It best fits when designing custom kitchens. The insert should match your cabinets and blend into your kitchen decor.
Under-Cabinet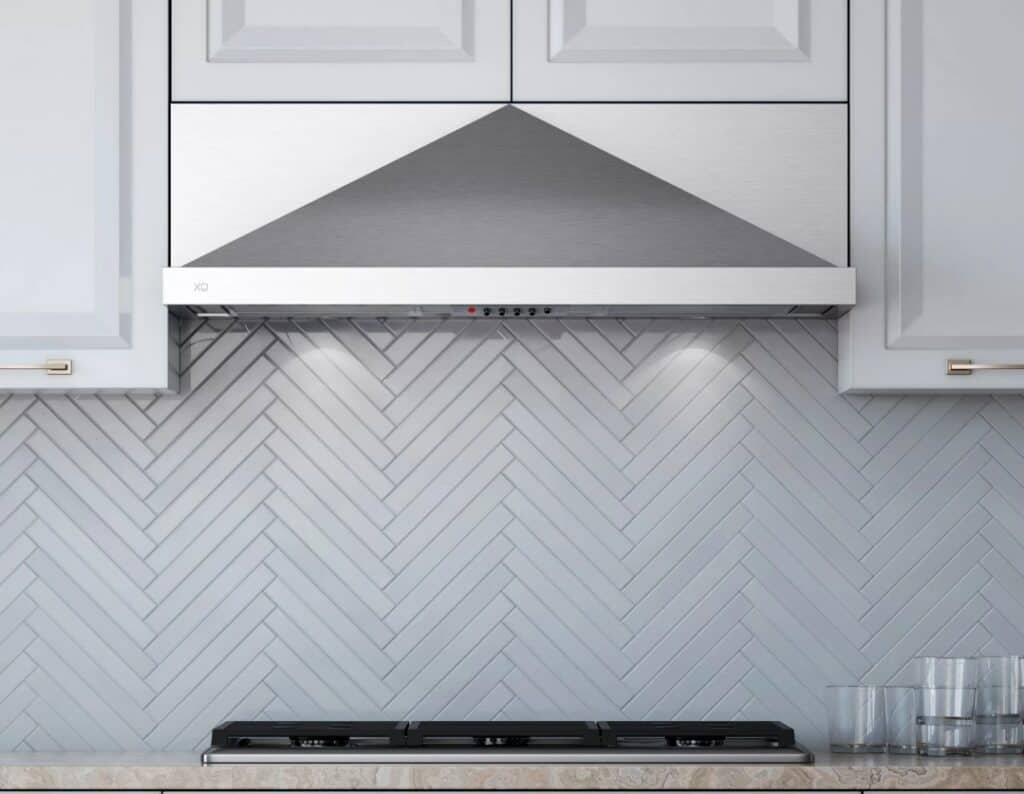 This model is typically installed beneath your upper kitchen cabinets. It's either they are ducted or ductless. The ducted models take the air out and in through the vents located in the ceiling.
Professional-Grade
Would you like to own a restaurant-quality kind of ventilation in your kitchen? The professional-grade range hood is the most suitable for that avid home chef who treasures such a kitchen. This is because of their powerful exhaust fans that expel air at high speeds. 
Microwave 
The microwave range hood model comes with very incredible ventilation capabilities. However, it's less potent than the stand-alone option.
Factors to Consider when Selecting the Best Range Hood
It's always good to consider some key factors before choosing a range hood for your kitchen. Different features affect the functionality of your range hood. However, take note that all range hoods have similar functionality. 
Take a look at some of the key factors you need to remember as you shop for the best range hood to install in your kitchen!
Hood Size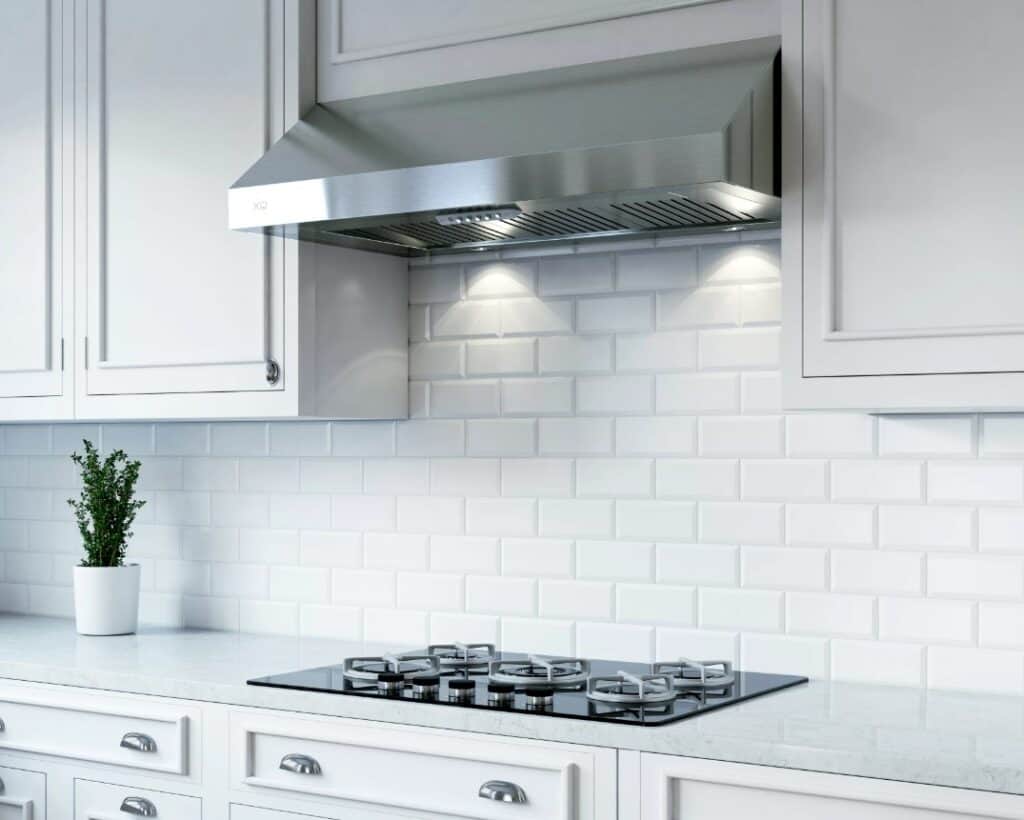 Hood size is the most critical factor to check while shopping for a kitchen hood. Unless you plan to redesign your kitchen, you need a range hood that fits your specific kitchen dimensions.
Generally speaking, your cooktop should be at least as wide as your range hood. Thirty inches is the standard width for most Range hoods in the market. However, despite this size working for most kitchens, those with custom-designed kitchens may end up choosing larger models that fit them. 
Ducted vs Ductless 
Do you need a ducted or ductless model? This is the fundamental decision that you require to make as you purchase a range hood. 
Ducted 
Ducted range hoods assist in drawing in air particles from your kitchen. They then expel the particles outdoors via the ductwork. Unfortunately, even if they effectively eliminate smoke and odor, you have to install ducts first. However, ducted hoods are to an extent not compatible with all kitchen layouts.
Ductless (recirculating)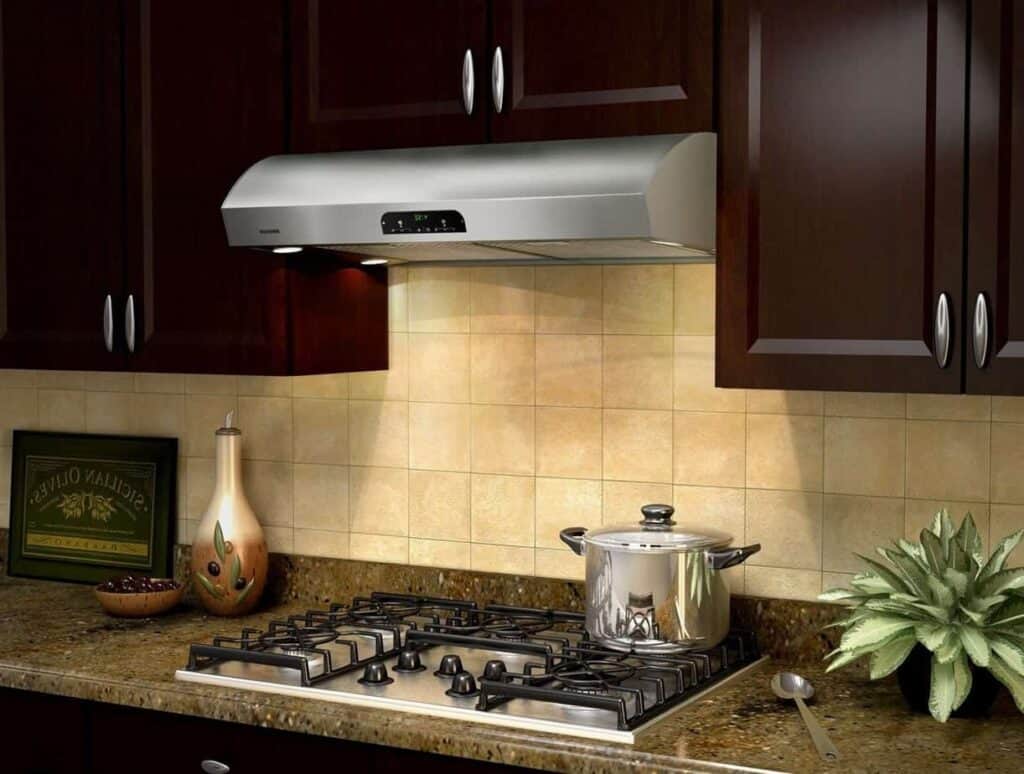 Ductless hoods circulate filtered air back into your kitchen. Although they are less effective at eliminating cooking odors and smoke, they are much easier to install. Filters need to be regularly changed and cleaned to maintain efficiency. 
Ducted hoods are more expensive than ductless ones. However, convertible hoods with either ducts or without are also available. They provide you with a versatile option. You only need a recirculating kit that will convert the ducted hood to a ductless one.
CFM Ratio
The standard means of measuring the power of a ducted product is cubic feet per minute of air (CFM) exhausted. In short, the more powerful your hood is, the higher the CFM. 
You can establish the CFM for your product by dividing the British Thermal Units (BTUs) of your stovetop by 100. For example, if you get an output of 30,000 BTU, it means that your CFM is 300.
Kitchen exhaust with a CFM that's between 300 and 500 provides adequate ventilation for most kitchens. CFM is not the sole factor to consider though. This is because it doesn't indicate how effectively it will be redistributed despite measuring the speed at which air is ventilated.
Fan Speeds
Generally, most of the exhaust hoods have between one and six fan speeds. A two-speed model allows the users to select a faster speed while cooking and a slower one to keep the kitchen ventilated. Manufacturers market various speed options, but you cannot have more than three speeds.
Features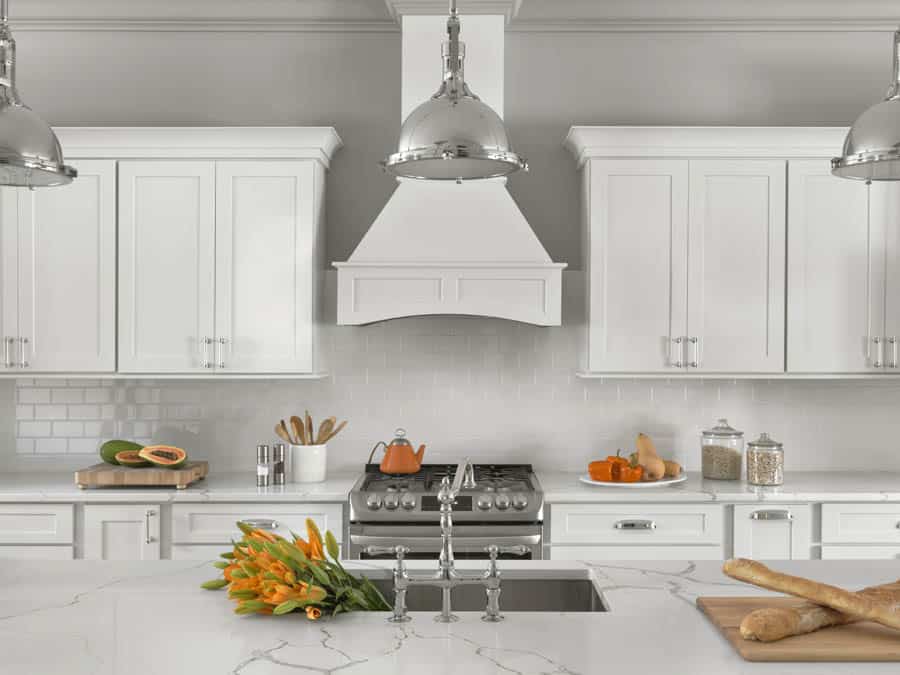 Some range hoods are different from others. This is mainly because they have extra features. These features include:
Change filter indicator that notifies you when the filter needs to be changed

Temperature sensors automatically turn on the product when they detect heat

Exhaust timers automatically detect when to turn off the fans.

LED lights save on energy.

Wi-Fi connectivity enables you to use your smartphone or a smart home system to control your kitchen exhaust
Appearance
Range hoods are usually placed above your stovetop. This makes them a visual centerpiece in your kitchen. You can get them in various finishes. It depends on whether you want a standout or a blend in with your kitchen cabinet fixtures. Your style and preferences are what matter.
One of the most popular material choices for these hoods is stainless steel. It's simple to clean and matches many other appliances. White hoods, on the other hand, work perfectly with white cabinets and appliances. However, they easily get dirty and are harder to clean.
Noise Level 
The amount of noise produced by a range hood is measured in sones. A refrigerator, for example, makes a sound of exactly one sone. A typical average conversation has four sones. Noise level is also given in terms of decibels instead of sones by some manufacturers. 
The tolerable noise level while cooking should not fall below 13 sones (65 decibels). Powerful kitchen ranges with a high CFM tend to be louder.
Installation
You don't require a professional to install a ductless range hood. It's relatively simple to install on your own. However, you may require a professional contractor to install a ducted range for you. This is because it follows a more complex procedure during installation.
Ducted Range Hoods – How to Identify the Good from the Bad
A ducted hood is the best for commercial kitchens and families with larger ranges that produce greater a lot of fumes or smoke. They are more efficient in the removal of steam and humidity from the kitchen cooking area. This is because they don't filter and recirculate the air. It's instead completely vented out of your kitchen.
Efficiency and noise production vary depending on the size and model of your hood. How you take care of your appliance also matters. 
A ducted hood has some drawbacks. One of them is that it must be installed where there is a duct system going from the inside of the kitchen to the exterior of the building. A ducted hood limits the areas in your kitchen where you can position your oven or cooking range.
Ductless Range hoods – How to Identify the Good from the Bad 
A ductless hood is flexible and can be installed anywhere you want. It filters and recirculates air throughout your kitchen. You don't have to worry about installing it near any duct or pipe that reaches the outside.
This model is more convenient than a ducted system when you consider the installation procedure. Some ductless hood models can turn on or off automatically. This is because they are programmed to run on timers. 
Unfortunately, it does not mean that the ductless kitchen exhausts don't have their disadvantages. For example, your kitchen may be humid despite the product recirculating air. This is because there is no venting out of stale dirty air. 
Additionally, the decibel levels of a ducted hood are slightly lower compared to a ductless system. They require much less fan power. Note that filters should be cleaned and replaced regularly for the best performance. 
FAQs
Question: How can You Choose the Best Range Hood Model?
Answer: You should choose a model that is at least as wide as your underneath cooking surface. For example, your island mount is supposed to be wider than your cooktop. Some manufacturers market the cubic feet per minute of exhausted air (CFM). Check this out as the higher the CFM the power and performance you get. 
Question: Is there a Standard CFM for a Range Hood?
Answer: You require 200 CFM for every 20,000 BTUs of your stovetop to power your hood. For instance, a 50,000 BTU stove needs a 500 BTU range hood. For an electric stove, the stove width should be multiplied by 10. This means that for a 50-inch electric stove, you require a hood with 500 CFM.
Question: Which is Better – Ducted or Ductless?
Answer: Your choice is what matters. It means that whether a ducted or ductless range hood, it all boils down to your preferences. Ducted hoods are more efficient. However, the ductless system is also great and more flexible in various settings. Residential kitchens are likely to perform well with either a ducted or ductless system. When it comes to commercial kitchens, you probably require a ducted range hood.
Question: Is there a Difference between a Range Hood and Kitchen Exhaust?
Answer: No! A range hood and kitchen exhaust are similar in the sense they ensure you get smoke, fumes, and grease from your kitchen when you cook. These are products designed to work the same way with minimal differences the major one being the terminology.  
Bottom Line
Several factors determine the type of range hood you get for your kitchen. Use our buyer guide and hood guides above to help you know how to get the best for your needs. Additionally, you also need to know the compatibility with your range or oven. 
That said you also need to check out the list of the range hoods provided. We have options for the best ductless, ducted, affordable, high-end, and other options. Check the product list to get an idea of the features you expect. This way, you can make an informed decision that gets you the best range hood for your kitchen.