GE Appliances has been in the home appliance industry for more than 100 years. Since then, the brand has established itself as one of the largest appliance companies in the United States. 
In addition to being one of the biggest competitors when it comes to kitchen appliances, GE also has a reputation for selling some of the highest-quality washers on the market. In fact, the company has a wide selection of different washers and dryers from which you can choose. So, whether you're looking for a traditional or a more modern type of washer, you're bound to find some great options from GE. 
However, like with most home appliances, buying a washer can definitely be an overwhelming thing to do. There are a lot of things that you need to think about, especially if it's your first time shopping for one. But if you're willing to spend a few minutes of your time learning, you'll have a more convenient way of listing down your choices. 
But before you do anything, you should first acquaint yourself with the different types of washers available from GE Appliances. 
Knowing the Different Types of GE Washers
Even though it may seem like your choice of a good washer may only depend on a few personal factors at first, it's very important that you should have a reasonable understanding of the different types of washers out there. 
Not only will this help make your decision process a lot easier and faster, but it will also help you determine what type of washer works best for you and your home. Washers from GE are usually classified into three different types, namely:
Top Load Washers

Front Load Washers

Portable Washers
Top Load Washers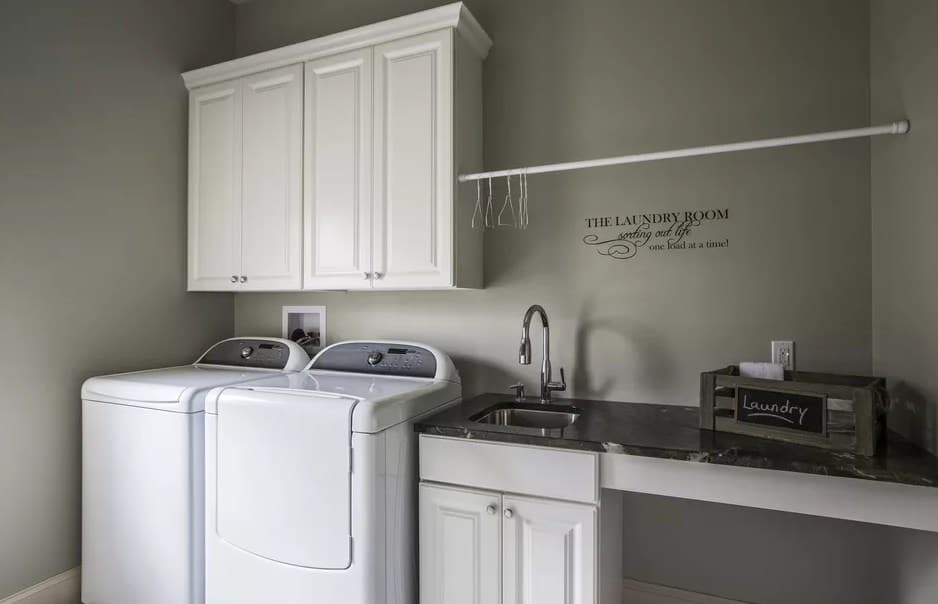 Top load washers are generally much cheaper to buy and considerably more lightweight than front loaders. However, they tend to consume a lot more water, energy, and detergent when used. 
Most top-loaders also have shorter wash cycles. And compared to front loaders, top loaders are more reliable in removing stains since they use either an impeller or agitator to wash clothes.
While they may not be the most practical choice in preventing your clothes from being damaged, top loaders are more preferred than front loaders because they're a lot more convenient to deal with as a whole. With a top loader, it becomes an easier task to add clothes once a cycle has started or to retrieve forgotten items from the tub. 
Pros:
Generally, more reliable than front loaders

Quicker wash cycles

Lower upfront cost
Cons:
Tend to be harsher on clothes

Higher energy consumption
Front Load Washers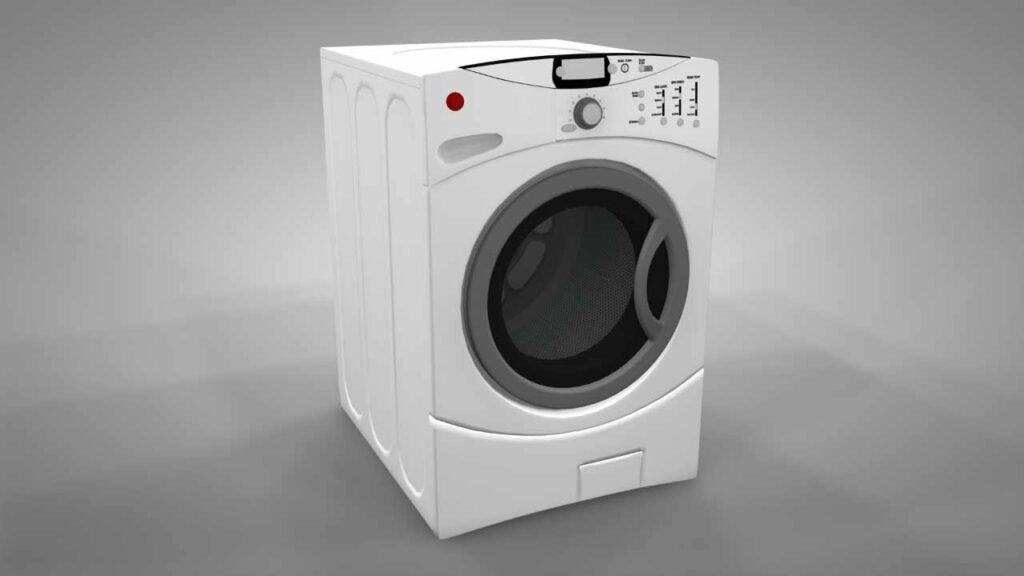 Although they have a relatively new design compared to top loaders, front-load washers are typically more efficient in using water and power. As a matter of fact, all front-loaders are considered high-efficiency machines. They're generally much more effective in cleaning. However, front-loaders tend to have longer wash cycles. 
Because of their front door design, front loaders provide much easier access to your laundry. As a result, this type of washer is preferred by shorter folks or by those who have mobility issues. 
Still, there are a few disadvantages to using this type of washer. Many people have reported experiencing either a mold or sound issue with their unit. 
Pros:
Tend to be gentler on clothes

More efficient

Great for small spaces
Cons:
Generally longer wash cycles

More expensive than top loaders 
Portable Washers
If you're looking for a cheaper and smaller appliance, you might want to consider a portable washing machine. The great thing about using a portable washer is that they're very mobile and easy to store. 
However, if it's your first time buying a portable washer, there are a few things that you should know. Since portable washers generally have less capacity than full-sized washers, most models are only ideal for one or two people. 
They tend to require more energy than other types of washers. You also have to make sure that the vents of your unit shouldn't be obstructed, as that can be a hazard. 
Pros:
They typically require less water than most standard models

Super convenient and easy to set up

Perfect for apartments and other rental properties
Cons:
Smaller capacity means smaller laundry loads

Requires access to water and drain
Understanding the Main Differences Between Stackable Washers and Laundry Centers
Aside from knowing the different types of GE washers, you should also consider your two main options when it comes to saving space: stackable washers and laundry centers. Stackable washers are usually quicker in handling laundry since they allow you to wash and dry different clothes simultaneously. 
Although stackable units typically offer more load capacity, laundry centers tend to be more convenient and automatic. Laundry centers will also allow you to have a slower yet more simplified way of doing your laundry. With regards to price ranges, there's usually no difference between the two. 
However, in terms of energy efficiency, laundry centers are often more economical, since most of them come with an Energy Star seal of approval. If you want to know more, here are some basic differences between the two:
The dryer in a stackable washer requires outside ventilation, whereas a laundry center uses a condensation-based ventless drying system. 

Stackable units are more flexible to rearrange and set up, whereas laundry centers are simpler and easier to operate

Laundry centers are typically more space-saving than stackable units, whereas stackable units tend to sacrifice more space for a larger load capacity. 
How to Choose the Right GE Washer for Your Needs
There's a lot to take in buying a new washer. you have to weigh a number of things, such as size, efficiency, and other major considerations. Having said that, if you're willing to consider some important factors about buying washers, you'll have a more precise idea of what you need and want from such an essential appliance. 
These include:
The size and configuration of the washer

The overall capacity of the washer

The energy efficiency of the washer

The cleaning capacity of the washer

The additional features that come it

How noisy the washer is
So, to give you a better understanding, here's a comprehensive overview of everything that you should know when it comes to choosing the right GE Washer. 
Size and Configuration
Washers come in all sorts of different sizes, so it's important that you measure the space you have before you consider anything else. GE generally provides compact front loaders that have around 25-26-inch depth, 23-inch depth, and 33-inch height. 
Conversely, most of their full-sized washers tend to have around a depth of 33-34 inches, a width of 27-28 inches, and a height of 39 inches. Keep in mind that if you require a pedestal, you'll need to allow at least 47 inches of vertical space for your front loader. 
Although full-sized washers are expected to be more convenient and well-featured, they tend to occupy more space in your home. So, if you live in a small living space and you want a unit that will save you a considerable amount of horizontal space, a stackable unit or laundry center would be a great option for you. 
Capacity
When considering the capacity of your washer, there are a few things you need to ask yourself, such as:
How many people are in your household? 

How much laundry do you tend to wash each week? 

Do you have a lot of bulky items to wash? 
Apart from knowing the measurements and space for your unit, you also have to consider the capacity you need to handle your loads. If you live alone or with another person, a compact washer will most likely be fine for you. 
If you have a bigger household, then a full-sized washer would be a much more convenient option for you. However, regardless of your household's size, we always suggest that you go for a washer that has a relatively spacious tub capacity, provided you have the budget and space for it. After all, having some extra space in your tub is always useful.
Efficiency 
If you're shopping for a GE washer, make sure to check out if the model you're considering is Energy Star qualified. An Energy Star label would indicate that the washer is considerably more efficient in using energy and water. 
To put it simply, a washer with an Energy Star Label will typically save you more money on your bills. Aside from making sure that the washer you're buying is energy efficient, there are also other ways that you can do it in order to be more energy-saving with your laundry. 
Cleaning Performance
You also have to keep an eye on your options' overall cleaning performance. Most GE washers tend to have a variety of features and settings that can improve cleaning and stain removal. 
A popular feature that you might find useful is the use of steam. Steam enhances the cleaning performance of GE washers by penetrating clothing fibers and releasing all kinds of stains. Moreover, unlike agitators, steam doesn't damage your clothes. 
Some models come with a built-in water station that's very useful in removing stubborn and deep stains. Also, there are those that come with a smart dispenser which you can use to dispense detergent in advance for up to 32 loads. 
Other Useful Features
Apart from taking a look at your option's cleaning performance and essential features, you also have to consider any other bonus feature that you might find to be convenient. Almost all modern washers have their own set of extra features. 
Some GE features tend to be very innovative, like the UltraFresh Vent System, which can help prevent any mold or moisture buildup inside your washer. Also, most midrange GE models have extra cycles and more durable parts. 
Some models also have their own smart-enabled features, which can help you monitor your laundry loads with the help of mobile apps and voice controls. Still, there are some features that tend to be unnecessary or somewhat gimmicky. So, regardless of the model you're interested in, make sure to check if it really has some useful features to offer. 
Noise
Although most models from GE tend to operate quietly, you still have to be very careful in buying your unit. If possible, you should buy or order in person just in case you receive a unit that has defects. Moreover, make sure to install your washer not too near your living area or bedroom so you can avoid hearing any unwanted noise. 
Our Top Recommendations
From basic, low-end models to more premium units, there are a lot of great options from GE. But regardless of your personal needs and preference, it's going to take a considerable amount of your time going through different models and listings. 
So, to give you a head start in listing your choices, we gathered some of the best GE washers you can find down below. 
What's Our Evaluation Criteria?
In reality, trying to find the best washer that would work for almost anybody isn't an easy task. There's a lot to consider such as living space, useful features, and budget. 
As a result, we were very careful in picking the best models we could find. Here are some of the few things we considered when we were making our list: 
Is it a reliable and efficient model? 

Besides the essentials, does it offer any useful special features

? 

Is it well-built? I.e., are there any common complaints with this model? 
GE Appliances has over 80 different models of washers and dryers to offer. So, in order to help you come up with a more definite selection, we gathered all of the best GE washers from different price points. 
Moreover, we also considered some space-saving washers so you can have a very reliable list regardless of your budget or living space. 
GE 4.5 cu. ft. Capacity Washer with Stainless Steel Basket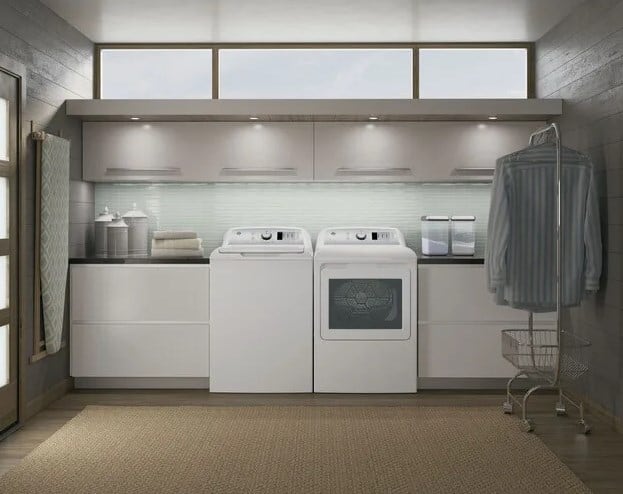 The GTW685BSLWS does an exceptional job when it comes to removing deep stains since it has its own pre-programmed settings. It features a dual-action agitator action and a stainless-steel drum, making it an efficient unit in handling your laundry. 
While it may not be the best GE washer on our list, it's still a great option for medium to large homes. So, if you're looking for a great washer that's fairly affordable, check this model out!
Pros: 
Energy Star qualified

Lots of washing cycles to choose from

Great in removing all kinds of stains
Cons:
Operates with loud sounds

Causes more wear and tear on clothing
GE 5.0 cu. ft. Capacity Smart Front Load ENERGY STAR Steam Washer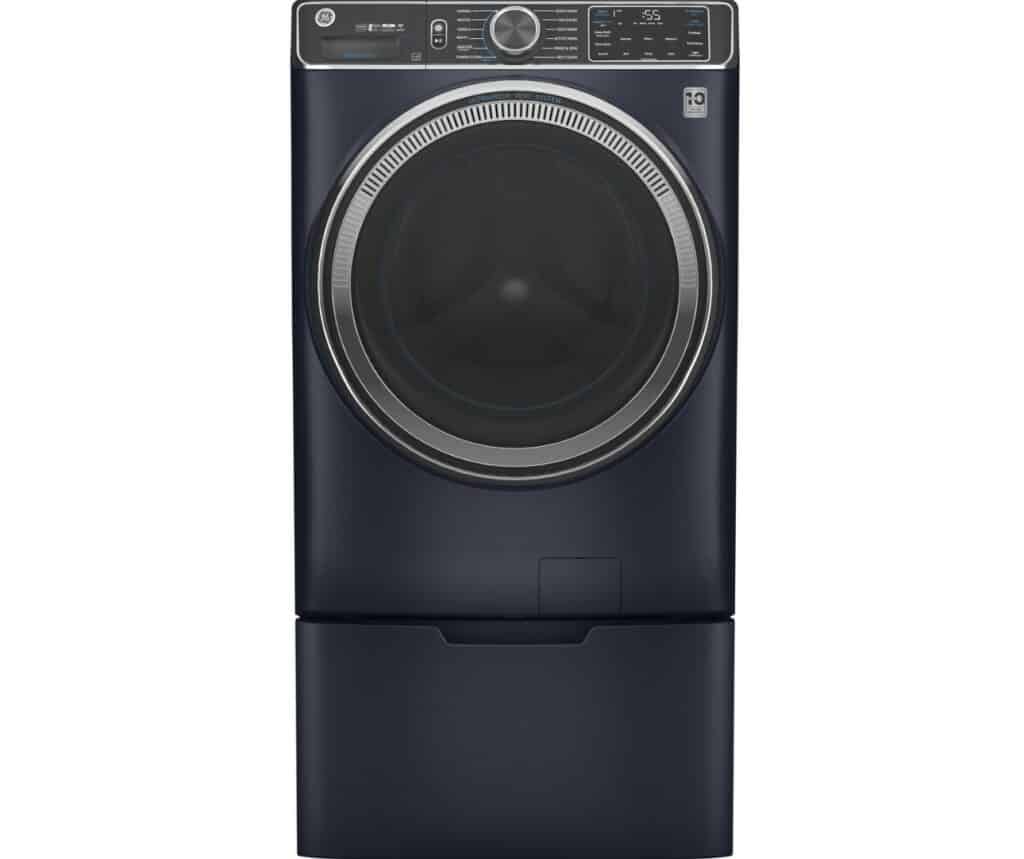 Much like other notable front load washers from GE, the GFW850SPNRS also comes with a lot of great features. Aside from being Energy Star qualified, it has its own UltraFresh Vent System with OdorBlock™. 
This feature helps prevent any unwanted odors from your washer. It also comes with a 1 Step Wash + Dry feature, which allows you to eliminate the need of transferring your small loads to a separate dryer. 
Although it's more expensive than most units on our list, this model will surely catch your eye, since it has such a beautiful and modern design. It's available in Sapphire Blue, Diamond Gray, and White. 
Pros:
Sleek and premium design

Great stain removal

Good auto-dispense feature
Cons:
Cycle times are slower than other similarly priced models

Somewhat expensive
GE Space-Saving 2.8 cu. ft. Capacity Stationary Washer with Stainless Steel Basket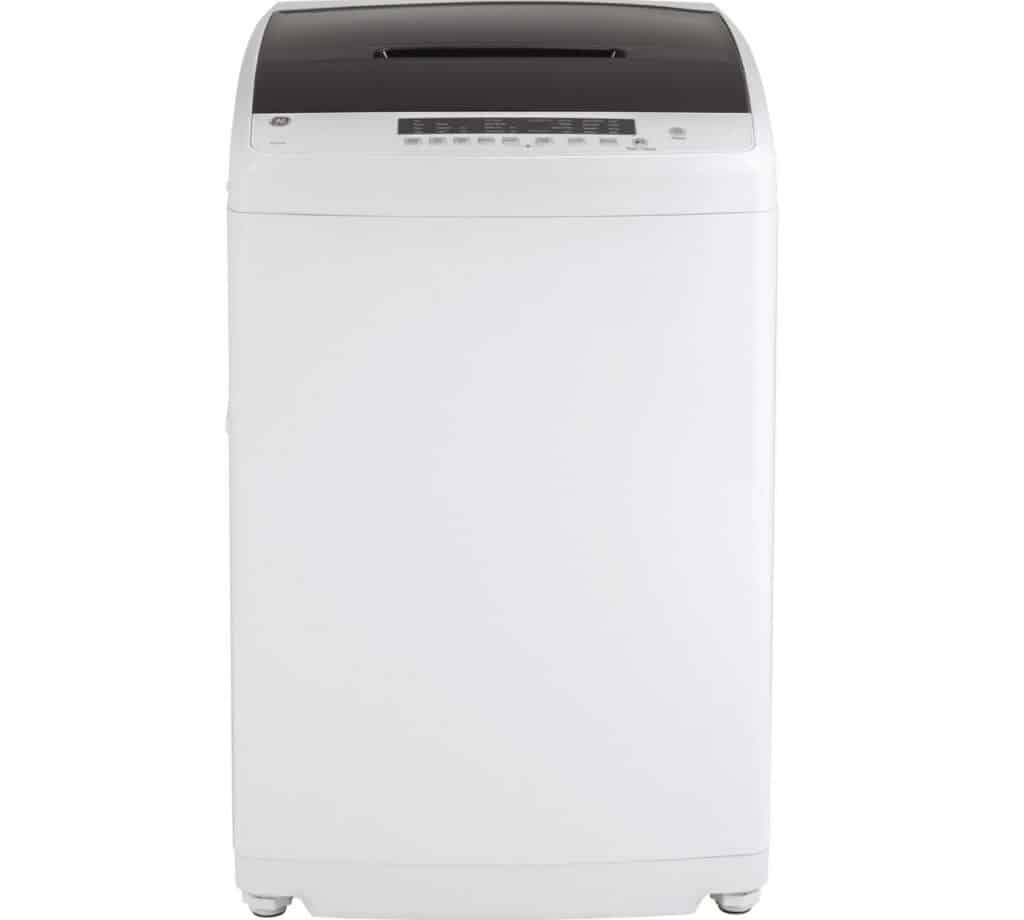 Shopping for a compact washer isn't easy, especially since your options are still limited these days. Having said that, if you're willing to sacrifice a little bit of space and convenience for a more portable appliance, consider the GNW128SSMWW. 
It can handle larger loads than other portable models. Moreover, it has its own rollers, which makes it a lot easier to move and keep in storage. 
Even though it's not completely lightweight, the GNW128SSMWW is still considerably narrower than normal-sized washers. So, if you're looking for a portable washer that can handle more load, this portable washer might just be for you. 
Pros:
Has a larger capacity than other portable washers

Perfect for smaller spaces

Easy to use and store
Cons:
Not the most efficient portable washer

Heavier than most portable washers
GE Unitized Spacemaker 3.8 cu. ft. Washer and 5.9 cu. ft. Electric Dryer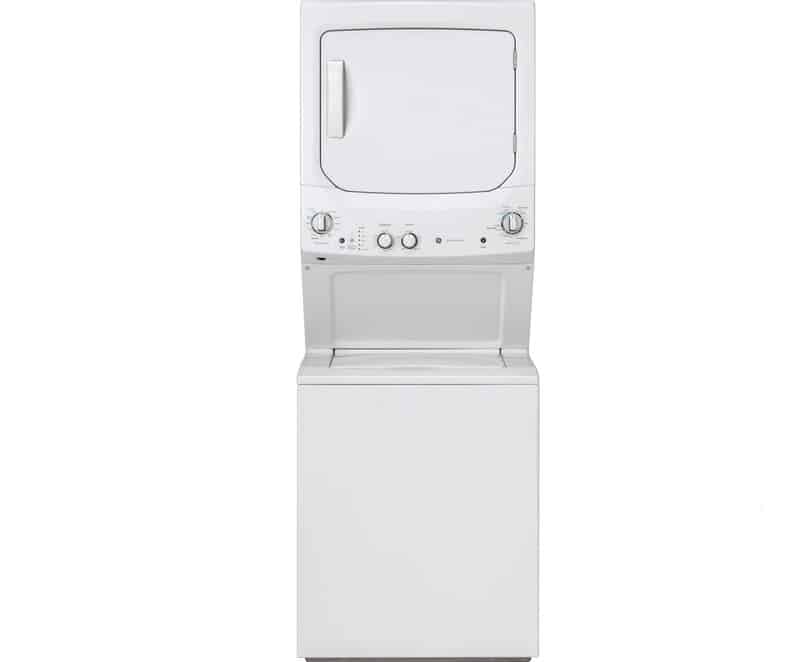 The GUD27ESSMWW provides almost everything you'd expect from a reliable center. With this 3.8 cu. ft. washer, you can highly customize its cycles and water levels. Also, since it has a convenient setting for every wash cycle, you'll be able to use its agitator without worrying about your laundry loads. 
The deep rinse feature also comes in handy for washing away extra soil and additives. Even though it has much to offer as a laundry center, it takes up a considerable amount of vertical space to install. However, the GUD27ESSMWW is still a solid choice in terms of saving money and space. 
Pros:
Good deep rinse feature

Offers highly customizable settings

Consistent dryer
Cons:
Takes up a lot of vertical room

Agitator might be rough on clothes
GE 5.2 cu. ft. Smart Washer with Sanitize w/Oxi and SmartDispense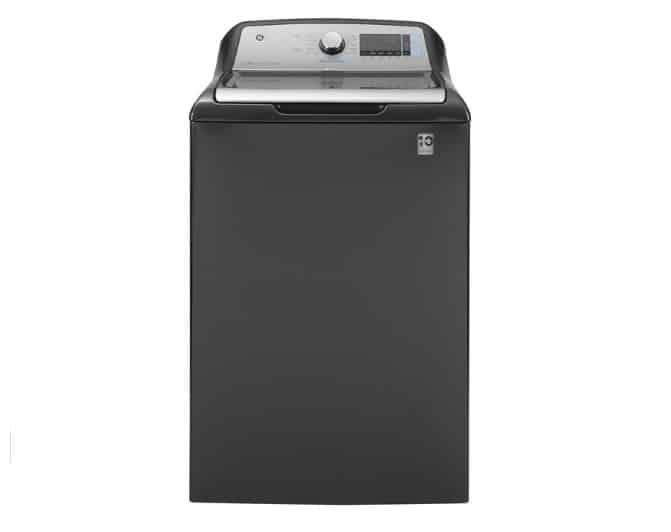 If you're looking for a more premium unit that has a lot of modern features to offer, the GTW840CPNDG would be a great option. This model features an integrated water station that's fully capable of dispensing water and detergent together at your desired temperature. 
It also has a modern dispenser that can hold a considerable amount of detergent, and it automatically dispenses the right amount, making your laundry a lot more effortless. Moreover, it has digital touch controls, and it works quieter than most standard washers. It's a great choice if you're in search of something more modern and robust. 
Pros:
Has a great high-end design

Spacious capacity

 Very quiet 
Cons:
Slightly inconvenient for shorter people

Doesn't drain very well
GE 4.8 cu. ft. Smart Front Load ENERGY STAR Washer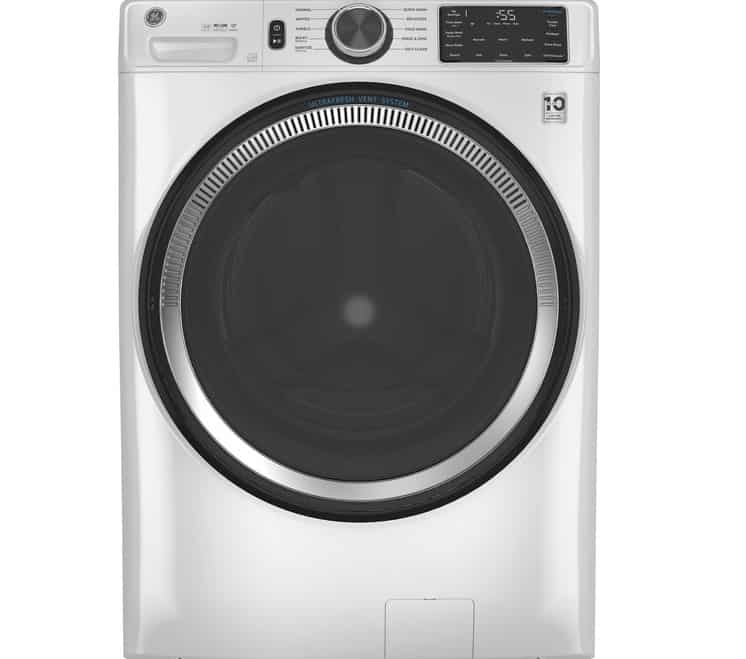 Despite having fewer features than the GFW850SPNRS, the GFW550SSNWW is still a solid choice when it comes to affordable front load washers. Priced at around $850, this model has all the basic features you'd expect from a modern front load washer. 
Apart from being smart-enabled, it also has Microban® antimicrobial technology, which helps prevent the machine from smelling. Moreover, the GFW550SSNWW has a reversible door, making it very flexible with regard to installation. 
Even though some users question its vent system's effectiveness, this model is still a great and solid choice for medium to large households. 
Pros:
Can be used as a stackable unit

Great for preventing moisture buildup

Well built
Cons:
Questionable UltraFresh Vent System

Fairly loud during spin cycles
GE 4.2 cu. ft. Capacity Washer with Stainless Steel Basket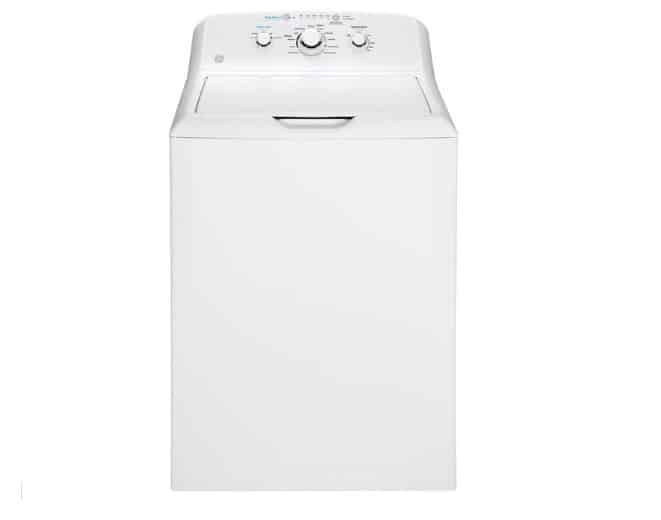 If you're only in the market for a basic yet solid midrange washer, consider the GTW335ASNWW. Priced at around $649, this top-loader has pretty much all the essential features you need from a washer. It does a fairly reliable job with its cleaning cycles and it also uses a heavy-duty agitator which is decent in removing stains. 
Even though it's not as efficient as the other models on our list, the GTW335ASNWW does the job well. With the inclusion of a durable basket and generous washer capacity, this model is a very affordable and practical laundry option. 
Pros:
Inexpensive

Good cycle options 

Decent cleaning performance
Cons:
Weak spin cycles

Can be harsh on clothes
GE 24" 2.4 cu. ft. Energy Star Front Load Washer with Steam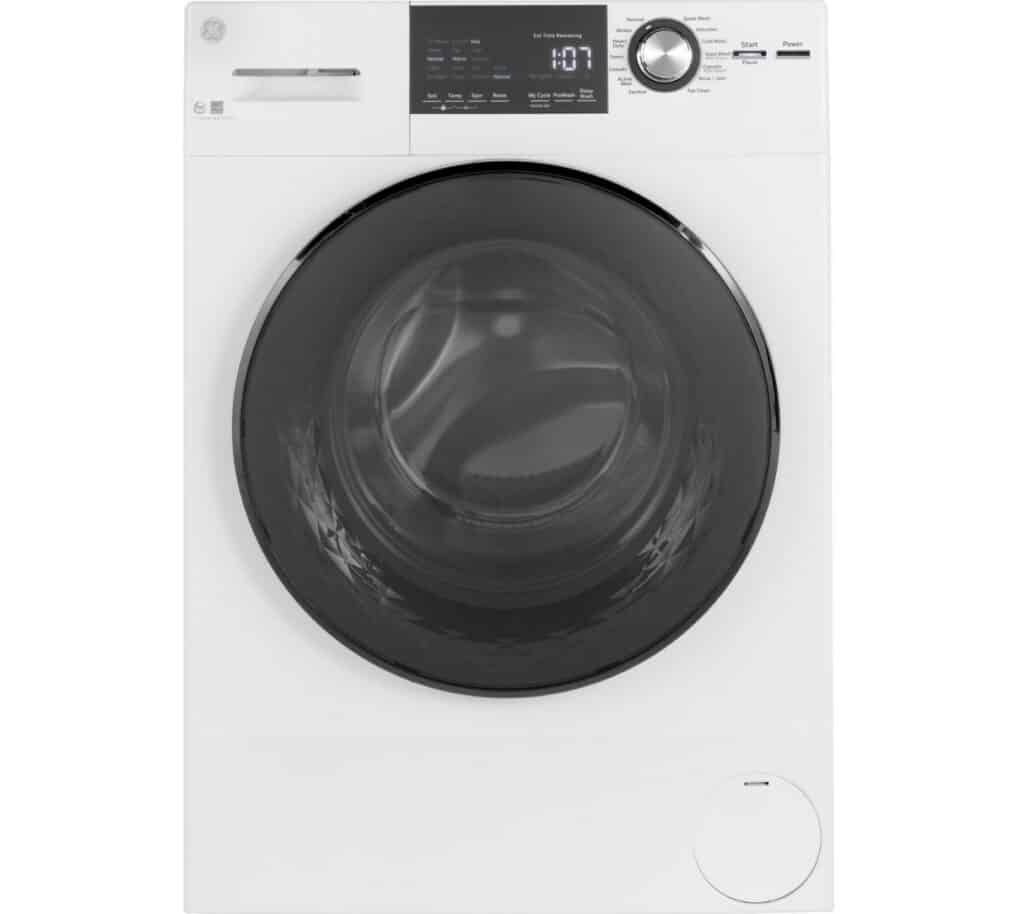 If you're trying to find a washer that will fit perfectly in your small living space, perhaps the GFW148SSMWW might just be the one you should check out. Even though it's slightly less efficient than full-sized models, this stackable unit is still pretty good in terms of cleaning and removing stains. 
It has a wash feature that allows you to wash lightly soiled items quicker, and it can also be plugged into a GE 24" ventless condenser or 24" ventless dryer. Despite having slower cycle times than full-sized washers, the GFW148SSMWW is still a good pick when it comes to compact washers. 
Pros:
Good cleaning performance

Perfect for small spaces

Easy to install
Cons:
Slow cycle times

Small capacity
FAQs
Final Thoughts: Buy the Most Valuable GE Washer that Works for You
Buying a new GE washer is not an easy job for pretty much anybody, as there are a lot of well-featured options out there for you to choose from. Having said that, being self-educated when it comes to washers or any other home appliance is a great way for you to save some money on your purchase and bills. 
However, if we had to choose only one GE washer from our list, we would pick the #GTW840CPNDG. It has such a sleek and minimal design, allowing it to fit perfectly in almost any kitchen setup. It also has a super spacious capacity and it operates very quietly with most of its cycles. Priced at around $849 or less, you'll surely find this well-featured midrange washer to be very convenient and worth every penny. 
Whether you're in search of a good replacement for your old washer, or you're looking for an upgrade, we hope that our guide gave you a better idea on how to find the best GE washer. That being said, regardless of the home appliance you buy, make sure to always consider the overall value of your choices!