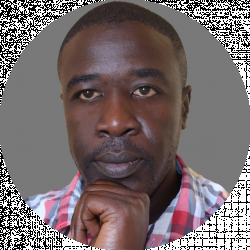 Latest posts by Barry Juma
(see all)
Synonymous with quality appliances, Bosch has cemented their reputation as a premium brand. If you're considering a Bosch refrigerator, then I'm sure you've been getting by the company's track record of reliability.
However, since there are numerous refrigerators in their lineup, you might be wondering which one is right for you. This Bosch refrigerator model guide breaks down the things to consider when choosing a fridge to help you narrow down your options. 
A refrigerator should last over 15 years if well taken care of. The most reliable ones last close to 20 years. Therefore, it's important to buy one that's not only a top performer but also stylishly designed. Here's a look at the main things to consider.
Things to Consider when Looking for a Bosch Refrigerator
Your Budget
Bosch's most affordable option goes for $2,199. At this budget, you'll get features like a side-by-side door configuration, an ice and water dispenser among other handy features.  
The most expensive option costs $8,599. If your budget can stretch this far, then you'll enjoy features like smart technology, a bottom freezer, and lots more. Check out our review of the best Bosch refrigerators later in this article. 
Consider the maximum amount of money you're willing to spend and check out the options available to you. Avoid spending too much on extra features that may not be beneficial to you.
Fridge Capacity
There are several refrigerators meant for different households. Generally, you need an average of 5 cubic feet of refrigerator space per adult, plus a little bit extra. Compact refrigerators have a size of about 4 cubic feet to 19 cubic feet. These are appropriate for a single person or two people.
If you have a small apartment with a tiny kitchen then these models would be fine. However, if you live alone but love to cook then you'll need refrigerators larger than these. Opt for the mid-sized ones. Mid-sized fridges range from 19 cubic feet to 24 cubic feet. These models are ideal for a household of about four people. 
Finally, large-capacity refrigerators start from 25 cubic feet and they offer enough space for households with more than five people.  Consider buying one that is larger than what you presently need if you foresee a change in your circumstances, like having kids or moving to a larger space.
Food Storage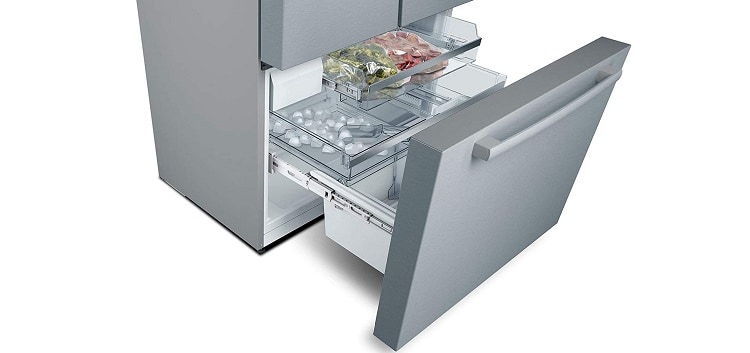 Consider a refrigerator with multiple storage compartments for flexibility in food organization. These include the door compartments, meat bins, fruit, and vegetable compartments. 
Think about the foods that you most buy and whether there's a specific compartment that you'll need. This should help you choose the refrigerator with the right storage space for you. Adjustable shelves are also handy to have, to offer you the freedom to customize the refrigerator space to your specific needs. 
Size of Refrigerator
Other than capacity, also consider the size of the refrigerator. Make sure you measure the dedicated refrigerator space in your kitchen to know the exact size that will fit.
Bosch has refrigerator models with widths from 18 to 36 inches and heights from 69 to 83 inches. When thinking about the width, also consider the swing space available for the doors. Look for a model with narrower doors if the space in your kitchen is limited.
In this case, a side-by-side refrigerator might be a good option. More on the types of refrigerators below. You should also decide whether you want a refrigerator that extends past the counter or one that's the same depth as the counter. 
Finally, make sure the fridge isn't too big to fit in your hallway on the way to the kitchen. In short, think about delivery and installation. If you have narrow stairs or hallways, then a large refrigerator might fail to reach its intended spot. So, to avoid frustrations on delivery day, make sure you measure the available space to the kitchen.
Type of Refrigerator
There are different types of refrigerators: side by side, French door, single door, top freezer and bottom freezer designs.
French Door
These models have a top double-door fridge section and a bottom freezer that's often a drawer setup. These refrigerators offer lots of space in both the fridge and freezer sections. Also, their design is modern and chic, if you want to add a bit of style to your kitchen's aesthetic.
Side by side
Side-by-side refrigerators have the fridge and freezer compartments next to each other in a vertical configuration. The doors for each compartment swing from the middle. This setup means that the compartments are slim, limiting the size of items you can fit in them. Often, you'll have to pack your food in smaller containers to get them organized in the refrigerator.
However, thanks to the slim profile of the doors, they don't need a lot of swing space.
Single door
These are often small or mid-sized refrigerators with just a single door. Inside, they have a dedicated freezer compartment, but this will have a smaller space than the fridge section.
Top Freezer
This is the oldie-but-goodie refrigerator design we're all familiar with. As the name suggests, the freezer is at the top, with its own separate door, and the fridge section is at the bottom. These types of refrigerators are more affordable than their counterparts.  
Bottom Freezer
This design has grown in popularity since we mostly use the fridge section, which is at eye level in these models. Some Bosch models have a bottom drawer freezer but the company also offers standard-door freezers.
Built-in vs Freestanding
Decide whether you want a built-in refrigerator or a freestanding model. Built-in options are designed to be built into your kitchen cabinetry. Add can also be customized to the color of your cabinets so that they blend into the existing style. These models are best for those who own their homes.  
Freestanding refrigerators are simply installed in the existing space and can be moved without the need to alter the kitchen cabinetry. They're best for those who might move houses in the foreseeable future. 
Energy Efficiency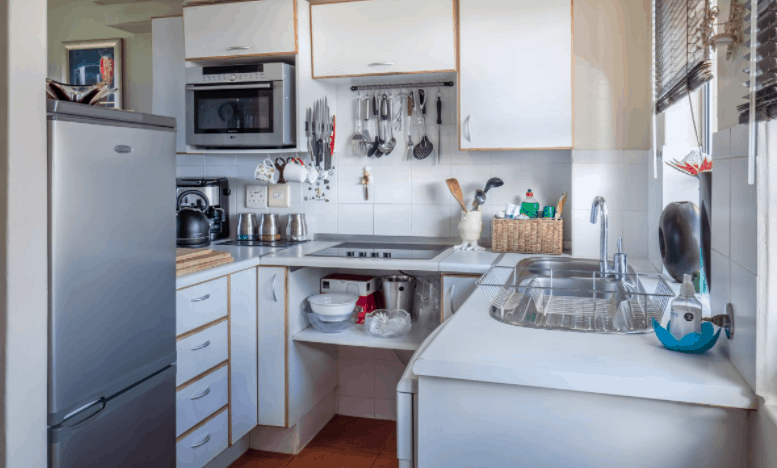 Because a refrigerator is constantly running, you need one that uses as little energy as possible. Thankfully, modern refrigerators don't consume as much energy as older ones; today's models are said to consume 33% less energy than older models. 
Consider a refrigerator that's Energy Star certified to maximize on savings. According to Energy Star , a certified refrigerator model will save you about $200 over the course of its lifetime.
Check your preferred refrigerator's EnergyGuide label, which indicates the amount of energy it will consume in a year. Consider models that have a lower energy consumption, indicated by the KWh (kilowatt-hours) labeled. The guide also indicates the annual operating cost of the refrigerator. 
Color and Finish
Since refrigerators last for years, you should look for one that's elegant, not just functional. Consider the color that best fits the aesthetic of your kitchen. If, for example, you have a stainless steel oven and microwave, a refrigerator with the same color maintains uniformity in your kitchen.
You can also opt for a model with a fingerprint-resistant finish, especially if you have little ones who are always touching the refrigerator. This will save you the hassle of always wiping off smudges that make the appliance unsightly. 
Bosch's lineup is made up of black, black stainless steel, regular stainless steel, and white color options. 
Extra Features
You can choose to buy a refrigerator with extra features that add convenience. However, the more extra features you want, the more you'll have to spend. So, if you're on a tight budget, you'll be limited to just the basic functions of a refrigerator.
Here are some extra features you can consider;
Ice and Water Dispensers 
With this, you won't have to open the refrigerator door if all you need is ice or cold water. This, in turn, will save energy on top of the convenience of this feature. However, the dispensers take up additional space within the refrigerator, eating into the overall capacity. 
Speed ​​​​​​Chilling
Some refrigerator models have a handy speed chilling feature that rapidly drops the temperature of food within minutes. 
Smart Features
Even refrigerators have gotten smarter. These models have WiFi connectivity that enables you to pair them with your smartphone. Most manufacturers have their own smartphone apps that allow you to remotely operate your refrigerator using your phone.
High-end models allow you to set different temperatures for the different compartments. Others also have in-fridge cameras that allow you to see what's inside straight from your phone.  Although smart features are quite convenient, they make the refrigerator more expensive. So, consider whether these features are important to you before spending extra.
Reviews
Read the reviews and see whether there are any recurring issues that past customers complain about. This lets you know whether a particular model is troublesome or not. Some refrigerators might have seemingly impressive specifications yet the reviews say something different. 
You can also read articles such as the ones we post on this site to get an objective view of the refrigerator's performance. 
Warranty and Customer Support
Bosch offers a standard warranty of one year on the entire appliance, parts, and labor. You also get a lifetime warranty for rust on stainless steel parts. Always consider an appliance with at least a year's warranty. However, make sure that the company has a service center near your home so that it is easy for you to reach a technician in person if you need to.
Main Features of Bosch Refrigerators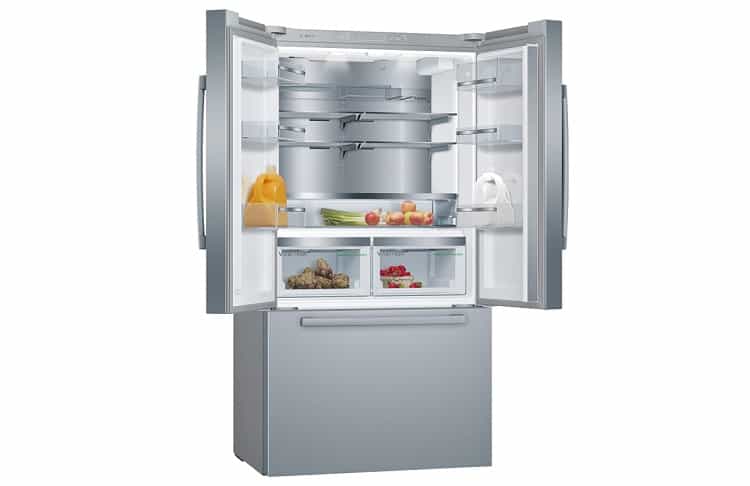 Home Connect
Bosch's smartphone app is known as Home Connect. You can use this app to change the temperature and humidity in your Bosch refrigerator, as long as you have a model with WiFi connectivity.
With the app, you can also diagnose problems with your refrigerator when it starts acting up. This will help you quickly fix any issues that don't require professional intervention.
Flex Bar
Some Bosch refrigerator models have what the company calls Flex Bars. These are adjustable hanging shelves in the fridge, which make it easy to customize the storage space and insert containers or bottles of varied sizes. Here are a couple of models with the Flex Bar feature.
Farm Fresh System
You may notice some Bosch refrigerator models with the company's Farm Fresh System. This is a series of technologies that boost the performance of your refrigerator. They include:
Vita Fresh Pro:

This feature ensures that the humidity and temperature are just right, to keep all food types fresh for longer. 

FreshProtect:

This is a system that eliminates ethylene gas, which is known to have the ripening of foods.

Because of this feature, fruits and vegetables are kept fresh for a longer period than in regular refrigerators.

AirFresh Filter

makes sure that strong odor from food like meat and cheese is eliminated.

MultiAir Flow technology

keeps the internal temperature consistent thanks to a system that circulates cold air within the refrigerator.
Super Cool and Super Freeze
Super Cool and Super Freeze are features found in some Bosch refrigerator models that rapidly cool or freeze newly added foods.
Whenever you add lots of food to the refrigerator or freezer, the internal temperature will be affected by the warmer temperature of the newly added items. When Super Cool or Super Freeze is activated, your Bosch refrigerator will quickly lower the temperature of the new food items in order to maintain a consistent fridge/freezer temperature.
You can also use this feature if you want to quickly chill drinks. 
5 Best Bosch Refrigerators
Bosch B36CL80SNS 800 Series French Door Bottom Mount Refrigerator 36"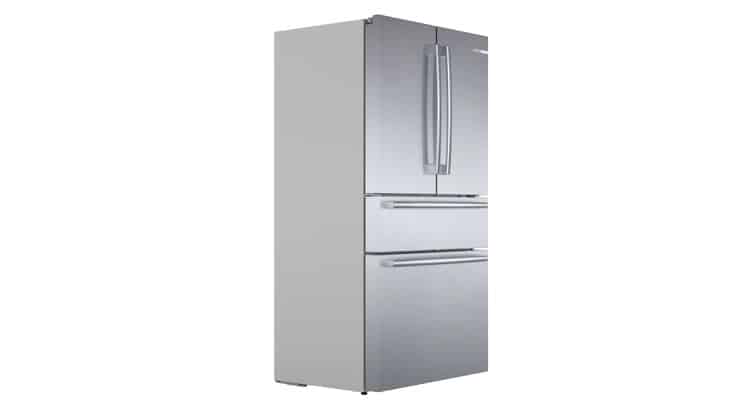 This is one of Bosch's most popular refrigerators and, compared to the company's other models, it's actually quite reasonably priced. It is a French door model with a top-mount fridge section and a drawer-style freezer at the bottom. It also has a middle-drawer-style section for fruits and veggies.
As is common with Bosch appliances, this model carries on the family line's sleek looks with its elegant design. This stainless steel refrigerator will certainly upgrade the look of your kitchen.
Main Features
Ample Food Storage
The refrigerator has a capacity of 21 cubic feet, with loads of storage compartments in both the fridge and freezer. Its top section has Bosch's Flex Bars. These are hanging shelves that can be customized to various configurations to maximize the available refrigerator space. 
The middle section is a fresh produce drawer with handy bins that help to organize fruits and veggies. Finally, the freezer drawer has three tiers of shelving that create enough space for foods of varied sizes.
Energy Efficiency
An Energy Star certified refrigerator, this model offers its users electricity savings. Its multi-compartment design also helps to save on energy. This is because you don't have to open the main refrigerator section if all you need is some veggies. 
Smart Technology
This Bosch model is fitted with WiFi connectivity, which facilitates connection to the company's Home Connect smartphone app. Via the app, you can adjust the humidity level and temperature of the fresh-produce drawer. You'll also receive an alert in case you leave the refrigerator door open.
Still, whenever there's an issue with the refrigerator, the app will help you to run diagnostics to figure out what the problem might be. 
Food Preservation Performance
Bosch has armed this model with its effective FarmFresh System that's a combination of four features: Vita Fresh Pro, FreshProtect, AirFresh Filter, and MultiAirFlow. Take a look at the ' features ' section above (if you haven't already) to find out more about these technologies.
| | |
| --- | --- |
| Pros | Cons |
| This refrigerator has ample food storage space. | The ice maker seems a tad overzealous as it makes a little too much ice. |
| It's Energy Star certified. |   |
| It has a sleek stainless steel build. |   |
| Food is kept fresh three times longer than regular refrigerators thanks to Bosch's Farm Fresh System. |   |
Bosch 800 Series French Door Bottom Mount Refrigerator B36CT80SNS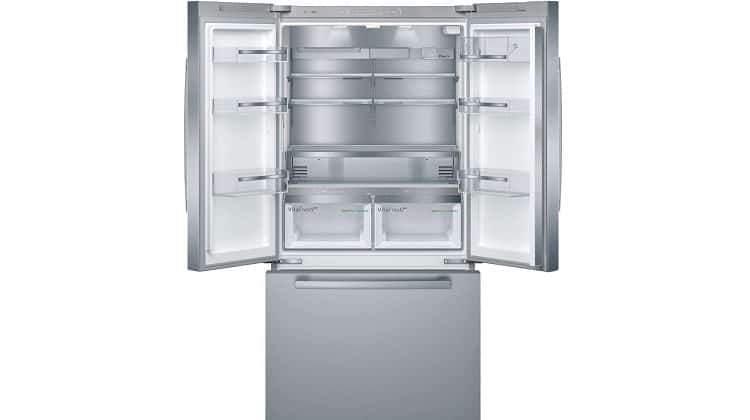 Also a member of the 800-series family of Bosch refrigerators, this model lacks the middle fresh-produce drawer that the previous model on our list has. It's also slightly cheaper but not significantly so. 
However, that's where the differences end. This popular French-door refrigerator boasts Bosch's cutting-edge technologies similar to those in the model listed above. Because of this, you'll get to enjoy prolonged food storage as well as handy smart features.
Main Features
Food Storage
The refrigerator has a total capacity of 21 cubic feet with ample storage options that are complemented by the handy FlexBar shelving. You also get six spacious door bins for extra space. Its top section also has a drawer compartment for wider food containers or platters.
Its bottom freezer is set up similarly to the model above, with a three-tiered drawer design for better organization. 
Smart Features
With WiFi connectivity, you'll be able to connect this refrigerator to your smartphone via the Home Connect app. This will allow you to remotely set the temperature and humidity, and also know when the refrigerator has an issue that needs your attention. 
Performance
This refrigerator is armed with Bosch's state-of-the-art Farm Fresh System that's made up of Vita Fresh Pro, FreshProtect, AirFresh Filter, and MultiAirFlow. These technologies work to eliminate strong odors, maintain consistent refrigerator temperature, remove ethylene gas and maintain optimum humidity. Find out more about these features here.
Design
The stainless steel body not only looks stylish but it's also durable. Coupled with the counter-depth design, this refrigerator sits almost completely flush with the kitchen countertops, allowing it to seamlessly blend into the kitchen space. 
| | |
| --- | --- |
| Pros | Cons |
| This stainless steel build refrigerator and counter-depth design give it a stylish look. | There's no separate fresh-produce drawer so you have to keep opening the main refrigerator to access your veggies and fruits. |
| It offers ample food storage space. |   |
| With Bosch's Farm Fresh System, food stored will stay fresh for a long time. |   |
| This refrigerator is energy efficient. |   |
| It has a bright interior LED light. |   |
Bosch 300 Series Freestanding Counter-Depth Side-by-Side Refrigerator B20CS30SNS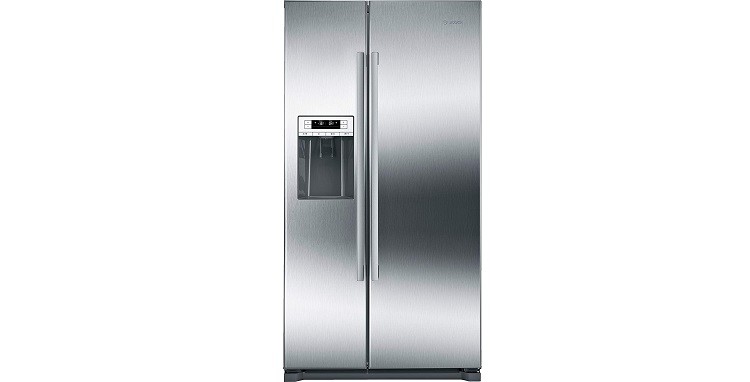 This side-by-side refrigerator's stainless-steel build is characteristic of other Bosch refrigerators, giving this model durability alongside a sleek appeal. And its counter-depth design will make it look even better in your kitchen. 
But this model is more than just good looks; it's packed with Bosch's cutting-edge technologies that make it a top performer in its class. 
Main Features
Design
This refrigerator's side-by-side design allows you to access both the freezer and refrigerator sections without having to bend. Its fridge section has a capacity of 13.2 cubic feet and the freezer has a capacity of 6.96 cubic feet.  The front has a water and ice dispenser that eliminates the need to open the freezer or fridge to get these. And at the top of the dispenser, there's a control panel for setting the temperature. 
And, of course, its stainless steel build is quite attractive, boasting an easy-to-clean fingerprint-resistant coating that limits unsightly smudges.
Performance
Bosch included their MultiAirFlow system in this model, which makes sure that there's a constant circulation of air within the refrigerator. This maintains a uniform temperature in all parts of the refrigerator's cavity.
Also, the freezer has Bosch's SuperFreezing feature while the refrigerator section has a SuperCool function. 
| | |
| --- | --- |
| Pros | Cons |
| This is a sleek-looking refrigerator. | The ice maker is loud and its dispenser is unreliable. |
| It is Energy Star certified. |   |
| The Super Freezing and Super Cool feature to ensure that the internal temperature isn't altered by newly added food. |   |
| The refrigerator is reasonably priced. |   |
Bosch Benchmark® Built-in Bottom Freezer Refrigerator B30IB905SP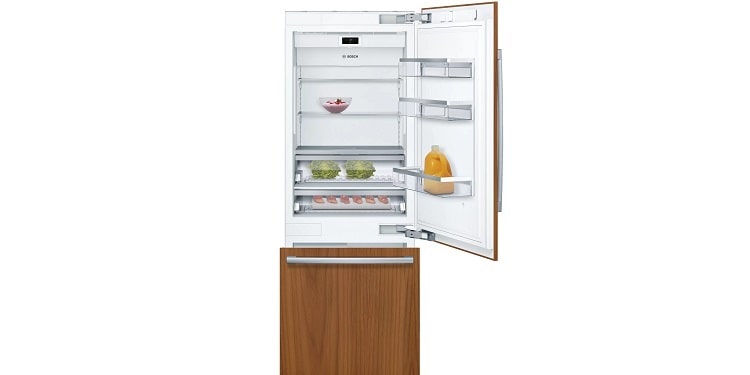 This Bosch model is a built-in refrigerator that's designed to remain hidden among your kitchen cabinets. It ensures that you maintain a seamless look whilst enjoying the functionality of a Bosch refrigerator.
But to enjoy this refrigerator's benefits, you'll have to part with a pretty penny. This model costs almost $6500, which is high compared to larger freestanding Bosch models. However, if your budget can stretch that far, it's worth considering. 
Main Features
Bottom Freezer
This model's freezer has a capacity of 4 cubic feet and the refrigerator has 11.5 cubic feet. Its design is perfect for those who mainly use the refrigerator, reducing the need to constantly bend to reach a snack in the section. 
SuperCool and Super Freeze
With Super Freeze, this Bosch refrigerator is able to rapidly freeze new food to maintain the temperature of the old ones.  Super Cool, on the other hand, also works in the same way by quickly cooling newly added food so that its higher temperature doesn't raise the fridge's temperature. It also comes in handy when you want to quickly chill a drink.
Smart Features
You can connect this refrigerator to your smartphone via the Home Connect app and remotely set the temperature or humidity level. This app is also compatible with Amazon Alexa, allowing you to use voice control.
| | |
| --- | --- |
| Pros | Cons |
| Its built-in design seamlessly fits among kitchen cabinets. | It's very expensive. |
| The bottom freezer design means the fridge section is at eye level, reducing the need to constantly bend. | The freezer is small. |
| It has a bright interior LED light. |   |
| The Super Cool and Super Freeze feature keep the temperature of food stored from rising when new food is added. |   |
Bosch 800 Series Freestanding Bottom Freezer Refrigerator B11CB81SSS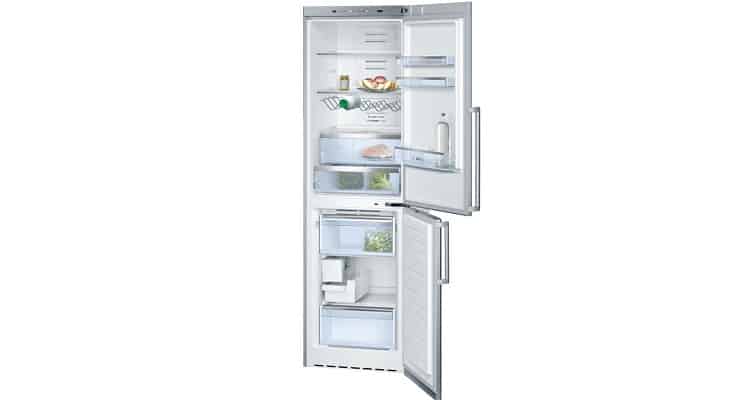 If you're looking for a cheaper bottom-freezer refrigerator, this model is one to consider. This Bosch refrigerator is a free-standing option going for less than half the price of the one listed above. However, it's smaller, with a refrigerator capacity of just 7.7 cubic feet and a freezer capacity of 3.3 cubic feet.
This is a refrigerator for a small household, and if you don't use the freezer a lot then this model will do just fine. 
Main Features
Energy Efficiency
This Energy Star-certified refrigerator will save you cash on your electricity bill. Its Energy Guide Label indicates that it uses an estimated 483 kWh of electricity annually. This translates to an estimated annual energy cost of about $64. 
Performance
Bosch has included the SuperCool and SuperFreezing features in this model for rapid freezing or cooling of newly added food. Another handy feature in this model is Bosch's MultiAirFlow. This feature makes sure that cold air is evenly circulated to maintain a uniform temperature in all parts of the refrigerator's cavity.
Design
With a counter-depth design, this refrigerator snugly fits in its dedicated space. It's unobtrusive while still giving your kitchen a stylish look. This is complemented by the stainless steel exterior that's known for its sleek looks and easy-to-clean nature. 
| | |
| --- | --- |
| Pros | Cons |
| This Bosch refrigerator has a stylish counter-depth design. | The freezer is small. |
| The stainless steel exterior is easy to clean. |   |
| It is energy efficient. |   |
| It's ideal for a small household. |   |
| It has SuperCool and Super Freeze features. |   |
FAQs
Question: Are Bosch refrigerators made in China?
Answer: Although Bosch is a German brand, their refrigerators are manufactured in China. 
Question: Is Bosch high-end?
Answer: Yes, Bosch is a high-end brand that's known for making premium appliances.
Question: What is the best month to buy a refrigerator?
Answer: The best months to buy a refrigerator are just before summer when most manufacturers offer bargains in preparation for the summer heat. In the US, this is usually towards the end of April to early June.
Question: Which refrigerators last the longest?
Answer: Whirlpool refrigerators are considered the most durable.
Question: How long should a French-door refrigerator last?
Answer: A well-maintained French-door refrigerator should last about 14 years on average.
Finally
Bosch is a good choice if you're looking to replace your refrigerator. The brand's premium quality and sleek designs make it a popular option among those looking for high-end appliances. 
Since the company has several refrigerator models, make sure you're clear about the features that are important to you to avoid spending on what you don't need. Use this guide to help you choose a Bosch refrigerator that's perfect for your needs.