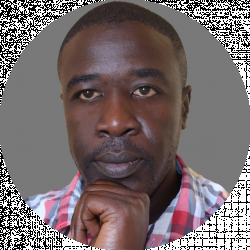 Latest posts by Barry Juma
(see all)
Not all washers are made equal – there are some that work a lot better than others. And if a washer is expensive, it doesn't mean that it is good. In this article, we'll take a look at how to find the best washer for your needs. 
A good washing machine should last you about 13 years, making them worth the cost. The average price of a good low-cost washer is about $700 but you might find cheaper ones in the market. Just make sure that they're of good quality since, as we know, cheap is expensive. 
If you're looking for a high-end washer, you might spend, on average, $1500 to $2000. These washers are armed with extra features like WiFi connectivity to allow remote operation. You'll also get extra wash cycles.  Let's dive deeper into the things to consider when choosing a washer.
How to Find The Best Washer: 8 Things to Consider
Type of Washing Machine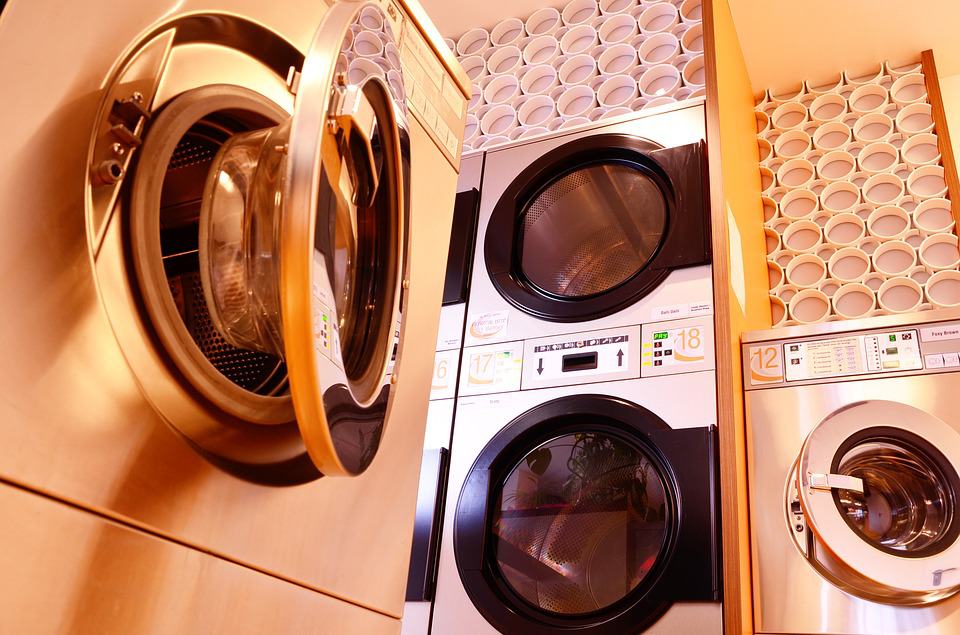 Do you want a front-load or a top-load washer?  Top load washers have a door on the top of the machine while a front-load has a door on the front. Those who have back issues will find it easier to use a top-loader because they don't have to bend to access the tub.
However, some bending is required in top-loaders when unloading. And if you're not a tall person, it might be hard to reach the bottom of the top-loaders. But other than the design, there are other differences between these two types of washers that might influence your decision. 
Top-Load vs Front-Load
Speed
Top-load washers with agitators are faster in washing than their front-load counterparts. Simply, an agitator is a part that moves the clothes through the water to help clean them faster. The top-loader's design also allows the load to be fully immersed in water throughout the cycle, giving this type of washer its advantage of speed. 
Precision
Although a top-load washer is faster in washing, the front-load washer does a much better job, even on larger items. The agitator in a top-loader is also rough on clothes due to the twisting and turning action it performs. However, there are top-loader models without an agitator, but these cost more. 
Water efficiency
On average, a front-load washer uses about 13 gallons (49 liters) of water per load while a high-efficiency top-load washer uses about 19 gallons (72 liters). A regular top-loader (one that isn't high efficiency) will use a whopping 41 gallons (155 liters) in each load, according to The Spruce.
Price
A top-load washer with agitator costs considerably less than a front-load washer. However, these standard top-loaders aren't energy and water efficient and so you'll eventually spend more on your monthly bills than what you save initially. 
Size and Capacity
Standard-size front-load washers measure about 4.25 cubic feet while compact models measure about 2.5 cubic feet on average. Top-loaders, on the other hand, measures about 3.1 to 4 cubic feet. If you have a large household then a large-capacity washer of about 5 cubic feet would be ideal for you. 
Also, make sure you check the load size listed for the washer you intend to buy. This is indicated as a weight, either in pounds or kilograms (depending on your region). It's important to check this as some washers of the same capacity might have different load-size accommodations. 
Standard-sized top-loaders are usually able to handle about 12 pounds (5 kg) while a standard front loader should handle about 18 pounds (8 kg). 
According to Kelly's Dry Cleaners, a bed sheet weighs approximately 1.3 pounds (0.5 kgs), an XL shirt weighs about 0.5 pounds (0.2 kgs) and medium-sized jeans weighs about 1.6 pounds (0.7 kgs). Using this weight guide, you should figure out the washer with the appropriate load size capacity for you.
Your Budget
There are washers at every price point, so your options are always varied, no matter how much you have to spend.
Low-end washers cost about $200, but these are often compact-sized and might not be the best if you have a load for more than one person. You can get a 4- to the 4.5-cubic-foot top-load washer for about $500 and a similarly-sized front-loader for about $650. 
If your budget is $1000 and above, you'll get a washer with smart features, which can be operated and monitored remotely. High-end washers might cost over $2000.
Energy Efficiency
You need a washer that won't use too much water and electricity. Because of this, look for one that's rated as high efficiency. Check the Energy Star rating or CEE tier of the appliance. 
An Energy-Star rated washer uses about 25% less energy and 33% less water than a washer that isn't high efficiency. In fact, according to Energy Star, the US government agency that rates appliances, an efficient washer will save you about $370. Some of the Energy Star certified washers are listed here on the Energy Star website.
Tub Material
Washer tubs come in three different materials: polymer plastic, steel that's coated in porcelain enamel, or stainless steel.
The first two are the most inexpensive but polymer plastic tubs are more durable than the porcelain-enamel-coated steel tubs. However, the most durable is stainless steel, but these come at a cost. If you're considering a washer that has a porcelain-coated tub then it's important to know that the coating will start to chip away after a couple of years of use. And once this happens, the steel will begin to rust. 
Polymer plastic tubs also have their drawbacks; they tend to stain faster than stainless steel and develop odors. This is the same for porcelain tubs. Over time, after prolonged use, your plastic tub's will also become rough, which will then wear out your clothes faster.
Therefore, washers with stainless steel tubs are the best despite their higher price tag. The extra cost is easily recouped since these washers have a much longer lifespan than their plastic and porcelain counterparts.
Wash Cycle Settings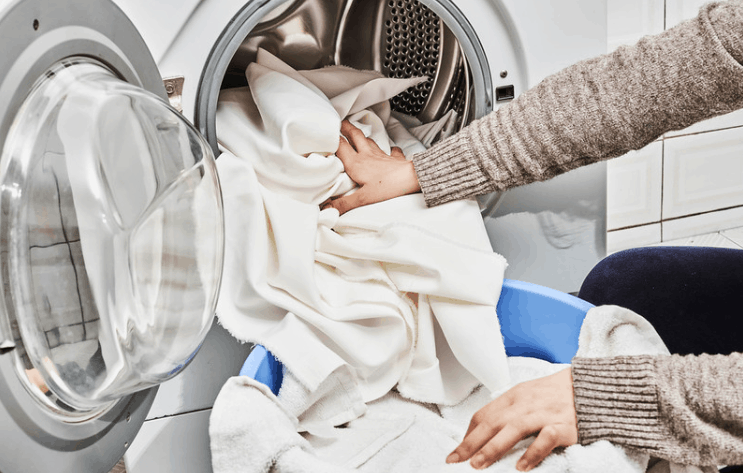 Consider the number of wash-cycle settings that the washer has, to know the degree of versatility you'll get. The cycles vary the duration of the wash, the spin speed, and the temperature.
Depending on the items you wash regularly, you should know which cycles are important to you. For instance, if you have a lot of delicates then look for a washer with a dedicated cycle for delicate garments.  Similarly, if you foresee washing of heavy garments, then the washer should have a cycle that can handle these. 
Noise Level
The noisiest washing machine is about 78 decibels while the quietest should be about 50 decibels or less. To put this in perspective, a vacuum cleaner's sound clocks in at about 70 dB while the sound of normal conversation is about 50dB. 
If you'll be placing your washer near your bedroom, in an open kitchen, or close to the living area, then you should consider a silent one. If you have a dedicated laundry room, perhaps in the basement or attic, then a noisier washer might not be too distracting. 
Front-loaders tend to be more silent so consider these if you want lower noise levels. Also, look for a washer with a direct drive motor as this type of motor doesn't make a lot of noise when active. 
Manufacturers have their own features that make their washers quieter. For instance, LG have their LoDecibel feature that makes their washers almost indiscernible. Most washers will come with anti-vibration features as well, so consider such features when shopping for a quiet washing machine. 
Fully Automatic or Semi-Automatic
A semi-automatic washer requires your intervention after each stage while a fully automatic washer only requires you to load the wash items and it'll do the rest.  If you want an inexpensive washer then you might want to consider the semi-automatic option. Of course, this is if you don't mind their bare-bones features and are only looking for a washer that simply washes. 
You'll have to be involved in the washing process by adding water into the tub and making sure the level is appropriate. You'll also have to drain the water at the end of each cycle. All these are tasks that a fully automatic washer will do for you. If you have small load sizes and you don't have a lot of money to spare then a semi-automatic might be okay for you. 
10 Best Washing Machines
GE Appliances GFW850S 5 cu ft Smart Front Load Washer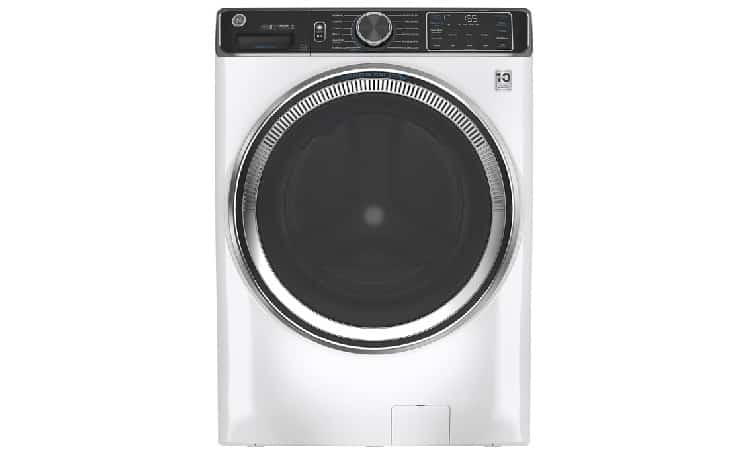 GE Appliances never disappoint with their home appliances and this washer definitely lives up to the GE name. With a large capacity of 5 cubic feet, this is perfect for large households. But you'll have to spend a tidy sum for it; at over $1000, it's not a cheap washer. 
However, GE Appliances fitted this washing machine with numerous features that will make your laundry duties a lot easier and, dare I say, fun. 
Main Features
This is a smart washer that has WiFi connectivity, allowing you to remotely monitor its progress via a smartphone app.

The drum is made of stainless steel, making this a highly durable washer that's expected to give years of service.

It has GE Appliances' SmartDispense Technology.

This tech allows you to fill up to 50 ounces (1.5 liters) of detergent at once and the washer will determine the appropriate amount of detergent to dispense in each cycle.

There's no need to worry about bad odor in the drum – the washer has a vent system that drives the tub and the area around the door seal.

This is a high-efficiency washer that's Energy Star Certified.
| | |
| --- | --- |
| Pros | Cons |
| This washer has a large capacity of 5 cubic feet. | It's rather expensive, costing about $1100. |
| Its smart functionality makes it easy to monitor the progress of your laundry. |   |
| This is an Energy Star Certified high-efficiency washer, so you're assured of savings on water and energy. |   |
| Its vent system dries the drum and door seals, preventing odor. |   |
| The drum is made of stainless steel. |   |
LG WM4000HWA 4.5-Cubic-Foot Front-Load Washing Machine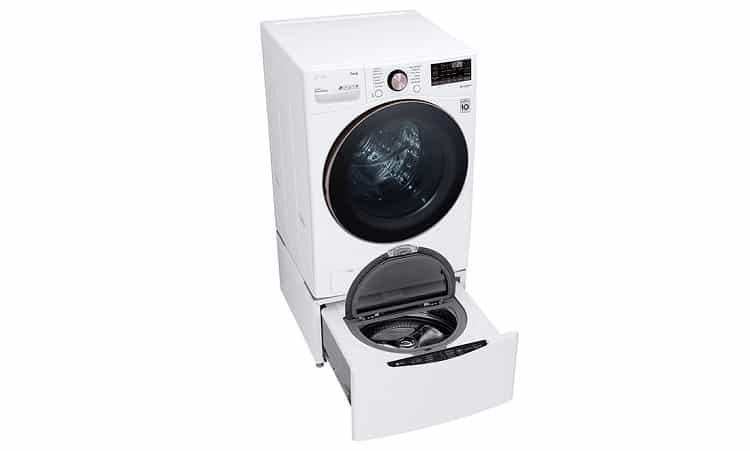 LG has earned the trust of consumers globally as it is known to be one of the most reliable brands. This 4.5-cubic-foot washer proudly carries the family name, offering LG's world-renowned reliability and functionality. Its size is standard and it should fit in whatever space you've set aside for it. 
Main Features
This smart washer has AI-powered sensors that can tell what texture your fabric has and choose the settings that best match this, ensuring your clothes are well taken care of. 

You can connect the washer to LG's ThinQ ecosystem and remotely operate the washer.

The app will also let you know if you're running out of detergent.

This is a high-efficiency washer that makes sure you don't spend too much on water and energy.

The washer has a steam function that helps reduce allergens, earning it a mark of approval from the Asthma and Allergy Foundation of America (AAFA). 

It has LG's LoDecibel system as well as an anti-vibration system that keeps noise levels low.
| | |
| --- | --- |
| Pros | Cons |
| The LG WM4000HWA has a steam function that reduces allergens. | Its touch control panel is a bit difficult to use.  |
| The ThinQ app allows you to operate and monitor the washer remotely. |   |
| It is a high-efficiency washer that saves water and electricity. |   |
| The washer costs less than $1000. |   |
Kenmore Elite Top-Load Washer with Steam and Acela Wash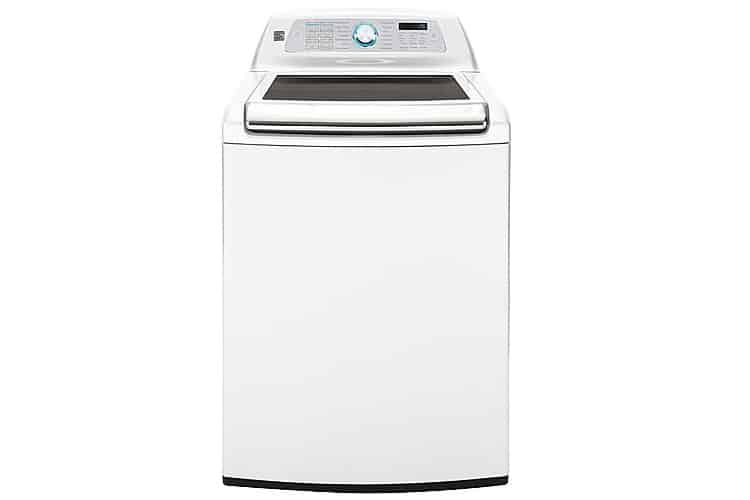 If you're looking for a top-load washer then this Kenmore option won't disappoint. First of all, it's affordable, selling at about $750. At this price, you won't get any smart features but that, I think, is a worthy tradeoff.
Kenmore didn't skimp on other features, however. This machine has a great deal of bells and whistles that make it one of the best washers in the market. And with a large 5.2-cubic-foot capacity, you'll have enough room for even your comforters. 
Main Features
This Kenmore Elite washer has a speed wash cycle known as the Accela Wash that can clean your clothes in less than 30 minutes.

There are 14 wash cycles that make this a versatile washer, able to clean different fabrics and varied loads.

With its steam function, the washer is able to reduce allergens.

It has a built-in heater for when you need to use warm water in your wash.
| | |
| --- | --- |
| Pros | Cons |
| It has a large-capacity of 5.2 cubic feet. | The washer doesn't have smart functions so you can't operate it remotely. |
| The washer has 14 wash cycles that can handle different loads. |   |
| It is affordable. |   |
| Its steam function helps reduce up to 95% of allergens. |   |
| Its Accela Wash cycle can clean clothes in just 29 minutes. |   |
Maytag Top-Load Extra Large Capacity Agitator Washer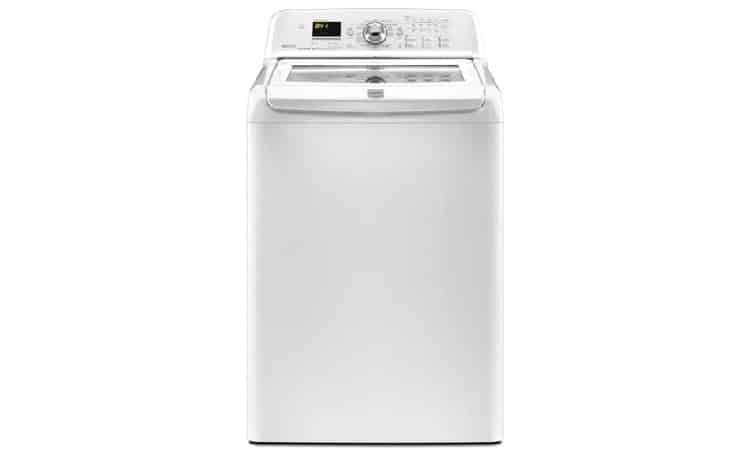 Maytag's top-load washer has a large 6-cubic-foot capacity despite it having an agitator. If you're looking for a top-loader for your household, this might be a good option. 
Using this washer isn't a hassle, with its dummy-proof control panel that's highly responsive. And with its extra-fast RapidWash cycle, you can get your clean clothes in just half an hour. 
Read More: Maytag Dryer Model Guide: Which Is The Real Deal For You?
Main Features
The washer has a durable stainless steel drum that can handle heavy use.

It's Energy Star Certified so you'll save cash on water and electricity.

This washer's agitator coupled with the PowerWash cycle can easily handle heavily soiled loads. 

It also has a Deep Clean cycle that's perfect for clothes with stubborn stains that need a bit of a soak.
| | |
| --- | --- |
| Pros | Cons |
| The washer is Energy Star Certified. | It costs over $1000. |
| It has a large 6.0-cubic-foot capacity that's perfect for a large household. |   |
| The Rapid Wash cycle is great for those in a hurry as it can wash in 30 minutes. |   |
Miele TwinDos Washing Machine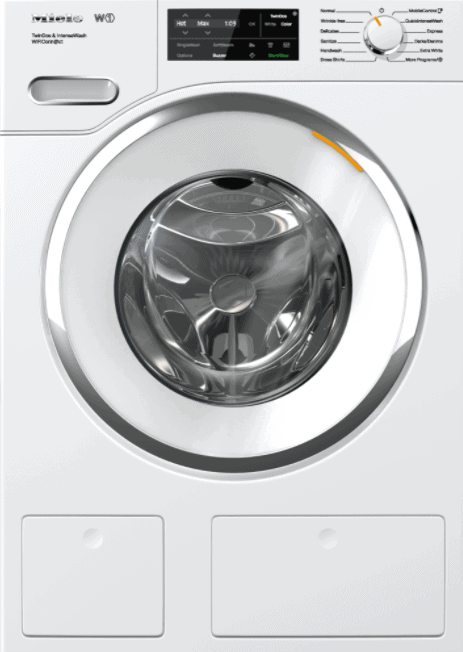 Miele TwinDos is a washer for those who have light loads to clean and don't need a larger washing machine. With a capacity of just 2.26 cubic feet, this is a compact appliance that does the job of larger washers. The downside is that you'll have to pay a premium if you want the TwinDos; it costs almost $2000. 
But for the high cost, you get smart features that are always an added convenience, allowing you to automate most of the laundry functions. 
Main Features
The Miele TwinDos is WiFi-enabled, allowing you to remotely control it via a smartphone app.

The app will also notify you whenever a cycle is complete. 

It has a delay-start function that can push back a wash by up to 24 hours.

With the Miele EcoFeedback feature, you'll get accurate information on how much water and energy the washer uses.

The washer's TwinDos feature accurately dispenses the exact amount of detergent required for a specific load.

There are 12 wash cycles that include the rapid QuickIntense Wash that effectively cleans a load in less than an hour.
| | |
| --- | --- |
| Pros | Cons |
| The Miele TwinDos is WiFi-enabled and can be operated remotely via your smartphone. | This washer costs almost $2000 despite it only having a capacity of 2.26 cubic feet. |
| This washer cleans clothes quickly and effectively. |   |
| Its compact size makes it ideal for any space in your home. |   |
| The TwinDos function helps to save on detergent as it dispenses just enough detergent for the load. |   |
Electrolux EFLS627UTT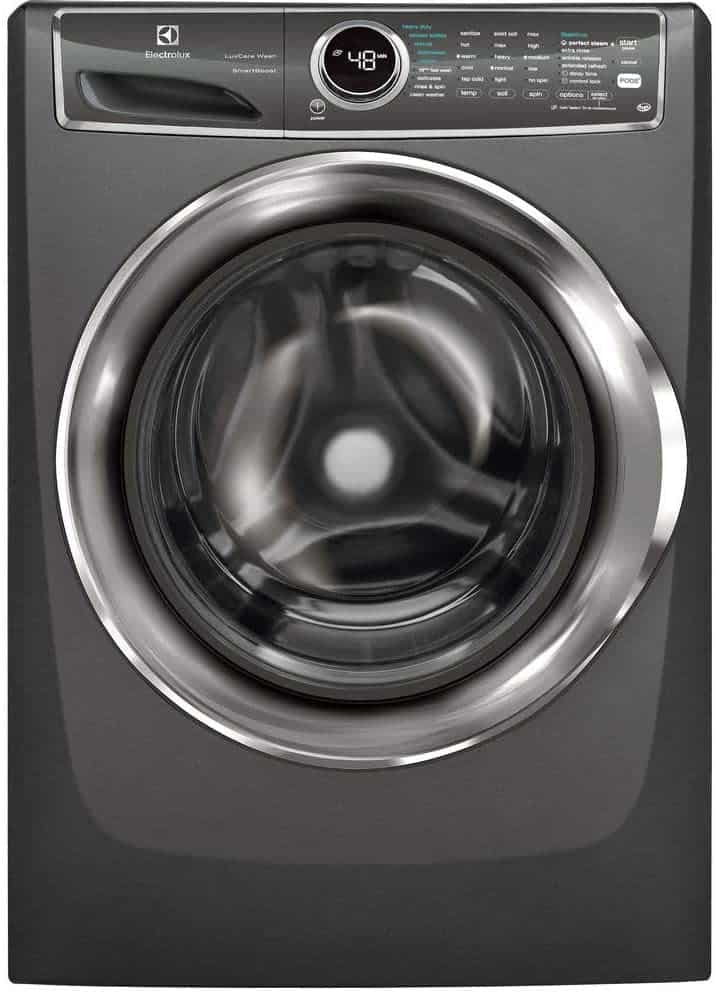 Earning itself rave reviews for its ability to remove stains effectively, the Electrolux EFLS627UTT is certainly worth checking out. Standing up against giants like LG, this washer brings to the table a raft of features that make it one of the best washing machines in the market. 
Its arsenal includes a fast-wash cycle that cleans a load in just 15 minutes. Let's take a look at some of its other features.
Main Features
The Electrolux washer has an easy-to-use control panel that's highly responsive.

It has a stainless steel drum that's perfect for heavy use.

Electrolux's SmartBoost technology makes this washer effective against stains.

This feature mixes water and detergent in advance and uses steam to loosen dirt from garments.

Its dispenser drawer can accept pods.

This washer is Energy Star Certified, offering water and energy savings.
| | |
| --- | --- |
| Pros | Cons |
| The Electrolux washer is easy to use with a responsive control panel. | Its heavy-duty cycle takes too long – two hours. |
| The SmartBoost feature makes it highly effective against tough stains. |   |
| It has a sleek design. |   |
| This washer's fast-wash cycle completes the job within just 15 minutes. |   |
Samsung WF45T6000AW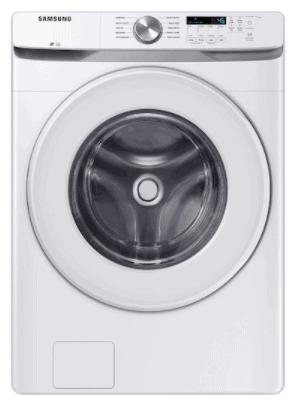 Samsung is another globally renowned brand in the electronics space, and this name alone inspires confidence. But this washing machine doesn't just ride on the popularity of the brand, it offers functionality that's a testament to the Samsung pedigree.
This is an affordable washing machine that's sold in some stores at under $700. Despite its inexpensive price, it doesn't show any signs of being cheap. Features like the self-cleaning function give it an edge over other washers at the same price point.
Main Features
The Samsung WF45T6000AW is designed to lower vibrations, consequently lowering its noise level. 

It's Energy Star Certified so it won't use too much energy and water.

With a 4.5-cubic-foot capacity, you'll be able to load more clothes at a time.

The washer has 10 wash cycles that make it able to wash all fabric types with varied dirt levels.

Its self-cleaning feature ensures that there is no build-up of mildew and bad odors. 
| | |
| --- | --- |
| Pros | Cons |
| The Samsung washer has low vibration thus a low noise level. | This washer is a little difficult to use at first. |
| It is Energy Star rated, assuring you of water and energy savings. |   |
| You don't have to worry about bad odors in the drum thanks to the self-cleaning feature. |   |
| There are 10 wash cycles that can handle varied loads. |   |
Whirlpool WFW9620HC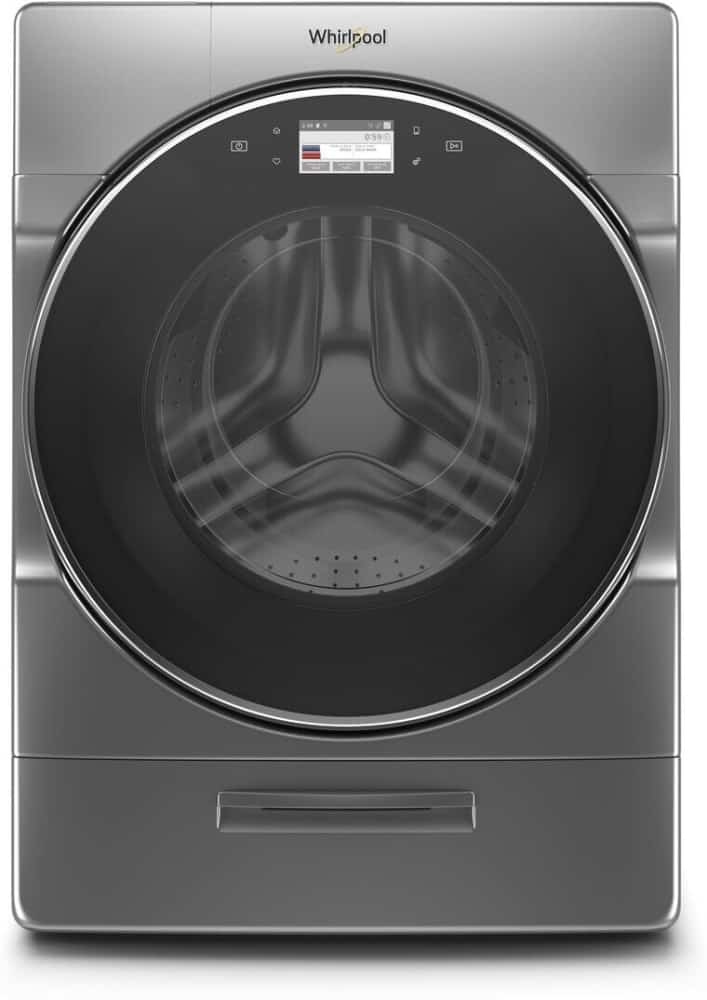 Whirlpool's washer is designed to save you as much time as possible as it's packed with features that ease the laundry process. For instance, you can actually add detergent that's enough for up to 40 loads, so you don't have to add this each time you want to do your laundry.
And with the help of its smart features, you can save up to 35 custom wash cycles. All you'll need to do is load the washer and select your custom cycle. 
Main Features
The

Whirlpool WFW9620HC has a large capacity of 5.0 cubic feet.

There are six cycles that include a quick wash cycle that is able to complete washing a load in just 15 minutes.

The washer is WiFi-enabled and you can operate it remotely via the Whirlpool app. 

Its Load and Go feature allows you to fill up enough detergent for 40 loads.

Its touchscreen control panel is responsive and easy to use.
| | |
| --- | --- |
| Pros | Cons |
| The Whirlpool WFW9620HC allows you to save up to 35 custom wash cycles. | Whirlpool's smartphone app is unreliable. |
| You can load detergent for up to 40 cycles. |   |
| The quick wash cycle can clean the load in just 15 minutes. |   |
Amana NTW4516FW 3.5-cu ft Agitator Top-Load Washer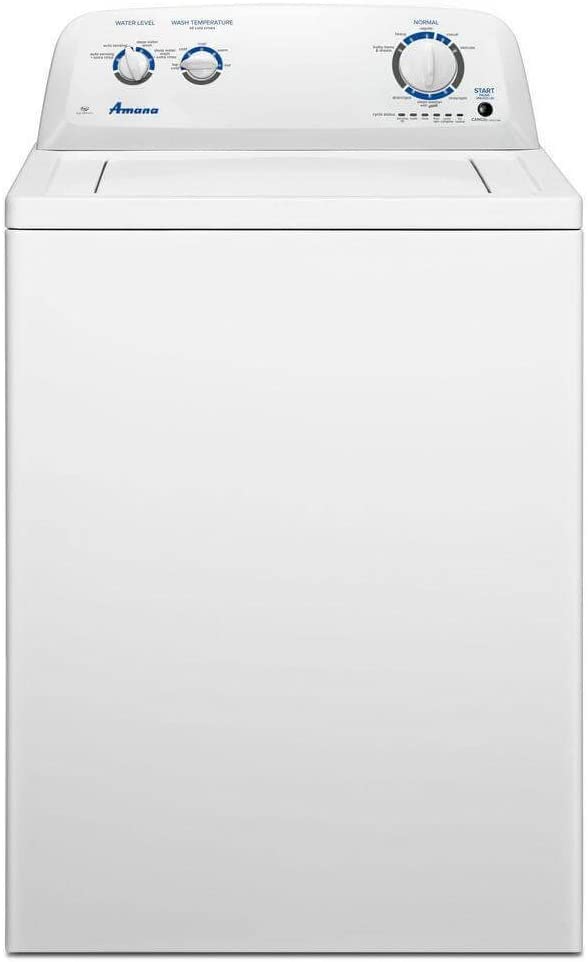 How about spending less for a bare-bones washer? Amana's NTW4516FW is a simple, inexpensive top-loader that's ideal for those who don't care for frills like smart functions.However, it does its main job well, that is washing clothes. 
To keep its price low, Amana decided to go with a porcelain-enamel tub which has its drawbacks. It's also fitted with an agitator, which compromises efficiency.Still, this washer is one to consider if you are on a tight budget.
Main Features
The Amana NTW4516FW has eight cycles for different loads. 

Its Deep Water Wash feature allows you to increase the water if you're washing heavier items.

This washer has five temperature settings to help remove stubborn stains.
| | |
| --- | --- |
| Pros | Cons |
| This washer is affordable, costing just under $600. | Its porcelain-enamel tub is prone to chipping after heavy use. |
| It's easy to use. | It has a slow rotation in the spin cycle. |
| There are eight wash cycles that are ideal for different types of fabrics. |   |
LG SIGNATURE WM9500HKA Smart Front Load Washer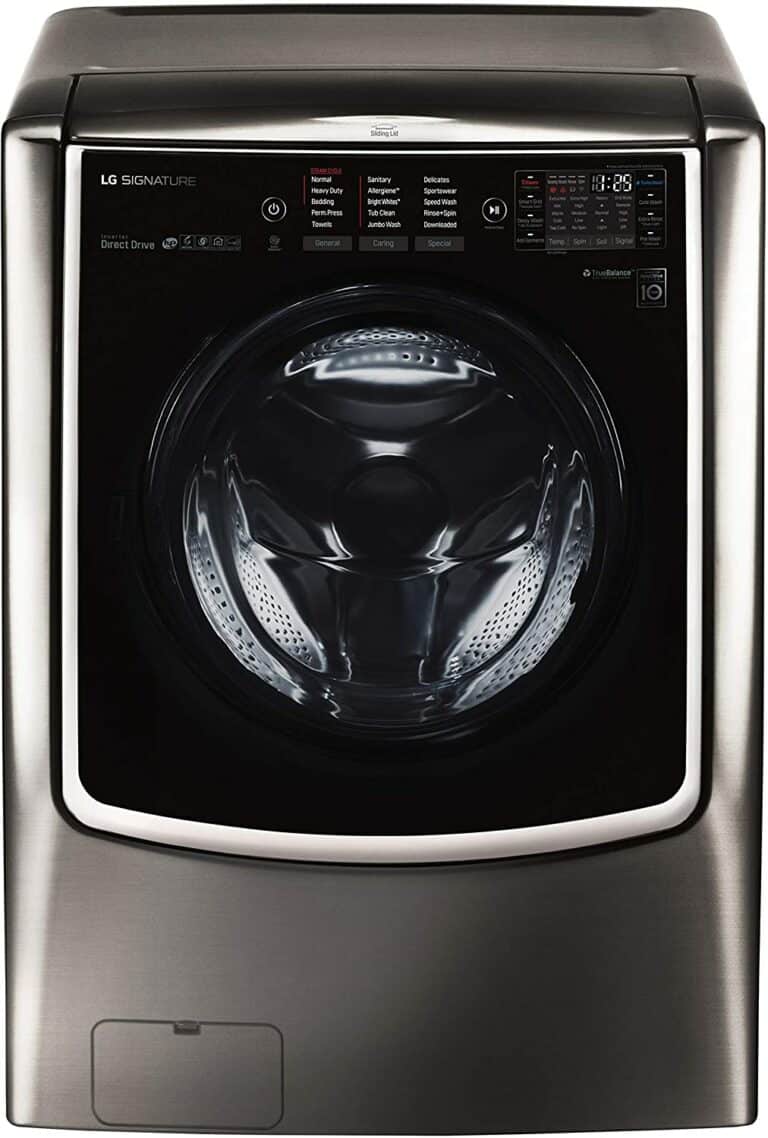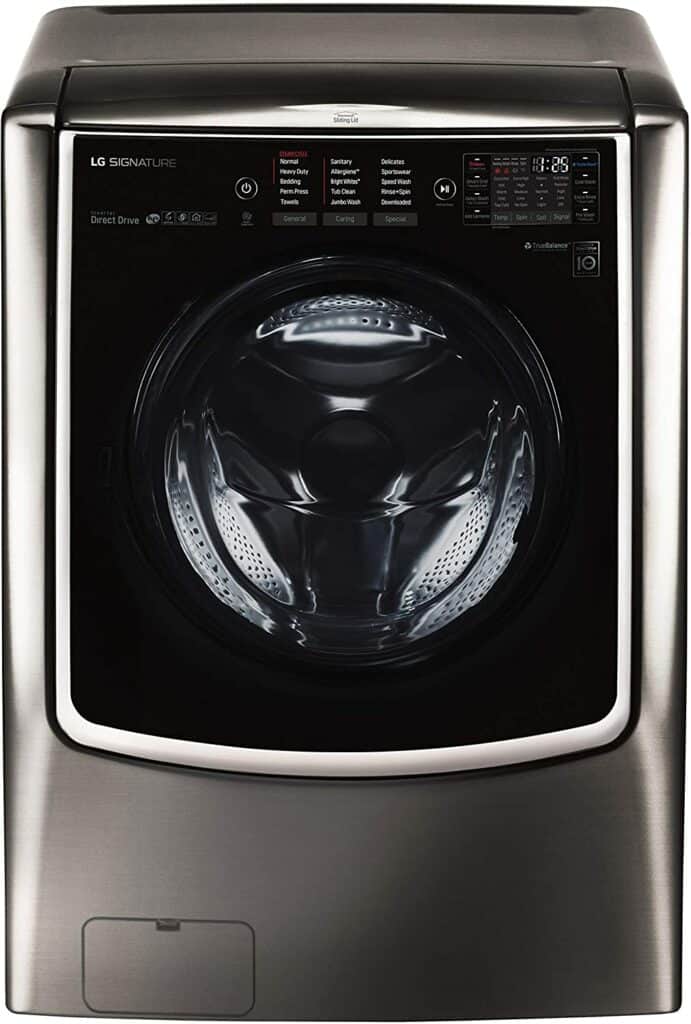 We close our list with the state-of-the-art LG SIGNATURE, the high-end large-capacity washer for those with extra cash to spare. At about $2000, this washer offers everything you expect in a high-end appliance.
Its main draw is the massive 5.8-cubic-foot capacity that's appealing for those who constantly wash large loads. And with its stylish contoured design, it's certainly a pleasure to look at. 
Main Features
This LG washer is WiFi-enabled, allowing you to connect it to the ThinQ ecosystem and remotely operate the machine.

There are 14 wash cycles and you can download more cycles.

The LG Signature washer has five temperature settings.

It has LG's TrueBalance Anti-Vibration system, which helps lower the washer's noise level.

The washer's NeveRust stainless steel drum is strong and durable. 
| | |
| --- | --- |
| Pros | Cons |
| It has a 5.8-cubic-foot capacity that's ideal for a large household. | It's expensive, costing about $2000. |
| The washer is WiFi enabled and can be operated remotely via LG's ThinQ app. | The washer is bulky. |
| You can download special wash cycles to add to the existing 14 cycles.  |   |
| This washer is Energy Star Certified. |   |
FAQs
Question: Is it worth repairing a 15-year-old washing machine?
Answer: Ideally, you should only repair a washing machine that is well below its life span and the cost of repairing it is not more than half the price of buying a new one.
A 15-year-old washing machine has probably reached its limit and repairing it may cost almost as much as buying a new one. Also, it might be difficult to find parts for a 15-year-old washer, so buying a new machine is going to be a better option. 
Question: Why do new washers not have an agitator?
Answer: New washers don't have an agitator because this part uses a lot of water and energy.With the increased need for more energy-efficient appliances, manufacturers today opt to fit their washers with impellers, which require less water. However, lower-end top-load washers still have agitators.
Question: How long do LG washers last?
Answer: LG washers last about 15 years and they're known for being some of the most reliable in the market. In fact, LG ranks as number one in the American Customer Satisfaction Index.
Question: Do high-efficiency washers get clothes clean?
Answer: Yes, high-efficiency washers will get your clothes clean despite them using less water. This is because they keep clothes in constant motion which, some experts argue, is even more effective at cleaning clothes. Since less water is used, the wash cycles will be slightly longer than for regular washers. 
Question: Should you leave your washing machine door open or closed?
Answer: You shouldnt leave your washing machine door open for a few hours after the wash to air the tub and let moisture escape. This helps to stop mildew from developing in the washer's drum. 
Finally
There are several washer brands and models in the market but not all of them are ideal for you. By making use of our list of considerations above, you should narrow down your options to the perfect one. 
Remember that an expensive washer isn't always the best one, even if your budget isn't constrained. Pay close attention to the features the washer offers and figure out whether it's worth paying extra for the frills of higher-end washers.
Sometimes you might not need those extra features and might opt ​​to save money by going for a cheaper one. 
Read More: