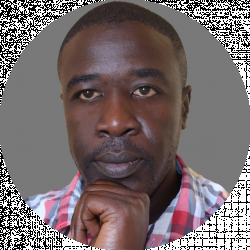 Latest posts by Barry Juma
(see all)
Bosch appliances have a reputation for being costly, although they're not as expensive as, say, the Mieles of the world. However, the company's washing machines have a reasonable price point for a brand that's known for making premium products. 
I've researched and written dozens of articles on washing machines, and have reviewed some excellent models from other brands like Samsung, GE, and Whirlpool. In this Bosch washing machines guide, you'll find out how Bosch stacks up against its competitors and whether it's worth considering over the other brands. 
Below, you'll find out about the main features of Bosch washing machines, what you should consider before settling on a model, and why you should either choose or avoid this brand. 
Bottom Line Up Front
Bosch only has compact front-load washing machines at the time of writing. If you're looking for a Bosch washer for a small household, I recommend the Bosch 300 Series washing machine. This model offers the greatest value for money in the lineup, with the same functionality as its more expensive siblings but for up to $500 less. 
Bosch Washing Machine Models at a Glance
Bosch Washing Machine Lineup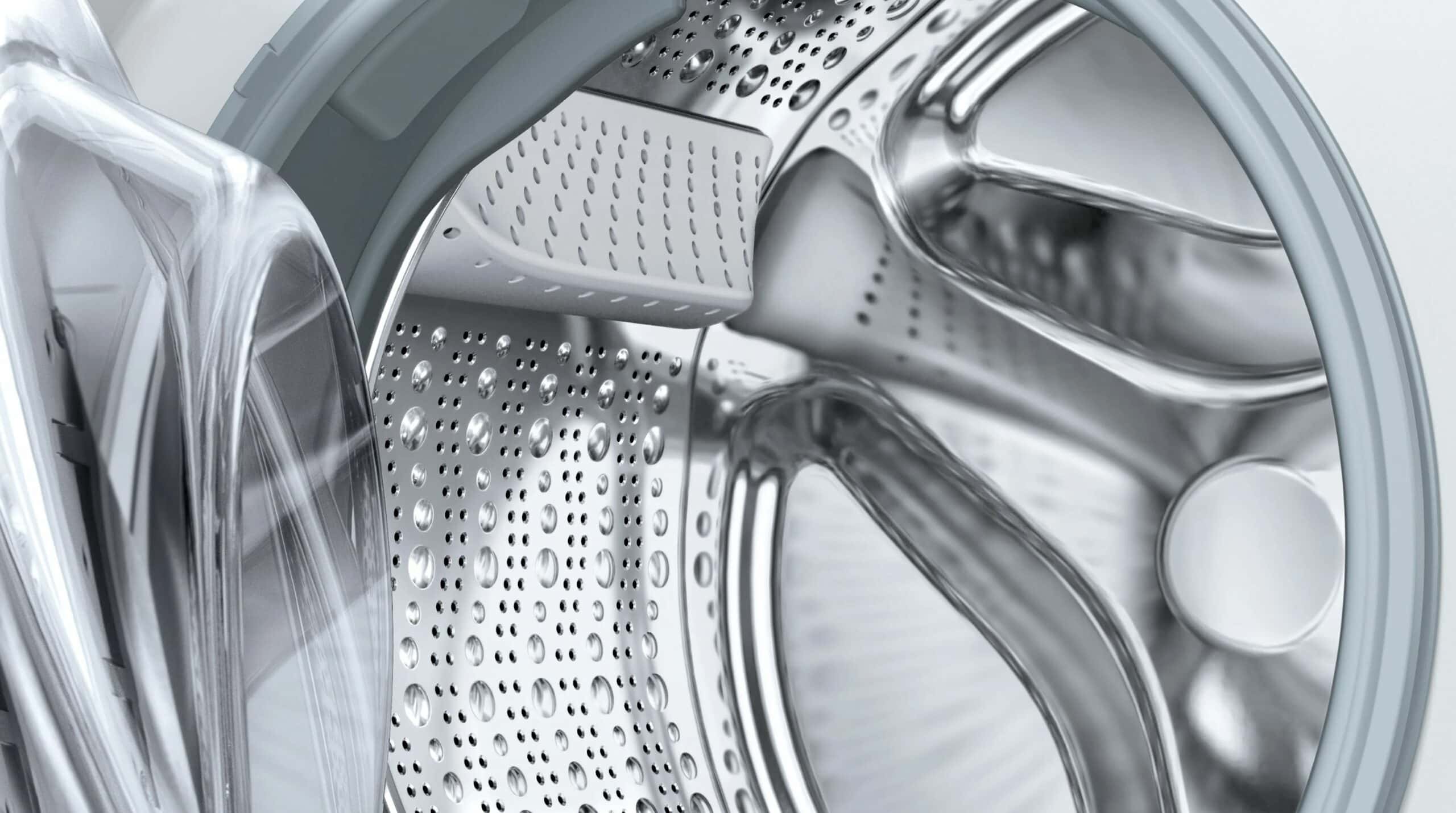 Bosch has three appliance series in the US market, but there are four series in European markets. The budget lines are the 200 and 300 series, the mid-range model is the 500 series, and the premium line is the 800 series. 
At the time of writing, there are only the 300, 500, and 800 series available.
The

300 series

costs the least – about $1000 – so it misses features like WiFi connectivity and its noise level is the highest at 54 dB when washing and 73 dB when spinning. 

The

500 series

is priced at around $1400, and it offers slightly fewer features than the higher-end model, but it still boasts a low noise level and WiFi connectivity among others.

Bosch's

800 series

costs about $1600. At this price point, you get bells and whistles like AquaStop Plus, WiFi connectivity, and even a tub light. 
But, is it worth spending extra for the 800 series? Keep reading to find out what I think.
Main Features of Bosch Washing Machines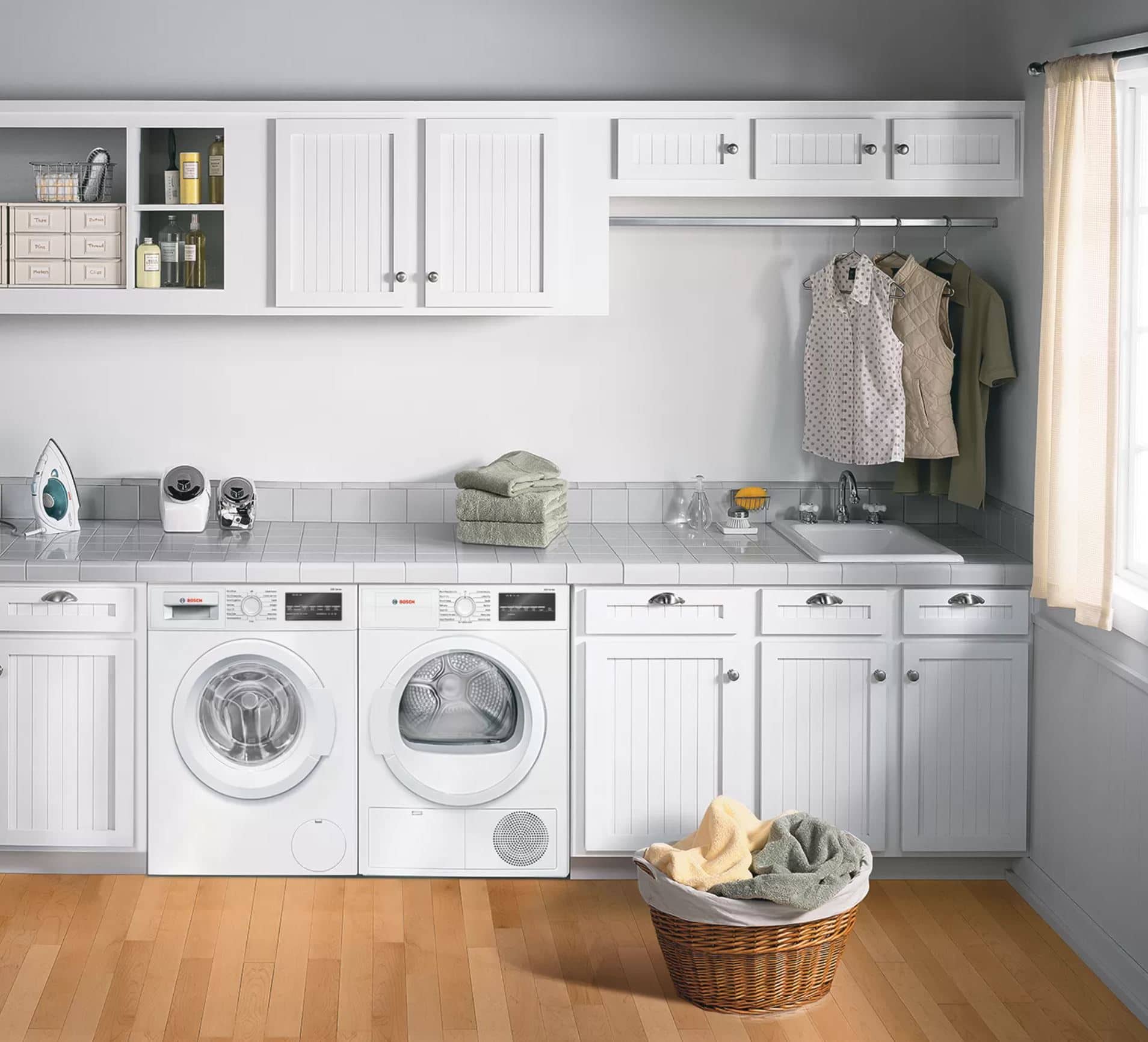 Design
At first glance, Bosch washing machines have a standard washer design, with nothing to write home about. All models have a single color option – white – but the 800 series has some chrome trim around the door. 
The control panel is made up of a cycle selector knob, wash settings buttons, and an LED display. All models are designed with anti-vibration side walls that help lower the noise level of the washers. I talk more about the noise levels later in the article. 
Smart Features
The Bosch 800 and 500 series washers have WiFi connectivity, allowing you to remotely operate the washing machine via your smartphone. This is made possible by the Home Connect app, which offers functions like starting and stopping a cycle, as well as notifying you whenever a cycle has ended. 
Noise Levels
All models have an EcoSilence Motor, which is a brushless motor that uses magnetic technology, similar to that used in wind turbines. As a result, the motors have little friction, making them quieter and more energy-efficient.
This feature coupled with the anti-vibration sides helps Bosch washing machines to achieve a maximum noise level of 73 dB when spinning and as low as 50 dB when washing. These vary depending on the washing machine model.
Granted, there are quieter washing machines on the market, but a washing sound level of 50 dB is equal to the sound of a refrigerator, which is acceptable for a washer.
Energy/Water Efficiency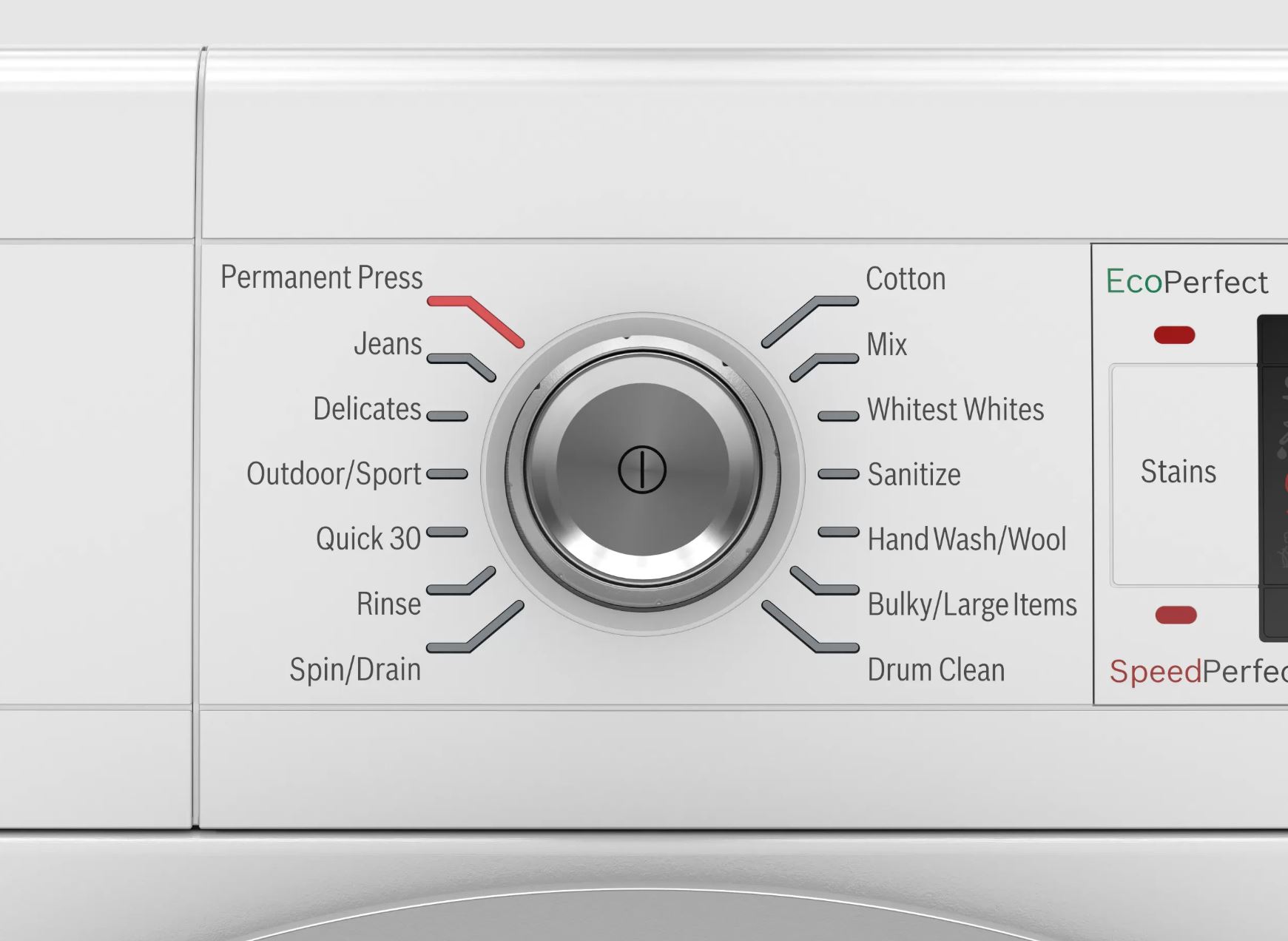 Bosch washing machines are Energy Star certified, with low annual energy costs. In fact, you can spend as little as $10 annually running one of these washers. 
Features like the EcoSilence Motor and ActiveWater Technology help maintain low water and energy consumption. ActiveWater Technology uses sensors to determine the amount of load in the washer and uses the precise amount of water required by the load. This minimizes the wastage of water and, by extension, the electricity used in the cycle.
The EcoPerfect feature in the Bosch 800 and 500 series models lets the washer use a lower wash temperature to consume less energy during the cycle.
Other Features
Speed Perfect

: This option washes a load about 65% faster, but it uses more energy as well.

AquaStop Plus

: This is a system of sensors that detect leaks in the washer and stops the appliance in the event of one. 

AllergyPlus

: This cycle is designed to remove allergens like pet hairs. It works by washing the load at high temperatures and performing an extra rinse. 
What to Consider Before Buying a Bosch Washing Machine
Types of Washing Machines
Bosch only has front-load washing machines in their lineup. If you prefer front-loaders then these might be worth considering if your needs fit their specifications. However, you might find top-load washers to offer better functionality for your need.
If you're still uncertain, find out about the difference between top- and front-loaders in this article on finding the best washer. If you think a top-load washer might serve you better, then perhaps you should consider a different brand.
Available Size/Capacity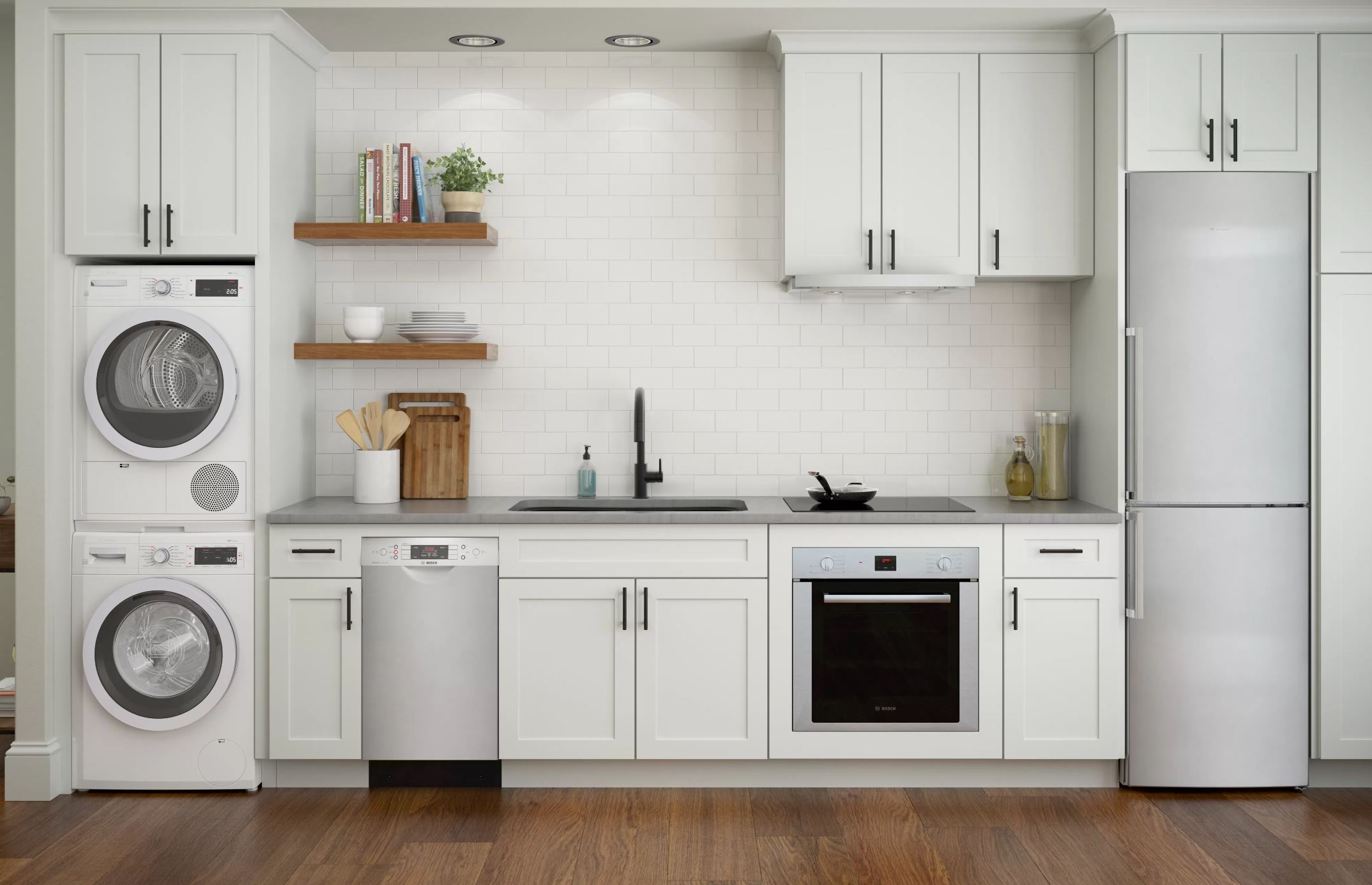 All Bosch washers have a capacity of 2.2 cubic feet. While these are fine for small households or those who live in small apartments, they might not be appropriate for large households.  If you have more than 2 people in your household, I don't think these Bosch washers will be ideal for you. Consider one of the alternatives I've shared later in this article.
Ideally, a washer with 2.2 cubic feet should wash a load of around 5 to 8 lbs. If you live alone then these washers would be perfect for you.
Tub Material
Stainless steel is the best material for washer tubs. Thankfully, this is the material that Bosch has used, as is expected at this price point. Stainless steel is more durable and can withstand higher temperatures. Here's a deeper look at tub materials and the pros and cons of each.
Price and Your Budget
If you have a budget of less than $1000 then Bosch isn't the brand for you. Consider washers from GE or Whirlpool (check out my alternatives below). However, if you have more than $1000 to spend then you may consider Bosch washers. 
Still, are Bosch washers worth the price? Find out whether you'll get value for money in the overview of the washer models below. 
Bosch Washing Machine Models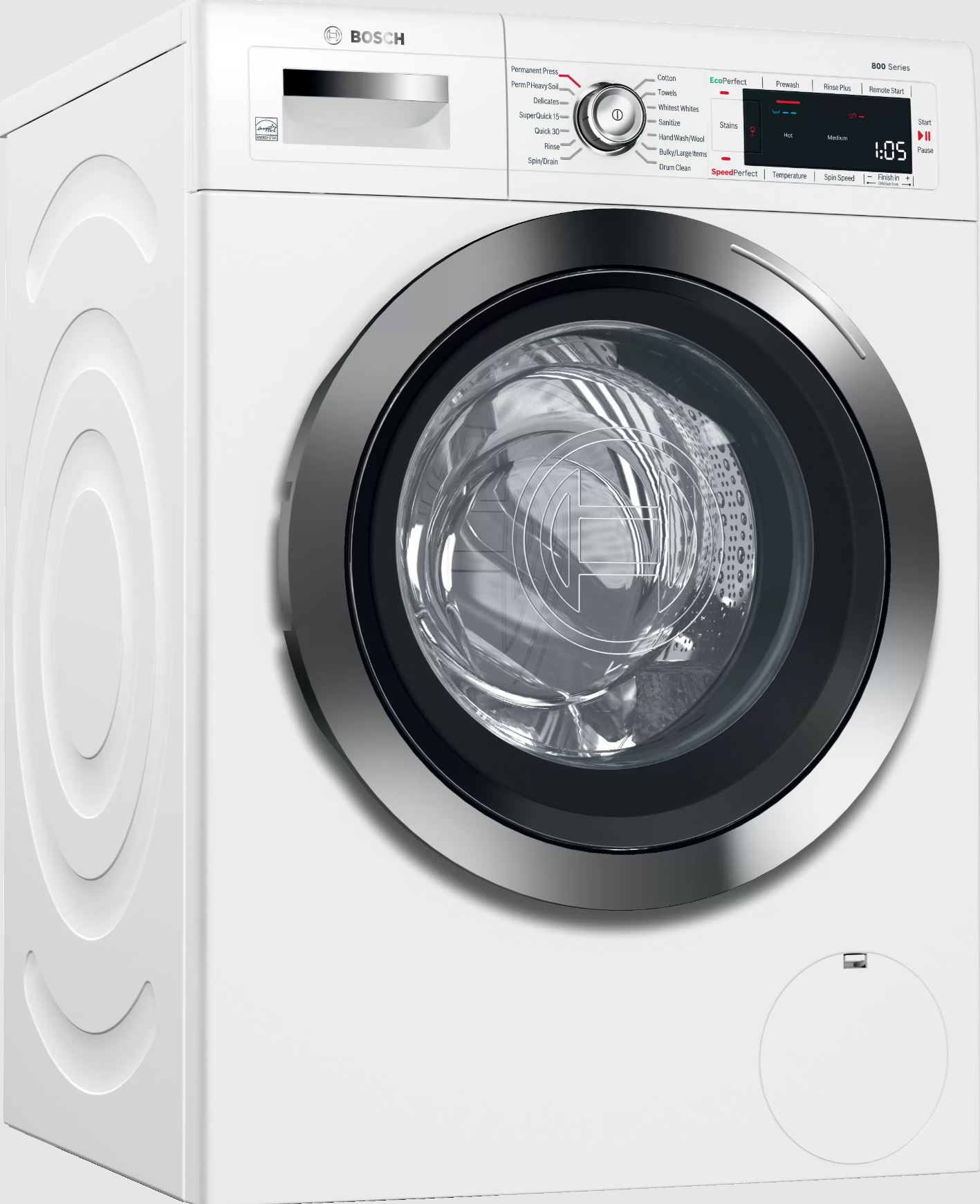 The 800 Series washer is Bosch's high-end model, with a price of $1600. Because of this premium price point, the company went all out in its features, giving this model a lot more than its siblings. 
Sadly, the design doesn't really show that it's a more expensive washer. It has a similar look to the 500 and 300 Series models, save for the chrome trim around the door. Plus, you only get a white model – I wish there was a stainless steel option. 
This model has 14 cycles and options like EcoPerfect and SpeedPerfect to boost the speed or energy efficiency. Speaking of speed, there are two quick wash cycles: SuperQuick 15 and Quick 30 that finish in 15 and 30 minutes respectively. The lower-priced models only get Quick 30.
I love that there's an interior light in this model, a handy feature that's unavailable in a lot of washers. You also get WiFi connectivity here, allowing you to use the Home Connect app to remotely operate your appliance.
Main Features
2.2-cubic-foot capacity.

24-inch width.

EcoSilence motor.

1400 maximum spin speed.

71 dB spinning noise level and 50 dB washing noise level.

AquaStop Plus feature.
What I Like
It can be operated remotely.

It has a high spin speed.

It has excellent wash performance.
What I Don't Like
It's too small for a family.

It's costly.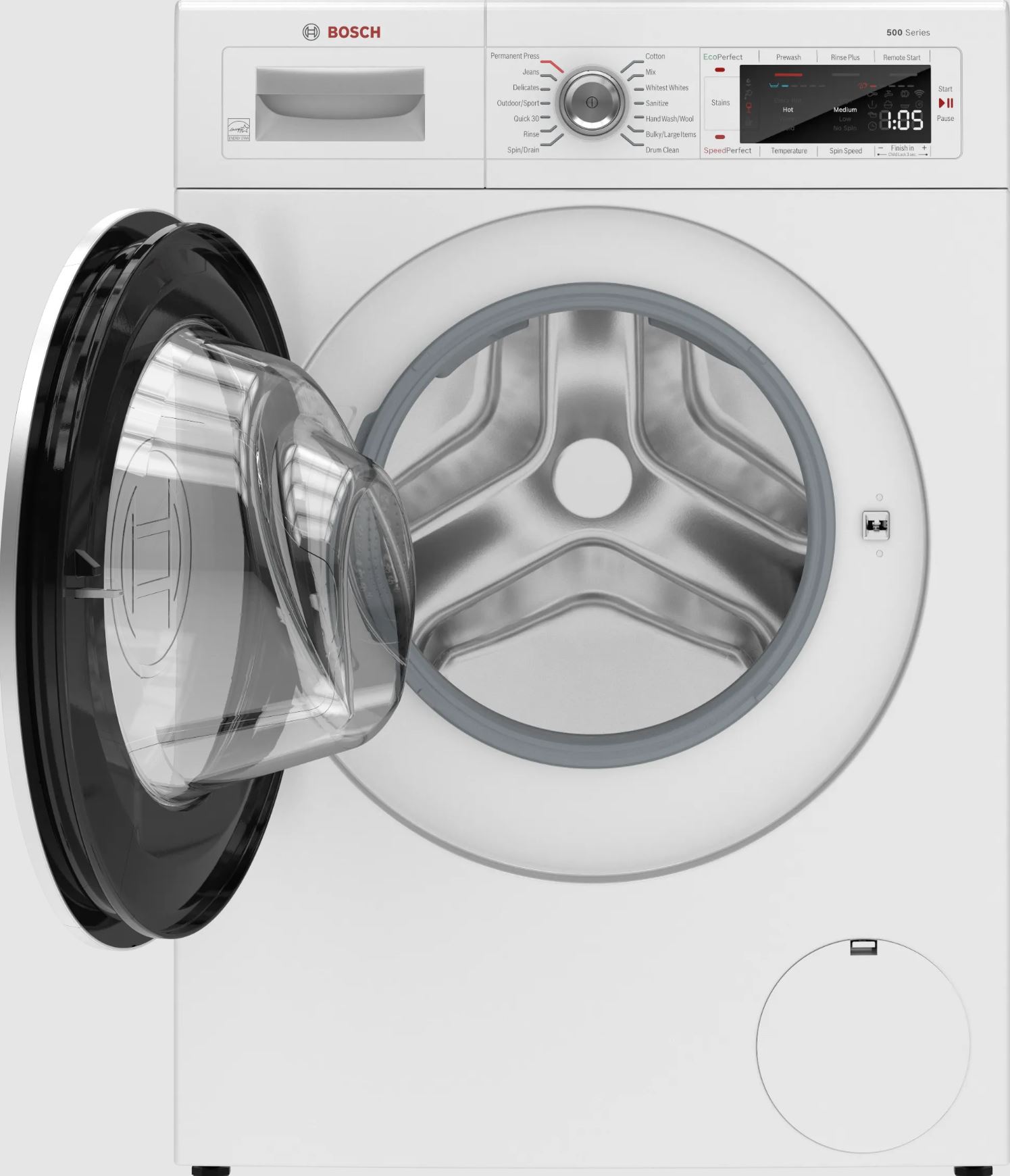 The 500 Series washer costs $200 less than the 800 Series with a few differences between the two. I'll start with the similarities. 
This model has WiFI connectivity, just like its more expensive sibling, allowing you to use the Home Connect app to remotely operate the washer. It also gets SpeedPerfect, EcoPerfect, and Bosch's EcoSilence Motor. Moreover, the 500 Series has a similar noise level to the 800 Series at 50 dB and 71 dB when washing and spinning respectively.
However, there's no SpeedQuick 15 cycle, you'll have to settle for just Quick 30. But this shouldn't be an issue since there are still 14 cycles here. Also, there's no internal light in the 500 Series, which is a handy feature but it doesn't affect the washer's performance. The AquaStop Plus feature is also missing here, but you do get AquaShield. 
The question remains; are the missing features worth $200? I wouldn't miss the internal light and the 15-minute wash cycle really isn't a big deal to me. So, I would recommend the 500 series over the 800 series if you're looking for a smart, compact washer.
Main Features
2.2-cubic-foot capacity.

1400 RPM maximum spin speed.

Energy Star certified.

Stackable design.

84 kWh annual energy consumption.
What I Like
The washer is easy to use.

It can be stacked with the dryer.

There are many wash cycles for different loads.

The washer is energy efficient.
What I Don't Like
It's a bit expensive for a compact washer.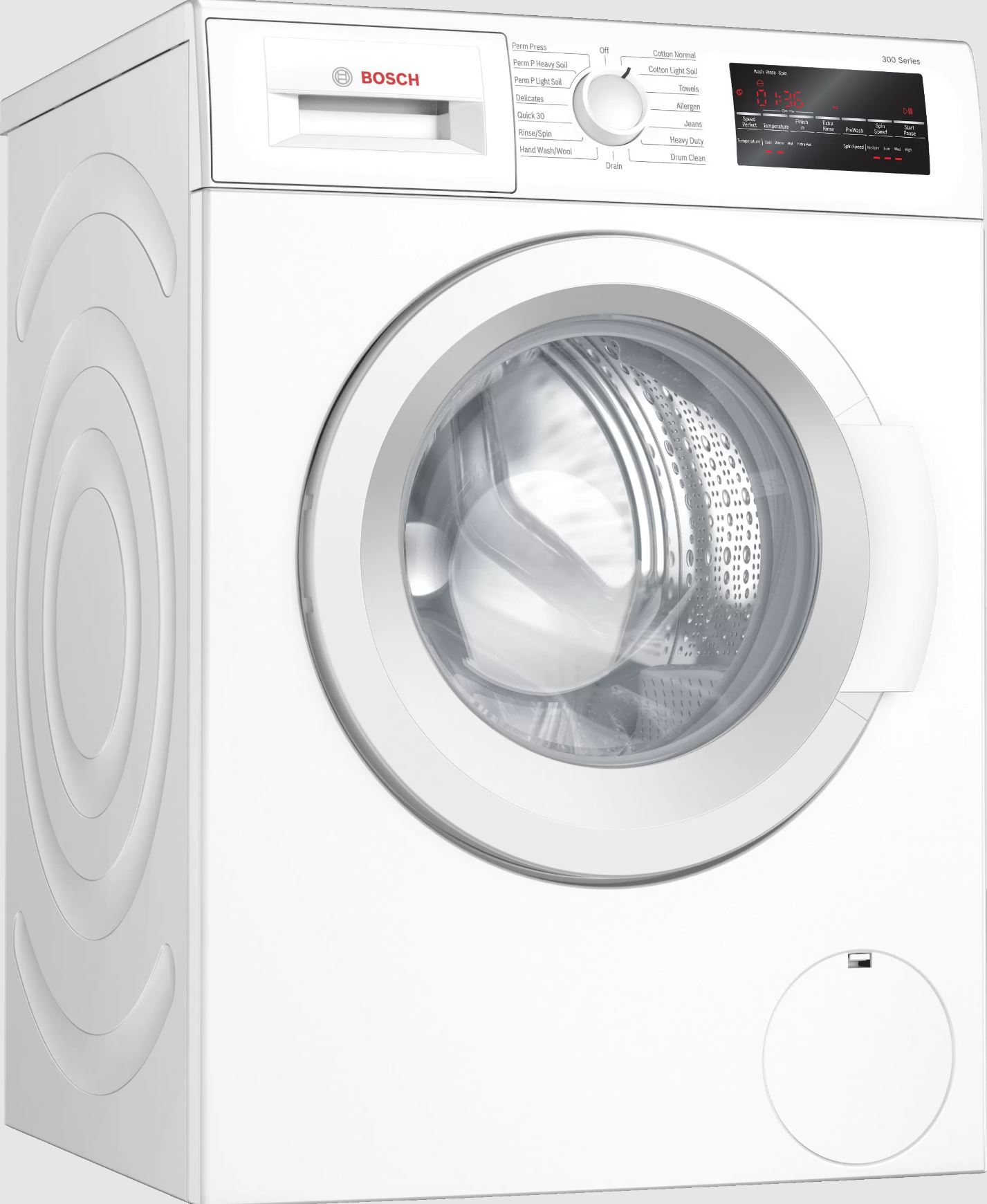 I think that this washer offers the greatest value for money if you don't care for smart features. In fact, WiFi connectivity is the only feature that differentiates this model from the 500 Series, although this one is $300 cheaper. 
You still get the EcoSilence Motor in this model and the company's anti-vibration walls. However, its noise level is slightly higher than the 500 and 800 series, with this one clocking 54 dB and 73 dB when washing and spinning, respectively. In reality, you might not notice much of a difference, though. 
This model has 15 cycles, among them being Quick 30. It also has Speed Perfect. Just like its siblings, the 300 Series is Energy Star certified, with an impressive annual consumption of 84 kWh. 
Main Features
2.2-cubic-foot capacity.

1400 RPM spin speed.

15 wash cycles.

Stainless steel drum.

ActiveWater Technology.

Stackable design.
What I Like
It's reasonably priced and offers value for money.

This washer is energy and water efficient.
What I Don't Like
The door isn't reversible.
Alternatives to Bosch Washing Machines
Selection Criteria
To offer a fair comparison, I've selected compact washing machines, which would act as alternatives to the Bosch washing machines. I considered models that are lower priced to give you options that, in my opinion, will present a greater value for money.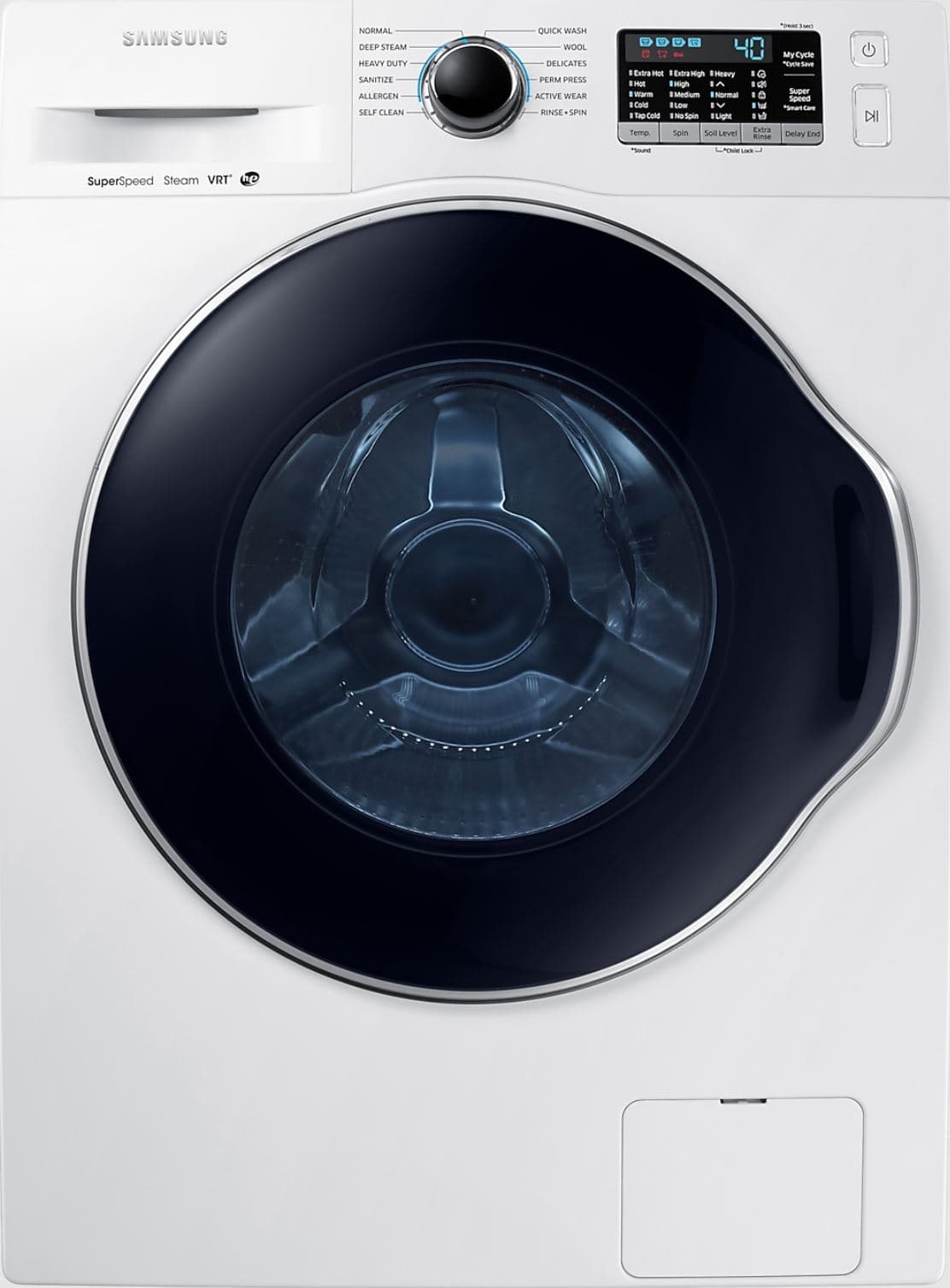 With a capacity of 2.2 cubic feet, this Samsung washer has a similar size to the Bosch options. However, I prefer the look of this model to the Bosch washers; this one has a black door and knob that elegantly contrast the white body. But, to be fair, the Bosch models don't look very different from this one, but I think Samsung's design stands out a little bit more. 
Looks aside, this washer offers features that rival the Bosch models. It has Vibration Reduction Technology that keeps the sound level low. Samsung doesn't specify the decibel level of this model, but owners attest that it's quiet. 
There are 12 wash cycles here, with a quick wash cycle that takes 40 minutes – 10 minutes longer than Bosch's quick wash. I love that there's a steam wash cycle as well, which is perfect for people with allergies.  Another handy feature is Smart Care, which allows you to troubleshoot any issues with the washer via the Samsung Smart Washer/Dryer smartphone app. 
At the time of writing, this washer costs $800, making it a more affordable compact washer than the Bosch models.  
What I Like
It's reasonably priced.

There's a steam wash cycle.

Smart Care helps you to fix simple issues with the washer.
What I Don't Like
Its quick wash cycle lasts long.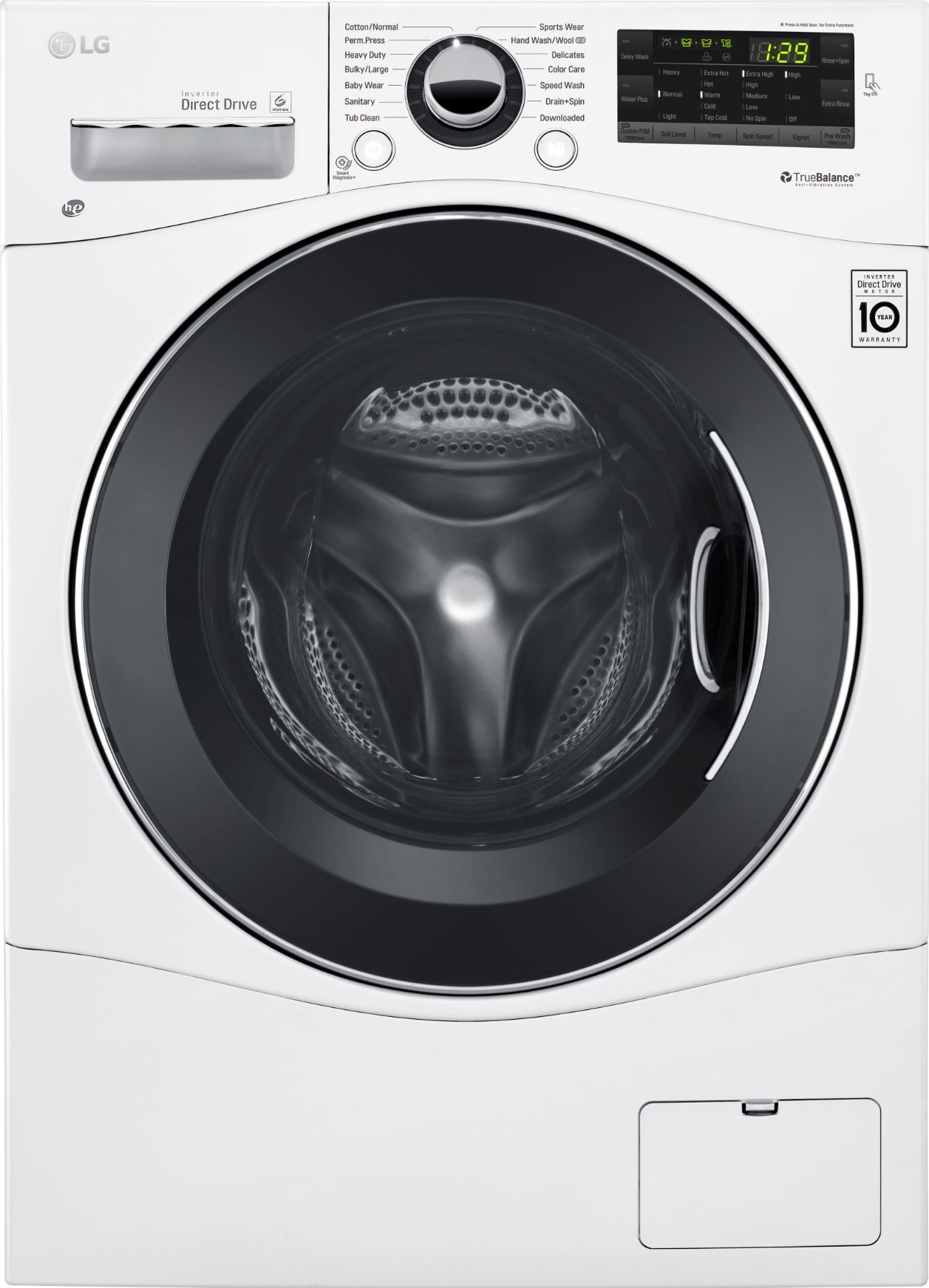 If you opt for this LG washer, you'll get a slightly bigger capacity – 2.3 cubic feet. Granted, 0.1 cubic feet isn't a significant difference. Still, for $1000, this is a deal worth considering.
What I love about this washer is that it offers several wash cycles, 14 to be precise. Among them is a cycle for baby wear, a speed wash cycle, and tub clean. This model also boasts a maximum spin speed of 1400 RPM, similar to the Bosch models. Plus, you can download extra cycles.
What sets the LG washer apart from its competitors is its 6Motion Technology. This is tech that creates 6 wash motions during a cycle, which boosts the performance. 
Under the hood, there's a Direct Drive Motor, which is similar to Bosch's brushless motor. This means that it uses less energy to deliver better performance. This is why the LG WM1388HW is Energy Star certified. 
Incidentally, LG offers a 10-year warranty on the motor, a testament to its quality. 
What I Like
The washer is easy to use.

Its washing performance is excellent.
What I Don't Like
Its annual energy consumption is 120 kWh, higher than what you get in the Bosch washers.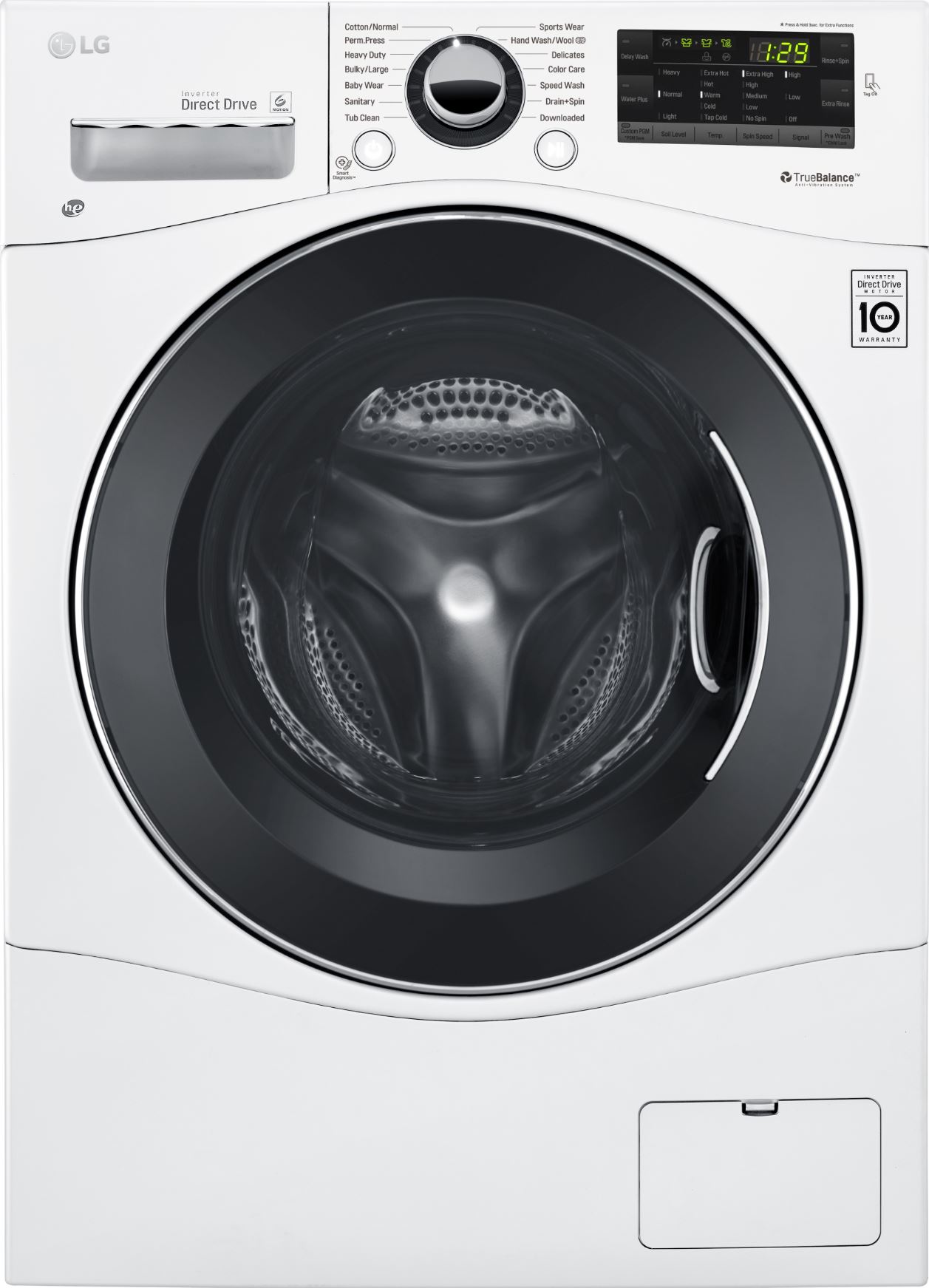 This option is for those who would prefer a compact top-load washer. It has a larger capacity than the other models on this list, with a total of 2.8 cubic feet. And thanks to its top-load design, its footprint isn't large, so you don't have to worry about finding an appropriate space in your home. Moving it is also quite easy thanks to the caster wheels.
Inside, there's a stainless steel basket, with an impeller that spins the load. Sadly, there are only 8 wash cycles in this washer, but these should be enough if you don't have many different garments. 
Still, with fewer cycles, you won't be bogged down by numerous settings when you want to do your laundry. With a maximum spin speed of 750 RPM, this top-loader lags behind its front-load counterparts. This might be a deal breaker for you if you have heavy items.
What I Like
It's easy to move because of the caster wheels.

The washer is easy to use.

It has a spacious tub for a compact washer.
What I Don't Like
Its maximum spin speed is low.

There are only 8 wash cycles.
FAQs
Question: How many cubic feet in a washer do I need?
Answer: If you have a household of 1 to 2 people, choose a compact washer with 2.0 to 3.0 cubic feet. A washer with 4 to 4.5 cubic feet is ideal for a household with 2 to 5 people. Choose a large-capacity washer with more than 4.5 cubic feet if you have a household of more than five people.
Question: What is the advantage of a front-load washer?
Answer: Front-load washers are more water and energy efficient than top-loaders, and they offer better cleaning performance. 
Question: How many towels fit in a compact washer?
Answer: About 10 towels can fit in compact washers with an average of 2.5 cubic feet.