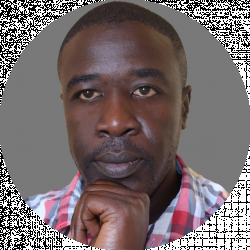 Latest posts by Barry Juma
(see all)
Whirlpool's microwaves consistently rank among the best, at least according to the US appliance satisfaction study by JD Power. In fact, in the 2021 rankings, Whirlpool's over-the-range models earned fourth place, right below LG, KitchenAid, and Samsung. So, if you're in the market for a new microwave, then Whirlpool is a good choice. But there's so much more to consider before choosing a model. 
In this Whirlpool microwave model guide, we'll help you sift through the numerous considerations to zero in on the perfect microwave for your home. Then, we've listed five of our favorite Whirlpool microwaves to help jumpstart your decision.
Types of Whirlpool Microwaves
Generally, the different types of microwaves are named after their placement:
Countertop

Built-in

Over-the-range
Countertop Microwaves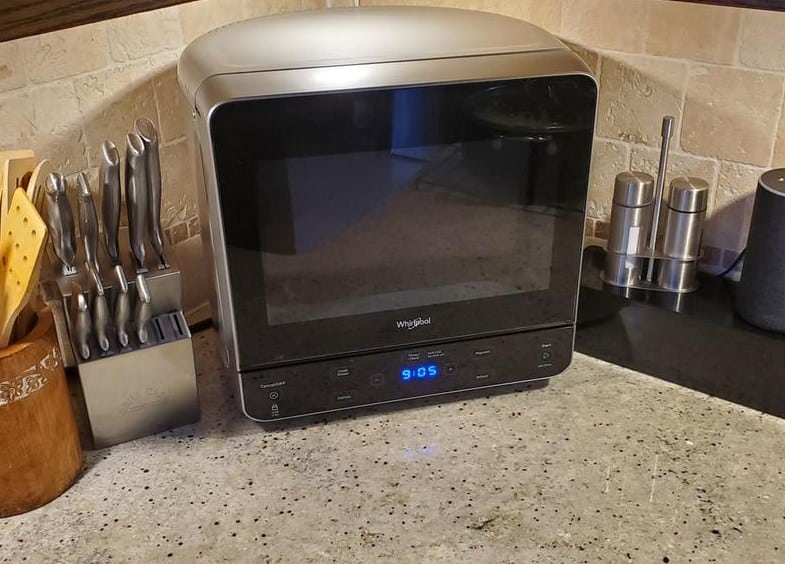 These are basic microwaves that are simply plug-and-play appliances. They're also the most inexpensive, so they're the perfect choice for those on a budget. If all you need is a microwave to reheat or defrost food, then these are the best options. 
Countertop microwaves are also not very big, with the average capacity being about one cubic foot. Actually, most of Whirlpool's models have less than 1 Cu.Ft. 
Advantages
They're inexpensive.

Installation is quick and easy.

These models are portable, meaning you can shift their position effortlessly.
Disadvantages
They're not as powerful as the other models.

They only carry out basic microwave functions.

These models take up kitchen countertop space.
Who are these for?
Buy a countertop microwave if you only need one for basic functions, and you don't want to spend a lot of money. Also, since they're easy to move, these are best for those renting. 
Built-in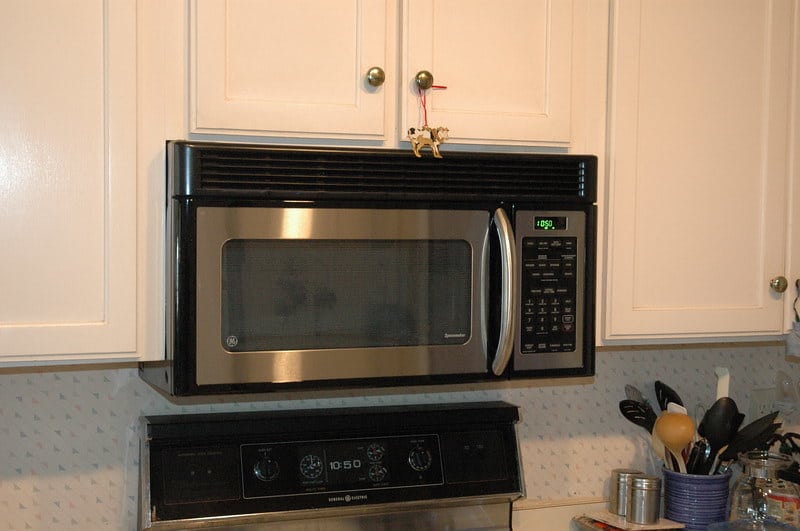 These microwaves are designed to be installed in a cabinet or a wall, thus the name. Because of this, their sides are unfinished since these sections remain hidden. This design gives your kitchen a modern look, especially when the microwave is paired with other built-in appliances – an oven or stove. However, you'll have to spend more money to own a built-in microwave, sometimes up to $400 more than a countertop model.
Advantages
These models have a sleek and modern design.

They free up countertop space.

Built-in microwaves come with more features than countertop models.
Disadvantages
They're more expensive than countertop microwaves.

These models aren't easy to install. In some cases, you might need a professional to do the installation for you.
Who Are These For?
Built-in microwaves are best for those who own their homes and want a modern kitchen design.
Over-The-Range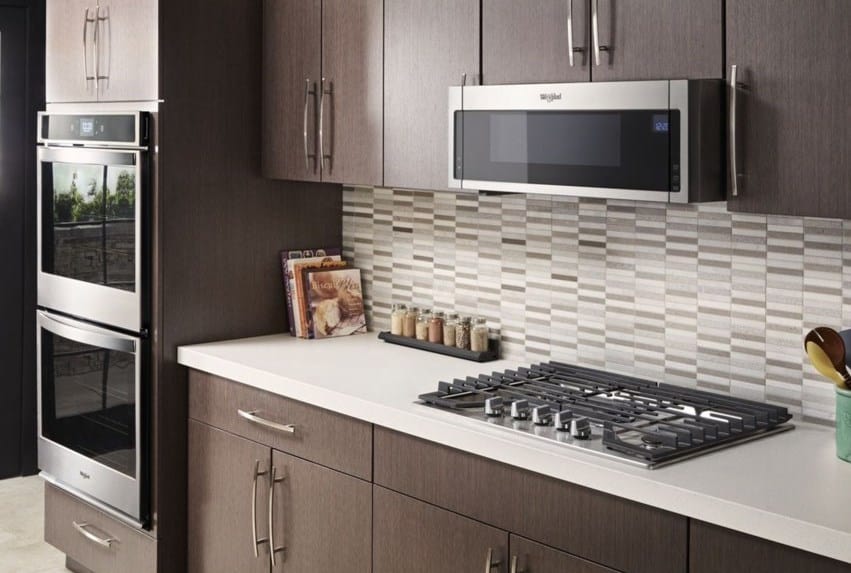 Over-the-range microwaves are installed above the stove. They not only function as microwaves but also as hoods since they have vents or exhaust fans. This two-in-one functionality has made them very popular over the years.
Whirlpool has a subset of over-the-range microwaves known as Low Profile Microwave Hood Combination (MHC). These models have a shorter height that's similar to that of a regular hood. Whirlpool tells us that the Low Profile MHC models take up as much space as a standard hood, so they're best for those who don't have much room above the stove. 
Advantages
They save space by sitting above the stove.

These models also perform the functions of a hood.

Their design is modern and stylish.

They also have traditional oven features.
Disadvantages
You may need a professional to install these for you.

You may need to modify the space above your stove to fit your new over-the-range microwave.
Who are these for?
If you need a hood as well as a microwave, you can combine the two in one purchase by getting an over-the-range microwave. These models are also ideal for those with a small kitchen space.
Main Features of Electrolux Microwaves
Smart Features
As you already know, for an appliance to have any smart functionality, it needs to have WiFi connectivity. With this, you can use Whirlpool's app and their scan-to-connect tech to add the microwave to your home network.
Once this is done, you'll have access to features like:
Scan-to-Cook: You can use your smartphone to scan the barcode of a pack of frozen food, and specific cooking instructions will be sent to your microwave. 
Remote Monitoring: Via the app, you can monitor the progress of your food when you're far from the kitchen. 
Remote Start: This allows you to power the microwave using your smartphone.
Multi-Step Cooking: This comes in handy when you're preparing a dish with different temperature requirements at different stages of the cooking process. With Multi-Step Cooking, you can preset the different temperatures and duration of each cooking step right from your smartphone and let the microwave take it from there.
Voice control: You can use voice assistants like Alexa, Siri, or Google Assistant to operate your microwave as long as it's connected to your home network.
Sadly, there are only two Whirlpool microwave models with smart functionality.
Convection Cooking
If you prefer a convection oven, some of Whirlpool's microwaves have this feature. Microwaves with convection cooking are fitted with a fan at the back of the oven cavity, which rotates to evenly distribute hot air. The interior temperature is always uniform, resulting in evenly browned or crisped food.
Models with convection cooking also offer the following benefits:
You have the ability to use your microwave as a traditional oven.

Cooking times are often faster if you use a combination of convection and microwave technology.
If you're looking for a microwave that will complement your oven, then consider a model with convection cooking. To find out more about convection microwaves, check out this article we wrote on finding the best microwave.
Sensor Cooking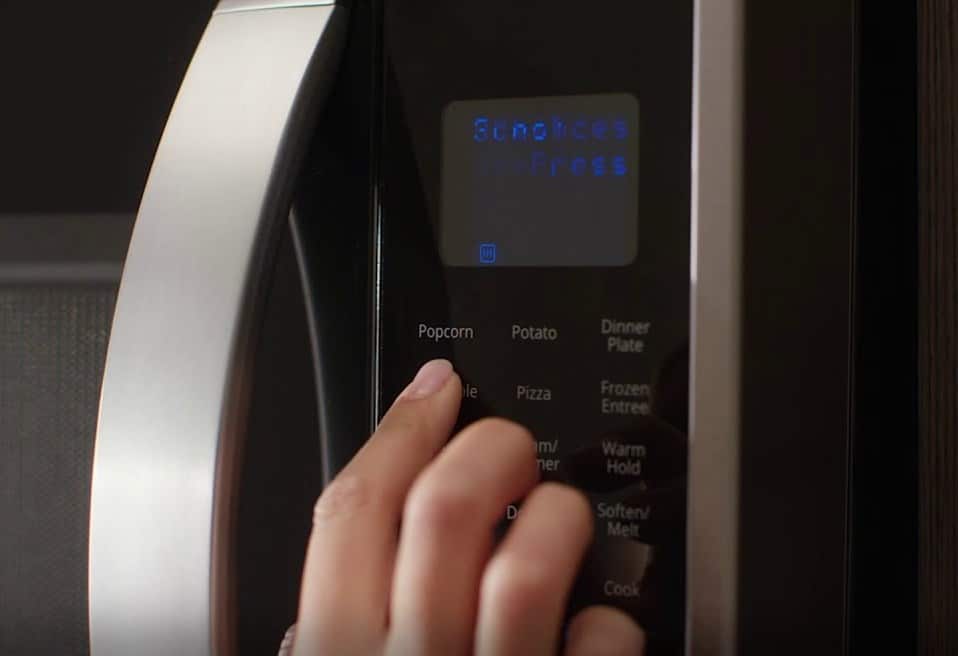 Some of Whirlpool's microwave models have sensors that can detect the moisture level in food. With sensor cooking, you need not figure out the cooking duration or temperature yourself – the microwave does it for you. It'll adjust the temperature and time depending on the amount of moisture in the food. If the microwave detects little moisture, it'll reduce the temperature and stop the cooking. 
This feature is ideal for beginner cooks or even for kids since food is prepared to perfection by simply pressing one button. 
Steam Cooking
This feature is ideal for health-conscious users who like steamed meals. With this, you'll have a quick and easy way of steaming your food at the press of a button.
Benefits of using steam cooking:
It's faster to use a microwave's steam cooking function than to use traditional steaming. 

You don't need to add any water to the food as you would when steaming in traditional microwaves.
For you to use steam cooking in Whirlpool's microwaves with this feature, you'll need to buy a separate steam accessory. 
Clean Release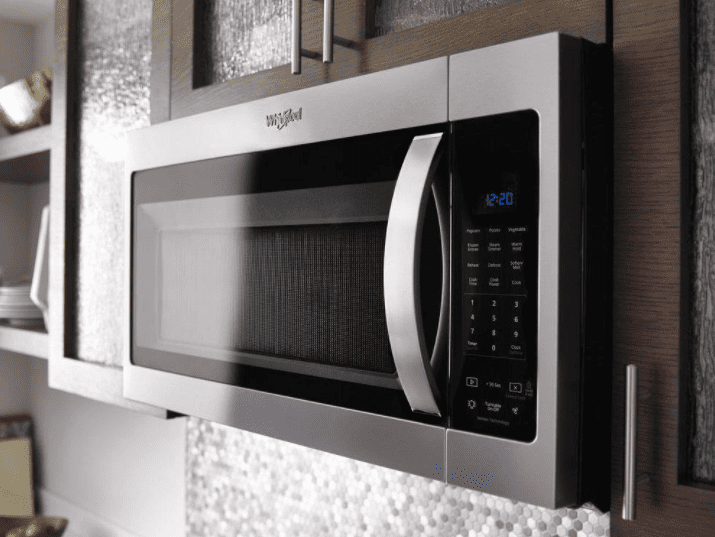 This is a non-stick coating in the interior of some of Whirlpool's microwave models. This feature prevents food from caking on the inside surfaces, making it easy to clean the interior; simply wipe off any spills. 
Things to Consider When Buying an Electrolux Microwave
Size
Think about the kitchen space available to help you decide on the appropriate microwave size. If you're getting a countertop model, you'll need to think about the spot you intend to place it and then get a microwave that will fit. If you have a small kitchen, you might have to settle on a compact microwave that won't take up too much counter space. 
For built-in models, measure the available slot in which the microwave will be installed. This shouldn't be a tight fit; there needs to be some space around the microwave for airflow. Thankfully, Whirlpool sells its built-in models with trim kits, which make it fit perfectly. 
Whirlpool's smallest countertop model has a width of about 15 inches, and the largest model has a width of 24 inches. Their depths and heights range from 12 to 20 inches and 13 to 14 inches, respectively. 
If you're considering an over-the-range model, you have the option of getting a Low Profile model that has a height of about 11 inches. This is appropriate if you have limited space above your stove. The standard over-the-range models have heights of about 17 inches.  
Capacity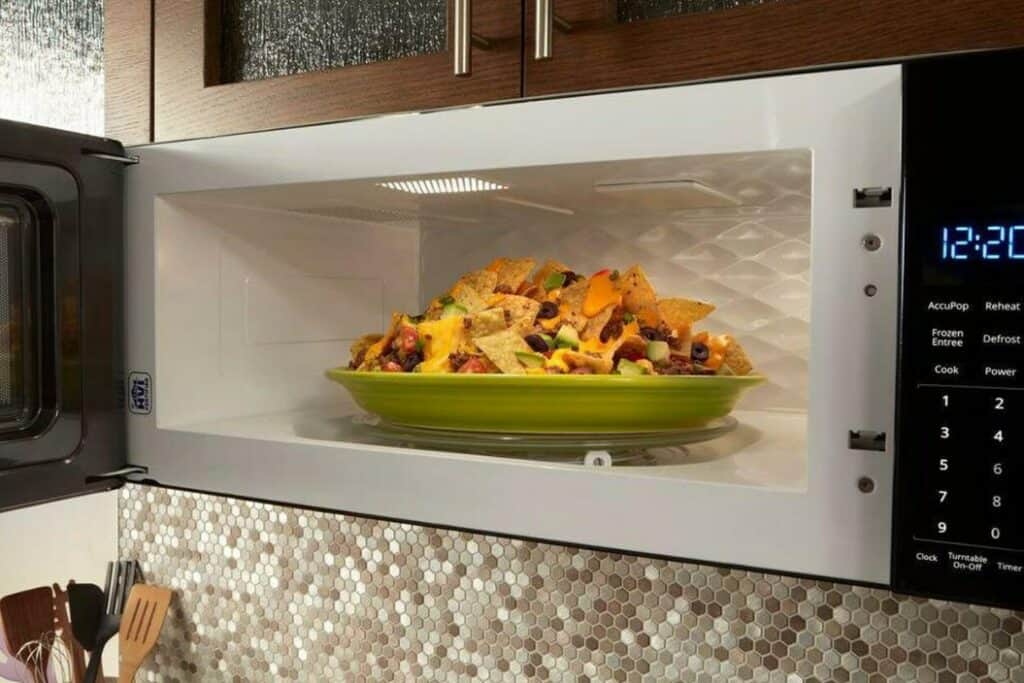 The capacity you choose depends on your cooking needs. If you use the microwave to cook a lot of dishes, then you'll probably need a large model. However, if you only need to heat or defrost food, then a small one would do just fine. Also, consider the size of dishes you'll want to use and then find a microwave that will fit your largest one. 
Whirlpool's smallest model has a capacity of 0.5 cubic feet. This is a basic countertop model that's ideal for a household of one or two people. The largest countertop model has a capacity of 2.2 cubic feet. If you're looking for a built-in microwave, the company offers a 1.1-cubic-foot capacity in all their models of this type.
The smallest over-the-range model has 0.8 cubic feet while the largest one has 2.1 cubic feet.
Design
Consider a microwave that complements the design of your kitchen. First, you'll need to think about the color and finish. You can get a Whirlpool microwave in black, white or stainless steel finishes. You can also pay extra for some advanced finishes like PrintShield, Heritage, or regular fingerprint-resistant stainless steel. 
Whirlpool says that PrintShield is a special fingerprint-resistant coating, but there's no indication that it's different from the fingerprint-resistant finish in other models. Heritage stainless steel, on the other hand, doesn't look any different from regular stainless steel; it's just a fancy name. 
If you're finicky about wiping smudges from your appliances, consider a microwave that's resistant to fingerprints. However, these will cost more. 
Price (And Your Budget)
The cheapest Whirlpool microwave is a countertop model that costs about $130. The most expensive microwave of this type costs $350. The difference, as you go up the price scale, is in the size, power, and availability of gadgets like sensors. 
For an over-the-range microwave, the lowest you can pay is $251, with the price going up to over $750. Meanwhile, the company's built-in models cost about $500. 
If you're on a budget, then you'll have to forego Whirlpool's flagship features like sensor cooking, convection cooking, and even fancy finishes. The sub $200 models are still good microwaves for basic use. However, avoid buying an expensive microwave simply because your pocket allows it. Consider whether all the advanced features would be useful to you, and if not, just buy a cheaper model without all the bells and whistles. 
Safety Features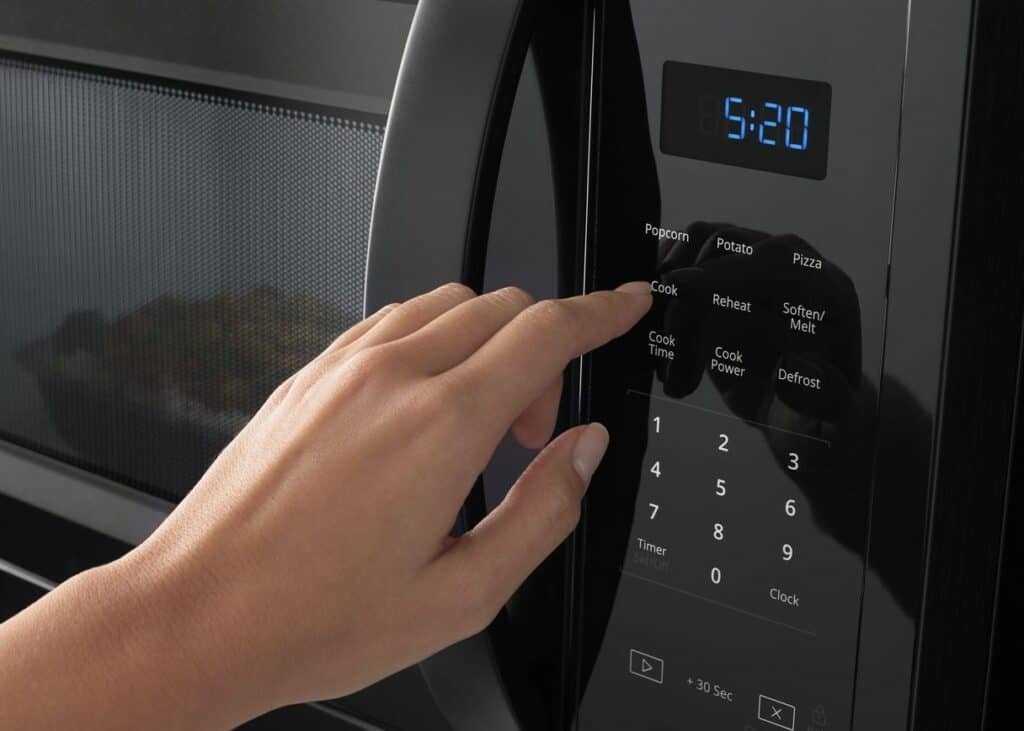 If you have kids, consider a microwave with a child lock function or control lock, as Whirlpool calls it. This enables you to deactivate the control panel to prevent accidental presses. However, this isn't only specific to kids, as we're all prone to those inadvertent presses. 
Wattage
Consider a microwave with at least 900 watts, as those with less tend to take longer to heat food. There are also complaints of food remaining cold inside, in the case of less powerful microwaves. 
Whirlpool's cheapest microwave model offers 900 watts, but there are models with 700 and 750 watts in their lineup. If you rarely use the microwave, then the 700-watt models might do for you. However, think about your future needs as well and know whether you might need a more powerful model later on.
The company's most powerful models have about 1200 watts of power. These are ideal for you if you cook large portions in your microwave.
Turntable Specifications
This is often overlooked, but it's still an important consideration. Find out the diameter of the turntable and make sure it can hold your largest dishes. Whirlpool's microwaves have diameters that range from about 8 inches to 14 inches.
Also, consider the ease of cleaning this part. Whirlpool has ensured that its turntables are removable, and some microwave models even have dishwasher-safe ones. Other turntables are recessed to firmly hold large dishes.
5 Best Electrolux Microwave Models
Selection Criteria
We chose the five best microwaves based on the following factors;
Reliability:

From the customer reviews, we were able to identify the most reliable Whirlpool microwaves in the company's lineup.

Performance:

Our list has the best performing microwaves in their class. These have a wattage of at least 900 watts plus extra features that improve cooking and heating.

Value for money:

The microwave needs to offer value for the price you pay. The features offered should be equal to or more than its cost.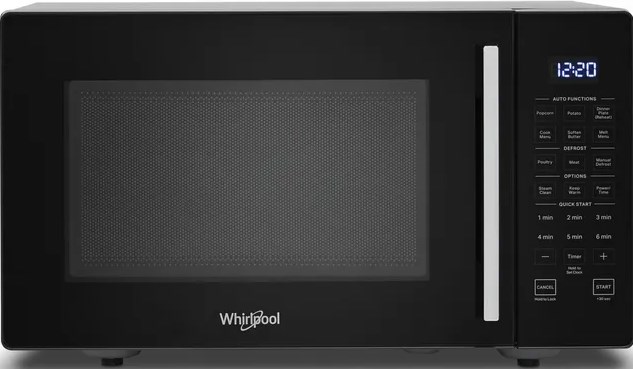 We love appliances that offer great value, and this Whirlpool microwave model makes it to our list for this very reason. Actually, it is the company's lowest-priced microwave model, but with some interesting features that make it worth your attention. 
To start with, this model has a power rating of 900 watts, which, in my opinion, is the sweet spot for a good microwave. Some of its slightly more expensive counterparts have about 750 watts, so this is this model's standout feature.
But remember, it's an inexpensive microwave, so there aren't fancy gadgets like sensors or convection cooking. What you do get, however, is a Keep Warm feature, meant to, well, keep food warm. So, if you prepare a meal in advance, you can simply place it in the microwave, activate this feature, and it'll be ready to eat when you are. 
Whirlpool also made sure to add several presets to make your work easier. The one that catches our attention is the popcorn preset that does just what it says – you need not try and figure out the right settings for cooking your popcorns, let the microwave do this for you. If you're looking for an affordable microwave, this is one we can easily recommend. 
Main Features
This Whirlpool countertop microwave has a capacity of 0.9 cubic feet. 

Its cooking power of 900 watts. 

There's an LED display and a touch-sensitive control panel.

The turntable diameter is 10.6 inches.

It has a Keep Warm function.

There's also a steam clean function.

There are several presets for cooking and defrosting, including a popcorn preset.
Pros
The Whirlpool microwave model WMC30309LB is the company's most affordable. 

It is simple to use.

There's a handy steam clean function that helps loosen baked-on food.

Its Keep Warm function is perfect for holding food until dinnertime. 

The microwave's 900 watts is powerful enough, especially at this price point.

It has a spacious interior.
Cons
To use the steam function, you have to place a bowl of water in the microwave.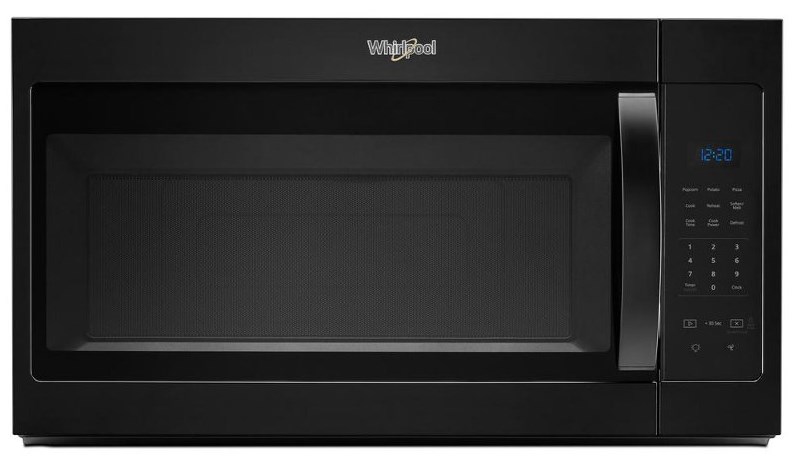 If you're looking for a space-saver, this microwave hood combination is one to consider. We'll talk more about its hood functions in a bit, but first, let's speak about its looks or the lack of it. Nothing stands out when it comes to this microwave's design; it has a traditional look with a black finish. But this isn't a bad thing, is it? It can fit in any kitchen design with no effort, so you need not worry about it contrasting with your cabinets. 
Looks aside, this over-the-range model has a cooking power of 1000 watts, which is expected at its price. Speaking of price, this is among Whirlpool's lowest-priced over-the-range models, costing just above $200. And considering that you get two appliances in one, this is affordable. 
Still, there's no jack of all trades, master of none situation going on here – it performs both its microwave and hood functions well. There are several preset functions that make the microwave easy to use. It also has a dedicated popcorn preset just like the previous model on this list. 
Underneath, there's an updraft ventilation system with a two-speed fan. This does a great job at eliminating smoke and odors coming from the meal you're preparing on the stove. However, the two-speed fan seems a bit underwhelming; at least three speeds would have been better. 
Main Features
This is an over-the-range microwave hood combination model.

It has a capacity of 1.7 cubic feet.

The turntable has a diameter of 12 inches.

Its cooking power is 1000 watts.

There's an updraft ventilation system.

The hood system has a two-speed fan with a strength of 300 CFM.
Pros
This microwave hood combination model helps to save space as it's mounted above the stove.

Its 300 CFM hood feature does a good job of eliminating smoke and odors.

The 1.7-cubic-foot capacity is enough for large dishes.

Its turntable is dishwasher safe.
Cons
The two-speed fan is a bit underwhelming for certain situations.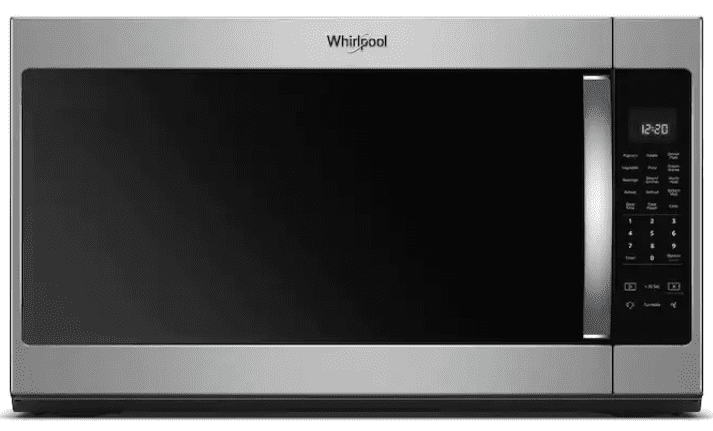 With slightly more than $300, you can own this over-the-range Whirlpool microwave that seeks to offer a sleeker design than its lower-priced counterparts. And its price is justified by its bells and whistles, which we'll take a look at in a bit.
But first, we love that this model has a fingerprint-resistant finish, but this is expected at its price point. You actually have two color options: black stainless steel and regular stainless steel. However, for some reason, the black model is about $20 more. 
Open the microwave and you'll notice a spacious 2.1-cubic-foot interior that can be tiered by a rack in the middle. Therefore, you can easily warm or cook multiple dishes at the same time. Speaking of cooking, there are moisture sensors here, making sure your meal is always cooked to perfection. 
Let's not forget that this microwave has hood functions as well. Its updraft ventilation system is made up of a four-speed fan with a 400 CFM power rating. This is enough power to eliminate all the smoke coming from your stove. In fact, at least 400 CFM ventilation strength is recommended for those cooking with gas. 
Main Features
This is an over-the-range microwave with a capacity of 21 cubic feet.

Its cooking power is 1000 watts.

There's a ventilation system with a four-speed fan. 

The ventilation's strength is 400 CFM.

It can accommodate a cooking rack.

The turntable has a diameter of 14 inches.

There's a steam cook function.

This microwave has cooking sensors.
Pros
The ventilation system is quiet.

It's easy to use.

The fingerprint-resistant finish makes it easy to keep clean.

Spills are easy to wipe off thanks to the non-stick interior.

You can cook multiple dishes at the same time.

Its turntable is dishwasher-safe.
Cons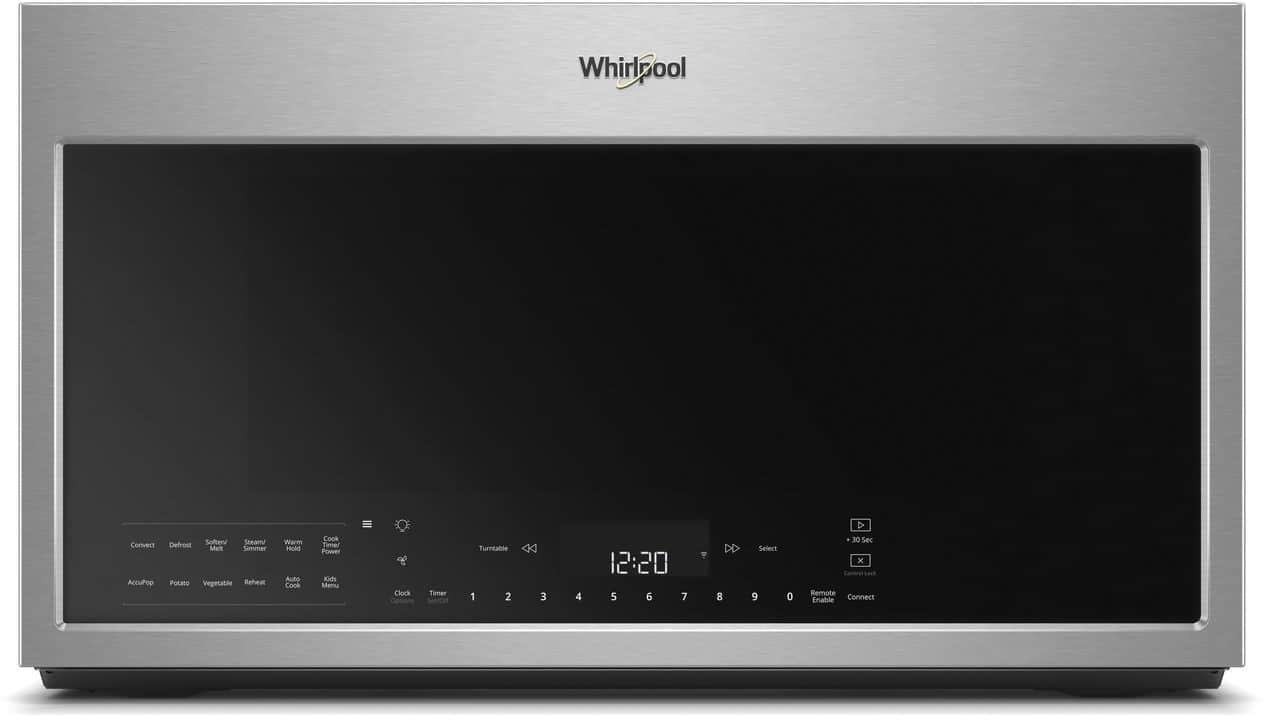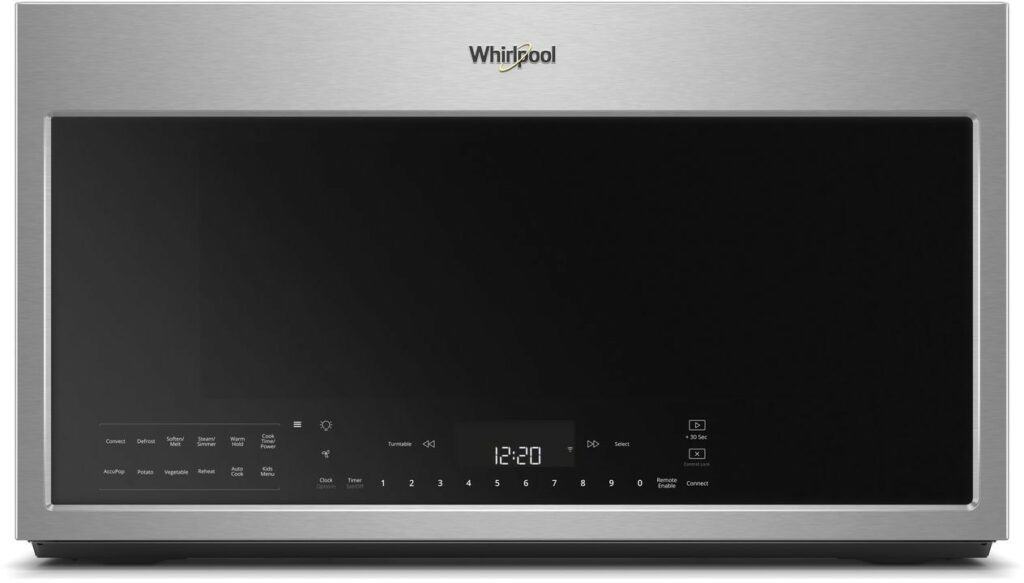 This happens to be one of two smart microwaves in Whirlpool's lineup, which earns it a place on our list. It's also one of the most popular microwaves by the company, a testament to people's love for smart features. With WiFi connectivity, you get handy features like scan-to-cook and remote monitoring/operation. Plus, you can operate it using voice commands as long as it's connected to a device with Alexa, Google Assistant or Siri. 
But this model offers more than nifty tech; it's a full-fledged microwave oven that does its job well. Its cooking power is 1100 watts, which is enough to quickly warm, brown or even crisp food.
There's actually a multi-step cooking function that automatically cooks food from start to finish once you've set the cook times and temperatures. And, yes, you get sensor cooking, which lets the microwave determine the appropriate cooking times and temperatures. Still, I have to mention its convection function, which yields perfectly cooked food every time. 
Since this is an over-the-range model, it has a ventilation system with a four-speed fan and a strength of 400 CFM. But all these features will cost you slightly over $500. Still, if you're looking for a smart over-the-range microwave, this Whirlpool model is a good choice.
Main Features
This Whirlpool over-the-range microwave has a capacity of 1.9 cubic feet.

It has a ventilation system with a four-speed fan and 400 CFM strength.

Its cooking power is 1100 watts and its convection power is 1600 watts.

There's a 14-inch turntable.

This model has smart functionality.

It has scan-to-cook technology.

Its exterior has a fingerprint-resistant finish.

There are cooking sensors for precise temperature control.
Pros
It's easy to clean this microwave thanks to the non-stick interior, the steam clean function and its fingerprint-resistant exterior.

It has cooking sensors that help to cook food perfectly.

The ventilation system effectively eliminates smoke that comes from the stove.

Its convection function evenly browns food.
Cons
The stop/cancel button is only labeled as 'control lock' which is rather confusing.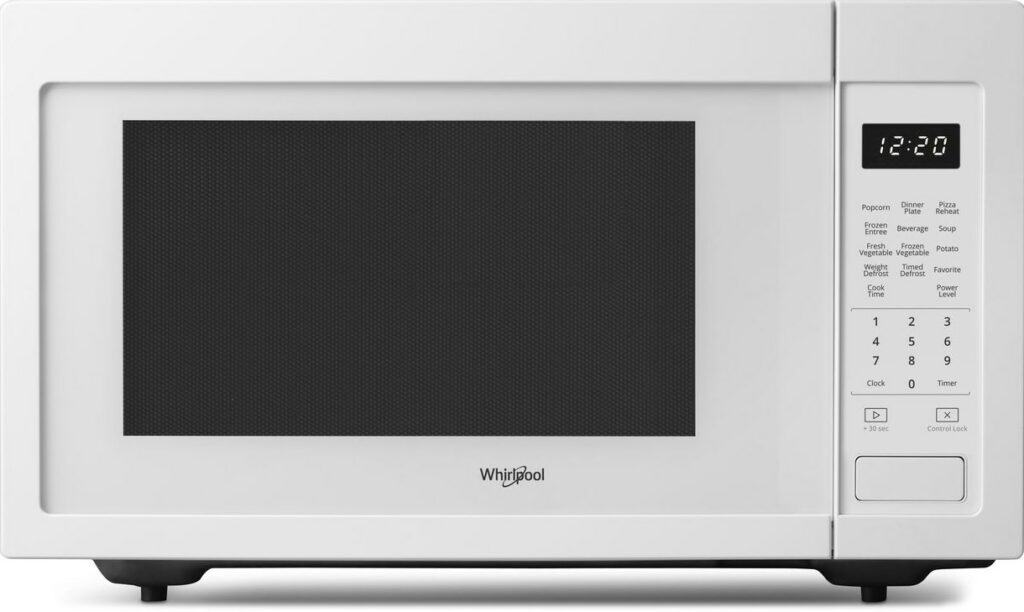 If you're looking for a countertop microwave, this is a model to consider. It's, admittedly, pricey for a countertop microwave but it also offers features that make it worth the cost. At the top of the list is its 1200-watt cooking power, which is among the most powerful in Whirlpool's lineup. Because of this, the microwave quickly heats or cooks, making sure that food is evenly warm both inside and out. 
The microwave also boasts a spacious capacity of 1.6 cubic feet, and with a turntable diameter of 13.5 inches, your largest dishes should fit here perfectly. There are also sensors that make sure your food is perfectly heated. 
Sadly, the white model isn't fingerprint-resistant and its interior doesn't have a non-stick surface so cleaning this microwave might take a bit of an effort. You can opt for the fingerprint-resistant stainless steel version, but you'll have to pay about $20 more. 
Main Features
This countertop microwave has a capacity of 1.6 cubic feet.

Its cooking power is 1200 watts. 

It has a recessed turntable that has a diameter of 13.5 inches.

The turntable is dishwasher-safe.

It has a sensor cooking function.
Pros
This is a powerful countertop microwave.

It's very fast.

It's easy to use.

It has a spacious interior capacity.

The recessed turntable can easily hold large dishes.
Cons
The start and cancel buttons aren't properly labeled, and this is confusing for most users.
FAQs
Question: Is a Whirlpool microwave good?
Answer: Yes, Whirlpool is known for being a reliable brand, with the company's over-the-range microwaves ranking highly in reliability studies by Consumer Reports and JD Power.
Question: What is the warranty on a Whirlpool microwave?
Answer: Whirlpool offers a one-year warranty on its microwaves, covering defects in materials or workmanship. 
Question: Is a 700-watt microwave enough?
Answer: For light use, a 700-watt microwave would do but if you want a fast microwave that evenly heats food, get one that's at least 900 watts. 
Takeaways
Whirlpool has proven to be a reliable brand, and the company's microwaves are among the best in the market. In summary, to find the best one for your needs, consider the following:
The type of microwave
Your cooking needs
Your budget
Be sure to pick a microwave with at least 900 watts of power since this is enough for most households. Granted, you can go for models with less power, but these might not be ideal in the future if your cooking needs change. And as we've seen in this article, there are powerful microwaves that cost less than $150. 
If you're also considering other brands, check out our Frigidaire microwave model guide and find out what their options are.