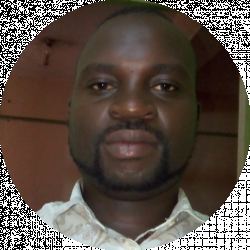 Latest posts by Haron Omaita
(see all)
No one enjoys taking out their own garbage so often, whether it's to the recycling bin or a dumpster, but a good trash compactor may help you significantly reduce the amount of garbage you produce.
So what's a trash compactor? What is it used for and what are the benefits of using it? What size of trash compactor do you need? How powerful do you want your trash compactor to be? Where in your home will you place the trash compactor?
Have no fear—we've done the homework for you to help you pick the perfect trash compactor that's within your budget and adequately meets your needs.
What's a Trash Compactor?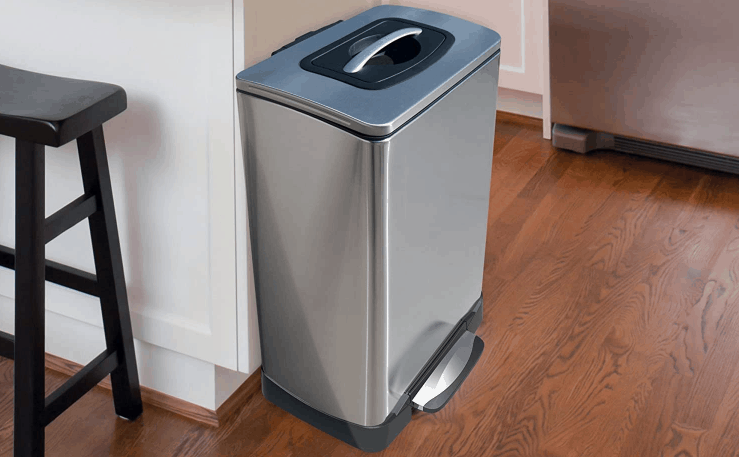 A trash compactor is basically an advanced trash can. Typically installed in the kitchen, the trash bin comes with a metal ram that crushes garbage into a small, condensed package. You can then bag and easily dispose of this package in your outdoor trash can or at your nearest waste removal facility.
How a Trash Compactor Works
A trash compactor is very easy to use and uses relatively basic components—a hydraulic-powered metal ram that squashes the garbage, a bin to keep that garbage, and a switch to power the device.
It's also really easy to use a trash can. Put your garbage in the bin and once it's full, shut the receptacle and switch on the compactor. The majority of modern trash compactors now come with extra safety features, including an alarm that sounds if the bin hasn't been loaded properly or if it has malfunctioned.
Still, trash compactors are very powerful appliances, so you and members of your household should follow some safety precautions when operating one. Never push garbage down the bin using your feet or hands. And never allow kids to operate a trash compactor unsupervised or play too close to an operating one.
The Benefits of Having a Trash Compactor
By cutting down the amount of household garbage by up to 75%, a trash compactor can definitely help you reduce the rate at which you need to take out your trash, but it also offers additional benefits.
Compressed trash uses less space in public landfills and dumps, lowering your family's environmental footprint.
Compacting your garbage can help you cut down on garbage removal costs, for example, fees charged by your homeowner association if your household generates so much waste that you require additional outdoor garbage receptacles or fees charged by the city.
Trash compactors can help with recycling. Some homeowners use their trash compactor mainly to process recyclable materials, like cardboard boxes, plastic bottles, aluminum cans, and so on.
If you do decide to use a trash compactor to reduce your frequency of taking out the trash, you should also protect your investment. That means abiding by the manufacturer's instructions while using it and carrying out any recommended maintenance practices.
Types of Trash Compactors
Before buying a trash compactor, determine which type will fit your kitchen best. Most trash compactors fall into one of three classes: freestanding, convertible, or under-counter.
Freestanding
A freestanding trash compactor is best for someone whose kitchen is already fully finished since it requires no remodeling. Easy to set up, the only problem is that if it's powered by electricity, it must be installed near a wall socket.
A freestanding trash compactor has a finished top, which is usually made of the same material as the entire trash can. This top can become an additional work surface since it's not designed to be placed under a counter.
Convertible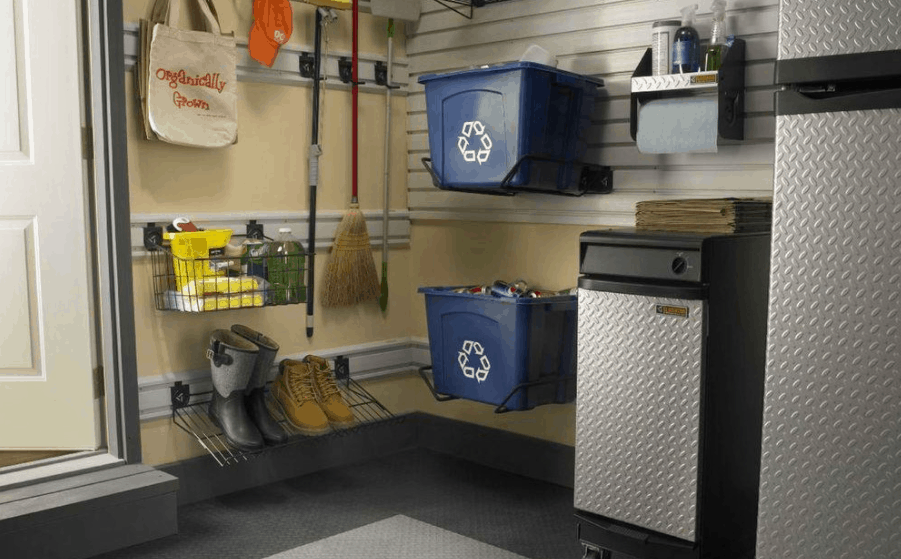 A convertible trash compactor is designed to work as either a freestanding model or to be placed under a counter. It has a finished top but may be converted to a built-in appliance when remodeling a kitchen.
Under-counter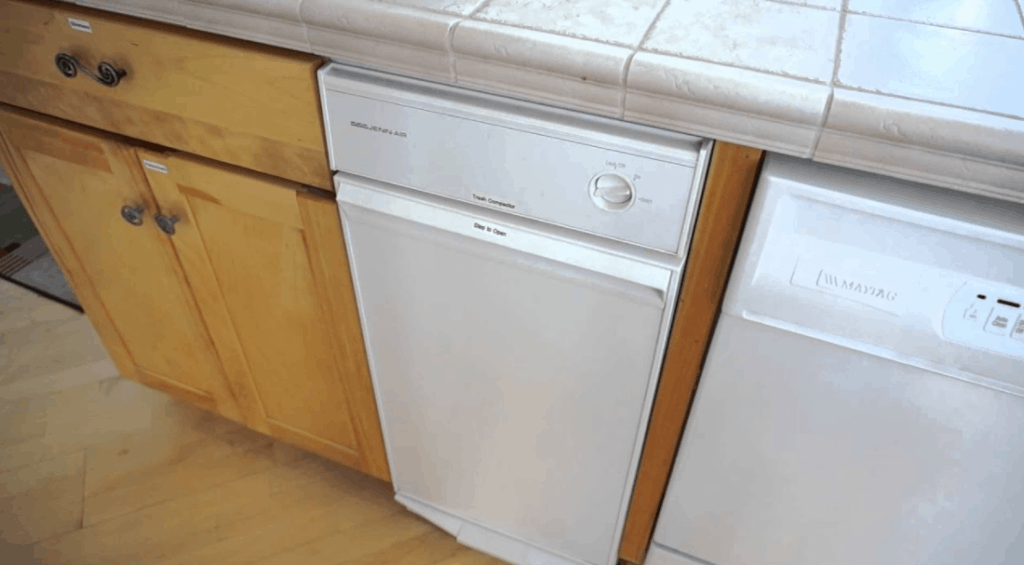 Also called a built-in compactor, an under-counter trash compactor is installed like a dishwasher between two bottom kitchen cabinets. It typically comes with standard cabinet widths to fit a cabinet.
It has an unfinished top and can require professional installation. Some under-counter models are designed to let you insert a front panel in order to visually integrate the compactor into the rest of the cabinetry.
Factors to Consider When Selecting a Trash Compactor
When selecting a trash compactor, be sure to consider the following key factors.
Manual vs Automatic
A trash compactor may be either manual or automatic.
A manual trash compactor relies on your physical strength to generate compression force rather than motor power. It's less powerful than an automatic model and isn't ideal for compacting cans or glass.
An automatic trash compactor is powered by electricity and must be connected to an electric outlet. It has powerful motors that deliver great compression force to compact your garbage.
Compression Force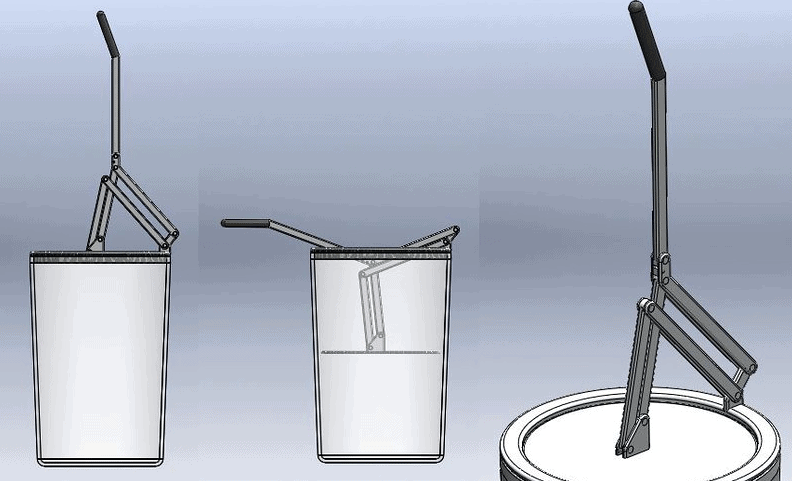 Top-of-the-range automatic trash compactors boast powerful horsepower motors that generate optimal compression force. Also called compaction force, compression force is usually measured in pounds. In general, trash compactors usually have a compaction force of 2,000 to 5,000 pounds.
A high compression force leads to a great compression ratio. Automatic trash compactors usually boast maximum compression ratios in the range of 4:1 to 6:1. A 6:1 compression ratio means that the model can compress around 5 bags of trash into a single bag.
Size and Capacity
The majority of trash compactors out there are designed to fit inside a regular kitchen cabinet. They tend to be 12-15 inches wide, 24 inches deep, and 34-35 inches tall. If you want a built-in trash compactor, it's important to jot down the measurements to make sure it'll fit.
The type of trash compactor determines its capacity. Automatic models usually have a capacity of 1.4-1.7 cubic feet. On the other hand, manual models have their capacity measured in gallons and may contain 5-15 gallons of garbage. For reference, the average capacity of 1.4 cubic feet in automatic models is around 10.5 gallons.
Controls and Sensors
An automatic trash compactor comes with control panels that let you operate the unit. While most trash compactors are relatively easy to operate, some have extra features such as a bag retainer that ensures the garbage bag stays in place. Touch-control panels without raised buttons are simpler to clean, while hidden control panels give the device a sleek appearance.
Many automatic trash compactors also feature sensors that detect open drawers and, as an extra safety feature, stop the unit from working. Some also feature a sensor to alert you when the garbage bin is full.
Odor Control and Air-freshening
One of the main concerns for people considering buying a trash compactor can be the potential odor. Since trash compactors help you reduce the rate at which you take out your garbage, unpleasant reeks from days-old trash are quite inevitable. Fortunately, many models feature charcoal filters and odor-control systems to prevent undesirable stinks from being discharged, which will help your kitchen stay smelling fresh.
Noise Insulation
A trash compactor tends to be loud, so the majority of models come with different noise insulation styles to lower the sound they generate.
Opening System
It's never easy to open a garbage can lid when you're holding the trash can with both hands. Some top trash compactors feature toe-touch drawer openers at the bottom, letting you open the unit hands-free.
Child Lock
Safety is something you also consider when shopping for a trash compactor. Some models feature a child lock safety feature, which can help stop a prying child. This feature will stop the tot from potentially getting hurt if the compactor is running.
Durability
It's a no-brainer that the trash compactor you decide to buy should be able to last for as long as possible so it can compress as much trash as possible.
A compactor that's not durable won't provide the compression force you require without a little bit of struggle. The durability of the trash compactor you buy will determine its overall efficiency.
Most garbage compactors are made of stainless steel, which is a durable and inexpensive material.
Cost
The price of different trash compactor models will depend on their various functionalities and features. Trash compactors definitely aren't cheap, but some models and brands are more expensive than others. Find a compactor you can afford that also has all of the features and functions you need.
Our Top Choices
Now that you're a little more clued about trash compactors, let's start shopping. We selected the products below based on various factors, including size, type, odor control, and compression force. The following list offers a range of high-quality trash compactor options that fit various needs and budgets.
Best of All: Whirlpool TU950QPXS Built-In Trash Compactor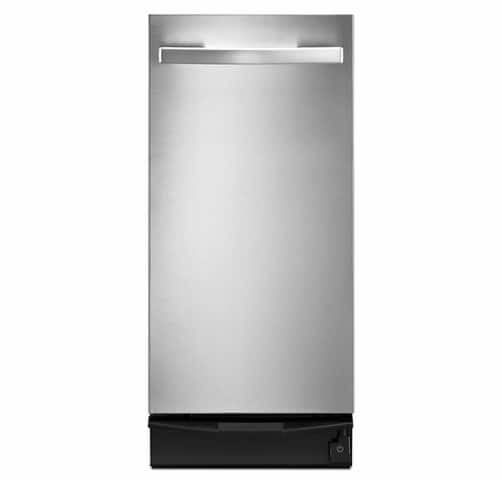 Chuck your garbage into this compactor's huge 1.4 –cubic-foot container and watch it get shrunk to almost nothing. With a 4:1 compaction ratio as well as an anti-jamming function, the Whirlpool TU950QPXS Built-in Trash Compactor even lets you know when the trash bin is full.
With its touch-toe drawer opener, you can conveniently open it without your hands or open it using its lovely stainless steel external handle.
It's a great choice for parents as they get a lock and key that prevents curious kids from operating it when they should not.
Best Manual Compactor: Household Essentials Trash Krusher TK10 XL-1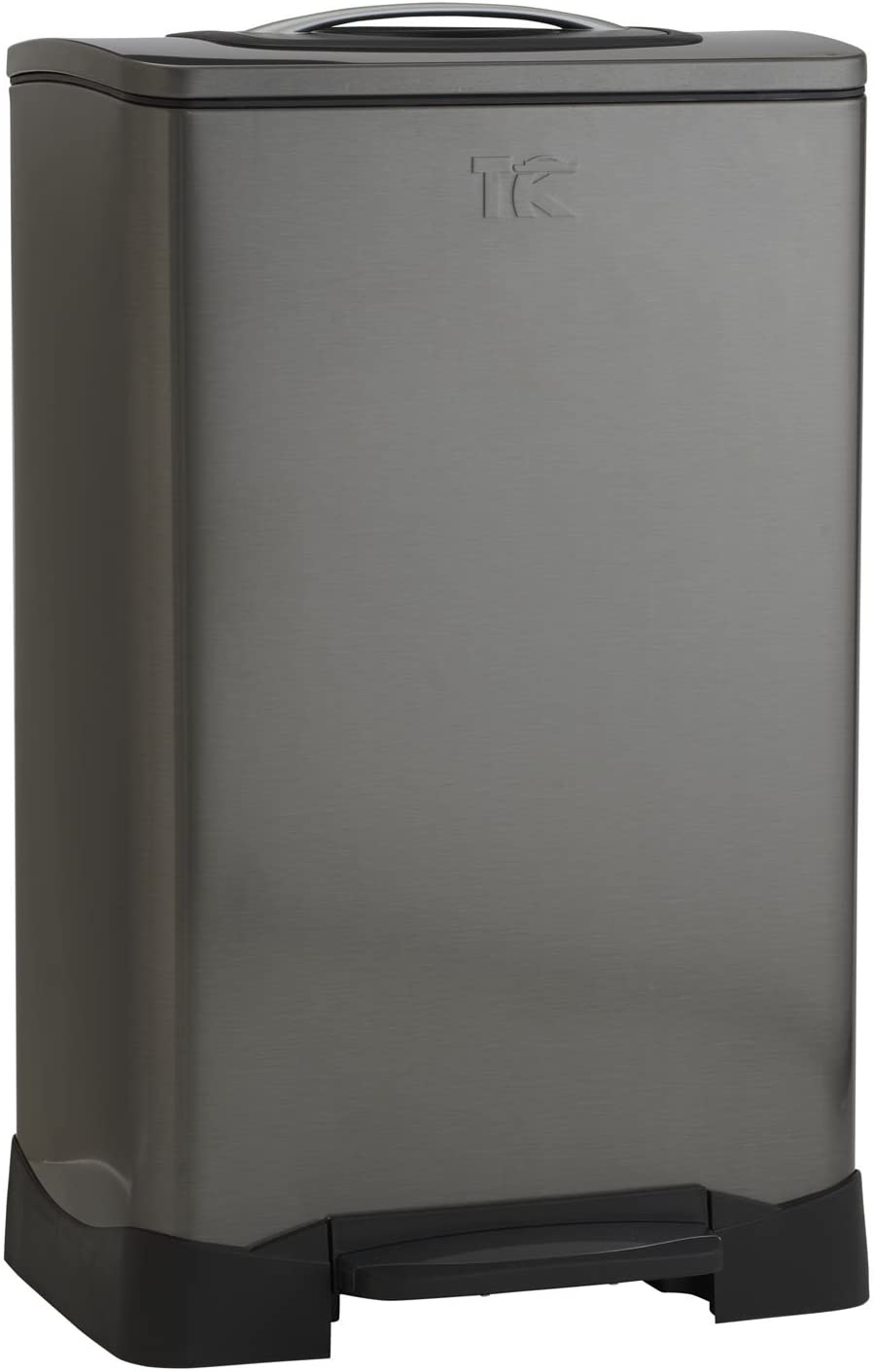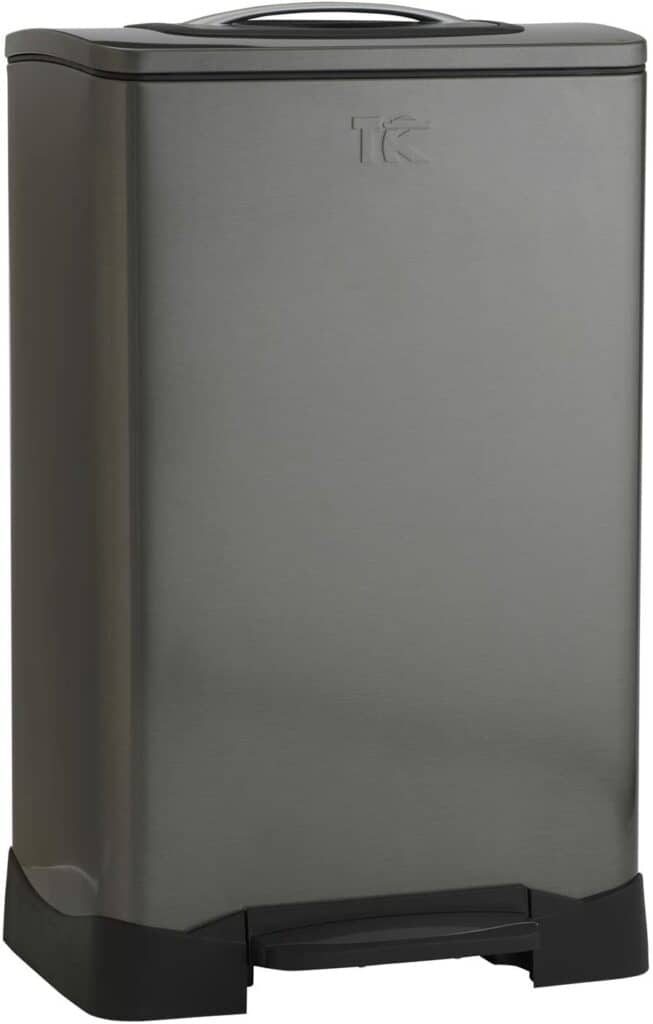 House Essentials Trash Krusher TK10 XL-1 is a gorgeous stainless steel garbage compactor that's ideal for your kitchen. It boasts a large capacity that easily contains a 13-gallon garbage bag, a hands-free opening system, as well as a soft-close lid.
You will like the fact that the trash can features a notch at the back to hold the garbage around the rim and stop it from slipping. The trash compactor is powerful enough to compress plastic containers and aluminum cans, and its lid easily comes off for cleaning. If you're short of space, Household Essentials sells this smaller-capacity compactor.
Most Versatile: Whirlpool Black 15-inch GC900QPPB Convertible Trash Compactor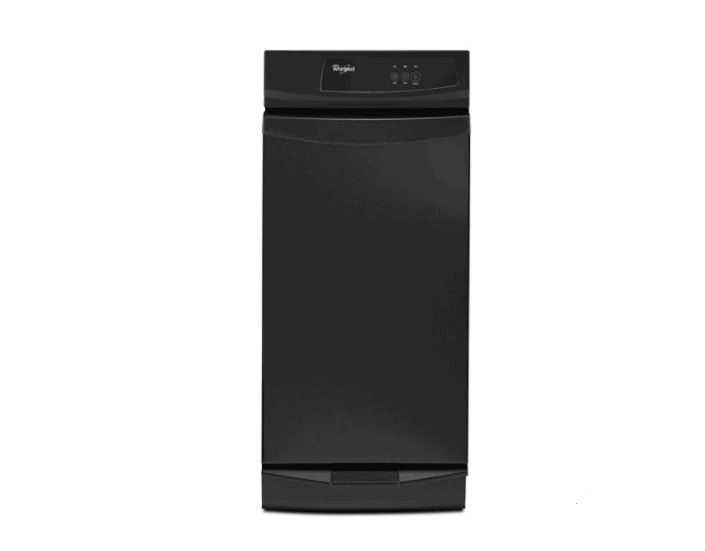 The Whirlpool 15-inch GC900QPPB Black Convertible Trash Compactor can be stored in a garage or utility room, allowing you to easily switch between built-in and freestanding set-ups. Besides, it features a toe-touch drawer opener for convenient hands-free access.
This compactor offers a huge capacity of 1.4 cubic feet as well as an anti-jam feature that reverses the compaction ram for easy removal of condensed garbage. It has wheels, which allow you to easily move it around your kitchen.
Best for Reducing Smells: KitchenAid 1.4-cubic-foot KTTS505ESS Built-In Trash Compactor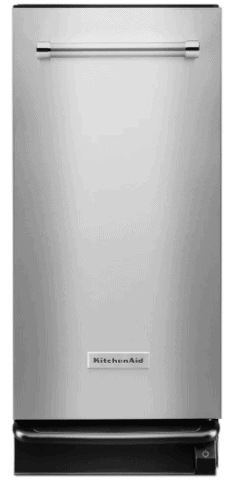 The KitchenAid KTTS505ESS Built-in Trash Compactor not only boasts an attractive modern appearance, but it's also very effective at reducing odors courtesy of its built-in charcoal filter and fan. It'll make your garbage five times smaller and leave room for as much garbage as possible.
The trash compactor is available in a "panel-ready" model or stainless steel finish. The panel-ready model allows you to attach your own bespoke panel to match your other kitchen cabinets.
Best Portable: Gladiator 15-Inch Grey Freestanding Trash Compactor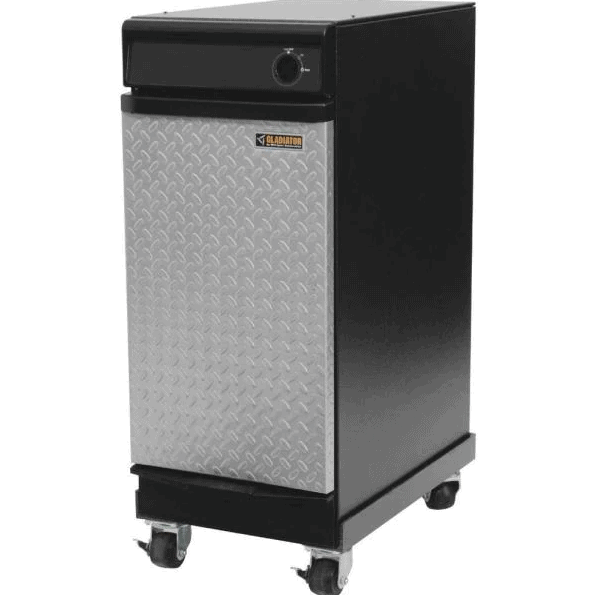 The Gladiator 15-Inch Grey Freestanding Trash Compactor features wheels, letting you freely move it around. Therefore, it's a perfect addition for garages since you can place it near your workspace. When you want it to not roll around, the front wheels lock into place.
It offers a 2,200-pound compression force and 4:1 compaction force and you can open it with your foot. For extra safety, it comes with a detachable key knob that you can hide from your children.
It is 15 inches wide, 24 inches deep, and 38 inches tall, and has a 1.4-cubic-foot capacity.
FAQs on How to Find the Best Trash Compactors
Question: What Are the Best Trash Compactors?
Answer: The best trash compactors today include:
• Whirlpool 15-inch TU950QPXS Built-in Trash Compactor
• Household Essentials Trash Krusher TK10 XL-1
• Whirlpool Black 15-inch GC900QPPB Convertible Trash Compactor
• KitchenAid 1.4-cubic-foot KTTS505ESS Built-In Trash Compactor
• Gladiator 15-Inch Grey Freestanding Trash Compactor
Question: How Do I Select a Trash Compactor?
Answer: Before you choose a trash compactor, you have to consider the following factors:
• Type of trash compactor—either manual or automatic
• Size and capacity
• Compression force
• Controls and sensors
• Opening system
• Odor control and air freshening
• Noise insulation
Question: Are Trash Compactors Getting Outdated?
Answer: Trash compactors are becoming outdated in modern kitchens for good reason. Apart from being expensive, they take too much floor or cabinet space.
They also leave homeowners with hard, condensed rectangular-shaped trash that doesn't fit into round trash bins. And while trash compactors decrease the volume of your trash, they increase its density, leaving a full trash bag weighing over 30 pounds.
Question: Are Built-in Trash Compactors All the Same in Terms of Size?
Answer: Different trash compactor types and models vary by size (i.e. width, depth, and height). Be sure to take correct measurements to get the amount of space your kitchen has. Compactors vary in width from 12 inches to 15 inches, depth from 24 inches to 24 ¼ inches, and height from 34 inches to 35 inches.
Question: What Should Stay Out of a Trash Compactor?
Answer: The 5 things that should never go into your commercial trash compactor include:
• Limbs
• Aerosol sprays
• Explosive or flammable materials
• Liquids
• Batteries
Find the Best Trash Compactor Today
Buying your home a trash compactor will ease the burden of constantly keeping and taking out huge amounts of garbage. It'll also be hugely beneficial to the environment because you'll use fewer garbage bags and take up less landfill space.
Knowing which type to go for and the features you need will help you select the best trash compactor that meets your own needs and those of your family.