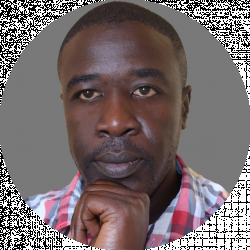 Latest posts by Barry Juma
(see all)
Electrolux has a very limited dishwasher lineup that's made up of just two built-in models. This company is also known for placing a premium price tag on its appliances, and the dishwashers are no different. With a budget of less than $1000, you'll have to look elsewhere for your next dishwasher.
It's not all gloom and doom though, as Electrolux has a knack for building elegant appliances that will spice up your kitchen's look. That's probably why this brand is on your radar. In this Electrolux dishwasher model guide, we'll break down these appliances' main features and help you decide whether Electrolux's dishwashers are worth your money. Keep reading to find out all you need to know.
Types of Electrolux Dishwasher Models
Electrolux only sells one type of dishwasher; the built-in models. These dishwashers are built into kitchen cabinets, under the countertop.
Built-in dishwashers give your kitchen a modern look, especially if their design is matched with that of other built-in appliances. However, their installation is permanent, so if you plan to move to another home soon, these aren't the best models for you. 
Pros
They're integrated into the kitchen cabinets so they save kitchen floor space. 

The sound and vibrations of a built-in dishwasher are muffled by the cabinets.

Built-in dishwashers generally have a larger capacity than under-sink or portable models.
Cons
These models are more expensive to buy and install than portable dishwashers.

They're permanently installed and aren't ideal for those who might move to a new home soon.

Built-in dishwashers aren't ideal for those with small kitchens since they take up cabinet storage space.
Check out our GE dishwasher model guide if you'd prefer a portable or under-the-sink dishwasher.
Main Features of Electrolux Dishwasher (And What to Consider)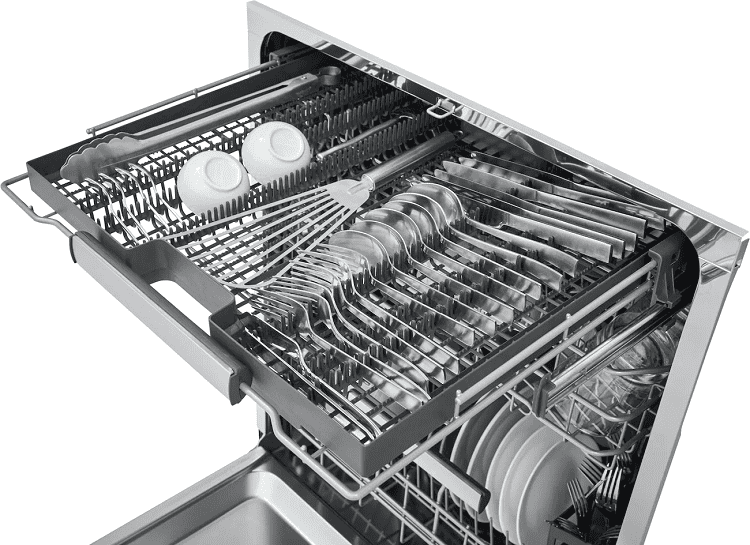 Sizes
Electrolux sells two dishwasher models with widths of 24 inches and 18 inches. The standard size is 24 inches, and it's the most commonly bought one. If you have a household of more than four, this size would be perfect for you. Electrolux's 24-inch model has the capacity to hold 12 place settings.
If you have a small kitchen then consider the 18-inch dishwasher, which is considered a compact model. This size can hold up to eight place settings, and it is ideal for a household of two or three people. 
Noise Levels
The perfect noise level for a dishwasher is about 52dB or less. Incidentally, refrigerators average about 50 decibels, meaning that a dishwasher with less than this will be practically indiscernible. 
Thankfully, both Electrolux dishwashers have noise levels of less than 50dB; the 18-inch model is rated at 49 dBA while the 24-inch one is even quieter, with a noise level of 45 dBA. If you have an open floor plan or you live in a small apartment, these dishwashers are worth considering.
Electrolux's 24-inch dishwasher has a feature known as the Luxury-Quiet System, which minimizes vibrations and ensures that the appliance isn't almost completely silent. Find out more about dishwasher noise levels in this article.
Wash and Dry Performance
With features like Perfect Dry System, LuxCare Wash Arm, and Target Wash Zones, Electrolux's dishwashers promise excellent washing and drying performance. According to reviews, dishes come out spotless thanks to these advanced features. 
The Perfect Dry System ensures that your load drys evenly thanks to a uniform circulation of warm air.
Electrolux tells us that its LuxCare Wash Arms are multidimensional sprays that have a greater water coverage, thus boosting the appliance's effectiveness without using more water. Also, consider dishwasher features like a food disposal unit and soil sensors, which determine how well your dishwasher performs.
Another thing to consider when thinking about the performance is the wash cycles. The main wash cycles you'll find in Electrolux's dishwashers are; Heavy, Normal, Eco, Rinse, Fast, Sanitize, and Auto. 
Tub Material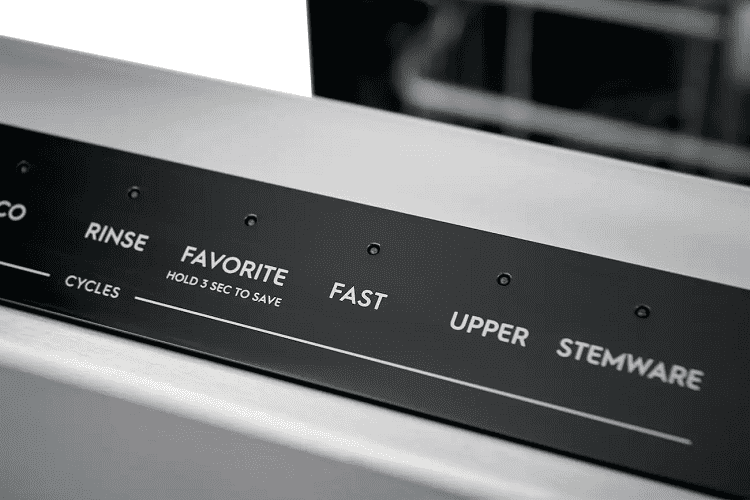 Cheaper dishwashers come with plastic tubs, which are less durable than stainless steel. Electrolux dishwashers have stainless steel tubs since these are high-end appliances. They are, therefore, expected to handle heavy use and can handle high heat. We took an in-depth look at the difference between plastic and stainless steel tubs here.
Place Settings and Racks
The 24-inch Electrolux dishwasher model has 12 place settings while the 18-inch model can hold up to 8 place settings. This article cites the Association of Home Appliance Manufacturers, which tells us that one place setting is made up of one dinner plate, one small plate, a bowl, a saucer, a cup, a drinking glass, two teaspoons, a dinner fork, a knife, and a small salad fork. 
Also, consider the racks and the space in between the tines to figure out the size of dishes that can fit in them. Dishwashers with folding tines offer the flexibility to fit utensils of varied shapes and sizes, so check whether this feature is available in your preferred model.
Electrolux's 24-inch model has a third-level rack that fits flatware and cutlery. This provides extra room for more utensils. Both models also have an adjustable top rack, allowing you to fit larger dishes in the lower one.
Design Features
You only get one color option if you're looking for an Electrolux dishwasher, that is stainless steel. Despite the lack of variety, this is still an elegant finish that fits in most (if not all) kitchen designs. 
Both models have hidden controls (more on this later) and an extruding door handle. The doors have a feature known as Luxury-Hold, which enables them to remain at the angle at which they're opened. So, you can slightly open the door to air the tub or expose the controls and it'll remain at that position. 
IQ-Touch Controls
These controls remain hidden when the dishwasher's door is closed, leaving a clean front face with only the handle. The IQ-Touch Controls are clearly labeled and easy to use; all you need to do is select the cycle and press start. 
Smart Features
Sadly, Electrolux's dishwashers don't have WiFi connectivity so you can't remotely operate them. However, they have smart sensors that can determine the soil level of dishes and adjust the amount of water and cycle time based on this. When you select Auto, the dishwasher will use these sensors to figure out the appropriate cycle for the load. 
Prices And Your Budget
Both of Electrolux's dishwashers cost $1049 despite them having different sizes. The 24-inch model seems to be a better purchase for the money, not only because it's more spacious but also because it offers a third-level rack and a 30-minute Fast cycle. 
If you have a budget of less than $1000, check out our Whirlpool dishwasher model guide for some inexpensive options.
Available Electrolux Dishwasher Models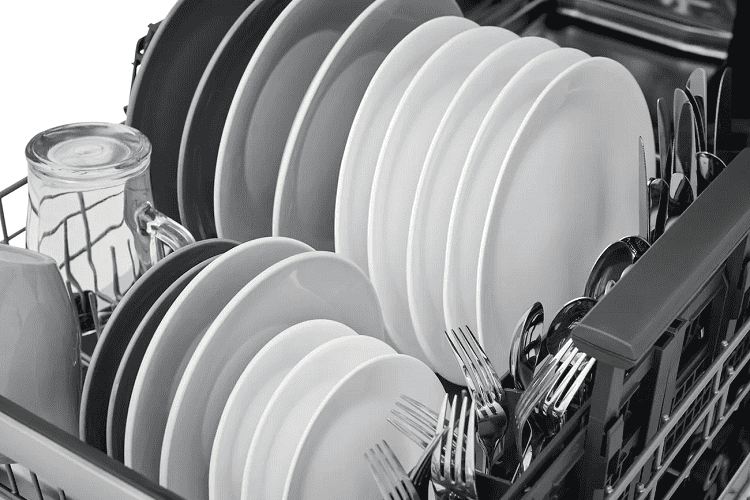 Selection Criteria
Since Electrolux has only two dishwasher models, I've featured both below, to show the difference between the two and help you identify the one that offers greater value.
To offer greater variety, we've listed five alternative brands that you should consider. The alternatives list is based on the following factors;
Dishwasher design

Features

Value for money

Reliability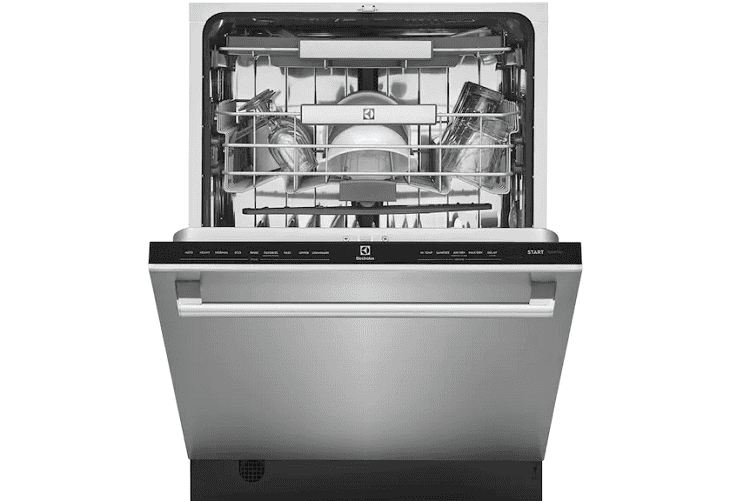 This Electrolux dishwasher model, in my opinion, offers the greatest value for money. As I mentioned earlier in this article, both dishwasher models in Electrolux's lineup are priced at $1050.
However, this is a standard-sized model (24-inch width) with a 12-place setting as opposed to the smaller 18-inch model that we've featured below. This dishwasher also comes with a third-level rack, giving you more room to organize your utensils.
Electrolux's appliances are known to be workhorses and this dishwasher is no different. With features like the LuxCare Wash Arm and the Perfect Dry System, your dishes will come out perfectly clean and dry each time. In fact, most customer reviews praise this model for its excellent performance. 
Main Features
The Electrolux EDSH4944AS has a 24-inch width.

It has a third-level rack for flatware and cutlery.

The upper-level rack is adjustable.

It has hidden touch controls.

This Electrolux dishwasher has 9 cycles.

It has a fast cycle that runs for 30 minutes.

The dishwasher has a Perfect Dry System for effective drying.

There's a Luxury-Quiet System.
Pros
This dishwasher looks stylish.

It's very quiet.

Dishes always come out spotless.

It has a handy indicator spotlight that shines on the floor to show when the dishwasher is running and when it stops. 

It's Energy Star certified.

There's a tub light that illuminates the interior.
Cons
The racks don't slide in and out very easily when full.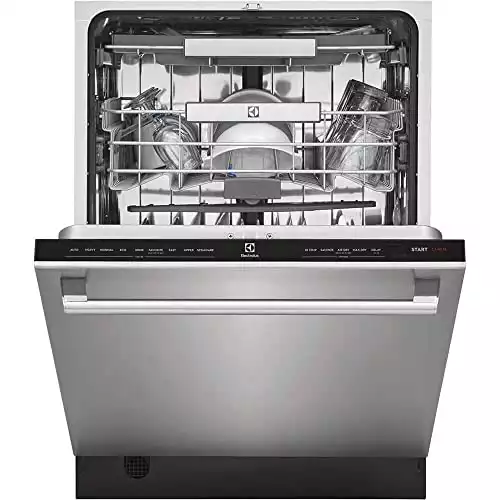 Electrolux EIDW1815US 18″Built-In Dishwasher with IQ-Touch™ Controls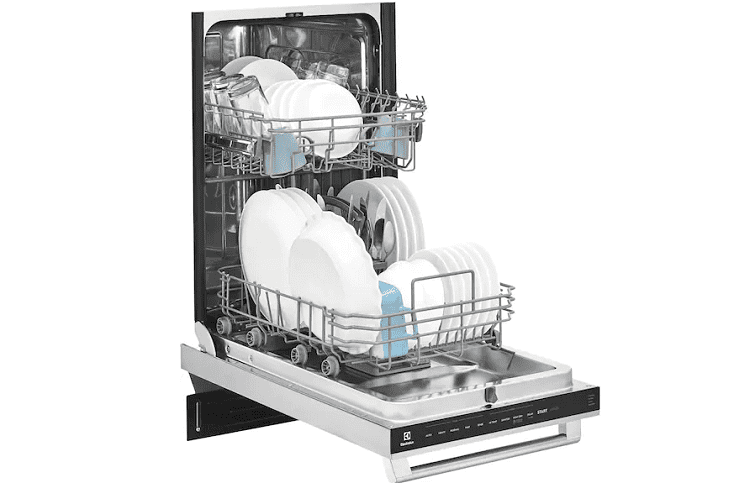 I know I've already made it known that this dishwasher doesn't offer value for money. It's hard to recommend this one with a more spacious dishwasher costing the same amount. However, this model still has a lot of good things going for it, if you're firm on getting this 18-inch Electrolux dishwasher.
For starters, this model has racks that smoothly slide in and out thanks to a feature known as Luxury-Glide. The model above lacks this and so its racks don't slide as effortlessly.
This dishwasher also has a Luxury-Hold door that remains at whatever angle you open it. Inside, there are two racks offering 8 place settings. For two or three people, this is sufficient. Thankfully, the racks are also adjustable so you can fit large and oddly shaped dishes.
That said, with a budget of $1050, I would buy the larger 24-inch dishwasher or a different brand with a lower price (check out our alternative dishwashers below).
Main Features
This is an 18-inch dishwasher with 8 place settings.

It has two adjustable racks.

The racks have the Luxury-Glide feature.

This model has IQ-Touch Controls.

The door has a Luxury-Hold feature.

There are five wash cycles.
Pros
This dishwasher is sleek.

Its Luxury-Hold Door allows you to leave the door slightly open if you want to air the tub.

The racks are easy to slide in and out even when full.

It's Energy Star certified.
Cons
There's no interior light.

Its Fast cycle runs for an hour.

It's expensive.
5 Alternative Dishwasher Models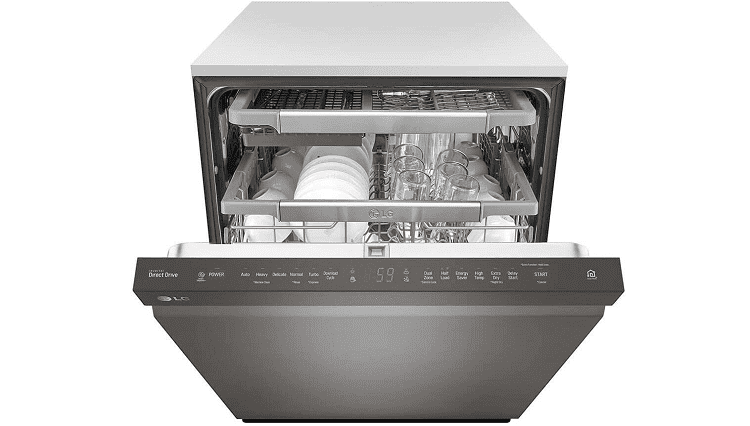 LG is one of the most reliable brands globally and its dishwashers bear the characteristic reliability that we know and love. If you're looking for an alternative dishwasher to Electrolux, then you can't go wrong with an LG model. This one costs less than the Electrolux options, going for $1000 for the black stainless steel option.
If you choose regular stainless steel, you'll pay $100 less. At this price, you get a WiFi-enabled appliance that connects to the LG ThinQ ecosystem. This allows you to remotely monitor the cycle and you'll receive a notification once the wash is complete. 
To rival Electrolux's LuxCare Wash Arms, this model has LG's very own Quad Wash that's a system of four wash arms that rotate and spring in multiple directions. This LG model is also as silent as Electrolux's 24-inch model, with a lower noise-level rating of 44 dB.
Main Features
This LG dishwasher has a standard width of 24 inches.

It has a total of 15 place settings.

It has a third rack for flatware and cutlery.

The controls are at the top of the door.

This model has LG's QuadWash feature.

There are 9 wash cycles and 8 was options.

The dishwasher is WiFi-enabled.

It has LG's LoDecibel feature with a noise level of 44 dBA.

The tub is made of NeveRust Stainless Steel.
Pros
It is more affordable than Electrolux's options.

This model is Energy Star certified.

Dishes come out clean.

It's very quiet when running.
Cons
The rack's tines feel a bit flimsy.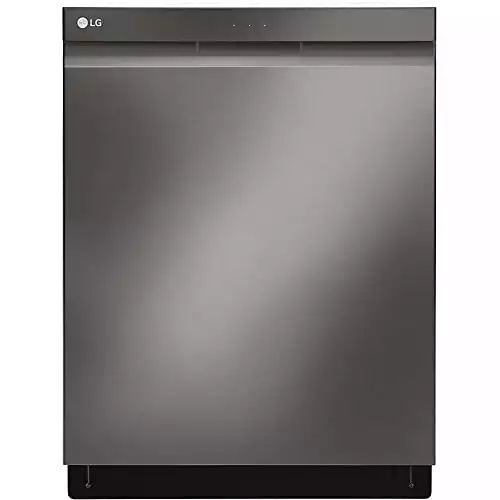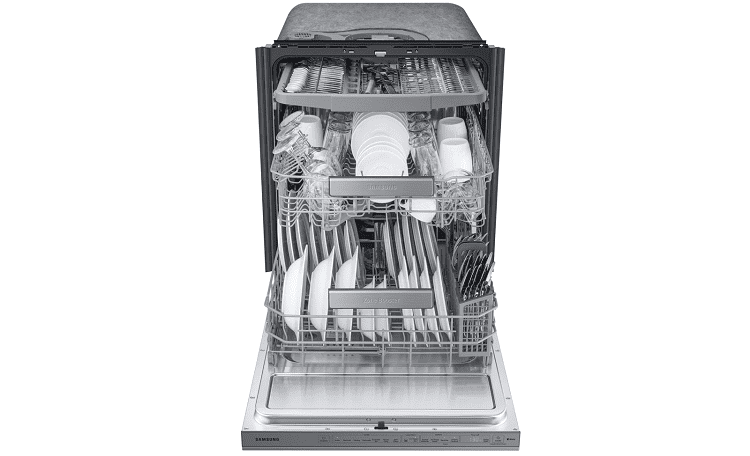 Our second Electrolux alternative is another brand that has won awards for customer satisfaction and reliability; Samsung. This Samsung dishwasher costs slightly more than Electrolux's option, selling at about $1150. However, I think that it offers more features for the price.
Its main selling point is the whisper-silent noise level of an impressive 39 dBA. According to customer reviews, this dishwasher is so silent that you can't tell that it's running. This model also has WiFi connectivity, so you can remotely operate and monitor your dishwasher via your smartphone. 
Its performance is excellent, with the Linear Wash System that's made up of Samsung's AquaBlast jets, which are designed to shoot water to all parts of the dishwasher. It also has an AutoRelease Door that automatically opens at the end of a cycle to enable air circulation.
Main Features
This is a 24-inch dishwasher.

It has 15 place settings.

The dishwasher is WiFi-enabled.

It has a noise level of 39 dBA.

There are three racks.

Its controls are hidden on the upper edge of the door.

It has a Linear Wash System with AquaBlast jets.
Pros
This dishwasher is very silent.

Its third rack offers extra space for cutlery.

You can remotely operate and monitor the dishwasher.

It comes in a fingerprint-resistant finish.
Cons
The tines in the third rack are flimsy.
Learn more about Samsung's dishwasher models in this article.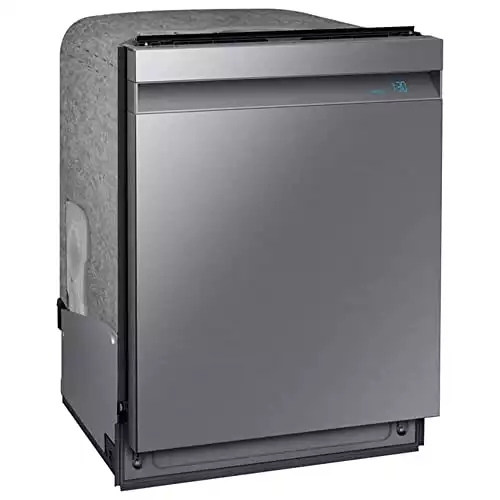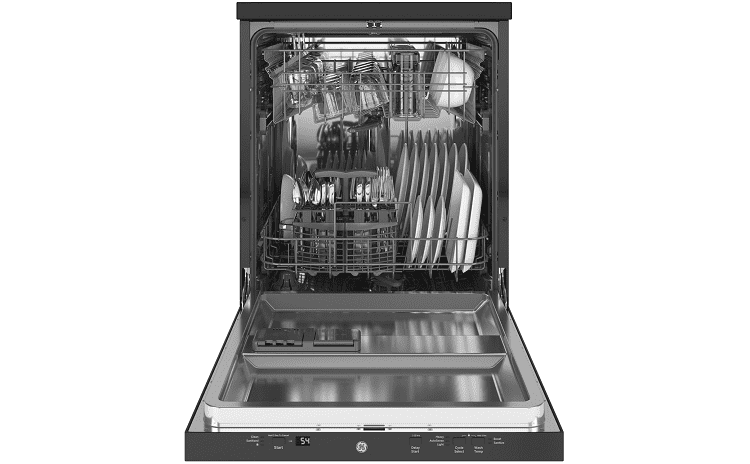 Since Electrolux doesn't offer a portable dishwasher, at least at the time of writing this article, a good brand to consider is GE. This model costs about $850, a significantly lower cost than Electrolux's cheapest dishwasher.
It comes in three color options: black, white, and stainless steel. Inside, it has a stainless steel tub and two racks, offering up to 12 place settings.GE used physical buttons in this model, but they're hidden at the top of the door, leaving a clean front face with only a handle. 
Customers praise its noise level of 54 dBA, which is more than what you get in an Electrolux but still not noisy at all. It's also a top performer thanks to features like the Piranha Food Disposer and the three-level wash system.
Main Features
This is a 24-inch portable dishwasher.

It has two racks with 12 place settings.

It has three wash cycles and five wash options.

Its tub is made of stainless steel.

It has a food disposer with stainless steel blades and an RPM of 3600.

There's a sanitize option that uses a high temperature to kill bacteria.
Pros
This portable dishwasher costs less than $1000.

It has a durable stainless steel tub.

Its interior capacity is spacious enough for lots of utensils.
Cons
It takes a while to complete a cycle.

There's no indicator light to show when it's done washing.
Learn more about GE's dishwasher models here.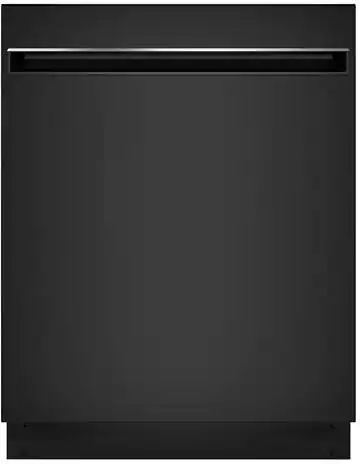 GE GDT225SGLBB 24" Dishwasher | Amazon
Built-in dishwasher with powerful washing feature to wash your dishes and stemware nice and clean. It has a child lock that makes sure the door can't be opened while the washing is in the process to avoid water coming out. It runs at a noise level of 51 dba.
Buy at Amazon
We earn a commission if you make a purchase, at no additional cost to you.
05/10/2023 12:02 am GMT
Whirlpool WDF518SAHB Small-Space Compact Dishwasher with Stainless Steel Tub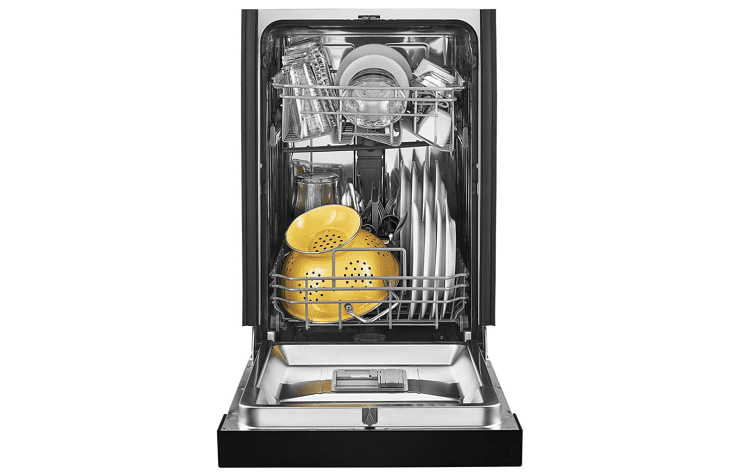 Instead of buying Electrolux's 18-inch dishwasher, consider this Whirlpool model that's designed for small spaces. Of course, you'll get Whirlpool's characteristic reliability with this appliance. You also enjoy value for money, which is a feature of this brand. At the price of about $850, you'll enjoy features like a stainless steel tub and two racks.
Admittedly, this dishwasher doesn't look as fancy as Electrolux's model, mainly because it has a front-control design rather than the sleek top-control configuration. It also doesn't have as many bells and whistles, with only basic features.
However, this allows Whirlpool to keep this dishwasher's price down while still offering everything you need. Thankfully, the company didn't compromise on its noise level as it's rated at 50 dBA. 
Main Features
This is a compact 18-inch dishwasher.

It has two racks with 8 place settings.

The upper rack is adjustable.

Its noise level is 50 dBA.

Its tub is made of stainless steel.

There are two spray arms.

There are five wash cycles.
Pros
This compact dishwasher is perfect for small kitchens.

It costs less than $900.

Its adjustable upper rack allows you to fit oddly shaped dishes in the lower rack.

It is quiet.
Cons
There's no interior light.
Find out more about this and other Whirlpool dishwashers here.
KitchenAid Model: KDTM404KPS Dishwasher in PrintShield™ Finish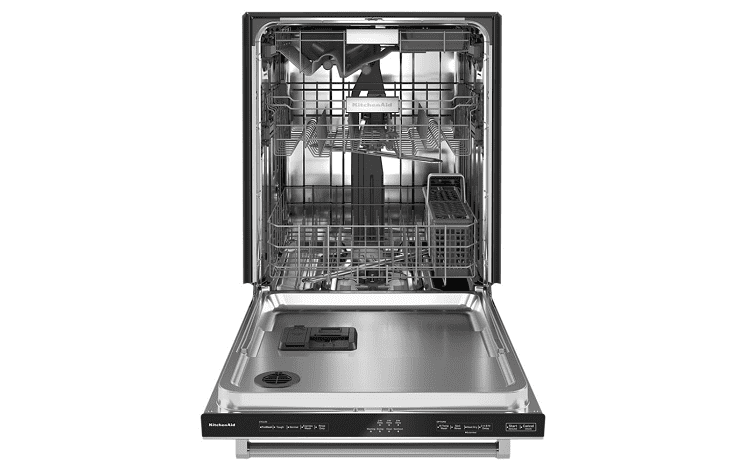 Although this KitchenAid dishwasher costs more than Electrolux's 24-inch model, it's still worth considering because of the brand's track record of reliability. Still, this model offers a lot of features similar to what you'll get in the Electrolux option.
For instance, the controls are hidden on the top edge of the door and the body has an almost similar design to Electrolux's.
It also has a third rack but this one is, according to KitchenAid, the largest available in a dishwasher. I don't know about this claim, but what I know is that it's definitely larger than the one in the Electrolux dishwasher; this one can even fit mugs and bowls.
Main Features
This KitchenAid dishwasher has a width of 24 inches.

It has three racks – the topmost one is known as a FreeFlex Third Rack.

There are five wash cycles that include an Express Wash Cycle and a sensor-powered ProWash Cycle.

Its exterior has a fingerprint-resistant finish known as PrintShield.

The interior is made of stainless steel.

It has a noise level of 44 dBA.
Pros
It works quietly.

The third rack provides more room for mugs, bowls, and silverware.

Its leak detection system alerts you when it detects a leak.

The dishwasher is Energy Star certified.
Cons
It's more expensive than Electrolux's option.

Although the third rack is designed to hold mugs and glasses, it can only fit smaller ones.
If you're interested in KitchenAid, learn about other dishwasher models here.
FAQs
Question: Are Electrolux Dishwashers Good?
Answer: Electrolux dishwashers are designed for heavy use thanks to their sturdy stainless steel build and advanced washing features. However, they cost significantly more than what other brands offer. 
Question: Which Brand of Dishwasher is the Most Reliable?
Answer: According to the 2021 JD Power appliance satisfaction study, the most reliable dishwasher brands are Samsung, KitchenAid, LG, Bosch, Whirlpool, and GE in that order. 
Question: What Should I Look for when Buying a Dishwasher?
Answer: When buying a dishwasher, mainly consider the following;
• Type of dishwasher
• Capacity
• Washing cycles
• Performance features
• Hard food disposal features
• Energy and water efficiency.
Bottom Line
There's no doubt that Electrolux's dishwashers are elegant appliances with premium looks. However, since both models currently available have the same price, I recommend opting for the 24-inch model. It has a larger capacity with more place settings, extra features like an interior light, and excellent washing performance.
If you're looking for an 18-inch model, consider one from the alternative brands I've shared above to spend less. Still, if you're firm on Electrolux, you'll still enjoy owning a workhorse that will serve you well.