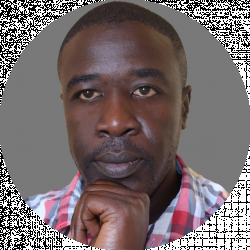 Latest posts by Barry Juma
(see all)
Thermador refrigerators, just like all other Thermador appliances, are premium, high-end appliances with astronomical prices. If you're considering this brand, you need to budget for at least $5000 for your next refrigerator. However, you'll enjoy exceptional build quality that confirms Thermador's reliability. 
In this Thermador refrigerator model guide, we'll take a deeper look at the different types of refrigerators in the company's lineup, as well as their main features and prices. You'll then be able to narrow down your options by looking at what to consider when choosing a Thermador refrigerator. Continue reading to find out all you need to know.
What to Consider When Buying a Thermador Refrigerator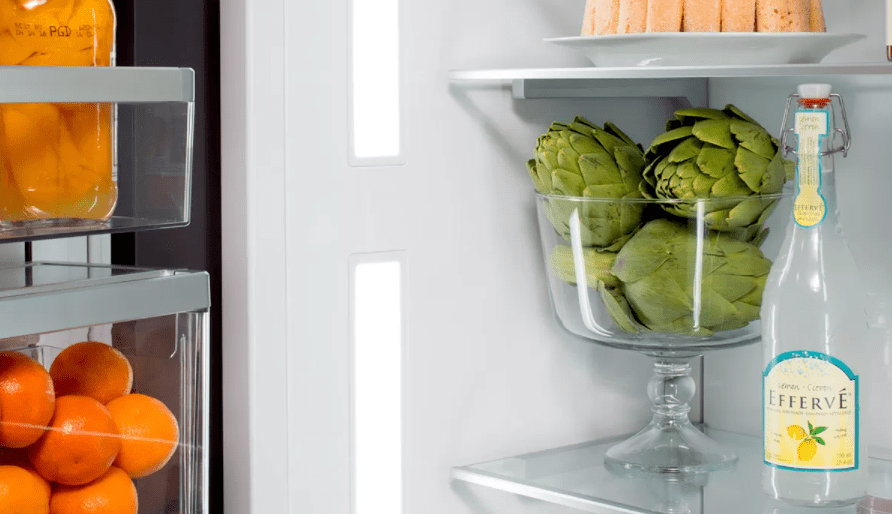 Type of Refrigerator
Thermador sells four types of refrigerators: bottom-freezer refrigerators, French-door refrigerators, columns (freezer columns and refrigerator columns), and wine refrigerators. 
Bottom-Freezer Refrigerators
These models have their freezers at the bottom and the refrigerator at the top. Since most people use the refrigerator compartment more, having it at eye level makes it easier to reach for daily food. Therefore, those with back issues won't have to bend to get their food constantly. 
However, Thermador doesn't offer an alternative for those who prefer top-refrigerator models. If this is you, then consider a brand like Samsung.
Thermador's bottom-freezer models have a freezer drawer instead of a door configuration, as you'd find from other brands. The drawer design is more stylish, and it's easy to see what's inside the freezer without bending over. 
Find out more about the pros and cons of bottom-freezer refrigerators in this article.
French-Door Refrigerators
Thermador's French-door refrigerators are bottom-freezer models, which is true since their freezers are at the bottom. However, I've chosen to separate them since their unique design makes them stand out. 
French-door refrigerators have a wide refrigerator compartment that favors large storage containers. Their wide shelves and large door bins offer more storage space, making them ideal for large households. 
Column Freezers and Refrigerators
These are independent refrigerator or freezer units with a larger capacity than the combined models. The refrigerator and freezer columns are usually bought together and placed side by side to make one large unit. You could also buy one column unit to complement your refrigerator if you need extra room.
Column units are designed for very busy kitchens that require massive refrigeration units. These models are also panel-ready. This means that you can install a panel on the unit's door, which matches your kitchen cabinets, giving you a hidden-refrigerator design.
Wine Refrigerators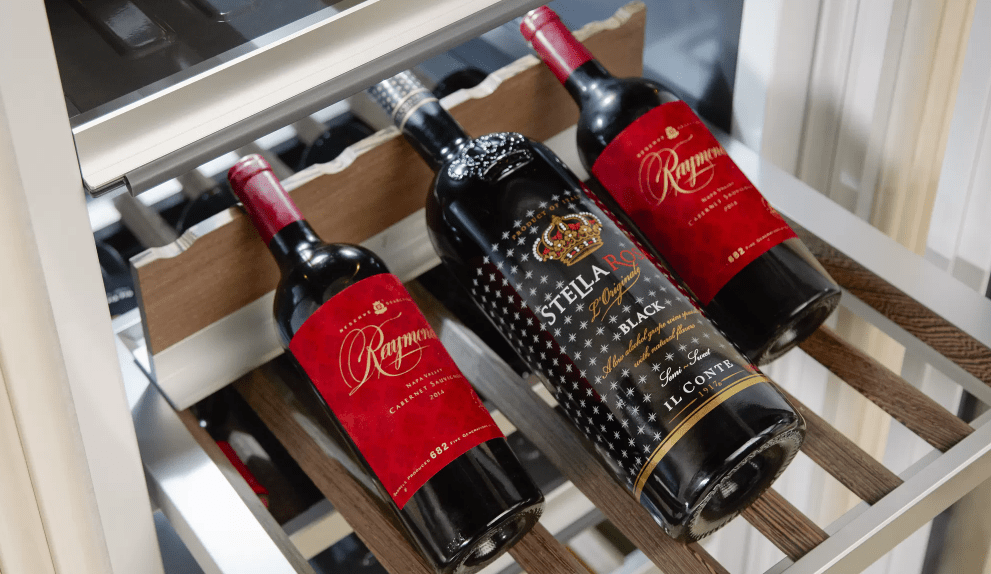 These special-purpose refrigerators are ideal for commercial use, but you can also buy one if you love to entertain guests and always have cases of wine lying around. Check out Thermador's wine refrigerators here.
Price
Thermador is a high-end brand, and its refrigerators have a price tag that can make your eyes water – at least mine did. If your budget is less than $5000, then you'll have to look elsewhere (consider Bosch).
Here's a breakdown of Thermador refrigerator prices.
Thermador Refrigerator Models
Price Range

36-inch French-door refrigerators

Lowest price: $5000

Highest price: $9600

30-inch two-door bottom freezer

Lowest price: $7500

Highest price: $8800

36-inch two-door bottom freezer

Lowest price: $8000

Highest price: $9100

Column refrigerators (24″, 30″ & 36″)

Lowest price: $6100

Highest price: $7600

Column freezers (18″, 24″, 30″ & 36″)

Lowest price: $5800

Highest price: $7600

Wine refrigerators (18″ & 24″)

Lowest price: $5900

Highest price: $6300
Size and Capacity
The size and capacity of the refrigerator you choose depend on your household size and whether you often entertain guests. Thermador's refrigerators are designed for busy kitchens, so they may be overkill for homes with three or fewer people. 
Thermador sells either a 30-inch or a 36-inch refrigerator, and the column models start from 18 inches to 36 inches. If you're looking for a refrigerator that's larger than 36 inches, consider buying separate refrigerator and freezer columns and get up to 72 inches. 
The table below breaks down the size and capacity of Thermadors refrigerators.
| | | |
| --- | --- | --- |
| Thermador Refrigerator Type | Available Sizes | Available Capacities |
| French-door refrigerator | 36″ & 30″ | 19.4 Cu Ft & 20.4 Cu Ft |
| Two-door bottom freezer | 36″ & 30″ | 16.0 Cu Ft & 19.6 Cu Ft |
| Column refrigerator | 24″, 30″, 36″ | 13.0 Cu Ft, 16.8 Cu Ft & 19.6 Cu Ft |
| Column freezer | 18″, 24″, 30″, 36″ | 7.8 Cu Ft, 8.6 Cu Ft, 11.2 Cu Ft, 15.8 Cu Ft & 19.4 Cu Ft |
To figure out the appropriate refrigerator capacity for your needs, a general rule is to calculate an average of 5 cubic feet per person, as mentioned in this article. For instance, Thermador's 19.4 Cu Ft French-door refrigerator would be appropriate for a household of about 4 people. 
Design and Color
All of Thermador's refrigerators have a stainless steel exterior and interior. This emphasizes the brand's focus on quality and durability. There are built-in and freestanding refrigerator designs in Thermador's lineup. 
The built-in models are designed to sit flush with the kitchen cabinets for a seamless look. Freestanding models don't have to be integrated into the cabinetry, they can stand anywhere in a kitchen. Thermador offers counter-depth freestanding models if you'd like to emulate the built-in design. 
Note that the built-in refrigerators are more expensive than their freestanding counterparts. 
Storage Options
Consider the refrigerator's storage options that match your needs. For example, if you love dairy products and always have these on hand, consider a refrigerator with a dedicated dairy drawer. Thermador's refrigerators have large door bins, shelves, and crisper drawers that can hold different types of food. 
Main Features of Thermador Refrigerators
Theater-style lighting
This is a unique lighting design that's made up of recessed rectangular-shaped adjustable lights on either side of the refrigerator's interior. The theater-style lights work together with the illuminated back panel to give you a well-lit refrigerator interior. 
WiFi connectivity
All of Thermador's refrigerator models are WiFi-enabled, allowing you to use the company's HomeConnect smartphone app to operate your refrigerator. You can remotely adjust the humidity level or temperature from your phone.
Cool Air Flow Technology
This is Thermador's refrigeration tech that ensures the temperature is uniform within the refrigerator. At the top of the unit, there's a grill through which the cold air flows into the refrigerator. This air flows to the bottom and pushes up the warmer air that then leaves through the air grills, thus maintaining an even distribution of cold air.
Diamond Ice
Thermador's ice makers have what the company calls twist tray technology that produces diamond-shaped ice.
SoftClose door hinges
These are unique refrigerator hinges that prevent the door from slamming.  
Quick Chill
The Quick Chill feature rapidly lowers the temperature of newly added food to prevent it from altering the internal temperature. This not only ensures a consistent temperature but also saves you time by quickly chilling your drink when you're in a hurry.

5 Recommended Thermador Refrigerators
Selection Criteria
Value for money: I considered the Thermador refrigerators that offer the greatest value for money. These are the models that have features that are equal to or more than their price.
Daily use & practicality: These are models that are useful for daily use. Therefore, I avoided special-purpose models like Thermador's wine refrigerators.
Performance: The recommended Thermador refrigerators have top-of-class performance based on their features and online reviews.
Thermador Freedom T36FT810NS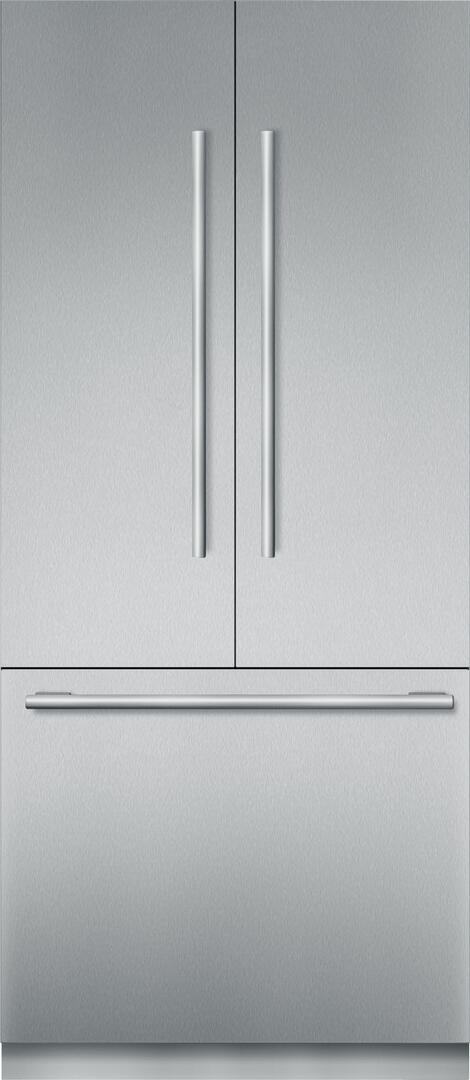 Thermador's elegance is unmistakable in this refrigerator, and it doesn't even matter that it's the company's lowest-priced model. But don't get me wrong, it's not an inexpensive refrigerator; it costs $5000, much higher than most in the market.
Still, if you're looking for a Thermador then you want a premium, luxury appliance, and this model checks those boxes. Its exterior is Thermador's characteristic stainless steel finish that we know and love.
Inside, there's ample room on the wide shelves as well as in the door bins and crisper drawers; it has a total capacity of 20.8 Cu Ft. And I can't ignore the stunning theater-style lights plus the illuminated back panel, which make sure everything inside the refrigerator is visible.
Main Features
The Thermador Freedom® T36FT810NS has a width of 36 inches and a height of 72 inches.

Its refrigerator compartment has a capacity of 14.8 cubic feet, and the freezer has 6.0 cubic feet.

It has theater-style interior lights and an illuminated back panel.

There are humidity-controlled drawers.

The refrigerator has adjustable glass shelves.

It has two gallon-sized door bins and four standard-sized bins.

There's an internal water and ice dispenser.

It is WiFi-enabled.
Pros
The refrigerator has a large capacity.

It has lots of food storage compartments.

The interior is bright and the theater-style lights can be adjusted to your preference.
Cons
Thermador T36IB905SP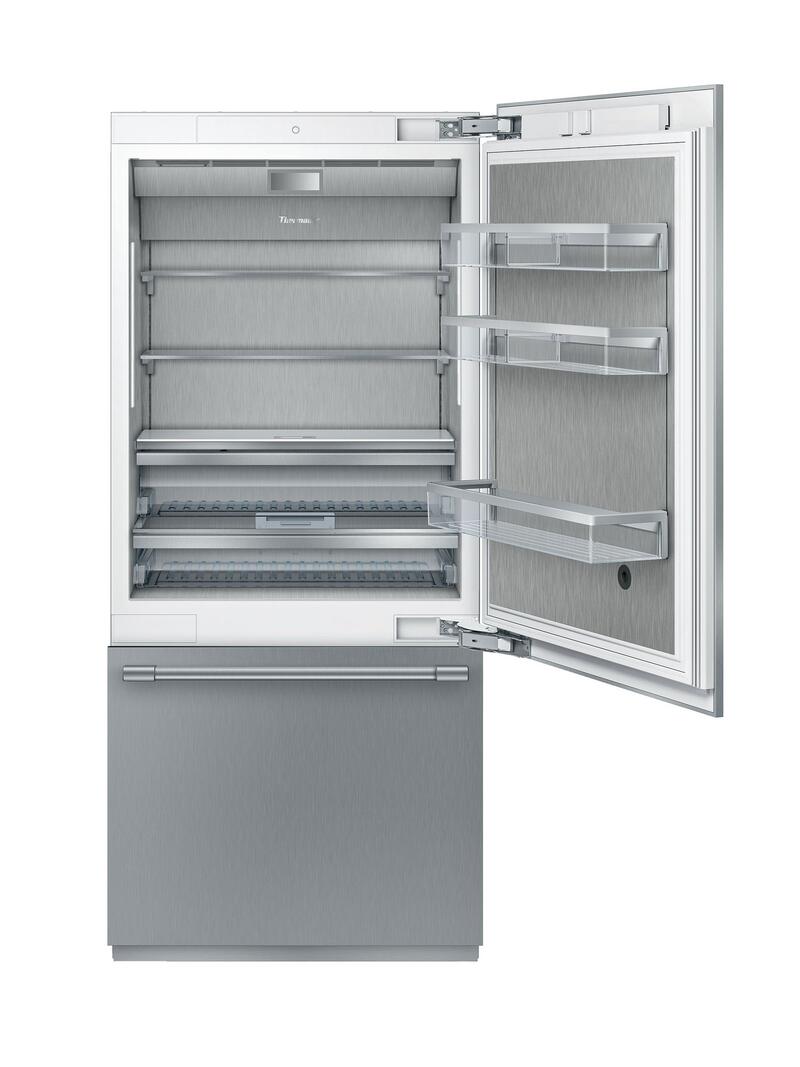 This two-door bottom-freezer refrigerator enters the $8000 mark. It's a built-in model; the built-in models cost more than their freestanding counterparts. So, despite having less space than the French-door model above (this one has 19.6 cubic feet), it still costs more.
Thermador continues their trend of over-engineering their appliances in this model. It has a luxurious soft-close hinge that smoothly shuts the refrigerator door. The drawer freezer also glides in and out without a struggle, even when it's full. Inside, you'll find all the bells and whistles you'd expect: Cool Air Flow tech, stainless steel interior, glass shelves, humidity-controlled drawers, and theater-style lighting.
Main Features
This Thermador two-door bottom-freezer refrigerator has a total capacity of 19.6 cubic feet.

Its refrigerator section has 14.0 cubic feet, and the freezer has 5.6 cubic feet.

Its interior has a stainless steel liner.

An Auto Door Opening feature enables you to open the door by either pushing or pulling easily.

It has SoftClose hinges on the refrigerator door, and the freezer has a SoftClose drawer.

Its door is reversible.

The refrigerator has a TFT control panel.

This model is panel-ready.

It is WiFi-enabled.
Pros
The refrigerator's design lets you tuck it in the kitchen's cabinetry.

Its Auto Door Opening feature makes it easy to open the door even when your hands are full.

It's Energy Star certified.
Cons
Thermador T36BT915NS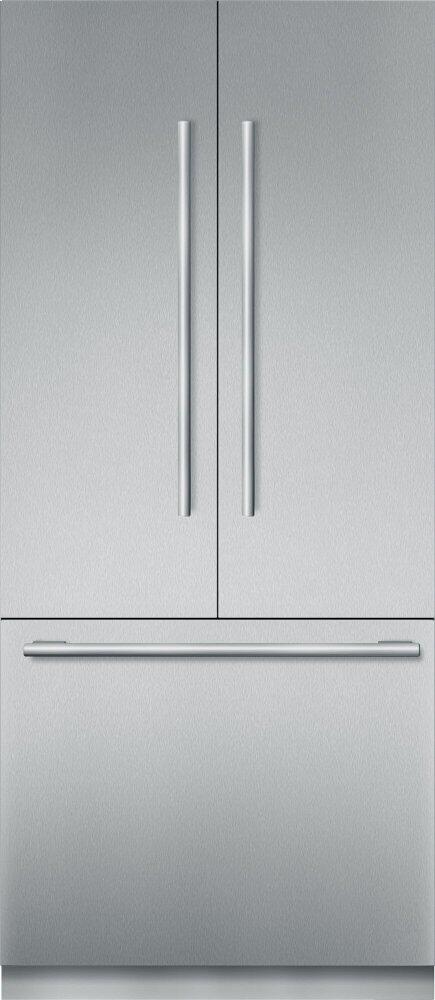 If your budget is around $10,000, this is a refrigerator to consider. It's a French-door model, but unlike the cheaper option at the top of this list, this one is designed to be built into the cabinetry. However, there's no indication that this one is panel-ready, but that's not a trade-off – you probably won't want to hide the sleek stainless steel exterior.
Thermador also gave this model a stainless steel interior that's beautifully illuminated by the theater lighting. It has ample storage space, with humidity-controlled drawers, gallon-sized door bins, a temperature-adjustable drawer, among others.
In total, the Thermador T36BT915NS offers 19.4 cubic feet. It also boasts the luxurious Auto Door Opening feature that allows you to open the doors by either pushing or pulling. And with the SoftClose hinge, there's no doubt that this refrigerator is worth its price. 
Main Features
The Thermador T36BT915NS has a total capacity of 19.4 cubic feet.

Its refrigerator section has a capacity of 13.9 cubic feet, and the freezer has 5.5 cubic feet.

It is a built-in model.

The interior has a stainless steel lining. 

It has a SoftClose door hinge and SoftClose drawers.

There's also an AutoDoor Opening feature.

It has crisper drawers with ThermaFresh System that controls humidity and temperature.

There are two gallon-sized door bins.

There are three glass shelves in the refrigerator section.
Pros
It tucks into the cabinetry for a modern kitchen design.

The doors are easy to open and shut.

The temperature inside is always uniform.

It has SuperCool and SuperFreeze for rapid chilling of food and drinks.
Cons
Thermador T30IR905SP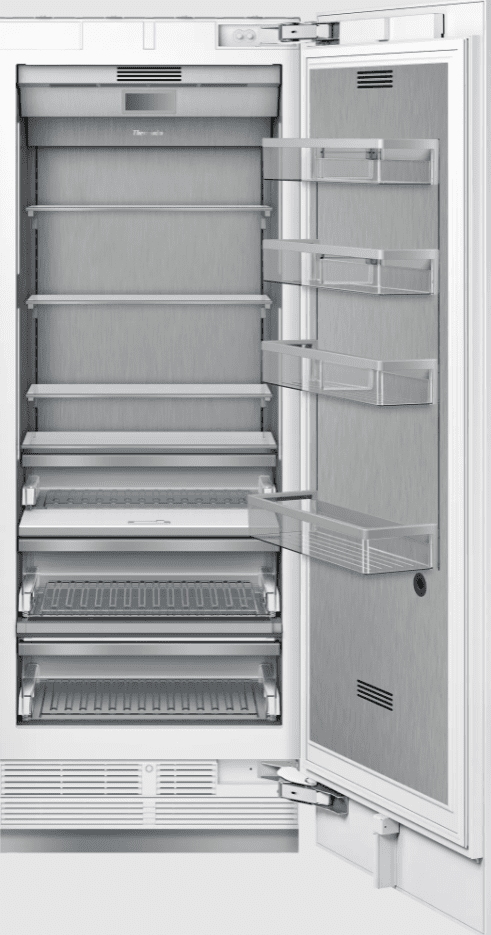 If you're looking for more refrigerator space then consider this Thermador column refrigerator and pair it with a column freezer (check out the recommendation below). These models are designed for those who want separate refrigerator and freezer units.
This one has a width of 30 inches and a total capacity of 16.8 cubic feet. Its exterior has the typical Thermador stainless steel, but it's also panel-ready so that you can blend it into the kitchen design. Inside, you get ample storage space in the form of shelves, ThermaFresh drawers, and gallon-sized door bins.
This model also boasts Thermador's theater lighting system. To own one of these units, you'll have to spend close to $7000. And if you want a column freezer to go with it, you'll have to budget for over $12,000.
Main Features
This fresh-food column has a width of 30 inches and a height of 84 inches.

Its capacity is 16.8 cubic feet.

There are four glass shelves and three drawers.

It has one humidity-controlled drawer and one temperature-controlled drawer.

The door has a SoftClose hinge.

Its freezer has a SoftClose drawer.

Its door has an Auto Door Opening feature.

This model is panel-ready.
Pros
This column refrigerator offers ample storage for fresh food.

It is panel-ready, so you can conceal the refrigerator behind a cabinet panel.

You can adjust the temperature and humidity via your phone using the Home Connect app.
Cons
If you buy a separate freezer column, you'll spend well over $10,000.
Thermador T24IF905SP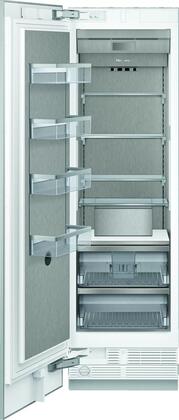 This is an appropriate freezer column to pair with the model above. It has a 24-inch width, so you'll have a total of 54 inches if you buy the refrigerator column above as well. Here, you'll get an ample 12.2 cubic feet of freezer real estate.
There are four glass shelves to properly organize your food, and three of these are adjustable. There are also four-door bins and two drawers. Like in other Thermador refrigerators, this model also comes with the Auto Door Opening feature and the popular Soft Close hinge. Speaking of the door, it's reversible so that you can configure it to your kitchen's layout. And this freezer column has theater-style interior lighting.
Main Features
The Thermador T24IF905SP freezer column has a width of 24 inches.

It has a capacity of 12.2 cubic feet.

This model has four glass shelves and two drawers.

It also has four-door bins.

The interior has a stainless steel lining.

Its door has an Auto Door Opening feature.

There is a SoftClose door hinge.

The door is reversible.

It has theater-style lighting.
Pros
This freezer column offers ample freezer space.

It is energy efficient.

You can reverse the door.

The interior lighting is filtered, so it doesn't affect your eyesight.

It's panel-ready, so you can hide it behind a cabinet panel that matches your kitchen cabinetry.
Cons
Alternative Refrigerator Models
Bosch B36CL80ENS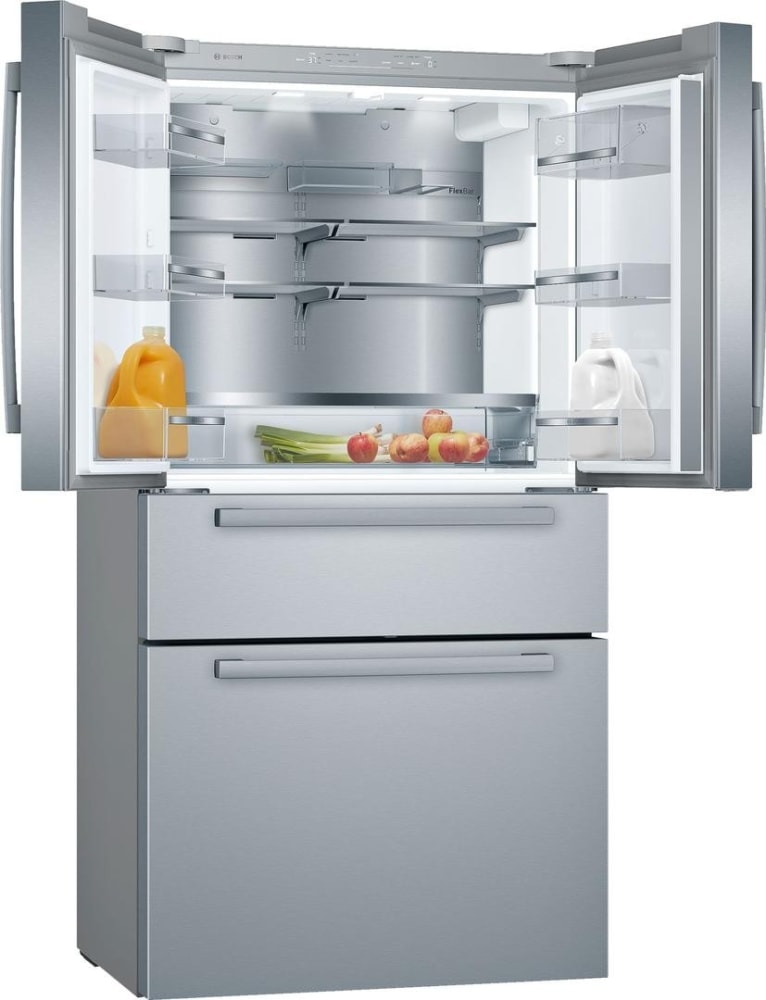 Bosch is Thermador's sister brand, so this French-door refrigerator is a great alternative to the premium Thermador models. Bosch has also made a name for itself as a stylish, high-end brand, so you won't lose out on prestige when you opt for this model.
However, unlike Thermador's options, this one costs significantly less – $3500. For the price, you'll get a large 21-cubic-foot that's divided among the top refrigerator compartment and the two freezer drawers beneath. Rivaling Thermador's Cool Air Flow technology, this one has what Bosch calls MultiAirFlow that works in the same way.
So, you won't lose out on performance, even if you're spending less. There's also the FarmFresh System that keeps fruits and veggies fresh for longer than the average refrigerator. And, of course, this model is WiFi-enabled, and you can operate it via the Home Connect smartphone app. Check out this article to learn about Bosch's refrigerator models.
LG STUDIO LSSB2692ST Refrigerator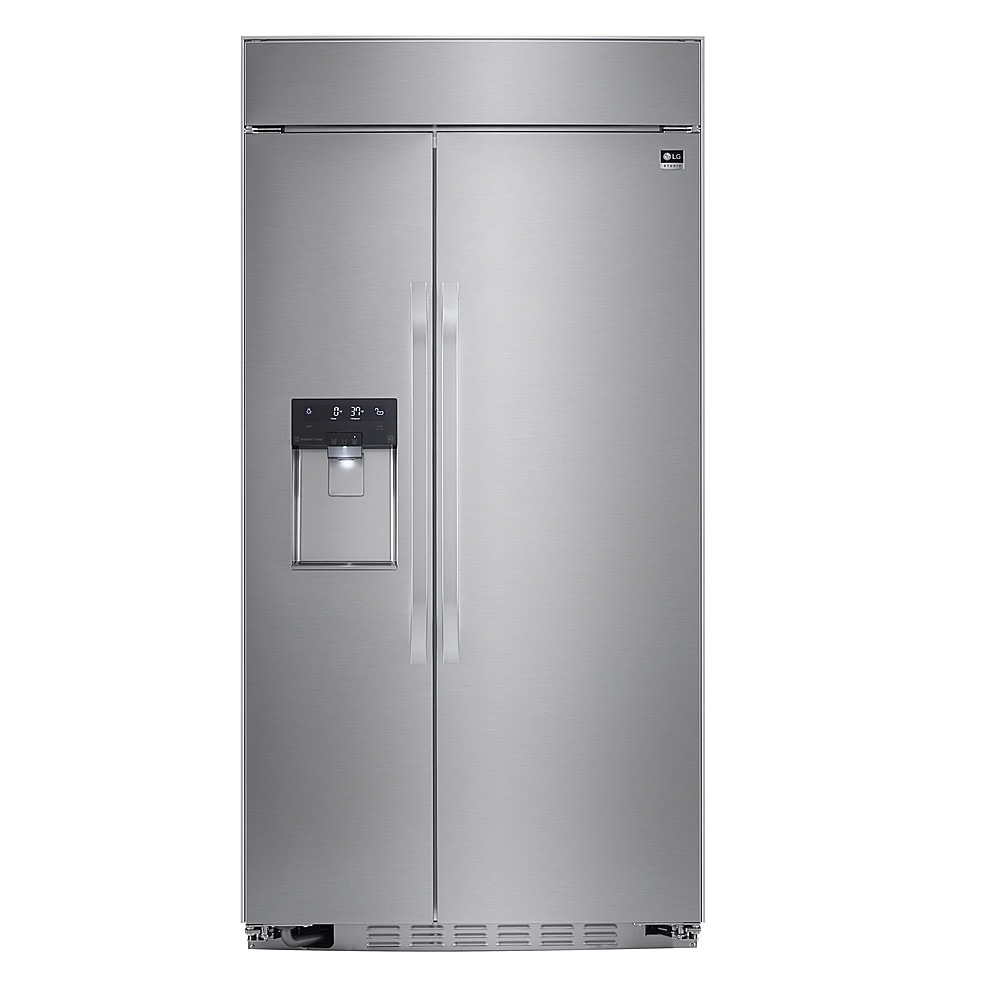 If you're looking for a side-by-side refrigerator, this LG Studio is one to consider. The Studio sub-brand is LG's premium line and it reflects in the price of this model, which is a whopping $8800. However, this is in the Thermador price ballpark, making it an apt alternative.
The side-by-side LG Studio offers the level of luxury that you're looking for, underscored by its sleek stainless steel exterior. You get a total capacity of 25.6 cubic feet, with the refrigerator taking up 16.25 cubic feet and the freezer 9.35 cubic feet.
There are five glass shelves in the refrigerator as well as three crisper bins. On the outside, there's a water and ice dispenser for easy access; this is missing in all of Thermador's models. And, of course, the refrigerator is WiFi-enabled, allowing you to connect it to LG's ThinQ ecosystem for remote operation. 
Find out about LG's refrigerator models in this article.
Electrolux ERMC2295AS Counter-Depth French Door Refrigerator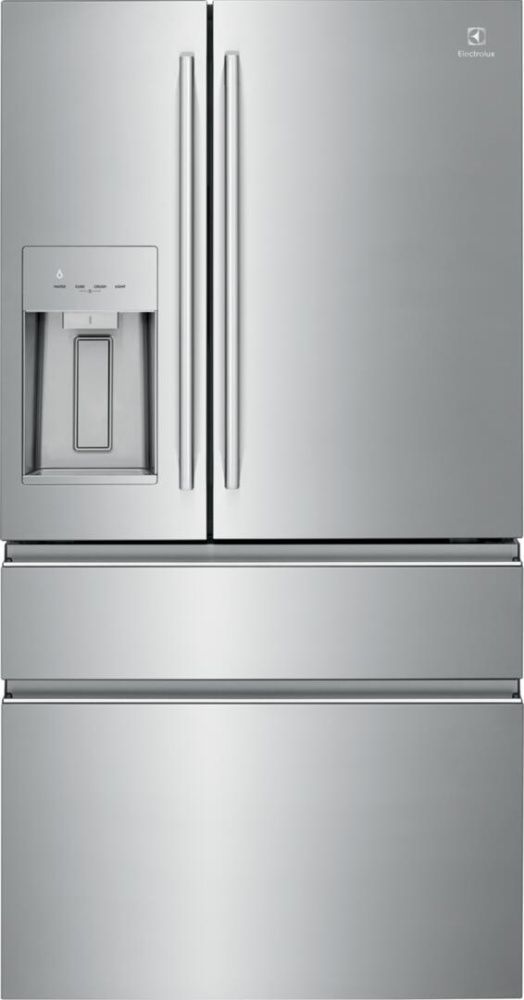 Consider this Electrolux French-door refrigerator if you're looking for a luxury refrigerator alternative to Thermador. This model costs about $3700, significantly less than Thermador's prices. But don't let the lower price fool you. This Electrolux refrigerator has been equipped with high-end features that make it a worthy competitor.
For starters, it has a premium design with a stainless steel finish. The refrigerator doors have an auto-close feature; they'll automatically shut when left slightly open. The right-side door is wider than the one on the left – Electrolux calls this an ExtraAccess Door that allows you to access 75% of the interior by opening one door.
The middle drawer compartment can be customized to function as a freezer or a refrigerator. Known as a TempAdapt Drawer, it has a temperature range of -6 degrees Fahrenheit to 45 degrees Fahrenheit. Find out about this and other Electrolux refrigerators here.
FAQs
Question: Is Thermador high-end?
Answer: Yes, Thermador is a high-end brand that targets the luxury market with its premium appliances. The company's prices are also some of the highest in the market, matching the quality engineering and high-tech features.
Question: How long do Thermador refrigerators last?
Answer: Thermador refrigerators are known for their high-quality build. This makes them last more than the average refrigerator, which lasts about 14 years. Some sources state that Thermador refrigerators can last up to 20 years.
Question: Are Thermador refrigerators energy-efficient?
Answer: Yes, all Thermador refrigerators are energy-efficient, having earned an Energy Star certification.
Conclusion
If cost is no issue, then Thermador's refrigerators are a good choice. Thanks to features that make them worth their high price tag, they have excellent quality and performance. Thermador has made a name for itself as a luxury brand that targets those who love the finer things in life.
True, you can get excellent refrigerators at a fraction of their price, but if you're looking for a Thermador, then you're buying into their ethos of style and luxury. You're buying more than just a refrigerator. So, if you can afford a Thermador, go ahead and buy one.