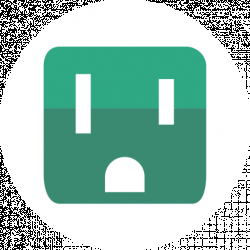 Latest posts by Appliance FAQs Team
(see all)
When picking a refrigerator, selecting the right brand is important. Choosing the right brand could be the difference between having a fridge for years without any problems and constantly having to repair issues and worry if your fridge will hang on until tomorrow. 
In that context, Frigidaire is one brand that you simply can't overlook. With more than a century of experience in the field of refrigeration, it stands as one of the top contenders in the market. Now, Frigidaire refrigerators are not only dependable and energy-efficient models, they are available across a wide range of price points.
With such a wide range of styles and options, choosing the right model that meets your requirements can be challenging. 
So in this article, we have shortlisted the eight best Frigidaire refrigerator models to help you pick. We have taken into account the design features, performance, and price while picking the top options. It took hours of effort to check the technical specifications, product reviews and consult a few refrigeration experts. But in the end, it was worth it.
Choosing Your Refrigerator
Honestly, most refrigerators are good at their basic task; i.e. keeping your food cold. However, not all the available models can match individual lifestyles, space, and budgets. Also, with the ongoing intense competition, manufacturers keep adding new features to their products. It depends on the user to decide whether such features are actually useful or plain gimmicky.
In the end, the right refrigerator is one that matches all your needs.
Choosing Your Refrigerator: Considerations


Whether you pick a refrigerator from Frigidaire or some other brand, there are a few factors that you need to know. Keeping these in mind will help you avoid the pitfalls that many buyers fall into.
Picking the Right Style
Not every refrigerator style will match with a household. It all depends on your preference in terms of size and aesthetics. 
Basically, there are four different refrigerator styles.
The French Door
A highly popular choice with a bottom-mounted freezer and dual narrow doors on top. In most households, the refrigerator is opened more frequently than the freezer. So keeping it at the waist and eye level is a more practical choice.  While this design is good for narrow spaces, they are pricey.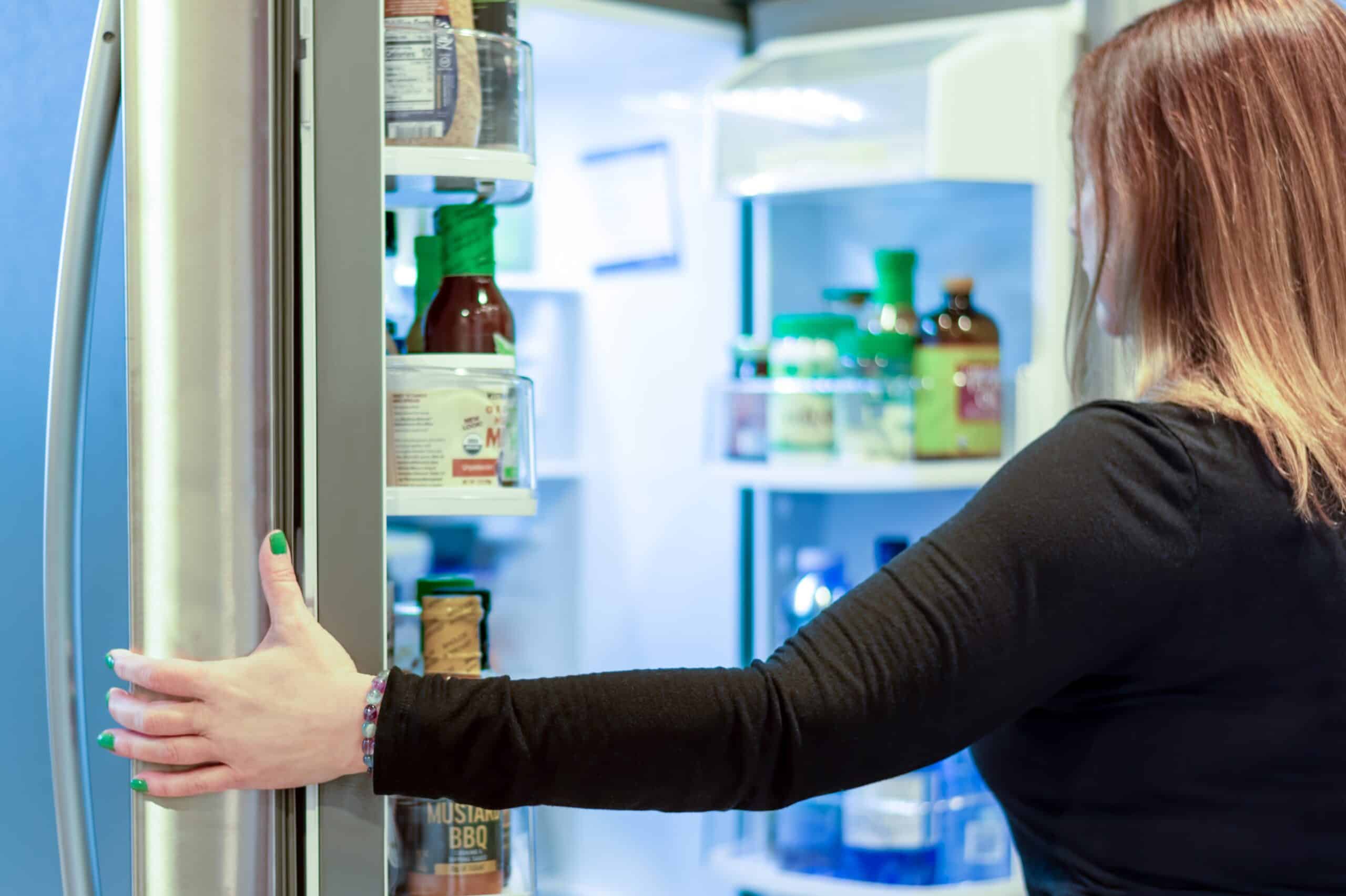 Side-by-side
Here, the area is split right in the middle, with the freezer on the left and the refrigerator on the right. If you consume more frozen food then this can be a practical choice for you. They are more affordable but not the best in terms of space efficiency.
Bottom Freezer
With the freezer unit located at the bottom, this design is relatively less common. If you don't mind bending to scan through the frozen items, this can be another affordable choice for you.
Top Freezer
This is the classic design with the freezer at the top and the refrigerator section at the bottom. They are affordable and highly space-efficient. However, they aren't the best choice if you're looking for a high-end design with modern features.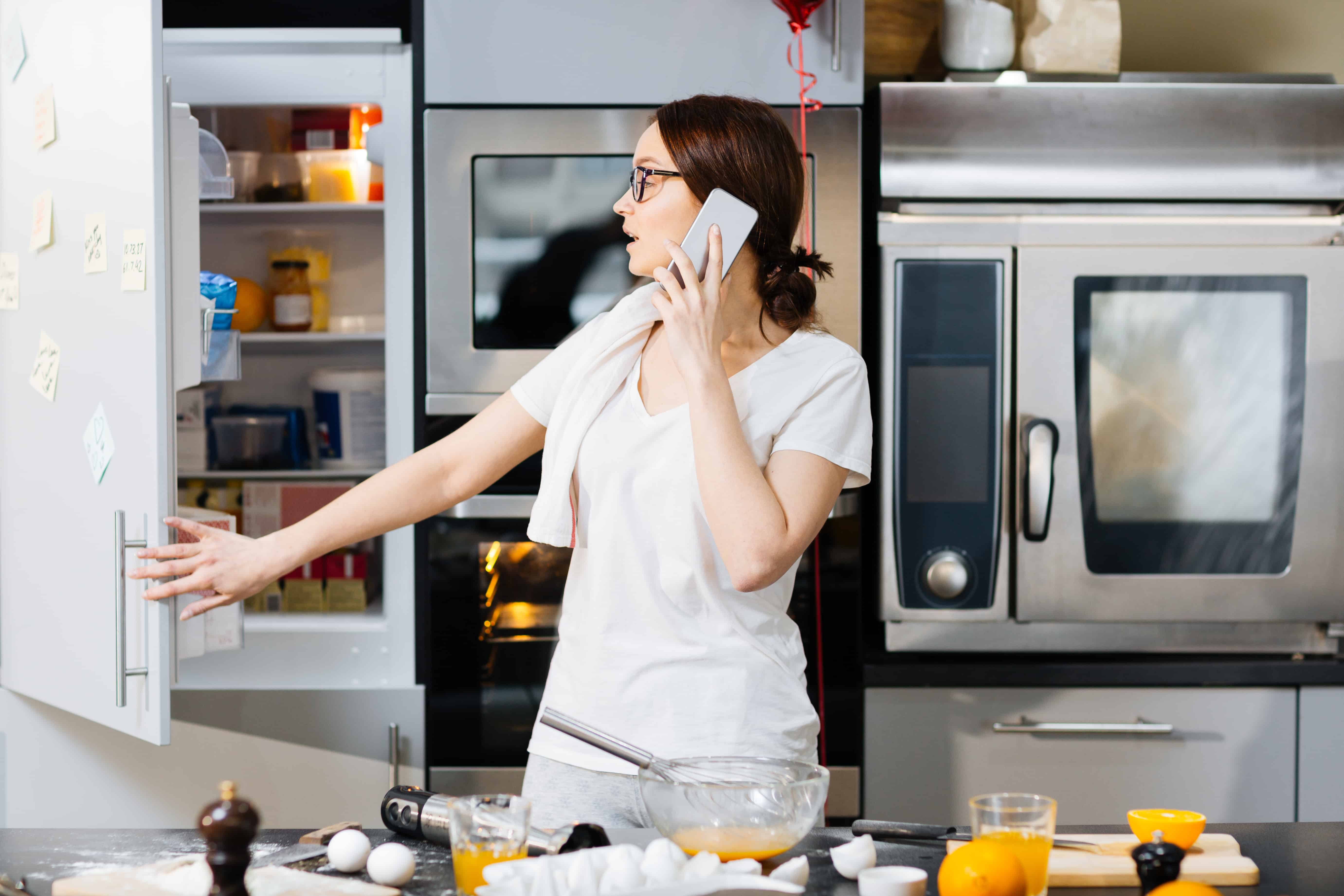 Note, there are a few other variations as well. However, they aren't so common.
The Size
On average, you will require 4-6 cubic feet of storage for every adult in your house. It's always best to add some extra space in addition to that. Ideally, a family of four would need around 20 to 22 cubic feet. If you have space, you can go for something roomier.
Keep in mind, a larger size will also lead to a higher energy bill. So there's no point in spending extra on space that you will not require. Before picking the size, make sure there's enough free space in your kitchen for the door to open completely. Also, keep at least an inch of space at the back and sides to ensure adequate airflow.
In case you want a compact model for your workshop or a back room, there are options ranging between 5 to 12 cubic feet.
Energy Efficiency 
Energy efficiency varies between models and the make. In fact, it can make a considerable difference in monetary terms over the life of the refrigerator. Choosing a product based on Environmental Protection Agency's Energy Star ratings is a simple but effective way. 
Note, all newer refrigerators save more energy than older ones. So replacing a 15-year old fridge can be a good idea.
Also, the energy-efficient models come with a compressor with inverter technology. This allows the compressor to adjust its speed depending on the cooling load. That results in more power saving.
Other Features
Stainless steel finishes with bright retro colors are a classy choice. You may want to match the color and texture with other kitchen appliances. Some users also prefer classic shades like red or black. In terms of aesthetics, the design of the handle is also an important factor. A fingerprint-resistant finish that can be easily wiped clean is a good choice.
Ice makers and ice and water dispensers are other convenient choices that you can pick. There are other features like advanced defrosting and temperature-adjustable drawers that can be great for foodies. Many models also come with a built-in wine rack for wine lovers.
Choosing a Smart Refrigerator


A smart fridge comes with features like Wi-Fi and Bluetooth connectivity. There are voice-activated features and energy monitoring as well. They can be controlled by a smartphone and can also be used for multitasking. Some units have built-in cameras for remote checking the contents.
Still, do you need a smart fridge?
Not necessarily. Firstly, these models don't come cheap. Additional electronic components also mean that the circuits have a higher chance of breaking down. Next, since they are connected via Wi-Fi there are potential security risks. In case, the security patches aren't updated by the brand regularly, your unit might get hacked.
Frigidaire Refrigerator Models: Our Top Picks


This is a top-notch mini refrigerator from Frigidaire with a double door. While the design is simple, the platinum shade and the classic chrome handle lend it an elegant touch. The structure is made from stainless steel and the shelves are made from toughened glass. The slim design makes it a good choice for narrow and compact spaces. RV owners will also find it a practical choice.
Moreover, it has two adjustable legs at the front for leveling and two castors at the back. That makes moving this around super easy. Also, the door is reversible. That means it can be installed to open from the right or left, based on your requirement.
With a capacity of 7.2 cu ft, this is a small fridge. However, there are plenty of shelves to store the groceries. Besides, the shelves are adjustable. That adds a lot of flexibility for storing a wide range of food items. Next, the refrigerator comes with an inverter, so you can expect less power consumption. Apart from that, there's an electronic thermostat with a digital display.
Now, this is a utilitarian model that offers solid value. If you're looking for premium features there are better options. Anyone looking for a compact refrigerator will find this a great choice. The affordable price tag is an added bonus.
Pros
An attractive vintage look 

Generous freezer space

Interior LED lights

CFC free operation

Affordable price
Cons
Capacity is on the smaller side

Comes without a door lock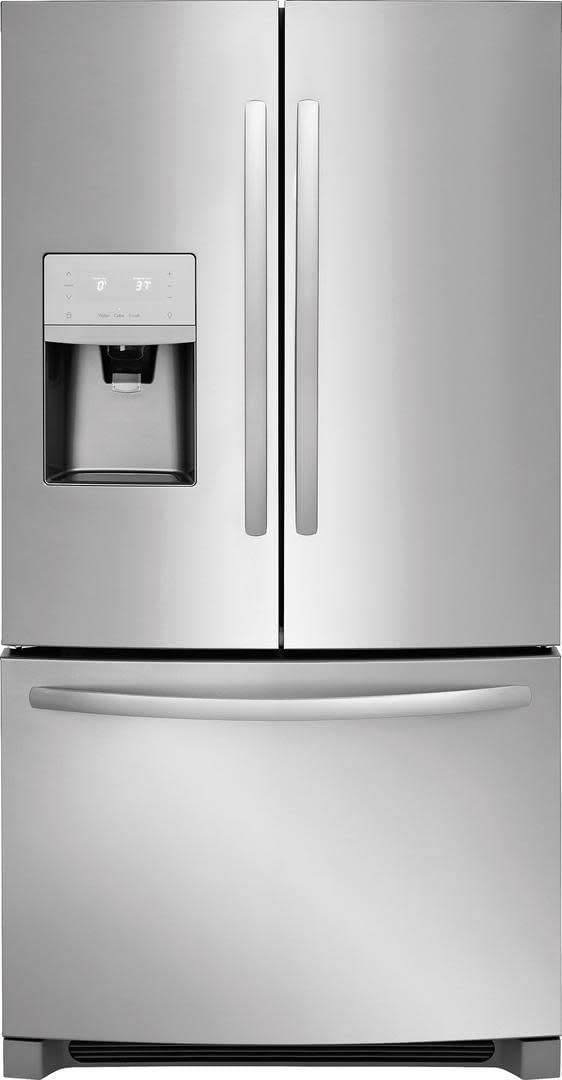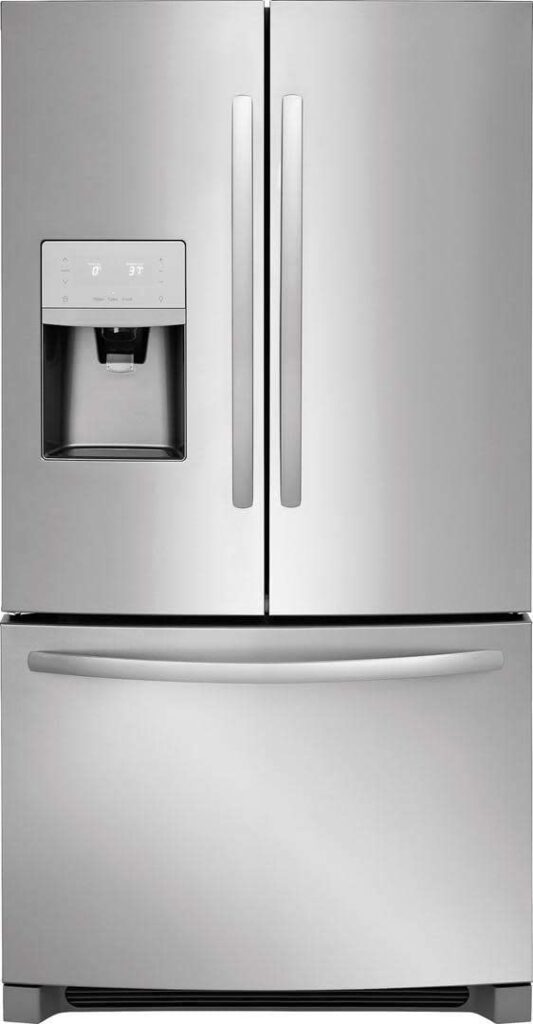 This 22.5 cubic feet refrigerator is one of the most popular Frigidaire refrigerator models with a French door. It comes at a premium price but is loaded with some great features as well. To start with, the overall design is attractive without compromising functionality. The stainless steel body comes with a smudge-proof finish. A practical feature for preventing spots and fingerprints.
There's plenty of storage space with edge-to-edge space on the racks and a cool zone drawer. The shelves also have a flip-up feature that makes it easy to store tall items. The drawers come with a special glide feature for smooth operation. The freezer basket has an adjustable divider to keep the food items organized.
Beyond that, the unit has energy star certification. So it delivers great power efficiency. There are humidity-controlled crispers that keep food items fresh for longer periods. The system also ensures that an even temperature is maintained throughout the refrigerator at all times.
To top it off, Frigidaire offers a complete filtration system with this product. There's an ice and water filtration system that removes lead and harmful microbes. A separate air filter keeps the air inside the fridge fresh.  Keep in mind, this is a large unit that needs sufficient space. The good news is, there are front and rear rollers for smooth movement.
To sum up, this is a feature-loaded Frigidaire refrigerator, perfect for a family of 4. 
Pros
Counter-depth design that saves space

Spacious interiors with adjustable shelves

Ice and water dispenser

Easy touch controls

Auto close drawer
Cons
It's pricey

Some issues with Frigidaire warranty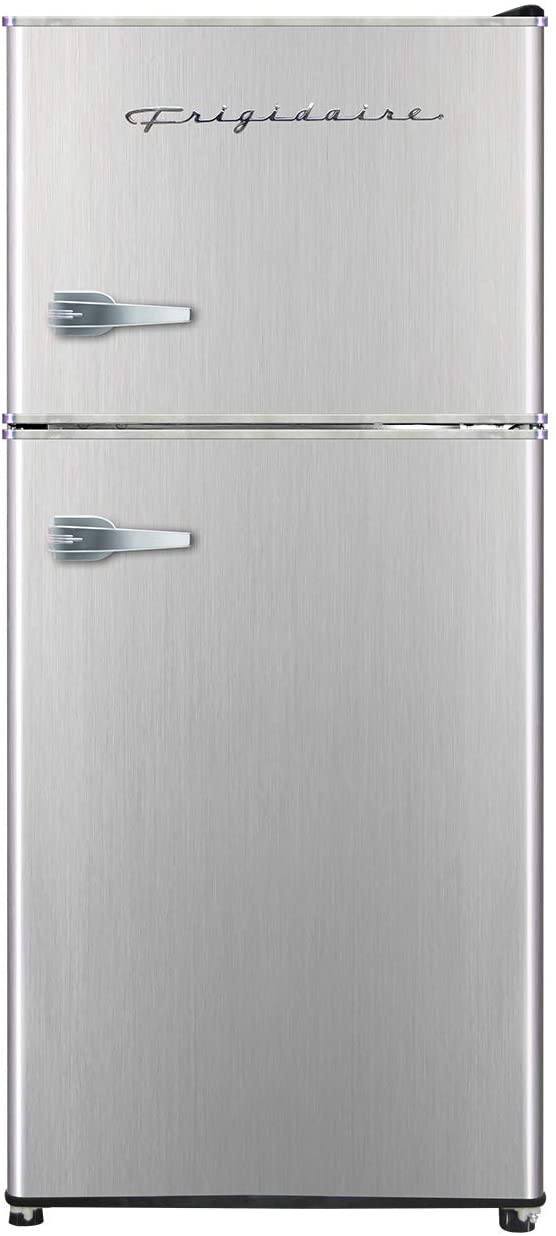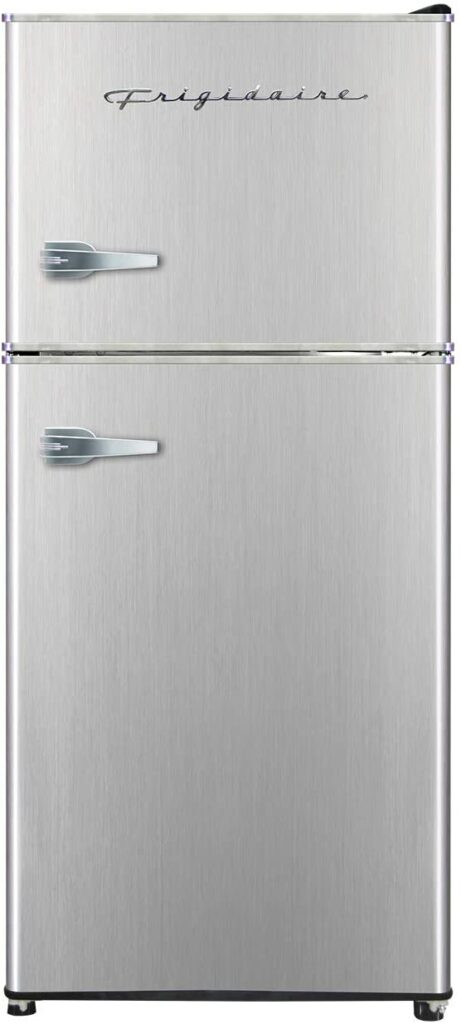 When it comes to mini Frigidaire refrigerators, this is one of the best options you can pick.  Why so? Quite simply, Frigidaire has combined a practical design with an affordable price. While it doesn't have any fancy features, its solid performance makes this refrigerator a great choice in this price sector.
With a capacity of 4.5 cubic feet, this is perfect for backrooms and workshops. The retro design comes with a stainless steel frame. At 60.8 lbs it's not a lightweight product. Still, we wish Frigidaire had added rollers for easy movement.
The interior comes with some innovative features to maximize storage. The gallon containers and tall bottles can be stored in the in-door storage bin. The glass shelves are adjustable to make space for larger items.
Besides, it's energy-star certified for power savings. Keep in mind, defrosting is to be done manually. You also get the reversible door swing feature. That allows you to customize the design as per your space. Lastly, there's the affordable price tag that offers great value. Admittedly, Frigidaire has cut some corners to keep the price down. For example, some of the parts feel cheap.
Even so, users looking for a simple and affordable mini-refrigerator can check it out.
Pros
An efficient performer

Chrome finish and chrome handles

CFC-free operation

A separate top freezer
Cons
Only 3 shelves

No digital display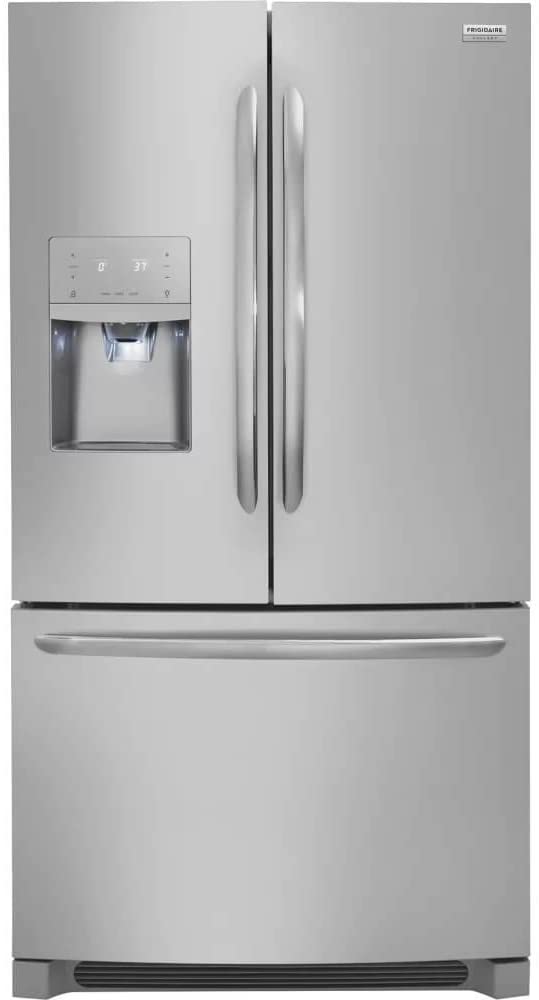 With a capacity of 26.8 cubic feet, this Frigidaire refrigerator is perfect for large households. In addition, it has a stylish design with French doors and multiple practical features. The exterior is made from smudge-free stainless steel that makes it easy to clean.
The overall storage capacity is excellent with customizable shelves. Thanks to features like flip-up shelves, a cool-zone drawer, and edge-to-edge storage space. Also, there are three half-width shelves, two-gallon storage door bins, and two crispers with humidity controls.
Note, the freezer drawers come with an effortless glide mechanism to ensure smooth movement. Other than that, there's multilevel LED lighting for better visibility. For more convenience, you can get an ice and water dispenser on the door
But that's not all. Frigidaire has also added a purification system to ensure that the delivered ice and water are free from impurities. There are air filters to keep the air inside the refrigerator clean and fresh. That said, a few users have faced issues with the dispenser unit. Some have also mentioned Frigidaire's customer support wasn't very effective.
In case you're looking for a large refrigerator with French doors, this Frigidaire refrigerator deserves a closer look. 
Pros
Energy-star certified

Freezer with basket divider

Front and rear rollers

Tempered glass shelves

Easy to use touch controls
Cons
Not for small spaces

Long term performance issues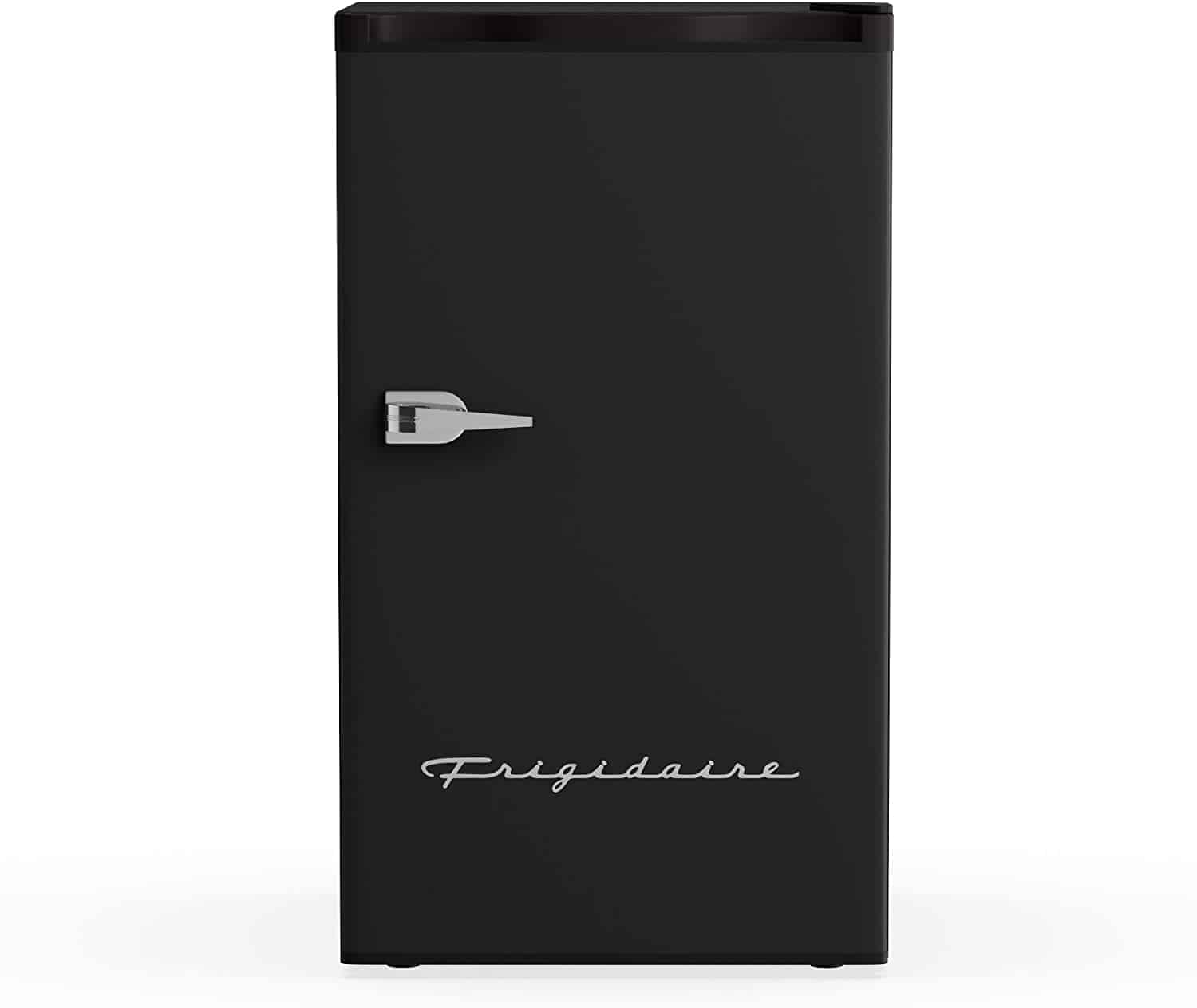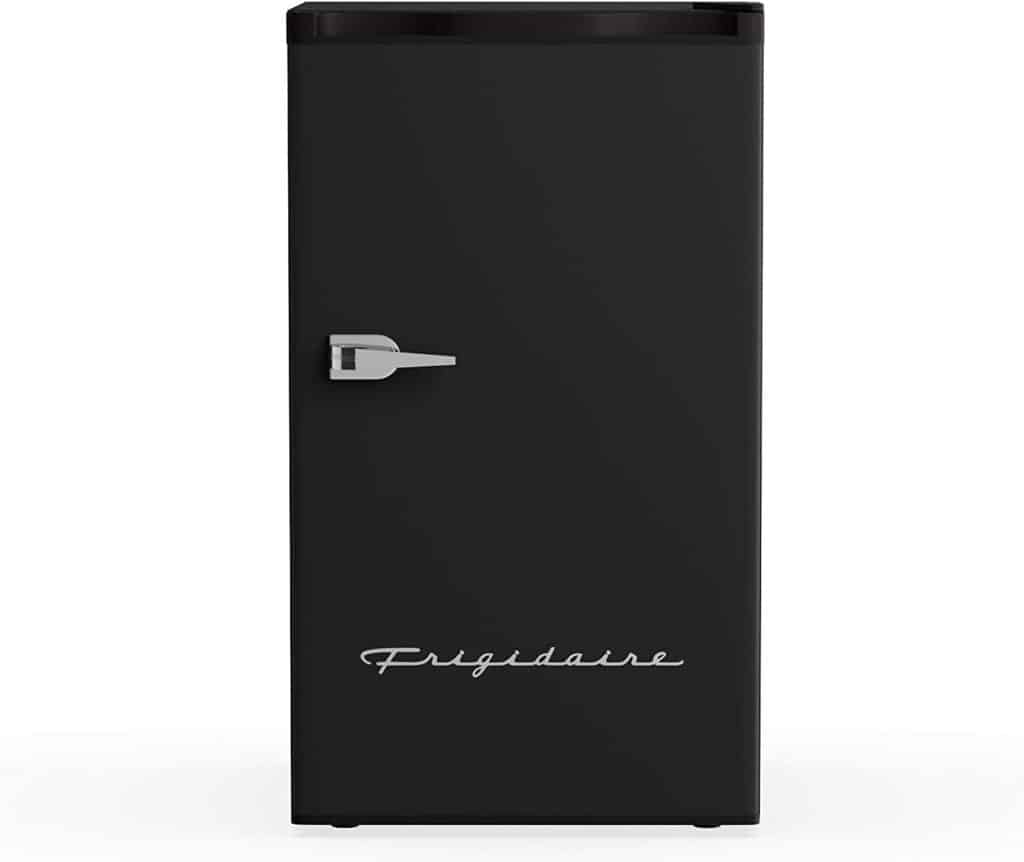 This 3.2 cubic feet mini Frigidaire refrigerator is perfect for bedrooms as well as classrooms. The attractive black color complements most interior environments. Bonus feature: you can write and erase notes on the door.
Even though it's small, the storage area in this fridge can be easily optimized. It has 2 adjustable glass shelves, a bottle storage area that can store larger 2-liter bottles. The door comes with a can rack for storing drinks. The freezer area is full width for storing frozen items.
The compact dimensions make this model an easy fit for small spaces. Besides, the door can be oriented to open left or right. A common feature in most Frigidaire refrigerator models that makes them even more versatile. Naturally, the cooling power is limited and can't be compared to bigger models. That said, most users loved the overall performance of this model. However, a few mentioned the door seals wearing out after a year. 
Considering the price, this is a model that offers solid dollar value for buyers looking for a small and efficient refrigerator.
Pros
Energy-star certified

Adjustable thermostat

Incandescent interior light

Affordable price tag
Cons
Some users found it noisy

Limited storage options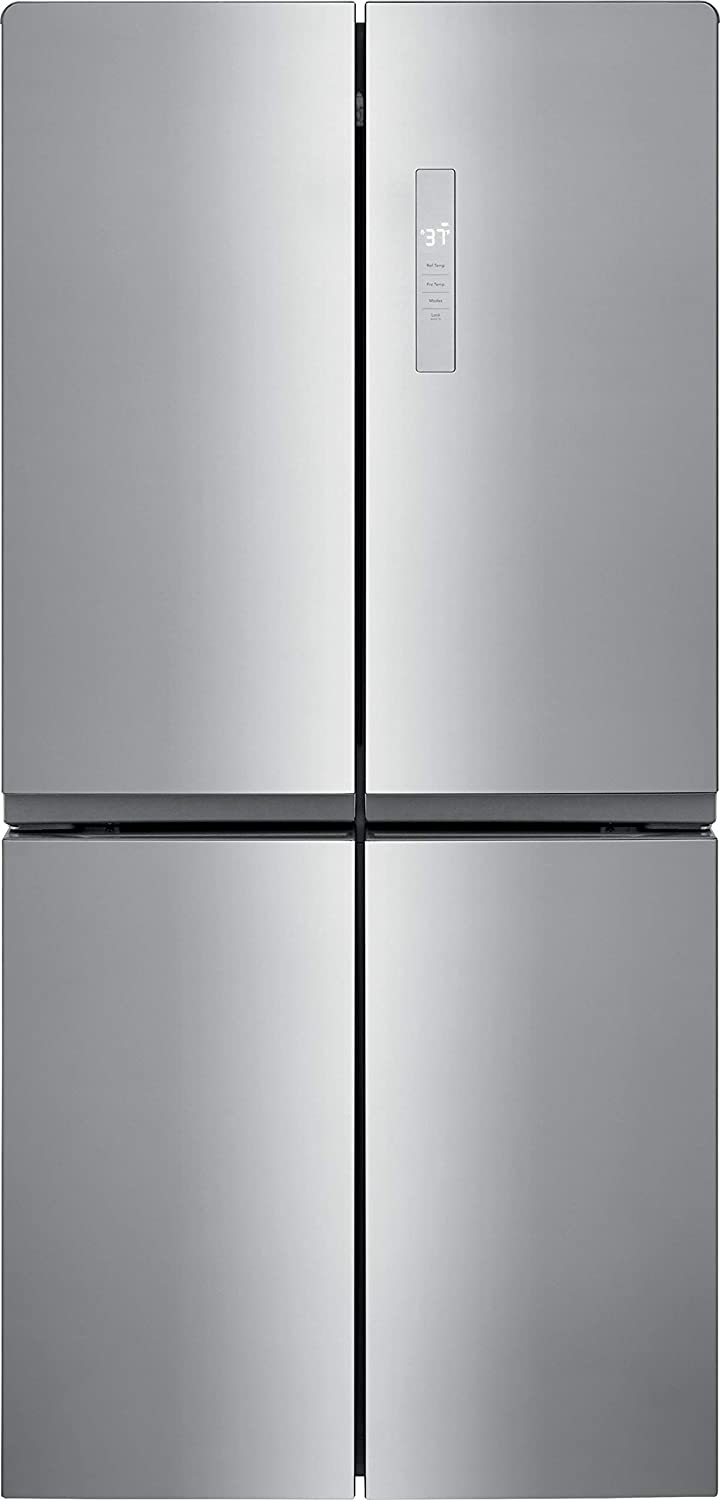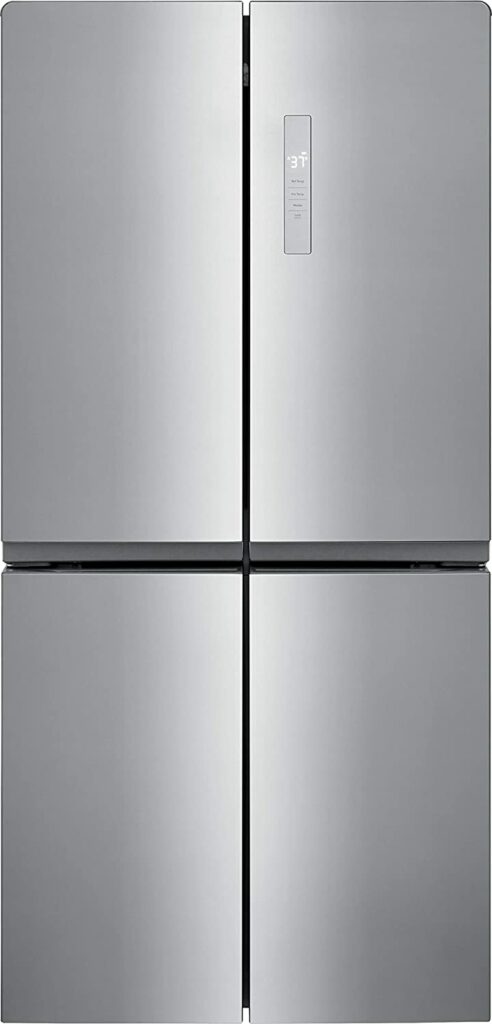 With a capacity of 17.4 cubic feet, this refrigerator is perfect for small families to organize their stock of fresh and frozen food items. The French door design with flat panels and a mirror-like finish looks classy in most environments.
The design is compact and great for small and narrow spaces. Keep in mind that it comes without a handle. There are grips on the top and bottom of the doors for opening. In terms of storage, there are tons of options. In fact, the four-door design allows you to store and remove items more easily.
As expected, the interior space can be customized easily. There are 2 shelves, 2 gallon-size bins, and 2 crisper drawers. Apart from that, there are  2 freezer drawers and 4 freezer bins. 
The unit comes with special TwinTech dual evaporators that ensure reliable cooling efficiency. Users also mentioned that the compressors run silently. The easy access control panel and a digital display add to the convenience.
Some users mentioned a few issues with the unit after a year of purchase. We suggest that you pick an extended warranty while choosing this product. On the whole, those looking for a medium-sized refrigerator will find this is an excellent option.
Pros
Optimized space utilization

Energy-star certified

Frost-free design

Interior LED lighting

Adjustable leveling Legs
Cons
No ice maker

Issues with Frigidaire customer service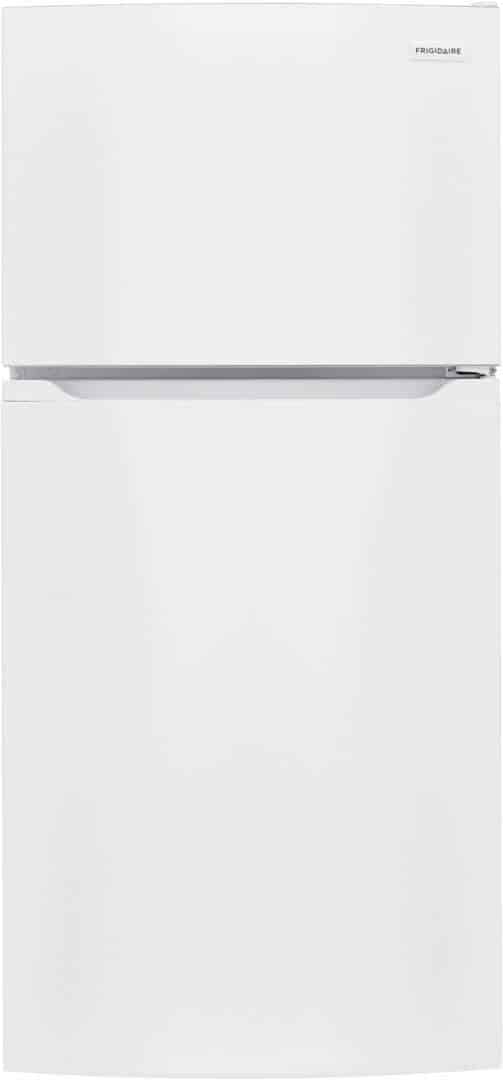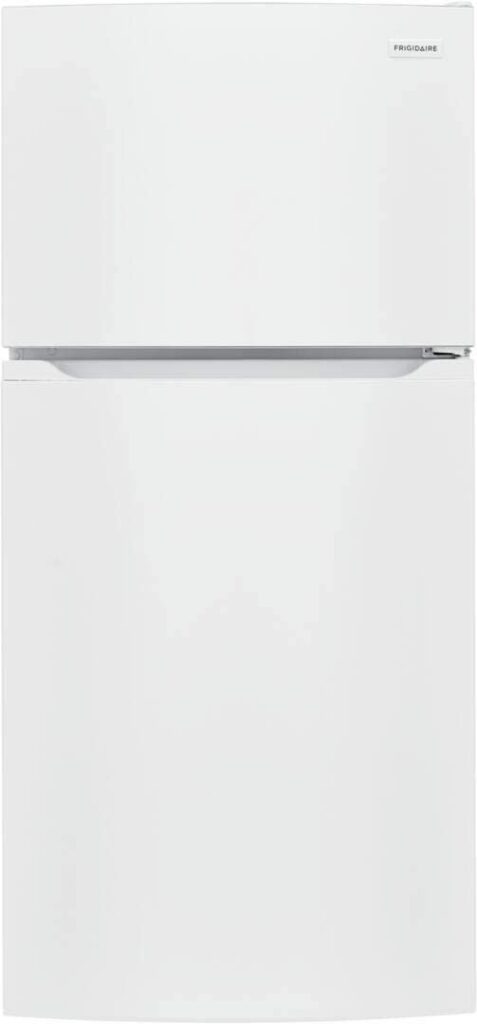 While top freezer refrigerators aren't as popular as the glamorous French door designs, they are no less in terms of performance. This Frigidaire refrigerator packs some great features with a performance that's good enough for a small family.
In terms of size, it sits conveniently between the mini units and full-size models. That makes it perfect for use in a small apartment or a garage.
One of the best features is the optimized airflow through the refrigerator. It ensures even cooling and prevents unwanted freezing. Users reported minimum temperature fluctuations with this model. You also get an energy-star rating for year-round energy saving.
Even with a small size of 13.9 cubic feet, the optimization of the interior space results in an impressive storage capacity. There's a full-width glass shelf and 3 full-width door racks. In addition, it also has crisper drawers and a sliding deli drawer,
Another practical feature is the self-closing door. Even if the door is left slightly open, it will shut automatically. The control mechanism is through a single dial, which is out of line with modern standards. We wish Frigidaire would have added digital controls here. Also, the drawers and the bins aren't made from top-grade materials.
If you're looking for a compact fridge that offers stellar performance, this Frigidaire refrigerator model is a great pick.
Pros
Attractive brushed steel finish

Humidity controlled crisper

Bright LED lighting

Reversible doors

ADA compliant design
Cons
No water or ice dispenser

No smooth sliding drawers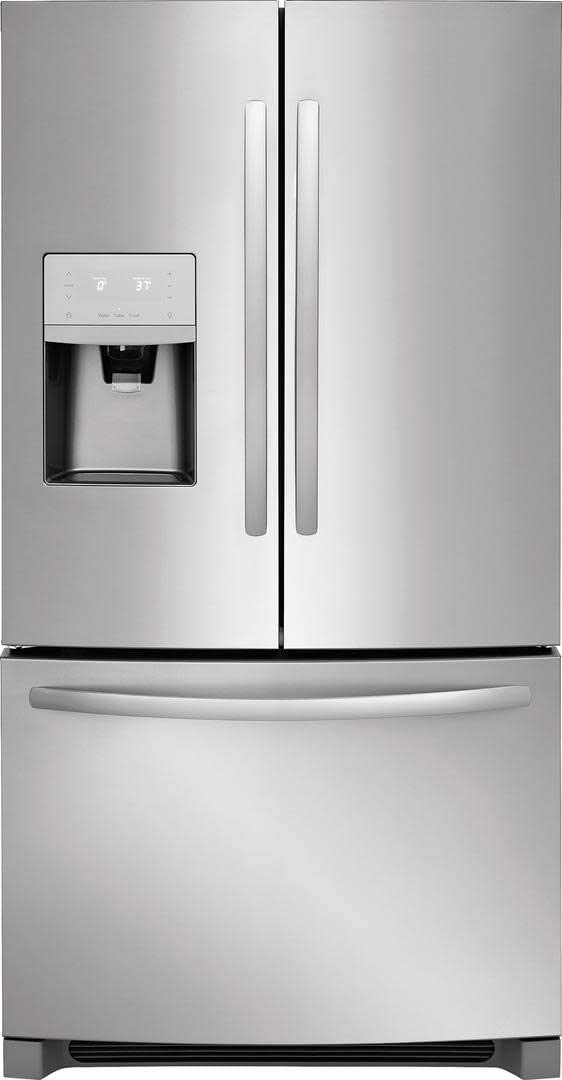 This is another beautifully designed French door refrigerator from Frigidaire. With a capacity of 26.8 cubic feet, this is perfect for larger families looking for advanced features.
There are multiple ways to customize the interior space. Frigidaire mentions that there are over 100 ways of doing that. There are full-width drawers, dual crispers, and door bins for storage. The drawers also come with an Effortless Glide mechanism for easy opening.
Then again, it has an advanced airflow design that maintains an even temperature all through the interior space. There are water and ice dispensers equipped with Puresource Ultra filters. These can cleanse heavy metals like lead and bacterial cysts from the water.
The users also liked the fact the dispensers are tall. That makes it easy to fill water bottles and pitchers. Beyond that, the refrigerator comes with an icemaker and the option for attaching a second one. There's multi-level LED lighting for better visibility.
Most users loved the design and the cooling efficiency of this refrigerator. However, quite a few reported issues with the ice maker and the water filter. Also, there were frustrations with the Frigidaire customer service. All in all, if you're looking for a high-end refrigerator with a large capacity, this is a stylish option. But if you want smart features at this price point, look elsewhere.
Pros
Twin doors with bottom freezer

Full-Width cool zone drawer

Temperature, power, and door ajar alert

Express-Select control panel

Front and rear rollers
Cons
It's pricey

Issues with water filter and ice maker
Tips for Using a Refrigerator Efficiently
In many households, the refrigerator is the largest power consumer as it runs for 24 hours. No matter the Frigidaire refrigerator you chose, you can take a few practical steps to make it run more efficiently. 
Take a look
It's best to prevent overcrowding in the refrigerator. That will allow the air to circulate freely and help in maintaining an even temperature. For best performance. keep it 2/3rds full. On the other hand, the freezer works more efficiently when it's packed to capacity.

Refrigerators work best within an optimum room temperature. Higher temperatures increase power consumption. Too low room temperature can affect the thermostat performance. 

Keep them away from heat sources like an oven,

dishwasher

, and also sunlight. Note, keeping plenty of room around the device assists in the cooling process.

Allow the food to cool down before placing it inside the fridge.

Open the refrigerator door for shorter periods to prevent cold air from escaping.

For older units, check the door seals to ensure that there isn't any leakage.
List of Top Recommendations
Now that we have listed out the best Frigidaire refrigerator models to pick, here's is a look at the top three choices. These are the models that deliver the best performance and value.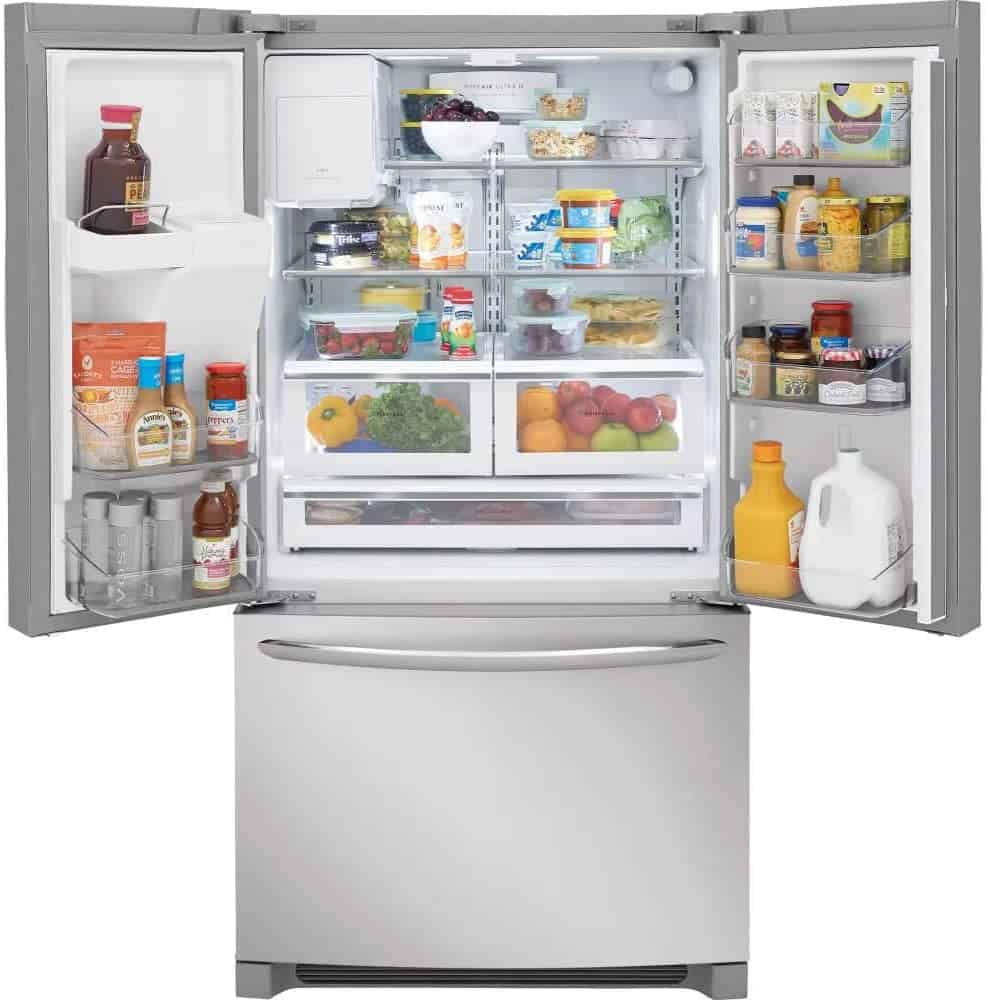 With  26.8 cubic feet of storage space and an ice maker and water dispenser, this refrigerator is ideal for a large family. The stainless steel frame with the French door style is great for contemporary settings. There are dual evaporators that result in better cooling efficiency.
In terms of overall performance, this is one of the top products from Frigidaire. A perfect choice for keeping your food fresh and clean for long durations.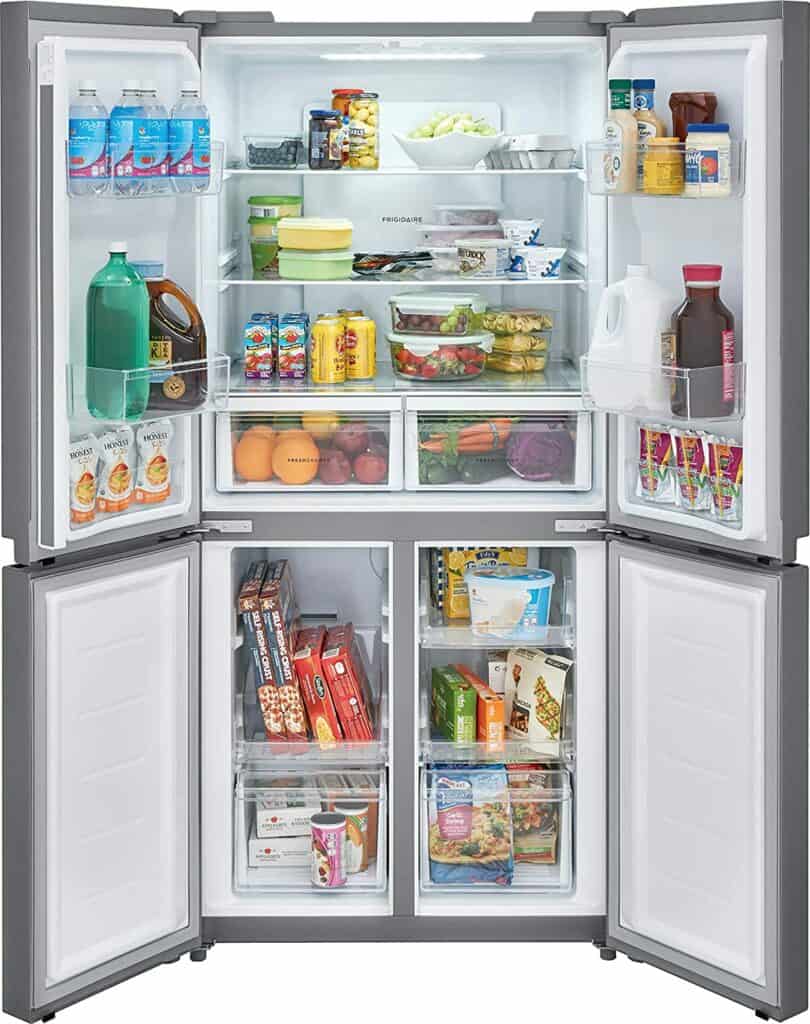 While 17.4 cubic feet isn't large, this is the greatest advantage of this compact refrigerator. Superb utilization of the interior space makes this a great pick for small families running short of space. The presence of 4 doors also boosts the ease of use.
Overall, this is a dependable performer with the right set of features and a value for money pick.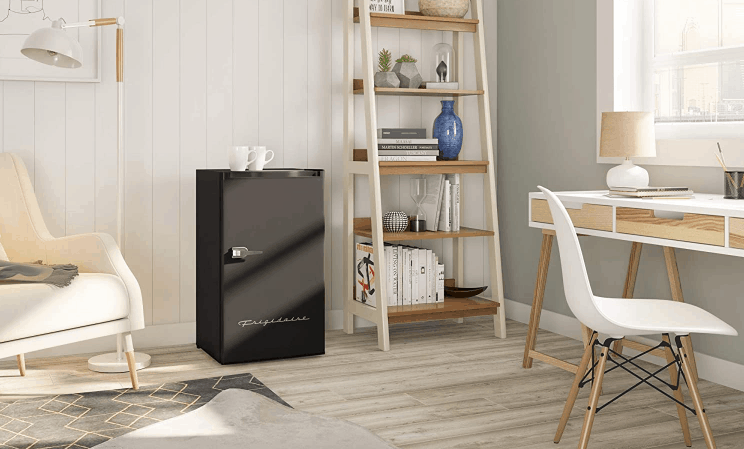 When it comes to choosing a mini-refrigerator, it's all about the price and performance. This Frigidaire refrigerator has all the basic features that are required in a mini-fridge along with an affordable price tag. The black design makes it look cool.
Besides, it's also energy star rated to help you save power. If you want to keep the drinks within the reach of your work desk, this model is worth the attention.
FAQs
Question: Are Frigidaire refrigerators good?
Answer: Frigidaire has been making refrigerators since the last century. In terms of performance and dependability, its products are dependable.
Question: Who makes a Frigidaire refrigerator?
Answer: Till 1979, Frigidaire was owned by General Motors. At present, it has the Swedish multinational brand Electrolux as its parent company.
Question: How long will a new refrigerator last?
Answer: As per experts, the average lifespan of a new refrigerator is between 10 to 15 years.
Question: When's the best time to buy a fridge?
Answer: A good time is around the month of may when new models are launched and the price of old models slashed. You can also expect discounts during the special holiday sales.
Question: Is Frigidaire the same as whirlpool?
Answer: No. These two are separate brands. Whirlpool Corporation is an American manufacturer of home appliances.
Question: Do I need an extended warranty on my refrigerator?
Answer: Most repair issues with refrigerators happen during the first four years of ownership. So purchasing an extended warranty can be a good decision. In general, it should cost less than 20 percent of the price of the unit.
Conclusion: The Best Frigidaire Refrigerator Brands 
Buying a refrigerator is a big decision. In case you make a wrong choice, you'll have to live with your mistake for years.  What this means is, you need to do the right level of planning before choosing a model. That's why we have listed the best models from Frigidaire along with a buying guide to help you choose.
Among our choices, the Frigidaire Gallery FGHB2868TF emerges as the top pick. For those who need a more compact unit for a smaller space, the Frigidaire 4 Door Refrigerator is the best choice. We hope our full guide will help you to make the right choice. Now it's time for you to take the next step.