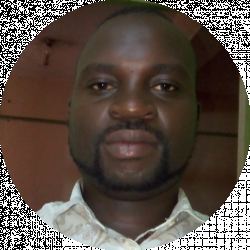 Latest posts by Haron Omaita
(see all)
The oven is the centerpiece of your kitchen. You rely on it almost on a daily basis, so it's vital to get your selection right.
Whether you're replacing your old kitchen appliances or remodeling your kitchen, ovens and cookers are vital. Depending on our personal requirements and kitchen space, you can select from built-in double or single ovens, a freestanding cooker, or a range cooker if you need extra ovens or cooktops.
It can be daunting thinking about the functions, size, and style you may need. For that reason, we've put together the following guide to help you figure out exactly what you need so you can choose an oven that'll best fit your lifestyle and cooking needs.
Choosing an Oven Type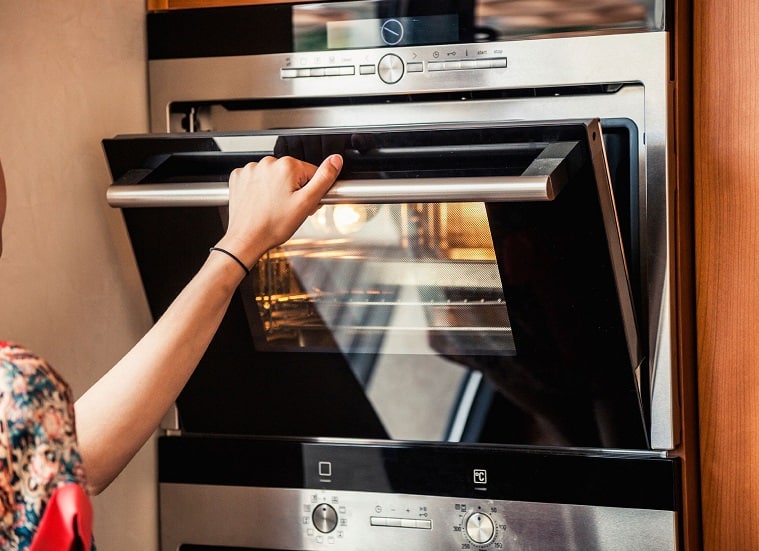 There are plenty of options available on the market when it comes to types of ovens. Each kind of oven comes with its own benefits, so it's important to carefully select the oven that's best for you.
Convection
Typically powered by electricity, a convection oven is often the number one choice for cooking great dishes at any time. Backed by fan technology, this oven ensures that heat's distributed evenly throughout the unit to guarantee consistency. Whether you like to bake a cake or cook indulgent Sunday treats, a convection oven can be your perfect choice.
Steam
A steam oven is another popular option for folks who want a healthy way to cook. Thanks to steam technology, this electric oven uses steam and hot air to lock nutrients, moisture, and flavor in the food.
Multi-functional
Looking for a versatile oven? If so, a multi-functional oven might be the perfect option for your needs. Multi-functional ovens often boast various settings to ensure your grilled dishes, roasts, and bakes are cooked perfectly every time.
Choosing an Oven Size
There are so many oven sizes available on the market that it can be overwhelming to pick the right size. From single ovens to double ovens, there are many different capacities to select from. Each capacity comes with various benefits and the size you pick will depend on your cooking and lifestyle needs.
Keep in mind that even with the main standard sizes, there are different liter capacity choices. Larger liter capacities are built for those who require lots of space, while smaller liter capacities are perfect for small kitchens. Of course, the size of oven you select will mainly depend on how much space you've got in your kitchen. The majority of ovens have a width of 27 to 30 inches, so consider the size that'd best fit your kitchen plan.
Also, look at the exterior measurements and interior oven space to ensure it'll accommodate your most frequently used baking sheets and pans.
Single Ovens
These ovens are perfect for most kitchens. They feature one main oven compartment, where you can grill, roast, or bake your delicacies to perfection. There are lots of single oven options on the market for your kitchen, including built-under and built-in models.
Double Ovens
Double ovens are well-suited to those who need lots of multipurpose oven space or those who simply love to cook. These typically come with two oven compartments, offering you a lot of versatility. You can pick either electric double ovens or built-under double ovens, meaning there are plenty of options available to fit your needs.
Compact Ovens
If you're short of kitchen space or your household is small, a compact oven can be the perfect fit for you. This oven is the right option if you just don't need additional oven space.
Placing Your Oven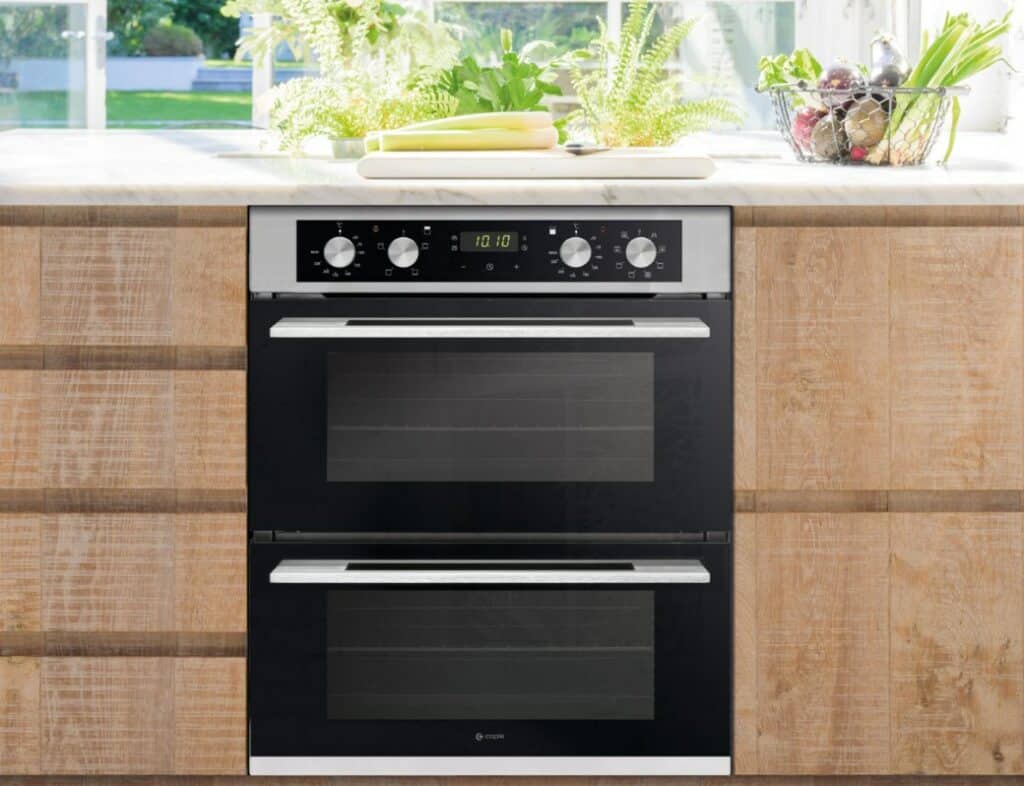 When starting your kitchen remodeling project, it's essential to plan where your key kitchen appliances and elements will sit. This will build the foundation for your overall kitchen plan and help you decide which items and appliances to buy.
Where you place your oven basically depends on your lifestyle needs and kitchen dimensions. Remember that you'll need to position your oven near a fuel source, which will be especially important in case it's impossible to move the fuel source.
In terms of oven placement, ovens can be:
Built-in: A built-in oven is typically built into a cabinet column and sits at eye level. It's a standout feature for both traditional and modern kitchens.
Built-in ovens are especially useful for those who cook sizable meals or find it hard to use built-under ovens. Whether you pick a built-in electric oven or a built-in gas oven, built-in ovens are an excellent choice for every style of kitchen.
Built-under: Built-under models are a popular option and for good reason. Made to fit effortlessly beneath your kitchen, these ovens are a cohesive and subtle way to incorporate silky style into your space. These integrated ovens are available as traditional built-in single ovens or built-under double ovens.
Freestanding: If you don't need or want an integrated oven, a freestanding oven is another excellent choice. With this model, your oven becomes the centerpiece of your kitchen and since it's freestanding, your cabinet dimensions won't limit you.
Often, there are both gas and electric freestanding ovens available, not to mention range ovens or range-like ovens, which stand out in traditional kitchen designs. Freestanding models also typically come with a built-in kitchen stove-top, meaning that you'll conveniently have both items in one place.
Picking Your Oven Fuel Supply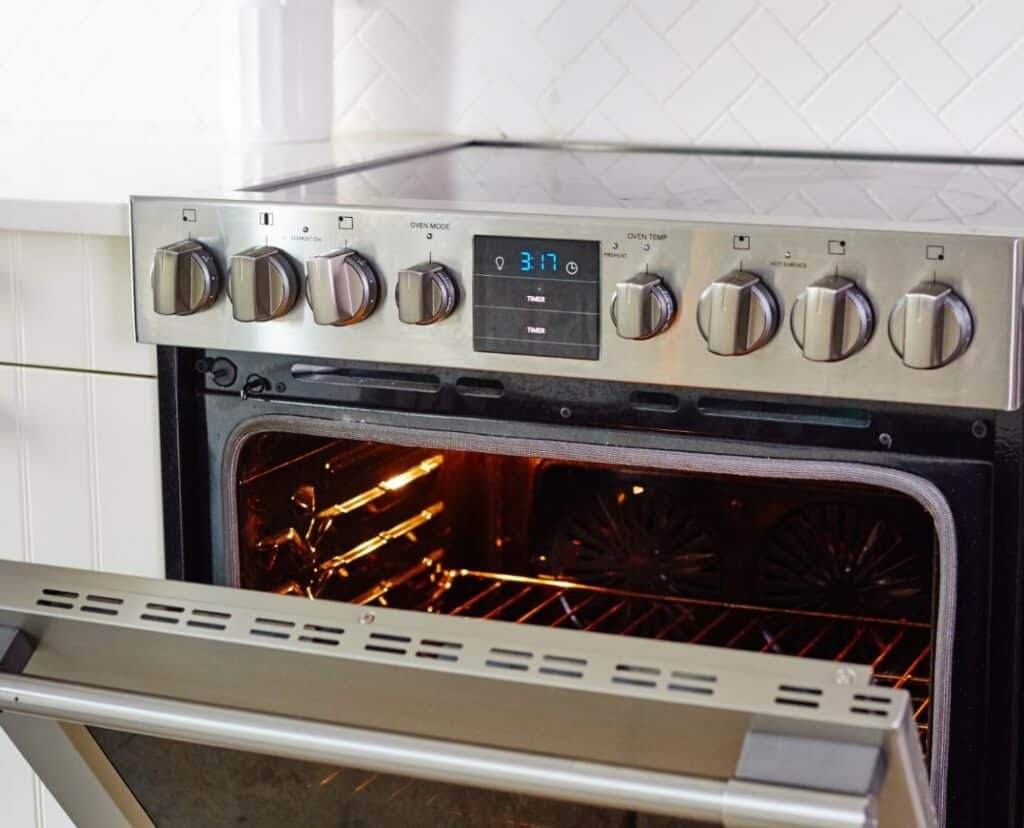 Whether you need the reliability of an electric-powered oven or the power of a gas-powered oven, selecting the right type of fuel depends on your cooking preferences.
Gas
A gas-fueled cooker is ideal for those who want to cook the conventional way. The gas-powered oven generates a moist cooking environment for perfectly raised bakes and succulent roasts, while a gas stove-top has the precise power to let you get the right temperature for your stir-fry.
Electric
Electric cookers and ovens are a popular option for the average cook since they're easy to operate and always deliver tasty dishes. Most electric ovens have a fan that helps distribute heat around the cavity evenly for perfect results.
LPG Gas Cookers
These are fueled by bottled liquefied petroleum gas. Even if you don't have gas in your kitchen, you can have both the control and power of gas cooking.
Dual Fuel
If you want the flexibility of using electricity and gas, dual fuel cookers might be the right choice for you. They typically feature a gas stove-top for instant heat as well as allow accurate control over those delicious dishes. And you'll enjoy the power and reliability of an electric-powered oven beneath to cook your Sunday roasts perfectly.
Oven Features to Watch Out for
Digital controls: These enable you to be more accurate with your cooking since you can set them to exact temperatures more precisely than with dial controls. Aesthetically, they give a streamlined and sleek appearance, seamlessly blending into your kitchen.
Programmable timer: This functionality is useful if you're cooking something for a given time. You can set the timer to finish cooking your food at a specific time, which means it'll automatically switch on, cook your meal and then turn it off again once complete.
Telescopic runners: Telescopic runners are really helpful for reaching what's inside your oven easily. The shelves inside are built onto strong telescopic runners, allowing you to pull them out easily, which means you can take a look or remove your dish safely and easily.
Slide away door: Certain models come with a slide-away door, which is a great feature to have if you have limited kitchen space. When fully open, this door then slides beneath the oven, allowing you to easily access the interior of the oven without needing to reach above it.
Automatic cooking controls: These controls allow you to prepare your food, choose what you're cooking and the oven will then automatically set the heat source (such as the grill), temperature, moisture levels, and cooking time.
'Smart' ovens: Smart ovens have the ability to connect to your tablet or smartphone. This means you can control some cooking functions and even have a look at your food without having to visit the oven itself.
Other Factors to Consider When Shopping for an Oven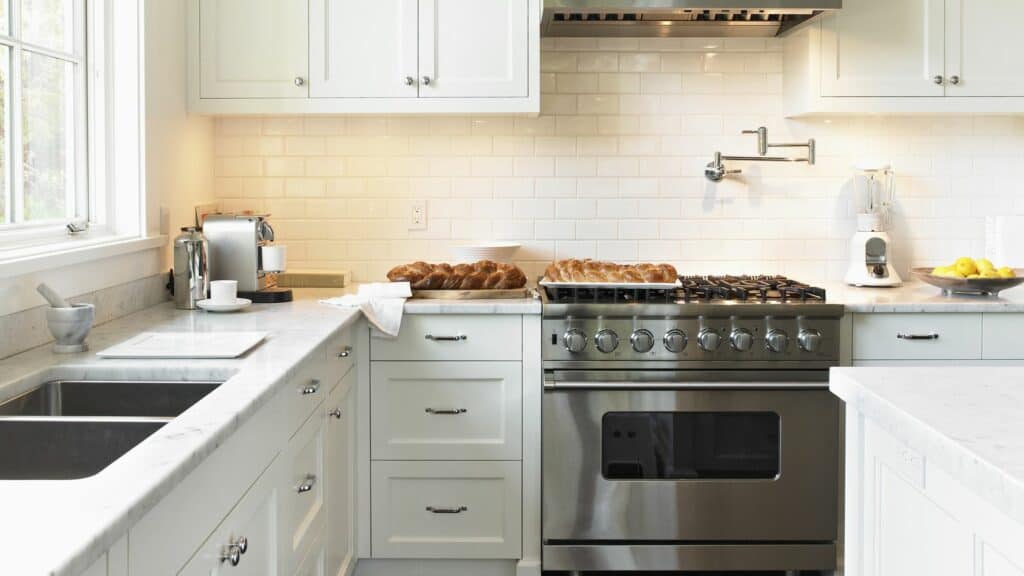 Range or wall oven: You'll have to decide between installing a range oven that consists of an oven and stove-top and installing a wall oven. Range ovens usually have more cubic space than wall ovens, so consider that when selecting the size.
In terms of placement, wall ovens often provide more convenience when putting in and getting out food since you may not need to bend over too much. Also, having a separate stove-top opens up space underneath for cabinets. But you might want a range oven if your kitchen space is limited.
Cleaning: Oven cleaning isn't an enjoyable task for most people, but cleaning your own oven can save you some money. But since self-cleaning ovens tend to have more insulation, they usually retain heat better which can save on energy costs, possibly helping you offset the extra expense.
Location: If you pick a double oven or wall oven, you'll need to decide where you'll place it in your kitchen. First, think about practicality. You'll require ample space near the oven for laying down hot foods.
Also, consider the distance between the oven and other kitchen appliances to minimize movement while you're cooking. Today, kitchen island ovens have become increasingly popular, and arranging double ovens side by side horizontally rather than stacking them on top of each other is another stylish design idea.
Color: For many years, stainless steel has arguably been the most popular finish for ovens. Before that, black was a very popular color.
Ivory or white ovens are common options, particularly for kitchens with bright-colored cabinets. Decades ago, harvest gold and avocado green were elegant appliances and oven color options. Metallic finishes, such as copper and gold, are becoming more and more popular today.
When selecting the color of your oven, it's normally best to match that color with those of other kitchen appliances like the dishwasher, refrigerator, and stove-top.
Also, consider your countertop as well as kitchen cabinet finishes, floor and backsplash colors. If you've got an open kitchen design, consider matching the colors in adjacent rooms as well.
Price: Like any kitchen appliance, oven prices vary depending on the brand, features, and part of the country. Usually, the price of a hand-cleaned single-wall oven starts at about $700. Double-wall models with features such as convection cooking go for about $3,500.
Basic range ovens can go for just $350, while those with extra features can cost at least $2,000. Bear in mind that range ovens include a stove-top, too. If you go for a wall oven, you still need to consider the stove-top expense.
Our Top Selections
We've put together some of the top-of-the-range ovens on the market, including models with a nice slew of cooking modes and easy-to-use controls, whether you're planning to steam or air fry your meal perfectly or your main issue is warming shelves to keep your meal piping hot.
Best for Bakers: GE Profile PTD9000SNSS Electric Double Wall Oven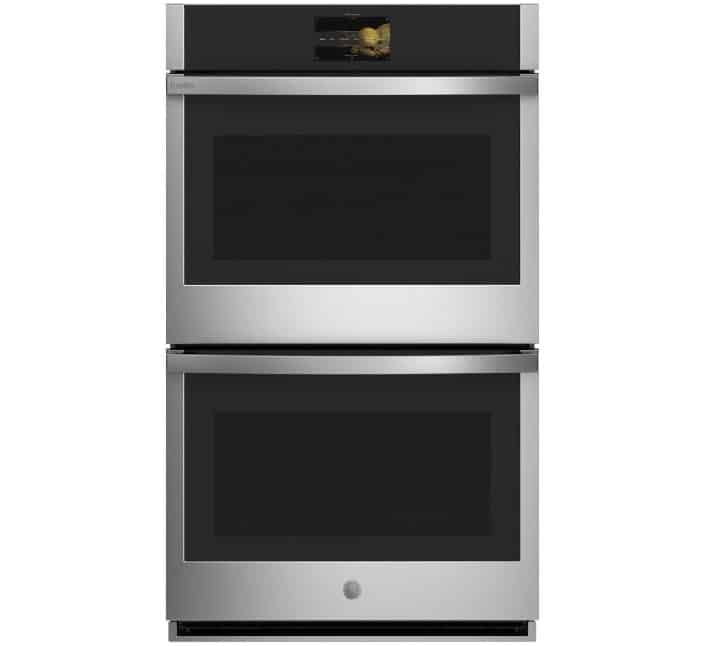 GE Profile PTD9000SNSS Electric Double Wall Oven is a great oven for bakers thanks to its double-capacity space and smart features such as the in-built camera that can help you keep an eye on your cakes, without allowing heat to escape the oven and potentially resulting in some drooping bakes.
This double wall oven isn't just designed for baking cakes. It also comes with an air-frying mode as well as other features that make using it easy. The oven has soft-closing doors, gliding racks, and it's self-cleaning.
Best Range Oven: Samsung NE58F9710WS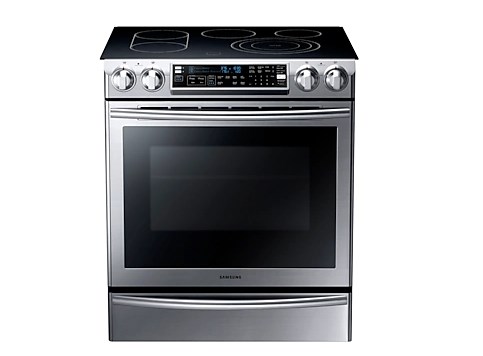 Samsung NE58F9710WS is a good all-around electric oven range. It consists of a gas oven as well as an electric stove-top. The clever aspect of this range oven is that it features a removable divider, meaning that you can partition the oven so it works at two varying temperatures.
Samsung NE58F9710WS boasts a 5.8 cu. ft. oven space, five heating elements, and steam cleaning. The heating features on the stove-top provide flexible cooking, with a warming area and expandable burner, too. Another flexible feature is that you can configure three oven racks from a selection of seven racks.
Best Smart Oven: Frigidaire GCRE3060AF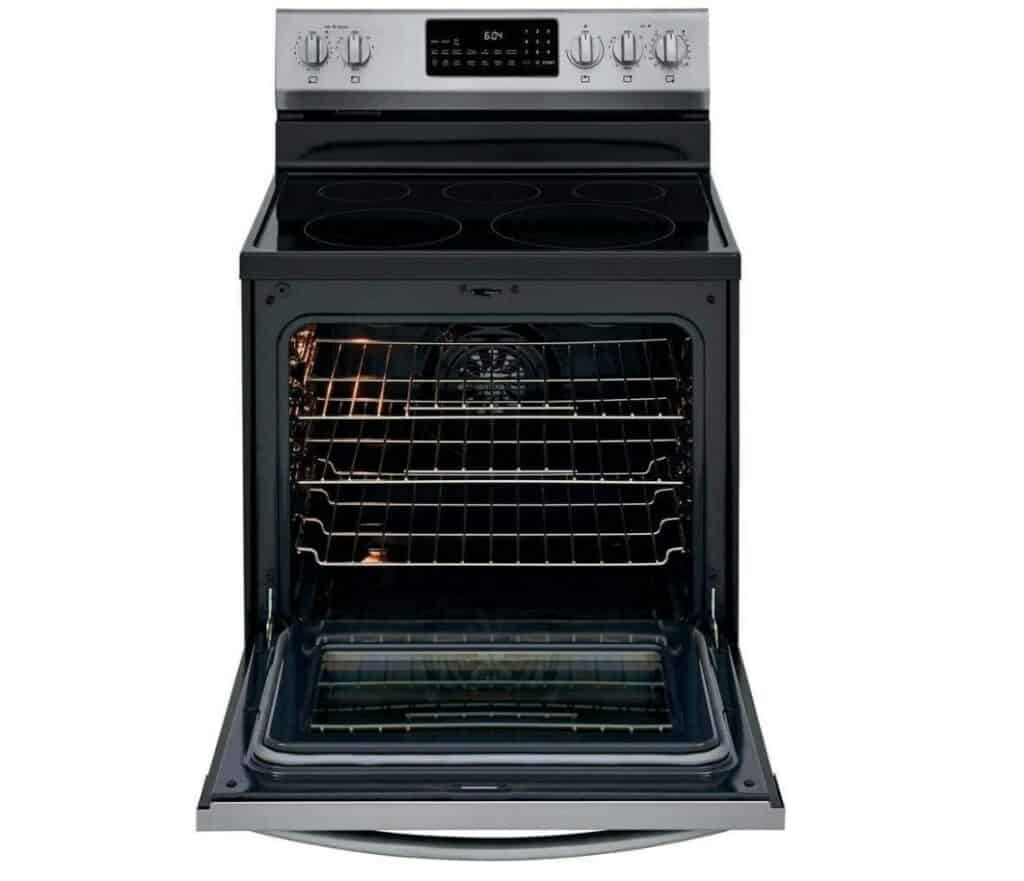 Frigidaire GCRE3060AF is an outstanding choice for people willing to splash out a bit more. While it's affordably priced, it's a good single range oven. This oven comes with an air fryer mode that'll work as effectively as a countertop model to cook crispy fried foods, minus the oil.
Frigidaire GCRE3060AF has a huge 5.7 cu. ft. oven space as well as three shelves that'll let you cook all types of dishes at the same time. It has digital controls and you can change the temperature using the dials at the back.
Frigidaire GCRE3060AF has an electric stove-top and is notoriously difficult to clean. But it has some amazing features going for it, like a triple burner you can adjust from 6 to 9 to 12 inches as needed. It also has a quick boil dual burner, as well as a warming stove-top for keeping your food hot once it's ready.
FAQs
Question: What's the Best Oven in 2021?
Answer: The best ovens in 2021 include:
• Leisure Chefmaster CC90F531K
• Rangemaster Professional Ranger Cooker
• Zanussi ZCI66050BA Electric Induction Cooker
• Indesit 16EVAW Freestanding Electric Oven
• Leisure Gourmet GRB6GVK Gas-powered Cooker
• Smeg SF6341GVX Single Built-in Gas Oven
• Fisher & Paykel OS60NDB1 Combination Steam Oven
• NEFF B57VR22NOB Electric Built-in Oven
• Rangemaster RMB45SCBL/SS Compact Steam Oven
• Miele H2265-1B Single Electric Oven
Question: What Oven Type is Best for Your Home?
Answer: The best types of the oven for your home include:
• Microwave Ovens
• Convection Ovens
• Conventional Ovens
• Oven Toaster Grill
• Microwave-cum-Convection Ovens
Question: What's the Best Oven Brand in Australia?
Answer: The best oven brands in Australia include:
• Miele
• Smeg
• Electrolux
• Bosch
• Westinghouse
• Chef
• Fisher & Paykel
Question: What's the Most Reliable Oven Brand?
Answer: The most reliable oven brand in the market is Bosch. Other reliable brands include Jenn-Air, Frigidaire, Viking, GE, Samsung, and Café.
Question: How Do I Determine the Size of Oven to Buy?
Answer: The size of the oven you buy depends on your usage and family size. For a small household, 15-20 liters of Solo Microwave Oven will suffice. But the same small family will find 21-30 liters of Grill/Convection Microwave Oven enough.
For a large household, 25-30 liters of Solo Microwave Oven will suffice. For the same large family, it would need a Grill/Convection Microwave Oven of at least 32 liters.
Find the Best Oven for Your Needs Today!
Whatever oven you get for your kitchen today, be sure to carefully read the manufacturer's directions and always use it as recommended.
Make sure to clean any food residue and spills as soon as possible and occasionally use a special oven thermometer to check that the oven's heating correctly. Examine the oven gasket from time to time for signs of normal wear and tear. This will help you ensure that the oven keeps the heat in.
With proper use and more than a little bit of care, your oven can serve your household for many, many years to come.