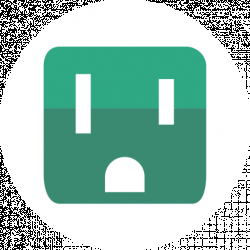 Latest posts by Appliance FAQs Team
(see all)
Do you need to replace your stove or get a new one? If so, you should consider Whirlpool stoves. The company is renowned for making quality kitchen appliances.
When it comes to stoves, they have a wide variety to choose from. We have gone through consumer ratings to come up with the best in the market. Read on this Whirlpool stove model guide to get an idea of their stove models and perhaps get one that suits your needs.
Our Top Whirlpool Stove Picks
The fact that there are many Whirlpool stove models should not discourage you from finding one. Check out our top picks below to get one that you like.
Whirlpool WFG320M0BW: Best Overall Stove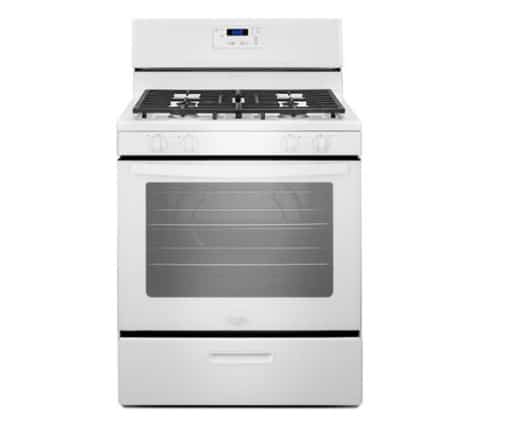 Are you looking for a flexible and highly efficient stove? Look no further! The WFG320M0BW stove from Whirlpool has got you covered. You can prepare stunning meals using this unit that comes with an oven capacity of 5.1 Cu. ft. It has 4 burners with a 27-inch depth, 29 7/8-inch width, and 46-inch height.
Do you enjoy cooking? Prepare a batch of garlic bread and cheesy burgers for your family using this full-width, easy-to-use under-oven broiler. Broil food with this stove and tantalize your taste buds in minutes. This model has multiple power burners. They have a total of 15,000 BTUs making this stove ideal for high heat cooking like searing, frying, and others. It also features a 9,500 BTU burner that is enough for your daily cooking.
That said, there is a 5,000 BTUs AccuSimmer burner that enables you to control your temperatures precisely. This is perfect for melting chocolate and simmering sauces. One of the top-selling features of this Whirlpool stove is the satin-finish cast-iron grate. It enables the users to put heavy pots and pans over an optimal cooking area.
The only setback experienced with this model is the lack of a temperature probe and a self-cleaning option. However, it provides you with stunning features that have a complete view of the cooking progress and offer easy clean-up.
The upswept porcelain spill guard cooking top eases cleaning in case of any spills. Something unique with this stove is a large oven glass window, through which you can monitor your cooking progress. You don't have to interrupt the oven's temperature by opening the door to check your food. This stove employs an ECO-efficient cooking operation with smart cuisine and optimum flexibility.
Pros
Highly efficient
Has 4 burners
Multiple power burners
Features a 9,500 BTU burner
5,000 BTU AccuSimmer burner
Features a spill guard cooking top
Cons
No temperature probes and a self-cleaning feature
Not smart
Whirlpool WFE525S0HB: Best Freestanding Electric Stove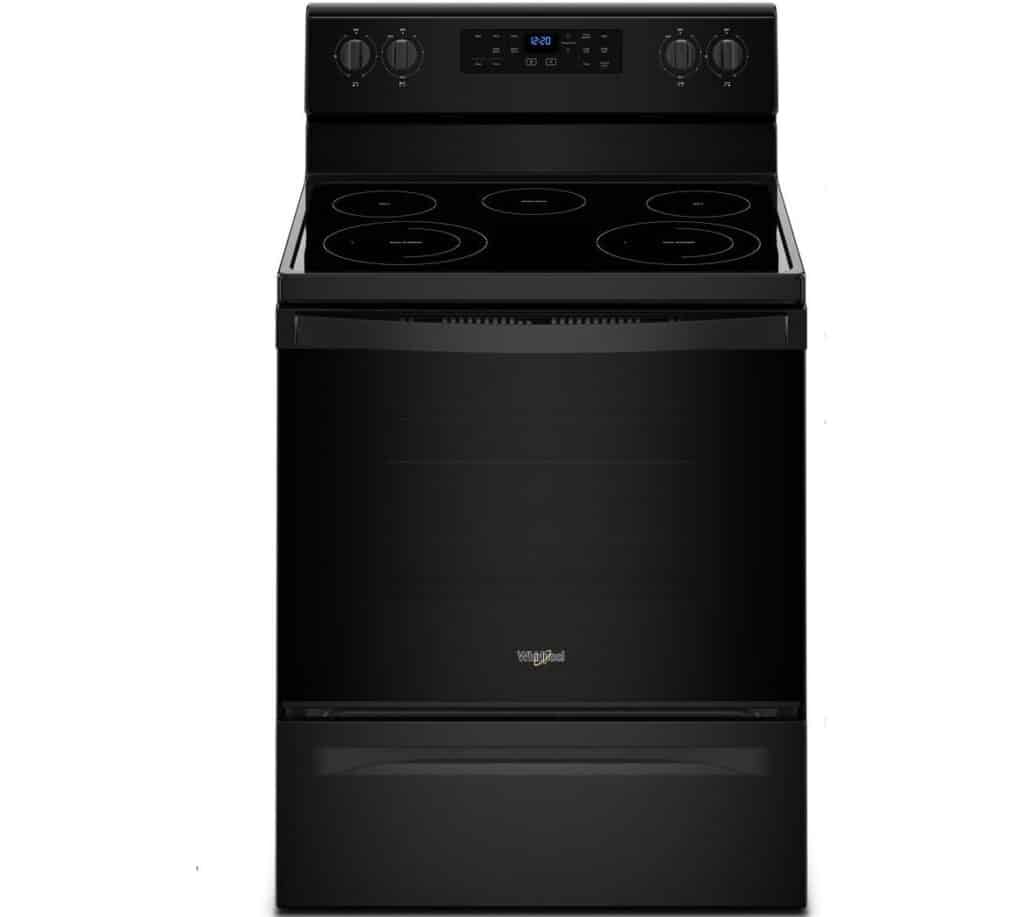 WFE525S0HB is a flexible smooth cooktop stove. This 5.3 Cu. ft. unit comes with 5 burners, a 27-inch depth, 29 7/8-inch width, and a height of 47 7/8-inches. It has a Flex heat dual radiant element. This Whirlpool 30-inch freestanding electric stove offers 2 main components: a 9" expandable outer ring and a 6" inner ring. The outer ring is meant for large cookware, while the inner one is for the smaller pans.
The ceramic glass cooktop allows you to wipe clean any spills easily. There is a Frozen Bake technology that allows you to skip preheating and cook your delicacies like pizzas and lasagnas directly.
You can also clean up faster thanks to the upswept spill guard cooktop. With this feature, you can avoid spills due to the raised edges. Additionally, you can adjust the temperature sensors to enable you to prepare evenly baked dishes.
WFE525S0HB stove features a closed-door broiling option. This maintains your temperatures to prevent overheating. When it comes to cleaning this appliance, you don't have to use harsh chemicals or cleaners. They will only damage the awesome finish.
Fortunately, for those people who don't like people using their stoves, this model has a control lock mode feature. You can comfortably lock your stove to prevent unintentional use. However, this Whirlpool model also has a drawback. It doesn't come with a convection and induction cooking option.
Having an energy-efficient stove is a factor that every buyer should seriously consider. Whirlpool WFE525S0HB is a Star-K certified appliance with a Sabbath mode. Other additional features include warm zone elements, warm settings, dishwasher-safe knobs, and a large glass window for monitoring the cooking process.
Pros
5 burners
Easy-to-clean ceramic cooktop
Closed-door broiling feature
Star-K certified
Upswept spill guard cooktop
A large oven glass window
Features a Control lock option
Cons
Lacks a convection and induction option
Not smart
Whirlpool WFG505M0BB: Best Spacious Stove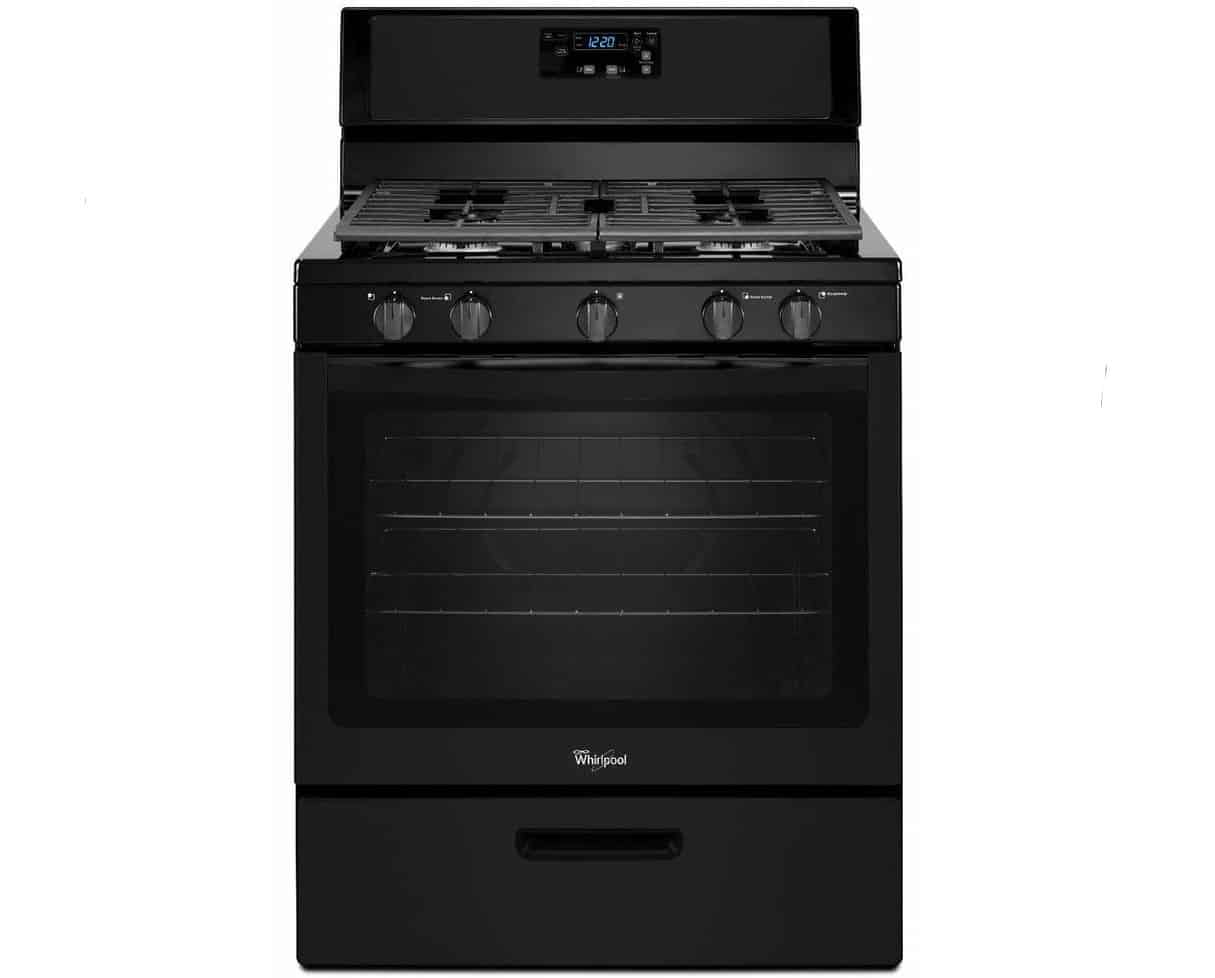 Buy this spacious Whirlpool stove to meet your everyday cooking needs. The 30-inch Whirlpool stove comes with 5 burners and a 5.1 Cu. Ft capacity. It features speed heat burners, a broiler drawer, an AccuSimmer burner, and more.
It's ADA compliant, making it a flexible and highly efficient stove. You can prepare several dishes at ago for a large family using this appliance. The power burners have 15,000 BTUs that generate enough power for rapid frying, boiling, searing, and more. The middle burner has 8,000 BTUs providing enough cooking power for your favourite dishes.
It features a 5,000 BTU AccuSimmer burner that enables you to control your temperatures with precision. It's ideal for simmering sauces. Having a 9,500 BTU burner in your kitchen is a huge plus!
Enjoy an easy clean-up with a porcelain Spill guard cooktop. This feature helps you avoid spills in your kitchen due to the raised edges. The sleek design and recessed cooktop will make you fall in love with this stove! It has a low level of grates that help prevent spills from falling down the cooktop.
The satin-finish with continuous cast-iron grates is wear/tear-resistant and offers you flexibility. At the same time, it also enables users to slide pots and pans over the cooking surface. The grates are dishwasher-safe. The only setback that users experience with this model is it's not a convection stove. Enjoy your cooking experience as you monitor the progress with a clear view through the large oven window.
Pros
5 burners
ADA compliant
Porcelain Spill Guard cooktop
Dishwasher-safe grates
Features a broiler drawer
5,000 BTU AccuSimmer burner
Cons
Not a convection stove
Lacks steam cleaning option
Whirlpool WFE550S0HB: Best Electric Convection Freestanding Stove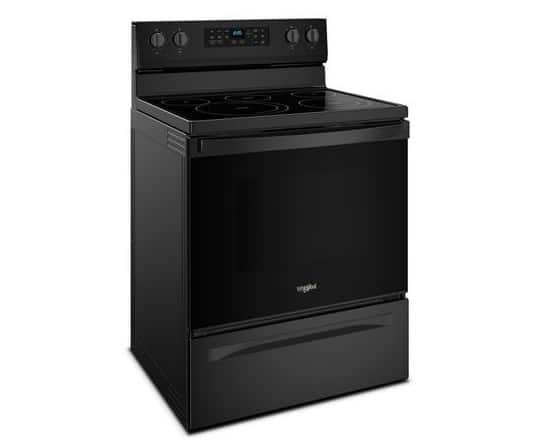 Do you want to upgrade the appearance of your finished kitchen pantry? This mesmerizing freestanding Whirlpool stove model is a good choice. You can use it to cook for your family without experiencing any hassle if you have a busy schedule.
WFE550S0HB has 5 heating elements and a dual flex heat feature. It offers a capacity of 5.3 Cu. Ft enabling you to prepare several dishes at once. This self-cleaning cook stove comes with a ceramic glass cooktop to make cleaning a breeze.
The good thing with convection cooking is that you get consistent heat in your food. The temperature sensor helps you to monitor and adjust your oven's temperature accordingly. This model comes with a Frozen Bake technology that skips long preheats to substantially reduce your cooking time.
Enjoy a spotless cooking experience because this model comes with a self-cleaning feature. To indulge in different cooking processes while accommodating any cookware, this model comes with a Flex Heat feature.
For those users who prefer steam cleaning to self-cleaning, this is something you don't get with this stove. The Spill Guard cooktop prevents the dripping of spills. This, in turn, ensures cleaning is easy while keeping your food warm. That said, this stove is also ADA-compliant and Star-K certified.
If you like observing kitchen safety, WFE550S0HB comes with a hot surface indicator light to notify you when your appliance overheats. Buy it and reward yourself with a straightforward cooking experience full of fun.
Pros
Star-K certified
Dual Flex heat element
Temperature sensors
Frozen bake technology
Five heating elements
Cons
Not smudge resistant
Lacks steam clean
Whirlpool WFE505W0JS: Best Fingerprint Resistant Electric Stove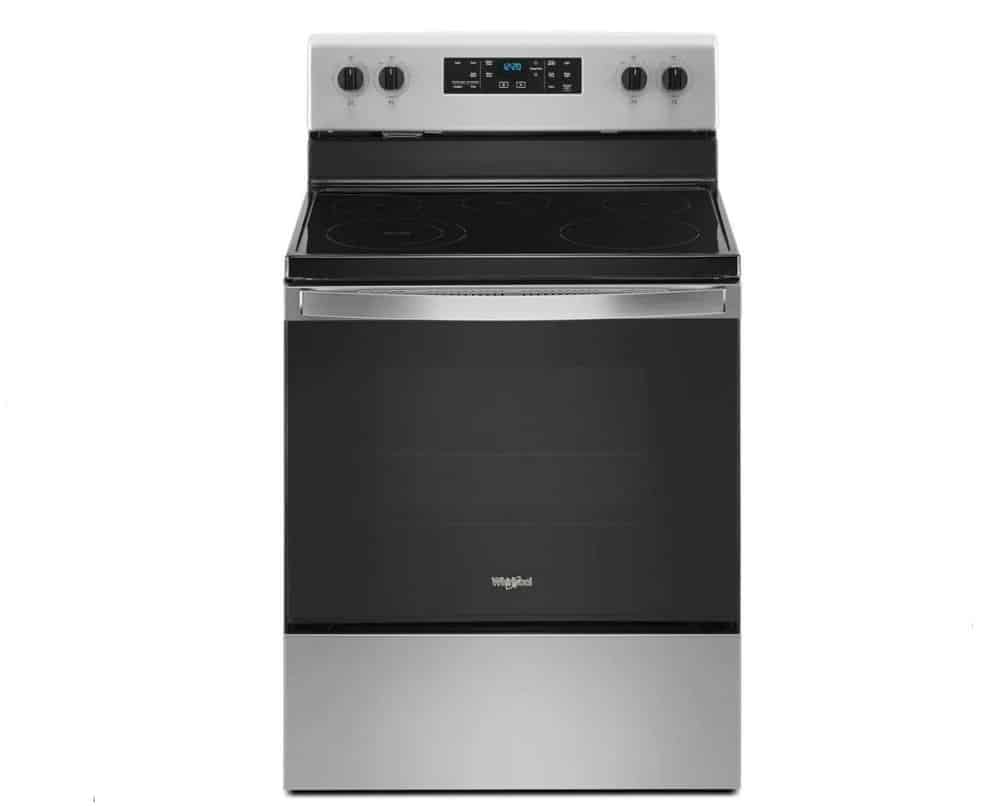 Are you looking for a smooth cooktop stove that is fingerprint-resistant? WFE505W0JS is your recommended choice. The primary oven stove capacity measures 27 3/4 -inches in-depth, 29 7/8-inches in width, and 47 7/8-inches in height. It comes with 5 burners, a hot surface indicator light, and a Sabbath mode feature.
Cook your frozen foods using this stove because it allows you to skip the preheating phase. Plus, it has a pre-programmed setting that helps you to adjust your cooking times quickly and easily.
This stove features a Flex heat dual radiant element. It offers users double components: a 9" expandable outer ring perfect for huge cookware and a 6" inner ring for smaller pots. Note that it also has an upswept spill guard cooktop for immediate cleaning in case of any spills. The raised edges prevent any spills from dripping down your cooktop and messing your kitchen.
Whirlpool has added the control lock option in this model, making it a unique choice. You can select it to disable the control panel preventing unintentional usage. The only drawback with this stove is the lack of a self-cleaning feature.
However, it features a steam cleaning option that allows you to indulge in mess-free cooking and immediate cleaning of the light messes. If you love a clean and neat fingerprint-resistant stove, then consider getting this stove. You won't regret it.
Pros
Dual Flex Heat feature
Frozen Bake technology
Star-K certified
ADA compliant
Features a control lock option
It has a steam cleaning option
Cons
No self-cleaning option
Not smart
Whirlpool WEG745H0FS: Best Convection Sabbath Slide-In Stove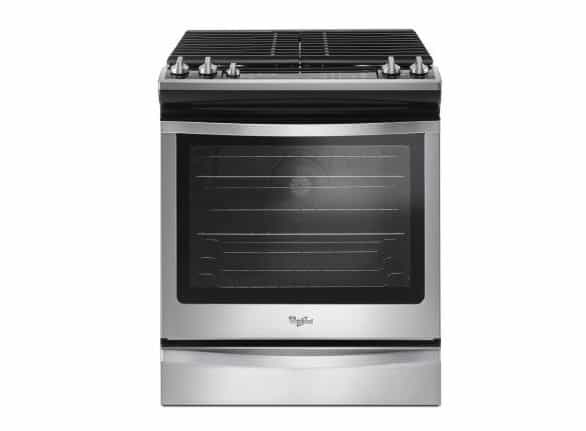 Do you want to enjoy a fantastic cooking experience with a front control cooking appliance designed to fit in your kitchen easily? Tantalize your taste buds with a delicious dish using the WEG745H0FS Whirlpool convectional cooking stove!
This 30-inch slide-in stove features 5 sealed burners. They enable you to prepare baked garlic bread and tastier roasts with a stunning texture in a short period. You don't need to preheat your frozen foods. Thanks to the Frozen Bake technology, you can easily adjust your cooking time.
There is a FIT system. You can use it to design or develop a full-depth slide-in stove. It's designed to upgrade your entire kitchen's appearance. It comes with an AquaLift self-cleaning technology which helps clean any mess on your stove without using harsh chemicals.
Whirlpool WEG745H0FS features a third element and a fan to distribute heat evenly over your food. You can conveniently adjust your temperature and cooking time. The built-in temperature sensor allows you to monitor your temperature and adjust your cooking elements accordingly.
The only challenge you face with this stove is that you have to buy-side panels with a separate trim kit. They don't come with the stove. If you want to save your time while baking, the Rapid Preheat option employs a rear fan and elements that heat the oven thoroughly and rapidly. On top of that, it also comes with EZ-2 hinged cast-iron grates. You can easily wipe them without removing them.
Pros
5 sealed burners
Features Frozen Bake technology
It has a FIT system for easy upgrading
A third element and a fan
AquaLift self-cleaning technology
Built-in temperature sensors
Cons
Lacks side panels and an in-built trim kit
Not smart
Whirlpool WEG750H0HW: Best High-End Gas Slide-In Stove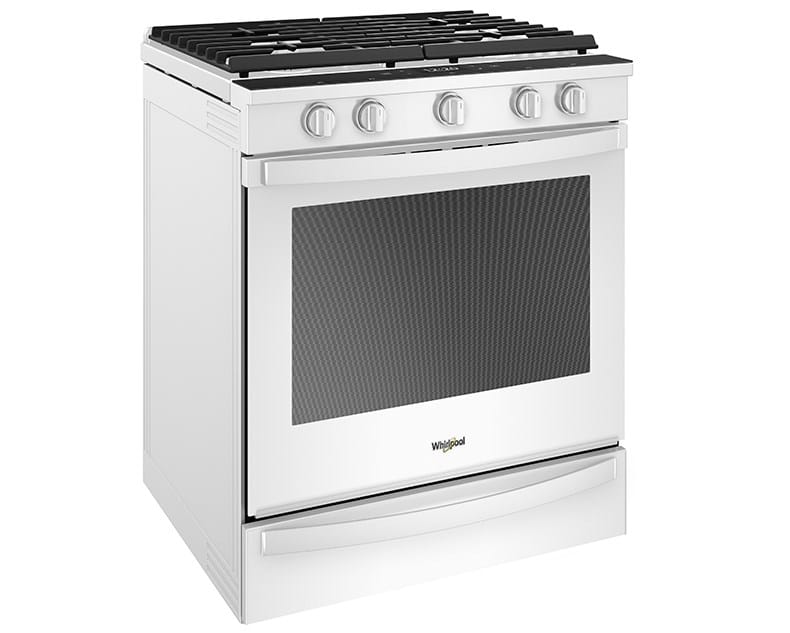 Improve your kitchenette appearance with this high-end 30-inch slide-in stove. This white cooktop comes with 5 sealed burners and a capacity of 5.8 Cu. Ft. Other features include a self-cleaning system and a storage drawer, amongst others.
The Frozen Bake and scan-to-cook technology make it the best option for tech lovers. You can comfortably use your smartphone to control this stove remotely. This high-end gas unit has an intelligent element that switches on with a press of a button. Simple voice commands can be used to control this stove by syncing them to your smart home assistant.
The intuitive touchscreen offers you simple access to your favorite settings. It learns about your probable cooking preferences with one use. You can cook your food using the Speed Heat burner if you are in a hurry to prepare your meal.
The simmer burner can be used to cook light meals or prepare sauces. With this stove, you stand a chance to cook your favorite grilled veggies, griddles, and fajitas conveniently. The only significant setback in this appliance is the lack of a hot surface indicator light and a temperature probe.
WEG750H0HW also comes with EZ-2 lift-hinged cast-iron grates. They allow immediate access in case of spillages. The scan-to-cook option gives you perfect settings. To get a personalized cooking setting, use a smartphone to scan the food's bar code. This appliance is Wi-Fi enabled and compatible with Google Home, Alexa, Nest, and other similar platforms. Link your phone to the appliance and enjoy the latest cooking technology.
Pros
Wi-Fi enabled (smart)
Features EZ-2 lift hinged cast-iron grates
It has a scan-to-cook option
Features Frozen Bake technology
5 sealed burners
Has a self-cleaning system
Cons
Lacks a hot surface indicator light
No temperature probe
Whirlpool WFG320M0BW: Best Sealed Gas Burner Stove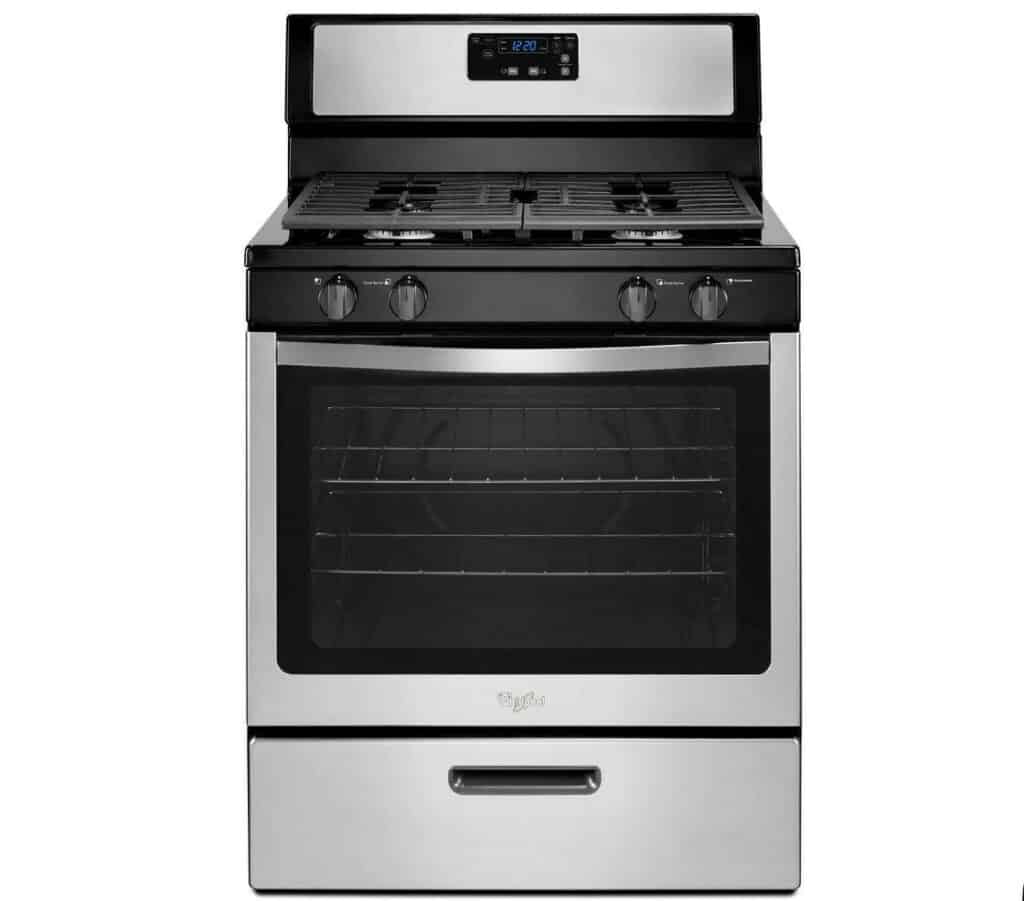 WFG320M0BW is an efficient and flexible 30-inch freestanding gas stove with a capacity of 5.1 Cu. Ft. Being a convection stove, it features 4 sealed burners, an oven light, a simmer burner, a broiler drawer, and a hidden bake element, amongst other options. If you love a white cooktop, this Whirlpool stove is the ideal choice.
It has a width of 29 7/8-inches, 27-inch depth, and a 46-inch in height. The primary oven comes with a capacity of 5.1 Cu. Ft. You can comfortably prepare holiday dishes and much more using this spacious gas stove.
There are several power burners with 15,000 BTUs ideal for heavy cooking procedures such as searing and frying. The satin finish cast-iron grates enable you to slide in heavy cooking ware. Another important feature is the porcelain upswept Spill Guard cooktop. It prevents spills from dripping and is easy to clean.
You can monitor your cooking progress without opening the oven door and interrupting the oven temperature thanks to the large oven glass window. That said, this unit also features a 9,500 BTU burner. With it, you have enough cooking power to prepare your everyday meals.
There is an AccuSimmer burner with 5,000 BTUs. It works by accurately controlling the temperature for melting chocolate and simmering sauces. The only challenge facing this appliance is the lack of a temperature probe.
Pros
5,000 BTUs AccuSimmer burner
Has 5.1 Cu. Ft capacity
Features 15000 BTU power burners
4 burners
It has a hidden bake element
9,500 BTUs burner
Cons
Not smart
Lacks a temperature probe
Whirlpool Stove Buying Guide
There are numerous types of cooking stoves in the market with stunning features. At one point, you may find yourself experiencing some challenges when it comes to choosing the best cooking stove for your kitchen. Check out our buying guide to understand the factors you need to consider as you plan on purchasing a new Whirlpool stove. You need to first understand the various types and models of Whirlpool stoves.
Types of Whirlpool Stoves
Stoves are the workhorse and center of your kitchen. They should be highly functional, stylish, and efficient. There are numerous types of Whirlpool stoves which include:
Slide-In
Slide-in stoves have a built-in customized appearance to enable you to slide in between different cabinets. They have oven controls at the front with no back panel. This means any backsplash has been showcased. These stoves don't have any finished sides and can conveniently slide in any place.
Although they lack a blackguard, these units come with controls at the front. They are easy to clean and offer a safe cooking experience.
Freestanding
Freestanding stoves are the most commonly sold and easy to install cooking appliances. The oven control panel located at the back has finished sides, enabling your stove to either slide in between your cabinets or be a stand-alone.
Drop-In
These are those that fit snugly within the existing cabinetry. Why? It's because they lack extra storage compartments under the oven. Drop-in stoves should have a cut-out, customized fit. They are not common compared to the freestanding or slide-in stoves.
Most of the features in different Whirlpool stoves are almost the same. Some of the common features include:
Cooktop
Whirlpool stoves feature different types of cooktops, which include:
Coil Cooktop: This is an ancient technology consisting of spiral coil plates. It's, however, cheaper and more comfortable to change. Their heating element is exposed, making them an unsafe option. Note that they are not only energy-consuming but also difficult to clean.
Induction Cooktop: Electric stoves with an induction cooktop use the magnetic coils located underneath the ceramic glass surface. They directly send pulses over your cookware, enabling quick boiling and simmering. You can adjust the burner immediately it becomes hot.
For the induction to work properly, you need to have magnetic cookware. As the magnet sticks firmly on your cookware bottom, it works through an induction cooktop. Other than magnetic cookware, induction can also take place in steel cookware.
Radiant Electric Cooktop: Stoves with a radiant electric top are highly rated. Most of the stoves feature a high-end power burner. Other versions come with dual or expandable triple elements to allow users to switch from high power to a low power component. Others feature a warming element – it helps the dishes in the center to warm up.
Single or Double Oven Cooktop: Usually, stoves come in single or double configurations. Double oven cooktops have a smaller oven top on the upper part and a larger oven underneath. They are good when it comes to baking multiple dish types and roasting at various temperatures.
Convection Function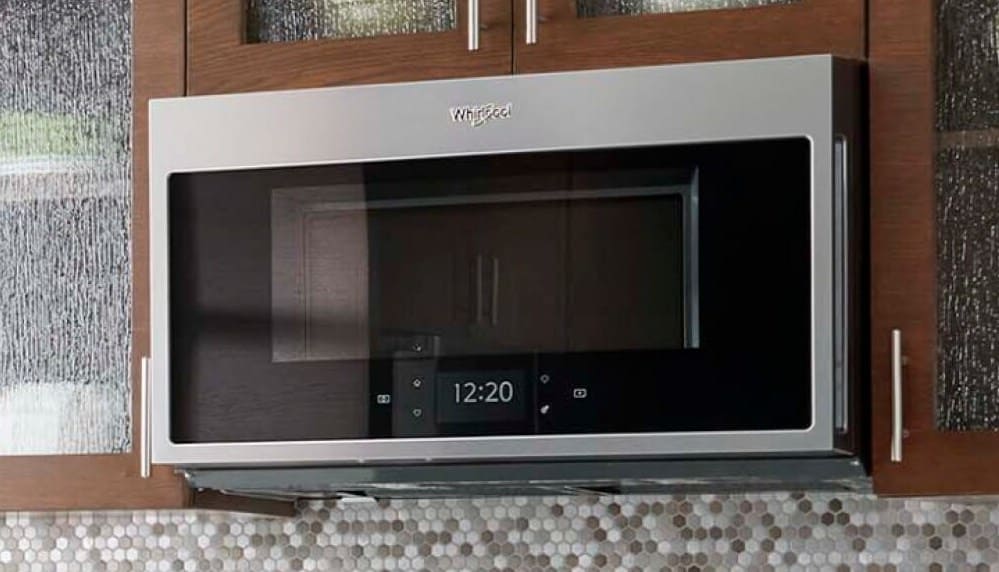 There are 3 types of convection in a Whirlpool stove:
Fan Convection: Found in cheaper stoves
Dual Convection: This exclusive feature can only be found in a high-end stove. It offers you the option to use 1 or 2 fans to enhance your cooking results.
True Convection: Also known as European convection. In this type of convection, an extra heating element has been added at the front of a fan. It quickens your cooking process while maintaining temperatures.
Controls and Remote Operation
If you have kids in the house, you can opt for an option with a lock control. Most of the high-end stoves come with smart controls through which you can effectively control your appliance comfortably using your smartphone. The remote option allows the users to start the stove using the SmartHQ app on their phones.
You can also employ hands-free control using Amazon Alexa or Google Assistant. Just connect your appliance to the Wi-Fi network before initiating the Remote Enable pad option. The remote option enables you to switch off the cooking cycle once it's over.
FAQs
Question: How Long Does a Whirlpool Stove Last?
Answer: A Whirlpool gas stove has an average lifespan of around 15 years, while the electric counterparts have a lifespan of 13 years. Remember that regular cleaning and maintenance of your stove increases its lifespan.
Question: Does a Whirlpool Stove Turn Off Automatically?
Answer: Some Whirlpool stoves feature touchpad controls like a timer that switches off the appliance automatically after 12 hours. This offers you peace of mind in case you accidentally leave the stove on. It also saves you energy. In case you intend to switch off this automatic shutdown option, check the user manual for more information.
Question: How Do You Ensure That Your Whirlpool Stove is Off?
Answer: To shut down all the processes within the stove, press the button marked "OFF/Cancel." In case you want to shut down the timer, press the keypad labelled "Timer off."
Question: Is there a Cleaning Option in a Whirlpool Stove?
Answer: There is a self-clean cycle or steam-clean feature that cleans your stove properly, depending on the dirt level. However, take note not all models have these features. Make sure you confirm the feature if you plan on buying a whirlpool stove.
Conclusion
The above information has been drawn up from thorough research. We have perused through numerous reviews and articles from amateurs to professionals regarding Whirlpool stoves they have bought and used for a while. We were able to garner the best Whirlpool stove for each category based on the different responses.
Each category has an example running from the best overall, best-sealed burner, best high-end slide-in to best freestanding, and so forth. Try to take a look at these options from different online stores dealing with kitchen stoves.
In case you didn't find a stove that suits your needs, don't worry. Our buying guide will guide you on how to acquire one. What matters at the end of the day is you can get a stove that suits your requirements by the time you finish going through the above information.