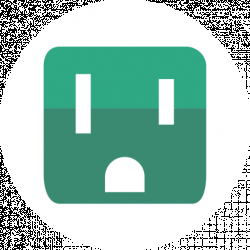 Latest posts by Appliance FAQs Team
(see all)
LG is a company based in South Korea and is popular across the world. The company develops products such as washers and driers, mobile devices, kitchen appliances (including LG refrigerators), computers, and TVs.
LG was established in 1958. It pioneered the development of various technological devices across the globe. The company managed to create the first 84-inch HD TV and HomeChat. HomeChat is a virtual assistant that enables you to operate LG appliances and electronics via voice and text messages.
Currently, LG offers you a wide selection of refrigerators. They include a full line-up of French-door, top-freezer, side-by-side, and bottom-freezer refrigerators. Read on to know the top five LG refrigerators, their features, and information that can help you make the right purchase decision.
Our Top 5 LG Refrigerator Picks
There are a plethora of LG refrigerators in the market out there. Finding the right can be a challenge. Use the list of our top picks to get an idea of the features of these fridges.
Best LG Top Freezer Refrigerator – LTCS24223S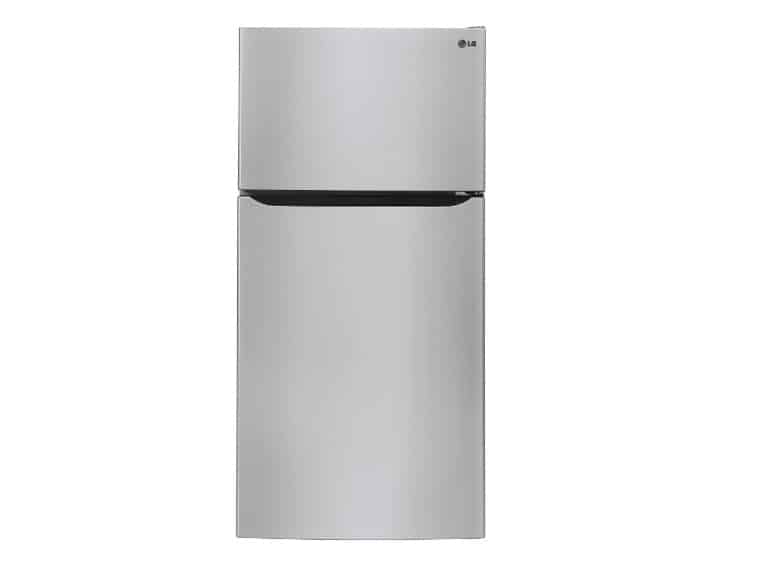 Top freezer refrigerators are budget-friendly compared to French door refrigerators. The LTCS24223S is perfect for freezing wide boxes and refrigerating large food platters. You cannot compare it to its side-by-side counterparts.
The LG-Top LTCS25223S model has a SmartDiagnosis feature. It is designed with a total capacity of 23.8 cubic feet even though it's not the largest option in the market.
This model lacks a water dispensing unit. If you must have cold filtered water, this is not the refrigerator for you. You can get it in either white or black stainless steel.
SmartDiagnosis links this product to the LG ThinQ app. This app sends you alerts and notifications if anything goes wrong with your appliance. The Energy Star certification indicates that your annual electricity costs are marginally lower when you use this product.
Temperature controls are a feature of this fridge. They come with an LED display and digital sensors. They offer a Multi-Air Flow Freshness System to ensure your food stays fresh. This fridge lacks spill-proof glass shelves and has great space for fresh produce.
It is fitted with two humidity-controlled crisper drawers and two gallon-size bins on the door. There is also one full-length snack/deli drawer. If you are looking for a mix of technology and performance, the LG Top Freezer LTCS25223S is what you need.
Pros
Affordable
An ancient top-freezer style
Smart technology to control and monitor
LED display and digital sensors on temperature controls
Energy Star compliant
Cons
Lacks an iced water dispenser on the door
Not great for small kitchens
Best LG Door-in-Door Refrigerator – LSXS26366S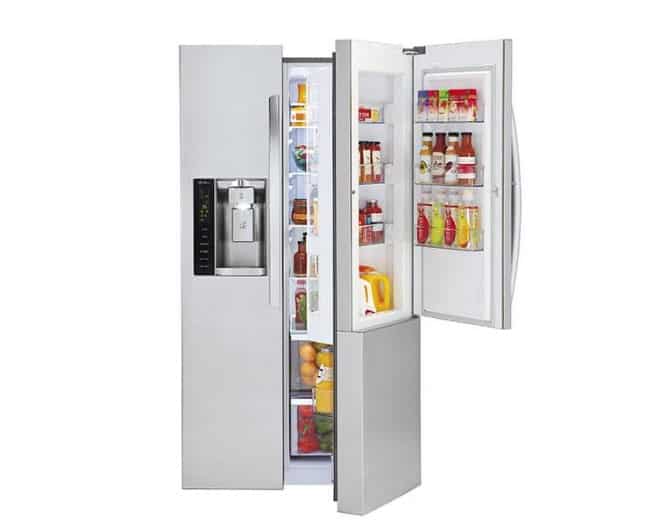 The LG LSXS26366S refrigerator is an appealing choice. If your family members frequently open the fridge to look for a snack or a drink, this is your ideal appliance. You can access a separate snack and beverage zone by the use of the door-to-door feature. This opens independently from the main refrigerator door behind it.
Other additional components include the tilting door bins (adjustable) and the exterior ice/water dispenser. This model has a multi-flow air-cooling system that maintains optimal humidity and temperature levels. It ensures you keep your food fresh for a longer time.
There is plenty of space in this appliance for stocking up large grocery goods. It has a total carrying capacity of 26.1 cubic feet. However, this might not be the best refrigerator for kitchens with limited space.
The LG Door-in-Door freezer has a depth of 51 1/8 inches with a full-size door. It's one of the largest open depths on our list. On the downside, the doors can't extend out as far as a top or bottom freezer refrigerator does.
Take note that this product is quite pricey. It may not be the best option for people who are working on a tight budget. Lastly, it's a product that is not Energy Star certified or ADA compliant.
Pros
Tilting door bins
Multi-flow air cooling system
Can stock a lot of groceries
Great for large families
Comes with an indoor water/ice dispenser
Cons
Not budget-friendly
Not Energy Star certified
Best LG Smart French Door Refrigerator – LFXS26973S
Suppose you spend time preparing your meals or maybe you enjoy entertaining guests in your home. If that is the case, the LFXS26973S interesting features may be what you need. This model features two ice makers that come in handy for hosting parties.
LFXS26973S has a 26 cubic feet storage capacity with plenty of space for fresh and frozen food. Compared to other 2021 French door refrigerators, this model is above average.
What distinguishes the LG Smart French Door Refrigerator from the other models is its level of technology. It features ThinQ technology that has a proactive customer care system. Its main purpose is to send installation reports, alerts, and usage details about potential issues to your smartphone. This is achieved via the LG app.
The Wi-Fi feature provides a connecting link between the LG app and the appliance. This product also features a Smart Cooling System and a Sabbath Mode for maintaining optimum humidity levels.
The spacious bottom freezer is the biggest freezer of this style. It has a storage capacity of about 8.8 cubic feet. This LG fridge is 36 7/8 inches deep and its French doors open 90 degrees. It is the best product for kitchens with limited space.
The LFXS26973S is Energy Star certified, although it's not ADA compliant. It has a high rank according to reviews from clients who have purchased and used it in 2021. You may want to consider it if you are looking for a French door fridge with smart capabilities.
Pros
Smart product with proactive customer care
Extremely large freezer space
Energy Star certified
Dual ice maker
French doors can open up to 90 degrees
Cons
Not affordable
Not ADA compliant
Best LG Side-by-Side Refrigerator – LSXS26326S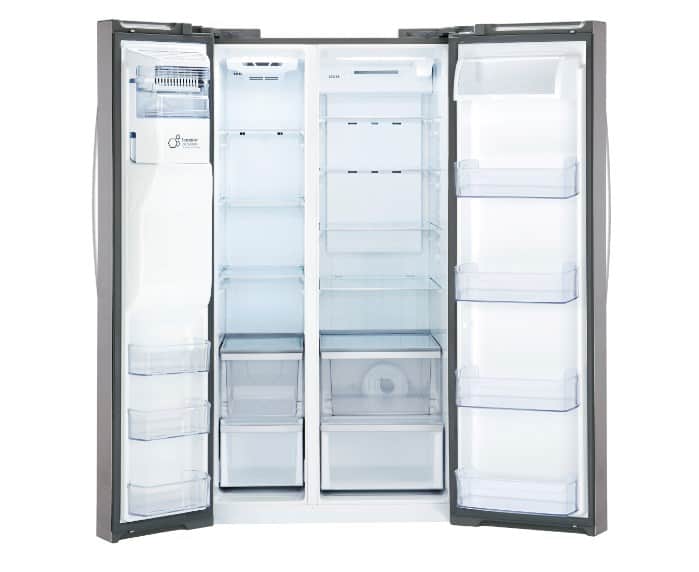 The LG Side-by-Side Refrigerator LSXS26326S is among the largest with a 26.2 cubic feet storage capacity. It features four flexible tempered glass shelves. It also has door bins and two humidity-controlled bins for fresh produce.
The shelves' side-by-side design is not spill-proof. This means that space is narrower. Therefore, it will be quite challenging for you to store wide items such as platters and large pizzas.
LSXS26326S features a digital temperature control system and comes with LED lighting. LG's Smart Cooling system helps to maintain the humidity at optimum levels. It has a linear compressor that effectively removes the warm air produced.
There is a door alarm to inform you whether your appliance's door is open or closed. Lack of Wi-Fi connection makes it hard for you to get notifications or effectively control temperature by using the smartphone app.
Are you seeking to own a stainless exterior appliance? Do you want an ice and water dispensing product with an advanced cooling system and ample storage capacity? The LSXS26326S is an option you should seriously consider.
Even though this model lacks adjustable door bins and spill-proof shelves, it's a cost-effective side-by-side refrigerator that checks most boxes.
Pros
Digital temperature control with LED lighting
Smart Cooling system
High-performing linear compressor
Door alarm
Ice and water dispensers
Cons
Lacks WI-FI connectivity
Lacks spill-proof shelves
Best LG Compact Refrigerator – LG LTNC11121V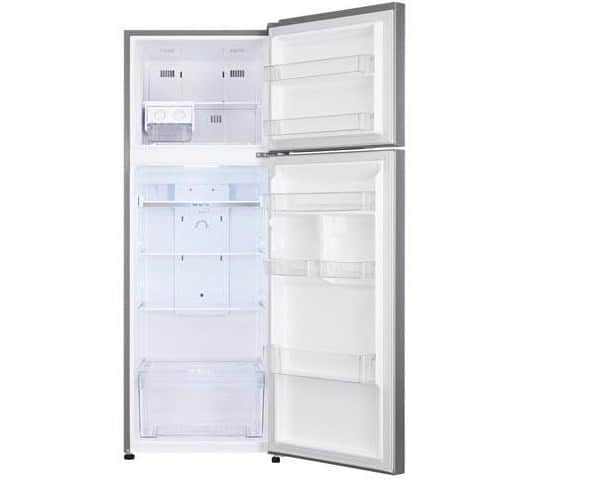 The LTNC11121V may make you feel you are getting a locker instead of a refrigerator. This appliance has a 24-inch width. If you are trying to save space in your kitchen this is a good option. Stainless steel finish and recessed handles make this model a good design for the price. LTNC11121V has a total storage space of 11.1 cubic feet.
If you intend to use this appliance to keep food fresh for your family, you will have to think twice. For starters, there isn't enough space to store enough food for a small family. The fridge has big shelves enough to accommodate a pair of two-liter large beverages. It's deep enough to hold two "1-gallon jugs" of milk comfortably.
Unfortunately, the LTNC11121V cannot accommodate a 12 pack of soda. It doesn't have much to offer when it comes to extra features. The crisper bin on this refrigerator comes with a pull-out tray. It's positioned a few inches below the top shelf. It's designed to slide out for easy access.
This product has a manual ice maker in the freezer and a pair of small ice cube trays. You can use them to twist and dump the cubes into a container of your choice. Finally, you cannot take the ice trays out to fill them. Instead, you have to bring water to the freezer. This means you should be ready to clean water spills every time you fill up the trays.
Pros
Capacity to hold more groceries than you would expect
Keeps accurate temperatures
11.1 cubic feet
Great for studios and small kitchens
Cons
Not the biggest compact fridge in the market
Various Features of LG Refrigerators
Before you plan to buy a refrigerator, there are several factors that you need to consider. LG is a highly reputable company when it comes to the production of refrigerators. Their products have great features that will make your life easy. Let's have a look at how well they perform!
Cooling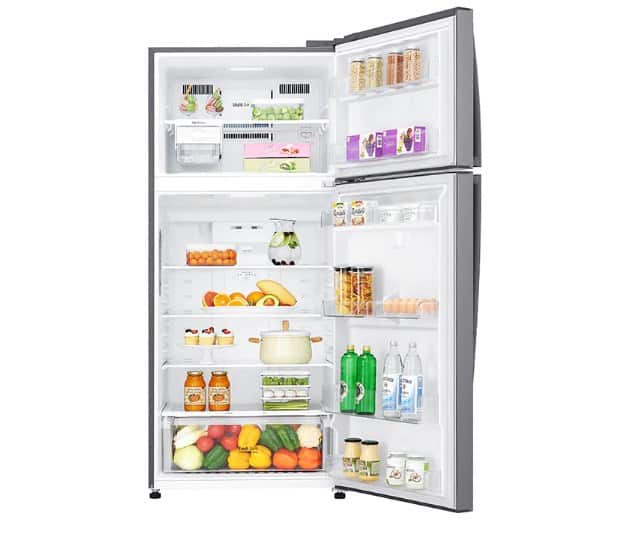 LG refrigerators provide you with numerous cooling methods. They help extend your products' life and ensure that food remains fresh for a longer period.
LG Linear Cooling maintains temperatures within 1°F of the required setting. This slight temperature variation makes your fridge keep food at a similar freshness it had when you bought it. The method reduces the temperature gap between the different cooling and freezing compartments. It also strives to maintain a uniform temperature throughout your fridge.
LG Smart Cooling maintains an optimal food storage condition using various vents and sensors to ensure total cooling control. LG Inverter, Linear Compressor, and Dual Evaporator work together to adjust the temperature and humidity levels.
LG Door Cooling distributes cool air to all parts of your fridge. It's through door cooling that you bring your refrigerator to the required temperature after the door closes. This method uses two additional vents to maintain a powerful cold flow of air.
LG Freshsheild ™ Cooling uses the cold air released from the top ducts to create a cold air barrier over your food.
ThinQ
Half of LG fridges are Wi-Fi enabled. Wi-Fi connectivity allows you to initiate a voice command by the use of either Google Assistant or Alexa. LG launched an app called "ThinQ." It's controlled by either use of voice commands or the use of an app installed on your smartphone. As time goes by, the app evolves through learning your preferences. With time it suggests to you some preventive tips and advice.
ThinQ app helps you optimize the performance of your refrigerator and minimize your energy consumption. It applies a predictive technology to tell when you have a lot of food packed in your fridge or when the door is open. It runs the compressor in a high-efficiency mode when you are less likely to open the door.
If you don't want to miss anything when you visit the grocery store, you can use your ThinQ app. It informs you of the expiry date of your food by recording the expiry dates.
LG is the only kitchen appliance manufacturer that was awarded the J.D. Power Awards for kitchen appliances for 3 years in a row. Additionally, it has been ranked number one in terms of its appliances'' reliability.
All the LG refrigerators have a 5-year part and labor warranty. This cover gives you the best service out of your fridge soon.
Connectivity
One of the most outstanding features that market the LG refrigerator brand is the smart appliance. ThinQ app is designed to easily connect users with their refrigerators. You are connected irrespective of your location and time.
Smart Diagnosis
A massive number of LG fridges come with a Smart Diagnosis™. You can activate it from your ThinQ app. Smart Diagnosis™ enables you to access vital information that will help you diagnose and solve your appliance's issues.
InstaView – Knock Twice to See What's Inside Your Fridge
The InstaView feature limits the opening of your fridge doors. You can know what is inside by knocking twice on your fridge door. Through InstaView, no cold air can escape from your refrigerator. It allows you to take inventory without opening the door.
Door-in-Door – No Emission of any Cold Air
Door-in-Door is a unique feature found in LG refrigerators. It is an outer door bin located in the main door of the fridge. It gives you the access to regularly check your items without letting out the inner refrigerator's cold air.
As a result, your food is kept fresh for a longer period. The band released its first model of the door-in-door fridge in the US in 2015. The customer's response to the design was positive. The response was so good that Samsung rushed to adopt the idea of "Food ShowCase Door" in its fridge's line-up.
Nowadays, you'll realize that nearly all manufacturers have since then adopted the door-in-door feature. However, this design faces one setback, which is the fridge door tends to be warmer at the back.
Placing perishable goods like milk on the door makes sense from their marketing perspective. Still, it seems not to perform well in real life. As of 2017, LG has tried to improve on the door-in-door design. It incorporates more metal surfaces in the interior to enhance air circulation that targets the doors.
Craft Ice – Ideal for Long Drinks
Craft ice is the most innovative feature in LG fridges. It gives you a chance to enjoy your special drinks and make spherical ice cubes. The cubes melt slowly ensuring beverages get the best taste. The appliance also automatically produces ice cubes. This ensures that ice cubes are never scarce when you are hosting guests.
Dual Ice Makers – They will Never Lack Ice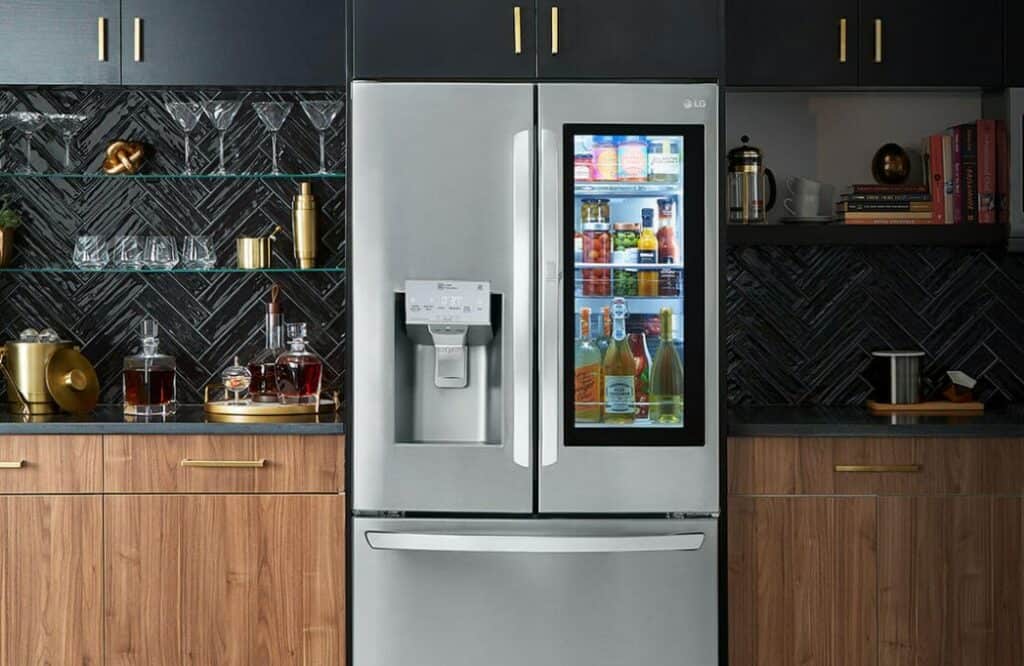 Have you ever run short of ice in the middle of a party? LG dual ice maker never let you down. The ice maker has a dispenser for ice on the door and an ice maker in the freezer. These ice makers can produce three different types of ice. They are crushed ice cubes, spherical craft ice, and standard ice cubes.
Additional User-centric Conveniences
These refrigerators have conveniences that ensure you get the best out of your appliances. Stainless steel fridges are easy and convenient to clean. They are not only fingerprint-proof but also scratch-resistant.
LG has a Custom Chill pantry that stores a wide variety of foods. The pantry has numerous temperature settings to help you keep your food at the right temperature. Sabbath Mode is used to disable unnecessary electrical activity when the fridge is opened.
Best LG Refrigerator Alternatives
Now that you looked at the LG fridges above, we have compiled a list of alternatives you can check out. The following refrigerators are the best in the mentioned category.
Best LG Side by Side Door Refrigerator Alternative – Haier 565L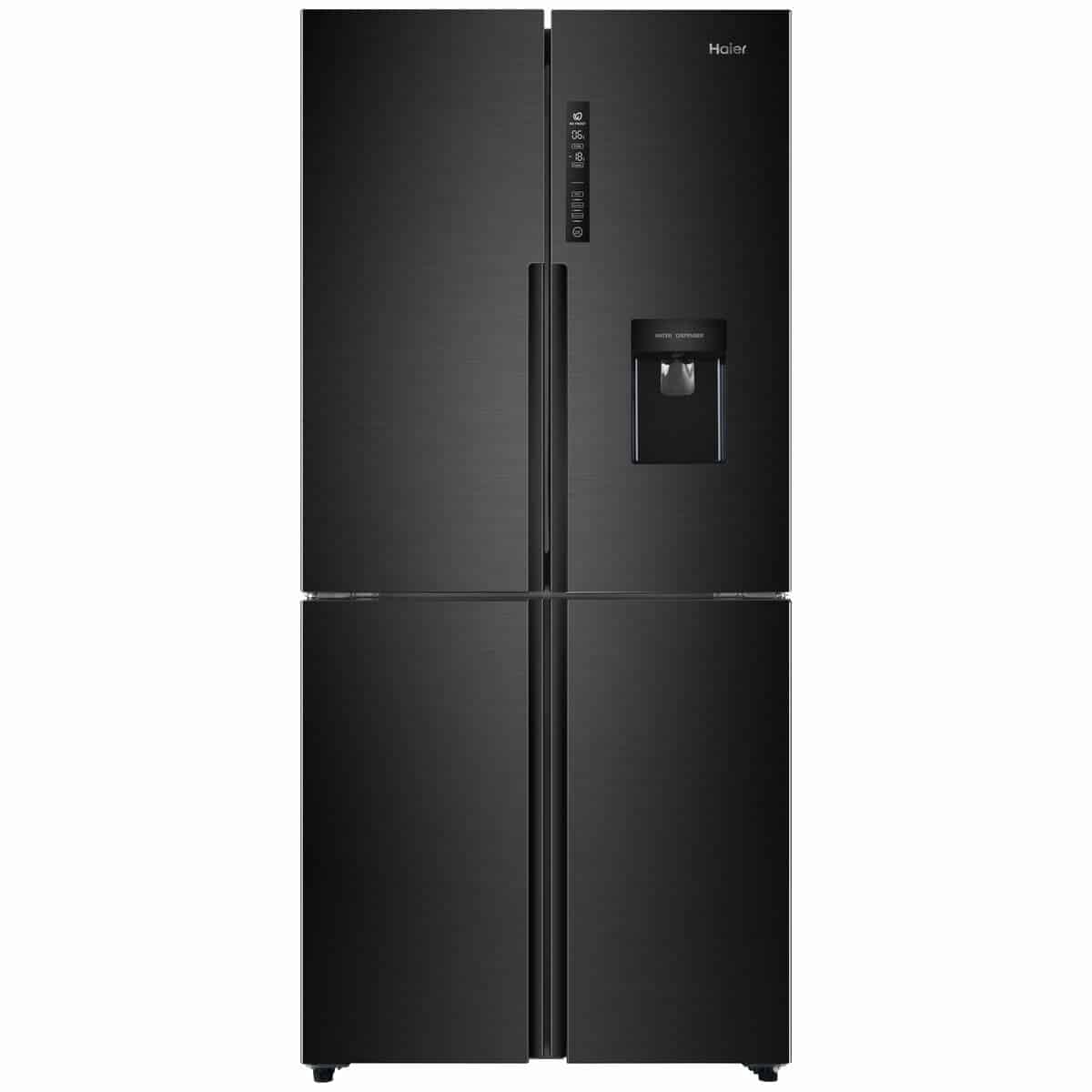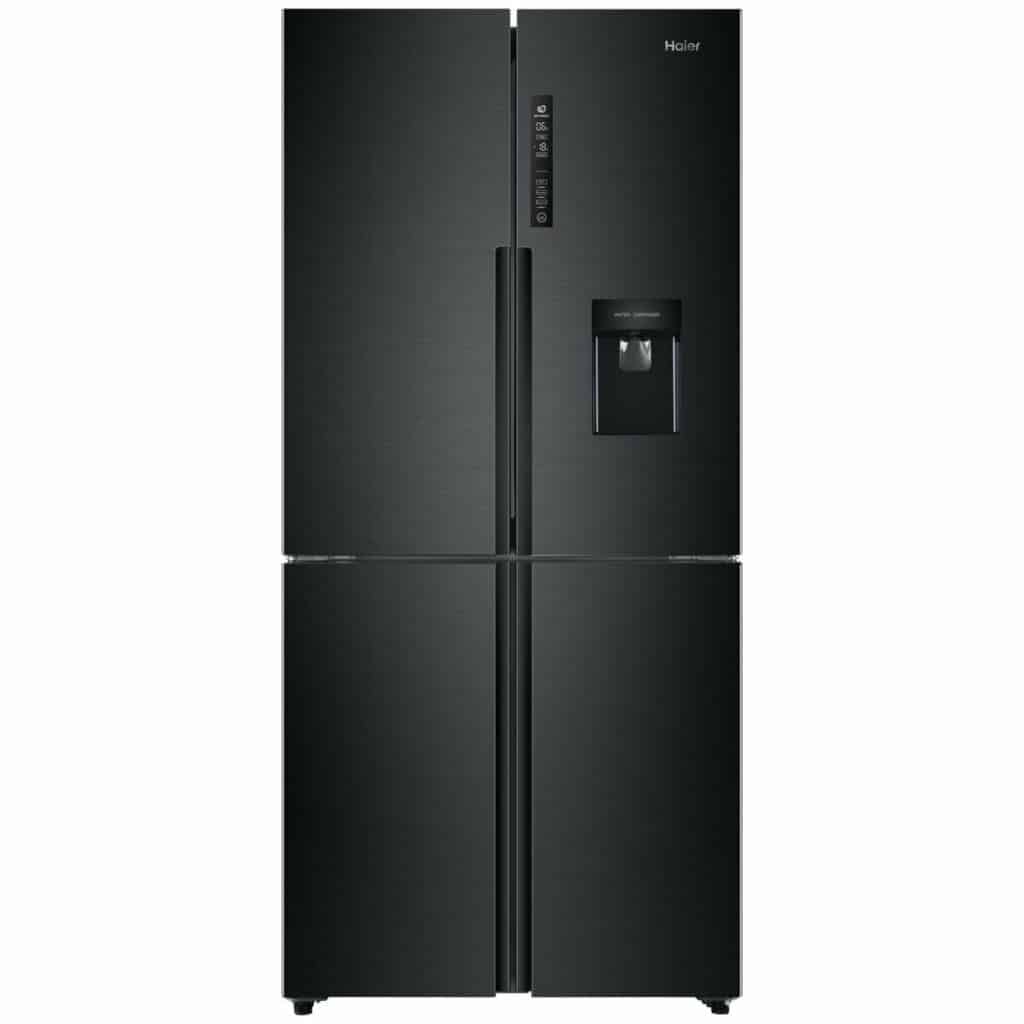 This appliance is the best option if you don't want to get the LG version. It not only serves a large family but also small restaurants. Spacious is the word that comes to mind when you look at the Haier 565L.
It has a capacity of 218 liters for the freezer and 34 liters for the cooling area. This is the best refrigerator to freezer ratio among the top fridge makes and models. The interior has foldable shelves, egg trays, separate fruit boxes, and flexible trays. Such features make it easy to compartmentalize your food.
The appliance is energy efficient. Included is a tough glass shelf for heavy foods. It's a feature that is durable and fancy. Other features include, but are not limited to:
Twin inverter technology
Super cool and super freeze
Spill-proof tough glass
One-touch display
PUF insulation
Auto temperature adjustment
Pros
User friendly
Energy efficient
Good storage capacity
Water and ice dispenser
Noise control technology
Cons
The freezer uses high temperatures
Poor quality ice trays
Best LG Smart Refrigerator Alternative – Samsung Family Hub RF28R7551SR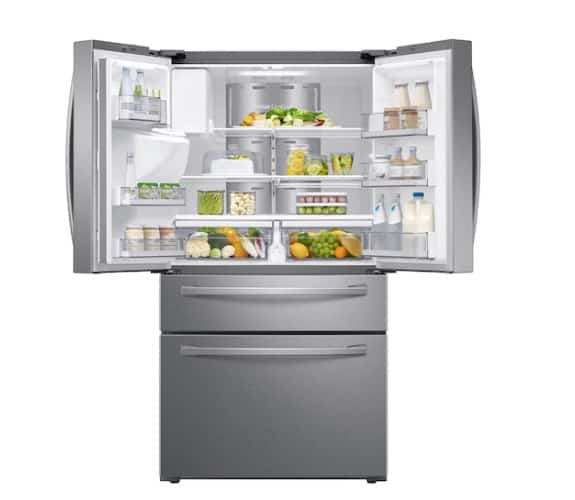 You can easily recognize the Samsung Family Hub smart fridge because of its large 21-inch touch screen. The screen can be used to order groceries, see who's at your front door, watch TV, look up your calendar, and play music.
The appliance comes with interior cameras. You use them to see if you are running low on your favorite food items. It's a good choice for smart homes thanks to Samsung's voice assistant. You use it to control your smart home's devices like robot vacuums, lights, and more.
A dozen styles are available to choose from. They include 4-door and 3-door models as well as full-depth and counter sizes. The appliance comes with a FlexZone designed to let you get to snacks and other foods you use frequently. There is a "4 Door Flex" option that lets you switch one compartment from the freezer to the refrigerator.
Pros
Various sizes and styles
Interior cameras
21-inch touch screen
Smart home compliant
FlexZone
Cons
Best LG Compact Refrigerator Alternative – Danby Compact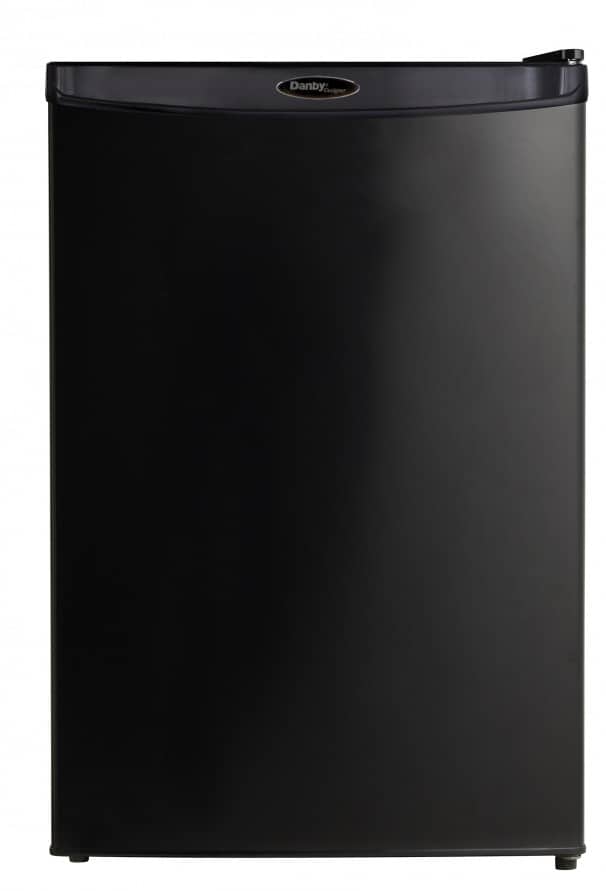 Just because it's compact, doesn't mean this product skimps on storage space for your favorite foodstuffs. With 4.4 cubic feet of storage, a vegetable crisper, two and a half shelves, Danby has bridged the gap between a full-size and mini-fridge.
Reviews from buyers indicate they love its convenient size and spaciousness. It comes with a scratch-resistant worktop and a state-of-the-art thermostat. The mini-fridge is versatile satisfying your needs whether you are transitioning between full-sized fridges or you are starting to get kitchen appliances.
This appliance is the right size for any studio or dorm room. If you are a college student, it may be the best option for storing your favorite snacks and foodstuffs. It comes with an Energy Star certification making it great for people living on a tight budget.
Pros
Energy efficient
Scratch-resistant work-top
Vegetable crisper
Compact design
Cons
Low-quality glass shelves
FAQs
Question: How Long Can an LG Refrigerator Last?
Answer: LG offers a 1-year warranty on parts and labor on the fridge. The sealed compressor system has a 5-year warranty on parts and labor. It also has a 10-year parts warranty on the linear compressor. This is better compared to what some competitors offer.
Question: Where Can I Buy an LG Refrigerator?
Answer: LG refrigerators are available online or in-store. Numerous online and appliances stores stock them. It's wise to visit some of these stores to check out the refrigerators before you make a purchase.
When you plan to purchase a refrigerator, ensure that you measure the space you have. This will make it easy for you to get an appliance that best suits and fits your kitchen. Remember also to enquire about the delivery and removal services. Occasionally, some retailers offer promotions like free deliveries or trade-ins.
Question: Are LG Refrigerators Quiet and Energy-efficient?
Answer: Yes, they are! The majority of the brand's refrigerators are ultra-quiet and energy-efficient. Most LG models are Energy Star rated. This means that they are certified to save energy without sacrificing the performance of the appliance.
The Energy Star label allows you to save energy costs and protect your environment. Some LG refrigerators are fitted with LoDecibel™ Operation. It ensures that your appliance is always quiet (even if the compressor is running). LG fridges have a rating ranging between 44 to 48 decibels. To put this into perspective, a typical conversation with a 3-feet range is rated at 60 decibels.
Question: How do I Solve Vibration Issue on Frost Free or Direct Cool?
Answer: There are two main reasons why vibration may occur in your LG refrigerator. Either there is improper ventilation or the appliance is placed on an uneven surface. Ensure the fridge is placed at a minimum of 10 cm from any walls or items. Adjust the legs of the appliance to ensure it is balanced.
Bottom Line
The side-by-side LG refrigerator is best for homeowners with an averaged sized family. If you have a smart home or planning on making your home into one, go for the smart French door or door-in-door alternative. The compact option above is great for a small family or single people.
You may not feel like LG is the best brand in the market. If so, use the alternatives above to guide you on the available options. At the end of the day, everyone needs a refrigerator. The information above is a perfect guide on how to get one even if it isn't an LG brand.