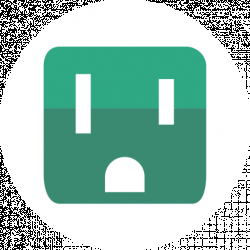 Latest posts by Appliance FAQs Team
(see all)
One of the best kitchen inventions made to date was the microwave oven. They are convenient, versatile, and have a low price point. Today's microwaves have evolved and can do way more than reheating your morning coffee and leftovers. Did you know that you can make poached eggs, steam vegetables, and cook bacon?
You basically cannot leave without a microwave oven today. The types of microwave ovens are endless, and you may be confused about where to start. The good news is that we are here to help you choose one that suits your needs perfectly.
There are many microwave brands such as Samsung, LG, Amana, Panasonic, and GE. Today, we will focus on GE microwave ovens and why we think they should be on your list. For more than 100 years, GE has produced many kitchen appliances and is exemplary at it. You can never go wrong with a GE microwave model.
GE has a long legacy of industry-leading innovation; hence you can be confident that you will only get high-quality appliances from them. Below is a GE microwave model guide that comprehensively covers all you need to know to get the right one for your home. Read on;
What Is A Microwave Oven?
Also known as an electric oven, it is used to cook food by high-frequency electromagnetic waves known as microwaves. It is a small box-like oven that raises food temperature by subjecting it to a high-frequency electromagnetic field. These microwaves are usually produced by a magnetron inside the oven and absorbed by water, sugars, fats, and molecules. This process then produces heat.
History Of GE Appliances
GE Appliances is based in Louisville, Kentucky, and is owned by Haier, a Chinese multinational home appliances company. It was initially part of General Electric that began making heating and cooking products in 1907. In 1978, GE Appliances came up with the first over-the-range microwave oven called the SpaceMaker.
It was the first microwave in the industry that doubled as a hood. In 1984, more inventions were made, and their microwaves were programmed to fit under a kitchen wall cabinet with a voice message memo system. In 1997, a microwave that scans bar codes was invented. Two years later, the first speed-cook ovens came into the market.
The speed-cook technology eliminated the preheating of foods. In 2003, GE came up with profile ovens with trivection technology for customized cooking. Currently, GE Appliances has introduced the Next Gen kitchen Hub Microwave with an additional camera inside the oven that allows you to view the inside of it while watching a movie on your couch. Amazing, right?
Types Of Microwave Ovens
Below are the different types of GE microwaves in the market. They include:
Countertop Microwave Ovens
If you have limited space in your kitchen, then this is the right microwave oven for you. They are great at conserving space. Countertop microwaves are placed directly on the kitchen counter or table; hence they are great for people with ample kitchen countertops.
Pros Of Countertop Microwave Ovens
They are inexpensive and have an average starting price of $50.
They are available in many power levels and sizes.
They can be easily replaced.
They are easy to install. You will only need an electrical outlet for the plug point and countertop space. You do not need a licensed electrician for the installation, as you can do it yourself.
Cons Of Countertop Microwave Ovens
They take up countertop space.
Convection Microwave Ovens
A convection microwave oven is an appliance that works as a grill microwave, standard microwave, and convection or baking oven in one. People prefer to buy a convection microwave oven than buy the appliances separately, saving on money.
They have an integrated fan or blower that forces hot air evenly around the food, eliminating temperature differences. The even heat distribution makes them perfect for baking cakes, pizza, and your favorite bread.
The convection microwave oven cooks food in two ways. First, it looks like the standard microwave oven, using magnetrons to excite water molecules. Secondly, the heating element heats the air in the cooking area and blows it around and into the food using a fan.
Therefore, you can do a lot with a convection microwave, such as grilling, heating, defrosting, browning, and baking food. So, if you want an appliance that works as a standard microwave and a convection oven, then this is the type for you.
Pros Of Convection Microwave Ovens
Food is cooked more evenly.
You can cook a variety of foods with this microwave oven.
You will save on having to use two appliances.
Cons Of Convection Microwave Ovens
They are expensive than standard microwave ovens.
They do not have a bottom element to brown the bottom of foods.
Built-in Microwave Ovens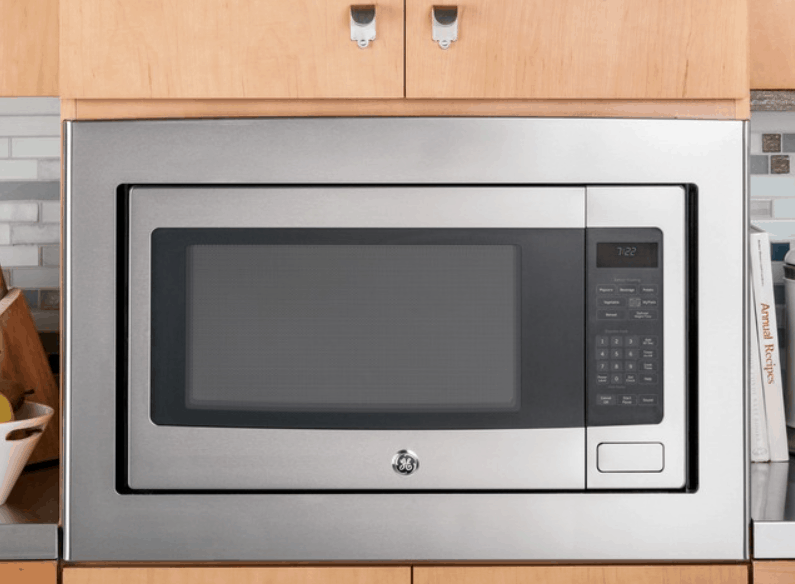 If you want to renovate your kitchen or design a new one, built-in microwave ovens are a great option. They are usually built into the cabinets; hence they can only be installed when designing the kitchen.
A built-in microwave oven gives a sophisticated and seamless look to your kitchen. They clear a lot of counter space as they are installed off the counter, adding more functionality to the kitchen. These ovens are much more expensive than regular microwave ovens due to their added convenience.
Some people tend to confuse built-in microwave ovens with microwave drawers, even though they are different. The main difference is in the way you access the cooking cavities. When using a built-in microwave, the cooking cavity can be accessed from the front, while with a microwave drawer, you can view it from the top.
Pros Of Built-In Microwave Ovens
If you want a stylish and modernized kitchen, then this is the microwave oven to go for.
They come in many sizes and wattages.
You will save on counter space due to the off-counter installation.
Cons Of Built-In Microwave Ovens
They are more expensive than countertop microwave ovens.
You will require professional installation services no matter how good you think you are to do it independently.
Repairs are pretty expensive as the unit might need to be removed and re-installed.
Over-The-Range Microwave Ovens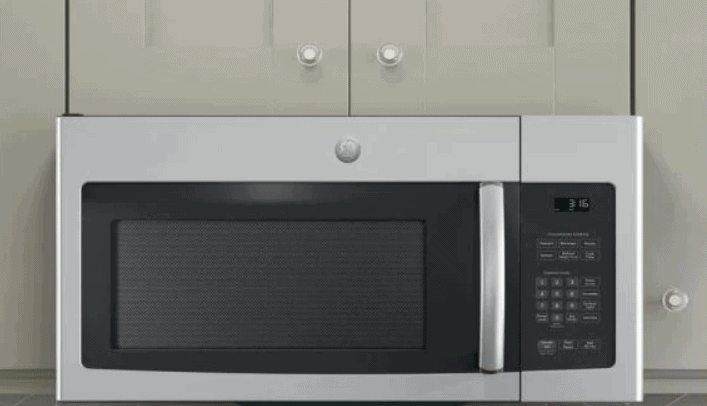 An over-the-range, over-range, or OTR microwave oven is designed to be installed over an induction or gas range. They are standard or convection microwaves with additional configurations. They have vent fans and worktop lights. These fans can be adjusted to vent smoke or odor outside the house or recirculate it. These features make them perfect for under-cabinet installation; hence they are not used as countertop appliances.
Pros Of Over-The-Range Microwave Ovens
They are installed under the cabinetry; hence they will save you lots of countertop space.
They have external and recirculating venting options.
They come in various sizes and wattage, usually over 800 watts.
The vent feature helps remove steam from the kitchen, hence perfect for homes with no ventilation.
Cons Of Over-The-Range Microwave Ovens
They are not portable.
They need to be professionally installed.
They are pretty expensive and start from roughly $180.
Combination Microwave Ovens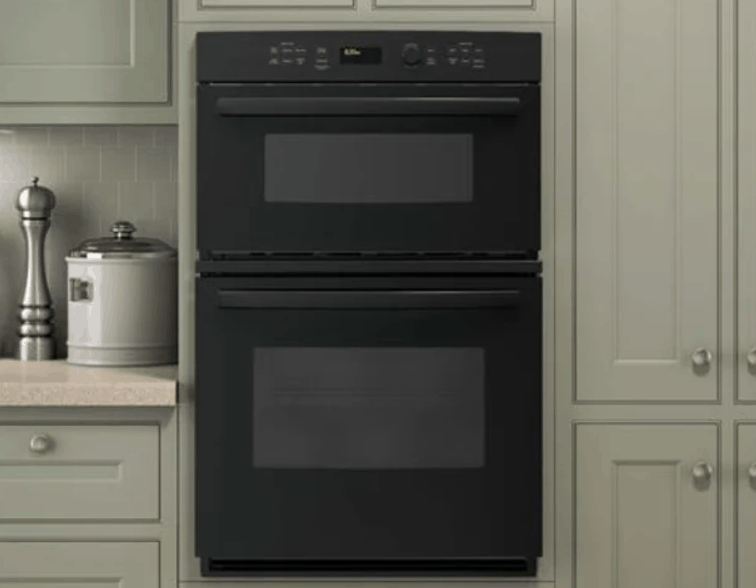 Also known as combi microwaves, they are precisely that. A combi microwave oven offers a combination of cooking options, such as steaming, baking, and grilling. They are perfect for busy kitchens as the possibilities are endless.
You will be able to try out new recipes and heat, roast, crisp, and brown your food. You can vary your cooking and try out new things in the process, as some of them come with auto programs that can even bake meringues or roast an entire chicken.
Combination microwave ovens offer more flexibility and versatility than the regular microwave. They combine microwave energy, convection heating, and grill functions to do numerous functions. They come in different types, with the most common ones being; microwave and grill, microwave and oven or microwave, grill and oven. They are also quicker as they have a smaller cavity than a regular oven.
Pros Of Combination Microwave Ovens
They offer multiple functions in one appliance. Therefore, you do not need to buy a separate microwave, grill, or oven as you can get them in one machine.
You will save on space in the kitchen as they are up to three appliances in one. You will also save on energy consumption.
Cons Of Combination Microwave Ovens
They are more expensive than standard microwave ovens.
They are unnecessary if you only want to reheat and defrost food, as a standard microwave will be better.
Key Features To Look For In A Good Microwave Oven
Wattage
The higher the wattage, the faster the cooking time and how evenly the contents inside heat up. We recommend a microwave oven with at least 1000 watts, as they will do the work pretty well. Microwave ovens with lower wattages, however, are cheaper but are unreliable and slower to cook. Therefore, ensure that you go for a microwave oven with high wattage levels.
Inverter Technology
Inverter technology is still new in many microwaves, but it is a great feature that you should consider. Inverter tech works to allow you to cook food more evenly at a consistently lower temperature. Microwaves with inverter technology will broaden your options as you will not be limited in the types of food to put in the microwave.
A regular microwave on medium power will heat on full power for half the time and turn off for the remaining time. In contrast, one with inverter tech will continually heat using only 50% of the power and not turn off.
Auto-Cook
With this feature, you need to put the food in the microwave oven and let the appliance do its work. You do not need to be stressed about choosing the correct settings, as all you need to do is select the dish in the auto-cook menu and press start, and you will be good to go.
Multi-Stage Programming
It will help you perform numerous functions in sequence, for example, switching automatically between defrosting and cooking.
Sensor Cooking
Sensor programs are efficient in that they measure the vapors emitted by the food to control the cooking time. Here, no weight is required, hence making the cooking relatively seamless and easy to do.
Clear Visibility
Microwave ovens with a transparent viewing window and bright interior light are a great choice as you will easily see the food. Avoid reflective door finishes and window grids that are difficult to see through. You should ask the store to power the microwaves to check on the visibility before making a purchase. On the other hand, if you are buying online, ensure that the viewing window is transparent.
Auto-Defrost
You will find that some microwave ovens have an auto-defrost feature while others do not. An auto-defrost setting that uses low heat to defrost based on the food's weight is highly recommended.
Child Lockout
If you have small children, then the child lockout feature is vital. It will allow you to set a password to unlock the appliance when using it. This way, you will protect your kids from harm.
Size
The size of the microwave oven is crucial and is usually determined by the size of the family. For example, a 15-20 liter capacity oven is recommended for a family of two to four members. For families with four to six members, get an appliance with a capacity of 21-30 liters. For families with more than six members, the perfect capacity is more than 31 liters.
GE Microwave Model Guide: Our Top 10 Recommendations
There are many GE microwaves in the market, and you may be confused about which one to go for. The good news is that you can never go wrong with GE, no matter the appliance that you choose. This is because they have exemplary quality home appliances that will last you a lifetime. Below is a list of the best ten GE microwaves to buy for your home and why we love them.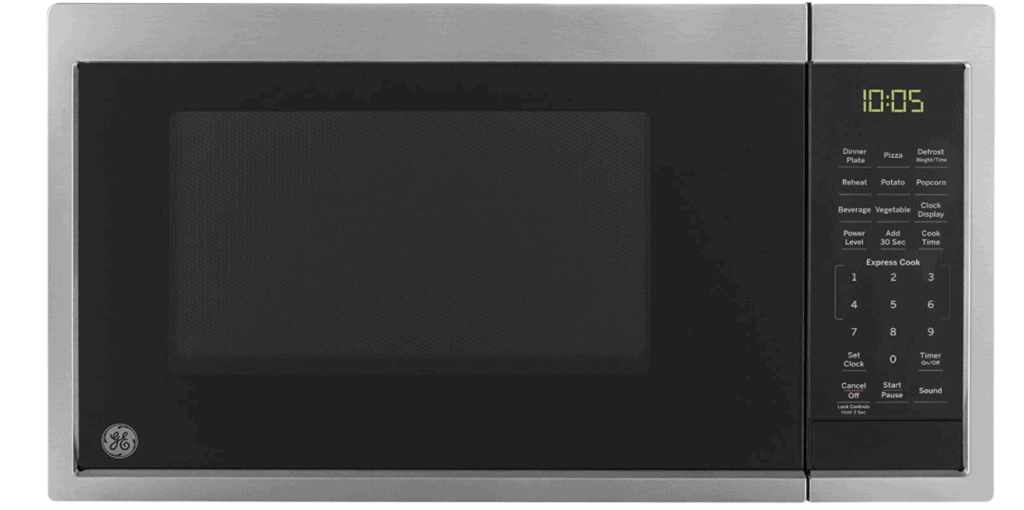 If you want a high-quality microwave that is pretty affordable and will prevent you from breaking the bank, then the GE JES1095SMSS is the best microwave for you.
It measures 19*14.4*11.5 inches and is the best small microwave for people with limited space. Its 0.9 cubic feet capacity and 10.5-inch turntable help accommodate most of the dinner plates with no hassles. The cooking capacity can even fit two people's meals, hence reasonably practical and convenient.
We particularly love its durable stainless steel exterior with its high-quality touch keypad. It also has seven auto cook options that will give you numerous food options to try out. The cooking settings are also displayed on the LED display hence making your cooking seamless. It also has a 900 watts power output that is great for cooking and can be adjusted to ten different levels.
It also comes with a kitchen timer that will help you keep track of your cooking progress, and the sound feature can be turned off. On the downside, the characters on the touch buttons can be challenging to read in low light conditions.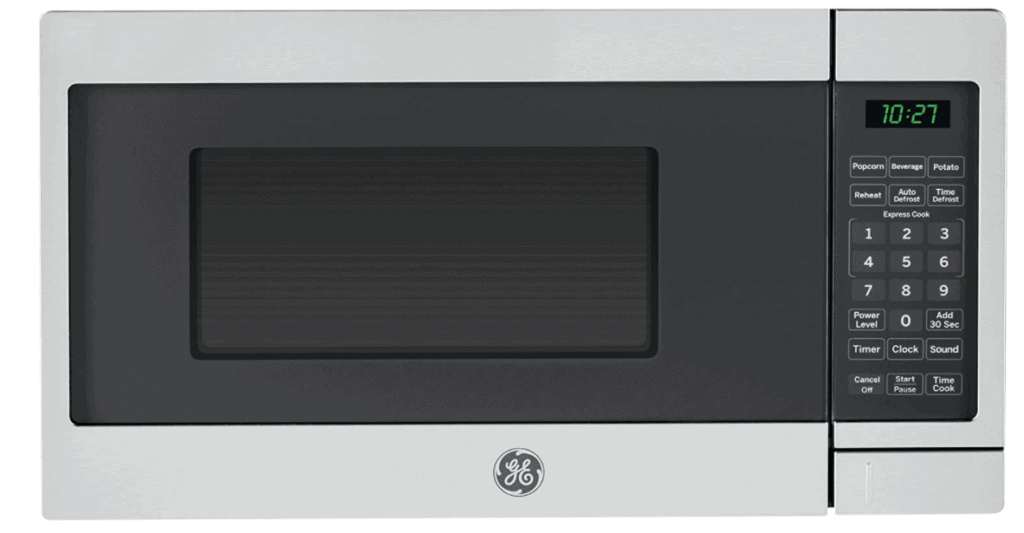 This is a highly versatile microwave oven that is great for people with limited countertop space. It also has a large turntable as in the bigger models, hence value for money. It is perfect for singles, couples, employees, and students as it is pretty compact. If you are struggling with countertop space, then this is the best GE microwave for you.
It measures 17.31*12.75*10.18 inches; hence it can be moved around with ease. It has four preset cooking options; therefore, you can enjoy a variety of foods.
It has a 700 watts power output that can be adjusted to ten different settings. However, this cooking power will lengthen the cooking times; hence you should prepare yourself for that.
The GE Appliances JES1072SHSS microwave has fewer presets, but it is perfect for people with basic needs. If you want a compact and basic model, then this is the microwave oven for you.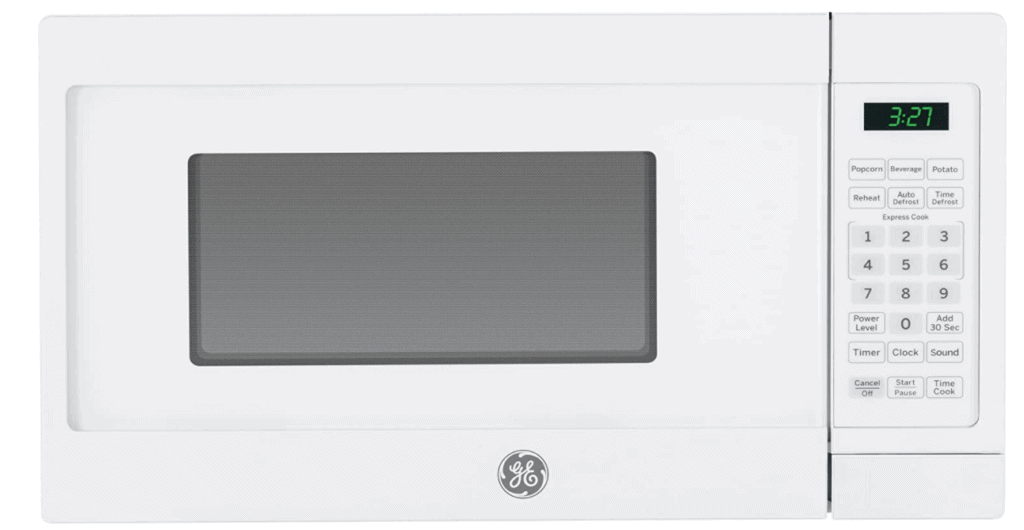 If you need a compact and lightweight microwave that is highly convenient, then this is the one for you. It measures 17.25*13*10.13 inches and only weighs 24 pounds. This size makes it highly suitable for people who move around a lot or in the catering business. It is also great for kitchens with small countertops as it will not take up much space.
This GE Appliances JEM3072DHWW microwave is also great for people living in small apartments, studios, and office break rooms. They come in 700 watts and can be adjusted into ten levels. It also has four preset auto cook options for cooking snacks and reheating leftovers. This ensures that you get your food ready, especially if you are late for work or errands.
It also comes with a Defrost option to thaw food without cooking it, which will come in handy. We also love it because you can also mute the sound if using it late at night or in the office.
Some important things to note are that wide plates and dishes will not fit into the microwave and prevent the glass turntable from rotating.
Therefore, ensure that you only use containers that fit perfectly. Also, moisture tends to collect inside; hence, you will need to clean it regularly. However, the pros outweigh the cons, and it is up to you to choose whether it is worth the money or not.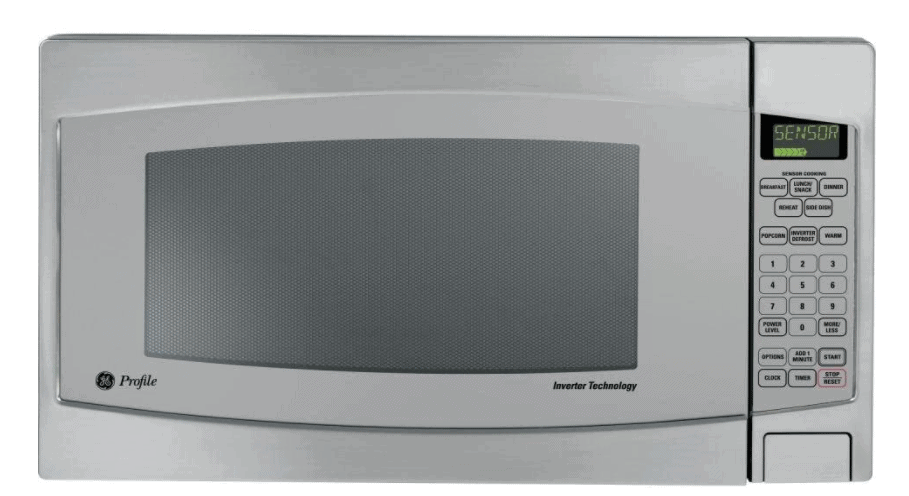 If you need a massive microwave for your large family, this is the type to go for. It has 1200 watts of power and a 16-inch turntable that will come in handy when hosting Christmas or New Year's Eve parties. It also has a 2.2-cu ft. capacity and measures 14*24*19 inches, making it perfect for large family meals.
It also comes with six cooking controls, making cooking quite a breeze for you. Another feature that we love is its inverter technology that helps provide consistent heat to cook food evenly even when on low settings. If you have butter, ice cream, and cream cheese, you will enjoy the soften feature.
It also comes with a child safety lock that will help protect your kids from harm. You will also enjoy the warming oven that will keep your microwaved foods hot until serving time. This GE model also has a sensor that detects when food is done; therefore, no need to worry about your food getting overcooked. Isn't that amazing?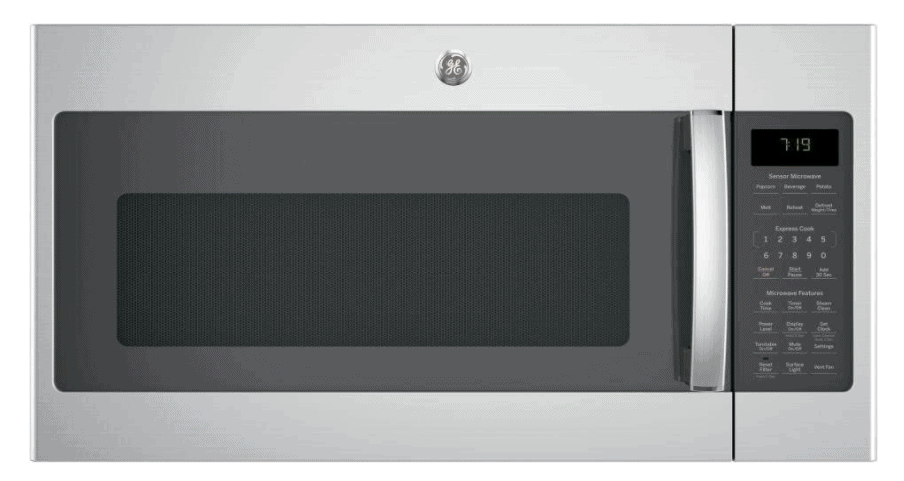 This is the perfect heavy-duty microwave for your kitchen. It has a robust stainless steel interior and handles that will last a long time. One of its best features is that it can be installed on your cooktop to eliminate odors and smoke through the ventilation system. It has a built-in convertible 300 CFM system that helps keep things fresh.
This comes in handy when cooking shrimps or fish as they leave a lingering smell in the microwave that will later affect the next food you will prepare in it. No one wants their pizza to smell like fish since they had it for lunch, hence why this feature is crucial. Moreover, it also has a fan to set to four various speeds, thus keeping the microwave fresh.
If you are cooking for a large family, this is also a great option as it has a 1.9-cu ft. capacity and a 14.2-inch glass turntable. The turntable can be switched off if, for example, you are putting two dinner plates or big trays inside it. It also has a 1000 watts power output and ten different power levels that will allow you to experiment with other recipes.
We love this GE JMVM7195SKSS microwave as it is one of the most reliable GE models you will find in the market. For example, if you are worried about replacing your charcoal filters, this will not be an issue with this model. The reason for this is that the interior light will notify you when you need them replaced, making it quite convenient.
This microwave, however, does not come with a child safety lock, which might be an issue for some users. On the good side, it will serve you for a long time with no problems.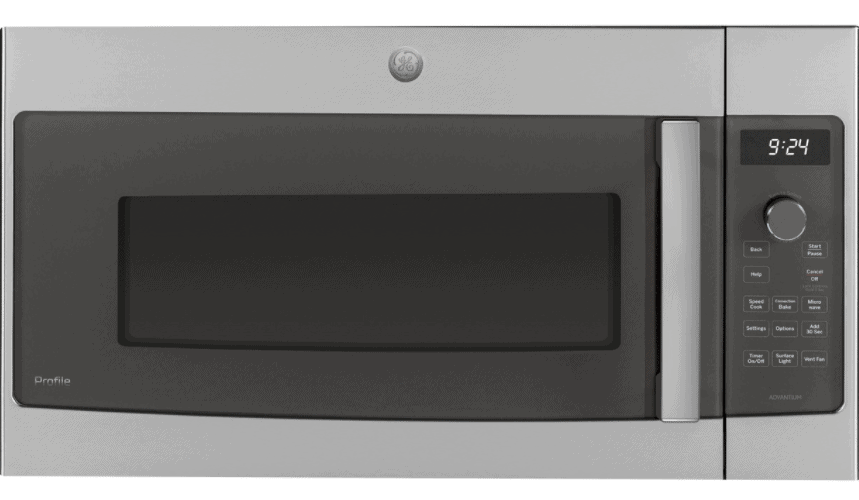 If you want to expand your cooking flexibility, then the GE Advantium PSA9240SFSS microwave is the perfect pick for you. We love the fact that it has four ovens within a single one. It also has a 240-volt speed cook technology that makes it perfect for a modern kitchen.
It is also four times faster than a conventional oven and has more than 175 preprogrammed recipes. For venting purposes, it comes with a 300 CFM system and backlit controls. It also has halogen heat; hence you can skip the preheating process.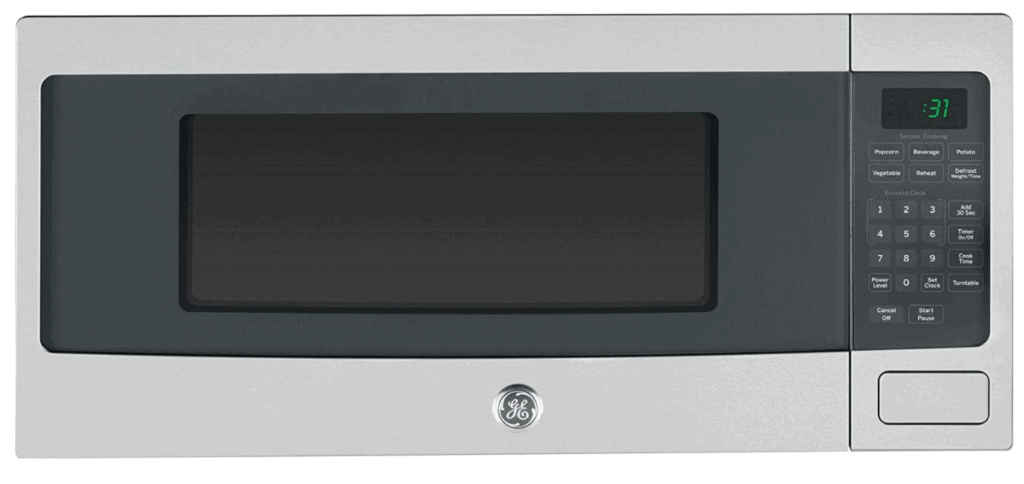 If you are looking for a microwave to enhance your culinary skills, then look no further. The GE Appliances PEM31SFSS stainless steel microwave is perfect for people with limited counter space as it can be placed in a cabinet or under the shelf with a hanging kit.
One of the main reasons it made it to our list is that it is ADA compliant; hence people with disabilities can use it with no hassles. This feature makes it a perfect addition to your home if you have people that are differently abled at home.
It has a 1.1-cu ft. capacity with a 10.5-inch turntable that is perfect for small families. It comes with a scratch-resistant enamel interior that is relatively easy to clean. You can also switch off the turntable if you want more concentrated heat when reheating and defrosting your food.
It has 800 watts power output that can be adjusted to ten levels; hence you can customize your meals as you prefer. Its six preset auto cook options come in handy when trying out new things.
This model is more expensive than others of the same capacity and does not have a mute function, hence quite noisy when reheating food late at night.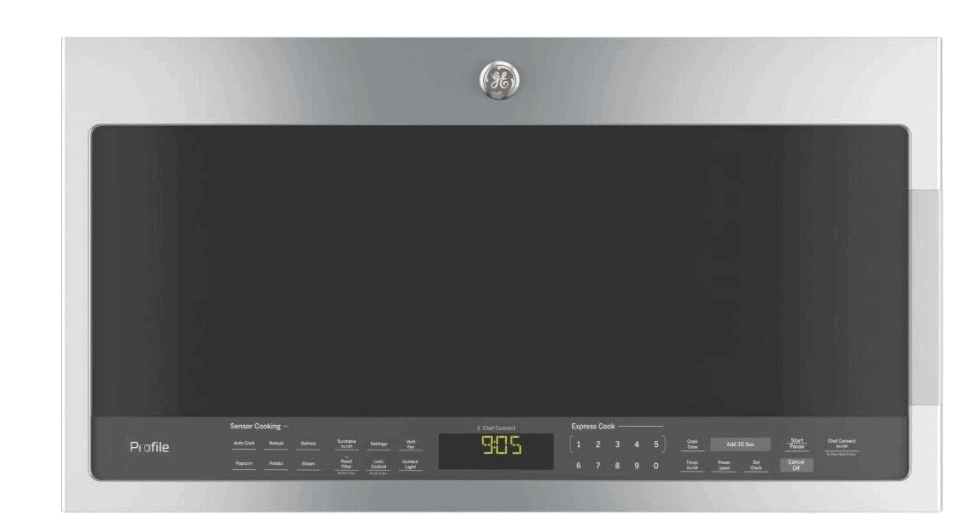 This over-the-range microwave oven is perfect for busy households. It has a 1050 watt power output with a 2.1-cu ft. capacity that is great for large families.
It has sensor cooking that heats your food evenly and conveniently by detecting humidity in the microwave and adjusting the cooking time based on the type and weight of food. This feature also ensures that you have easy cooking, thawing, and reheating experiences.
It also comes with a charcoal filter with an indicator light that tells you when to replace the filter. Moreover, it has a three-speed 400 CFM venting system that helps remove odors, steam, and odors from the house. This ventilation system can be adapted to accommodate that of the home, whether vertical or horizontal duct system or non-vented ductless system. If you cannot vent to the home's exterior, then a recirculating kit is provided.
This model also has a Chef Connect feature that links the microwave to the GE range to activate its light or sync clocks when the range burners are being used, making it convenient for modern homes.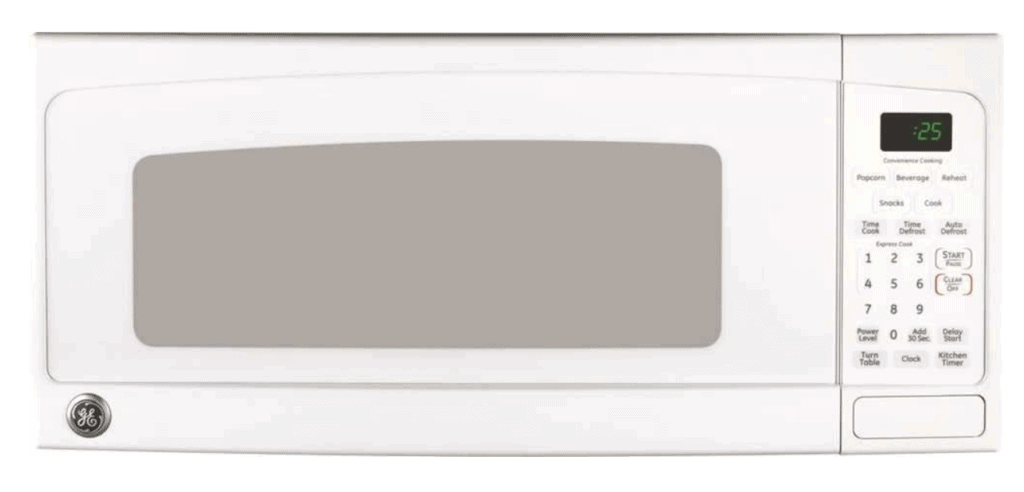 This 1.1-cu ft. countertop or microwave oven is great for small spaces. It also has a wide design for more interior space, which is a plus. This countertop microwave is built-in capable with a matching trim kit. This hanging kit helps free up counter space, especially if you have a small kitchen since it allows for under-cabinet installation.
It has 800 watts power output with ten power levels and an easy-clean enamel interior making it easier to clean spills and spatters that may occur. It has sensor cooking controls that adjust the time and power for fantastic cooking results. It also has a melting feature; hence, no need to worry about melting your cheese and butter.
This is the best smart GE countertop microwave in the market. It measures 17.3*10.1*14.1 inches and has a turntable of 10.5 inches. We love that you can give orders through Google Assistant or Amazon Alexa through Google Home or Amazon Echo speaker to control it. Its 900 watts power makes it better than the Amazon Basics smart microwave; hence it is more effective and powerful.
You can also control it through the GE Appliances Kitchen app. You can also scan the barcode of microwavable food through a feature known as Scan-to-Cook that allows the microwave to detect the code and program itself appropriately. However, the list of scannable foods is currently relatively short; hence, the feature will not be that effective.
It may be pretty tricky to operate if you are not tech-savvy. However, you can still learn as the manual is quite extensive.
FAQs
Question: How Do I Set My GE Microwave To 50% Power?
Answer: At 50% power, the magnetron will generate microwaves at 50 percent of the selected time. Therefore, during the off cycles, the energy accumulated will warm the food by conduction. Cooking at medium or 50% power is perfect for slow cooking and braising. To set the microwave at 50% power, you need to press the numbers 5 and 0. Once done, press the start button and the microwave will turn on and begin cooking the food.
Question: What Is The Warranty On A GE Microwave?
Answer: You will get a one-year warranty from the original date of purchase of your GBE microwave oven. You will also get free-of-charge labor and in-home service to replace the defective part during this time. For the magnetron tube, you will have up to ten years of warranty from the date of purchase. However, you will be responsible for labor and in-home service costs during this period.
Question: How Long Should A GE Microwave Last?
Answer: GE microwaves last between nine to ten years with proper maintenance. However, they may stop working sooner if poorly maintained. Some of the signs to look for are the keypad not functioning correctly, burning smells and sparks, the door is not sealing properly, and food is not cooked well. We recommend contacting a professional to help you out if you experience one of the above problems.
Conclusion
GE microwaves ovens are the go-to if you want high-quality appliances with cutting-edge features that will serve you for a lifetime. With the above guide, you will be able to choose the right one for you.
Everyone has their preferences and needs; hence what works for one person may not work for another. That being said, we highly recommend the GE Appliances JES1072SHSS microwave for small kitchens and the GE Appliances JES22151SJ for large families. If you want a microwave with the latest tech, then the GE Appliances JES1097SMSS microwave is the one to go for. Try them today, and let us know your experience down in the comments.
Read More: