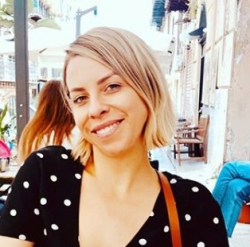 Latest posts by Jodie Chiffey
(see all)
If you're after a new microwave for your kitchen, you might be considering a Sharp microwave drawer – in which case, our review may be able to help you to decide. The question is – is the Sharp microwave drawer any good? Is it worth the price, is it easy to use, and what are the key features to be aware of?
We'll go into more details, but to give you the gist up front, we really like the Sharp microwave drawer. It has plenty of settings, the capacity is good, and it's powerful. A good all-rounder.
We'll take a look at the key specs of the Sharp microwave drawer, as well as more details on the main features. We'll also give you our honest thoughts on the pros and cons of this particular model, some alternatives to look at, and answer some frequently asked questions.
Let's start by looking at those all-important specs all in this Sharp microwave drawer review.
Sharp Microwave Drawer – Key Specs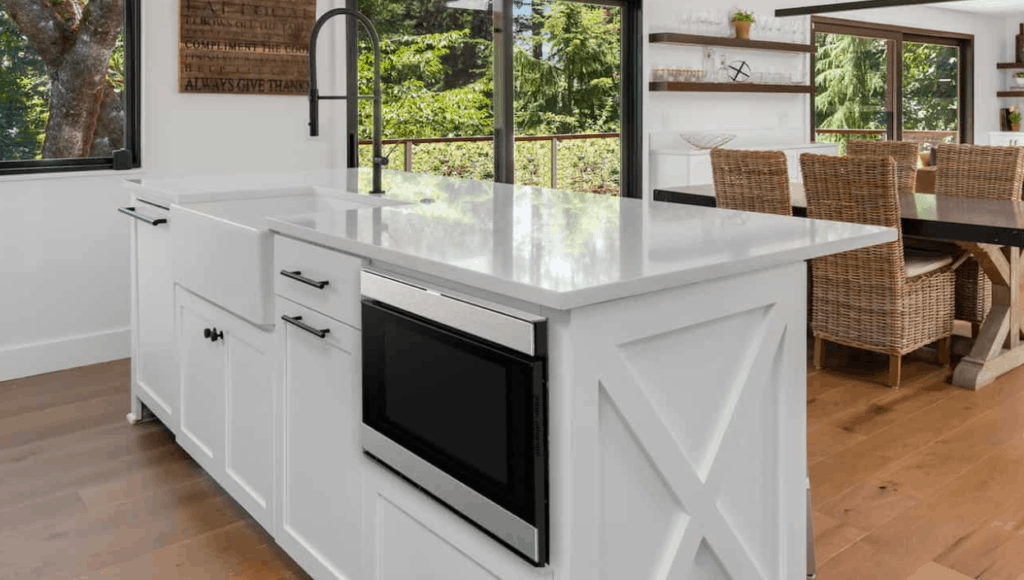 There are a few different models to choose from. We've decided to focus on the 24 inch model for this review, but there are other models available in different sizes and with slightly different features, so if this particular model doesn't fit your kitchen, there may be another option instead.
Capacity: 1.2 cubic feet
Dimensions: 23 x 15 x 24 inches
Microwave Size: Medium
Microwave Settings: Defrost, Sensor Cook
Color/Finish: Stainless Steel
Door Style: Pull-Out
Number of Power Levels: 11
Wattage: 1,000
Price: Check the latest price here
Sharp Microwave Drawer – Key Features
Now, let's take a look at the key features of the Sharp microwave drawer – we'll give you our honest thoughts on each category.
Power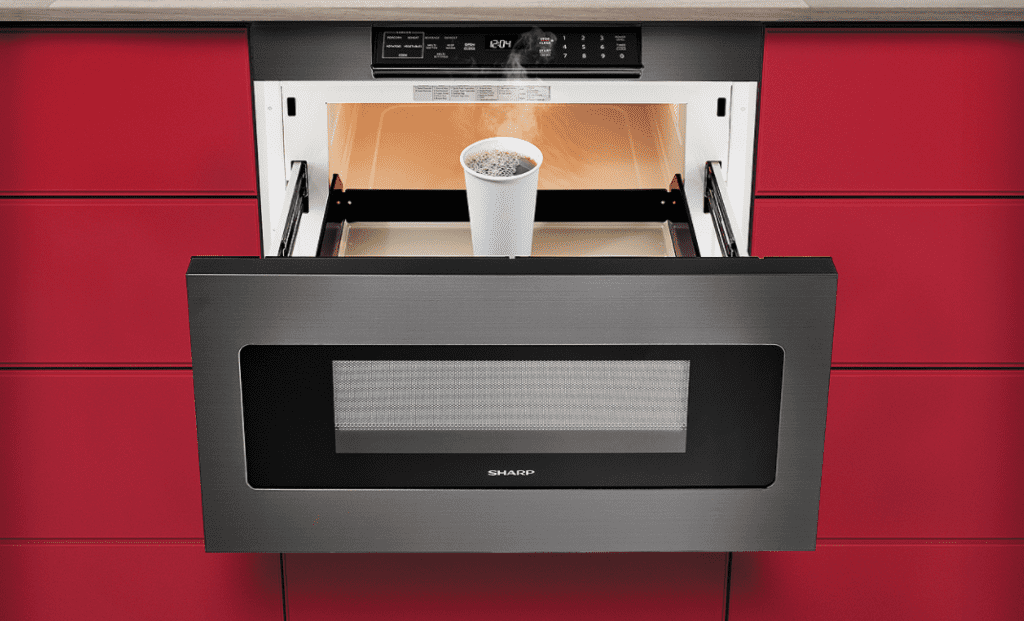 This is a decently powerful microwave, at 1,000 watts. It's got some great settings (more on those in a moment) and should be more than enough for everything you'll need to use it for, especially if you're heating up larger dishes of food and you need it to be piping hot in the middle.
Settings/Ease of Use
The Sharp microwave drawer has a couple of easy-to-use settings, including the sensor cook setting. This is designed to detect the humidity released by food during the cooking process, automatically adjusting the cooking time to suit the amount and type of food.
It also has a 'melt' setting, perfect if you need to quickly melt some chocolate for baking, and a 'soften' setting, which is perfect for butter. This is useful if you make a lot of cakes! It also has a 'warm' setting which is ideal if you don't need your food to be super hot. The 'keep warm' setting helps to keep food at a certain temperature.
It has a 'reheat' setting to easily take care of leftovers and a popcorn setting too. It's very easy to use. The control panel is on the top, and it's pretty easy to use. It also has an easy-touch automatic drawer system, which means it glides open easily with a pull or a touch of a button. It opens up all the way, meaning you can easily remove a large casserole dish without spilling the contents.
In terms of installation instructions, however, it falls short. The directions are a bit confusing, and the setup configurations can be a little overwhelming initially if you've never installed a microwave drawer before.
Capacity/Size
This particular model has a good capacity of 1.2 cubic feet. That's big enough for a 4-qt casserole dish or a 20 oz. Beverage. It's a decently sized microwave, perfect for most families.
There are multiple placement options for this microwave – you can use it as a built-in microwave, an over-the-range microwave, or a countertop microwave. In addition, it can be placed below an island, on a peninsula, or as part of a standard cabinet.
This is handy as you can place it wherever makes the most sense for your kitchen layout or for your own cooking style.
Appearance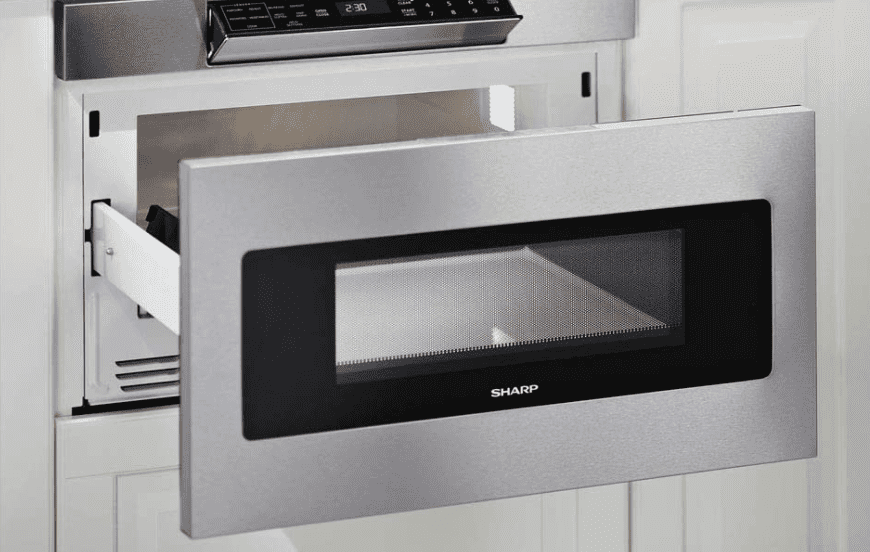 This drawer microwave comes in a stainless steel finish, and it looks sleek and unobtrusive. There are black and white microwave drawers available from Sharp, too. The outside is very easy to keep clean, but it can be tricky to reach down and get the corners clean depending on where you have placed the microwave.
It has concealed controls for a clean, tidy kind of look – if you prefer not to have appliances with obvious controls or a clock visible at all times, this is a good choice.
Price and Warranty
This particular model is available for around $1300, which is about standard for Sharp's microwave drawers. They can go up to almost $2000, so this is on the cheaper end of the scale. It comes with a warranty of 1 year for parts and labor with in-home service and 4 additional years for the magnetron tube.
Sharp Microwave Drawer – Pros and Cons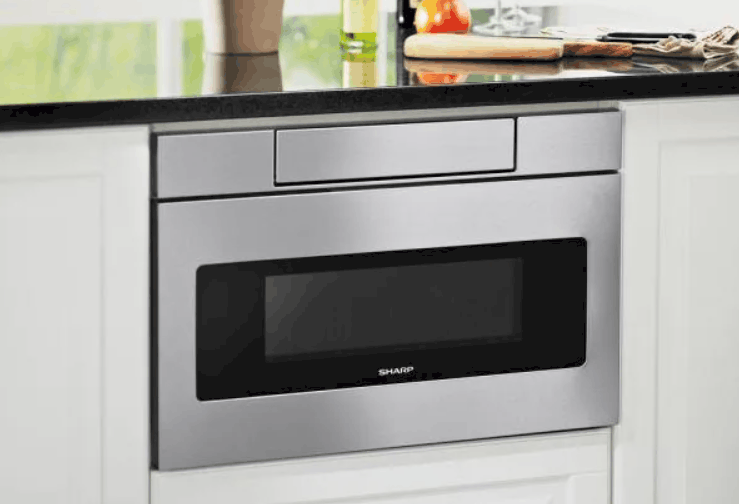 Here are the main highlights of the Sharp microwave drawer, as well as some things we'd like to see improved:
Pros
Easy to use control panel
Lots of options in terms of placement in the kitchen
Good capacity
Easy to open so you can remove contents without spilling
Useful settings
Cons
It can be difficult to clean in the corners
Setup is a bit confusing
Alternatives to Try
There are a few alternatives to try if you'd rather not go with a Sharp microwave drawer: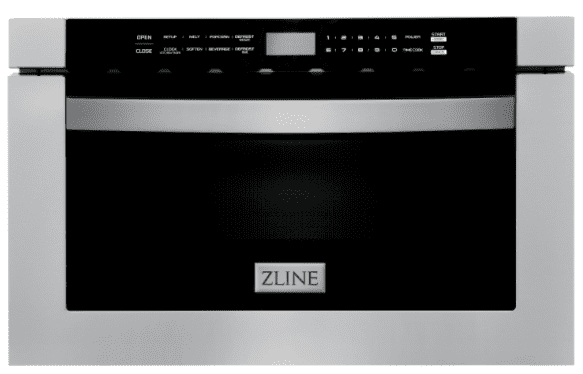 This is an excellent option if you want to go with a different brand. ZLINE's microwave drawer is a powerful microwave and can boil a cup of water in 1 minute 50 seconds on the standard-setting. It has easy-to-use glass touch controls, with 11 power settings and multiple defrost settings.
It also comes with a defrost rack and offers specific settings for melting and softening butter, ice cream, cheese, or marshmallows.
It looks sleek in stainless steel, and it has a 2-year warranty on parts.
KitchenAid Under-Counter Microwave Drawer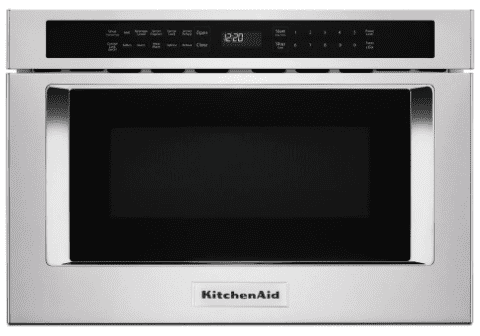 This is another good choice, with a decent capacity of 1.2 cubic feet. It has sensor settings for cooking, popcorn, and reheating and an auto-touch open/close push-button control.
The top access allows you to check and stir foods without taking the dish out of the microwave, just like the Sharp microwave drawer. You can choose from a menu of 10 foods you microwave the most, plus popcorn settings and a reheating mode for harder-to-defrost foods (like tilapia).
It has a keep-warm function, which delivers quick pulses of 50% power to keep your food warm until you're ready to serve it.
Bosch 800 Series Drawer Microwave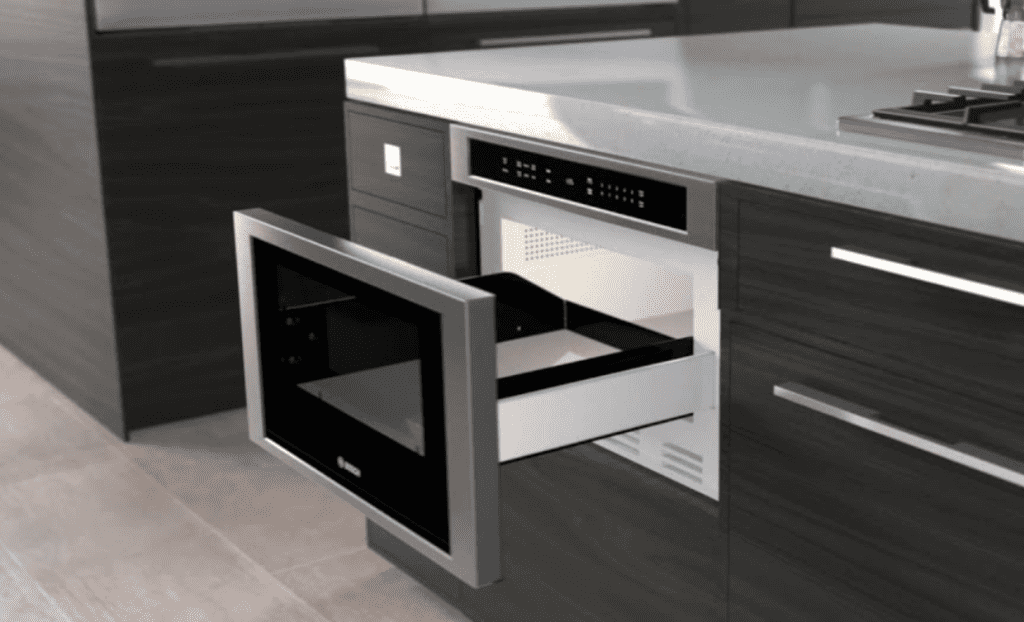 Another sleek-looking stainless steel microwave, this microwave designed to fit large casserole dishes and coffee mugs. It has 950 watts of power, so pretty decent, with 11 preset power levels. The glass touch controls are easy to use, with automatic sensor programs for certain foods.
The automatic defrost helps to determine power level and cooking time, and the interior light allows you to peep in while cooking takes place. Plus, it has a child safety lock to prevent unwanted use.
Kucht Drawer Microwave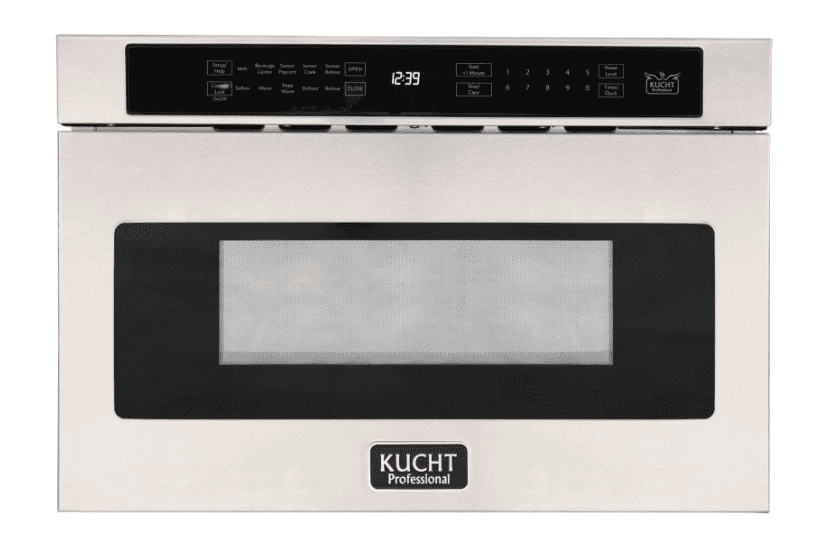 If you want something that looks a little different, the Kucht drawer microwave is a good option. Available in white, it looks clean and unobtrusive, and the LCD is easy to use.
It has 1,000 watts of power, so pretty good, with several cooking options, including 6 defrost settings. The capacity is good, and you should be able to fit in a large casserole dish with no problems.
It's a couple of hundred dollars cheaper than some of the other models we've mentioned here, and it comes with a generous 4-year warranty. If you're on a tighter budget, you might want to check this one out.
Frequently Asked Questions
Before you go, let's check out some frequently asked questions about the Sharp microwave drawer:
Question: Does the Sharp microwave drawer have wifi capabilities?
Answer: No – the Sharp microwave drawer does not have wifi capabilities, so you won't be able to control it with your smartphone. Not many microwaves are smartphone compatible, unlike other appliances like refrigerators.
Question: Is it better to get a microwave drawer or a regular microwave?
Answer: It depends on how often you plan to use it. A regular microwave takes up space on your countertop, but it can be a lot cheaper to buy.
A drawer microwave is a little more versatile in terms of settings (for example, many have the 'keep warm' function), and they tend to have a bigger capacity. They also have the advantage of being tucked out of the way, so you don't lose counter space.
Question: Is Sharp a good brand? What other microwave brands can you recommend?
Answer: Sharp is generally considered to be a reliable brand, offering decent warranties on its products.
We can recommend some other brands for microwaves. GE Appliances are considered to be reliable, and they offer a lot of good mid-priced microwaves. You can pick up a GE countertop microwave for around $300, which is good if you're on a smaller budget. Read more in our GE Microwave Model Guide.
You could also check out the Frigidaire range of microwaves. Mainly offering countertop microwaves, Frigidaire is a reputable brand with some mid-priced microwaves available. You can read more in our Frigidaire Microwave Model Guide.
Electrolux is another good brand for microwaves. They tend to offer over-the-range microwaves or oven and microwave combinations. You can read more about them in our Electrolux Microwave Model Guide.
Question: Does the Sharp microwave drawer include a childproof lock?
Answer: Yes. This model comes with a childproof lock, so you won't have to worry about children getting into it or setting it off by accident.
Question: Do I need to buy a trim kit for this model?
Answer: No, you do not need to buy a trim kit for this model – it's all included, so you won't have to purchase it separately.
Question: Can you heat up two plates of food at a time in the Sharp microwave drawer?
Answer: No, it's recommended that you heat up one plate at a time for the most efficient results.
Sharp Microwave Drawer Review: To Sum Up
Overall, we think yes! There isn't a huge amount of variation between microwave drawers, but we think that Sharp is a good brand and this microwave has just the right amount of settings – the 'melt' and 'soften' options are particularly useful if you have a keen baker in the house.
It's useful to be able to keep food warm, especially if you're in a busy household with lots of people sitting down to eat at different times. You can also heat food to 'warm,' which is perfect if you don't need your food to be piping hot.
We also like how easy it is to open – the drawer just glides open, and it's easy to remove large dishes or drinks without spilling them. While it can be tricky to clean in the corners, this isn't enough of a downside in comparison to the benefits.
The child lock means you won't have to worry about kids switching it on by accident, which is good if you need to have it low down in the kitchen. There are lots of options for placement, and it looks attractive, too. The biggest shortfall is the installation, which can be tricky – it's worth looking online for a video guide to see how to do it if you can, and it may take a little while to work out the settings.
So to sum up: yes, we think this is a good microwave. Powerful, useful, and easy – just what you want for a busy lifestyle. We hope this has helped you to decide if a Sharp microwave is the right choice for you.