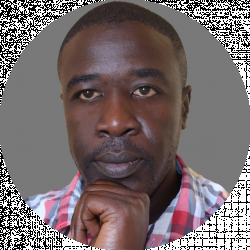 Latest posts by Barry Juma
(see all)
Samsung is known for its reliability, and this is confirmed by the 2021 JD Power appliance satisfaction study that ranks Samsung dryers first in customer satisfaction. The company's dryers are also known for their performance and style. This should give you a degree of confidence if you're considering Samsung for your next dryer. 
However, the company has over 100 dryer models, making it difficult to narrow down to just one. In this Samsung dryer model guide, we'll break down the features found in the company's dryers and help you whittle down to the ideal model for your needs. Keep reading to find out more.
Types of Samsung Dryers
Samsung has a variety of dryers that we'll categorize according to their fuel and design. These are:
Top-load dryers

Front-load dryers

Electric dryers

Gas dryers
Top-load Dryers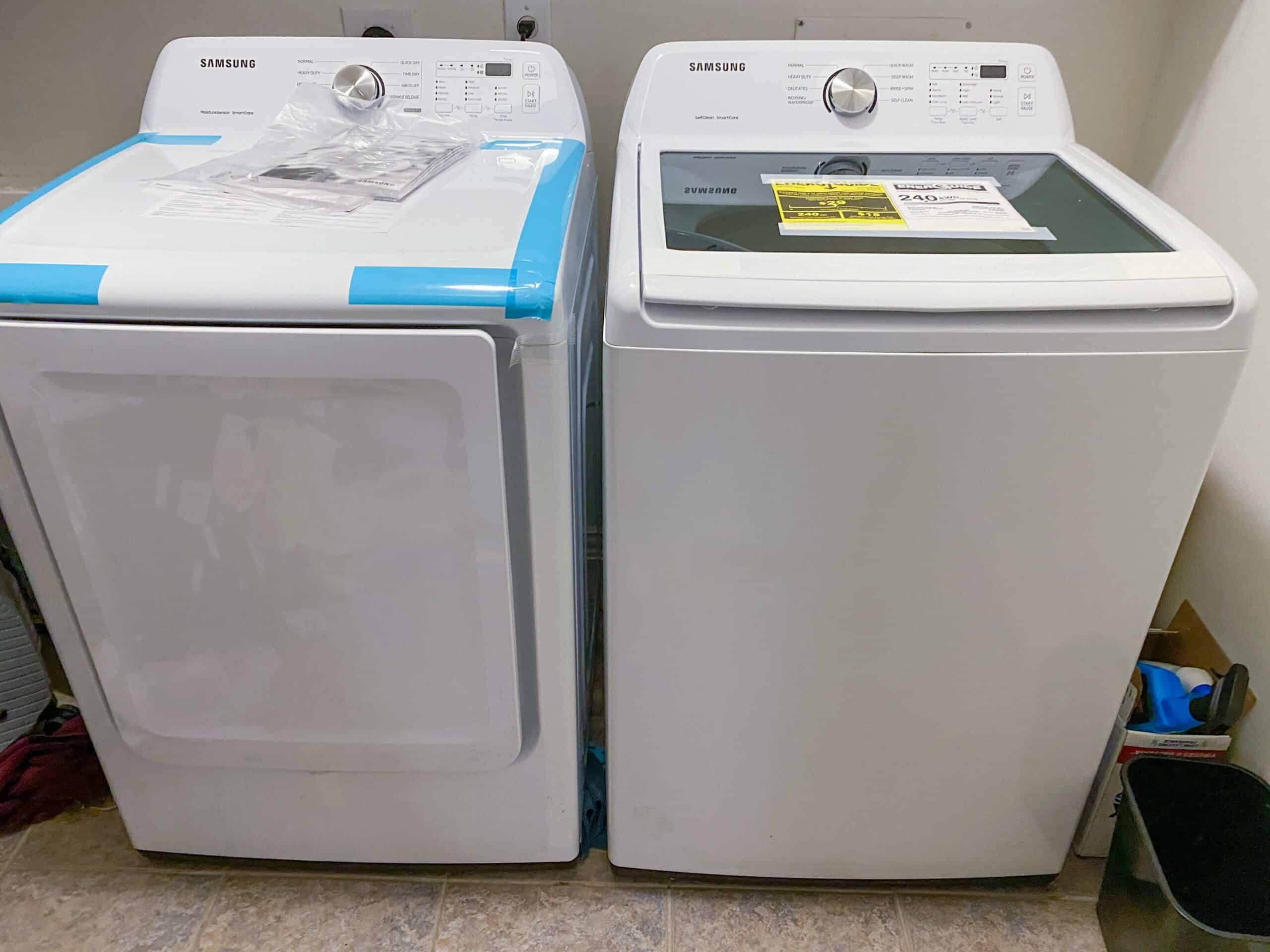 This name might be misleading since these dryers aren't actually loaded from the top, rather, they're loaded from the front. They're named so because their design is meant to emulate top-load washers for those who want to pair the two appliances for a uniform look. 
These dryers are among Samsung's most affordable, although there are also a couple on the higher end. 
Front-load Dryers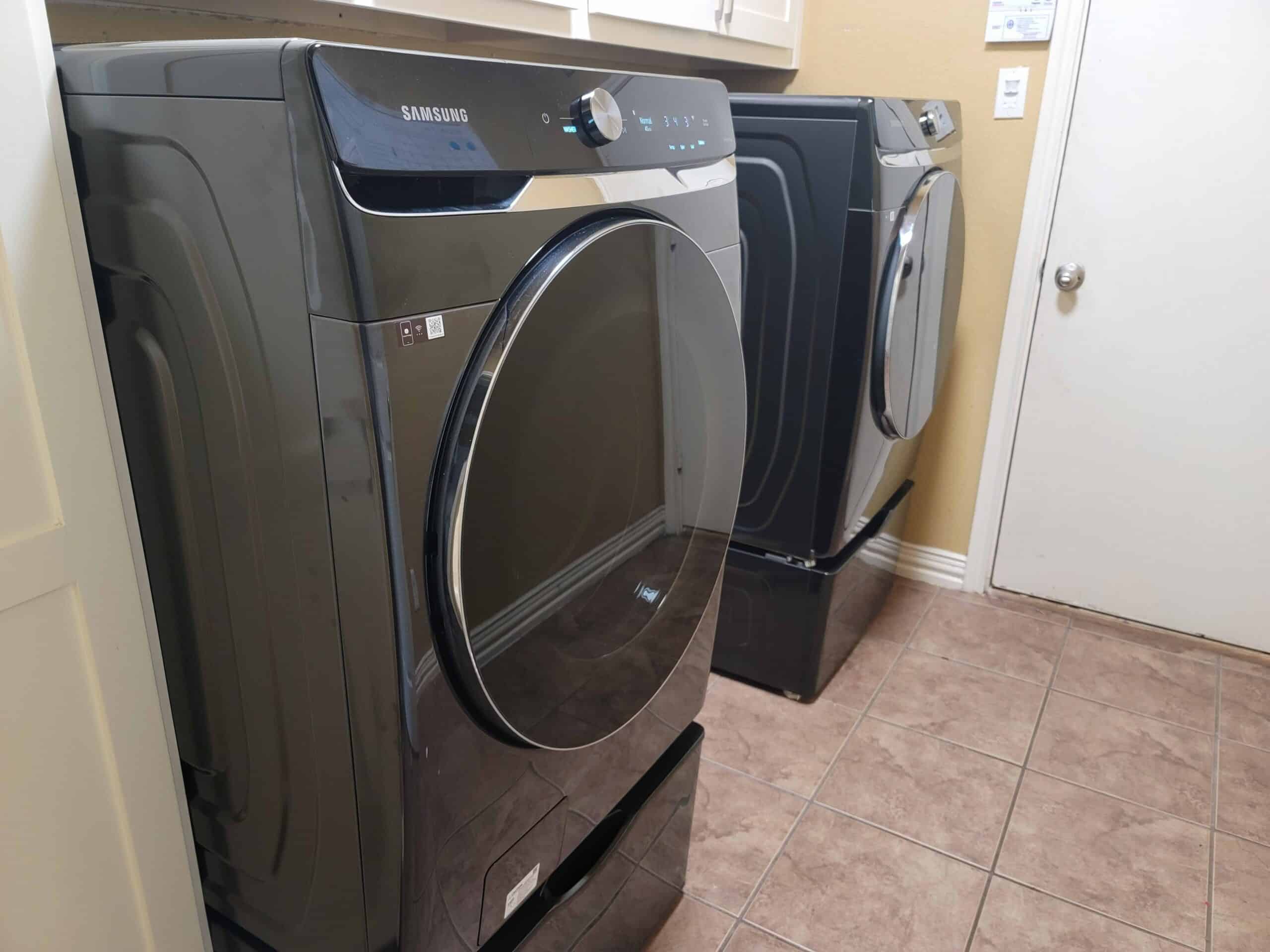 Front-load dryers are paired with front-load washers as they have a similar look and design. Samsung sells several front-load models for you to choose from. We dove deeper into the difference between top-load and front-load dryers in this article, so take a look to find out more.
Electric Dryers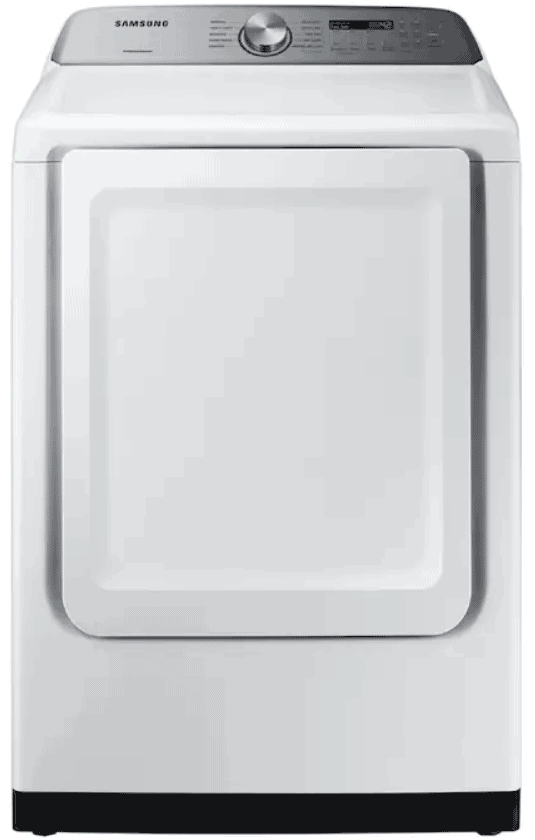 You can choose to buy a dryer whose heating element is powered by electricity. Samsung has over 80 electric models in its lineup. Here are some pros and cons of electric dryers to help you decide.
Pros
Electric dryers are generally cheaper to buy than gas dryers.

Installation is fast and easy, all you need is a 240V outlet.
Cons
The monthly cost of electricity is higher than that of gas.

They don't get as hot as gas dryers, resulting in longer cycles.
Gas Dryers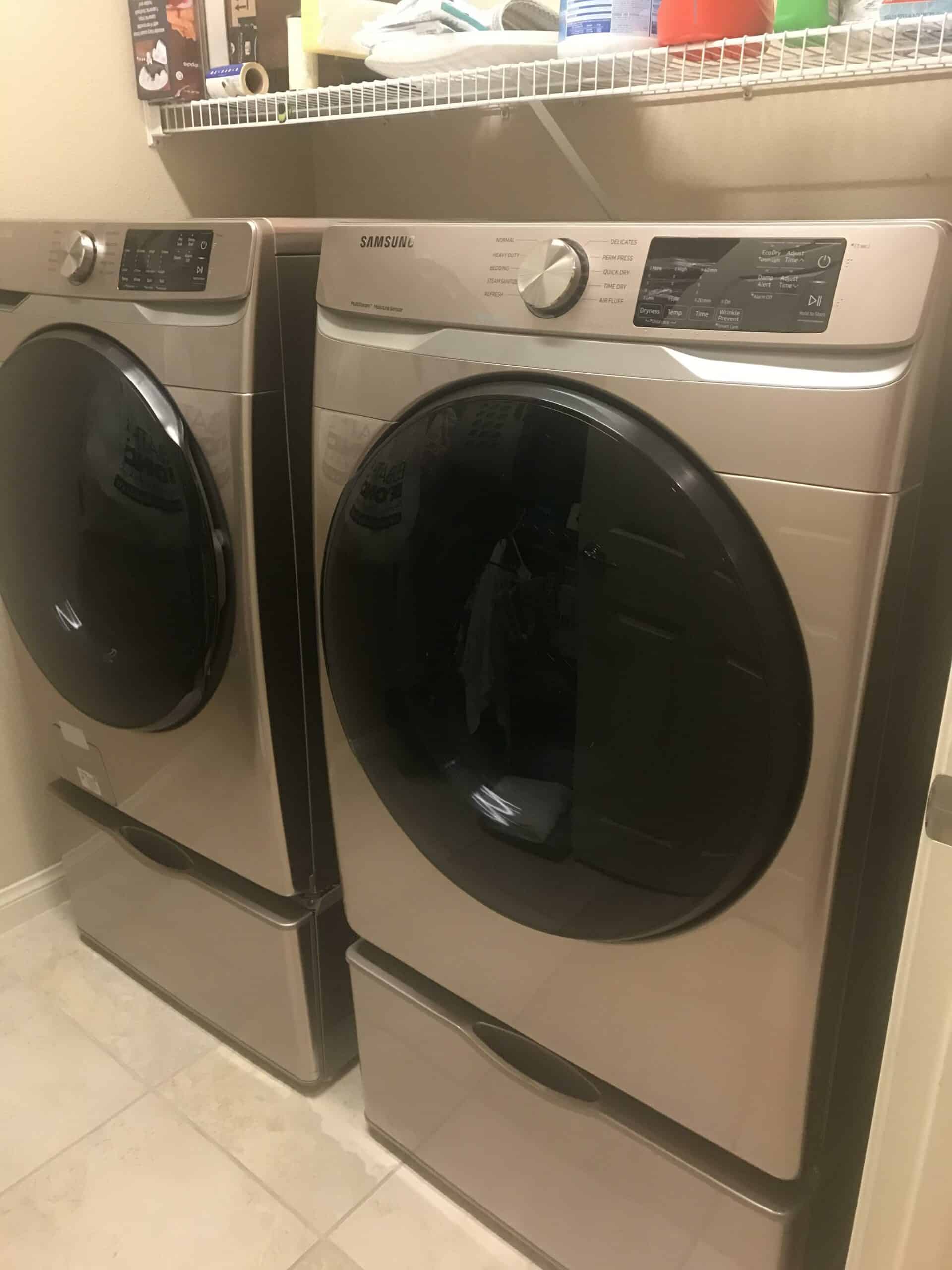 If you already have a gas line in your home, a gas dryer might be a good option. Although their heating elements are powered by gas, you still need to connect these dryers to an outlet to power the control panel and drum. However, you only need a standard 120V outlet for these models. Samsung has over 50 gas dryers for sale. 
Pros
The monthly cost of gas is cheaper than that of electricity so their operating cost is lower.

Gas heats up quickly and the peak temperature is higher than that of electric dryers, meaning shorter cycles.
Cons
The purchase cost of gas dryers is higher than that of their electric counterparts.

You need a professional to connect the gas line and vent to the gas dryers.
Find out more about the difference between gas and electric dryers in this piece.
Ventless Dryers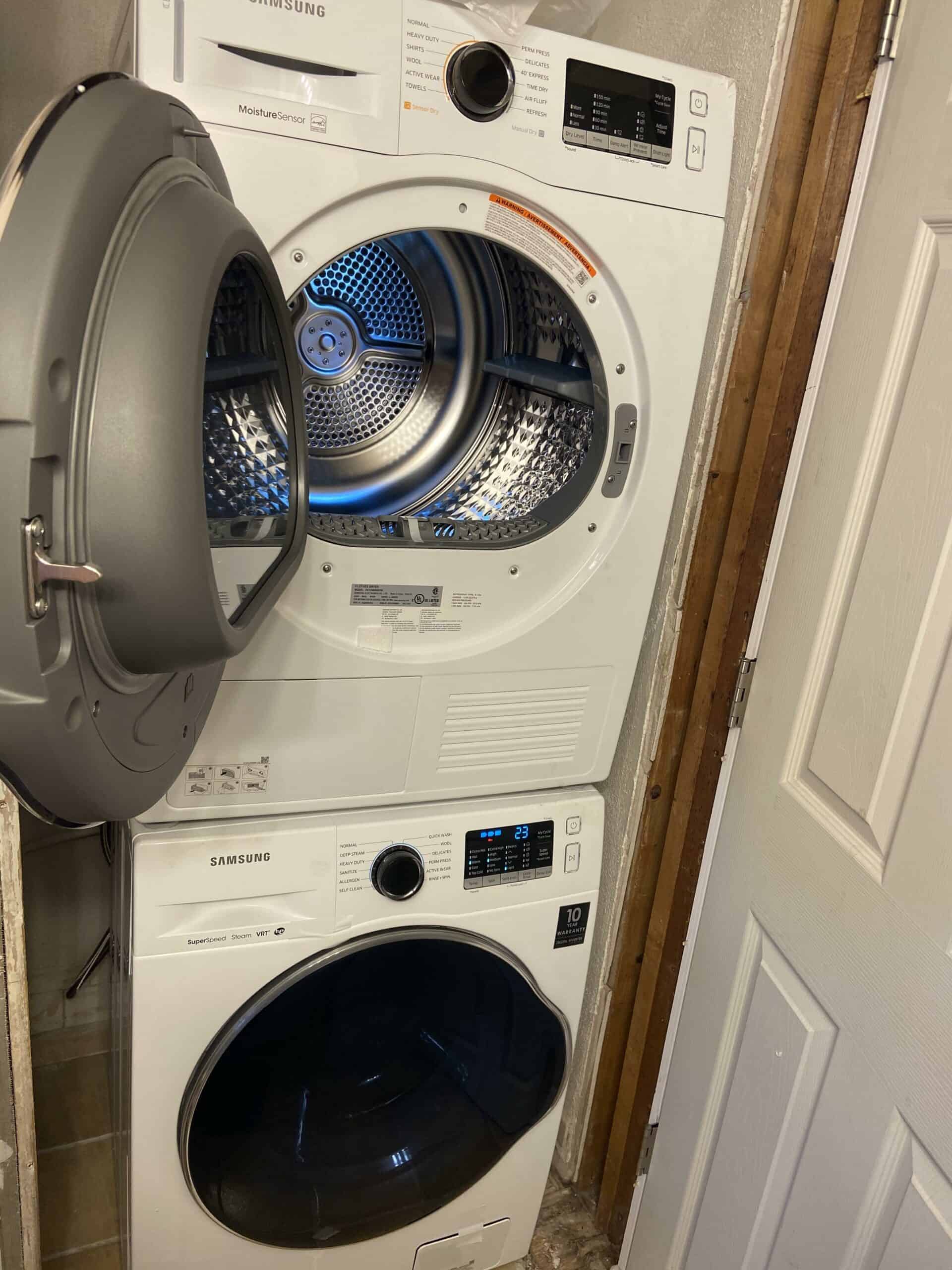 Samsung also sells one ventless dryer model. Standard dryers require a vent through which exhaust is pumped outside your home. However, if you live in an apartment building or have a small home without a dedicated laundry space, venting might be a problem. In such a case, getting a ventless dryer would be a good option.
These dryers work by drawing in the surrounding air, heating it, and then tumbling the wet clothes in the heated air. As this happens, water from the wet clothes evaporates and the moist air is then passed into a condenser where it is cooled. The moisture condenses and the condensed water is passed through a drain pipe or collected in a tray. The cooled air is heated again and taken back to the drum to repeat the process until the clothes are dry.
Pros of ventless dryers
Ventless dryers are gentle on clothes as they don't get as hot as vented models.

They don't require as much maintenance as vented dryers.

These dryers are easy to install.
Cons of ventless dryers
They take longer to dry clothes.

Their capacity is usually smaller than that of vented dryers. Samsung's ventless dryer has a capacity of 4.0 cubic feet while the vented models have at least 7 cubic feet.

Ventless dryers are generally more expensive than vented models with the same specs. 
Main Features of Samsung Dryers
Sizes and Capacities
Vented dryers generally come in capacities of between 7.0 cubic feet to about 7.5 cubic feet. Samsung's largest top-load-design dryer has 7.4 cubic feet while the largest front-loader has 7.5 cubic feet. If you choose to go ventless, Samsung's ventless models have just 4.0 cubic feet. 
Wondering which size is right for you? Ideally, you should choose a dryer that's twice the capacity of your washer. Find out more about picking the right dryer size for your needs in this in-depth piece.
Prices
Samsung has dryer models at every price point. Those on a budget will find a model in the range of $550 to $750. The company's cheapest dryer is a top-load model that costs about $570. This is an electric dryer with a capacity of 7.2 cubic feet. 
If you're looking for a gas dryer within this price range, the lowest you'll spend is $669. As we mentioned earlier, gas dryers are more expensive than their electric counterparts and this model has similar specs to the cheapest electric model but costs $100 more. 
Samsung's cheapest front-load dryer costs $680; it's an electric model with a capacity of 7.5 cubic feet. For those looking for a gas front-loader, the lowest-priced one costs $780.
There are also two ventless dryer models in Samsung's lineup (a condenser and a heat pump model) and both cost $800. Ventless dryers are significantly more expensive than vented models yet they have smaller capacities – 4.0 cubic feet in this case. Perhaps the benefits of having a ventless model justify the cost (check out the pros and cons we listed above to decide).
Samsung's mid-range dryers cost between $750 and $1000 while the high-end models are priced over $1000. The most expensive model costs about $1800. If you're looking for a smart dryer, then you'll have to get a mid-range or high-end model. 
Smart Features
To enable smart features, your dryer needs to have WiFi connectivity. This allows you to connect the appliance to your smartphone via Samsung's SmartThings app. Using the app, you can remotely start or stop a drying cycle, or even schedule a cycle to start at a preferred time. Moreover, you'll receive notifications when a cycle ends, allowing you to operate your dryer even if you're not at home. 
If you have a Samsung smart washer, you can pair the two appliances so that the dryer selects the appropriate drying cycle for the wash cycle you've used.
Some Samsung smart dryers (and washers) have a Smart Dial. This is an AI-powered dial that studies your drying habits and suggests appropriate cycles for your specific needs. And if you stack your dryer and washer, you can pair the two appliances and use the washer's Smart Dial to control both the washer and dryer. This eliminates the need to reach up to the dryer's dial, which might be tough to get to for shorter people. 
Sensors
All the dryers in Samsung's lineup have moisture sensors that give them the sensor drying feature. The moisture sensors are able to determine the dampness level of clothes and alter the drying time and temperature depending on this. When your clothes are completely dry, the Samsung dryer will automatically turn off. This saves energy and keeps your clothes from getting damaged because of over-drying. 
A number of Samsung's dryers also have vent sensors. These are able to monitor the pressure and temperature of the air passing out. If the air pressure drops then the sensors will alert you of a clog, prompting you to clean the vent. 
Drying Cycles and Cycle Options
Samsung dryers have sensor dry, manual dry, and steam cycles, and these vary depending on the model. Find out the number of cycles in your preferred Samsung dryer model so that the cycles you need are available. Some of the lower-end models have Very Dry, More Dry, Damp Dry, and Normal Dry as standalone sensor dry cycles while the higher-end models have these as separate dry level settings. 
Quick Dry cycle is found in all models, and it's able to complete drying a load within just 30 minutes. 
Among the steam cycles, you get Wrinkle Away/Prevent for removing creases from clothes. Some models also have a Steam Sanitize cycle that eliminates bacteria, germs, and dust mites as well as wrinkles and odors from clothes. Find out more about all the cycles in Samsung's dryers here.
Design and Finishes
There are several Samsung dryer designs and finishes for you to choose from if you opt for a mid-range or high-end model. However, on the lower price point, you only have one option; white. The different colors available are white, brushed black, ivory, champagne, and platinum. The more expensive models get a fingerprint-resistant black stainless steel option but for this finish, you'll have to pay at least $940. 
Another design feature in Samsung's dryers is a reversible door. With the help of a screwdriver, you can shift the position of the hinge from one side to the other, allowing you to decide whether the door will swing to the right or to the left, depending on the layout of your space. 
Energy Efficiency
To keep your energy costs down, consider a model that's energy-efficient. Thankfully, Samsung has over 40 Energy Star certified dryers, but the cheapest one costs $800. The ventless dryer models consume the least energy at about 145 kWh/yr. Samsung's Energy Star certified vent dryers consume at least 607 kWh/yr. Of course, the ventless dryers are smaller than the vented ones, contributing to the lower energy consumption.
If the model you're considering doesn't have the Energy Star certification check its power consumption in the spec sheet and look for a model with less than 700 kWh/yr. The good news is that most of Samsung's dryer models are energy efficient.
Recommended Samsung Dryer Models
Selection Criteria
To come up with our list of recommendations, we considered the following;
Value for money:

I looked at the features available in the dryer for the price charged and chose those that are equipped with handy features that equal or surpass their cost.

Performance:

This list has some of the best-performing Samsung dryers in their class, according to both customer and expert reviews.

Customer feedback:

I considered Samsung dryers with an overall rating of 4.4 stars and above out of five on the Samsung website and sites of popular retailers like Best Buy and The Home Depot.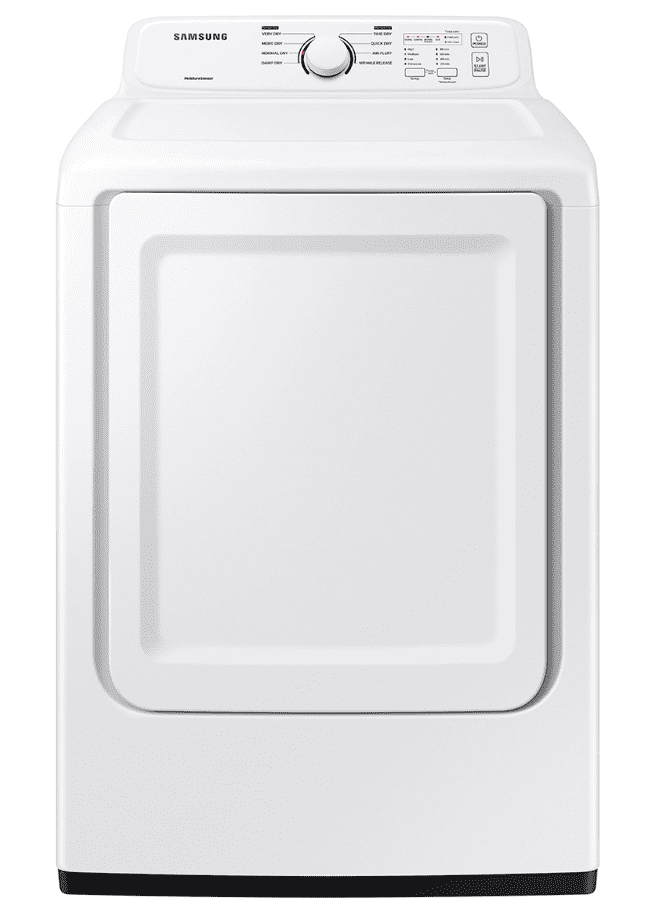 This is Samsung's lowest-priced dryer and it's on our list because it's not only affordable but also a top performer. There's no doubt, at first glance, that this is a budget-focused appliance; it has a plain white body with no fancy design elements. The controls are found on the backguard – by controls, I mean a knob and four buttons. It's easy to use since there are no frills to complicate your experience. 
The dryer has just eight cycles, but chances are that these are more than enough for your drying needs. Among them are four sensor cycles: Very Dry, More Dry, Normal Dry and Damp Dry. Even the naming isn't complicated; nobody wants to spend ages trying to decipher what their dryer controls mean. Here's a look at the Samsung DVE41A3000W/A3 dryer's main features.
Main Features
This dryer has a capacity of 7.2 cubic feet.

It has eight drying cycles; four manual and four sensor cycles.

The door is reversible.

There's a lint filter and an indicator that alerts you when it's full.

This is an electric dryer with a power consumption of 644 kWh/yr.
Pros
This Samsung dryer is affordable.

Its large capacity is ideal for those who regularly clean large loads.

It's easy to use.

Its reversible door makes it easy to configure it to the layout of your space.

The dryer is quiet
Cons
It isn't Energy Star certified.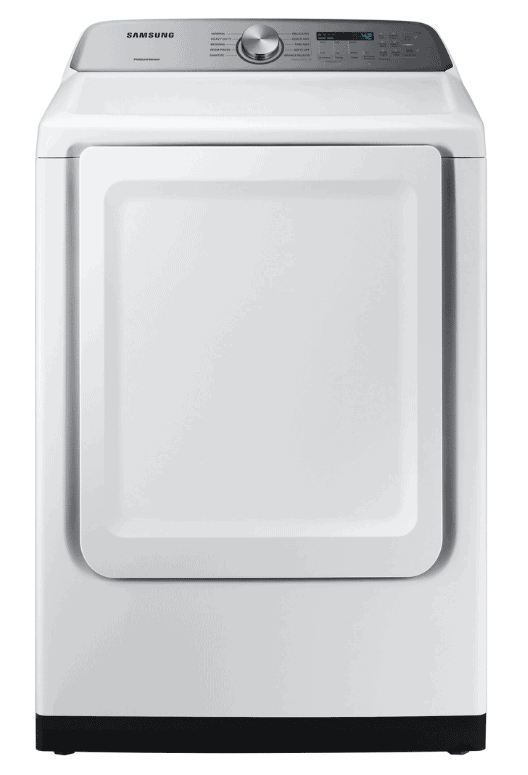 This Samsung dryer is about $100 more than the model above and you can tell from its slightly fancier looks. This model is curvier and looks more modern, with silver accents highlighting the controls on the backguard. 
There are 10 cycles with 9 drying options in this model, and five of the cycles are sensor-controlled. You'll get handy cycles like Wrinkle Release, Sanitize, and Permanent Press alongside five dry levels: More Dry, Normal Dry, Normal-More Dry, Normal-Less Dry, and Less Dry.
Don't worry, the dryer is easy to use as the buttons are well labeled. Moreover, each button has a tone that sounds on pressing, plus some of the buttons have braille labeling to accommodate those who are visually impaired.
Main Features
This dryer has a capacity of 7.4 cubic feet.

It is powered by electricity and consumes an average of 644 kWh/yr.

There's also a gas version of this model.

It has the sensor dry feature.

There are 10 drying cycles.

There's a reversible door.

This dryer model has a drum light.

It has a lint filter indicator.
Pros
You can use Smart Care on the Samsung Smart Washer/Dryer App to troubleshoot issues with this dryer.

The braille on the controls makes it easier for visually impaired people to operate this dryer.

The dryer is quiet.

It has a large capacity.

The drum light comes in handy in low-light situations.
Cons
Shorter people might struggle a bit to reach the bottom of the dryer's tub.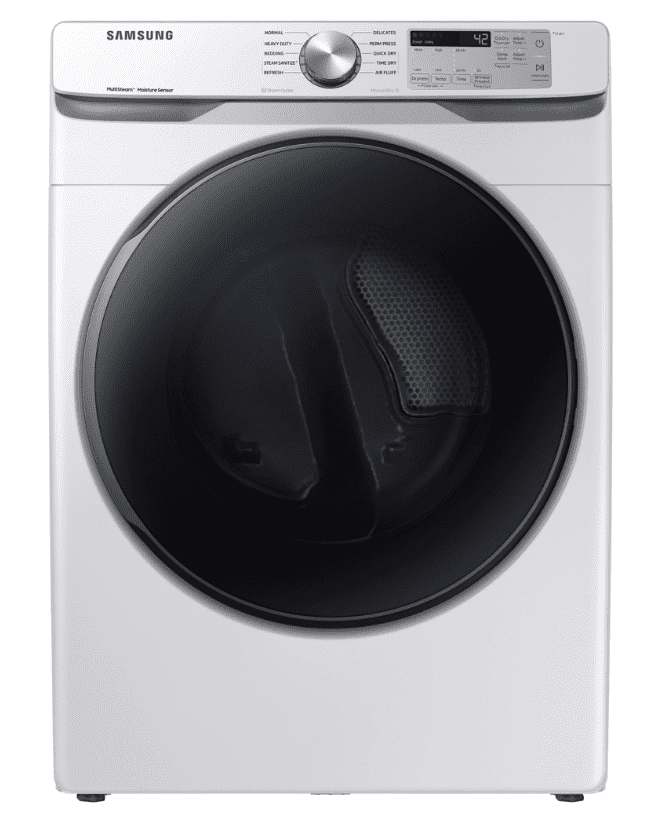 This is one of Samsung's cheaper front-load dryers, and with a price tag of about $700, it offers a lot of value for what you pay. It comes in three colors: platinum, champagne, and white. You'll pay about 30 bucks more if you prefer platinum or champagne; this isn't a high price to pay for some extra style. 
As is common with Samsung dryers, this front-loader is easy to use – there's a knob for selecting a cycle and buttons for other settings like dryness level and temperature. Speaking of cycles, this one has 10, with Steam Sanitize and Refresh as the standout ones. And there's also the Sensor Dry feature, as you'd expect at this price, taking away the guesswork in setting the time and temperature. 
Main Features
This is a front-load dryer with a capacity of 7.5 cubic feet.

There are electric and gas versions of this model.

It has the Sensor Dry feature.

There's a Steam Sanitize cycle.

Its door is reversible.
Pros
This is a very quiet dryer.

Sensor Dry helps to prevent over-drying of clothes.

Its Steam Sanitize cycle kills pathogens and eliminates creases.

The washer is easy to use.

You can use Smart Care to troubleshoot any issues that it may have.
Cons
There's no WiFi connectivity.

This washer isn't EnergyStar certified.
The first smart dryer on our list, this Samsung appliance boasts some handy features that come from being WiFi enabled. At the top of the list is remote operation via the SmartThings app, plus you can use voice commands via Alexa or Google Assistant to control your dryer. 
This Samsung dryer model comes in three colors with white being the most affordable option. The other two options are fingerprint-resistant black stainless steel and champagne which cost about $100 more. There are 11 preset drying cycles in this model and you can also download an extra one. One cycle that you'll find handy, more so in our current times, is Steam Sanitize that does a great job at getting your load germ-free.
Main Features
This is a front-load dryer with a capacity of 7.5 cubic feet.

It is WiFi-enabled and can be operated remotely via the SmartThings app.

There's the Sensor Dry feature.

The washer also has a vent sensor.

There are 11 preset cycles and an extra downloadable one.

Its door is reversible.
Pros
You can remotely operate this washer.

It has a Steam Sanitize cycle that you can use to kill germs and eliminate wrinkles from clothes.

It has a large capacity.

The washer is EnergyStar certified.

There are vent sensors as well as moisture sensors.
Cons
The fingerprint-resistant and champagne options cost more than $1000.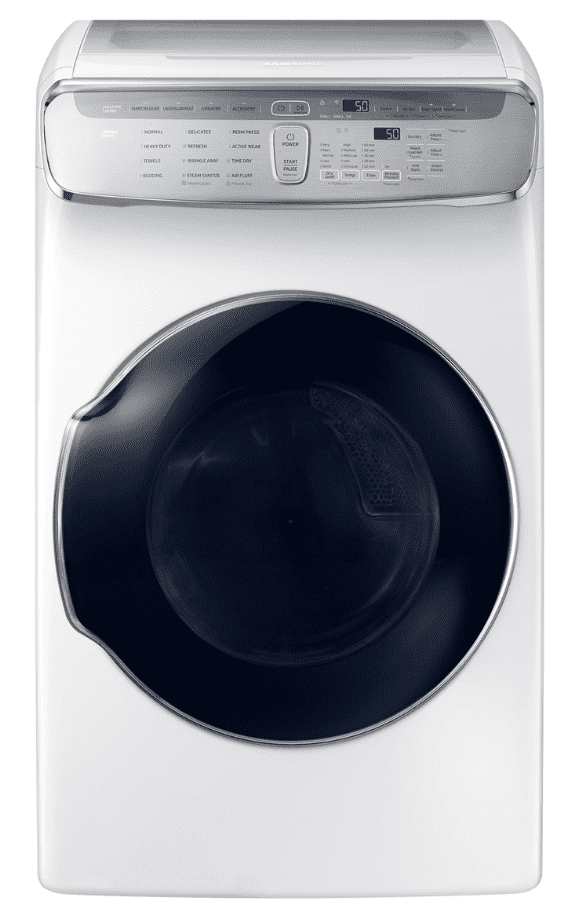 If you have a budget of more than $1500 then consider this stylish-looking dryer that's one of Samsung's flagship models. Being a premium dryer, it's fitted with Samsung's best features like FlexDry. This is a smaller compartment at the top of the appliance where you can dry smaller items or delicate fabrics. 
It goes without saying that this model also has smart features, allowing you to operate the dryer via the SmartThings app. It's also compatible with your favorite voice assistant: Alexa, Google Assistant, or Bixby. However, Samsung doesn't mention Siri on its list so perhaps Apple users don't get this convenience. 
Main Features
The dryer has a capacity of 7.5 cubic feet.

It has WiFi connectivity and can be operated remotely via the SmartThings app.

It has vent sensors.

The dryer has an internal light.

Its door is reversible.

There are 12 dry cycles and 5 dry levels.

There's a FlexDry top compartment with 4 dry cycles.
Pros
The dryer looks stylish.

It has a large capacity plus an extra dryer for delicates at the top.

The smart features help you to operate it remotely.

The vent sensor alerts you when it needs cleaning.

You can change the direction that the door swings.
Cons
FAQs
Question: Are Samsung dryers good quality?
Question: How big of a dryer do I need to dry a king-size comforter?
Answer: A dryer of at least 5 cubic feet should be enough to dry a king-size comforter.
Question: How long is the Samsung washer and dryer warranty?
Answer: Samsung offers one year warranty on parts and labor. You can also pay for an extra 3-year or 5-year Samsung Care+ plan.
Bottom Line
Samsung is a globally renowned brand that manufactures quality appliances and their dryers are no different. They offer dryer models from $550 to about $1800, meaning that there's bound to be an option for you. And since this brand is known for its reliability, you shouldn't worry about incurring repair costs within the first couple of years, as long as you maintain your dryer properly. So, if you're looking for a new dryer, Samsung is definitely a good choice.