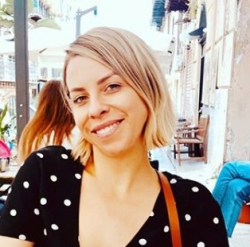 Latest posts by Jodie Chiffey
(see all)
Pieces of wool or cotton fabric shed from the clothes while they rotate at high speeds, and if left unattended, they can cause irreparable damage to the appliance. The best dryer lint traps capture these bits of fabric and allow you to remove them from the dryer effortlessly.
That's why all dryers, regardless of their type, have a lint filter or lint catcher that safely removes the remains of fabric that come off the clothes. All models have a built-in primary lint trap, but vented units can also have a secondary lint trap installed in the exhaust hose.
Hence, which lint trap model you're going to choose largely depends on the dryer you have. In this article, we're going to provide you with the information you need to find the best lint trap for your dryer and take you through some models that might be a good option for you.
Please go through our guide to the best dryers to learn more about how these appliances work.
At a Glance – The 5 Best Dryer Lint Traps
Selection criteria
There's no need to shop for dryer lint traps unless you're looking for a replacement for the original model or a new filter. However, vented tumble dryers don't always come with the accessories you need to install them, and you'll have to find a suitable ventilation kit.
It is also worth adding that lint traps don't fit on all types of dryers, so it's paramount to make sure that the primary or secondary trap is compatible with your appliance.
The search parameters we used to choose dryer lint traps for this article have enabled us to include models that are suitable for vented and ventless tumble dryers, so let's take a look at the most important ones.
Dryer compatibility – Using dryers without lint filters and traps is impossible because the fluff generated by the clothes can damage the appliance. That's why our lint trap selection includes models that can be used on different types of dryers.
Accessibility – Having easy access to a lint trap will make it easier to remove the lint from it. All lint catchers in this article have low maintenance requirements as they allow their users to access their interior quickly.
Our guide to the best washers can help you find an energy-efficient and space-saving model you can pair with your dryer.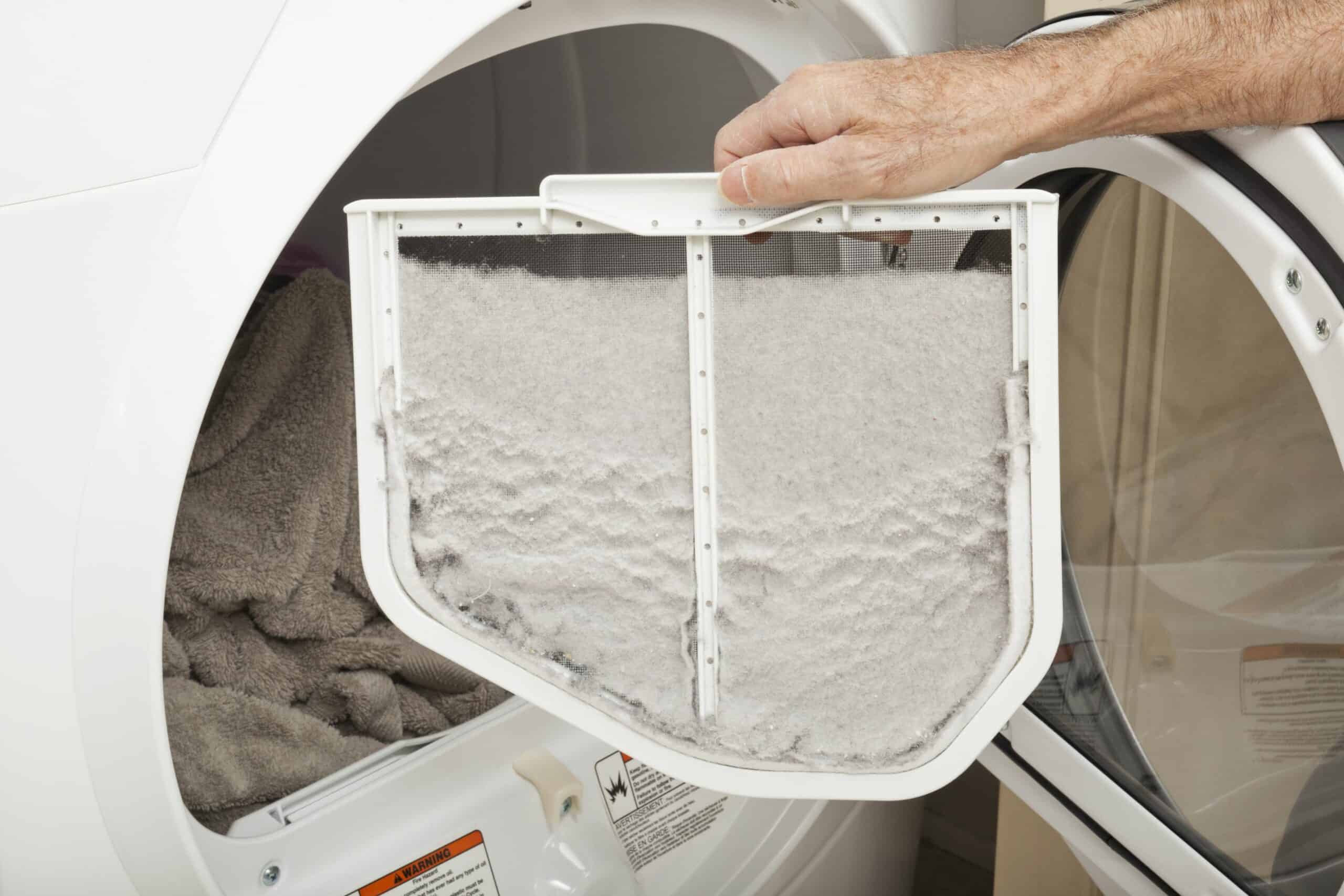 What Is the Difference Between Primary And Secondary Dryer Lint Traps?
A tumble dryer cannot function normally without a lint filter because fabric fibers might get stuck in some of its components and prevent them from functioning normally. That's why all dryers have a built-in or primary lint trap that is either located in the door or at the top of the appliance.
Ventless models don't have an air exhaust system which is the reason why they can only be equipped with primary lint traps. Vented tumble dryers utilize aluminum foil, semi-rigid, periscope, or rigid metal ducts to dispose of the hot air they generate to dry clothes.
A secondary lint trap can be installed on either of these duct types. Their purpose is to increase the efficiency of the appliance's primary lint trap and to protect the fan motor and other components from fabric fibers that can damage them.
Browse through our Frigidaire dryer model guide if you're considering getting one of the brand's tumble dryers.
Reasons to Vent a Dryer
The question is not whether or not you should vent a dryer but rather if you should opt for an indoor or outdoor venting system. Vented tumble dryers can be powered by electricity or gas, and the venting system you choose should be suitable for the dryer you want to pair it with.
An indoor venting system should only be used with electric dryers since the exhaust gas generated by gas dryers contains carbon monoxide. In addition, electric dryers with ducting that leads to attics and similar spaces can increase the humidity levels in these rooms and facilitate mold growth.
On the other hand, outdoor ducts are compatible with all types of dryers, and they can be installed through a window or a wall. Most secondary lint traps are compatible with indoor and outdoor ducting, and they collect the fluff that escapes the appliance's built-in lint filter.
Modern tumble dryers can't carry lint for more than 18 feet, so installing this accessory is a must if your ducting is longer than 20 feet. Check out our Whirlpool dryer model guide to explore some of the best models this brand offers.
Fire Prevention and Dryer Lint Traps
The data presented by the National Fire Protection Association indicates that lint, dust, or fiber causes 27% of fires started by a tumble dryer. Hence, primary and secondary lint traps can only protect your appliance if they are cleaned regularly.
At first, you should check the secondary lint trap before every use to get an idea of how often you have to clean it. In most cases, you'll end up removing accumulated lint after three to five loads. Keep in mind that the primary liny screen has to be cleaned before and after every load.
Moreover, you should remove the lint from the ducting every three to six months and check on the device's exhaust port frequently. Combining a primary lint screen and a secondary lint trap will reduce the frequency at which you have to clean the ducting.
Read our Maytag dryer model guide to learn more about the brand's top and front load dryers.
How to Clean a Dryer Lint Trap
Besides protecting your appliance from fire, cleaning a dryer lint trap also keeps its power consumption at bay and minimizes the amount of time it needs to dry clothes. The cleaning process is straightforward, and it doesn't take a lot of time.
Detach the primary or secondary trap from the device, then collect the lint with a vacuum cleaner and then proceed to wash the lint screen. You can also use a vacuum cleaner to remove the lint from the ducting, but if you spot a considerable buildup, you'll have to get a brush that will allow you to access remote parts of the ducting.
Browse through our LG washer model guide if you're currently searching for a new washer.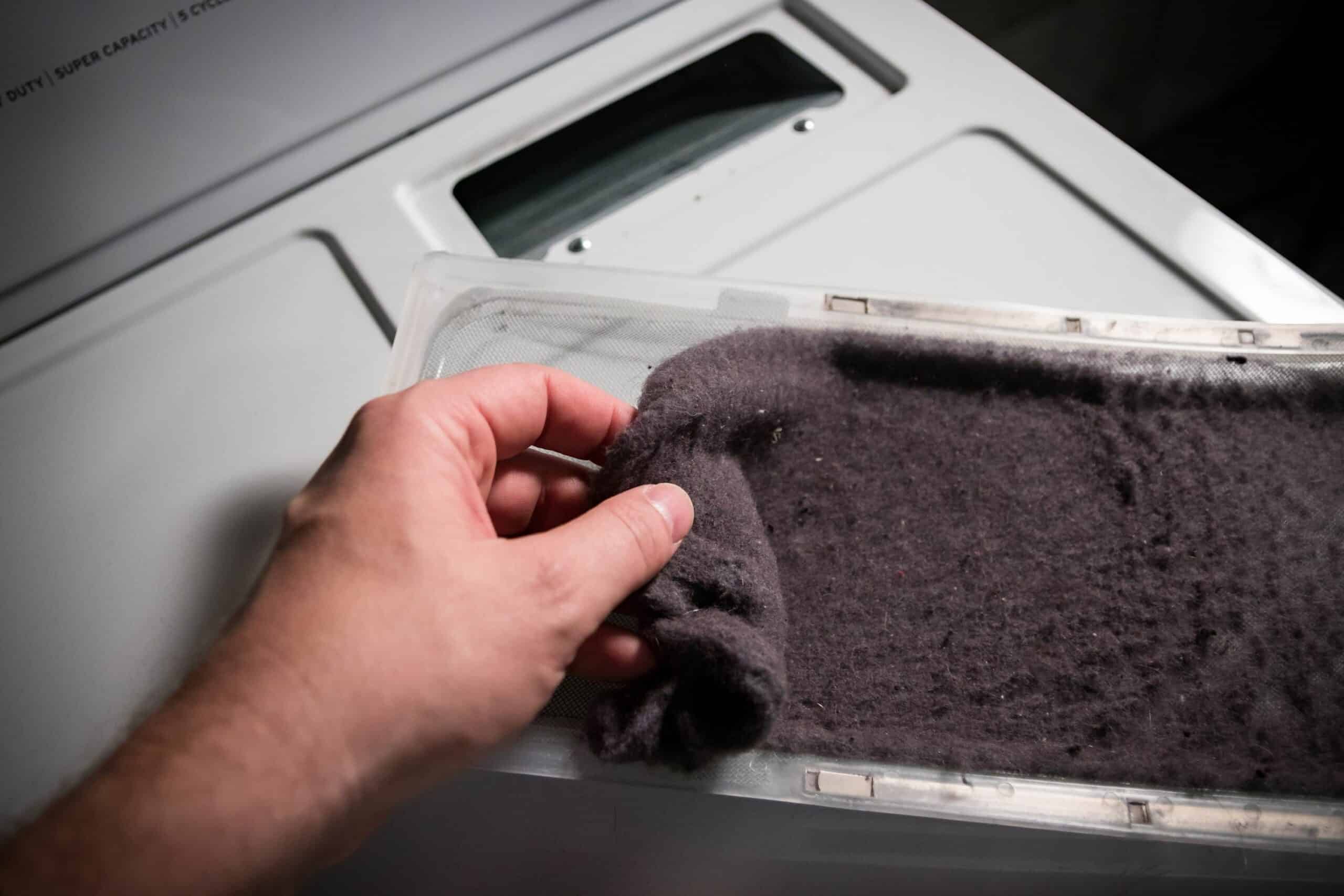 The Most Important Things to Consider While Choosing Dryer Lint Traps
Finding a lint trap you can use with your dryer shouldn't be difficult if you have the right information. Before you start considering different models, you have to know which source of power your appliance is using and measure the length of its ducting.
Also, you can't use secondary lint traps with ventless dryers because they don't have a venting system. Let's take a look at the factors you need to consider while searching for a dryer lint trap.
Dryer Lint Trap Type
Depending on where they are installed, lint traps can either be primary or secondary. There's no need to replace a primary lint trap unless it becomes defective, but in this case, you'll have to hire a professional to install the replacement for you.
Also, you'll have to make sure that the replacement part you get is compatible with your tumble dryer. A secondary lint trap is installed as an addition to the appliance's venting system, and its main purpose is to reduce lint accumulation in the ducting.
You cannot use the same secondary lint trap on gas and electric dryers, and you must check if you can use a specific model with your dryer.
Ducting Compatibility
The diameter of the exhaust port is four inches, and it is the same on all vented dryers. This port is always located at the back of the appliance, which is the reason why you need to create separation between the wall and the dryer.
All secondary lint traps are compatible with 4-inch ducting, so you won't have to worry about their compatibility with the device's exhaust system.
The length of dryer exhaust hoses varies from model to model, and you have to calculate how far your dryer will be from the nearest window or exterior wall to know which exhaust hose you should choose.
The Model's Durability
Both secondary and primary lint traps have long lifespans, and you won't have to replace these components often. However, their reusable filters usually don't last longer than a few months, even if you clean them regularly.
Nonetheless, the durability of primary and secondary lint traps largely depends on the model, and you need to go through the model's specifications to find out how durable it is.
As we already noted, both lint trap types require frequent cleaning, and failing to do so can affect the appliance's performance and start a fire in some cases.
Ease of Access
Built-in lint traps are usually located in the dryer's door or the upper part of the appliance, so accessing them doesn't require a lot of effort. Secondary lint traps can be harder to reach because they're installed in the ducting.
That's why removing a lint filter isn't always an easy task. Checking the model's accessibility will help you determine how difficult removing the lint from it is going to be.
Price Range
These components of tumble dryers aren't expensive since you won't have to spend more than $50 to get a high-end model. Replacements for the original primary lint traps are also affordable, as they usually cost around $30.
The repair and installation costs can be substantial, and you might have to spend more than $100 to have a new primary or secondary lint trap installed. Also, most brands don't issue warranties for their lint trap products.
The Pros and Cons of Dryer Lint Traps
Pros
Efficient lint removal
Protection of the dryer's components
Sturdy construction
Affordable price
Cons
Irregular maintenance can result in fire
The installation process can be difficult
Top 5 Dryer Lint Traps
Appliancemates W10828351 – The Best Primary Lint Trap Replacement for Whirlpool Dryers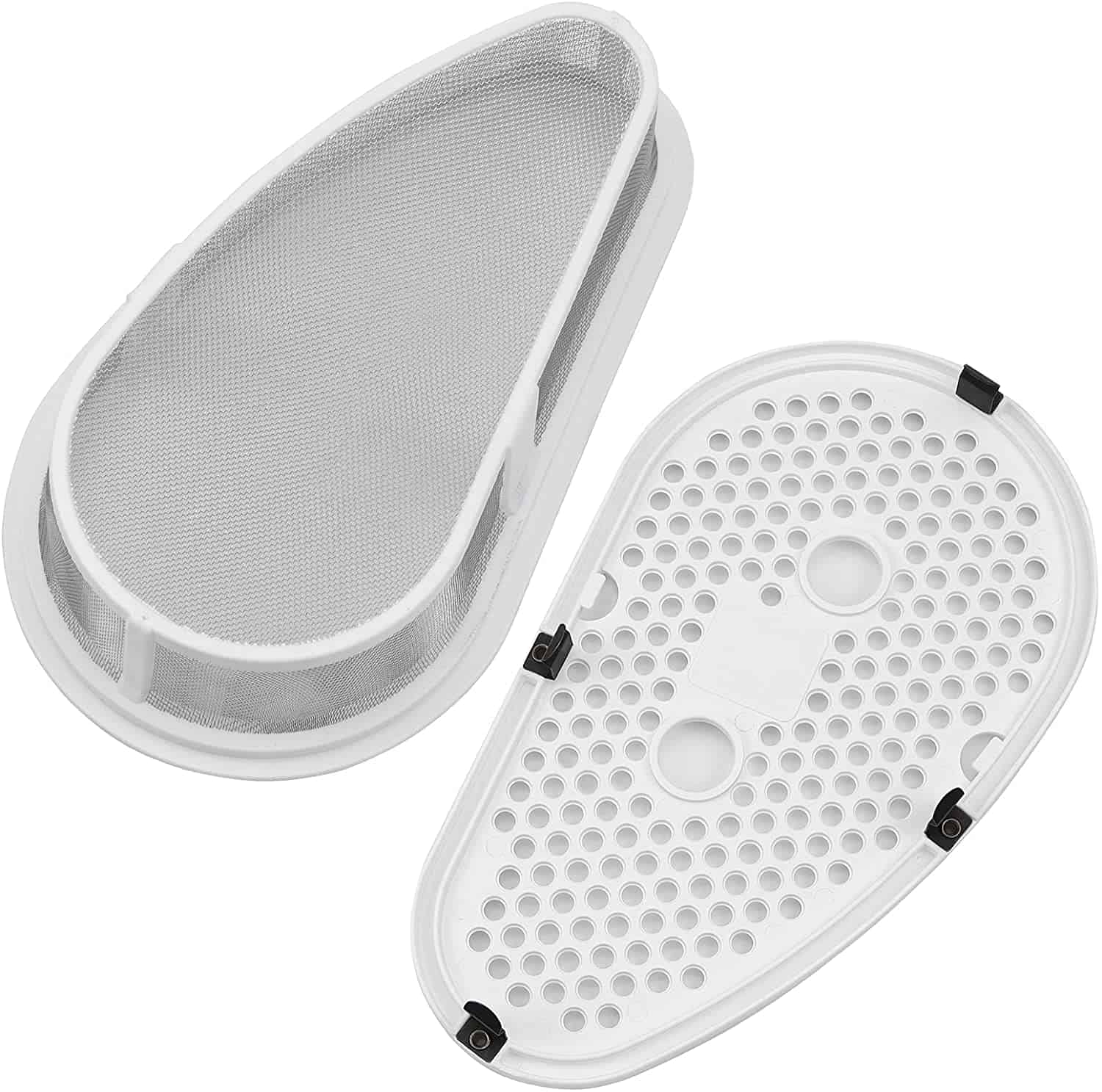 You can use the Appliancemates W10828351 as replacement parts for dryers manufactured by Whirlpool and Whirlpool-owned brands such as Roper or Crosley. This component can also be used with appliances that have both washer and dryer functionalities.
The cover and frame of this lint trap are made of ABS plastic that houses an easily accessible mesh filter. Installing this lint trap isn't difficult, and you won't need professional help to place it in the right position.
Pros
Compatible with a wide range of dryers
Sturdy frame
Easily accessible filter
Affordable price
Cons
Limited lint collection capacity
Filter doesn't last long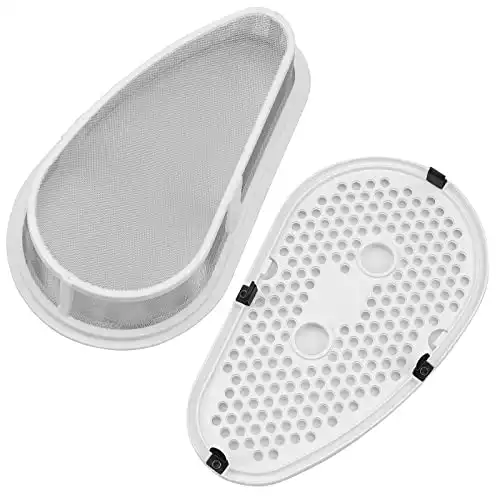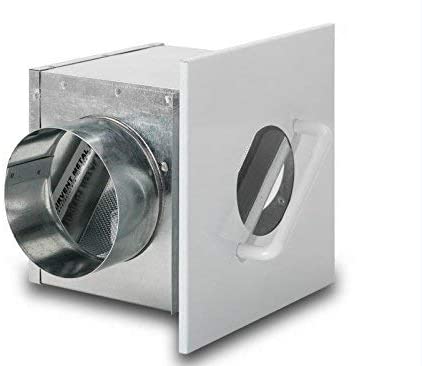 Adding the Fantech-8H-P3W2-C89R DBLT to your dryer's ducting will improve the appliance's efficiency and prevent lint accumulation on its components. The model's frame is made of galvanized metal that can't be damaged easily.
The pull-out door that is located at the front part of the trap grants you quick access to the removable and reusable filter. You can purchase different versions of this secondary lint catcher that come with up to four spare filters.
You can only use this Fantech model if the distance between the booster fan and ducting is larger than 15 feet.
Pros
Reduces lint accumulation in the ducting
Easy flush-mount installation
Excellent lint collection capacities
Accessing the filter is easy
Cons
Requires modifications
It doesn't perform well without a booster fan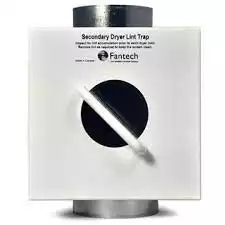 Fantech 8H-P3W2-C89R DBLT 4W Lint trap | Amazon
Features pull-out white door with a view window with attached removable lint filter for easy cleaning and 1/2" flange for flush mount installation. The lint trap complements all Fantech dryer booster fans.
Buy at Amazon
We earn a commission if you make a purchase, at no additional cost to you.
05/10/2023 12:02 am GMT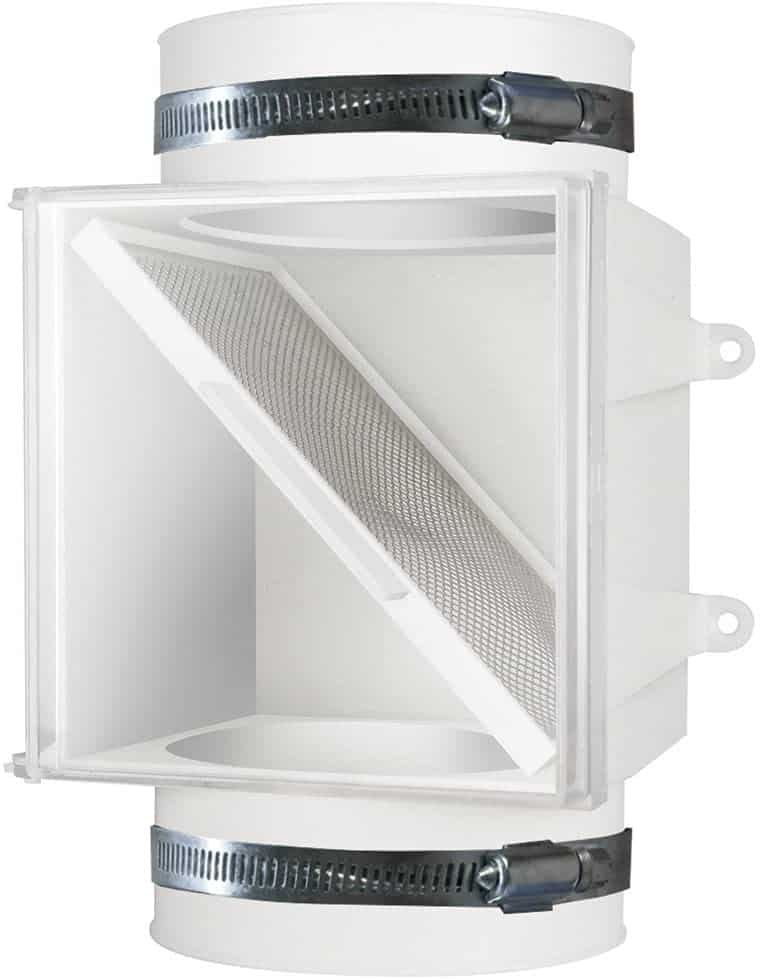 You won't have to spend a lot of money on a secondary lint trap since a model like the Dundas Jafine PLCT4WZW is both affordable and capable of great performances. You can use it with all 4-inch dryer ducts, but only if you have an electric dryer because this model isn't compatible with gas dryers.
Removing and cleaning the filter doesn't take a lot of effort since you just have to pull the component out of its position, wash it, and push it back into its place.
Pros
It fits all 4-inch ducts
Lowers fire risk
Improves the appliances energy efficiency
Less expensive than similar models
Cons
Not compatible with gas dryers
The frame is made of plastic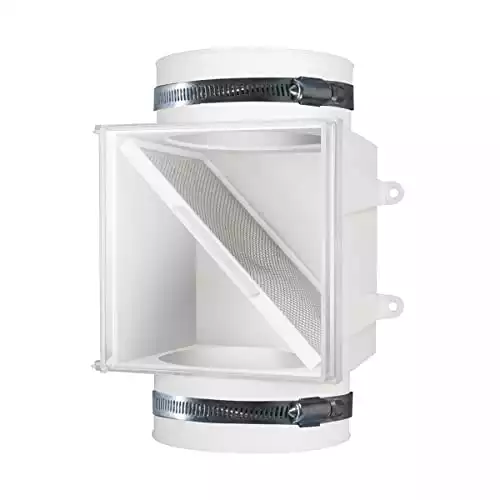 Dundas Jafine PCLT4WZW Dryer Duct Lint Trap | Amazon
The Dundas Jafine ProClean Dryer Duct Lint Trap acts as a secondary lint trap for your electric clothes dryer and is not intended for use with gas clothes dryers.
Buy at Amazon
We earn a commission if you make a purchase, at no additional cost to you.
05/10/2023 12:02 am GMT
Deflecto LTF – The Best Dryer Lint Trap Kit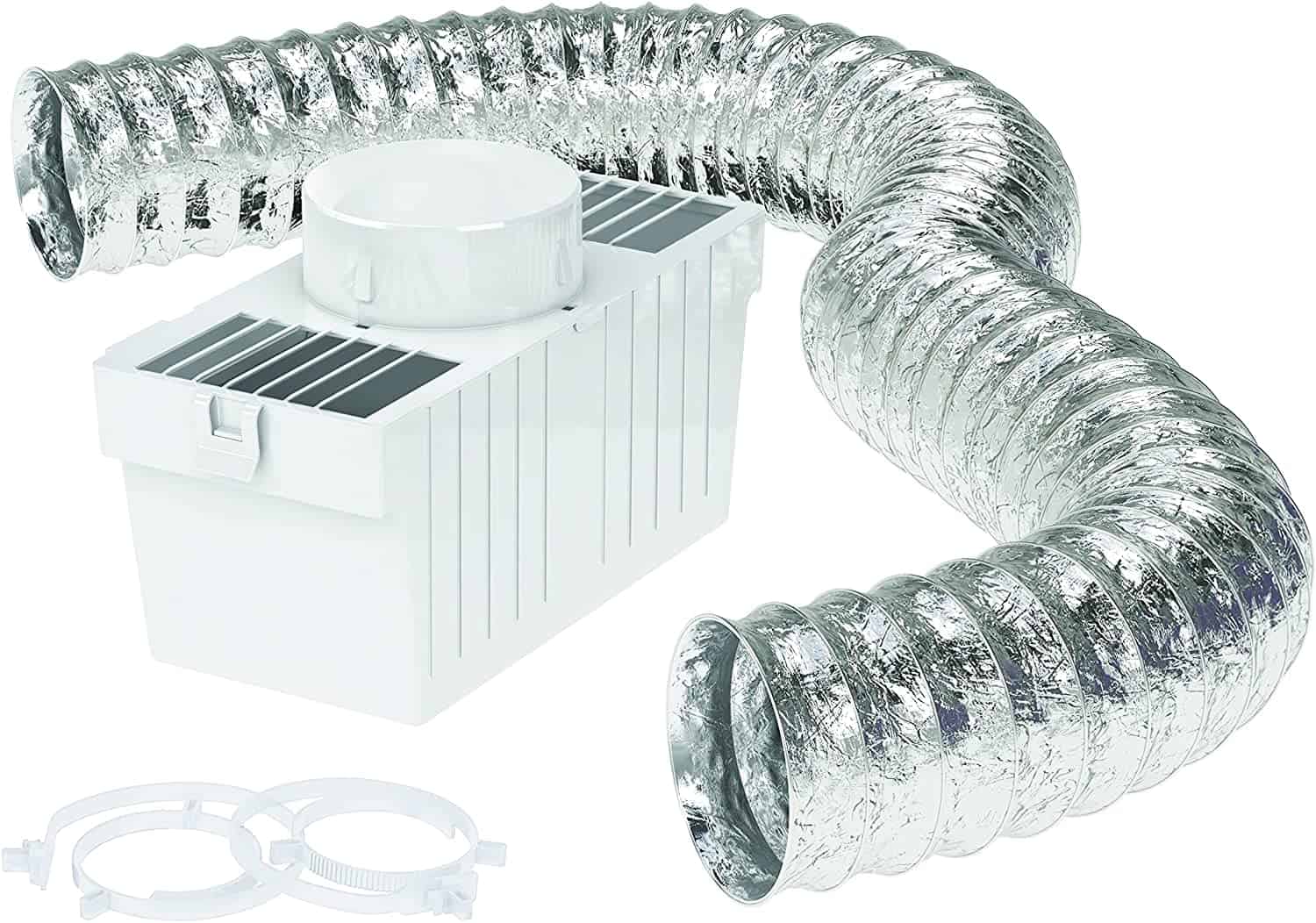 Purchasing an entire kit like the Deflecto LTF instead of just buying a lint trap might be a good idea if you're in the process of installing a new dryer. This kit contains a 4-inch duct, a pair of clamps, and a plastic lint trap.
Keep in mind that you have to add four cups of water to the lint trap so that it can function normally. The duct is 5 feet long, and it is only suitable for spaces where placing the dryer next to a window or an exterior wall isn't a problem.
Pros
Contains all components required for the installation of vented dryers
The lint trap can withstand prolonged exposure to high temperatures
Simple cleaning process
Affordable price
Cons
Questionable durability
Limited maximum distance between the dryer and the outdoor exhaust point
Beaquicy DC61-02595A – The Best Replacement Filter For Primary Lint Traps on Samsung Driers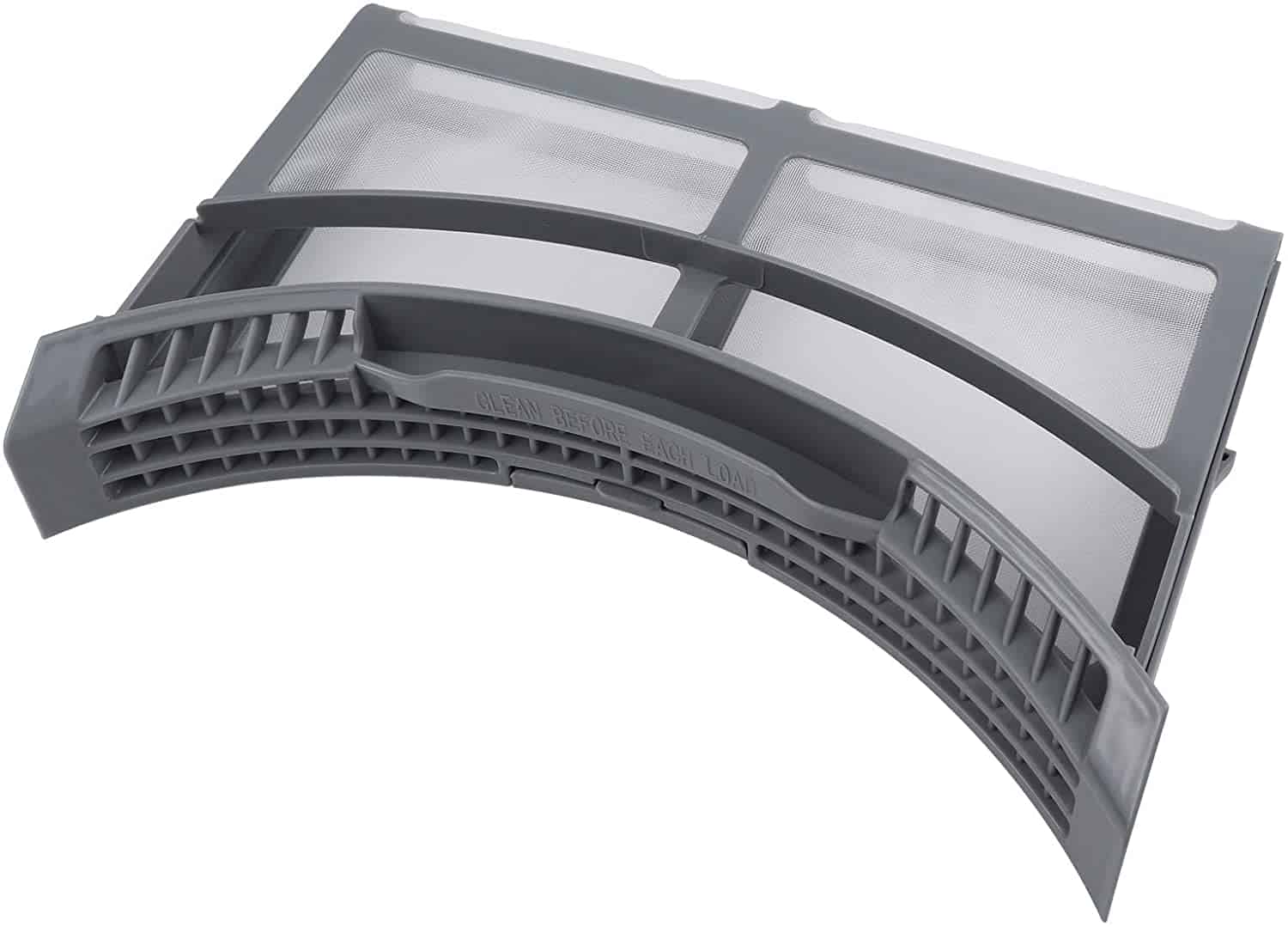 In case you're looking for a replacement filter you can install on Samsung driers, then the Beaquicy DC61-02595 might be the right solution for you. This filter is compatible with four Samsung drier models and it fits easily inside their primary lint trap.
Installing this filter can restore the appliance to its full functionality and protect its parts from the damage fabric fiber accumulation can cause. The manufacturer offers a 180-day warranty for this model that enables you to return it if you're not satisfied with its performance.
Pros
Replaces lint trap filters on multiple Samsung dryers
Made from high-quality materials
Excellent lint retention capacity
Simple assembly process
Cons
Expensive
Only suitable for Samsung's dryers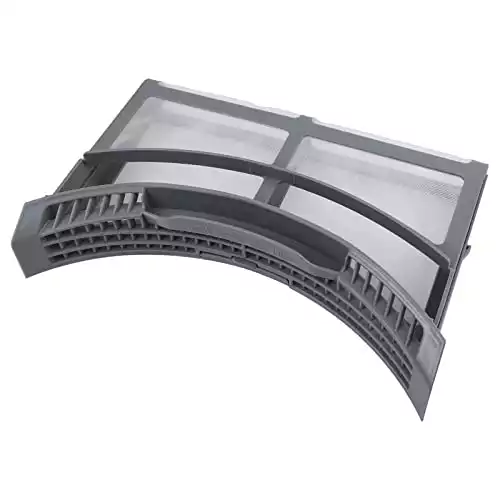 FAQs
Question: Do I need a secondary dryer lint trap?
Answer: Vented dryers can function without a secondary lint trap, but you'll have to clean their ducting more often if you don't add this accessory to their venting system.
Question: How often do I have to replace the dryer lint trap filter?
Answer: You can use the same dryer lint trap filter for several months if you remove the fluff, it gathers regularly.
Question: Is it safe to use a dryer without a lint trap?
Answer: You should never switch on a dryer without a lint trap in place because you might end up damaging the appliance and destroying your clothes.
Question: Do dryer lint traps capture all lint?
Answer: A certain percentage of the lint a dryer generates will pass through primary and secondary lint traps and remain in the appliance's exhaust port or its ducting.
Our Verdict: Deciding Which Dryer Lint Trap to Choose
All dryers are equipped with a primary lint trap, and in most cases replacing the trap's filter will restore the appliance's performance capabilities.
Only vented dryers can have primary and secondary lint traps that protect the appliance and its ventilation system from damage fabric fiber accumulation can cause. However, lint catchers designed for dryers powered by electricity can't be used on with gas-powered dryers.
We recommend the Dundas Jafine PLCT4WZW if you're searching for a lint trap you can use with electric driers. The Appliancemates W10828351 might be the right option for you if you want to replace a primary lint trap on a Whirlpool dryer.
| Product Image | Product Name / Primary Rating / Price | Primary Button |
| --- | --- | --- |
| | | |
| | | |
| | | |
| | | |
| | | |
05/10/2023 12:02 am GMT

We hope that this article has helped you find the best lint trap for your dryer. Let us know in the comments or continue reading our guide to the best dishwashers that can help you reduce the amount of time you have to spend cleaning dishes.