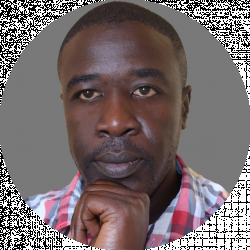 Latest posts by Barry Juma
(see all)
Thinking about buying a GE dishwasher? You're on the right track because GE's dishwashers are rated as among the most reliable in the market. JD Power's customer satisfaction study ranked GE as sixth, closely following Whirlpool and Bosch. But, what makes GE attractive is the brand's pricing that focuses more on value for money. The company's dishwashers are some of the most affordable, costing about $900 on average. 
This GE dishwasher model guide breaks down the different features of GE dishwashers to help you find the right one for your needs. And if you'd like to know our favorite models, keep reading to the end to find out.
GE has two dishwasher sub-brands: GE and GE Profile. What's the difference?
GE vs GE Profile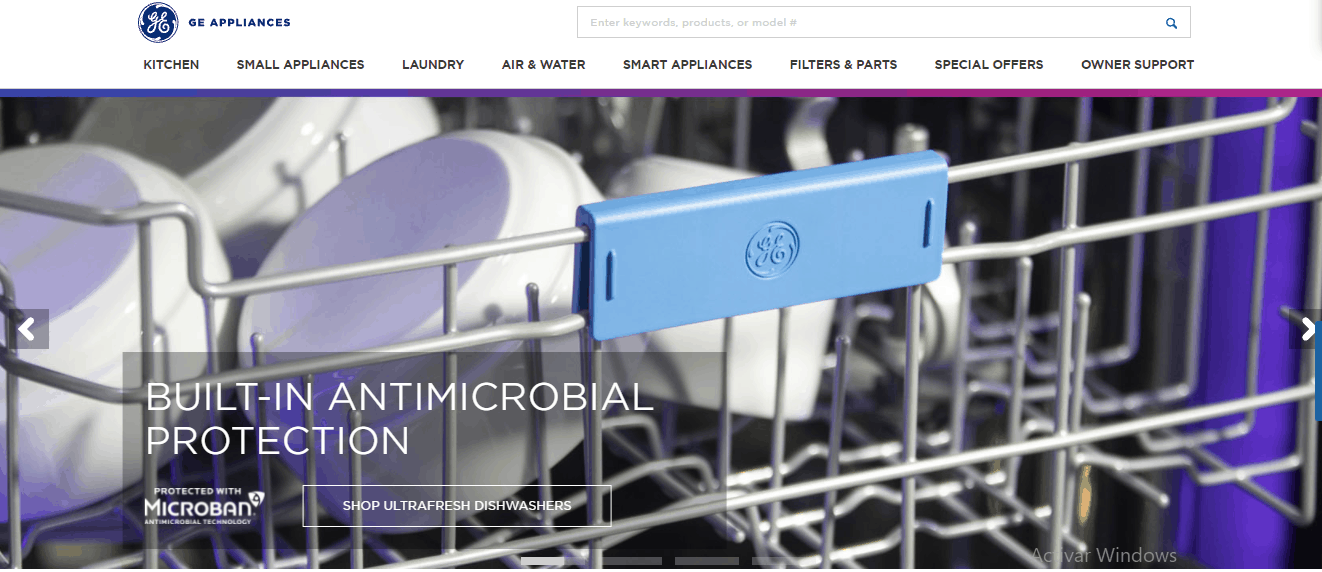 GE is the company's entry-level brand with value appliances, while GE Profile is their premium line selling sleeker, more expensive appliances. Therefore, GE Profile dishwashers have more advanced features that match their premium price tag.
However, GE assures us that both lines have a similar aesthetic, so you can buy both GE and Profile appliances and still maintain a consistent look and feel. 
Types of GE Dishwashers
GE sells three types of dishwashers: built-in, portable, under-the-sink. 
Built-in Dishwashers
These dishwasher models are installed under the kitchen countertop, in between the cabinets, to create a built-in aesthetic. Their depths are similar to that of the kitchen cabinets, so they sit flush with the cabinets. The sides of these models are left unfinished since they are concealed. 
These models aren't ideal for those renting their homes since their installation is sort of permanent, and they require cabinet modification if there's no space allocated for them. Most of GE's dishwashers are built-in models, so you have quite a few options if you're looking for these types.
Portable Dishwasher
These dishwashers are freestanding models that are used in any space, as long as there's a faucet nearby. They have wheels to make it easy to move them to wherever you want to use them. You'll need to find an appropriate storage space for them so that they're out of the way when not in use. And when you need to use the dishwasher, simply move it to the kitchen faucet and it'll be ready to use. 
GE sells both standard-sized (24-inch) and compact (18-inch) portable dishwasher models. 
Under-the-Sink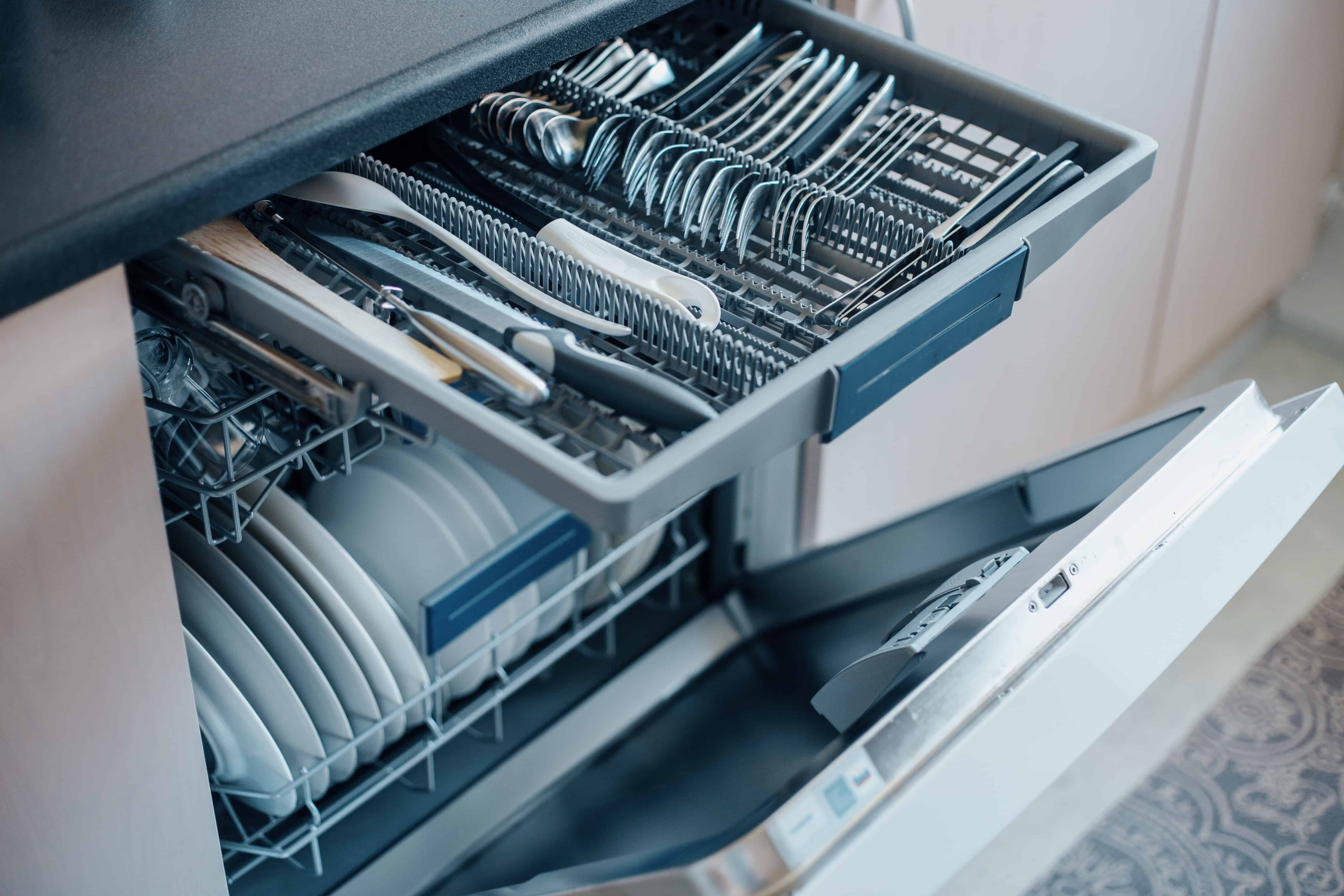 These models are a type of built-in dishwasher, but they're designed to only sit under the kitchen sink as opposed to other built-in models, which are installed under kitchen counters. To allow an under-the-sink dishwasher to fit under the kitchen sink, the top half of the rear is narrower than the bottom half. 
This means that the top rack, inside the dishwasher, only has one row because of the dip in the rear. Also, your kitchen sink needs to be no more than 6 inches deep to allow these dishwashers to properly fit.
Consider this type of dishwasher if you have a compact kitchen and you don't have cabinet space to spare. GE currently only has three under-the-sink dishwasher models in their lineup.
Main Features of GE Dishwashers (And What to Consider)
Size
There are two sizes of dishwashers sold by GE: compact and traditional. The compact models have a width of 18 inches and the traditional models have a width of 24 inches. Compact models are best for a small household of two or three people.
If you're more than three then your best option is a standard-sized model. There are also large-capacity dishwashers of 30 or 42 inches in width for really large households or for commercial use. Sadly, GE doesn't have these in their lineup at the moment.
Unlike other appliances, dishwashers generally have standard heights and depths. GE's dishwashers have a height of 34 inches and a depth of 24 inches.
Although these dimensions are considered standard across all brands, they tend to vary slightly depending on the manufacturer. So, if you're replacing an older dishwasher, get the actual measurements of the cabinet cutout and compare this to the actual dimensions of your dishwasher. An extra fraction of an inch may mean slightly modifying the slot.
Presently, GE's lineup has just four compact dishwasher models and over 70 traditional models. 
Noise Levels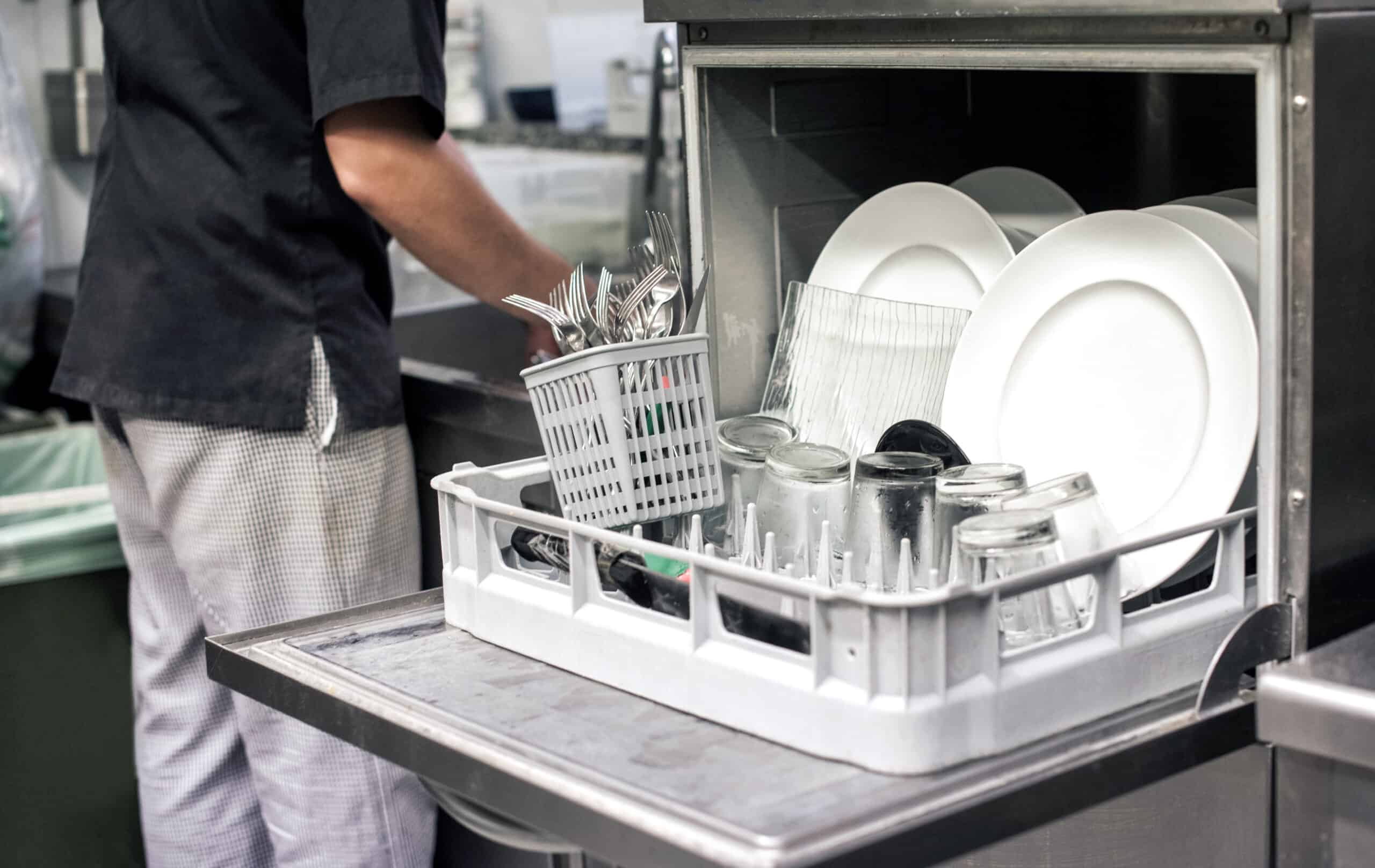 GE shares the decibel level of all their dishwasher models on their website. Their loudest model produces about 64 dBA of noise. These are the lowest-priced models that lack advanced features that limit vibrations and muffle the motor. The company's quietest models produce less than 40 dBA. These are, of course, the highest-priced ones. 
If you have an open kitchen then a dishwasher with over 60 decibels might be a bit distracting. The sound of normal conversation is at around 60 decibels. Although a dishwasher at this level won't require you to raise your voice, it'll still be noticeable when running. 
We recommend a noise level of 52 dBA and below if you're looking for a quiet model. However, a model with slightly more than this is also fine but try and avoid going over 60 decibels. Thankfully, GE has several models at this level and below, so there are enough options for you. For more on dishwasher noise levels, check out this piece on choosing the best dishwasher.
Control Panel Placement
You can either choose a front control panel or a top control panel. But which configuration is better? Dishwashers with front controls have the buttons placed within view, on the front face of the door. Below them, there's a pocket handle as opposed to the protruding traditional handles. 
Top-control models, on the other hand, have the buttons on the top edge of the door, invisible to anyone standing in front of the dishwasher. This design leaves a clean front face, with only a handle. 
Pros of Front-control Dishwashers
The controls are visible so you can check the status of the cycle without approaching the dishwasher.

They're often cheaper than the top-control models.
Cons of Front-control Cishwashers
It's easy to inadvertently press the buttons.

The controls are within the reach of kids.
Pros of Top-control Dishwashers
They have a sleek design. 

The buttons are out of reach of kids.

You don't have to bend to press the buttons.
Cons of Top-control Dishwashers
These models are often more expensive.

The buttons are made smaller to fit the top of the dishwasher door.
Performance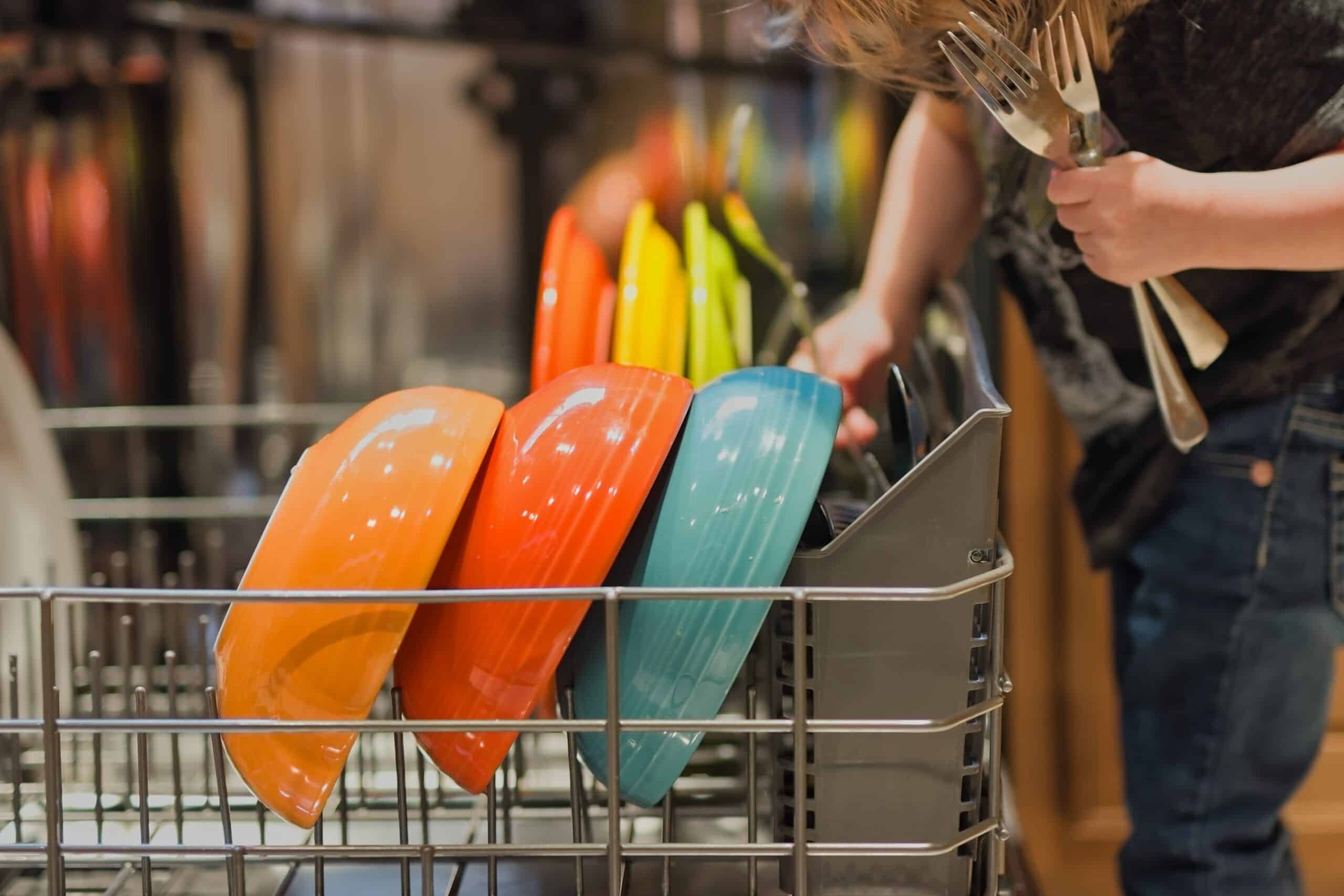 There's no point in buying a sleek dishwasher that struggles to do its job. Find a dishwasher that performs well to get value for your money. Here are some features found in GE dishwashers that improve their wash performance;
Dedicated silverware jets:

Some GE models have water jets placed underneath the silverware basket that ensure your cutlery comes out clean, no matter how you arrange them. 

Bottle wash jets:

These are dedicated jets for tall items like bottles, jars, and glasses. The jets are designed to blast the inside of narrow items, which are often hard to reach.

Leak detectors:

You can get a GE dishwasher with sensors that detect when water leaks to the bottom of the unit. When this happens, you'll receive an alert on your smartphone. The alert feature is found in GE's smart models.

Steam cycle:

If your preferred dishwasher has this feature, you won't need to pre-soak or rinse your dishes before a cycle. The steam cycle loosens baked-on food before the wash cycle to result in sparkling dishes every time.

Food disposal:

GE's dishwashers have hard food disposal systems that crush particles, which would otherwise clog up the drain. This eliminates the need to pre-rinse dishes before loading them in the dishwasher.

Dry Boost:

Found in some GE models, this feature is made up of fans and heaters that work together to quickly and effectively dry dishes. GE assures us that even plastics – which are difficult to dry properly – are easily dried when a dishwasher has Dry Boost. The company's more expensive models have an advanced version of this known as Twin Turbo Dry Boost.
Tub Material
The best tub material is stainless steel, but not all GE models are built using this material. The inexpensive models have plastic tubs, which have their advantages and disadvantages. 
The biggest benefit of a plastic tub is in the price; they are cheaper than stainless steel. For instance, the cheapest GE dishwasher with a stainless steel tub costs $750 and the cheapest models with plastic tubs cost less than $400.   
However, price aside, stainless steel is more superior because it has a high resistance to wear and can also withstand higher temperatures. So, although the dishwasher models are more expensive, they'll also last much longer than their plastic counterparts. Here's a deeper look at the advantages of stainless steel tubs.
This doesn't mean that dishwashers with plastic tubs aren't as effective; they still get the job done. If you're looking for an inexpensive model, it'll most likely have a plastic tub.
Capacity
A dishwasher's capacity is measured according to the number of place settings it has. The Association of Home Appliance Manufacturers tells us that one dishwasher place setting is made up of about 10 kitchen items: one large and one small dinner plate, a saucer, a cup, a drinking glass, a bowl, a knife, two teaspoons, a dinner fork, and a salad fork. 
Most dishwashers, including GE's models, have either 12, 14, or 16 place settings. Think about the total number of utensils you're likely to wash in a day and choose a dishwasher that can accommodate these.
You also need to consider the racks to make sure that you can easily organize your utensils in the tub. Some of GE's dishwasher models have adjustable upper racks for greater flexibility. Other models have a third rack at the top, suitable for flatware like lids, spatulas, and some silverware. Other models also have racks with fold-down tines to make it easier to organize utensils of varied shapes and sizes.
Color and Finish
GE offers several color options across its lineup. These are black, white, black slate, stainless steel, bisque, and slate. You can also opt to get a model with a custom panel that matches your kitchen cabinets, for a hidden dishwasher. Some models also come with a fingerprint-resistant finish.
Smart Features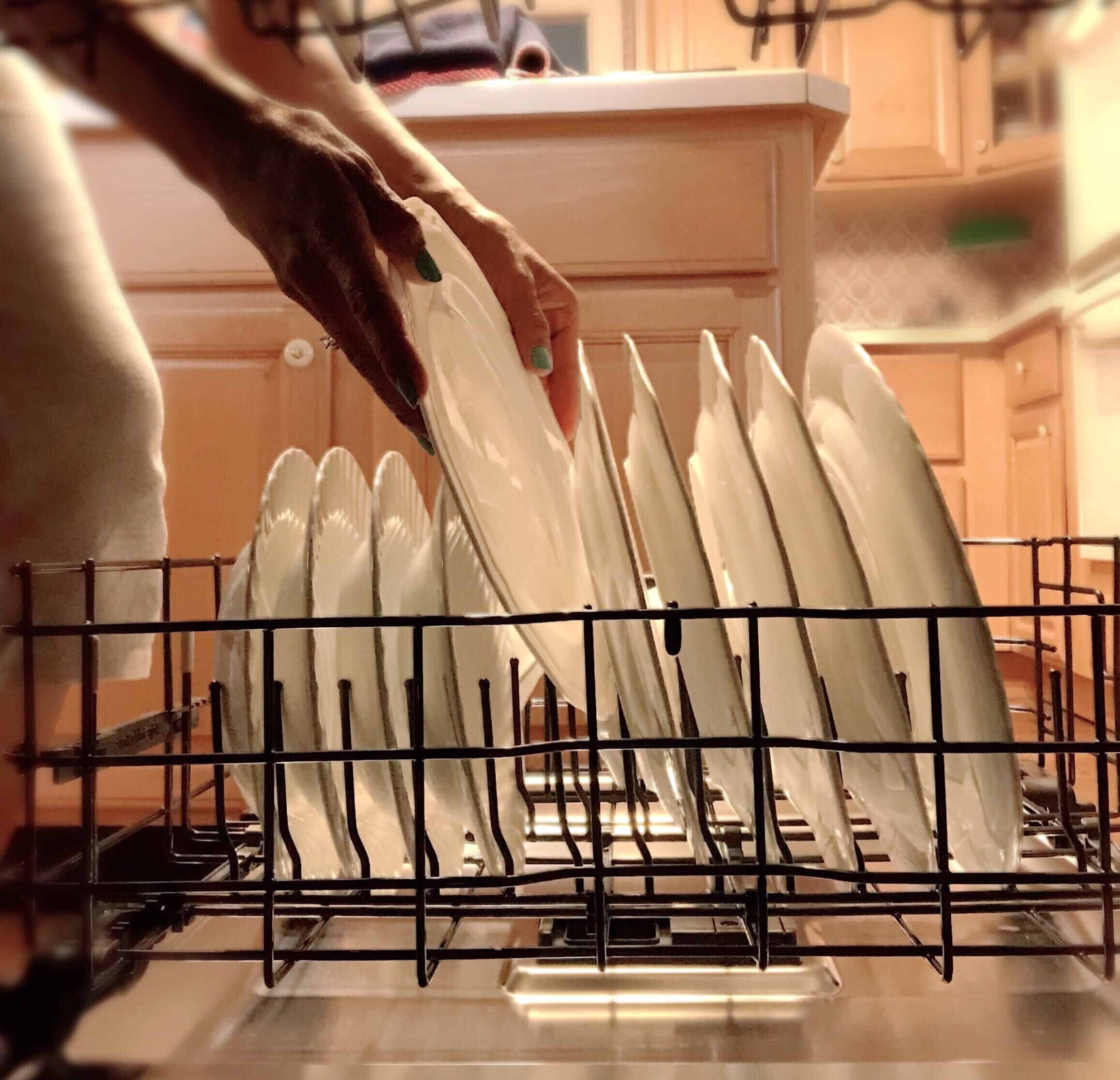 GE's smart dishwashers have WiFi connectivity, enabling you to monitor the appliance's progress and receive a notification when it's done. This is done via GE's SmartHQ app. Some of the company's cheaper models have optional WiFi connectivity.
These require a separate module to be connected to the appliance, which will enable it to connect to your home WiFi network. If you don't need a smart dishwasher at the moment but might require one in the future, you can opt for models with optional WiFi. 
Price
GE's cheapest dishwasher costs $370. At this price point, you'll get a plastic tub, a sound level of about 64 decibels, and 12-place setting racks. If you're looking for a more silent dishwasher, you'll have to spend about $550 for one with 52 dBA. 
The company's most expensive model costs about $1500. This is a GE Profile dishwasher with top controls, smart features, and a stainless steel tub. The high-end models are also the company's quietest, with noise levels of less than 40 decibels. 
If you're looking for a model with built-in WiFi connectivity, you'll spend at least $850. However, models with optional WiFi start at $400. An additional $50 will get you the separate module that will enable WiFi in these models.
5 Best GE Dishwashers
Selection Criteria
To come up with our list of the five best GE dishwashers, we considered the following:
Ratings:

We wanted dishwashers with at least a four-star rating from more than 300 reviews, with about 60% of the total reviews being five stars and less than 5% being one-star ratings.

Value for money:

The dishwashers needed to offer features and functionality that match the price. We considered both inexpensive and high-end dishwashers and compared their price to what they offer.

Performance:

The chosen models need to offer top performance in their class.

Style:

Although not a major consideration, but we also wanted a dishwasher that looks good because everybody loves a stylish appliance in their kitchen.
Best Affordable GE Dishwasher: GE® Model GDF535PGRBB Dishwasher with Front Controls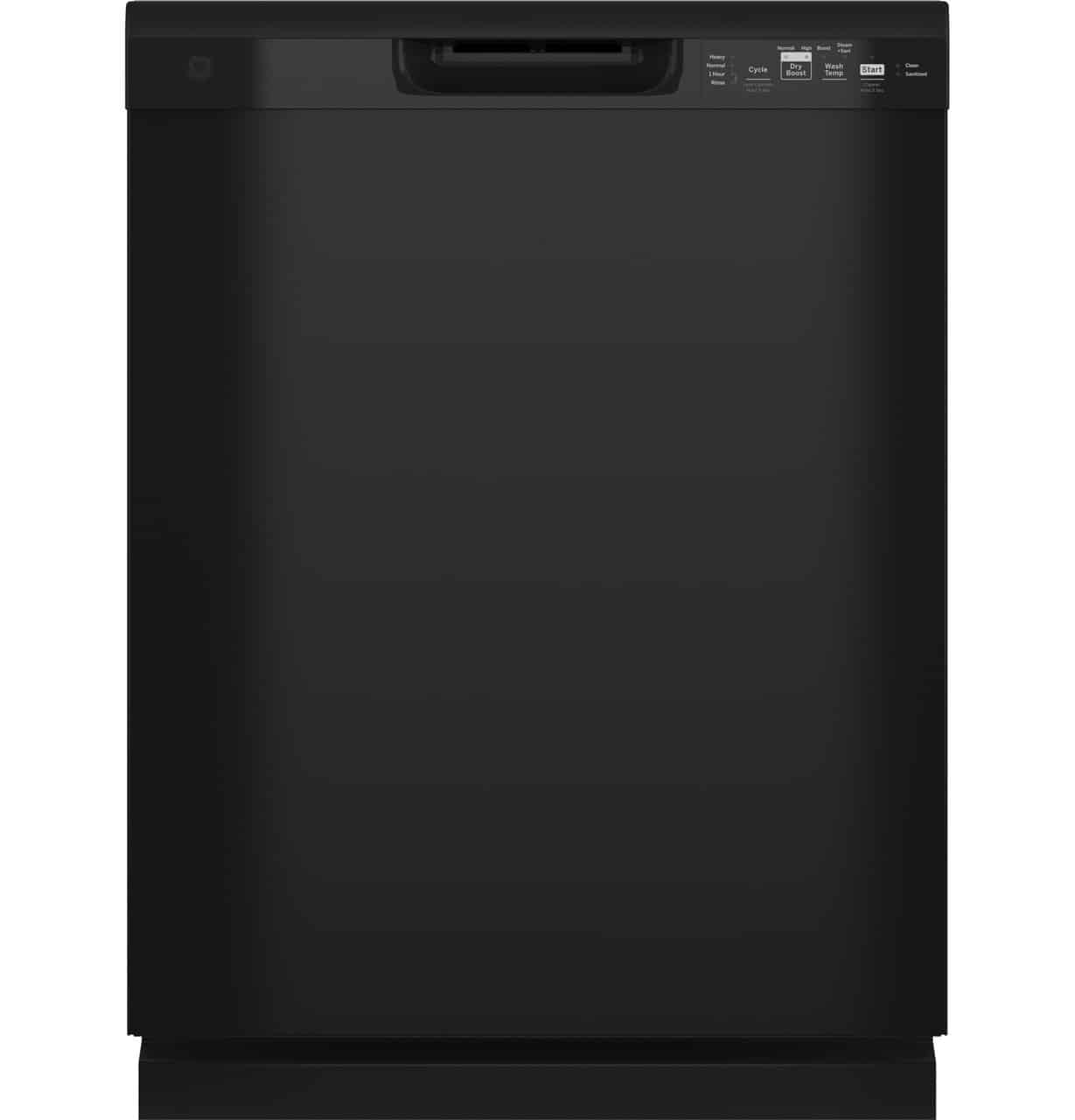 This isn't GE's most affordable dishwasher but it's an inexpensive model that offers excellent features for the price. Plus, it looks more expensive than it is. It's an appliance that offers value for money and functionality that's lauded by past customers. But more on the features a little later. 
First, let's talk about its design – this dishwasher has a sleek front face with a pocket handle and front-facing controls. You have the option of four colors: black, stainless steel, white and bisque, all of which look fancy. 
But this GE dishwasher doesn't just look good, it does its job well. The steam cleaning function, for instance, does a great job at loosening baked-on food before a wash cycle, ensuring that the dishes are spotless when they leave the dishwasher. There's also a sanitization cycle that GE claims eliminate over 99% of bacteria. 
Dry Boost, another feature found in higher-priced models, is here as well. This boosts the drying ability of the dishwasher. Models with Dry Boost are considered to perform seven times better than those without. Of course, we have to mention that this dishwasher's noise level is 55 dBA, a much lower level than its counterparts at the same price point, which have levels of over 64 decibels. 
Main Features
This is a built-in dishwasher model with front controls.

It has a water leak sensor.

There's a steam cleaning function and a sanitize option.

This model has a food disposer with stainless steel blades.

There's Dry Boost for more effective drying.

It has a 14-place setting.

It has four cycles for varied soil levels.
Pros
This is an inexpensive GE dishwasher model.

It looks sleek.

It has the Dry Boost feature for improved drying.

You don't need to pre-rinse the dishes thanks to the steam function as well as the food disposer.

Its noise level isn't very high.
Cons
Best Value-for-Money GE Dishwasher: GE® Model GDT645SGNWW Top Control with Stainless Steel Interior Dishwasher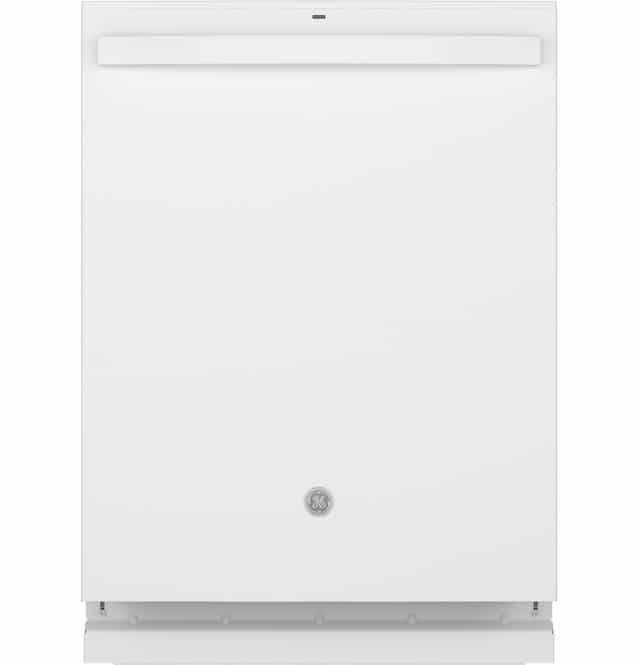 Granted, $750 is not cheap, but this dishwasher's combination of premium features and low noise levels earn it a place on our list as the best value-for-money dishwasher sold by GE. This is a well-built appliance, with a clean front face with only the handle in view. Its controls are placed at the top edge of the door to give it a modern appeal. 
There are five color options: white, black slate, black, slate, and stainless steel. However, you'll spend $100 more if you go for the stainless steel and slate options, and a whopping $200 more if you choose the black slate model. My suggestion, save your cash and buy either black or white, they still look good. 
GE armed this model with its popular steam and sanitize option as well as the Dry Boost feature. Here, however, Dry Boost is bolstered by fans that help improve the performance of the cycle. 
Inside the tub, the dishwasher has two racks, with the lower one boasting dedicated bottle jets for narrow items. The upper rack, on the other hand, is adjustable, making it possible to load dishes of varied sizes. In total, these racks offer 16 place settings. And, oh, before I forget; this dishwasher can be transformed into a smart appliance by connecting a module that enables WiFi connectivity. 
Main Features
This is a 24-inch top-control dishwasher.

It has a 16-place setting capacity.

Its noise level is 48 dBA.

It has Dry Boost with Fan Assist.

The upper rack is adjustable.

There's a water leak sensor and a soil level sensor.

Its tub is made of stainless steel.

There are five wash cycles.
Pros
You can buy a $50 module that transforms this dishwasher into a smart appliance.

It has a large capacity.

The noise level is low.

You can also wash tall and narrow items thanks to the bottle jets.

The tub is made of stainless steel.
Cons
Except for black and white, the other color options cost more.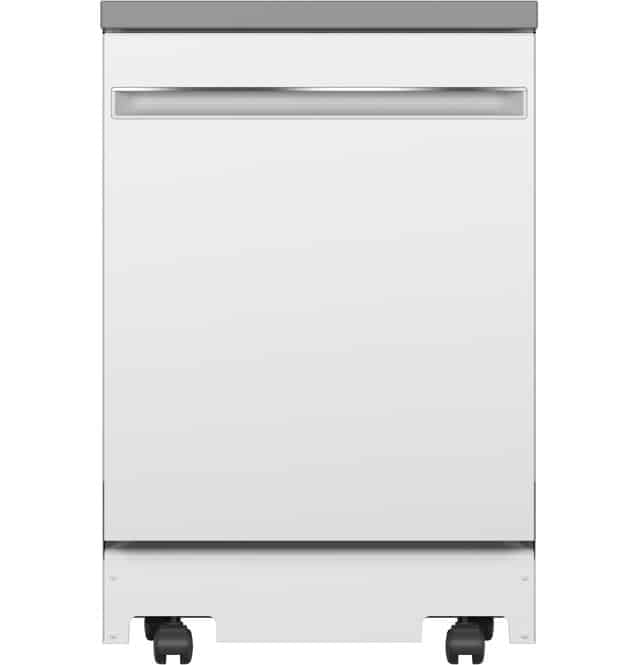 If you're looking for the convenience of portability then this is GE's best option. A 24-inch portable dishwasher, this model comes in three colors: white, stainless steel, and black. Unlike the model above, all these color options cost the same so go ahead and pick your favorite. 
As you'd expect of a portable dishwasher, it has wheels for ease of movement. Its front only has the door handle – the controls are at the top of the door. 
Inside, there's a stainless steel tub (thankfully) and two racks that offer a 12-place setting. There are only three wash cycles as well as a sanitize option for boosted bacteria elimination. But the small number of cycles shouldn't worry you because you can pair them with TempBoost, which increases the wash time and raises the water temperature to improve performance.
Under the hood, there's a food disposal unit that pulverizes hard food particles, thus preventing blockages. 
Main Features
This is a portable 24-inch GE dishwasher.

It has a top-control design.

There are two racks with a 12-place setting.

The dishwasher has soil sensors.

It has a food disposal system.

There's a sanitize option that eliminates over 99% of bacteria.

The washer's noise level is 54 dBA.

It has three wash cycles plus a TempBoost option.
Pros
You can easily move the dishwasher to any part of your home, thanks to the wheels.

It has a durable stainless steel tub.

The soil sensors control how much water is used based on the soil level of the utensils.
Cons
It lacks advanced features – like water leak sensors and Dry Boost – which are found in cheaper built-in models.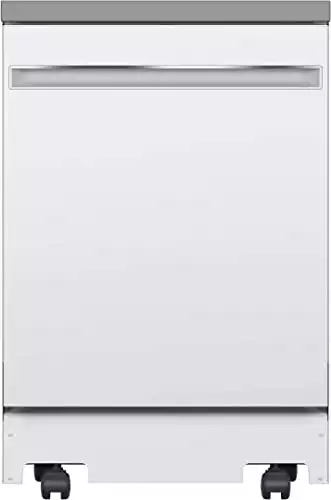 GE GPT225SGLWW 24" Energy Star Fully Integrated Portable Dishwasher | Amazon
This portable dishwasher provides the best form and function with an integrated control panel that provides full access to all cycles and options. With up to 12 place settings and utility/silverware baskets, this dishwasher can handle all your cleaning needs.
Buy at Amazon
We earn a commission if you make a purchase, at no additional cost to you.
11/04/2023 03:41 am GMT
Best Performer: GE Profile™ Model PDT715SBNTS Top Control Dishwasher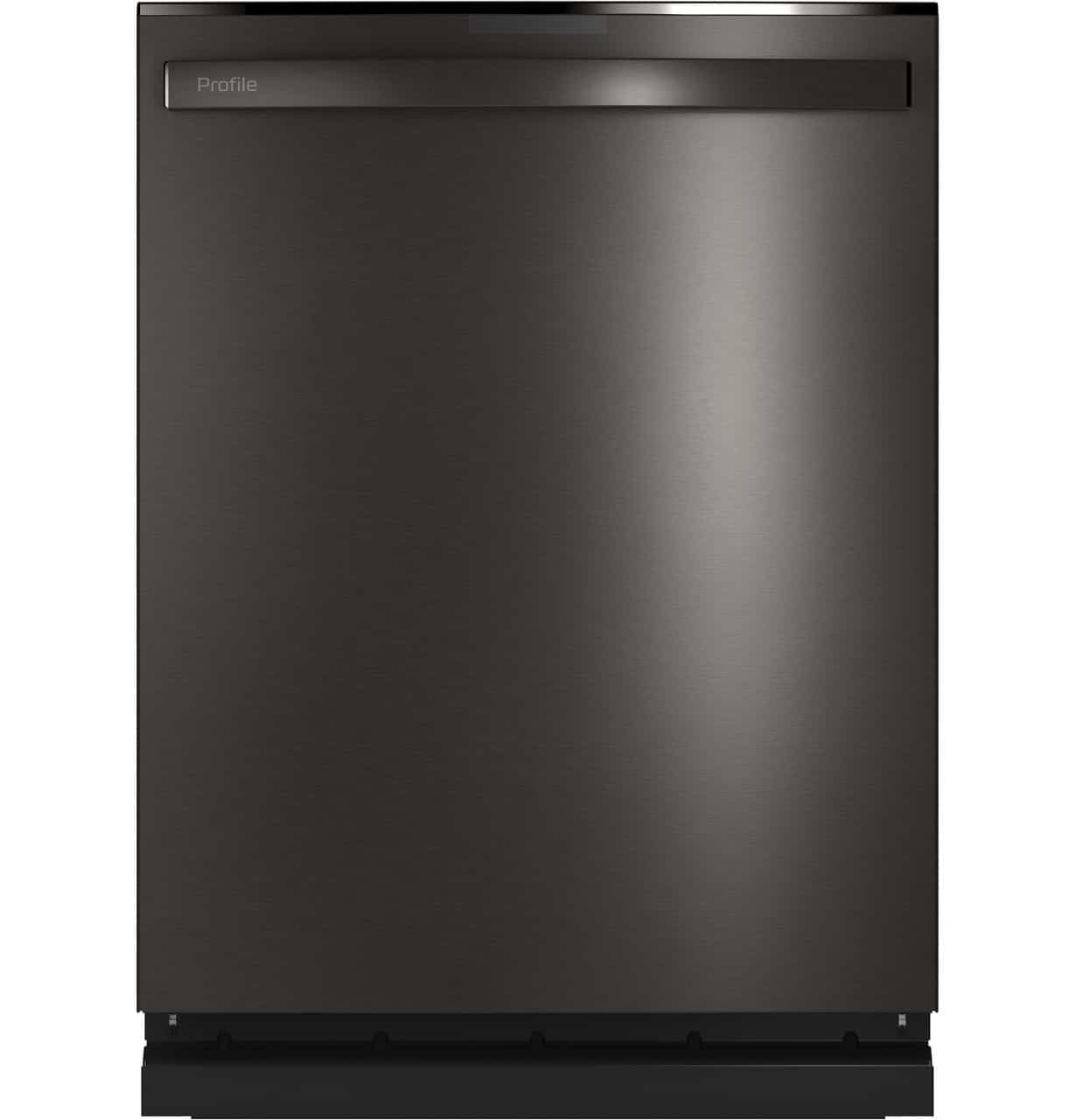 A member of the premium GE Profile line, this dishwasher, although costing over $1000, actually offers a lot more than what you pay for. Its slew of features makes it one of the best performers in GE's lineup, earning it its place on our list. 
It should go without saying that, at this price point, the dishwasher has Dry Boost (complemented by Fan Assist), a stainless steel tub, and a steam function. So, I won't dwell on these. What I will dwell on, however, is its capacity, which has a 16-place setting. You can organize your items across the three (that's right, three) racks. The top-most rack, although limited in space, offers enough room for flatware. 
We think this dishwasher outperforms its peers because it has GE's popular bottle jets as well as dedicated jets for silverware, found underneath the cutlery basket. And then there's a food disposal system so you don't have to pre-rinse dishes before loading them. 
This model is also a silent one, with a noise level of just 45 dBA. This is only slightly louder than a quiet library, so you'll barely hear it working. Sadly, this model doesn't have built-in WiFi, which, at this price, should come as standard. So, contend with spending an extra $50 on an external module, if you need smart features.
Main Features
This GE Profile dishwasher has a 16-place setting.

Its tub is made of stainless steel.

There's a third rack for flatware.

It has bottle jets as well as dedicated jets for silverware.

The dishwasher has Dry Boost with Fan Assist.

It has a steam pre-wash function.

The noise level is 45 dBA.

There's optional WiFi connectivity.
Pros
The washer effectively cleans thanks to the dedicated water jets for bottles and cutlery, as well as the multiple wash arms.

The steam function effectively loosens baked-on food.

Dry Boost makes the dishwasher dry utensils faster and better.

This dishwasher looks stylish.
Cons
There's no built-in WiFi.
Best Smart GE Dishwasher: GE Profile™ Model PDT785SBNTS Top Control Dishwasher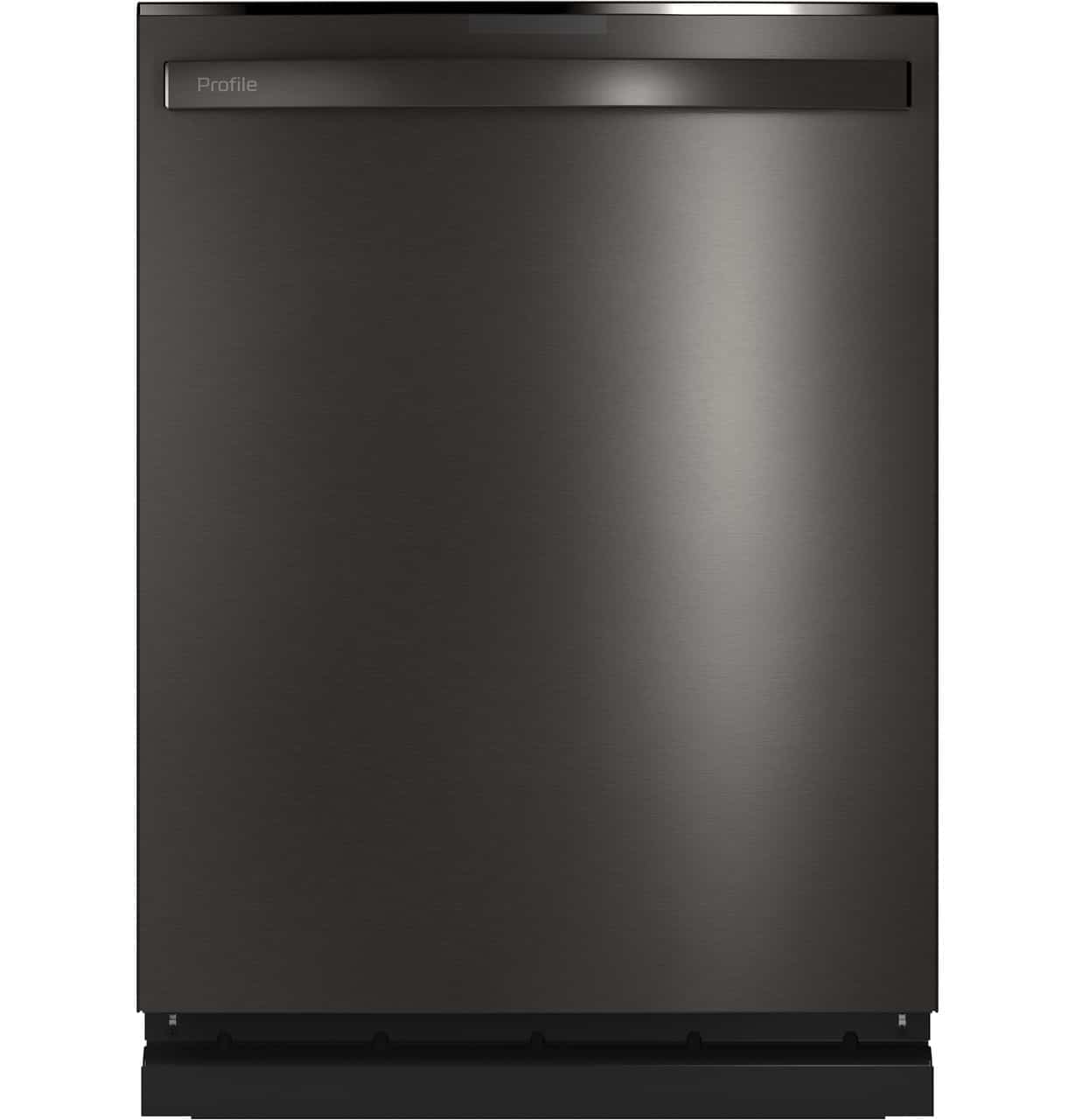 This model is the best GE dishwasher that money can buy, costing $1500. And GE made sure that it is worth the price tag, giving it features like Twin Turbo Dry Boost (a step up from the regular Dry Boost) as well as built-in WiFi. But we'll talk about the features a bit later. 
First, though, we have to say that this is a good-looking appliance, bearing the typical stylish looks of GE Profile models. Thanks to the top controls, the front is left bare, save for the handle, which runs across the top. You can get this model in either black stainless steel or regular stainless steel, the latter being $100 cheaper. 
When it comes to performance, there's no doubt that this dishwasher does its job with gusto. Thanks to the silverware jets, the bottle jets, food disposal unit, and the multiple wash zones, this GE Profile appliance effectively cleans loads of varied soil levels. And it does this silently, with only 39 decibels as its sound level. This is GE's quietest dishwasher. 
Main Features
This GE Profile dishwasher has a 16-place setting.

There are three racks.

It has dedicated silverware jets.

There are also bottle jets.

The dishwasher has Twin Turbo Dry Boost.

Its interior is made of stainless steel.

It has built-in WiFi.

There's a food disposal unit.

It has steam and sanitizes function.

Its noise level is 39 dBA.
Pros
This is a very silent dishwasher.

Its third rack provides extra space for flatware.

It looks great.

There are two wash zones to enable you to wash a half load.

It has a large capacity.
Cons
The black stainless steel option costs $100 more.
FAQs
Question: How long does a GE dishwasher last?
Answer: A good dishwasher is expected to last about 10 years up to 12 years. Since GE is a reliable brand, these dishwashers could last over 10 years. 
Question: Which GE dishwasher is the quietest?
Answer: GE's quietest dishwasher is part of the GE Profile line, model PDT785SBNTS. This dishwasher runs at just 39 dBA, which is more silent than the sound produced in a quiet library.
Question: Is GE Profile worth the money?
Answer: Although GE Profile appliances are more expensive than their standard GE counterparts, they come with sleeker looks and more advanced features that make them worth the money.
Bottom Line
It's almost universally agreed that GE's appliances are good-looking and affordable. Whatever your budget – from $400 to $1500 – there's a dishwasher for you in the company's lineup. So, make sure that the dishwasher has features that will effectively clean your loads.
Consider models with handy features like Dry Boost, steam function, and a food disposal unit as these improve their performance. Avoid dishwashers that require you to pre-rinse the load as this defeats the purpose of buying a dishwasher. 
To save some cash, choose color options that are cheaper in models where the finish alters the price. This is because, inherently, the dishwasher, despite its exterior, is still the same. For instance, in models such as this one, you'll pay up to $200 less if you choose black or white over the fancier stainless steel options. You can also opt to forego smart features if you rarely let your dishwasher run when you're away from home. 
If you're looking for more dishwasher options, check out our Whirlpool dishwasher model guide and find out what this company has to offer. 
Recommended Reads: