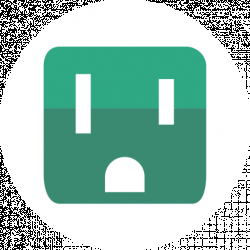 Latest posts by Appliance FAQs Team
(see all)
Ovens are investments worth thinking over because they cost upwards of $300. You're going to hang on them for at least five years and use them every day. Amana is one of the popular and quality brands in the market. They have more than five options to choose from.
If you want to get one of Amana's ovens, you need to make an informed decision. We have come up with a model guide to make your decision easier. Check out Amana's gas and electric ovens. We have included a buying guide and alternatives in case you opt for a different brand.
Amana Electric Ovens
Amana has 6 electric ovens. Of these, 5 are 30-inch ovens and one is a 20-inch oven. The 30-inch ovens have similar features. The main difference is 2 have self-clean options and they have different wattage. Check out the features of three of the most popular electric ovens below.
Self-Clean Option – 30-Inch Electric Oven Model AER6603SFB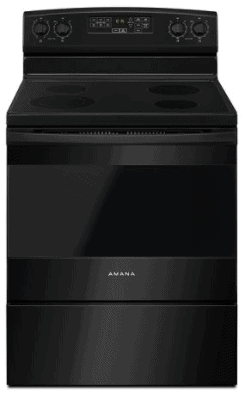 This 30-inch Amana electric oven comes with a 3,000 watts versatile cooktop. The high wattage gives you the flexibility to turn up the heat. It also allows you to set broil or bake temperatures with its user-friendly touch electronic controls plus. Alternatively, you can choose a preset temperature setting thanks to bake assist temps.
Do you have trouble cleaning your oven after you're finished cooking? Worry not as this model has a self-clean option. Use it to clean the grime and buildup inside your oven. You don't need to scrub and scrape the oven. This setting does the cleaning in 2 – 4 hours.
One of the advantages of this model is the large oven capacity. It offers you sufficient space to make dinner and dessert simultaneously. The cooktop has multiple element options. They provide up to 2,100 watts of cooking power. This means you can cook more of your favorite dishes at the same time.
If you love baking then bake assist temps will give you something to look forward to. It offers preset temperature settings to make cooking more convenient.
You choose a temperature, press the start button, and the oven will do the rest. Furthermore, you can quickly select broil or bake temperatures using the easy-to-read and extra-large touch electronic control plus.
Delicious results are possible thanks to the Temp Assure cooking system. It's responsible for distributing heat throughout the entire oven. Another great feature is the extra-large oven window. You get a bigger view when you check on the food. This means you don't have to keep opening the oven door.
Other Interesting Features
Other interesting features may interest you including:
Storage drawer – use it to store pans and pots
Custom broil – use it to broil in 5-degree increments
Warm hold – keeps food warm as you prepare to serve dinner
Oven lockout – safety feature to protect against accidental use
Indicator lights – for checking the oven's settings and status at a glance
Sabbath mode – great for those who keep a kosher home
Pros
Self-clean option
Temp Assure cooking system
Bake assist temperatures
Versatile cooktop
Large oven capacity (4.8 cubic feet)
Cons
May not fit all kitchens
High energy consumption
Space Saver – 20-inch Electric Oven Model AEP222VAW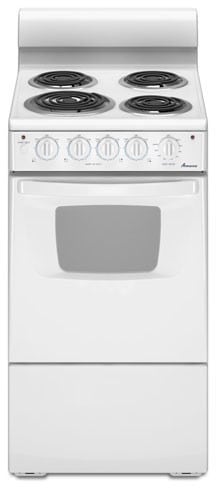 The 20-inch Amana electric oven lets you save space and make sumptuous meals. For starters, it has multiple element options offering up to 2,100 watts. You easily cook your favorite dishes at the same time. Additionally, the Temp Assure cooking system lets you cook great meals because it distributes heat throughout the oven.
Considering it is a 20-inch oven, you may not have the option of cooking large dishes. The oven has a 2.6 cubic feet capacity. Although it is small, it's large enough to let you cook multiple dishes at the same time. This means you can manage everything from family meals to daily meals with ease.
Have you ever spilled food on your oven cooktop? If you have, you know cleaning the area can be a daunting task. With this Amana electric oven, you don't have to worry about spills. It comes with a SpillSaver upswept cooktop with raised edges to ensure cleaning spills is a cinch.
Pros
SpillSaver upswept cooktop
Space saver
Temp Assure cooking system
Versatile cooktop
Cons
Insufficient cooktop space to fit multiple large pots/pans
Non-Self Clean – 30-inch Electric Oven Model AGR5330BAW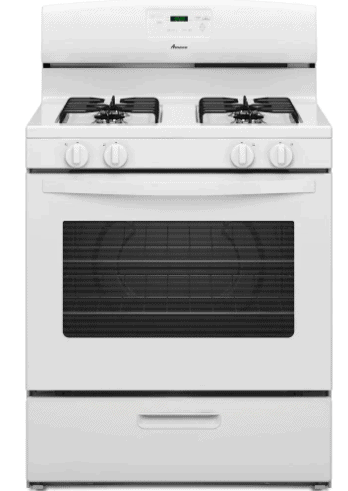 So you don't want the self-clean option in your oven. If that is the case, the Amana 30-inch electric oven without self-clean is your best option. For starters, it lets you make full meals at the same time. The 4.8 cubic feet oven capacity is great for making two meals at the same time.
This model comes with multiple elements offering a maximum of 2,100 watts. This is enough power to cook almost any kind of meal. Baking is also a breeze thanks to baking assist temps. All you need is to choose a setting and let the appliance do the rest.
Operating the device is not a daunting task. The touch electronic plus controls let you quickly select broil or bake temperatures. Additionally, these controls are extra-large and user-friendly. For even distribution of heat, the oven uses the Temp Assure cooking system. The system ensures your meals are cooked evenly to give the best possible outcome.
Are you tired of constantly opening your oven door to check on the status of your food? If this is the case, you will like the large oven window on this appliance. This Amana Oven offers a bigger view. Checking your food is easy and you don't have to open the oven door.
Other Interesting Features
A few more features about the oven may interest you. They include:
Warm hold – keeps food warm as you prepare to serve dinner
Storage drawer – use it to store pans and pots
Oven lockout – safety feature to protect against accidental use
Indicator lights – for checking the oven's settings and status at a glance
Custom broil – use it to broil in 5-degree increments
Pros
Extra-large window
Temp Assure cooking system
Easy touch electronic controls plus
Bake assist temps
Versatile cooktop
Cons
Non-self-clean
Lack of Sabbath mode
Amana Gas Ovens
If you don't want an electric oven, the next best option is a gas oven. Amana has 4 gas ovens. Of these, 3 are 30-inch and 1 is 20-inch. Let's take look at the most popular and highly rated ovens.
Self-Clean Option – 30-inch Gas Range Model AGR6603SFB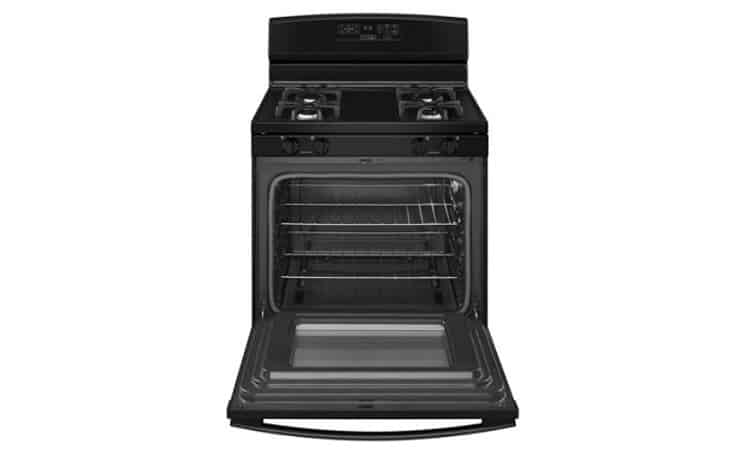 For starters, this Amana gas oven uses bake assist temps. These are preset temperature settings you use to make your cooking experience more convenient. You just choose a temperature and start the oven. Another great feature is warm hold. It keeps your oven between 145 degrees Fahrenheit and 190 degrees. If you are not ready to serve dinner, you can use this feature to keep your food warm until you are ready to serve.
If you like broiling your food, you will enjoy using the appliance. It has an easy access broiler door that is easy to reach. You can easily broil large dinners like roasted vegetables and steak.
You don't have to worry about small spills. This Amana oven comes with sealed burners. They reduce spills from dripping to the area under the cooktop. Additionally, the oven has a large capacity. 5.0 cubic feet, enough to cook your dessert and dinner simultaneously.
This Amana oven has a versatile cooktop. It has multiple burner options that offer a maximum of 15,000 BTUs. This means you can cook a plethora of meals comfortably.
Other Interesting Features
Other interesting features may interest you. They include:
Easy touch electronic controls plus – great for quickly selecting broil and bake temperatures
Temp Assure cooking system –distributes heat evenly in the oven
Extra-large oven window – offers you a bigger view for checking your food
Custom broil – broils in 5-minute increments
Pros
Self-clean option
Temp Assure cooking system
Large oven capacity
Sealed burners
Easy touch controls plus
Cons
It may not fit every kitchen
Space Saver – 20-inch Gas Oven Model AGG222VDW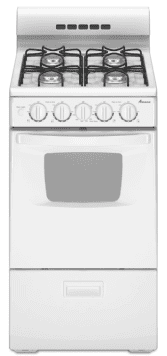 Not every kitchen can accommodate 30-inch gas ovens. If you have a small kitchen, then this Amana gas oven is ideal for you. It comes with sealed burners to reduce spills from the cooktops dripping into the oven.
On the downside, this model is more compact than its 30-inch counterparts. However, 2.3 cubic feet is sufficient for cooking most meals for a small family. This is why it is recommended for small houses and apartments such as a studio. The cooktop is versatile offering multiple burners with up to 9,500 BTUs.
Other Interesting Features
Due to its small size, this gas oven doesn't have as many interesting features as its larger counterparts. The features are:
Temp Assure cooking system – distributes heat evenly in the oven
SpillSaver upswept cooktop – has raised edges to ensure spills are contained
LP gas convertible – allows you to switch from natural gas to propane gas
Pros
Sealed burners
Fits small kitchens
Can use propane and natural gas
SpillSaver upswept cooktop
Cons
Can't use large pots and pans
Non-Self-Clean – 30-inch Gas Oven Model AGR5330BAW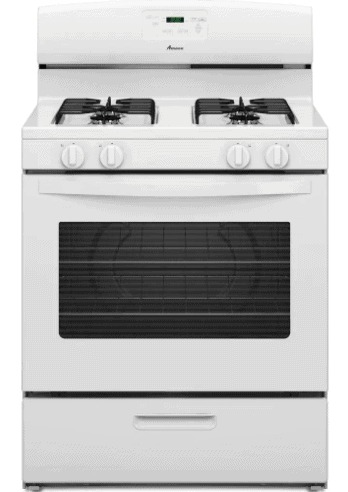 This Amana gas oven comes with easy touch electronic controls. If you are preparing a casserole, you can easily switch from broil to bake temperatures and vice versa. Are you a broiling fan? If so you will enjoy using the easy access broiler door. It's great for cooking large meals.
Not many oven makes and models in the market have sealed burners. This gas oven has them and they help limit the number of spills that drip below the countertop. The oven is large enough to allow you to cook two different meals at the same time.
The versatile cooktop comes with four burners. They provide up to 11,500 BTUs. This is great for cooking most meals.
Other Interesting Features
The following is a list of features that may interest you:
Temp Assure cooking system – ensures the oven has even heat distribution
Extra-large oven window – allows you to monitor your food without opening the oven door
SpillSaver upswept cooktop – has raised edges to ensure spills are contained
Oven lockout – a safety feature for locking the oven to prevent accidental use
Pros
Can cook two meals simultaneously
Easy access broiler door
Easy touch electronic controls
Sealed burners
SpillSaver upswept cooktop
Cons
Non-Self-Clean
Doesn't have Sabbath mode
Amana Oven Buying Guide
There are some factors you should consider when you are buying an Amana oven. These factors will help you get the best oven to suit your preferences. You can also use the information to help you get a different make and model.
Electric Ovens
Electric ovens feature three options for cooktop heating elements. They are:
Coil-Top Models
These models have exposed heating elements. Cookware is in direct contact with the elements. These ovens are the most affordable and are typically available in two colors: white and black. Features include porcelain-enamel cooktop finish, indicator lights, and dials and knobs for burner and oven control.
High-quality coil-top ovens have digital displays for cooking times and heating temperatures. Some also include single storage drawers for putting away cookware. Large oven windows are included to ensure you get the best view of your food as it cooks.
The downside of these ovens is the elements are slow to cool and heat up. To clean, you must remove the heating elements. Indicator lights only function when the coils are switched on. This means they may be off even when the coils are still hot. Lastly, they don't distribute heat evenly.
Smooth-Top Models
Such ovens have radiant or solid disk heating elements. They are located beneath a one-piece ceramic glass cooktop that is easy to clean. These appliances are popular due to their good looks, price, and performance.
Standard features include electronic oven controls with digital displays and preset cooking options. Indicator lights are also available. They are used to let you know when the surface area is cooling down or hot, or when the heating elements are on. Some have self-cleaning functions.
Premium models include fast-cooking convection ovens. They use fans to ensure heat is circulated so foods roast or bake more evenly and quickly. Such appliances can reduce cooking times by up to 30%.
Premium models have several features. You may notice hidden heating elements instead of the traditional exposed wire element sitting at the interior of the oven's bottom. Some have a fifth stovetop heating element and warming centers to keep food warm.
These ovens have drawbacks. For starters, ceramic surfaces are prone to scratching. Stoneware and glass are poor heat conductors meaning increased cooking time. Lastly, overheated metal cookware is likely to bond with the glass-ceramic surface of the cooktop.
Induction-Top Models
If you are looking for speedy stovetop cooking, then induction-top models are the best option. Their burners don't generate heat like other models. They work by turning compatible cookware into a heat source using magnetic technologies.
If your cookware is magnetic you can use it on such ovens. This means the induction top's glass-ceramic surface is cool when you are cooking.
Such stovetops can boil water two times faster than other stoves. Additionally, 90% of the energy generated is used to cook. A standard stovetop uses 50% and an electric stovetop uses approximately 65%. Typically, induction-top models are equipped with convection ovens. They speed cooking time thanks to fans that boost and circulate heat transfer.
Induction ovens come with control lockouts to prevent the appliance from being turned on accidentally. Instead of dials and knobs, they use touch screens. They also have warming drawers and hidden baking elements. Unfortunately not all your pans and pots are compatible with this stovetop. For example, glass, copper, aluminum, and some types of stainless cookware aren't compatible. Lastly, they don't come cheap.
Gas Ovens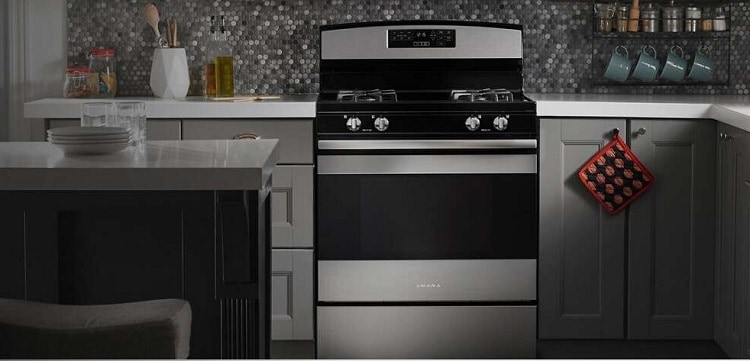 One of the benefits is quick, uniform heating and the visual control of the flame. They are also compatible with all oven and cooktop cookware. You can also use them during a power blackout as long as they don't have a fan-driven convection feature. They have low operating costs compared to electric ranges (depending on your utility rates).
For gas ovens, heat output is measured in BTU (British Thermal Units). Burners have a rating of 5,000 to 20,000 BTUs. Appliances with high-heat burners normally cost more.
Standard Models
The least expensive gas ovens are the standard models. You can find them in two colors namely black or white. Some have porcelain-enamel cooktops and burners that don't burn as hot as their premium counterparts. Some models have storage drawers and cast-iron grates over the burners. For burner and oven control they use knobs and dials. However, their oven windows are the smallest in the market.
Mid-Range Models
They come with high-performance burners with a rating of up to 12,500 BTU. Other features include storage drawers for pots and pans. Temperatures and cooking times are controlled using digital settings. Color options are stainless steel, white, and black. Some have self-cleaning and lockout controls. Typically, they have easy-to-clean steel grates over their burners.
Premium Models
Such ovens are more expensive than mid-range and standard models. Their burners are high performance with ratings not exceeding 17,000 BTUs. Some have a bonus fifth burner and removable stovetop griddle. Convection ovens and electronic control panels for programmed cooking times are not uncommon. For easier cleaning, they feature hidden baking elements.
Pro-Style Models
These are the most expensive gas ovens. Apart from having large oven capacities of at least 5.8 cubic feet, they are wide than the ovens mentioned above. A bonus filth burner and sometimes a super-hot burner of up to 20,000 BTU may be included.
There are models with two convection ovens. Additional features may include multiple metal and color options as well as heavy-duty rollout racks. Unfortunately, gas ovens tend to cost more than their electric counterparts. Furthermore, you need a propane gas cylinder or a natural gas line hooked up to your kitchen.
Amana Electric Alternative
If you decide you don't want any Amana oven, but you are looking for something similar, we got you covered. There are some options you can use as alternatives. We researched various ovens to find the best alternatives to Amana ovens. Check them out below to make a more informed decision.
Best Amana 30-inch Alternative – GE Profile PB935YPFS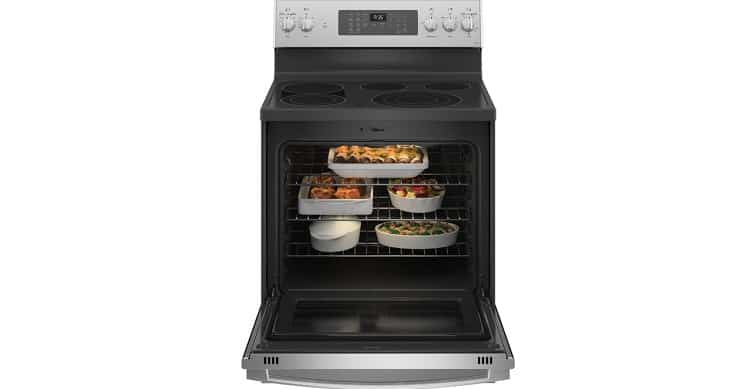 For all-around great baking and cooking performance, this is one of the best ovens in the market. The GE Profile PB935YPFS has five burners. One is ultralow for keeping your dinner plate warm. There is also a super-high one for quick boiling. The oven is 5.3 cubic feet meaning it can handle large meals including a Thanksgiving turkey.
The oven has three racks for different dishes and placements. It also means you can cook three sheets of cookies at once. For perfectly browning a roast beef or baking a nice crust on loaves of bread, use the convection oven. For meals such as crispy brussels sprouts and chicken, use the air fry function.
GE Profile ovens connect to an app on your mobile device to ensure you get alerts when you are not in your kitchen. You can also use Google Assistant or Alexa to control it and get alerts. These features are the reason why you should consider it as a 30-inch electric oven alternative to Amana electric ovens.
Pros
Self-cleaning
Air fry function
Great cooking performance
Three racks
Five burners of varying power
Cons
Not the largest oven for this price point
Best Amana 20-inch Electric Oven Alternative – Summit Appliance REX2051BRT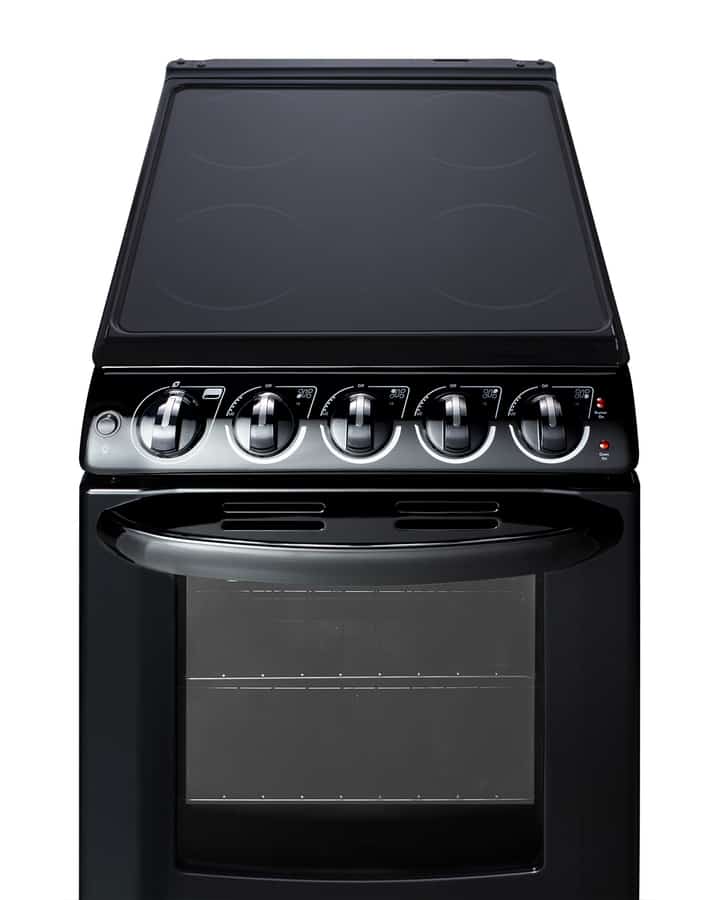 Do you love to cook and you are tight on space? If this is the case, you can try the compact oven from Summit Appliance. It's one of the best and sleek 20-inch ovens on the market.
Apart from having a versatile design, this oven comes in an elegant black finish. It has a 2-inch backguard offering you the flexibility to install it as a slide-in or free-standing oven. The cooktop is smooth and comes with four 1,200 watt elements. Unfortunately, they are small measuring 6.5 inches wide.
The oven cavity has enough space (2.3 cubic feet) to prepare food for a couple of people. There is a window you can use to peep inside to check the progress of your food. One of the best features is slide-out oven racks. You have the option of choosing between 4 different positions. The broiler is at waist height meaning it is accessible to people of varying heights.
Pros
ADA compliant
Indicator lights for safety
Flexible backguard
Gliding racks
Cons
Amana Gas Alternatives
Want more options apart from the Amana electric ovens above? We have researched the best alternatives to the brand. They are:
Best Amana 30-inch Gas Oven Alternative – Samsung NX58R5601SS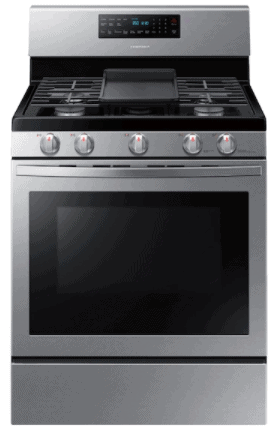 The most common oven size is 30-inches wide. If this is the type of appliance you need, consider the Samsung NX58R5601SS as your best Amana alternative. This freestanding appliance is affordable and stylish.
Oven space is 5.8 cubic feet which is at par with other models at this price point. It also has a removable griddle and five cooktop burners. You can adjust the 2 oven racks to a height that suits your preferences. A storage drawer is provided to store your cookware.
The Samsung NX58R5601SS has a variety of useful amenities and settings. They include child safety locks, a proofing setting, delay start, and convection cooking. You can keep it fresh and clean by using the self-clean cycle.
Pros
Self-cleaning
Proofing setting
Convection cooking
5 cooktop burners
Adjustable oven racks
Cons
Control knobs aren't stylish
Lacks smart features
Best Amana 20-inch Gas Oven Alternative – Avanti DGR20P3S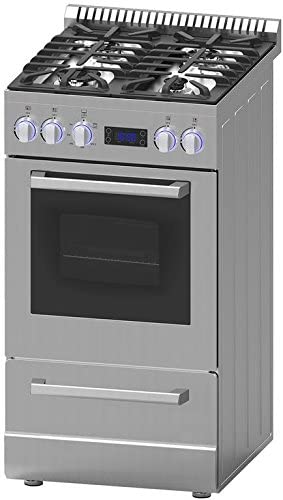 Avanti has a wide range of white, black, and stainless steel ovens. Their 20-inch DGR20P3S is a great alternative to the 20-inch gas model from Amana. It has a stainless steel finish that is stylish and easy to clean.
You have the option of setting the oven temperature for ranges from 200 degrees to 550 degrees. It uses natural and propane gas. The stovetop has four sealed burners and a splash guard. Four burners are sufficient for various cooking options. Although it is slightly costlier, it won't break the bank.
This 20-inch gas oven from Avanti comes with a digital clock and timer. It helps you keep track of time as you cook. This means overcooking your food is almost impossible. Another advantage is you get information on how long it takes to cook a particular dish.
It's rare to find backlight knobs on 20-inch gas ovens. The Avanti DGR20P3S has knobs with light rings that change colors depending on the position of the knob. Red means the knob is on and blue means the knob is off. Automatic ignition is included to ensure you can light the oven safely and easily.
Pros
Stainless steel finish
Uses natural and propane gas
Comes with a splash guard
Digital clock and timer
Back-lit knobs
Cons
Costs more than other 20-inch gas ovens
FAQs
Question: Can I Reset my Amana Oven?
Answer: To reset the oven to factory settings, use the following process:
• Turn off the power from the main outlet for at least 1 minute
• Turn the power on the power outlet and turn the unit on
• Once powered, start a bake cycle
• Let the oven run for at least 1 minute to ensure the error codes don't appear
• Open the oven door to ensure it has heated as this means it has been reset
Question: What does F9 Mean?
Answer: It's a door lock circuit failure. In Amana ovens, it's a code that may mean the latch motor gear isn't engaging in order or it's slipping. The problem causes the micro switches not to engage when the door is closed.
Question: How do I Light My Amana Oven?
Answer: In case of a power outage, you may use a light or matchbox. Select the burner you want to use. Turn the knob to ignite setting. Place the flame of your lighter or match under the top burner. Now you can set the desired temperature.
Question: Why doesn't My Amana Oven Heat Up?
Answer: There are various reasons why your oven won't heat up. Common problems include the igniter being defective. Another reason may be the igniter is weak thus failing to open the safety valve correctly.
Bottom Line
Amana ovens are one of the best products in the oven industry. Go for the 30-inch options for a large kitchen. If you live in an apartment with a small kitchen, the 20-inch is the best solution. If you want to get one, use our picks above to get the best in the market.
If you don't like Amana, you can look at the alternatives provided. You may also feel the options provided don't meet your requisites. Read the buying guide to get information on how to choose ovens. It has detailed information on how to choose an electric or gas oven.