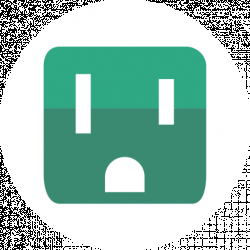 Latest posts by Appliance FAQs Team
(see all)
The Frigidaire FFSS2615TS is a side-by-side refrigerator with a capacity of 10.95 Cu. Ft of usable storage. The refrigerator's freezer has a capacity of 5.08 Cu.Ft., which is pretty enough for your items. Even though most side-by-side refrigerators tend to be colder at the top and warmer at the bottom, the FFSS2615TS maintains a temperature of four degrees.
This refrigerator model allows you to maintain a safe temperature threshold without partially freezing your items. The average temperature capabilities of the refrigerators ensure that your foodstuffs are well-kept and all the conditions are under control.
If you have been looking into purchasing this refrigerator, then you are in the right place. Below is a comprehensive Frigidaire FFSS2615TS refrigerator review and all that you need to know before deciding.
Features of the FFSS2615TS Refrigerator
The temperature management system of the refrigerator does an extraordinary job. Once the freezer gets cold, the temperature remains consistent for an extended duration, with all the areas maintaining an equal temperature rate. The temperature in the freezer takes the shortest time possible to change from room temperature to the freezing point.
The FFSS2615TS side-by-side refrigerator is designed to allow easy access to the items that are regularly used. This applies to all the products in the freezer and the fridge section. You can easily fit about two or three-door storage options within reach of arms without having to struggle to access them.
The refrigerator has simple temperature controls that make it easy to set your desired temperature level. The buttons are flexible enough to switch and well-positioned for easy access when setting the refrigerator. Also, the settings are well-calibrated, indicating the type of settings that you can make.
The shelves and drawers in the interior are adjustable, allowing you to customize the refrigerator in your way. They portray enough space to enable you to store all your items without overcrowding them in one place.
Pros and Cons of the Frigidaire FFSS2615TS Refrigerator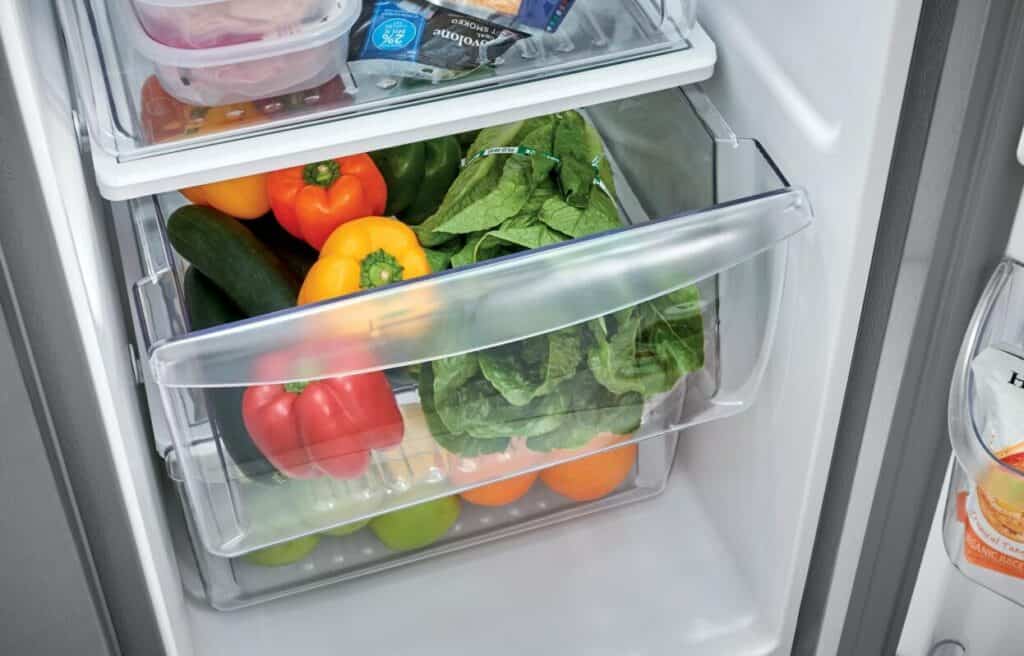 Pros
The Frigidaire FFSS2615TS refrigerator has enough storage capacity that makes it an ideal option for your family and kitchen needs. The appliance comes with adjustable shelves both in the fridge and freezer section. This makes it easy to store and access your foodstuffs.
Besides, the refrigerator is easy to customize and set up due to the simple nature of the settings panel. The buttons have indications that enable you to understand the type of settings that you are making.  In addition, the fridge has a stainless steel finish that makes it appealing and easy to clean.
Its general design allows easy access to the items located both in the freezer and fridge section. This eliminates the hassle when it comes to accessing your items. Both water and ice are dispensed through the door, making it more convenient.
Cons
Despite the refrigerator having adjustable shelves and drawers, they do not slide smoothly, increasing the storage space's chances of damage. The temperature settings buttons are tough to activate since they require a hard press to work. Also, the position of the buttons is not perfect since you can accidentally bump them, causing premature spoilage.
Mainly, the manufacturers tend to measure the freezer space without the ice maker inside or with all the drawers removed. The reality is that the room is less than what is indicated by the manufacturer. The storage space is less by an average of 44%.
Factors to Consider When Purchasing Frigidaire FFSS2615TS Refrigerator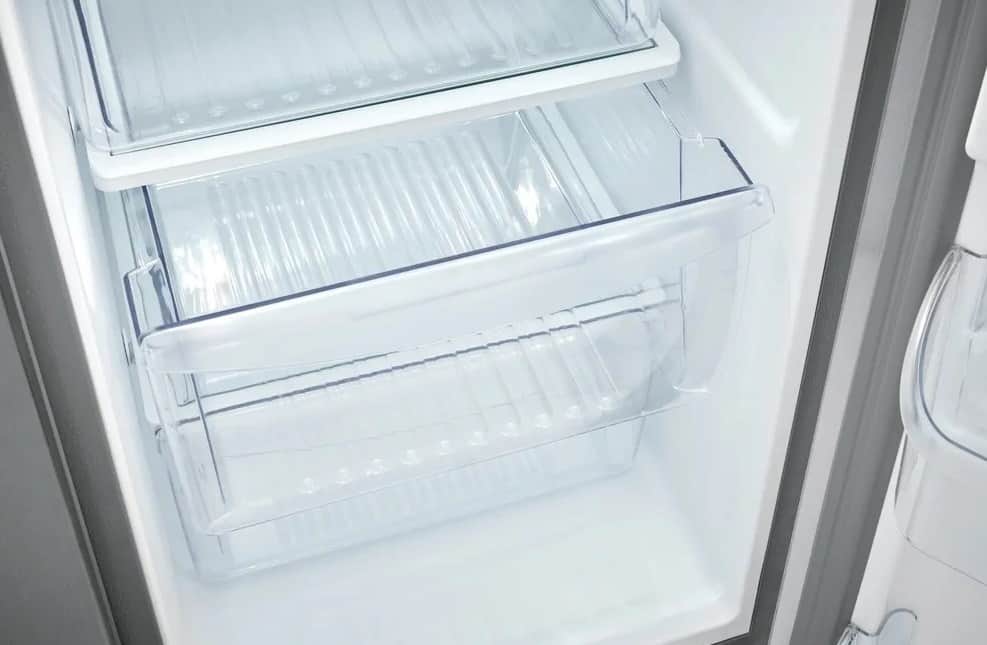 Style
Refrigerators come in different styles and designs. Some come with the freezer at the top, while others have the freezer based at the bottom. It would be best if you made your decision according to your refrigerator needs, among other factors. It is good to do a market analysis before opting for a specific Frigidaire refrigerator style.
Budget
It is always good to work with a budget any time you intend to purchase a product. There are excellent Frigidaire FFSS2615TS refrigerators in the market that comes at different prices.  You need to evaluate yourself and determine the amount of money you can spend on a fridge. This will save you from digging deep into your bank account.
Storage Capacity
Before purchasing a refrigerator, you need to consider the size of your kitchen and the eating habit of your entire family.
In addition, the size of your kitchen might hinder the size of the refrigerator you intend to buy. Excellent fridges make good use of limited kitchen space and give you enough storage capacity for your foodstuffs. Some come with flexible and customized shelves giving you enough storage room.
Added Features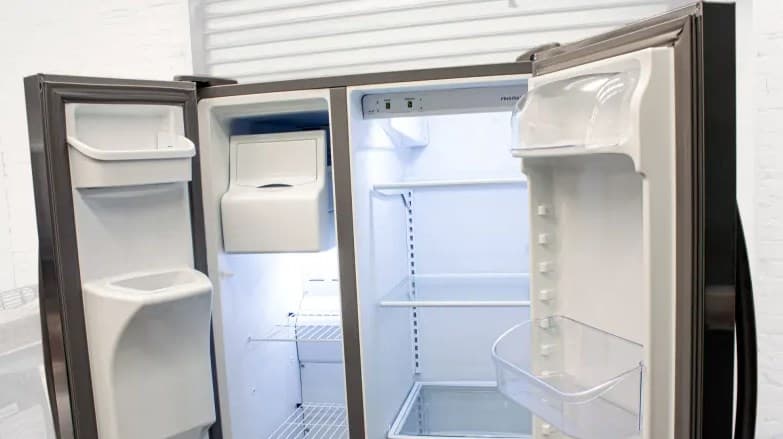 Everybody has some of the added features on a refrigerator that they like. It is good to consider some of the added features since they have added advantages to the user. These added features include a dual evaporator, smart home platforms, air filters, and others. The added features enhance the beauty and efficiency of your refrigerator.
Customer Reviews
Customer review plays a significant role during the decision-making time. Remember that some people have already used this refrigerator model, and they have something to comment about. This will help you identify the exact things you are looking for and the appliance's efficiency. The reviews uncover all the features and trends of the product you intend to buy.
Best Alternatives of the Frigidaire FFSS2615TS Refrigerator
Frigidaire FFSS2615TS refrigerator showcase effective and reliable working momentum that makes it stand out in the market. Besides, there are other multiple alternatives available in the market that portrays exceptional functional capabilities.
Let's roll down and shed light on some of the best alternatives for the Frigidaire FFSS2615TS refrigerator that are just as good or even better. This list is based on the quality, how long it will serve you, and customer satisfaction ratings. You will therefore not be disappointed!
This innovative Frigidaire model has an advanced temperature settings panel to create a relaxed environment for your items; the FRSS2323AW Frigidaire refrigerator model has a spacious internal part that gives you enough storage space. It has a water and ice dispenser that is easily accessible from the outer part.
The refrigerator has a capacity of 22.3 Cu. Ft that offers an incredible cooling system that reacts quickly to temperature fluctuation. It has an automated system that ensures all the items are in good condition throughout the storage duration. It has crispers that keep fruits and vegetables fresh by blocking the entry of dry air. The Frigidaire FRSS2323AW retails at $1,449.
Pros
It has enough storage capacity.
It has a reliable cooling system.
It is easy to customize and operate.
It offers easy access to items.
Cons
It is costly.
It is not energy efficient.
The FRSS2623AW refrigerator model has a larger capacity of 25.5 Cu. Ft. to fit the needs of your entire family. It comes with crispers that keep your fruits and vegetables fresh for a long. The crispers have airtight seals that prevent the entry of dry air from the outside environment. The temperature and the cooling system of the refrigerator react quickly to the temperature changes.
The cooling system eliminates warm air inside the refrigerator supplying cold air on top of the stored items. It has enough storage capacity that fits all your family needs, thus suitable for individuals with big families. The refrigerator has adjustable door bins, vegetable and fruit drawers, and removable glass shelves.  The appliance retails at $1,399.
Pros
It keeps vegetables and fruits fresh for a long time.
It has a larger storage capacity.
It has an equal temperature that prevents the freezer from burning.
The shelves and drawers are adjustable, thus easy to customize.
You can easily access water and ice from the outside.
Cons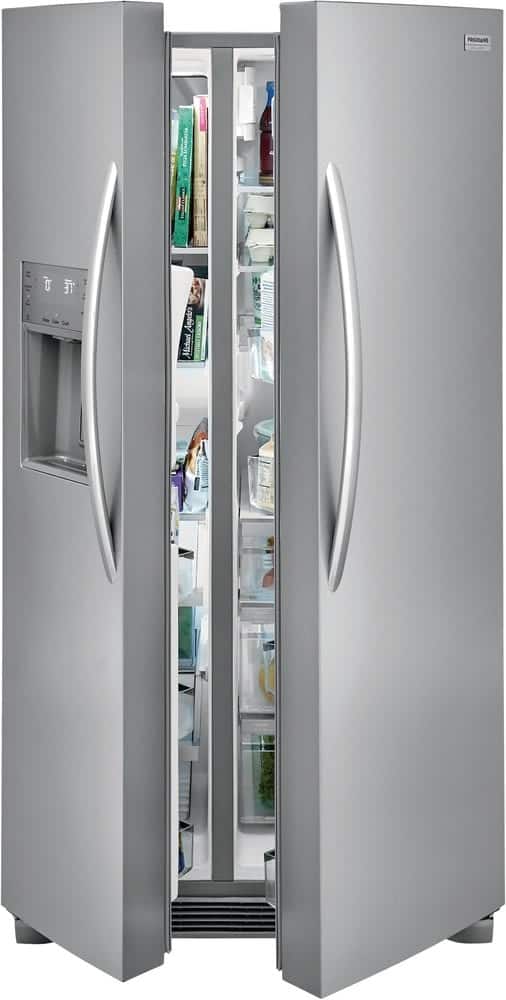 This is a highly modernized refrigerator that comes with a bunch of added features, making it stand out in the market. A customized EvenTemp setup creates a standard cooling environment for the foodstuffs kept in the refrigerator. The refrigerator is well organized, with room to place all kinds of foods, including Pizza.
The Frigidaire GRSS2652AF has advanced CrispSeal for the crisper that ensures that vegetables and fruits remain fresh for an extended time. The interior part is equipped with LED lights that give enough light when you open the refrigerator. There are air filters that capture undesirable smells keeping the foodstuffs fresh. The Frigidaire GRSS2652AF retails at $1,799.
Pros
It has a LED lighting system.
It comes with EvenTemp that leverages the cooling capacity.
It has customized storage spaces for all kinds of foodstuffs.
It has air filters that absorb undesirable smells.
It is energy efficient.
Cons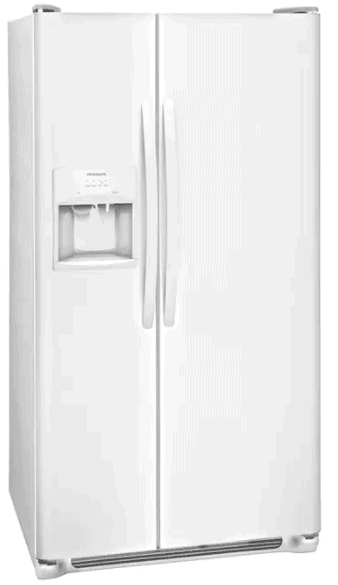 If you are looking for a first-class refrigerator model, the Frigidaire LFSS2612TP refrigerator has all your needs sorted out. The appliance comes with a nicely customized interior setup that gives enough room for storage purposes.  It has an efficient LED lighting system that enables you to see what you are looking for.
There is a water and ice dispenser near the door with a PureWater Ultra Source filtration mechanism. This produces clean water that is ready for consumption. Also, the dispenser can be easily accessed from the outer part of the refrigerator. It has a full-width freezer space that gives you enough storage room. The refrigerator retails at $1,199.
Pros
It has enough storage capabilities.
It has a LED lighting system.
It comes with a PureWater Ultra Source Filtration mechanism.
It has a customized storage system.
Cons
It is relatively expensive.
It is noisy.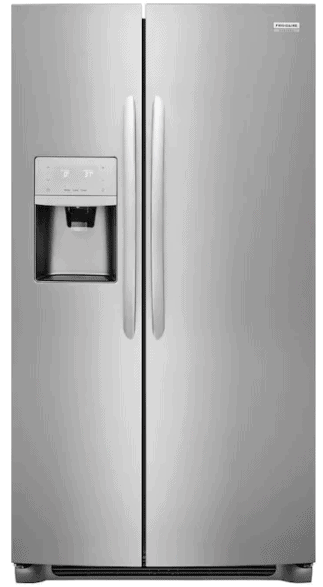 This refrigerator model has a sign of an energy star indicating energy efficiency. Inside the freezer, there are glass shelves that give enough room to keep foodstuffs that require freezing. It also has a gallon door bin storage specifically meant to hold larger items such as gallons of milk.
The refrigerator is equipped with PureAir Ultra filters that absorb unpleasant smells inside the fridge. The shelves have metallic trims that make them efficient for storage purposes. The interior part has a LED lighting system that enhances visibility whenever you are looking for items. This refrigerator model retails at $1,599.
Pros
It is energy efficient.
It has enough storage capacity.
It has LED lights for visibility purposes.
It has air filters that clean the unpleasant smell from the refrigerator.
Cons
It is relatively expensive.
FAQs
Question: Do Frigidaire refrigerators have problems?
Answer: Frigidaire is a famous refrigerator brand that produces high-quality, energy-efficient, low-maintenance, and reliable appliances. If you intend to shop for a refrigerator that will serve you for long, keeping your food fresh throughout, consider going for Frigidaire. Generally, Frigidaire is a solid brand that comes with a wide range of prices.
Question: Does the Frigidaire FFSS2615TS come with adjustable interior storage?
Answer: Yes, it has adjustable Store-More shelves that will come in handy when doing weekly or monthly shopping. This ensures that you can stash large foods comfortably, without any hassle. You will have more than 100 ways to arrange and customize your refrigerator. Isn't that amazing?
Question: Does this fridge come with plastic shelves?
Answer: Yes, it has plastic door shelves. However, some people claim that they easily break; hence it is best to be careful.
Question: Does this fridge come with a deli drawer?
Answer: Yes, it comes with a deli drawer that will help keep your cheeses and sandwich meats fresh and easy to find.
Question: How long should a Frigidaire refrigerator last?
Answer: This depends on the size and model of the refrigerator. However, the duration at which a refrigerator lasts depends on the maintenance and care you give it. A well-maintained refrigerator can last between fourteen and seventeen years. On the flip side, a compact refrigerator lasts for an average of fourteen years.
Question: Is there any recall on Frigidaire refrigerators?
Answer: Initially, Electrolux and Frigidaire were branded as the most expensive brands available in the market. Despite the significant prices imposed on the products, the appliances have excellent performance capabilities. According to Frigidaire and Electrolux, the new technology does not work for them.
Question: What is the warranty attached to Frigidaire refrigerators?
Answer: All the Frigidaire refrigerators come with a ten-years warranty as an indication of quality. It also has a 10-year comfort quality pledge. Since Frigidaire also deals with other appliances, it has various warranties attached to different kinds of appliances.
Question: Are the Frigidaire refrigerators noisy?
Answer: This is the most common problem with Frigidaire refrigerators. They tend to be noisy and loud at some point. When the evaporator fan motor fails, the refrigerator produces a lot of noise. Note that the noise increases and becomes louder when you open the door. However, if you realize your refrigerator I noisy, replace the evaporator fan.
Frigidaire FFSS2615TS Refrigerator Review: Final Verdict!

Frigidaire FFSS2615TS refrigerator has proved to be outstanding compared to other models in the market. This is due to its exceptional functionality features and the interior finish that offers a relaxed environment for the storage of foodstuffs.
Besides, there are other alternatives to the above model that also does a compelling job. Among all the outlined alternative models, the Frigidaire LGHX2636TF and FRSS2623AW are the most recommendable models that come with incredible operation features.