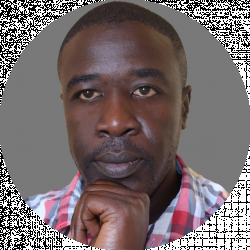 Latest posts by Barry Juma
(see all)
Magic Chef makes affordable refrigerators mainly targeted at those looking for a secondary one for their RV, holiday cabin, or garage. The company's refrigerator models are simple, compact appliances that lack the fancy bells and whistles you'd find in, say, an LG or Samsung refrigerator.
This is why they're able to keep their prices as low as they are – you can find a new Magic Chef refrigerator for just $200. In this Magic Chef refrigerator model guide, I'll shed some light on this brand and help you decide which refrigerator model is perfect for your needs. You can also check out our list of recommended models that you should consider. 
What to Consider When Buying a Magic Chef Refrigerator
Types of Magic Chef Refrigerator Models
Magic Chef's focus seems to be on compact refrigerators, as you'll see later in the sizes and capacity section. In this article, we'll categorize the company's refrigerators into three groups:
Top freezer

Bottom freezer

Mini/portable refrigerators

Quad French-door refrigerator
Top Freezer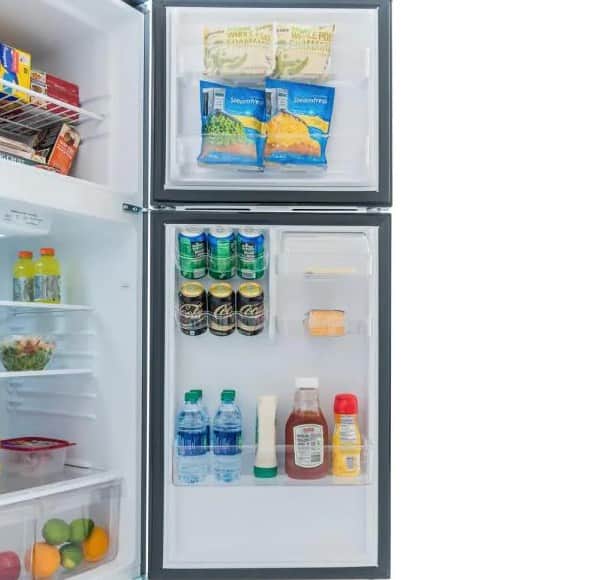 These are models with the freezer compartment mounted at the top and the refrigerator below it. Magic Chef's larger refrigerators have this configuration, and there are several models listed on their website. 
If you have more freezer items, you won't need to constantly bend to access them since the freezer is at eye level. However, most people access the refrigerator more often, so you're most likely going to have to bend a lot to reach for your food. 
Bottom Freezer
In these models, the refrigerator is at the top, keeping it at eye level. This solves the problem of constantly bending to reach for food that's experienced in the top-freezer models. On the flip side, if you store heavy foods, like turkeys, in the freezer, you're likely to strain a bit to get them out. Also, bottom-freezer refrigerators are more expensive than their counterparts. 
Mini/portable Refrigerators
These are small refrigerators that generally have a single door, with a small compartment within that acts as the freezer. Their heights range from 19.5 inches to about 33 inches, so they can easily fit under a counter. Most people buy these models for their RVs or as a second refrigerator.  
Quad French-Door Refrigerator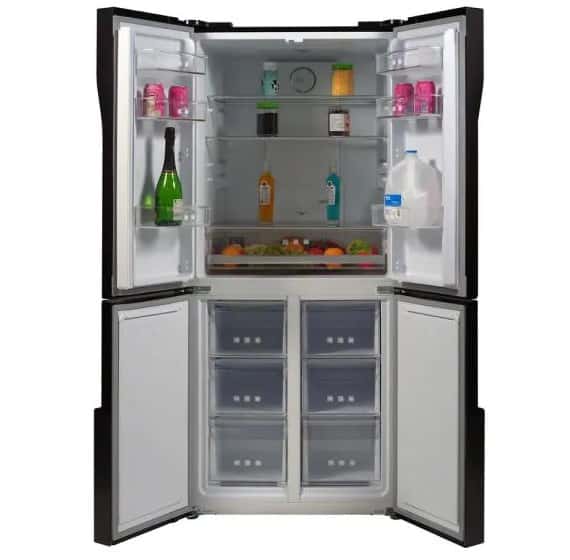 Magic Chef has just one French door refrigerator model in its lineup. This is a modern and stylish design that's made up of two doors at the top for the refrigerator and two below for the freezer compartments. This is the largest model that Magic Chef sells but, sadly, it also happens to be unavailable in most retail outlets. 
The type of refrigerator you choose depends on your needs. If you need a refrigerator to complement the one you already have, a mini-refrigerator might be adequate. If you live alone or you're two in your household, then Magic Chef's top/bottom freezer models would be fine. 
Available Sizes and Capacities
As you shop around for your next refrigerator, you'll need to know exactly what capacity is right for you. Generally, you'll need to calculate an average of about 5 cubic feet of refrigerator capacity per adult in your household, plus a little bit of extra cubic footage. So, if you're in a household of two adults, a refrigerator of at least 10 cubic feet would do.
Magic Chef's lineup, as we mentioned, is mainly made up of compact refrigerators. The smallest models have a capacity of 1.7 cubic feet to 2.6 cubic feet. If you want models that are slightly bigger, there are compact refrigerators from 3.0 to 4.5 cubic feet. The largest refrigerators range from 9 to about 15 cubic feet.
The company's smallest refrigerators have a height of about 19.5 inches, and the tallest ones have about 59.4 inches. 
Price of Magic Chef Refrigerators (And Your Budget)
Magic Chef's refrigerators are affordable, making them a good choice for anyone on a budget. The company's lowest-priced model costs about $79, but this is a mini-refrigerator with a capacity of 1.7 cubic feet. 
If your budget is between $100 and $150, you'll be able to buy a 2.6-cubic-foot model. For one that's bigger, $180 will get you a 4.5-cubic-foot two-door refrigerator. 
The company's mid-priced model currently in stock costs $390. This is also the largest Magic Chef refrigerator that you can buy at the time of writing this piece, with a capacity of 10.1 cubic feet.
Magic Chef's most expensive refrigerators are bottom-freezer models, which cost between $800 and $900.
Available Designs and Colors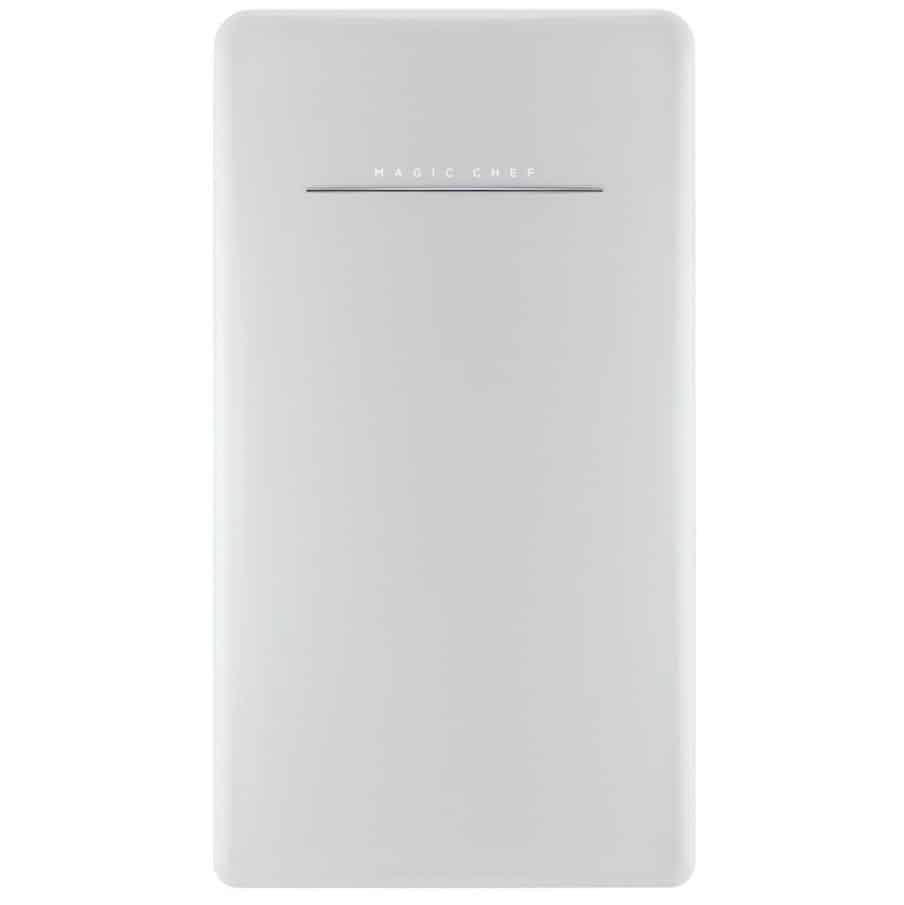 There isn't a variety of refrigerator designs to choose from among Magic Chef's models. Whether you're looking for a mini-refrigerator or a top/bottom freezer model, most models have a recessed-handle door design with the Magic Chef logo in the top-right corner. However, the company is known for making retro-style refrigerators (like this one) that exude a rustic but chic appeal. If you want a unique refrigerator, then these are the models to consider.
The story is the same when it comes to colors, as there are mainly three options across the company's lineup: black, white, and stainless steel. Select retro models come in more vibrant colors like mint green or red.
Storage Options
Consider what you'll mainly use the refrigerator for and look for a model with the storage compartments that fit your needs. For instance, consider a model with bottle racks or can racks if you're looking for a mini-fridge to chill drinks.
Depending on the refrigerator model, magic Chef's models have the following storage options; can racks, door bins, crisper drawers, bottle racks, glass shelves, and storage baskets.
Warranty
Magic Chef offers a one-year warranty on parts and labor on all their refrigerator models. You'll also get a five-year warranty on the compressor, but this only covers the replacement of the part; you'll have to foot the labor cost.
Main Features of Magic Chef Refrigerators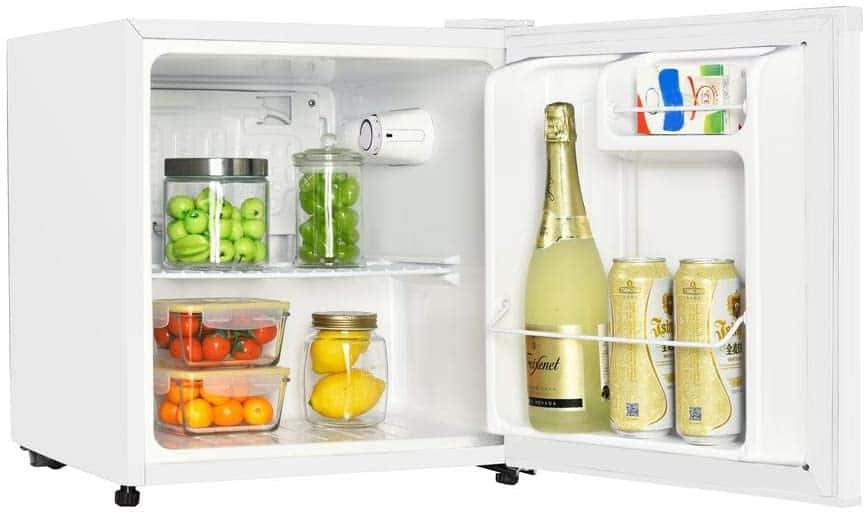 Reversible Doors
If you want to change the direction that your refrigerator's door swings, you can do this in most Magic Chef refrigerator models.
This is done by unscrewing the hinges and fastening them on the opposite side. Thankfully, Magic Chef shares door reversal instructions in the refrigerator's user manual. And you don't need to call in a technician to help you as the process is easy, as long as you have an extra pair of hands to help you.
Adjustable Temperature
You can select the preferred temperature for your Magic Chef refrigerator using the thermostat found in the unit. Other models have a separate thermostat for the freezer, so you can select independent temperatures. 
Adjustable Leveling Legs
With this feature, you'll be able to prevent the refrigerator from wobbling by freely adjusting the legs to ensure the unit is stable. This comes in handy if your floor isn't level – you'll be able to set each foot to the perfect height to keep the refrigerator steady.
Automatic Defrost
Some Magic Chef refrigerator models have an auto defrost feature that keeps the fridge section free of frost. This saves you the time of manually defrosting the refrigerator every so often. 
Interior Light
Magic Chef refrigerators have an interior incandescent light in the refrigerator section. Sadly there's no model with a light in the freezer. 
Recommended Magic Chef Refrigerators
Selection Criteria
To come up with this list of recommended Magic Chef refrigerators, I considered the following:
Value for money: The refrigerators should have features that make them worth their price.

Performance: The models on our list are top performers in their categories. This is according to user feedback and expert reviews.

Ratings: I considered refrigerators with a rating of at least four stars out of five, with about 70% of these being five stars. 
Magic Chef Model HMAR170WE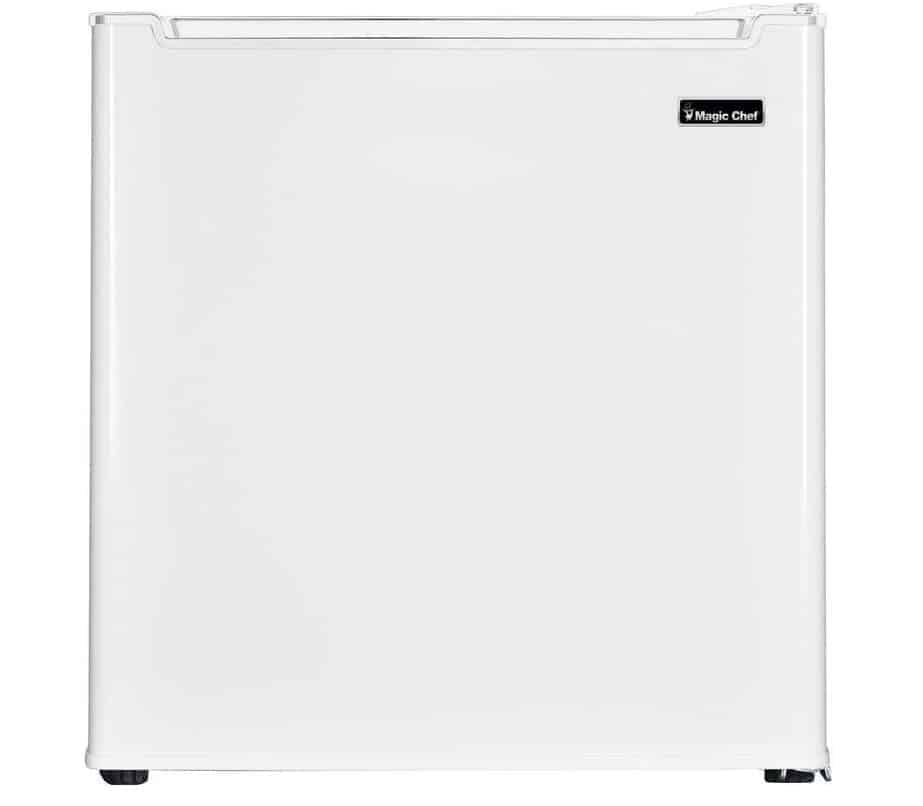 If you're looking for a secondary refrigerator, then this mini-fridge might be the right model for you. Most people buy this Magic Chef model to cool drinks, considering it doesn't have a freezer. Whatever you need one for, this 1.7-cubic-foot mini-fridge will most likely satisfy your needs.
Its interior space has a shelf that's ideal for fresh food, and the door has extra storage for bottles or cans. Speaking of the door, it's reversible, so you can choose which direction it'll open towards. Magic Chef also gave this model adjustable leveling legs to ensure that it's stable wherever it stands.
Main Features
The Magic Chef HMAR170WE model is a freezerless mini-fridge.

It has a capacity of 1.7 cubic feet and a height of 19.6 inches.

This model comes in a stainless steel finish.

The interior has a removable shelf and door racks.

It has an adjustable thermostat for temperature control.

The door is reversible.

The refrigerator's legs are adjustable.

This mini-fridge is Energy Star certified, and it consumes 245 kWh/yr.
Pros
This Magic Chef mini-refrigerator is affordable.

It is Energy Star certified.

It keeps food and drinks cold enough, and you can adjust the temperature.

The lack of a freezer leaves ample space for the fridge.

It's easy to set up.
Cons
The door storage rack is flimsy.

The refrigerator can be a bit noisy at times.

There's no internal light.
Magic Chef Model HMDR450WE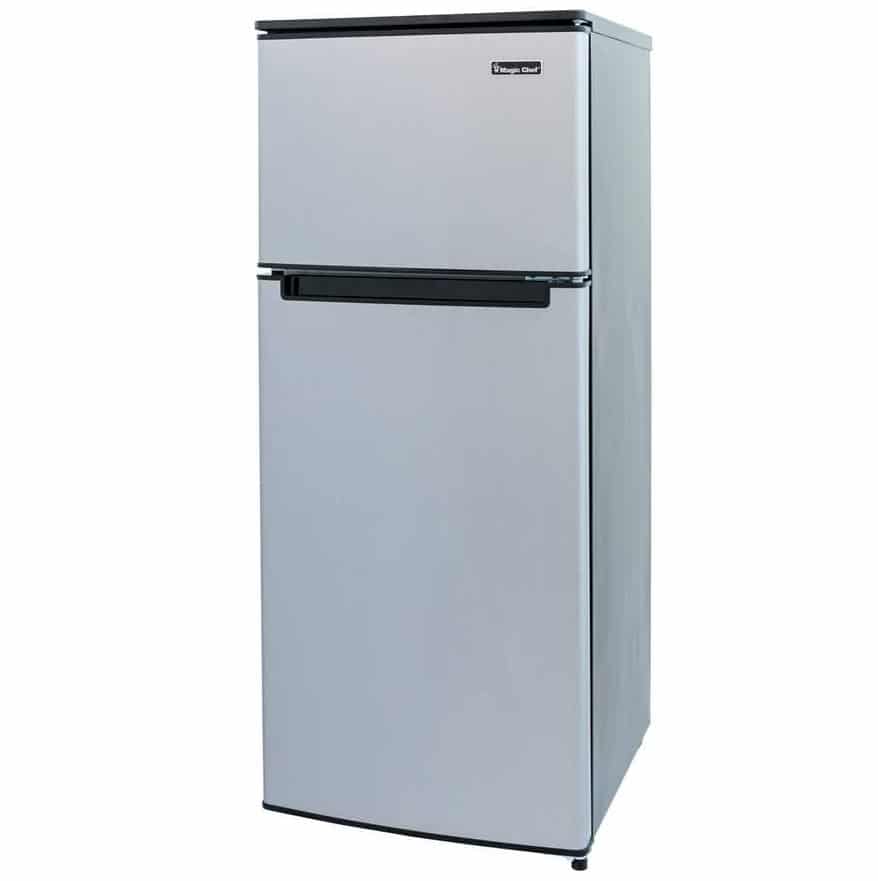 This two-door fridge is in a different category from the one above, so it appeals to a totally different user. It's for those who want a freezer and some extra refrigerator space to complement their home fridge. It's also significantly pricier than the mini-fridge above, but that's because it's much bigger, boasting a capacity of 4.5 cubic feet in total: the freezer has 1.2 cubic feet, and the refrigerator has 3.3 cubic feet. 
Inside the fridge section, there are three glass shelves plus a crisper drawer for food organization. The door also has shelves and a rack that can hold bottles and soda cans. The freezer has its own shelf and door shelf, allowing you to organize food in its reasonable capacity.
Main Features
This Magic Chef mini-fridge has a capacity of 4.5 cubic feet.

It has two doors separating the refrigerator from the freezer.

The refrigerator has a height of 44 inches (1.1 meters).

The fridge section has three removable glass shelves and door racks.

There's also a crisper drawer for storing fruits and veggies.

It has an adjustable thermostat for controlling the temperature.

Its door is reversible.
Pros
Its capacity is large enough for a second refrigerator.

The freezer is separate from the fridge.

It offers several storage options.

The refrigerator is affordable.

It's Energy Star certified.

There's an interior light in the fridge section.

It's quiet.
Cons
The inside gets frosty.

You can't run it from an inverter.
Magic Chef Retro 3.2 cu. ft. 2-Door Mini Fridge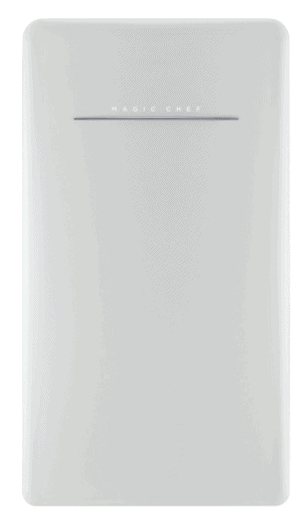 This Magic Chef mini-fridge earns points for design; it's a retro model that stands out from the rather bland crowd in the company's lineup. Those who want a model that adds a touch of style to their room love this model. Moreover, you can choose one of four color options: black, mint green, red, or white. 
This retro unit doesn't just look good; it functions well too. The mini-fridge has a total capacity of 3.2 cubic feet, right within the compact category that Magic Chef is known for. The freezer and refrigerator are separate, with the freezer taking up just 0.93 cubic feet of the total capacity. Granted, this is rather tiny, but for a secondary refrigerator, it's just fine. 
Main Features
This is a two-door mini fridge with a total capacity of 3.2 cubic feet.

It has a retro design.

The fridge section has two glass shelves and door racks.

There's a crisper drawer.

This model has a separate freezer section.

There's an interior light in the refrigerator section.

It also has an adjustable thermostat for temperature control.

The legs are adjustable.

It has manual defrosting.
Pros
This retro refrigerator model is stylish.

You have four color options to choose from.

It's easy to install.
Cons
Magic Chef Model HMDR1000WE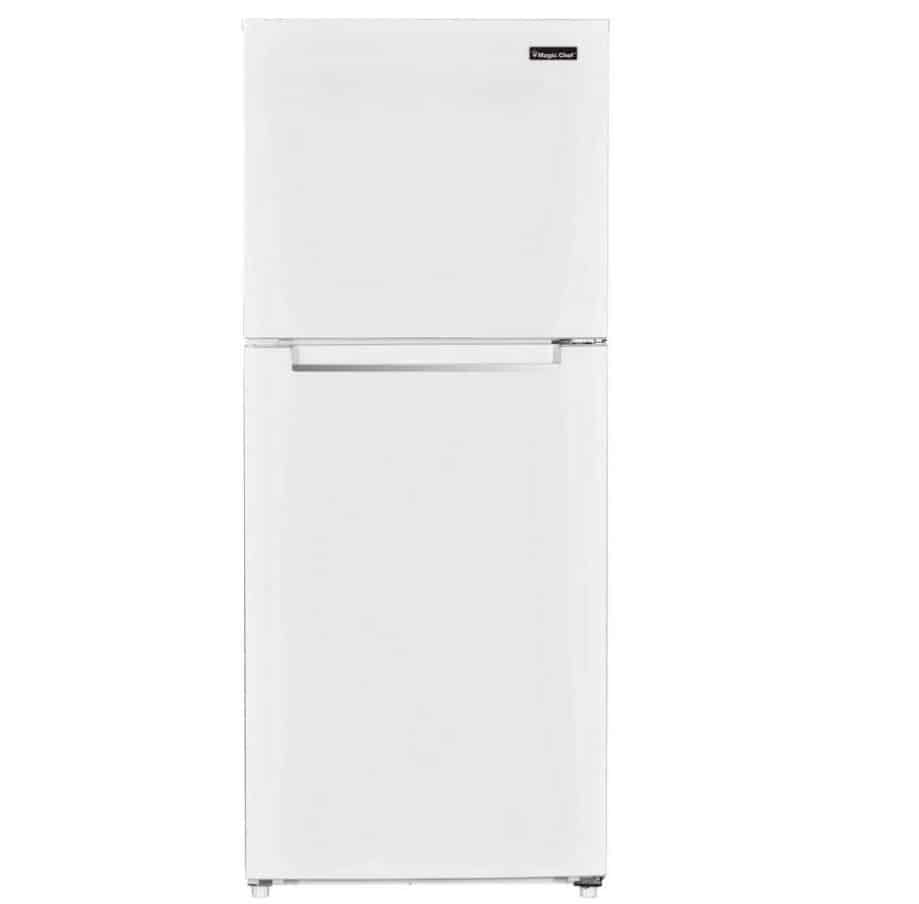 For those looking for a main refrigerator that isn't too extravagant, this 10.1-cubic-foot model is a good choice, especially if you're just one or two in your household. It has the typical Magic Chef design: a drab exterior with a recessed handle. You can go for the stainless steel finish if you want a sleeker look, but it costs about $60 more than the black and white options. 
Looks aside, this refrigerator does a great job of cooling and freezing your food. It doesn't have any fancy features to set it apart from the mini-fridges in the company's lineup, just the standard Magic Chef bells and whistles. But this is a good thing as the company was able to keep its price at below $400, allowing those on a budget to own a good refrigerator.
Main Features
This is a two-door top-freezer refrigerator model.

It has a total capacity of 10.1 cubic feet.

The refrigerator section has a capacity of 7.4 cubic feet and the freezer has a capacity of 2.7 cubic feet.

There are three glass shelves in the refrigerator as well as a door bin and racks.

The freezer has one shelf and two door bins.

Both the fridge and freezer have adjustable thermostats.

The fridge has an interior light.

The doors are reversible.

This model is Energy Star certified.
Pros
This Magic Chef refrigerator has a spacious capacity.

It has ample shelving space and door bins.

You can use this in your motorhome.

You can adjust the temperature in both the fridge and freezer.

It doesn't cost a lot to run.

It runs quietly.
Cons
Only the front legs are adjustable.
Magic Chef Model MCBM920W1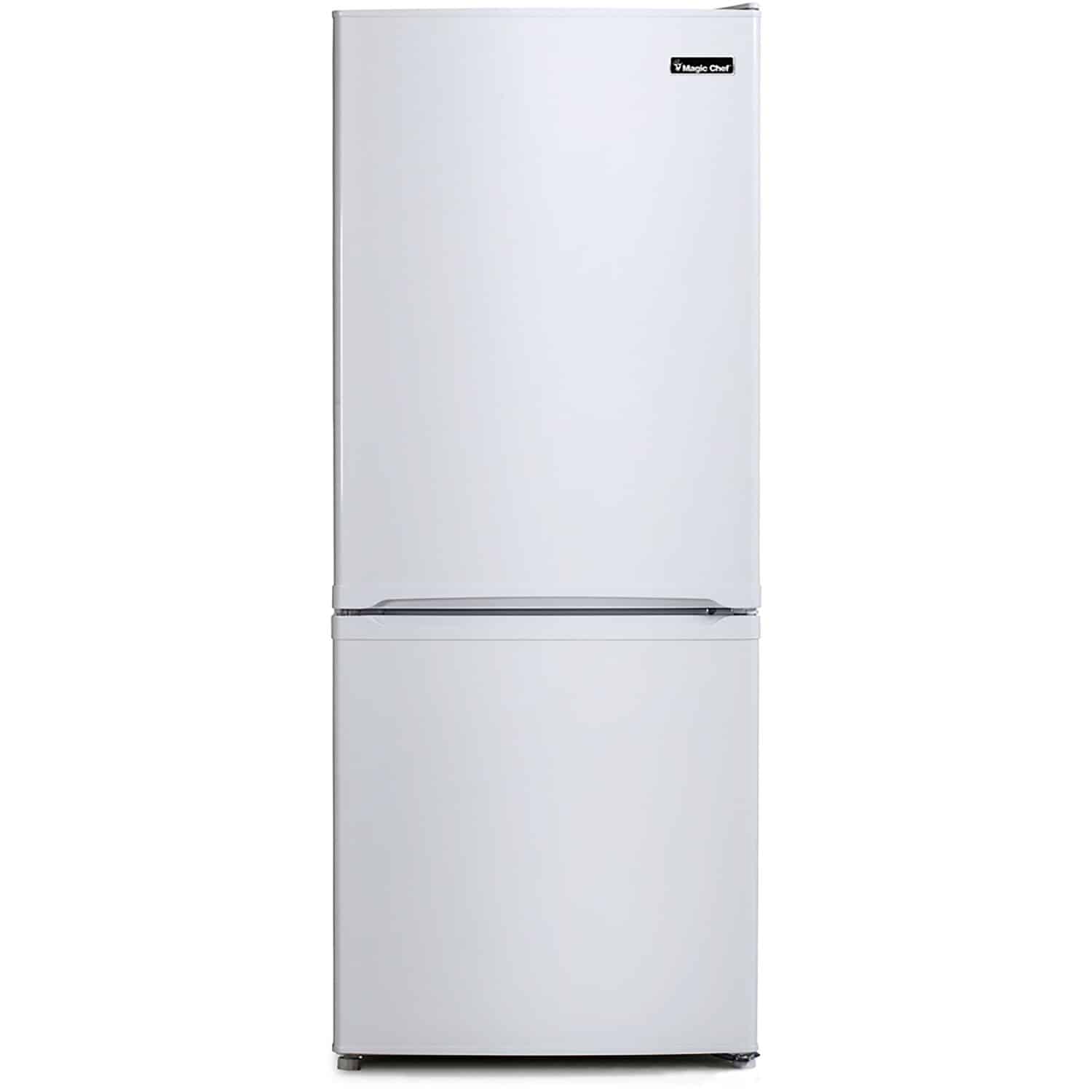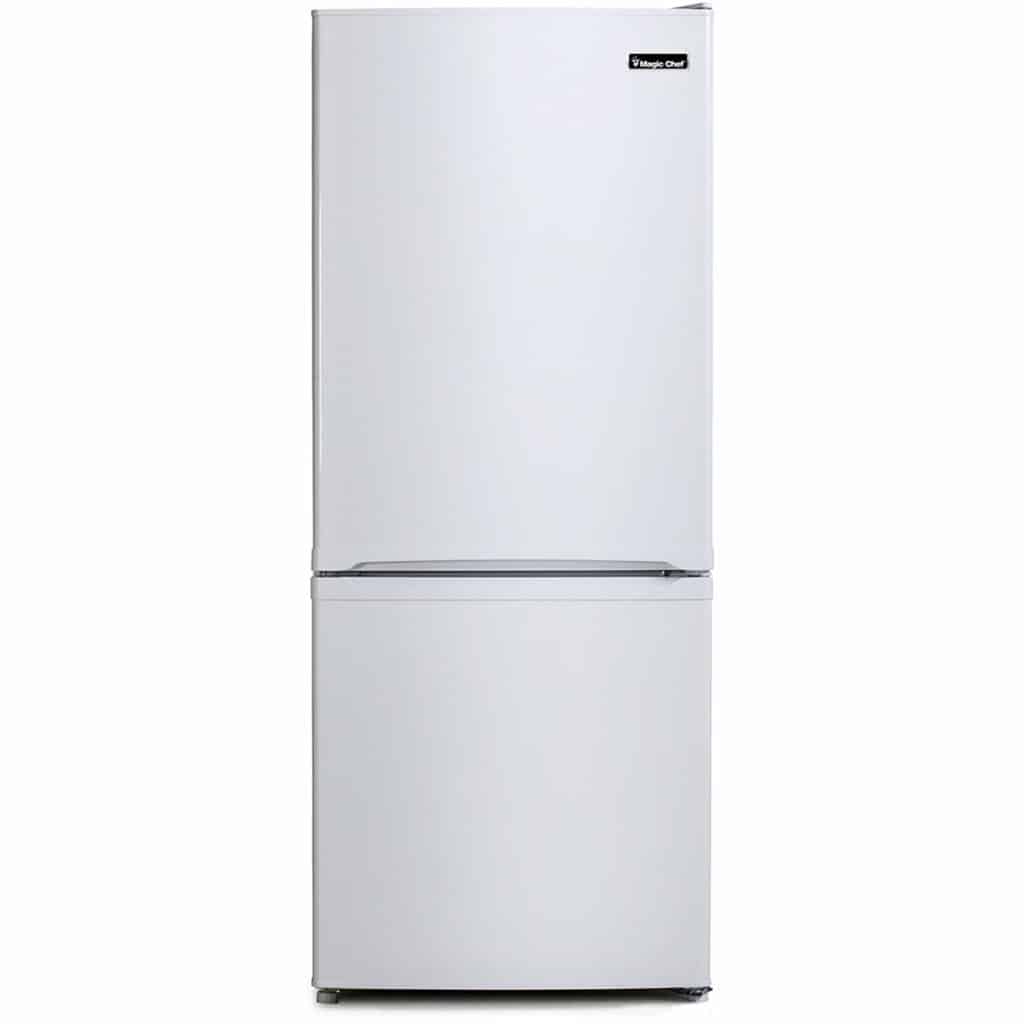 If you're looking for a bottom-freezer model, this Magic Chef refrigerator is the company's best. However, it costs over $800, making it the company's most expensive refrigerator model that's currently for sale. Granted, most bottom-freezer units are costly, but for that price, you can get a lot more than just 9.2 cubic feet.
However, it makes it to our list because it seems bigger inside than it actually is. There are three shelves in the refrigerator plus a fresh-produce drawer and extra storage on the door. The freezer also boasts a wire shelf plus a basket. If you have a compact kitchen, this is a refrigerator to consider, provided you're okay with the price.
Main Features
This refrigerator has a bottom-mount freezer.

It has a total capacity of 9.2 cubic feet.

Its doors are reversible.

It has adjustable legs.

The fridge has three adjustable glass shelves.

Both the refrigerator and freezer have adjustable temperature controls.

The refrigerator has a height of 59.8 inches, a width of 23.8 inches, and a depth of 26.8 inches.
Pros
The refrigerator is at eye level, eliminating the need to bend to reach for food.

The three shelves allow you to organize food properly.

You can adjust the temperatures for both the fridge and freezer.

The doors can be reversed to swing either left or right.
Cons
FAQs
Question: Who manufactures Magic Chef refrigerators?
Answer: Magic Chef refrigerators are manufactured by the MCA Corporation, which bought the Magic Chef brand from Whirlpool back in 2010.
Question: Are Magic Chef mini-fridges good?
Answer: Yes, Magic Chef mini-fridges are known for being some of the best in the market, according to expert reviews. 
Question: Which is better, Frigidaire or Magic Chef?
Answer: Frigidaire's mini-fridges are more efficient and have more advanced features, but they also cost more. Magic Chef's models are more affordable, making them more appealing to those on a budget. 
Bottom Line
If you're in the market for a second refrigerator, then consider Magic Chef. The company's models are quite affordable, offering something at almost all price points. However, they have basic features, but this is fine since they are budget appliances. If you're just one or two in your home, you can actually have a Magic Chef as your main refrigerator and enjoy low operating costs – they are Energy Star certified.
Are you not satisfied by Magic Chef's options? Consider one of Samsung's models. Check out our Samsung refrigerator model guide.