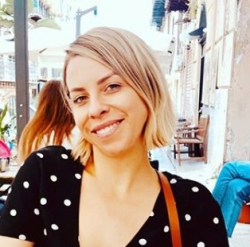 Latest posts by Jodie Chiffey
(see all)
Whirlpool is a multinational manufacturer of home appliances. This company offers numerous models of refrigerators with attractive features. Whirlpool fridges are known to last longer than other brands and don't require repairs as frequently, which is why they are a popular option for many houses.
This Whirlpool WRX986SIHZ review will take a detailed look at this refrigerator and see how it stacks up compared to the alternatives you can find on the market.
This Whirlpool WRX986SIHZ refrigerator review and guide will cover some of the main features of the WRX986SIHZ and the key specifications of this device. Then, we will summarize the features, pros, and cons and answer some of the most frequently asked questions about this refrigerator.
First, let's take a look at the key specifications of this fridge.
Key Specifications
Let's check out the key specs for the Whirlpool WRX986SIHZ:
Product Height: 70 1/8 inches
Product Width: 35 ¾ inches
Height to Top of Refrigerator (Without Hinges): 68 3/4 inches
Depth Without Handle: 34 ¾ inches
Depth With Handle: 36 3/8 inches
Total Capacity: 26 cubic feet
Freezer Capacity: 7.8 cubic feet
Weight: 390 lbs
Refrigerator Style: French Door
Lighting Type: LED
Ice Maker: Yes
Color Options: Stainless Steel
Latest Price: Check the latest price here
Whirlpool WRX986SIHZ – the Main Features
Let's have a look at the WRX986SIHZ in more detail.
Dual Cooling
This refrigerator includes advanced dual cooling technology. This system measures the conditions in the device and automatically adjusts that humidity levels so produce kept in the right environment. This helps keep your food fresh and reduces freezer burn.
The basis of this technology is a dual evaporator system that independently controls the humidity levels in the freezer and the refrigerator.
A high humidity level is desirable in the refrigerator to keep fruit and vegetables fresh for longer but is terrible inside the freezer because it leads to freezer burn. This innovative system regulates the humidity in each cabinet separately and ensures the fridge will maintain an optimum environment.
FreshStor™ Drawer
A notable feature of the WRX988SIBM is the middle drawer with flexible temperature control. This drawer is located between the refrigerator and the freezer, and it can be adjusted based on your needs. You can choose between four different settings: foods and vegetables, meats and cheeses, assorted items, cold drinks.
This separate storage space is great to store meats at a cooler temperature for longer preservation, to cool drinks for a gathering, or to keep produce slightly warmer than the rest of the fridge. This is a full-width drawer, so you can store larger items such as big bottles and deli trays. It also has easy access so that it can be a suitable place for things like kids' lunches or juice boxes.
Extra Features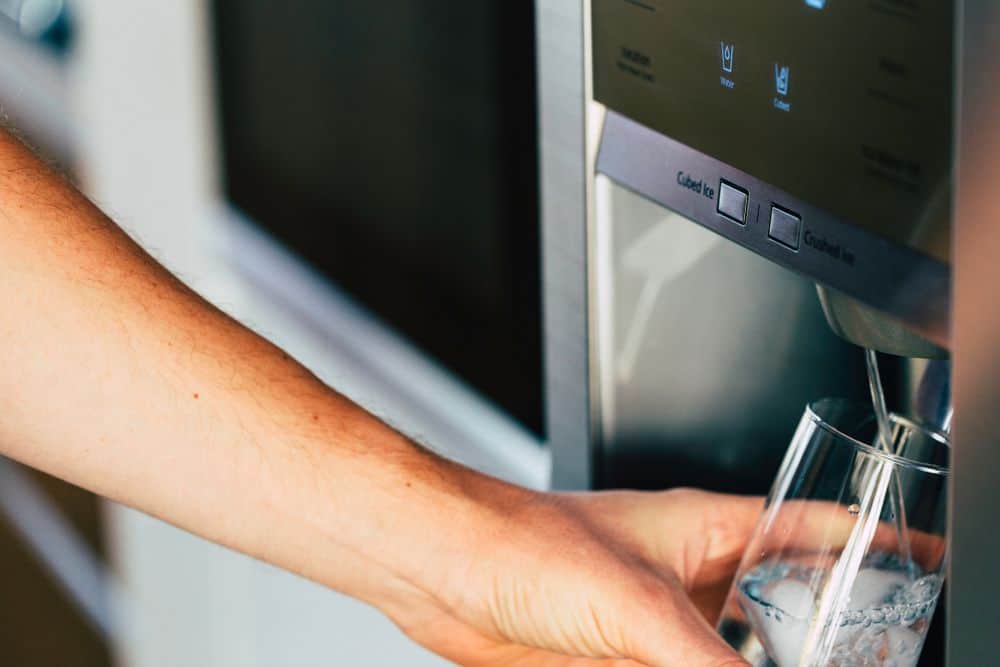 This refrigerator is packed with convenient extra features that you may find very useful. The In-Door-Ice feature includes an ice bin that has been moved to the door. This gives you the equivalent of a full shelf of extra space in the refrigerator. If you need a lot of ice, this ice maker also has a "Fast Ice Option" that drops the freezer temperature for 24 hours and increases ice production by 30%.
The water dispenser in this model is located on the exterior of the fridge. This dispenser includes a high-performing EveryDrop™ water filter which eliminates bacteria and harmful chemicals from your water and ensures clean water for drinking. The filter needs to be replaced every six months.
One feature I really like about the dispenser is the Measured Fill feature. This convenient feature allows the user to specify the exact amount of water that they require. The water dispenser will fill your recipient and automatically stop when the specified amount has been filled. You can select the amount in ounces, cups, or liters.
Keep your fruits and vegetables fresh with the help of the FreshFlow™ Produce Preserver. This feature absorbs ethylene and allows the ripening process of producing items to slow down, maintaining freshness for longer. In addition, this fridge includes a special FreshFlow™ Air Filter system that eliminates typical food odors.
This model comes with panoramic LED lighting that reduces shadows and lets you keep everything in sight. This light will help you quickly find what you are looking for. This modern light also saves more energy compared with conventional lighting.
As far as the freezer goes, this refrigerator comes with an Adaptive Defrost system that automatically monitors the freezer conditions and runs the defrost cycle only when it is necessary. This increases the efficiency of your device and reduces the need to manually defrost the unit.
Storage and Organization
The Whirlpool WRX988SIBM is a French door style model with double drawers. Its dimensions are 70 x 35 x 36 inches. It has a total storage area of 26.2 cubic feet divided between 18.4 cu ft in the fridge and 7.8 cu ft in the freezer. This is a large refrigerator that will let you fit around 26 grocery bags inside.
The interior has plenty of storage options to help you organize produce. You get five shelves to put food on, plus an EasySlide bin at the bottom of the compartment that lets you easily grab snacks and small items. It also includes a tuck shelf that can slide out of the way and make space for taller items such as large drink bottles. The glass shelves are frameless, which lets you store more items and maximizes the usable space.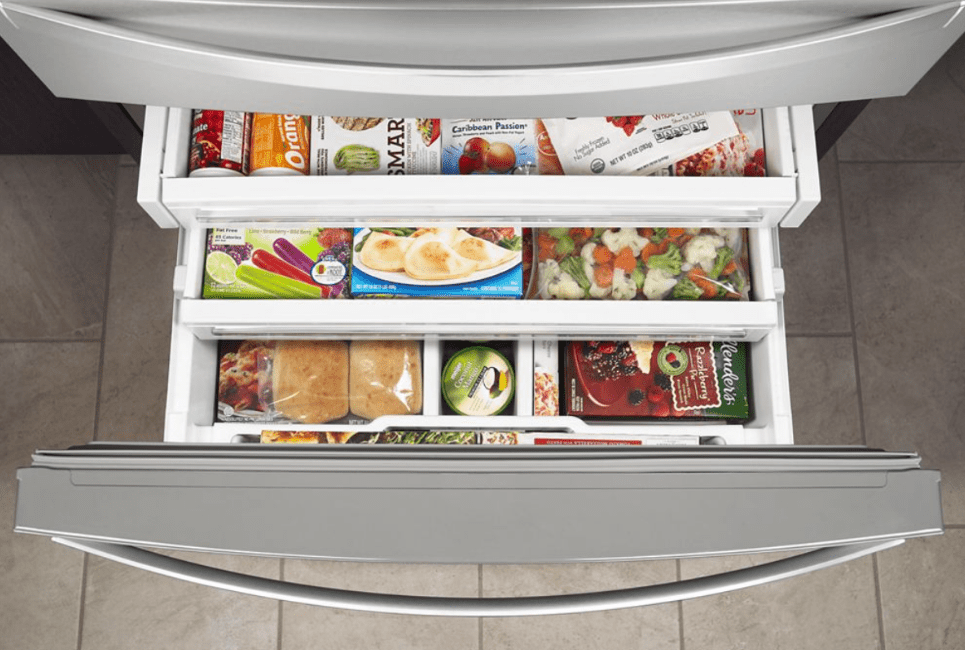 You get a triple crisper for your fruits and vegetables, including two big, humidity-controlled crispers and a smaller crisper located in the center. Between the freezer and the main compartment, you have an external drawer, which provides additional refrigeration space and lets you adjust its temperature based on the food stored.
This model includes three door bins on the right side and one single door bin on the left side. Two of them are large gallon bins that can fit larger items. You can use the small items to keep things like butter well organized. The containers are adjustable for additional flexibility, and you can move them where you need them.
The freezer in this refrigerator is a three-tier freezer, which includes three different compartments for superior food organization. You can keep the most used items in a separate section for ease of access. A moveable divider bin lets you customize your storage. You also get a convenient pizza pocket in the freezer, where you can store pizzas upright.
Appearance
This model is available in a monochromatic stainless-steel color that fits in nicely in your average kitchen. It comes with two handles on the doors, and two horizontal drawer handles. The high-quality finish resists fingerprints and smudges and can be easily cleaned. The dispenser and the tap touch control panel are located on the left door.
 Energy efficiency
The Whirlpool WRX988SIBM will use approximately 772 kWh/year. This model is not Energy Star certified.
Warranty and Pricing.
This refrigerator comes at a competitive price point compared to similar models from other manufactures. Therefore, this large refrigerator can be acquired at a fair price, and it can be a good investment if you want to have a fridge from this reputable brand. Click here for the latest price.
Whirlpools offer a one-year warranty for factory-specified parts and repair labor on this refrigerator for your peace of mind.
Whirlpool WRX986SIHZ – Pros and Cons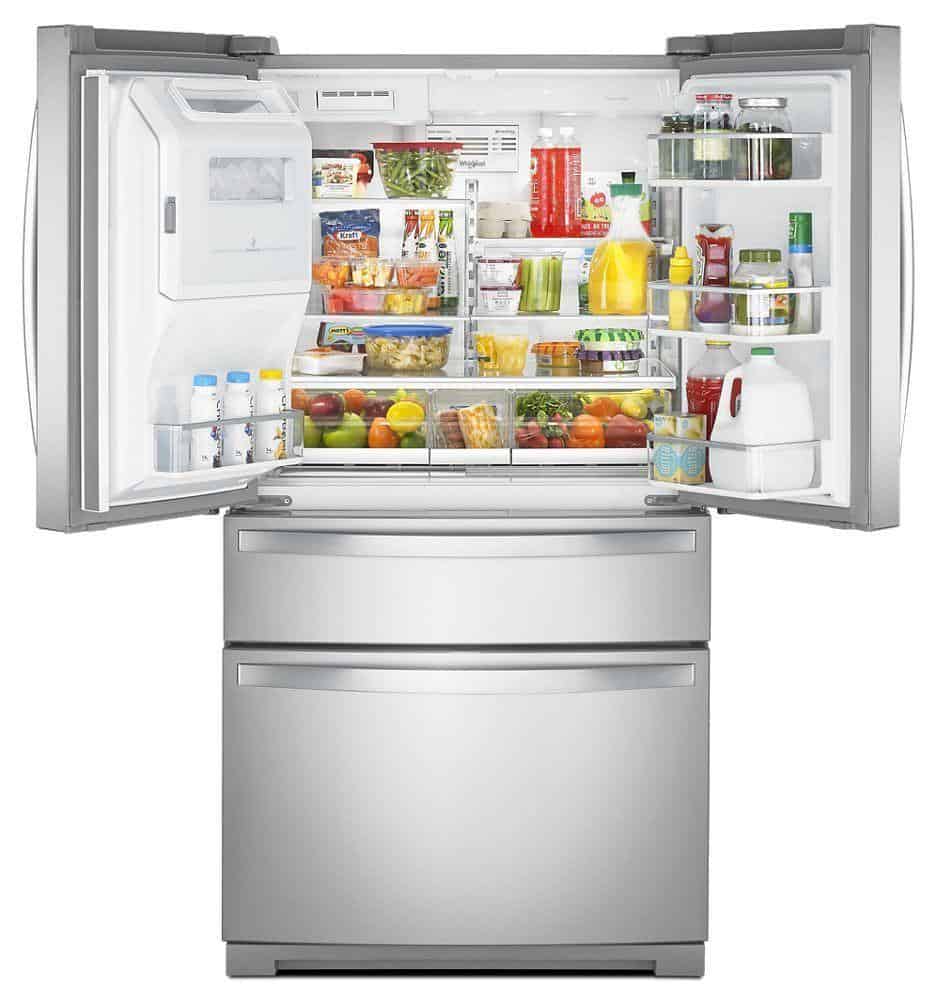 Let's take a look at the pros and cons of this model:
Pros
A dual Cooling system offers superior cooling
Measured Fill in Ice and Water dispenser
FreshFlow™ Produce Preserver keeps food fresh for longer
Triple tier freezer with several customization options
Pizza storage pocket in the freezer
Cons
Not ENERGY STAR certified.
Whirlpool WRX986SIHZ – Alternatives to Try
If you want to look at some alternatives, there are a few other models that you could consider: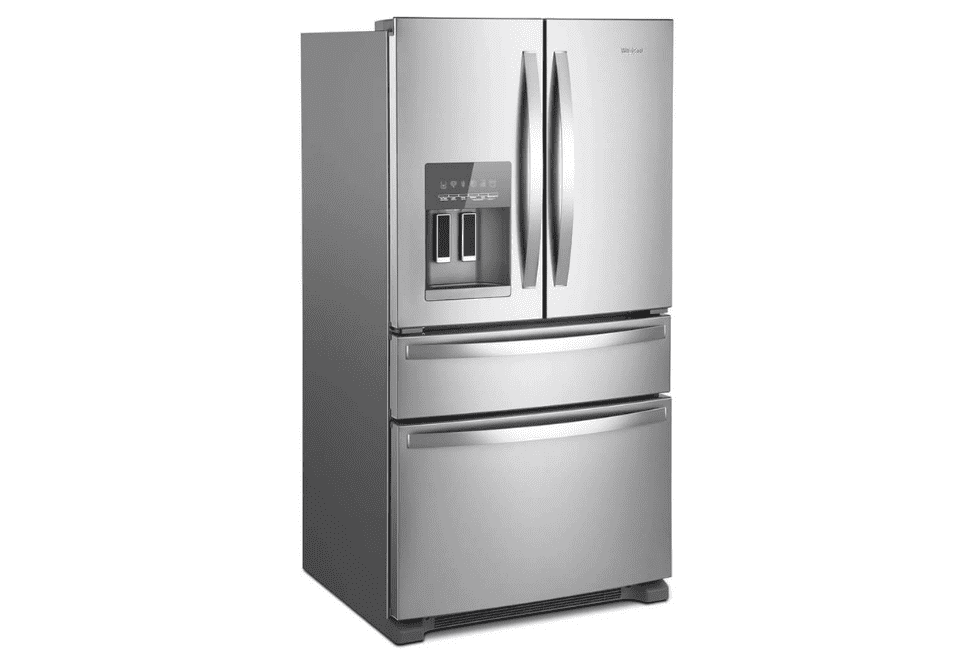 The Whirlpool WRX735SDHZ is one of the best French door whirlpool refrigerators of this brand. This refrigerator comes with a great interior design: you get a refrigerated exterior drawer, spacious shelves, and adjustable gallon door Bins. It also includes humidity-controlled crispers to store fruits and vegetables.
This model also features the Accu-Chill™ Temperature Management system, which improves the device's cooling power and keeps your food for a longer time. In addition, you get access to filtered ice and water without opening the door. It also includes Tap Touch controls that are easy to clean and use.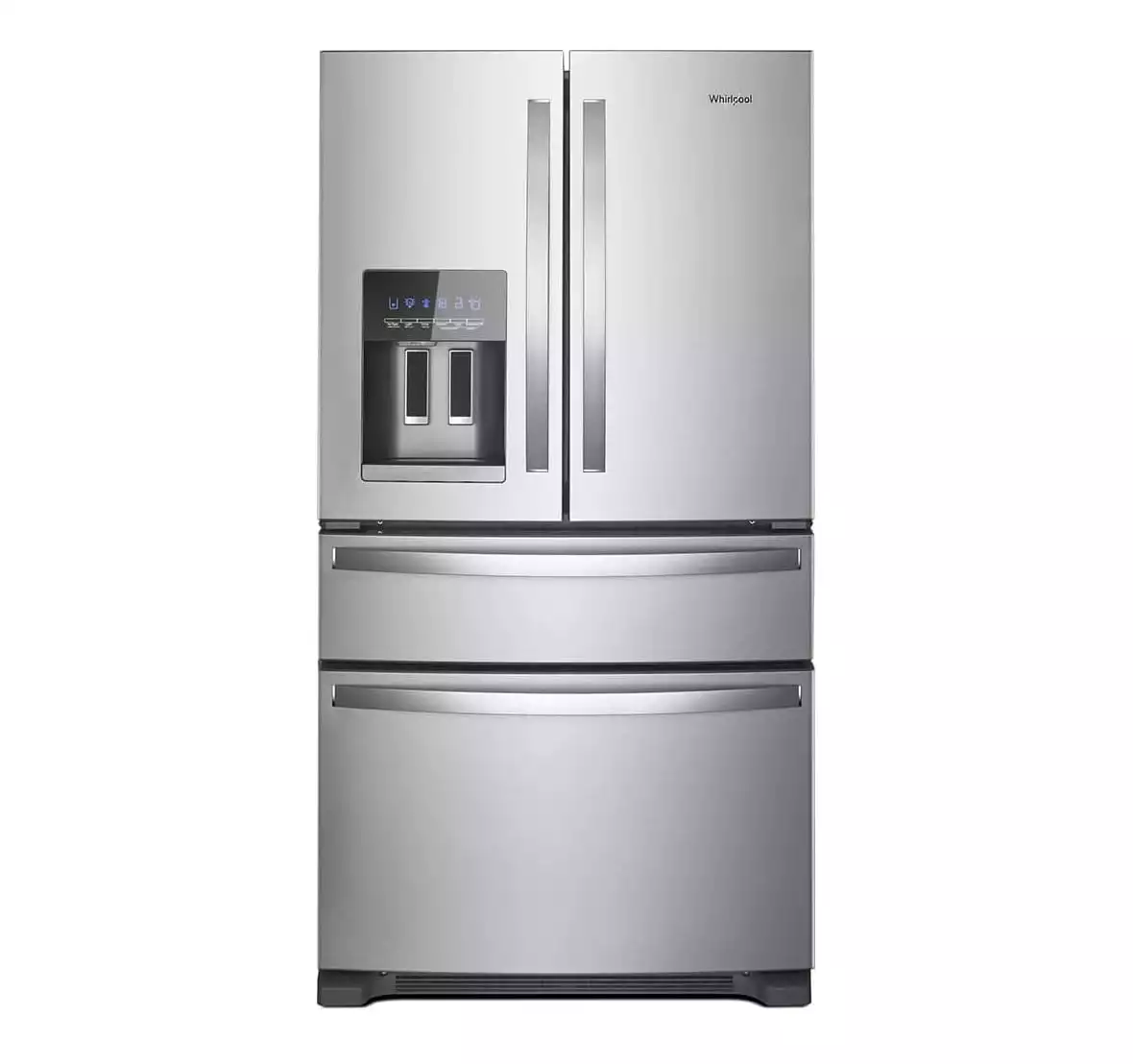 Whirlpool WRX735SDHZ 25 Cu. Ft. 4-Door French Door Refrigerator | Amazon
36 Inch 4-Door French Door Refrigerator with 25 cu. ft. Capacity, Spillproof Glass Shelving, Humidity-Controlled Crispers, Adaptive Defrost, Accu-Chill™ Temperature, Ice Maker, Exterior Ice/Water Dispenser, EveryDrop™ Filtration, and Energy Star Certified: Fingerprint Resistant Stainless Steel.
Buy at Amazon
We earn a commission if you make a purchase, at no additional cost to you.
You can read more about this and other models in our Whirlpool Refrigerator model Guide.
Whirlpool WRF560SEHZ Refrigerator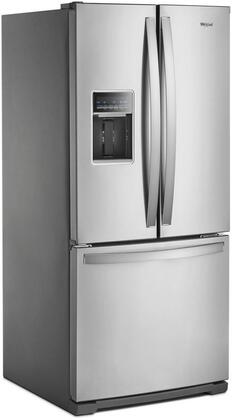 If you are looking for an affordable and functional model, the Whirlpool WRF560SEHZ is worth a look. This is a 30-inch-Wide French Door Refrigerator with a capacity of 20 cubic feet. The interior of this refrigerator includes purposefully designed storage zones for the items that you use most. It also consists of a full-width drawer where you can easily store wider items like party platters and cakes.
This model includes a removable door bin with a convenient carrying handle, which lets you move stuff like condiments from the refrigerator. This refrigerator can be acquired in black stainless steel and stainless steel colors, with an easy-to-clean finish that resists fingerprints and smudges.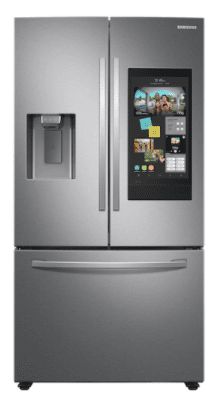 If you are interested in a 3-Door refrigerator, you could check out the  Samsung RF27T5501SR/AA Refrigerator. Samsung is a well-known brand with many years of experience in home appliances. This Refrigerator has 26.5 cubic feet of capacity with a spacious full-width freezer design. In addition, this model comes with FamilyHub, which offers smart functionality, a 21-inch screen, and the ability to stream music and videos.
The interior features Samsung's All-Around Cooling and multi-vent technology, which maintains even air circulation on every shelf of the fridge. The ice maker can make 2kg of ice, which is suitable for this kind of device.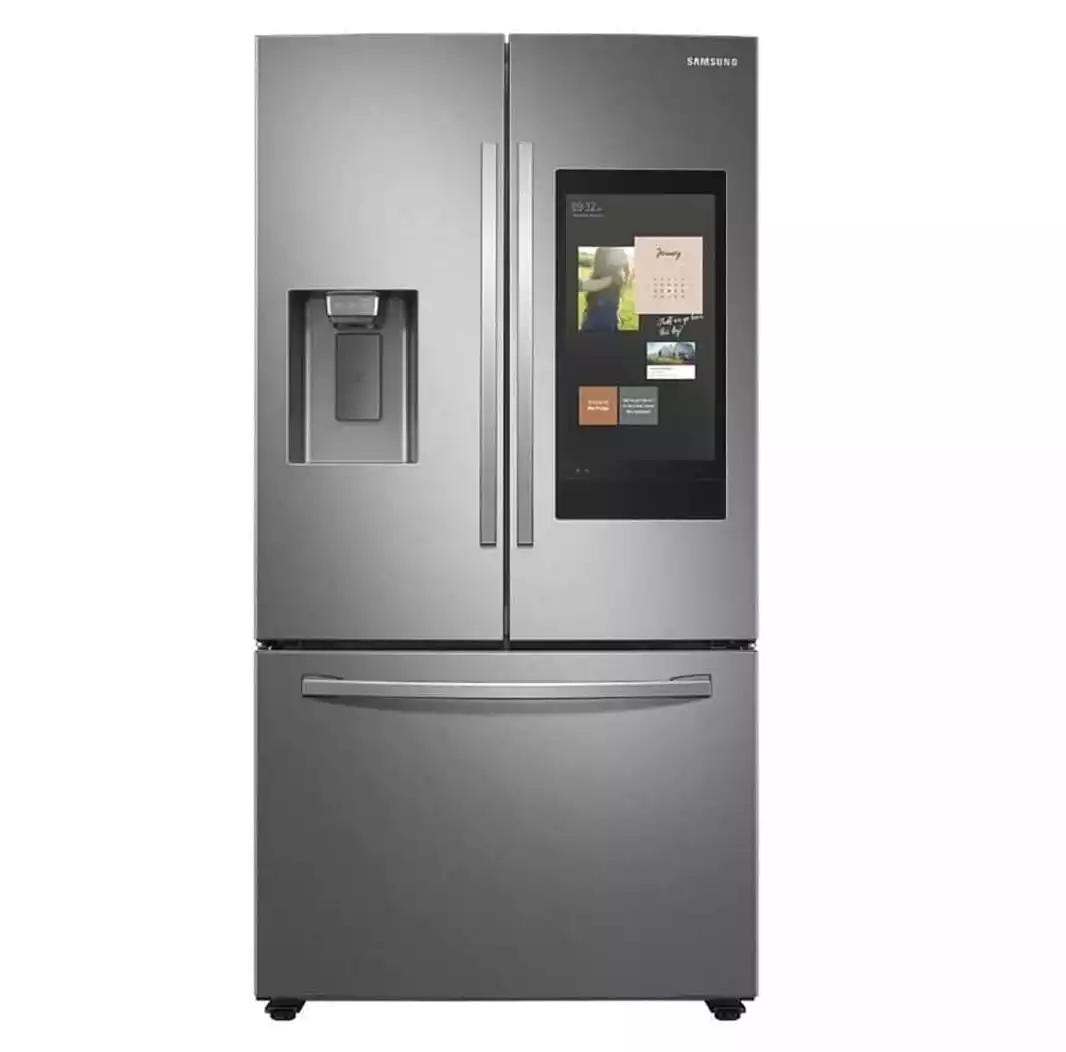 Samsung RF27T5501SR/AA Refrigerator | Amazon
The interior 26.5 Cu. Ft Capacity and adjustable shelving can accommodate all your groceries of all shapes and sizes. The external dispenser provides fresh filtered water or ice cubes. The Wifi connected Family Hub screen utilizes interior cameras to provide a "Smart View" of contents, and even helps you add them to your grocery list.
Buy at Amazon
Buy directly at Samsung
We earn a commission if you make a purchase, at no additional cost to you.
11/04/2023 03:02 am GMT
If you want to find out more about it, feel free to read our Samsung Refrigerator Guide.
FAQs
Question: How Long do Whirlpool Refrigerators Last?
Answer: Whirlpool refrigerators tend to be highly regarded for their durability. A refrigerator of this brand could last between 14 and 17 years, depending on the model and size. Your Whirlpool fridge could last even more than that with adequate care and regular maintenance.
Question: How Do I Use the Measured Fill?
Answer: Measured Fill allows the user to dispense a specific amount of water. Press MEASURED FILL to turn on this feature. The Measured Fill screen should appear on display. Then press a sturdy glass against the dispenser paddle. The water should start dispensing. To stop dispensing, remove the glass from the paddle.
Question: What Temperature Should I set the Whirlpool WRX986SIHZ at?
Answer: I recommend that you set the Fridge and Freezer compartments to 37°F and 0 °F, respectively. This achieves a good balance between energy saving and keeping produce fresh. Then, adjust the temperature of the FreshStor™, depending on the products you want to keep there.
Question: How can I Keep my Refrigerator Organized?
Answer: I recommend that you store the food in the following way:
• The lower shelves are colder, so these are optimum for meat and fish.
• Use the top shelves to store cooked meals and snacks.
• Use the smaller door bins to store smaller items such as butter, sauces, and condiments.
The large door bins are suitable for storing milk gallons or large bottles.
You can use the FreshStor™ Drawer to store various foods, meats, cheeses, and drinks. Simply adjust the temperature based on what you need. The crispers are humidity controlled and are suitable for fruits and vegetables. Use the large ones for big fruits and vegetables and the one in the center for smaller ones.
The freezer on this fridge has a triple compartment. Keep the most commonly used items on the superior levels and store less widely used ones in the lower levels. Use the pizza pocket to store your pizzas in an organized way. Avoid storing glass containers in the freezer.
Question: How can I Keep my New Refrigerator Clean?
Answer: Clean the inside and the outside surfaces of the refrigerator using a cloth with warm water and mild detergent. Some bins and shelves can be removed for easier cleaning. Rinse it and let it dry afterward. You should avoid using brushes, alkaline solutions, abrasive cleaners, or metallic scouring pads on the surfaces of this device.
You should keep the ice maker clean by regularly throwing away old ice. Ice that has been stored for too long may clump together and won't fit through the dispenser.
Question: How do I Change the Water Filter?
Answer: If water is dispensing too slowly or is not dispensing, it could mean that the water filter is clogged and needs to be replaced. Refer to the manual for instructions on how to change the water filter. The water filter needs to be replaced every six months.
Whirlpool WRX986SIHZ Refrigerator Review: Our Final Verdict
Whirlpool refrigerators are famous for their durability and high quality. The Whirlpool WRX986SIHZ French Door Refrigerator is a very good option for people who enjoy having ample space and useful extra features. This fridge will let you keep a lot of food organized with its frameless shelves and multiple compartments, all while keeping food fresh with dual cooling technology.
This model includes plenty of convenient and interesting features. The triple humidity-controlled crispers will keep producing fresh for longer, while the FreshFlow™ drawer offers you the option to adjust its temperature based on your needs. The freezer also offers plenty of customization options with three compartments, a freezer divider, and a pizza pocket.
All in all, we think this Whirlpool refrigerator is worth buying. Its spacious interior, superior features, and beautiful appearance will make it a great option for any user.
Read More: