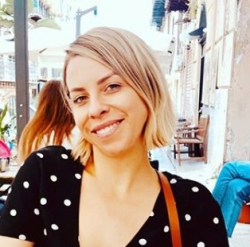 Latest posts by Jodie Chiffey
(see all)
Whirlpool refrigerators are very popular due to their innovative features, attractive design, and great reliability. Nevertheless, users sometimes come across various technical issues with the inbuilt ice makers.
This Whirlpool refrigerator ice maker replacement guide will help you understand how an ice maker on your Whirlpool fridge works, what can possibly go wrong with it, and how to identify the type of problem you're experiencing.
I'll introduce you to specific replacement parts to help you resolve the issue and recommend a few online stores that might have them in stock at fair prices. First, let's start with a brief overview of the most common types of Whirlpool refrigerator ice makers.
Most Popular Types of Whirlpool Refrigerator Ice Makers
| | |
| --- | --- |
| In-built Ice Makers | Many Whirlpool refrigerators come with convenient inbuilt ice dispensers. They look neat and are always at hand. But statistically, they also tend to be slightly more prone to faults. They also usually have a smaller capacity. |
| Add-on Ice Makers | Have you realized that you need an ice maker only once you bought a fridge without it? Whirlpool allows you to install a simple add-on ice maker in almost any model of the brand's newer refrigerators. It's very easy to assemble and even easier to use. |
| Stand-alone Ice Makers | If your Whirlpool fridge is not compatible with any of the add-on ice makers, you can buy a separate Whirlpool ice maker. This can be placed on the counter or under the counter. There are also various capacities to choose from. This is, however, the most expensive solution. |
How Does a Whirlpool Refrigerator Ice Maker Work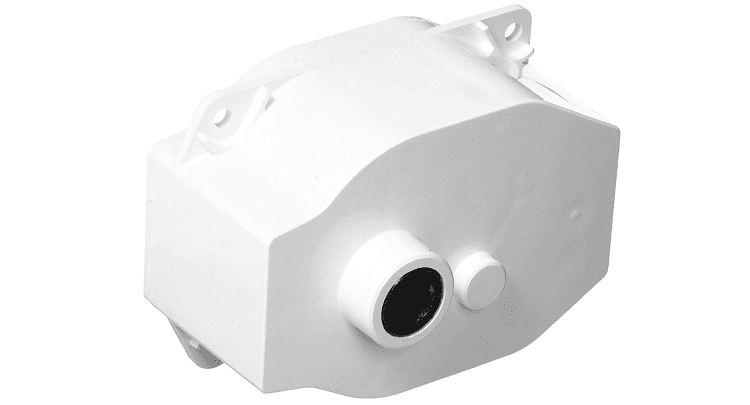 You don't have to be a professional technician to get a grip on how Whirlpool refrigerator ice makers work. In fact, these machines are very simple – they're basically just automated versions of an old-school ice tray that you filled with water and placed into a freezer.
Once you understand how ice makers operate, replacing or fixing them will be much easier for you. I will describe the whole mechanism by explaining the functionality of the ice maker's major components one by one:
Motor
Whirlpool refrigerator ice makers are semi-autonomous machines driven by a dedicated motor that converts the electricity into an action (ice ejection). Whirlpool refrigerators usually use a small and compact type of electric motor that is often easier (and cheaper) to replace than repair.
Valve
Electric solenoid valve works on an electromagnetic principle. When the ice-making cycle begins, and the electric current reaches this component, the valve briefly opens (only for a few seconds) and lets in just enough water to fill the ice mold.
Valves are sold either separately or in kits with water lines and some other adjacent components. The good news is that these valves are quite universal and interchangeable, so you don't have to buy a specific OEM part to make it fit (and work) well.
Ice mold
Just like you would do manually with a basic ice tray, an ice maker collects the water from the valve into an integrated ice mold. This is usually made of toughened plastic and looks like a chain of interconnected compartments in the shape of cubes, bullets, or nuggets. This is where the water is finally transformed into ice.
Whirlpool (or other compatible) ice molds are not expensive, and they can usually be replaced quite easily, thanks to the simple plug-in design of the component.
Cooling Unit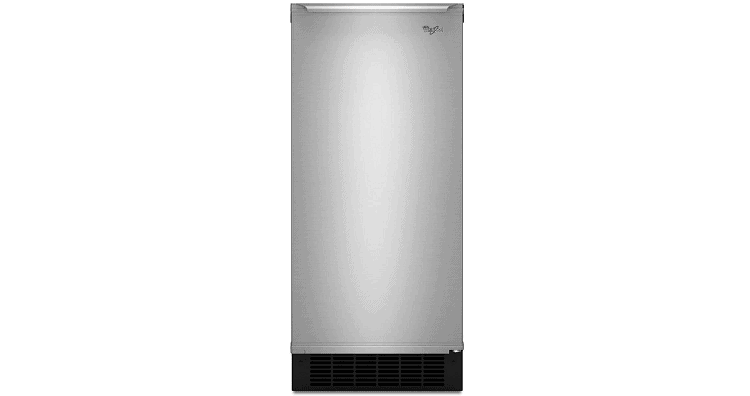 If you're using an in-built ice maker, the water cooling process will be typically managed by the refrigerator, not the ice-making device itself.
That means that as long as your refrigerator works well (and your ice maker is properly connected), you should not experience any issues with the cooling (but if you do, check out our Troubleshooting for Whirlpool refrigerators that are not cooling!).
Of course, if you're using some of the fully autonomous stand-alone Whirlpool ice makers, these machines have their own cooling unit.
Thermostat
The ice maker has its own integrated thermostat that constantly monitors the temperature of the water inside the mold. When it reaches the preset temperature (say -10 °C or ​​14 °F), the thermostat closes the switch in the circuit to cut the ice maker off additional cooling.
A thermostat is one of the most commonly replaced parts in Whirlpool refrigerator ice makers. Fortunately, it's quite a versatile component, and it doesn't cost much either. With some basic skills and a set of tools, you'll probably be able to replace them at home on your own.
Heating Coil
You probably wouldn't expect any 'heating' component inside an ice-making device. But a heating coil located underneath the ice mold is actually one of the key parts of any ice maker. When the ice cubes or nuggets are ready, the coil shortly heats up to release the ice from the mold.
Ice Ejector
Once the ice is ready and loosened from the mold, it is scooped by the rotating ejector blades attached to a shaft that is driven by the motor through a series of gears. The movement pushes ice into the front of the ice maker or dispenser.
Once the ice is out of the way, the turning shaft re-opens the shut-off arm and initiates another cycle of ice making.
What to Do When Your Whirlpool Refrigerator Ice Maker Breaks?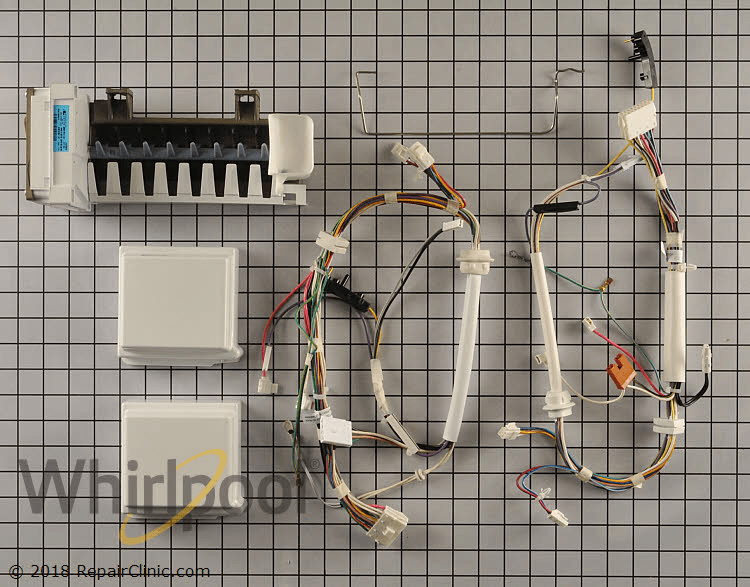 When your Whirlpool refrigerator ice maker suddenly stops working as it should, you have several options:
Submit a Warranty Claim
All new Whirlpool refrigerators or stand-alone ice makers come with some sort of warranty. On most occasions, this includes a full one-year warranty on the whole appliance, excluding the water filter, and a second to fifth-year full warranty on selected sealed components.
If your refrigerator ice-maker is less than five years old, the very first thing you should do when it malfunctions is check with the manufacturer/reseller whether you're eligible for a warranty claim. If yes, you can save some money on a professional authorized serviceman.
On the other hand, it's probably going to take some time until your claim will be processed, let alone the ice-maker repaired. If you need an asap solution, this might turn out to be a bit frustrating.
Find Out if Your Refrigerator Wasn't Recalled
To keep their customers safe, all manufacturers are eligible to recall their products at any time if they discover a serious factory fault that might jeopardize people's health, lives, or property. Although faulty ice-makers are rarely responsible for some major threats or incidents, it's still good to check from time to time whether some of the refrigerator recalls do not apply to your appliance too.
Just like in the case of an approved warranty claim, any repairs or replacements related to recalls will be covered by the manufacturer.
Try to Identify the Problem on Your Own
As I've already explained earlier, ice-makers are quite simple machines – especially those inbuilt models that are commonly integrated into Whirlpool refrigerators. If you have at least basic technical skills, DIY tools, and some spare time, it's probably worth trying to identify and resolve the problem on your own.
Of course, make sure that you check the warranty and recall list first – once you open your appliance and start disassembling the components inside, any potential warranty will usually be voided. To help you identify some of the most common technical issues with Whirlpool refrigerator ice-makers, I've also prepared a brief troubleshooting guide below.
Call a Professional Help
If you cannot (or don't dare to) resolve the problem with your ice maker independently, look for an authorized Whirlpool repairman. If you're not sure where to search, contact the manufacturer – he should be able to provide you with a list of authorized professionals in your area.
Troubleshooting Guide: What Part of Your Whirlpool Refrigerator Ice Maker Should You Replace?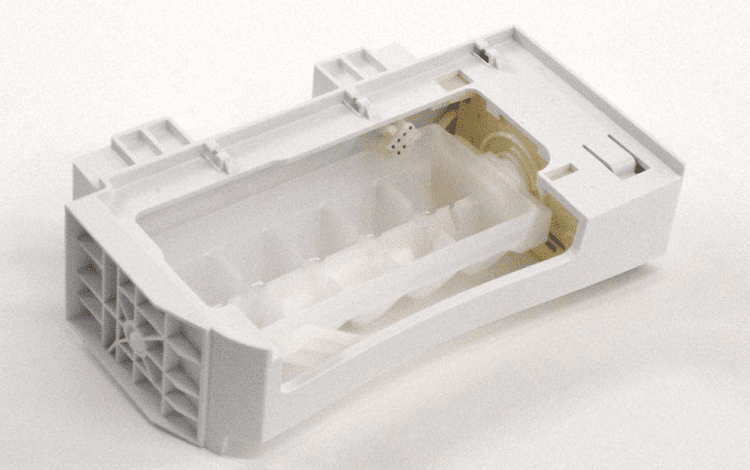 Not sure what's going on with your ice maker? Here are a few tips on how to identify some of the most common issues with these devices:
Whirlpool Refrigerator Ice Maker Leaks Water
Most commonly, leaking water indicates problems with the valve or the attached water lines. These can be either cracked, broken, or clogged, or the valve may be mechanically damaged so that it doesn't close properly.
Whirlpool Refrigerator Ice Maker is not Making Ice
If your ice maker stops making ice, there are two likely explanations: either the device cannot access water (which would indicate clogged or broken water supply and/or valve), or there's something wrong with the cooling.
Since the inbuilt ice makers use a cooling system of the refrigerator instead of having their own cooling module, you would most likely notice the second option on your fridge's performance too.
Whirlpool Refrigerator Ice Maker is Getting Hot
Overheating can be caused by a faulty thermostat or faulty cooling inside the refrigerator. Some of the electric components inside the ice maker can be defective too.
Whirlpool Refrigerator Ice Maker Makes Too Much Ice
This problem is most likely caused by a faulty or broken shut-off arm – a simple mechanical component designed to stop the production of ice (prevent a new ice making cycle from starting) when there's still enough ice remaining in the bucket/container/dispenser.
Top 3 Places to Buy Whirlpool Refrigerator Ice Maker Replacements Parts
Have you decided to repair your ice maker on your own? Then you surely need a reliable source of compatible replacement parts. Here's a brief description of three online sources you might come across:
Amazon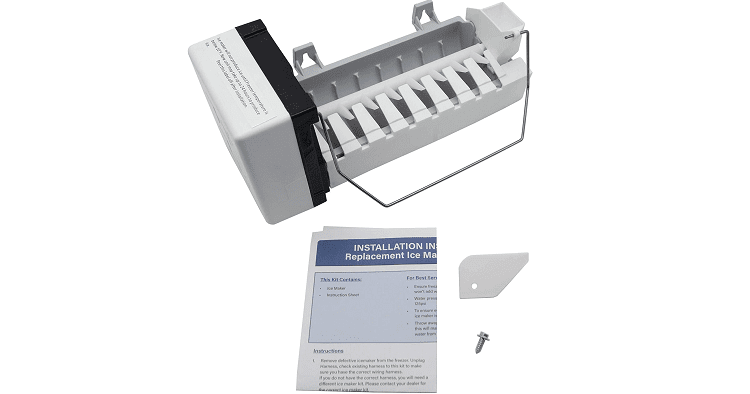 Amazon, the world's largest online marketplace, has become a go-to source for all DIY enthusiasts. Thanks to connecting sellers and buyers from all over the world, it is a great place for finding even some of the rarest components and replacement parts. This can be very useful particularly when you're dealing with an older (discontinued) ice maker.
Amazon has both original (OEM) parts for Whirlpool refrigerator ice makers and universal substitutes made by other manufacturers. This provides you with an exceptionally wide selection, but there's also a higher probability of buying incompatible products or parts with lower quality and durability.
In any case, you'll surely appreciate Amazon's neat interface, handy search filters, and tons of user reviews that can help you avoid disappointment.
Pros
Great selection of replacement parts
Competitive prices
User-friendly store with easy navigation
Available (almost) all around the world
Helpful reviews from other customers
Cons
Not all parts sold here are original Whirlpool components
Some sellers might be less reputable than the others
WhirlpoolParts.com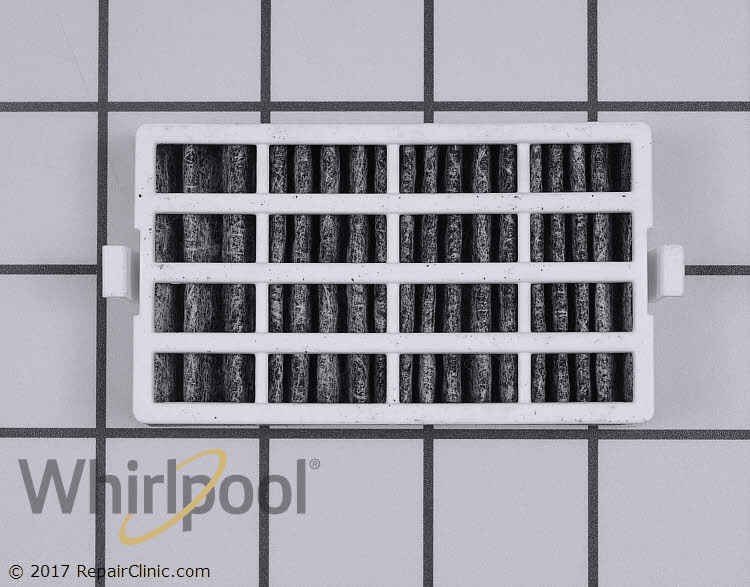 WhirlpoolParts is an authorized online source of original Whirlpool components run by Repair Clinic, Inc. The store sells only factory-certified parts, which means that all the components you can find here are genuine and 100% compatible with your Whirlpool ice maker. Of course, it also means that the prices here are a bit higher than in some other stores.
The store has a relatively simple and easy-to-navigate interface. Just pick your type of appliance, part category, and you can start scrolling through the rich offer.
Nevertheless, according to the customer reviews, not all "in-stock" products are really readily available. Sometimes the shipping takes much longer than anticipated. The customer service should reportedly improve in its responsiveness too.
Pros
Official distribution of Whirlpool components
Only original replacement parts
Simple and user-friendly interface
Wide range of parts on offer
Cons
Prices are higher than in some other stores
Customer service could be better
Shipping often takes longer than advertised
EasyApplianceParts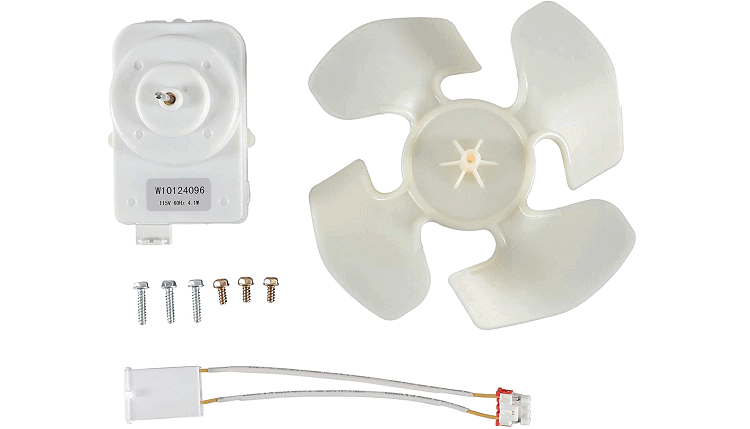 EasyApplianceParts is one of the largest online sources of various components and spares for all the different types of home appliances. You can shop for your Whirlpool refrigerator ice maker parts here too.
The store has simple navigation and detailed, very accurate descriptions of all the advertised products. This also includes information on whether the selected part is OEM (genuine Whirlpool product) or not.
According to the hundreds of user reviews, EasyApplianceParts is a reputable store that keeps up with its promises, consistently ships orders on time, and doesn't hesitate to assist its customers in case of any problem. On some rare occasions, however, they have expedited wrong/mismatched products in the past.
Pros
Reputable store with very good user reviews
A vast range of products
Detailed descriptions
Reliable information on the part's origin
Fast shipping
Cons
Some history of messed up orders
FAQs
Question: How Do You Know If Your Whirlpool Refrigerator Ice Maker is Bad?
Answer: Not all faulty ice makers will stop producing ice altogether. To detect an issue with your device, pay attention to any water leaks, increasing temperature of the device, insufficient or excessive production of nuggets, etc. Mechanical faults can also be spotted by weird sounds (rattling, buzzing).
Question: Where is the Reset Button on the Whirlpool Refrigerator Ice Maker?
Answer: The exact position of a reset button on your ice maker can vary from model to model but it's usually located somewhere on the bottom of the ice maker's housing.
Question: How Long Does a Whirlpool Refrigerator Ice Maker Last?
Answer: Standardly, your built-in ice maker should last as long as the refrigerator. This can vary from model to model, but on average, it should be around 10 years.
However, the life expectancy of an ice maker depends on some specific factors too – most importantly, this includes the quality of water. In some cases, hard water can considerably shorten the lifespan of your ice maker.
Whirlpool Refrigerator Ice Maker Replacement Guide: Bottom line
Whirlpool refrigerator ice makers are usually very reliable and if you treat them with proper care, they might last just as long as the fridge itself without any major hiccups.
Nevertheless, even if your ice maker eventually breaks or malfunctions, repairs and replacements are relatively simple and affordable. In many cases, you can resolve technical issues with these simple devices even on your own, without the help of a professional. All you need is basic know-how, simple DIY tools, and a good source of replacement parts.
I hope that this article answers all your questions on Whirlpool refrigerator ice maker replacement. If you'd like to learn more about DIY repairs of home appliances, check out some of our other articles on this topic: