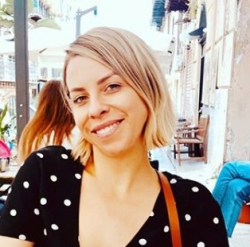 Latest posts by Jodie Chiffey
(see all)
When it comes to kitchen appliances, there are so many different choices out there it can be difficult to tell which ones are best, especially since you usually don't have the option to try before you buy.
For refrigerators, this decision is made even more challenging thanks to the broad range of styles and features on offer. It helps to start with a trusted, reputable brand, which is why in this guide, I'm going to offer an honest review of the Whirlpool Sidekicks all-refrigerator.
Since you can't really try before you buy, it's important to find out from a trusted source not only how a refrigerator performs but also how it compares to others on the market.
That's why I'm going to take into account my own personal experience of the Whirlpool Sidekicks refrigerator, as well as reviews left by verified customers, to give you the clearest picture possible of all its strengths and weaknesses.
So, without further ado, let's get started with a brief overview of Whirlpool as a company!
While you're here, if you're shopping for other Whirlpool kitchen appliances, it's worthwhile checking out our Whirlpool Stove Guide. And if you like all your appliances to match, we have a Whirlpool Washer Model Guide too.
What is Whirlpool?
The Whirlpool Corporation is an American multinational manufacturer of home appliances. It was founded in 1911 – so it has plenty of experience creating products of the highest quality – and specializes predominantly in kitchen and laundry appliances.
Sidekicks is one of Whirlpool's appliance brands consisting of refrigerators and freezers. Sidekicks appliances are usually powerful, energy-efficient, and frost-free.
Benefits of Having a Refrigerator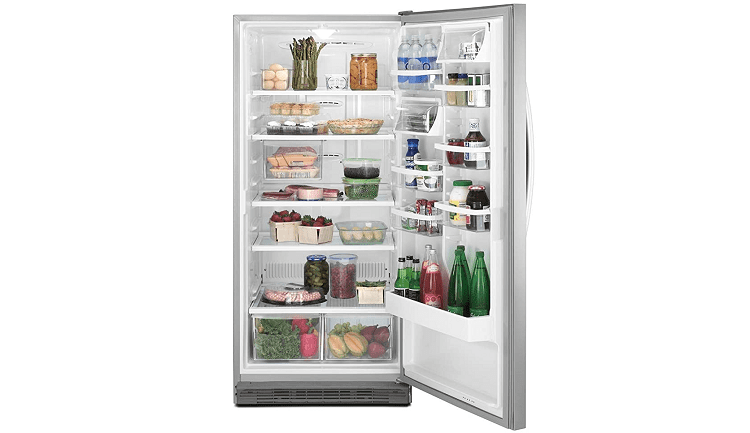 Having a refrigerator in your kitchen might seem like a given, and most people probably won't even spare this common appliance a second thought, but it's worthwhile looking at all the different benefits that come with it – some expected and some surprising.
Safety
Naturally, safety is the most obvious benefit of having a refrigerator in your kitchen. By keeping meat at or below 40 degrees Fahrenheit, you can store it for a number of days without compromising on safety. Needless to say, if you keep your meat at room temperature, it would quickly go bad, and humans aren't built to process that kind of bacteria in the same way that many carnivorous animals are.
In fact, the kind of bacteria that grows on meat can actually be lethal to humans. The CDC estimates that 128,000 Americans are hospitalized each year due to foodborne illnesses, and 3,000 die. So having a fridge could literally save your life!
Prevents Food Waste
Refrigerators aren't just good for storing meat and dairy products. You can keep leftovers for much longer if they remain at a cooler temperature, and vegetables also last longer as well.
Saves Money
Because your food will last longer, you won't be wasting money on produce that has to be thrown away. In the long run, this will save you lots of money, which is always a positive. Plus, even if your refrigerator is a little expensive to buy, it will soon pay for itself.
Variety
Nowadays, you're not limited to one design with limited functionality. You can choose from a range of different shapes, sizes, colors, and features – there's a refrigerator for everyone, and some are even customizable. Below, you can see a few common variations.
Materials
Aluminum
Steel
Cast iron
Chrome
Copper
It's also worth noting that you can purchase colored fridge wraps that can be used to jazz up your kitchen with interesting patterns and designs.
Features
Ice dispenser
Water dispenser
Automatic temperature control
Energy efficiency
WiFi connectivity
Organization drawers
Sliding shelves
Built-in speakers
Different Types of Refrigerator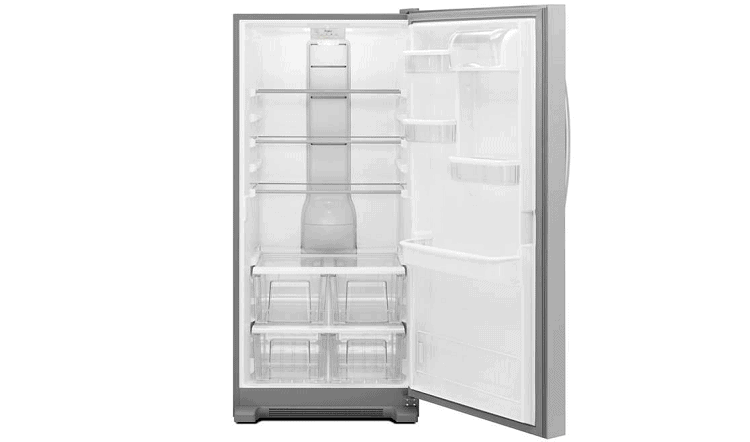 There are numerous variations of the traditional refrigerator, but generally, they can all be fitted into one of five categories.
Side-by-Side Refrigerators
This type of refrigerator features two doors that open out from the center. There is a freezer on one side and a refrigerator on the other. They offer more capacity than standard refrigerators and are a great choice for bigger households.
French Door Refrigerators
This type of refrigerator has a pantry-style layout. There are two doors above, which reveal a refrigerator, while a freezer drawer slides out below.
Top-Freezer Refrigerators
Top freezer refrigerators are often seen as the 'classic' style, placing the freezer above a refrigerator. This is the best option if you use your freezer a lot and need easy access to it.
Bottom Freezer Refrigerators
If you use your refrigerator more often than your freezer, as most people probably do, then this might be the style for you. Fresh items are much easier to access.
Under Counter Refrigerators
This type of refrigerator offers limited storage and is much smaller in capacity, though it's ideal for anyone with a small kitchen and limited space.
Key Features of the Whirlpool Sidekicks All-Refrigerator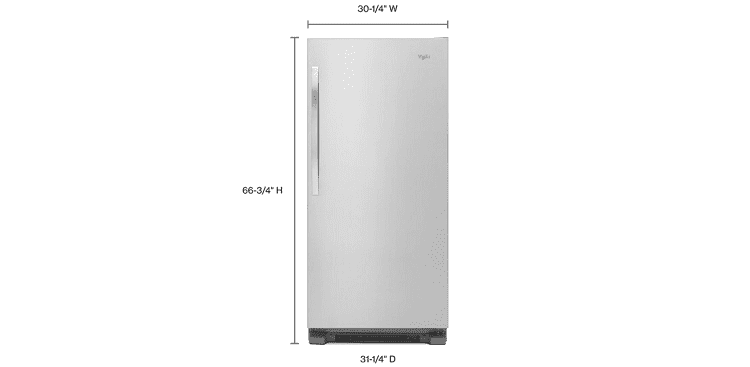 Now you know a little bit more about the benefits of refrigerators and the different features that they can offer, let's have a look at the specific features of the Whirlpool Sidekicks All-Refrigerator.
LED Interior Lighting
The Whirlpool Sidekicks all-refrigerator is a fairly basic kitchen appliance, but the inclusion of LED interior lighting gives it a modern edge and emphasizes just how spacious the interior is. The bulbs are bright and long-lasting. Plus, for anyone who's conscious of the environment, they're energy-efficient, too.
Electronic Temperature Controls
Choose the right temperature for whatever foods you're storing. Thanks to the refrigerator's electronic controls, it's very easy to make temperature changes, keeping you in control.
Temperature Alarm
Personally, I'm really grateful for this feature. It's extremely handy if you're prone to forgetting to shut the refrigerator door or if you tend to overstock resulting in it not being able to close properly.
The alarm starts to go off when the temperature rises, so it's also handy for indicating a fault with the appliance.
In-door Pizza Pocket
This one is for the pizza fans out there! Not only does the Whirlpool Sidekicks refrigerator have an in-door pizza pocket, it comes with plenty of shelves and storage options to help you compartmentalize and organize your weekly food shop.
Air Tower
The built-in air tower helps to control the temperature and keeps air circulating.
Pros and Cons of the Whirlpool Sidekicks All-Refrigerator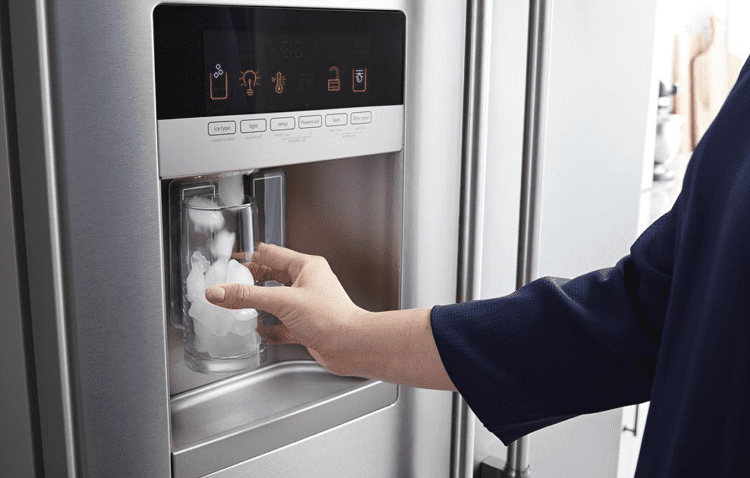 Next, let's take a look at the pros and cons.
Pros of the Whirlpool Sidekicks All-Refrigerator
Spacious
In-door pizza pocket
Temperature alarm
Energy-efficient LED lighting
Adjustable shelves
Quiet
Four large drawers
Available with matching freezer
1-year warranty
Cons of the Whirlpool Sidekicks All-Refrigerator
Does not last
Leaks are common
Bottom shelves need more light
Decision Making Tips
When you're making the important decision of what refrigerator to buy, you need to know your specific needs and requirements to work out whether a particular product is for you. Below, I'm going to discuss some of the most important factors to consider.
Still, need help deciding? Check out our guide to help you find the best refrigerator for your kitchen.
Budget
Your budget will greatly impact the refrigerator you purchase because it will determine whether you need to look for a basic model or can afford one that offers additional features. How much money you can spend will determine the quality, features, and specifications of the product you buy – though it shouldn't be the only influential factor.
It's important to remember that a premium price tag doesn't necessarily equal a premium product – sometimes cheaper models actually outperform more expensive ones. That's why you should always read verified customer reviews as well.
Features
As mentioned earlier, there are various features and add ons that can add to the overall functionality and design of your refrigerator. You might decide that you want an ice or water dispenser, or maybe your priority is finding a very energy-efficient product.
One way to help with the process of determining what to look for is to make a list with three columns – one which states the features you absolutely need, one which states features you'd like but aren't essential, and one which states any features you specifically want to avoid.
Size
You'll need to account for both the size of your kitchen and the size of your family/household. If you need enough food for five people, it's worth investing in a bigger refrigerator, whereas if you only live with two or three other people, a smaller appliance will be suitable.
Moreover, the size of your kitchen is another vital consideration. If you only have a small amount of space, this will limit which refrigerators you're able to buy. Make sure you check the measurements carefully.
Style
Again, the needs of your household will influence which style of refrigerator is most suitable. Choose from a French-door, side-by-side, top freezer, bottom freezer, or under-counter refrigerator.
Whirlpool Sidekicks All-Refrigerator: My Verdict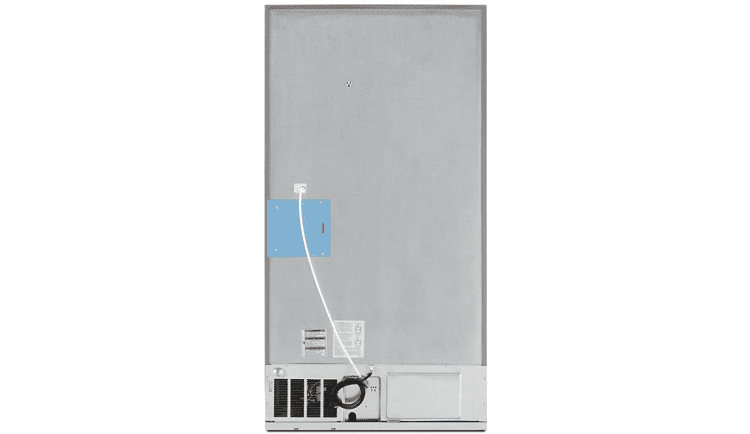 Now that I've covered the pros and cons of the Whirlpool Sidekicks All-Refrigerator, as well as discussing how to determine which appliance is most suitable for your needs, it's time for an honest review of the product. I always like to start by considering whether I would recommend the product I'm reviewing to a friend. In this case, the answer is probably not.
There isn't anything wrong with the Whirlpool Sidekicks All-Refrigerator – it looks good, and it works fine—for the first year or two. Unfortunately, as many people note in their reviews, it simply isn't built to last.
This would be fine if the refrigerator was pretty cheap; after all, I always like to think you get what you pay for, but this appliance doesn't even come with a low price tag. There are plenty of other refrigerators on the market for a similar or even lower price that performs much better in terms of longevity.
That being said, I don't want this to be a totally negative review because the refrigerator certainly has some good points that are worth mentioning.
First of all, it's a sizable appliance with plenty of roomy storage features like the in-door pizza pocket and drawers. Even though the product itself tends to develop a fault over the first few years of use, the energy-efficient lights that it comes with seem to last forever. My only criticism in this respect is that it could use a few more of them.
The temperature alarm is a very handy feature, but it's to be expected for a refrigerator within this price range, so not necessarily anything to shout about.
Ultimately, whether or not you should buy the Whirlpool Sidekicks All-Refrigerator depends on your particular needs. If you have a decent budget and only expect to use the appliance for a few years, it's worth considering. However, you will be able to find a refrigerator for a similar price that's much more reliable, so in my opinion, it's worthwhile looking elsewhere.
Other Alternatives to Consider
Fortunately, there are plenty of refrigerators on the market that is both reliable and affordable. Here are some of my recommendations.
For a Small Budget – Haier HA10TG21SS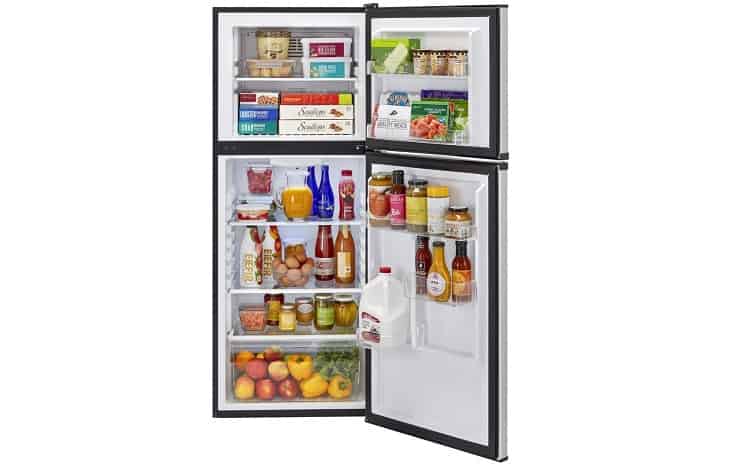 Complete with gallon door storage, adjustable shelves, frost-free defrost, and left or right door setup, the Haier HA10TG21SS is an excellent refrigerator for anyone with a small budget who also needs plenty of space. It isn't fancy and doesn't come with any extravagant features, but it does everything you need without costing the earth.
Pros
Affordable
Durable & long-lasting
Fully adjustable spillproof shelves
Clear humidity crisper
LED lighting
Cons
Noisy
Few extra features
Basic
For More Room – Maytag Wide French Door Refrigerator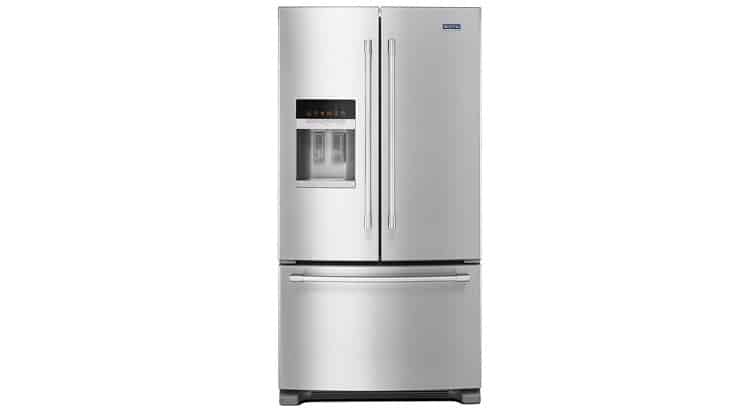 The Maytag Wide French Door Refrigerator is an impressive appliance by any standard, offering both space and style rolled into one. There really isn't much not to like with fingerprint-resistant stainless steel, a unique PowerCold feature, BrightSeries LED lighting, and a temperature-controlled Wide-N-Fresh deli drawer.
Pros
Spacious
Fingerprint resistant stainless steel
10-year limited parts warranty on compressor
Stylish design
PowerCold feature
Factory-installed icemaker
Humidity controlled FreshLock crispers
Cons
Difficult to install
Expensive
Ice maker doesn't always work correctly
For Extra Features – GE Profile Smart French Door Refrigerator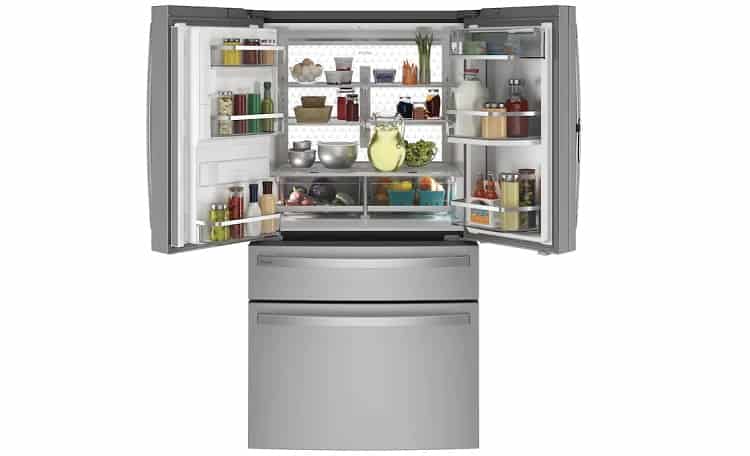 Are you looking to splash the cash on a top-of-the-range refrigerator packed with impressive features? If so, the GE Profile Smart French Door Refrigerator is for you. It's big, it's sturdy, and it's downright impressive. GE manufactures a number of excellent refrigerators which you can read about here.
This refrigerator includes an LED light wall so you can always find what you're looking for, soft-close drawers, an in-door rotating bin, as well as a water filtration feature.
Pros
Fingerprint resistant stainless steel
Hands-free autofill
Adjustable temperature
Spacious with lots of storage compartments
Built-in WiFi
TwinChill Evaporators
Cons
Expensive
Prone to issues with not closing properly
Whirlpool Sidekicks Review: Final Thoughts
The Whirlpool Sidekicks All-Refrigerator, though it comes from a reputable and globally recognized brand, is ultimately not the best product out there. It offers limited features and a minimalistic design, though it certainly isn't unpleasant to look at.
In fact, at first glance, I really wanted to love this product. It's small enough to fit into tight kitchen spaces – perfect if, like me, you don't have the roomiest kitchen – yet it never feels like you're compromising on storage when you open the door.
As I mentioned earlier, the temperature alarm is a nice touch. Still, other than that, the extra features are pretty sparse – considering how much this refrigerator costs, I'd have liked to see a few additions helping it to stand out from the crowd.
I'm always wary when I see short warranties on products – especially kitchen appliances, which I'd usually expect to last for a long time – and the Whirlpool Sidekick's one-year limited warranty is no different. Then again, it's hardly surprising that the warranty period is so short, given the propensity of this refrigerator to break down after a short amount of time.
Ultimately, no matter how perfect the product appears externally, I can't bring myself to recommend it, knowing that it tends to develop so many faults.
Recommended Reading