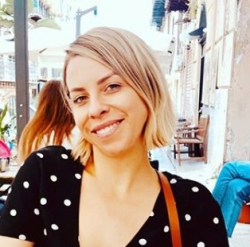 Latest posts by Jodie Chiffey
(see all)
Most of the time, when people shop for kitchen appliances, they immediately think of the same things – fridges, freezers, microwaves, ovens…the list goes on. But one of the most neglected appliances also happens to be one of the most important: the range hood.
In this GE Monogram Hood review, I'm going to offer my honest opinion, taking into consideration all of the pros and cons, as well as offering advice on how to tell if this is the right appliance for you. GE has a strong reputation for building sturdy, long-lasting, and practical kitchen appliances. Still, it's only natural to want to understand how their Monogram Hood compares to others on the market.
So let's get started with a brief overview of what range hoods are and what they do. While you're here, if you're already familiar with GE's reputation and are shopping for other kitchen appliances, it's worthwhile checking out our GE Stove Model Guide. And if you like all your appliances to match, we have a GE Refrigerator Model Guide too.
What is a Range Hood?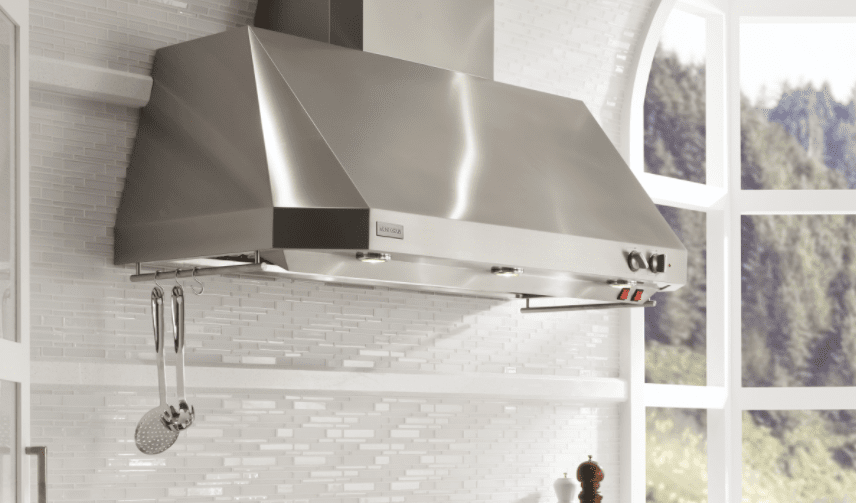 Range hoods, often simply called hoods, play an extremely important role in helping to filter the air in your kitchen. They typically consist of a canopy and a fan or blower motor to eliminate the bad smells that occur from cooking.
Caring about air pollution outside is a given – nowadays, the environment is constantly on our minds – but what about the air pollution in your kitchen?
A 2001 report published by the California Air Resources Board revealed that cooking a fried chicken dinner on a gas stove created average indoor nitrogen dioxide levels of 400 parts per billion – a figure that's considerably higher than what is generally considered to be safe.
That's where range hoods come in. They help to keep the air in your kitchen clean, fresh, and free from pollution.
Not only will a hood control the air quality in your kitchen, but it also helps it to stay clean for longer. How, you might ask? Well, that layer of sticky grease that builds up over time on surfaces is extracted before it has a chance to settle, meaning less cleaning for you!
In most hoods, a filtration system (known as a grease trap) removes particles. Some filter air to the outside, but most recirculate the air around the kitchen, and filters are usually used to control unwanted odors.
As you might expect, there are different hoods to suit different kitchens and different needs. There are four key variations to look out for:
Island hoods – these are designed to come out of the ceiling if your cooker is positioned in the middle of the room.
Wall-mounted hoods – this is probably the most common type of hood out there. It's attached to the wall since most kitchens are designed with cookers against the wall.
Slide-out hoods – perfect for any space-saving fans out there.
Extra quiet hoods – nobody wants to listen to a loud motor, but for some people, this type of noise is particularly annoying, in which case extra quiet hoods are the answer.
Most of the time, hoods will be made from stainless steel, though they can also be made from copper, zinc, tempered glass, and aluminum, among other things.
Looking for a new stove for your kitchen? Check out our Whirlpool Stove Model Guide.
Benefits of Using a Range Hood
Before we get into the specific pros and cons of the GE Monogram Hood, let's look at the general benefits of hoods.
One of the most important benefits relates to your health. When oil is heated at high temperatures, it releases harmful fumes that can be detrimental to your health. In fact, these fumes contain carcinogenic and mutagenic compounds, leading to an increased risk of respiratory cancer.
Thankfully, using a hood helps to eliminate this risk. There are a number of other excellent benefits as well, as you can see below.
Less Kitchen Odor
The smell of your favorite dish cooking when you've had a long day and can't wait to eat is one thing, but when that smell lingers long after the meal is finished, it quickly turns unpleasant. If you cook with your range hood switched on and leave it on for a while once you've finished in the kitchen, these lingering smells will be eliminated, leaving the room pleasantly fresh.
Cleaner Kitchen
As previously mentioned, range hoods extract all the grease particles that are released from cooking, meaning they don't settle on surfaces as they normally would. This means you don't have to spend a long time scrubbing surfaces, which is always a win.
Extra Lighting
Most hoods come with lights which can be helpful when you're cooking. Not only that, but it also means that when it comes time to clean, you can do so with ease – there's no need to worry you might have missed a spot.
Style
Contrary to popular belief, range hoods don't have to be ugly, bulky monstrosities that protrude from the kitchen wall and generally look unsightly. There are many sleek modern designs on the market that can actually be a stylish addition to any kitchen.
Value
Having a hood fitted might seem like a minor detail, but if you're thinking about selling your home in the future, having a new kitchen with a full range of appliances makes it a more attractive prospect to future buyers.
Pros and Cons of the GE Monogram Hood
Next, let's get into the specifics.
Pros of the GE Monogram Hood
Available as a wall-mounted hood or island hood
Helpful fan timer feature
Stylish design
Powerful fan
LED lights with changeable brightness
Effectively removes bad smells
Durable and long-lasting
Filter clean reminder
Cons of the GE Monogram Hood
Noisy
Filters could be more substantial
Filters difficult to clean
Fairly expensive
Decision Making Tips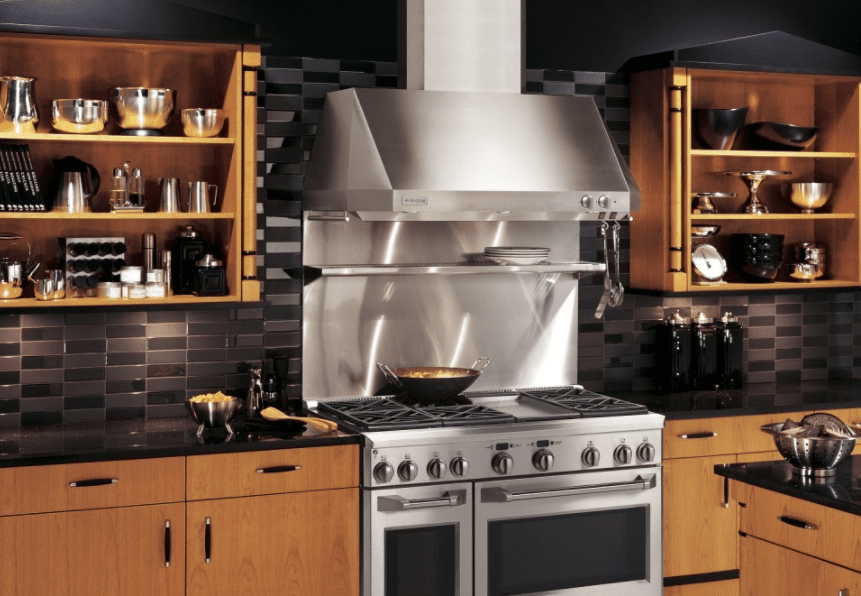 Not only do you need to decide if the GE Monogram Hood is for you, you also need to work out what your specific needs and requirements are so you can pick the version that suits you best. Here are some things to consider.
Budget
Naturally, you need to take into account your budget. How much money you have to spend will impact the quality, size, and specifications of the appliance you buy – though it shouldn't be the only influential factor. Sometimes, cheaper products actually perform better than those with a premium price.
The GE Monogram Hood is fairly expensive compared to some other hoods on the market, so bear this in mind when you're shopping. That being said, it also has an excellent reputation for being effective and reliable, with lots of handy features.
Key Features
You might not expect it, but range hoods can actually come with lots of extra features which make life easier in certain ways.
Examples of key features:
Lighting – different types of bulbs can be used, such as LEDs which are more powerful, and some will have options to alter the brightness.
Extra quiet mode – some hoods are designed to be quiet at all times, while others have this as a feature that can be turned on and off.
Filter clean reminders – if you struggle to remember to do things like cleaning filters, you can get a hood that reminds you.
Fan timer – this is a great remedy for forgetfulness; some hoods automatically switch off if they've been left running for a certain amount of time.
Extra powerful fan – in professional settings, an extra powerful fan might be necessary, although this is unlikely to be needed in your home
Kitchen Layout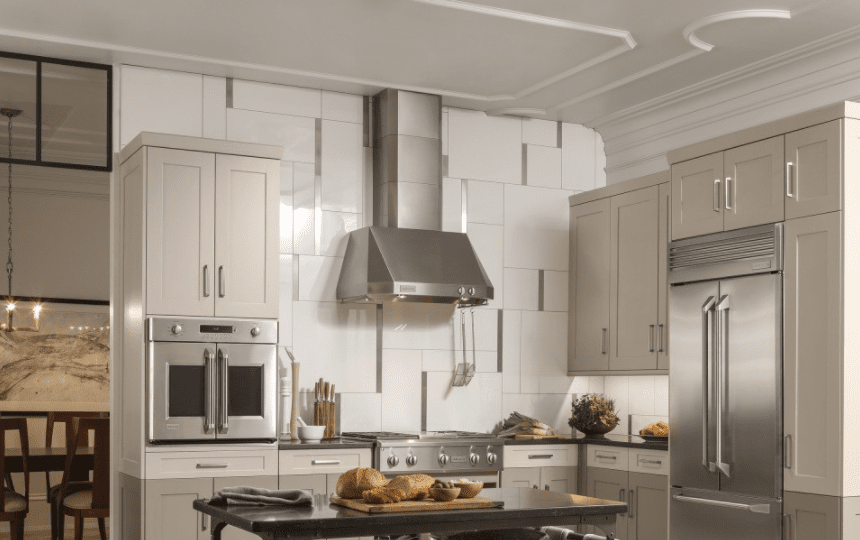 You need to consider how your hood will fit into your kitchen space. For example, does it need to have a wall fitting, or is your cooker in the middle of the kitchen, therefore requiring a ceiling fitting (called an island hood)?
Installation
Think about how your hood will be fitted – is it easy enough to do yourself, does it come with free fitting by a professional, or will you pay someone to do it for you? This could add to the overall cost, but if you install it yourself, you could end up causing damage to the hood or your kitchen if you are not confident of what needs to be done.
Exhaust System
There are two different exhaust systems.
Vented Exhaust System
This is sometimes called a ducted system. It uses ducts, or vents, to channel air out of the home. For this kind of system, it's best to mount the hood to an exterior wall. It gets considerably more expensive and complicated the further away from an exterior wall you get.
Non-Vented System
With this system, the air is filtered, cleaned, and then circulated back into the kitchen. These systems are less efficient and require more maintenance, though they're very common in homes.
Style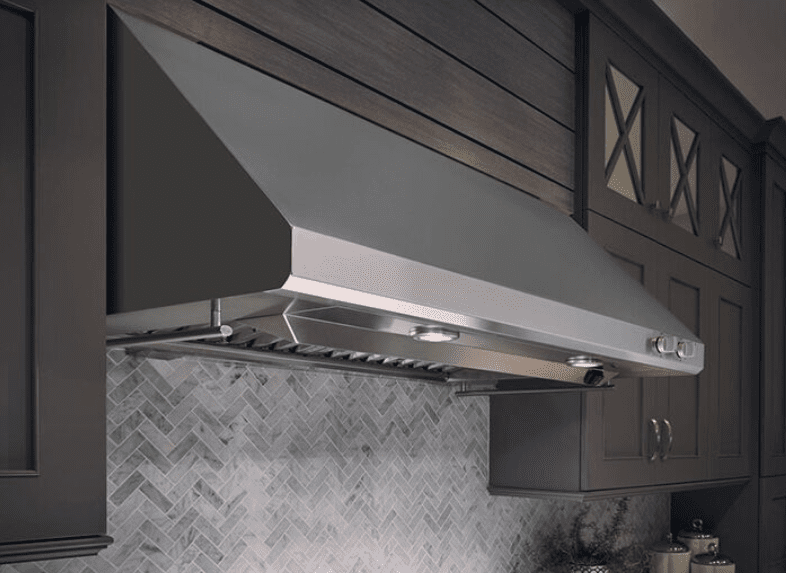 You don't have to be stuck with a bulky lump of metal on the wall. Nowadays, there are lots of different stylish designs to choose from, so you can find one that suits your interior decor style.
All of these features are available in different variations of the GE Monogram Hood. For quiet technology, choose the Monogram 48" Stainless Steel Professional Hood with Quietboost™ Blower. The Monogram 36" Wall-Mounted Vent Hood comes with LEDs with adjustable brightness and filters clean reminders.
Likewise, if you need your hood in the center of the kitchen, there's the Monogram 36" Island Vent Hood. For a stylish alternative, there's the Monogram 36" Glass Canopy Island Hood.
GE Monogram Hood: My Verdict
We've covered all the pros and cons of the GE Monogram Hood, as well as important decision-making tips, so now it's time for my verdict. Would I recommend it to a friend? Yes – if that friend had a sizeable budget and was looking for a sleek and stylish hood for their kitchen.
The GE Monogram Hood comes with a bunch of cool features that make life easier – that's always a bonus. The clean filter reminder is extremely useful, as is the fan timer, especially since I'm a pretty forgetful person.
That being said, the filters that come with the hood aren't as robust as they could be, and as a result, they need cleaning more often than I'd like. The skirt of the canopy feels a little bit flimsy, although that doesn't matter too much since there's no need for it to be durable. Even so, for the price, you'd expect it to feel a bit more sturdy.
With GE products, and the Monogram Hood, in particular, it feels like part of the high cost comes down to the well-known status of the brand. Their products have a reputation for being of high quality, and I do think that's the case with their hoods, but there's no escaping the big price tag that comes along with them.
If you love to cook and have a decent budget, it's worth paying extra for a Monogram Hood with GE's QuietBoost technology since some of the versions without this feature are particularly noisy.
Other Alternatives to Consider
There are loads of different range hoods on the market, all offering different features and different prices, so it's worth shopping around. Here are some of my favorites to consider.
For a Smaller Budget – Winflo 30" Series 350 Convertible Hood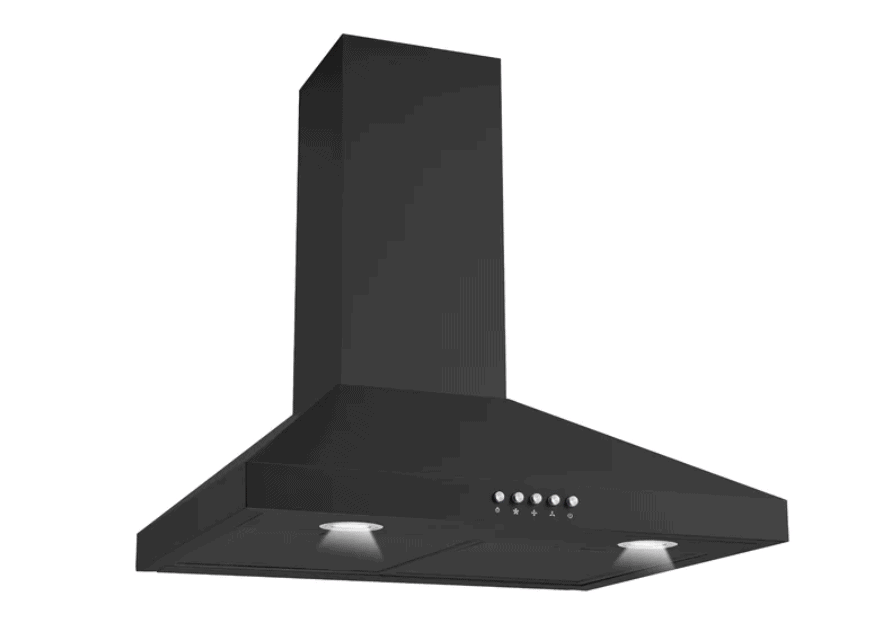 Complete with two bright energy-saving LED lights, an adjustable chimney, low noise level operation, and three ventilation speeds, this Winflo wall-mounted hood really gives you a lot for your money. It might not be the most stylish appliance around, but it's definitely fantastic value for money.
Pros
Affordable
Energy-saving LEDs
3 ventilation speeds
Environmentally friendly
Easy to install
Quiet
Cons
Basic design
Scratches easily
Buttons do not last as long as the appliance
For More Power – Miele PUR 98 W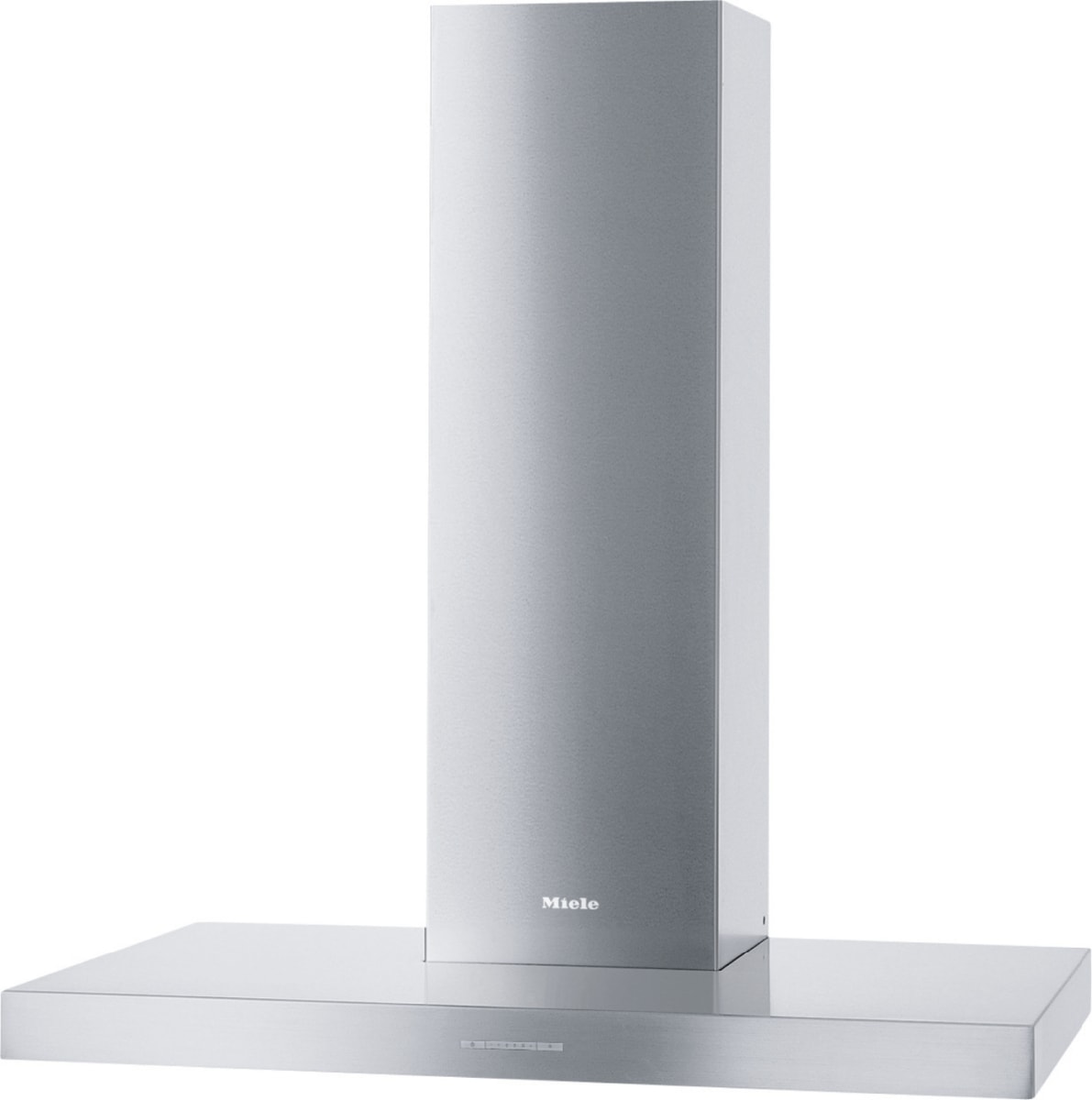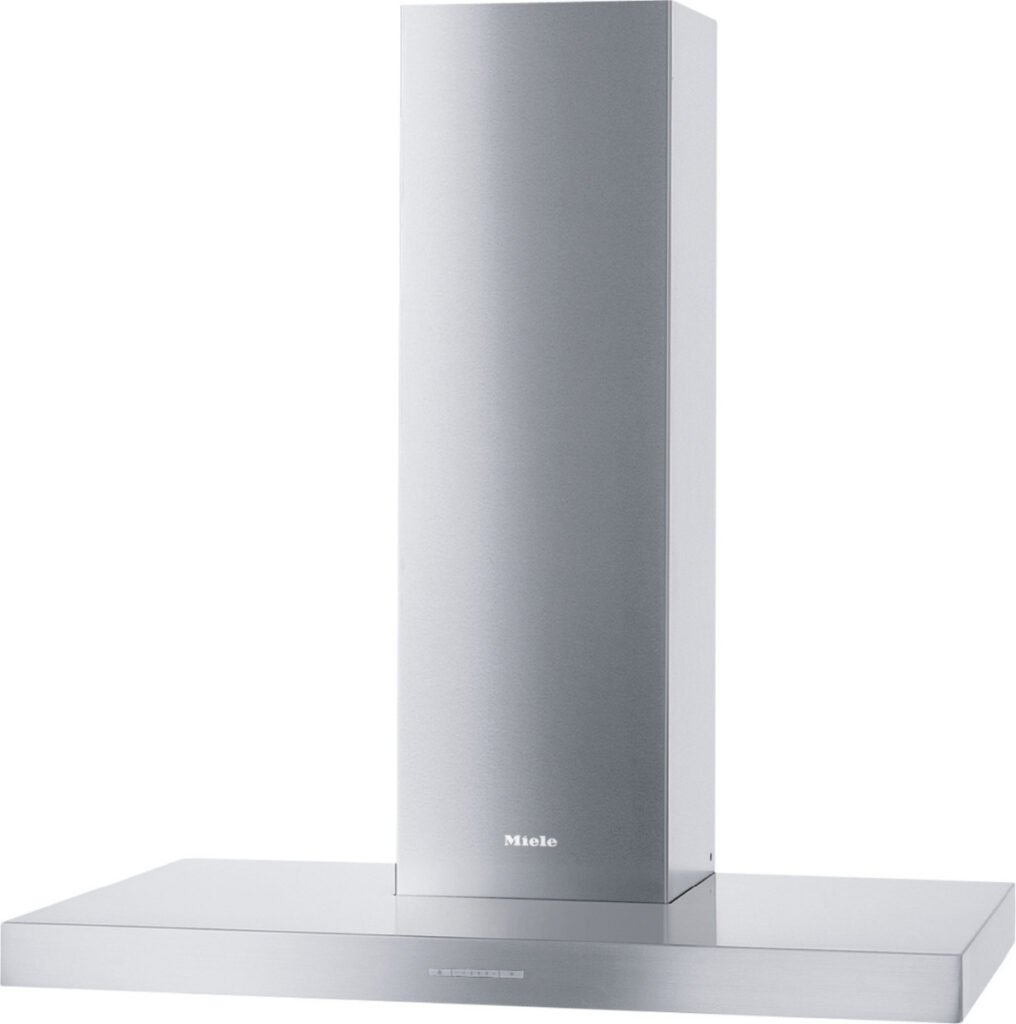 This wall ventilation hood boasts an attractive and modern design, with a boost feature that makes it one of the most powerful on the market. It's easy to clean and very durable, the kind of product that will likely last a lifetime.
One of the best things about the Miele PUR 98 W is that it's suitable for all homes, both vented and recirculating. Plus, Miele is a reputable brand, so you know you're getting a product you can trust – and the customer reviews really reflect that.
Pros
Energy-efficient LED lighting
Super powerful booster setting
10-ply stainless steel grease filters
Safe and easy to clean
Suitable for vented and circulating homes alike
Timeless design
Cons
Recirculation kit not included and expensive to buy
Heavy
Difficult to install
Best for Style – Cosmo 668ICS750 30" Island Mount Range Hood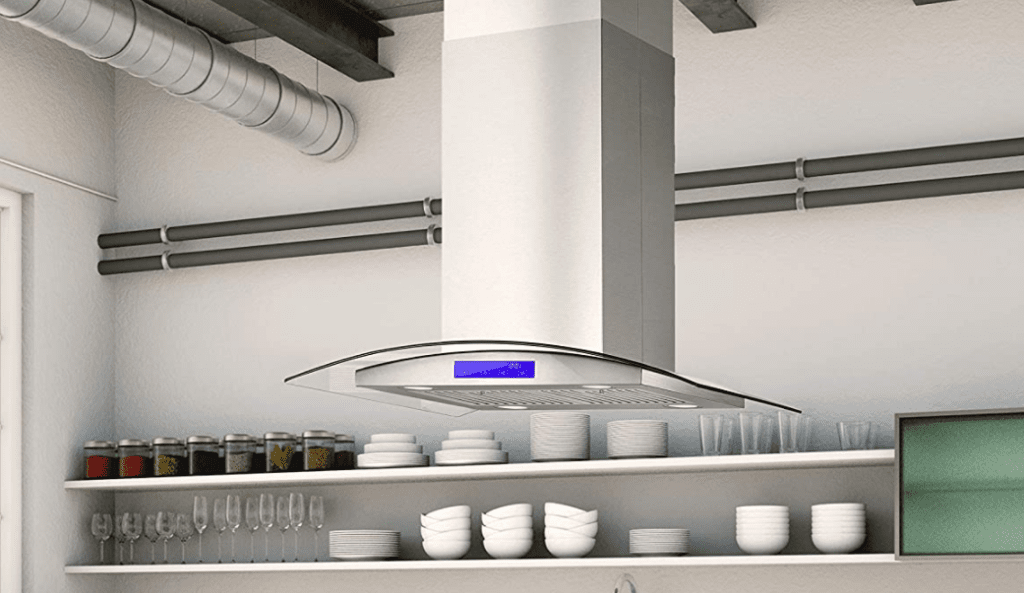 This modern-looking hood comes complete with a stylish glass visor and an LED panel for easy control. The Cosmo 668ICS750 doesn't just look the part – though I do love the design – it also performs well, with a powerful three-speed fan.
It's good to know that the stainless steel filters are dishwasher safe, making it effortless to keep them clean, and while the LED lights are bright, they're also energy efficient. Essentially, this is a great all-round hood that will compliment even the most tasteful interior decor.
Pros
Attractive, modern design
Powerful three-speed fan
Five-year parts warranty
LED panel
Energy-efficient lights
Affordable
Cons
Installation instructions hard to follow
Loud
FAQs
Question: Is the GE Monogram Hood vented or circulating?
Answer: It is vented and should be used with an 8" round duct.
Question: How long before the fan automatically shuts off?
Answer: You get to choose between 5, 10, or 20 minutes.
Question: How often do GE Monogram Hood filters need cleaning?
Answer: The clean filter reminder will appear after 30 hours of "on" time, and it's advisable that you clean them as soon as possible after this.
Question: How do you clean a GE Monogram Hood filter?
Answer: Before cleaning the unit, you first need to switch the power off. Remove the grease filters by pushing them back and down using the knob, and wash them either by hand or put them in the dishwasher. Make sure you avoid abrasive cleaners; this process should be as gentle as possible. Replace the filters ensuring they're sitting properly in their channels.
Question: Do GE Monogram Hoods come with a warranty?
Answer: They come with a limited two-year warranty which includes free-of-charge parts and service labor.
Final Thoughts
The GE Monogram Hood, though expensive, is a very good choice for anyone who wants a stylish design, a powerful fan, extra features, and a product that will last for years to come. It can be challenging to install if you decide to do this yourself, but once it's been fitted, it will all seem worth it.
Whether or not the GE Monogram Hood offers good value for money comes down to personal preference; it entirely depends on what your priorities are when hunting for kitchen appliances. However, thanks to this article, you should now have a better idea of those priorities.
Unfortunately, the price tag is still a little off-putting, and I would have liked to see a longer warranty on a premium appliance like this.
Nevertheless, while there are other range hoods on the market that offer some of the same features and benefits, few offer them all in one product, and that's where GE really stands out.
Recommended Reading: