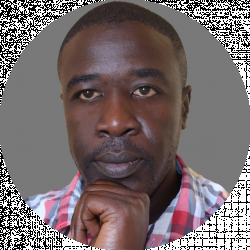 Latest posts by Barry Juma
(see all)
Ductless range hoods are easy to install because they don't need a ducting system. In fact, you can install these types of hoods anywhere in your kitchen, whether it's on a wall or under a cabinet. Granted, they're not as effective as their ducted counterparts, but if you have a small kitchen, don't have a ducting system, or want to install the hood yourself, ductless hoods are the way to go.
When looking for a new hood, there are a number of considerations to make before settling on a model. In this article, I checked out dozens of ductless hoods to find out what makes a good model. I then put together a list of the best ductless range hood options to help you find the right one for your kitchen. 
Bottom Line Up Front
Ductless range hoods are good options for those who don't have ductwork in their kitchen, or if you want a model that's easy to install. My top recommendation for a small kitchen is the Hauslane UC-B018. It is very quiet and is reasonably priced. Hauslane also offers a 2-year warranty. 
If you have a larger kitchen or do a lot of cooking, I recommend the KitchenAid KVUB600DSS, which has a high CFM of 585.
My Top Picks At a Glance
| | | | |
| --- | --- | --- | --- |
| Category | Model | Features | Average Price |
| Best for larger households | KitchenAid KVUB600DSS | 30-inch width, 585 CFM, 4-speed fan. | $1400 |
| Best wall-mount chimney hood | GE® JVW5301SJSS | 350 CFM, 4-speed fan, wall-mount design. | $700 |
| Most affordable ductless hood option | BROAN® 41000 | 190 CFM, 2-speed fan, 30-inch width. | $85 |
| Best island hood option | Cosmo COS-668ICS900 | 380 CFM, 65 dB max sound level, touch controls. | $300 |
| Most silent ductless hood | Hauslane UC-B018 | 30-inch width, 2-year warranty, 3.5 sones sound level. | $200 |
How a Ductless Range Hood Works
As you already know, ductless range hoods aren't connected to a ducting system that vents fumes outside the kitchen. These hoods work by sucking the dirty air, passing it through a filter to clean it, then recirculating the cleaned air back into the kitchen. 
As a result, you'll have to regularly clean the filters and replace them once they're completely spent. Ductless hoods, therefore, tend to create a more humid kitchen because of the recirculation process. These hoods are sufficient for most households but I would recommend getting a ducted hood if you do a lot of cooking. 
This brings us to the things you'll need to consider before buying a ductless range hood.
Choosing a Ductless Range Hood: What to Consider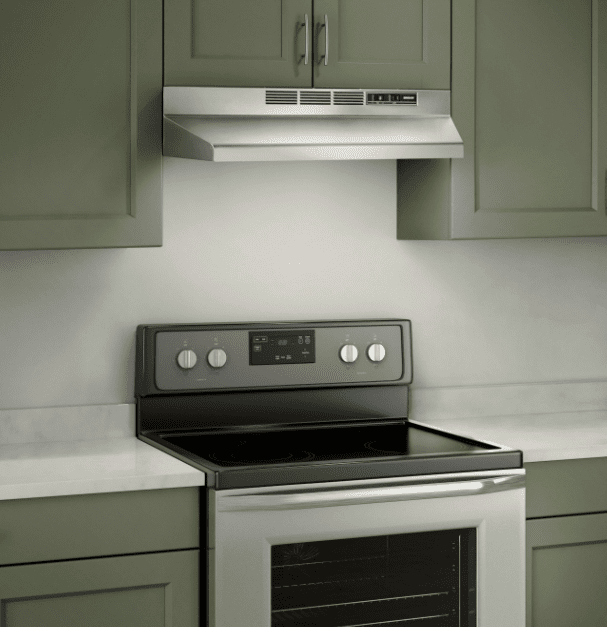 Size
The hood size you get should be determined by the size of your range; it should be as wide as the range or about 6 inches wider (3 extra inches on either side).
The standard width for range hoods is 24, 30, and 36 inches. However, there are larger ones with over 40-inch widths to even 60 inches, but these are best for very busy kitchens. 
Below is a table breaking down the recommended hood widths for different range sizes according to experts.
| | |
| --- | --- |
| Range Width (inches) | Recommended Hood Width (inches |
| 24 | 30 |
| 30 | 36 |
| 36 | 42 |
| 42 | 48 – 54 |
| 48 | 54 – 60 |
| 54 | 54 – 60 |
Also, consider the depth of the hood. Ideally, the range hood should cover the back burners and extend to at least halfway over the front burners. According to Whirlpool, the range shouldn't have a depth of more than 3 inches than the hood. 
Extraction Power
The hood's extraction power is measured in cubic feet per minute (CFM). The CFM is how many cubic feet of air the hood can extract per minute. These range from 200 CFM in the least powerful models and over 1000 CFM in the most powerful ones.
A number of factors will determine the hood power that's right for you. These include how much cooking you do, your type of range, and the size of your kitchen. 
If you do a lot of cooking on the stovetop or have a large household, then you should consider a hood with a higher CFM rating. However, if most of your cooking is done in the oven then you don't need a very powerful hood.

Gas stoves produce more heat and fumes than electric stoves, so they require more powerful hoods. The best way to know

how many CFM you need

for your electric range is to multiply your stove's width by 10. Therefore, a 30-inch electric stove would require a hood with at least 300 CFM.
If you have a gas stove, you'll need to calculate the total BTUs of heat produced by all burners and divide this by 100 to get the ideal hood CFM. The BTU (British Thermal Unit) is a measure of how much heat a burner produces and manufacturers often specify the BTU ratings in the range's user manual.
Therefore, if your stovetop produces a total of 60,000 BTUs then you'll need a hood with at least 600 CFM of power. Finally, the larger your kitchen, the more air the hood will need to clean, and vice versa. So, if you have a large kitchen, you'll need a hood with a higher CFM than if you have a compact kitchen.
Noise Level
While the sound level of other appliances is measured in decibels, you might notice that the sound levels of hoods are measured in sones.  The quietest hoods are rated at 6 sones or less while the noisiest have about 10 sones. I wouldn't recommend a hood with more than 10 sones as this is over 60 decibels.
Note that the more powerful the hood, the noisier it's likely to be. But, you can still find powerful but quiet hoods, but these are quite costly. To put this in perspective, here's a conversion table of sones to decibels. 
Your Budget
You can get range hoods from as little as $150 to over $2000. The price depends on the size, power, style, and brand of hood. If you're on a tight budget, you might have to trade off some features like power, which would be fine if you don't do a lot of cooking.
Hoods for less than $200 are basic and have venting systems with about 200 CFM. If your budget is between $200 and $500, you can get a 300 to 400 CFM hood. Also, factor in the cost of installation if you're not going to do it yourself.
Extra Features
Consider any extra hood features that you might find useful. You might prefer a hood with an over-the-range light if your kitchen isn't brightly lit. There are also models that can automatically turn on and off depending on the heat coming from the stove.
You might also prefer a hood with WiFi connectivity, allowing you to remotely operate and monitor it. These extra features will raise the price of the hood but are worth considering if you're not on a tight budget.
Hood Style
Consider a hood with a style that matches the rest of your kitchen's aesthetic. Hoods come in different colors and materials ranging from stainless steel to tempered glass, while some even have copper or wood-like finishes. 
Top Ductless Range Hood Recommendations
Selection Criteria
Power:

 I considered ductless hoods that have enough power in their category. I mainly looked for models with at least 300 CFM but considered higher extraction power in higher-priced hoods.

User reviews:

 I checked user feedback to find hoods that owners regard as effective. These models also have at least a rating of 4 stars out of 5.

Warranty:

 I considered brands that offer at least a one-year warranty.

Price:

 The models on this list are priced differently to offer an option to buyers with different budgets.

Main Features
This KitchenAid hood has a width of 30 inches.

Its height is 9 inches and its depth is 19.75 inches.

The hood has a stainless steel finish.

Its extraction power is 585 CFM.

The fan has 4 speeds.

It has a 65,000 BTU rating.

There are automatic on and off features.

It has cleanable filters.

The hood has LED lights underneath.

It can work as a vented or ventless hood.

The maximum sound level is 7 sones (68 dBA).
The KitchenAid KVUB600DSS has a 30-inch width, but there are 36-inch models available with similar features. KitchenAid tells us that it can handle up to 65,000 BTU of heat, which is more than enough for a typical session of cooking. 
Underneath the hood, there are two LED lights that brightly illuminate your cooking surface. You get your controls on the front edge, within easy reach when you're cooking. The hood can sense when the heat level from your stove rises, and will automatically turn on to keep the kitchen from getting stuffy. 
Sadly, with a maximum noise level of 68 dBA (7 sones) I think that it is on the louder side when working at full power. However, you won't always need to use it at maximum speed; at lower speeds, its sound level is just 44 dBA.
Pros
It can be converted into a ducted hood.

The hood has a powerful motor.
Cons
It can be a bit noisy at maximum speed.

It costs over $1000.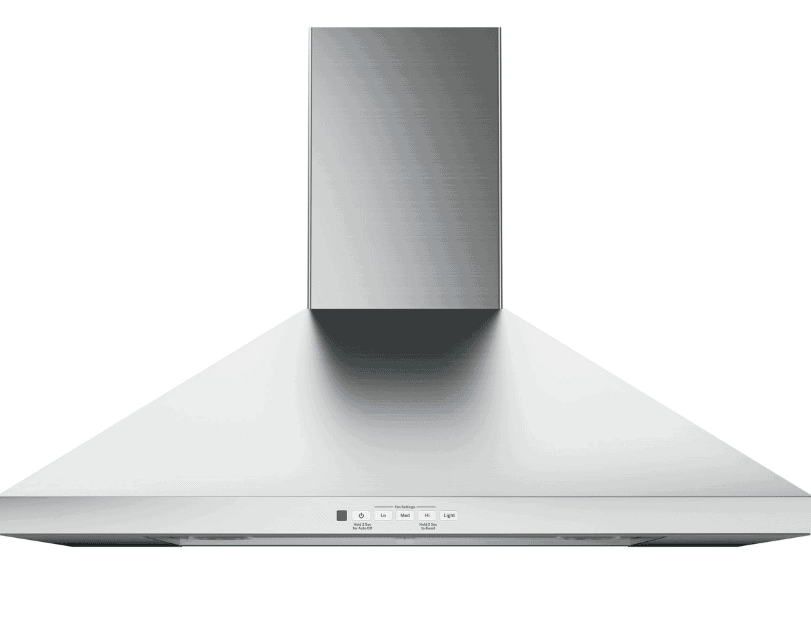 Main Features
This GE model can be used as a ductless or vented hood.

It has a width of 30 inches.

The depth is 18.5 inches and its height is 10 inches.

It has a chimney design.

There are two halogen lights underneath.

It has an auto-off feature.

Its filters are removable and dishwasher-safe.

The controls are backlit.

Its extraction power is 350 CFM.

The fan has 4 speeds.
This wall-mounted GE hood has a convertible design that allows you to use it either as a ductless or vented hood. However, unlike the KitchenAid model above, this one has a lower extraction power of 350 CFM. Still, this is nothing to sniff at; a typical home will find it more than sufficient. 
GE offers 4 color options with this unit: you can choose stainless steel, black stainless steel, slate, or black slate. This variety ensures that there's a style that fits your kitchen's aesthetic. There's an auto-off feature; you can preset the hood to turn off after 15 minutes. However, I wish that there were more duration options. You can also buy a remote control and operate the hood from afar.  
GE doesn't specify this hood's sound level but users have described it as relatively quiet.
Pros
It's reasonably priced.

There are four color options.
Cons
Its extraction power might be a bit low for heavy users.

Main Features
The Broan 41000 Series hood has a width of 30 inches.

Its height is 6 inches and its depth is 17.5 inches.

It has a ductless design.

There's a 2-seed fan.

This model has an incandescent cooktop light.

It has an extraction power of 190 CFM.

The hood uses replaceable charcoal filters.

You get a one-year warranty.
Broan's focuses on building appliances for the masses and this 41000 Series range hood is one of the most affordable in the market. With a price of less than $100, it's ideal for those who don't want to spend hundreds of dollars on a ductless hood. 
Granted, its low price means that there are several tradeoffs. For starters, this hood has a rather low extraction power of just 190 CFM. This is just fine for a small kitchen but will struggle to clear up larger kitchens. Also, its fan only has two speeds, so it can either be working at the max level or in the lowest setting. However, these are tradeoffs that you can live with at this price point. 
But, don't get me wrong, the Broan 41000 Series performs well in its class and offers added features like a cooktop light on the underside. 
Pros
The hood is affordable.

There are 4 color options: white, black, stainless steel, and bisque.
Cons
Its extraction power is rather low.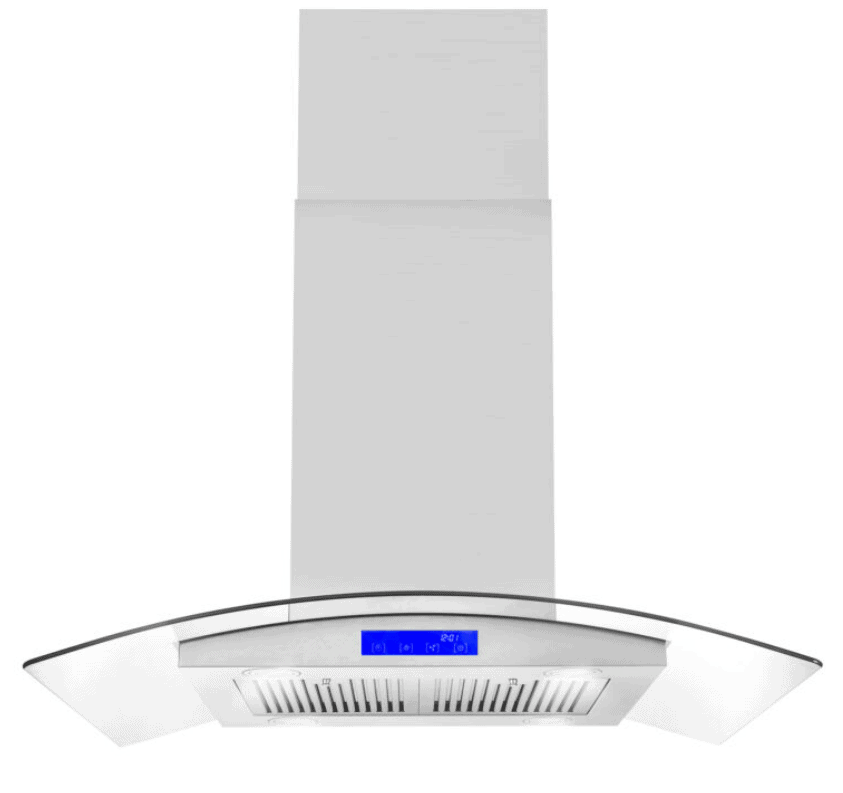 Main Features
The Cosmo COS-668ICS900 comes in either 30 or 36-inch widths.

It has a power of 380 CFM.

There are 3 fan speeds.

This model has digital touch controls.

It can be ducted or ductless.

Its sound level is 65 dB.

There are 4 LED cooktop lights.

It has stainless steel permanent filters.
This Cosmo hood has a sleek design that makes it feel more expensive than it actually is. In fact, it is priced lower than the GE hood that I've featured above – this one costs about $400. Meant for a kitchen island, this range hood can be either ducted or ductless. Within, it has a fan that yields up to 380 CFM of extraction power and 3 fan speeds. 
Its touch control panel has a lovely blue backlight that blends well with the stainless steel finish. But, what gives it its premium look is the glass canopy. Still, although this glass looks good, it is likely to attract grease and smudges. You'll need to regularly clean it to keep it looking fresh.
Pros
Installing the hood is easy.

It has a sleek design.
Cons
The glass attracts smudges and requires regular cleaning.

The filters aren't replaceable.

Main Features
This is a 30-inch range hood.

It has stainless steel filters.

The fan has 3 speeds.

Its maximum noise level is 3.5 sones.

It can be used as a ductless or ducted hood.

There's an LED cooktop light.

Hauslane offers a 2-year limited warranty.
Hauslane remains coy about the CFM of their range hoods, but they mention in their description that this model is ideal for light cooking. If you have a small household then this is one to consider. I recommend this model mainly because it's a silent hood, with an impressive maximum sound level of just 3.5 sones, which is roughly 46 dB. At its lowest power, its sound is barely noticeable – just 1 sone (28 dB).
It's also reasonably priced at about $200, but its premium look belies its affordability. Speaking of looks, this hood comes in stainless steel. Sadly, this is the only color option. Still, stainless steel blends well with most colors so it should fit in among the other appliances.
There are stainless steel filters that come with the UC-B018, but you'll have to buy charcoal filters separately if you want to use this as a ductless hood.
Pros
It is affordable.

You get a 2-year warranty.
Cons
The extraction power is only ideal for light cooking.
Best Ductless Range Hood Options: FAQs
Question: Does the CFM matter for a ductless range hood?
Answer: Yes, the CFM determines how much air a ductless range hood can filter per minute. A higher CFM means that the hood can filter more air, therefore making it more effective.
Question: How many sones is a quiet range hood?
Answer: A quiet range hood has 5 sones or less, which is about 50 dB or less. 
Question: How much CFM do I need for Chinese cooking?
Answer: Since a lot of Chinese cooking techniques involve high heat you'll need a range hood with a high CFM rating. For this type of cooking, it's recommended to get a hood with at least 900 CFM. 
Question: Is A Ductless Range Hood Any Good?
Answer: If you have a small kitchen or don't have a duct system in your home, then a ductless range hood is a good choice. These models are easy to install and you can do it yourself if you don't want to hire a professional. 
If you do a lot of cooking, consider a hood with a higher CFM rating. On the other hand, a hood with 200 to 300 CFM is fine for those who don't often cook. 
I recommend the Hauslane UC-B018 ductless hood if you have a small household and only do light cooking. This model is affordable and quiet, making it ideal for those with compact kitchens. 
If you do a lot of cooking, consider the KitchenAid KVUB600DSS. Although it's expensive, it is also quite powerful and durable.