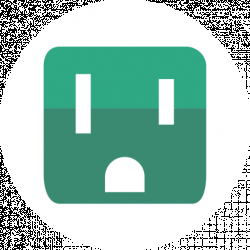 Latest posts by Appliance FAQs Team
(see all)
Electrolux is among the global leaders in the manufacture of home appliances. It's selling more than 60 million products to consumers worldwide every year. This is why Electrolux ovens are gaining popularity in the United States and globally.
Are you looking for a new oven? Are you looking for information to help you in this endeavor? If your answer to both questions is yes, then read on to know everything about Electrolux and its range of ovens. There is a list of the best ovens from different categories to help you with your buying decision. 
Our Top Electrolux Oven Picks 
Check out our Electrolux oven model guide below. It has information on the best of each type of Electrolux oven, their features, best alternatives, and other pertinent information.
Best Slide-in Induction Oven – Electrolux EW30IS80RS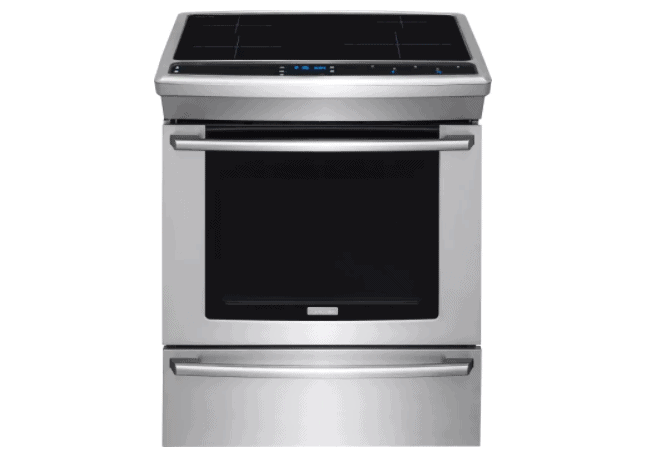 The EW30IS80RS is a 30-inch wide slide-in oven with an imposing profile. Much of its heft is a result of the touch control panel. 
There are four induction burners included on the smooth cooktop. If you didn't know, induction cooktops use electromagnetism to create heat between your burner and pot or pan. It's the process used to ensure you can cook your food on this oven. 
Unlike other induction ovens, Electrolux doesn't use circles to indicate where the burners are located. There are four crosses to show you where you place your cookware. Each burner has its set of touchpad controls. They let you adjust the increase and decrease of heat levels using some plus and minus buttons. 
On the downside, the controls are not expressively clear which burner they regulate. It can make a beginner cooktop experience confusing. To ensure you don't go through this read the oven's manual before you use it.
One of the things you notice is a labyrinth of oven control panels. They include eleven different cook settings. You may be overwhelmed when you try to access special features such as the convection converter and temperature probe settings. 
The convection converter is used to lower the temperature when you use the convection cooking mode. You need multiple button adjustments and pushes. A hard push is required for the control pad's buttons to respond.
There are two oven options for the Electrolux EW30IS80RS. One is a 1.4 cubic foot oven drawer at the oven's bottom. The other is a traditional 4.6 cubic foot oven. The smaller oven is used to slow cook, bake, or keep food warm. It's great for heating a frozen meal or cooking a lot of dishes simultaneously. 
Overall, it's a formidable match compared to slide-in induction ranges with similar features. Although the oven is pricier, it's a good investment especially if you value quick cooking on special occasions such as Thanksgiving.  
Pros 
Fast cook times

Convection oven with helpful cooking modes

Perfect Turkey mode for cooking a 13-pound turkey in 2 hours

Fast baking and oven times

Slide-in induction oven
Cons
Heavy-handed for broiling and convection baking

Sometimes the large touchpad control panel is unresponsive 
Best Electric Oven – Electrolux EI30EF45QS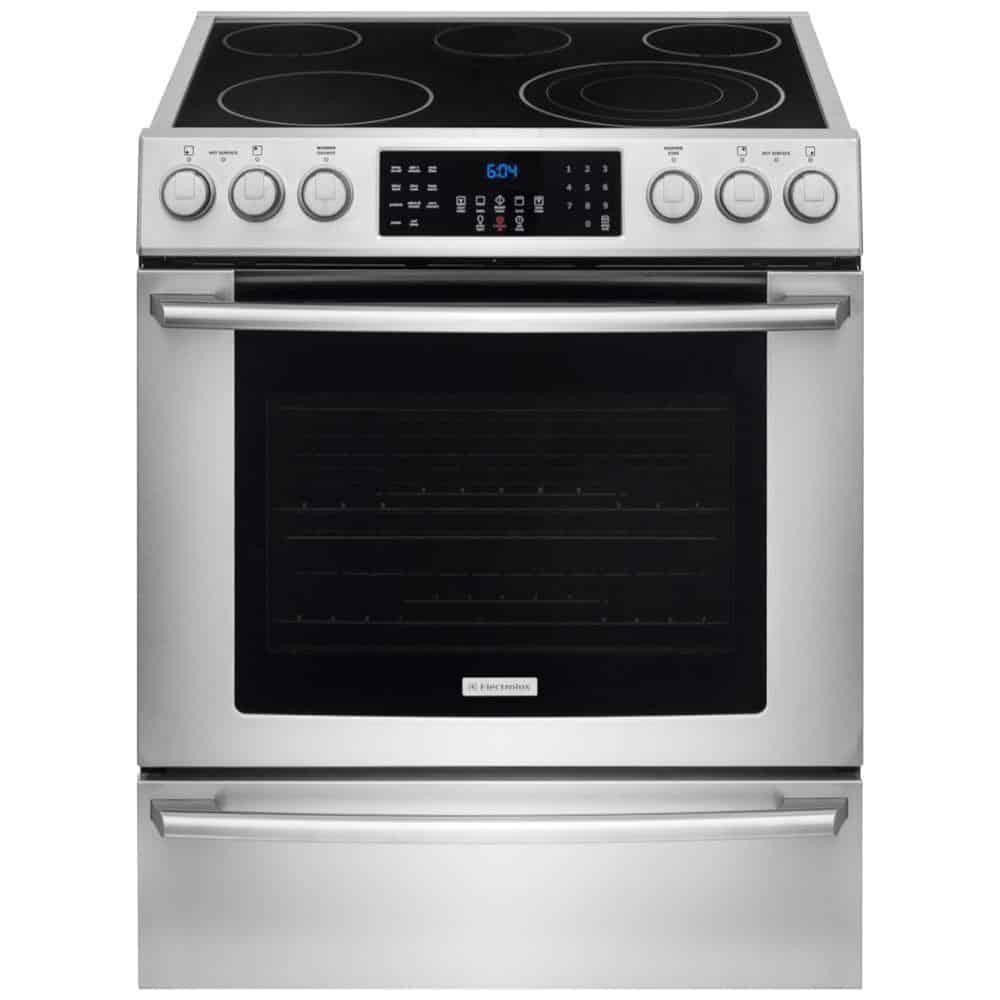 The features and design of the EI30EF45QS are about the same you get on other similarly priced ovens from Samsung and Kenmore. Made from stainless steel, this is a slide-in oven. Burner knobs and the control panel are on the front. It doesn't have a black panel letting you know when you have a backsplash that needs cleaning. 
Users stated you can accidentally press buttons on the control panel if you reach across the cooktop to turn on an overhead headlight. The solution may be the manufacturer should consider including a more tilted design on the control panel. 
This oven comes with a flat cooktop. It has four burners of which one can be adapted to heat pans of varying sizes. Additionally, a warming zone is included to keep cooked food warm or hot.  
At 4.6 cubic feet, the oven has an average size. It easily holds full-size roasting pans and baking sheets. The reason why the baking space is not larger may be the warming drawer below the oven cavity. However, the benefits of the drawer outweigh those of having a larger oven. 
You notice there are two convection fans built into the back wall. They circulate hot air inside the oven to ensure even heat distribution for more consistent cooking. It's best for roasting a piece of meat or baking food on more than one oven rack. The cost of the Electrolux EI30EF45QS may be the game-changer in your electric oven decision-making process.
Pros
Four electric burners

A burner that can accommodate various pot and pan sizes

Warming zone

Quick cook times

Great aesthetics
Cons
Average oven cavity size

Awkward control panel positioning
Best Steam Oven – Electrolux 60cm Steam Oven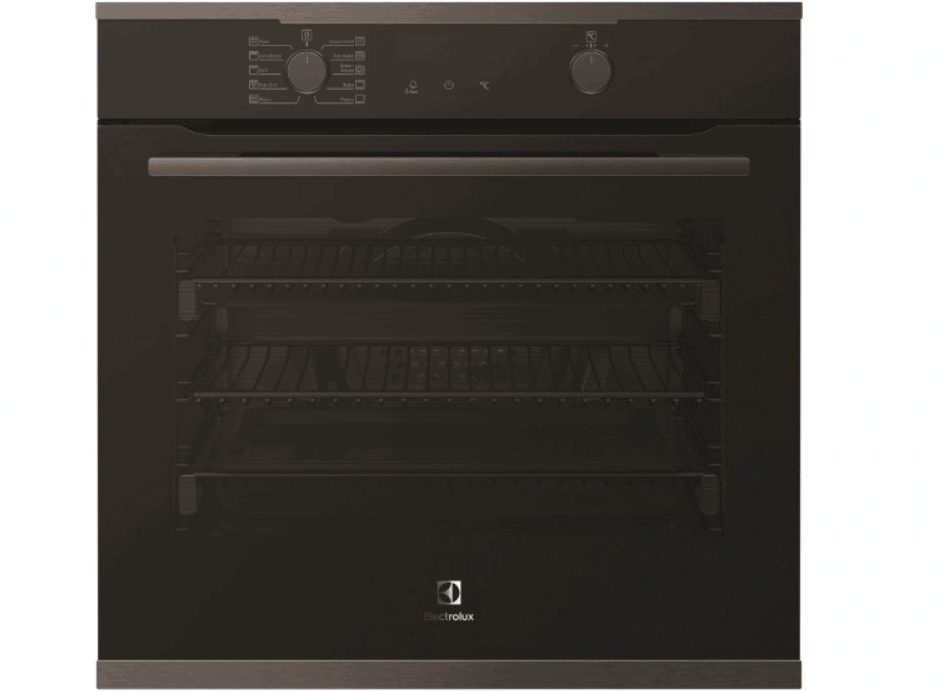 This steam oven from Electrolux comes with a Full Taste Steam Function. It lets you cook food to perfection. Furthermore, you don't have to use cooking oil when you cook with steam. It's a healthier option whereby nutrients and minerals in your meal are locked in. 
When you bake, moisture and flavor are retained resulting in a moist and delicious cake. The oven combines cooking with steam and traditional hot air. The result is brighter colors on your food and more nutritious, moist, and tastier food. 
The appliance has IOI (intuitive oven interface) touch controls making the oven user-friendly. You don't have to use the manual to operate it. There is an elegant full-color screen display for function and temperature feedback. It ensures you can easily program the appliance and check your cooking results. 
A Smart Food Probe is an accessory that is helpful when you are cooking roasts. Place the probe into the middle of the meat and let it measure the core temperature of your meal. The oven is automatically switched off when your food is ready. No more overcooked roasts!
A self-clean function is another great feature of this Electrolux 60cm steam oven. Set the function and let it work for a few hours. Finish up by wiping away the residue without exposure to harsh chemicals or hard scrubbing. This is a great option if you are looking for a multifunction oven that embraces healthy eating. 
Pros
Healthy steam cooking function

Full Taste Steam Function

Smart Food Probe for checking your food's core temperature

IOI (intuitive oven interface) touch controls

Self-cleaning function 
Cons
Pricey

It may be small for large kitchens  
Best Freestanding Gas Oven – Electrolux 30-inch Gas Freestanding Oven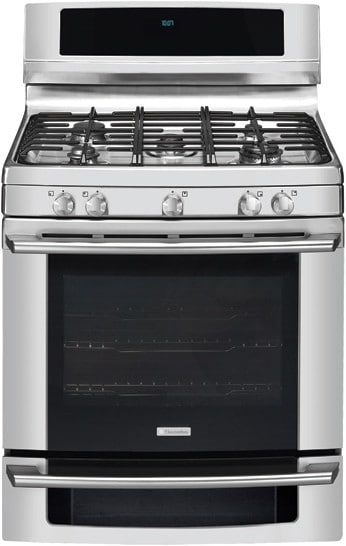 The first thing you notice with this gas oven is the large window, handle hardware, and inoffensive stainless steel and black finish. You use knobs to adjust the heat on the burners. On the upside, the use of knobs ensures all cooktop controls are not near the IQ touch display. 
The cooktop features a fifth oval burner and cast-iron grates. The fifth burner has 10,000 BTUs, enough for cooking bacon, pancakes, and other delicious griddle treats. As for the remaining burners, they have 18,000, 12,000, 9,500, and 5,000 BTUs. You can easily tackle anything from rapidly boiling water to simmering sauces. The oven is not as large as its competitors meaning your cooking capabilities may be limited. 
Considering it's blend-in-able and unobtrusive, this oven looks nice enough. It may remind you of traditional thermostats featuring a rectangular plastic slab. Additionally, it's easy to use. Minimal effort is required to adjust the burner knobs. The cast-iron grates can be removed when you are cleaning the appliance. A display with a full number pad is included to ensure you can enter specific timer and temperature instructions. 
Pros
Sturdy burner knobs

IQ touch controls in an intuitive control panel layout

5 burners

Removable cast-iron grates

Display with a full number pad
Cons
Takes longer to broil hamburgers

Other models at this price point have better features and performance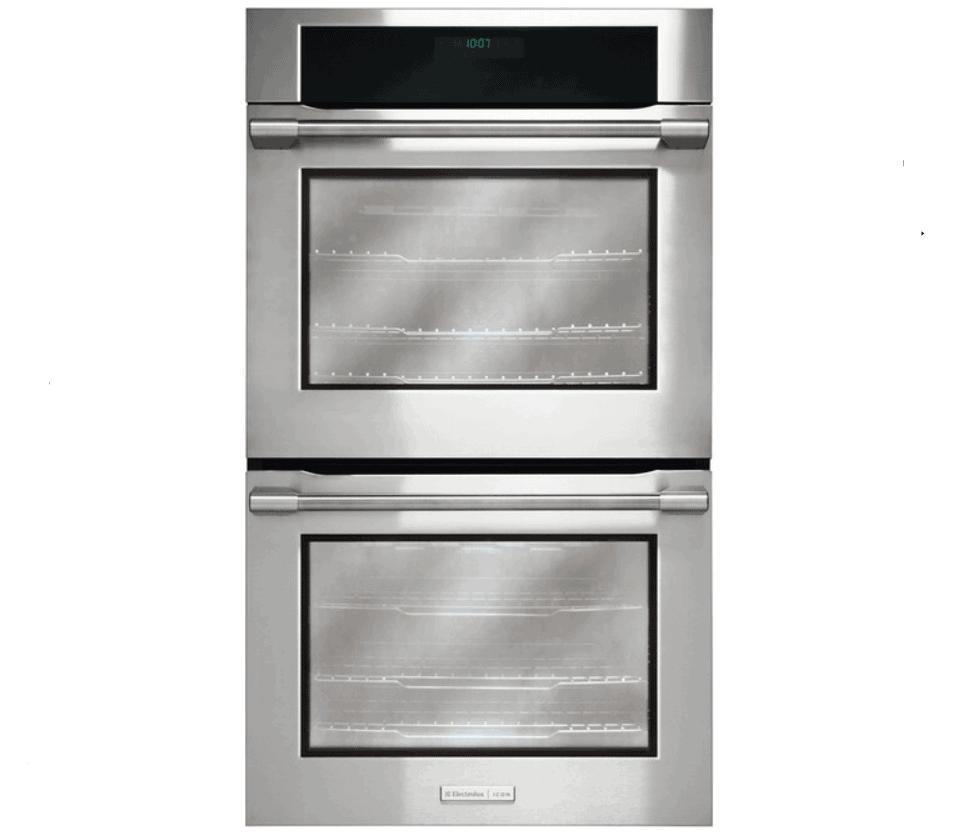 One of the best things about this model from Electrolux is the large cooking and oven space. It comes with two 4.8 cubic feet ovens and offers 9.6 cubic feet of cooing space. Wave-Touch controls are featured on this appliance. They come in a sleek control panel that illuminates with a single touch. It offers you more control when you are cooking. Once an option is selected, the panel fades away to show an uncluttered display. 
Using the oven is a breeze. It has smooth-glide oven racks. They are popular for their ball-bearing oven racks. These allow the racks to glide with ease. They can also extend fully to offer you effortless access. CustomConvect is another feature of this Electrolux oven. It comprises a third cooking element combined with a variable speed fan. This combination evenly distributes heat throughout the oven. 
The appliance also has a well-designed all-glass door. It allows you to see the progress of the food you are cooking. Additionally, it's easy to clean and cool to the touch. Lastly, it has luxury ramp-up halogen lighting for a visible and beautiful interior. 
Pros
Wave-Touch controls

True dual fan convection

Self-cleaning function

Double oven

9.6 cubic feet of cooking space 
Cons
Pricey

It may be large for the average kitchen
Electrolux Oven Buying Guide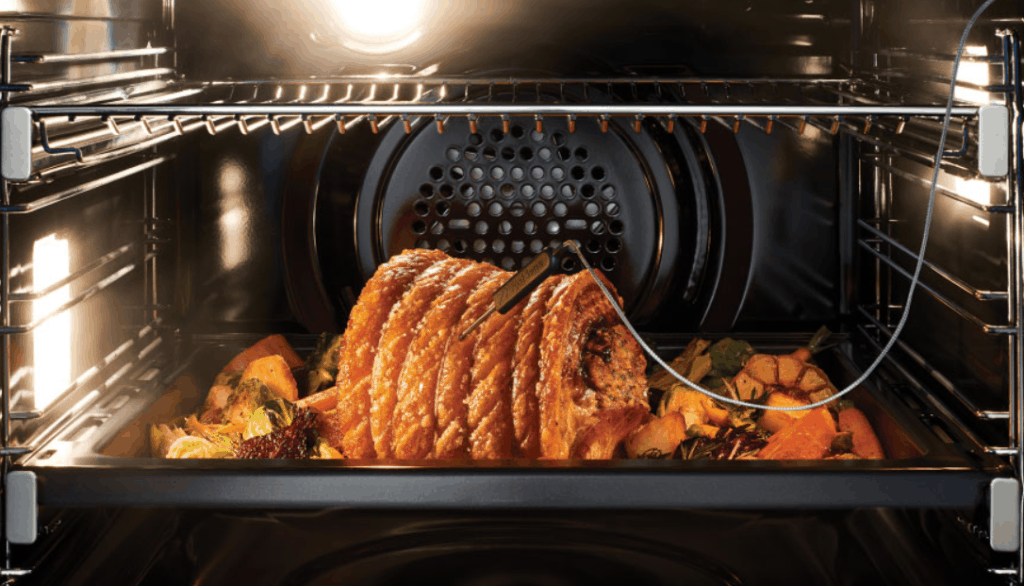 This buying guide focuses on the wide range of ovens available from Electrolux. It helps you know how to choose the best oven to suit your needs. If the above information did not give you what you need, read on to fill in the gaps. 
What do Electrolux Ovens have to Offer?
Electrolux has 16 different oven models in their range. The majority are built-in ovens. They come in 3 different types namely:
Steam ovens

Double ovens

Single pyrolytic ovens
For each of these types, we provide the features of every oven. The information will help you understand the three categories and how they work. In the end, you get a better understanding of how they work and what will best suit your needs. 
Single Pyrolytic Ovens
Pyrolytic ovens are the most numerous Electrolux's ovens. They account for 9 out of the 16 ovens in the company's oven range. These are ovens that come with a self-cleaning option. Self-cleaning works by using extremely high temperatures to turn leftover food and debris in the oven into ash. 
These types of ovens are consistently gaining popularity. The reason is they spare the owner the effort associated with manually cleaning the appliance. Additionally, the system maintains the longevity of the product. 
Features of Electrolux Pyrolytic Oven
Pyrolytic ovens from Electrolux boast the following features:
Split grill system

Twin fan system

Soft close door

Smart food probe

IOI (intuitive oven interface)

Full flex telescopic runners

Cool touch door 

Rotary knobs 
The self-cleaning function is a feature on all Electrolux pyrolytic ovens. It has 6 different models with varying price points. We have reviewed the best and most affordable pyrolytic oven on our top picks above. 
Are Pyrolytic Ovens Worth the Money?
Some people may not see the value of having a pyrolytic oven. For starters, such ovens from Electrolux are the most affordable in the market. They have the upside of having a minimum capacity of 80 liters. 
Pyrolytic Electrolux ovens have the option of double ovens. Such ovens have a capacity of up to 125 liters. You need to determine whether the convenience of more space (and the space of your kitchen) is worth the investment. If you plan on cooking large meals frequently an Electrolux pyrolytic double oven is a good investment. Otherwise, check out other smaller pyrolytic ovens that meet your needs and kitchen size.  
Double Ovens
Do you want to cook multiple dishes at the same time and don't mind cleaning your ovens manually? Then double ovens from Electrolux should be considered. They are a great option for people who enjoy entertaining guests frequently. There are four different options to choose from Electrolux. They all have the same features as pyrolytic ovens with the difference being they are all double ovens.  
Are Double Ovens Worth the Money?
Electrolux double ovens are priced at approximately the same price as their counterparts. The extra functions ensure this brand stays at more or less the same level as other counterparts. 
All double ovens have similar features and/or options. With Electrolux, you get the benefit of extra features at similar price points. For double ovens, don't go for any, including Electrolux, if you don't plan on cooking large meals regularly. 
Steam Ovens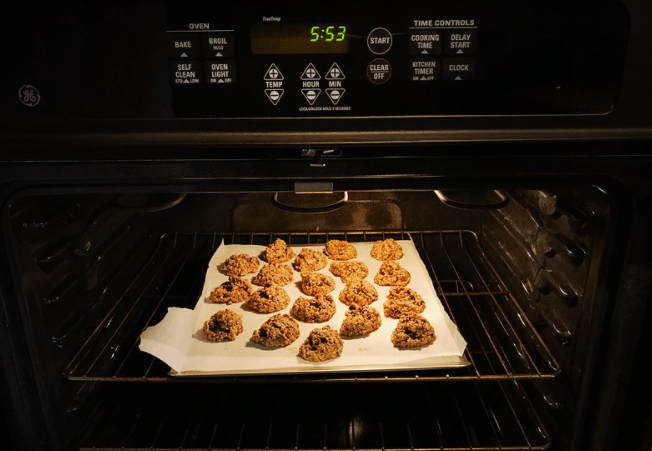 Any steam oven you come across in the market is designed to ensure you can cook healthier and more nutritious foods. To avoid your food drying out, such products cook with steam to ensure minimal moisture loss on cooked foods. During our research, we discovered there are three models of steam ovens produced by Electrolux. 
You have come across various features of double and pyrolytic ovens from the information above. Apart from these, steam ovens have:
Favorites program for automatically cooking your meals at the touch of a button

Fast Heat-up option to save time when pre-heating the oven

Pre-defined programs make cooking easier

Healthy steam cooking
Are Steam Ovens Worth the Money?
Are you concerned with healthy living and steamed food instead of traditional cooking methods? Then a steam oven is the best option to suit your preferences. Keep in mind you should only get such products if you are persistent when it comes to cooking steamed foods. 
Any make or model of a steam oven is marginally pricey compared to other traditional ovens. Do you plan on cooking for a small group of people who have both conventional and steam cooking preferences? If so, then you should consider an Electrolux steam oven as part of your choice. 
When it comes to pricing, the two available options of steam ovens from Electrolux are similar to other products in the market. On one side, you need to factor in the level of convenience they offer compared to their maintenance needs. Always remember steam ovens don't have anything close to other maintenance needs of traditional ovens. 
The two models offered by Electrolux ovens all have a self-cleaning mechanism. The inclusion of pre-defined programs gives them a plus over their competitors. Go for Electrolux steam ovens if you are sure you are ready to use a steam oven without features of the pricier brands like Smeg, Samsung, and Westinghouse. 
Electrolux Oven Alternatives
You may not find exactly what you are looking for from our list of Electrolux ovens above. That said, you can check out the list of the best Electrolux oven alternatives from our list below. They have been categorized to make it easy for you to browse through and make an informed decision. 
Best Electrolux Electric Alternative – KicthenAid KOSE 500ESS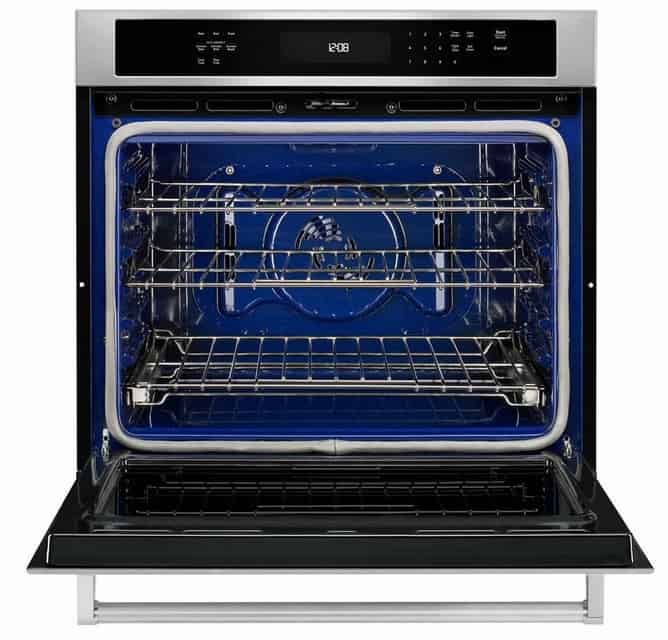 This is the best Electrolux 30-inch single electric wall oven alternative. It is good for convection roasting and baking. The construction is stainless steel with a touch glass control panel for adjusting the temperature. The bottom heating element is 3,000 W with the top one ranging 3,500 W.
One of the unique options is the self-cleaning option. You can clean the interior of your oven within a short time with just a touch of a button. Another unique feature is the bow-tie shape design. This is meant to ensure your food is not undercooked at the edges and the center. It has high ratings and reviews from people who have used it and that is why it is on our list. 
Pros
Customizable to match the height of your kitchen cabinetry

Convection baking and roasting

Bow-tie design ensures even heat distribution

Measures internal food temperature

Self-cleaning oven
Cons
No smart technology

Pricey
Best Electrolux Gas Alternative – PB911SJS in. Single Gas Wall Oven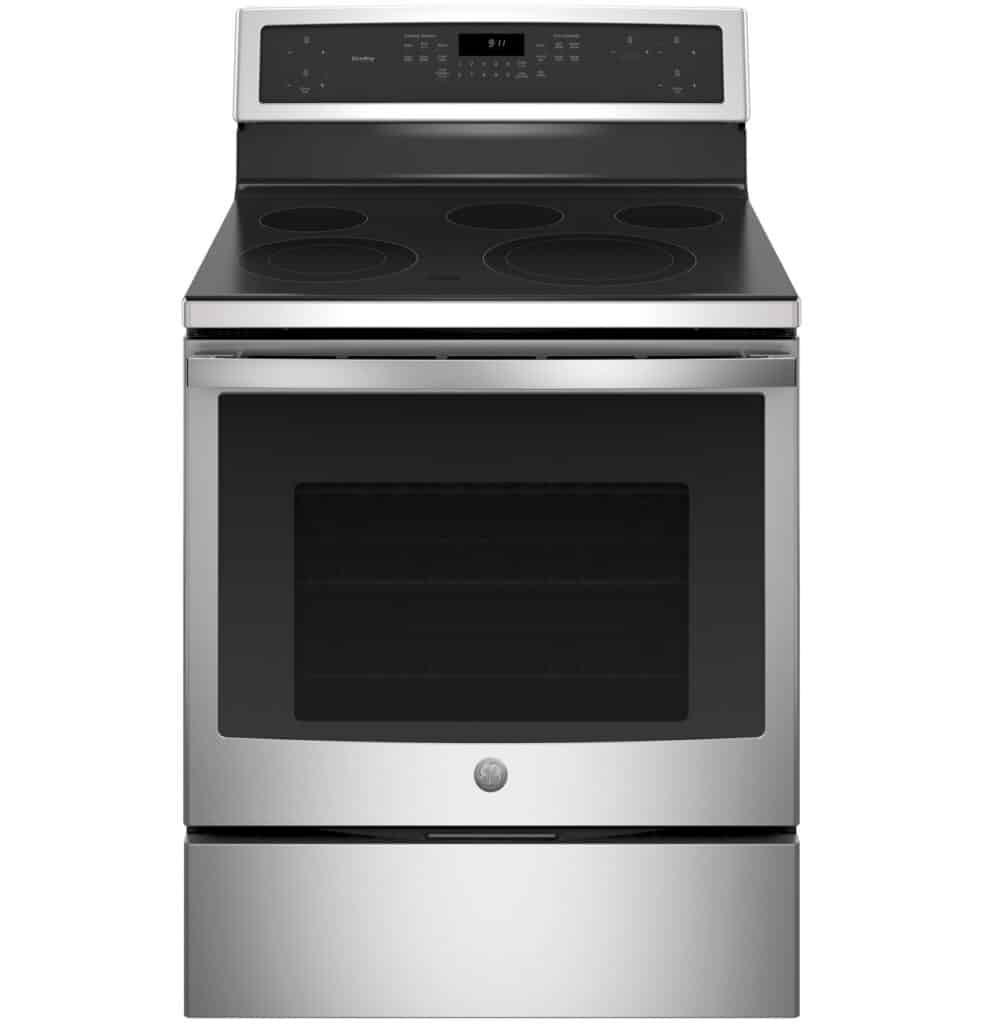 The first thing you notice about this make and model is it's pocket-friendly. Additionally, it is a spacious oven that is 30-inch wide and is freestanding with edge to edge cooktop. Another thing to note is it has five great features. 
For starters, you get a convection oven with a smooth cooktop. Both these features are not common with gas ovens at this price point. Secondly, it has a warming zone and storage drawers. Last but not least, it's a self-cleaning oven. A combination of these features makes it popular among users.  
Pros
Preheats fast

Large cooking area

Self-cleaning gas oven

Convection oven

Warming zone and storage drawers
Cons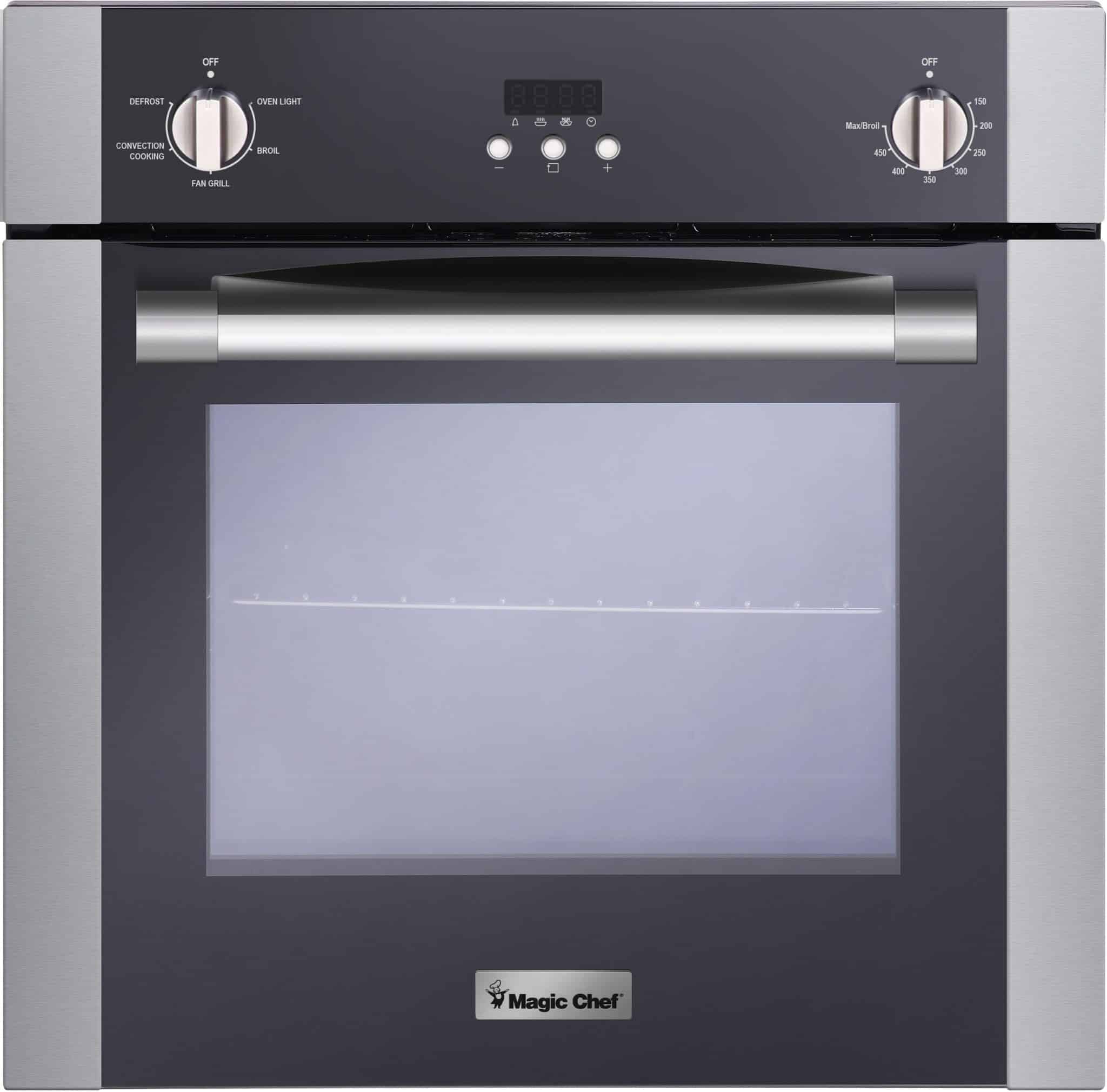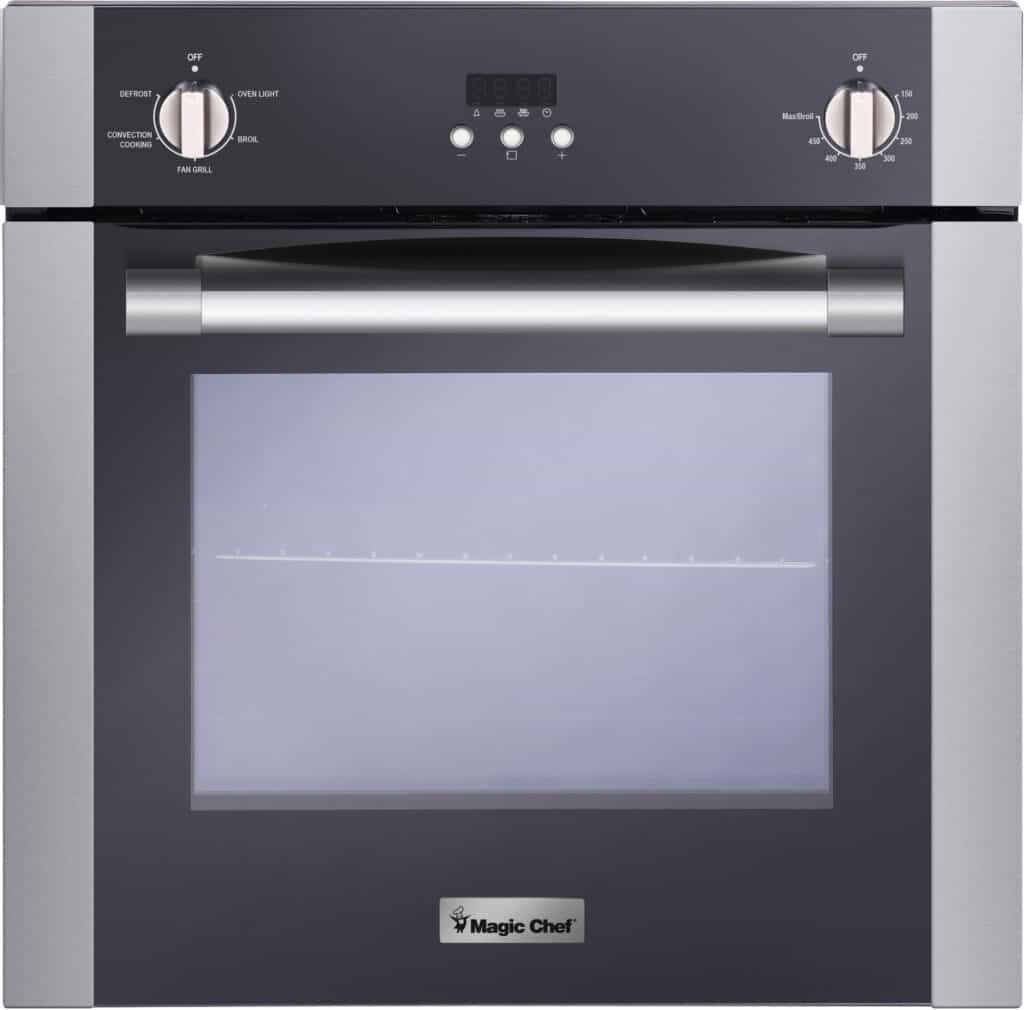 Most, if not all, budget ovens are between 20 and 26 inches. This means 24 inches is more than large enough for a budget oven. The Magic Chef MCSWOE24S is a 2.2 cubic feet and 24-inch single electric wall oven with convection technology. 
One of the unique features is it comes with ceramic burners. You may need an adaptor if your oven outlet is 110 volts, considering this model uses 240 volts. The exterior is sleek stainless steel and glass. For a variety of broiling and baking options, the appliance comes with two racks. These can be placed at five different positions.
Pros
Even oven heat distribution

Convection oven

Stainless steel exterior

Ceramic burners

Clear instructions manual
Cons
Poor quality oven door

Doesn't self-clean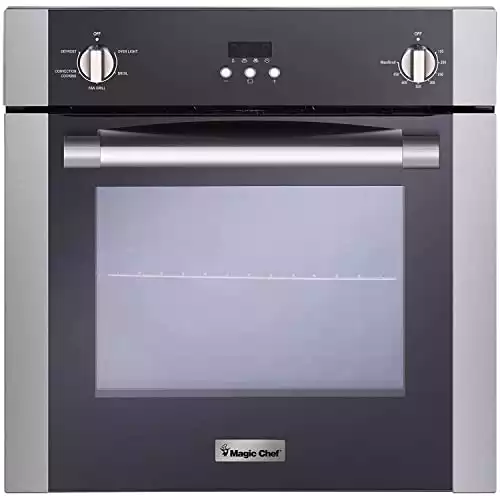 Magic Chef MCSWOE24S | Amazon
The Magic Chef 24 in wide wall oven offers maximum functionality in a compact space. Prepare family-size meals in its 2.2 cu. ft. capacity.
Buy at Amazon
We earn a commission if you make a purchase, at no additional cost to you.
11/04/2023 02:53 am GMT
FAQs
Answer: No! These ovens are built into a cabinet. Their sides don't have any paneling. If used as a tabletop, the sides get too hot, which may damage the appliance.                                          
Question: Do I have to Pre-heat the Oven before I Put Food In?
Answer: An oven cooks using convection and heating elements. They need to heat the air inside the oven. This means food gets cooked from the outside towards the inside. Pre-heating the oven is recommended for the best results.
Question: What is the Difference between Oven and Microwave Cooking?
Answer: Microwave ovens heat and cook food by passing microwave radiation through them. Oven cooking involves convection cooking which takes time. In short, oven cooking takes longer than microwave cooking.  
Question: How do I Know if the Temperature I Set to Pre-heat my Electrolux Oven has Reached?
Answer: There is an indicator light above the temperature selector. It comes on once you have preheated your Electrolux oven. It turns off when the desired temperature is reached. When it turns off, you can place your food in the oven.   
Bottom Line
Electrolux has plenty of ovens to choose from. Get the steam oven if your budget allows it and you prefer healthy cooking. The free-standing gas range works well if you are you are looking for a high-quality Electrolux oven. 
The list above gives you the best options of ovens from Electrolux you can buy. If you didn't find any that suits you, use the buying guide to make an informed decision. Additionally, we have a list of alternatives to ensure you make the right purchasing decision.