Latest posts by Barry Juma
(see all)
GE is known for making reliable appliances, but, unfortunately, the company's dryers don't share a similar reputation. GE dryers have ranked lowly in JD Power and Consumer Reports reliability studies, but their generally low price tag and compelling features still make them worth considering.
The company has close to 50 models of different fuel types, designs, and capacities. To help you narrow down your options, I've researched the main things to consider and put together this in-depth GE dryer model guide.
There's also a list of the top recommended GE dryers, as well as some alternative brands that you should consider when shopping for your next dryer. Read to the end to learn all you need to know.
Bottom Line Up Front
GE dryers are packed with handy features at an affordable price. You can find a model for as low as $540 or as much as $1400 – the company has something for everyone. If you're thinking about getting a new dryer, GE's models are worth considering; the thousands of positive customer reviews are a testament to the brand's value for money.
What to Consider When Buying a GE Dryer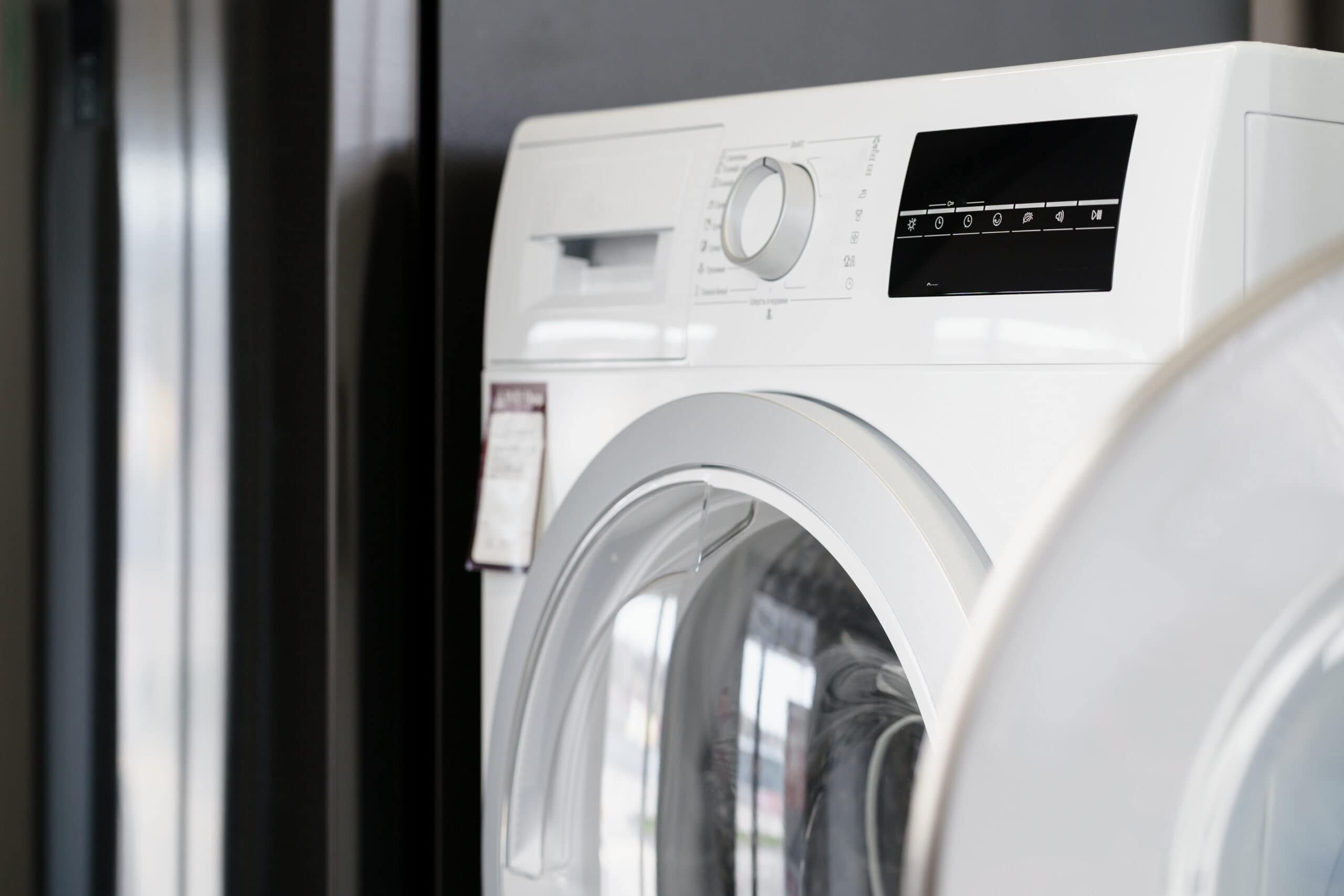 Dryer Style
Dryers come in two styles: top-load and front-load, designed to match a washer with a similar style. If you're only replacing your dryer, then you should consider a model that's similar in style to your current washer. However, if you're buying both a washer and dryer, you have the burden of deciding whether to select a top-loader or front-loader for both appliances. 
If you're curious about the pros and cons of top-load and front-load washers, take a look at this piece to find out more.
Which Style Should You Buy?
Buy a Top-load-style GE Dryer If:
You already have a top-load washer.

You don't want to stack your washer and dryer.

You want an inexpensive model.
Buy a Front-load-style GE dryer If:
You want to stack your washer and dryer.

You already own a front-load washer.

You want a smart GE dryer.

You have a budget of at least $1000.
GE also sells a third type of dryer known as the Spacemaker. These models are classified separately from the two main styles, designed for compact spaces. The GE Spacemaker is meant for those looking for a small dryer for their RV or cabin or to act as a secondary one for their home.
Fuel Type
You'll need to decide between a gas or an electric dryer. If there's a gas line connected to your home, then a gas dryer might be a better choice for you. These models are cheaper to operate, and they're more energy-efficient. Gas dryers also have a higher peak temperature, meaning that they get hotter than electric dryers. As a result, the cycles in gas dryers are shorter.
However, gas dryers are more expensive upfront; they cost about 100 bucks more than their electric counterparts. Also, you need a professional to install and maintain a gas dryer to minimize the risk of gas and carbon monoxide leaks.
Electric dryers require a 240-volt outlet to power them as opposed to gas models, which are plugged into standard 120-volt outlets. Consider an electric dryer if you don't have a gas line connected to your home. These variants are easy to install and maintain – you can even do it yourself. They also don't produce any fumes, so they're safer. 
Find out more about the differences between gas and electric dryers in this article.
Size and Capacity
The size of the dryer that you choose is dependent on your washer. Generally, you should buy a dryer that's twice the size of your washer to ensure that there's enough room for the heat to dryer the entire load evenly. If you're planning to replace your washer soon, consider getting a dryer size that will pair well with the washer you might buy.
GE sells dryers of various sizes, so you have a wide range to choose from. The company's smallest models are the GE Spacemakers, which have a capacity of 3.6 cubic feet. These are best for those who live alone or those looking for a secondary dryer.
For a household with one to three people, the company sells dryers with 4.1 and 4.3 cubic feet. GE's large-capacity dryers have capacities from 7.2 cubic feet to 7.8 cubic feet, and they are perfect for large households. 
Drum Material
GE's dryer models have drums made of either aluminized alloy, Alcosta, or stainless steel.
Aluminized Alloy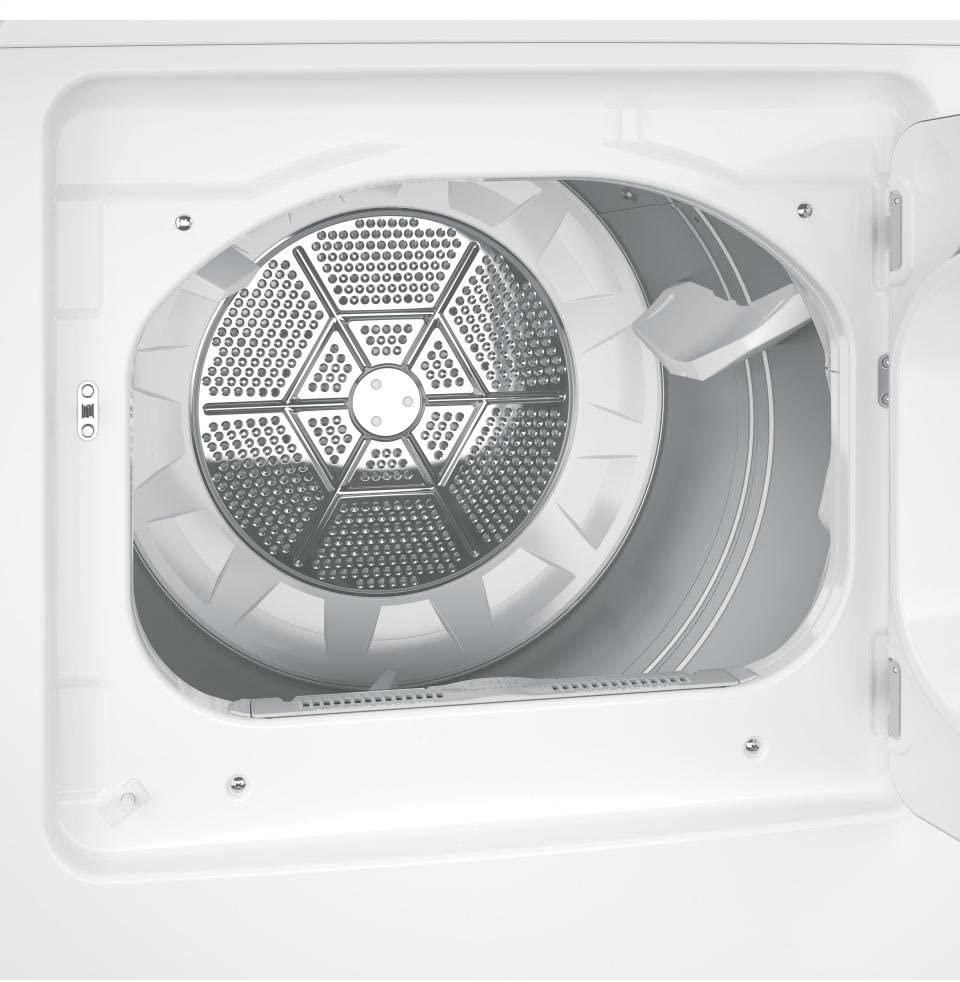 These drums are made of steel that's coated with an alloy. This material is more cost-effective than stainless steel while offering a great deal of durability. However, over time, the alloy coating is likely to start chipping, making the steel inside prone to rusting. The good news is that this isn't likely to happen for a long time.
Most of GE's dryers have this type of drum, and the company assures us that it is long-lasting yet affordable.
Alcosta
This is aluminum-coated steel, which is found in some of the company's mid-range dryers. The difference between Alcosta and the aluminized alloy is in the coating material; Alcosta has an aluminum coating while aluminized alloy drums are coated using aluminum combined with other metallic elements. 
Alcosta is slightly more durable than the former and is therefore slightly more costly. However, it's less expensive than stainless steel.
Stainless Steel
This is the best material for washer and dryer drums as it's highly durable. GE has reserved this material for its high-end models as it's the most costly material of the lot.
Smart Features
Consider whether you need your new dryer to have smart features. With WiFi connectivity, you can pair your dryer with your smartphone and remotely operate the appliance. You'll also receive notifications on your phone at the end of a cycle. 
GE has several smart dryers with built-in WiFI as well as models that offer the option of enabling WiFI connectivity by buying a separate module. If you don't have the budget for a dryer with built-in WiFI but would love to have the feature, consider one with optional WiFi. 
Door Swing
There are side-swing and hamper-style door designs in GE's lineup. The door swing you select should depend on your laundry room's layout. If you prefer a side-swing door, make sure that it's reversible to allow you to switch the side that it opens towards, depending on the placement of your washer – assuming you install the washer and dryer side by side. Ideally, the two appliances should open away from each other to make it easy for you to transfer the laundry from the washer to the dryer.
Vented vs Ventless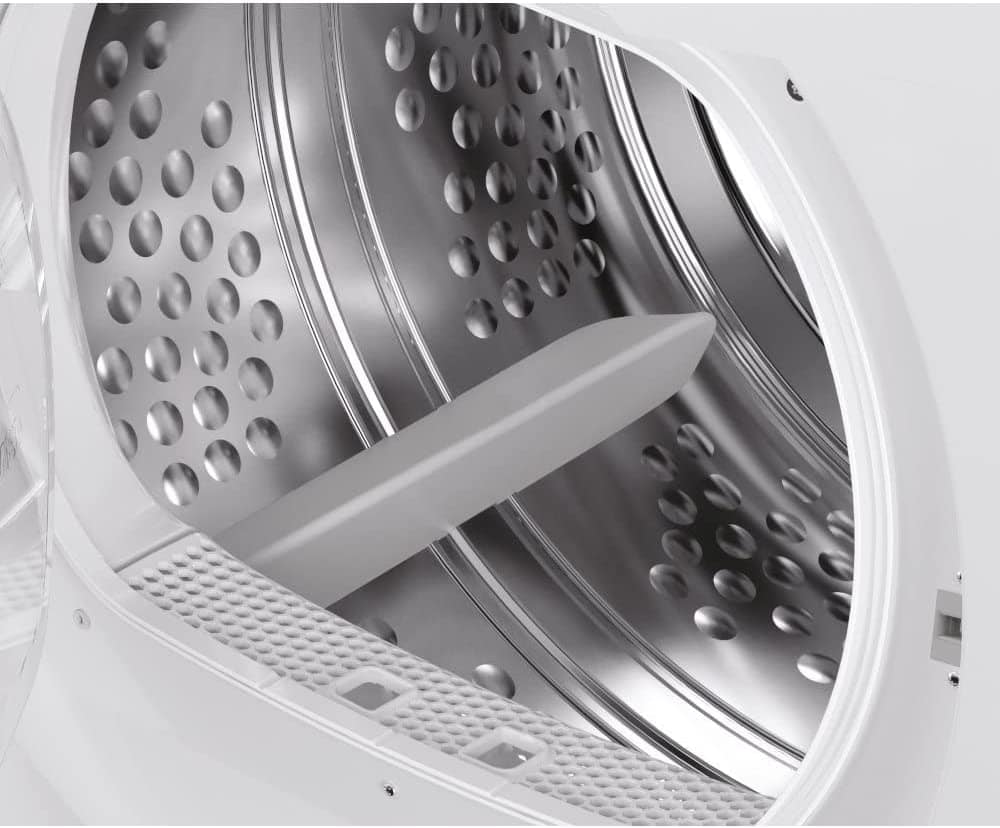 Vented dryers have an exhaust duct that leads to outside the home, through which exhaust gases are passed. In these models, the dryer draws in air from the laundry room, heats it, and then uses this heated air to dry the load. The humid air with evaporated moisture is then passed out through the vents. 
Ventless dryers come in two types; condenser dryers and heat pump dryers. GE only sells condenser dryers, so we'll focus this piece on these types. 
These dryers work by drawing in ambient air, heating it, then passing the heated air into the drum. The moist air is then passed to a condensation chamber where the moisture is cooled, and the condensed water is collected in a tray within the dryer. The same air is then reheated and passed back into the drum to repeat the process. Because of this, a vent isn't required. 
Note: You can only get electric ventless dryers. GE only has one ventless dryer model in its lineup.
If you'd like to find out more about ventless dryers, check out this article.
Which type should you get?
Consider a ventless dryer if you live in an apartment with no accommodation for venting. The models are best for small spaces, and they're also easy to move. However, ventless dryers have a smaller capacity than their vented counterparts, so if you have a large household and have space for a vent, consider the vented models.
Price (And Your Budget)
The lowest-priced GE dryer costs $650 – this is a top-load-style model with a simple design. If your budget is less than $1000, you can only get a top-load design; for the front-load style, you'll have to spend at least $1000 or more. 
GE's most expensive dryer costs $1400. At this budget, you can get a ventless condenser dryer or even a large 7.8-cubic-foot smart front-load dryer. Speaking of ventless dryers, the cheapest one costs $1200; it has a 4.1 cu ft capacity and a stainless steel drum.
Main Features of GE Dryers
Drying Cycles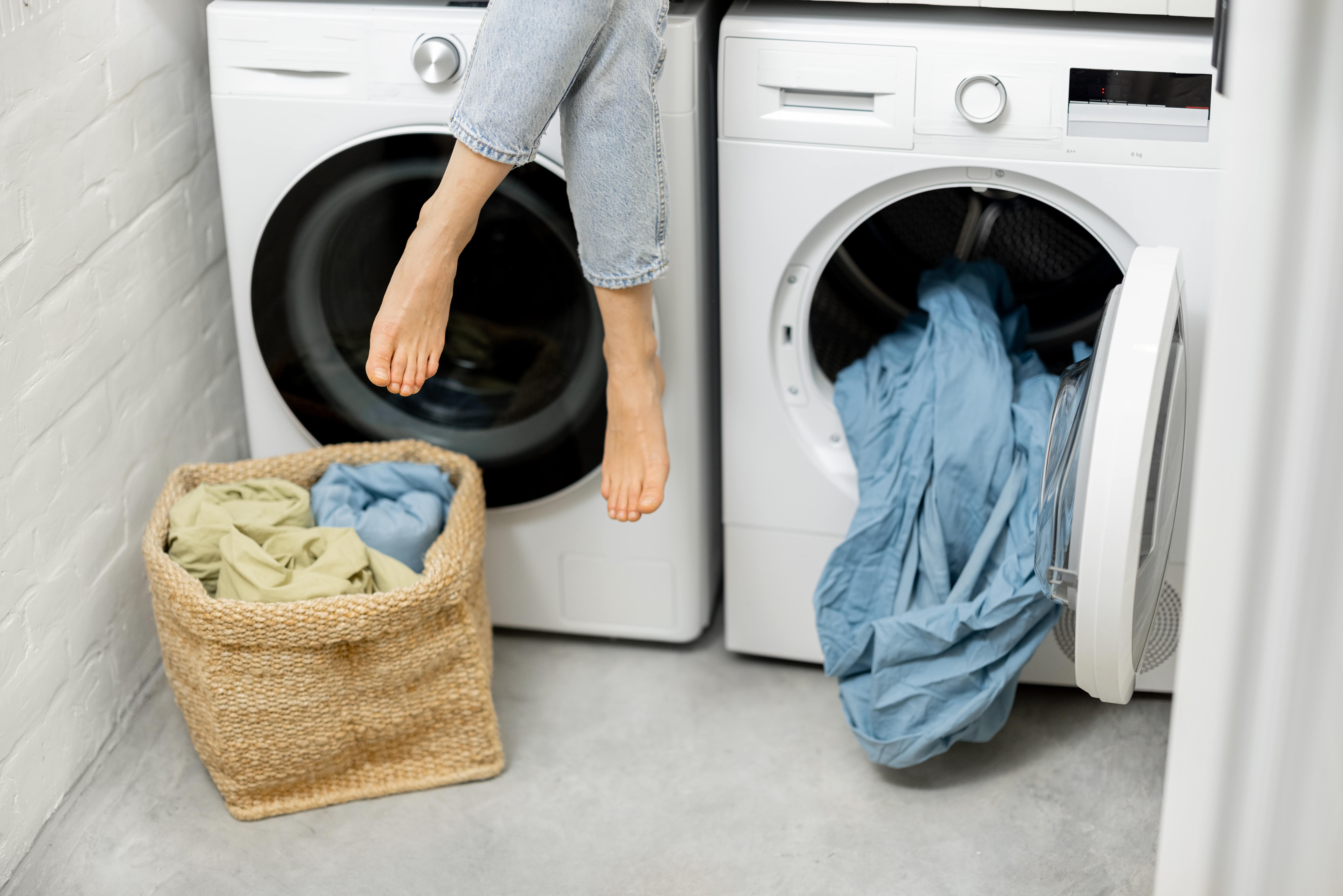 GE dryer models have both sensor-controlled and manually timed cycles. The sensor cycles make use of the moisture sensors to determine the duration of time that the cycle should run. 
The lower-priced models have just four cycles: Cottons, Casuals, Delicates, and Wrinkle Care. 
Higher-end models have over ten cycles that include steam and sanitize cycles.
Reverse-a-Door
This is GE's fancy branding for their reversible doors. Most of the company's side-swing doors can be reversed to open in the opposite direction. 
Washer Link
This is a smart feature that allows you to wirelessly connect your washer and dryer. This enables the washer to communicate the wash cycle settings, allowing the dryer to select the appropriate drying settings for the specific load.
Wrinkle Care
When this option is selected, the dryer will continue tumbling the load after the cycle ends to prevent them from creasing. If you plan to run the cycle overnight or when you're away from home, you can select this option to keep the clothes wrinkle-free until you're ready to take them out of the dryer.
Power Steam
This feature helps to remove wrinkles from clothes, eliminating the need for ironing. You can also use Power Steam to refresh clothes that have been in storage for a long time.
Recommended GE Dryer Models
Selection Criteria
Customer ratings:

 I considered GE dryer models with at least four stars out of five, based on the ratings on GE's website. The models also have at least 1000 reviews to ensure the objectivity of the reviews.

Features vs. Price:

 The recommended models have features that offer value for their price.

Performance:

 Based on expert and user reviews, I considered the GE dryer models that have proven to be top performers in their category.
GE® GTD42EASJWW 7.2 cu. ft. Capacity Electric Dryer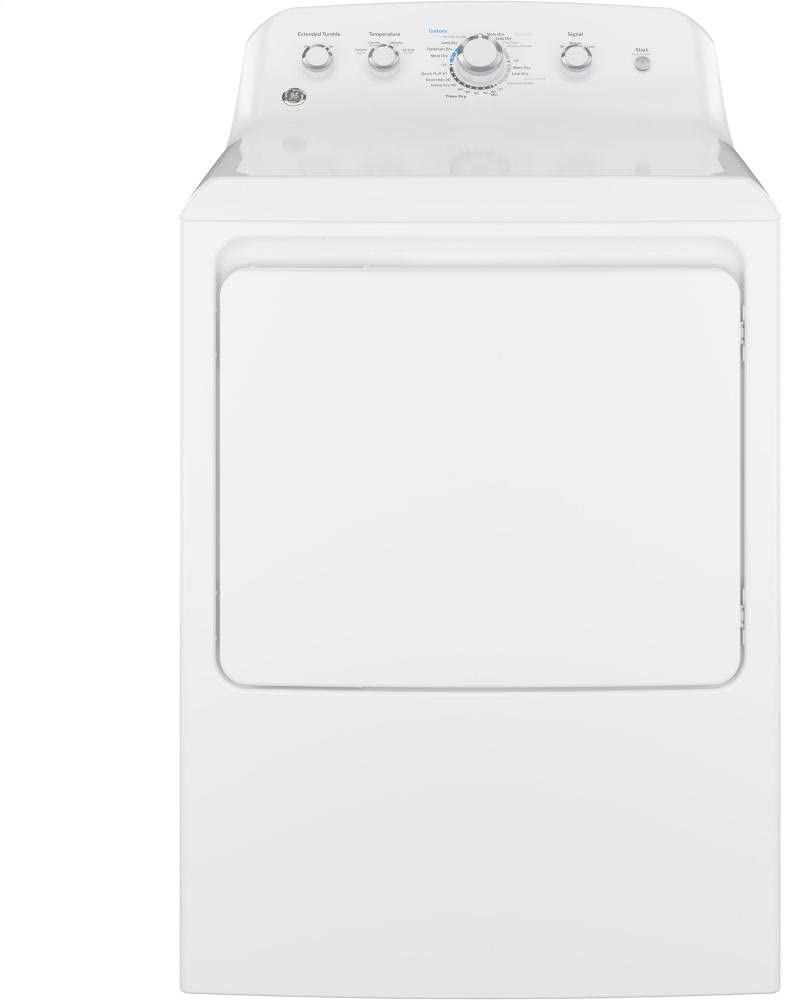 This is one of GE's most inexpensive dryer models, but it isn't the cheapest one in the company's line. Its looks reveal its low-cost stature; this dryer isn't for those looking for a sleek appliance.
The rather spartan design is made up of knobs in the control panel and a side-swing door with a pocket handle and exposed hinges. You only get one color option in this model – white. But at this price point, you probably don't care for aesthetics; you want a dryer that gets the job done. 
The GE® GTD42EASJWW is a workhorse with four drying cycles and four temperature levels. It also boasts the Wrinkle Care feature that's found in higher-priced models. Inside, you get GE's cost-effective aluminized alloy drum that the company assures us is durable enough to withstand the rigors of laundry day. And judging from the thousands of positive customer reviews, I'd say this is definitely an affordable GE dryer worth checking out.
Main Features
The GE® GTD42EASJWW has a capacity of 7.2 cubic feet.

It has a top-load style.

It has four drying cycles: Cottons, Casuals, Delicates, and Timed Dry.

There are four temperature options.

This dryer has an aluminized alloy drum.

This model has the Wrinkle Care feature.

There's a sensor-controlled Auto Dry feature.
Pros
The GE® GTD42EASJWW is an affordable dryer.

It's easy to use.
Cons
You only get one color option.

It looks a bit spartan.
GE® GTD65GBPLDG 7.4 cu. ft. Capacity Gas Dryer with HE Sensor Dry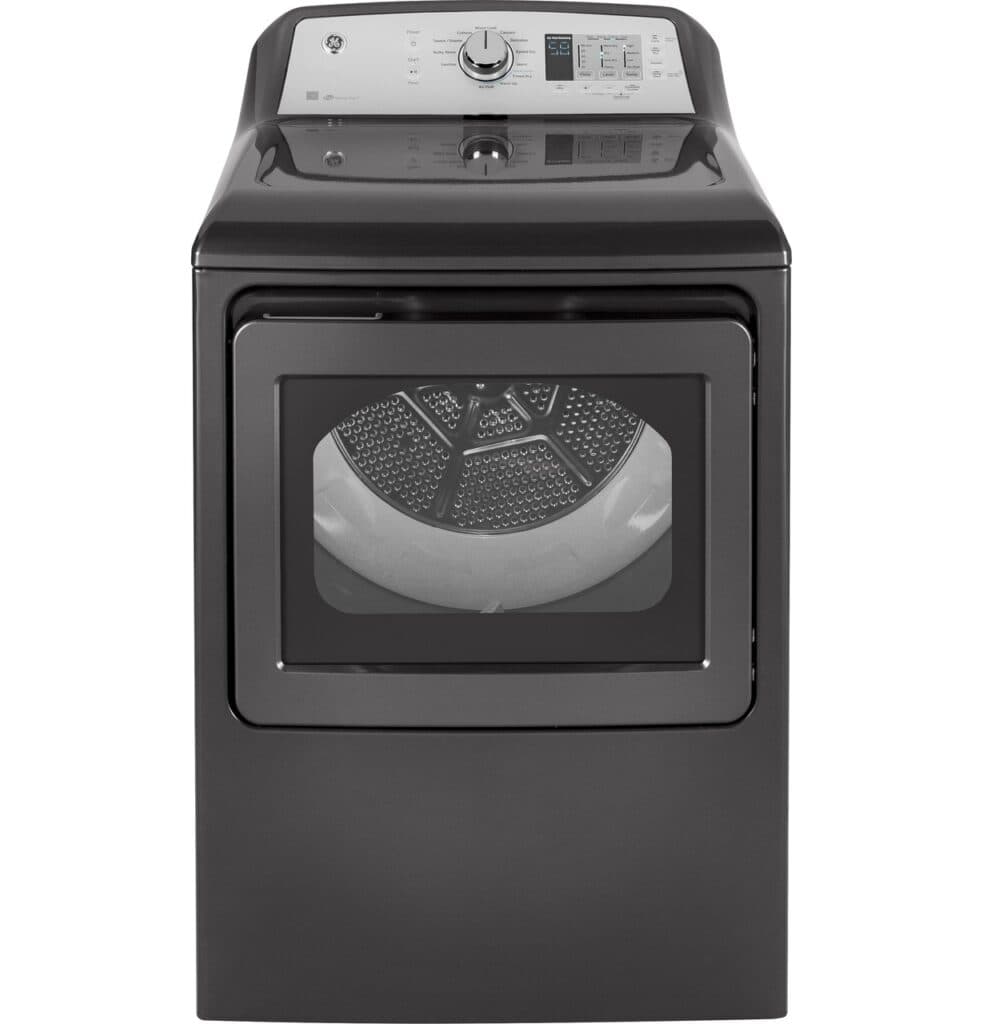 At the time of writing this piece, this GE dryer was the cheapest model, selling at just over $500. Its regular price of close to $1000 and its mid-range features make it easy to recommend at its present retail price. Unlike the model recommended above, the GE® GTD65GBPLDG attempts to look fancy, and it succeeds. You can get it in either gray or white; I think the gray option is the better one of the two, but that's just me. 
Its door has a window so you can monitor your load as it tumbles in the drum. Speaking of the drum, this model also comes with an aluminized alloy one, which is common among GE's sub $1000 dryers. You get 12 cycles in this model, with some of those powered by the moisture sensor. This dryer also has dual thermistors that ensure the temperature is at the perfect level each time. 
Main Features
The GE® GTD65GBPLDG has a capacity of 7.4 cubic feet.

It has a top-load style.

It has an aluminized alloy drum.

The dryer has 12 cycles.

It also has five temperature options.

This model has a moisture sensor and two temperature sensors.

It uses gas.
Pros
This dryer is affordable.

It is Energy Star certified.
Cons
Its low price isn't permanent.
GE® GFD55ESPNDG 7.8 cu. ft. Capacity Smart Front Load Electric Dryer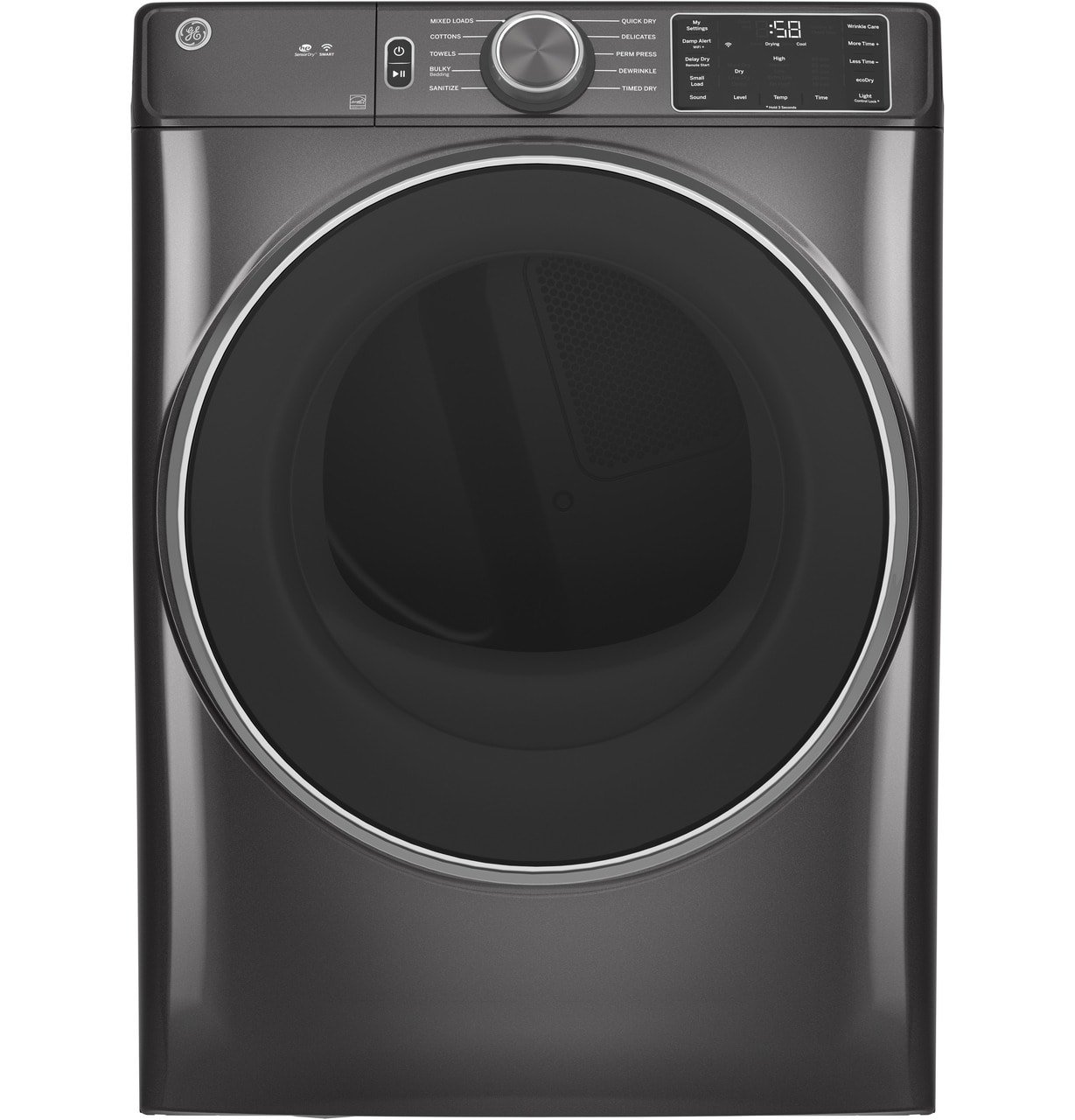 With slightly more than $1000, you can get this front-load-style GE dryer. It boasts a large capacity of 7.8 cubic feet, so large households will find this quite sufficient. It has a stylish look with a knob and a touch panel making up the control panel.
You'll get two color options, gray and white, with the gray (GE calls it diamond dray) as the fancier-looking one, in my opinion.
If you're looking for a smart dryer, this is one to consider as it has built-in WiFi. Thanks to this, you can use your smartphone to set one of its ten drying cycles and get notified when the cycle ends. And it goes without saying that this model has the sensor dry feature that's made up of two temperature sensors and a moisture sensor. It also has a vent sensor that monitors the airflow and alerts you if there's a blockage.
Main Features
This GE dryer has a capacity of 7.8 cubic feet.

It has an Alcosta aluminized drum.

It has four venting options: right, left, bottom and rear.

This dryer has a reversible door.

It has built-in WiFi.

There are ten drying cycles.

It has a capacitive touch control plus a cycle-selector knob.

There's a 23-minute Quick Dry cycle.

It is Energy Star certified.
Pros
The dryer has a sleek look.

It has smart features.

You get four vent position options.

It has a large capacity.
Cons
It has a lot of features that may confuse some users.
GE® GTD65EBSJWS 7.4 cu. ft. Capacity Electric Dryer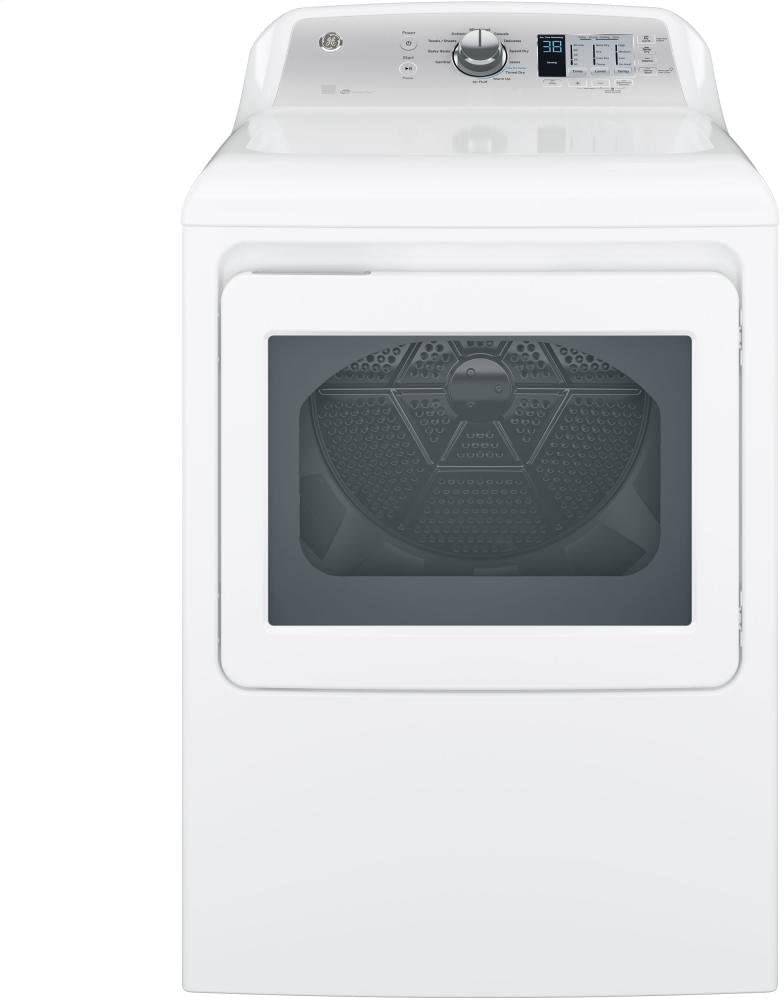 The GE® GTD65EBSJWS dryer looks almost indistinguishable from the GTD65GBPLDG model on this list but with some noticeable differences under the hood. First, this model is electric – consider the aforementioned model if you're looking for a gas dryer.
Second, this one only comes in white. Its door has a window, allowing you to stare at the load as it spins. The control panel has several settings that might have a bit of a learning curve for those coming from simpler dryers. However, once you get used to it, it's easy to use. There's a knob for selecting the cycle and buttons for setting the duration, drying level, and temperature.
This GE dryer boasts 12 cycles with both sensor and timed drying cycles from which to choose. It also has a damp alert that notifies you when a load has reached a certain level of dampness. 
Main Features
The GE® GTD65EBSJWS has a capacity of 7.4 cubic feet.

It has an aluminized alloy drum.

This model has 12 drying cycles and five temperature options.

It has the sensor dry feature.

This dryer also has the Extended Tumble option.

It's compatible with a vent of up to 120 feet (36.5 meters).

This model is Energy Star certified.

It has optional WiFi.
Pros
The dryer is energy efficient.

You can make it smart capable by connecting an optional WiFi module.

Its door is reversible.
Cons
It might be a bit confusing to use for those coming from simpler dryers.
GE® GFD85GSPNRS 7.8 cu. ft. Capacity Smart Front Load Gas Dryer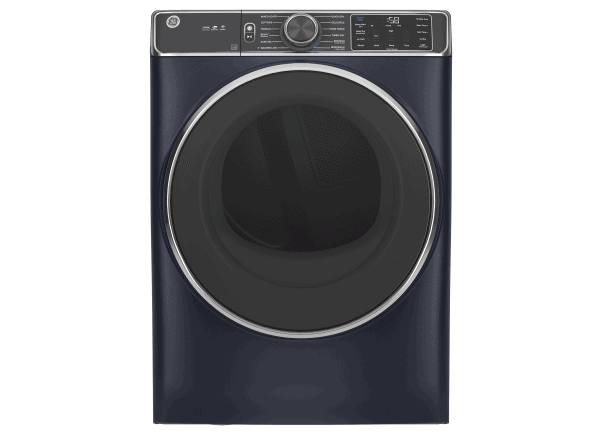 This is one of GE's most expensive dryers, selling at about $1400. Its premium price tag reflects in its looks and array of features. There are three color options to choose from: sapphire blue, diamond gray, and white. Inside, GE gave this model a stainless steel drum, one of a handful of GE dryers with this type of drum.
The GE® GFD85GSPNRS proves that it's worth its flagship status, with features like Powersteam, Wrinkle Care, and Damp Alert. This dryer also has built-in WiFi, and you can link this model to a compatible GE washer to synchronize their cycles.
All these features make it an excellent performer at not only drying but also removing wrinkles from clothes. And with cycles like EcoDry and Air Fluff, this is also one of GE's most energy-efficient dryers.
Main Features
The GE® GFD85GSPNRS has a large capacity of 7.8 cubic feet.

It has a stainless steel drum.

The dryer has 12 cycles that include steam and sanitize cycles.

It's compatible with a vent length of up to 90 feet (27.4 meters).

This model has built-in WiFi with the Washer Link feature.

It has Powersteam.

There's a 23-minute Quick Dry cycle.

The dryer has a reversible door.

It is Energy Star certified.
Pros
This is a stylish dryer.

It has advanced smart features.

The dryer has a large capacity.

You can attach a pedestal.

It has a stainless steel drum.
Cons
It has too many features that tend to confuse some users.
Alternative Dryer Models
Whirlpool WED49STBW 7.0 cu.ft Top Load Electric Dryer with AccuDry™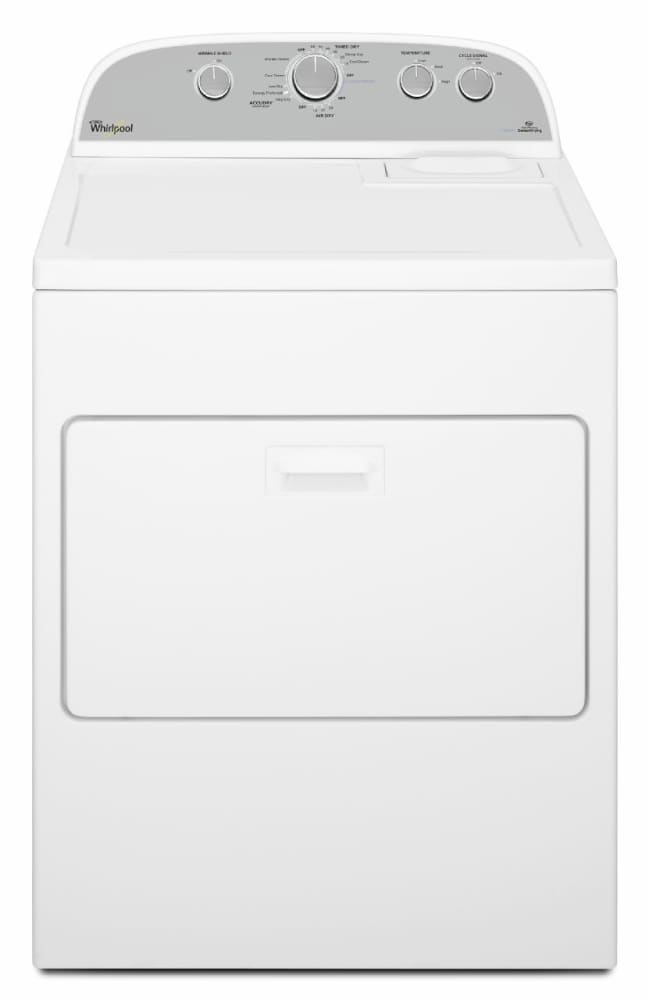 Whirlpool's reputation for reliability precedes this dryer, which rides on this popularity. It certainly deserves your attention if you're on a tight budget, but you don't want to compromise on quality. The Whirlpool WED49STBW model costs less than $500 at the time of writing, but I concede that this seems to be a temporary offer.
However, at this price, you get a lot of handy features, like Whirlpool's AccuDry, which is a system of sensors that make sure your load doesn't overdry. You also get Steam Refresh and Wrinkle Shield, both of which are hard to find at this price point.
However, there are some tradeoffs: this model has a powder coat drum instead of the more durable stainless steel, and it isn't Energy Star certified. Find out more about this and other Whirlpool dryers in this article.
Kenmore 65132 7.0 cu. ft. Electric Dryer w/ SmartDry Plus Technology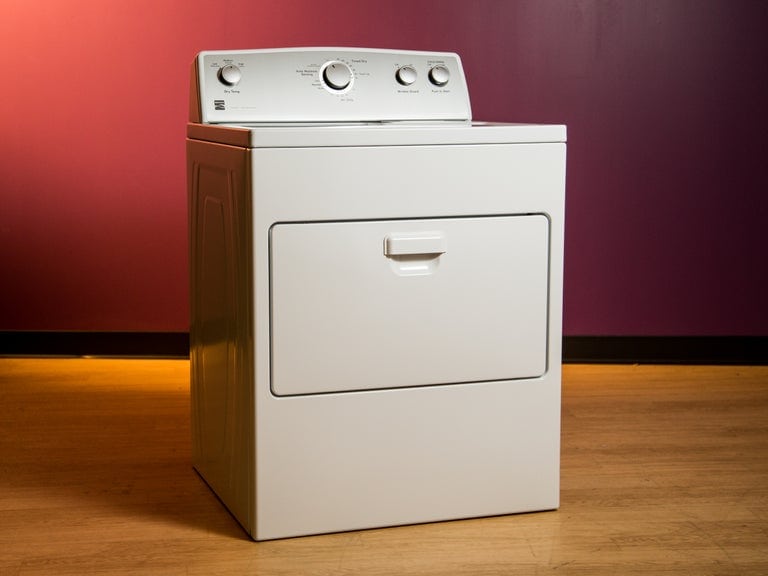 This dryer makes it to this list because of its cost to performance ratio. Costing about $750, it's one for those who don't want to spend $1000-plus on their next dryer. However, despite its price, you still get some flagship features like Smart Dry Plus, which is made up of temperature and moisture sensors. This model also boasts an Air Only cycle that, as the name implies, doesn't use heat.  
Inside you get a powder-coated drum, but this is expected at this price. There's an interior light here, ensuring you never misplace your socks again. The dryer's 7.0-cubic-foot capacity is also worth mentioning, although this is somewhat of a standard size for vented models. 
Are you interested in getting a Kenmore dryer? Check out this Kenmore dryer model guide to find out more about this brand.
Samsung DVE50A8500V/A3 7.5 cu. ft. Smart Electric Dryer with Steam Sanitize+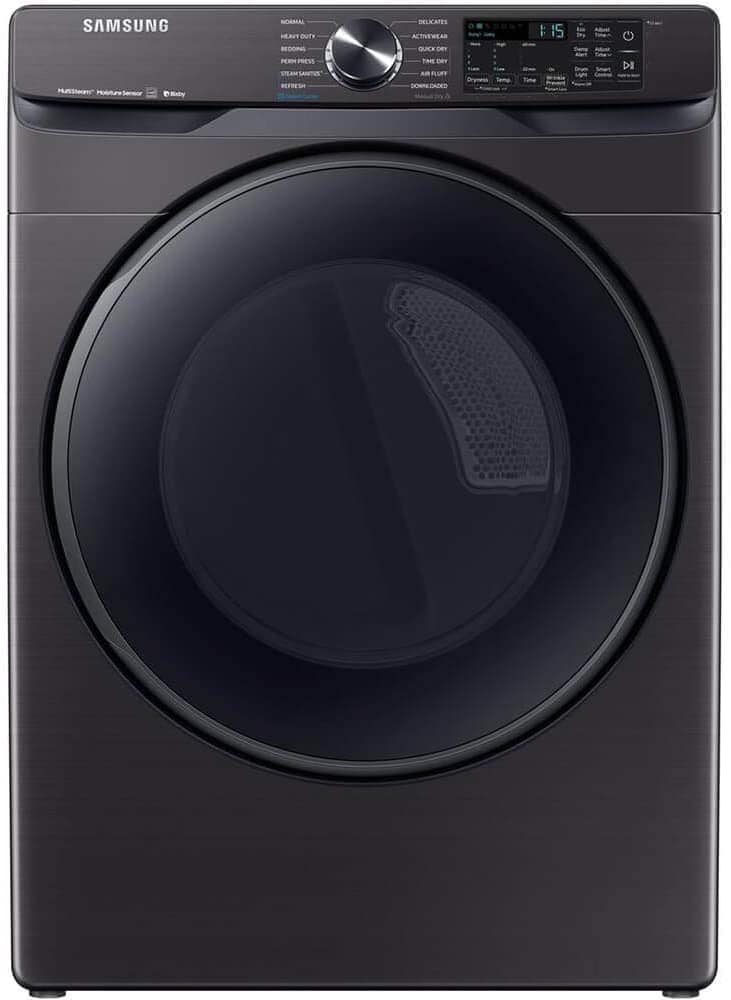 Samsung has mastered the art of making stylish home appliances, and the company's dryers are no exception. This model is a great GE alternative for those with a budget of over $1000. It looks as you'd expect a Samsung to look if you're familiar with this company's models. The brushed black finish is aesthetically appealing, but sadly this is the only color option available for this model if you prefer something a bit lighter. 
The dryer's 7.5-cubic-foot capacity makes it perfect for most households, and with 12 drying cycles and ten drying options, you can dry virtually any garment. 
As expected, Samsung loaded this model with moisture, temperature, and vent sensors that ensure the dryer are always working at peak performance. However, in case there's an issue, you can use Smart Care to troubleshoot the issue from your smartphone. 
Find out more about Samsung dryers in this article.
FAQs
Question: How Many Years Does a Dryer Last?
Answer: If well maintained, dryers are expected to last an average of 12 years. To ensure that it lasts this long, regularly clear the vent and empty the lint trap. Also, avoid overloading the dryer as this also shortens its life.
Question: When Should I Replace My Dryer?
Answer: Because dryers last about 12 years, consider replacing yours if it reaches at least ten years. Also, if the cost of repairing your dryer is almost as much as buying a new one, consider getting a replacement.
Question: How Much Should a Dryer Cost?
Answer: Dryers cost from about $400 to $2000 depending on the brand and features.
GE Dryer Model Guide: Bottom Line
Although GE dryers have gotten a bit of a bad rap for reliability, these dryers are well priced and offer some handy features. With a budget of as little as $500 or as much as $1400, you can get a good dryer that will last you a long time if well maintained. Take into account the considerations mentioned in this article, and you'll get yourself a GE dryer that's worth your money.
Are you still wondering how to find the best dryer for your needs? Check out this article.