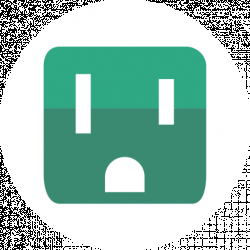 Latest posts by Appliance FAQs Team
(see all)
Dishwashers have come to make our lives easier. They are an essential appliance in many households. Can you imagine having to deal with a whole stack of dirty utensils from the previous night when your day is fully packed with responsibilities?
Unlike before, when we didn't have advanced technology and we had to do chores manually, dishwasher manufacturers have invested in a lot of research to ensure that users enjoy the convenience of using a dishwasher. One of the leading companies in the market that produce fantastic dishwashers is Samsung.
Samsung Dishwashers are widely used in most parts of the world. The brand has managed to make a name for themselves through constant improvements in its dishwashing models. Most consumers are also keen on buying the latest dishwashers with a wide variety of advanced features.
That is where the concept of value for money comes in. Dishwashing machines are expensive, and it's only fair to purchase them for that price if it's going to last you for a long time. Read on to learn more about the Samsung Dishwashing models and how you can make the right choice.
Is Samsung Dishwasher Right For You?
As a buyer, you need to do a lot of research before determining which dishwasher suits you. Lucky enough, we are here to give you all the tips so that it will be easier for you to make the right decision. Also, it will save you a lot of time, considering we do all the research for you and give you a plethora of options. Below are some of the benefits of using a Samsung dishwasher.
Reliability
You can never go wrong with a Samsung dishwasher when it comes to reliability. As much as the Samsung dishwashers are new in the market, research shows that their service ratio is around 10.33 percent, one of the highest service ratios across the well-known dishwasher brands.
You want to own a functional dishwasher that will serve its purpose for several years without you having to repair it every single month. Doing repair and maintenance every so often can be costly. That is why we advise you to buy a quality Samsung dishwasher to avoid inconveniences and unnecessary repair costs.
Advanced Technology
The other good thing about the Samsung dishwashers is that they continually improve their innovative technology and incorporate them in their new models.
This way, consumers can benefit a lot from the new features. One of the most sought features is Smart technology. These Wi-Fi-enabled dishwashers allow users to select a cycle from their smartphones or smart speakers, increasing efficiency and convenience. With all these advancements, why would you not invest in a Samsung model?
Which Features Should You Look Out For When Choosing A Samsung Dishwasher?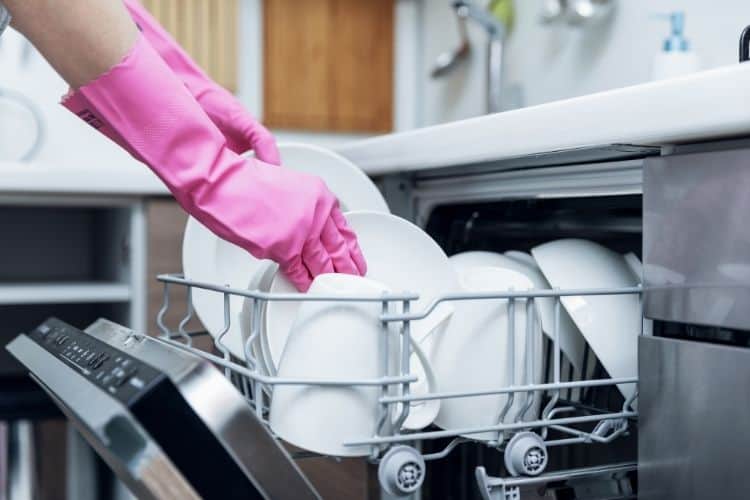 When it comes to buying a Samsung dishwasher, you may get overwhelmed by the excitement to own a new dishwasher, as well as the fear of not knowing which features to look out for. How do you know which features you should look out for? You need to learn the tricks if you want to secure yourself a good dishwasher. Look out for the features below when choosing a dishwasher.
Interior Capacity and Durability
 We highly recommend picking a dishwasher with stainless steel tubs because they are more durable and run quieter. No one wants to have a dishwasher that produces too much noise in the house. The old dishwashing models would do the job, but they would make a lot of loud noises when in use due to the 80dBs sound levels.
Nowadays, manufacturers have tried to reduce the dBs, which means that it is now possible to have a dishwasher that runs more quietly. However, it is good to note that the lower the DBs in the dishwashing machine, the quieter it is, which translates to a higher price.
Unlike plastic tubs, stainless steel tubs can eliminate major leaks and won't crack over time. This ensures the durability of the dishwasher. The other important factor to consider is the internal capacity of the machine. How many dishes do you plan to fit in the dishwasher regularly? If you have a large family, then you will need a dishwasher with a larger capacity.
You, therefore, need to be keen on the dishwasher's ability to avoid getting disappointed. Ensure you get a dishwasher model that offers a third rack that comes with the standard rack. This way, you will be able to take advantage of every inch of the dishwasher interior.
Cleaning Features
The other key features to focus on are the cleaning features of the dishwasher. Besides, the main reason you are purchasing the dishwasher is to help ease the cleaning tasks. It is crucial to research the Samsung brand's customizable cycles and see which features make your work easier.
Know which dishes you want to clean because dishwashers will come in different cycles designed to clean different dishes. It would help if you also got an option that allows you to do shorter cycles since this will help you save on energy costs.
It is essential to learn how to save on energy when you have a dishwashing machine. Otherwise, your electricity costs may shoot up and become unsustainable in the long run.
AutoRelease Dry Feature
The other exciting innovations to look out for include the autorelease dry feature. This technology is designed to improve the drying performance of the dishwasher. It allows the dishwasher to automatically open its door during the last 15 minutes of the cycle. This happens when the temperatures have dropped below 122 degrees Fahrenheit and will promote airflow within the dishwasher.
Note that when the Autorelease dry has opened the dishwasher's door, you cannot close it for approximately two minutes. If you try to close it at this time, you may end up damaging the dishwasher. Take note of this to avoid damaging your dishwasher.
How Can You Load Your Samsung Dishwasher For Better Cleaning?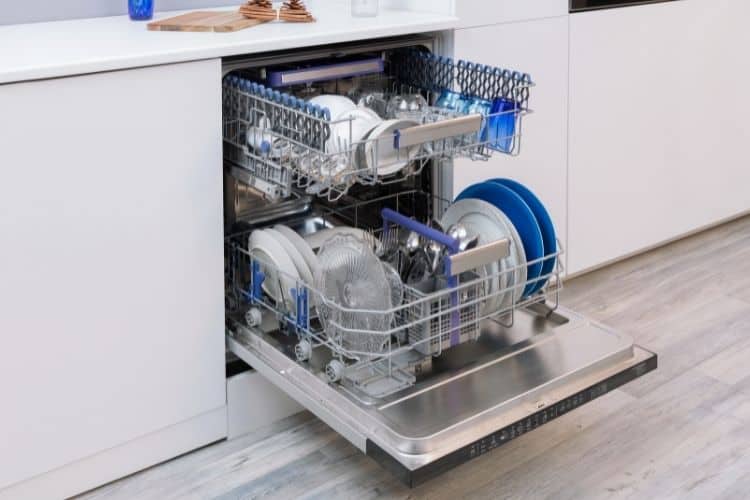 If you intend to buy a Samsung dishwasher, you must learn how to load the dishwasher. Loading the dishwasher can be tricky, especially if you have never done it before. However, learning how to do it will go a long way in ensuring that the dishwasher works more efficiently since it improves the cleaning and drying performance.
When you go window shopping, you will realize that each Samsung dishwasher comes with loading instructions in the user manual. Below are some of the general loading guides you need to know. The first strategy to ensure that you do your loading well is to plan. Remember that your optimal loading pattern will depend on the number of dishes you have and their size.
You need to analyze your utensils before you start loading them into the dishwasher. It is also essential to use all the dishwasher features to learn what will work best for each load. Read through the user manual if you want to learn more about the Samsung dishwasher features. This ensures that you make use of each feature and increase efficiency.
You also need to clear the utensils of any food debris, including bones and any other kind of dirt. Failure to do this could trigger machine malfunction. You may also notice that the dishwasher emits a lot of distractive noises. Clear the debris to avoid damaging the dishes.
The other trick is to face the dirtiest part of the dish towards the center of the dishwasher to ensure the water can spray up into it. Make a point of ensuring that there is enough space between the dishes as well. It is also essential to understand how best to use the lower and the upper racks well. If you only want to wash smaller dishes, use the upper rack and empty the bottom rack.
For the larger items, avoid using the upper rack and use the bottom rack instead. If the dishwasher model that you have has a glass support rack, use it to clean stemware. Also, note that you should load knives with their handles up and spoons and forks with their handles down when loading cutlery.
Samsung Dishwasher Loading Mistakes To Avoid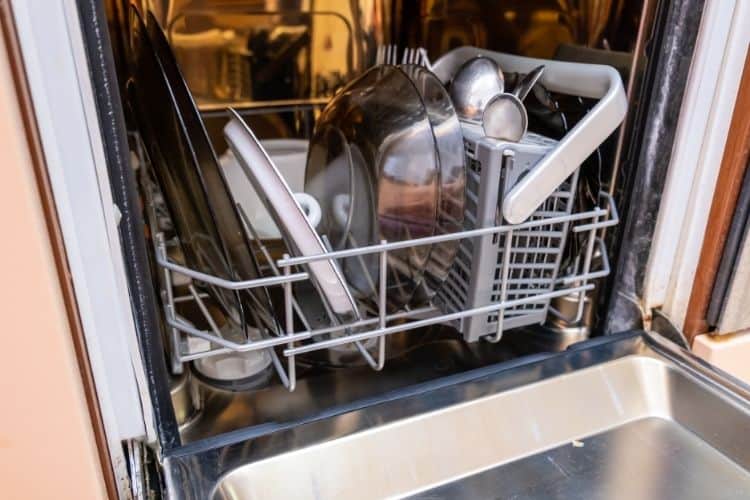 As much as learning how to load the dishwasher is essential, it is equally important to understand the things you should avoid when loading the dishwasher. Below are some of the things to avoid:
One common mistake that dishwasher owners make is to rinse the dishes before loading. You don't need to rinse the containers before loading them because the dishwasher has been designed to handle the grime. A little grease helps the detergent to work better. Allow the dishwasher to do its job after you have removed all the debris that could interfere with the washing process.
Also, note that overloading the dishwasher will not be beneficial to you in the long run. Contrary to the belief, overloading doesn't lead to cleaning more dishes. Instead, it may leave more utensils dirty. That is why you need to ensure adequate space between the dishes for them to be washed properly.
It is also good to note that using too much detergent in your Samsung dishwasher will not make your dishes any cleaner. Do trial and error to determine how much detergent is necessary. Just use what is enough.
Common Samsung Dishwasher Problems
We have seen how fantastic Samsung dishwashers can be. They are effective, do not produce loud noises, and make cleaning easier for you. However, Samsung dishwashers are also prone to specific problems which you need to be aware of. Knowing which problems to expect will show you how to handle the machine when it starts malfunctioning. Let us look at some of these common problems:
The Dishwasher May Fail To Clean The Dishes
When using your dishwasher, you may realize that some utensils may fail to get cleaned, especially those on the top rail. This is a common problem, and hence you don't need to panic.
When this happens, the first thing that you should do is to check the spray arms. Occasionally, debris and food particles may fall into the tiny spray holes, which cause the sprays to project the waterless forcefully. Therefore, cleaning out debris from your dishes is vital to prevent it from accumulating in the holes on the spray arms.
The Dishwasher May Fail To Drain
Another common problem with the Samsung dishwasher is that it may fail to drain correctly. This also comes because of food buildup that had not been rinsed off before loading. Issues such as wear and tear may also cause the dishwasher not to drain correctly.
If the dishwasher isn't draining correctly due to a malfunction in the drain pump, start by wiping moisture from the filter. Proceed to remove the cover of the drain pump and check to see if the impeller is in good condition. Ensure you get rid of any grime or water that could be on the pump.
Samsung Dishwasher Models That We Recommend
 Samsung is a trusted brand; therefore, you will be confident that whatever dishwasher model you buy is the best. However, they all have different features; hence, one that suits you may not be the best for another. Below are some of the top Samsung dishwasher models that we highly recommend based on durability, high quality, and positive customer reviews. You will not regret it, as they will last many years!
Samsung DW80R9950UG Linear Wash Built-In Dishwasher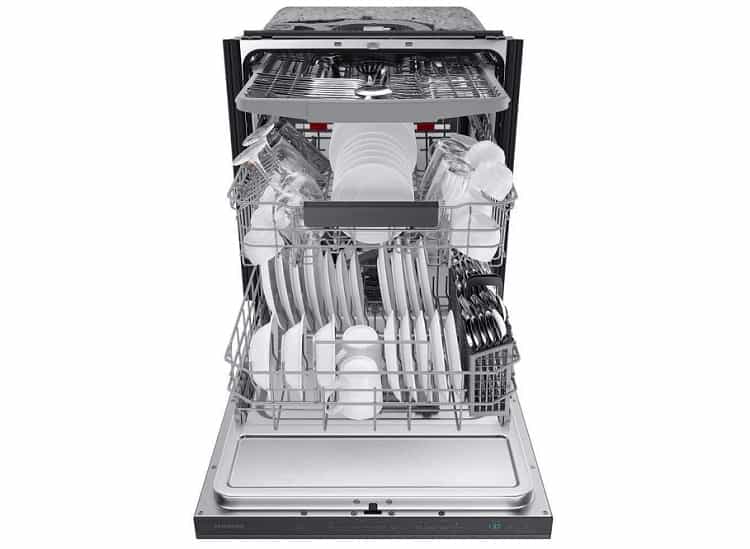 This new model by Samsung is the dishwasher you need in your life. It has a unique sliding bar that moves linearly to allow the corner to corner coverage, enabling complete cleaning. It is designed with 15 place settings, three spray arms, and seven wash cycles which ensure that your dishes get squeaky clean.
The Samsung DW80R9950UG also has smart connectivity, which improves your convenience as a user. Can you imagine being able to monitor the performance of the dishwasher through your smartphone? This is not a feature that many models have.
Pros
Does the job quietly without distracting the household members with too much noise.

It has a component that provides corner to corner coverage hence superior cleaning.

It has innovative features, including diagnosis and remote control wifi accessibility.

It has an autorelease door, which allows the door to automatically open to allow air circulation.

It has a zone booster that provides an extra water stream for stubborn utensils such as pots and pans to the bottom rack.

The exterior surface is fingerprint resistant which minimizes smudge.
Cons
   Some users have had issues with the draining system of this particular model.

   If you want a model with a high capacity on the lower rack, this is not for you.
Samsung DW80R5061US Stormwash Top Control Dishwasher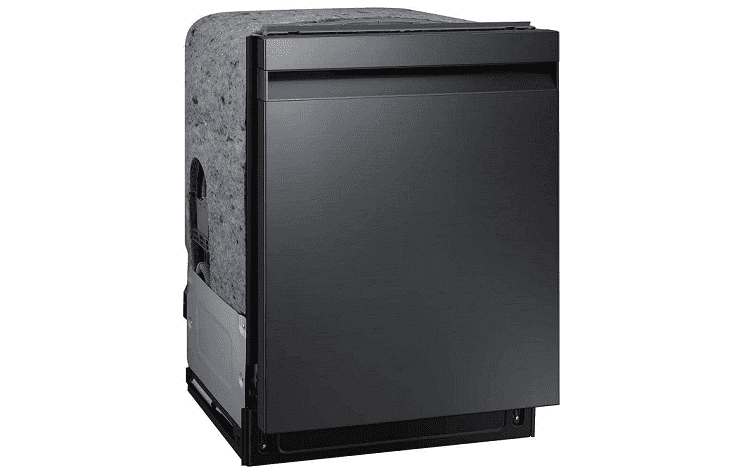 If you are looking for a Samsung dishwasher that doesn't exceed $600, then this is the option you need to go for. It has excellent features that you could use, such as open-air drying, a 3rd cutlery rack, and a fast cycle. It gets the job done. It also has a unique feature, the Stormwash, which allows you to target the heavily soiled pots and pans.
You will notice that the Samsung DW80R5061US shares many features with some of the costly Samsung models. However, it tends to offer additional value because of the complex food disposer located at the bottom of the dishwasher.
The hard food disposer is designed to break down any food particles that may find their way during the cleaning process. We advise you to buy a dishwasher model with a food disposer because of its ability to self-cleaning.
Pros
It requires low maintenance due to its ability to self-clean.

It has a fingerprint-resistant finish which ensures no fingerprints are left.

It comes with a display time that allows you to determine how much time is left to complete a cycle when you slightly open the door.

The half load option allows the users to do small loads hence saving on energy and water.

It has an easily adjustable upper rack which makes it easier to wash tall items.
Cons
Some users have complained about the technicalities of installing the dishwashing machine.

This model may not completely dry your dishes, especially dishes made of plastics.
Samsung DW80N3030UW Front Control Dishwasher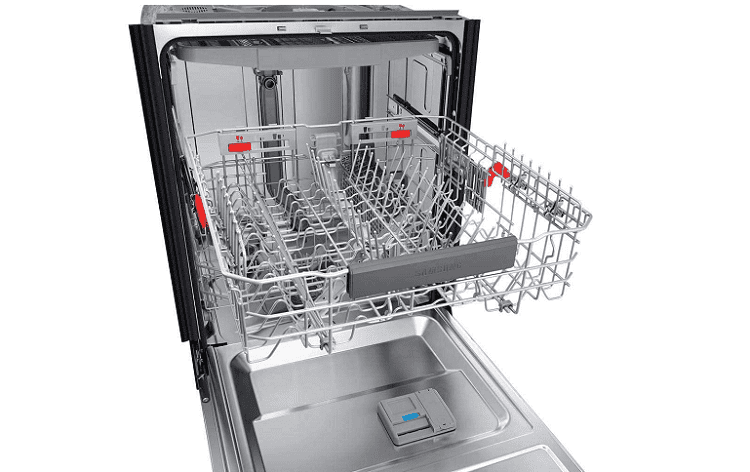 The Samsung front control dishwasher has significant advantages when it comes to saving on energy costs. When using an electric water heater, the estimated energy costs come to about $34, while using a natural gas heater will cost you around $24.It also has an advanced washing system which you should be looking out for.
This advanced system is very efficient when it comes to cleaning pots and pans well. Can you guess which other feature this model has that you probably won't find in other models?
The Samsung DW80N3030UW Front Control Dishwasher has a sanitization option which causes it to increase the heat and kill all the germs. When you use this option, be sure that you will manage to get spotless dishes in every cycle.
Pros
It has a child lock which parents love since it prevents the occurrence of unnecessary accidents.

Its height-adjustable racks allow it to accommodate several types of dishware.

It has a digital touch control which makes it easy to select the functions you require.

The advanced washing systems allow it to wash heavy pots and pans effectively.

It has four wash cycles which will enable you to customize your cycles as you wish.
Cons
Note that the digital touch control makes the buttons so sensitive to touch, meaning that you could accidentally turn the machine on even when you don't need it.

Although this washing machine has a heated and condensation drying function, it occasionally fails to dry the dishes well.
Samsung DW80R7060U Dishwasher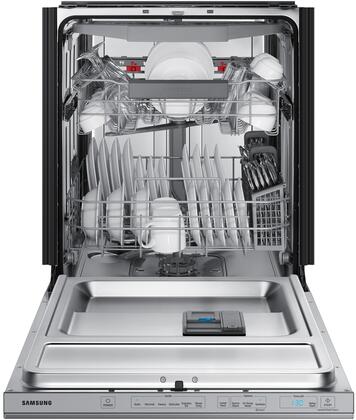 The Samsung DW80R7060U is among the highest-selling dishwashers because of its quiet operations, great features, and better quality racks. Its affordable price doubled with the great features makes it one of the most sought dishwashers. It doesn't have a hard food disposer to filter the debris and food.
However, it has a filter that traps any loose food particles hence improving the cleaning experience. It also has premium ball-bearing racks, making it easier for you to get dishes in and out of the dishwasher. The rack also feels sturdier and makes it easier to load and unload the machine.
Pros
You won't have to deal with excessive noise due to the food debris stuck between the racks.

The ball-bearing racks ease the loading and unloading process for you.
Cons
Some users have complained about its inability to dry the dishes well.
Samsung DW80R7060UG StormWash Built-In Dishwasher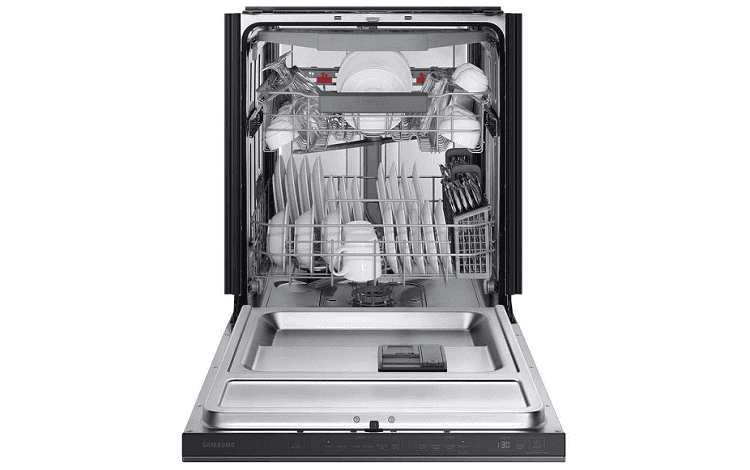 We love this model because of its modest price and the many other Samsung's patented features. Being a Stormwash model, it has powerful rotating arms that can spray water with high pressure, making reaching even the hidden spots easier. They do clean every dish regardless of where it is located. Its doors open automatically at the end of each cycle, thus making it even more convenient for you.
Pros
The door opens on its own, allowing air circulation inside the dishwasher.

It has ball-bearing racks that ensure a smooth back and forth movement even when heavy dishes are involved.

You can raise the middle rack and lower it depending on what you need. You have the option to use the heavy wash settings to clean the heavily soiled pots and pans.
Cons
There is a way the door hinges are located in that if any item falls inside the dishwashing machine, there is a high chance that it will be there indefinitely.

If you have full-sized drinking glasses in the dishwashing machine, there is also a high chance that the glasses will rub on the bottom of the 3rd rack.
Samsung DW80M9990UM Chef Collection WaterWall Dishwasher
This model has very innovative features which every consumer should prioritize on. We love this model because of its upgraded cleaning performance, which is what you should be betting all your money on. It also boasts of a Waterwall technology that stimulates optimum cleaning power through the sweeping motion.
The Samsung DW80M9990UM Chef Collection WaterWall Dishwasher adds a Speed booster and a Zone booster in its programs that target the hidden corners and encourage a more thorough cleaning.  If you, therefore, want to get sparkling clean utensils with no errors, invest in this dishwashing machine. It also embraces Smart technology, which promotes a wireless operation. What else would one want in a dishwasher?
Pros
It has seven dishwasher cycles and seven programs that make the cleaning experience convenient for you.

It is fingerprint resistant which ensures that there are no unnecessary smudges.

It alerts you when it almost reaches the end of the cycle.

It has a matte black stainless-steel finish for users who enjoy this type of finish.
Cons
Some users have complained of dishes remaining wet even after using the drying setting.

Other users complain of leak detection errors.
Samsung DW80R5060UG Dishwasher with Stainless Steel Tub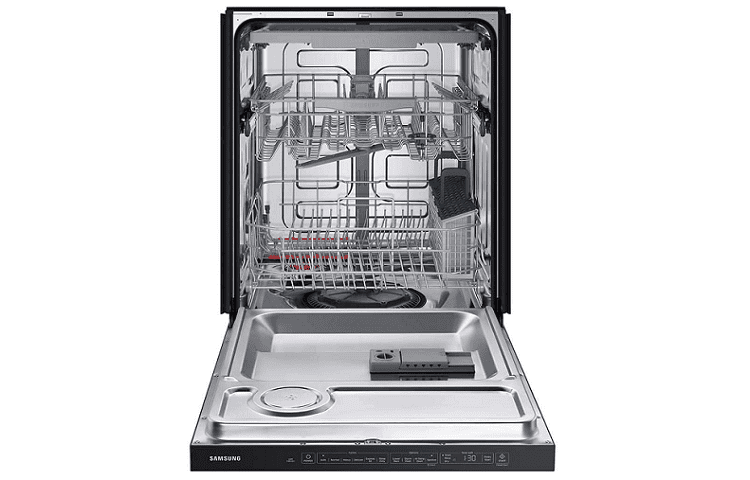 The Samsung DW80R5060UG Dishwasher with Stainless Steel Tub has a thin top rack for utensils meaning that you won't have any trouble fitting more items inside the dishwasher. This is a good thing because it only means that you will cover many utensils in one load. If your dishes are mostly oily with hard, stuck-on food, you shouldn't hesitate because this dishwasher will save your life.
It is made of stainless steel tube, which doesn't trust easily, and is mold resistant. It also has a hidden heating element that protects your plastic dishes from any damage. The digital touch controls are an additional element that most users love because it allows you to set things up with minimal efforts.
Pros
It is easy to install.

It has an accurate timer that enables you to plan accordingly.

It has six different wash options meaning that you can easily customize the dishwasher based on your needs.

It does a good job when it comes to spotless cleaning and drying of the utensils.

We specifically like that the third top rack is thin, and the height is adjustable to prevent it from getting in the way of tall dishes that might be on the middle rack.
Cons
It takes up to 3 hours to clean the dishes on a regular cycle, which can be a lot of time for some people.
Samsung DW80R5060US Top Control Built-In Dishwasher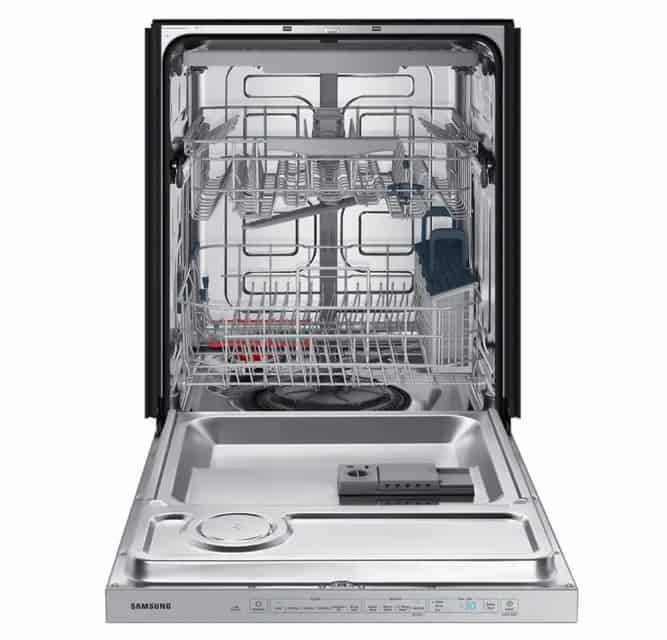 If you want to wash away any hard foods without extra effort, this is the machine for you. With this dishwasher, you will no longer have to worry about pre-rinsing the utensils before you load them into the machine. How amazing is that? It comes with three spray arms which do a fantastic job of covering all three racks in their entirety.
It also comes with a height-adjustable upper rack, meaning you won't have to worry about fitting the larger utensils in the frames. Users also get to enjoy dryer dishes since the door opens automatically at the end of the cycle.
Pros
The Express 60 Cycle does all the washing and drying in just one hour, meaning it saves you time, considering the Samsung DW80R5060UG Dishwasher with Stainless Steel Tub takes close to 3 hours.

The Stormwatch spray arms are so powerful that they spray water in all areas of the dishwasher tub.

It has a 3rd rack which comes quite handy when it comes to placing silverware and other utensils.

It has adjustable and fold-down tines on all the racks.
Cons
It has bottom racks that are not well designed to handle larger dishes, including plates.

You will also notice that the kickplate doesn't line perfectly with screw posts placed at the bottom of the unit.
FAQs
Question: How Do I Clean A Samsung Dishwasher With Hard Water?
Answer: You may not always have a water softener to treat the hard water you use to clean your utensils. However, this shouldn't worry you. There are always some tricks you could use to clean your dishwasher. Start by removing all the items from the dishwasher. Take a small container and pour vinegar into it, after which you proceed to place that container with the vinegar on the bottom rack of the dishwasher.
Shut the dishwasher door and allow it to proceed with the normal cycle. The water will mix with the vinegar and spread it throughout the entire dishwasher. After the dishwasher has finished the cycle, take an old toothbrush, and remove any remaining residue. Finish by running the empty dishwasher with clean water to remove any leftover vinegar.
Question: How Can I Fix My Samsung Dishwasher That Won't Drain?
Answer: There are times when you will notice your Samsung Dishwasher having drainage problems. If this happens, don't panic and conclude that you bought a sub-standard dishwasher. There are so many reasons why your dishwasher may fail to drain well. The first sign to look out for is whether the drains are blocked.
If the gutters are clogged, it will take a longer time for them to drain. It may fail the drain as well. If the drain hose is also not connected to an air gap, you will find that dirty water may drain into the dishwasher. This is something you should look out for.
A control panel that displays flashing lights or error codes could mean there is an issue with installing the drain hose. If this happens, you will have to fix the problem with the hose for the drain to work correctly.
Question: How Can I Fix My Dishwasher If It Has Draining Issues?
Answer: Below are some of the solutions to the common problems that cause drainage issues:
Blocked drains- One way to treat blocked drains is to clear them using a drain cleaning product. Run the drain cleaning product through the pipes and follow by running clean water through the pipes. You can also use natural cleaning solutions such as cider vinegar and baking soda.
Drain hose Isn't Connected To An Air Gap- To fix this issue, you need contact the dishwasher installer to do it for you. Try not to do it on your own and especially if you have never done it before.
Control Panel Is Displaying Error Codes or Flashing Lights-The best way to handle this is by consulting your user's manual since it will give you instructions on how to address this issue.
Samsung Dishwasher Model Guide: Conclusion
Samsung dishwashers do a pretty good job when it comes to cleaning utensils. Based on our analysis, we highly recommend the Samsung DW80M9990UM Chef Collection WaterWall Dishwasher or Samsung DW80R9950UG Linear Wash Built-In Dishwasher due to their advanced technological features.
Try them out today, and let us know your experience! You don't have to scout the entire internet when you have an excellent guide here.