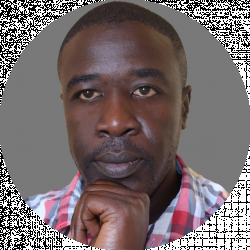 Latest posts by Barry Juma
(see all)
The name Kenmore doesn't evoke a similar prestige as, say, Bosch or LG. But, granted, you're not looking for a washer for the prestige, are you? You want a washer that will reduce the dread you feel on laundry days. You want a washer that will get your load clean without complaining. 
According to a Consumer Reports appliance brand reliability study, Kenmore's washers proved to be reliable, with the company's front-loaders being the most reliable in their lineup. Well, sadly, at the time of writing this piece, there are no Kenmore front-load washers available for sale at Kenmore's official retailer, Sears. But more on this later. 
In this Kenmore washer model guide, we'll help you figure out which washer to buy for your needs by taking you through the factors you need to consider. Keep reading to find out more.
Types of Kenmore Washers
You can buy one of four types of Kenmore washers: top-loaders, front-loaders, twin-load pedestal washers, and laundry centers. 
Kenmore Front-Load Washers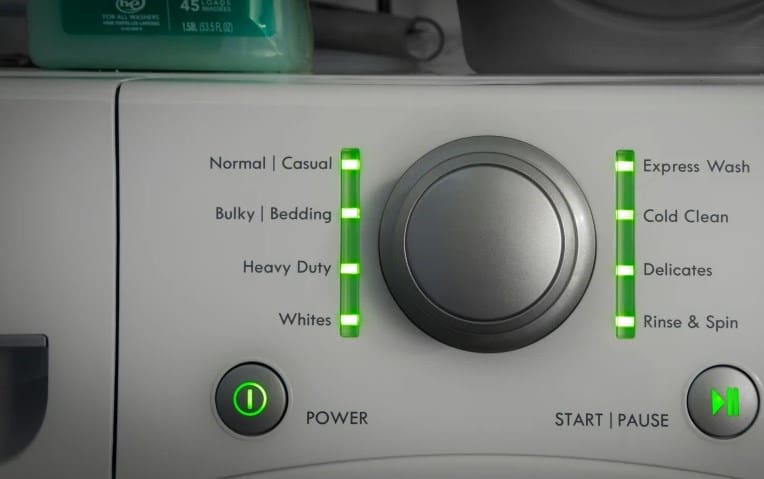 As we mentioned above, there are currently no front-load washers in stock, other than their coin-operated models. Of course, these ones aren't meant for home use so we won't dwell on them. 
You can probably find a couple of front-load models in third-party stores, but this isn't assured. So, for the purposes of this article, we won't focus on Kenmore's front-loaders simply because you can't buy any new model at the moment. If you're set on getting a front-load washer, check out our Electrolux washer model guide to find out what Electrolux has to offer.
Kenmore Top-Load Washers
Most of Kenmore's washers are top-loaders, so if you prefer these types then you'll find something you like in the company's lineup. In fact, there are 10 Kenmore top-load models at various price points. We'll talk more about their prices later. 
Check out this piece if you're still wondering what the main differences are between a front-load washer and a top-load washer. 
Twin-Load Pedestal Washers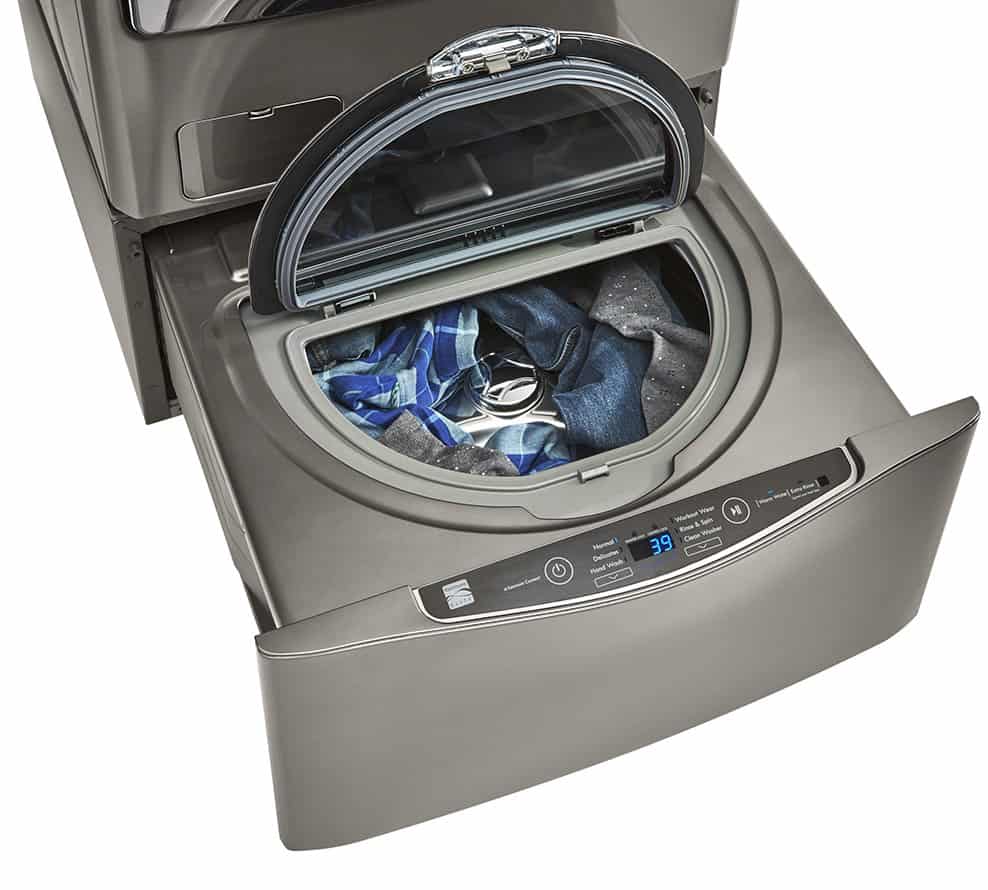 Designed to be paired with front-load washers, the twin-load pedestal washers are attached to the bottom of a front-loader to offer extra capacity for smaller loads. They have a drawer-like design with a hatch at the top through which you can load your items. 
With a twin-load washer, you'll be able to run two loads at the same time. It comes in handy for those who have lots of delicates that can't be washed in the main washer. Sadly, since there aren't any front-loaders currently for sale, these models are only useful to those who already have older Kenmore front-load washers. 
Laundry Centers
Kenmore also has six laundry center models in their lineup. If you're looking for a no-frills washer-dryer appliance, then these are the right choice. If you're familiar with laundry centers then you'll notice that they pretty much look the same, irrespective of the brand.
Kenmore's laundry center models maintain this standard look, with the dryer mounted at the top and the washer underneath. You can, however, spice things up by opting for a titanium-colored one instead of the standard white color.
Main Features of Kenmore Washers (And Things to Consider)
Sizes
Kenmore's top-load washers have a width range of 27 inches to 30 inches while their depths are from 27 inches to 31 inches. These washers have an almost similar height of 43 inches, give or take a couple of inches.  If you're looking for a laundry center model, they have heights from about 74 inches to 76 inches, widths of about 27 inches, and depths from 26 inches to 32 inches. 
It's important to consider the size of the washer you'll get to make sure that it'll fit in the dedicated laundry space. When measuring the washer's dedicated space, make sure that you factor an extra inch on either side of the washer as 'breathing' space and about four to six inches at the back for the water and power hookups. 
Capacities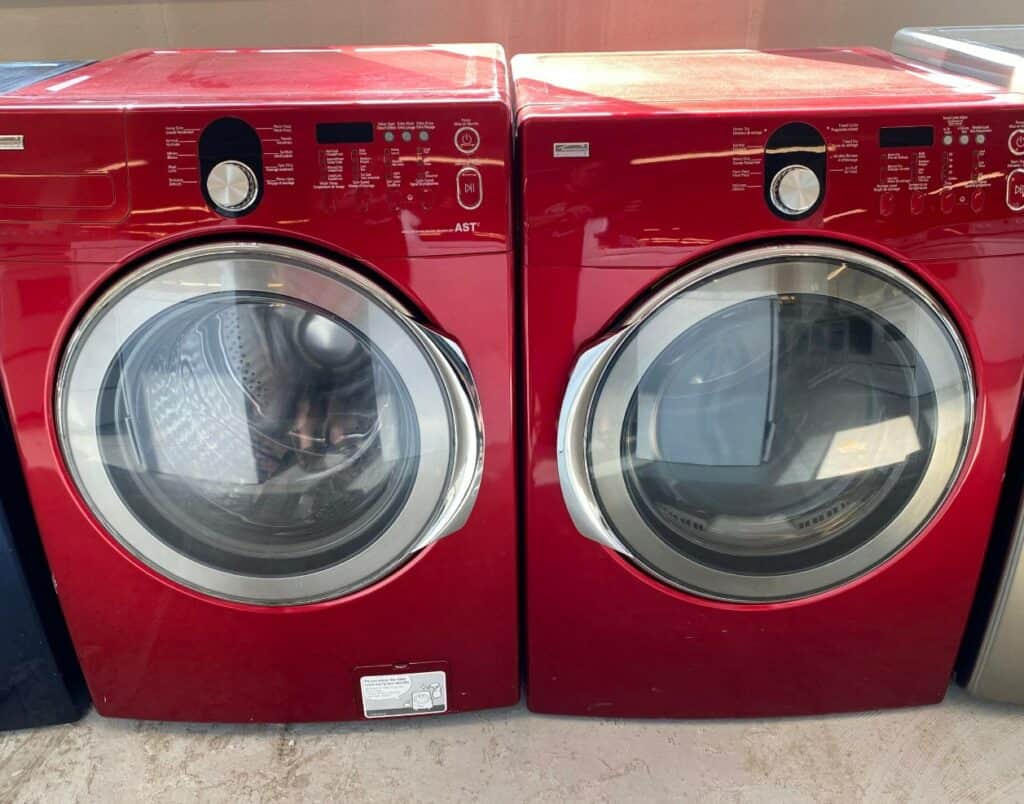 Kenmore's smallest washers have capacities of 3.5 cubic feet to 3.8 cubic feet. These models can handle a load weight of about 12 to 16 pounds. The company's mid-sized washers have 4.2 to 4.5 cubic feet, which are able to wash loads of up to 20 pounds. The largest models have capacities from 4.7 cubic feet to 6.2 cubic feet. 
So, which size should you get?
To know the appropriate capacity for your needs, ask yourself the following questions;
How Many People Are In Your Household?
If you live alone or are just two or three, go for the smaller washers of about 3.5 cubic feet. If you're more than three then a 4.2-cubic-foot washer would do just fine.
What Is Your Largest Load Size?
You might live alone but have a lot of items to wash. In this case, go for a larger Kenmore washer that will handle your loads. 
Do You Have Bulky Items That You'll Need to Wash?
If you have a lot of bulky items like comforters, then consider a washer with a capacity of at least 4.5 cubic feet to accommodate these items.
How Often Do You Do The Laundry?
Perhaps you do the laundry daily. In this case, you end up spreading your loads across the week, therefore washing smaller loads each time. If you intend to do the laundry fewer times a week, get a larger washer so as to wash large loads at once. 
Wash Cycles and Cycle Options
There are specific wash cycles that might be more useful to you, depending on the items you often wash. The standard cycles in Kenmore's washers are Heavy Duty, Normal Wash, Rinse & Spin, and Delicate Wash. 
However, Bedding Cycle, Light Wash, Presoak, Speed Wash, and Steam Cycle aren't found in all models. So, consider your needs and find a model with specialty cycles that will make your laundry experience better. 
For instance, if you have lots of beddings then the Bedding Cycle would be one to consider. Similarly, if you regularly wash bulky items, then look for a washer with a cycle for these. 
Price (And Your Budget)
Kenmore's cheapest top-load washer costs just under $500 at about $490. There's only one model in the sub-500 price range. If this is your budget, you'll have to contend with a capacity of 3.5 cubic feet plus an agitator. 
The company's most expensive model costs about $1600, offering a large capacity of 6.2 cubic feet, as well as extra bells and whistles like steam cleaning. Kenmore only has one model at over $1000, with the rest lying in the price range of $600 to $900. 
Consider the features you get for the price you're paying. The differentiating factor between differently priced models is usually the tub material, the capacity and the wash cycles. 
For instance, this $490 model has a porcelain tub, 11 wash cycles, and a capacity of 3.5 cubic feet. Its bigger brother costs $100 more, and it offers 12 wash cycles, a capacity of 3.5 cubic feet, and a stainless steel tub.
The extra money you pay for the more expensive model might not be worth it if the added features aren't useful to you. However, in this case, the stainless steel tub might be compelling enough of a reason to get you to fork out the extra cash. (Check out the difference between porcelain and stainless steel tubs here.)
Energy Efficiency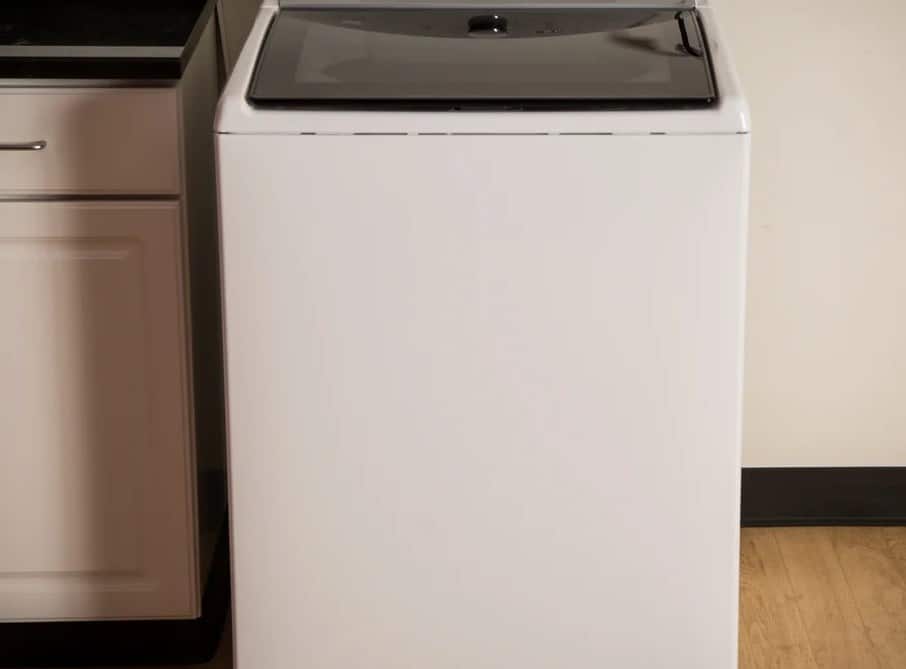 Kenmore only has four washer models that are Energy Star certified. These are those tested by the government agency and were found to use little energy and water. The company's cheapest Energy Star model costs about $680.
In the absence of the certification, check the washer's Energy Guide label, which is available online. This will show you the estimated annual energy consumption of the appliance, and how much you're likely to pay per year. 
Remember, Energy Star models have much lower energy costs, and in some cases, this is up to even 50% as opposed to their non-certified counterparts. So, if you're finicky about energy efficiency, consider the models that have the certification.
Smart Features
Sadly, none of Kenmore's washers has WiFi connectivity, which enables smart features. This helps the company to lower the overall cost of its appliances. However, other manufacturers offer this feature or at least the option to add WiFi via a separate module. If you need the convenience of remote operation via your smartphone, consider other brands like LG. 
If smart features aren't important to you then you'll be happy with Kenmore's lineup.
Impeller vs Agitator
The debate over whether an impeller is better than an agitator rages on in the laundry community. We even delved into their differences in this article. 
At the end of the day, whether you go for a washer with an agitator or one with an impeller depends on your preference. Just remember that agitators take up some tub capacity, so if you have lots of bulky items you might have to opt for an impeller model. Kenmore has both agitator and impeller washers, with the agitator models as the more inexpensive options.
Colors and Design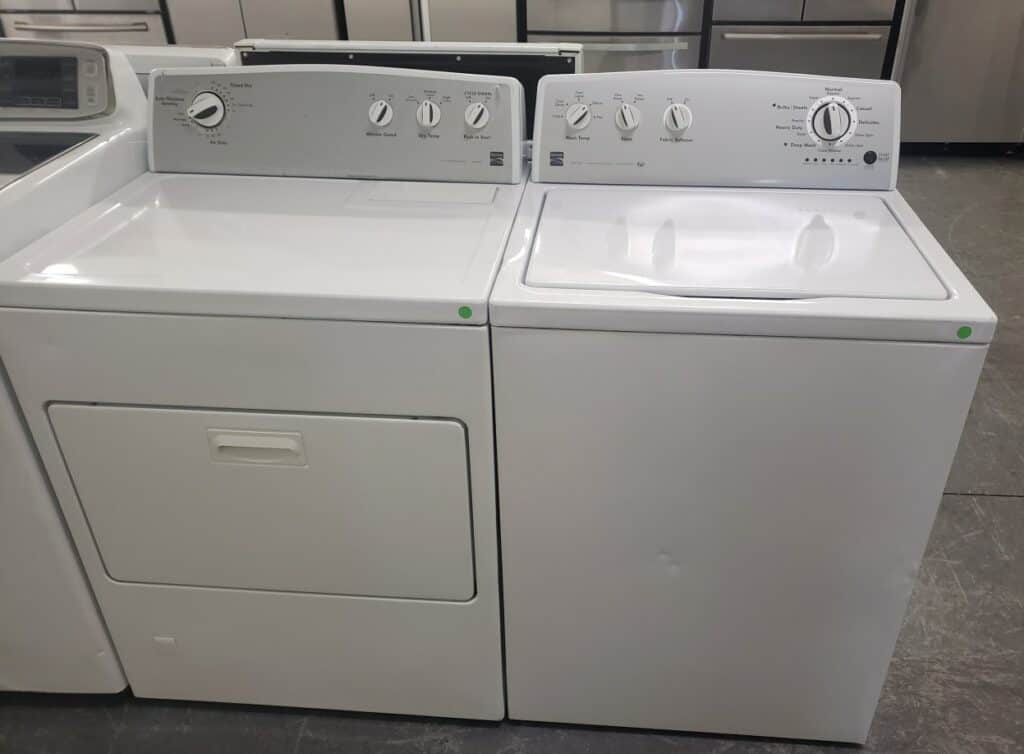 In terms of design, most of Kenmore's washers are rather bland. Most of their models have traditional knobs and white bodies. You do have the option of choosing a model with buttons instead of knobs, but these cost over $700. 
Its most expensive model is the only one, in my opinion, which attempts to push the envelope slightly by offering a metallic silver color. Generally, Kenmore's models offer substance over style, so you'll have to contend with boring looks.
Tub Material
Kenmore's cheapest washer has a porcelain tub, which is inferior to stainless steel. The rest of Kenmore's washers – costing over $600 – boast stainless steel tubs. But what's the difference between these materials?
Stainless steel is durable and resistant to rust. These are the best tubs because they can withstand heavy use, meaning that your washer will last longer. 
Porcelain tubs are actually steel coated with porcelain. They are inexpensive, allowing those on a tight budget to find a washer for their needs. However, the porcelain starts to chip after some time, exposing the steel, which, as a result, starts to rust. Also, like plastic, porcelain is porous and will start to absorb odors after some time.
Consider a washer with a stainless steel tub if you can afford it. 
Recommended Kenmore Washer Models
Selection Criteria
To find the best washers, we considered the following factors;
Affordability and value for money:

We looked for a washer that offers an effective clean but at a cost that's affordable. For the higher-priced models, we compared them to their cheaper counterparts to look for extra features that justify the extra cost.

Performance:

For a washer to make it to our list, it needed to be a top performer in its class. We found this information on customer reviews, review articles and the product rating on both Sears and Amazon.

Style and design:

This is a secondary consideration since most Kenmore washers lack the style of other brands. However, we considered the availability of extra color options, plus design features that are also functional, for instance, a clear lid.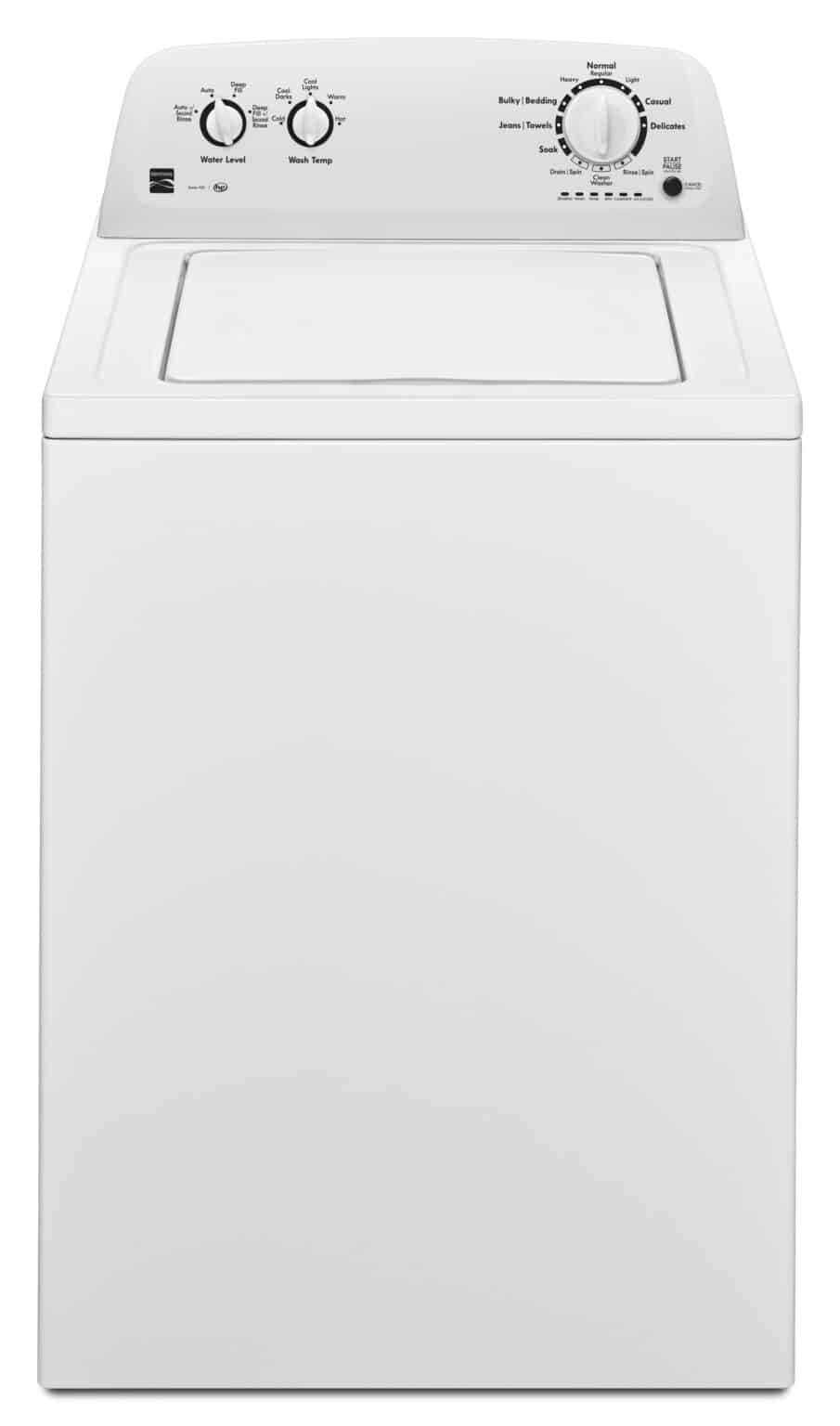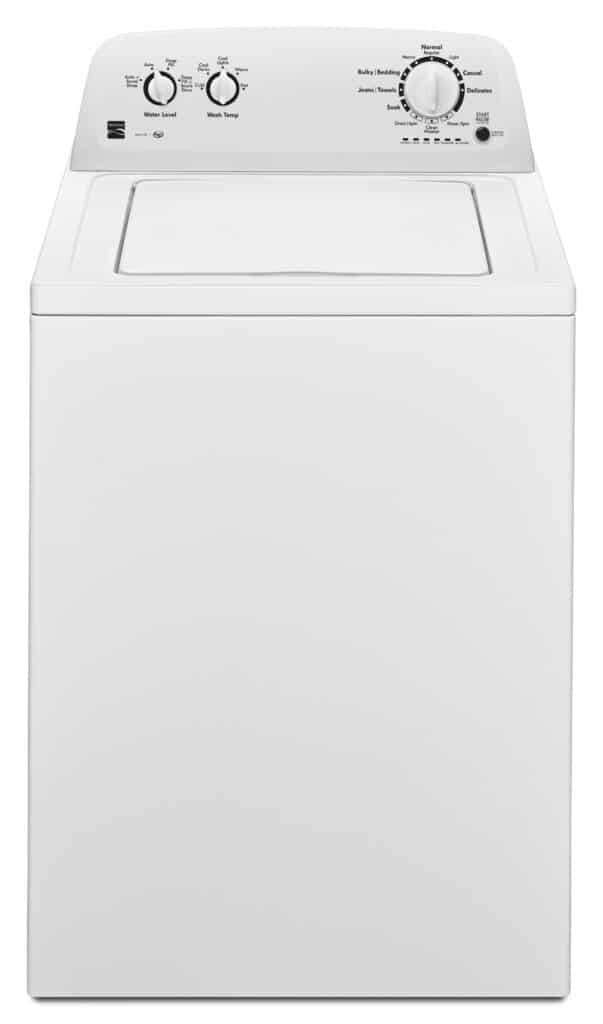 This inexpensive Kenmore washer certainly has its drawbacks, which we'll get to in a bit, but its low price more than makes up for them. It's the only washer in Kenmore's lineup that costs less than $500, offering those who don't want to splurge a good option.
The elephant in the room, however, is this model's porcelain tub. I'm no fan of porcelain but something had to give to lower the price. And don't get me started about its old-school design which, if you ask me, is quite bland. If you're looking for a great-looking appliance, this isn't it. 
Still, those who buy this washer – and they're many – want it for its price and performance. In fact, most customers buy this as an upgrade from a lower specced washer, or even a portable washer. Its users praise how easy it is to use the machine as opposed to more advanced and complicated models.
Activation simply involves turning one knob here, another there and you're good to go. And you'll also love that this washer isn't noisy. Although it isn't Energy Star certified, Kenmore still made the 20232 a high-efficiency model. In fact, according to its Energy Guide label, you'll only spend an average of $17 per year to operate this appliance. 
Main Features
The Kenmore 20232 washer has a capacity of 3.5 cubic feet.

Its drum is made of porcelain.

This model has an agitator with a top spin speed of 700 RPM.

There are 11 wash cycles

Its annual power consumption is 147 kWh.

There's a deep fill option that increases the water level when washing bulkier items.
Pros
This Kenmore washer is affordable.

It has a dual-action agitator that effectively cleans clothes.

This is a high-efficiency washer. 

It's easy to connect and use. 

This washer is quiet.
Cons
It has a porcelain drum, which isn't as durable as stainless steel.

The washer's design is bland.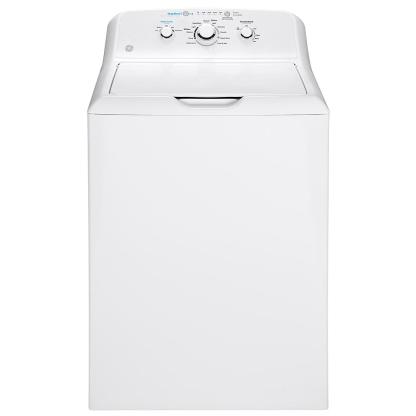 I know I've complained a lot about how boring Kenmore washers look. This next model is, well, still boring, but it attempts to add some elements of style in the control panel area. Anyway, let's not get bogged down by the looks because that's not why you want a washer. At least it isn't the first thing you consider, is it? 
The Kenmore 29142 perhaps offers the greatest value for money of all the company's washers. Agreed, it's more expensive than the model we've featured above; 200 dollars more to be precise. But hear me out and maybe you'll see things my way.
First, this model has a capacity of 4.5 cubic feet, more spacious than the previous model. Then, there's a stainless steel tub in this one as opposed to porcelain in the one above. There's an impeller in this model as well, which, some may argue, isn't better or worse than an agitator.
However, an impeller has its benefits, which you can check out here. And dare I forget to mention that this model is Energy Star certified, offering even greater savings than the high-efficiency model above. To be precise, according to the washer's Energy Guide label, you'll spend about $15 annually on power. If you have the extra 200 bucks, I would recommend this model. 
Main Features
The Kenmore 29142 has a capacity of 4.5 cubic feet.

There's a triple-action impeller for a more thorough wash.

The tub is made of stainless steel.

There's an efficient direct-drive motor.

This washer has a top spin speed of 800 RPM.

It is Energy Star certified.

The washer has a glass lid with a soft close feature.
Pros
This washer has a large capacity.

There's a glass lid so you're able to monitor the load during a wash cycle.

Its soft-close lid prevents it from slamming.

The washer's tub is made of stainless steel.

It's an Energy Star certified washer.
Cons
There are no smart features.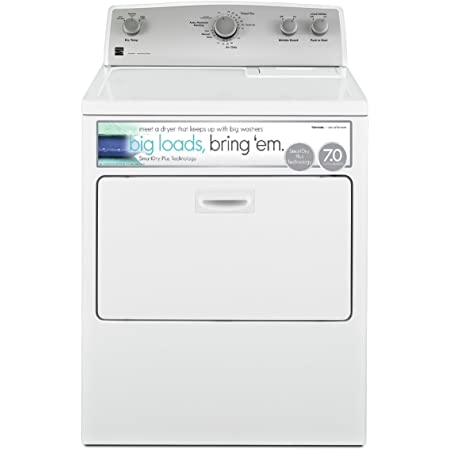 This is Kenmore's best-selling washer, earning itself some rave reviews from customers, evidently because of its features, performance and price. More on these shortly. But first, we can't go far without mentioning the looks, which are typical of Kenmore's washers.
This model has five knobs that are well labeled and easy to use. The lid sits flush with the rest of the body, however, there's no indication that it is a soft close one. Plus, you only get one color option in this model: white. 
The Kenmore 25132 is praised for its performance, but to achieve an effective clean, you'll need to make sure you add enough detergent. Still, the triple-action impeller ensures that every item in the load is properly cleaned. For a bit more stain-removal oomph, you can activate Stain Boost by turning the dedicated knob for this feature. This extends the cycle time and increases rotating power.
The washer is also celebrated for its low noise level, as past customers attest. Moreover, its capacity of 4.3 cubic feet is roomy enough to wash your quilts or comforters. Actually, Kenmore says that it can hold 19 towels. 
Main Features
The Kenmore 25132 washer has a capacity of 4.3 cubic feet.

It has a stainless steel drum.

There's Stain Boost, which increases the power of a wash cycle.

This washer has a triple-action impeller.

Its top spin speed is 660 RPM.
Pros
This is a quiet washer.

It cleans clothes effectively thanks to the triple-action impeller and Stain Boost.

It's reliable and durable.

Its large capacity can fit bulky items.

Its stainless steel drum can handle heavy use.
Cons
It's rather expensive compared to the Kenmore 29142 model, which has better features.

This model isn't Energy Star certified and its power consumption is twice that of the 20232 and 29142 models.

It has a boring and rather antiquated design.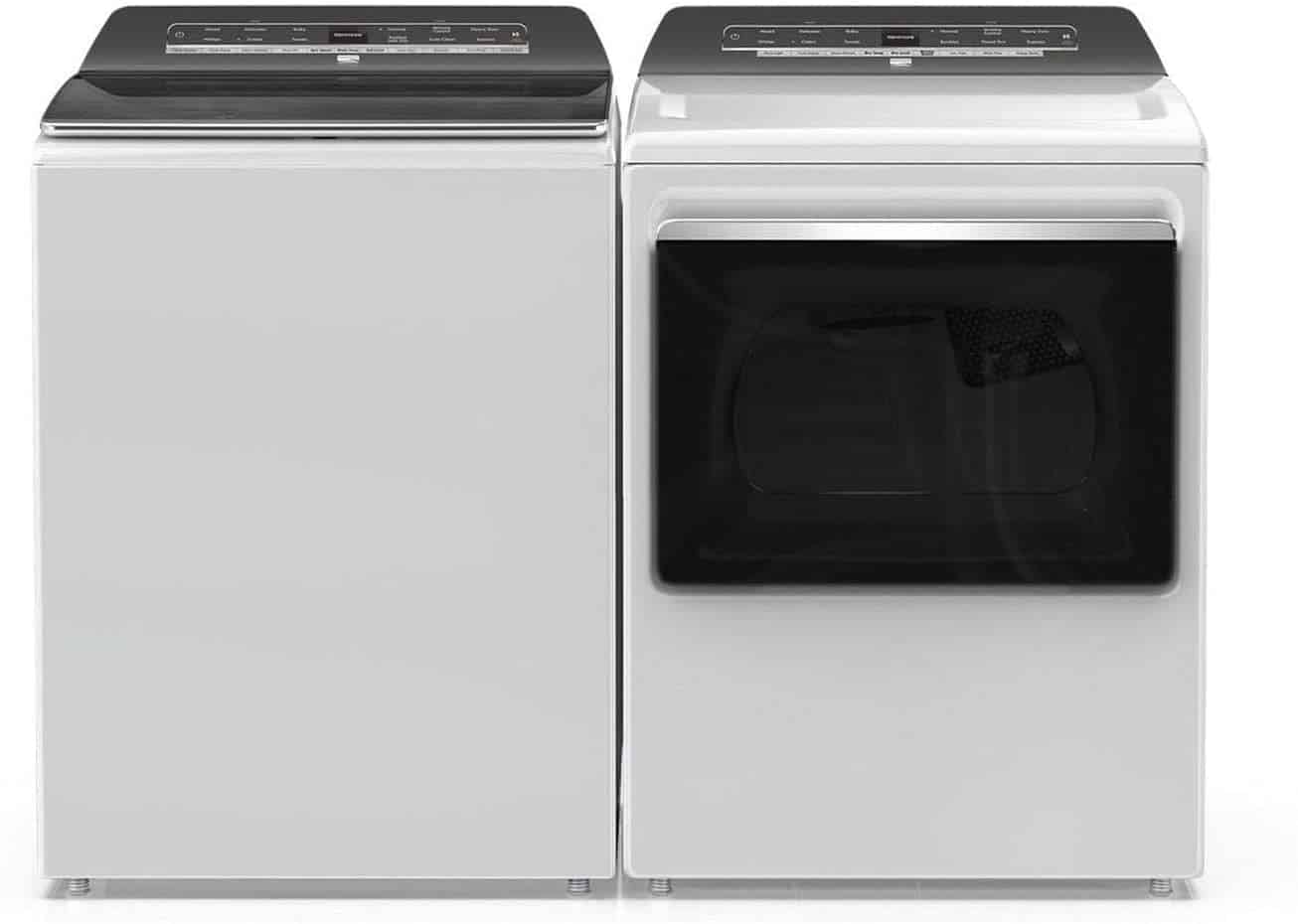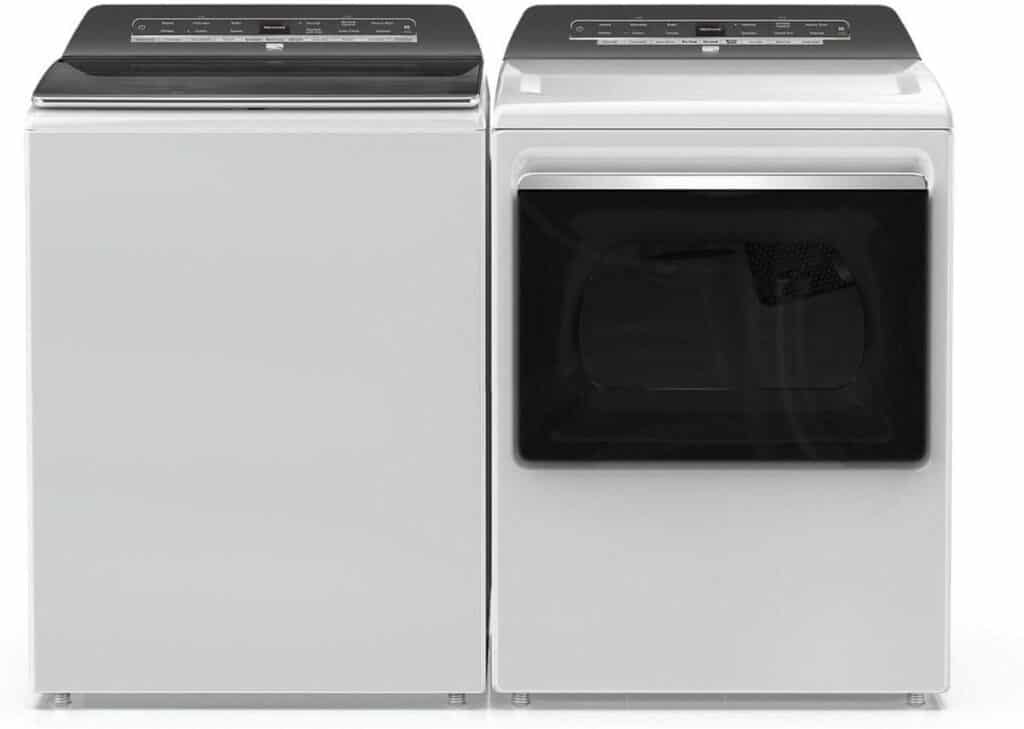 For $800, you can get yourself the Kenmore 31312 model. From the first look, you can tell that this is a premium model because its looks deviate from that of the lower-cost models. Kenmore decided to ditch the knobs here, opting to use touch-sensitive controls. Then, the glass lid has some subtle curves that enhance the modern look. If you care about style then this is a model to consider. Don't get me wrong, it doesn't draw attention, but its subtlety is good enough.
For the price, you'll get a large capacity of 4.8 cubic feet that Kenmore says will fit 19 towels. You'll certainly be able to effortlessly fit your comforters in the tub. Its standout feature is the built-in faucet, which allows you to pre-wash stubborn stains right at the washer.
As you'd expect at this price point, you also get a stainless steel drum which, at this point, goes without saying, at least for Kenmore washers.
Sadly, this isn't an Energy Star certified washer, although Kenmore tells us that it's a high-efficiency one. Whatever the case, its power consumption is still much higher than the 29142 model. 
Main Features
The Kenmore 31312 model has a capacity of 4.8 cubic feet.

It has a triple-action impeller with a top spin speed of 750 RPM.

There's a glass lid with a soft close feature.

Its controls are touch-sensitive buttons.

There's an in-built faucet.

It has a stainless steel drum.
Pros
The washer has a modern design.

You can monitor your laundry thanks to the glass lid.

Its soft-close feature prevents slamming.

This washer's large capacity is ideal for bulky items.

The built-in faucet comes in handy when you need to prewash tough stains.
Cons
This model isn't Energy Star certified.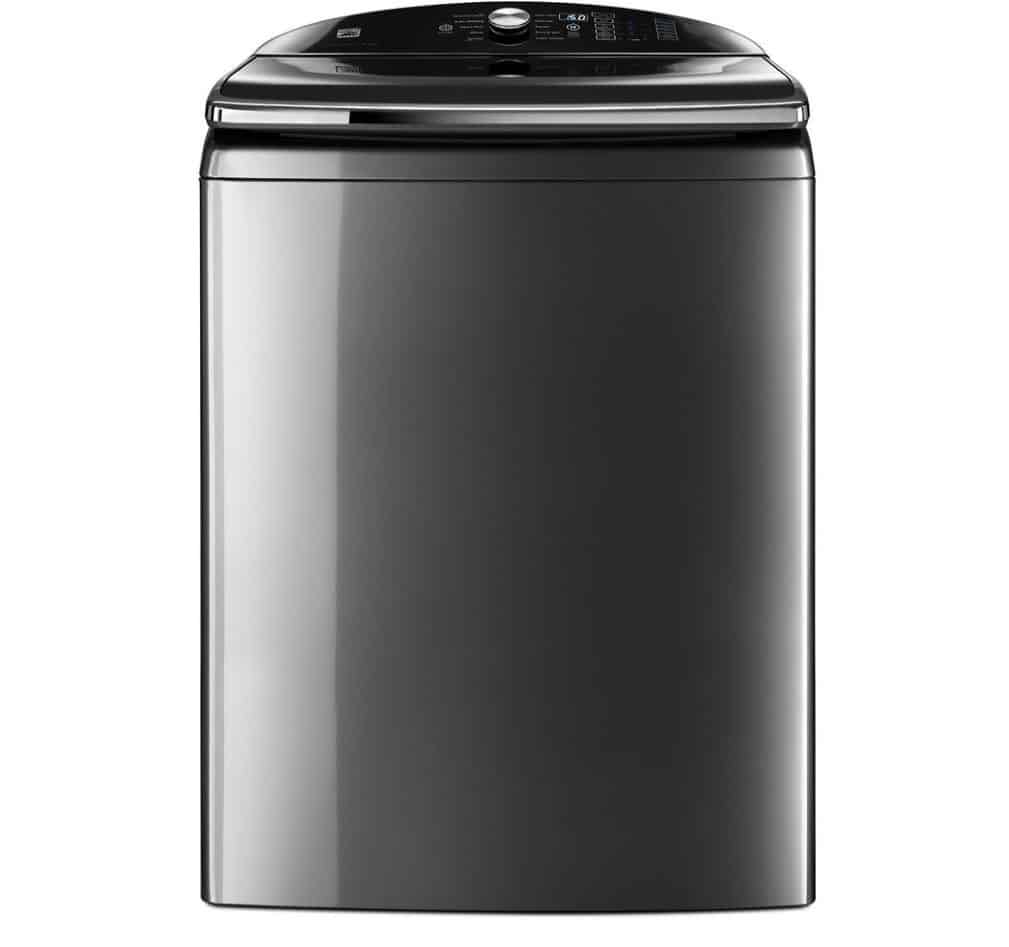 If you're looking for a premium Kenmore washer then the 31643 model is the way to go. Its look is a sign of its high-end pedigree, with a price tag to match – it costs almost $1700. So, yes, you'll need to consult your accountants before investing such an amount in your next washer. And it's certainly a lot of money to pay for an appliance without smart features. Sadly, there's also no in-built faucet. So what do you really get in Kenmore's flagship washer? 
For starters, this washer has a capacity of 6.2 cubic feet, which is enough to fit quite a few clothes. Kenmore claims that it is large enough for 32 towels. To be more precise, this size can handle about 16 pounds. 
To help wash the large loads, this Kenmore Elite model has Accela Wash, which ensures a cycle is completed quickly irrespective of the size of the load. Thankfully, there's a triple-action impeller that's known for its effective performance. And with a spin speed of 950 RPM, this is certainly a powerful washer. As expected in a flagship washer, this one is Energy Star certified with an annual consumption of 290 kWh, which, for its size, is impressive.
Main Features
The Kenmore Elite 31643 has a capacity of 6.2 cubic feet.   

It has a triple-action impeller.

The washer has Accela Wash.

It comes in a metallic silver color.

The washer has a maximum spin speed of 950 RPM.

It is Energy Star certified.

It has a glass lid.

There's a steam-cleaning function.
Pros
It has a large capacity that can easily handle bulky items.

This Kenmore Elite washer has stylish looks.

It is Energy Star certified.

Its steam function helps to quickly remove stains.
Cons
There are no smart features.

It has no built-in faucet.

It's expensive.
Sadly, their most expensive model skimped on a number of features that are available on similarly priced models from other brands. If features like WiFi connectivity are important to you, check out our LG washer model guide for a look at what this brand has to offer.
FAQs
Question: Who makes Kenmore washing machines?
Answer: Kenmore is owned by Sears, which is also the official retailer of the brand. However, Sears contracts other appliance makers – like Whirlpool and LG – to manufacture Kenmore appliances.
Question: How long is the warranty on a Kenmore washer?
Answer: Kenmore gives a 13-month limited warranty on all its washers, covering material and workmanship defects.
Question: When should you replace a washing machine?
Answer: Since a washer is expected to last about 10 to 13 years, an eight-year-old one is almost nearing the end of its life so consider replacing one that's more than eight years old.
Takeaways
According to online reviews, Kenmore washers are reliable workhorses that perform well. Despite the generally antiquated designs of the company's washers – especially the low-end models – they do their main job well, which is cleaning your clothes. 
However, this brand offers few differences in the models over $600. In fact, the 680-dollar Kenmore 29142 model offers better features than its more expensive counterpart, the $700 25132 model. Make sure you compare models within the same price range to see what differentiates them, to avoid spending more on what you'd have gotten for less. 
Read More: