Electrolux is consistently ranked as one of the largest appliance makers in the world. Moreover, they've been in the home appliance industry for more than 100 years. Although they're better known for their vacuum cleaners and other home appliances, Electrolux is also quite a popular brand when it comes to reliable washers. 
Having said that, the company has a very limited selection since they only offer mid to high-end front load washers at the time of this writing. So, if you're on a budget, you should expect to shell out a minimum of $700-800 on an Electrolux washer. Thankfully, Electrolux still offers a bunch of great models below the $1000 price point. 
Still, there are a number of factors that you have to consider when you're shopping for an Electrolux washer. So, in order to help you list down some of the best washers from Electrolux, we made a complete Electrolux washer model guide as to how you can buy the right Electrolux washer. 
Understanding the Main Differences Between Front Load and Top-Load Washers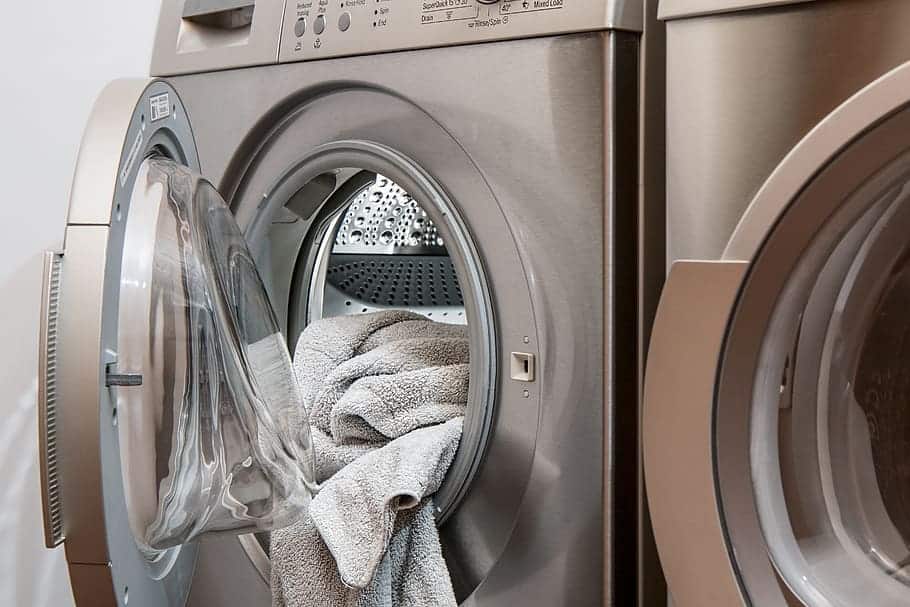 Since Electrolux only sells front loaders at the moment, you have to decide first if a top loader will work for you. If it's your first time trying out a front load washer, you have to keep a few things in mind first. 
For instance, top-load washers are usually more convenient in terms of design, since you don't have to bend over to reach or put your clothes. Top loaders also come with other convenient features such as adding clothes in mid-cycle, or even after starting the cycle. 
On the other hand, front-load washers tend to perform better at cleaning clothes, and they're much gentler on delicate fabrics. Moreover, front load washers have an easier time washing larger items. Even though front-loaders usually cost more, they're generally more energy and water-efficient than top loaders. To help you better understand this, here are some of the key differences between the two:
Front-loaders have a stackable design, making them a lot more flexible when it comes to installation, whereas top load washers don't have such a feature. 

Top load washers require less maintenance when it comes to smell or mold issues since they generally rely on gravity to pull water down, whereas front loaders tend to require more airflow or more maintenance since the mold tends to build up around the doors rubber gasket. 

Front-loaders usually spin faster than most top loaders, allowing your clothes to dry quicker in the dryer. Whereas in contrast, since top loaders tend to spin slower, they usually have less vibration noise during wash cycles. 
How To Buy The Right Electrolux Washer For Your Needs
Although you'll have a smaller selection to pick from if you're going with an Electrolux washer, you still have to think about a few things when it comes to buying the right one. For instance, you have to think thoroughly about:
Your shopping budget

Your available laundry space

Your specific laundering needs
As well as a few more other, important factors. So, to help you come up with a solid shortlist of front load washers, here's a complete guide of important things you should know about when you're thinking of buying an Electrolux washer. 
Washer Size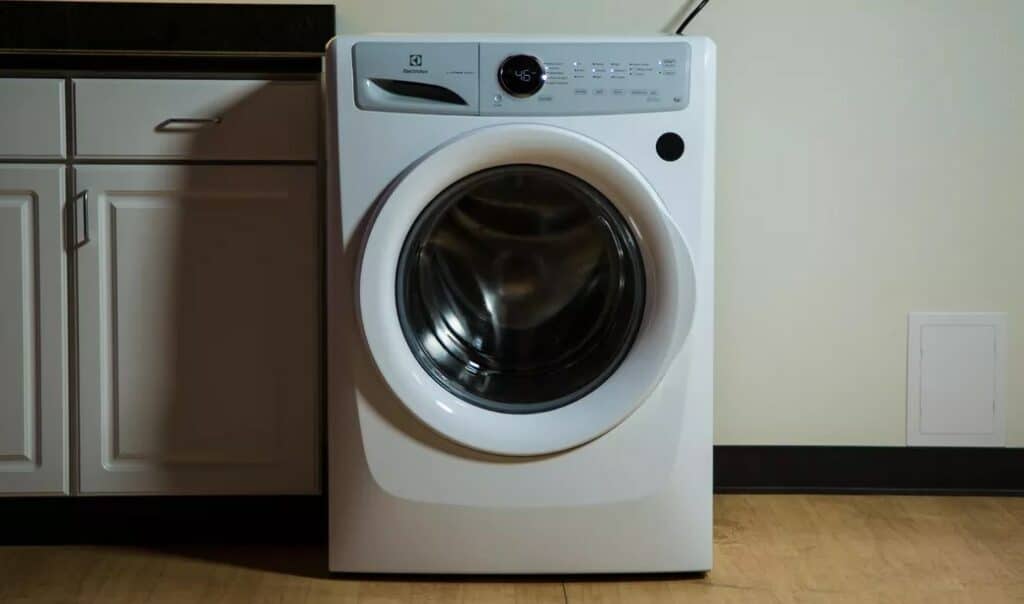 If you already have a firm idea in mind with regards to how much you're willing to spend on a new washer, then the next thing that you need to think about is the actual size of the washing machine. 
In general, Electrolux washers usually have a depth of 32 inches, a width of 27 inches, and a height of 38 inches. There are also a few 24-inch compact models from Electrolux, as well. 
Although Electrolux only offers front load washers, almost all their models have a stackable design. This makes them fairly flexible when it comes to installation. So, regardless of the laundry space you have, you're sure to find a great washer and dryer set from Electrolux.
Capacity
In addition to a washer's size, you also have to think about the capacity of the washing machine's actual washing drum. Most washers from Electrolux tend to have a capacity of 4 to 4.5 cubic feet.
In contrast, Electrolux's line of compact washers generally has a capacity of around 2.4 cubic feet, give or take. Although most brands tend to offer a wider range of washers when it comes to capacity, a 4.3 to 4.5 cu. ft. capacity is still plenty of space for most households.
Must-Have Features 
Electrolux washers are often packed with the necessary essential features required to help you get your garments nice and clean. So, if it's possible, you should always go for the latest version of the model you're considering. 
A great example of a must-have feature is the LuxCare Wash System. The LuxCare Wash System combines features such as:
Improved wash actions

Smart load sensing

Responsive temperature control
These handy features allow you to have a more thorough cleaning of your clothing. In turn, you won't have to worry about clothes or other fabrics coming out dirty or with funky smells.
Another great feature that you might want to have on your washer is the StainTreat II. The StainTreat II allows you to simply optimize a washer's water temperature and tumbling, making it a lot easier for you to deal with different types of stains. 
From simple, convenient features to features that greatly improves a washer's cleaning performance, there's a lot to think about if you're buying an Electrolux washer. Depending on your budget, you more than likely don't want to skimp on these must-haves.
Other Special Features
Electrolux washers also offer a few special features to buyers, as well. Some models come with an adaptive dispenser that's designed to accept different types of detergents, including prepackaged detergent tablets. 
Most of their models also have a Perfect Steam option, too, which enables the washer to soften tough stains without causing damage to your items. However, if you're in search of a more convenient feature, you should also seek out Electrolux washers that come with SmartBoost technology.
This SmartBoost feature is great, as it helps to provide you with a special chamber wherein you can premix detergent and water more easily. This feature will allow you to have a faster and more effective way of cleaning your items. 
Efficiency and Performance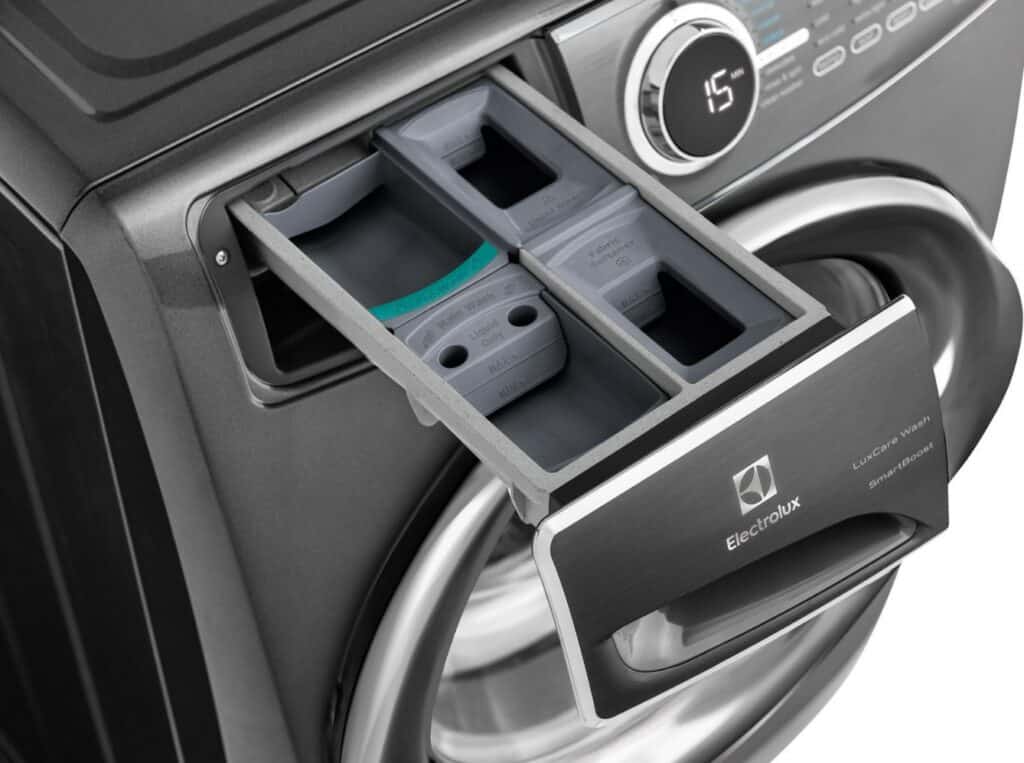 Obviously, you should also invest some of your time knowing your various options' overall cleaning performance. Even though Electrolux washers tend to have fewer wash cycles, especially when compared to other brands, they still offer a bunch of different options when it comes to stain removal or cleaning your clothes. 
For instance, if you're in a rush, Electrolux offers models that can clean your items in about 15 minutes. How nice is that? Other than the cleaning performance and build quality, you should also look into the efficiency of the washer. Fortunately, since Electrolux only offers front loaders, they tend to offer efficient washers. 
All Electrolux models are EnergyStar certified as well. As a matter of fact, Electrolux models are known to be one of the best performers in Energy Star listings. 
Operation and Vibration Noise
Front-load washers, in general, are quieter than top load washers. If you're thinking of placing your washer on the upper floor of your home, then an Electrolux washer might be the perfect option for you. This is because they usually come with easy-to-adjust legs and a well-balanced drum under a heavy load. 
Moreover, if you tend to worry about vibration noise, Electrolux's motion technology for washers is capable of maintaining the weight balance of each load you put into the washer. Even though it's quite common to just order your washer online these days, make sure to shop in person, if you can. That way, it'll make it a lot easier for you to deal with potential defects or noise issues with your laundry unit. 
What Are Our Top Recommendations?
Electrolux has a very limited selection of front loaders when compared to other big brands, which definitely makes it easier for you to narrow down which one you want. Having said that, regardless of the brand you're going with, you'll most likely find yourself scrolling through various reviews and retail stores online. 
So, in order to give you a better overview of your options, we made a list of some of the best Electrolux washers down below. But first, let's go ahead and take a closer look at what our evaluation criteria were, just so you can be confident we only chose the best ones for your needs.
What Was Our Evaluation Criteria?
Even though most Electrolux washers are reliable, there are still a few things that you need to keep in mind to consider before moving forward with a specific washer. In general, your purchase decision would usually depend on your personal needs and budget. 
But in addition to those factors, here are a few other things that we also considered in our list:
How reliable is the washing machine? (That is, are there any common complaints from consumers regarding its function or build?)

How is the cleaning performance of this particular model?

Does it have any specific features worth considering?
Although most of the top loaders in our list are full-sized washers, we have also added in a couple of compact washers, just in case you have space constraints in your home. But regardless of the amount of space you have in your home, you'll surely find our picks to be quite flexible when it comes to installation. 
Front Load Perfect Steam Washer with LuxCare Wash – 4.3 Cu. Ft.
Model#: EFLS527UTT
Aside from having a built-in water heater that helps in killing bacteria and removing greasy stains, the EFLS527UTT also features an extended refresh system that prevents your clothes from developing a musty odor long after they're already washed. 
Moreover, this spacious washer has a diverse set of wash programs, which allows it to handle all kinds of common stains. These include blood stains (ladies know what we're talking about here) and chocolate.
In terms of notable features, the ELFS527UTT has a convenient pod dispenser, which allows the detergent to both dissolve and equally distribute among your laundry load. If you're looking for a well-featured midrange washer, the EFLS527UTT is definitely well worth considering. 
Pros:
Great modern features

Above-average cleaning performance

Stackable and sleek design
Cons:
Can be fairly tough on clothes

It has no spin-only cycle
Front Load Washer with LuxCare Wash – 4.3 Cu. Ft.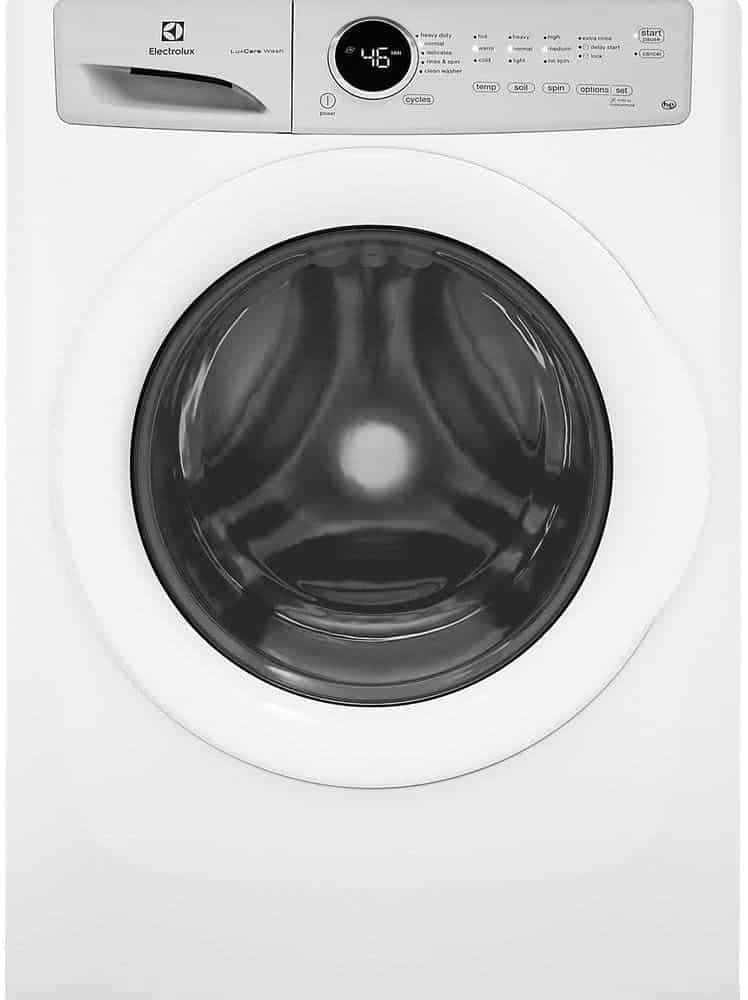 Model#: EFLW317TIW
Even though it's only part of the entry-level series of Electrolux, the EFLW317TIW's cleaning performance is comparable to most midrange washers. Moreover, the ELFW317TIW is a very efficient washer. It only consumes about 55 kWh of energy per year. 
And given that it has fewer cleaning cycles than its competitors, it has a minimal yet responsive control panel. The EFLW317TIW, as a whole, is a good choice if you're looking for a very simple and easy-to-use washing machine. However, if you're in need of fancier or more specific features, then this washer may not be for you. 
Pros:
Great stain removal

Easy to read digital screen

Fairly affordable
Cons:
Has fewer cycles than its competitors

Lacks special features
Front Load Perfect Steam Washer with LuxCare Wash and SmartBoost – 4.4 Cu. Ft.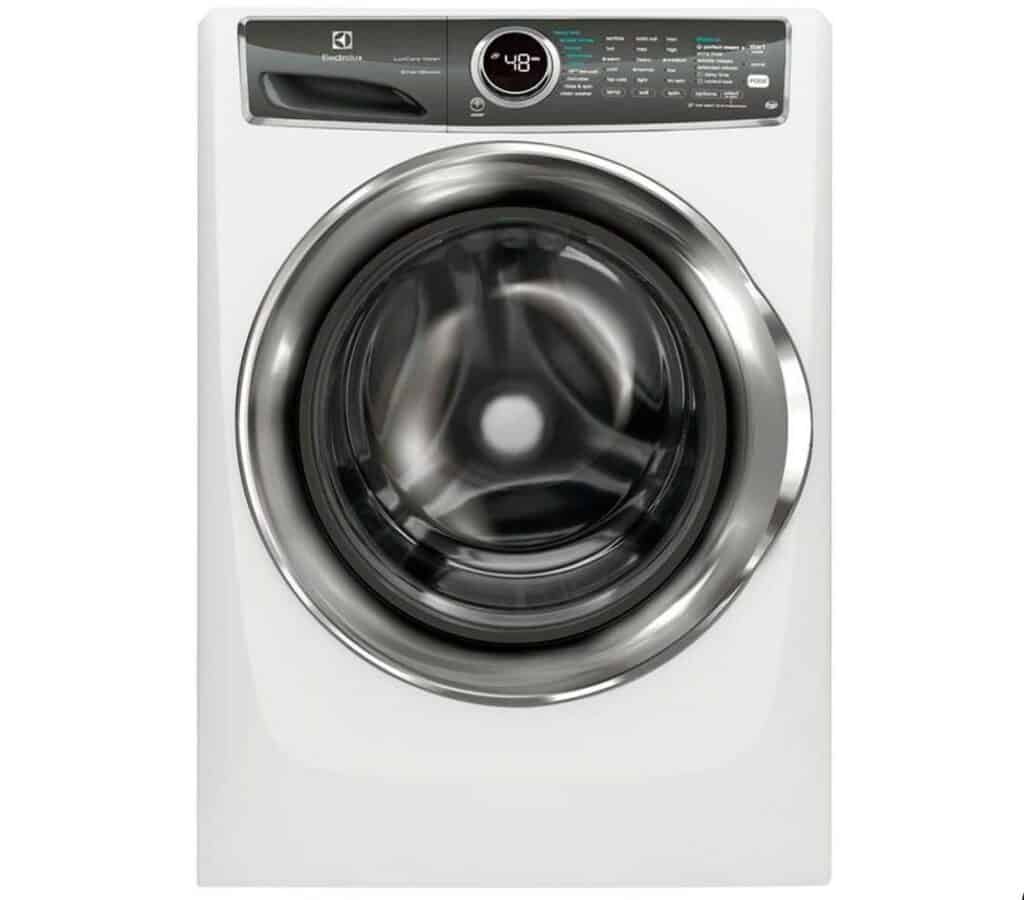 Model#: EFLS627UIW
If you're looking for one of the best and most well-featured washing machines from Electrolux, then you should definitely consider the EFLS627UIW as one of your options. When it comes to cleaning performance, the EFLS627UIW does an exceptional job at removing stains. 
Furthermore, it also has a dedicated and well-designed dispenser for detergent pods. However, on the downside, the EFLS627UIW lacks smart home connectivity features. It also has fewer cleaning cycles than some of its competitors. 
Still, with its top-notch performance and innovative features, the EFLS627UIW is an excellent choice if you're in search of the best front load washer. If you want a more premium look, this washer also comes in a dark gray finish. 
Pros:
Has a premium white or gray finish

The best at removing stains
Cons:
It has no compatible app

More expensive than other washers
24" Compact Washer with LuxCare Wash System – 2.4 Cu. Ft.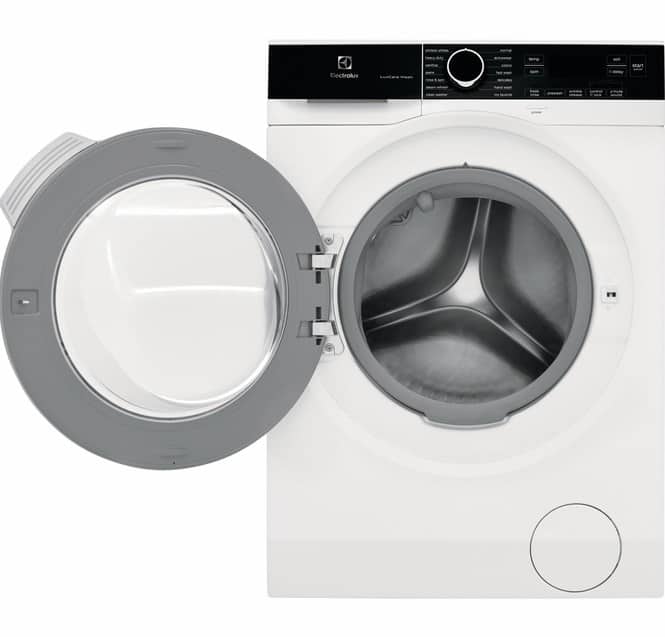 Model#: ELFW4222AW
In addition to having a modern and professional look, the ELFW4222AW also comes with a few useful features that you might want from a compact washer. It has 12 different wash cycles, including an efficient and gentle steam cycle. This makes it more than completely capable of cleaning any soil type. 
Like most modern compact washers, the ELFW4222AW also has a stackable design. Overall, the ELFW4222AW is a pretty solid option if you're looking for a compact washer. If you're in search of a reliable basic dryer that will pair perfectly with this machine, be sure to check out the ELFE4222AW while browsing. 
Pros:
EnergyStar certified

Runs quietly

Easy to use settings
Cons:
Small capacity

Limited volume option for signal tones 
Compact Washer with IQ-Touch Controls and Perfect Steam – 2.4 Cu. Ft.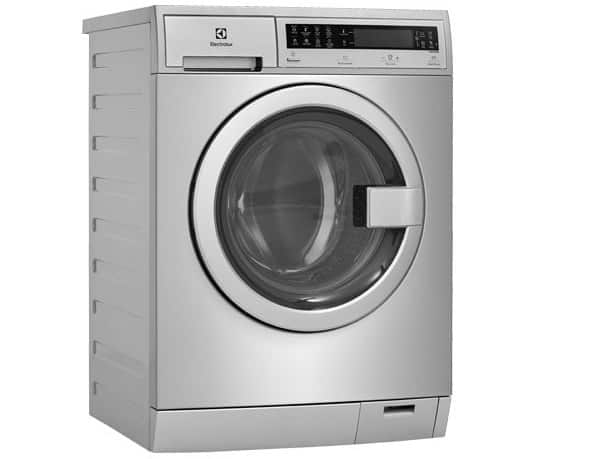 Model#: EFLS210TIS
The EFLS210TIS is packed with several essential features that you might be looking for. In fact, it has nearly all the features of a full-size washer, a refreshing bonus that's not normally found in more compact washing machines. 
Apart from having a bottom rising steam, the EFLS210TIS comes with 14 specialty cycles and a perfect balance system which ensures it to have a smooth and quiet operation. And although it's a slightly older model than the ELFW4222AW, the EFLS210TIS is still a great alternative when compared to other compact washers. 
So, whether you're looking for the perfect washer for your small apartment, or you're in search of something that can fit in your closet space, this compact washer is absolutely worth checking out! 
Pros:
Has a modern and sleek control panel

Great space saver

Comes with different and useful presets
Cons:
Some reviewers found that it's difficult to clean or dry out

No quick wash feature 
27 Inch Front Load Washer with 4.5 Cu. Ft. Capacity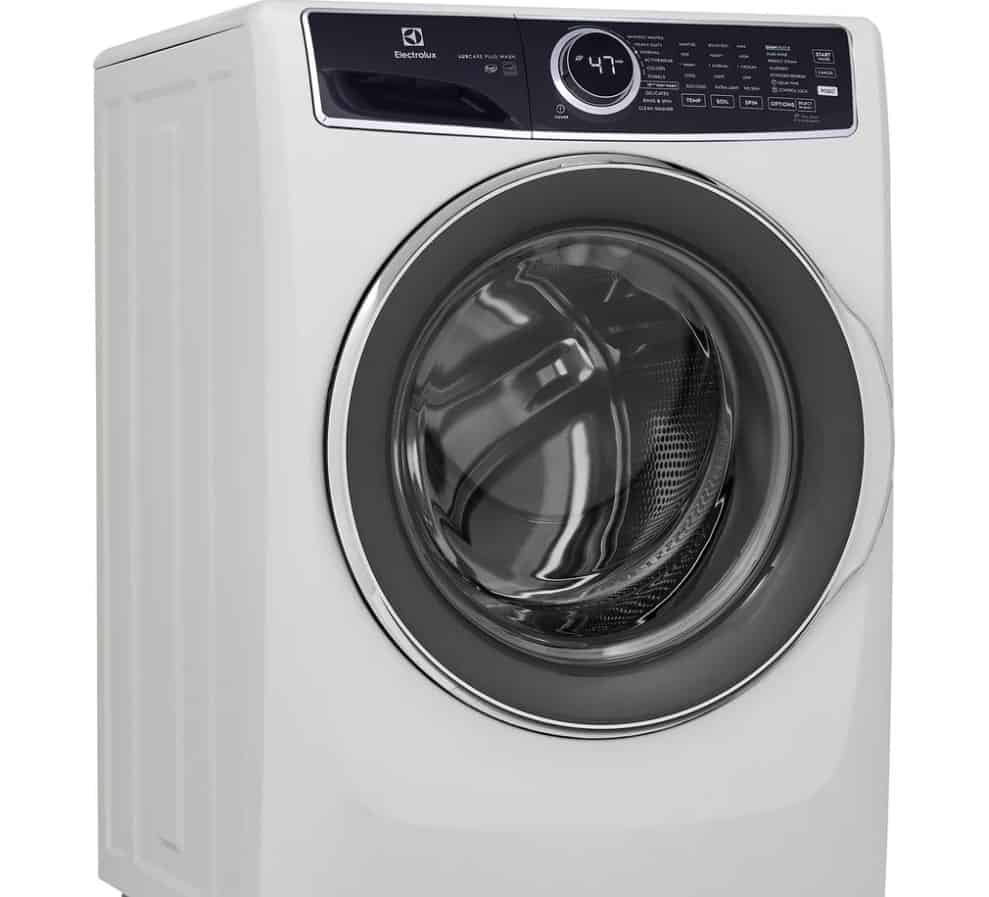 Model#: ELFW7537AW
With a capacity of 4.5 cu. ft., the ELFW7537AW is definitely worth considering if you have a medium to large family. Apart from the usual addition of a stainless-steel drum and a reversible door, this premium washer also comes with a variety of different wash cycles. This is including a 15-minute fast wash and an activewear cycle which enables it to handle delicate activewear garments. 
Moreover, it also has a bright LED display and a light inside the washer, which helps you to easily sort over your laundry load. If you're in need of a spacious capacity for large items, make sure to add the ELF7537AW to your shortlist. 
Pros:
Has plenty of drum space

Decent variety of washer cycles

Well-built
Cons:
Sometimes has issues with hot water

Door lock doesn't always fully engage

Clothes sometimes come out too damp
FAQs
Final Thoughts: Choose the Electrolux Washer That Best Fits Your Needs
Even though your selection of washers would be somewhat limited if you go with a brand like Electrolux, that doesn't necessarily mean that this isn't the right brand for you. For those of you who get easily overwhelmed and buyer's fatigue, having limited choices can definitely be a good thing.
With that in mind, it would still be fairly difficult for you to find the right one without properly doing your research, especially if it's your first time buying a top load washer. Having said that, no matter what option you choose, you'll most likely find yourself extremely satisfied considering the features that they offer with their washers. 
Still, if we had to select only one Electrolux washer to recommend, we would choose the EFLS527UTT. Regardless if you want a reliable midrange or high-end top loader, the EFLS527UTT is a solid choice. 
Although it doesn't have some of Electrolux's notable features, it does a great job in terms of cleaning performance. Considering that it only consumes about 75 kWh per year, it's arguably the most efficient mid-range washer from Electrolux, too. 
Regardless if it's your first time buying an Electrolux washer or not, we hope that our guide has helped you on your search for the right Electrolux washer. Like with any home appliance you buy, remember to choose the one that best fits your needs!