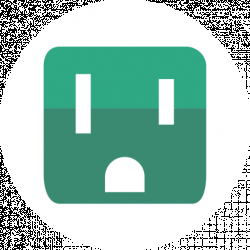 Latest posts by Appliance FAQs Team
(see all)
For a long time, refrigerators were the big, boxy, and boring appliances in the home, and choosing one was not that difficult. The choices were simple; either choose between white, black, grey, or eggshell. However, times have changed, with refrigerator manufacturers like LG, Samsung, and Whirlpool upping their game.
Smart fridges have also become a force to reckon with, with the onset of intelligent homes. With all these choices to choose from, today's shoppers may be wondering where to start from.
There are many styles, designs, colors, and smart options to choose from, and the process can be pretty overwhelming. However, worry not. Below is an in-depth guide on how to find the best refrigerators in the market. Read on to find out more.
Finding the Right Size
One of the most important aspects to consider is the size of the refrigerator that will fit your kitchen. The external dimensions and width can be limiting factors if you ignore them. Nothing is as frustrating as buying a refrigerator that does not fit into your kitchen or one that is too small to accommodate the family.
Many people have a misconception that all you need is to measure your space, and the appliance will fit just right. However, this is not the case. You need to measure the height, width and depth, ventilation space, and clearance space to accommodate the door hinge and the cleaning space.
If you are replacing a current fridge
Buy one that is of similar width, if possible.
Measure the current refrigerator's width, height, and depth. This will help you know what size you should be looking for.
Remember that the manufacturer's measurements are usually up to an inch skinnier to add more room for insulation.
If You are Buying a Fridge for a Newly Furnished Home or Remodeled Kitchen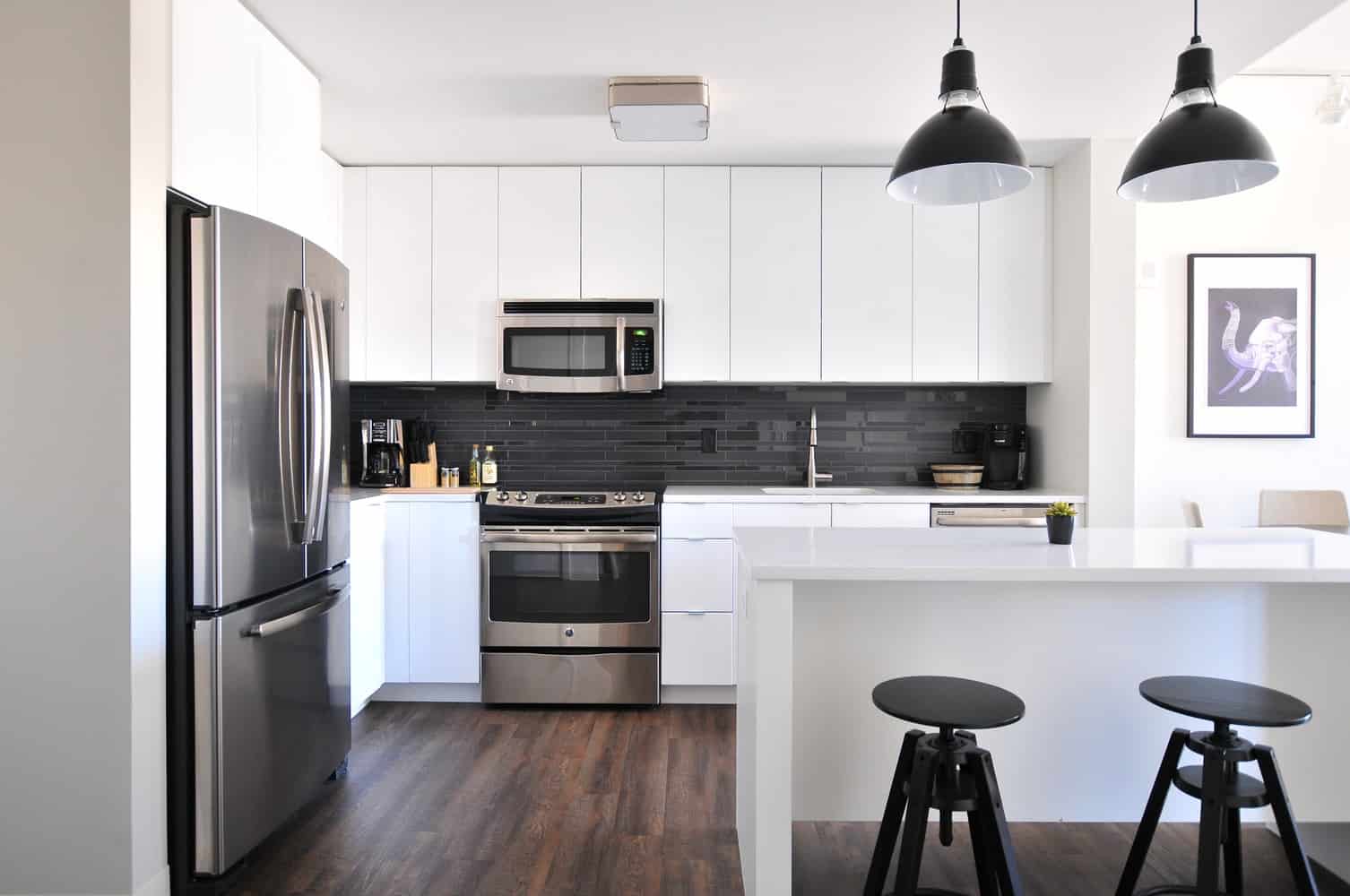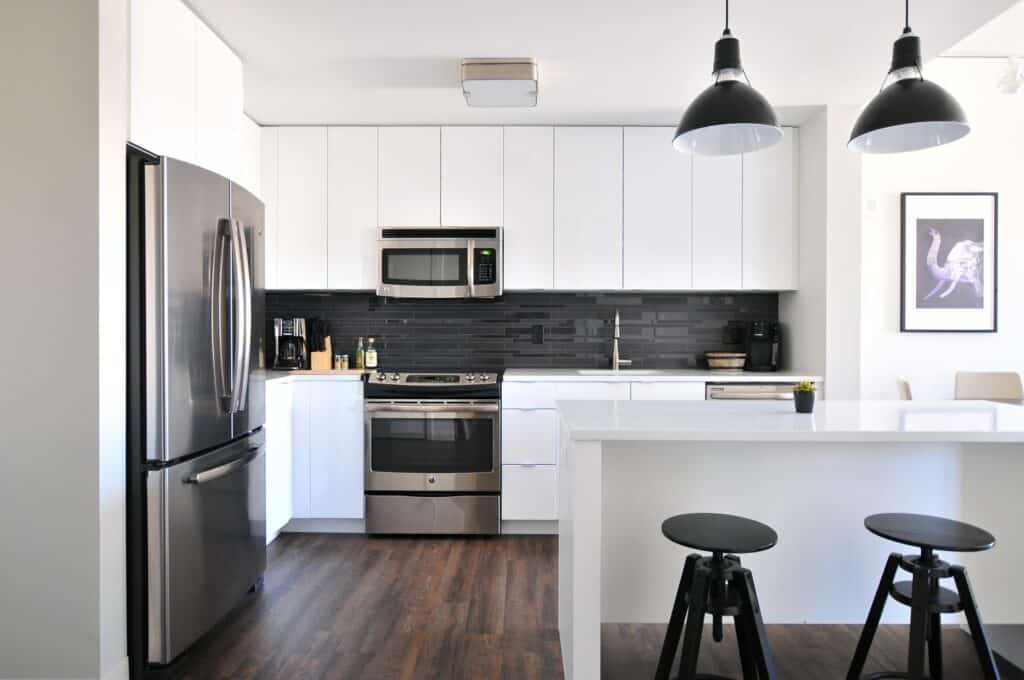 You will need to measure the space where you will place the refrigerator. You can do so by doing the following:
Measure the Depth, Height, and Width
Here, we recommend measuring from different locations in case your floors and cabinets are uneven. You can start by measuring the space from the floor to the cabinet's bottom.
Then, measure the width from side to side and take measurements closer to the front of the cabinet and back wall. Once done, measure the top and bottom of the space and the depth of the opening from the back wall to the front edge of the counters.
Measure for Ventilation
Add at least an inch of extra space above and behind the refrigerator for ventilation. A fridge that is not well ventilated will use additional energy, hence damaging the compressor or motor. Fridges work by transferring heat from the inside to the outside via coils; thus, they need adequate breathing space.
Measure the Door Opening
You need to know how far the refrigerator door will need to open into the kitchen. Many refrigerators in the market require that their doors are entirely open to ensure that you can access all the shelves comfortably.
Therefore, ensure that you have adequate space to avoid the door hitting counters, cupboards, and other appliances. This is especially crucial if you have a narrow kitchen.
Allow Space for the Hinges
Can you open the refrigerator door without hitting the wall? Is there enough space on the hinge side to facilitate that? It would be best if you considered this, and as a general rule, always leave two inches of extra space for the hinge to work effectively and protect the wall from the door handle.
Measure the House Doorways
From the front door, along the way to where the refrigerator will be placed, measure the doorway. This will help prevent you from removing the refrigerator door handle or even the door for it to fit, which will be cumbersome for you.
Consider the Family Size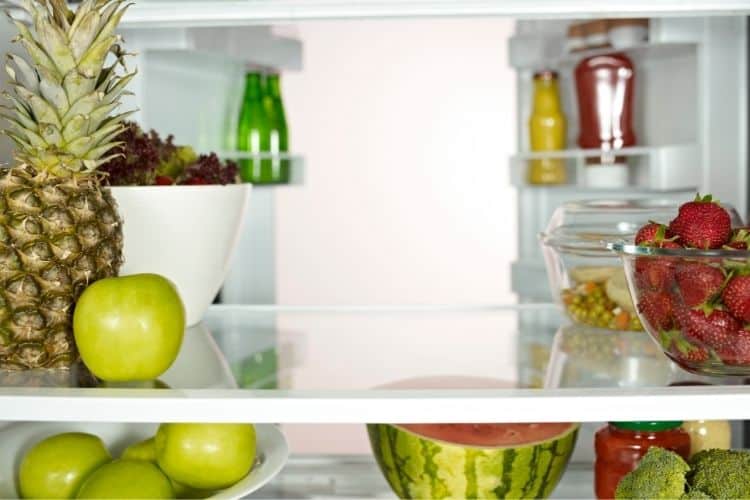 Once you are done measuring the physical size of the refrigerator space, the next step is to consider the size of the family. How many people live in the house? Will the family be growing soon? Do you usually host parties regularly? When considering the family size, you need to look at a few factors:
One adult will need a minimum of 4-6 cubic feet of space. However, more space will be required for gatherings and holidays.
A couple that rarely cooks at home will need about 12-16 cubic feet of space.
A couple that cooks often will need a minimum of 18 cubic feet.
A family of four will need at least 20 cubic feet or more.
Consider Your Food-Buying Habits
Nothing is as frustrating as going for food shopping, only for it not to fit in your refrigerator. Therefore, it is crucial to consider your food-buying habits when determining the size of the fridge that you will buy. If you purchase more fresh foods than frozen, then ensure you have plenty of storage space in the refrigerator. If you buy more frozen foods to save time, then you will need more freezer space.
All of that said, you should note that a bigger fridge means a massive energy bill at the end of the month. Therefore, avoid splurging on extra space that you will not need. Only buy what your family needs to avoid crossing the line and paying so much for electricity.
Pick the Right Style
There are numerous refrigerator styles to choose from. Many people prefer the French-door models as they have a high-end aesthetic that will leave you in awe—others like the bottom-freezers as they put the fresh foods at eye level.
Side-by-side refrigerators are also great for people with smaller kitchens as they have narrow doors. So, which one do you choose for your home? Let us look at the different refrigerator door styles that are there in the market today.
Top-Freezer Refrigerators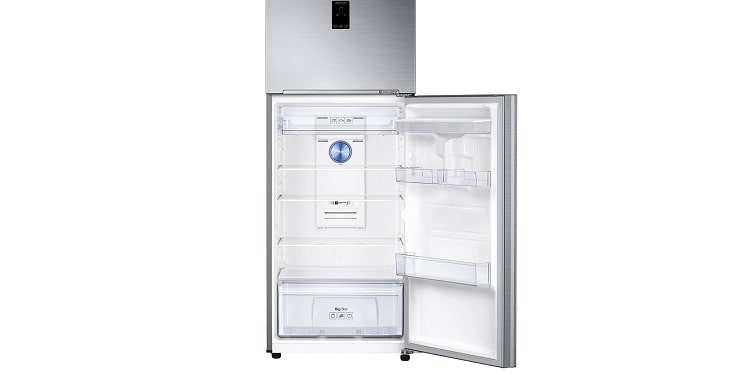 This is most probably the style that comes to your head when you think of a refrigerator. The bottom two-thirds of this appliance is dedicated to fresh food storage, and the freezer unit is situated at the top.
It has been in the market for many years, and most people probably remember themselves as kids struggling to get popsicles from the freezer compartment. However, times have changed, and if you are looking for a modern look, this design may not be the best for you. There are more high-end and feature-rich refrigerators in the market.
Average Dimensions
Width:29 inches
Depth:31 inches
Depth with door open at 90 degrees: 58 inches.
Height:66 inches.
Price: $470-2199.
They Offer
Easy access to frozen items.
More refrigerator space than freezer space.
They have a traditional setup and look.
Large door clearances, hence more open space needed in front of it.
The Best Option if You
Have a lot of space in the kitchen. Their full-width doors need lots of clearance to open; hence this will not be a good option for people with smaller kitchens.
Are on a budget. This refrigerator is quite affordable and comes at a reasonable price. You can find a 30-inch wide fridge for four people for around $475 and above.
Care about reliability. If you want a reliable refrigerator that will not break down every few months, this is the type for you. These fridges do not come with extra features such as ice dispensers and water dispensers; hence they have fewer parts that can break.
Benefits
They come in a variety of sizes.
They are affordable. To purchase and run.
They are energy efficient. According to the U.S Department of Energy, top freezers use 10-25% less energy than bottom freezers.
Cons
You have to bend down to access the fridge.
Bottom-Freezer Refrigerators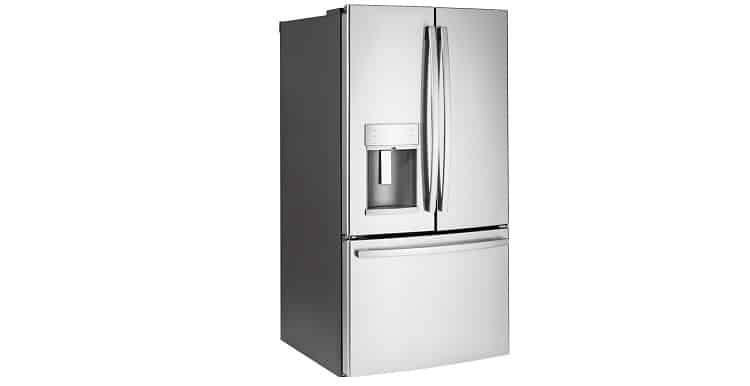 If you want easy access to your fresh foods and are looking for something simple, then this is the type for you. They are not that different from their top-freezer counterparts, except for where the freezer is located, and in this case, it is at the bottom.
Therefore, you do not need to hunch over while getting your most-used ingredients since the fresh food compartment is located at the top, and the freezer is down below. They are also bigger than top freezers, but the varieties to choose from are much less.
Average Dimensions
Width:29 inches.
Depth:32 inches.
Depth with door open at 90 degrees: 59 inches.
Height:67 inches.
Price: $999-$1899.
They Offer
Easy access to fresh items.
A larger refrigerator compartment than the freezer compartment.
Large door clearances.
The Best Option if You
Do not mind bending over to get into the freezer.
Benefits
They have built-in organizers that will help keep everything in order.
The fridge is at eye level. You, therefore, do not need to bend to see the things you need every day.
Cons
They are more expensive than top-freezer refrigerators. The difference can be $100-$200 for basic versions.
They can be slower to chill, especially in the freezer.
Side-By-Side Refrigerators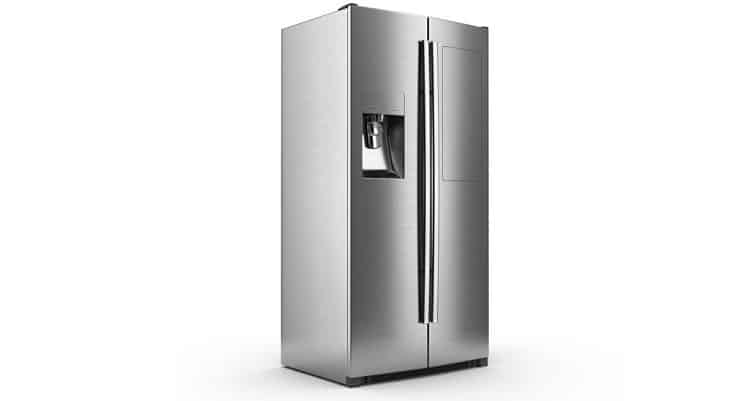 These appliances split your fridge down the middle; hence you can have fresh foods on the right and frozen foods on the left. Some models offer equal real estate for both sections and add some space for the fridge. They also do not need a lot of clearance space to open the doors; hence they are perfect for narrow kitchens.
Average Dimensions
Width: 35 inches.
Depth:30 inches.
Depth with the door open at 90- degrees:45 inches.
Height:71 inches.
Price:$1140-$3099.
They Offer
Specialized storage such as can caddies to organize soda.
A space-saving ice maker on the freezer door.
Performance features, such as humidity-controlled crispers for ideal fruit and vegetable environments.
Lots of usable capacity.
The Best Option if You
Have a limited kitchen space. These models are great for narrow galley kitchens since their door's swing radius is less than a top freezer unit.
Eat more frozen than fresh food. These units have more vertical storage space for frozen food than their fresh counterparts. Also, the frozen section is at eye level and has more shelving; hence you can access it easily.
Want premium features at excellent prices. These side-by-sides units are cheaper than French-door fridges and have incredible features for the same price.
Benefits
They have incredible storage capacity. Some models have more freezer capacity than some configurations.
They offer excellent access for people in wheelchairs.
They are great for galley kitchens.
Cons
Temperatures can be inconsistent between the top and bottom of the unit.
Ice makers and water chillers can take up plenty of space.
Internal space is pretty narrow and cannot fit a frozen turkey.
French-Door Refrigerators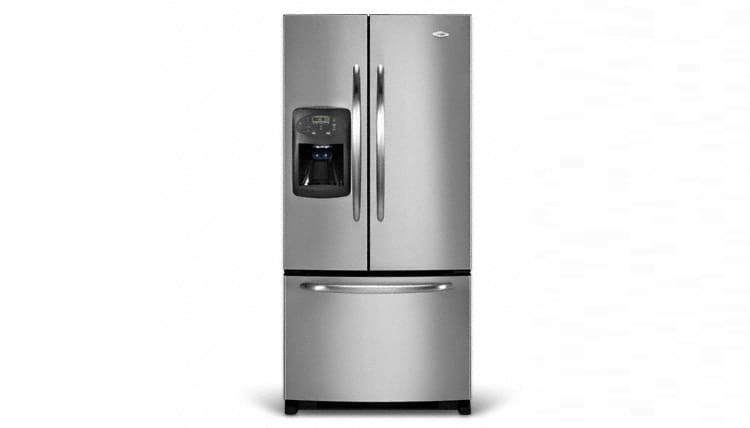 These fridges came to the market in the late 1990s and are pretty popular for people with modern kitchens. A French-door refrigerator has double doors that open in the middle to reveal wide shelving inside.
They also have a freezer drawer that slides out underneath it. Some higher-end models, such as Samsung, have smart screens and smart hubs- others also have built-in water and ice dispensers.
Average Dimensions
Width:35 inches.
Depth:29 inches.
Depth with door open at 90 degrees: Around 50 inches.
Height: 68 inches.
Price: $1599-$3999. For those with built-in cabinetry, they will range from $4500-$8000.
They Offer
Ample space for wider items such as pizza boxes.
Water dispensers, ice makers, and dual cooling.
Specialized storage like drawers and organized freezer storage.
The Best Option if You
Have a limited kitchen space. A French-door freezer usually pulls out straight instead of swinging open, so walls will not constrain it. The double doors also extend only halfway compared to a full-width door; hence it will be perfect for narrow spaces.
Have a budget of at least $1500. These units do not come cheap, and the most affordable that you will find in the market will go for around $1500. This one will have no-frills and will be about 36 inches. Paying more will mean more features and capacity, but this does not guarantee longevity, better food preservation, or reliability unless you go for a premium unit.
Eat more fresh foods and produce. A French-door fridge is the most practical if you eat most of your food fresh. The fridge section is at waist-to-eye level, hence easy to reach.
Benefits
Their open shelving design allows you to easily see what is in the fridge, eliminating forgotten items and food wastage.
They have a modern design with a stainless steel finish that will add elegance to your kitchen.
You do not have to bend as much as all your fresh foods are at eye level.
It has wider dimensions to allow for the storage of large food items like large serving trays.
Cons
They are pretty expensive; hence they cannot fit within everyone's budget.
They have narrow doors; hence you will have to use the main space for items like large containers.
Built-In Refrigerators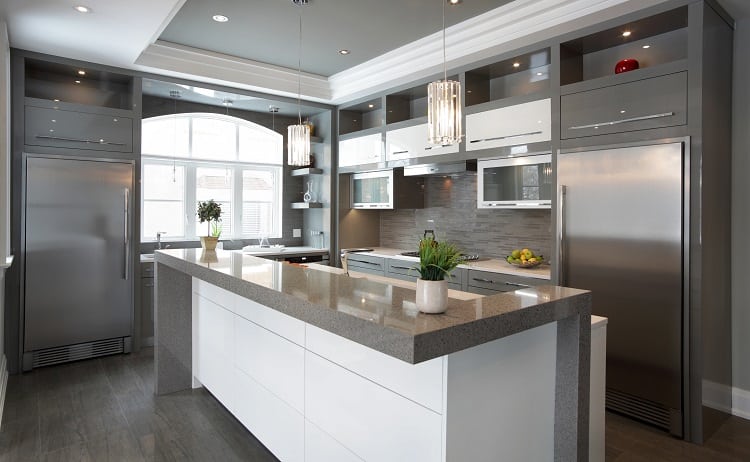 These types of refrigerators come in the bottom freezer, French, and side-by-side door styles. They are high-end appliances that rest flush with cabinets and give your kitchen an elegant and customized look.
They do not offer as much depth as freestanding units do, but they are taller and broader. Some models have door panels to blend with the kitchen's look. You will have to pay a premium for this unit, and also, its installation is permanent. Therefore, if you need to move or remodel anytime soon, this is not the best option for you.
Average Dimensions
Width:30-48 inches.
Capacity: 27 cubic feet.
Height: Above 70 inches.
Price:$200-$2000
The Best Option if You
Have a luxury kitchen. They have a hefty price tag; hence they are perfect for high-end kitchens.
Are staying permanently in one location. These refrigerators are attached to the wall; hence they are ideal for people who will not be moving houses any time soon.
Benefits
They are environmentally friendly. Most of these built-in refrigerators are energy star certified as most of them were manufactured after 2002. This will help reduce your power bill while also saving the environment.
Better traffic flow as they do not stick out of the wall like regular refrigerators.
They offer more free space, which will be a plus for you.
They have a longer lifespan than most stand-alone refrigerators.
Cons
They have a smaller freezer compartment if present, as compared to the regular types. Therefore, expect less capacity regardless of whether you choose one with a freezer section as a bottom drawer or top-mount.
They have shorter crispers and deli compartments, hence storing long items such as celery may be a challenge.
They can be pretty expensive upfront as you will need a professional to install them.
Counter-Depth Refrigerators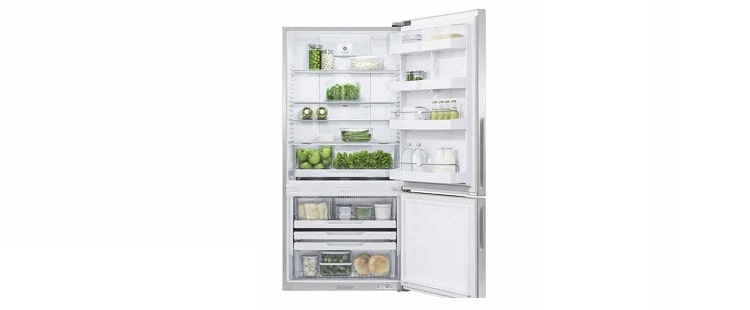 You are highly likely to hear of this term while shopping, but what does it mean? Counter-depth refrigerators are appliances designed to align perfectly with your countertops' edges, leaving only the refrigerator door sticking out. They will therefore give your refrigerator the appearance of an expensive built-in unit without it being built.
Average Dimensions
Depth:24-25 inches, which is 9-10 inches less than a standard fridge.
Price: Above $1000
The Best Option if You
Do not have adequate kitchen space. These models are perfect for galley kitchens, those with an island tight to the fridge, and small kitchens.
Do not need a lot of storage. If you have a small household or rarely make massive weekly shopping, this is the perfect option for you as you will not need a lot of storage space.
Benefits
They blend perfectly into the kitchen décor.
They offer more aisle space; hence you can move around quickly.
They have a reduced open depth that will give you more room to open the doors without knocking on kitchen items.
Cons
The freezer compartments hold fewer items.
Crispers and deli compartments are shorter than regular fridges.
They have a more comprehensive profile than a standard model; hence you need adequate space for it.
Other Features to Look Out For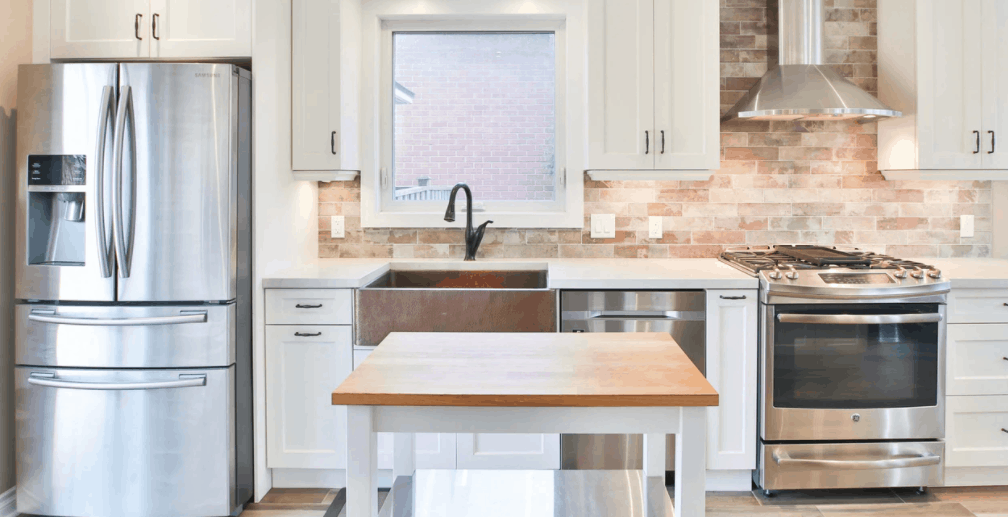 Ice and Water Dispensers
A dispenser located outside of the door will save you from constantly opening and closing the fridge. You will also find some water and ice dispensers that require replacement water filters, which will be an additional expense for you.
Some dispensers need to be connected to a tap, which will lead to plumbing installation costs. Others have the water dispensed from a container inside the door, but it will take up to 30% of your freezer space.
Crisper
An efficient crisper will save you from putting your fruits and vegetables in plastic bags. If you usually store large volumes of fruits and vegetables, get a fridge with more than one crisper.
Child Proofing
To keep your kids safe, ensure that you buy a refrigerator with temperature controls with a child lock, a lockable medicine compartment, and water and ice dispensers with child-proof settings.
Fingerprint-resistant
Modern refrigerators have a protective coating that resists smudges and smears. This fingerprint-resistant option will come in handy, especially if you have kids, as it will reduce your cleaning time.
Energy Efficiency
We recommend you buy an ENERGY STAR certified refrigerator as it will maximize your energy savings and reduce your power bills.
The Finish
Stainless steel is the most popular finish as it is durable and fits into most décor. It also has fingerprint-resistant models, which are a plus. However, you should note that some stainless steel finishes will not hold magnets.
Storage Space
Specialized storage such as Adjustable Gallon Door Bins for loading flexibility and Infinity Slide Shelves to accommodate tall items will help ensure that you get ample space. Also, shelves that slide in or fold up will make life easier for you when you have many things to store.
Do I Need a Smart Refrigerator?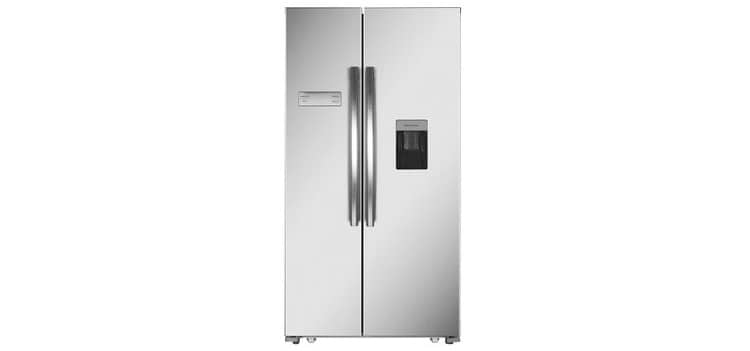 Buying a smart refrigerator is not a matter of life and death; therefore, it is not a must, as you can live comfortably without one. This is especially true if affordability is your main concern, as these smart refrigerators do not come cheap. They are pretty pricey as they use innovative technology.
Smart fridges are WiFi and Bluetooth enabled, with others having cameras, mounted touchscreen tablets, and even apps to help you do your day-to-day activities. They have the following features:
Smart Multitasking
Some smart refrigerators will come in handy while multitasking at home. For example, some of them can even heat water remotely from the phone. There are even others that can play music for you while you are cooking in the kitchen.
Voice Control
With the surge in popularity of smart-home voice control platforms, refrigerators have not been left out. Samsung and LG smart refrigerators that have the Bixby voice assistant and Alexa controls, respectively.
Fridge Cameras
These cameras will let you see what's inside the refrigerator remotely from your phone. Amazing, right? You can also track the expiration dates, which is a plus. Samsung also plans to use artificial intelligence to teach these smart units how to identify foods without input.
These appliances are ideal for high-tech homes. However, smart refrigerators, like other smart technology, can be hacked.
Our Top Recommendations
Everything in the home revolves around the refrigerator, from breakfast, lunch to dinner. Therefore, choosing the best refrigerator for your home is paramount to success in the family's day-to-day activities. We have compiled a list of the top three refrigerators that we love.
GE GSS25GSHSS Side-By-Side Refrigerator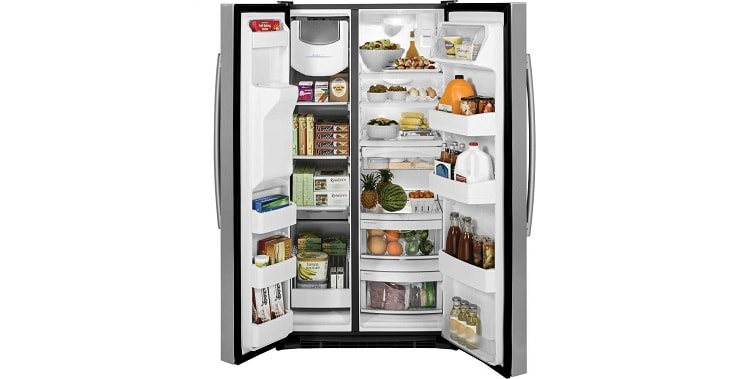 GE has been manufacturing appliances for more than 125 years, and therefore, you can never go wrong with them. Its side-by-side refrigerator is our No.1. It is affordable compared to other models and has quality lighting, adjustable shelving, and an ice and water dispenser with an advanced water filtration system.
When it comes to function, cost, and appearance, you can rest assured that you will not find a better model out there. It also has a spacious 25.3 cubic foot interior and a 9.7 cubic feet freezer.
This model does not have WiFi connectivity and a fast-cool function to return it to the right temperature after the doors are left open. However, if these features are not essential to you, it is a great option.
Maytag Wide French Door Refrigerator MFI2570FEZ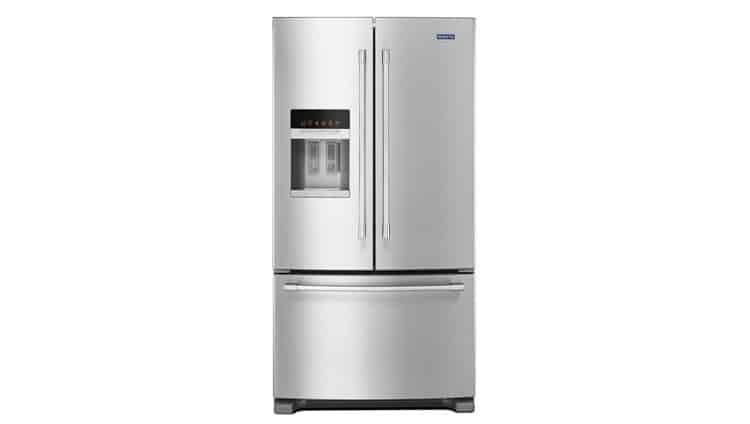 Maytag was founded in 1893; hence it is a long-standing appliance company that you can trust. It is a Whirlpool brand and offers a variety of refrigerators. However, its French-Door Refrigerator stands out.
What we love about it is the ice maker and water dispenser situated at the door. It is also Energy Star-certified and has a PowerCold capability that quickly brings the temperature down to cold settings after the doors are left open.
If you want a convenient refrigerator with a 10-year limited warranty and with a French-door design that comes with a bottom drawer freezer, then this is the option for you.
Samsung Family Hub Refrigerator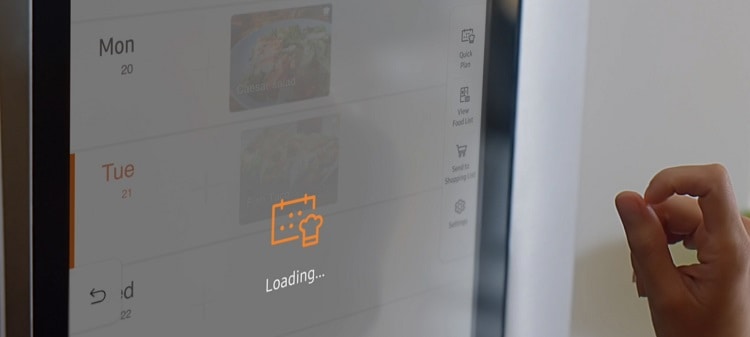 If you have a large family, then this is the best option for you. The Samsung Family Hub Refrigerator is also smart; hence, it will let you see what is inside it from anywhere: the swimming pool, hiking trail, or even at the office.
You can even use it to manage your family's calendar and stream music while in the house. With Bixby, Samsung's smart voice assistant, you can ask the fridge to even add groceries to your shopping list or even order food from Grub hub.
It has a Flex Zone that converts it from a freezer to a refrigerator with the touch of a button. It is fingerprint resistant, has a 22 Cu. Ft capacity and metal cooling that helps maintain consistent temperature throughout the refrigerator.
It also has a magnetic finish, is Energy Star certified, and has a wine rack that you can use to store your favorite wine and beer.
FAQs
Question: How Long Should a New Refrigerator Last?
Answer: According to the United States Department of Energy, a new refrigerator will last for approximately 12 years. Once it gets to that period, then it is advised to replace it.
However, you may have to replace it sooner if it is not energy efficient or shows signs that it has come to its end. Some of these signs include food going bad quickly, the refrigerator's exterior getting hot, external condensation, and an unexplainable spike in electricity bills.
Question: How Should I Dispose of an Old Fridge?
Answer: If the fridge is old and inefficient, you will have to switch it off to conserve electricity. However, how should you dispose of it? The good news is that some retailers will gladly take away your old fridge when they deliver a new one.
You can also sell it second-hand if it is still in working condition. Some scrap metal dealers can also help you out as they accept old appliances to recover the raw materials. However, you will have to inquire first to confirm if it is possible and their charges.
Question: How Long Should I Wait Before I Put Food in a New Refrigerator?
Answer: Once the refrigerator arrives, you may be itching to put it to work. However, this should not be the case. You should wait at least 2 hours and 24 hours at most before placing food in a new refrigerator. This is to ensure that it attains its full functionality and has the proper internal temperature.
Final Thoughts
With the above information, you can ascertain there are numerous refrigerator types and factors to consider. The guide simplifies the process for you; therefore, it does not have to be as daunting as it seemed before.
Manufacturers are working tirelessly to come up with new advanced features and designs on a daily. With all the diversity of options, you will have nothing hindering you from getting the best refrigerator for your home, provided you have done extensive research based on your needs.