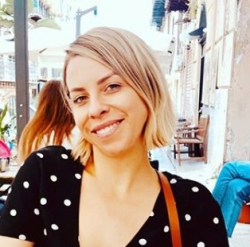 Latest posts by Jodie Chiffey
(see all)
Samsung has been a global leader in the manufacture of high-tech products for over 70 years. Its refrigerators are well known for their efficiency, reliability, and convenient features. This Samsung RF28HMEDBSR review will take an in-depth look at this refrigerator and see how it stacks up compared to some of the alternatives on the market.
This guide will go over the most important features of the RF28HMEDBSR and the key specifications of this device. We will give you an overview of its pros and cons, and we will show you some alternative models in case you want to have more options. We will also answer some of the most commonly asked questions about this refrigerator.
First, let's take a look at the key specifications of this fridge.
Key Specs
Let's check out the key specs for the Samsung RF28HMEDBSR:
Product Height: 70 inches
Product Width: 35 ¾ inches
Height to Top of Refrigerator (Without Hinges): 68 7/8inches
Depth Without Handle: 34 inches
Depth With Handle: 36 ½ inches
Total Capacity: 28.15 cubic feet
Freezer Capacity: 8.35 cubic feet
Weight: 374 lbs
Refrigerator Style: French Door
Lighting Type: LED
Ice Maker: Yes
Voltage Rating: 120V, 10A
Color Options: Stainless Steel
Latest Price: Check the latest price here
Samsung RF28HMEDBSR – the Main Features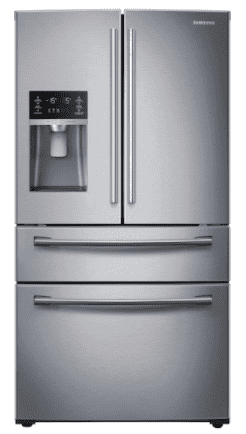 Let's have a look at the RF28HMEDBSR in more detail.
Twin Cooling Plus
The Samsung RF28HMEDBSR Refrigerator model includes an updated Twin Cooling Plus system, which keeps food fresh for a longer time thanks to its more humid environment and superior temperature control. This feature also ensures dry freezer conditions, which means you will get less freezer burn and better-tasting food.
In Samsung fridges, the Twin Cooling Technology works by controlling the refrigerator and freezer separately with two individual evaporators and highly accurate electronic control. This helps maintain the specified temperature in both the freezer and the refrigerator and does not allow both sections' aroma to mix.
FlexZone™ Drawer
One of the features I like about this model is the Counter-Height FlexZone™ Drawer, which is a full-width drawer with adjustable temperature control.
This innovative drawer offers four different temperature levels: 29°F for meat and fish, 33°F for cold drinks, 37° for Deli, and 42°F for wine. So whether you are storing drinks for a party or lunch for your kids, this drawer will be just appropriate for your particular requirements.
The drawer includes an adjustable divider that lets you optimize the layout, so it suits your family's needs. In addition, the drawer has easy access for kids, which makes it perfect for storing things like juice boxes and lunches.
Extra Features
There are a few extra features worth mentioning. The "Ice Master" ice maker can make up to 10 lbs. of ice in one day, and it can store 4.2 lbs. of ice. It has a space-saving design that leaves more room inside the refrigerator.
The Samsung RF28HMEDBSR comes with a convenient water dispenser. The specially designed tall-opening dispenser can fit tall glasses with ease. You may love this fridge if you like to have a glass of cool water at the push of a button.
This model features high-efficiency LED lighting that brightens the entire room inside your fridge. The light covers every inch of the refrigerator, making it easy to find your food items. The modern light in this fridge emits less heat and saves more energy than regular lighting.
For your convenience, the device includes an EZ-Open™ Handle that ensures an easy opening and closing of the freezer. The specially designed handle lifts and glides out the drawer easily, even if the freezer is fully loaded.
Storage and Organization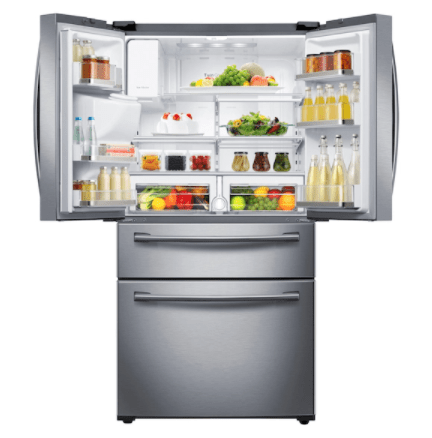 This model is a French Door refrigerator, which means the double doors open wide. This large fridge will let you store plenty of food inside. The capacity for fresh food is 19.80 cubic feet, and the capacity of the freezer is 8.40 cubic feet, which gives you a total capacity of 28 cubic feet.
The interior is very well organized and provides a lot of options for customization. The Samsung RF28HMEDBSR comes with adjustable three-way shelves that can be adapted to suit your particular storage needs. You can use them as standard shelves or slide them in to obtain more space. The flexible design of this shelf will let you fit larger items more easily.
The glass shelves in this fridge are spill-proof and easy to clean. The Crispers are smooth-sliding and accessible, and the doors have several bins where you can store smaller items. The pullout freezer features multiple drawers and a shallow door shelf.
Appearance
The Samsung RF28HMEDBSR has a very elegant, modern stainless-steel appearance. It has two large handles on the doors, and two horizontal drawer handles. The stainless-steel finish gives it a very nice metallic look that will add a nice touch to your kitchen. However, while this surface can be easily cleaned, it comes with the disadvantage of not being fingerprint-proof.
This model has a control panel with a black touch screen and a blue digital display. This panel is located on the left side above the ice dispenser and allows you to easily control the fridge's settings.
The refrigerator also includes adjustable leveling legs that will help you position it on the floor.
Energy efficiency
This refrigerator is Energy Star rated, which means that this fridge is highly energy efficient compared to regular devices. Appliances that comply with Energy Star guidelines must meet strict energy efficiency criteria set by the US Department of Energy.
This model has a very precise temperature control system, and the fridge cools down food quickly and efficiently. This ensures you will save money on utility bills.
Warranty and Pricing
The first part of the warranty gives one year of parts and labor coverage on the entire refrigerator if anything breaks down. In addition to this, you get five years of spare parts and labor coverage on the refrigeration system, which includes the evaporator, the compressor, drier, condenser, and connecting tubing. On the digital inverter compressor, you also get ten years of coverage of parts and five years of labor.
Price-wise, this is one of the least expensive four-door fridges of this kind. However, this refrigerator has a fair price, and it represents a good investment if you want a large fridge for your kitchen. For the latest price, click here.
Samsung RF28HMEDBSR – Pros and Cons
Let's take a look at the pros and cons of this device:
Pros
The twin Cooling system keeps food fresh for longer.
Ice and Water dispenser
FlexZone drawer with adjustable temperature control
Plenty of customizable storage compartments.
Easy to clean stainless-steel surface
Cons
The stainless steel surface is not fingerprint-resistant.
Samsung RF28HMEDBSR Alternatives to Try
If you are sold on this one, there are a few alternative models that you could consider:
Samsung RF23R6201SR Refrigerator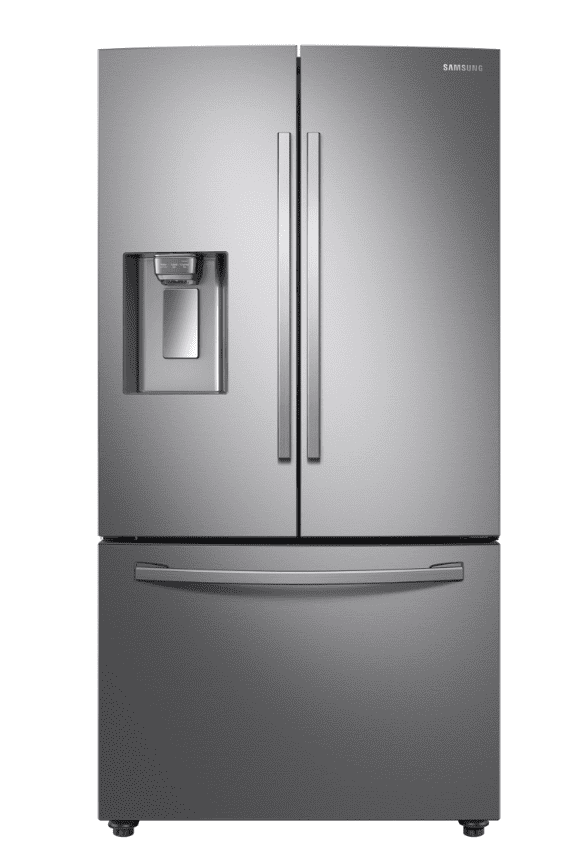 If you like to look at a different model from the same brand, the Samsung RF23R6201SR Refrigerator is a good one to check out.
This refrigerator comes with a lot of space to keep food organized: you get numerous storage compartments on the inside of the doors, spacious shelves, and two large boxes for produce. In addition, the freezer has one deep drawer and one shallow drawer, which are split in half to help you organize the food better.
This model also features the Twin Cooling Plus system, which improves the device's cooling power and maintains your food fresher for longer. It also includes the CoolSelect Pantry feature. This is a pull-out drawer with adjustable temperature controls, and you can choose between deli, beverage, and wine.
In addition, this modern refrigerator works with the apps Bixby and SmartThings. You can use the app to do things such as checking the temperature of the fridge, adjusting the temperature of the Cool Select Zone, and keeping an eye on ice levels. If you are a tech-lover, you may appreciate this feature.
You can read more about this model in our Samsung RF23R6201SR Refrigerator Review.
Samsung RF28N9780SR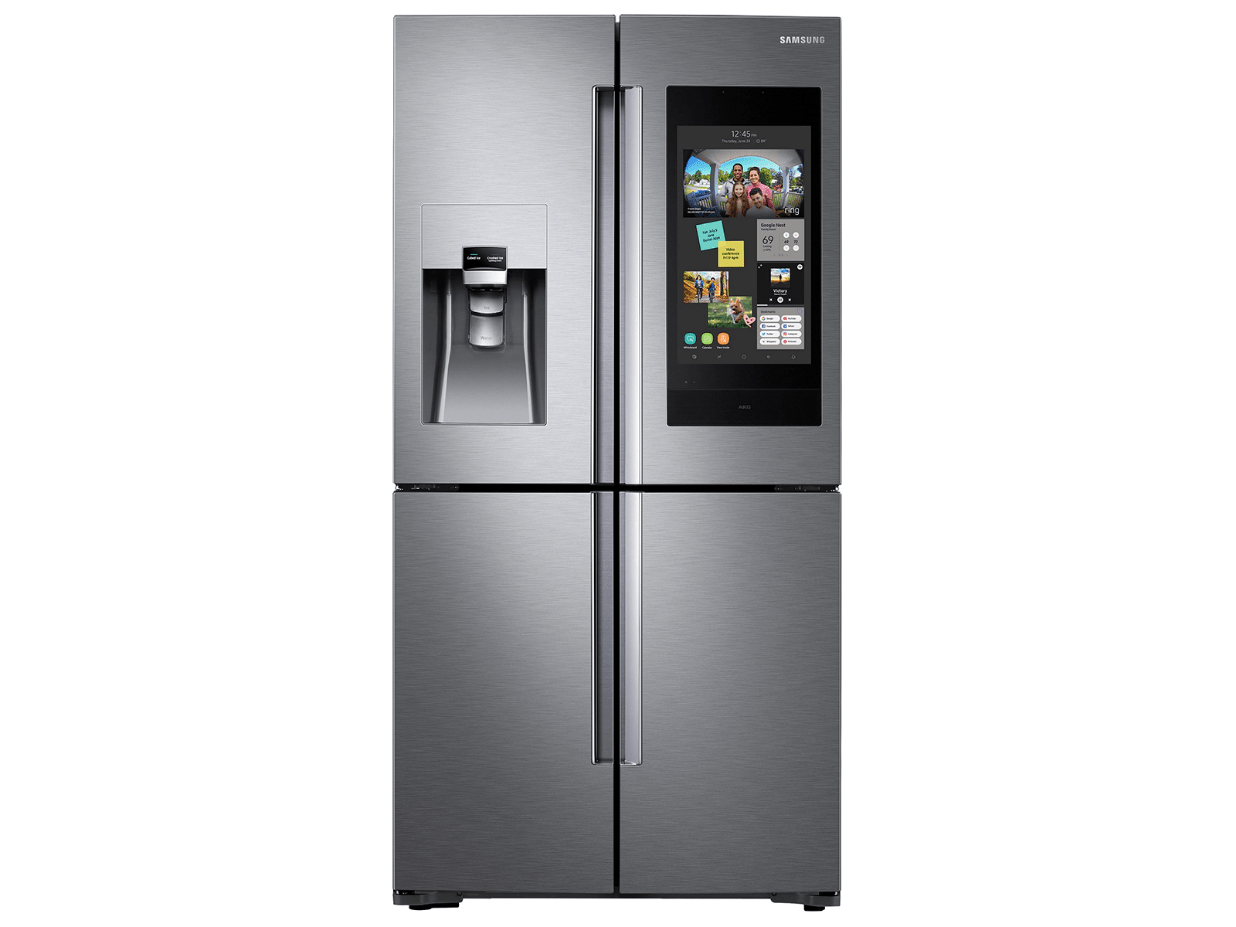 If you are looking for a high-end refrigerator, the Samsung RF28N9780SR is worth a look. This luxurious fridge comes with WiFi access and Samsung's award-winning Family Hub feature. This feature includes an LCD screen on the door and an in-built camera. This lets you view the inside of the fridge on the screen. You can also view it on your phone using the family Hub app.
This fridge is a 4-Door flex model with a capacity of 28 cubic feet. It has a Flex Zone section on the bottom right and a freezer on the bottom left. It comes in both black stainless steel and regular stainless steel colors. The surface has fingerprint resistance which gives it a very nice appearance.
While it can be expensive, it represents a good investment considering its high-tech features. This may be the right option for those of you who have a higher budget. Feel free to read more about it in our Samsung Refrigerator Model Guide.
Frigidaire 4 Door Refrigerator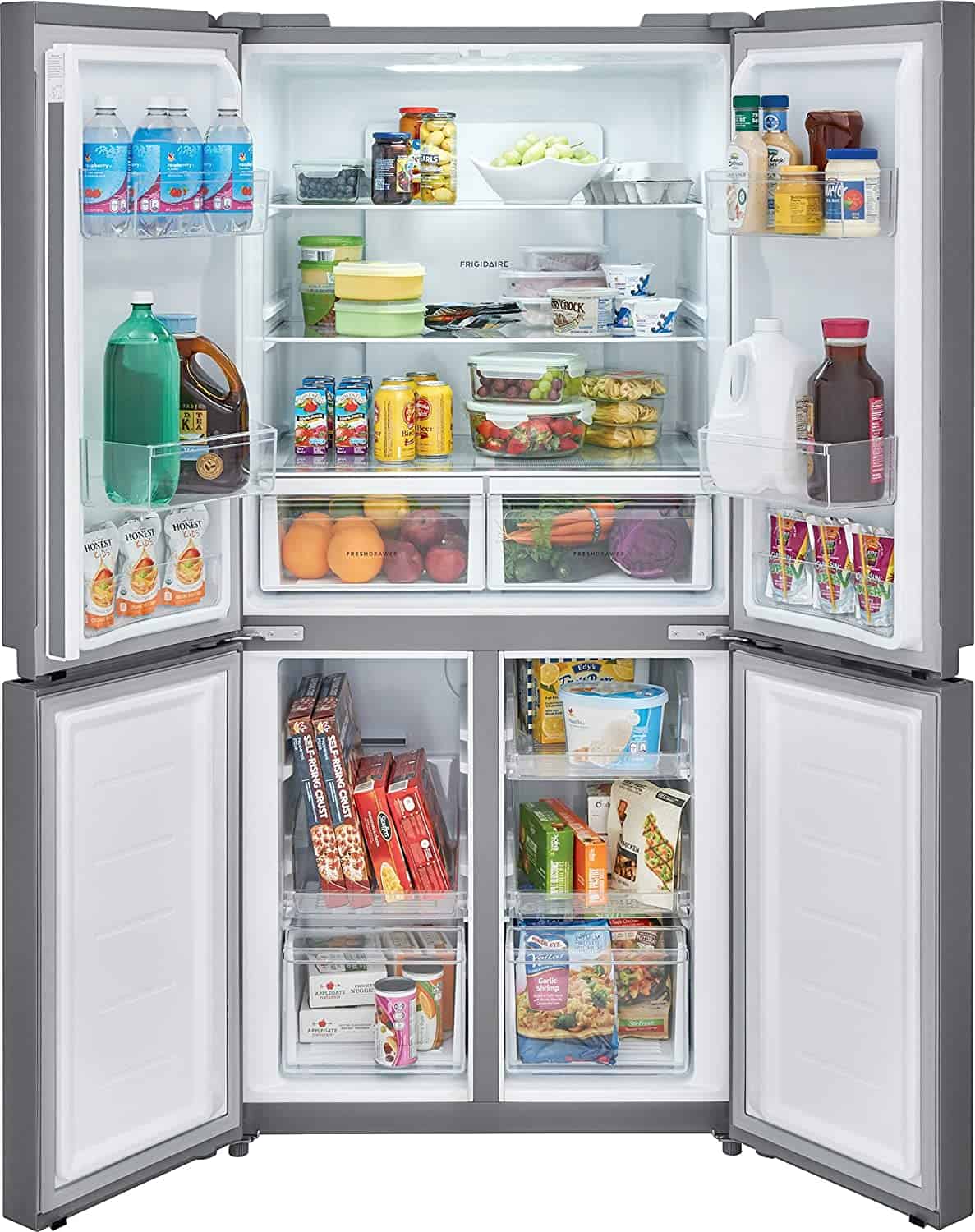 If you prefer a compact refrigerator, you could check out the Frigidaire 4 Door Refrigerator. Frigidaire is a well-known brand with many years of experience in kitchen appliances. This Refrigerator measures 25.75 x 32.81 x 70 inches and comes with a total of 17.4 cubic feet of storage space. It has a nice-looking French door design with a beautiful finish.
This device comes with TwinTech dual evaporators to help preserve the freshness of your food. The fridge has a digital display control panel on the door which allows you to easily adjust the refrigerator and the freezer settings. The inside of the fridge can be customized with two adjustable glass shelves, 2-gallon size bins, and two crispers drawers. The freezer has two pullout drawers and four freezer bins.
This compact refrigerator can be a good option for small families or for those who don't have much space in their kitchen.
If you want to find out more about it, feel free to read our Frigidaire Refrigerator Guide.
FAQs
Question: How long do Samsung refrigerators last?
Answer: Refrigerators can normally last for more than ten years. Samsung is a famous brand known for its high-quality products, so your Samsung fridge should last even more than that with proper care and maintenance. Samsung offers a one-year warranty on parts and labor for this fridge and a five-year warranty on the evaporator, compressor, condenser, and connecting tube.
You also get a 10-year warranty on the digital inverter compressor. This means that the company is confident that the appliance will last for at least that long.
Question: What temperature should I set the Samsung RF28HMEDBSR at?
Answer: The recommended temperatures of the Fridge and Freezer compartments are 37°F and 0 °F, respectively. This gives you a good balance between saving energy and keeping the food fresh. If the temperature of the Freezer and Fridge compartments deviate from the recommended values, you can adjust the temperature manually.
Question: How can I keep my refrigerator organized?
Answer: You can store the food in the following way:
• The lower shelves are the coolest ones, so these are ideal for meat and fish.
• Keep items like yogurt and cheese on the top shelves.
• Use the FlexZone drawer to store things like wine bottles, snacks, and juice boxes.
• Use the door bins to store smaller items such as sauces.
Question: How can I keep my new refrigerator clean?
Answer: The first thing to do is to keep an eye on spoiled items, make sure to always remove them in time. If you spill some food inside, try to clean the fridge as soon as it happens. The drawers on this refrigerator are made from spill-proof glass and are easy to clean.
You can clean the inside and the outside surfaces of the fridge using a cloth with warm water and mild detergent. You can remove the drawers and crispers to clean them better. Afterward rinse it and let it dry. Avoid using abrasive cleaners, brushes, metallic scouring pads, or alkaline solutions on the surfaces of this device.
If you notice lingering smells, you can put some baking soda in a dish inside the refrigerator. It will help you absorb the odor. In addition, you should keep the ice maker clean by throwing away old ice every now and then. If you keep ice in there for too long, it may clump together and won't fit through the ice dispenser.
Question: How do I change the water filter?
Answer: If water is dispensing slowly or not dispensing, it means that the water filter is clogged, and you need to replace the water filter. You can change the water filter according to the instructions in the manual. The water filters need to be replaced approximately every six months.
Question: How can you reset my Samsung refrigerator?
Answer: In order to reset your Samsung refrigerator, first, unplug it from electricity and wait a few minutes, then plug it back in. This will reset the refrigerator.
Samsung RF28HMEDBSR Refrigerator Review: Final Verdict
The Samsung RF28HMEDBSR French Door Refrigerator is a very good option for people who need to store a large amount of food. This device will let you keep your food organized with its many shelves and large customization options. The glass shelves are Spill-proof and very easy to clean.
This model includes some of Samsung's more advanced refrigerator features. The Twin Cooling Plus feature will keep food fresh for longer, while the FlexZone provides an adjustable drawer that can be adapted to suit your needs. You may also enjoy having access to water and ice by pushing a button.
All in all, we think this Samsung refrigerator is worth buying. Its elegant metallic look, interesting features, and ample storage space will make it an interesting option for any kitchen. And you can find it at a fair price, so it's a great deal.