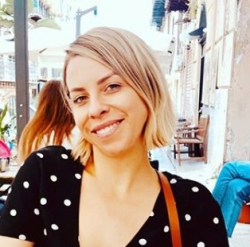 Latest posts by Jodie Chiffey
(see all)
With more than a hundred years of experience in the refrigeration field, Frigidaire produces some of the top devices in the market. Frigidaire freezers are famous for being high-quality, useful, and energy-efficient. Their models come in several sizes, and they are available over a wide range of price levels.
In this review, we will have a look at the Frigidaire FFFU14F2Q model. We will talk about its performance and main features, the main pros, and cons of this freezer, and we will mention a few alternatives in case you are interested in other options. Finally, we will answer some of the most commonly asked questions about this freezer.
If you're looking for general information on freezers, including different types of models, go check our guide on how to find the best freezer.
First, let's take a look at the most important specifications of this model.
Frigidaire FFFU14F2Q – Key Specs
Let's check out the key specs for the Frigidaire FFFU14F2Q:
Product Height: 61.125 inches
Product Width: 29.625 inches
Product Depth: 30.5 inches
Depth with Door Open: 58 inches
Product Weight: 164 lbs
Shelf Area: 7.9 square feet
Total Capacity: 13.8 cubic feet
Temperature Display Mode: 1-7
Interior Light: LED
Defrost Type: Frost-Free
Child Lock: Yes
Voltage Rating: 115V, 60 Hz
Annual Energy Consumption: 436 kWh
Color: White
CSA Approved: Yes
Latest Price: Check the latest price here
Frigidaire FFFU14F2Q – Key Features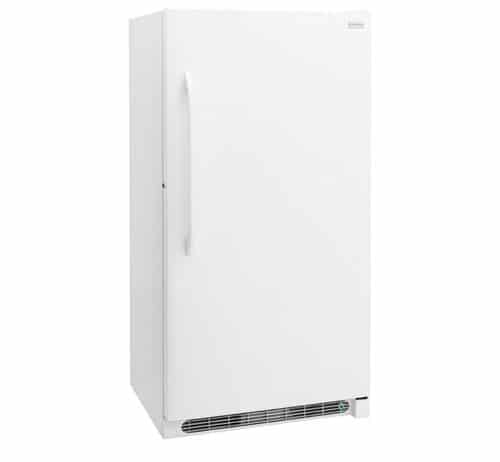 Let's take a more detailed look at the main characteristics of the Frigidaire FFFU14F2Q.
Frost-Free Operation
One of the most attractive features of this freezer is its Frost-Free Operation. Traditional freezers need to be manually defrosted once ice buildup reaches a certain thickness. The Frost-Free technology solves this problem by preventing water in the air from condensing in the inner surfaces, removing the need to manually defrost the freezer.
In a Frost-Free freezer, an automatic fan is used to remove the warm air before the humidity on it condenses into water and freezes, which prevents ice from building up in your freezer and keeps your device frost-free for a more extended time period.
This helpful feature removes the need to manually defrosting the freezer, which can be quite a hassle for you since you usually need to scrape away the ice for a while.
Adjustable Temperature control
The Frigidaire FFFU14F2Q Freezer features Adjustable Temperature Control. This feature allows you to set the temperature that you want in order to meet the specific requirements of your food storage. This is an excellent feature for those of you who want your temperature to be exactly the right one for the kind of food you have in storage.
The temperature can be adjusted with a mechanical dial, and it is displayed in modes ranging from 1 to 7. You can use colder temperatures to store things like raw meat and warmer temperatures for things like cooked meals and vegetables.
For regular operation, a temperature of 0°F is recommended. If you need to freeze food quickly, set the temperature to a lower level. Once the food has been frozen, set the level back to its regular value in order to save energy.
LED Lighting
This freezer features LED lights that illuminate the inside of the freezer and gives you a clear look at all the items stored in there. The light is bright and covers the entire storage space, which makes it very easy to find and retrieve your food.
Another nice feature is the Power-on indicator light. This light is located outside of the freezer, and it will let you know that the freezer is turned on and working properly. This will give you peace of mind as you can check the state of your freezer with a glance and make sure that all of your food is being kept well frozen and fresh.
Storage and Organization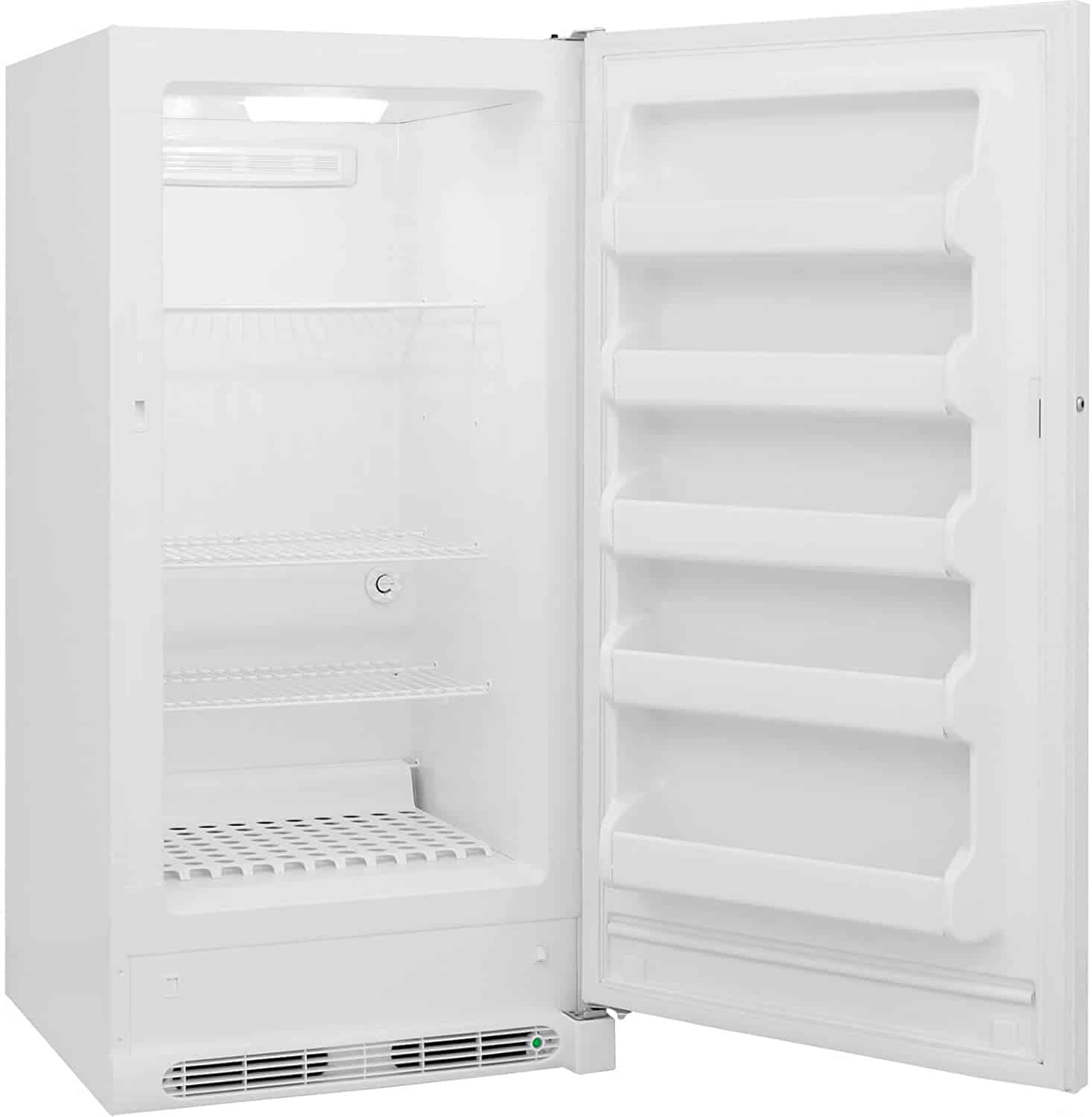 This model comes with 13.8 cubic feet of storage space, which is enough to store plenty of food. The interior features three removable wire shelves to place your food on. The door has five in-door rackets that you can use to store smaller items. This freezer has a total of 7.9 square feet of shelf storage area.
The interior shelves are adjustable and flexible, so you can stack and organize the food in any way you need. For example, you can place meat and vegetables on the shelves inside the freezer and stuff such as frozen soups and sausages on the door shelves.
Unlike other models, the Frigidaire does not come with a removable bottom basket.
Appearance
The Frigidaire FFFU14F2Q is an upright freezer with a construction resembling a refrigerator. This design makes it easier to find and grab and find what you need compared to deep freezers. This particular model measures 61 x 30 x 31 inches and will easily fit through any door in order to install it.
It comes with a smooth white finish that could look very good in your kitchen or in a garage. It also has one large door handle and one airflow port to allow air circulation through the freezer.
Energy Efficiency
Frigidaire freezers are known for being very energy efficient. This model has been designed to be 24% more energy efficient than the previous model. The Frigidaire FFFU14F2Q uses about 436 kWh per year, which should cost about $52 annually.
If you want to save energy, try to open the door less frequently. After warm air has entered the freezer, the compressor needs to spend more energy in order to cool back down.
Pricing
This freezer falls on the cheaper end of the scale for its size, and it can be an affordable option for a family. For the latest price, click here.
Frigidaire FFFU14F2Q – Pros and Cons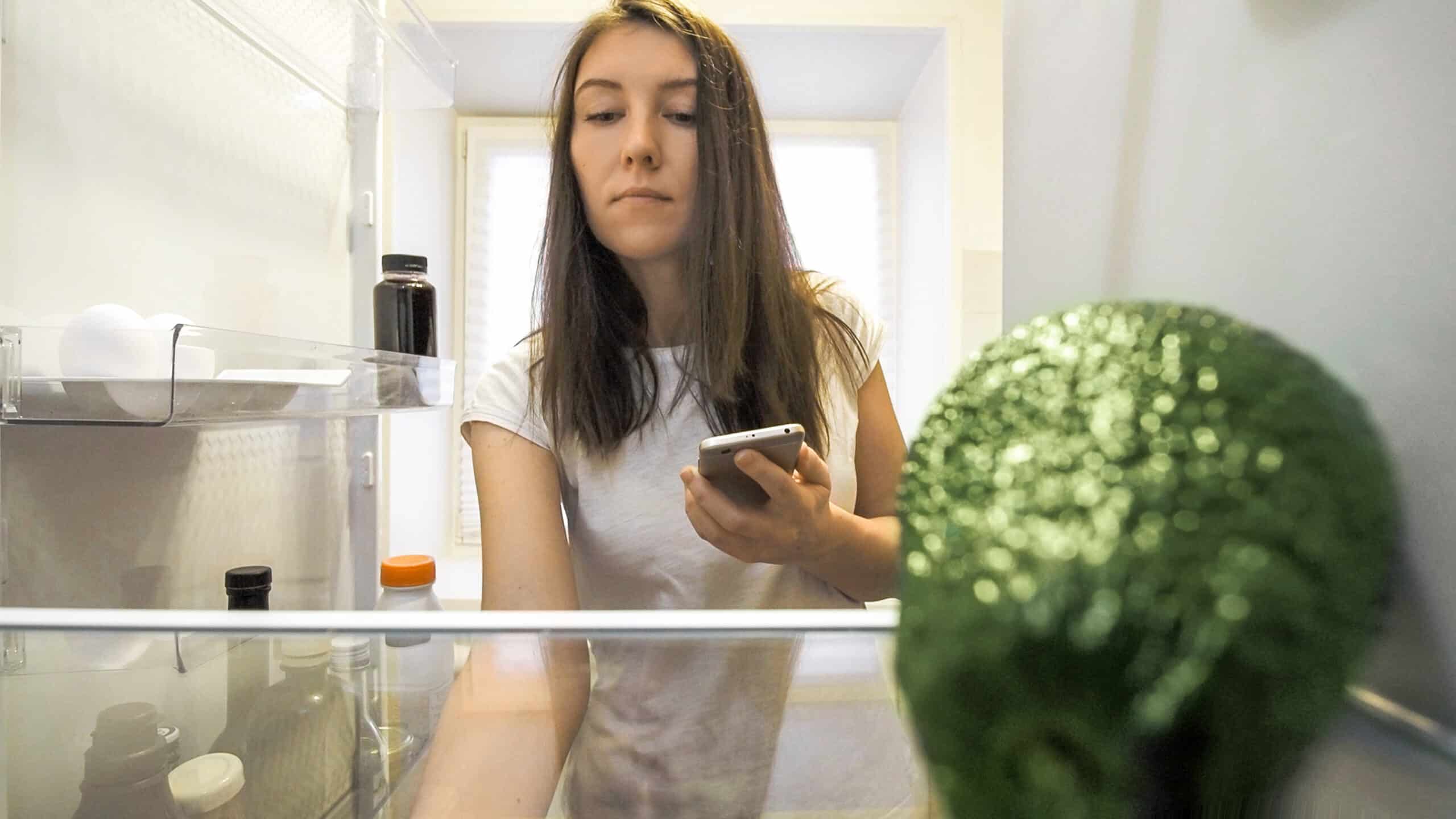 Let's take a look at the pros and cons of this model:
Pros
Frost-Free technology removes the hassle of defrosting your freezer
Adjustable Temperature Control
High energy efficiency
Ample storage space
Several interesting features
Cons
Frigidaire FFFU14F2Q  – Alternatives to Try
If you are interested in more options, here are a few similar alternatives that you could consider:
Whirlpool WZF79R20DW Upright Freezer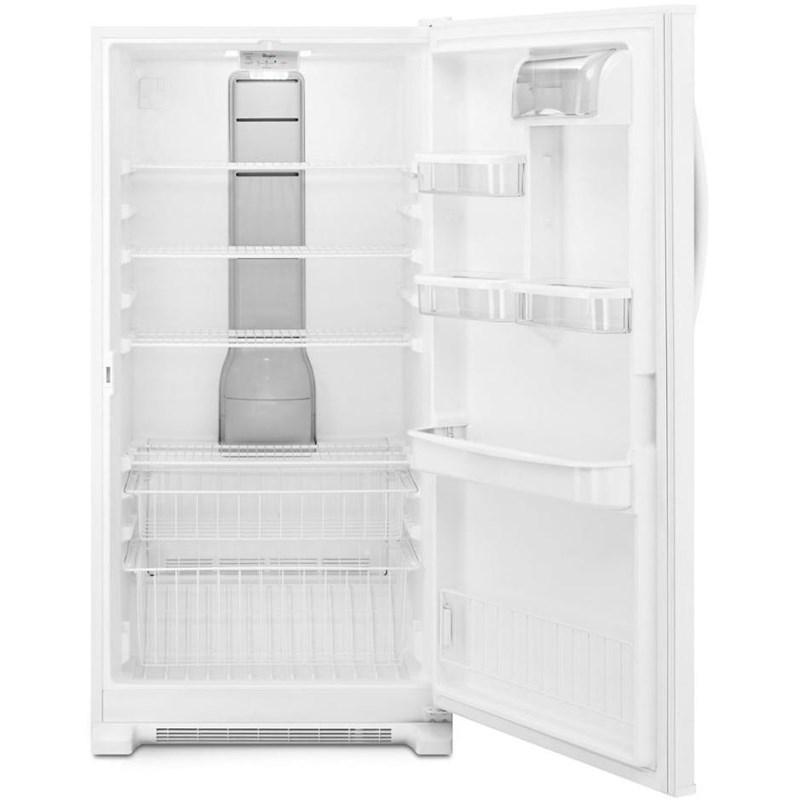 This large capacity Freezer comes with plenty of space for big pieces of meat, bags of food, and frozen meals. This unit boasts four freezer shelves, 4 Door shelves, and a slide-out basket that will let you keep your items accessible and organized. LED lighting keeps the interior well illuminated and allows you to find your items quickly.
This freezer has a modern electronic temperature control system that lets the user choose the ideal temperature for any food stored. If you need to freeze food quickly, a fast freeze feature rapidly drops the freezer's temperature. In addition, it includes a temperature alarm that notifies you if the temperature rises so the food won't get spoiled.
The Whirlpool WZF79R20DW comes with a Frost-free feature, which will save you the time-consuming work of unfreezing this device. It can also include an ice maker if you want to have plenty of ice at hand.
Kenmore 21212 20.8 cu. ft. Upright Freezer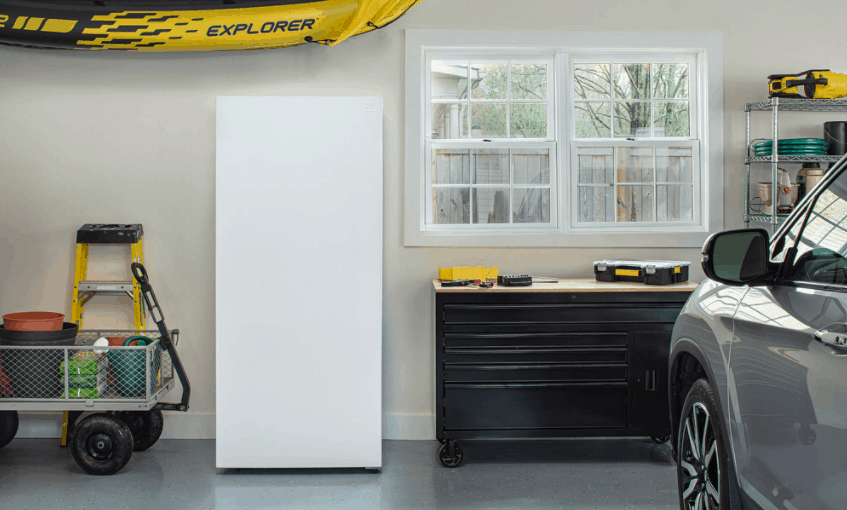 With dimensions of 75 x 33 x 30 inches, this large appliance is a great option for those of you who want plenty of space. This freezer has a total storage space of 20.8 cubic feet, and it has a lot of shelves to keep items organized. The freezer comes with four full-width wire shelves and one glass shelf for food storage. In addition to this, it includes four-door bins and two pullout storage bins for access to the more frequently used items.
This unit has an automatic defrost function that spares you the hassle of manually defrosting your freezer. It also comes with a temperature sensor system that maintains top freezer performance in a wide range of conditions.
In terms of appearance, you may like this freezer's sleek and smooth appearance. In addition, it has adjustable leveling legs that will compensate for non-level floors and keep the door properly sealed.
Midea WHS-109FW1 Upright Freezer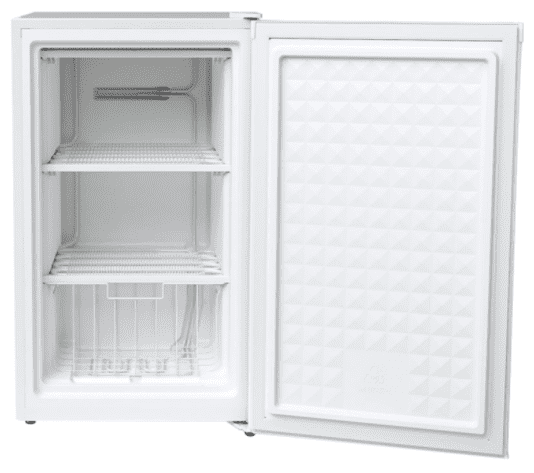 For those of you who need to store less space, a smaller freezer could be the right choice. The smaller freezer will not only be cheaper to buy but also to operate and maintain. The Midea WHS-109FW1 Upright Freezer measures 19.3 x 21.37 x 33.9 inches and has three cubic feet of capacity. An adjustable wire shelf lets you fit more oversized or irregular items, while a reversible door hinge allows for both right or left-side opening.
The temperature can be adjusted with a mechanical thermostat, and it can operate from -11.2°F to 10.4°F. This energy star-certified freezer will keep your electricity bill low with its high energy efficiency.
Frigidaire FFFU16F2VW Freezer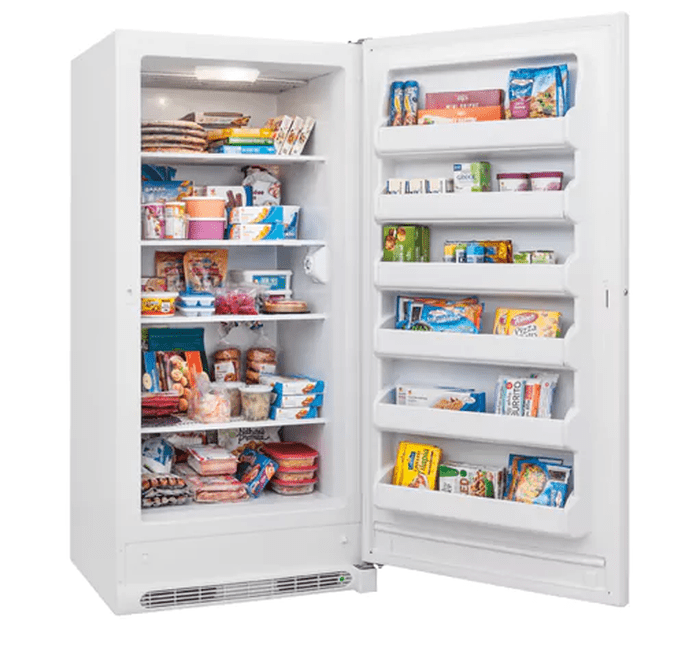 Interested in a different model of the same brand? You could get the Frigidaire FFFU16F2VW Freezer with 15.5 cubic feet of capacity and a reversible field door. This freezer comes with the high-tech feature of EvenTemp, which circulates cold air with smart sensor technology in order to prevent freezer burn and keep your food in top condition. It also has a power outage assurance system that keeps food frozen for two days in case the power goes out.
Inside the freezer, you will find four adjustable metallic wire shelves, five spacious door shelves, and a bottom basket that will help you keep your food organized. It also includes extra features such as a floor-projected power-on light and a door ajar alarm system that alerts you if the door is left open.
If you are interested in other kitchen appliances from this brand, feel free to check our Frigidaire Refrigerator Model Guide.
FAQs
Question: Where should I keep the Frigidaire FFFU14F2Q Freezer?
Answer: It would be best if you keep your freezer in a place located near a grounded electrical outlet. In order to guarantee correct functioning, the appliance should be placed in a spot where the temperatures will not exceed 110°F. I recommend that you place this device in the coolest area in the room, away from any heat-producing devices and out of direct sun rays.
The freezer must have all bottom corners placed firmly on a solid floor. If the surface is not level, the door could be misaligned and not seal correctly, which could lead to frost and moisture problems.
Question: How should I place the food inside the Freezer?
Answer: It is recommended to place the food in the following way:
• Use the cooler bottom shelves to store raw meat and fish.
• Place items such as cooked meat, fruits, and vegetables above the bottom shelves.
• Place dry goods such as bread on the top shelves.
• Use the door racks to place items such as frozen soups and sausages.
• Before you put food in the freezer, make sure to properly wrap foods and wipe containers dry. This will reduce frost build-up inside the device. You can use plastic boxes to keep food items inside the freezer organized.
• Do not overfill the freezer in order to maintain a good airflow inside the unit.
Question: What temperature should I set my Freezer at?
Answer: I recommend setting the temperature of the freezer below 0°F in order to keep your food safe. This gives you a good compromise between maintaining good quality and lower energy consumption.
Keep in mind that the actual temperature inside the freezer can vary according to external conditions. You can use a thermometer to check the inside temperature and make sure it is correct.
Question: How long will my Frigidaire FFFU14F2Q Freezer last?
Answer: Frigidaire is a leading brand known for manufacturing highly reliable and durable appliances. Its freezers have a lifespan of around 20 years, but they could last even longer with proper care.
Question: What can I do if moisture is forming outside the freezer?
Answer: If the door of your freezer is slightly open, it can cause the cold air inside the freezer to cool the humid air outside, producing moisture outside the freezer. Make sure that the door is sealed properly and do not let food items extend past the shelves.
Question: How can I keep my Freezer clean?
Answer: I recommend washing the inside and the outside surfaces of the unit using a cloth with mild detergent and warm water. You can remove the wire rackets to clean them more thoroughly. Afterward, rinse it and let it dry. Ensure to wring excess water out the cloth if you are cleaning any electrical parts or control panels.
If a little frost has accumulated inside the freezer, use a plastic scraper to remove the frost. You should scrap it using a pulling motion. Never use metallic instruments to remove frost.
You should avoid using abrasive cleaners, brushes, metallic scouring pads, or alkaline solutions on the surfaces of this freezer. Do not wash the removable parts in the dishwasher.
Frigidaire FFFU14F2Q Freezer Review:  Our Final Verdict
All in all, this Freezer is a very good freezer for a regular family. The Frigidaire FFFU14F2Q freezer has several interesting features like LED interior lights, power-on indicator light, and a spacious interior that lets it stand out from the competition.
Its Frost-Free operation and adjustable temperature function make this freezer a very attractive option if you want to keep some extra food frozen in your garage.
Sp, is this freezer worth buying? This freezer is worth buying if you are on a budget since its features are good enough for a basic refrigerator. If you are willing to invest more, you could take a look at other high-tech options with extra features such as a door alarm and electronic control panels, but overall, the FFU14F2Q is a solid freezer.