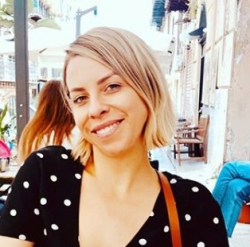 Latest posts by Jodie Chiffey
(see all)
If you're looking for a GE microwave filter guide that's up-to-date, authentically written, and actually worth a read, you've found it! How can I be so confident? Because just a few weeks ago, I was you! Let me save you time, money, and endless internet searching by providing you with all you need to know to find the best GE microwave filters right here in one post.
Between vacuums, dishwashers, and air conditioning units, there seems to always be a household filter requiring attention. This is certainly true for the GE microwave. If you know you need to replace your existing filter, then great, I'm here to help.
If you had no idea about this element of your microwave, this is definitely a post you need to read (and I guarantee you'll need to be buying a new filter!).
I have rounded up the best GE microwave filters out there today and ensured I have catered to every preference, budget, and model. Additionally, I have written up a handy buyer's guide, so you know exactly how to buy this hard-working accessory, where to buy it from, and how to properly maintain it once purchased. You are so welcome!
At a Glance 4 Best GE Microwave Filters
Bottom Line Up Front
I regard the Bagean GE Microwave Filter as the best overall pick for a few reasons. Firstly, its RRP is simply fantastic! For the price, this trusted-brand product looks exactly like the GE filter that has been factory installed. It's well made, durable, and shipped for free (when buying from Amazon).
The only drawback I have found is that the packaging could be more robust, but most consumers have experienced no issues with this.
What Is the Purpose of a Microwave Filter?
So, a few weeks ago, I did not know what a microwave filter was, let alone why one would need to buy one. Yep, I am that clueless homeowner who just expects things to work and panics when they don't! I had been experiencing issues with my microwave, smells, and food not tasting quite right; and I presumed now was the time to replace the appliance.
Looking online at new microwaves and comparing products, I kept coming across 'microwave filters,' surely not, I thought. But, yes. This is an essential microwave component that needs to be cleaned, maintained, and replaced.
Saving myself a small fortune, I purchased new filters, and hey presto – I did not need a new microwave after all (alas, the new Frigidaire FGMV17WNVF looks pretty good, too!) The purpose of a microwave filter is to catch grease that flies up from your stovetop: so those who don't have over-the-stove microwaves won't need this, but those who do (i.e., me) absolutely will.
This handy filter catches grease in the air to enable the exhaust fan to perform efficiently and not become clogged. Filters are pretty small and can only hold so much, so they require regular cleaning or replacing to ensure optimum operation.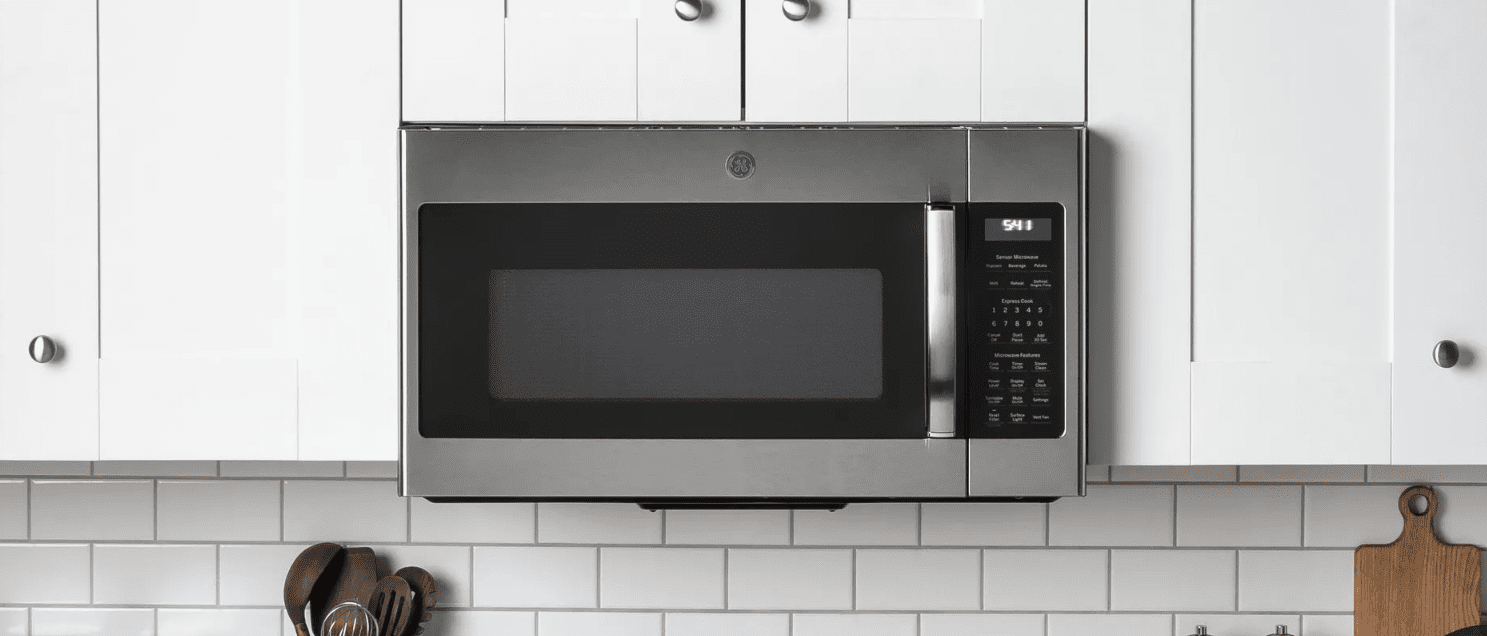 Buying a New GE Microwave Filter
If you have opted for stainless steel or aluminum, you may be able to prolong its life by cleaning the filter. However, if you're working with charcoal filters, once the grease and debris has built up, it is time to replace them. There are a few things to look out for when buying a new GE microwave filter, and these are as follows:
Model Number
Microwave filters are model specific or compatible with a few microwave makes and models. Few are universal. To ensure compatibility, check the product description for your microwave's exact model number.
Quality
It's hard to tell the quality of a product when buying it online, but sellers have to be honest in their advertisements, and there are key indicators that'll point to high or low quality. For example, 'metal' does not mean high-grade aluminum or stainless steel; it means any metal.
This item will have to withstand a lot of heat from the stove, and it has to be up to the job. Some things are worth paying a little more for, and I believe microwave filters to be one of them.
Brand
If you buy replacement parts directly from GE, you're guaranteed to have a compatible, reliable, and durable filter. However, I have found better deals on their filters elsewhere! I have also found other brands retailing filters that suit GE microwaves, most with excellent reputations – and this is the key.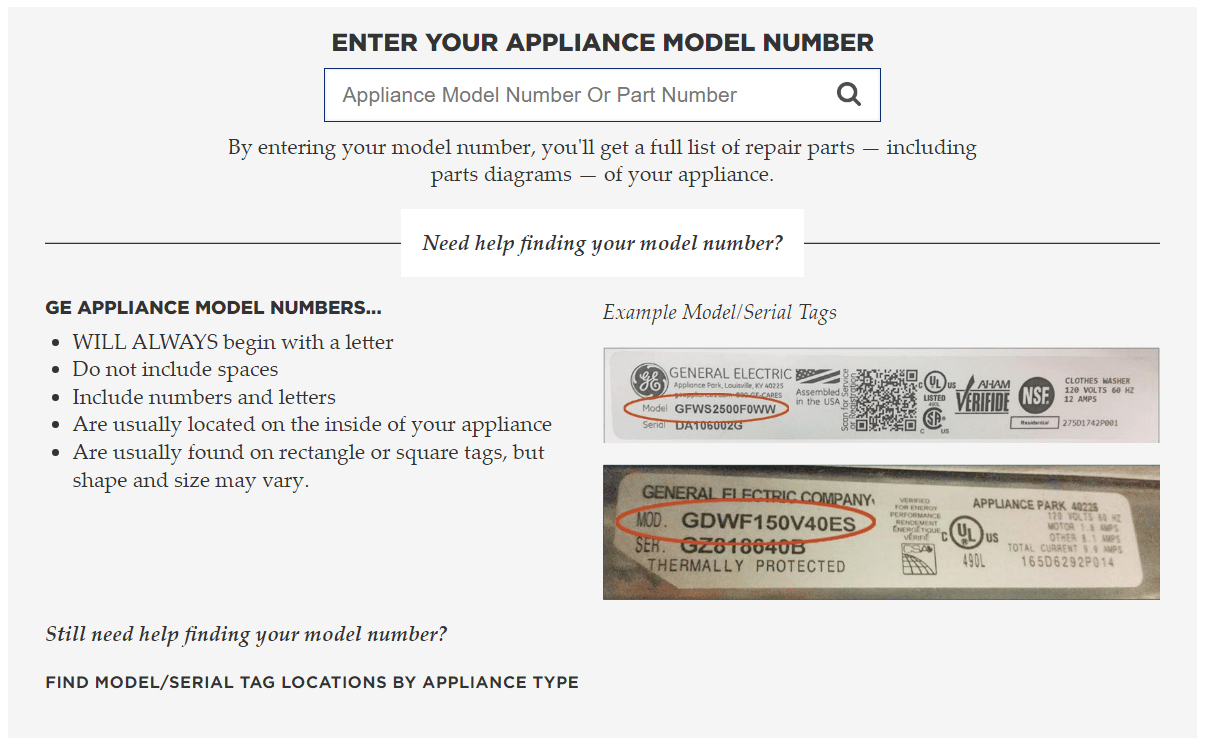 Replacing GE Microwave Filters
Rest assured that if you need to replace a charcoal filter, this is a straightforward task. However, there are a few tools you need to have alongside the correct replacement filter.
Here's how to do it:
#1 Take a Phillips head screwdriver to unscrew and remove the vented panel of your microwave and remove the charcoal filter
#2Dispose of the old charcoal filter; this is usually fine with normal trash, but it may be worth checking in your local area.
#3 Insert the new filter, replace the vent panel, and re-screw.
#4 Congratulate yourself on being a DIY expert!
My Product Criteria
Let me share with you the things I looked for as a consumer of GE microwave filters:
Compatibility
There are countless microwave filters out there, but this doesn't mean you can choose any you like the look of. The filter must be compatible with your microwave, or it won't fit and be effective. Check that the filters you're interested in will work with your microwave model number. If you're unsure what that is, you will find it in your user's manual or easily enough online.
Material
There are two options for microwave filters – metal or charcoal. While both may be compatible with your microwave, there are key differences that center on performance, convenience, and cost. Aluminum-based filters are reusable and tend to be more effective. However, they're often much more expensive than charcoal-based.
Price
You can spend a little over $5 or up to $100 for a microwave filter. While I'd never justify the higher end of the spectrum (personally), it would be wise to question the lower end; when something seems too good to be true, it often is.
Delivery
How quickly do you need the microwave filter to arrive? For me, this was a priority, so I looked at filters that could be shipped to me within a day or two.
Consumer Feedback
As a recent consumer of microwave filters, I heavily relied on the experiences of other consumers. While I could have just popped into the local hardware store, this wouldn't have told me what the last 50 customers of that product thought of their purchasing decision. Online I have this at my fingertips, and it's one of the best assets of online shopping.
Look at the general consensus, it's never going to be 100%, but if it's generally good, that should be good enough.
My Chosen 4 Best GE Microwave Filters
Bagean GE Microwave Filter – #1 Top Pick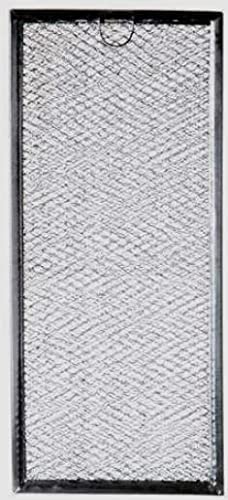 My top pick has to be the Bagean GE Microwave Filter; when it comes to affordability, it is hard to beat. I was unfamiliar with the brand, so I did a little digging and found it to be a trusted company with almost 30,000 verified genuine online reviews.
Bagean specializes in range hood parts and accessories, microwave replacement parts, and washer parts and accessories. The brand is a top seller online, and although not a major contender in appliance replacements, it is a company I am happy to recommend based on my findings.
A great element of this Aluminum-based filter is its vast compatibility with a range of GE microwaves (it is the most universally fitting one I have found, with dimensions of 13 ⅜-in x 5 ⅞-in). This GE microwave filter is just over $8 or under $12 for a pack of two. There is also fast and free shipping available. What more could you want?
Pros
Super Affordable
Reusable
Almost Universal Fit
Fast Shipping
Cons
Packaging Could be More Protective
A Little Flimsy Compared to Some
Bagean Microwave Filter Replacement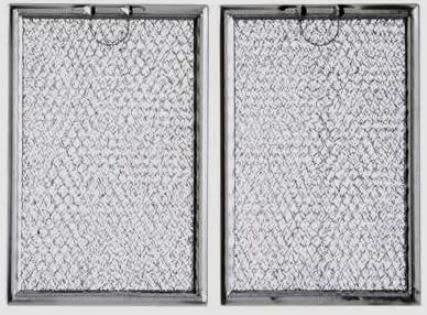 The Bagean Microwave Filter replacement is the same price as my #1, yet I found it to be a higher quality product. However, it is not as universally fitting. The measurements are 7.64-in x 5.12-in.
While not compatible with an extensive range, this microwave filter replacement is suitable for GE WB02X35491, WB02X32793, WB06X10654, WB02X25388, WB6X10359, and certain models by Whirlpool, Maytag, Amana, and KitchenAid. It is also an online bestseller with wholly positive consumer feedback.
This replacement filter is super easy to install, but you do need to be careful with the tabs as these feel a little flimsy – I have noted a couple of consumers had issues with the tabs breaking. So, install with care if you decide this is the product for you!
Pros
Great Price
Suitable for Other Makes
It fits 5 GE Microwave Models.
Online Best Seller
Excellent Consumer Feedback
Cons
Tabs Feel Flimsy
May Not be The Most Durable
Omaeon GE Microwave Charcoal Filter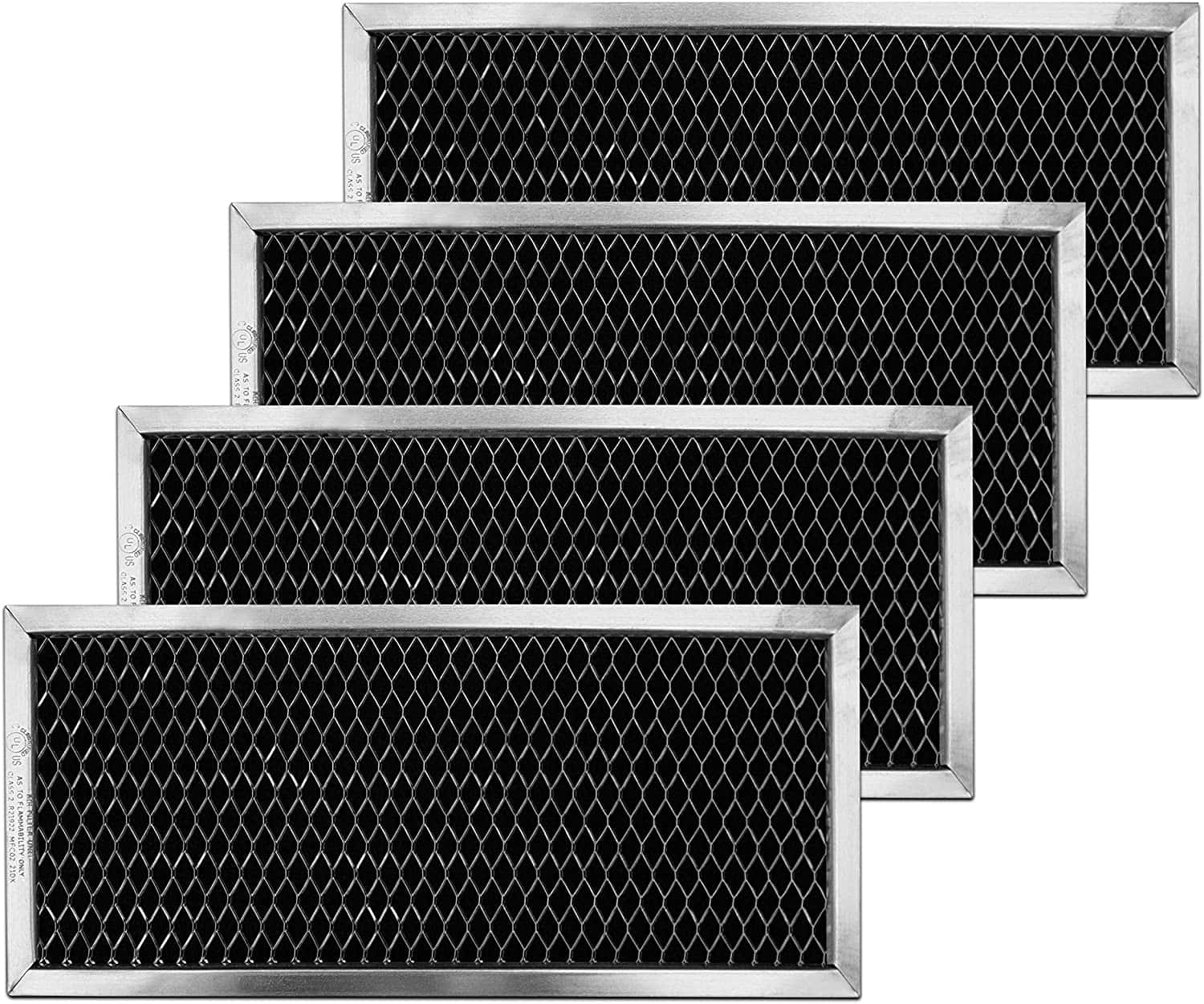 The Omaeon GE Microwave Charcoal Filter is available as a pack of two or four filters. Made from activated carbon and high-quality aluminum, this microwave filter is one of the most elite I have found. The only reason it is not my top pick is because it is a charcoal filter, and cannot be reused, making it less cost-effective and less environmentally friendly than my #1.
The negatives aside, this premium filter is sure to do a stellar job of removing dirt, grease, and debris, harboring it safely, and ensuring a smooth operation of your microwave oven for around 6 to 12 months, depending on how regularly you use the appliance.
With dimensions of 4-in x 8.5-in x ⅜-in, the Omaeon filter is suitable for most general electric microwave models, including GE, Hotpoint, and LG. The brand lists every microwave model that this filter works with in its advertisement and has a quick response to any inquiries relating to this.
While the construction is exceptionally sturdy, the packaging is not, and some consumers cite damages in transit.
Pros
Highly Rated Online
Compatible with Many Makes and Models
Sturdy Construction
Premium Quality
Cons
Poor Packaging Can Result in Damages
IROLEN Microwave Grease Filter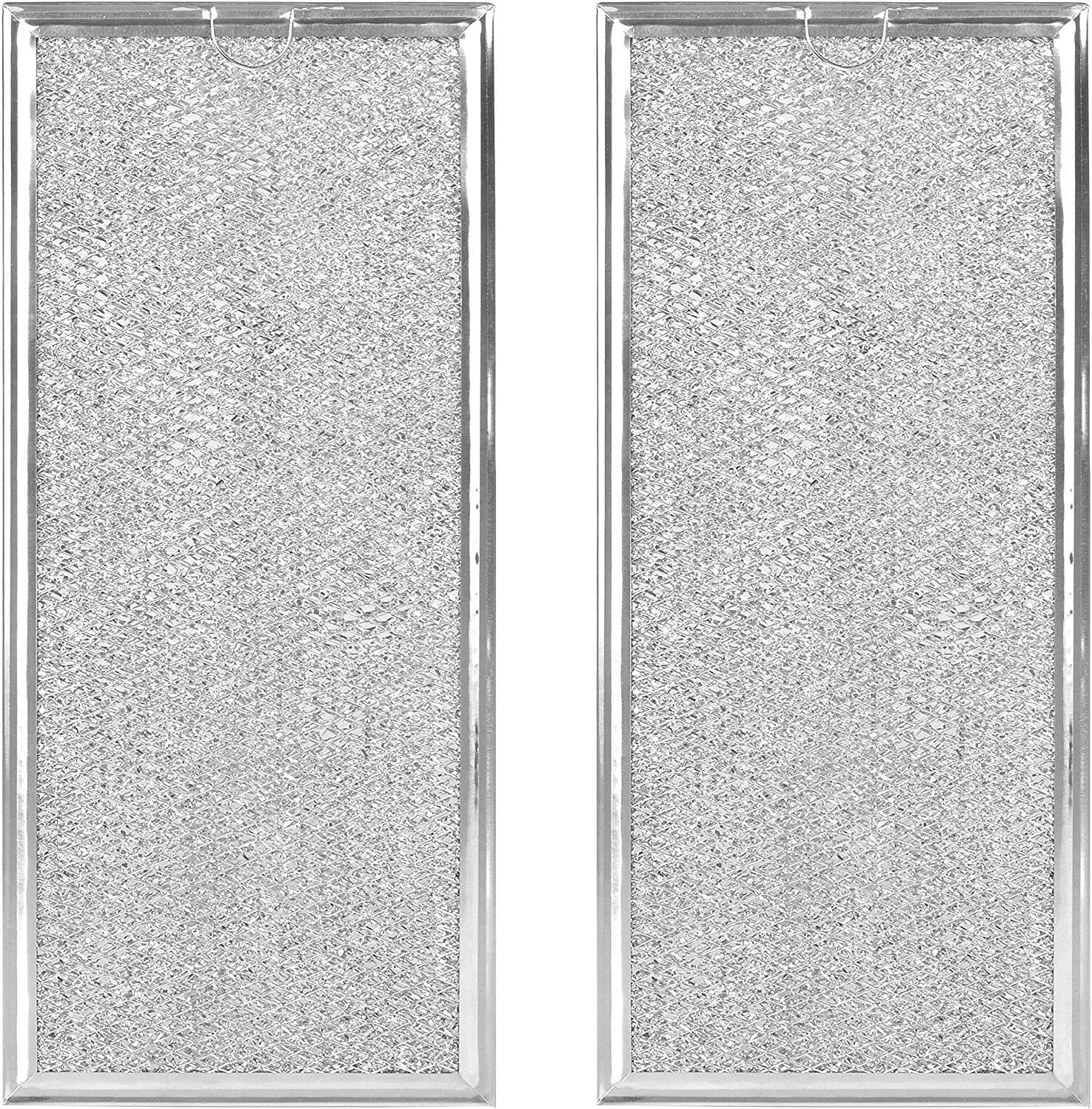 A solid choice for those wanting durability is the IROLEN Microwave Grease Filter. These filters are super well made using premium materials; additionally, they're well-tested by the manufacturer, and this is clear. There is a multi-layer filtration made from aluminum mesh, and most consumers are extremely satisfied with their purchase.
The IROLEN microwave filter is suitable for a range of makes and models, with existing filters standing at 13-in x 6-in or thereabouts. If you find this filter doesn't fit your microwave, there is a generous 100% satisfaction guarantee within the first 30 days of purchase.
You may find this filter one of the easiest to install, as no tools are needed. Installation is a straightforward snap and position process, and this is something you'll likely only do once every six months. Due to the material, this filter is reusable.
The price is for two microwave filters.
Pros
Good Price
2 Filters Included
Highly Durable
Straightforward, No-Tool Installation
100% Satisfaction Guarantee
Cons
Some Consumers Mention Poor Fitting.
Frequently Asked Questions
Question: How Do You Know When a Charcoal Filter Needs to be Replaced?
Answer: I have learned that you can tell simply by looking at the filter and seeing how full of grease it is. However, there are other signs that will alert you to it being time to replace a charcoal filter, such as stronger-than-usual or nasty odors when the microwave is being used.
If the underneath of your microwave seems shinier than it should, this points to a grease build-up and means there's a high chance the filter will be full of grease, too!
Question: How Can You Prolong the Life of Microwave Filters?
Answer: If you opt for an aluminum-based microwave filter, you can enhance its longevity by regularly cleaning it. However, this isn't an option for charcoal based.
Question: What Happens if You Don't Replace a Microwave Filter?
Answer: When a microwave filter becomes clogged up, it will no longer be effective. This will lead to an accumulation of grease and food debris floating around the appliance and area, resulting in a dirty (and smelly!) atmosphere.
Question: What is the Best Way to Clean a Microwave Filter?
Answer: Cleaning an aluminum-based filter is so simple; all you need is a large bowl, around ¼ cup of baking soda, and a little dish soap. Remove the filter and soak in a solution of water and baking soda, then use a sponge or brush with a bit of dish soap to scrub off the excess grease and food debris. Allow the filter to fully air dry before putting it back into the microwave.
Which Is the Best GE Microwave Filter for You?
Finding the best GE microwave filter is by no means a life-or-death decision, but it can be the difference between great convenience and a complete hindrance. First, you should decide if you want to go for charcoal or aluminum. Both have their advantages and drawbacks.
I rate Omaeon GE Microwave Charcoal Filter as one of the best replaceable filters out there; it is compatible with many makes and models, highly rated online, and of premium quality. However, the packaging could be better.
If you are looking for a reusable filter (aluminum), I have three great options for you to consider: Bagean GE Microwave Filter, Bagean Microwave Filter Replacement, and IROLEN Microwave Grease Filter. Each has its own set of pros and cons, but what will matter most is whether or not they'll be compatible with your GE microwave!
I chose the Bagean GE Microwave Filter as my overall favorite as this will be the one that is suited to most GE microwave owners, simply due to it being compatible with a more extensive range of models.