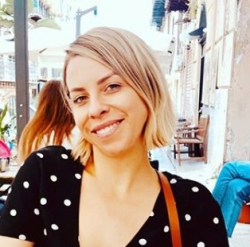 Latest posts by Jodie Chiffey
(see all)
My Kenmore Elite washers guide should answer all the questions you have about this brand and the effectiveness of its washing machines. You will likely have heard negative stories about Kenmore in recent years, but are they fair? I've taken a long journey into this to find out!
I am guilty of being put off a brand simply because of things I've read or heard, and Kenmore has certainly found itself discussed in the media a lot. But, I wondered if this meant that the actual products from this brand were no good. You may be surprised by my findings!
Brand aside, there are a lot of considerations you have to make when looking for a new washer. For around 10 years, I have been buying appliances for domestic and commercial properties, and I know the things that are important to look out for – and the things you can well afford to ignore, too!
Let me take you through the buying process of a Kenmore washer to see if there is a perfect model for you out there. I have reviewed three Kenmore Elite washers and wrote up everything I have learned, including the pros and cons and some of the varying experiences of other consumers.
Without further ado, a brief overview of these findings is just below.
At a Glance: 3 Best Kenmore Elite Washers
Bottom Line Up Front
The Kenmore Elite 41072 washer is certainly expensive for sure. However, it is undoubtedly a premium cleaner, and due to it being one of the largest front-loading washing machines out there available today, it is perfect for larger families like mine!
Additionally, I found it to be gentle on clothes and fantastic at removing stains. Overall, this was my favorite model of the Kenmore Elite series.
Buying a Kenmore Elite Washer

Kenmore has been a trusted household brand for over 100 years and is commendable in many areas, such as energy efficiency and innovative features. Most consumers find Kenmore appliances to be super durable and effective at their jobs. This is so much so that the brand Kenmore ranked number one in customer satisfaction, according to J.D.
Moreover, the Kenmore brand had more than 50 appliances ranked as top performers by Consumer Reports.
So this tells us that Kenmore is a reputable company that makes decent appliances. However, where to buy Kenmore products isn't always so easy! First, you need to find a dealer that has your wanted appliance in stock, and if they're not local to you, they deliver. While most will, this isn't always a guarantee, and even if it is, the shipping can take time.
A benefit of multiple places selling Kenmore products, over there being just the brands' website, is that you can look across platforms to find the best deal and biggest savings. For example, at the time of my research, I found there to be a significant saving I had just missed on the Kenmore 41072 at Lowes.
What's the Difference Between Kenmore and Kenmore Elite?
Kenmore is a brand known for catering to the value-minded buyer. They have hugely affordable appliances – of all shapes and sizes – with, quite frankly, unbelievable price points. This isn't the case with the Elite models, which don't only apply to washers but also to smaller appliances like mixers and even utensils.
The Elite versions are basically more up-scaled versions of regular Kenmore appliances and products. And, you would expect a more premium product to have a more premium price point, which is very much the case here. When paying a premium, you expect there to be many advantages to offset the price, but I'm not fully convinced Kenmore has catered to this.
While actual Elite features vary from appliance to appliance and model to model, they're going to be an upgrade of some sort. This upgrade could be a higher quality of material (aluminum in place of plastic), or it could be a smoother curved edge over a boxy finish. It may also be SmartTech features, as is the case with the Kenmore Elite 41983.
I don't believe Elite appliances always have greater usability or functionality, but they are all more aesthetically pleasing. So, if how an appliance looks in your home is a top priority, Kenmore Elite washers would be a better option over their more basic models. If the image is less important, you could save a large sum of money by opting for a non-Elite washer.
How to Find Your Perfect Kenmore Elite Washer and Things to Consider
What one person requires in a washer will not be a priority to someone else, and many things about washing machines are personal to the consumer.
Below are the main ones to consider:
Size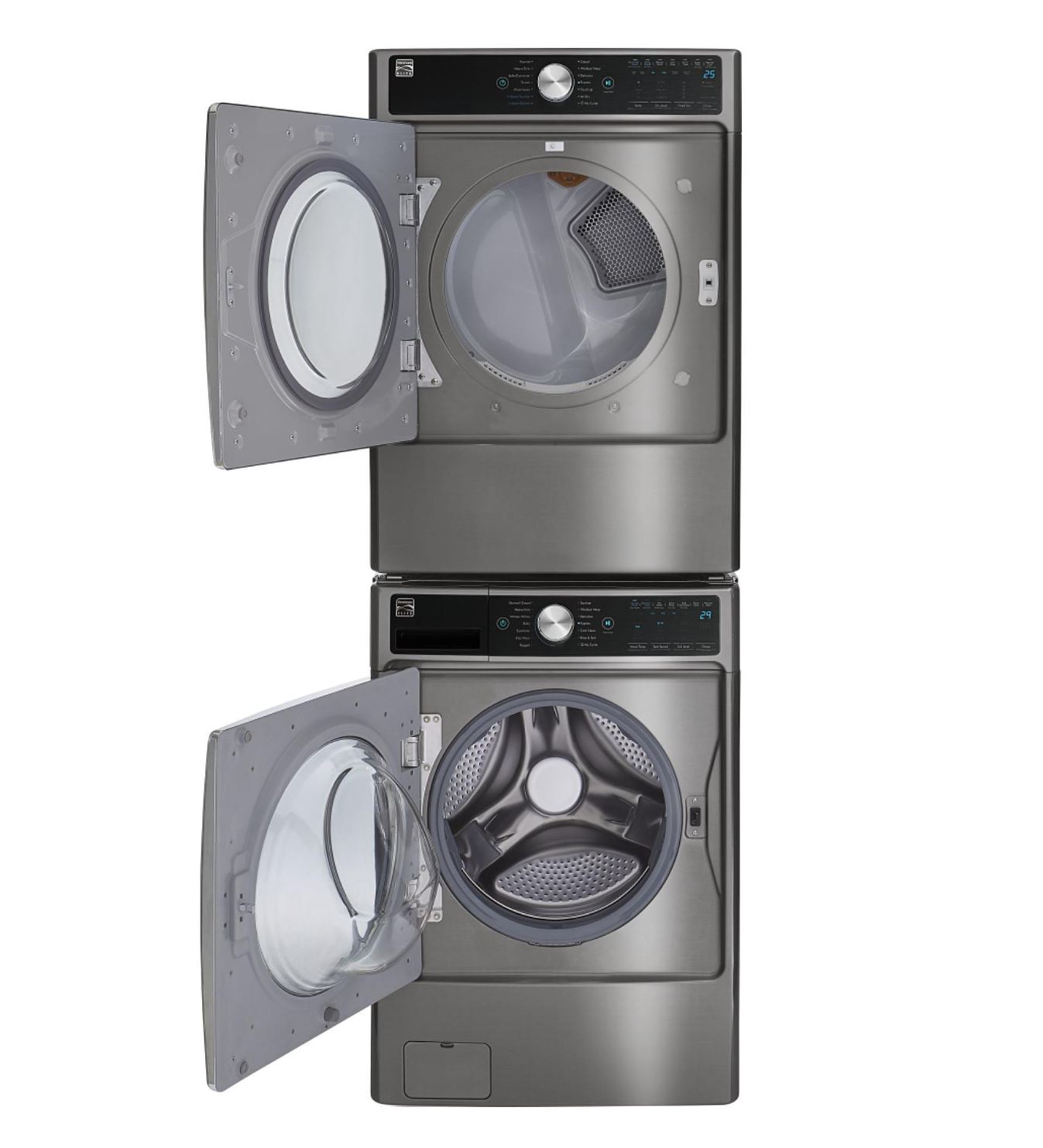 The Elite Kenmore washer range is all front-loading machines, and there isn't a whole lot in the size difference. The Kenmore Elite 41783 is the smallest of the models (by 1-in width and 1-in height), and the 41072 is the largest (again, by an inch – I have listed their full dimensions in their full reviews further down).
When measuring up for a washing machine, I would always advise ensuring there is an extra inch or two space on either side of the washer and between four and six inches at the back (for power and water hookups). This space will protect surrounding cabinets and units from heavy vibrations and should also prolong the machine's longevity.
Capacities
Kenmore Elite Washer 41783 has a capacity of 4.5 cubic feet, which puts it in the mid-sized washer range. The Kenmore Elite 41983 and the 41072 both have a capacity of 5.2 cubic feet which is large enough to wash a king-size comforter, and the sheet set all in one load.
For a family of 3 or 4, the 41783 should cater to your laundry needs. But, for any larger family, I would recommend the 41983 or the 41072.
Wash Cycles and Cycle Options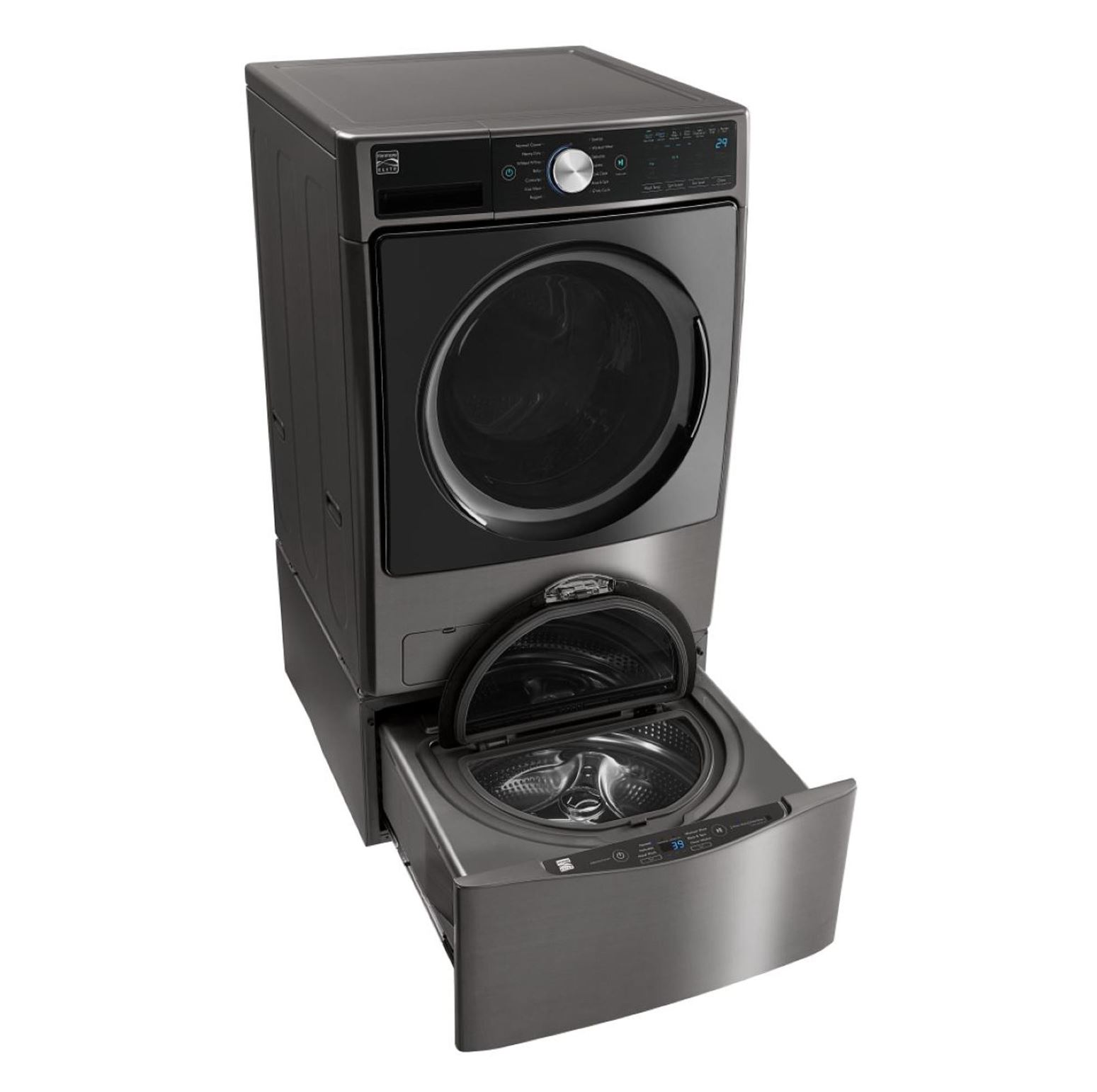 Depending on your living situation, some cycles will be more valuable than others. The 41072 has the largest range of wash cycles, including specialty and steam wash. But, I have found many wash cycle options to be nothing more than an extra dial on my machines over the years, so consider which cycles you need to use.
Price
The three Kenmore Elite washers I am recommending have different price points, which differ depending on where you purchase from (and if there's a sale on!). Rather than just going for the cheapest, consider the features you will get for the price you are paying. Extra money for extra features may be wasted if these are features you're not going to use!
Smart Features
Kenmore Elite 41983 and 41783 are the Smart Elite washers in my guide. They work with the Kenmore Smart App and Amazon Alexa, and while these features will be great for some people, they won't be used by others. I can certainly see their appeal and how convenient it is to operate your washer from your phone remotely, but for me, I'm not sure the extra money would be worth it.
Colors and Design
The Kenmore Elite washers have a premium design, and all three models look sleek and stylish. I have opted to look at the metallic silver machines, but whites and blacks are available. While for some, color won't be an issue, especially if you're laundering outside of the main home, for me, it's been a deal breaker over the years.
Consider your decor now and possible future decor, and look for a washer color that will either match or compliment this. Silver is pretty generic and a safer option than other choices, in my opinion!
Best Kenmore Elite Washers: Which Washer is Right For You?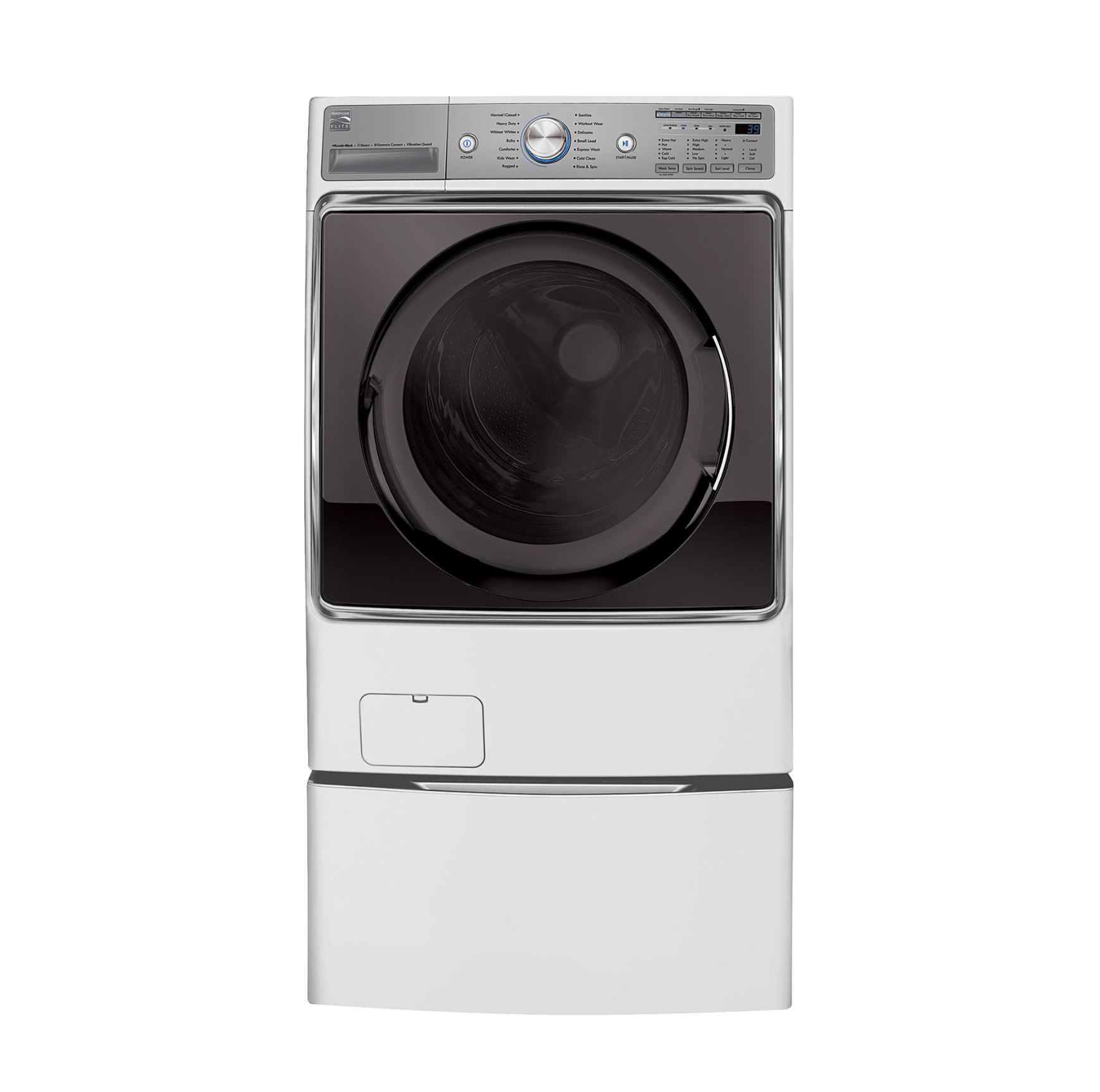 Kenmore used the mega-capacity LG WM8000HVA as inspiration for its 41072 Elite washing machine, but there are a few differences between them.
First, the Kenmore Elite 41072 does not have Smart technology, whereas the LG WM8000HVA does; yet the Kenmore Elite 41072 is more expensive (when not on sale). The 41072 has a larger capacity, is a larger machine, and has more color options than the L.G. model.
The Kenmore Elite 41072 is one of the largest front-load models out there, and this is its main selling point. This washer boasts luxury style and certainly looks worthy of its price point. I particularly like the streamlined control panel and simple usability with one knob to access all 14 cleaning cycles.
One thing to bear in mind about this washer is that it is around 2-in wider than your typical front-loading machine, meaning it may not fit in everyone's dedicated laundry space perfectly.
Consumers are consistently impressed with the overall gentleness of this washer on standard and delicate clothing. One of the selling points is the washer SteamTreat function, which is designed, so clothes don't need to be pre-treated if heavily stained.
However, some have found other washers in this price range to be more effective at stain removal. This could be down to stains being left too long before being washed, too large of a load, or not choosing the correct setting, as many more consumers rated the stain removal as excellent.
There are nine custom cycles, five soil levels, five water temperatures, and five spin speed options, with Smart Motion Technology blending up to 6 different wash motions. This offers a truly customizable wash that should cater to all. My favorite function is the Kids Wear Cycle, which is a hot, vigorous wash that uses two rinse cycles to remove all that kiddie dirt!
Dimensions: (W) 29-in x (D) 33.87-in x (H) 40.8-in
Pros
One of the Largest Front-Loading Washers
Perfect for Large Families
Smart Motion Technology
Gentle on Clothing
Luxury Style
Cons
Disputed Stain Removal
Larger Than Standard – May not fit in all dedicated laundry spaces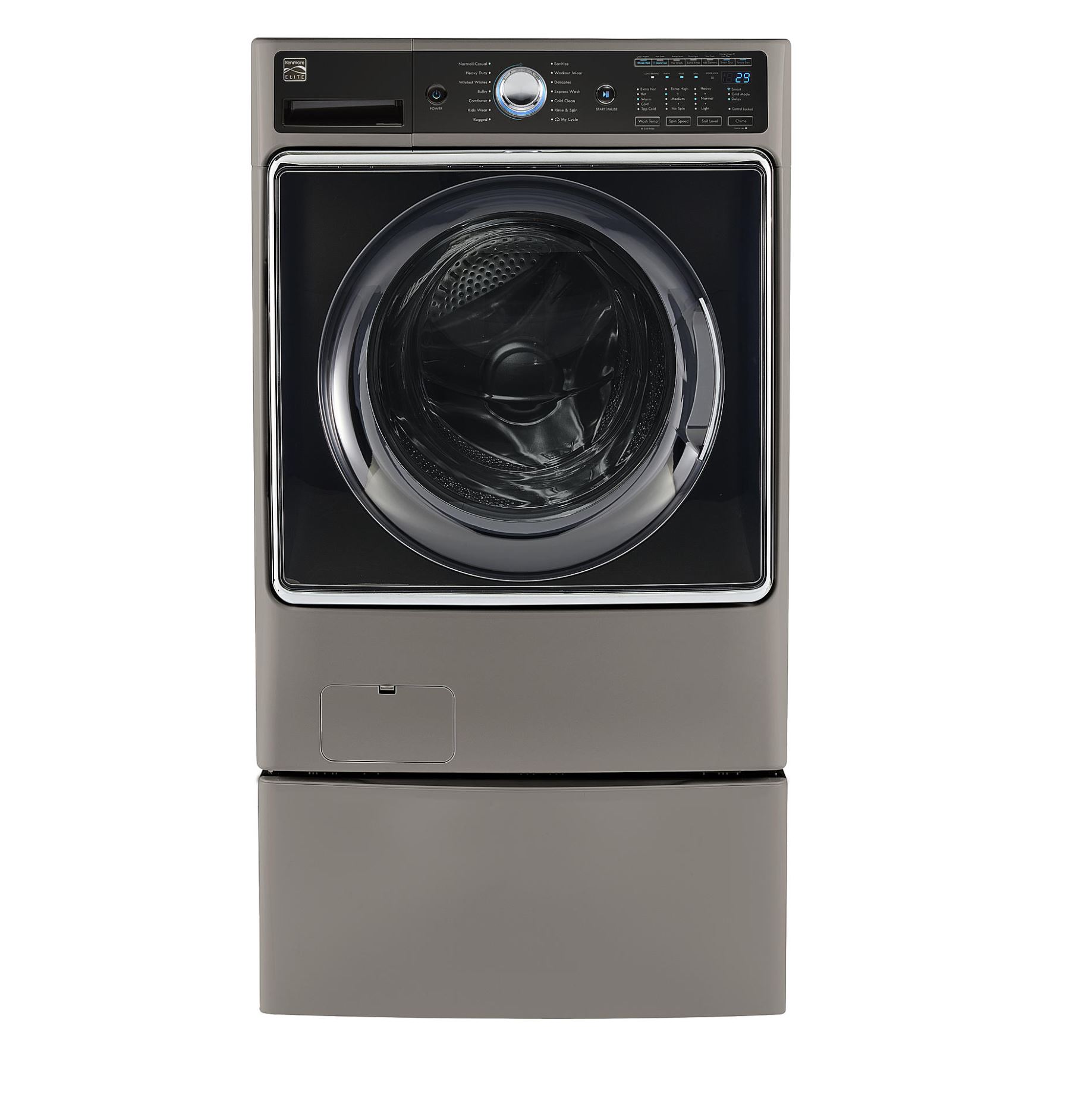 One thing I wasn't confident about with the Kenmore Elite 41983 was its WiFi connectivity, so I truly looked into this to see if my old-fashioned ways were hindering the provision of modern technology!
Initially, I found the smart connectivity features easy to use (for a total beginner), you can control and monitor the washer through an app on your cell that is free to download and use, and this app certainly has some neat tricks. You need to pair it to your washer – which is so straightforward even I could do it – and instantly monitor what's going on with your machine.
A function I found that I did think 'hey, this could be useful is the ability to add Stay Fresh to any cycle. How often are you out, become overrun with errands then have to totally rewash your laundry when you get home as it's been left sitting too long? If you're like me, the answer is a lot! With this smart feature, you can ensure your laundry needs just one cycle.
I didn't find much else useful with the app. You have to manually select remote start from the machine before being able to use it, you cannot customize a cycle, and I found the text to be pretty misaligned. Overall, the Stay Fresh function is helpful, and the ability to check on the progress of the load is handy, but whether the app's ready for prime time, I'm not so sure.
The Kenmore Elite 41983 is a highly effective cleaner, possibly one of the best out there. The internal water heater has a top temperature of 146°F, so even the toughest of stains don't stand much of a chance. With this high temperature and shorter wash cycles, I estimate it to cost under $40 per year to run this washer – which is around half the cost of a top-loading washer.
My favorite function on this washer is the Accela Wash™ which combines ActiveSpray and ActiveRinse to get full-size loads clean in under half an hour. I also really like the Kids Wear Cycle. Overall this is a super-sized, super-easy, and super-effective washer with some great features that are perfect for busy families.
Dimensions: (W) 29-in x (D) 32.3-in x (H) 40.75
Pros
Very Quiet!
Remote Activated StayFresh Function
Excellent Stain Removal
Fast 30-min Cycle
Easy to Use
Lovely Aesthetics
Compatible with Pedestal Washers
Cons
Very Expensive (and rarely on sale)
Wider Than Typical Front Loaders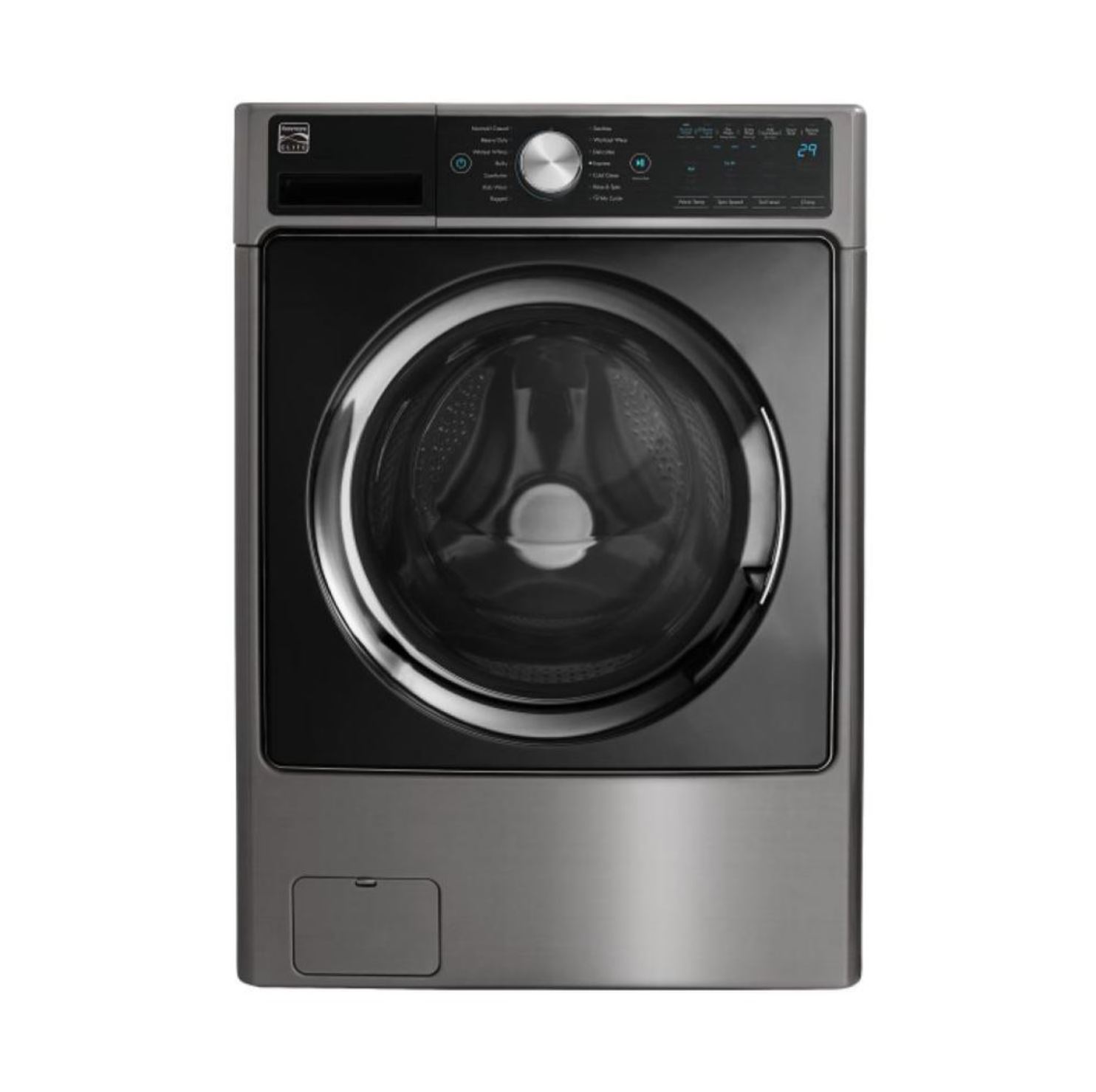 I am very critical of features advertised as being necessities. Still, when I came across the Kenmore Elite 41783, I found it difficult to ignore the considerable convenience provided by this washer. One thing, in particular, stood out to me, and this was the AirFlow doorstop. This feature props the door of the washer open, which increases airflow to help keep it dry and fresh between loads. How amazing is that?
Many people experience issues with washers when they've been left sitting (with the door closed), allowing a build-up of grease, grime, mildew, and even mold. This washer will not allow this to happen! This feature removes the need for time-consuming washing machine cleaning and prolongs its lifespan; I just love this!
Another feature I found on the 41783 that impressed me was the Add Garment option; this could be life-changing for me! Sadly, I would opt for a larger capacity model, but if a time came when I could use a smaller machine, the Kenmore Elite 41783 would be a top consideration.
I found the Kenmore Elite 41783 so simple to use, and the Smart connectivity is straightforward as it is on the 41983. While I'm yet to be fully converted to this way of washing, I do see its appeal.
With easy-to-use touch-button controls, there's no need to read large manuals; simply push and go! The Accela Wash makes laundry so much faster and more convenient. I also really like the Steam and Sanitize cycle.
Dimensions: (W) 27-in x (D) 31.5-in x (H) 39
Pros
Standard Front Loading Size – Should fit in all designated spaces
Greatly Convenient Features
Simple to Operate
SmartApp Controls
Attractive Design
Easy to Use
Cons
A Struggle to Find in Stock
FAQs
Question: Did Kenmore go out of Business?
Answer: Rumors were circulating that Kenmore went out of business in 2018, and while it did file for bankruptcy in October of this year, it won its auction and continued to operate.
Question: Which Brands Make Kenmore Washers Today?
Answer: Today, Kenmore appliances and products are manufactured by leading brands, including L.G., Whirlpool, Electrolux, and Daewoo Electronics.
Question: Where Can I Buy Kenmore Elite Washers?
Answer: You cannot buy directly from Kenmore, but they have trusted dealers around the U.S. If you're looking online, you're limited to Sears, Kmart, and Amazon, although stock seems to be an issue at the time of writing.
Question: How Long Does a Kenmore Elite Washer last?
Answer: Kenmore washers are known for their longevity and – if well maintained – should last for between 10 and 15 years.
My Verdict on the Best Kenmore Elite Washers
The Kenmore Elite washer range is not tailored to the budget-minded, and these are expensive machines. But, for some, they will absolutely be worth their initial cost, especially when the running costs are so low.
I wasn't hugely overwhelmed with the Smart Tech provisions in the Kenmore Elite 41783 and Kenmore Elite 41983, but I see their appeal. I did find other features on these machines that would undoubtedly make my life easier, such as the Add Garment and Accela Wash.
For me, I want ease of use and an efficient machine, and all three check both boxes. I would opt for a larger washer like the Kenmore Elite 41072, but I don't think I would feel comfortable paying the RRP – when on sale; however, this would certainly be my top choice in today's market.