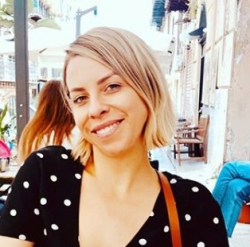 Latest posts by Jodie Chiffey
(see all)
Finding the best Frigidaire stackable washer and dryer takes a lot of research. Luckily for you, I am a veteran buyer of appliances for domestic and residential properties, and know the things that really matter to ensure efficiency, usability, and durability.
Interestingly, I have found these rarely to relate to the things brands scream as 'imperative.'
What do I mean by this? Well, as an example, a few years ago I needed a new washing machine and had lots of requirements I deemed to be essential: quick wash setting, delicate setting, spin-and-drain facility, I wanted the washer to be gray, and a minimum of 25 inches wide (to fit in my existing space). Nothing else mattered.
Now we're 4-years on and I have used the delicate setting a total of zero times. I've used quick-wash rarely, and redecorated and renovated my space so the color and size now doesn't even match! I now have a totally different idea of what really matters when looking for that perfect washer and dryer combo, and have used my critical eye for this article.
This guide focuses on the three Frigidaire stackable washer and dryer combos that are available today. I have looked at the experiences of various consumers regarding these appliances, andexplored not only their pros but also their cons
Sadly, most appliances will have cons, but it's up to you how big of a deal breaker these are. For me, anything too noisy is a no-go, but if you launder outside of the main home, this may not be an issue. Some people find color to be a priority, whereas, for others, it is the drum capacity only.
Without further fuss, let's take a look at my overall findings.
At a Glance 3 Best Frigidaire Stackable Washer and Dryer Combos
Bottom Line Up Front
My favorite overall has to be the Frigidaire Electric Long Vent Stacked Laundry Center; with its extended vent, this machine fits in most corners and along most walls with close proximity to an outlet, not having to be the main priority. The drums have a generous capacity, and I love how quiet the washing machine is! The dryer is a little noisier but no more than any traditional dryer.
A top buy!
Why Choose Frigidaire?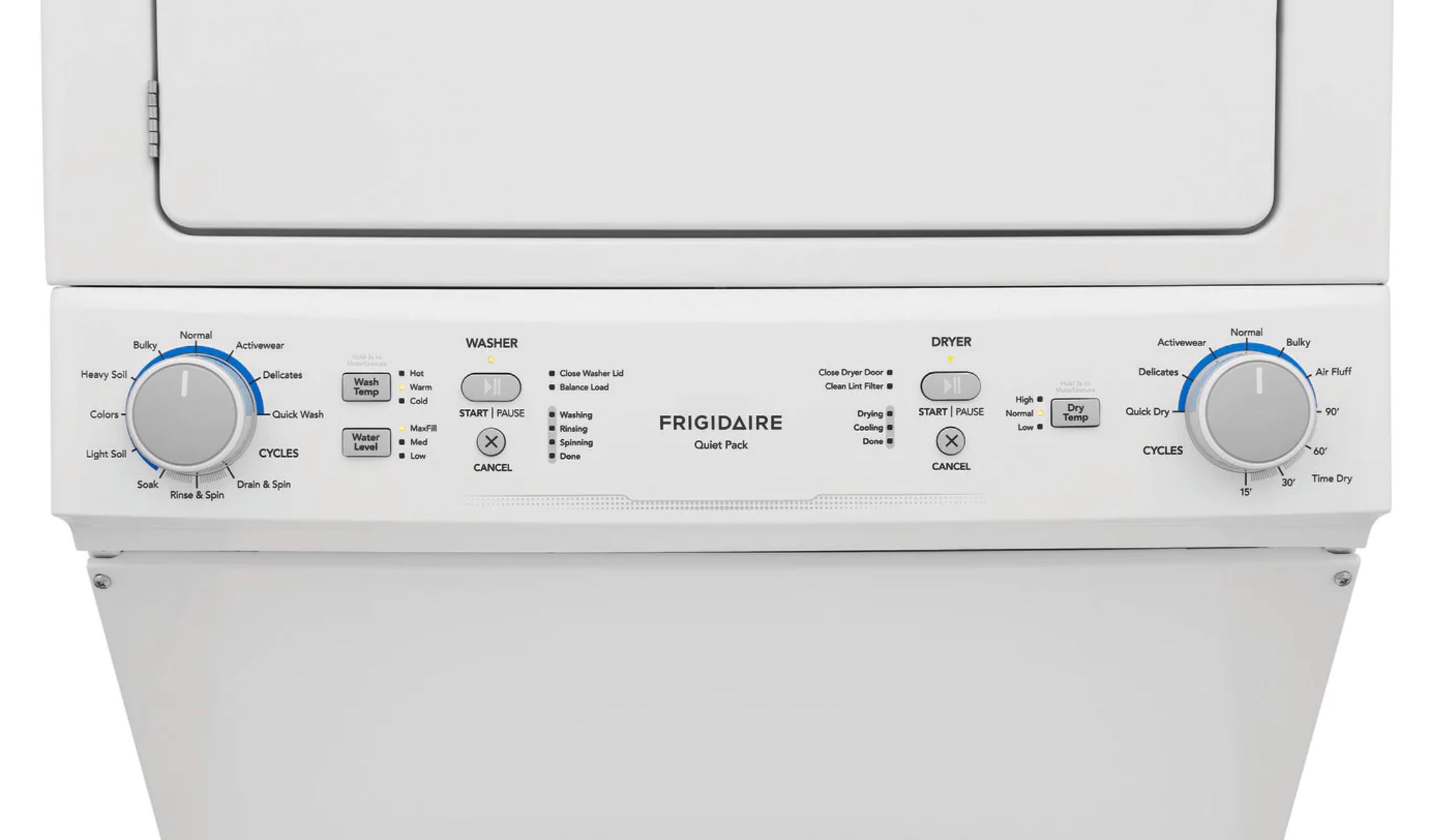 Looking for an all-American brand with over a century of experience? Welcome to Frigidaire! This company was founded in 1918 in Fort Wayne, Indiana, and invented the world's first contained refrigerator. Their products have remained innovative and their expertise unrivaled.
Throughout Frigidaire's lifespan, it has continued to pioneer the very latest in home innovations, including the first fridge freezer to have a separate freezer section and the first home chest freezer.
Additionally, consumers regularly have Frigidaire ranked as the best appliance brand by a wide margin. The company is noted globally for products that have exceptional reliability, fantastic ease of use, and affordable price points.
For me, Frigidaire would always be the first place I'd look for a refrigerator or a freezer. But how good are Frigidaire stackable washer and dryer combos? Stay with me to the end to find out!
What are Stackable Washer and Dryer Combos?
GE invented the first washer-dryer combination in 1954; they've been a huge hit ever since. A washer and dryer combo is one appliance that does the jobs of a washing machine and a tumble dryer. Stackable washer and dryer combos are either separate devices that can be stacked or one unit that includes both appliances (this is commonly termed a laundry unit or laundry center).
If you purchase a standalone washer and dryer that is stackable, there is the provision to stack the models (one on top of the other) to save space: providing they're compatible (the same dimensions), and there is a compatible stacking kit available.
Benefits of Stackable Washers and Dryer Combos
Stackable washer and dryer combos that are categorized as a 'laundry unit' or 'laundry center' will include a washing machine, tumble dryer, and a stacking kit, a stacking all-in-one bundle. This purchase will be all your laundry requirements in one package, so it will be enormously convenient if you need to start cleaning and drying clothes immediately.
You can buy stackable washer and dryer combos separately. For example, a stackable washing machine and then – at a later date – a stackable tumble dryer. This option will be much cheaper initially but will ultimately end up being more expensive. Plus, there is the issue of compatibility as appliances become discontinued or recalled.
A great benefit of stackable washers and dryers is that the appliances are guaranteed to be compatible with other washer/dryers from the same brand and stack together seamlessly. Moreover, they'll come with handy instructions to help with the exact fitting together of the appliances – or these will be super easy to find online.
The drawback to this product type is that they're targeted toward those looking for space-saving solutions and subsequently tend to be much smaller. However, If you only have a small space, this may not be such a drawback.
Factors to Consider When Purchasing Stackable Washers and Dryers
Finding the right stackable washer and dryer requires thinking about a number of important factors. Here are the considerations that I believe to be the most important.
Size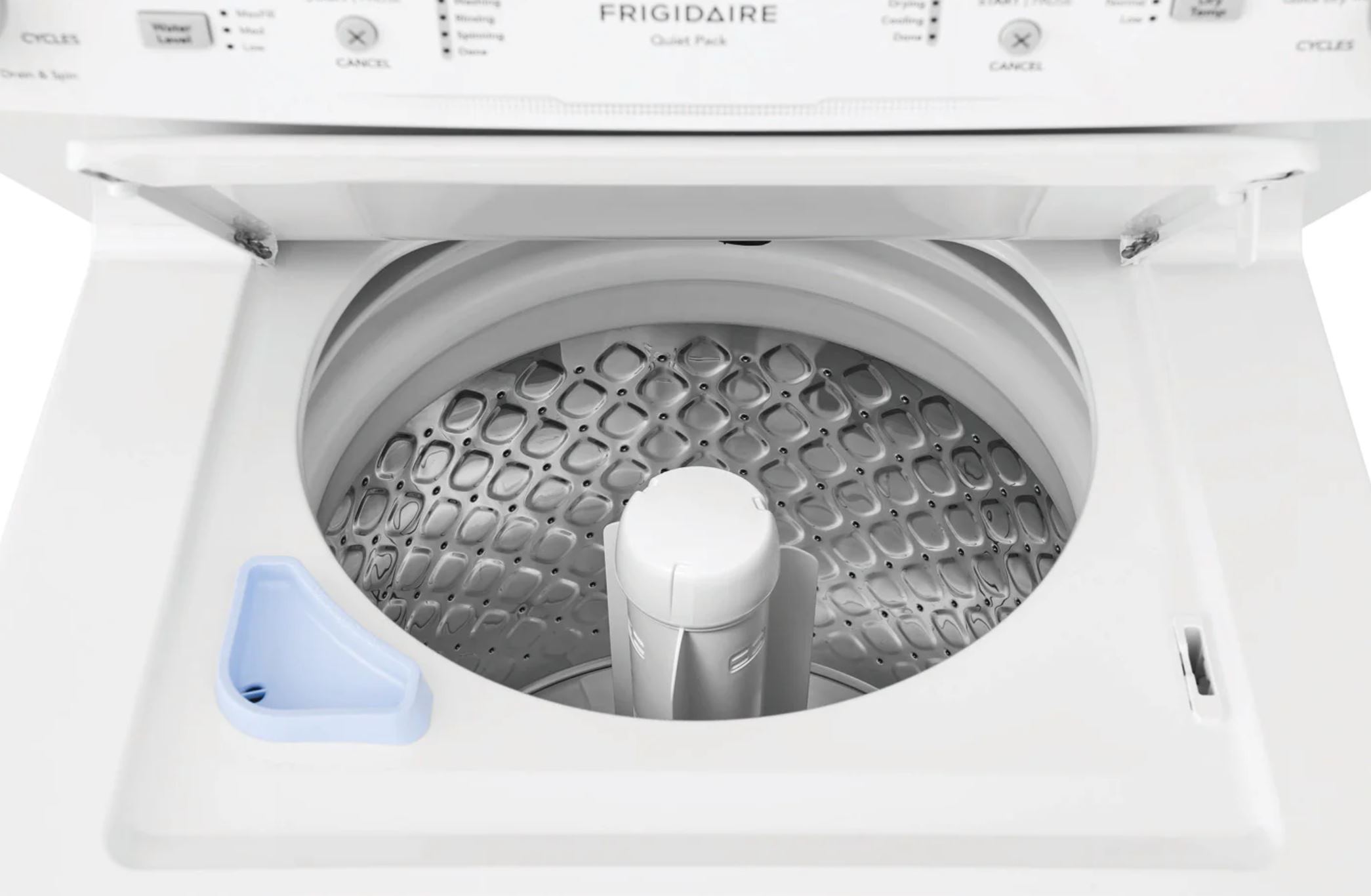 The biggest benefit of stackable washer and dryer combos is that they take up less space. Most consumers looking for this appliance type will be limited in space. However, this doesn't mean a small appliance is required. For example, I have a small home, so I would absolutely consider a laundry unit. However, I have a large family, so small drum capacities would not be suitable.
Consider the space you have available for a stackable washer and dryer combo and ensure you measure it accurately.
And, if, like me, there are many people to launder for, then look for how much laundry the device will do per load. While it may still be more convenient to wash multiple times at home than to make a journey to a laundromat, you can still make this more of a time-saving (and energy-efficient) operation by purchasing the most suitable drum size.
Cost
Stackable washers and dryer combos aren't the cheapest appliances out there, and even the smallest can be well over $1,000. Additionally, if you would prefer not to buy a laundry unit right now and instead buy the appliances separately, consider if this is really in your budget – as these appliances can run into hundreds – and sometimes thousands – of dollars.
It may be tempting to scrap the stackable appliance idea and instead opt for a top-loading model, which is a consideration for those limited on space. However, top-loading washers and dryers can be a significant drain on energy bills.
Compatibility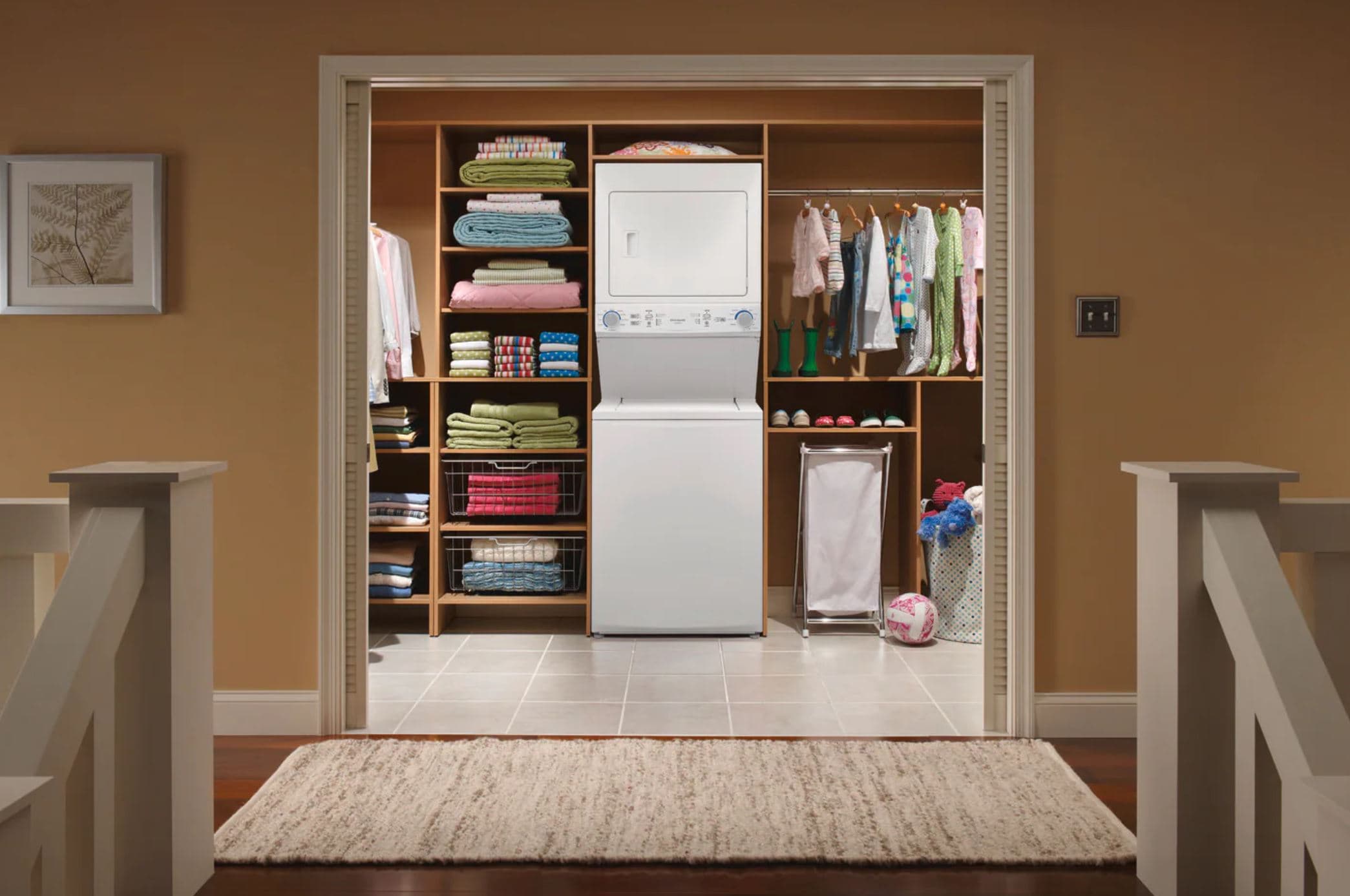 When it comes to compatibility, there are a few things to consider. First, does your home have the correct water and electricity hook-up for the unit?
Those with apartments that don't have dedicated laundry spaces may find there won't be any kind of hook-up installed. While this doesn't rule out this appliance for you, the expense of calling in a plumber and electrician is something you need to account for in your budget.
In the US, a standard home outlet is 120 volts, but you will find that many modern appliances need to have a 240-volt connection. This doesn't tend to be the case with the smaller washer and dryer combos, but it is important to know if you can accommodate the appliance before buying it.
Durability
With Frigidaire stackable washer and dryer combos, you can rest assured that the durability is absolutely there – it's what the brand is universally known for. Frigidaire appliances have a solid reputation for excellent longevity, and the brand provides generous warranties.
However, this may not be so if you're looking to purchase a pre-loved, well-used model or a model from a different brand that may not have the same reputation. A great way to know what you're actually going to experience with appliances is to consider the experiences of other consumers, and this can be found in the form of consumer reviews!
My Product Criteria
Currently, there are only three Frigidaire stackable washer and dryer combos available, which made my research straightforward. I decided to fully review all three models! Here are the things I was looking for with each appliance.
Ease of Use
I wanted to investigate how easy to use the washer, and dryer combos were. Is it a case of putting on a load and pressing a button, or did you truly have to read the entire manual and watch multiple how-to videos first? For me, and any other busy household, an appliance has to be simple to operate.
Fortunately, all three models are; but one may be a little more than the others!
Noise/Vibration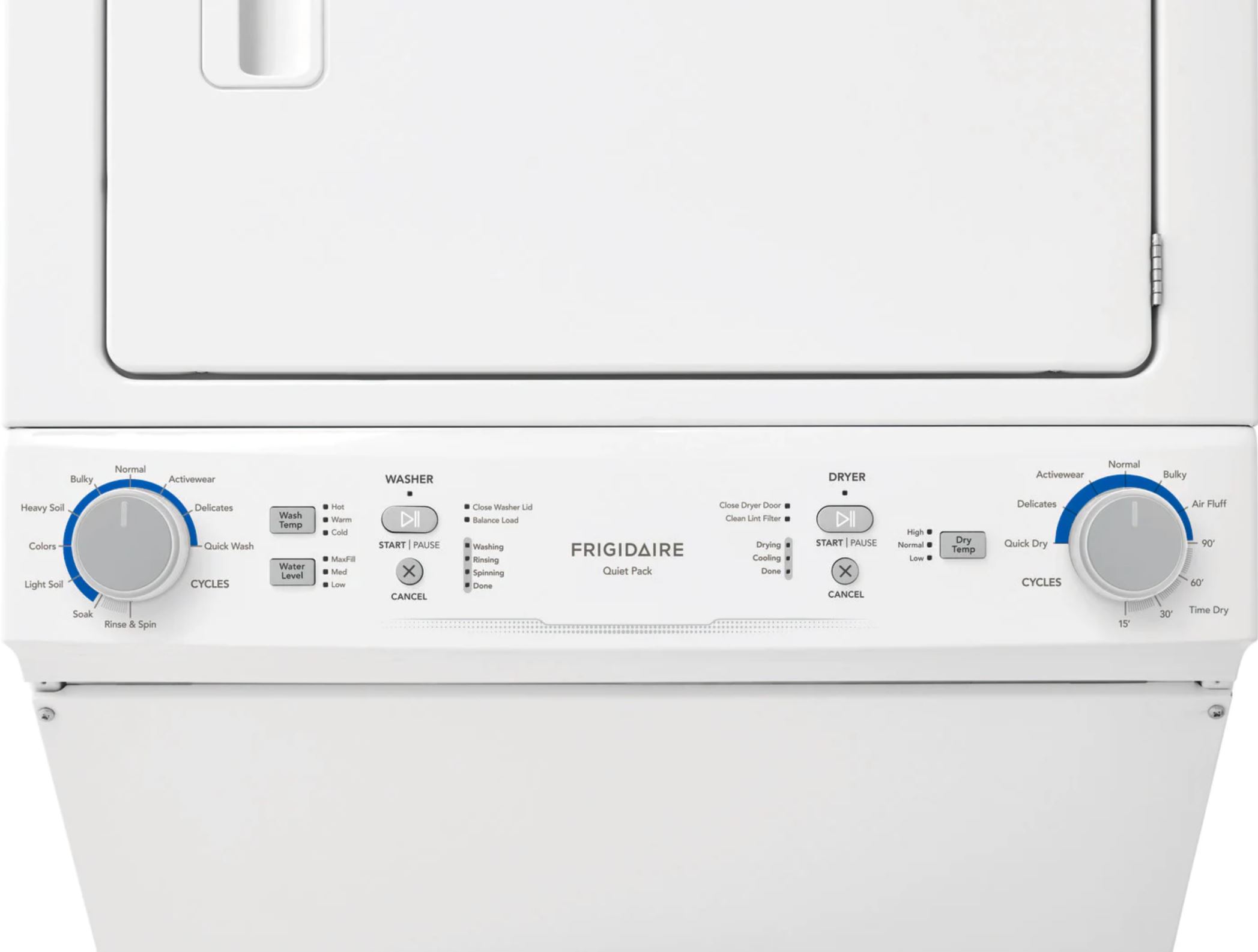 I wanted to know truly what it was like to have any of these models in the home doing a full cycle and to report these findings back honestly to readers. Heavy loads, light loads, spin-and-drain, and double rinses; I checked it all out!
Energy Usage
This guide features both gas and electric stackable washer and dryer combos, so conveniently, both types of hook-ups are catered for with Frigidaire.
Consumer Reviews
It's so important to consider varying opinions when it comes to buying anything online, but when it relates to large home appliances, this diversity is vital! I have done the leg work here and found lots of feedback – in multiple different places – from many different consumers.
While one person may rave about a particular combo and another slates it, there tends to be some balance when you look more in-depth. I have considered the experiences of other consumers and included some summaries in my full reviews.
The Best Frigidaire Stackable Washer and Dryer Combos
#1 Frigidaire Electric Long Vent Stacked Laundry Center #1 Top Pick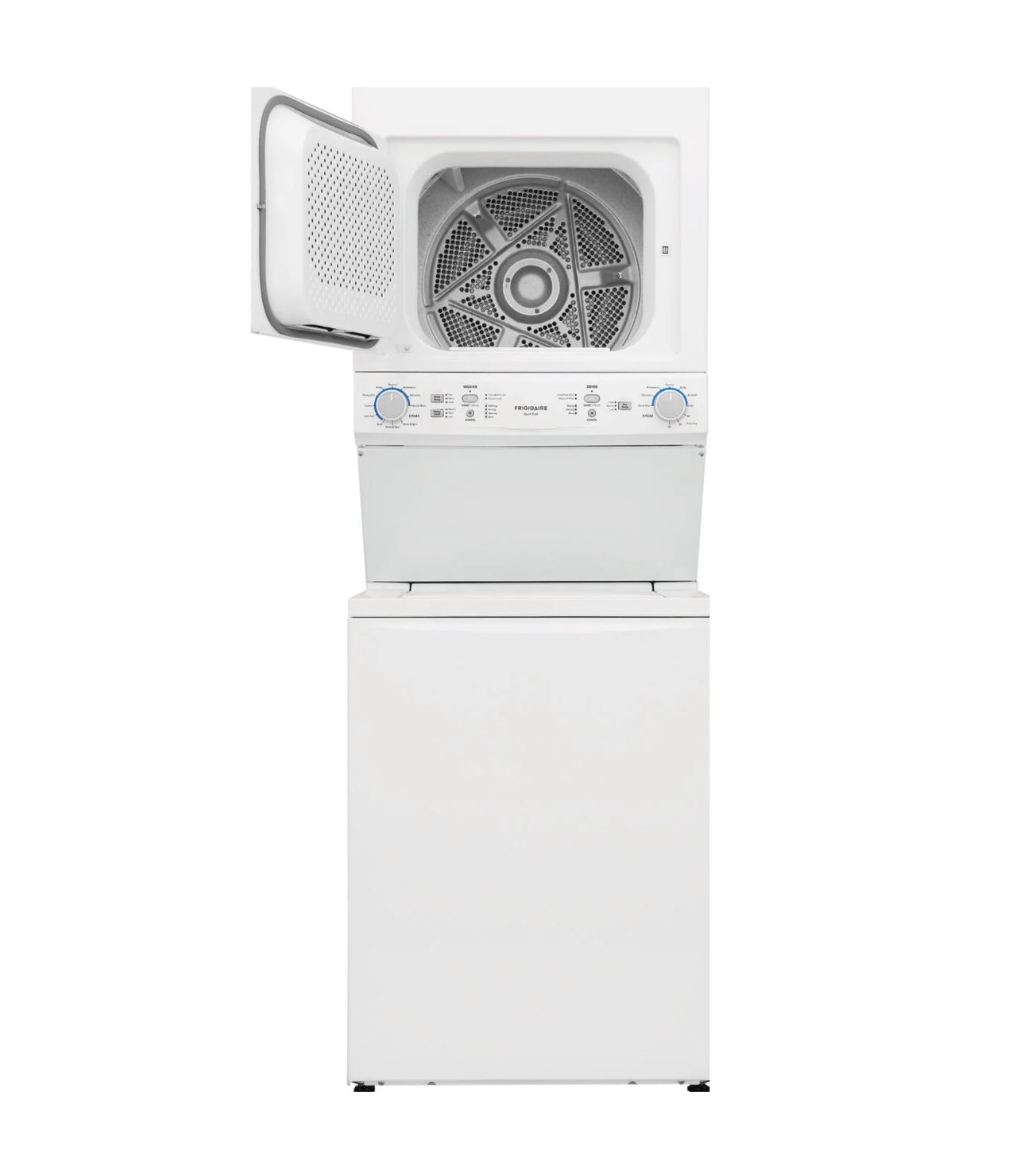 I found it really difficult to choose one of these models as my top pick, but the Frigidaire Electric Long Vent Stacked Laundry Center's longer vent gave it that little bit more of a USP. How annoying is it when you've to rearrange a whole room because of outlet locations? With this 127 ft long vent, where your outlets are shouldn't matter, meaning that the unit will go precisely where you want it to go!
Some more things about this combo I love include the 11 different wash cycles, six dryer cycles, timer, and the MaxFill™ options, which allow for the maximum water level for the selected cycle and result in better laundry cleaning.
I have my washer and dryer quite close to the family room, and over the years, we've had to endure some ridiculously loud appliances! This isn't the case here. The new sound-dampening technology offers quieter operation, which is crystal clear when using the washing machine, with some consumers having to check their machine was actually running!
I found the dryer to be a little louder, but nothing outrageous. You really can't miss where your cycle is up to because there are continuous LED lights that indicate when the washer is washing, rinsing, spinning, and done. To further notify you of the completion of the wash cycle, there are a series of beeps – not overly irritating, but somewhat unnecessary, I found.
Pros
Extra Long Vent
11 Wash Cycles Incl Quick Wash
6 Dryer Cycles
LED Activity Notifier
Large Drum Capacity
Space Saving Dimensions
Cons
Not ADA Compliant
Not NOM Certified
Not ENERGY STAR Certified
#2 Frigidaire Gas Washer/Dryer Laundry Center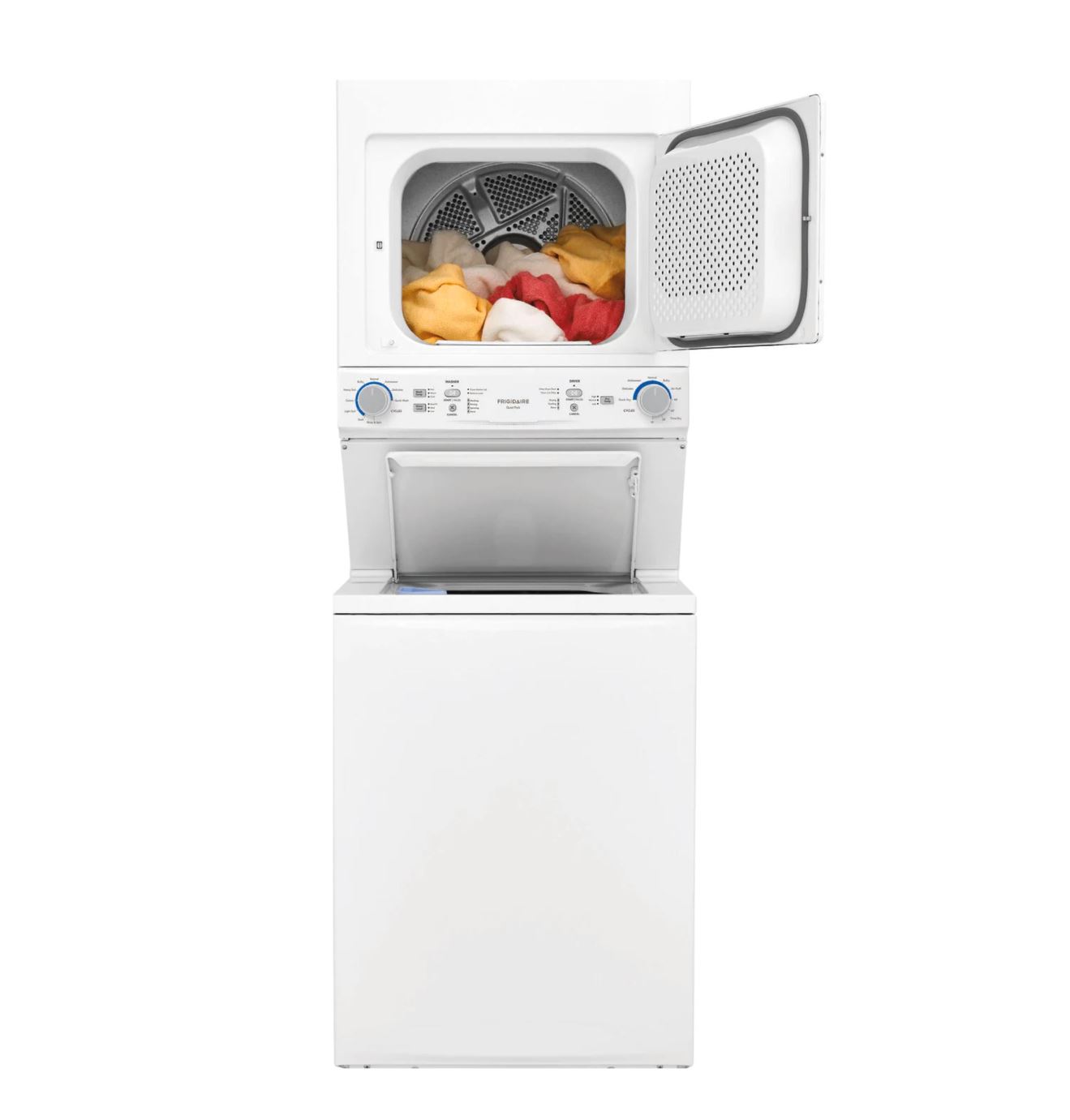 To start with the negative here. I found the Frigidaire Gas Washer/Dryer Laundry Center to be loud when on a wash cycle. Now, if you launder in a basement, utility room, or outbuilding, this shouldn't be much of an issue, but close to the family room? It's going to make itself heard! And this isn't just my findings; multiple consumers have mentioned the noise being a little much.
The noise aside, this is another great washer and dryer combo by Frigidaire. It's the most expensive of the collection, but there are some advantages over other models, too. For example, this is a gas energy appliance that will be more efficient, cost less to run per load, and be more environmentally friendly.
More loads can be run in less time due to a faster drying speed as gas dryers run much hotter than electric. And I'm not talking cents here; say you dry five loads a week in an electric dryer, you're looking at around $130 per year. The same number run through gas dryers will be approximately $80. So, over time, the higher RRP is readily justifiable.
This appliance has all the same features as the other Frigidaire models; multiple wash and dry cycles. Additionally, it is UL certified.
Pros
Hugely Energy Efficient
Quick Drying Time
Large Drum Capacities
10 Wash Cycles Incl Quick Wash
6 Dryer Cycles
UL Listed
Cons
Quite Loud
Some Consumers Have Issues With Broken Parts
#3 Frigidaire Electric Laundry Center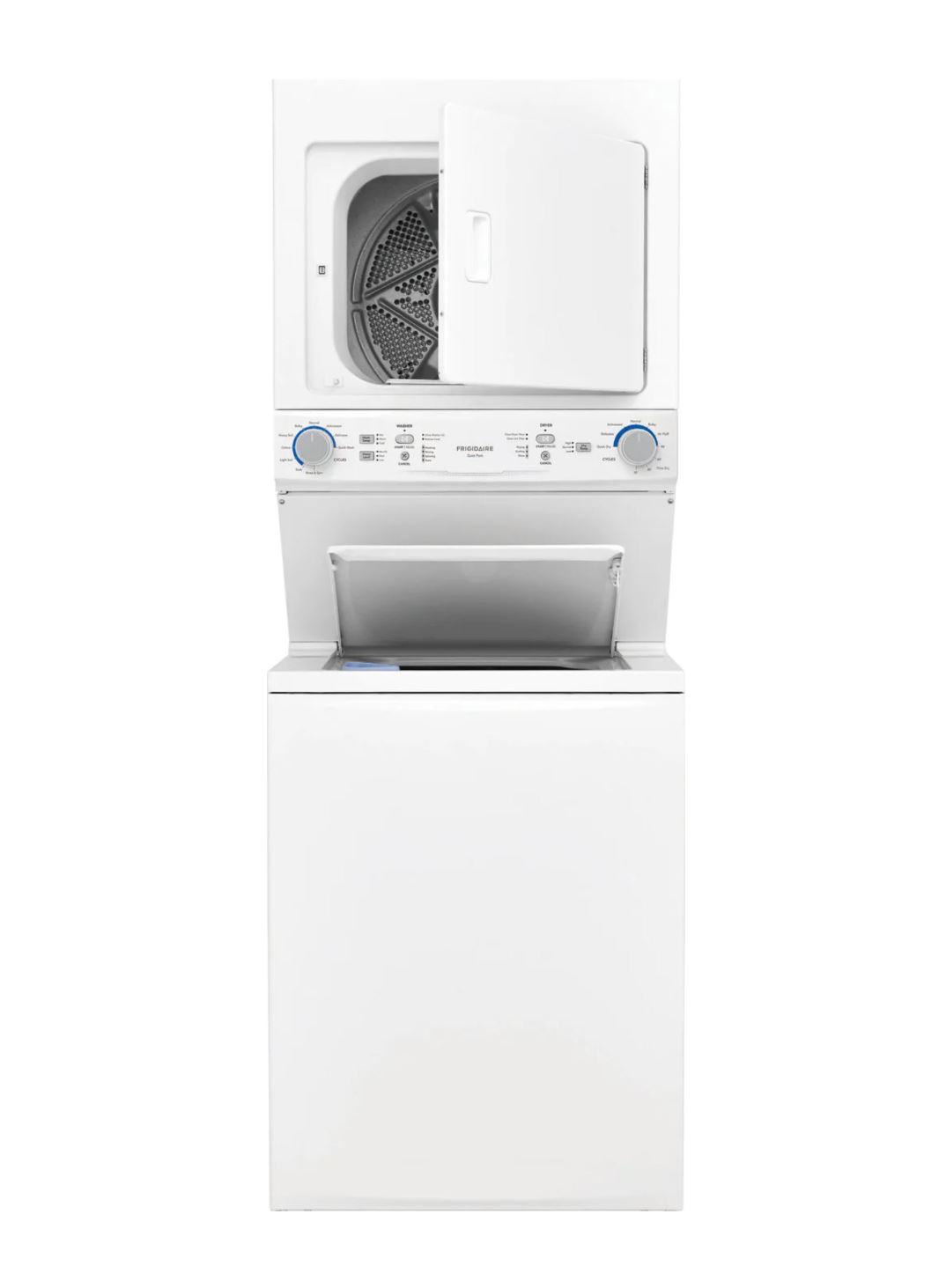 I found the dryer of the Frigidaire Electric Laundry Center to be superior to most other brands; it's super quick and highly efficient; drying large loads in around half the time of some leading brands. Conversely, the washer seems to take a little longer. The clothes come out clean, smelling fresh, whether a light, quick wash, or heavier and longer running load.
This washer and dryer combo is most similar to the Frigidaire Electric Long Vent Stacked Laundry Center, except there are ten wash cycles here compared to the long vent centers 11. I don't think this appliance has lost an essential cycle, and everything you could need, including Delicate, Activewear, Bulky, and Colors, is here.
The machines are straightforward to use; a spin of the dial and click of a button is all that's needed. The sound-dampening technology offers quieter operation, which is certainly a huge improvement on the gas energy combo. Again, lights and sounds alert you to cycle changes and completion.
Pros
Quick Wash and Dry Options
Highly Efficient
Quiet Washing
Easy to Use
Light and Sound Alerts
Cons
Standard Wash Cycle Seems Longer Than Some
Not ENERGY STAR Certified
FAQs
Question: What Warranty Is There With Frigidaire Stackable Washer And Dryer Combos?
Answer: Typically, all Frigidaire stackable washer and dryer combos will come with a one-year labor and parts warranty. However, depending on the dealer you purchase from, there could be the option to extend this or for it to cover additional aspects than the standard warranty.
Question: What is the Average Lifespan of a Stackable Washer and Dryer Combo?
Answer: Stackable washers and dryers have the same longevity as standalone models. This, on average, is around 13 to 15 years. Some proven ways to prolong the lifespan include ensuring the appliance is level, not overloaded, the right amount of detergent is used, pockets are emptied, and the appliance itself is cleaned and maintained.
Question: How Do You Service Your Washer and Dryer Combo?
Answer: There are so many products out there advertised as essential for servicing and cleaning white goods. The truth? They're mostly gimmicks.
To service your washer and dryer combo, all you need to do is run it on its hottest cycle (empty of clothes) with your usual amount of detergent. It is best to do this every few months and wipe around the inner door to ensure the appliance is free from dirt, grease, and salt buildup.
Additionally, emptying and cleaning out the filters at the same time will ensure a smooth operation.
My Verdict on The Best Frigidaire Stackable Washer and Dryer Combos
I would happily use all three of the models featured in this guide. However, there are slight differences that may make a certain one more appealing to you, depending on your preferences and circumstances.
If you're all about saving energy, time, and money, the Frigidaire Gas Washer/Dryer Laundry Center may be your best option, providing you have or install a gas hook-up. While I did find this appliance to be the noisiest, this may not be a deal-breaker if you're laundering away from where you're relaxing.
Most consumers were happy with their purchase of the Frigidaire Gas Washer/Dryer Laundry Center, but there were some mentions of broken parts after limited use.
Many consumers found the Frigidaire Electric Long Vent Stacked Laundry Center wash cycle to be longer than expected but were overall happy with their choice. I like the efficiency of the wash – regardless of its size – and appreciate the sound-dampening technology.
Overall, I found the Frigidaire Electric Long Vent Stacked Laundry Center to be the best buy here. It has some great innovative features, such as the LED light indicators, is super durable, easy to use, and did I mention it has a long vent?