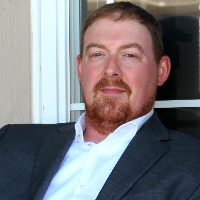 Latest posts by Justin Caldwell
(see all)
Installing a cooktop separate from an oven gives your kitchen some advantages over choosing a combination range appliance. Mounting the oven higher means you don't have to bend over as far to pull hot, heavy items out of the oven. It also makes your kitchen more flexible during a remodel because your cooktop can go anywhere without having to accommodate an oven.
Installing your cooktop on an island instead of against a wall makes it more functional and often enhances the beauty of the kitchen as well. Plus, you can mix and match cooktops and ovens of different brands, based on performance, giving you the best of both.
In this article, you'll learn about the factors to consider when purchasing a cooktop and the features to look for. The best cooktops here are based on criteria like reliable brand, the inclusion of helpful features, durability, and design.
Factors to Consider Before Purchase
If you're looking into a cooktop, there are several things you'll want to evaluate before choosing the right one for you.
Size
Most cooktops are either 30 or 36 inches wide, but you'll find a variety of sizes, ranging from 21 to 48 inches. You can choose 5 or 6 burners, but there are varieties that include 4 as well. They don't all allow enough room to use all burners at once, so you'll need to take a good look at functionality if you do a lot of cooking.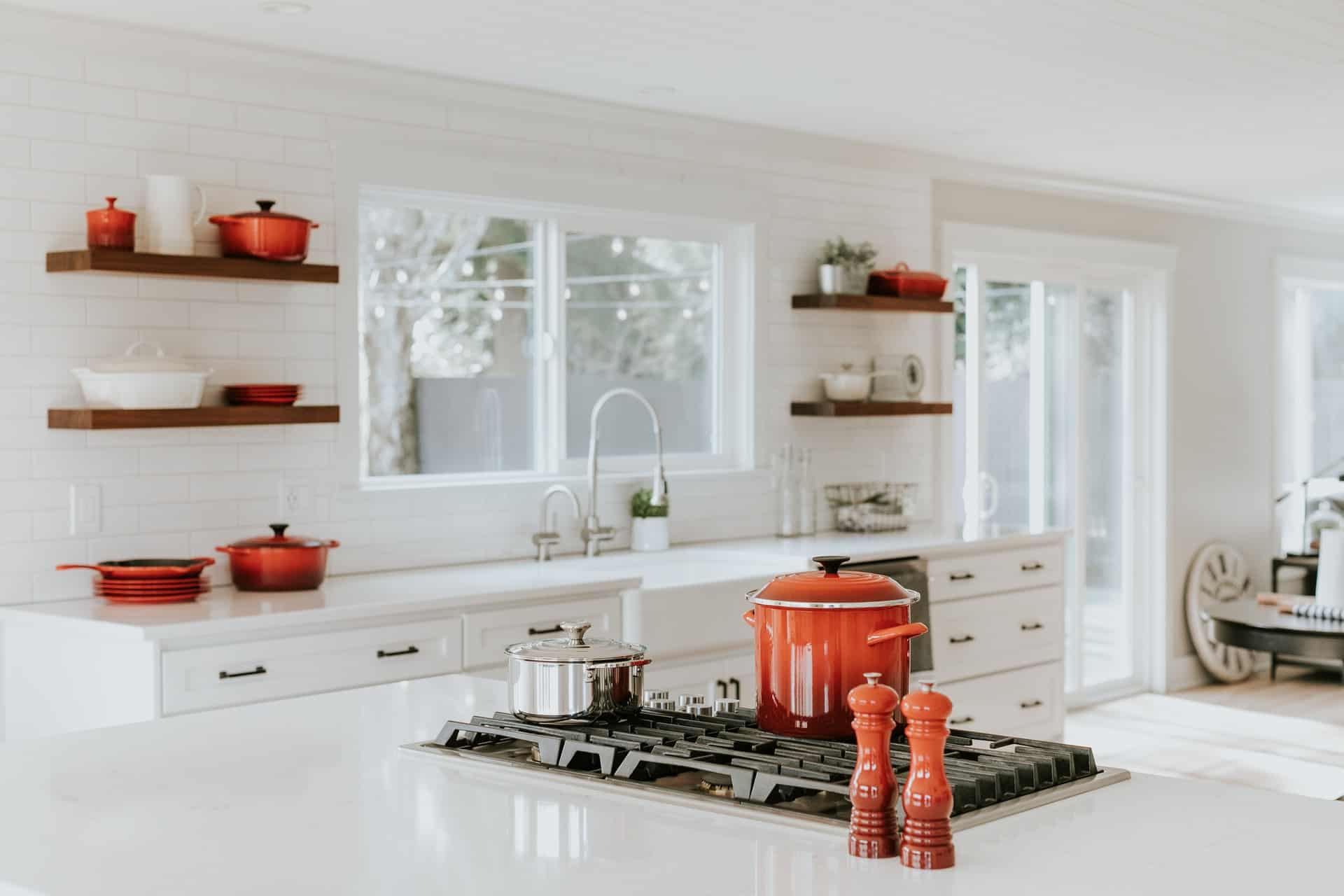 Most 30-inch cooktops include 4-5 burners while 36-inch varieties have 5-6 burners. Not only will you need to consider the size of the cooktop and its burners, but you'll need to ensure that your kitchen has enough space to accommodate the cooktop you want.
Cooking Power
Don't just think about heat radiating from every element when it comes to cooking power. Also, consider that you may want more control over lower heat settings and simmer temperatures. You need more versatility for melting butter or chocolate as well as simmering sauces or poaching eggs.
You also need a wide range of size, power, and positioning in your elements. Electric cooktops that allow you to put a skillet over two elements for pancakes or those that give you the flexibility to change the size of the burner are some of the best options.
For gas ranges, cooking power is measured in BTU, which determines how much heat a burner can manage. Some gas ranges are rated for as much as 20,000 BTU. That's great if you need a lot of heat, but heat isn't everything. You should also be able to hand small outputs, which some gas ranges struggle with. Look for cooktops that offer a range of burner power. Some gas cooktops have separate burners meant for different tasks.
Reliability
Whether your cooktop is gas or electric, it should be built to last, so look for good brand names that are known for providing the best in what you're looking for. Make sure they have high ratings and positive reviews for ongoing use.
Electric cooktops have pots and pans sliding across the surface and they deal with a lot of spills and stains. You need quality glass and ceramic materials that will hold up under a lot of pressure or heavy cooking materials.
Gas cooktops take a beating, too, but their raised grates are often made of cast iron, making them more durable than glass or ceramic. Of course, burners can go out, the lighting mechanisms can fail, and not all gas cooktops are created equal. Look for extended warranties that will get you the functionality you need for years to come.
Features
Of course, you need to consider the features that your cooktop comes with. Electric cooktops offer unique features like expandable burners and heat indicators, and these should almost be a given for new models.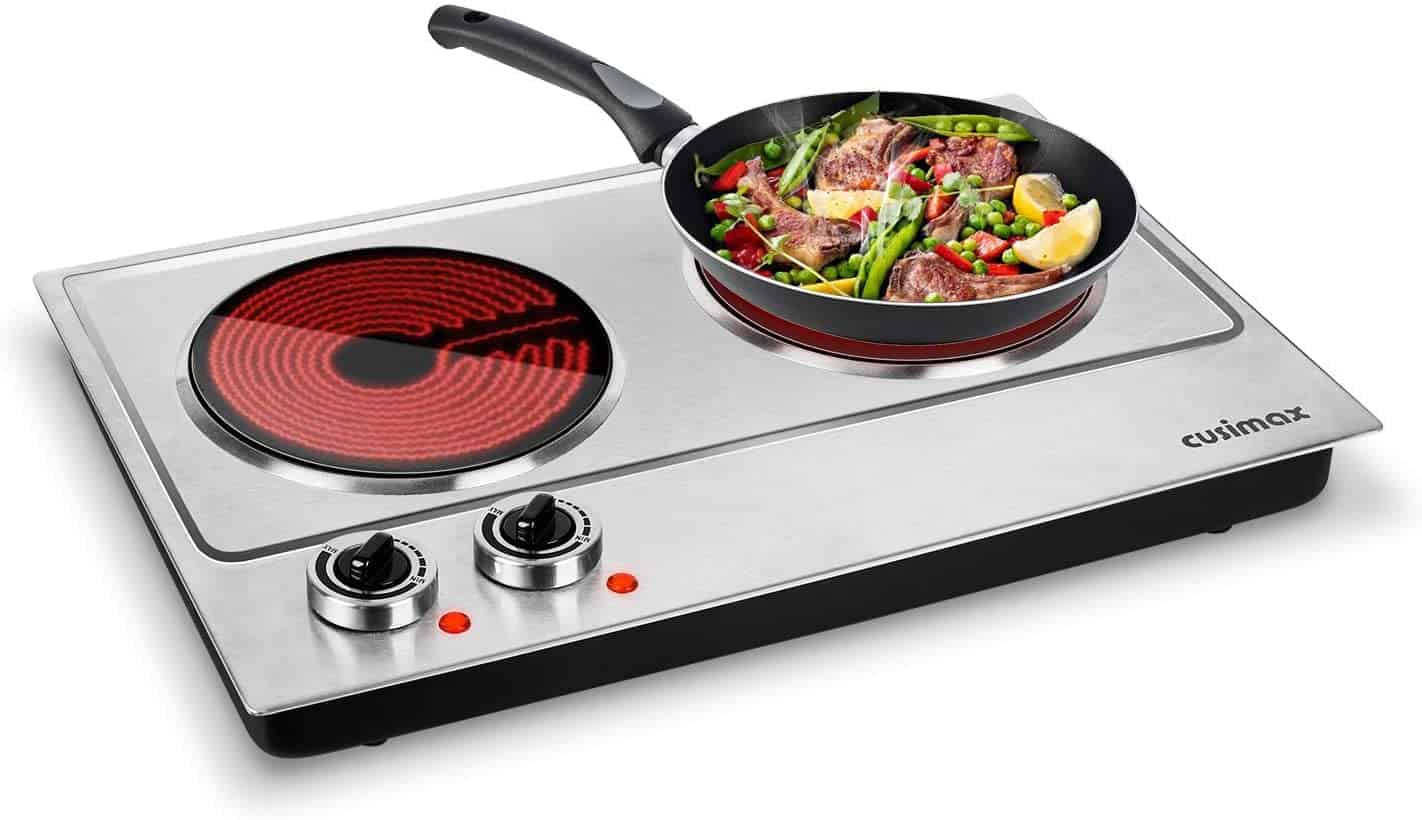 However, you can also look at additional features like illuminated cooktop surfaces, auto-shutoff capability, and bridging elements. While these features may not indicate the quality of the cooktop, they can definitely improve your experience.
While there aren't any gas cooktops that offer expandable burners, they may also include features like wireless connectivity and auto-shutoff, which will turn the gas off in the event that the flame is extinguished.
Look for additional safety features that will enhance your experience beyond just the basic functions.
Design
No matter whether you choose gas or electric, all of the elements of the cooktop should come together to create an elegant design. That includes controls, knobs, elements, and indicators in spots that make sense and make them easy to use. They should be intuitive, easy to read, and easy to understand.
However, the most important thing is that it matches your style preferences and looks good in your kitchen. It can take up a lot of countertop real estate, so it needs to offer seamless integration. Consider the finishes of your other appliances, the color and texture of your countertop, and the finish of your cabinets to make sure everything plays well together.
Fuel type
Cooktops are available in gas and electric, and both offer good performance. However, everyone has their own preference. Gas offers the benefit of being able to see the flame, judging how hot the burner is by appearance. It also affords you a nearly immediate temperature change, whereas electric can take more time.
The benefit to electric cooktops is that there's no open flame, making it a more appealing option for families with small children. It also means that all you have to do is plug it into a wall outlet rather than running a gas line into your kitchen.
Electric cooktops also heat faster and maintain a low heat better than gas. The burners need time to react, so pots and pans will take more time to adjust to changes in temperature.
Induction is another heating method you may want to look into. It plugs into an electrical hookup but uses an electromagnetic field to heat pots and pans, which gives you a lot of control and a quick response time. Induction heats water the fastest of all options and maintains a steady simmer better. However, you need magnetic cookware for it to work.
Types of Cooktops
Here's a more detailed rundown of the difference between these three types of cooktops.
Electric Smoothtop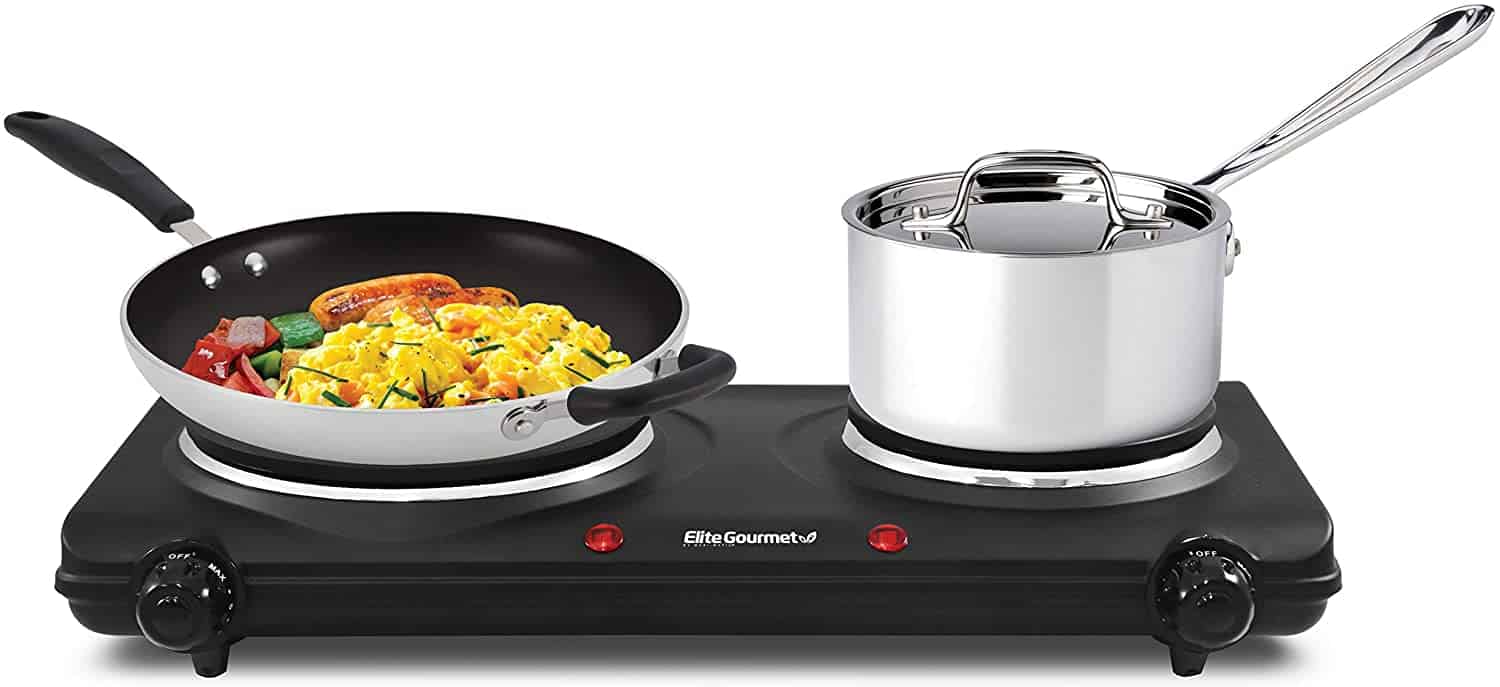 This is one of the most popular cooktop choices because it costs the least and most have at least one high-power burner. A lot of them also have expandable dual or triple elements, so you can choose the size of the burner based on the size of your pot or pan. Larger elements have higher power. Another great benefit is that these types of cooktops are really easy to clean.
These types of cooktops have a lot of residual heat, so it takes a few minutes for your pots and pans to respond to a reduction in heat. They require a special cleaner, and if you accidentally drop something on it, it could crack the glass. It's also relatively easy to stain the cooktop permanently with spills.
Gas Cooktop
Many people prefer cooking with gas because the flame makes it so easy to judge the heat and you can more quickly adjust the temperature, allowing your pots and pans to respond almost immediately.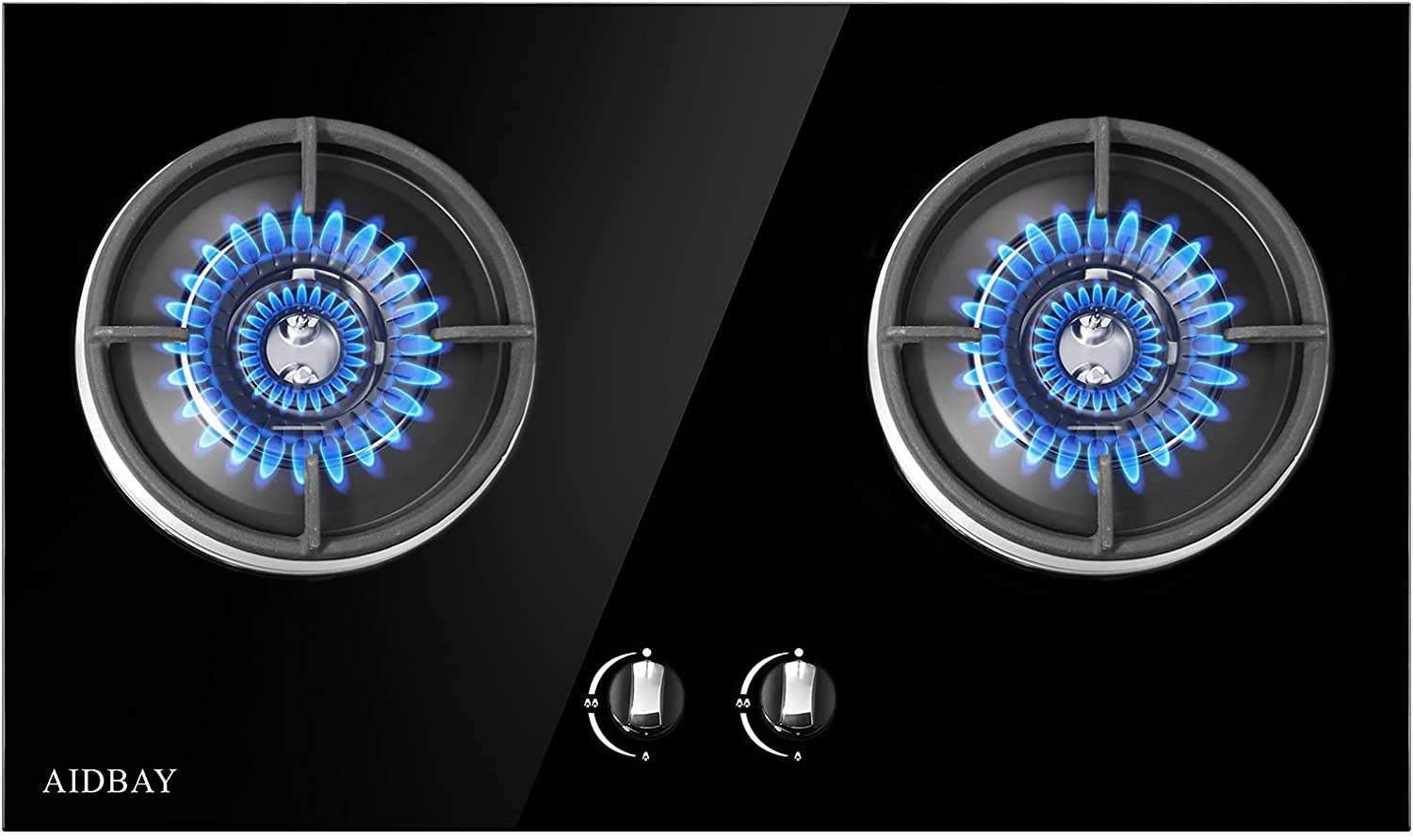 Gas burners also allow you to strike a match and light the burners, which means you can cook even when the power is out. But you'll need a propane service or natural gas in your kitchen to install this type.
Induction Cooktop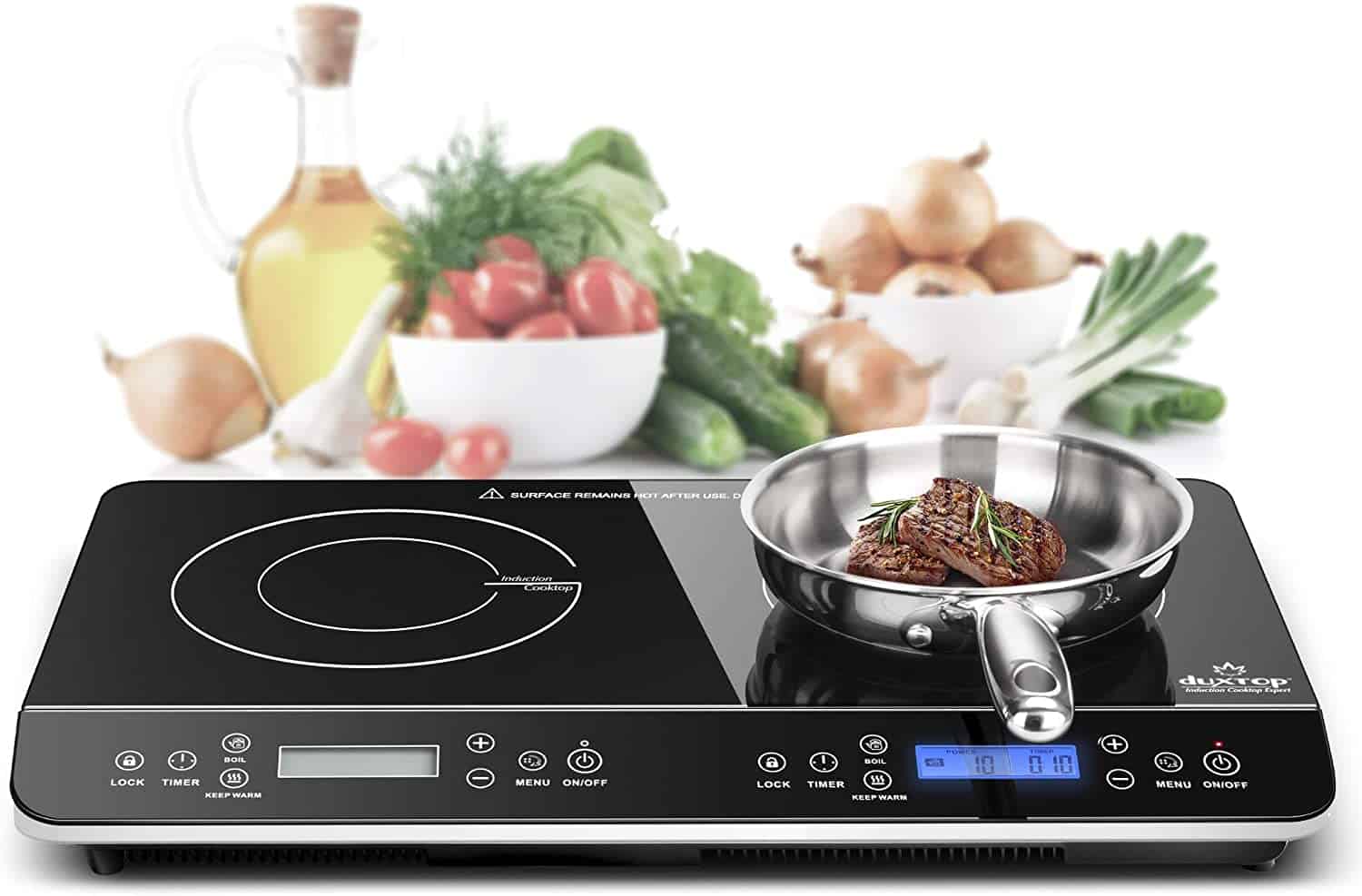 Electric induction cooktops have magnetic coils underneath the glass surface, so they can generate heat quickly and directly to the pan. This gives you more precise control over simmering and low temperatures.
However, they require magnetic cookware, which can be tricky. Some stainless steel cookware is capable of induction and some are not. This type of cooktop is not the most popular option, and few people prefer it, although it does have some advantages.
Features to Consider
Here are some additional features that boost convenience and safety when using your cooktop.
Bridge Elements
Some smooth cooktops have bridge elements that span the length of two burners. This makes it easy for you to put rectangular or odd-shaped cookware on top and still get an even heating experience.
You can also place a griddle across two burners to make pancakes or fry eggs. This increases the functionality of your cooktop, making it useful for many different purposes and eliminating the need for electric skillets and other appliances.
Oval Burners
Some gas cooktops have oval burners that can accommodate elongated pans and griddles. Once again, this means you still get an ideal cooking experience, no matter what you're making.
Expandable Burners
This feature allows you to choose 2-3 different burner sizes in one burner, so you can resize the burner based on how big your pots and pans are.
Hot Surface Warning Lights
Your cooktop remains hot even after you turn it off, so consider a feature that tells you when the burner is still hot. This is a great feature for homes with small children, and in the ideal scenario, each burner has its own warning light.
Cooktop Brands and Options
There are many different brands, but some of the most reputable options include Bosch, GE, Jenn-Air, KitchenAid, LG, Samsung, Miele, Viking, Wolf, and Thermador. Higher-end brands will offer a larger range of options.
Bosch is one of the brands that offer the best value because they're reliable and generally affordable. Wolf and Viking offer excellent quality but are very expensive.
GE JP5030SJSS – 30-inch Electric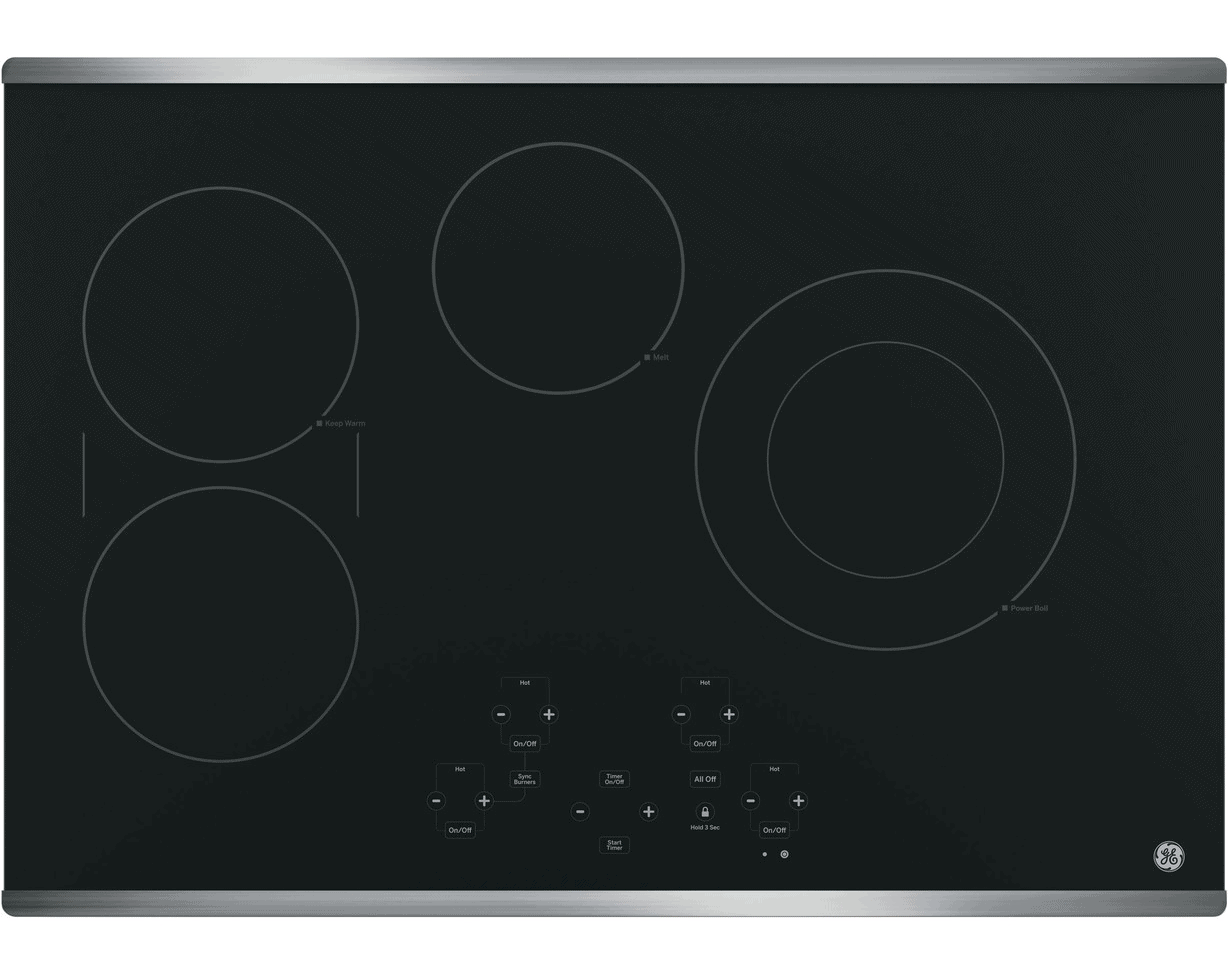 This GE cooktop is flawlessly designed with a striking appearance. It is 30 inches wide and has a smooth design. It also receives consistently good ratings and reviews from consumers and industry experts.
The cooktop only has 4 elements, but one of them is a high-powered burner for fast boiling. It features touch controls that are easy to use and responsive. Heat indicators are specific to each burner and will tell you where it's still hot.
One of the best design features of this unit is the stainless steel trim along the top and bottom, which gives it a sleek, unified look. And you'll love the versatility that comes with the two heating elements on the left. A single control turns them both on when you want to use larger pans or griddles.
Samsung NZ36K7570RG – 36-inch Electric
Samsung manufacturer high-end electronics, and that includes cooktops and ranges. This 36-inch electric cooktop offers modern features and a beautiful design. There are high contrast digital controls and readings, making it seamlessly functional. These controls can also be upgraded to magnetic knobs, which offer a more tactile experience and a responsive alternative.
There are 5 elements on the top of this unit, including 2 high-power burners with fast searing and boiling capabilities. The range of heating power on this cooktop is versatile and impressive. It also allows you to bridge 2 elements together for griddles and large pans.
And, because it's a Samsung, it's wifi enabled so you can make adjustments to the temperature with your smartphone. It receives awesome reliability ratings from customers and is one of the best modern options.
LG LCE3610SB – 30-inch or 36-inch Electric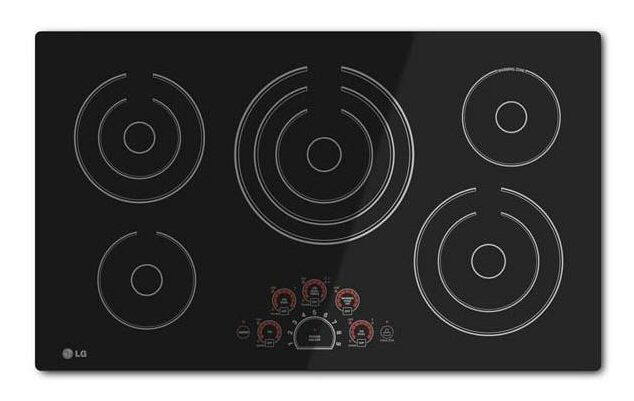 Much like Samsung, the LG offers some powerful cooking capabilities. If this is the unit you love, you can choose from a 30 or a 36-inch. The 30-inch option features 4 elements, 2 of them with high power. The 36-inch option has 5 elements, 2 of which are high power.
Both have touch controls that are easy to use and responsive, but there are no magnetic knob upgrades here. It also includes a unit dedicated to warming with an impressively low heat setting that's super functional. The unit is rated very highly by industry experts and customers. The range of low and high heat make it versatile and ideal for many cooking needs. Plus, LG tends to offer lower price tags than other manufacturers.
GE Profile PP9030SJSS – 30-inch Electric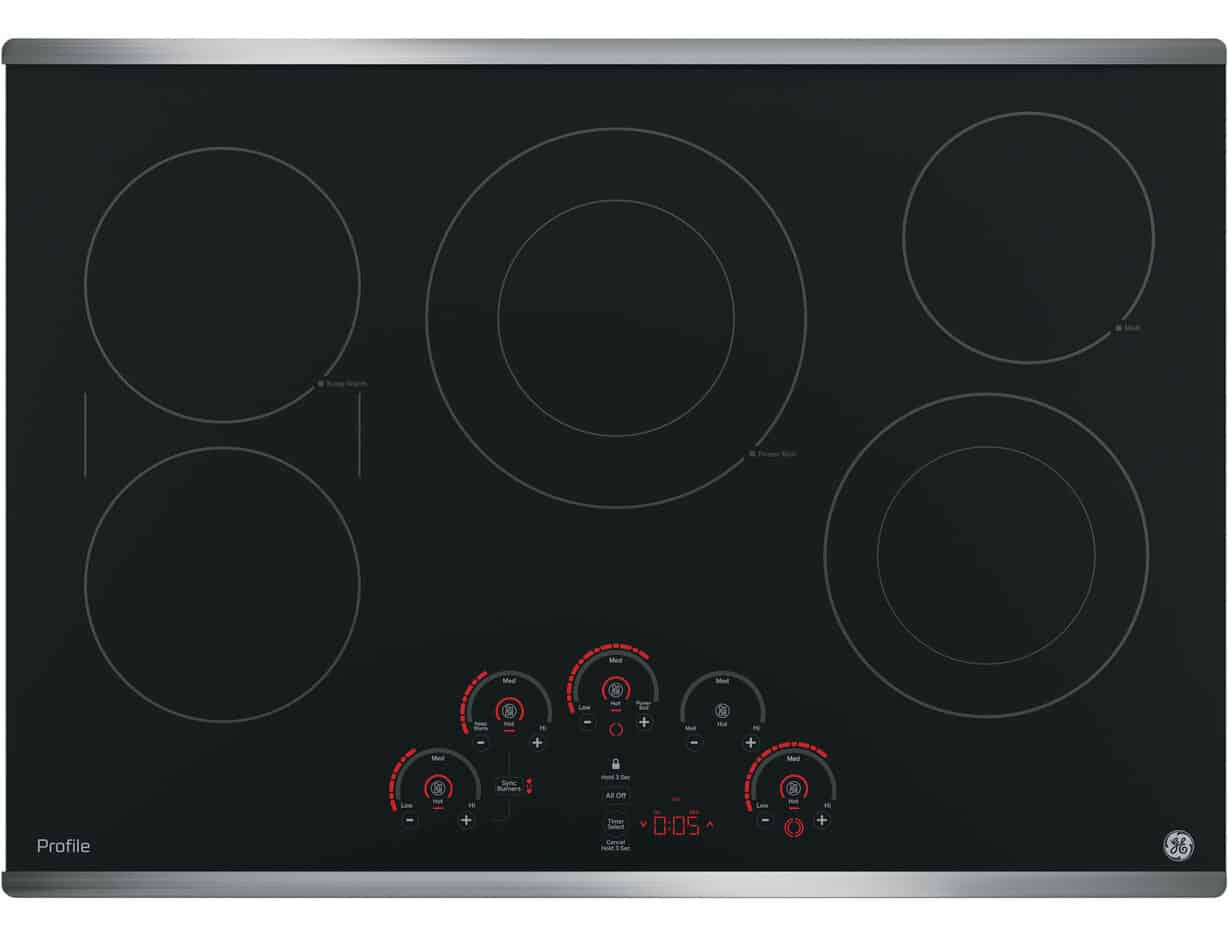 This 30-inch cooktop has 5 elements. The 2 on the left can be bridged for skillets, large cookware, and baking pans. There are also 2 high-powered elements. The touch controls give you complete control over your experience.
The stainless steel trim is similar to the GE JP5030SJSS, so it's sleek and beautiful. However, it also has a keep warm setting with an impressively low temperature that will keep things warm without burning them or drying them out. This feature is also ideal for warming up leftovers.
This unit is reliable, stylish, and can handle a wide variety of cooking tasks and heat settings.
Bosch Benchmark NETP668SUC – 36-inch Electric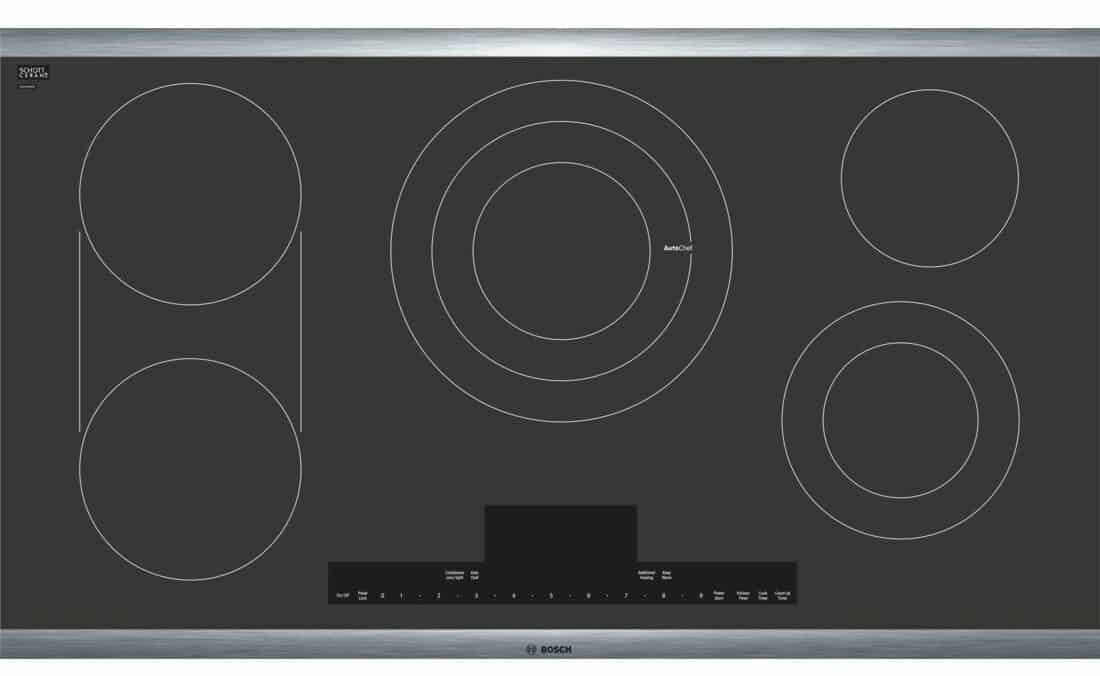 This appliance from Bosch is perhaps the best overall option when it comes to electric cooktops. Many people don't immediately recognize Bosch as a big name in kitchen appliances, but the brand offers several different types of household appliances with shocking performance and reliability.
It features 5 burners of various sizes and 2 of them can be bridged. The style is truly one of a kind, with stainless steel trim and red indicator lights. Responsive and dependable touch controls adorn the surface with high-contrast LEDs that make it easy to read and control.
One of the best features of this cooktop is the countdown timer. There's a separate countdown timer for each element, so when the timer is up, the burner will shut off automatically. Not only is this a great safety feature, but it will keep your food from getting burned or overcooked.
Bosch also includes an AutoChef feature that works with a special pan to give you customized and pre-programmed cooking settings. Your cooking experience will adapt to your preferences, giving you more flexible and streamlined reliability.
Miele KM5621 – 24-inch Electric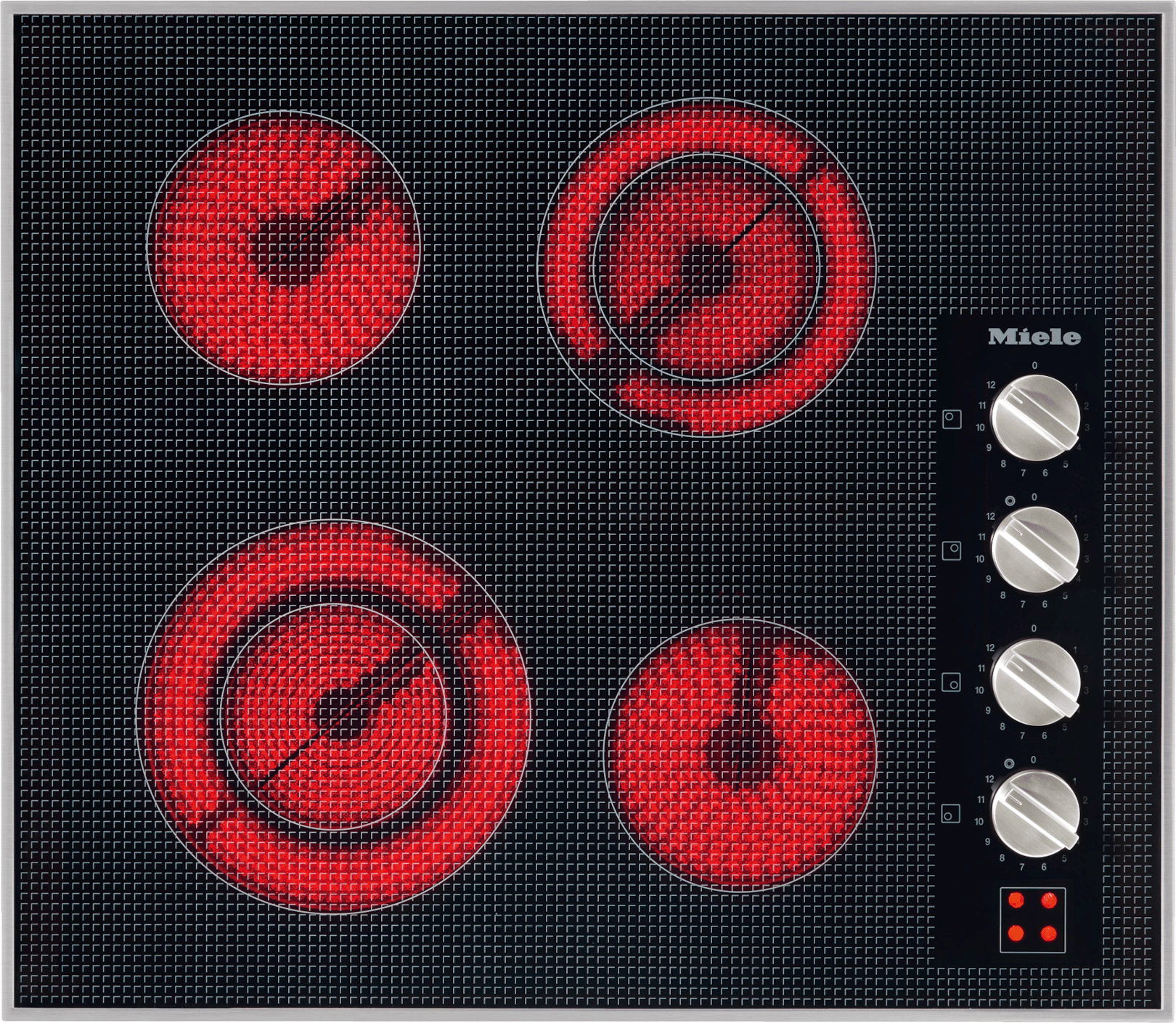 Miele is a direct competitor of Bosch, offering extremely high-quality appliances. This cooktop is one of the best options if you're looking for something smaller. It's a square, 4-element cooktop whose appearance may fool you.
Many people prefer this minimalist design, but it still contains some powerful capabilities. There are heating indicators for every zone and an automatic shutoff feature. This unit offers a smaller size without sacrificing power.
Bosch Benchmark NGMP656UC – 30-inch or 36-inch Gas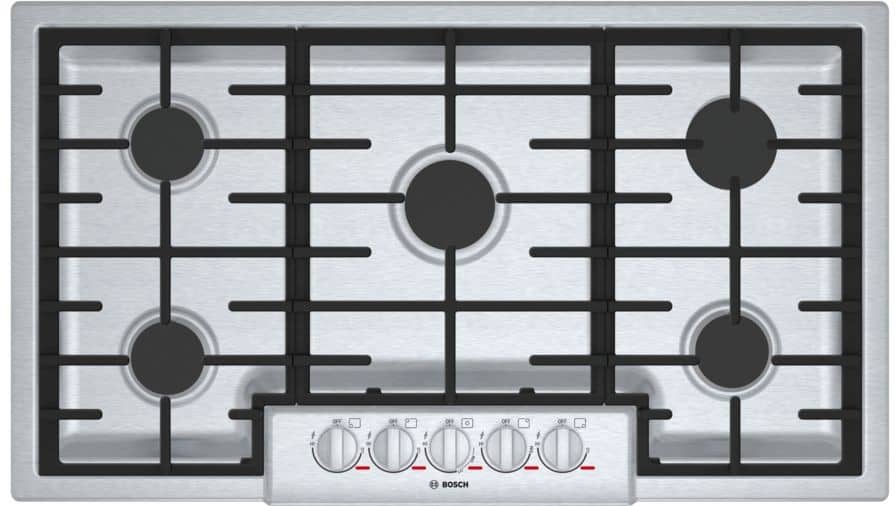 This gas cooktop from the Bosch Benchmark series offers impressive features. There are 5 sealed and double-stacked elements. The center burner has 20,000 BTU. There are two 12,000 BTU burners, a 10,000 BTU burner, and a 5500 BTU burner, all with the ability to handle different temperatures and pot sizes.
There's a low-temperature option on all burners that allow you to simmer without scorching. Heavy-duty metal knobs look beautiful and make adjusting the temperature easy. The grate is made of durable cast iron and the entire package is minimalistic and functional.
Bosch is consistently rated highly for build quality and reliability, so this option affords you a premium gas cooktop you can trust. Plus, there's also a 30-inch variety if you need something smaller.
Samsung NA36N7755TS – 30-inch or 36-inch Gas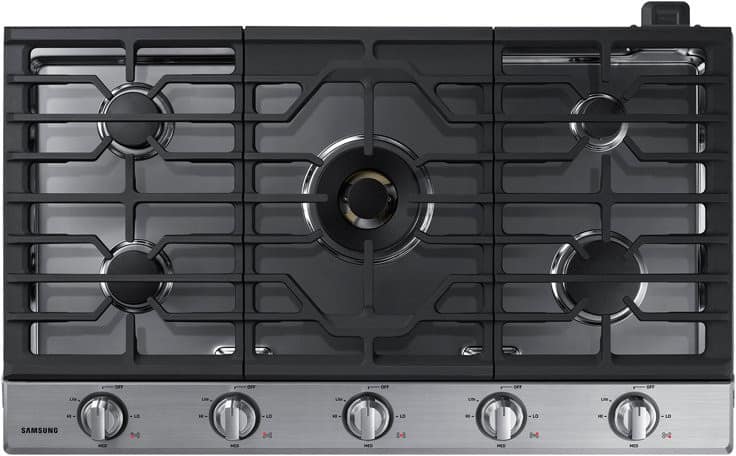 This cooktop comes in 2 sizes and gives you stainless steel and black stainless steel options as well. It has 5 burners and one of them is a high-powered burner for searing and fast boiling.
The burner in the center is 22,000 BTU. There is also a 13,000 BTU burner, two 9500 BTU burners, and a 5000 BTU burner. Reliability and customer satisfaction all receive high ratings due to the range of temperature capabilities.
The continuous grate design eliminates breaks in the grating across the entire surface of the cooktop, giving it a more modern design than many other gas cooktops. You can also slide cookware smoothly across the entire surface without getting it caught on the edges.
Samsung also includes wifi capabilities with this unit, meaning you can connect your cooktop to your smartphone.
Wolf CG365P/S – 36-inch Gas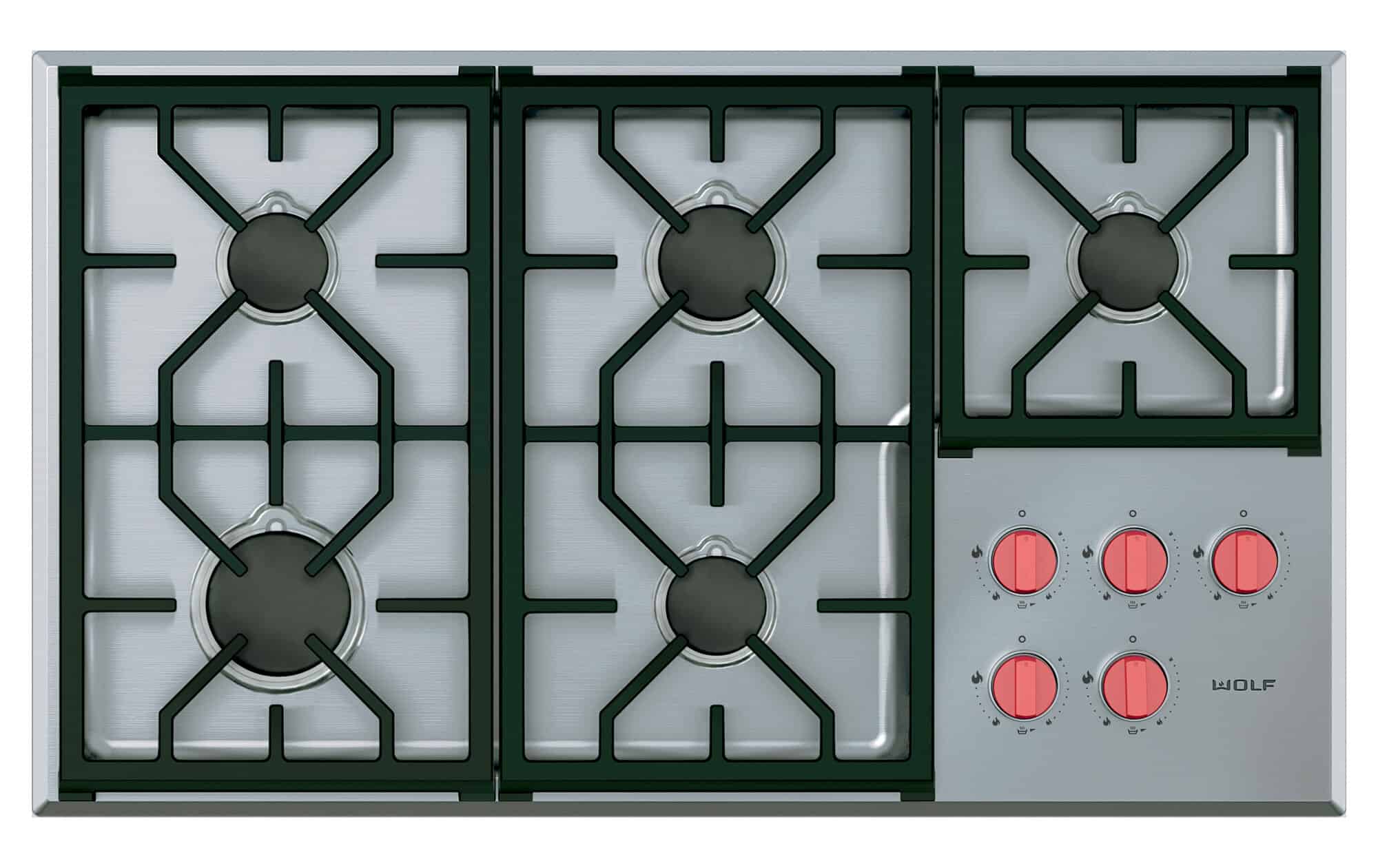 This cooktop features 5 double-stacked burners that can handle a wide range of temperatures and tasks. There's one 18,000 BTU burner, three 9200 BTU burners, and one 12,000 BTU burner. This variety allows for different sizes of pots and pans.
The continuous cast-iron grates allow you to slide pots and pans across the surface without getting caught, which makes it highly functional, much like a glass cooktop. There is also an easy-clean burner pan that allows for easy cleaning without dealing with the build-up of grease in cracks and crevices.
Wolf is well-known for its intense quality assurance processes, which give its appliances very high reliability ratings.
BlueStar RBCT365BSSV2 – 30-inch or 36-inch gas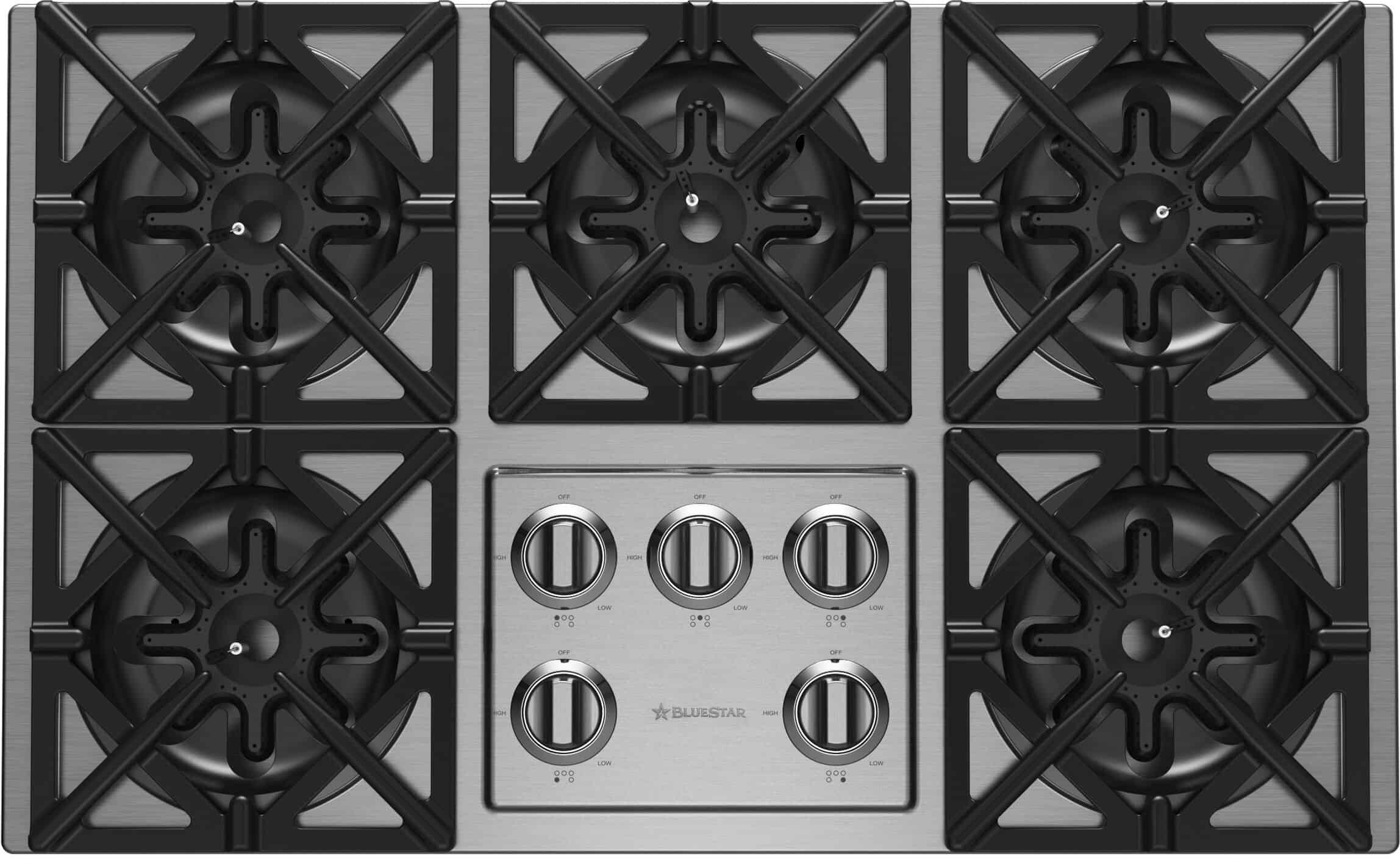 This top-notch cooktop has a power rating of 22,000 BTU on its top burner. It can handle low simmers and cooking tasks that require a minimum of 130 degrees. It also features commercial-grade stainless steel with heavy-duty knobs for durable construction.
The grates have a full range of motion so you can move your pots and pans across the entire surface area. Both sizes feature a design that's easy to clean and an automatic electronic ignition system for safety. If the fire goes out, the cooktop will automatically relight it for you.
Thermador SGSXP365TS 36-inch Gas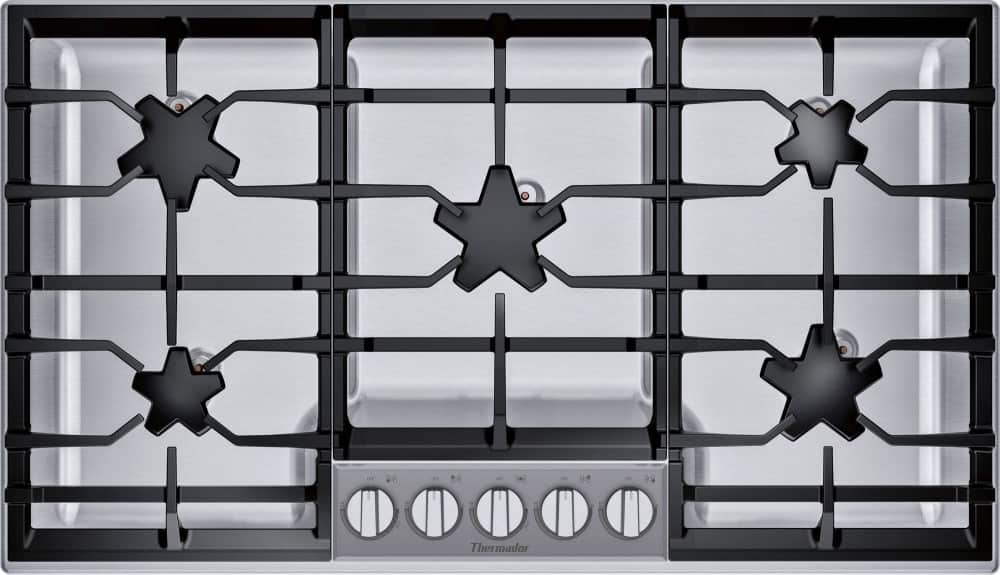 Thermador offers unique star-shaped burners, and this five-point design is just as functional as it is beautiful. They engineered this burner to maximize coverage, increase flame distribution, and reduce cold spots. Not only does this make a huge difference, but it also gives you an edge when cleaning, because it increases your reach and keeps heat away from the basin to prevent cooked-on residue.
The unit also has an ExtraLow feature that gives you precise control over delicate simmering. It will cycle on and off regularly to keep the temperature perfect.
Large metal knobs have a glowing blue feature that tells you when the burner is on regular or ExtraLow, and the chiseled edges of this cooktop along with the distinctive control panel give this appliance a gorgeous appearance that stands out.
The burner in the center of the 36-inch unit features 18,000 BTU, while the 30-inch version has a 16,000 BTU center burner, and continuous grates on both mean you can easily move pots and pans. There's also a push-to-turn knob system, automatic re-ignition, and a single-point ignition system for safety.
Miele KM3475G – 30-inch or 36-inch Gas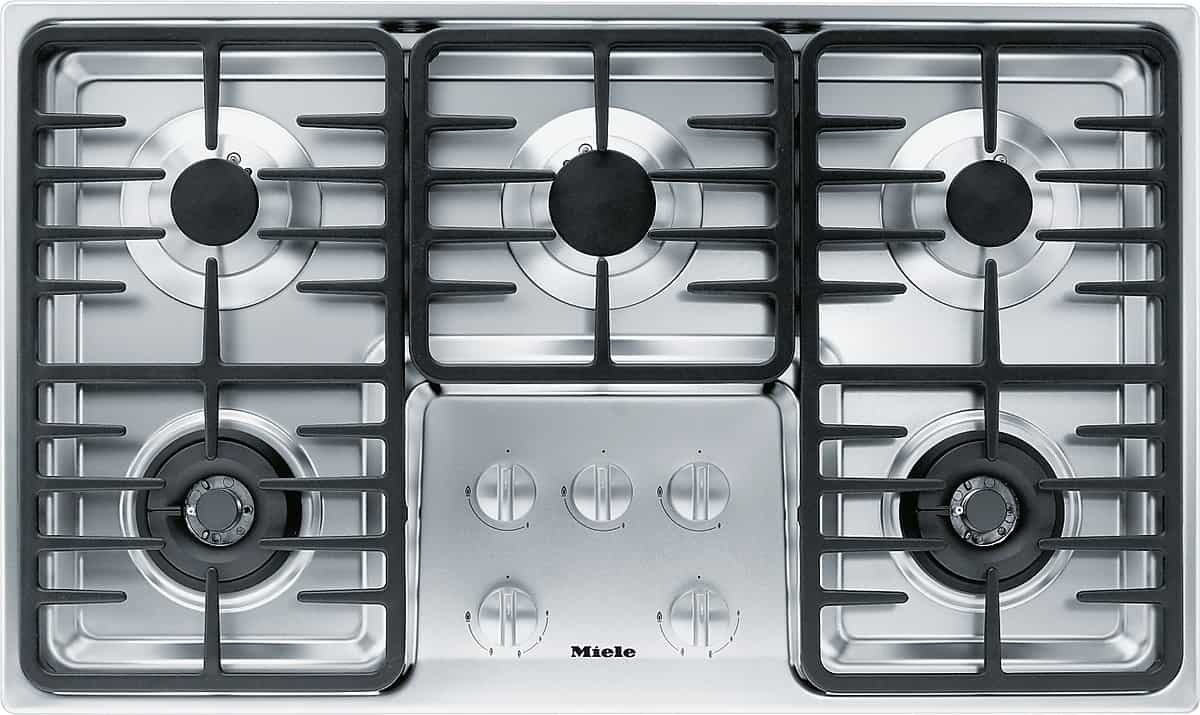 This cooktop features 2 dual-wok burners and 5 burners total. You have plenty of room to work and electric controls for consistent ignition. The grates are enameled and the burner caps create a clean, modern look. This construction ensures durability without visible scratching.
While the 36-inch cooktop features clean lines and square burners, the 30-inch version has hexagonal grates, upping the ante on style.
FAQs
Question: Which stove brand is most reliable?
Answer: While there are plenty of brands out there that offer excellent quality cooktops, there are a few top options you should consider first. These include Bosch, Jenn-Air, GE, Viking, Samsung, LG, and Wolf.
They offer great features and design, but the price will vary. You can't go wrong with any of these, because the quality is consistent and you'll be happy with your purchase for a very long time.
Question: Are LG appliances reliable?
Answer: LG is consistently ranked one of the best appliance brands you can buy. They offer high-tech features and dependability at an affordable price. If you're looking seriously at an LG cooktop, you won't be disappointed, but it may not be as feature-rich as some other highly rated manufacturers that cost a bit more.
Question: What should I look for in a cooktop?
Answer: In addition to size, features, cooking power, and design, you should also pay attention to how easy the cooktop will be to clean. Unfortunately, gas cooktops with grates have more cracks and crevices that collect dirt and food particles. Some gas cooktops have spill catchers that make it a bit easier.
Smoothtop electric options may be a tad easier to wipe down, but they also stain easily. You have to use a special cleaner, and sometimes a straight edge can help you scrape off dried spills.
Final Thoughts
With so many options, it's tough to decide which you might like best. My top electric cooktop choice is the Samsung because I think it marries modern design with functionality the best. Plus, the smart features make it so much more useful in today's kitchen.
If I were to choose a gas cooktop, my first choice would be the Bosch Benchmark because it can handle a variety of different cooking tasks at a wide range of temperatures. In addition, it comes in two different sizes, so it will fit most kitchens.
However, there are plenty of other options, and your decision will be based on your personal style and your cooking needs. Anything on this list would make for an awesome, long-term appliance you'll love.