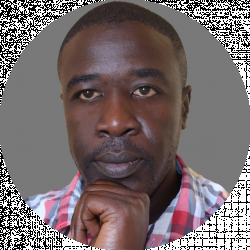 Latest posts by Barry Juma
(see all)
You're probably tired of doing the dishes by hand. It takes a lot of time that you would otherwise use to accomplish other tasks. Or perhaps you want to replace an old dishwasher that you've had for aeons. This article will give you a good idea of how to find the best dishwashers.
Dishwashers have been common in homes since the 1970s, and today, they have become more of a necessity than a luxury. These handy appliances have over the years evolved from rudimentary contraptions to the efficient kitchen machines that they are today. 
In fact, modern dishwashers are more power and water-efficient, in keeping with the need to be more environmentally friendly. 
Are Dishwashers Worth It?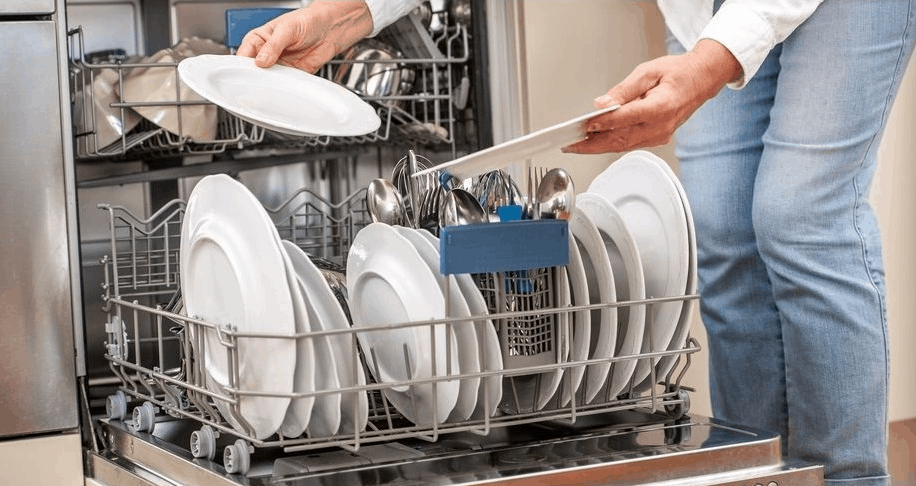 Dishwashers are worth it because they save you about 40 minutes to one hour daily that you spend washing dishes by hand.  Check out more benefits of a dishwasher below.
Benefits of a dishwasher
They're water efficient
Modern dishwashers use less water than hand washing. According to the US Department of Energy standards, a full-sized dishwasher shouldn't use more than 5 gallons (19 liters) per cycle while a compact one shouldn't use more than 3.5 gallons (13 liters) per cycle. This cnet article says that an Energy Star certified dishwasher may even use 3 gallons (11 liters) per cycle, as opposed to 27 gallons (102 liters) when washed by hand.

Dishwashers are energy efficient
A standard-sized Energy Star rated dishwasher should use about 270kWh of electricity per year while a compact-sized one should use about 203kWh annually. This is according to this certifying agency. There are dishwashers that use less electricity than this, like the Fisher & Paykel – 81223.

Saves you time
According to Science Alert, you'll end up saving 230 hours per year if you switch over to using dishwashers! If you ask me, this is the biggest benefit you'll enjoy.
But these benefits may apply only when you have a large household, right? 
Is it worth having a dishwasher for one person?
Yes, it is worth having a dishwasher for one person; just get a smaller one. There are smaller dishwashers that are perfect for you, if you live alone, like the Black+Decker BCD6W Dishwasher. Find out about this and more dishwashers below. 
Things to Consider When Buying a Dishwasher
Size and type
If you live alone, getting a standard 24-inch dishwasher might be unnecessary. An 18-inch or 22-inch dishwasher would do fine for one or two people or a small family. The standard 24-inch dishwasher is perfect for an average family. However, there are larger ones of 30 or 42 inches, if you have a large household.

Also, think about whether you want a built-in, freestanding, drawer or a countertop dishwasher. 
Energy efficiency
Choose a dishwasher that is Energy Star certified or CEE (Consortium for Energy Efficiency) rated. An Energy Star certified dishwasher has been tested and found to meet the energy consumption standards set by the US Federal Government. Find out more about those standards here. 
This certification is an assurance that the dishwasher won't use a lot of electricity and water per cycle, keeping your bill low. Energy Star has a list of the most energy-efficient dishwashers on their website.
The CEE, on the other hand, takes into account an appliance's Energy Star rating as well as other factors to rank it on a CEE tier. There are four tiers, with Tier 1 being the same as an Energy Star rating. If the dishwasher ranks on a higher tier then it has a higher energy efficiency. 
Find out more about the CEE rating here
Noise levels
Noise levels are measured in decibels (dB) and a good dishwasher should have a decibel level of about 40dB. The loudest modern dishwasher is about 62 dB. Obviously, the quieter a dishwasher the better for you, especially if you have an open-plan space.

Consider a noise level of about 52dB or below. But bear in mind that the quieter dishwashers cost more, so if you're strapped for cash then you might have to trade off silence for affordability. Still, try and find one that's no more than 52dB.
To put things in perspective, a refrigerator's sound is at about 50dB. Your voice, when having a normal conversation, is usually at about 60dB, according to this article. A dishwasher at higher than 60 will, therefore, be distracting. Avoid these!
Wash cycles and cycle times
Consider the number of wash cycles that a dishwasher has. Standard dishwashers have three cycles: light, normal and heavy. Some models have extra cycles like an eco wash to save water and electricity; express for a quick wash; cycles for delicate dishes like china and glassware.

Find out more about these cycles here. 
The more wash-cycle options the more versatility the dishwasher has when it comes to cleaning different types of dishes. Cheaper dishwashers have just the standard cycles but there are a few affordable ones with several options. 
Your budget
This should probably be the first thing you consider when shopping for a dishwasher. If you're on a tight budget then go for a basic model that will do the job. You won't get extra bells and whistles but you'll still enjoy the benefits that a dishwasher offers. Countertop models go for as low as $350 and low-cost standard-sized models can cost about $430.

There are also dishwashers that cost upward of $500 and some high-end ones that cost as much as $2300. There's something available at all price points.
Other than the considerations above, you also need to know a thing or two about the different parts of a dishwasher and what to look out for in these parts. Find out more about these below.
Important Parts of a Dishwasher (And What to Look Out For)
The Tub
A dishwasher's tub is its interior, where dishes are arranged. The tubs can either be plastic or stainless steel. Which one is better?
Stainless steel vs plastic
Stainless steel is more durable than plastic and it can withstand more heat. 

Higher heat resistance in stainless steel means that you can use hotter water and get your dishes clean faster.

Plastic doesn't retain heat as well as stainless steel, so the dishwashers with plastic tubs require more heat in drying cycles, consequently lowering energy efficiency.

Stainless steel dishwashers are more expensive than their plastic-tub counterparts.

Stainless steel is heavier, allowing it to absorb more noise. These dishwashers are more silent than plastic-tub dishwashers.
Heating element
The heating element's purpose is to heat the water; hot water is required to clean plates better and sanitize them. The element also heats the air in the dishwasher during the drying cycle. This part is generally the same in dishwashers but if you're going to buy a used appliance, make sure the heating element has no build-up of hard water minerals. 
Dish racks
These are where you stack your dishes. They're made of steel and then coated with PVC or even nylon. Cheaper dishwashers have PVC coating, although these are becoming less common. The best racks are coated with nylon because are hardier than PVC, making them perfect for the high temperatures in the dishwasher tub.
Also, the racks need to have adjustable tines (the prongs) to accommodate dishes of varied sizes. Some models lack this extra feature so consider one that does. And if you can find a dishwasher with three racks rather than the standard two, go ahead and shortlist it.
Other parts in a dishwasher
Spray arms

Filter

Detergent dispenser

Control panel
Find out more about the parts of a dishwasher in this article.
10 Best Dishwashers
1. Bosch 800 Series Dishwasher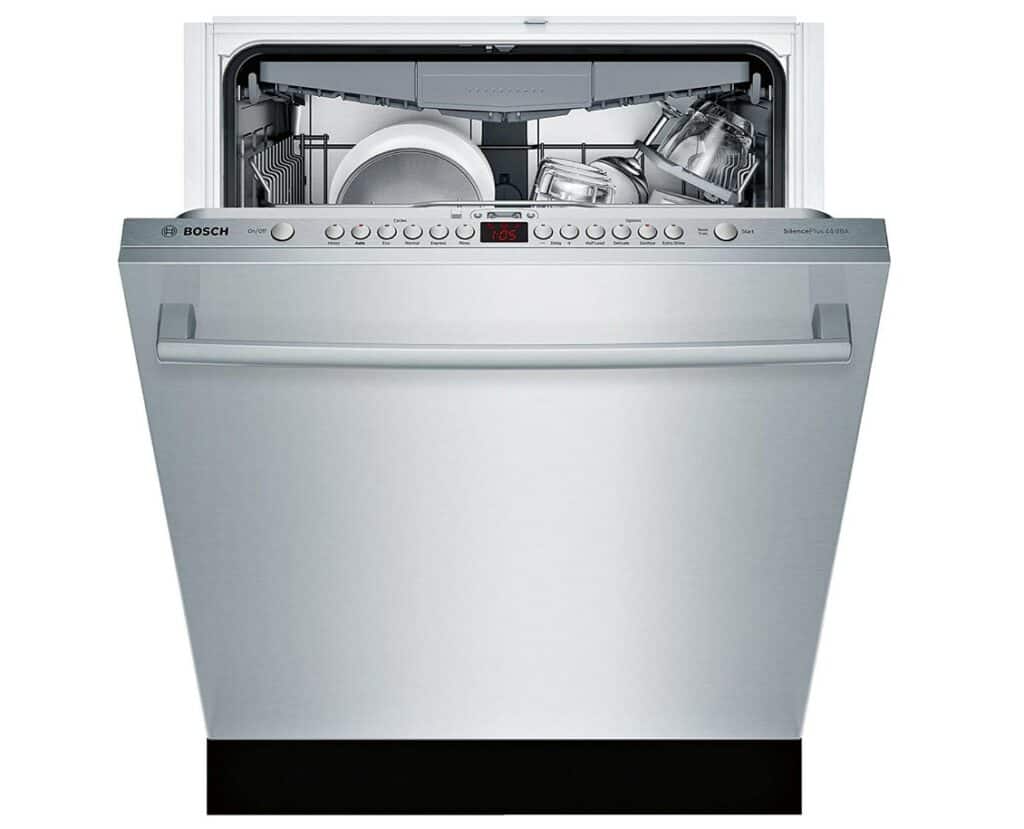 Bosch is known for its stylish high-end appliances and the Bosch 800 Series is one of their best dishwashers in the market. 
This is a built-in dishwasher that'll snuggly integrate into your kitchen space and not scream for attention. And the appliance is very silent when working; it has one of the lowest noise levels among the dishwashers on this list. 
Main Features
The Bosch 800 Series is a silent worker, thanks to the layers of insulation in the tub. This is complemented by the sound-absorbing base, all of which give it an ideal noise level of about 42 dBA. 

Its PrecisionWash technology is a system of sensors that can tell how dirty dishes are and determine how much water is required to ensure that all dishes come out clean. 

This dishwasher has a spacious 24-inch tub with 16 place settings, allowing you to pack all your dirty dishes in a single wash cycle.

The racks are height adjustable and they allow for up to nine different positions. You can, therefore, fit dishes of varied sizes in the dishwasher. And thanks to the smooth-gliding system, loading and unloading are a breeze.

The Bosch 800 series is Energy Star certified so you should be certain that it won't raise your electricity and water bill. 
Pros and Cons
| | |
| --- | --- |
| Pros | Cons |
| It's a silent dishwasher | The dishwasher is expensive. |
| The dishwasher's soil sensors are precise and lead to clean dishes every time. |   |
| There's ample space in the tub for large dishes and it includes a third rack. |   |
|   |   |
2. KitchenAid KDPM604KPS Dishwasher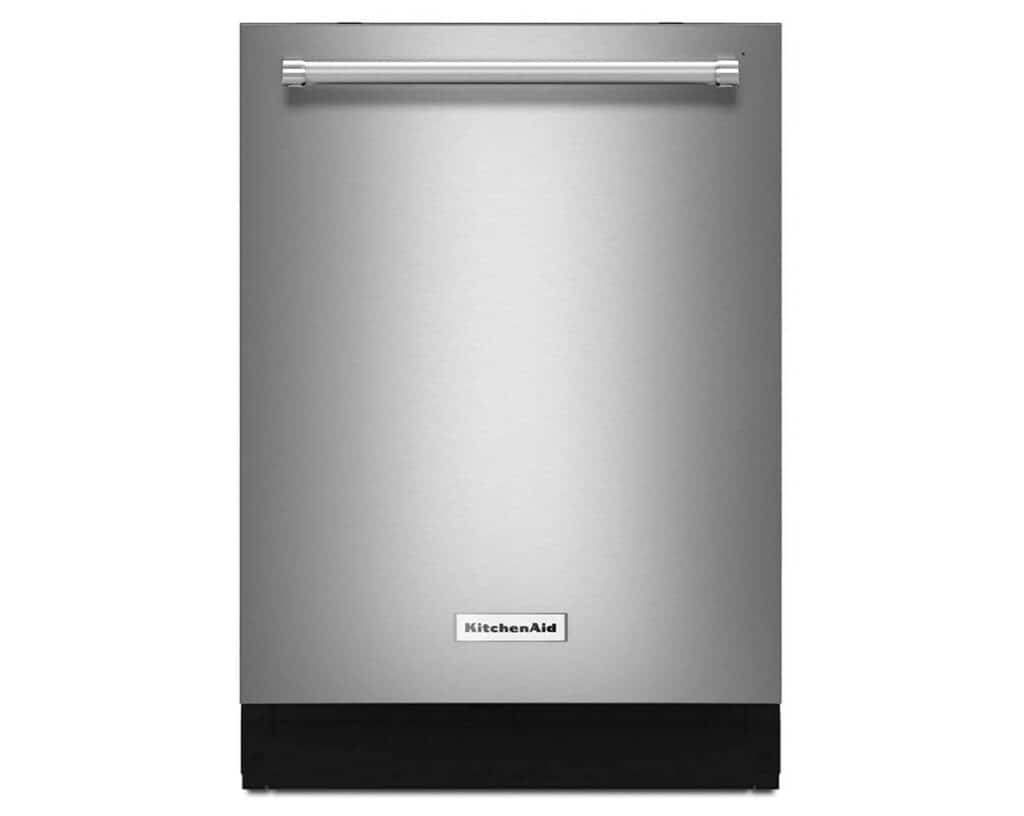 This dishwasher is stylishly designed, offering a clean front face with a top control panel. Its beauty makes it a wonderful addition to your kitchen space. And because it's one of the more silent dishwashers, it won't scream for attention as it works, making it perfect for an open kitchen or a small apartment. 
Main Features
This KitchenAid appliance is fitted with soil sensors that ensure your dishes come out clean each time. These sensors vary the water temperature depending on the degree of mess on the dishes.

The tub is made of stainless steel, which is popular not only for its durability but also for its stylish appeal. 

The KitchenAid dishwasher is a silent worker, with a noise level of 44dBA. At this level, you'll barely notice it when active.

The middle rack is easily adjustable to accommodate tall utensils. The lower rack is also easy to adjust for more flexibility. 

There's an express wash cycle for a quick clean, perfect for lightly soiled dishes.
Pros and Cons
| | |
| --- | --- |
| Pros | Cons |
| The KitchenAid dishwasher is silent, with a noise level of 44dBA. | There's no interior light. |
| Its third rack and adjustable middle rack offer ample space for dishes of varied sizes and shapes. | Its wash cycles are rather long, reducing energy efficiency. |
| The stainless steel tub is durable and retains heat. | It costs more than $1000. |
| It has soil sensors that are precise. |   |
| The dishwasher's top-control design gives it a stylish look. |   |
| Its drying system is quite effective. |   |
3. Maytag MDB4949SKZ Dishwasher
If you're on a bit of a budget then you should consider Maytag's dishwasher. At under $1000, you get a handy appliance that does the work of more expensive ones. It has a simple design that neither stands out nor is intrusive; it just fits in. 
However, this Maytag dishwasher's noise level is noticeable, at about 50dBA. Although a bit louder than the other two above, it's not unbearable. 
Main Features
It has a stainless steel build: both the interior and exterior. This comes with all the benefits of stainless steel, from the stylish look to the durability, as well as fingerprint resistance. 

The Maytag MDB4949SKZ has a robust food filtration and disposal system that breaks up food particles, preventing blockages.

This dishwasher is Energy Star certified, assuring you of water and electricity savings.

Its PowerBlast Cycle shoots water at high pressure to deal with sticky food substances like peanut butter, as well as burned-on food on pots and pans. 

It has a soil sensor that can tell how clean the rinse water is and adjusts the wash time accordingly. This will help save water if your dishes aren't too dirty.
Pros and Cons
| | |
| --- | --- |
| Pros | Cons |
| The Maytag MDB4949SKZ dishwasher has easy-to-use controls. | Although 50dBA isn't too loud, it's still noticeable. |
| Its filtration system with a food disposal feature is very effective. | There's no third rack.  |
| The dishwasher's stainless steel build is durable and resistant to fingerprints. |   |
| It is affordable. |   |
4. Miele AutoDos G7566 Smart Dishwasher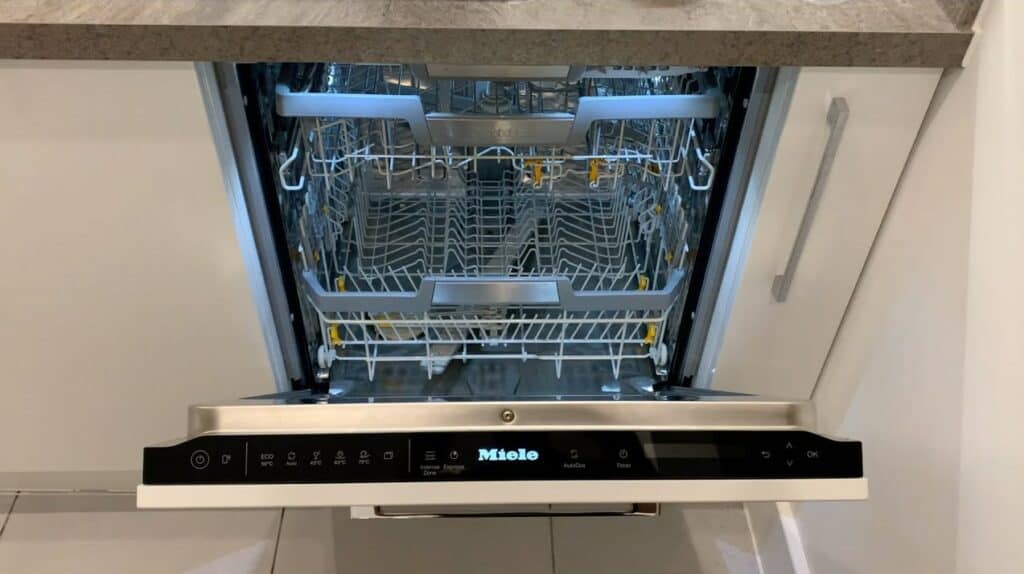 This is perhaps the most expensive dishwasher on this list, selling at slightly over $2000. And there's a good reason why it costs so much; it performs exceptionally well and is easy to use. Its design is as you'd expect for a high-end dishwasher – it has a sleek front face with hidden controls. This makes it unobtrusive in the kitchen, hidden among the cabinets. But there's more to Miele's state-of-the-art dishwasher than just good looks.
Main Features
Its QuickIntenseWash feature can clean dishes in under an hour, as long as they're not heavily soiled.

The dishwasher has an AutoDos system that regulates the amount of detergent dispensed, only dispensing just enough for the wash. This helps to maintain the loaded detergent for up to 20 washes.

Miele has also integrated a water softener into this dishwasher, stopping any calcium build-up on your dishes.

The racks are adjustable to accommodate dishes of all shapes and sizes.  

The Miele AutoDos G7566 is Energy Star certified.
Pros and cons
| | |
| --- | --- |
| Pros | Cons |
| The smart features of the Miele dishwasher make it easy to operate remotely via a mobile app.  | It's very expensive at over $2000. |
| It's made of stainless steel that's resistant to abuse. |   |
| The highly adjustable racks make it easy to load dishes of all sizes. |   |
| This dishwasher's cleaning performance is exceptional. |   |
5. Frigidaire FFCD2413UB 24 in Built-In Front Control Dishwasher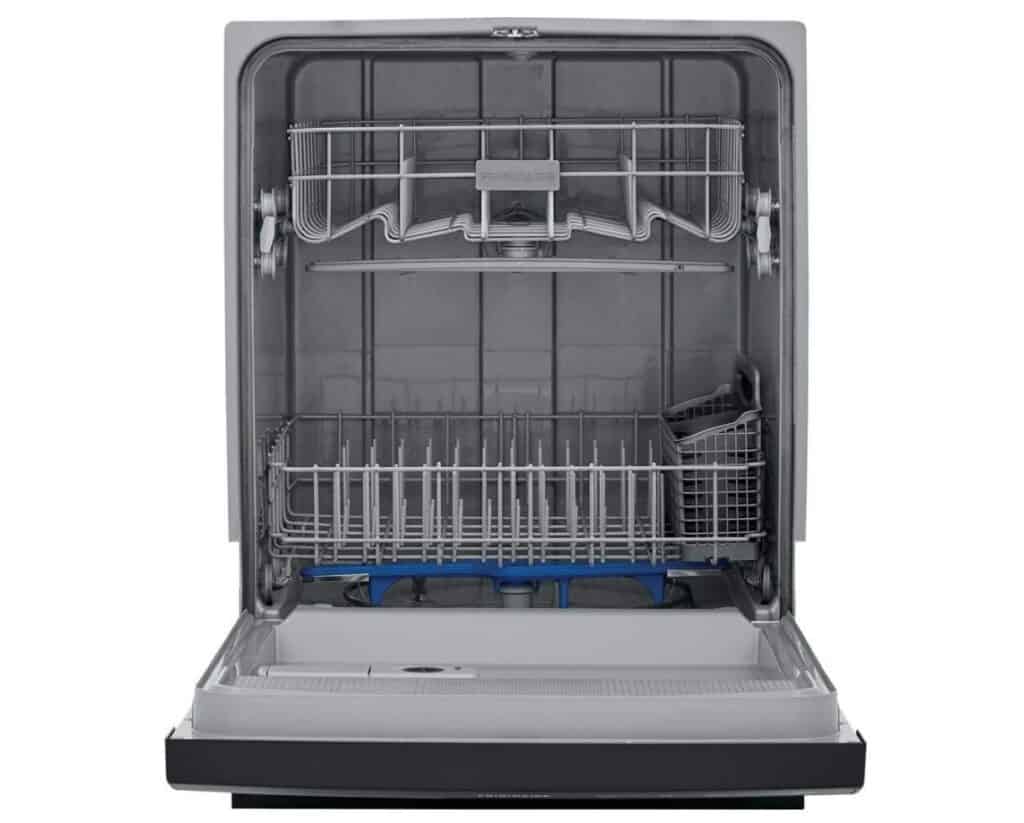 Frigidaire's FFCD2413UB model is one for those strapped for cash. This is a simple, no-frills dishwasher for those who don't have the money to splurge on extra bells and whistles like soil sensors or smart features. However, it's an appliance that does the job and does it well. But at 60dBA, you might feel distracted by its noise when active. 
Still, at its price point, there have to be some tradeoffs for affordability. And it's not just the noise level that might irk you; Frigidaire's budget offering also has a plastic tub. 
Main Features
This frigidaire dishwasher has a 14-place setting with a cutlery basket. 

There are three spray arms that ensure your dishes come out clean after each cycle.

Its quick-wash feature is perfect for those in a hurry as it can clean the load within one hour. If you don't have a lot of dishes to clean then you'll appreciate this feature.

The dishwasher also has a delay start option so you can push back the start of the cycle to a more appropriate time if you choose.
Pros and cons
| | |
| --- | --- |
| Pros | Cons |
| This is a very affordable dishwasher costing under $400. | It has a plastic tub. |
| The Frigidaire FFCD2413UB is an efficient dishwasher that gets the job done well. | It's loud. |
| Has a 14-place dish setting to hold all your dishes. |   |
| The delay start function is very handy. |   |
| It is Energy Star Certified. |   |
6. LG Smart Dishwasher with QuadWash and TrueSteam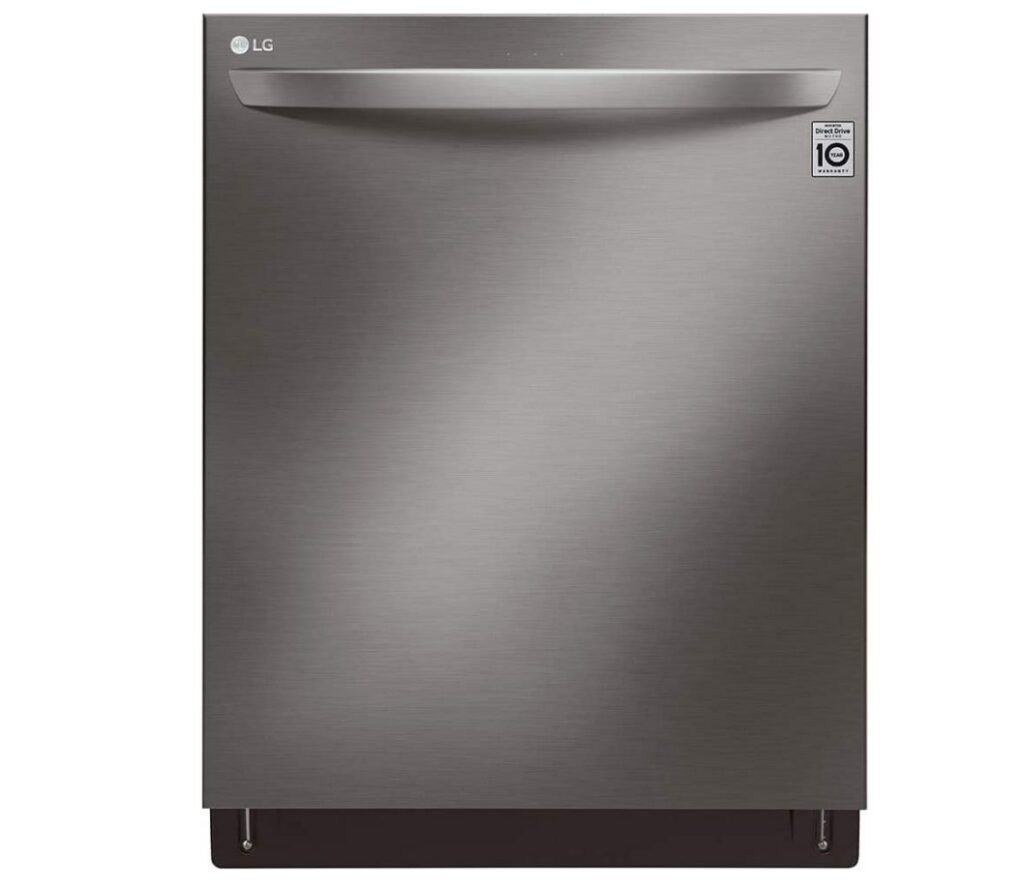 This dishwasher costs more than $1000, but only slightly more. For the price you pay, you get a whole lot of dishwashers and then some. LG is known for its state-of-the-art appliances and they extended these smart features to their QuadWash dishwasher. 
Through an app, the dishwasher will alert you when it's done cleaning the dishes. And in case there's an issue with the machine, you can use the Smart Diagnosis app to troubleshoot and figure out what the problem might be. 
Main Features
The LG Smart Dishwasher has four spray arms that give it the name QuadWash. These arms not only spray, but also tilt to make sure water reaches every nook of the utensils. 

The dishwasher also boasts what LG calls TrueSteam technology. It's a feature that allows the dishwasher to use steam before and during washing to improve cleaning. 

There's a third rack that's height adjustable.

It's Energy Star certified and rated CEE Tier 1, so you won't have to worry about a bloated water or electricity bill.

The dishwasher can be controlled using voice-command, either Google Assistant or Amazon Alexa.

At 42dB, its noise level is so low, it's almost indiscernible.
Pros and cons
| | |
| --- | --- |
| Pros | Cons |
| Has a durable stainless steel tub and body.  | Costs on the higher side at more than $1000. |
| It has two color options: regular stainless steel and black stainless steel. |   |
| The smart features make it easy to operate the dishwasher remotely. |   |
| With four spray arms, this LG dishwasher cleans dishes effectively. |   |
| The TrueSteam feature boosts cleaning. |   |
| It has a low noise level. |   |
| It's Energy Star certified and rated CEE Tier 1. |   |
7. Kenmore Elite Built-in Dishwasher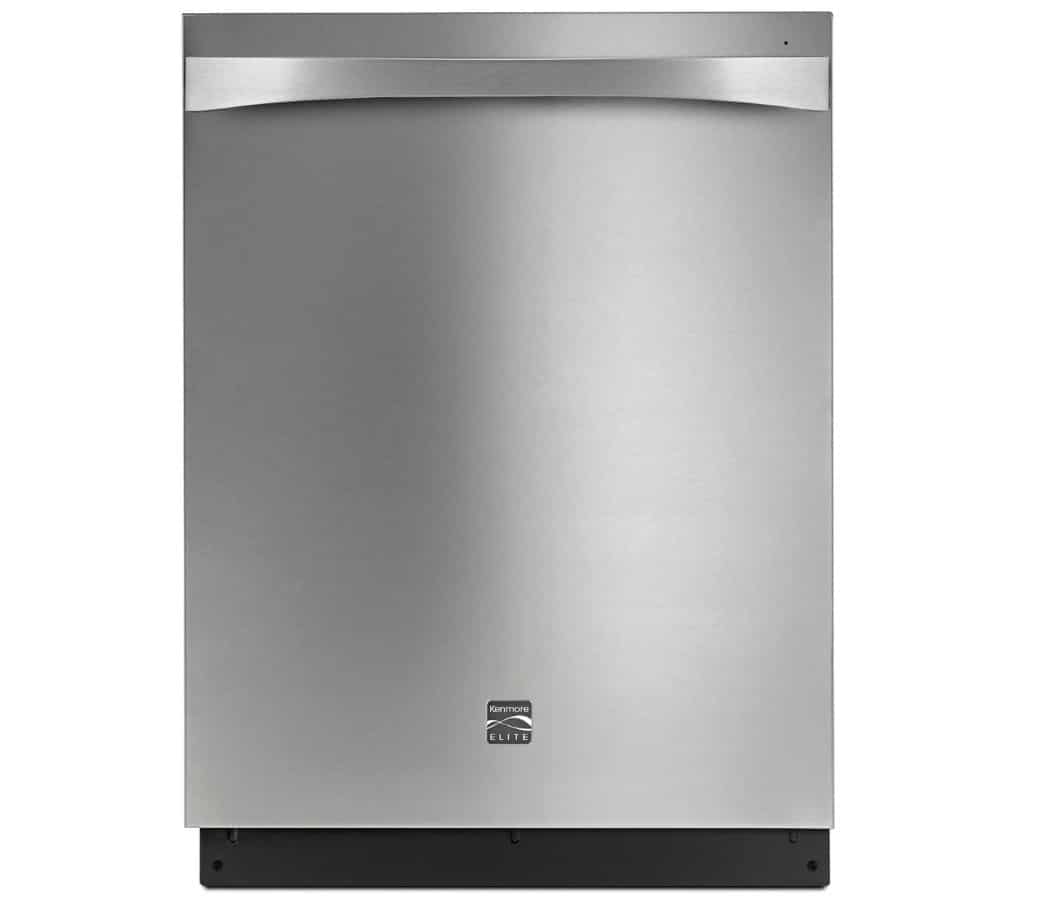 Some say that this dishwasher looks a bit bland, perhaps due to the plain front face with just a handle. I agree, to a certain degree. Although it doesn't turn heads for its looks, Kenmore Elite modestly goes about its business of washing dishes with aplomb. It is rated as one of the best dishwashers in its price range, cleaning dishes to almost 100% precision. But it does it slowly. In fact, even its express cycle isn't that 'express' – it takes an entire hour.
Main Features
The Kenmore Elite has a TurboZone that has water jets tucked at the back of the tub. These jets shoot water at a high pressure to clean extremely dirty dishes, perfect for removing baked-on foods.

The dishwasher has a water recycling system that filters wash water and reuses it throughout the cycle. Kenmore calls this the MicroClean Wash System that's guaranteed to clean better with less water.

It also has a SmartDry feature that improves drying performance.

There's a third rack that's ideal for loading flatware.

The tub is made of stainless steel.
Pros and cons
| | |
| --- | --- |
| Pros | Cons |
| The TurboZone cleans heavily soiled dishes well. | It cleans very slowly. |
| This dishwasher has a high cleaning precision thanks to the targeted jets and soil sensors. |   |
| Its MicroClean filtration system helps to save water. |   |
| Its noise level of 44dBA is barely noticeable. |   |
8. GE Profile Series PDT785SBNTS Dishwasher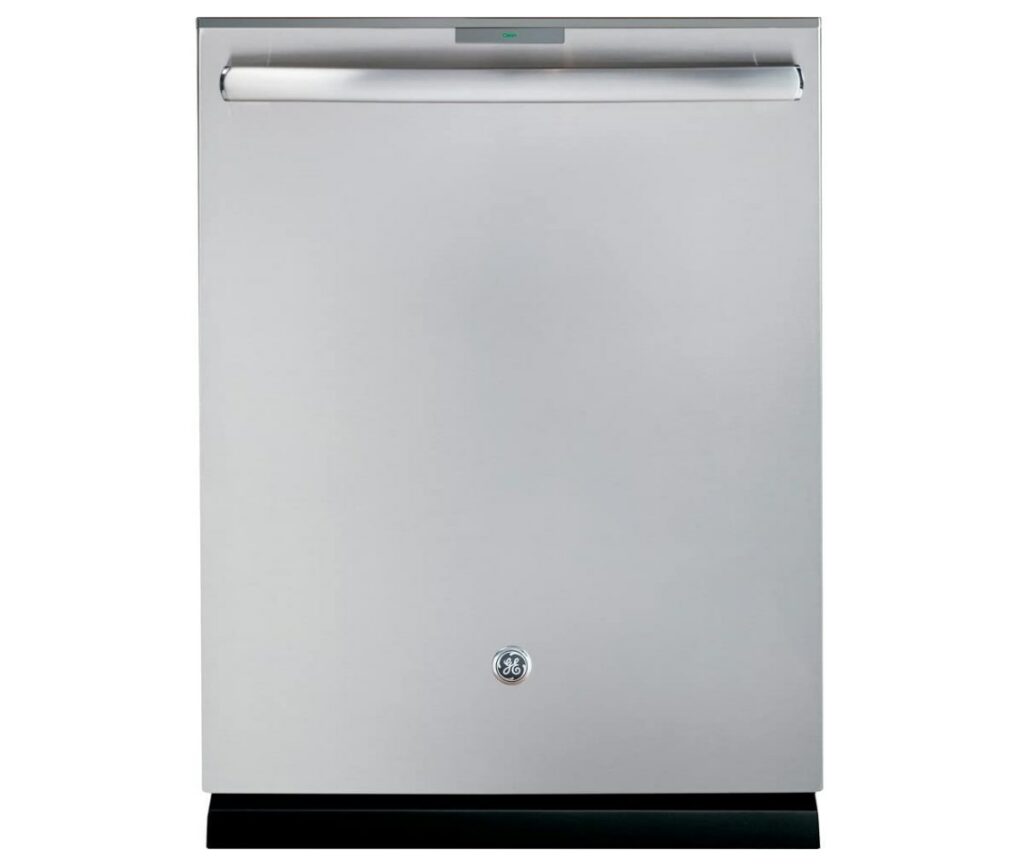 If you're looking for a quiet dishwasher then go for the GE Profile Series. Clocking in at just 39dBA, this machine is hardly audible when active. In fact, your air-conditioner and refrigerator are going to be much louder than it. But don't mistake its silence for weakness! The GE dishwasher is a beast, with features like a hard food disposer. 
Main Features
The GE Profile Series has a 16-place dish setting to hold all your dishes. And with a third rack for flatware, no utensil will be left behind.

The dual fan system enhances the drying of dishes. 

There are four dedicated jets with nozzles that clean every nook and cranny of tall items like bottles or jugs.

The tub is made of stainless steel, which is resistant to wear. The exterior is also made of fingerprint-resistant stainless steel.

Its hard-food disposal system prevents blockages.

With the Energy Star certification, you're assured of an eco-friendly dishwasher.

It has a steam functionality that helps improve cleaning performance.
Pros and cons
| | |
| --- | --- |
| Pros | Cons |
| It's very silent at just 39 dBA. | Its third rack doesn't hold much other than flatware.  |
| This dishwasher is Energy Star certified. |   |
| It has a large capacity with a 16-place setting. |   |
| The third rack is great for flatware, like lids. |   |
| It has a hard food disposer that easily crushes hard food, thus eliminating the possibility of blockages. |   |
9. Thermador Star-Sapphire Series Dishwasher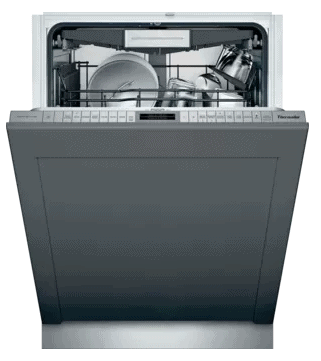 This is a high-end dishwasher for those who love the finer things in life, and nothing shows this more than the dedicated wine-glass caddy. Clearly, Thermador built the Star Sapphire to be a premium home appliance for those who aren't afraid of splurging. Costing over $2000, this pricey dishwasher is one of the most expensive on our list. But it's worth every penny. 
Main Features
The Thermador Star-Sapphire's noise level is at just 42dBA, so you'll barely notice it humming in the background as it works.

It's Energy Star certified, offering all the eco-friendly benefits that come with this certification.

Thermador Star is one of the fastest dishwashers in the market, with a Star Speed cycle that washes dishes within just 20 minutes.

The stainless steel tub is fitted with 16-place racks that include a third rack and a dedicated wine glass caddy.

There's also a leak detection feature known as AquaStop Plus. This handy feature deactivates the dishwasher in the event of a leak, and pumps out water to prevent spilling onto the floor.
Pros and cons
| | |
| --- | --- |
| Pros | Cons |
| Thermador Star-Sapphire is a very fast dishwasher, able to complete a wash within 20 minutes in the Star Speed cycle. | At over $2000 this is one of the more expensive dishwashers. |
| The AquaStop Plus feature detects leaks and deactivates the dishwasher before water spills onto the floor. |   |
| It has a 16-place setting to allow you to load more dishes in a wash cycle. |   |
| The dishwasher is silent, with a noise level of 42dBA. |   |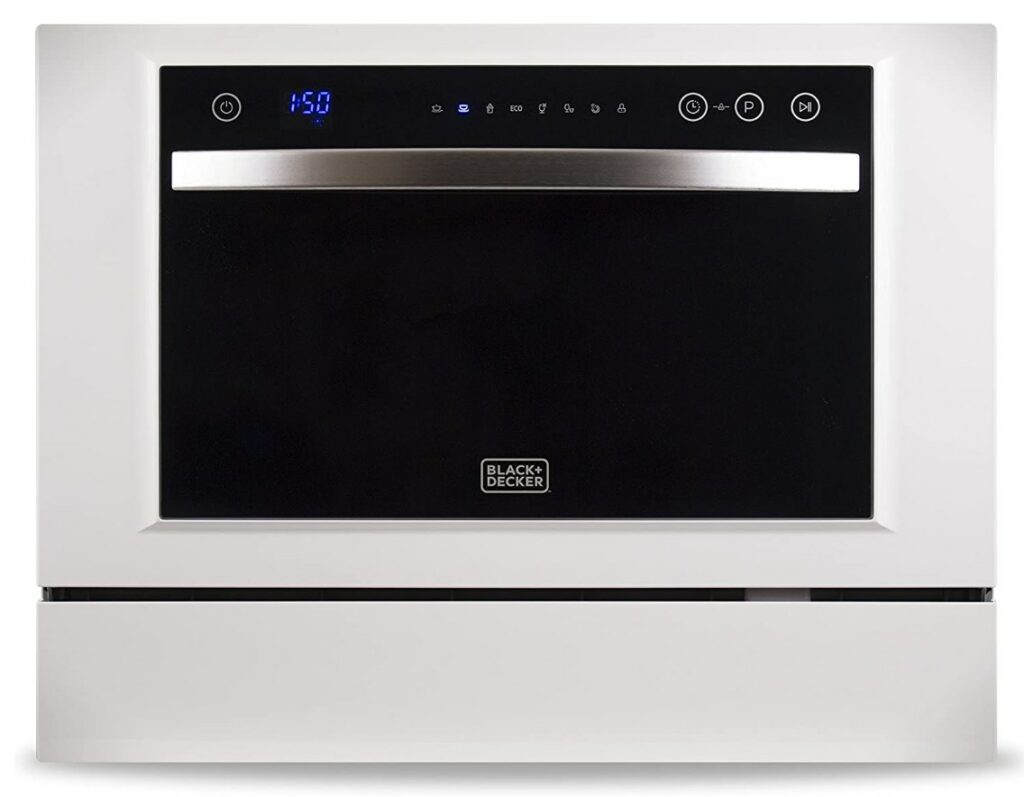 This compact appliance is perfect for small apartments as it simply sits on top of the kitchen counter. And it looks more costly than it actually is; the chic black on white plus the stainless steel finish gives it a high-end aesthetic. But what does this countertop dishwasher have to offer?
Main Features
It has seven wash cycles that include a heavy-duty cycle, which takes close to two hours. There's also a speed cycle for a quick wash within about 45 minutes.

It has six place settings along with a cutlery basket and you can load plates as big as 10 inches.

The dishwasher also has a child lock for those with roving kids in the house.

It has a touch control panel that's easy to use.
Pros and cons
| | |
| --- | --- |
| Pros | Cons |
| This is an affordable and compact dishwasher for a small family or those who live alone. | You need to constantly empty the filter. |
| The dishwasher has seven wash cycles. | There are cases of food particles redepositing on dishes, especially spinach.  |
| It has a delay start feature. |   |
| It's easy to use. |   |
FAQs
Question: How much should I spend on a dishwasher?
Answer: This depends on how much you have to spend; there are budget, midrange, and high-end dishwashers. The budget options go for under $500, midrange ones cost between $500 and $1000 while high-end dishwashers will set you back over $1000 with some costing more than $2000.
Question: What's the average life of a dishwasher?
Answer: The average life of a dishwasher is about 10 years. A dishwasher's life expectancy depends on factors like its quality, the frequency of use, and how well it is maintained.
Question: Are expensive dishwashers worth it?
Answer: Expensive dishwashers are worth it because they offer extra features like WiFi connectivity, remote operation, soil sensors, and low noise levels among others. However, it's important to be clear whether the extra features are important to you and if you're willing to pay more for them. 
Question: Are plastic dishwasher tubs safe?
Answer: Plastic dishwasher tubs are safe despite their disadvantages over stainless steel tubs. However, their main advantage is in cost as they're much cheaper than stainless steel dishwashers. So, if you're on a tight budget, it's okay to buy a plastic-tub dishwasher as long as you've considered their trade-offs.
Final Thoughts
Dishwashers save you the time you'd spend doing dishes by hand, making them worth the investment. If you're interested in buying a dishwasher, think of one within your budget that washes well. 
You would rather opt for precision than speed. But if a dishwasher offers both then consider it. It's also important to think about the noise level – you don't want a noisy dishwasher interrupting your after-meal conversations. Finally, find one that's eco-friendly, with the Energy Star or CEE mark of approval. 
Read More: