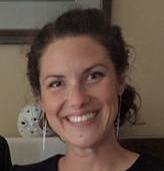 Latest posts by Sarah Caldwell
(see all)
You can expect your kitchen appliances to make up one of the most significant investments in your home. Most people spend a lot of time in the kitchen, so these cooking appliances will get a lot of use, and you only deserve the best.
However, it can be overwhelming trying to choose which appliances you want because there are so many options. There are energy-efficient appliances, designer models, and budget varieties.
In this guide, I'll go through an exhaustive list of the best cooking appliances that you may find in your kitchen, what to look for in each, and how to choose the one that will work best for you. Keep in mind that you may want some of these items in your kitchen, while others won't be useful to your lifestyle.
Cooktops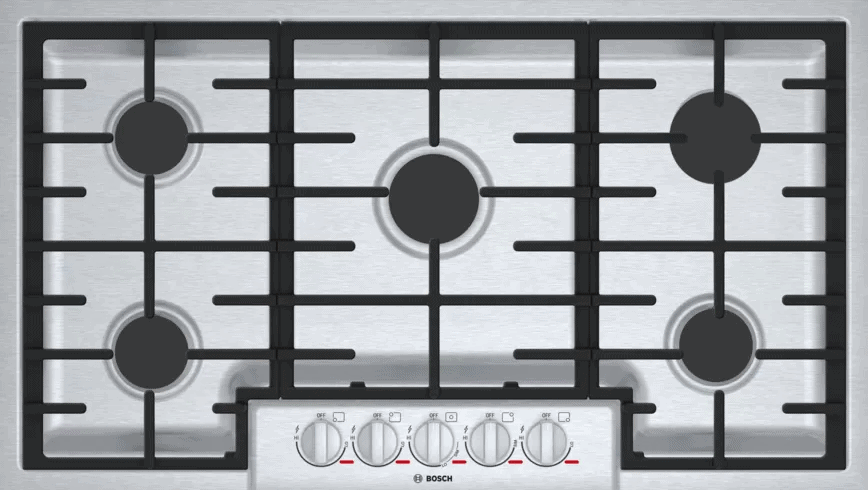 If you have the space and the budget for a cooktop and a wall oven rather than a combined range, it's a really nice upgrade to a traditional kitchen. Placing a cooktop directly on the countertop without an oven underneath will free up a ton of cabinet space to store pots and pans, making it much more convenient for cooking.
Here are some things to think about when choosing a cooktop:
Budget

Location in the kitchen

Location of other appliances in relation to the cooktop

Type of fuel: gas or electric

Path of ventilation
Cost
Small, basic cooktops with only 4 burners may cost as little as $300. They're not elaborate, they don't have a ton of features, and they may not be as aesthetically pleasing as more expensive varieties. However, if you're on a budget and you still want a cooktop/wall oven combo, there are options.
If you upgrade to something larger with more features, you could pay up to $2500, depending on the size, features, and brand. There are many commercially available professional-style cooktops, but you'll pay a lot more.
There's also a small selection of smart cooktops on the market that allow you to control your cooktop from your smartphone. This comes in handy when you feel like you need to make sure you've turned your burners off after you leave the house.
Size
Standard cooktops range in size from 30-36 inches. However, models may vary by an inch or more, and there are smaller and larger cooktop options to fit your individual needs. It all comes down to how much room you have on your countertop or what size cut-out you already have.
Gas or electric
If you're doing a kitchen remodel, what you had previously will be the easiest way to determine what you should get. If you already have a gas line in the kitchen, gas is what you're used to and is probably the best option.
If you don't have a gas line in your kitchen, it's more cost-effective to go with an electric cooktop than it is to have a gas line installed. However, if you're building a brand new kitchen, you have a blank slate to decide which you would prefer.
Burner Styles
Affordable cooktops will only have 4 burners. Slim models may only have 2 burners. These are great for people on a budget. For a tad more money, you can get sealed burner gas cooktops or glass top electric varieties that are much easier to clean.
Further upgrades will offer seamless, cast iron grates that make it easy to slide pots from one burner to the next and give you a more even working surface. These are more expensive but also look more high-end when installed in your kitchen.
High-end cooktops feature induction burners that are more energy-efficient and heat up more quickly. They're also easy to clean because they have smooth ceramic tops, but you have to have special induction pots and pans to cook with them.
Burner quantity and power
The more you increase your price, the better power, features, and flexibility you'll get. You'll get more precise control over your burners and how well they work. You can step up in price to get a fifth or sixth burner, a warming spot, or a bridge burner that allows you to use pots, pans, or skillets that sit between two burners. This gives you a larger heating surface.
Controls
Most gas cooktops have physical knobs but some come with a few options. Electric models will give you much more variety. Some have physical knobs, but more expensive options have digital controls or the ability to switch back and forth between the two.
Touch-activated controls are much easier to clean, but should have a locking feature so you can't accidentally brush them and turn them on.
Both gas and electric models will vary in their positioning of the controls. Some are on the front, some on the back, and some off to the side. This is a matter of personal preference, but can sometimes make a cooktop safer for households with children.
Venting
Placing your cooktop where you have an overhead exhaust will give you more options. If the cooktop isn't near an overhead exhaust, you'll need a unit with a downdraft system, which restricts your choices to electric only. These downdraft systems aren't as powerful as overhead exhaust systems, but they do help to eliminate odor, smoke, and grease.
Our Recommendation: Samsung NZ36K7570RG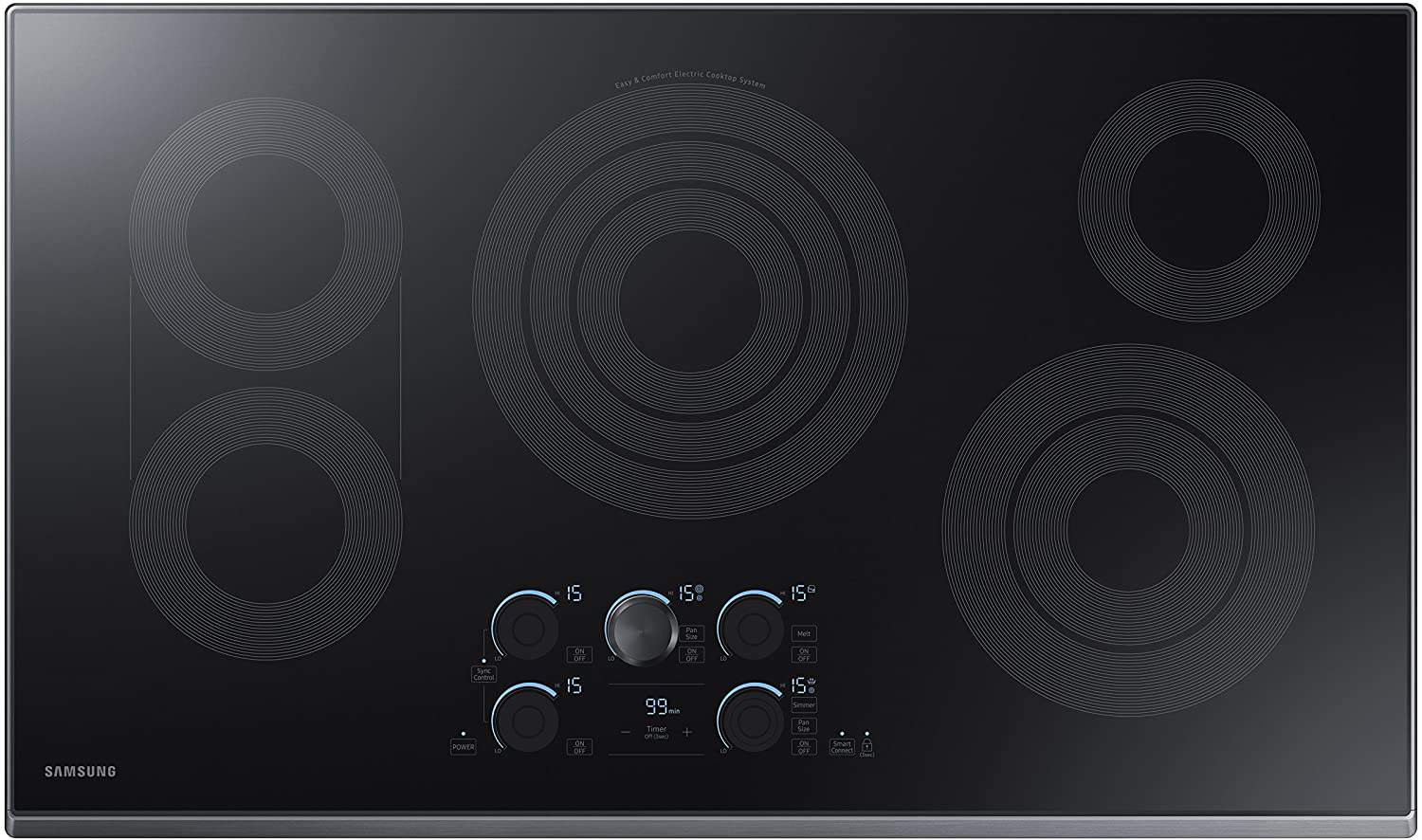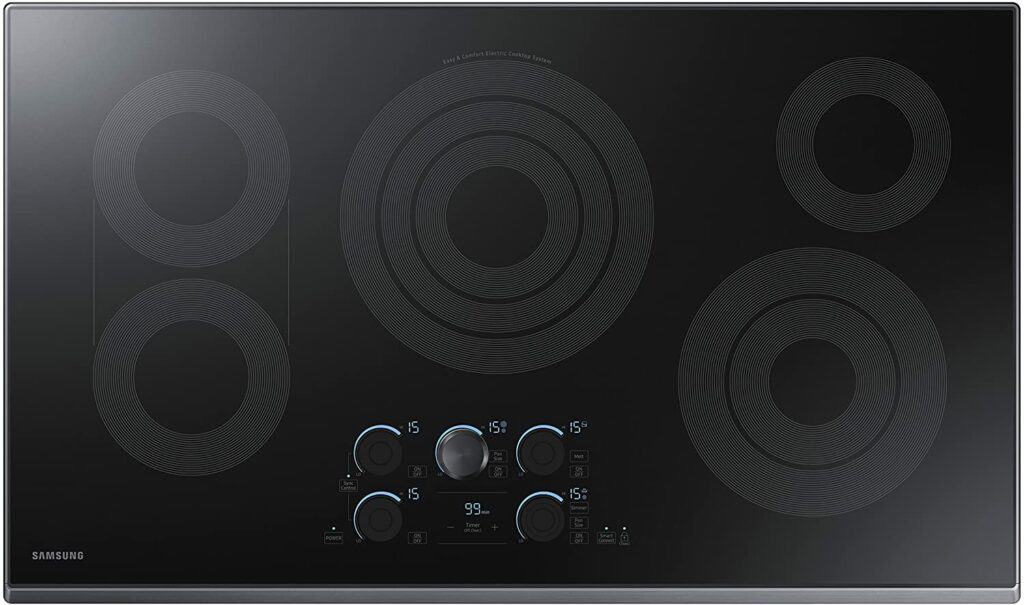 This 36-inch electric cooktop is the perfect choice for your kitchen upgrade. Samsung has been an expert in high-end electronics for a long time, so why not make kitchen appliances, too? This cooktop is visually striking, with modern features and sleek digital controls. You can also switch these digital controls out for magnetic knobs if you need that tactile experience.
There are 5 cooking elements for fast boiling as well as searing, and there are 2 bridge elements for larger pots and pans. Don't put it past Samsung to make their kitchen appliances wifi enabled, because they'll do it. You can control this cooktop from your smartphone.
Pros:
Visually appealing

Sleek digital controls with optional magnetic knobs

2 bridge elements

Wifi enabled
Cons:
Ovens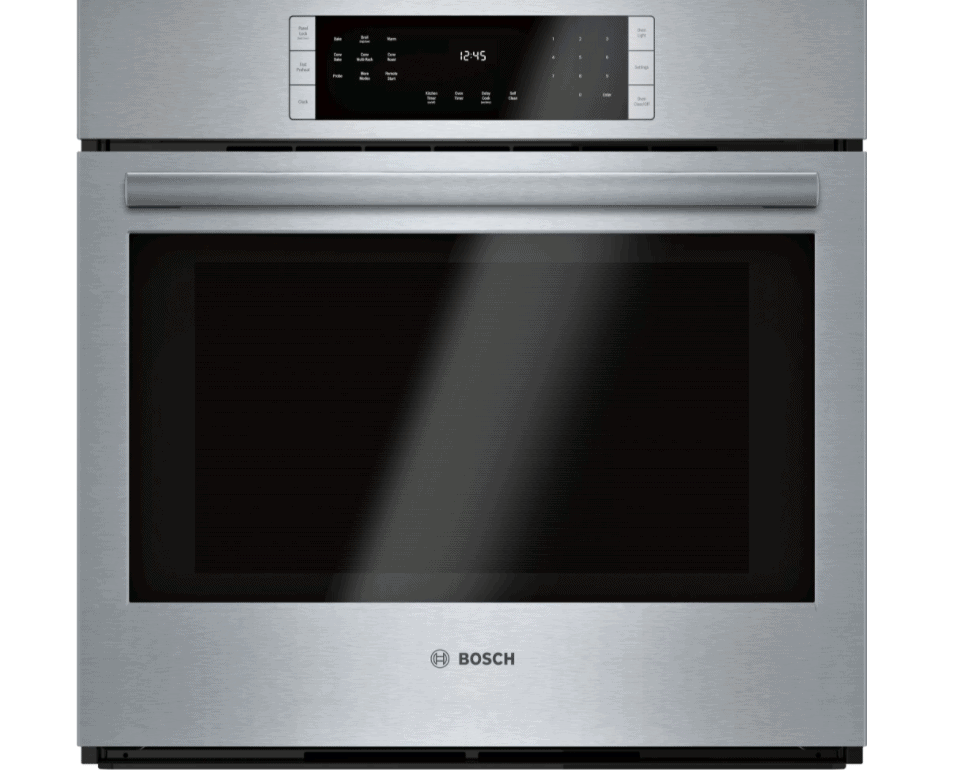 If you're opting for a cooktop/wall oven combination, there are a lot of advantages to having a wall oven. You can mount them higher on the wall so you don't have to bend down to check cooking status or remove a hot pan from the oven.
Having a wall oven also makes it easier to install double ovens, for those who love to cook or entertain a lot. This ease of use and flexibility will come at a higher price, but for many people, it's worth it.
Things to consider when choosing a wall oven:
Budget

Space and location

Features

Relation to other appliances
Cost
If you only want one wall oven and you don't care about any feature upgrades, you can get one for about $700. However, you will pay up to $3500 for self-cleaning double ovens with convection heating and upgraded features.
Size
Wall ovens have standard widths ranging from 24-30 inches, so it's important to replace an old wall oven with a new wall oven of the same size. Models will also vary in size by 1-2 inches, so it's also smart to stick with the same brand or measure closely before making a purchase.
If you're completely renovating or building a new kitchen, your options will vary more. You can choose the size and number of ovens you want but do it early enough that the kitchen can be designed to fit it.
Single or double
Double ovens may seem like they're only useful in gourmet kitchens, but keep in mind that a wall oven is actually smaller than a range oven. Wall ovens are typically only 3.5 cubic feet while a range oven is around 5 cubic feet. To overcome this limitation on space, many people choose to install a double oven.
Manufacturers are doing a better job today of coming up with more usable space inside wall ovens, but it still may benefit you to have 2, especially if you have a large family, enjoy baking a lot, or use your kitchen for entertaining.
Fuel type
Most wall ovens are electric. You'll find a variety of styles, features, and price ranges when looking at electric ovens. Gas wall ovens are not as predominant and they typically consist of lower-end models.
If you have a gas line or you're replacing an existing gas wall oven, it's certainly an option, and one that will save you a lot of money. People generally don't go down this path because these ovens don't cook very evenly and the temperature is harder to control.
Manual cleaning or self-cleaning
After choosing whether you want 1 or 2 ovens, you'll need to decide if you want it to clean itself or not. Self-cleaning options will cost up to $300 more than their manual cleaning counterparts. For many people, it's an easy $300 to spend, because cleaning an oven can be a tedious mess.
Convection
You can also fork over another $200 or so for the capability to do convection cooking. This cooking method uses a fan to circulate hot air. It can reduce cooking times by improving heat distribution. Many people like cooking with convection while others don't find that it's something they need.
If you decide to go with a model that has a convection feature, you can also choose high-end models that have an additional heating element surrounding the fan. These are called true convection ovens.
Features
Only you can decide which features are important to you and what you want to pay extra for. Not only will you get the self-cleaning feature and convection cooking, but as you spend more, you get more things like brighter interior lighting, larger viewing windows, porcelain-coated racks, and smooth-glide tracks.
You may also choose to get a smart oven that allows you to preheat the oven before you get home or ensure that you switched the oven off before you left for work in the morning.
Controls and settings
It's rare to find an oven that doesn't have an electronic display. However, every display is different. You can choose ovens that have settings like "warm and hold" for keeping something warm while you're finishing up the rest of dinner. Or perhaps you'd like a delayed bake option that will turn the oven on at a predetermined time so you'll have dinner waiting for you at the end of a long day.
You can also choose ultra-low temperature settings that are great for rising dough, variable broil settings that offer less intense top-down heating, and there's even a Sabbath mode on some ovens that will turn the oven off and ensure you don't do any work on the holiest of days.
Our recommendation: Bosch 800 Series HBL8453UC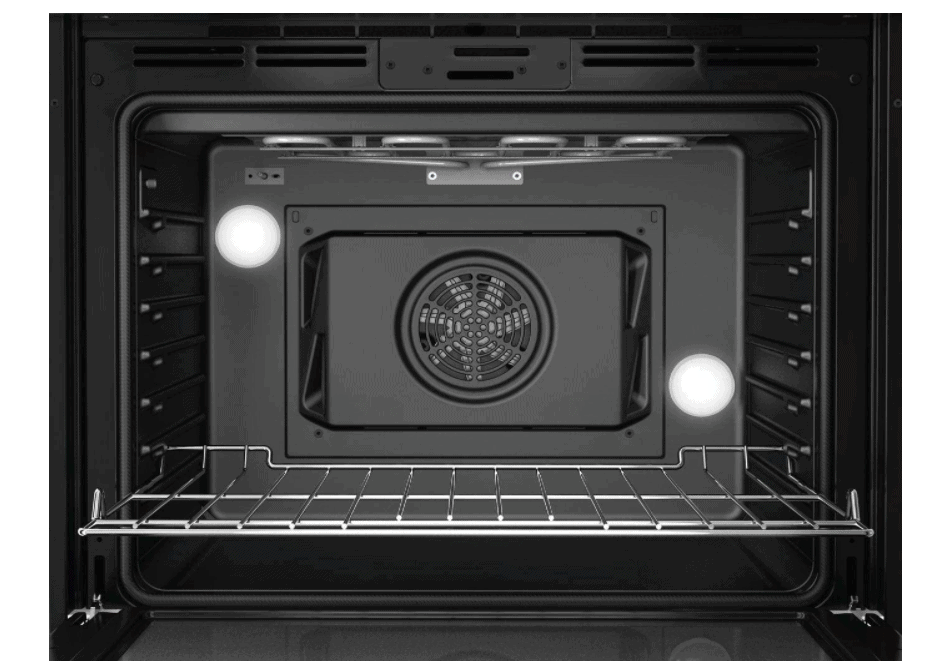 This sleek and beautiful wall oven allows for faster cooking at lower temperatures, thanks to its convection cooking ability. Plus, you can connect this oven to the Home Connect app and monitor your oven from your smartphone.
There's a telescopic rack that features smooth glide functionality for better access to everything inside, and it will hold heavy dishes, even when it's extended. You'll also experience even baking on every rack.
The digital controls are smooth and unobtrusive and dampened hinges and QuietClose Door Shut make for quiet operation.
Pros:
Wifi-enabled

Sleek stainless steel appearance

Smooth digital controls

Telescoping rack and dampened hinges for silent ease of use
Cons:
Ranges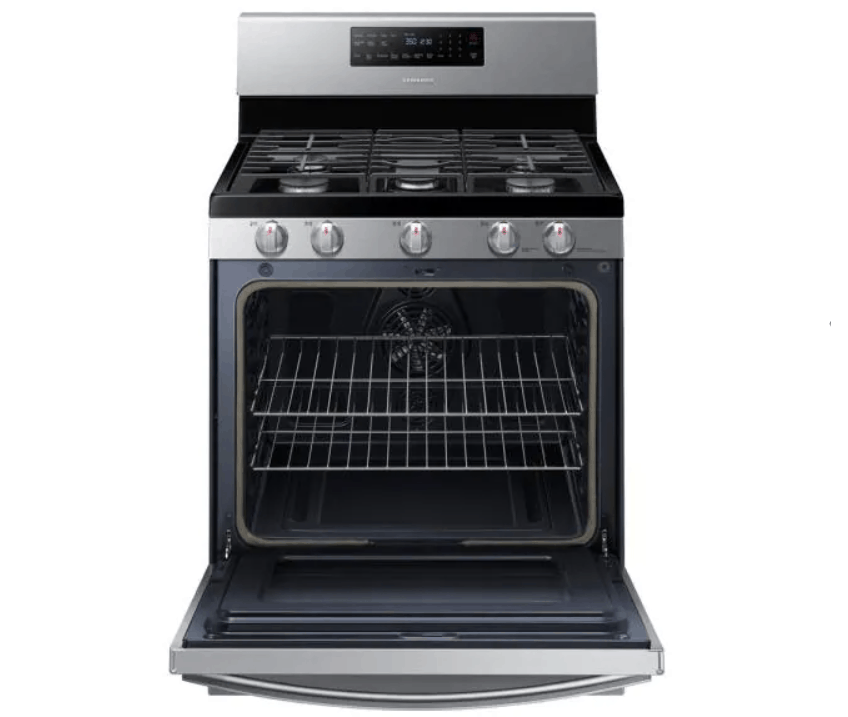 If you're short on space, you can always combine your cooktop and oven into a single range. These cooking appliances have been around for decades and do a great job at nearly everything that two separate units can do.
The primary decision you have to make here is whether you want gas or electric, but you can also choose from several different types of burners and plenty of features.
Here's what you should think about when choosing a range:
Budget

What fuel type do you currently have

Burner type

Oven box size

Warming drawer or storage drawer
Cost
You can find very affordable ranges, which are great for renters or people in temporary living situations. They feature coil ranges and manual clean ovens. For something more sophisticated with more features, you can expect to pay up to $2000.
Size
Most residential ranges are 30 inches wide, but high-end ranges can be 36 inches or more. Most oven boxes are about 5 cubic feet and the cooktop will feature anywhere from 4-6 burners.
Style
There are 3 primary styles of ranges: freestanding, slide-in, and drop-in. Freestanding ranges are the most common because they're finished on all sides and you can put them anywhere in the kitchen. They don't require any installation at all.
Slide-in and drop-in models have unfinished sides, so you have to surround them with cabinetry. However, they're still very easy to install. The installation consists of sliding or dropping them into a pre-cut spot. Drop-ins look the most built-in because they sit behind the cabinet baseboard.
Fuel Type
Much like with a cooktop and a wall oven, what you already have will determine what you buy, unless you're doing a complete remodel and plan to install new electrical outlets and gas lines.
What you might not know is that there are dual-fuel ranges. This allows you the flexibility to use a gas cooktop that offers power and speed while still getting the consistency and precision of an electric oven.
Manual Cleaning or Self-Cleaning
Much like with a wall oven, you have to decide if having a self-cleaning feature is worth the extra money. Most of the time, it's a resounding yes because of how difficult ovens are to clean.
Burner Styles
Less expensive ranges will be the hardest to clean. They have electric coil burners that are a pain to take apart and put back together. Plus, it's nearly impossible to clean every inch of them.
Stepping up to a glass-top will make your burners much easier to wipe down, although you may need a special cleaning solution to do it. Induction burners are the easiest to clean because they have smooth ceramic tops, but they also cost a lot more.
Burner Quantity And Power
The more you spend, the more power and flexibility you get. Budget options will consist of 4 electric coil burners that range in size from small to large. However, with a little extra money, you can get more powerful burners and more precise cooking.
You can choose 5 burners, warming and simmer options, and bridge burners that will connect the two main burners for larger heating surfaces. These are great for skillets and casserole sizes.
Convection
You'll also need to decide if you want your oven to feature a convection cooking method. You'll have to pay more for it, but it can increase cooking speed by improving air circulation throughout the box.
While some people find this useful, other people won't use it, so there's no reason to spend the extra money. It's a personal decision you'll have to make.
Number of Ovens
Many manufacturers are removing the storage drawer and adding more oven space. Choosing an oven with more flexibility can give you the convenience of a double oven when you have more cooking to do and more space in a single oven for larger dishes.
Some ovens simply have a warming drawer below, which is handy for keeping things warm while you cook something else. You may also choose a model that has a slim upper oven for things like pizza and cookies with a full-size lower oven. However, you can also find ranges that have two ovens or an oven box that can convert from one to two ovens when just the placement of a divider.
Features
While you don't have to choose a range with a lot of features, it can certainly make cooking more fun. In fact, you'll find ranges with a variety of upgrades on both the cooktop and the oven.
Look for better interior lighting, larger viewing windows, alerts and notifications, better materials and construction, and even smart ovens for operation while you're not at home.
Controls And Settings
You can upgrade from basic, simple knobs with a clock and timer to digital displays and cooking algorithms. You'll find settings like "warm and hold," "delayed bake," variable broil," and much more.
Our recommendation: Samsung NX58R5601SS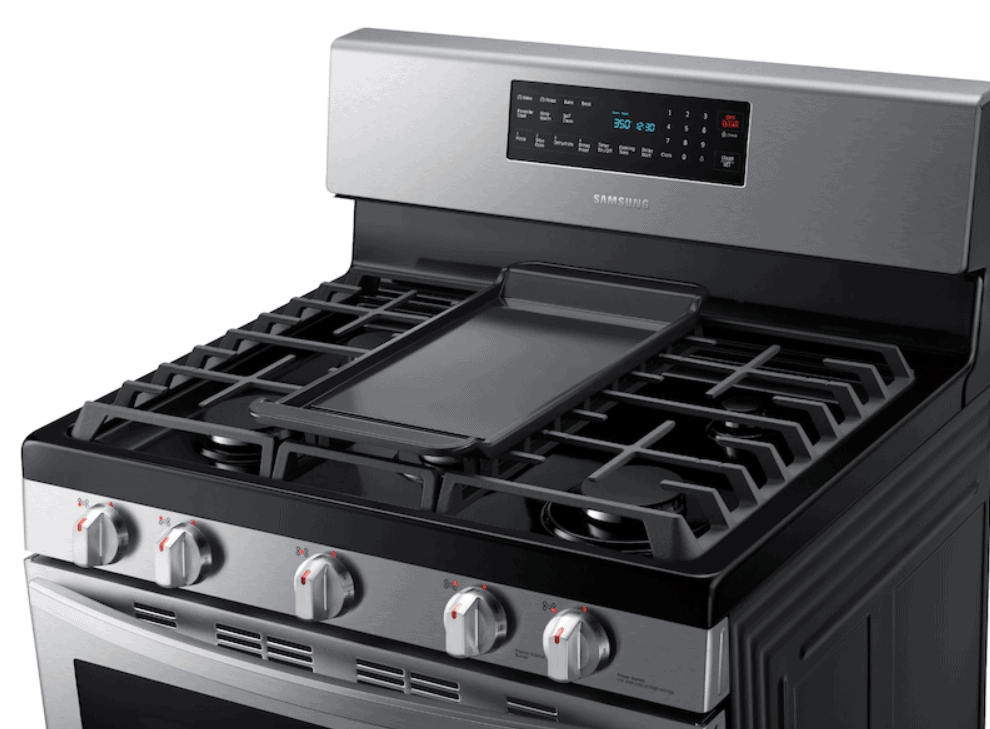 Samsung does it again with this stainless steel range. It has a 5.8 cubic foot gas oven with convection cooking and 5 burners of multiple shapes and sizes. It offers you the flexibility to bridge burners and change the size based on the pots or pans you're using.
The cast iron grate has a removable griddle so you can cook breakfast foods or grilled cheese. Your oven will shut off after a specified amount of time, thanks to the auto shut off feature, and there's even a Sabbath mode that will deactivate your oven prior to the holy day.
Other features like delay start, child safety locks, self-clean, and easy cook presets make this range fun and easy to use.
Pros:
Large oven capacity and storage door

Removable cast iron grate and 5 burners

Plenty of useful features

Affordable
Cons:
No double oven or warming drawer
Ventilation Hoods
Ventilation hoods are an important component of cooking with a cooktop or an oven. Most ovens, cooktops, and ranges require some sort of ventilation, so while the ventilation hood doesn't actually do any of the cooking, you don't want to leave it out of your decision-making process.
Cooking in your kitchen can generate a lot of airborne pollutants, so a ventilation hood is critical for capturing humidity, heat, odors, and smoke before they travel through the rest of the house.
Considerations for choosing a ventilation hood include:
Budget

Type of hood

Features

Style and design

Seamless appearance when placed above cooktop or range
Ducted And Non-ducted
A ducted vent hood removes humidity, heat, odor, and smoke and exhausts them outside of the house. However, there are times when you don't have a clear path to the outdoors and you need to use a non-ducted vent hood. This type of vent hood filters and recirculates the air.
The type you choose will often depend on your kitchen layout, budget, and style of range. Non-ducted varieties do a good job of eliminating pollutants, but need to be cleaned regularly and replaced more often. They also can't eliminate heat or humidity like a ducted vent hood can.
Size And Strength
The size and strength of your vent hood should be designed based on the size and strength of your cooktop or range. Hoods with proper sizing will cover the full width of your cooktop or range and at least half of the front burners.
The strength of your hood vent is measured by how much air it can move and is displayed as cubic feet per minute (CFM). Every linear foot of your range needs a minimum of 40 CFM, and you should have at least 1 CFM for every 100 BTUs of burner power.
Types of Vent Hoods
There are several different types of vent hoods, and what you choose will also depend on your kitchen layout, cooktop or range placement, and budget.
Under-Cabinet
These are the most affordable types of vent hoods. They are non-ducted and they fit under your upper cabinets. They're basic units that recirculate the air, trapping grease and odors in their replaceable filters. While they're not as efficient as ducted models, they're much cheaper. You can upgrade to a ducted under-cabinet model for a bit more.
Wall-mounted Chimney
These are also installed against the wall above your range or cooktop, but they have a chimney shape with a wide base and a rectangular column above. They can't be mounted under cabinets.
They're much more aesthetically pleasing, but they're more expensive, and they reduce the amount of wall space available for cabinets. They work best in large kitchens with ample space for cabinetry elsewhere.
Ceiling-mounted Chimney
These are also called island hoods because they're ideal for mounting above a cooktop or range that's placed on an island in the middle of the room. They're higher-end models that mount to the ceiling. They can be very dramatic and look great with any type of decor or kitchen design.
You'll pay a lot more for this type of vent hood than nearly any other, but there's an unlimited number of custom options from which you can choose.
Custom Built-in
These vent hoods are designed to integrate into your cabinetry seamlessly. They rely on modules that are mounted on a wall and ducted outside. The price depends on the application, so it can vary widely.
Features
Price always goes up as performance increases and operation gets quieter. You'll pay more  for electronic controls because they're quieter and much more efficient than mechanical controls.
Basic under-cabinet vent hoods have fans with two speeds and manual on/off switches. Higher-end vent hoods have fans with variable speeds and feature more elegant digital controls. You can even find varieties that have heat and particulate sensors that will turn on and off automatically.
You'll also find that more expensive units have brighter lights. If you're looking for additional lighting in your kitchen to aid with cooking, look for a higher-end unit with halogen bulbs rather than incandescent.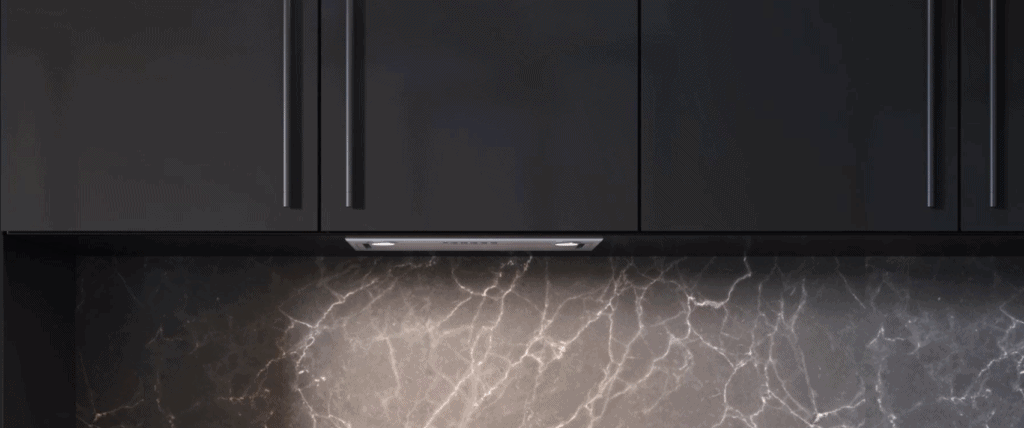 This product offers a clean, contemporary look with concealed ventilation so you can reduce the grease and odor in your kitchen for cleaner air. You can adjust it as needed using the recessed controls that give it a sleek appearance.
It features heavy-duty, stainless steel construction with hand-finished edges and provides ultimate blower function and control. Two LED light bars illuminate your workspace and feature different brightness settings. The filters are dishwasher safe and reusable, so maintenance is virtually free.
Pros:
Gorgeous, contemporary stainless steel design

Heavy-duty and durable

Filters are dishwasher safe

Two LED light bars

Minimized backdraft flow of cold air
Cons:
Dishwashers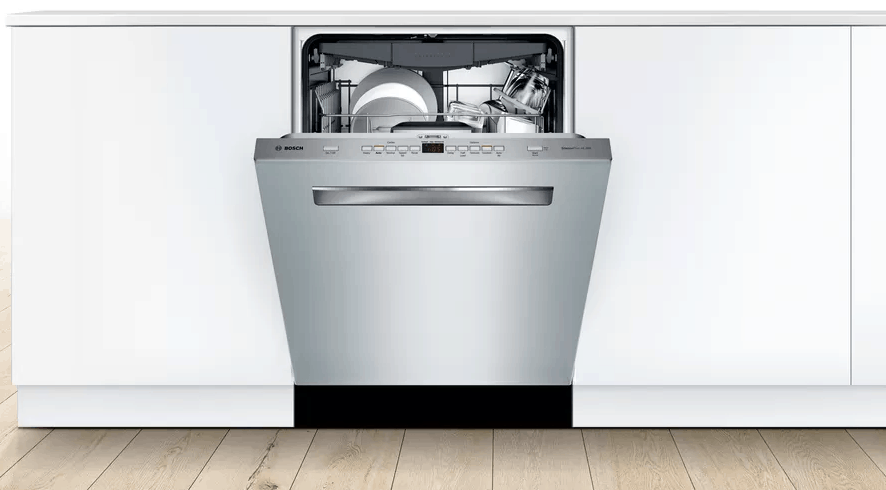 Modern dishwashers use a lot less water, clean better, and are much quieter than older dishwashers. Your dishwasher should last up to 14 years, so making a wise investment now will make your kitchen more efficient for the long term.
No, your dishwasher doesn't do your cooking for you, but if you do a lot of cooking, a dishwasher is something you won't want to do without. It makes cleaning up after cooking so much easier.
Here's what to think about when choosing a dishwasher:
Budget

Location

Capacity

Noise
Cost
If you're looking for an affordable dishwasher, budget options are around $250. They're noisy, have a plastic interior tub, and a simple control knob on the front. Despite their low price, they're very effective cleaners, but they use more water than energy-efficient varieties.
If you want something with a stainless steel tub, less water usage, gorgeous design, adjustable racks, and that is virtually silent, you'll pay up to $1000.
Size And Installation
Most dishwashers are 24 inches wide, but there are larger and smaller options available. This standard width allows plenty of space for a large family to wash dishes, although you may need to run it more than once a day.
For small kitchens and tight spaces, narrow models are available. If you have a larger family, you may want to spend a little bit more on something larger. It's important to bring cut-out dimensions with you while you shop to ensure the unit you choose will fit in your space.
If you have solid-surface countertops or granite, you should look for models that mount to the cabinets on the side of the dishwasher rather than to the underside of your countertops.
Interior Size
Manufacturers have started eliminating the lower kick panel, which gives you more interior space. The use of smaller pumps and motors has given dishwasher designers the ability to extend the door almost to the ground. These tall tubs are more expensive, but they give you a lot more flexibility inside.
Noise
While eliminating dishwasher noise is important for some, it won't matter for others. If your kitchen is close to a living room TV or a child's bedroom, you may want to consider something quieter so you can enjoy each other's company or get some sleep.
However, for renters or temporary living situations, cheaper models that are noisier are probably a fine choice. Most newer dishwashers are quieter than older models anyway, even if they are more affordable.
Appearance
Just as important to many people as performance is the way the appliance looks. Many people look for stainless steel panels and hidden controls. These options have become much more affordable lately. However, if you want to keep your budget low, you'll sacrifice other advanced features. You'll also pay a lot more for a stainless steel tub, but it's a lot quieter than a plastic tub.
For those who really care about appearance, flush controls and hidden controls are very popular. Flush handles make the design even more seamless.
Racks
One of the single most important features and design aspects to think about in terms of capacity and functionality are the internal racks. If you have a large family or you entertain a lot, adjustable racks are worth the increase in price. This gives you the flexibility to wash kids' dishes in one load and wine glasses in the next. It also makes it a lot easier to accommodate your large platters.
A Teflon rack coating will last longer than a plastic coating, which protects the metal and keeps it from rusting. This is important if you use your dishwasher multiple times per day.
Many dishwashers now feature a tray at the top in addition to the two racks below. This expands your space for extra silverware and is the perfect spot for top-rack dishwasher-safe steak knives. It can also accommodate those small measuring spoons that normally fall through the silverware tray or a normal dishwasher rack.
Cycles
Most people use the same wash cycle every time they do dishes, so multiple wash cycles may not be necessary. Budget dishwashers contain only one or two wash cycles as well as a heated or cool dry.
More expensive models will have more wash cycles and options like a sanitary wash, rinse cycle, heavier washes, and increased drying options. Some of these cycles come in handy when you're cleaning things like baby bottles.
Soil sensors
A relatively new development in the area of dishwashers are the soil sensors that can tell if your dishes are clean or not. This works to shorten wash cycles and save energy. However, if you want a unit with this feature, you'll pay for it.
Our recommendation: Bosch SHPM65Z55N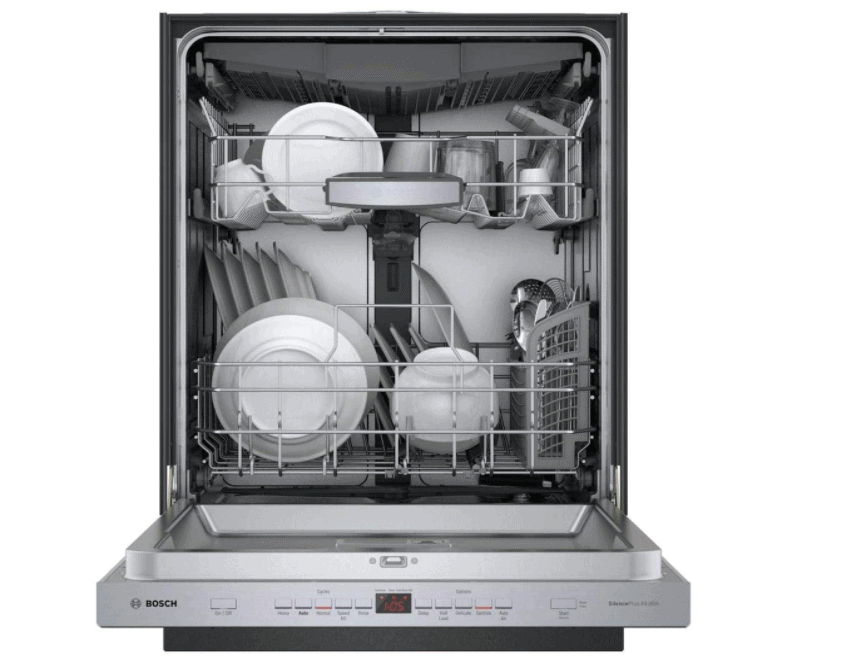 The highlight of this appliance is the AutoAir option that will automatically open the door when the cycle is over to allow for evaporation and the circulation of fresh air. This leads to dryer dishes that cool down more quickly. Bosch is the quietest dishwasher brand available, so with any Bosch model, you'll enjoy a virtually silent cycle.
This model includes a third rack for more loading capacity and an InfoLight that illuminates the floor to let you know the dishwasher is still running. The EasyGlide rack system makes it easy to slide your racks, whether they're full or empty.
Pros:
Very quiet

AutoAir feature opens the door when cycle is finished

Third rack for increased capacity

InfoLight lets you know the appliance is running

EasyGlide rack system
Cons:
More expensive than comparable American brands
Refrigerators
Last on the list is a quality refrigerator. Does it do any cooking? Probably not. But is it an essential part of your kitchen? Absolutely. Even though it's not technically a cooking appliance, you have to have a refrigerator to keep your ingredients fresh until you're ready to cook them.
In fact, when planning out your kitchen design, the refrigerator is generally the first thing a designer or decorator will ask about. They want to know why type of refrigerator you want and how much space you have to accommodate it. Then they plan all other cooking appliances around the location, size, and type of refrigerator you choose.
Cost
Small, apartment refrigerators with top freezers will run about $350. They're affordable but only suitable for 1-2 people. If you live in a larger home, have more people in your family, or love to entertain, you'll need something larger.
Refrigerators vary in cost based on size and style, with the cheapest being a traditional design with the freezer at the top. Drawer freezers are more common now and have come down in price. Side-by-sides are generally very affordable as well.
However, if you want something roomy with French doors, an ice dispenser, and a stainless steel finish, you could pay up to $2500. Expect to pay even more for opaque doors that allow you to see the contents without opening them or a smart refrigerator that compiles your grocery list for you.
Types of refrigerators
There are 3 main styles of refrigerators today: top freezers, bottom freezers, and side-by-sides. Also popular are bottom freezers with French doors on the top. As refrigerators increase in capacity, they also increase in style and convenience.
Top-mounted Freezers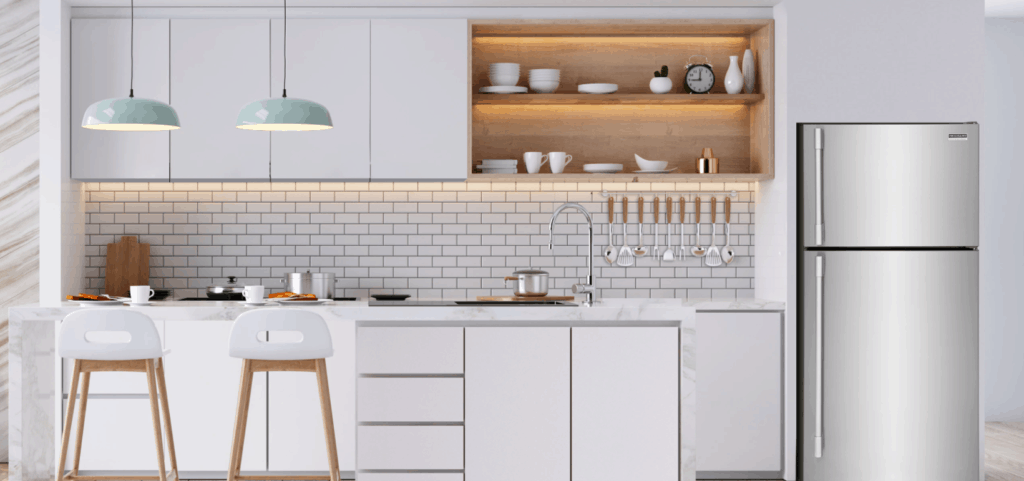 These traditional refrigerators feature a freezer door above the refrigerator door. They're a great choice for those on a budget, but they come with space constraints because they're generally smaller than other types of refrigerators.
These aren't great choices for families and because most people access the refrigerator much more than the freezer, these require you to bend more frequently than other designs.
Side-by-sides
These offer slightly more capacity, and they give you equally convenient access to both the refrigerator and the freezer. This is the most popular style of fridge on the market, so while they're more pricey than top-mounted freezer options, they're still relatively affordable.
Because the doors are tall and slender, these refrigerators work great in smaller kitchens where you don't have as much clearance between your fridge and the island. Unfortunately, because of their narrow design, you lose horizontal shelf space, making it harder to store wide items like platters and frozen pizzas.
Bottom-mounted Freezers
Bottom-mounted freezer options offer about the same amount of space as top-mounted freezers, but they come in a wider variety of sizes. If you want to save money, you can purchase a smaller unit. If you need ample space for a large family, you can find options with much more cubic feet on the inside.
The main compartment is at eye level, making it more convenient. The bottom freezer is typically a pull-out drawer, and may have a slide-out tray. Some varieties have an extra refrigerator drawer compartment between the top fridge and the bottom freezer.
French Doors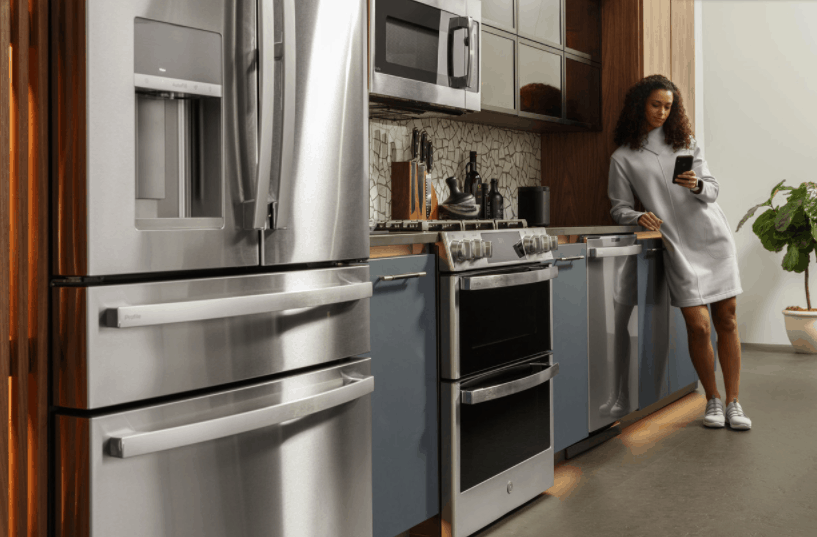 This style has gained in popularity in the past 5 years or so. They're similar to the bottom-mounted freezer with a freezer drawer, but the top refrigerator compartment has side-by-side doors. This requires much less clearance when opened, combining the functionality of a side-by-side in a small space with the convenience of a bottom-mounted freezer.
Features
Just like every other major kitchen appliance, the price of your refrigerator will go up as you add flexibility, style, and convenience. Decide which features are the most important and why. You'll pay $200-300 more for a stainless steel refrigerator than you will for an identical white model.
However, paying for filtered ice and water through the door will actually save energy because you don't need to open the doors to access what you need. However, you do have to have access to a nearby water line for installation.
Most refrigerators have adjustable shelves, but more expensive models will offer greater flexibility and better configurations. They also feature raised edges that prevent spills. High-end models also add vegetable crispers and low humidity areas with adjustable settings while lower-priced units won't.
The same goes for adjusting the temperature of your refrigerator and freezer. Budget options will have a dial to adjust the temperature while high-end models will give you more precise control over the refrigerator and the freezer independently.
Also, pay attention to the cooling system. While cheap refrigerators will have one cooling system for both the fridge and the freezer, more expensive options will have separate cooling systems, which keeps your chocolate ice cream from tasting like steak.
Energy Use
Because your refrigerator is always running, it uses a lot of electricity. Most residential refrigerators will use about 16% of your home's energy usage. Upgrading a refrigerator that's about 10 years old will offer a lot of savings. If you want to save even more, choose an Energy Star model.
Our recommendation: GE Profile PVD28BYNFS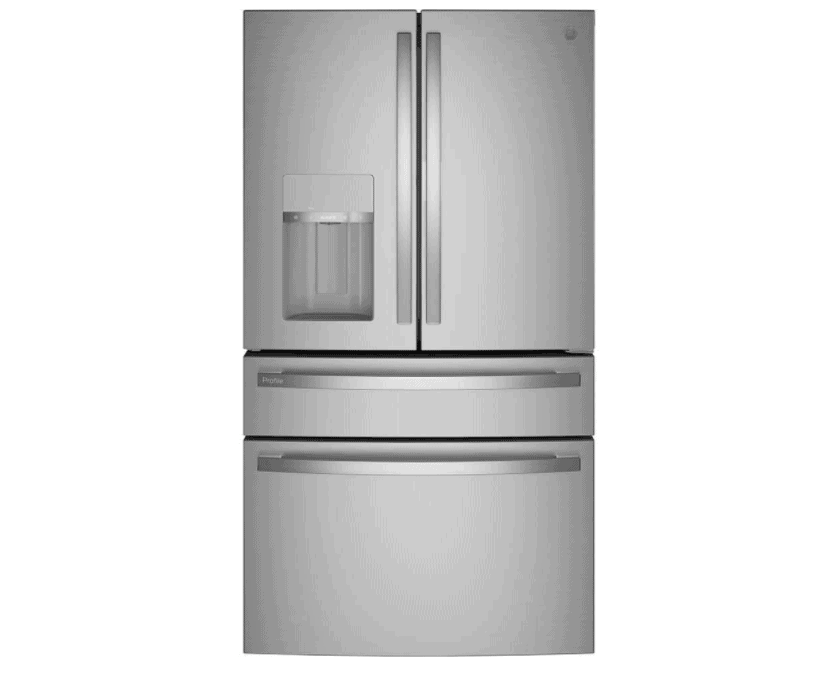 The upper French doors and the bottom-mounted freezer are one of the fastest-growing styles. This model is a reputable American brand with fingerprint-resistant stainless steel. Hands-free AutoFill will detect and fill your glass without you having to tell it when to stop. This innovative sensor blends into the fridge when it's not in use and automatically illuminates it as you walk up to it.
Built-in wifi means your refrigerator is smart enough to send you alerts and allows you to customize the brightness of the LED light inside. You can enable Turbo Cool, Turbo Freeze, and more right from your phone.
Pros:
Dual evaporators

Door-in-door storage

Removable caddy

Quiet close vegetable drawer

Wifi-enabled
Cons:
Countertop Appliances
After considering all of your large appliances and which you absolutely have to have, there are a number of smaller appliances that can be just as crucial to your lifestyle. If you don't eat a lot of bread, a breadmaker may not be the best investment. On the other hand, if you make yourself a smoothie every morning, you'll need a blender.
These small appliances won't be right for everyone, but everyone will likely need a few to make their kitchen work for them.
Blenders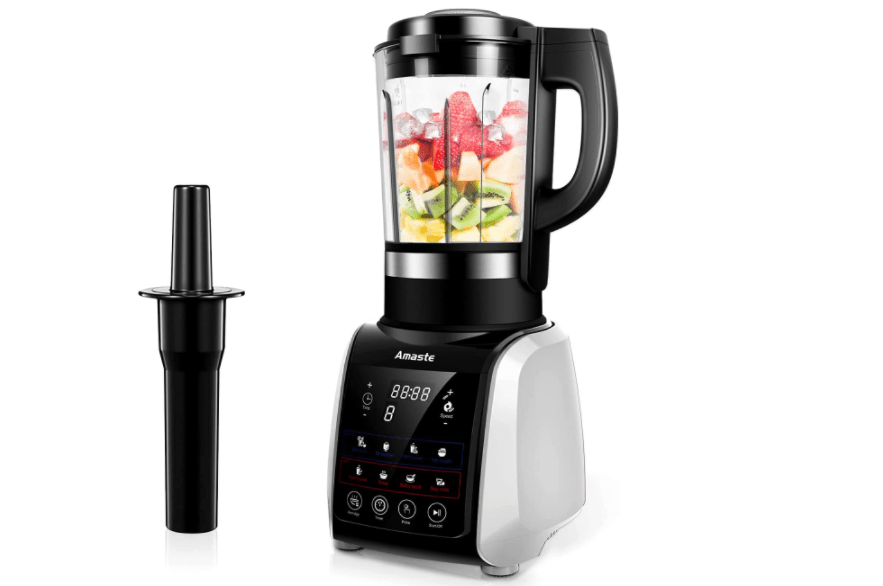 If you like smoothies, you need a blender. However, there are plenty of other uses for a blender, too, including daiquiris and frozen margaritas. You can crush ice, chop veggies for soup, or blend your own baby food.
Slow Cookers
Almost every kitchen today has some sort of slow cooker. They're the most convenient cooking tool for people who work full-time. If you're going to be gone all day, you can throw the ingredients in and let it simmer for a hot meal when you get home.
Slow cookers are perfect for potluck dinners, stews, soups, dips, and so much more. Make sure you get a model with removable stoneware so you can clean it easily when you're done.
Stand Mixers
Nearly every home needs a stand mixer, even if you don't think you do. There will come a time when you wish you had one, whether it's making dough from scratch or baking cupcakes for a birthday party.
While a hand mixer will often suffice, a sturdy stand mixer gives you the freedom to do more prep work while the stand mixer does its thing. Plus, it just makes everything easier.
Coffee Makers
Whether you need a coffee maker or not depends on your lifestyle. If you can't live without your morning coffee, then you definitely need one. For people who only enjoy one cup on their way out the door, a single-cup brewer might make the most sense. If you have a lot of coffee drinkers in the house or you know you'll drink an entire pot, a drip maker is best.
Programmable models are tough to beat in terms of efficiency and thermal carafes will keep the liquid cool for a few hours without a hotplate, which will reduce burning.
Espresso Machines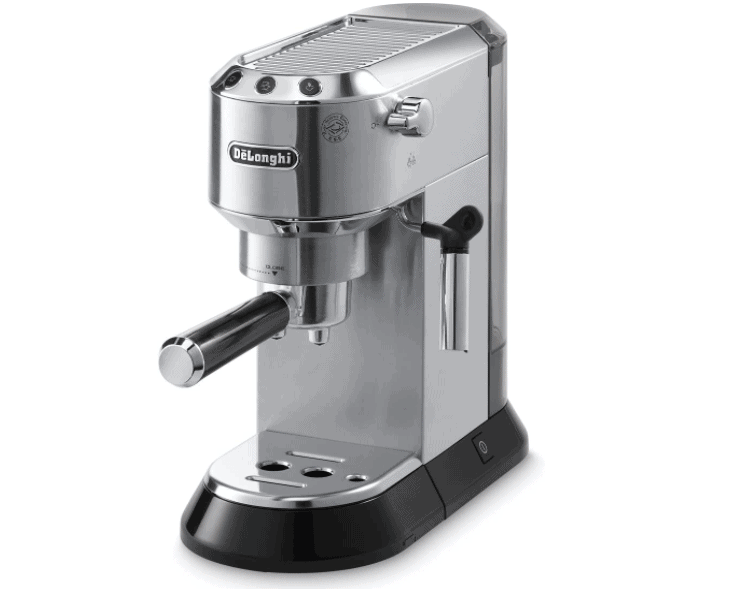 If you have a tendency to overspend on those pricey coffeehouse brews, you may want to invest in a high-quality espresso machine. These fully automatic machines will grind and tamp the brew for you. Some machines can brew a continuous stream while others will only make one cup at a time. It's another appliance that's lifestyle-dependent, but can be a welcome addition to many kitchens.
Food Processors
This appliance is indispensable if you chop, slice, knead or blend on a regular basis. It takes the elbow grease out of food prep and is a must for anyone who cooks and bakes regularly or who wants to make their own baby food.
Toaster Ovens
This appliance is really only for people who have countertop space to spare. While it's useful, it's not necessary, and it's more of a luxury appliance than anything. However, it can offer you a lot of flexibility for toasting bread, warming up leftovers, and baking cookies or cakes.
Toaster ovens preheat in about 5 minutes, so they're quick and easy to use. It also gives you some extra cooking space for entertaining or when your full-size oven is occupied.
Wine Coolers
This luxury appliance is for true oenophiles who want to keep their collection cooled properly. You can choose wine coolers that allow you to set multiple temperatures for multiple types of wine, or you can get a single-zone option to preserve your favorite. This allows you to dispense and serve wine while keeping open bottles fresh for longer.
Soda Makers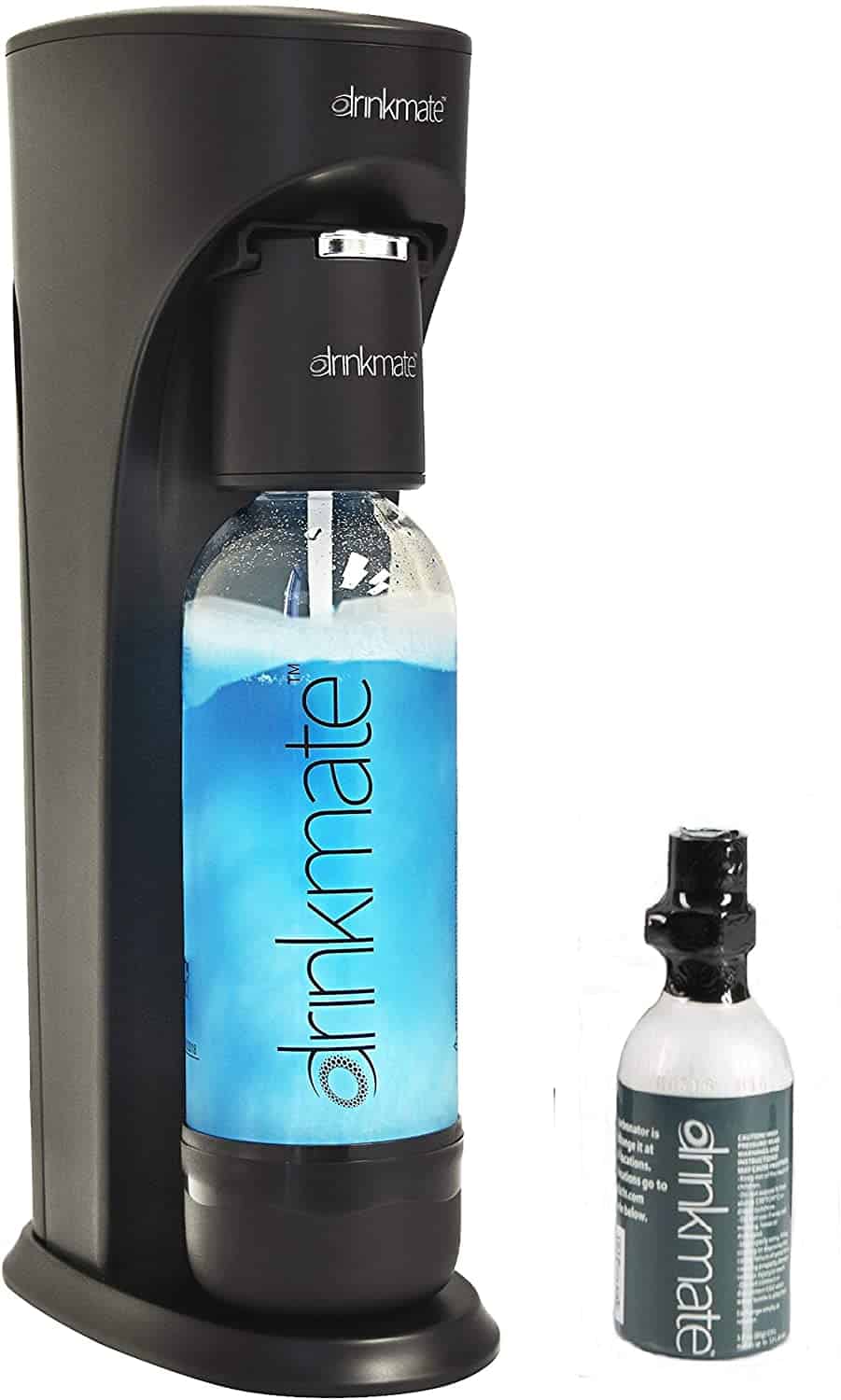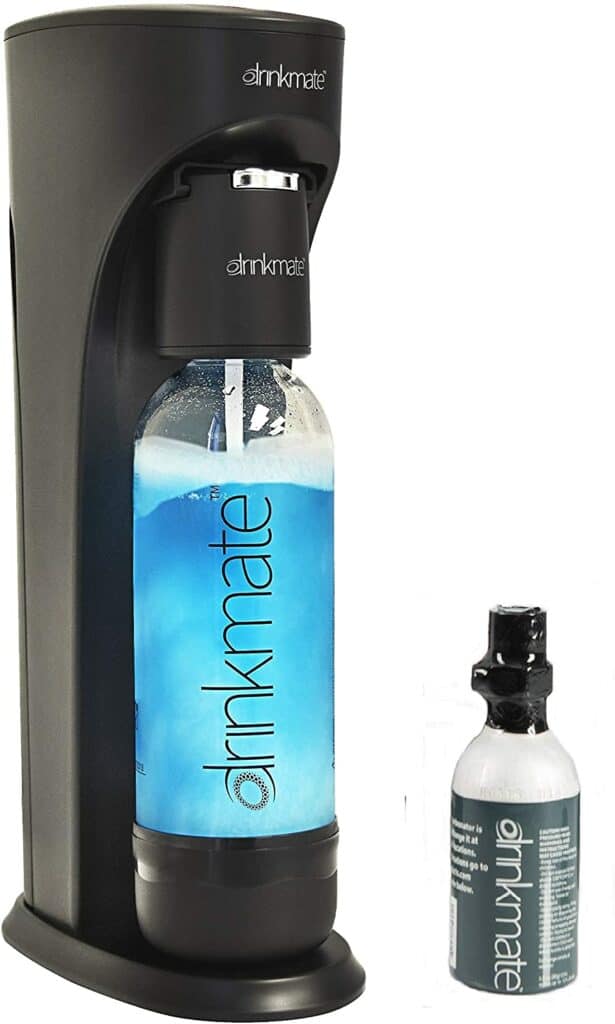 Soda makers are a great appliance if you are trying to reduce your sodium and sugar intake, but you still enjoy drinking the fizzy. You can make fresh flavored sodas with fewer additives. Many of these are non-electric and use refillable carbon dioxide canisters. They're a green alternative to buying store-bought drinks.
Air fryers
An air fryer circulates incredibly hot air to cook food, and is a healthier way of frying up chicken strips, fries, and more. They aren't really fryers because they use a convection cooking method and very little oil. They're fast and easy to use and have become popular recently.
Breadmakers
For people who eat a lot of bread, a breadmaker is handy. All you have to do is prep the dough and the breadmaker does the rest. In fact, some breadmakers advertise that you can just dump the raw ingredients into the machine and it will take care of everything else.
This is another luxury item, but it really takes the work out of mixing the dough and letting it rise. Plus, fresh bread is much better for you than the starchy alternatives from the store.
Microwave Ovens
Most homes have a microwave oven. Whether you have enough counter space for a freestanding unit or you want to free up space with an under-counter mounted option, your microwave will be something you use nearly every day.
Microwaves can warm up leftovers, make hot water for tea or cocoa, and conduct science experiments. Over-the-range microwaves will have fans and lights as well as traditional cooking functions.
Electric skillet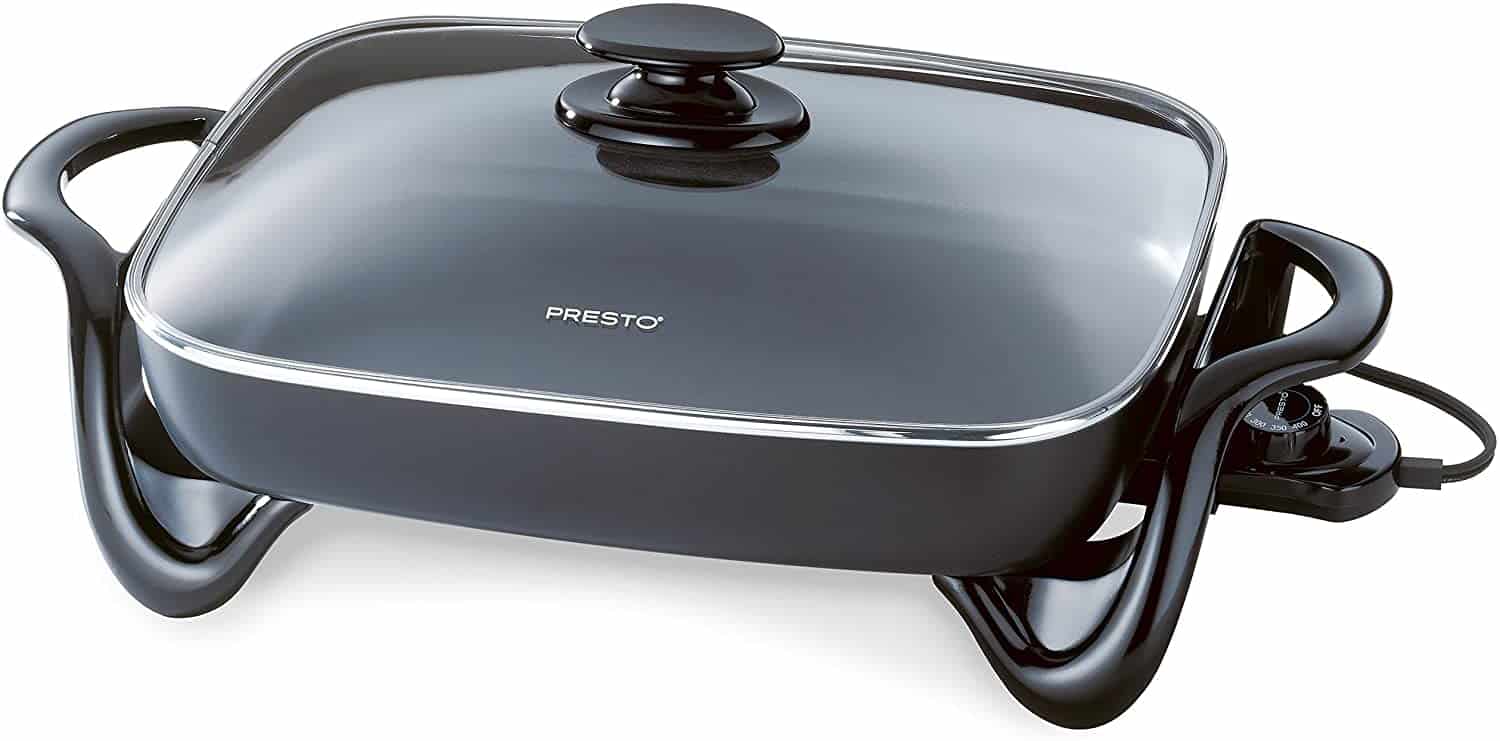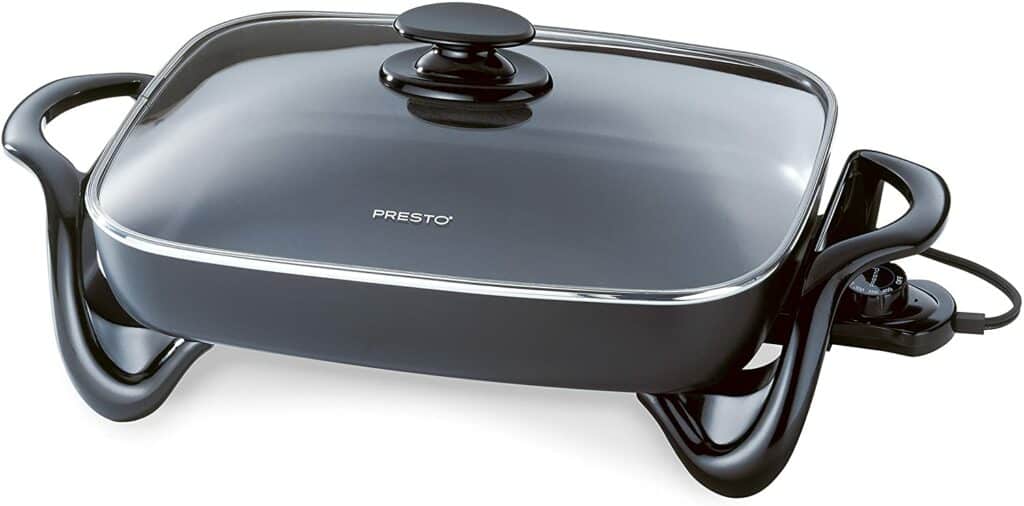 These appliances are super convenient for all sorts of things. They offer ample space to fry up bacon, mix up a boxed dinner, or sear steaks. Rather than needing a cooktop with bridged burners, this offers precise control and even cooking for larger meals. Most of them are also dishwasher safe.
Waffle Makers
If you enjoy waffles, a waffle maker is an excellent appliance to have. They're easy to use and can be stored away when you're not using them to save counter space. You can choose from round Belgian waffle makers, square shapes, or units that make waffle sticks.
Choose a model that is rated well for even browning as well as a range of color settings. Many have adjustable settings, nonstick grates, and dishwasher-safe parts. Waffle makers can be tricky to clean, so removable, dishwasher-safe grates are essential.
Pressure Cookers
Instapot is the latest trend in pressure cookers. While you can get cheaper pressure cookers that don't feature the brand name, any pressure cooker is something that many people use even more than their slow cooker.
These appliances can sear, boil, simmer, and cook just about anything. You can cook an entire meal in a pressure cooker, and it looks a lot faster than a slow cooker.
Rice Cookers
Rice cookers are a lot like pressure cookers, but they only cook rice. They're great tools for steaming many different kinds of rice to perfection. If you eat a lot of rice, it can be a good investment. It frees up the burners on your cooktop to make other parts of the meal.
Specialty Appliances
If you spend a lot of time in your kitchen, then these specialty appliances may be welcome additions to the room. These kitchen appliances are fun and functional, but not necessary for most people.
Induction Cooktops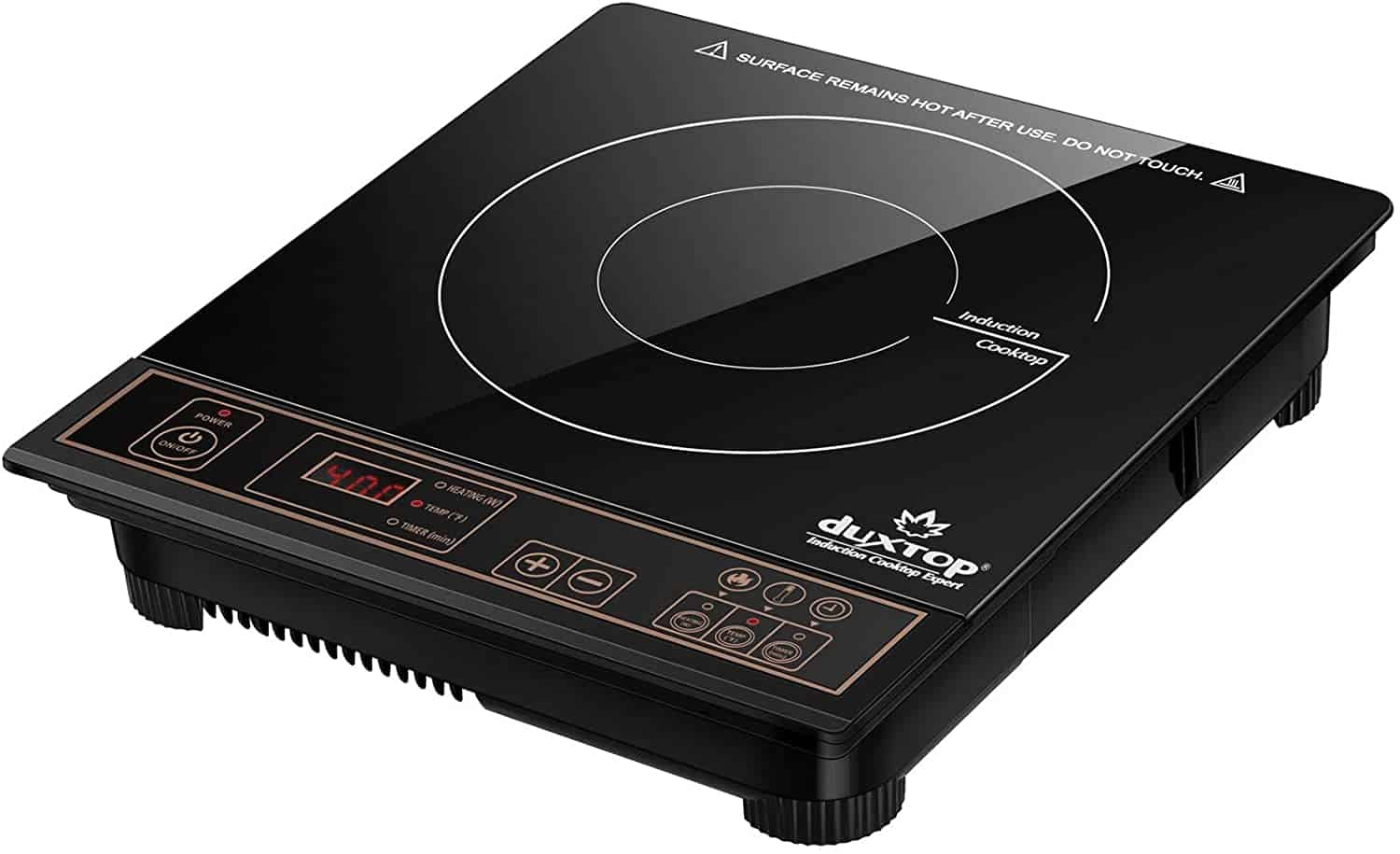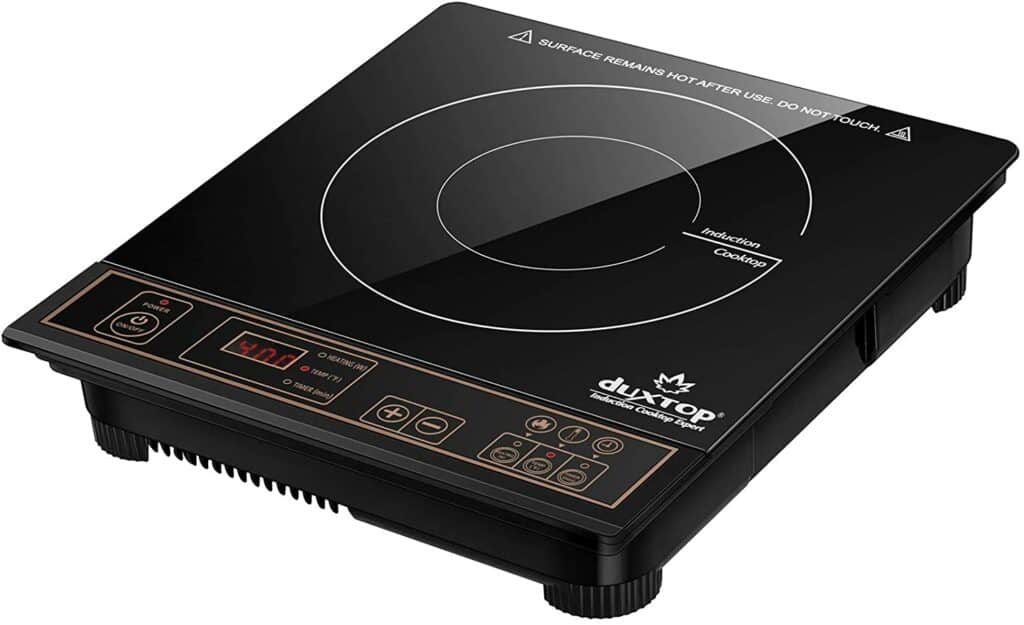 Induction cooktops use electricity to generate heat and magnetic pots and pans to conduct the heat evenly throughout. The cooking is quicker and more precise than gas or traditional electricity. Plus, it's more energy efficient. However, they're more expensive.
Steam Ovens
Steam ovens cook food using incredibly hot steam. They don't require any additional oils, fats, or unhealthy substitutions. They're roughly the size of a microwave and can steam vegetables or fish, keep food warm, and proof bread dough.
Warming Drawers
While some ranges come with warming drawers, you can also purchase them separately. These drawers keep your food warm while you're cooking other components of the meal, but they can also warm up plates and coffee cups or proof your bread dough.
When you're doing a lot of entertaining, these appliances are incredibly valuable because they free up space in your full-size oven, but they can be pricey.
Beverage Centers
Unlike a wine fridge, these appliances look more family-friendly. You can chill juice boxes, soda, or water bottles for the entire family here, saving space in your full-size refrigerator for all the food you want to cook. These can be installed under the counter or even in the living room for added convenience when entertaining or watching a movie.
Built-in Coffee Machines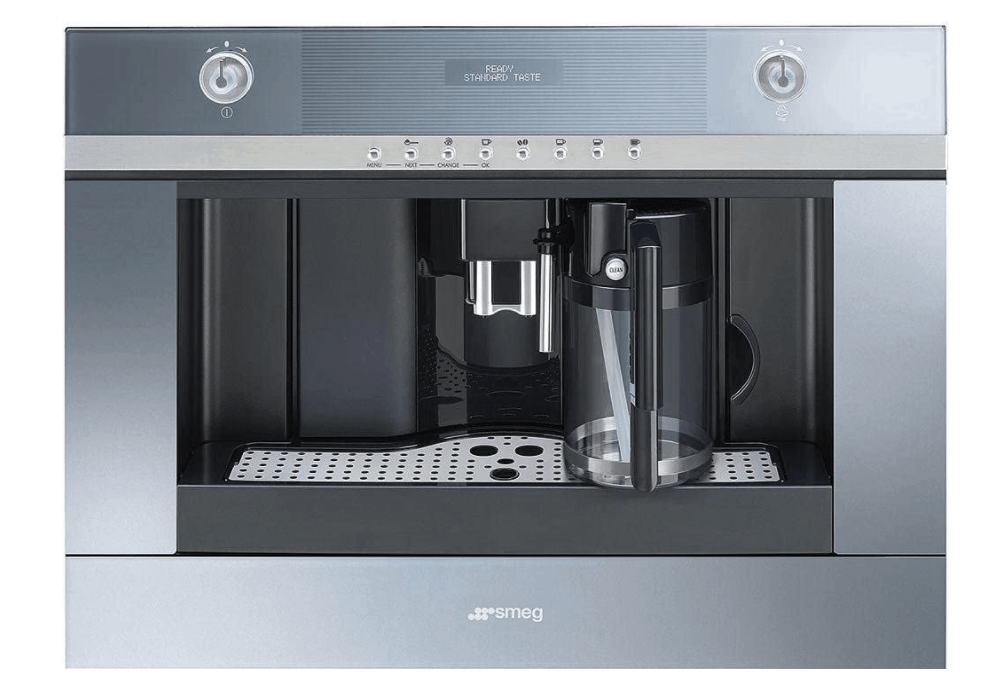 Believe it or not, you can install built-in coffee makers in your kitchen. These appliances can grind, tamp, brew, and serve with just one button. They have frothing systems for cappuccino and hot water dispensers for tea.
Speed Ovens
While not quite mainstream, these appliances are pretty cool. They combine microwave technology and convection to reduce energy consumption and cooking times. They look like a traditional built-in microwave, but they're more versatile. They can grill, brown, roast, or bake.
FAQs
Question: What is the best kitchen appliance to have?
Answer: Aside from major appliances like cooktops, ovens, microwaves, refrigerators, and dishwashers, there are plenty of other appliances that people find useful. However, which is the most valuable to you will depend on your lifestyle.
The most common kitchen appliances are coffee makers, blenders, food processors, mixers, slow cookers, and electric skillets. Growing in popularity are air fryers and pressure cookers.
Question: What appliances do chefs use at home?
Answer: If you're designing a gourmet kitchen, there are some things you'll need. The first is ample space. A professional kitchen needs a lot of space to prep and serve. Many chefs prefer a Sub-Zero refrigerator over anything else.
They also use gas cooktops, multiple ovens, warming drawers, multiple sinks, and a large dishwasher.
Question: What is considered a small appliance?
Answer: Your large kitchen appliances include a cooktop, oven, range, microwave, refrigerator, and dishwasher. Small appliances include anything that is portable. Although a major kitchen appliance, a microwave, if portable, may be considered a small appliance. Other small appliances include toasters, coffee makers, electric skillets, blenders, and mixers.
Best Cooking Appliances: Final Thoughts
When it comes to cooking, you may need many different appliances to get the job done. However, what you choose will be specific to your lifestyle. You should always invest in quality major appliances like a cooktop, oven, range, microwave, refrigerator, and dishwasher.
Sprinkle small appliances in when you're done selecting large appliances. These should enhance your kitchen in a way that makes cooking easier and should fit your lifestyle and needs. When it comes to features and performance, choose what's important to you and let go of what's not in order to keep it within your budget.