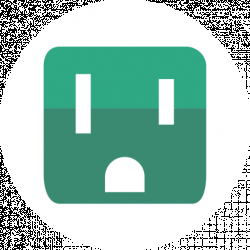 Latest posts by Appliance FAQs Team
(see all)
Every year there is a huge number of people looking for a new refrigerator. Some may be buying it for the first time while others might be replacing their old refrigerators. The reason doesn't matter. The most important thing is having the best refrigerator that suits your needs.
Before buying a refrigerator, it makes sense to do a little research. You must have probably come across Whirlpool appliances. Whirlpool is a popular manufacturer of dryers, dishwashers, washing machines, and refrigerators, and other electrical appliances.
Whirlpool refrigerators have a good reputation because they are a very budget-friendly and reliable brand. One may ask – why spend thousands more on a specific Whirlpool refrigerator when all the refrigerators do the same work?
Whirlpool has numerous models of refrigerators. The only difference is their varying features. In our review of the best Whirlpool refrigerators, we have done intense research from online reviews, magazines, and journals.
You can easily choose the best Whirlpool refrigerator that suits your budget and needs from the information we have provided below. All the pertinent topics ranging from the benefits of Whirlpool's climate control technology to the styling have been addressed. With the many Whirlpool refrigerators in the market, following this Whirlpool refrigerator model guide will increase your confidence about your selection.
Our Top 5 Whirlpool Refrigerators
Since there are many refrigerators from Whirlpool to choose from, it may be hard to know the best for each category. That is why we came up with a list of the best 5. 
Whirlpool WRT518SZFM : Best Top Freezer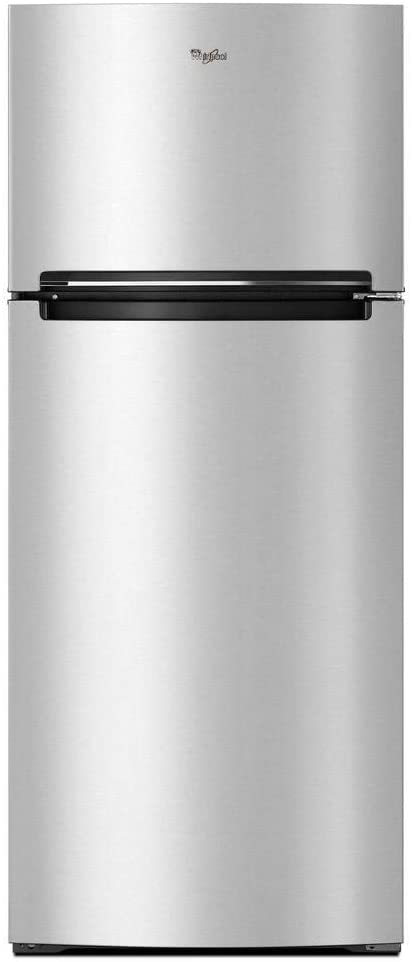 WRT518SZFM is a highly rated and budget-friendly fridge with a top freezer. One of the features that make it unique is it is pocket-friendly. You can slide it from side to side to accommodate taller items underneath. The Flexi-Slide storage bin gives this refrigerator a nice touch.
This appliance features temperature controls that have an option to notch up or down the level of cooling. If you have a small space in your kitchen, WRT518SZFM sleek design may be ideal for you. Although this model has few features, it gives you the ability to enjoy controlling temperatures in both the freezer and the refrigerator.
Pros
Sleek design

Varying temperature controls

Budget-friendly

Features a Flexi-Slide storage bin

Latest interior LED lights
Cons
Few features

Lacks Wi-Fi connection
Whirlpool's WRB322DMBM: Best Bottom Freezer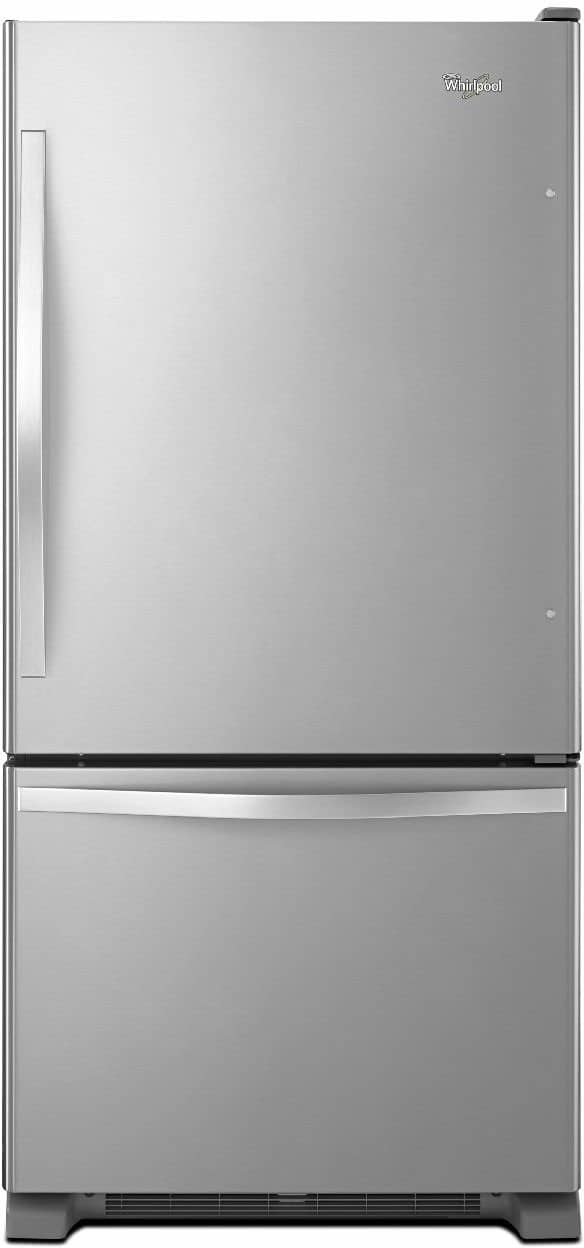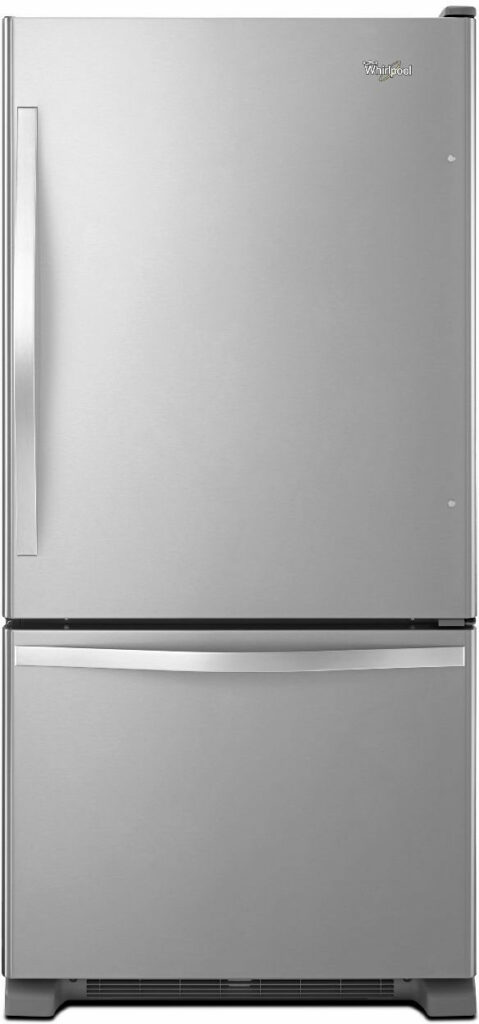 Are you looking for a refrigerator that has a standard ice maker and customizable storage? Whirlpool's WRB322DMBM offers you these options. The bottom freezer is however more expensive than the top one, but it has the added advantage of extra features.
It features spillproof/spill guard shelves that contain minor messes. With this model, you can control temperatures effectively. Adaptive Defrost helps maintain your food at the required temperatures and only kicks in the compressor when needed. 
Additionally, this model also features the FreshFlow produce preserver cartridge. It works hand-in-hand with the Adaptive Defrost feature to ensure that your food stays fresh for a longer duration.
Whirlpool's WRB322DMBM has a 33-inch width and a 22 cu. ft. interior volume. It's competitively priced compared with the other brands with similar features. 
Pros
Energy Star certified

Features an interior with LED lights

Easy to clean the spill-proof glass

Standard ice maker

Adaptive defrost 
Cons
Not budget-friendly

Not for the tech-savvy
Whirlpool WRF560SEHZ: Best Apartment Size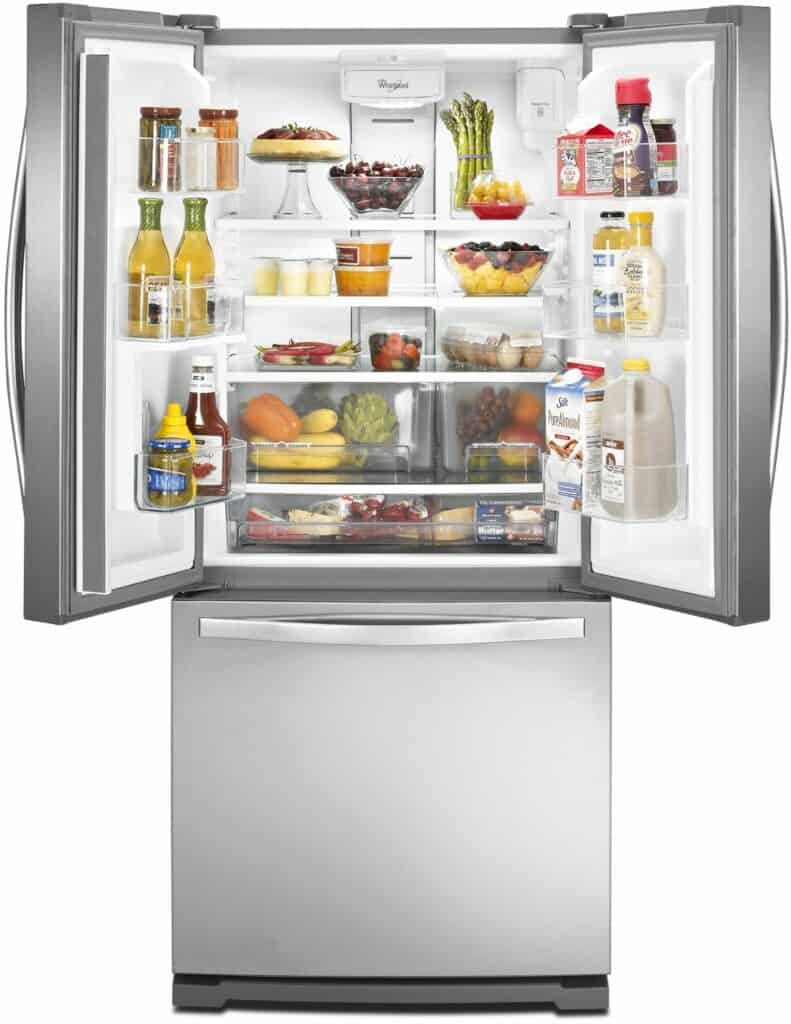 Are there any items that you regularly use in your fridge? Do you live in an apartment? WRF560SEHZ comes with multi-storage options for items that you use most. It's a modern-style fridge with a 30-inch width that fits well in apartments with small kitchens. The humidity-controlled crispers allow you to store your products in an ideal environment. 
This model comes with a full-width pantry drawer. Great to keep your cold cuts, cheese, and other foods organized. This fridge also features adjustable gallon bins that help to maximize your storage. The front portion of the interior shelf can be tucked out of the way, to create space for taller items such as soda bottles and large pots. 
Whirlpool WRF560SEHZ is an upgrade of Whirlpool WRF560SEYM. It's fitted with the latest interior LED lights. Whirlpool WRF560SMHZ is a sister product to Whirlpool WRF560SEHZ. However, it lacks an ice and water dispenser on the door but has an ice maker in the freezer.
Pros
Modern interior with LED lights

Has ice and water dispenser on the door

Best for apartments

Features humidity-controlled crispers

Adjustable gallon bins

Multi-storage options
Cons
Not ideal for kitchens with a large space

Not smart
Whirlpool WRX735SDHZ: Best French Door Refrigerator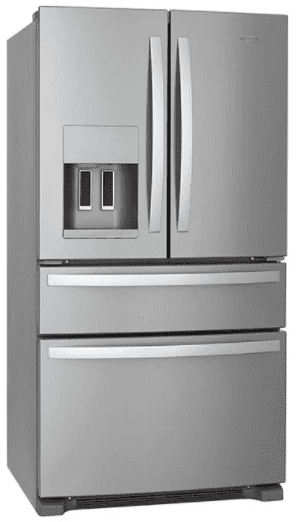 The WRX735SDHZ is one of the fridges with the best interior design in the market. It's the pinnacle of Whirlpool's fridge technology. You can control your temperatures easily and accurately.  If you level the legs well and provide space for airflow around your fridge, you find that this is one of the quietest refrigerators. However, some customers still complain about excessive vibration. 
This unit comes with a refrigerated exterior drawer. The fourth door enables you to store high traffic products ensuring that cold air doesn't exit from the main fridge. It also features a high-quality finish, which is not only easy to clean but is also fingerprint-resistant. There are discreet and convenient touch controls positioned above the external water dispenser.
You can conveniently preserve your food and at the same time save on energy. It's thanks to the advanced climate and temperature control features.
Pros
Functional and flexible interior design

Advanced climate and temperature control

Discreet touch controls

Fingerprint resistant

High-quality finish

Refrigerated exterior drawer
Cons
Excessive vibrations at times

Not for the tech-savvy
Whirlpool WRX735SDHZ
: Best Innovative French Door Refrigerator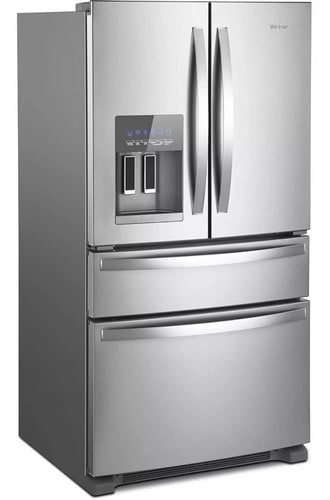 Would you like a refrigerator with extra features? Are you looking for a unit with advanced technology? Look no further! Whirlpool WRX735SDHZ is the ideal appliance for you. It's a 5-door appliance with large storage space.
There is a 5-temperature option drawer that comes with a thaw setting. It enables you to customize the settings creating an ideal environment for your food. To keep your produce fresh, WRX735SDHZ has a produce drawer with FreshFlow.
A small items bin is designed to hold smaller items such as string cheese and butter. If you regularly use ice in your kitchen, we recommend you try this model. You won't be disappointed. The two middle drawers have dual ice makers and an ice/water dispenser located on the door.
The predecessor of this Whirlpool refrigerator faced challenges when it came to cleaning the exterior. A fingerprint-resistant stainless steel finish on this model solved this issue. 
Pros
5-temperature option drawer

Fingerprint resistant

Ice maker

Water/ice dispenser

Stainless steel finish

MicroEdge glass shelves
Cons
Not budget-friendly

Not for the tech-savvy
Whirlpool Refrigerator Buying Guide
There are several major factors that you have to consider before you buy a new Whirlpool refrigerator. They are:
Fridge style and configuration

Kitchen layout and space

Storage options and fridge capacity

Refrigerator features

Colour and finish 
Fridge Style and Configuration
Whirlpool refrigerators have 4 different styles. Each style comes with its distinct parameters. They are:
French Door Refrigerators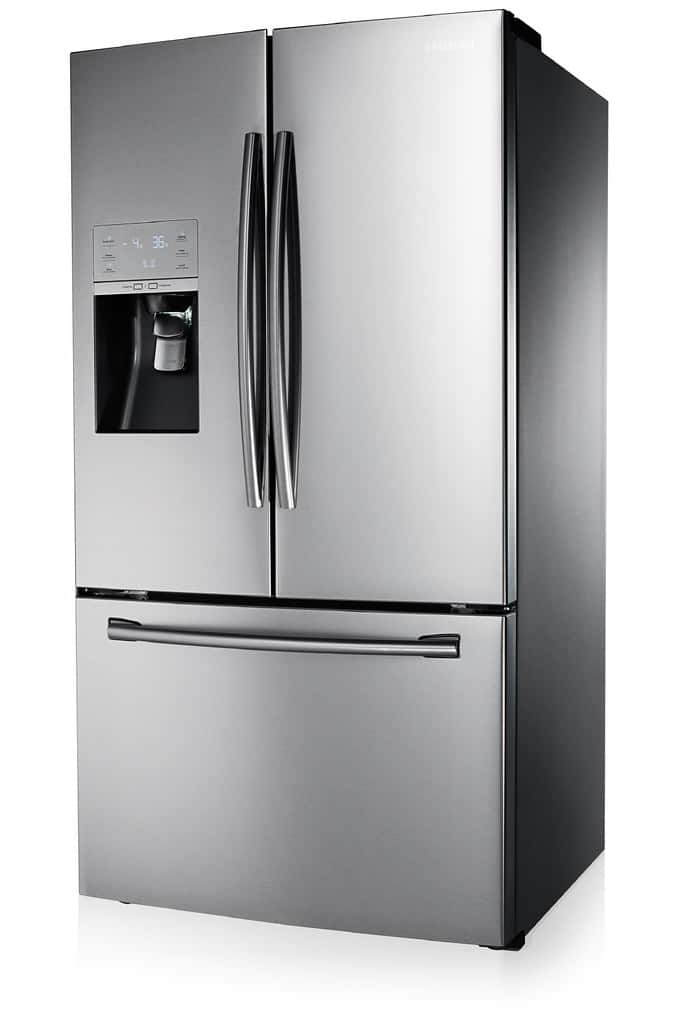 They are designed to place frequently used items at eye level. This fridge comes with 2 doors which open to a single fridge compartment at the top. Not forgetting the large pullout door step freezer at the bottom. 
Whirlpool produces innovative 4 or 5-door models. French door refrigerators are a bit expensive compared to other models because they incorporate the latest technology trends. There are several advantageous things about these fridge door models. They feature multiple water dispensing options, are spacious enough for wider items, and feature slide-in shelves for taller items.
Merits
Water dispenser and dual cooling

Single and dual ice makers

Customizable drawers

Plenty of space for wider products such as pizza boxes and platters
Demerits
Side-By-Side Refrigerators
They are built with a refrigerator on the right hand and a freezer on the left. This is an amazing fridge design. However, the side-by-side design is not elegant compared to the French door design. But almost all the other features are similar. One of the key advantages of this model is its specialized storage and the ice maker on the freezer door.
Merits
Humidity-controlled crispers create an ideal environment for your vegetables and fruits

Specialized storage such as can caddies

Plenty of space

Water/ice maker on the freezer door save space
Demerits
Not elegant comparing with French door models
Bottom/Top Freezer Refrigerators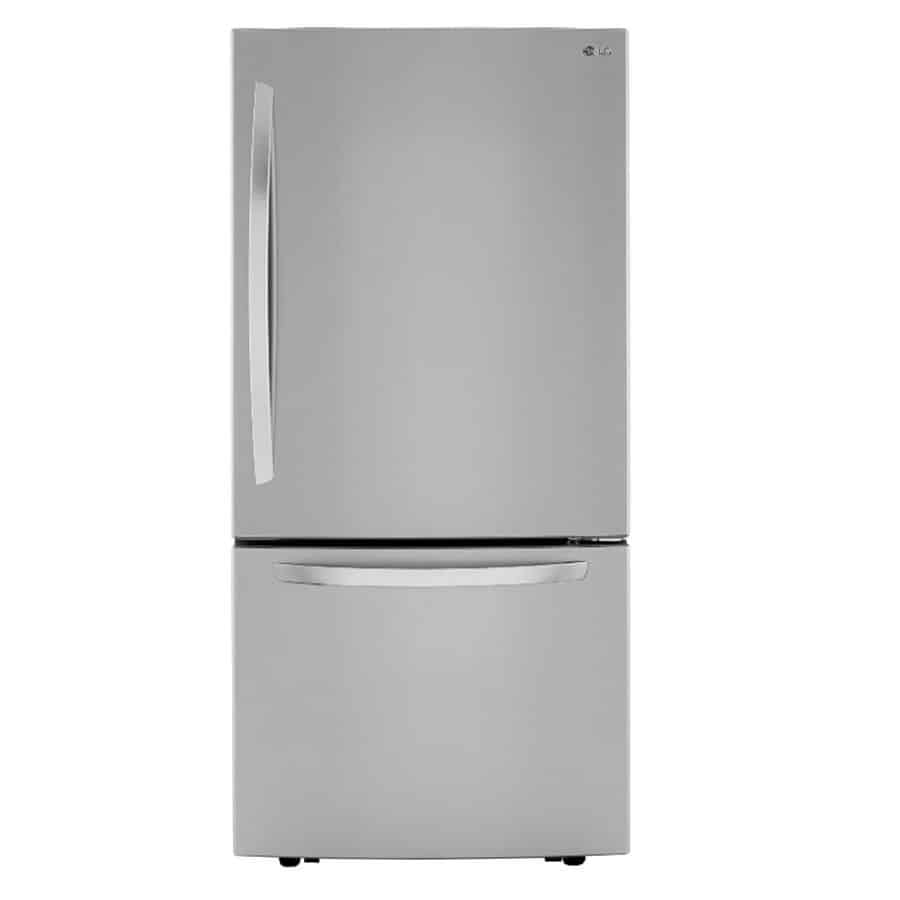 The bottom fridge model has a deep freezer on the bottom and a single-door refrigerator on top. They are more or less the same as the French door design. They are smaller in size than both the side-by-side and French door models. In case you need a refrigerator with narrower spaces, choose a bottom freezer. It's lighter on features.
Top Freezer Refrigerator comes with a single-door refrigerator on the bottom and a freezer on the top. The freezer is the top priority in this particular design because it's easier to access. This model is both small and light on features. 
Merits
Good capacity for the size

Fits well in spaces without a water hookup
Demerits 
Kitchen Layout and Space
Large Capacity Standard-Depth and Seamless Counter-Depth standard Models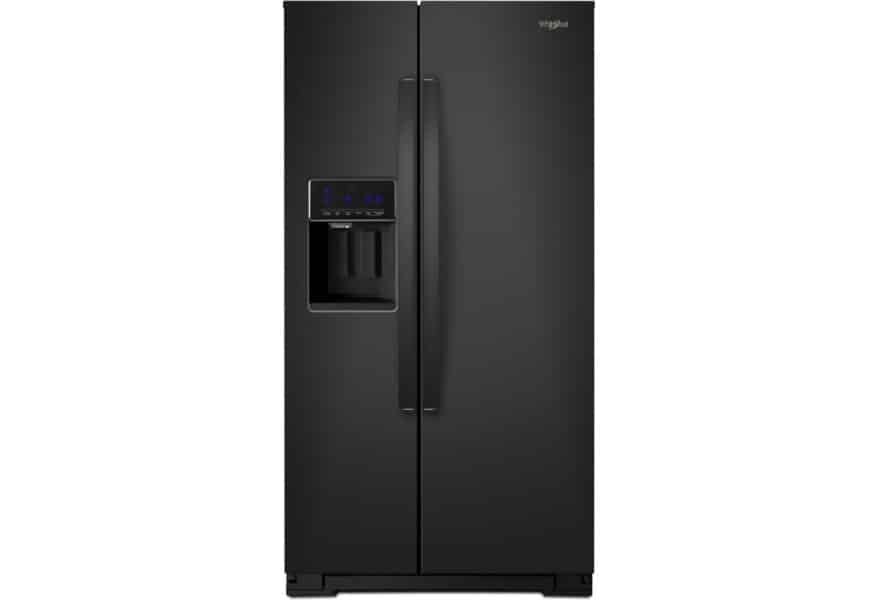 Whirlpool produces both counter-depth and standard-depth refrigerators. Counter-depth models should align with the front edge of your cabinets to give your kitchen a streamlined look. Standard depth fridges, on the other hand, run 30 to 34 inches deep, offering more space. 
With Whirlpool, you get the option to choose a fridge that performs well in your kitchen. For instance, suppose you have a large family? You need to sacrifice the seamless, built-in look and choose a full-depth model. The counter-depth version offers you a modern look, but with a reduction in storage space. 
A counter depth unit has 27-29 cu. Ft. depth. The standard-depth version has a typical width of 36-inches and a depth of 70-inches. Note that it's always important that you size your space accordingly. Taking a few minutes to accurately measure your kitchen to decide the storage space you need prevents you from making a mistake when making your purchase.
Fridge Capacity and Storage
You should check the storage capacity which is measured in cubic feet when buying a refrigerator. Look at:
The number of items you intend to buy from the grocery and the number of people in your family. This helps to make the right choice in terms of the size 

How easy is it to access your favorites when you need them? The exterior drawers and the storage zones located on the interior allow you to store your snacks in an easily accessible zone

Do you want to store taller items and large platters? The Side-by-Side and French door models have wide trays and sliding shelves for specialized storage

Do you want a large capacity fridge with around 30 cubic feet of space or a standard capacity unit with around 20 cubic feet? If your space is limited or maybe your family is small, you should get a small fridge with around 11 to 18 cubic feet.
Refrigerator Features
You need to first think about the features that you'd want in your refrigerator before you buy one. Some of the basic features you can consider at a glance are:
Does the unit have a water/ice dispenser? 

Is there any specialized storage? Like Tiered Freezer Organization, Infinity Slide Shelves for storing tall items, and Adjustable Gallon Door Bins for loading flexibility 

Does the model come with performance features such as Dual Cooling
Fridge Color and Finish
You should select your favorite color and finish when purchasing your appliance. If you want an easy to clean fridge, Whirlpool offers 2 stainless steel fingerprint-resistant finishes: 
Sleek black 

Traditional gray
Why You Should Buy a Whirlpool Refrigerator
Whirlpool is a popular manufacturer in the United States. They produce over 100 models that feature different colors and design styles. 2 factors make Whirlpool refrigerators stand out amongst the other brands:
Humidity/Temperature control abilities

The number of storage options
In our article, we have highlighted the various reasons why we consider Whirlpool as one of the top fridge brands in the US. They include:
Maximum Storage Options
Whirlpool has tried to focus on how their fridge looks by putting in a great deal of time and energy. They have numerous customizable shelf options that enable maximum storage. You can store 30% more in the class with a pantry-inspired layout. Their interior space organization is excellent!
Superior Climate Control
To maintain your fresh food, your refrigerator should feature advanced humidity/temperature control options. If you don't control the temperatures properly, your food can easily get spoilt. 
Temperature
The temperature should be uniform inside your refrigerator. If you take a look at the older fridge models, you had to set the temperature using a dial. There is no exact number setting but a range, normally running from 0-10. With Whirlpool fridges, setting your desired temperatures is a walk in the park. You just key in the exact temperature you want and you are done!
Whirlpool comes with several temperature controls options which enable you to set a drawer to the exact temperature: 
Total Coverage cooling: This option keeps your temperature uniform in the entire fridge. Apart from keeping every shelf in your unit cold, it also helps to get rid of warm spots. Fresh air is transferred from the vents into every cranny and nook of the fridge. 

Accu-Chill: This feature uses ice to cool water. Inside the water reservoir, there is a formation of ice. As you use the water, room temperature water comes in. It mixes with the ice and finally cools down. Meaning that this fridge model can make a cold glass of water despite the heat of a summer day.  

Adaptive defrost: This feature is only applied when necessary. It provides continuous monitoring of your freezer environment to lower down the power bill. The defrost turns on only when required.  

Freeze Shield option: Whirlpool invented this feature to reduce temperature fluctuations from the automatic defrost cycle. This was as an effort to curb freezer burn.
Humidity
You need humid air to do maximum food preservation. Vegetables may however require more humidity as compared to meat. This makes crisper drawers a very crucial feature. Most Whirlpool versions use crisper drawers to store items in their ideal environments. 
Some Whirlpool models also feature a dual cooling system to maintain the humidity in your fridge. It not only ensures that your vegetables and fruits stay fresh longer but it also increases your energy efficiency. 
Filtration and Air Flow 
Vegetables and fruits emit ethylene gas as they ripen. This gas spreads over to the unripe fruits nearby causing them to ripen faster. A good fridge should have a filtration system to remove this gas. It's only through this method that your food will stay fresh longer.
Some Whirlpool fridges feature the Fresh Flow air filter which is estimated to be 20 times more effective than baking soda. The reason is that it extends the freshness of your produce to about 25%. This filter has a status indicator to make it easy for you to remember to replace them. They should be replaced after every 6 months.
That said, it's important to always have good airflow in your fridge! 
User-Centric Conveniences
Whirlpool provides extra convenience to customers who choose from such features as multiple water/ice maker options, numerous color choices, and LED lighting. 
Water and Ice Maker
With Whirlpool, you can get a multitude of features when it comes to water and ice makers. The most common is the measure fill option. 
Measure Fill: It's an automated system that enables you to choose the exact amount of filtered water that you require. When you select this feature, the dispenser fills your container and shuts it off automatically once done. 

Exterior water and ice: Almost all Whirlpool models have this feature. You can access fresh filtered water and ice without opening the fridge door. Some fridge versions even come with an interior water dispenser. 
You can also get ice from an ice bin which has been moved to the window. This means you have easy access to ice and an extra shelf located in the freezer. There are other models which come with dual ice makers. 
One ice maker is inside the fridge door while the other one is located in the freezer. Combined, they hold an extra 5 lbs. of ice giving you a surety of never running out. The low-priced models may have no factory-installed ice maker, to reduce the cost and provide more space in the freezer.  
Fortunately, they are compatible with an optional ice maker kit which you can buy separately. All the models with an ice dispenser have an internal filter that ensures that your water and ice stay fresh. You should replace this filter after every 6 months. 
Customizable Shelf Styles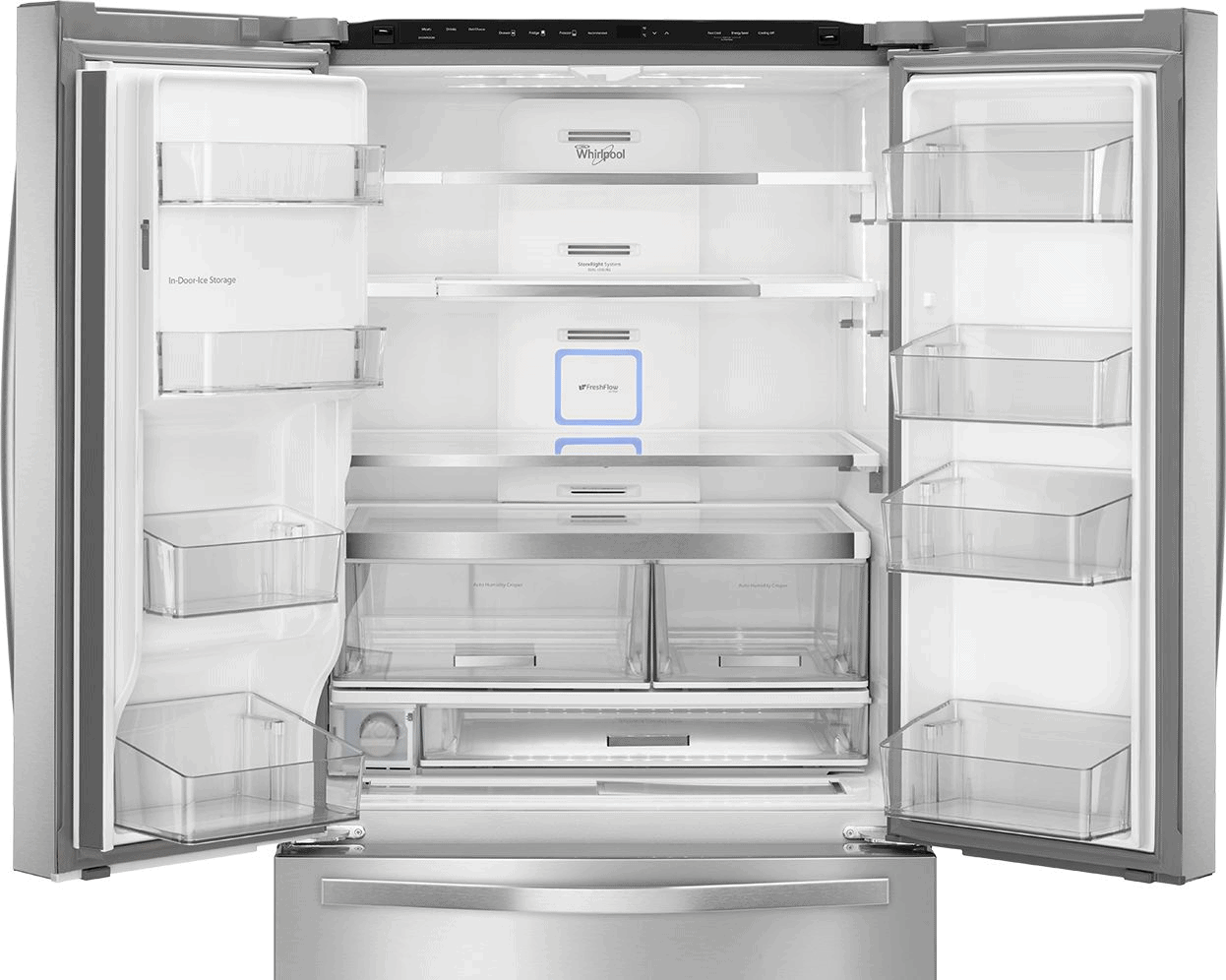 The standard Whirlpool shelving style has frameless glass shelves. Those with frames trap unwanted debris and crumbs. This makes them hard to clean. Whirlpool shelves are spill-proof allowing for easy cleaning of fluids. 
You can only get the best classic deli drawers from a Whirlpool fridge. They enable you to store a lot of cheese and meat. Some of the additional shelves that you can get include:
Can Caddy: A portion of Whirlpool fridges feature an in-door can caddy. Its main purpose is to free up more shelf space to hold either bottles or cans. 

Adjustable Gallon Door Bins: You can place them anywhere in the door to suit your requirements. 
There are some specialty storage shelf features that Whirlpool employs. These features are on pricier models. They include:
Infinity slide shelf: It's an adjustable center pane that can be moved back and forth. 

Platter pocket: Designed to hold wide flat products such as pizza boxes and brownie pans. It keeps your items tucked away and safe from stacking.
LED Lights
All models employ this feature to ensure you can properly see your food. Even though the LEDs don't dim, panoramic lighting provides strong lighting to all parts of your fridge.  
How Should You Clean Your Refrigerator?
The freezer and refrigerator compartments should be cleaned at least once every month. This helps prevent the building up of odors. Ensure you wipe any spills immediately.
Disconnect the appliance from the power source, then remove all the removable parts like crispers and shelves. Hand wash, rinse then dry these parts. Use a clean sponge and warm water to wash the interior. Avoid harsh and abrasive cleaners like scouring cleansers, concentrated detergents, and bleaches.
Other items to avoid while cleaning includes scouring pads and paper towels. They cause scratching that damages the appliance. For the stainless steel models, use a soft sponge to clean and dry the refrigerator.
FAQs
Question: What Are the Main Problems of a Whirlpool Refrigerator?
Answer: The most common problems that you can witness in a Whirlpool fridge are: 
• Failure to defrost
• Water dispenser failing
• The fridge not cooling
• A lot of noise from the refrigerator
Anytime you encounter these problems in your Whirlpool refrigerator, make an appointment online or call the company. Contacting the company's customer support ensures you get the problem fixed without causing any additional damage. If they can't help you to solve the problem, they will send or recommend a certified technician.         
Question: How Long Can a Whirlpool Refrigerator Last?
Answer: A standard one runs up to an average of 17 years. However, the life expectancy of your fridge is dependent on the level of care. You may find some lasting for up to 19 years and others lasting for not more than 10 years.                         
Question: What is the Ideal Temperature Range for a Whirlpool Refrigerator?
Answer: The recommended temperature setting for Whirlpool fridges is 37°F (3°C). However, you might be required to set your temperatures either lower or higher, depending on the foods you store. 
Question: Do Whirlpool Refrigerators Feature a Reset Button?
Answer: Most of the refrigerators don't have a reset button. However, if you notice any problems, contact their customer support. 
Whirlpool Refrigerator Model Guide Bottomline
If there is a company with a huge variety of fridges for any budget, look no further. Whirlpool has got you covered. The numerous customizable storage options vary from 3-doors to 5-doors.  
This brand offers reliable fridges even though they lack smart features (Wi-Fi connection). If you like the traditional, sleek fridges with plenty of storage space, Whirlpool might be your favorite option. Look at the list of our top 5 picks for each category to help you with your purchasing decision.