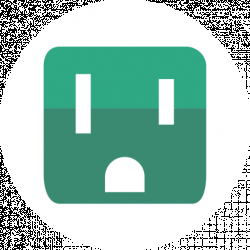 Latest posts by Appliance FAQs Team
(see all)
A simple portable mini-fridge is the best solution for your food and water cooling. However, this can only be a lasting solution if you choose the best mini-fridge model. Just imagine a noisy mini-fridge installed in a cool room at home. This sounds weird, right? Kenmore is one of the best mini-fridge models that are available in the market.
However, before you decide to purchase a mini-fridge, there are factors to consider to make a prudent buying decision. Let us discuss every aspect to the brim.
How To Choose The Right Mini-Fridge
Consider The Place To Put Your Mini-Fridge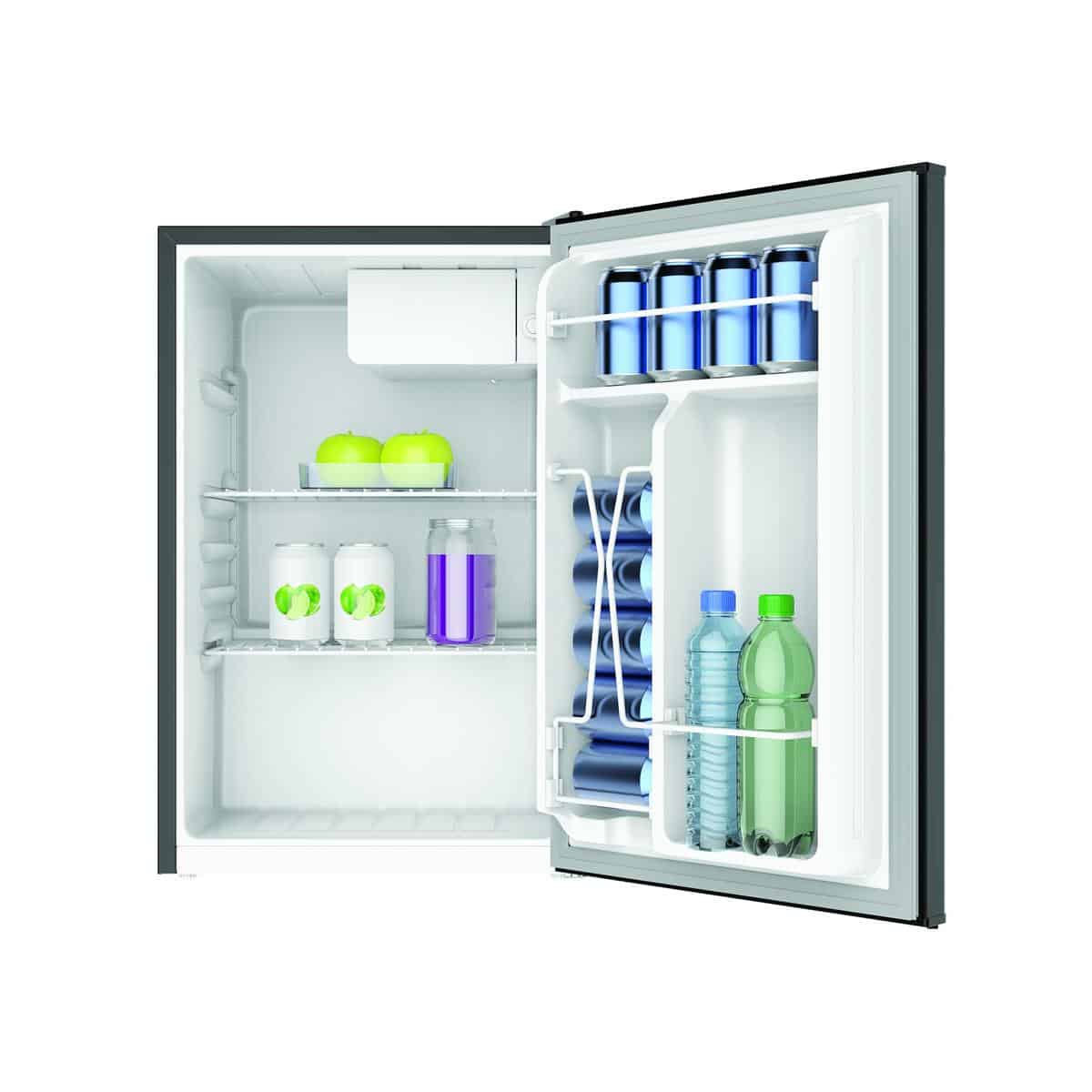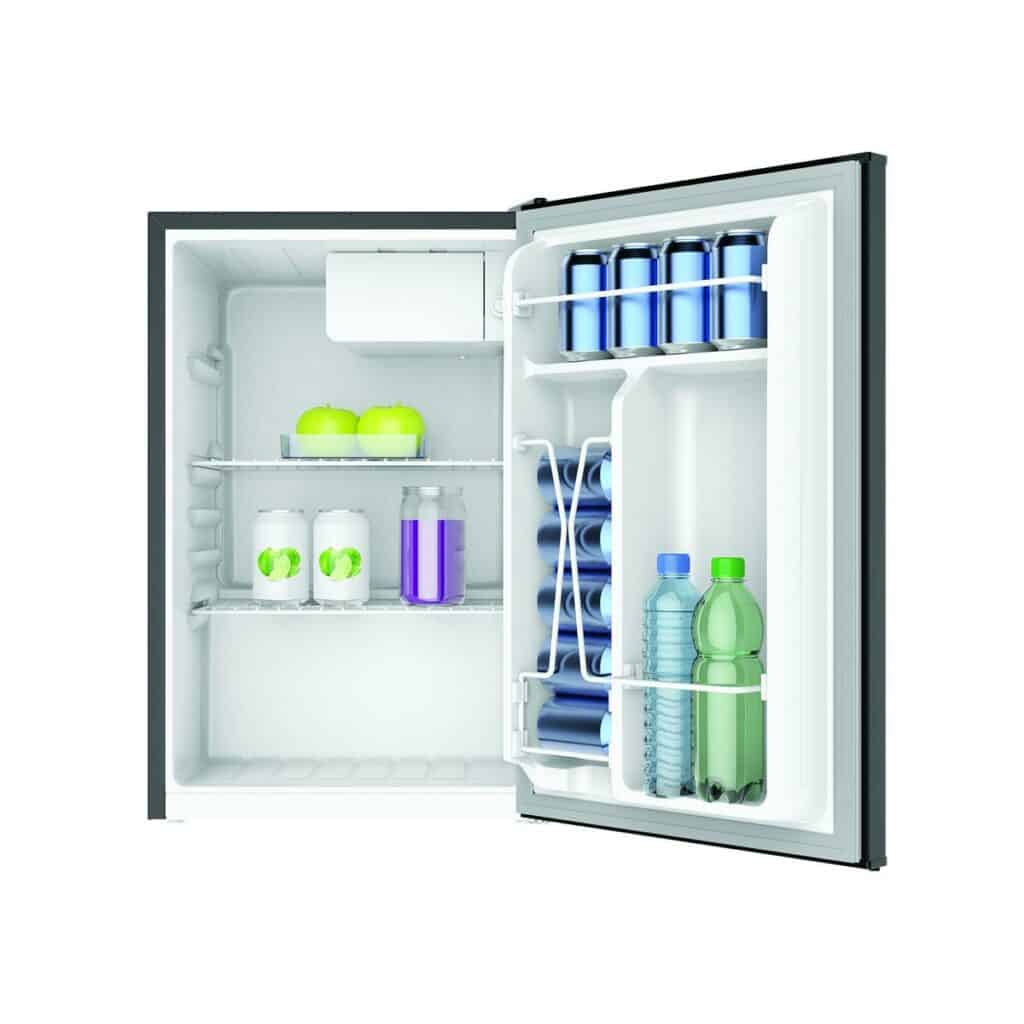 Even though mini-fridges are small, it doesn't mean you go and choose a random place to position the fridge. Begin by deciding a room where you will place your mini-fridge. Note that some mini-fridges have free-standing capabilities and can be placed near pieces of furniture. Also, keep the power outlet in mind since the appliance requires power to run.
Other models can perfectly fit on top of a cupboard, open storage units, and even a desk. This makes it the best option if you intend to use it in different settings, such as carrying it for a holiday trip. If you do not get an outlet, you need not worry as you will be surprised to realize that the mini-fridge has a USB outlet.
Choose the Right Size of Mini-Fridge
You need to mainly focus on the size of the room where you are planning to place the mini-fridge. Specific mini-fridges that primarily concentrate on storing a particular type of drink will automatically tell you the number of units they can fit. Also, remember the cube-shaped mini-fridge is more restrictive. This means that they might be better models when you consider the spacing effect.
The mid-size and the free-standing mini-fridge models are highly flexible. They give enough room for storage, allowing you to store a mixture of drinks and other food. They are also good if you need a fridge for a few essential items.
Evaluate the Types of Drinks and Food You Intend to Store in the Mini-Fridge
It is easy to go for a mini-fridge model that you like most, but you need to remember specific models are more suitable than others. You might realize that various types are only eligible for certain kinds of drinks than others; for example, some mini-fridge models are only designed to fit cans.
The models might carry as low as six cans, while others are bigger due to multiple shelves. These models will work for you better if you want to use them for soft drinks.  Other models have three shelves that are mainly designed to hold beer bottles. This makes them the best option for home bars.
If you prefer to use a mini-fridge for wine bottles, look for deeper models with a horizontal storage mechanism. If you have the intensions to store different types of wines, go for a model with a temperature regulating system. If you need a mini-fridge for both drinks and food, go for those with two or more compartments with extra storage on the door side.  This will give you room to fit items in different shapes.
Consider the Type of Cooling System
There are many mini-fridges available in the market with different appealing designs and shapes. Even though you might choose a particular design that entices you, the cooling system is usually the last factor that determines whether you will buy the mini-fridge or not. Note that the cooling system will determine the amount of money you will be paying for electricity bills.
Some mini-fridges use the Compressor Cooling System, which is considered a traditional cooling system. It features a vaporized liquid kept cold by a fan that constantly moves through the inners coils. Even though this cooling system is mainly used in large refrigerators, it is also used in certain mini-fridges.
It generates a low humming sound that brings some noise in a room. If you find the noise more destructive, you can consider placing the mini-fridge in a room where total silence is not required, such as a home bar or kitchen. Since this cooling system is excellent for temperature regulation, you can choose it whenever you want to buy a mini-fridge for wines and beer.
The absorption cooling system is another cooling mechanism that primarily relies on heat compared to the motor.  This is the most silent mini-fridge; hence it can be used in places where you need total silence. However, even though this cooling system is exceptional, it consumes a lot of energy, thus increasing electricity bills.
The Thermoelectric cooling system is another cooling system option used in most mini-fridges. This is a quiet and cheaper cooling system, although it does not last long. Also, it does not have any temperature control features. This cooling mechanism is mainly considered a temporary solution for mini-fridges primarily used in the dorm rooms.
Extra Features
You might require a mini-fridge, although not for a home setting. This means that you have to go for some extra features when you intend to use the mini-fridge in places such as a dorm setting. In such areas, you require a freezer to store meals that will serve you for a long time.
Besides, choosing a fridge that has removable shelves is advantageous since cleaning becomes more effortless. Also, it gives you room to rearrange the items and store them in the required order. Suppose you have kids who run up and down put your mini-fridge in danger. This means you have to go for a mini-fridge with lockable doors.
The Best Recommended Kenmore Mini-Fridge Options
Kenmore is a trusted mini-fridge brand that produces lasting designs of mini-fridges. These mini-fridge options are durable and guarantee quality work.
They come with advanced features that extend their functionality. Cost is another vital aspect that makes the Kenmore mini-fridge brand stand out. You can easily acquire a high-quality Kenmore mini-fridge at a pocket-friendly price. Let's dive in and discuss some of the best Kenmore mini-fridge options available in the market!
Kenmore 99053 4.5 Cu. Ft Compact Refrigerator- Silver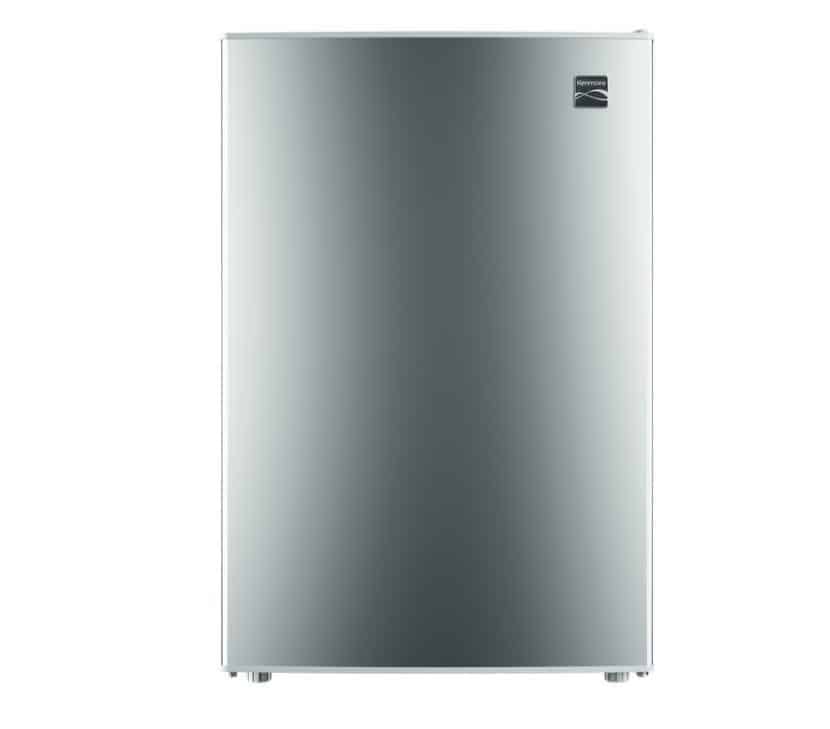 This is the ideal refrigerator model suitable for tiny kitchens.  It can also work well in offices, dorm rooms, and other small spaces—the Kenmore 4.5 Cu. Ft compact model refrigerator keeps food fresh for a long time. It features a couple of compartments that are meant to enhance cooling.  It comes with a sleek design that matches most of the appliances in the kitchen.
It has enough space for storing your favorite beverages. Inside the cooling compartments, the temperature is lower than in other places, thus cooling food for the shortest time possible.  It comes with a manual temperature controller that enables you to change the temperature according to the items inside. It retails at $159.99.
Pros
It has a stylish design that suits your kitchen appliances.
 It can perfectly fit in small places.
 It consumes very little power.
It is not noisy.
It is affordable.
Cons
The freezer occupies a large space.
Kenmore 99029 2.5 Cu. Ft. Compact Refrigerator- Black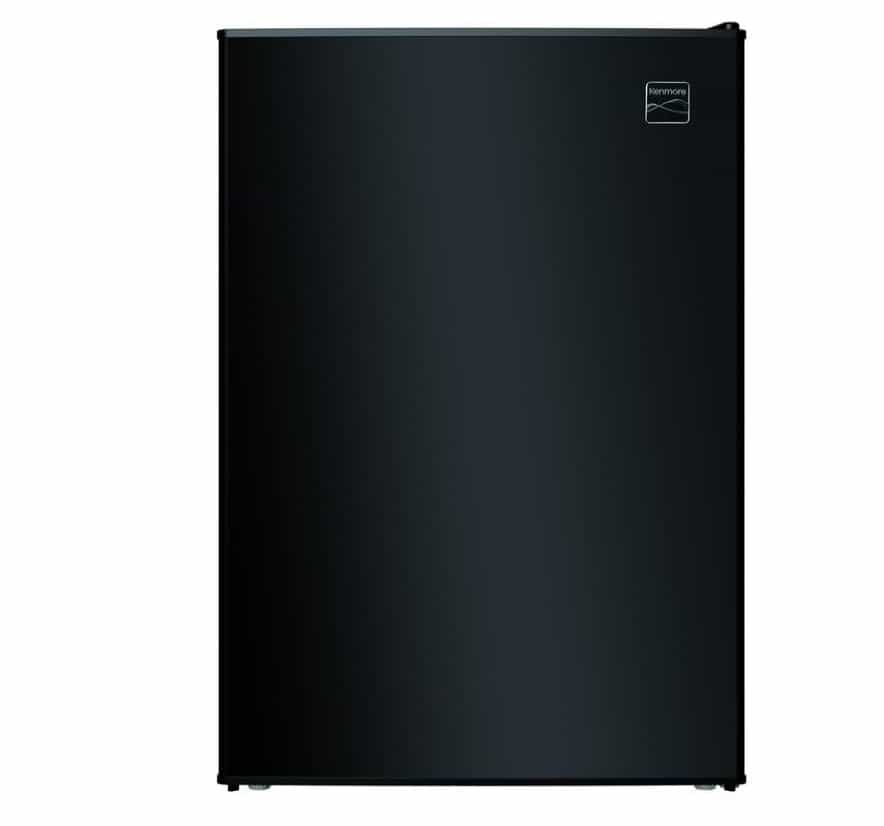 This Kenmore mini-fridge brand is also perfect for kitchens with tight spaces. It has well-furnished interior features that give you room to keep your food fresh for a long time. The mini-fridge has separate compartments that facilitate easy cooling of food. It has enough space in the compartments where you can place your items in good order.
The Kenmore 2.5 Cu. Ft. compact refrigerator comes with a thermostat that regulates temperature levels.  It has a simple and stylish design that is easy to clean and matches the kitchen countertops, among other items within the kitchen section.  It produces very low noise making it convenient in places where silence is a priority. This refrigerator https://appliancefaqs.com/ge-refrigerator/model goes for $99.88.
Pros
Suitable for kitchens with smaller spaces.
It has a beautiful design that completes your kitchen design.
Not noisy.
It has adjustable shelves.
It is affordable.
Cons
It consumes a lot of energy.
Kenmore 99083 4.4 Cu. Ft. Compact Refrigerator – Silver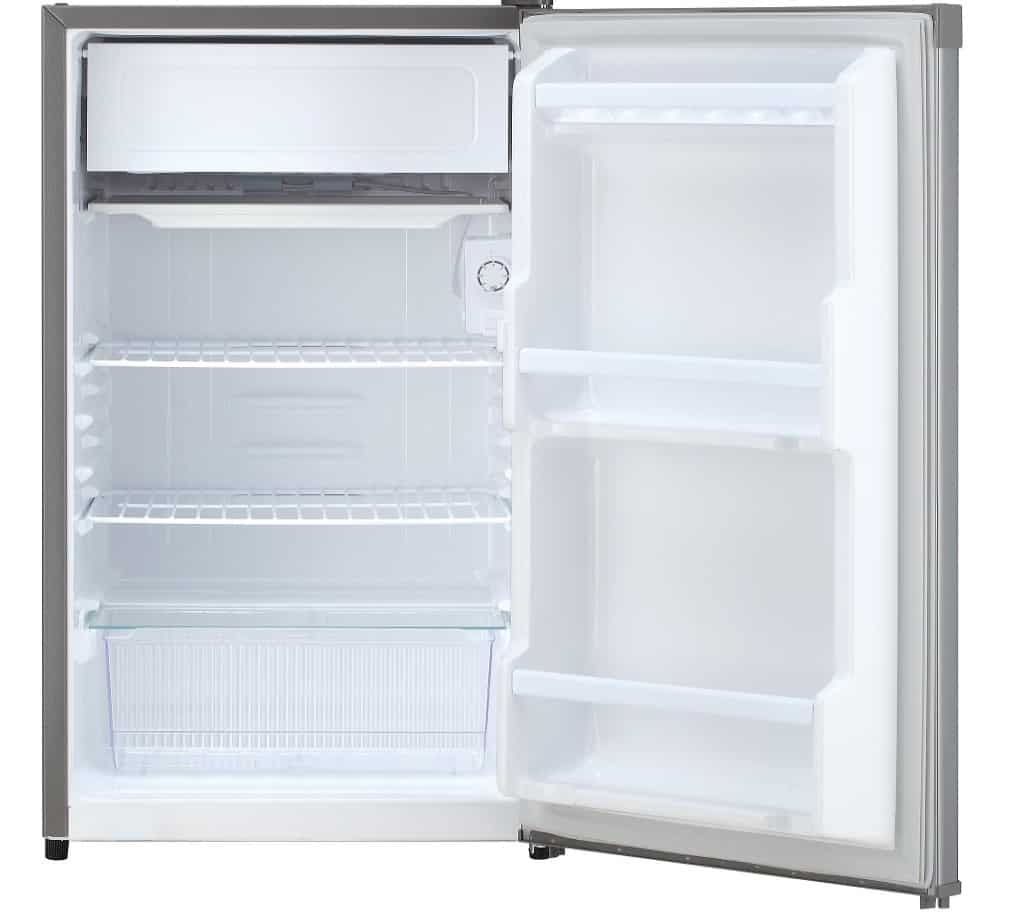 This model gives enough space to store drinks and snacks, and its small size makes it the best option in kitchens with small spaces.  It also has about three adjustable shelves made from glass. The drawers located on the lower end of the mini-fridge are suitable for storing fruits and vegetables.  It also has a can dispenser and a bottle holder at the door that creates more space.
This Kenmore mini-fridge has a flush design that fits the limited space inside your countertops. The freezer has enough space for holding frozen food for convenience. It also has an effortless switch that adjusts temperature depending on your requirements. The refrigerator goes at an estimated price of $179.88.
Pros
It consumes less energy.
It has abundant storage space.
It has adjustable shelves made from glass.
It is perfect for kitchens with small spaces.
It has an effortless temperature adjuster.
It is affordable.
Cons
Kenmore 99012 1.7 Cu. Ft. Compact Refr8igerator – White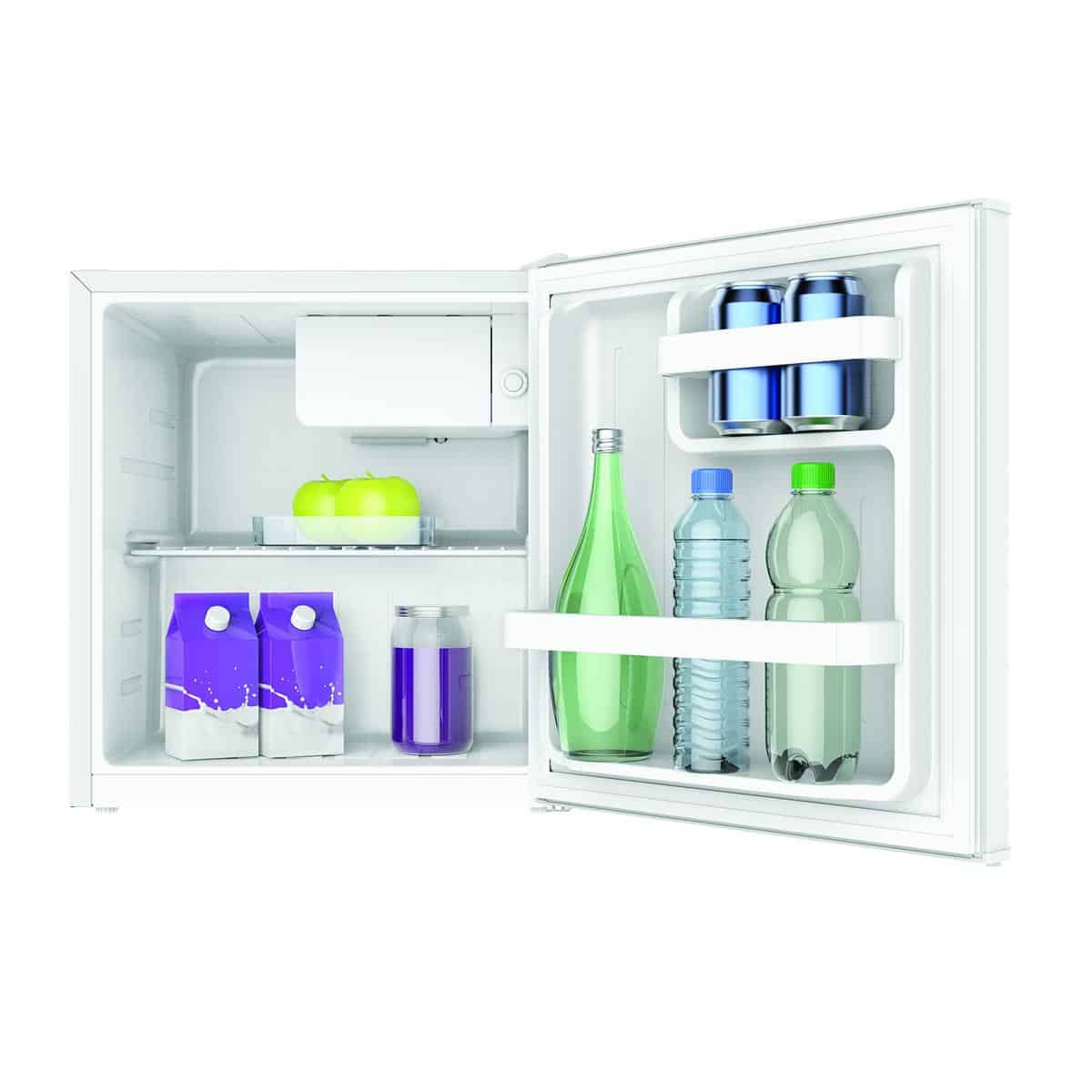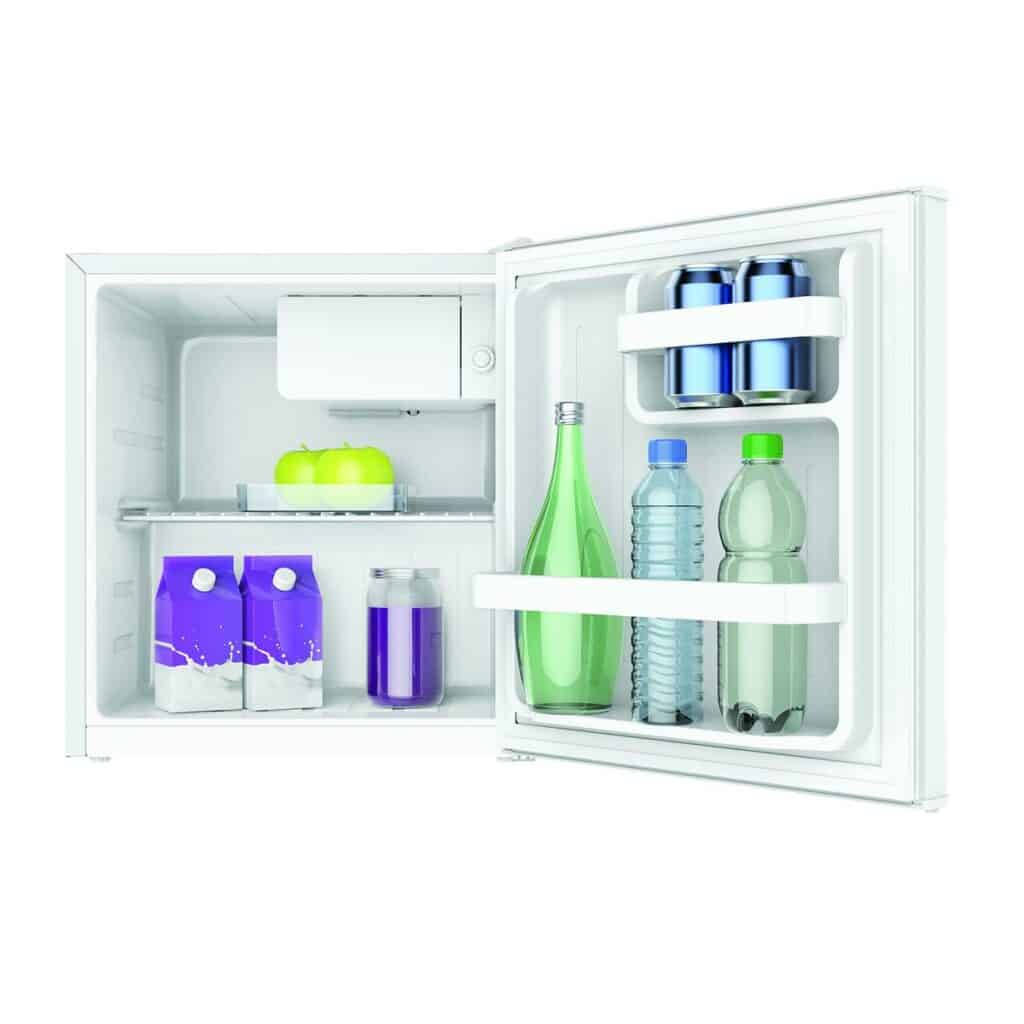 The 99012 Kenmore model is a user-friendly mini refrigerator with an effortless temperature adjustment knob.  It has a low noise compressor that ensures it does not disturb you with unnecessary noise produced by the cooler.  The mini-fridge has an excellent design with a classy finish that makes it easy to clean.
It has adjustable shelves with enough space inside the freezer section that keeps food fresh. There is enough space on the lower end that is suitable for storing vegetables and fruits.  Its compact design is suited to fit in tight spaces. It goes at $116.99.
Pros
It has a compact design.
It is affordable.
Less noisy.
Adjustable shelves.
Cons
The freezer occupies a vast space.
Kenmore 99042 3.1 Cu. Ft. Compact Refrigerator – White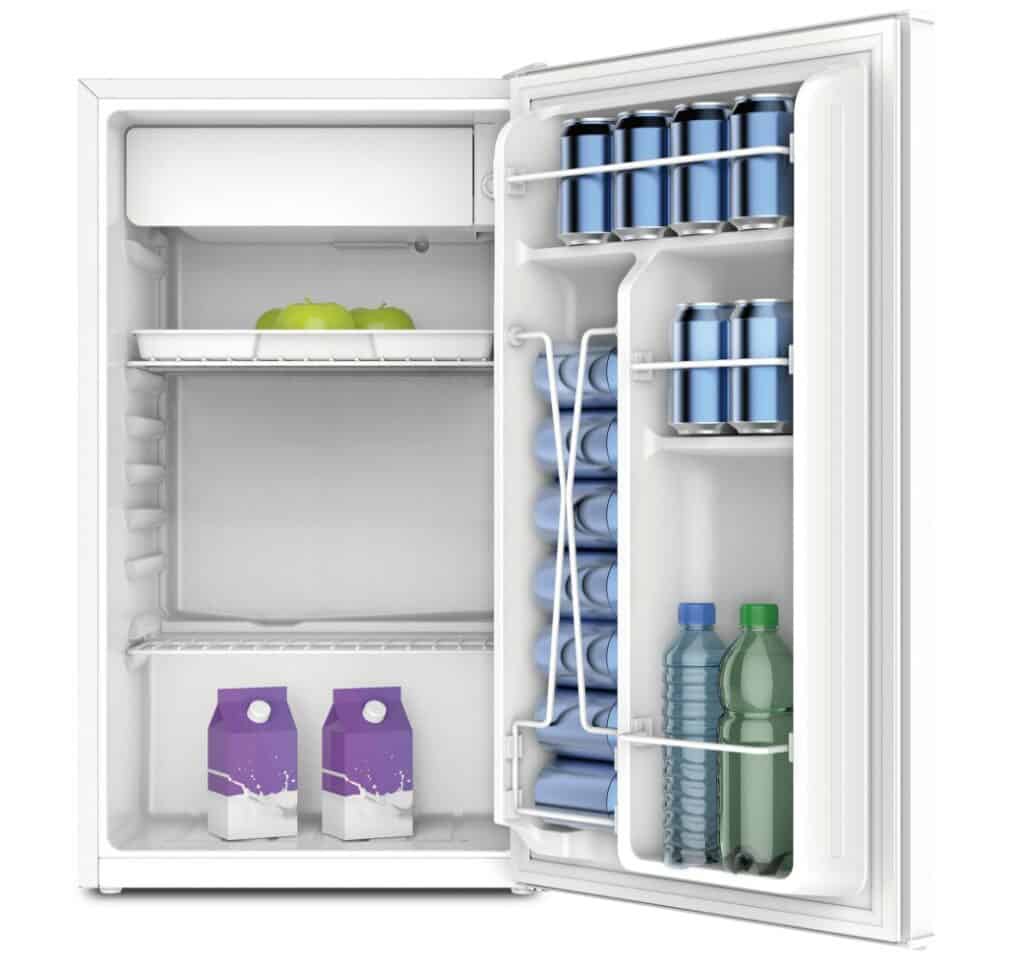 Are you looking for a mini-fridge that can fit inside your tiny kitchen? Kenmore 99042 3.1 is the best option that suits your needs. It comes with a compact design that can fit well in your kitchen countertops. The cooling compartment has a lower temperature compared to other sections of the mini-fridge.  This mini-fridge model goes at $119.88.
Pros
It has enough storage space.
It has a compact design.
It comes with a simple temperature controller.
Less noisy.
It consumes less power.
Cons
The freezer occupies an ample space.
It is not easily found.
FAQs
Question: What are the qualities of a good mini-fridge?
Answer: A good mini-fridge should have adjustable shelves that are tempered with glass. It should also have an energy star compliance that guarantees energy efficiency. The counter-depth is also another significant aspect that you need to consider before you purchase a mini-fridge.
Question: Which is better between a top and a bottom freezer?
Answer: Top freezers are energy efficient compared to the bottom freezer. Note that the bottom freezer is located near the compressor forcing it to work harder to keep cool. The top freezer allows the compressor to keep out heat with less struggle. This makes the mini-fridge with top freezers exceptional compared to the others.
Question: Is 1 or 5 Colder on a mini-fridge?
Answer: Note that the numbers indicated on the fridge's temperature switch indicates maximum cooling of the mini-fridge. As the numbers increases, also the cooling decreases. This means that one is colder compared to five.
Question: What should I have my mini-fridge set to?
Answer: Typically, the dial of a mini-fridge ranges between 1 and 7. In this case, one is colder than seven. To be on the safe side, you should set your mini-fridge between 3 and 4. This is because this trend keeps food fresh for a long time.
Best Kenmore Mini Fridge Options: The Bottom Line

The factors outlined in this article give you a clear glimpse of what you need to know about Kenmore mini-fridge options. With this guide, you will be able to get the best Kenmore mini-fridge for your family, with no hassles. It will make the process easier for you and less daunting than before.
Among the outlined mini-fridge options, Kenmore 99012 1.7 Cu. Ft. Compact refrigerator is the ideal model to serve you better. This is due to its highly advanced features, affordability, and classy finish that give you and your family an exceptional experience that you will appreciate. Try it out, and let us know how it goes! Happy shopping!