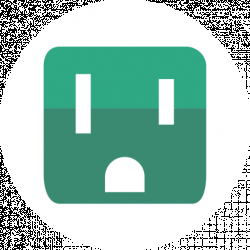 Latest posts by Appliance FAQs Team
(see all)
Buying a fridge is one of the best decisions that one can ever make. Apart from the fridge being a centerpiece in the appliances found in the kitchen, it is considered a gathering place whenever you think of preparing a family meal. The matter of fact is that you will always rely on it to ensure that your food remains fresh.
Have you ever thought of purchasing a mini-fridge? If yes, then let's start here!
Frigidaire is one of the most popular mini fridge brands available on the market. However, there are multiple Frigidaire mini fridge retro options in the market. This means you have tons of mini fridge options to choose from. This may worry you, but there is nothing to be scared of, as we will be there for you every step of the way.
When it comes to making a buying decision, you need to evaluate your option from different perspectives. Even though Frigidaire mini-fridges are known for their exceptional functionality, there are specific factors that you need to consider. Let's dive in and shed more light on what you should consider before making a final decision.
Factors to Consider Before Choosing Frigidaire Mini Fridge Retro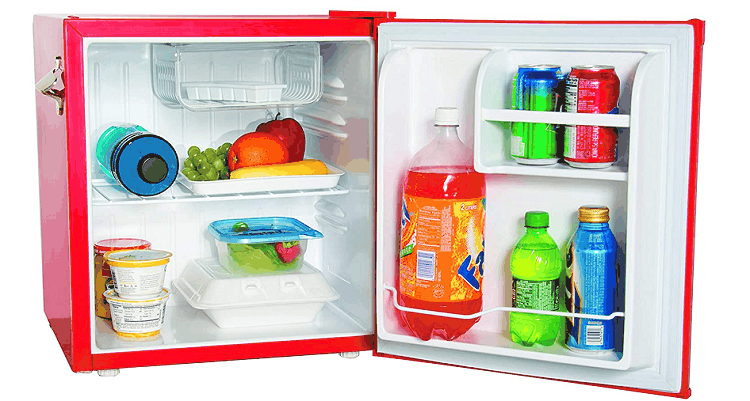 Consider a Mini Fridge with a Freezer Mounted on Top
Mini fridges come with different designs and appearances. Some plans come with the freezer mounted on top, while others are located on the lower end.  Note that a mini-fridge with the freezer mounted on top consumes less energy than that with a freezer on the lower side.
Even though most Frigidaire mini fridge uses less energy, the designs with freezer on the upper sides consume very little energy. This will save you from increased energy bills in the long run. By purchasing a mini-fridge with a freezer mounted at the top, you are likely to save more than $200 on electricity bills.
Prioritize The Most Important Features To You
Everyone knows what they want to use a mini-fridge for. Always think about the essential features that you intend to use from time to time. This will help you to only pay for what you want to use in the long run. Also, remember that different mini-fridge options have varying features calling for a prudent purchase decision.
The Energy Star Rating
Note that the energy star is only indicated on appliances that consume less energy. Remember that the mini-fridge option is likely to affect your financial plans regarding energy bills or favor you. Apart from the heating and cooling appliances installed at home, a fridge is the second-largest energy consumer.
By choosing a mini-fridge retro option with an energy star, you will have saved a lot of money on energy bills. Besides, most mini-fridge options that have an energy star are reliable and long-lasting.
Size
You might get the best mini fridge option that fits all your requirements, but the size matters a lot since you might end up leaving it. In most cases, people place mini-fridges between countertops while others place them on top of the counter. Consider looking at the depth of the mini-fridge and its door swing. This will give you a clear picture of the size that fits you.
Finish
As the technology sector continues to advance, the finish option for mini-fridges continues to change. However, stainless steel is the most common and reliable type of finish.
This type of finish is resistant to fingerprints and easy to clean.  There are also bronze and black stainless finishes available. Despite having tons of finishes to choose from, you should go for the one that matches your kitchen appliances.
Cost
Cost is always an immediate priority whenever you intend to purchase any product; You don't need to dig deep into your savings to acquire a mini-fridge. You need to have a flexible budget that will not affect your financial status in a significant way. Besides, the cost of the mini-fridge you opt for determines the quality and durability of the appliance.
The Best Recommended Frigidaire Mini Fridge Retro Options
Frigidaire mini fridge retro options continue to dominate the world due to the excellent customer reviews from individuals across the globe. Most of the people who have purchased this mini fridge model say that they are reliable and lasting. Also, the cost is another primary reason why Frigidaire mini-fridges are the most recommended in the market.
The below listed are the most reliable and recommended options of Frigidaire mini fridge retro, based on positive customer reviews and their high durability that will serve you for many years.
Frigidaire Retro Mini Compact Beverage Refrigerator – EFMIS129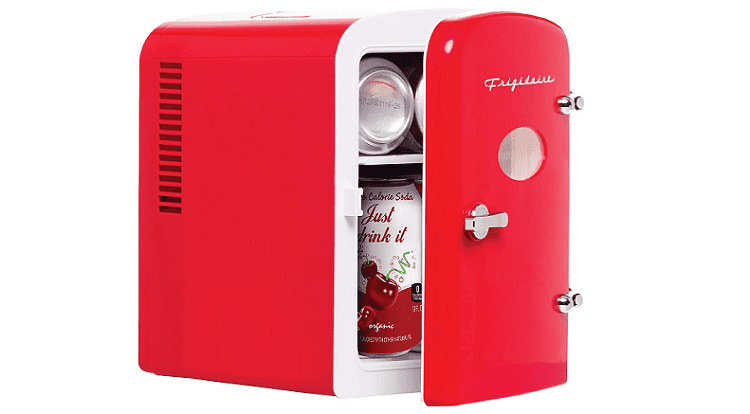 This is a stylish mini fridge model that features a beautiful transparent glass located on the door. It adds a practical and elegant design to your kitchen and your home in general. The mini-fridge is designed in a manner that it can work with any décor, be it ultra-modern or traditional. It is compact and spacious, offering enough space that can hold up to twelve cans of beverages.
It has a flat back and is small in size, allowing you to place it anywhere at home. Due to its small size, EFMIS129 is portable, making it easy to carry it from one place to another. The mini-fridge is fully insulated with reliable door hinges and a carrying handle. It is good for all environments and has enough space to keep your snacks.
This Frigidaire Retro mini fridge is energy-efficient, thus saving you from paying extra cash in electricity bills. It can also run when connected to a 12v car adapter while traveling. The mini-fridge comes with a manual thermostat that allows you to adjust temperature settings when necessary. It goes at an estimated price of $39.99.
Pros
It has an elegant design that enhances the beauty of your kitchen.
It is portable.
It is energy efficient.
It is affordable.
It is spacious.
It can fit in small spaces.
Cons
Frigidaire Portable Retro 12-Can Mini Fridge EFMIS462
This mini fridge model comes with thermoelectric technology that makes it easy to cool with only a flick of a switch. It is spacious enough to accommodate a maximum of nine liters or twelve cans. Note that this storage space can hold anything bottled be it, water bottles, soda cans, and even snacks.
The mini-fridge is compact in size and Portable. You can easily carry it around when traveling from one place to another. It is considered the most reliable and healthy option when it comes to the storage of fast foods. It can perfectly fit in a small office space making it the best option. The cooler does not produce noise, thus a good option for places that requires silence.
The interior part is easy to clean with a fully insulated finish. The doors are lockable, especially when you intend to travel for a long distance. The mini-fridge goes at $69.95.
Pros
It is not noisy
Portable.
Energy-efficient.
It has an insulated finish.
It is relatively cheap.
The doors are lockable.
It fits in tight spaces.
Cons
Frigidaire 3.2 Cu. ft. Single Door Retro Compact Refrigerator EFR372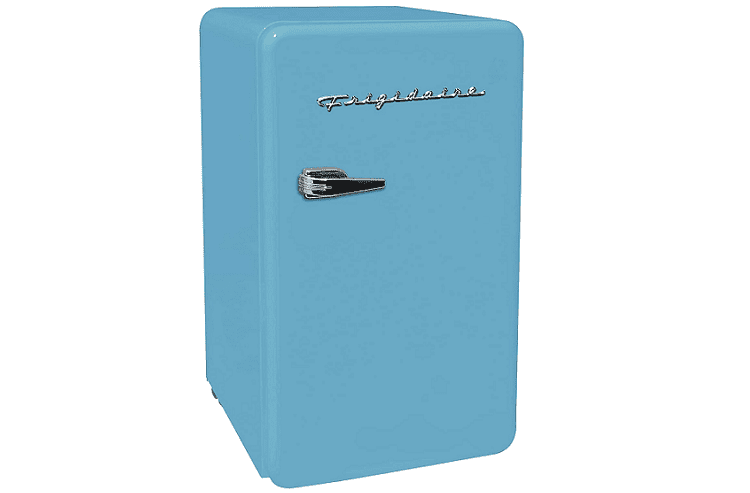 The EFR372 Frigidaire retro mini fridge gives you enough space to keep both your foodstuffs and drinks. The door offers a large basket that gives you enough room to keep two-liter bottles of water. The mini-fridge consumes fewer amounts of power, making it the best option to be used in the office or any other extra room apart from the kitchen.
In addition, the mini-fridge has an ice cube tray that makes it easy for you to make ice any time you want. The inside shelves are adjustable, giving you room to customize the interior part of the mini-fridge according to your requirements. Its small size allows it to fit in small spaces and even on the top of countertops.
The exterior part has a stainless steel finish with a beautiful design that makes cleaning simple. Besides, the finish gives the mini-fridge a sophisticated appearance that completes the beauty of your surroundings. The 3.2 Cu. Ft. gives you enough space to keep your food fresh for a long time. The mini-fridge is sold at $343.65.
Pros
It has flexible shelves.
Energy-efficient.
It is portable.
It can perfectly fit in tight spaces.
It has a reversible door with a spacious basket.
Cons
It is relatively expensive.
Frigidaire 1.6 Cu Ft. Retro Compact Refrigerator EFR176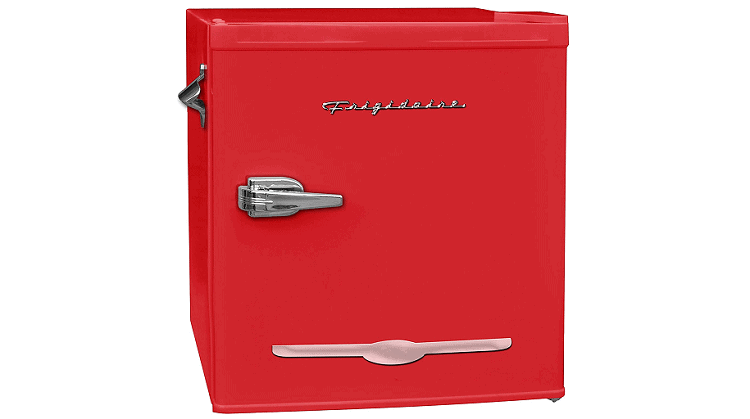 This Frigidaire mini fridge model features an in-built side bottle opener with enough space to keep your favorite foods and drinks. The in-built bottle opener makes bottle opening a breeze on its own. The interior part consists of adjustable wire shelves that enable you to customize the existing storage space in any manner.
The outer part is covered with a stainless steel finish that makes cleaning an easy task. The door is reversible with enough space that can hold a couple of water bottles or cans.
The door compartments shelves allow the storage of cans and bottles easily and in an orderly manner. The appliance consumes less energy and is suitable for other rooms rather than the kitchen; this mini fridge model is widely available at an estimated $206.00.
Pros
It can fit in compact spaces.
The wire shelves are adjustable.
It consumes less energy.
Enough space for storage of foods and drinks
Widely available.
It does not produce noise.
Cons
Frigidaire Portable Retro 6-Can Mini Fridge EFMIS151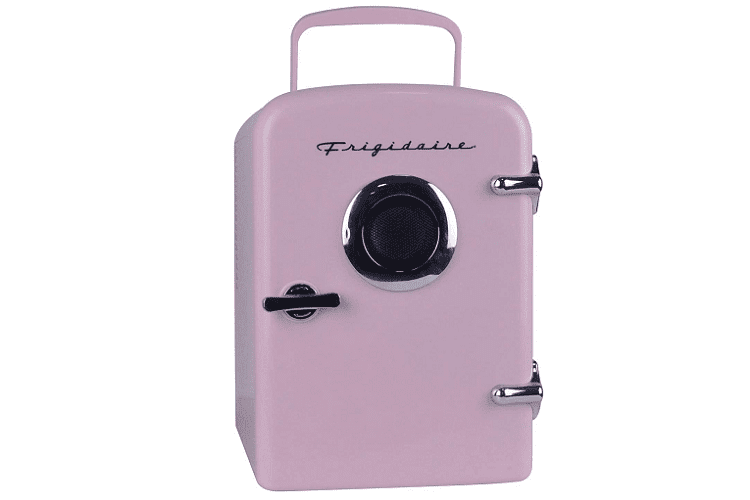 Are you in search of a mini-fridge with more advanced technology features? This model fits your requirements! The mini-fridge showcases a unique vintage design that adds decorations to the house. Inside the mini-fridge, there is enough space that can accommodate up to six standard cans.
The door is locked with a closing latch and a transparent window that enables you to see whatever is inside. It has a low noise cooler that ensures the interior temperature is cool depending on the user's requirements. The mini-fridge comes with a pair of Bluetooth speakers that allows listening to music.
Its compact size makes this model the best option for drivers, offices, cubicles, among other places. You can easily get this mini fridge model for $60.22.
Pros
It is affordable.
Portable.
It is energy-efficient.
It has an elegant design.
It has a stainless steel finish.
Cons
The cooler breaks down easily.
FAQs
Question: How Cold Does Frigidaire Retro Mini Fridge Get?
Answer: This entirely depends on the thermoelectric cooling system of the appliance. However, the cooling capacity ranges between twenty-seven and thirty-six degrees. At some point, this goes below the ambient room temperature.
Question: What is the Coldest Setting on a Frigidaire Retro Mini-Fridge?
Answer: The temperature dial for a mini-fridge ranges between one and seven. Note that one is the coldest setting, and seven is the warmest setting of the appliance.
Question: What Causes a Frigidaire Retro Mini Fridge to Stop Cooling?
Answer: It is likely to be caused by a series of issues located inside the sealed system.  These include a failed evaporator, compressor, thermostat, the condenser fan motor, among other things. Sometimes you might realize that the issue might range from the drier filter to the evaporating coils. In case of such technicalities, you need to invite a technician to help you sort out the problem.
Question: How do You Check if the Frigidaire Mini Fridge Compressor Has a Problem?
Answer: The simplest way to detect the compressor's problem is to pool the mini-fridge closer to you and listen keenly. When you hear the motor operating with a slow humming sound, yet the temperature is running above its normal range, the compressor must have a problem.
Question: What should be the immediate thing to check if a mini-fridge stops working?
Answer: When the appliance shuts down abruptly, one of the major causes could be that it is not getting a sufficient power supply. It would be best if you start by checking your power outlet and the circuit breakers first.
Best Frigidaire Mini Fridge Retro Options: Conclusion
There are multiple Frigidaire mini fridge retro options in the market. However, it is upon you to make a sensible decision and choose the one that fits all your needs. Having a clear understanding of what is necessary when selecting a mini-fridge makes your work easy.
Among the listed Frigidaire mini fridge retro options above, Frigidaire 3.2 Cu ft. Single door EFR372 is the most recommended. This is due to its functionality capabilities among the advanced features that accompany it. Try it today, and let us know how it goes.