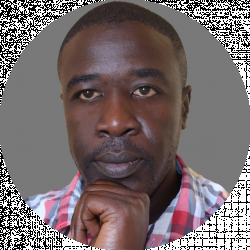 Latest posts by Barry Juma
(see all)
Haier, a Chinese-made brand, isn't as popular in the western market as, say, Samsung or LG, but it's definitely a brand to consider for your next refrigerator. Back in China, Haier is one of the most valuable brands, proof of its popularity and the company's competence in making excellent appliances.
And compared to other brands, their prices are affordable; Haier's most expensive refrigerator – a French door model – costs just over $2000. The same would cost well over $3000 if you go for a different brand. 
Price issues aside (for now) I'm sure you're wondering which Haier refrigerator model is best for you. In this guide, we'll help to shed some light on this brand. So keep reading to learn more.
Are Haier Refrigerators Good?
I know, most Chinese brands get a bad rap for being of poor quality. But not Haier. This company has risen above the narrative to establish itself as a reliable brand on the global stage. As we mentioned above, Haier refrigerators aren't as popular in the US as they are in Asia, so there aren't many reviews that objectively rate them. 
From our research, however, we found that over 70% of customer reviews of Haier refrigerators on Home Depot, Best Buy, and Amazon are five-star ratings. Most buyers rave about the beauty of Haier refrigerators, which come in several colors. The company's most popular model is the French-door type. 
Main Features of Haier Refrigerators (And What to Consider)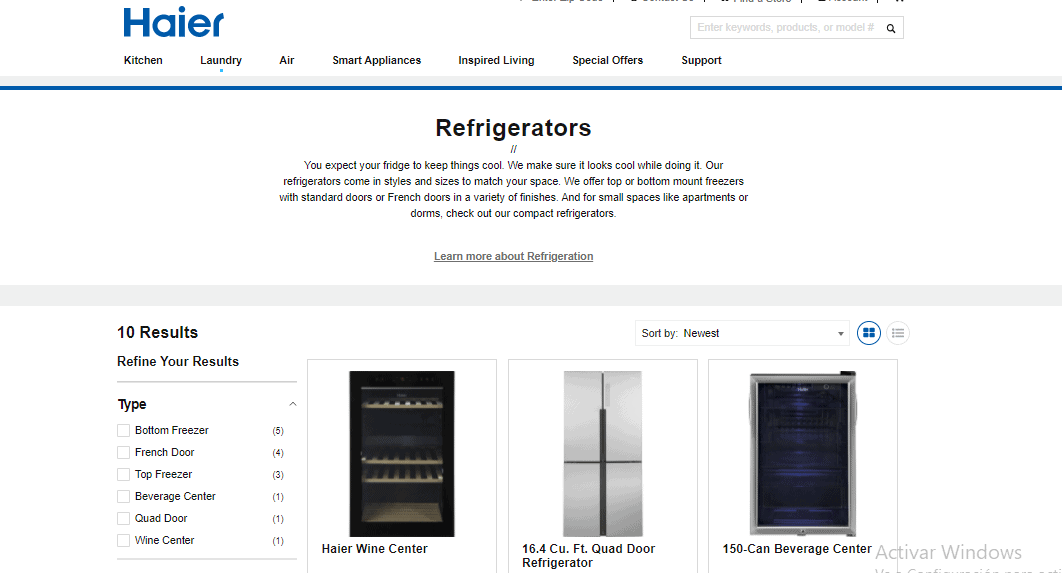 Price of Haier Refrigerators
Haier has just 10 refrigerator models in their US/Canada lineup, but if you're in Europe, you'll get more to choose from. On average, Haier refrigerators cost about $1300. The lowest-priced model costs just over $600. This one is a simple top-freezer model with no bells and whistles. 
If you're looking for a large-capacity refrigerator, then you'll spend from about $1200. The most expensive Haier refrigerator costs $2300. At this price point, you'll get a large-capacity French-door refrigerator with features like a water dispenser and icemaker. 
Sadly, you don't get WiFi connectivity as standard in any of their models. For this, you'll have to buy a separate module that costs about $50. 
Capacity
Consider how much refrigerator and freezer space you need to avoid buying one that's too big or too small for your needs. Haier has compact, medium, and extra-large refrigerator capacities.
The smallest refrigerator sold by Haier (that isn't a wine refrigerator) has a total capacity of 9.8 cubic feet. In this model, the freezer's capacity is 2.42 cubic feet and the refrigerator's capacity is 7.39 cubic feet. 
The company's medium-sized refrigerators have a capacity of between 16 cubic feet and 19 cubic feet. If you want a large one, Haier's offerings have above 25 cubic feet. 
Think about which compartment you'll need more; fridge or freezer. For instance, if you need more freezer space than a refrigerator, then consider one of their bottom freezer models or even a French-door one. 
Size
The refrigerator's size is an important consideration, to ensure you have enough room for it in your kitchen. Think about your available refrigerator space's measurements and get a model that will fit. If you're thinking about a larger model, then factor in the cost of redesigning your kitchen. Add about an extra half an inch on the sides and the top of the refrigerator as ventilation, when measuring the available space. 
Haier's refrigerators have a height of between 59 inches and 71 inches. The widths range from 23 inches to 36 inches, and the depths are from 26 inches to 34 inches. 
Refrigerator designs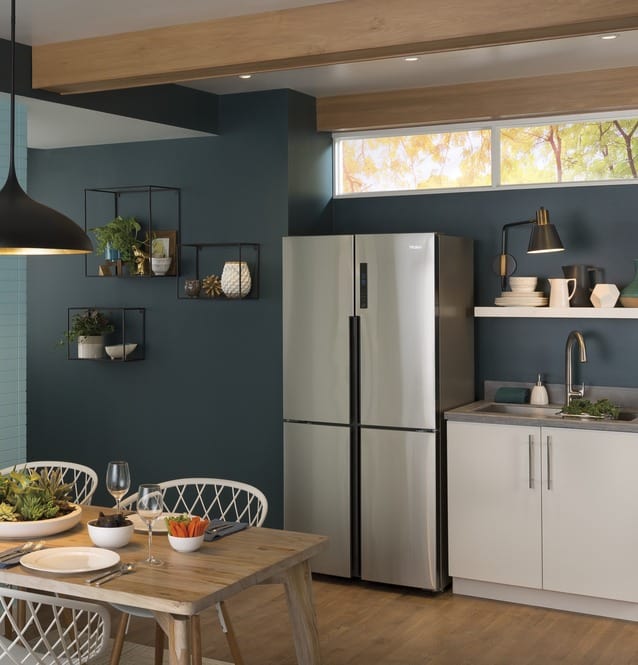 Haier's refrigerators are beautiful appliances that come in different colors and designs. Other than the type of refrigerator (which we'll look at later in this article) consider things like the color and finish. Haier has five finishes across its lineup: stainless steel, black stainless steel, black, white, and fingerprint-resistant stainless steel. 
The lower-priced Haier refrigerator models offer three color options: black, white, and stainless steel. The stainless steel models are more expensive than the other finishes. 
Haier's most expensive model gives you a choice between black stainless steel and regular stainless steel. The company only sells three models with a fingerprint-resistant stainless steel finish, and there's one model (this one) with an option of fingerprint-resistant black stainless steel. 
Also, consider whether you want a counter-depth or a standard-depth design. Counter-depth refrigerators are almost the same depth as your kitchen counters. These are usually between 24 and 30 inches in depth but are wider than standard-depth models. These refrigerators are for you if you prefer a built-in look. 
Factory-Installed Icemaker and Internal Water Dispenser
Among Haier's refrigerator models, there are two that come with factory-installed icemakers. If this is a feature that you're interested in, you will have to spend at least $2200 on this model or $2300 on this one.
These models also have an internal water dispenser behind the refrigerator door, on the inside. Sadly, Haier has limited these two features to just their high-end models. 
Energy Efficiency
Not all Haier refrigerators are Energy Star certified. In fact, only these four models have the certification. However, this doesn't mean that the others are energy guzzlers. Indeed, certification by the US government agency – Energy Star – is a mark of approval and an easy way of identifying energy-efficient appliances.
However, in the absence of such a certification, you'll need to dig a little deeper and take a look at the yellow Energy Guide label on the appliance. This reveals the annual energy consumption of appliances and shows an estimation of the yearly energy cost. 
To use an example of this 15.3-cubic-foot Haier refrigerator: this model isn't Energy Star certified. Its Energy Guide label shows that the refrigerator is expected to use about 486 kWh per year. 
Energy Star's website has listed all certified appliances, so for the purposes of this example, we'll pull up their list of energy-efficient refrigerators. This Miele model with a capacity of about 15.5 cubic feet has earned the certification and it uses about 517 kWh/yr.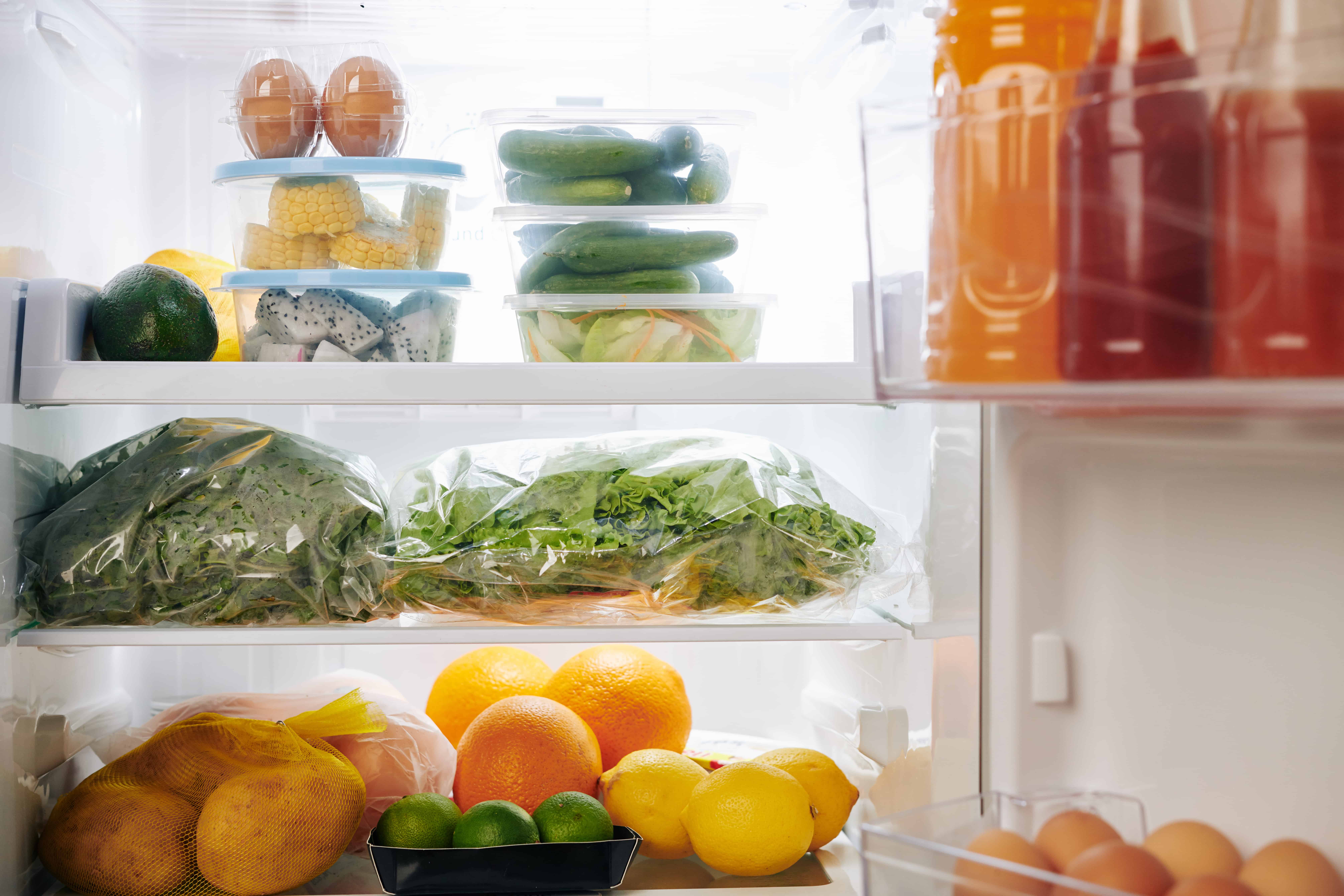 So, Haier's models are still within Energy Star's confines of energy-efficient refrigerators despite some of them lacking the certification. When shopping around, take some time to check the Energy Guide label and compare the annual energy consumption to those on the Energy Star website. Haier has made this available on their website for each of their refrigerator models.
Sabbath Mode Functionality
In keeping with the requirements of religions like Judaism, Haier included Sabbath Mode in some of their refrigerators. During Sabbath, followers of these religions are restricted from cooking food or using appliances in certain ways. However, the workaround is to set timers on appliances the previous day for them to automatically turn on and off on the Sabbath.  
Sabbath Mode deactivates the refrigerator lights and disables temperature adjustment and other functions. This allows you to continue using your refrigerator without flouting any religious prohibitions.
Storage
Haier's refrigerators offer several storage options for different foods as well as container sizes. 
Adjustable shelves
First, there are adjustable shelves in all the company's models. These offer a degree of versatility, allowing you to store containers of different sizes.
Quick-space shelf
Some models also have what Haier calls a quick-space shelf. This shelf is easy to slide out if you need to create extra room for taller containers. 
Deli drawer and crisper drawer
Models with the deli drawer offer a full-width one that can hold large items like trays. This drawer does a great job in preserving food like cheeses or lunch meats.
Haier has also included a crisper drawer in its models. This compartment holds fresh groceries like fruits and veggies. It's designed to control the humidity and retain the crispy freshness of stored food.
Quick Cool and Quick Freeze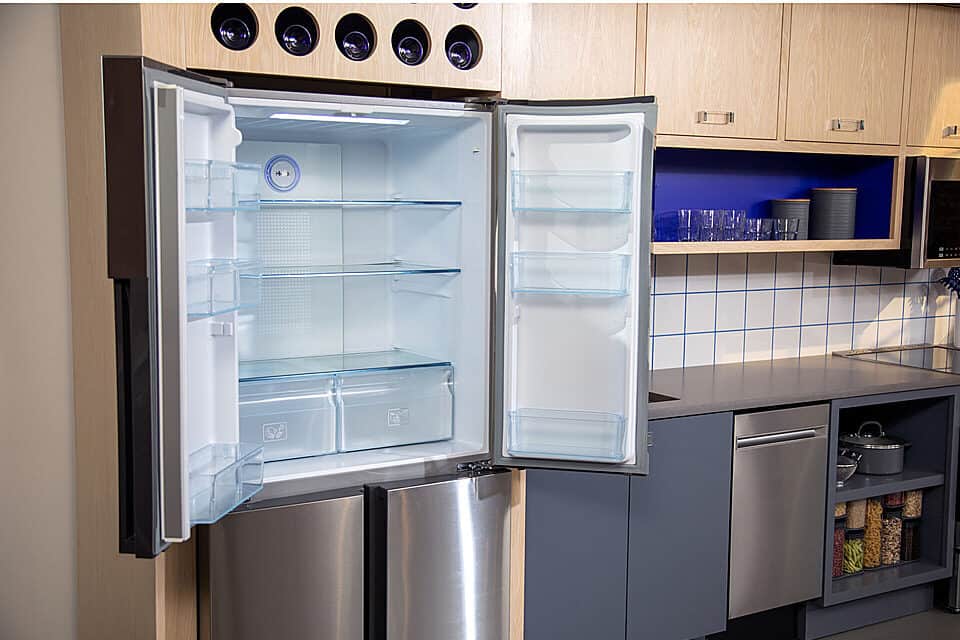 Whenever you store new food in the refrigerator, its higher temperature raises the internal temperature, thus altering the temperature of older stored food. With the quick cool and quick freeze features, the refrigerator rapidly lowers the temperature of the freshly stored food, preventing an alteration of the internal temperature. 
Haier's refrigerator models with this function include this bottom freezer model and this French-door model. 
LED Lighting
LED is known to be less energy-intensive than incandescent bulbs. Haier, therefore, opted to use LED lighting in their refrigerators, providing a bright illumination as well as low energy consumption.
Capacitive Touch Controls
Some Haier refrigerator models also have capacitive touch controls placed on the outer side of the door. These controls are responsive, making it easy to adjust the temperature of both the refrigerator and freezer. 
WiFi Connectivity
Unfortunately, Haier's refrigerators don't have in-built WiFi connectivity. However, the company sells two models that are compatible with the U+ Connect module that's bought separately, which allows your Haier refrigerator to connect to your home WiFi network. 
Once connected, you'll be able to remotely monitor the refrigerator, adjust the temperature via a smartphone app, and receive notifications. The U+ Connect module is sold for about $50.
Types of Haier Refrigerators
Haier sells six types of refrigerators:
Quad door refrigerators

French door refrigerators

Top freezer

Bottom freezer

Beverage center

Wine center
Quad Door Refrigerators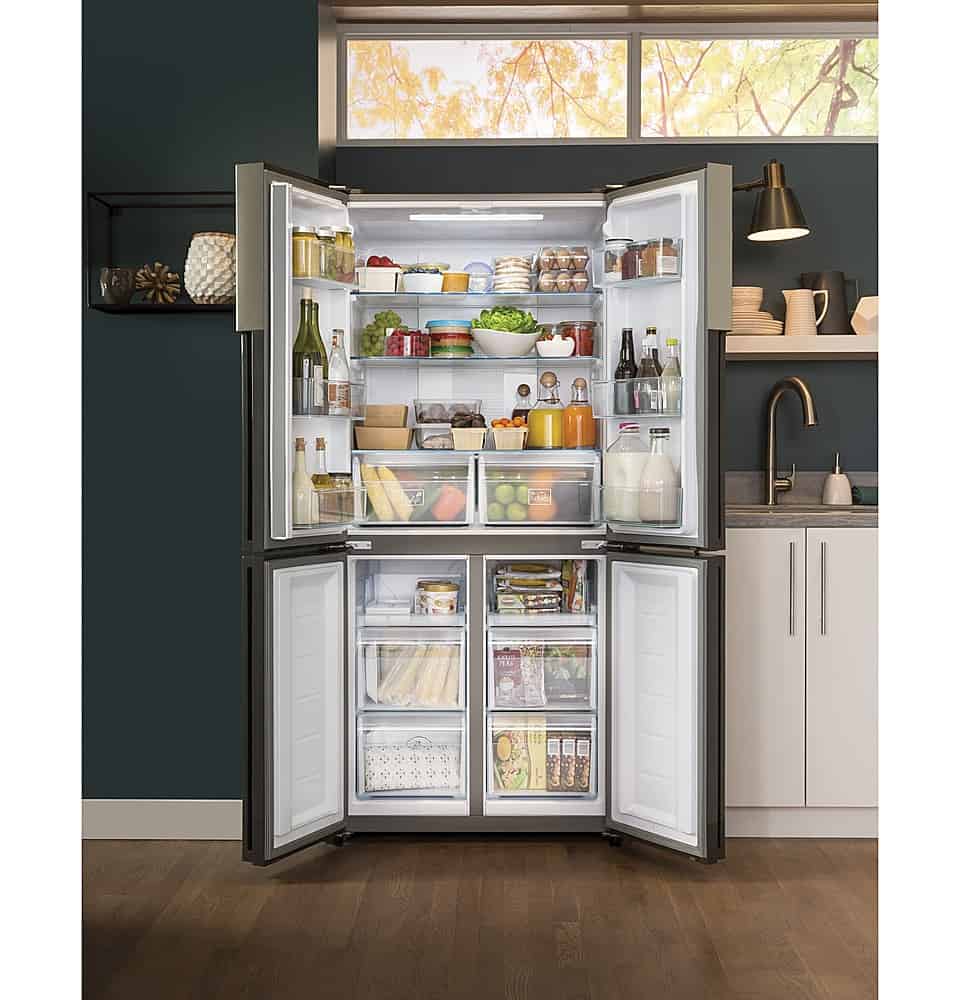 These are, as the name implies, refrigerators with four doors. There are two doors at the top for the refrigerator section and two separate compartments at the bottom for the freezers.
Here are some benefits of owning a quad door refrigerator;
There's ample refrigerator space for improved food organization.

The separate freezer sections reduce the need to open an entire compartment, lowering the wastage of energy.

There's no need to bend to reach for food in the refrigerator section found at the top; most people open the fridge more often than the freezer.

The design of quad door refrigerators is stylish.
Haier sells only one quad-door refrigerator model, which costs about $1600.
French Door Refrigerators
Other brands categorize their quad-door refrigerators alongside the French-door models. Haier, however, separates these two types, and we can see the difference. Quad-door refrigerators have two doors for the freezer section, but the French-door models have drawer-style freezer configurations instead of doors. 
Haier has three French-door refrigerator models in its lineup: one of them has two freezer drawers and the rest have single-drawer freezers. 
What are the advantages of a French door refrigerator?
French-door refrigerators are spacious with large door bins and wide shelves.

They also offer ample freezer space with deep drawers.

The French-door design is stylish.

The refrigerator section is at eye level, making these models ideal for those with back issues.
Haier's French-door refrigerator models are priced from $1400.
Top Freezer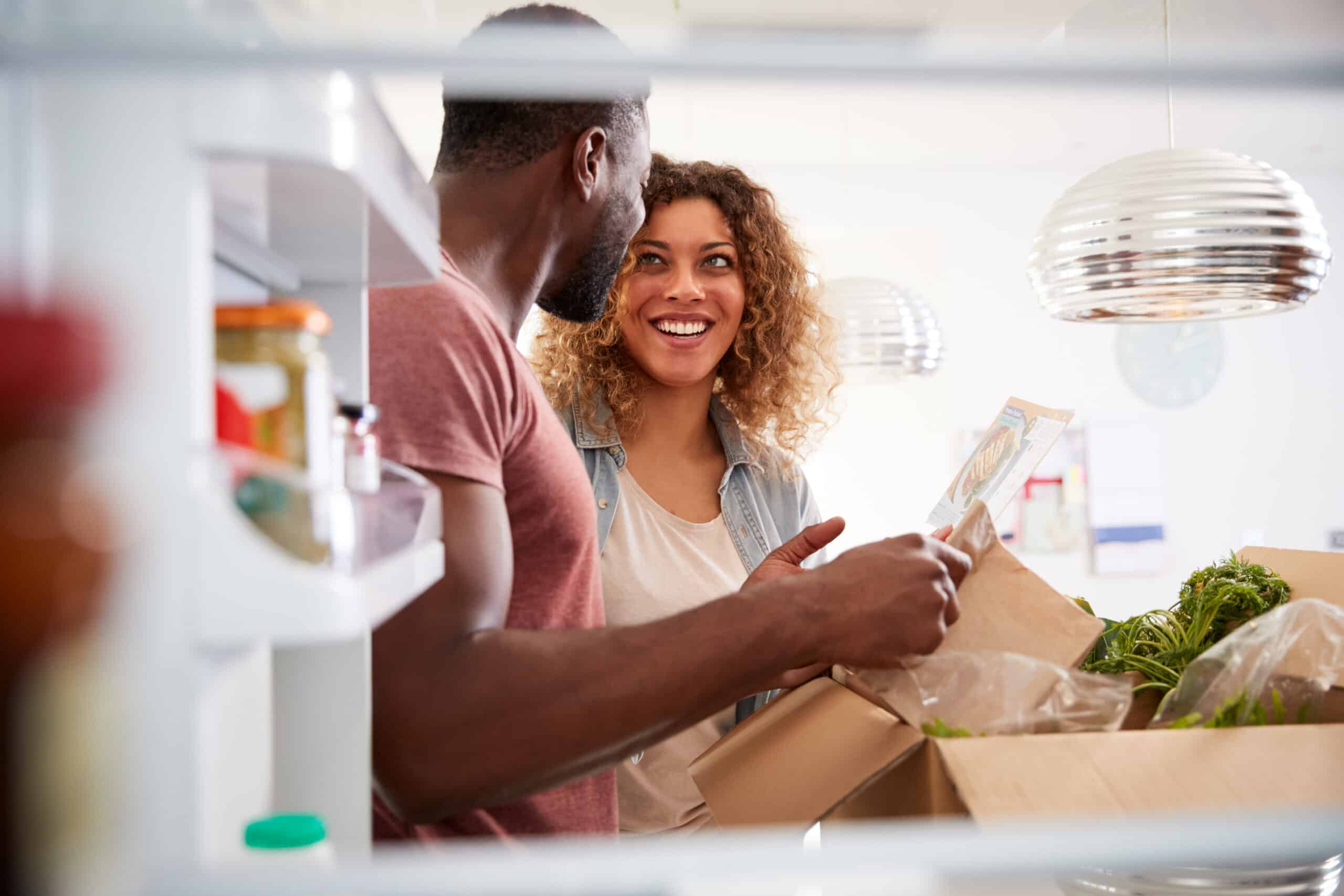 This is the traditional refrigerator design, with the freezer located at the top. Haier's top freezer models are the company's most affordable, with the cheapest in this category costing about $630. These are mid-sized refrigerators with smaller freezers. So, if you don't need a lot of freezer space, you'll be comfortable with a top freezer model. 
Benefits of top-freezer refrigerators are;
They are more affordable than the other refrigerator types.

Top-freezer refrigerators are energy efficient because of their smaller capacity.

You can easily access the freezer.

These refrigerators are often smaller in size and are, thus, ideal for small homes.
Bottom Freezer
Bottom freezer refrigerators have grown in popularity but their price is still more than that of their top-freezer counterparts. Haier's bottom-freezer model, for instance, costs $1200. However, this model offers a larger capacity – a total of 15 cubic feet. But does the extra space and different orientation justify the price tag of almost double the cost of a top freezer? 
Here are some benefits of a bottom-freezer refrigerator that will help you answer this question.
The refrigerator section, which most people use more regularly, is at eye level. This lowers the need to constantly bend to reach for stored food.

Bottom-freezer refrigerators offer more freezer space than the top-freezer models.

There are more storage compartments in both the freezer and the refrigerator sections.

Bottom freezer models have a modern look.
Beverage Center and Wine Center
Haier also sells compact refrigerator models for beverages, and models meant specifically for wine. These refrigerators have glass doors and inside, there is shelving that's designed to hold bottles or cans. The company's Wince Center model can hold 44 wine bottles. 
In this article, we'll focus only on conventional refrigerators for daily home use. You can check out Haier's Wine Center and Beverage Center models here.
5 Best Haier Refrigerator Models
1. Haier HA10TG21SB 9.8 Cu. Ft. Top Freezer Refrigerator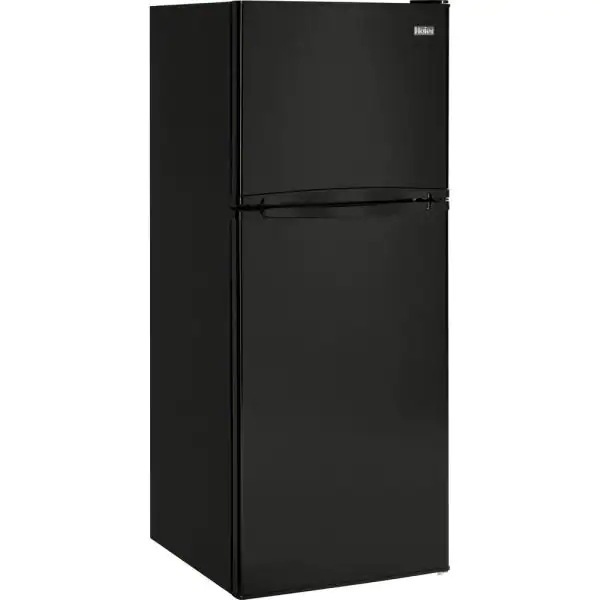 If you're on a budget, this Haier refrigerator model is one to consider. Costing about $630, it offers what you'd want in a refrigerator and nothing more. But devoid of the bells and whistles that more extravagant models offer, this top-freezer refrigerator's bare-bones design does its one job well. 
Its small footprint makes it perfect for those with limited space. Actually, many people buy this model as a secondary refrigerator for their garage or even their camper. But you can also use this as your main refrigerator if you live alone or are a household of two. 
Its 9.8 cubic feet of storage space is divided by shelves and drawers for improved organization. Haier tells us that the glass shelves are spillproof, so they're easy to clean. And we can't forget to mention the handy clear drawer that holds your fruits and veggies and keeps them nice and crispy. If all you want is a simple refrigerator that does its job well, then this Haier model will do just fine.
Main Features
This is a top-freezer Haier refrigerator model.

It has a refrigerator capacity of 7.39 cubic feet and a freezer capacity of 2.42 cubic feet.

Haier offers three color options for this model: black, white and stainless steel.

Its shelves are easily adjustable for improved organization.

The shelves are made of glass and they're easy to clean.

There's a crisper drawer for storing fresh fruits and veggies.
Dimensions
Width

: 24 inches

Height

: 59 inches

Depth

: 25 inches
Pros
This refrigerator is affordable, costing just $630.

It doesn't take up much space.

The shelves are adjustable, making it easy to store containers of different sizes.

You can use it as a secondary refrigerator for your garage.
Cons
It isn't Energy Star certified.
2. Haier HRB15N3BGS 15 Cu. Ft. Bottom Freezer Refrigerator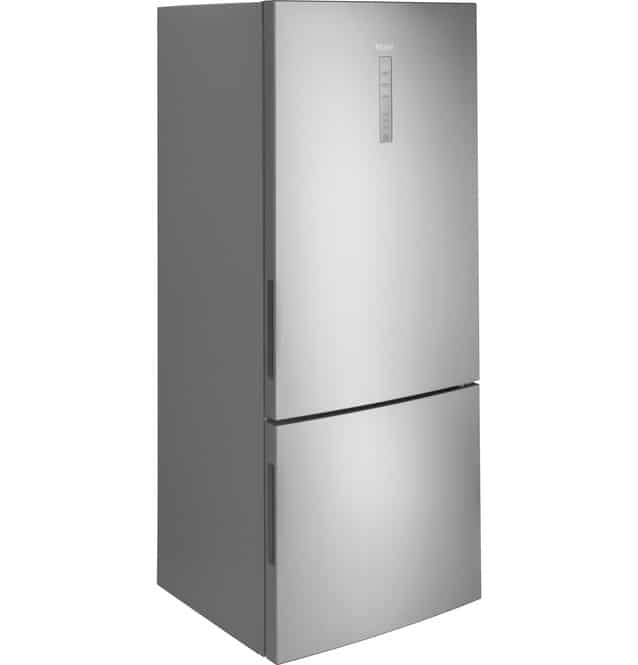 This is Haier's only bottom freezer refrigerator model and we honestly don't mind as it does a great job. It bears Haier's simple and clean design that opts not to stand out, rather, it fits in perfectly in any kitchen. And the available stainless steel color caps the stylish but modest look. 
Now, this model costs over $1000; $1200 to be more precise. It's by no means an affordable refrigerator, but bottom-freezer models are known to cost significantly more than their top-freezer counterparts. Still, we're not trying to make excuses for this Haier model; it has features that justify its price. Two features we love are the quick cool and quick freeze functions. And it would be remiss of me if I didn't mention Sabbath mode, which is here as well.
If you're considering a bottom freezer model, then you'll be glad to know that this one has a refrigerator capacity of 11.1 cubic feet and the freezer has 3.9 cubic feet. Okay, the freezer is a bit compact, but you want a bottom freezer model for its refrigerator space, which is ample. 
Main Features
This bottom-freezer refrigerator has a total capacity of 15 cubic feet.

It has full-width door bins that hold bottles and jars of varied sizes.

There's a touch-sensitive control panel on the outer side of the refrigerator door, for adjusting the temperature.

This refrigerator has quick cool and quick freeze features.

It also has the Sabbath mode feature.
Dimensions
Width

: 28 inches

Height

: 68 inches

Depth

: 27 inches
Pros
There's ample refrigerator space.

The quick cold and quick freeze functions work well to maintain a consistent temperature when you add new food to the refrigerator. 

Its capacitive touch panel is responsive.

Its bottom-freezer design makes it easy to access the top refrigerator section.

The internal LED light is bright.

The different freezer compartments improve organization.
Cons
The freezer is rather small.
3. Haier QHE16HYPFS 16.4 Cu. Ft. Quad Door Refrigerator
It's hard to mention anything else about this refrigerator before talking about its design. This Haier model looks modern and elegant. Two doors at the top, two doors at the bottom – this quad door design will definitely stand out in your kitchen. And it boasts a counter-depth design for a seamless built-in look.
Moving beyond its good looks, this Haier refrigerator offers functionality to match its price. Now's a good time to mention that it costs about $1600, which, compared to quad door models from other brands, is quite reasonably priced.
It has a total capacity of 16.4 cubic feet, with the refrigerator taking up about 11.19 cubic feet and 5.54 cubic feet for the freezer. Granted, this is not exactly a large-capacity model, but at its price point, we don't expect it to be. Inside, the available real estate is divided by adjustable shelves that make it easy to organize your food containers. This is extended to the freezer section where there are drawers and shelves as well.  
Its exterior is a fingerprint-resistant stainless steel finish which, as you'd expect, looks fancy. And its right-side refrigerator door has a capacitive-touch control panel that's almost indiscernible but still noticeable when you need to adjust the temperature. 
Main Features
This is a quad-door refrigerator model with a total capacity of 16.4 cubic feet.

Its exterior has a fingerprint-resistant stainless steel finish.

It boasts a counter-depth design.

The refrigerator has quick cool and quick freeze features.

There's Sabbath mode.

This refrigerator is Energy Star certified.
Dimensions
Width

: 33 inches

Height

: 71 inches

Depth

: 27 inches
Pros
This Haier refrigerator's design is sleek.

Its wide refrigerator section is easy to organize.

It is Energy Star certified.

Its two separate freezer sections improve freezer organization. 

It's quiet.
Cons
There are no smart features.

The icemaker is sold separately.
4. Haier HRF15N3AGS 15.3 Cu. Ft. French Door Refrigerator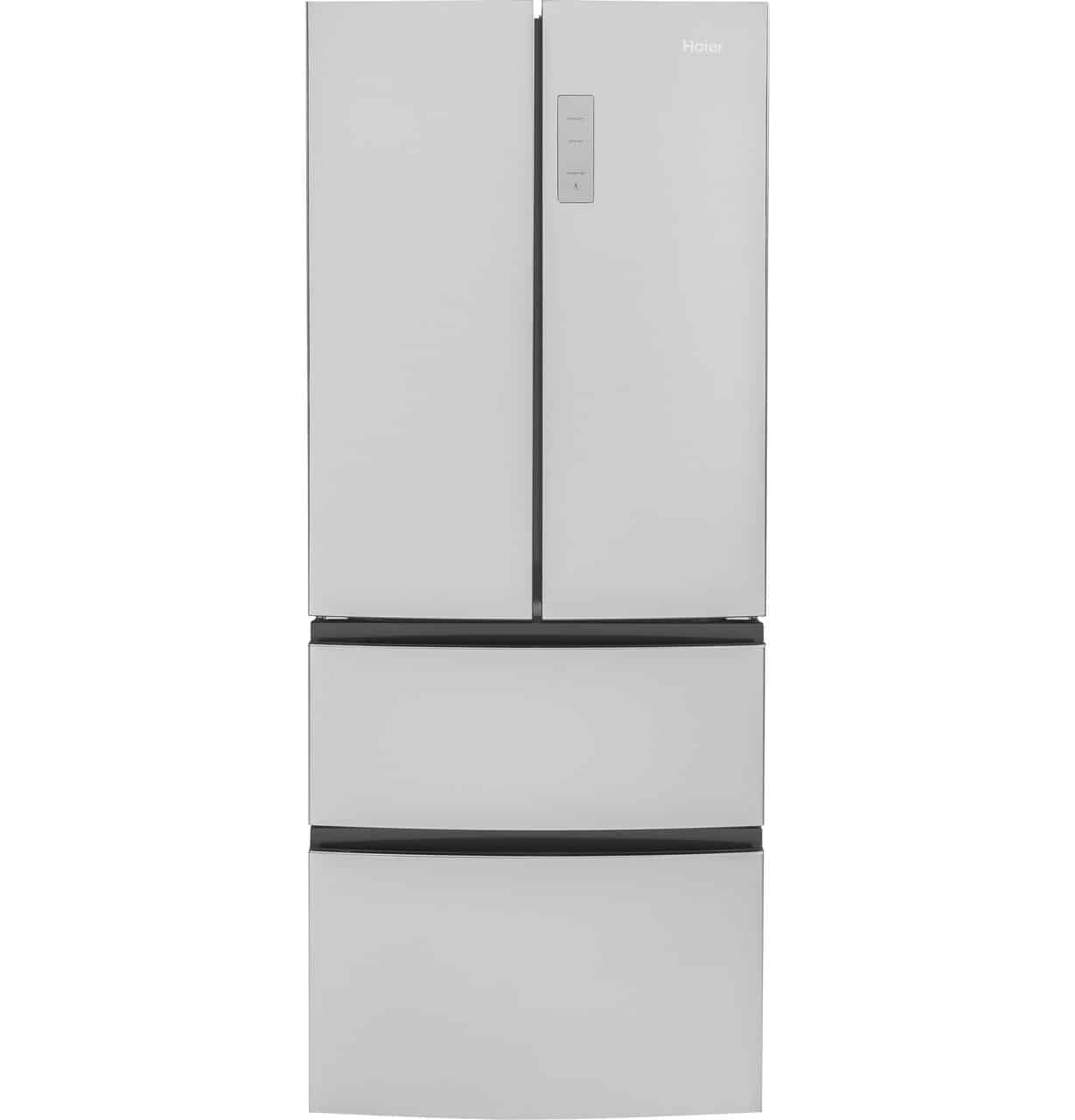 This French-door refrigerator model costs a reasonable $1400, offering great value for money. Its design gives it a high-end look; there are two bottom-mount drawers for the freezer and two doors at the top for the refrigerator section. 
There's a total of 15.3 cubic feet, with the refrigerator taking up 9.74 cubic feet of this. Granted, this isn't a large refrigerator, as it's meant for smaller households looking for style and functionality. 
The narrow body and double refrigerator doors make this ideal for small spaces – the doors have a short swing radius so it won't take up much room. However, its interior space can hold a decent amount of food, thanks to the shelves, large door bins, and ample drawer compartments. 
The main attraction in this model has to be the freezer sections with drawer configurations. Haier isn't specific about the capacity of each drawer compartment but they say that the total freezer capacity is 5.58 cubic feet, with the lower one taking up more of this space.
Main Features
This refrigerator has a stainless steel finish.

There's an external touch-sensitive control panel for adjusting the temperature.

It has the Sabbath mode feature.

The refrigerator also has quick cool and quick freeze.

The shelves are made of tempered glass.
Dimensions
Width

: 28 inches

Height

: 71 inches

Depth

: 27 inches
Pros
This Haier refrigerator model has a sleek design.

Its narrow body makes it ideal for smaller spaces.

The drawer-style freezers are easy to organize.

Its wide shelves can hold containers of varied sizes. 

The door bins are large enough to hold big bottles.

It's sold at a reasonable price.
Cons
There are no smart features.

It has no ice maker.
5. Haier ENERGY STAR® QNE27JYMFS 27.0 Cu. Ft. Fingerprint Resistant French-Door Refrigerator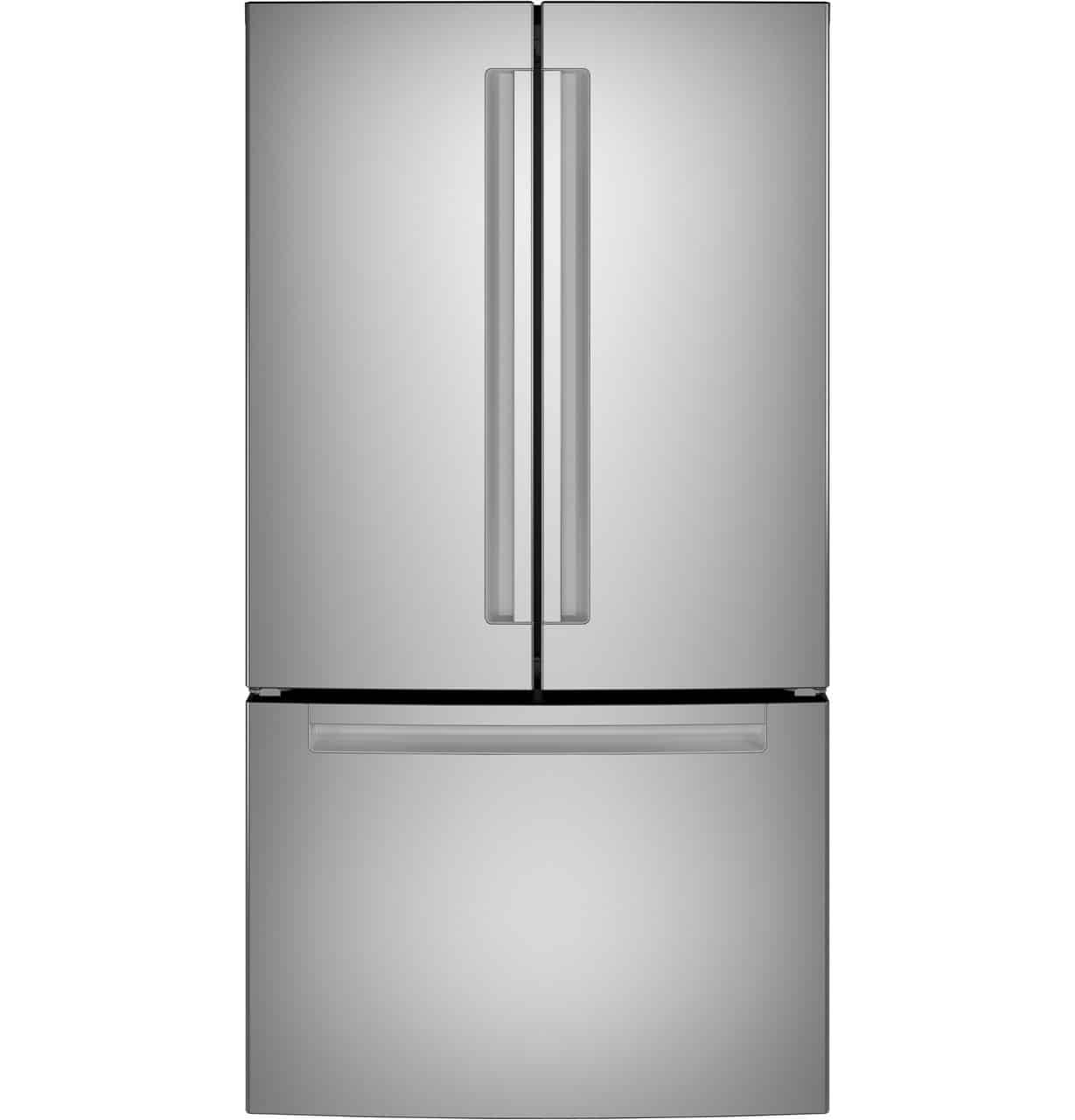 Considering that not many of Haier's refrigerators have the Energy Star certification, it's no wonder the company is proud of this model's recognition as an energy-efficient appliance. This, however, isn't the selling point of Haier's high-end French-door refrigerator. What makes this a popular model is its design – it has double doors at the top and a drawer-style freezer at the bottom. And it's Haier's highest-priced refrigerator model, costing about $2200. 
This model boasts a total capacity of 27 cubic feet. This space is complemented by handy compartments, like a deli drawer, as well as ample shelf space. Pull open the drawer and you'll have access to about 8.2 cubic feet of freezer space. 
Haier added two features here, which are lacking in its cheaper models: an internal water dispenser and an icemaker. Unfortunately, even at over $2000, you still don't get smart features as standard. You'll have to spend an extra $50 on a U+ Connect module that enables you to connect the refrigerator to your WiFi network.
Main Features
This refrigerator is Energy Star certified.

It comes in either fingerprint-resistant stainless steel or black stainless steel.

There's an in-built water dispenser.

It also has an icemaker in the freezer section.
Dimensions
Width

: 36 inches 

Height

: 70 inches

Depth

: 33 inches
Pros
It has a stylish French-door design.

It has a spacious capacity of 27 cubic feet.

The refrigerator has an in-built icemaker and a water dispenser.

This is an energy-efficient refrigerator.
Cons
It's rather pricey for the features your get.

You have to connect a separately bought module to get WiFi connectivity. 
FAQs
Question: What brands does Haier own?
Answer: Haier presently owns well-known brands like GE, Monogram, Profile, Cafe, and Hotpoint, after they bought GE's appliance division back in 2016.
Question: Where are Haier refrigerators made?
Answer: Since Haier is a Chinese brand, the company manufactures its refrigerators in China.
Question: Are Haier fridges quiet?
Answer: Haier makes quiet refrigerators with models like this quad-door refrigerator known for being the company's quietest.
Question: Does Haier make stoves?
Answer: Yes, Haier has both electric and gas, free-standing and slide-in ranges. Check out their available models here.
Haier Refrigerator Model Guide: Bottom Line
Haier's refrigerators are affordable, but to keep the price low, the company decided to cut back on some handy features on most of their models. These include icemakers, water dispensers, and even smart functionality. If these aren't important to you then you'll enjoy owning a Haier refrigerator as their models have earned positive reviews from past users. 
However, at over $1000, larger brands like Samsung offer more features for the price, including WiFi connectivity as standard in most of their models over $1000. So, before you settle on a Haier refrigerator model, check out our Samsung refrigerator models guide to learn about what Samsung has to offer.