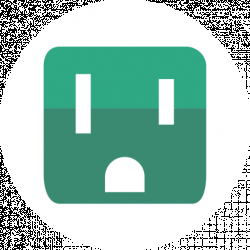 Latest posts by Appliance FAQs Team
(see all)
Are you tired of washing your dishes by hand? Are you looking for a more efficient option that will save you time and make life easier for you? This is where dishwashers come in. Once thought to be luxury appliances, they have evolved into must-have home equipment.
More and more homes have incorporated dishwashers to save on time, water and energy. According to Energy Star, loading a dishwasher will save you up to 230 hours a year. Amazing, right? However, the big question comes in choosing the best dishwasher model for your home. Where do you start from? What should you be looking for?
There are many dishwasher brands in the market. These include Samsung, LG, GE, Maytag, and Frigidaire, to name a few. You must have heard of at least one of them as they are huge brands and have a massive advertising presence.
However, some lesser-known brands such as Amana are also of excellent quality and quite affordable. Amana is a Whirlpool Corporation brand; hence you can be sure that the products will be top-notch. They are considered more affordable than the other big-name brands; thus, you can get a great dishwasher at around $600-$800. Below is an Amana dishwasher model guide to help you get the best appliance for your home.
History Of Amana
Amana may be new to many people, but they have been in the manufacturing industry since 1934. They manufactured some of the industry's firsts, such as the countertop microwave oven, side-by-side refrigerator, and the bottom-freezer refrigerator.
In 2001, Maytag Corporation purchased Amana. In 2006, Whirlpool Corporation acquired Maytag, and Amana was part of it. The brand's quality has remained steadfast throughout the years, hence why they have had a long-standing in the appliance manufacturing industry.
Even though Amana started as a refrigerator and microwave oven manufacturer, they have expanded their product line over the years to dishwashers, dryers, furnaces, and ovens, among others. They are known for their reliable and long-lasting appliances that are pretty affordable. Therefore, if you want a dishwasher that will not cost you an arm and a leg and still do a fantastic job, Amana is the brand to go for.
Types Of Dishwashers
There are numerous types of dishwashers in the market. These include:
Built-In Dishwashers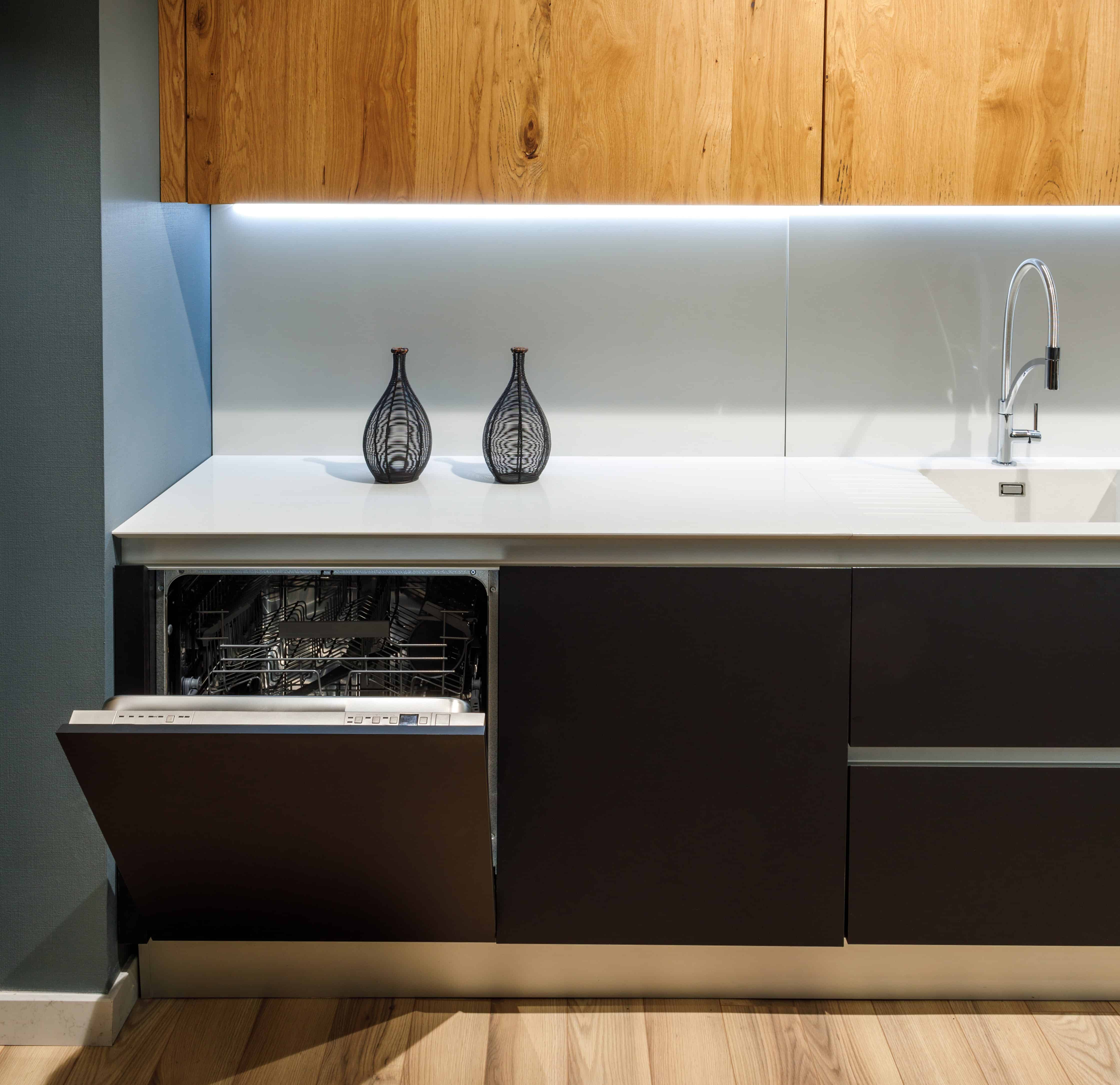 Built-in dishwashers are the most popular type in the market. They are traditionally 24 inches in height and are installed under a standard kitchen counter. They usually have a capacity for 12 to 16 place settings.
Pros
They are quiet as cabinets in the kitchen surround them.
They are also convenient as they are near where food is prepared.
Cons
They are usually permanently installed; thus, they are not the best option for people moving houses soon.
Portable Dishwashers
These are perfect if you do not have a dedicated space in your kitchen for a dishwasher. They are easy to move and offer additional countertop space. They are usually designed to hook up to the kitchen sink. Once the dishes are done, the dishwasher can be transferred to another location.
Pros
They are made for houses where there is no room for a built-in dishwasher to be installed.
They are efficient as they save on space, thus, perfect for small apartments, vacation homes, and RVs.
Cons
The inconvenience of wheeling it back and forth to the sink can be stressful.
There are very few models to choose from.
They can be pretty noisy as they lack insulating material.
Drawer Dishwashers
Currently, drawer dishwashers are only offered by Fisher & Paykel. These usually come in single or double units. For example, when you buy a double drawer unit, you will have two dishwashers that you can operate simultaneously or one at a time. This will help you deal with small loads more efficiently as you can run one drawer while loading the other and use each of them on different cycles.
Single drawers can be installed side by side to prevent bending when loading and unloading, which is a plus. They are also ideal for smaller kitchens and bars.
Pros
You can run two half loads on different cycles.
They are great for people with knee and back problems as they will avoid bending over to access the dishwasher.
They are perfect for people with insufficient space to fit the standard dishwasher.
Cons
They have the same energy usage as a full-size dishwasher.
They are as expensive as many mid-end and high-end dishwasher models.
Their interior height limits the items inserted into the appliance.
Countertop Dishwashers
These are the most economical dishwasher models. They are also the smallest and are ideal for small families. They are easy to use and can be placed on the counter, hence saving you ground space. They, however, have a lower capacity than the other types.
Pros
They do not need to be built in; hence you can fit them on the counter.
They also come in various sizes.
They are cheaper than other standard models.
They have a quiet performance as they perform their functions with little to no noise.
Cons
They have a small capacity; hence there is no room for large dishes and baking sheets.
Due to their compact size and the large volume of dishes, they may have poor drying capabilities.
The quality of washing will be poor, especially if the dishwasher is overloaded. Hence, you may notice some stains and spots on your glasses.
Freestanding vs Integrated vs Semi-Integrated Dishwashers
Freestanding Dishwashers
These are the most common, and they will fit into any kitchen. Here, the exterior and control panel will be exposed, as you can see the controls easily.
Pros
They are very common, hence readily available.
They are easier to pull out and remove for maintenance purposes.
Unlike integrated units, they are not built into the kitchen; hence, you can use them when you move homes.
Cons
They do not easily blend into the kitchen the same way integrated models do.
Integrated Dishwashers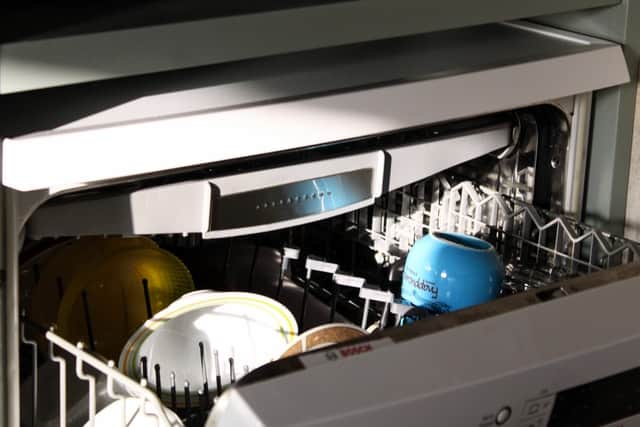 These are usually designed to be incorporated into built-in kitchens. However, the control panel is hidden on the door's top lip.
Pros
They blend well into the kitchen, hiding behind the cabinet door, giving you a streamlined look.
They are great for small kitchens that do not have space for a freestanding dishwasher.
Cons
They are more expensive than freestanding models.
With fully integrated models, you may need to open the door to check the controls, as you cannot see them at a glance.
Semi-Integrated Dishwashers
These appliances are pretty rare, but they offer the best of both. You can get the functionality of a freestanding model and the look of an integrated one at once. They are partly hidden, with only the control panel seen for access.
Pros
They will easily blend into the kitchen, hence perfect if you want a streamlined look.
Cons
They are more expensive than freestanding and integrated models.
They are also not common, hence quite limited.
Your choice will depend on your convenience, kitchen aesthetics, and what works for your home with the three options.
Features To Look Out For
Below are some of the features you should not miss out on when buying a dishwasher for your home.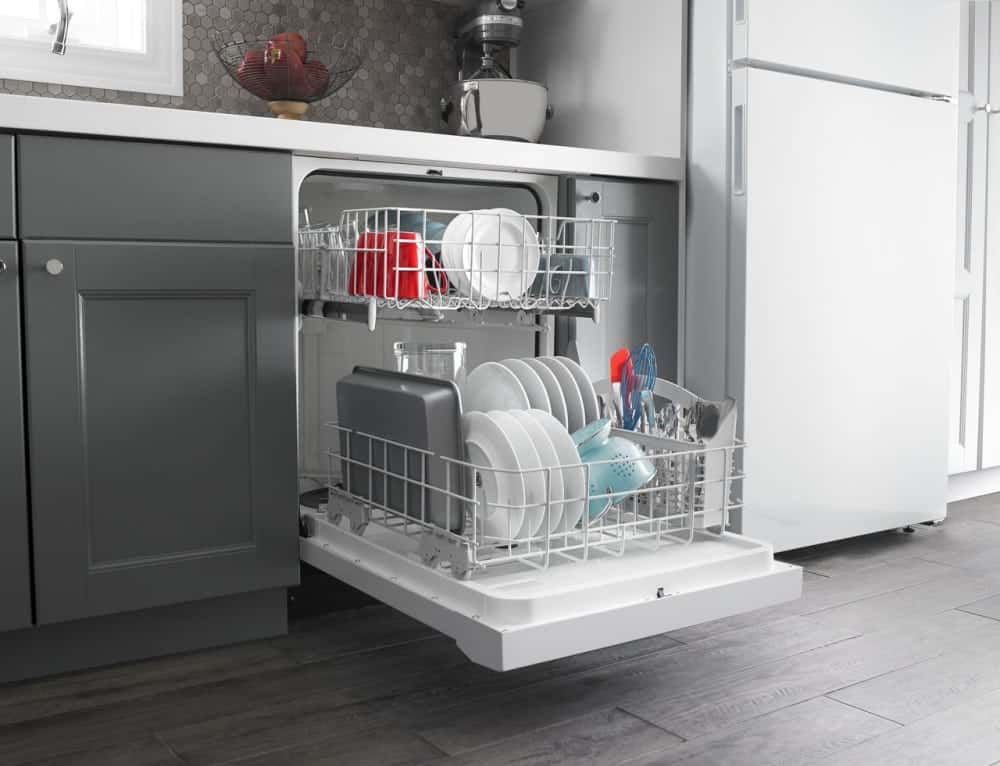 Automatic Sensor Wash
This feature will measure how dirty the plates are and adjust the amount of water, and the length of the cycle required.
Water Filtration
This feature will help keep the water and dishes clean as it will capture all the tiny particles that may stick to the dishes after washing them.
Nylon Racks
If you want durable and rust-resistant racks, then go for nylon ones. They resist rusting and cracking and will last for years compared to those coated with vinyl or PVC.
Anti-Flood Protection
This feature helps prevent flooding in case something goes wrong. The float switches usually detect water in the base of the machine and prevent it from increasing further. The aqua-stop function also prevents flooding if the hose splits or leaks.
Stainless Steel Interiors
Dishwashers with stainless steel interiors tend to be quieter as the water splashing against the steel makes less noise than plastic ones. Also, they will be resistant to staining and will not retain odors. They also offer better drying performance than their counterparts. However, they will be more expensive than those with plastic interiors.
Half-load Options
If you have smaller dish loads, we recommend getting a dishwasher with a half load or upper rack-only cycle. These will only use one spray arm or have shorter cycles; hence use less water.
Adjustable Racks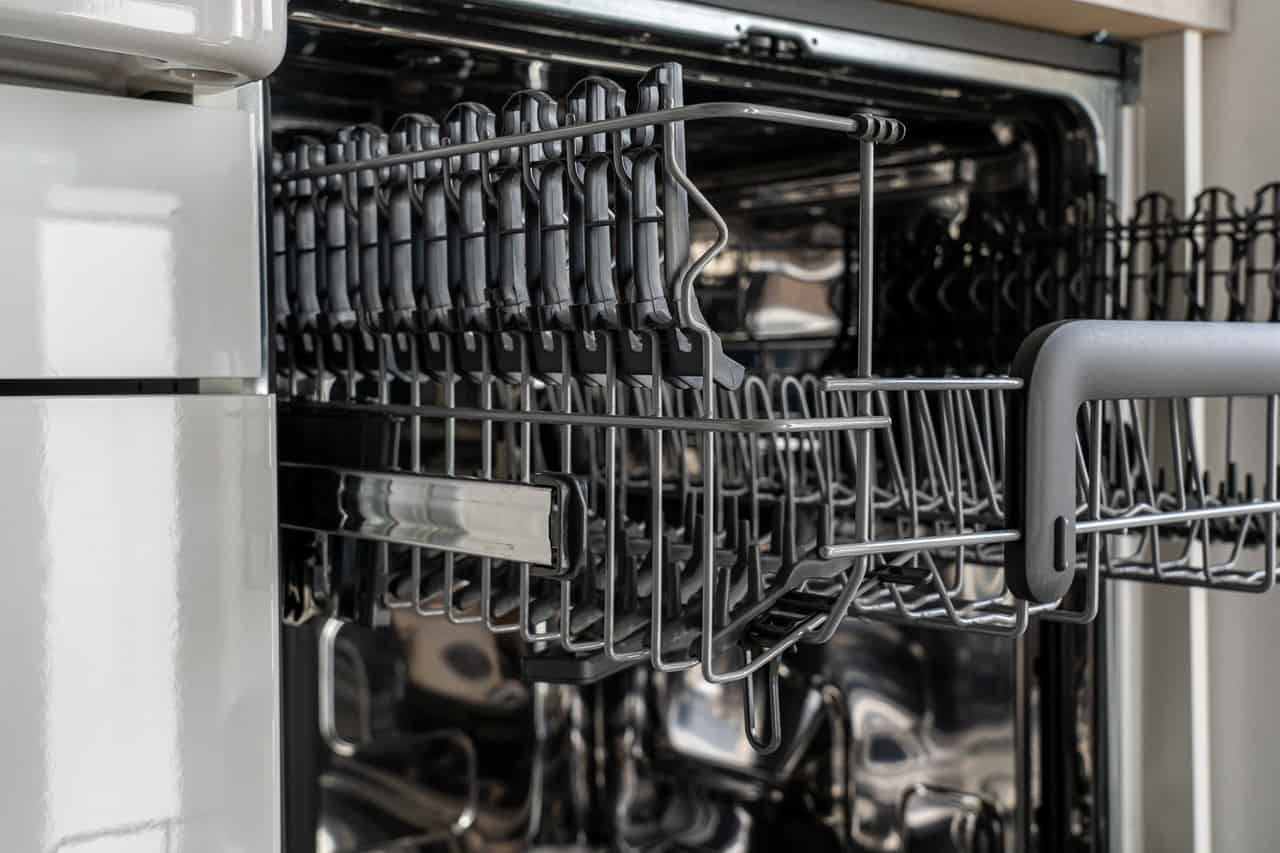 Adjustable upper or lower racks will come in handy when you need to fit large items like wine glasses. They will also help accommodate large plates on the bottom shelf.
Delay Start
The delay timer enables you to set the dishwasher hours before the washing begins. This is effective, especially if you want to take advantage of the cheaper night-time electricity or want the dishes cleaned while working. You can also use it to time the dishwasher to make the plates warm for dinner.
Cutlery Tray
Some dishwashers now come with a third rack that replaces the cutlery basket.
Child Safety Lock
This will help stop children from fiddling with the buttons and opening the door mid-cycle, which can be pretty dangerous.
Fold-down Prongs
These fold-down prongs make loading large items easier than usual. Check for dishwashers that have this feature in both the upper and lower racks.
Smart Features
With the advancement of technology, more dishwashers have integrated high-tech and intelligent features to offer more convenience for their customers. You will therefore find some dishwashers with a WiFi connection. This feature will enable you to control the appliance from your smartphone.
You can also use digital assistants such as Google Home and Alexa to check the cycle time and maintenance information remotely.
You can also select the cycle options from your smartphone and get feedback on the efficiency during and after the washing loads, making things more convenient for you. Some features will also allow you to automatically order more detergent, giving you the flexibility to operate it even when you are not at home.
Dishwasher Settings Explained
Dishwashers have simple settings, as compared to washing machines. Below are some of the settings to take note of: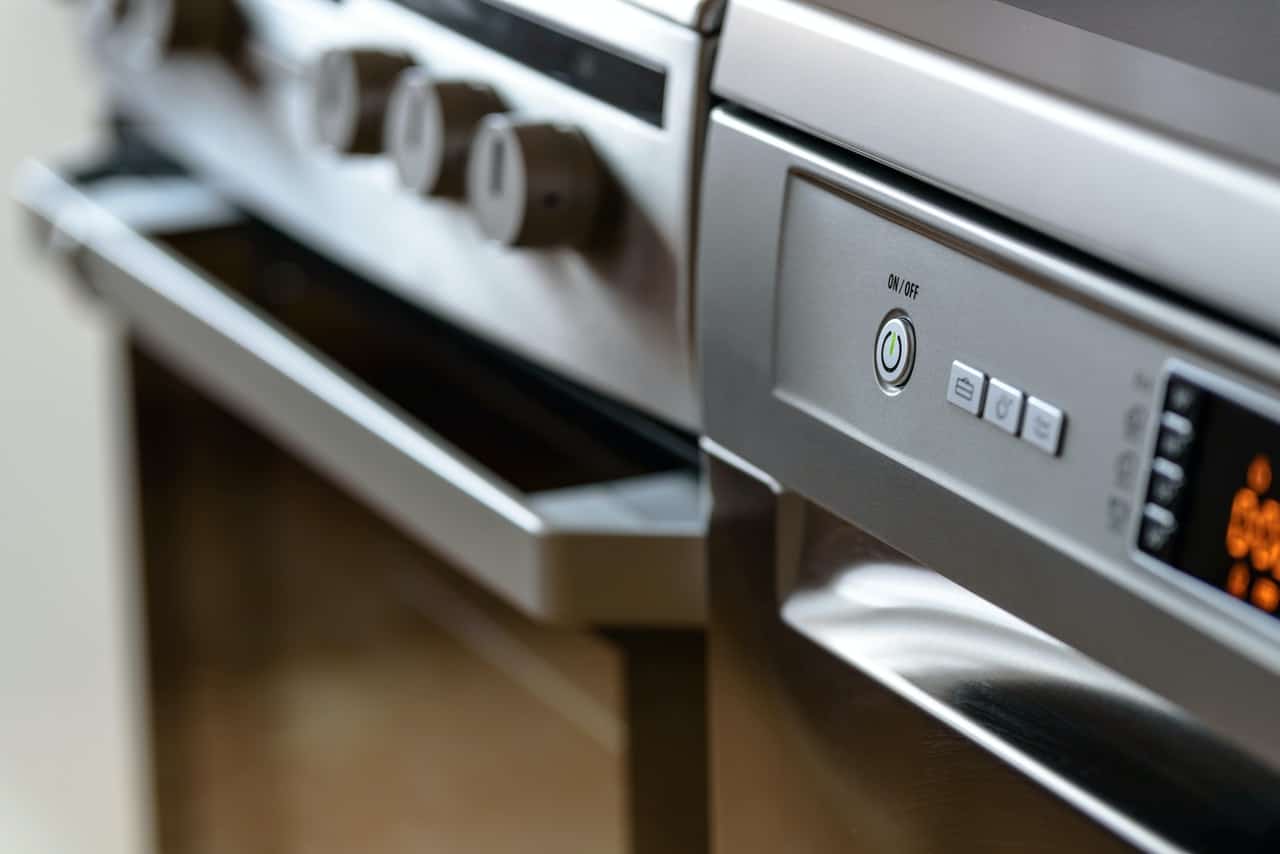 Normal
This is the most common and basic setting on the dishwasher. It is perfect for the average load, whereby the dishes are typically soiled but not those with tough stains. The temperatures here will be at 60-65 degrees.
Delicate
This setting is used for fragile dishes such as glassware and fine china that need delicate care. This cycle uses a gentle spray to avoid knocking over other items and operates at a lower temperature of 40 degrees.
Intensive
If you have filthy dishes, then this is the mode to use. It is especially great for pots and plates that need soaking, such as baked-on food. It uses more water and energy than the normal and eco settings to remove grime. The temperatures here will be at 70 degrees; however, this will vary with the machine type.
Eco
This one is an environmentally friendly setting that uses less water and energy. It also operates at lower temperatures than the normal setting as higher temperatures use more electricity. In this mode, the temperatures are lower, at around 45 degrees, but the washing periods will be longer.
Hygiene
This is perfect for dishes that need sterilizing. It is a high-temperature program that offers deep cleaning and sterilization of items such as baby bottles and cutting boards
Quick Wash
This setting is used when you want the dishes cleaned in a short time. It uses extra water or heat to get them cleaned in an hour or less. The temperature will be the same as that of a normal wash.
Amana Dishwashers: Our Top Picks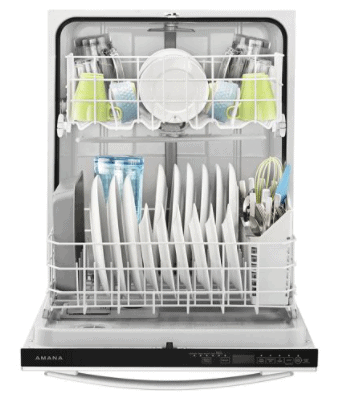 Say goodbye to dirty dishes with this Amana dishwasher. It has a SofSound Technology II; hence it is tranquil and only emits 55dBA. It has five washing cycles, 12 Place Settings, a soil sensor, and is Energy Star certified. It is a triple filtration dishwasher that comes with a one-year warranty on parts and labor. You can get it at $599 in stainless steel, which is an excellent price for its incredible features.
Why do we love it
Features
SoilSense Cycle – This SoilSense Cycle automatically senses the size and soil level of your load to get it appropriately cleaned. To activate it, select the cycle, then press start. The sensors will then adjust the cycle time and water usage to deliver a clean that is efficient for every load.
Triple Filter Wash System: This feature will help you skip the pre-rinse; hence less time scrubbing. It does this by combining three filters to remove even the tiniest particles from the wash water.
SofSound Technology: This technology offers a rating of 55 dBA; hence you will have no noise disrupting your Saturday football game time.
High-Temperature Wash Option
During the wash cycle, a heater will boost the water temperature to your preference.
Drawback
It has a plastic interior that is less superior than stainless steel interior tubs, is more susceptible to staining and may retain odors from food debris.
Amana ADB1400AGW Dishwasher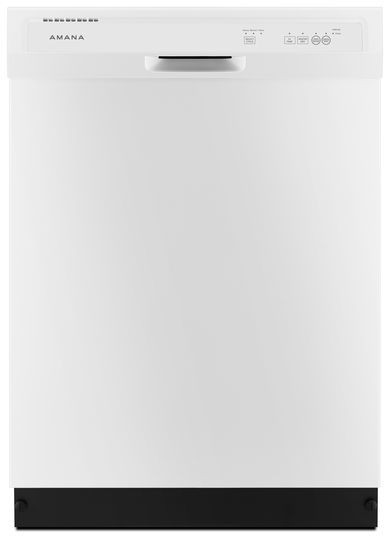 This Amana dishwasher stands out due to its Triple Filter Wash System that helps remove all the tiny particles from the wash water. It is also Energy Star certified, hence helps conserve energy.
Why we love it:
Features
63dBA Silence Rating: It is quiet, with a 63dBA rating; hence you will barely hear it. However, some mid-to-high-end dishwashers are more silent.
Triple Filter Wash System: This feature will help you skip the pre-rinse, hence saving you time.
Heated Dry Option: It has an internal heater that accelerates the drying process and removes excess moisture.
12 Place Setting Capacity: This will give you ample space for load when cleaning.
Drawback
It has limited cycle selections, with only Heavy, Normal, and 1-hour washes.
It has no delay start.
Amana ADB1400AGS Dishwasher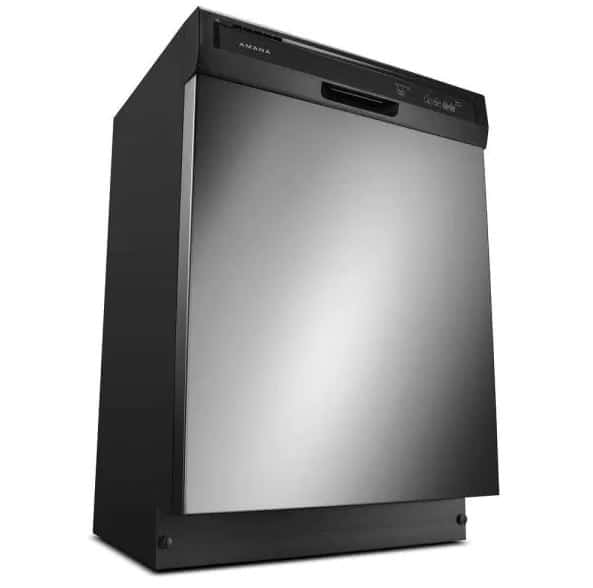 This is one of the most affordable Amana dishwashers and will do a fantastic job. The Amana ADB1400AGS is available at Best Buy for $489.
Why we love it:
Design
This model comes in a stainless steel design which is pretty sleek. If you have a stylish kitchen, then this is the type for you. However, you will have to polish your fingerprints off the dishwasher, but this should not worry you, as it is as easy as using coconut oil on a rag. It also has a filter, and an exposed heating element activated during the Normal and Heavy cycles. If you prefer white or black colors, you can get them at $20 less. Isn't that amazing?
This model can fit service for 12 as there is enough room. The silverware basket is also roomy and easy to remove; hence unloading will not be difficult.
The detergent dispenser also offers two levels; therefore, you are at liberty to add whatever amount of liquid detergent you prefer.
Features
This dishwasher only has three cycles; hence it does not have numerous features. These include:
Normal: This is great for normally soiled dishes as it will get them sparkling clean. It has heated drying that automatically turns on with Normal and Heavy cycles, which enhance the drying process.
1-hour wash: Its quick cycle averages over an hour and will do an excellent job cleaning up food hanging onto dishes. However, do not expect this cycle to dry the dishes; therefore, be ready with dish towels.
Heavy: It is used for dishes that need soaking, such as lasagna foods.
Drawback: This dishwasher has slow cycles and may have challenges getting the dishes to dry. We recommend sticking to the normal cycle when using this dishwasher for the best results.
Amana Tall Tub Dishwasher ADB1400PYW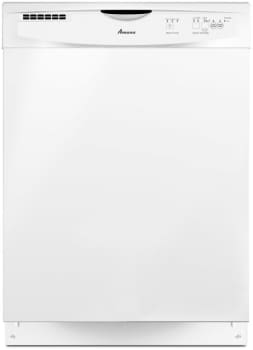 This dishwasher has three cycles and four options. It has a SofSound I Quiet Package of 59dBA; hence it will not interrupt your day-to-day activities.
Why we love it:
Features
Antimicrobial Component Protection: This feature helps prevent the growth of stain and odor-causing bacteria.
Tall Tub Interior: It has a tall tub interior that creates more room than a standard tub dishwasher. Therefore, you will be able to wash more dishes in fewer loads and conserve water and energy.
CleanPlate Wash System: This feature uses high water pressure and high water flow to remove leftovers from the dishes, leaving them sparkling clean.
Electronic Console: It has a refined console design that is for the modern, stylish kitchen.
High-Temperature Wash Option: It has a heater to boost the water temperature while cleaning the dishes.
Delay Start Option: You can set the dishwasher to run even if you are out for a hike or run.
Control Lockout: If you have children, then this feature will come in handy. It locks the controls; therefore, there is no chance of the dishwasher being turned on by kids.
Drawback: It is built-in; hence you cannot move around with it when you move out.
Amana ADB1300AFS Dishwasher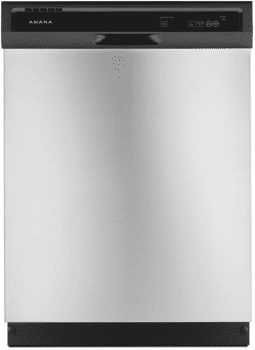 This dishwasher has a Triple Filter Wash System that will help clear all crumbs from your plates and pots. It also has a 12-Place setting that will give you space to deal with the load during the wash cycle and an internal heater that accelerates the drying process.
Why we love it:
Features:
1-hour wash cycle.
High-Temperature Wash Option.
It has one silverware basket.
It has a 12 Place Setting Capacity.
Drawbacks: It only has three wash cycles; hence it is only for fundamental cleaning tasks.
FAQs
Question: What Types Of Dishes Should Not Be Washed In A Dishwasher?
Answer: Dishwashers are timesavers in the kitchen. However, some dishes should not be washed in them. They include:
• Hollow-handled knives: The adhesive that holds the hollow-handled knives together will melt away if you put them in a dishwasher, causing them to fall apart. Therefore, we recommend hand washing to ensure that they last long.
• Sharp knives: Some manufacturers may advise you to wash your knives in the machine. However, this is not recommended as it will dull the knife blades. You may also cut yourself while loading and unloading the knives; hence it is best to hand wash them.
• Nonstick pots and pans: Do not put nonstick pans and pots in the dishwasher unless the manufacturer says otherwise. The washing process may break down the coating causing it to flake off and ruin the nonstick finish.
• Ceramic Cookware: Always hand washes your ceramic cookware as the dishwasher detergents may contain citric acids, which are too harsh and will destroy the finish.
• Cast Iron Cookware: Whatever the case, never put a cast iron utensil in the dishwasher. The dishwashing detergents will strip away the nonstick surface and leave the pan vulnerable to rusting. The best way to take care of it is to wash it with plain water and nonabrasive sponges.
Wooden Spoons And Cutting Boards: Wooden cutting boards, spoons, and utensils with wooden handles should not be put in the dishwasher. The hot water can warp and crack the wood and even damage the wooden finish on the utensils. It will strip the natural oils that keep the wooden items from drying out; thus, they will begin to crack. For these, only hand wash them with a mild detergent and warm water.
• Pressure Cooker lids: Pressure cooker lids should not be put in the dishwasher as the tiny food particles or detergent might collect in the regulator and safety valves, causing the cooker to malfunction. Also, the harsh chemicals can damage the silicone or rubber seals of the lid. Therefore, when washing these pressure cooker tops and pots, do so by hand and use warm and soapy water. Avoid storing with the top in place as the gasket might seal permanently.
• Graters And Sieves: Graters and sieves should not be put in the dishwasher as they will remove the plastic coating on the racks, leading to rust.
• Aluminum cookware: Aluminum can be easily stained with hot water and harsh dishwashing detergents. You may see some white spots on the surface due to the alkalinity of the dishwashing detergent. They can also mark other items as they move around in the dishwasher during the wash cycle. Therefore, even though it is labeled "dishwasher safe" it is better to hand wash. To remove the discoloration and spots, make a paste of warm water and cream of tartar and spread it over the pot.
Question: How Long Should A Dishwasher Last?
Answer: Dishwashers have an average life expectancy of ten years, with many of them lasting between nine to sixteen years. Therefore, if you maintain it well, it may just hit the sixteen-year mark. If, on the other hand, you do not maintain it properly or overload it, it may not last as long. Overloading it will restrict the water spray patterns and wear out the mechanical parts of the dishwasher.
The quality of the dishwasher will also play a role in how long it lasts. If you buy a high-quality appliance with top-of-the-notch parts, you are less likely to experience problems.
Question: Why Does My Dishwasher Stink?
Answer: There can be numerous reasons why your dishwasher stinks. This can be unpleasant, especially when you have guests. One of the reasons is that the standing water could be a breeding ground for mold to grow inside the dishwasher. Also, if you leave the door closed for a long time, such as when on vacation, it might stink.
This could also be caused by the accumulation of food particles in the drain filter, spray arm, or drain hose. It could be worse, especially if the particles are consist of eggs and other strong-smelling foods such as fish.
The good news is that you can get rid of this stinky smell. All you need to do is to clean the drain filter with hot soapy water. Also, clean the insides of the dishwasher and the spray arm thoroughly and wipe the racks as they accumulate mildew. Once this is done, you can run empty dishwasher cycles with vinegar and baking soda. Run two different processes, one with baking soda and another with vinegar, to remove any lingering odors.
To prevent future smells, always scrape dishes before loading them, use the occasional vinegar and baking soda to eliminate odors beforehand, and clean the filter regularly.
Conclusion
When shopping for a new dishwasher, Amana is your best bet. They are affordable and understand that not everyone can afford high-end dishwashers while still giving you value for your money. The only caveat is that you will get lesser features, which is not a bad tradeoff as they will still get the job done.
Our best pick is the Amana ADB1500ADS. It has numerous features and five different cycles, namely SoilSense, soak, prewash, heavy, normal, and 1-hour wash. It is also Energy Star rated, hence saving you water and lowering your utility bills at the same time. Try Amana dishwashers today, and let us know your experience in the comments below.